Airship Goes to Alaska 2016
Today was the best day of our trip so far.
Our alarm went off this morning at 6:30am (I know, but stay with me here.) Time to pull the crab traps! We left the dock and motored over toward the dam, past the sleepy seals.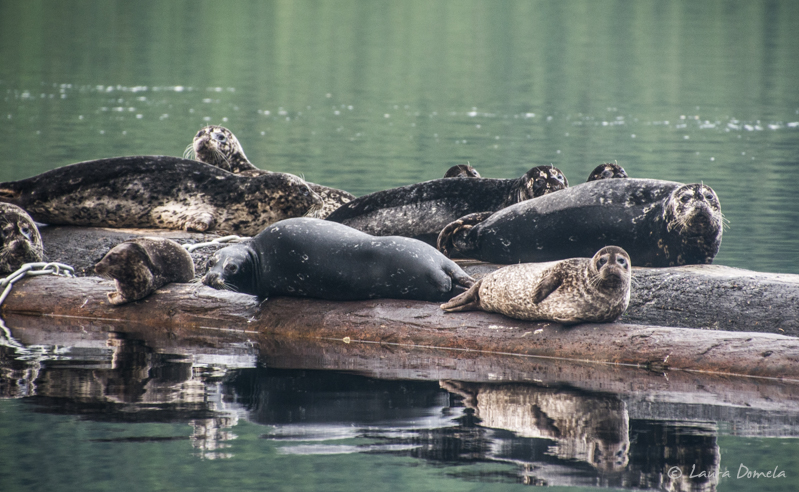 We pulled the first trap and there were quite a few Dungeness in that one.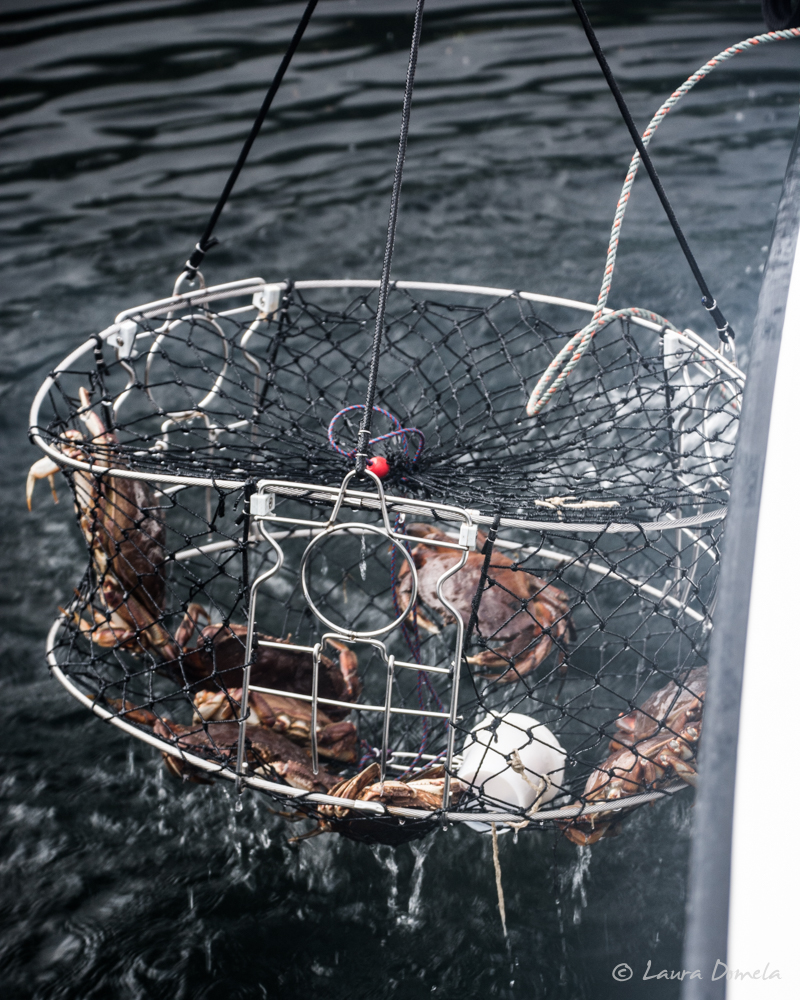 We wanted to be underway by 7am this morning to meet the slack tide at Perceval Narrows, about 5.5 hours away. Our goal today was Rescue Bay. The weather forecasts have been iffy for the past couple days. There's a low pressure system hanging out nearby, with a great big high pressure system right behind it. So there have been gale warnings for the whole area for the past couple days. So far though, we haven't seen any sign of anything more than about 8-10 kts of wind, but we know this could change any time. Yesterday was rainy and a little windy, so we opted to head for Ocean Falls instead of going out into Seaforth Channel to get to Rescue Bay, since that's an area that opens up to the Pacific and can be a little gnarly sometimes (like on our way south last summer!) Anyway, that's the weather background. And now, back to the crabs!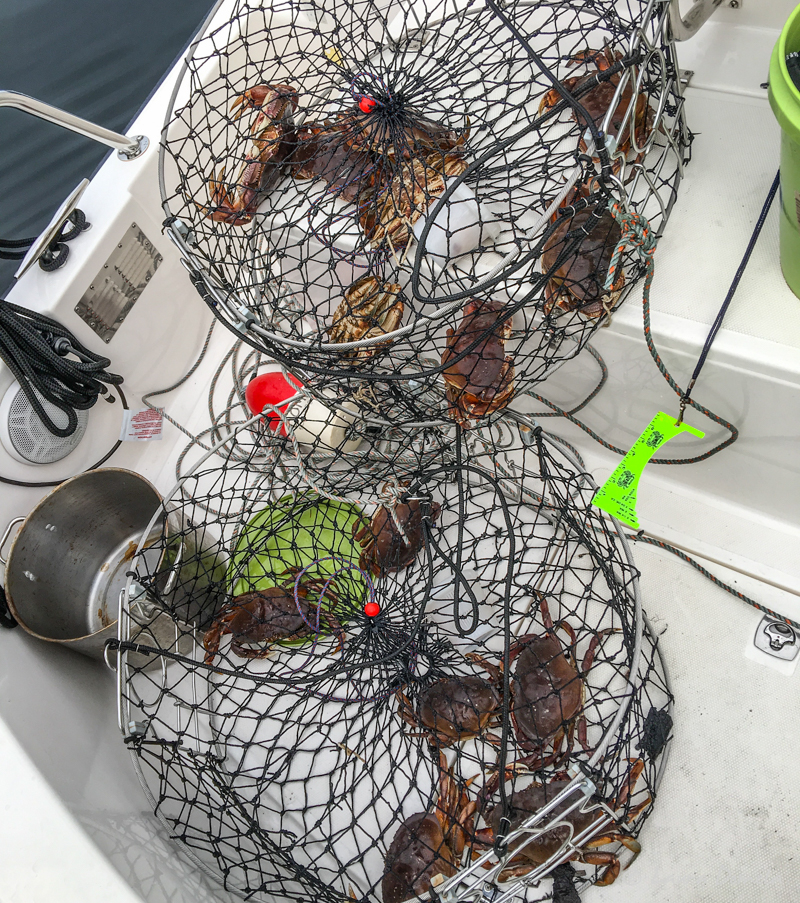 Here we are heading out of Cousins inlet, while Kevin unraveled crabs from the traps, measured them, and threw back the females and the too-small males. Nice and calm, and the clouds are starting to dissipate.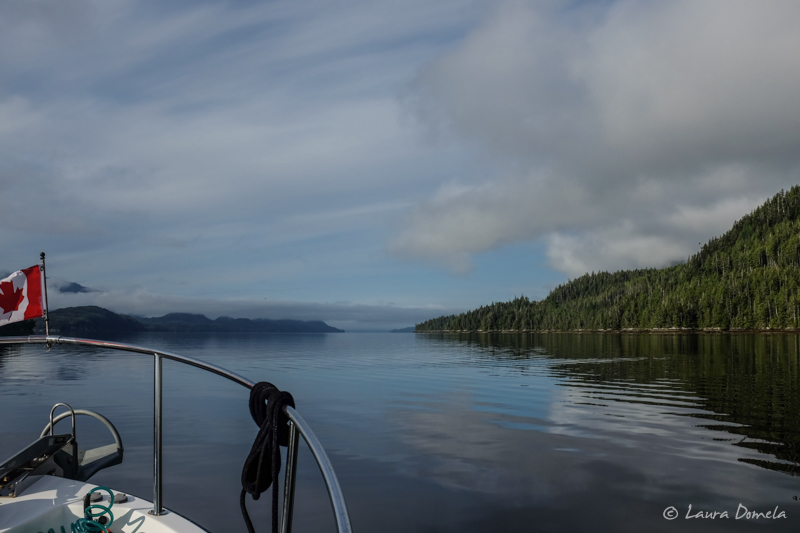 We had 8 large male keepers, and threw back 6. Pretty good haul for one night! This one looks like it might be the biggest.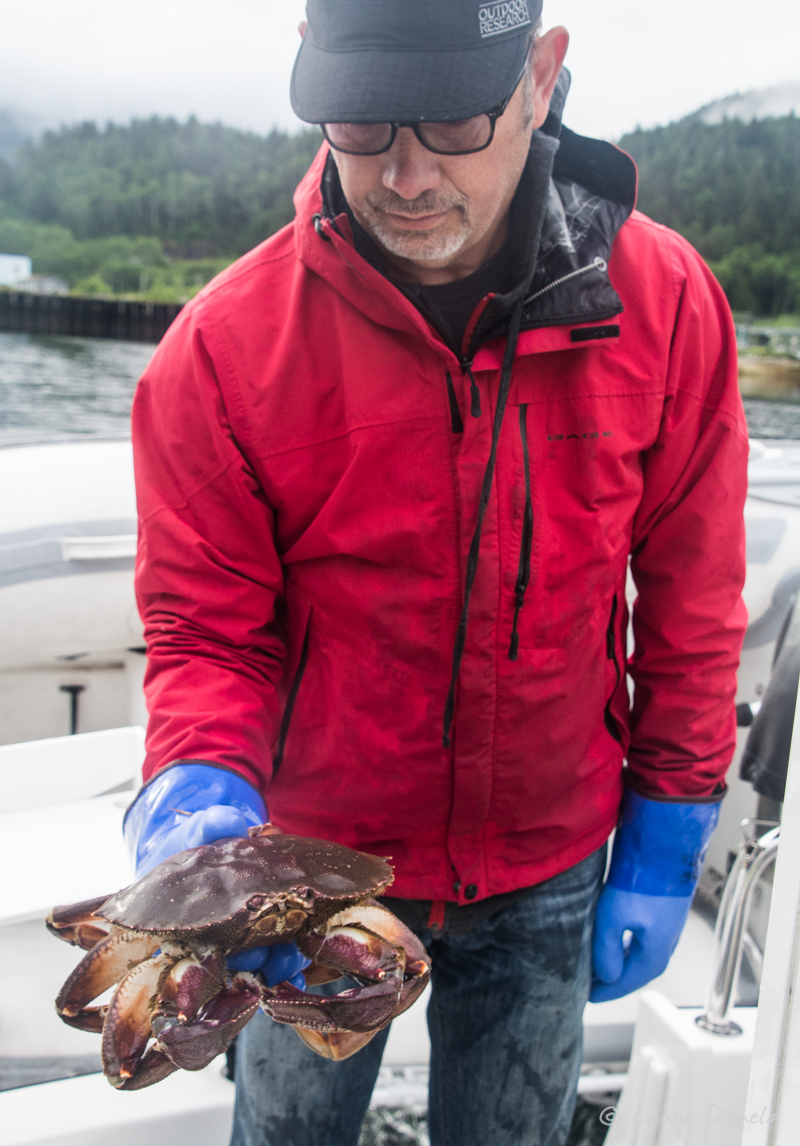 7.5 inches! Sweet! So…Awesome Thing About Today Number 1: a bunch of crab!
So, I'm at the helm, cruising down Fisher Channel and not yet to where we turn into Gunboat Channel while Kevin is back on the deck cleaning crab, and I start seeing a bunch of white up ahead on the horizon. I'm wondering if this is where things open out into a windier channel or something and maybe the wind picks up and what I'm seeing is whitecaps, so I zoom out on the map to see, but there's nothing that seems like it would all of a sudden be rougher. I get the binocs out to get a better view of the horizon, and sure enough, there's a lot of white and splashing…that stretches for maybe a half a mile wide (or more). Birds? I can't quite figure it out, but the splashing makes me think it's something a little out of the ordinary…I have a good feeling about this. I call back to Kevin. "Hey Kev? You might want to stop what you're doing and come up here and take a look through these binoculars. I think there's something pretty spectacular that's about to happen up ahead."
Kevin came up to the pilothouse and as we got closer, we started to see dorsal fins. Hundreds of them. Just like I'd hoped, it was Pacific White-sided dolphins. Probably about a thousand of them. And we were heading straight for them. Gaaaaaaahhhh!!!!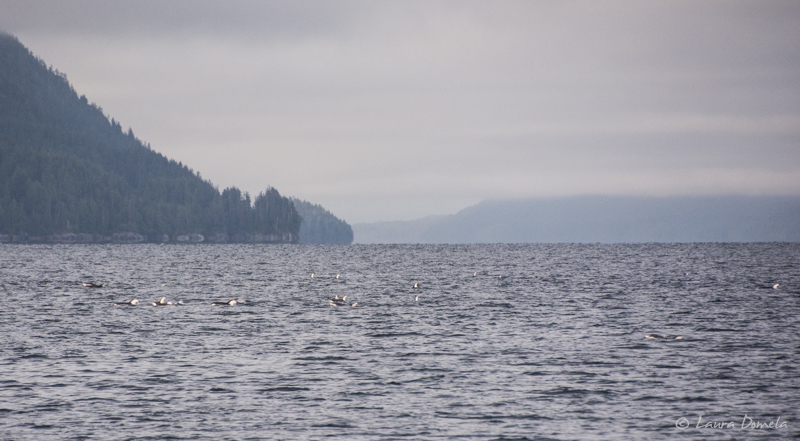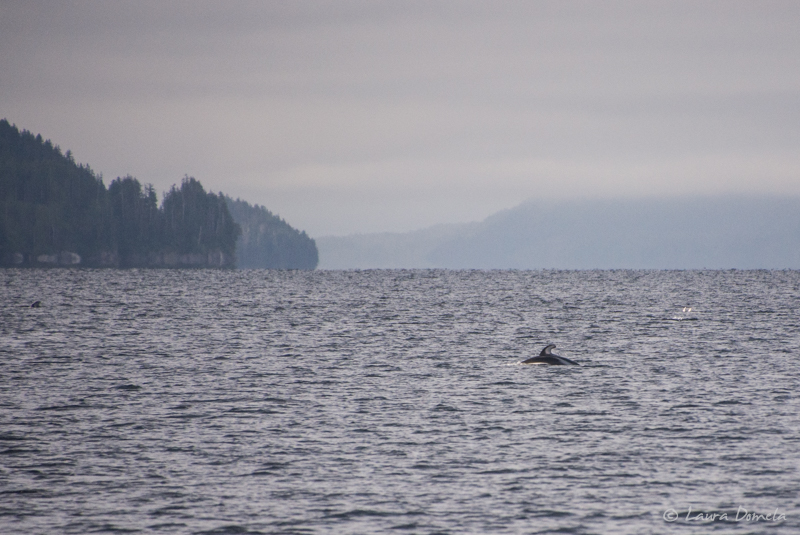 I went up on the bow with my camera, and pretty soon they were coming right for us! As we drove through this gigantic group of dolphins, they jumped and splashed and bow-surfed with our boat in groups that traded off…I'm guessing we had no fewer than 10 at a time surfing along with us. It was extraordinary. This lasted for about 20 minutes as we made our way through Dolphin Disneyland and it was marvelous. Okay, on to the photos!
Dolphins on starboard:
Dolphins on port: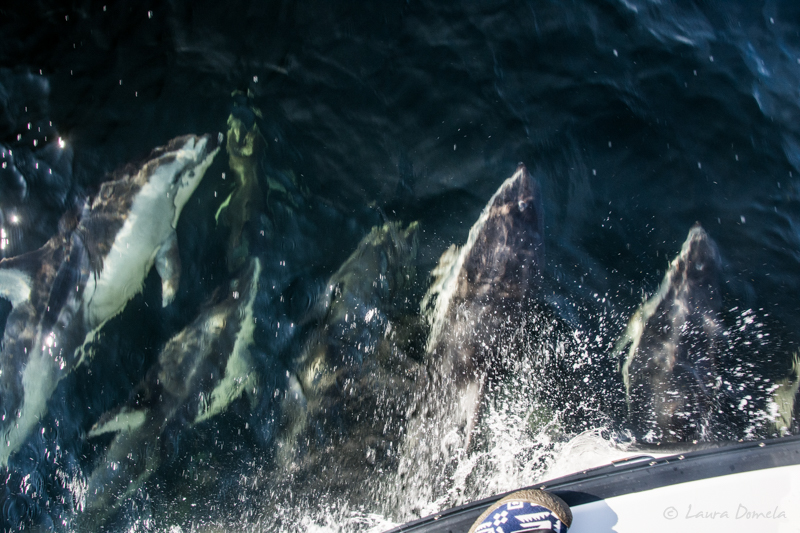 This one surfed on his side and his belly the whole time, looking right up at me as I hung over the bow and squealed. I hope he could hear me.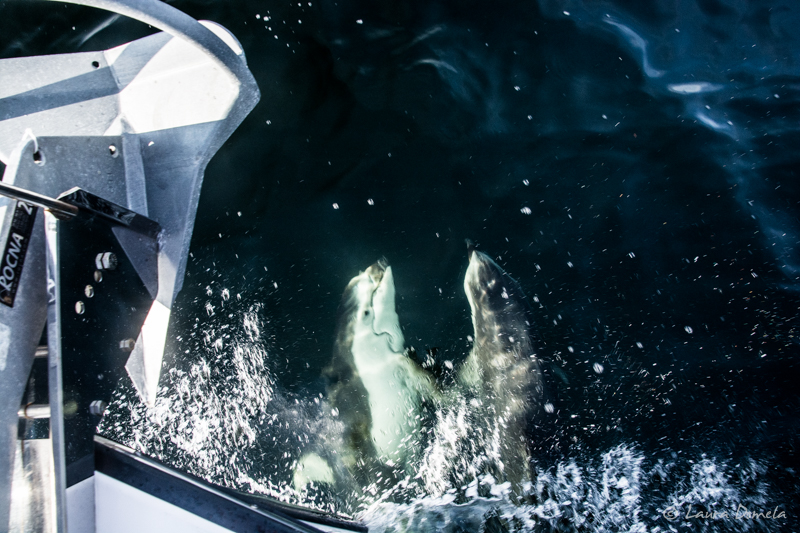 What an incredible experience. That's Awesome Thing About Today Number 2.
Gunboat Passage…so serene!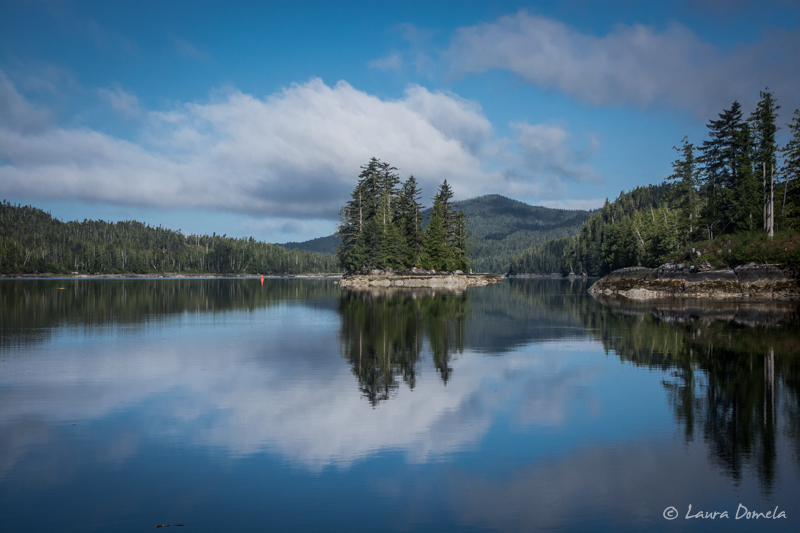 We cooked the crab while underway, and then I went back and started picking the crab meat while Kevin took over the helm. SO. MUCH. CRAB. We started feeling swells increasing gradually as we got closer and closer to Seaforth, but I was able to finish all eight crabs before anything fun happened. We had maybe 6-7 foot swells just before turning into Reid Passage, but they were far apart and no big deal. (They look pretty dramatic when they wash over all the low rocky isles though!)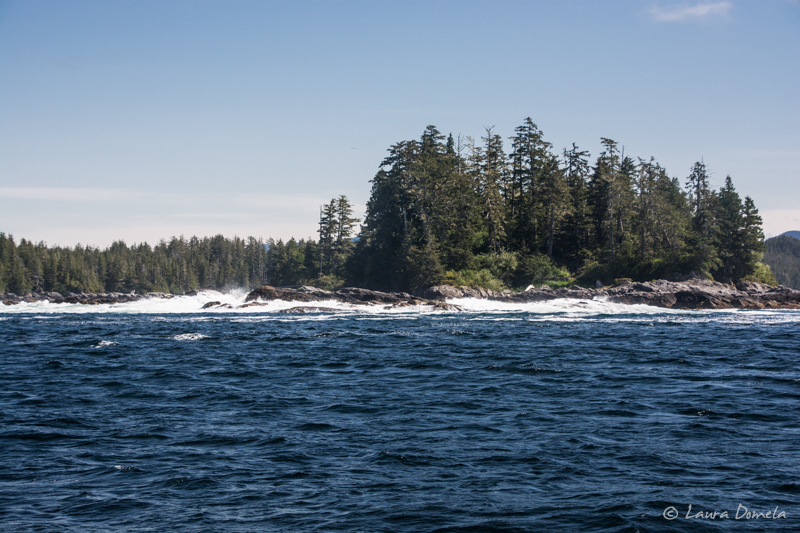 After we passed through Perceval Narrows at slack, things were calm enough to start with the crab stock project. We put all the shells in the big pot, and added some shallots, garlic, mushrooms, and bay leaves, and a couple hours later, we had ourselves a gallon and a half of fresh, delicious, crab stock. Tonight's dinner will be crab bisque, with a caesar salad and some garlic bread. We'll freeze the rest of the crab stock until we need more.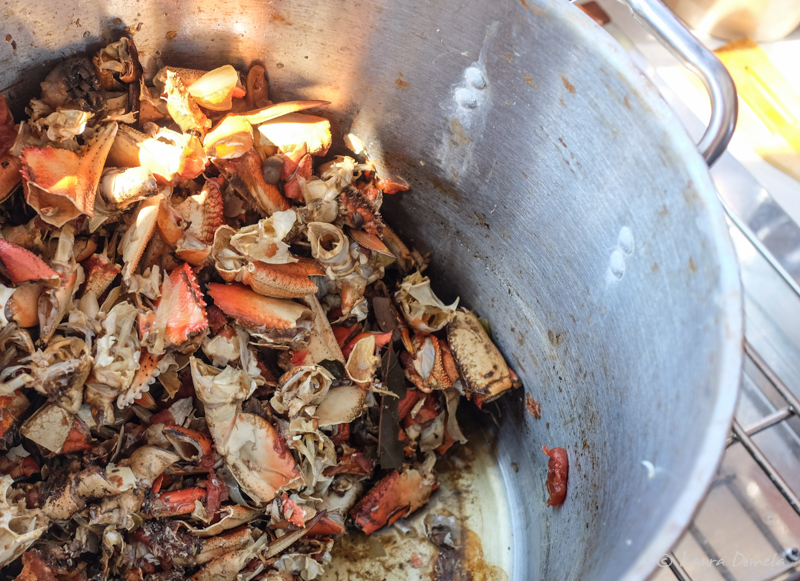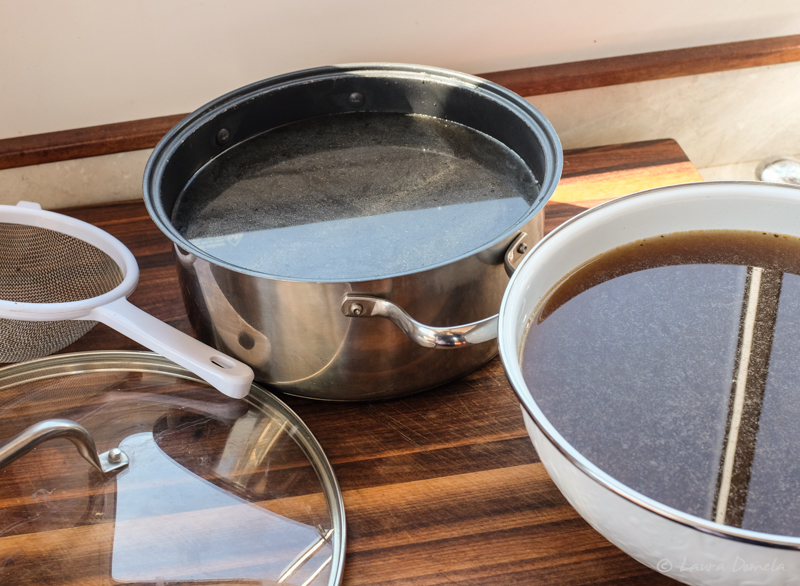 We are now anchored in Rescue Bay, and this is our view out toward Jackson Narrows: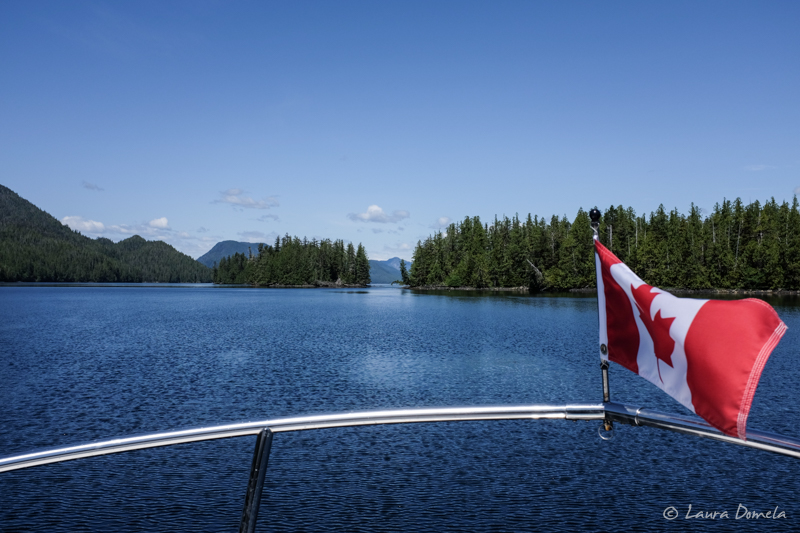 We took a fun dinghy exploration ride around the bay (followed the whole time by a posse of seals). The water was so clear that in the narrow parts it was like tidepooling by dinghy!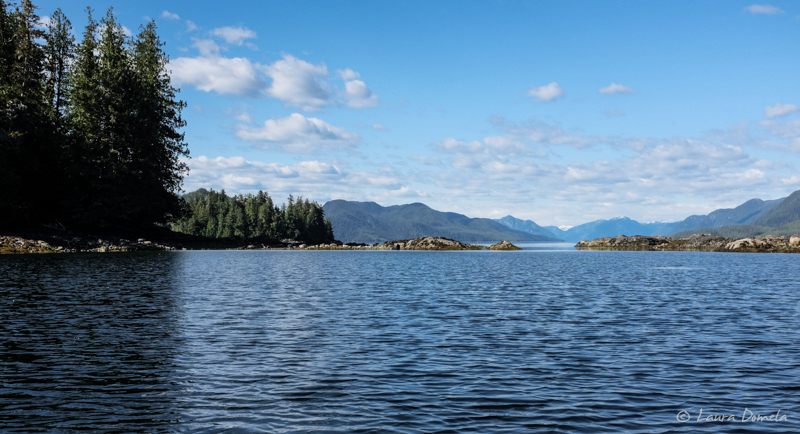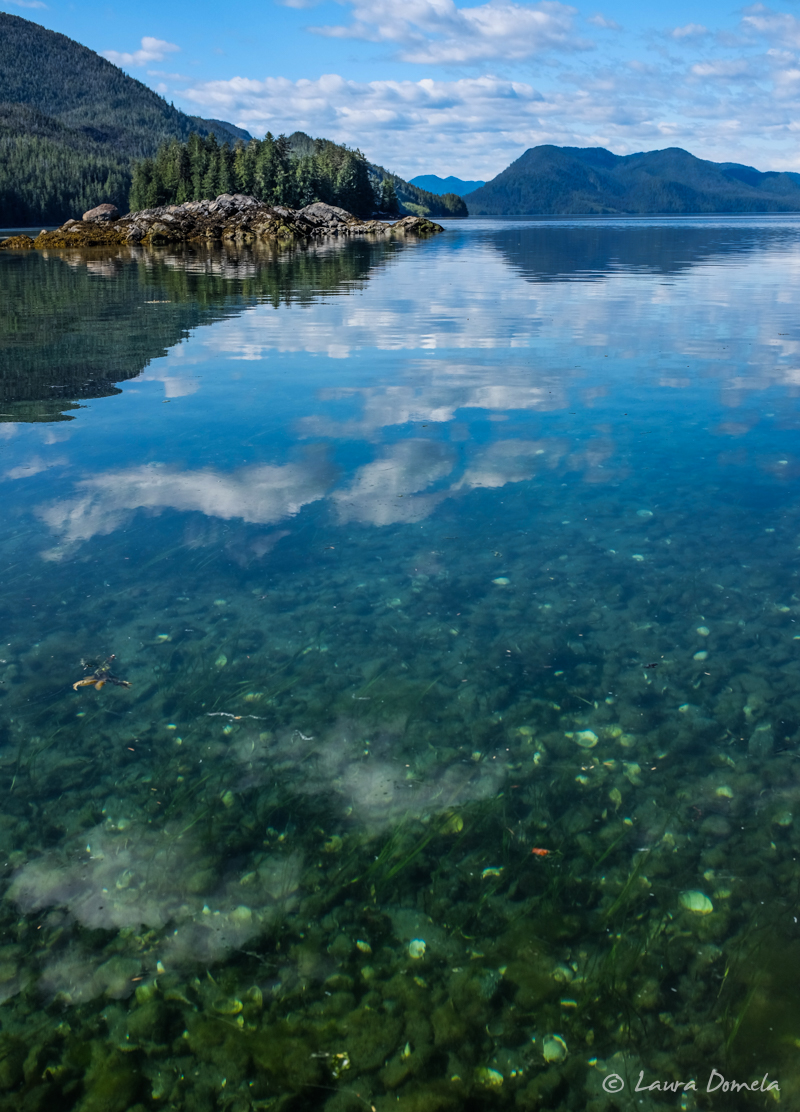 Kevin took the drone up for a few quick shots of the bay from the air. Here's one looking out toward the entrance to the bay: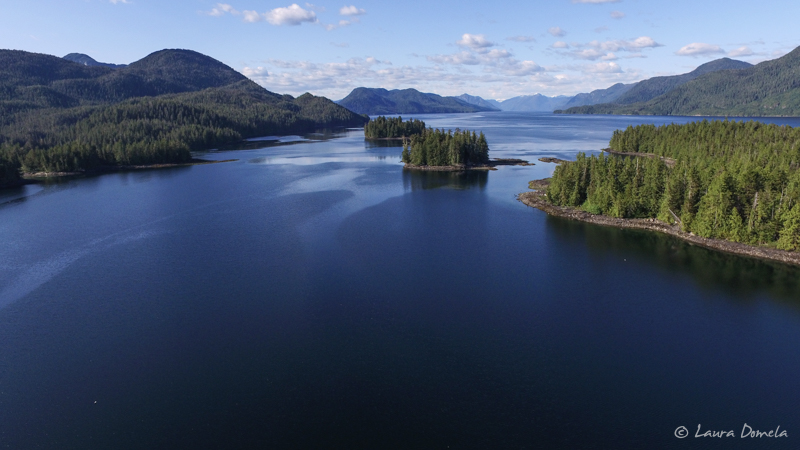 Back at Airship, we strained the homemade crab stock (a gallon and a half of it!!), and then made a REALLY good crab bisque, with a caesar salad and garlic bread for dinner. (This bisque was AMAZING. I'll share the recipe, but I have a feeling it's all about the fresh crab stock.)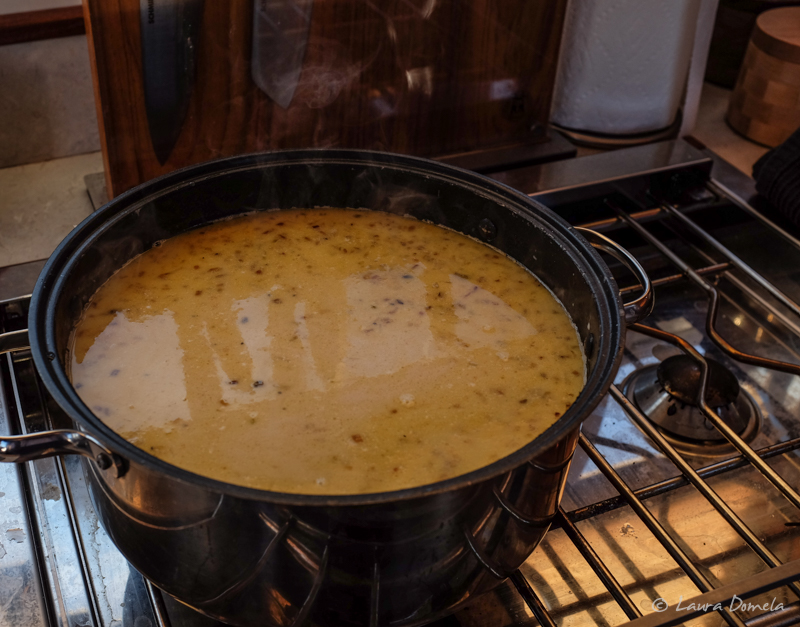 Just as dinner was almost ready, two guys from a prawn boat that had recently anchored in the bay here rowed up and asked us if we wanted some prawns. ARE YOU KIDDING ME? We've been dreaming about those spot prawns since the prawn feast at Pierre's last year with the flotilla. The spot prawn season up here is 45 days, and it opened the day we were leaving Lund, but we've asked around and haven't been able to get any. And here were these two guys, just rowing themselves over to us to give us some. Spot prawns are like the freshest best regular prawns times 10. They're AMAZING. We asked if we could pay for them, and they said no…they said their captain (or maybe she's the boat/company owner, I'm not quite sure) gave them some prawns and said they should go share with the two boats at anchor. SO! NICE! We asked if we could trade for them and they said they'd just run out of beer. (They also said the captain has some wine, but that she doesn't share it with them.) So we gave them a large bottle of beer, and then asked if they liked bourbon. Turns out yes. So I gave them the rest of a bottle of Bulleit and they were SUPER happy. Here they are: Tyler and Dustin. We chatted with them for quite a while…they were great. Sounds like they may have a fire on the beach tonight… (They didn't have a fire on the beach, turns out. I think they probably drank bourbon and played cribbage.)
Here's the prawn boat, the Lasqueti Gambler.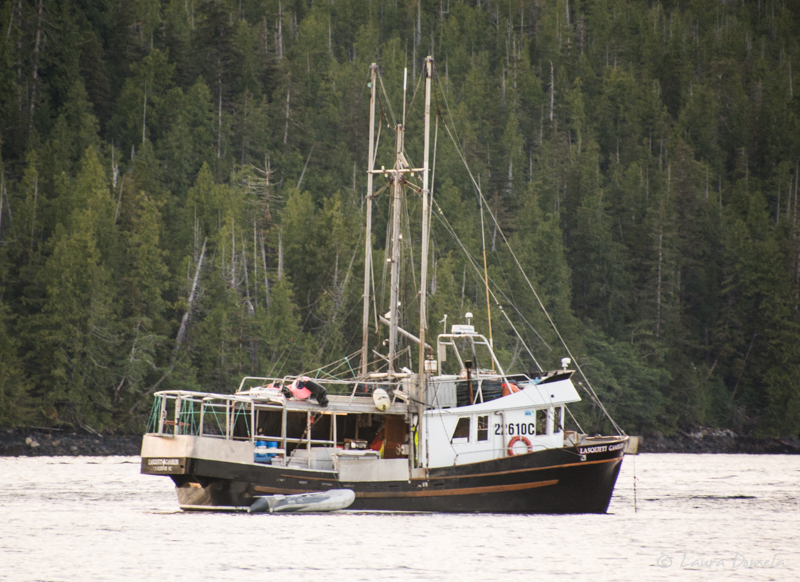 Here are Tyler and Dustin, prawn deliverers: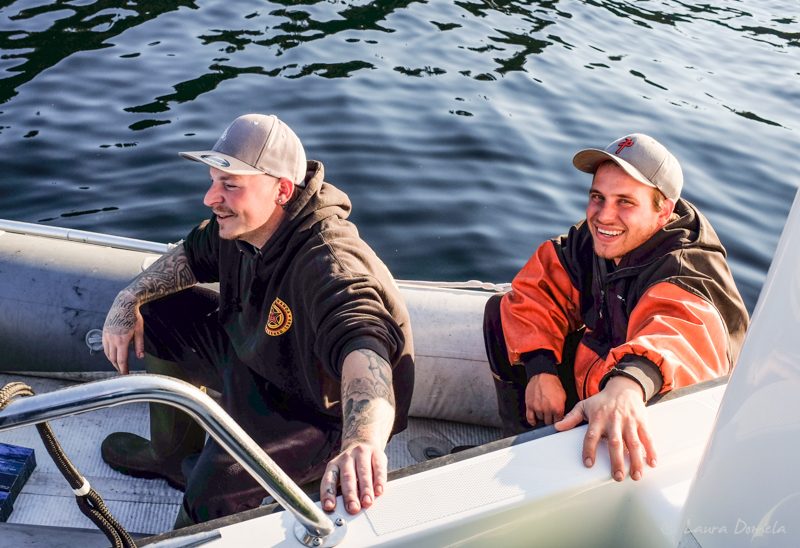 They gave us 3 1kg boxes. That's 6.6 pounds of freshly caught flash-frozen spot prawns. SCORE. So that's Awesome Thing About Today Number 3.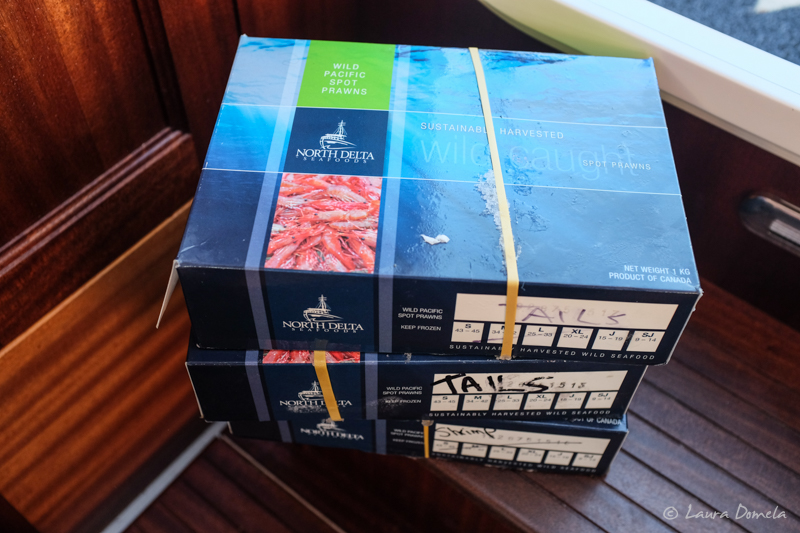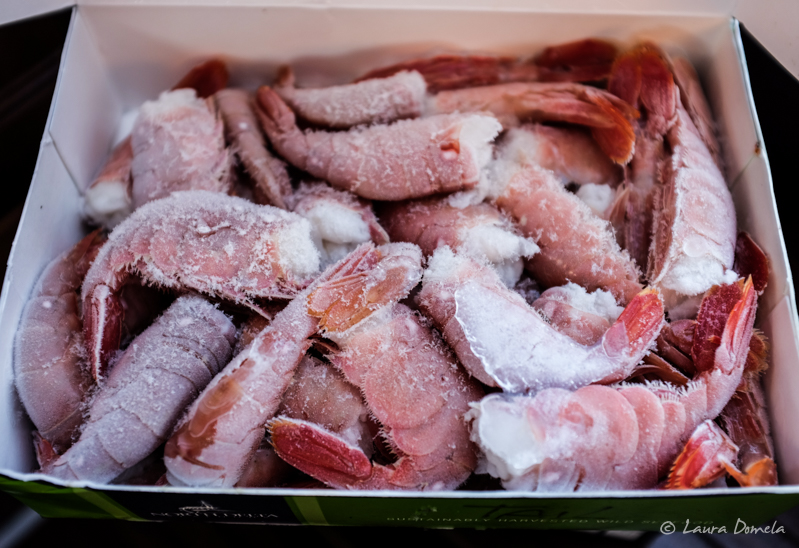 Today's route from Ocean Falls to Rescue Bay was 53.9 nautical miles, 7 hours 13 minutes.