Join us for the trip of a lifetime—a guided flotilla cruise from Washington's San Juan Islands to Sitka and Juneau Alaska! Along the way, you'll visit our favorite marinas, overnight at the most beautiful anchorages, and navigate through tidal rapids and open ocean. We'll watch whales feed and waterfalls tumble into the ocean.
Q: What is a flotilla?
A: A flotilla is a group of boats. On flotilla trips, the group travels together, with experienced leaders acting as guides.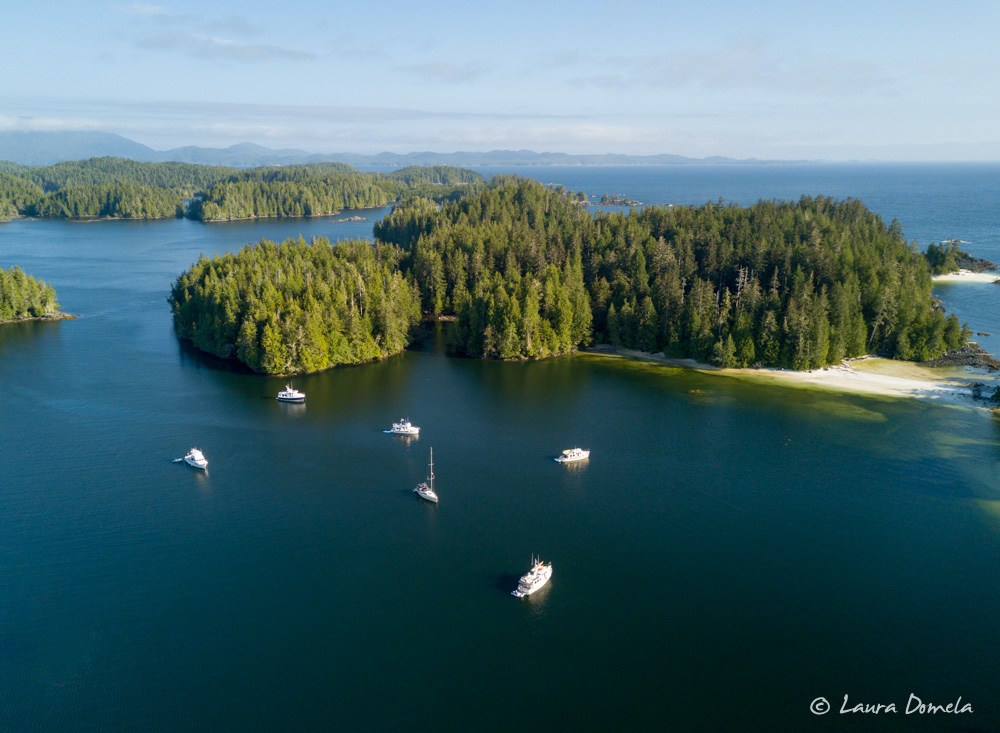 Q: What is Slowboat?
A: Slowboat is a company formed by avid Pacific Northwest boaters Laura Domela, Kevin Morris, and Sam Landsman. Our goal is to demystify cruising in the northwest and empower boaters to see the Inside Passage by small boat. Read more about us here.
Q: Why would I want to go with a group?
A: Group travel isn't for everyone, but there are lots of benefits.
Experienced guides. We demystify the tidal rapids and ocean crossings, bring insight to destination selection, and provide help when needed.

Safety in numbers. While you are always responsible for the safety of your own boat, it's comforting to know that friendly fellow boaters are nearby. And when a boat does have a problem, the whole fleet pitches in to help.

Social. Boating on the Inside Passage can be lonely, with long stretches between towns and marinas. But on a flotilla, friends are always nearby.
Q: Who's leading the trip?
A: Laura Domela and Kevin Morris are your trip leaders. Together we have many years of experience leading successful flotilla trips to Alaska, as well as experience boating in the Pacific Northwest, British Columbia, and SE Alaska. (To read comments from past flotilla participants, click here.) 
Q: Why not move faster?
We're covering a lot of distance! We've made these trips more quickly, but they felt too rushed. We like having enough time to enjoy the anchorages, villages, and towns along the way.
Q: How many hours are we underway each day?
A: This varies depending on the trip. Each itinerary has details on total mileage and the miles we'll travel each day. On average, we probably spend about five hours underway. Keep in mind that some days we may only travel for an hour,  while other days may be 11 or 12 hours. Of course, your cruising time will vary based on your cruising speed.
Q: How many nights are at marinas? How many nights are we anchored out?
A: This varies depending on the trip. Our detailed itineraries indicate which nights will be at anchor and which will be at a dock. Keep in mind that some of the docks we visit don't have amenities like shore power or water. 
Q: I've never anchored or don't feel comfortable anchoring. Can I still go?
A: Yes! One-on-one training with one (or more) of our flotilla leaders can be arranged to help get you up to speed before departure. And we're always happy to provide help once we're on the flotilla!
Q: How fast does the flotilla travel?
A: The lead boat, a Nordic Tug 42 (Airship) is happy at about 8 knots.
Q: What happens if my boat cruises slower than 8 knots?
A: No worries! During the day, the fleet typically spreads out based on cruising speed. Slower boats have the option of departing earlier or arriving later. If we're transiting tidal rapids, we will spend time with the crew to plan a departure time that gets the boat through the rapids at a safe time.
Q: What happens if my boat cruises faster than 8 knots?
A: No worries! Sleep in and catch up with the fleet, or arrive early and get the best spot in the anchorage. Throughout the cruising day, boats typically spread out based on cruising speed. We're within VHF radio range, so we can still carry on group discussions, but we're not necessarily following directly behind the lead boat.
Q: Can friends/family join us along the way?
A: Yes! We have lots of experience flying people to various places along the way. If you'd like to have guests participate in the trip, please let us know, and we can advise on the easiest places for them to fly to and from.
Q: How often can we go grocery shopping?
A: This varies depending on the trip. Generally, you'll be able to find some groceries about once a week. Sometimes we'll be lucky enough to have a supermarket nearby, other times we'll be shopping at a small convenience store. Throughout the trip we keep participants updated on when we'll reach the next port with supplies.
Q: How long between water stops?
A: Potable water is available regularly throughout the trip, at least every week but often more frequently.
Q: How long between fuel stops?
A: The longest section without a fuel dock is about 85 nautical miles, but the trip is a lot more enjoyable on a boat with a range of 250 nautical miles or more. Boats with less range will spend more time detouring to out-of-the-way fuel docks.
Q: How often will I have cell service or Wi-Fi?
A: We never go more than a few days without getting some access to the internet. Most marinas have free Wi-Fi available (though it's often satellite based and very slow) and cell service is increasingly available along the route we take. The lead boat is equipped with Starlink satellite internet service, as well as a Garmin InReach.
Q: What happens if my boat breaks down?
A: Before the trip we encourage you to use your boat. Take it out for a weekend of winter boating and test every system. Stay at anchor, tie up to docks, see what you can break.
We'll supply you with a checklist to go over with your mechanic as well as a list of spare parts that we carry and recommend.
The reality is that most boats have some type of mechanical or electrical problem during the trip. Flotilla leaders are available to help troubleshoot problems, and we have a lot of practice fixing things and obtaining parts in the most remote places along the Inside Passage.
Q: Are pets welcome?
A: Of course! We've had many dogs and cats participate in the past. We select anchorages with areas for pets to go ashore. Be mindful, however, that some travel days are long (~85 nautical miles) with no option to go ashore during the day. Many dog owners find it helpful to train their pets to do their business on board the boat.
Q: This trip is one way. How do we get home?
A: This trip is as much about education as it is about having fun and seeing the Inside Passage. Throughout the trip, we are available to help boaters understand not just what we're doing, but WHY we're doing it.
For example, when we go around Cape Caution, we don't just say, "Today is acceptable weather, let's go!" Instead, we invite you to look at all the data available and we walk through our decision-making process with you.
Our goal is to help you cruise home confidently on your own!
Q: How many boats will be on the flotilla?
A: Participation is capped at five boats, except for when we do a west coast of Vancouver Island leg, which is capped at four boats.
Q: Is my boat too small to go to Alaska or around Vancouver Island?
A: Probably not, but it might be too small for you to go to Alaska on. As long as you're comfortable onboard your boat for several months, it's seaworthy, and it has about 120 nautical miles of range your boat is up to the task.
Q: How large a boat can be accommodated on the flotilla?
A: We don't have a strict maximum size. In the past, we've taken boats as large as 65 feet. If in doubt, ask us!
Q: What experience do I need before going?
A: You should be comfortable operating your boat at sea and in marinas, as well as basic troubleshooting. If you have specific questions, just ask!
Q: When is the trip fee due?
A: Half the fee is due upon signing up, the other half is due on March 30th.
Q: What happens if I have to cancel after paying for the trip?
A: Due to the small size and long duration of our trips, no refunds are offered. We recommend you purchase travel insurance.
Please let us know as soon as possible if you cannot take the trip. If we can fill your spot, we will refund your money.
Q: If I have to cancel, can I sell my spot?
A: Yes, as long as the trip leader approves the purchaser! If we have a wait list for the trip, we will even help you sell it.
Q: Can I talk with someone who's been on one of these trips before?
A: Of course! We're happy to put you in touch with previous participants.
Q: How can I get more information?
A: Easy! Just fill out the form below!