We've been unusually quiet for the last year. Cancelling trips, refunding money, doing circles around the San Juan Islands while waiting for the COVID crisis to blow over had us a bit down. But we're finally underway again, and it feels great!
A few months ago, several things became clear: any American who wanted to be vaccinated could be fully vaccinated by the end of May, travel and socializing is safe for fully vaccinated people, and Canada would remain closed through spring and early summer. We sent out some feelers to people who had signed up for previous flotillas and quickly put together a small, fully vaccinated group wanting to do an Alaska flotilla.
Canada was the problem. The border remains closed to non-essential travel and our travel certainly isn't essential. Transits from one location outside of Canada to another location outside of Canada, however, are allowed. Something like Washington State to Alaska.
A transit by private boat must be direct, continuous, and by the most reasonable route, but the rules said we could anchor at night or to avoid bad weather. Filling up with fuel was fine. We began calling CBSA weekly, asking questions, confirming the rumors we'd heard. They assured us the transit wouldn't be a problem, even for a group traveling together, but during the time in Canada we'd be strictly quarantined on our boats. No kayaking, no group happy hours. And, of course, there was always the possibility that in the weeks between planning the trip and departing the rules would change. So we told our participants that we'd try our best. If we got turned away at the border we'd sulk back home, refund their money, and spend another summer circling the San Juans.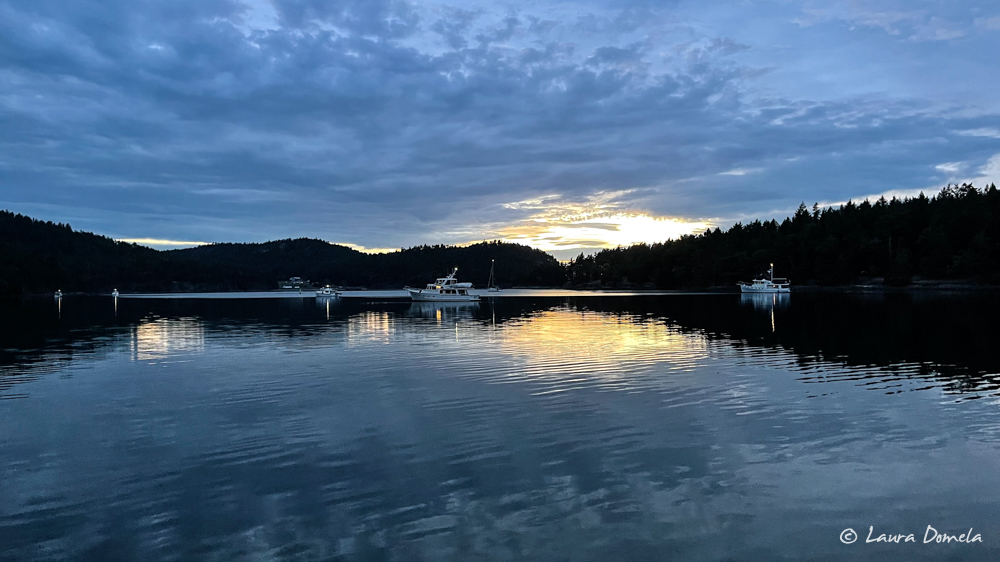 We met the group at Prevost Harbor on Stuart Island on Sunday, enjoyed our first (and last for a week or so) group happy hour, and headed for Port Sidney to clear Canadian Customs first thing Monday morning. We arrived at the customs dock well prepared: information submitted in advance via the ArriveCAN app, printed float plans with vessel details, contingency plans, and ample supplies for three of the five boats to transit without interacting with any Canadians (two will get fuel).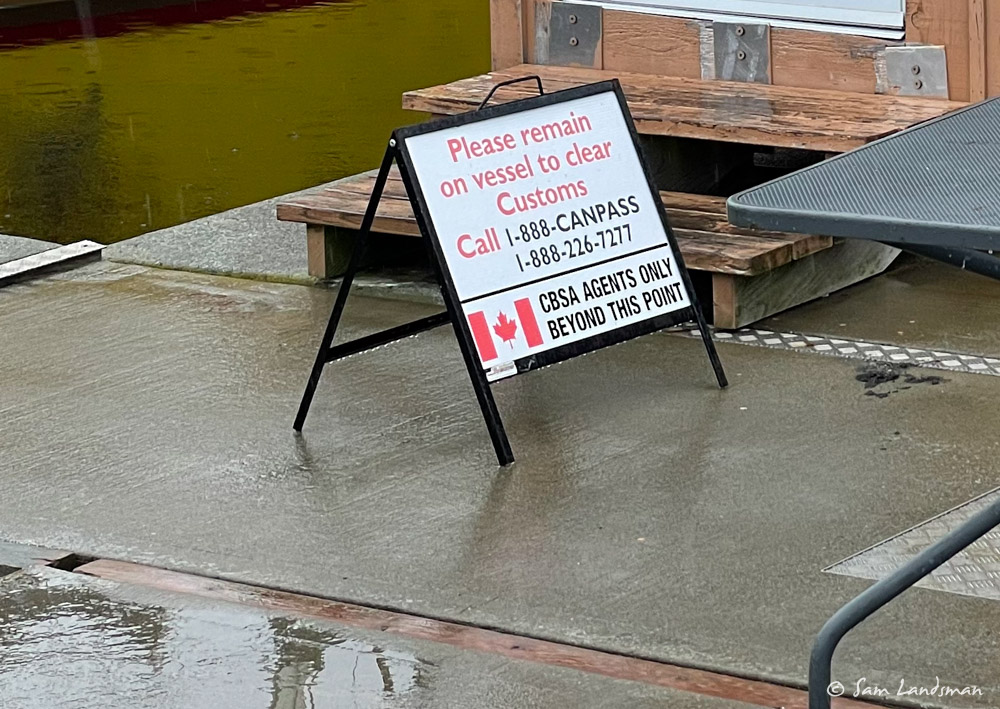 The customs experience was more intense than usual—they wanted to be sure we understood the letter and intent of their COVID restrictions—but it was reasonably quick and professional. Our whole group was cleared in about 90 minutes, which left us plenty of time for our afternoon slack at Dodd Narrows.
One thing we can't do on a transit is be super picky about the weather. Even though it was blowing 20 knots from the south and Entrance Island was reporting three foot moderate seas, we ventured into the Strait of Georgia. It was rolly but acceptable, and we made good time north towards False Bay, Lasqueti Island, our first overnight stop.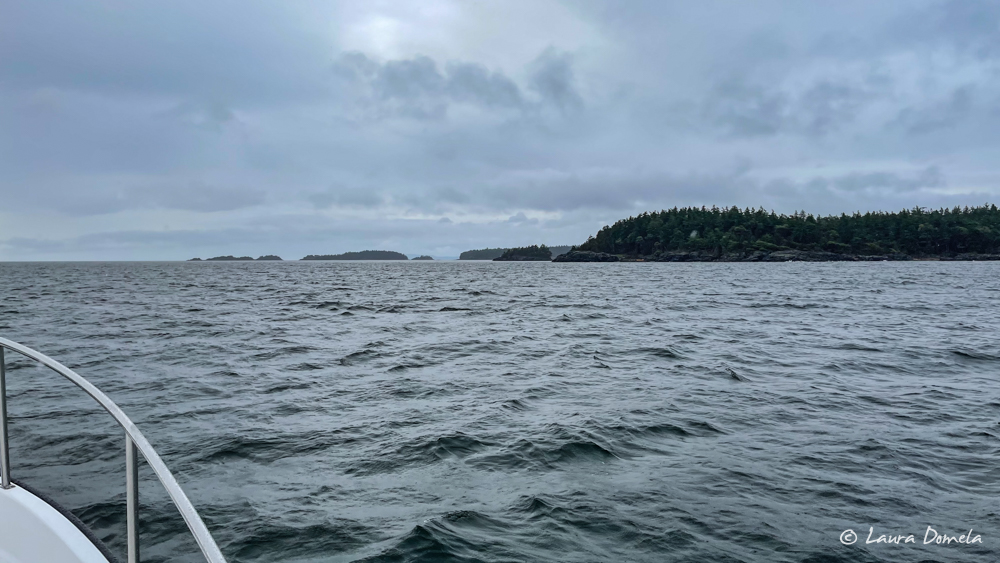 This is a very different cruise to Alaska than in normal years. Unless the weather is poor, it's dark, or a rapid is blocking progress, we're on the move. We usually cover the area between the San Juans and Ketchikan in about three weeks. We see a lot, but we skip even more. This year, we're doing it in a week (hopefully), and skipping all the side trips. We'll be glad to slow down once we get to Alaska, but we're incredibly grateful that Canada allows the transit option.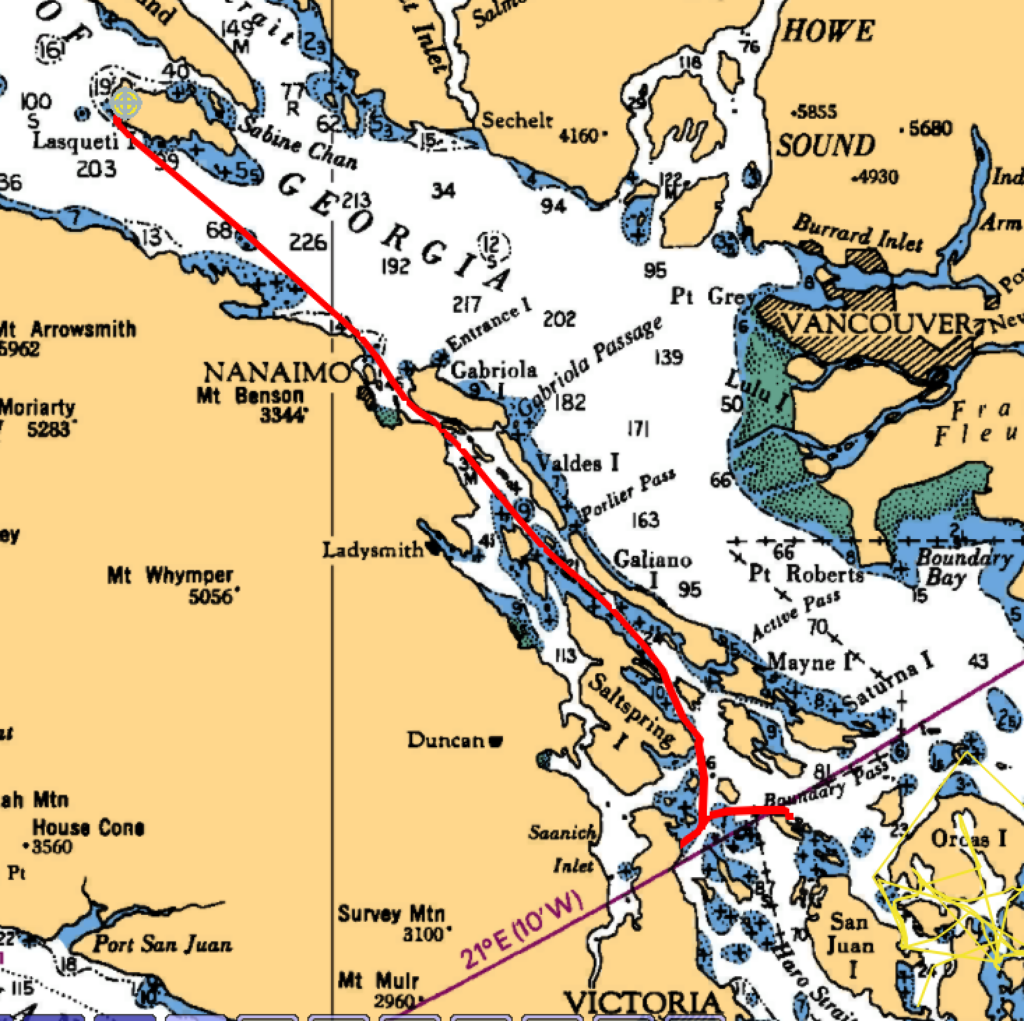 78.3nm today