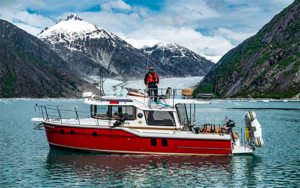 I participated in both the Alaska and Vancouver Island flotillas led by Sam Landsman, Laura Domela and Kevin Morris.
For most, cruising in your own boat to Alaska (or circumnavigating Vancouver Island) can be the adventure of a lifetime. However, the challenges and complexities of making these trips should not be underestimated. I have found that being part of a flotilla is a safe, enjoyable way to experience these incredible journeys. In the process, I have seen massive tidewater glaciers, breaching humpback whales and unbelievable wildlife!
I have had a blast cruising with Sam, Laura and Kevin, while learning a tremendous amount about cruising in the Pacific Northwest. They are without a doubt the three most knowledgeable people I have ever met with respect to boats in general and cruising in particular. Most importantly, they are extremely helpful, friendly and approachable.
Sam, Laura and Kevin are always ready to lend a helping hand, ensuring a successful trip for all concerned. Having observed the Slowboat team in action, I am amazed at how hard they work for the benefit of their clients. They seem to have an endless pool of knowledge and experience upon which to draw and they provide extremely valuable assistance to each of the flotilla participants. On a long voyage by small boat, their assistance has proven to be invaluable, time and time again.
I am also impressed by the number of clients who return for multiple flotillas. Once one cruises with the Slowboat team, it is hard to imagine cruising without them. I plan on participating in many more flotillas in the future!!
Ralph Tuliano, Ranger Tug R-29 CB Rhapsody
Slowboat Flotilla to Alaska 2018 and Slowboat Flotilla West Side of Vancouver Island 2018
---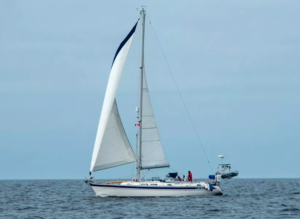 Sue and I bought our HR 39 sailboat last year and made plans to take it around Vancouver Island as our shakedown. We first heard of Slowboat when some friends recommended that we check out their webinar-videos online for guidance in transiting the rapids as we moved north. It was then that we noticed the flotillas that Slowboat leads, and one being down the West Coast of Vancouver. Ah, this could be that extra bit of assurance that would be great for a long trip in a boat new to us – and indeed it was. They were happy to accommodate our slower slow boat for this particular trip. Kevin and Sam solved a sticky technical issue that we had before the flotilla even began.
But the memory that we will carry of this great trip was endless evenings of camaraderie and shared food, and laughing harder than we had in years. We will always remember the laughing. The flotilla trip gave us the opportunity to sail our own boat on an incredible route with all of the time that we wanted and needed for ourselves. And this was balanced with the opportunity to share the experience with others and draw off of a pool of expertise and experience as the trip unfolded over the days and weeks. Laura and Kevin and Sam truly enjoy leading these trips and provide the right amount of structure mixed with the freedom to let the trip unfold as it will with changing weather and differing needs and desires of those along for the ride.
We came away from the trip with friends for life, sore sides from laughing, and as better sailors.
Mike and Sue Jostrom, Hallberg-Rassi 39 Zube
Slowboat Flotilla – West Side of Vancouver Island 2018
---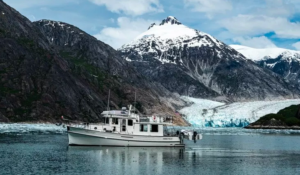 When we think back on our flotilla trips with the Slowboat gang, the main thing that comes to mind is their extensive knowledge (about such a variety of things!!!) and their willingness to share that knowledge in a very helpful and educational way. Tips for monitoring and evaluating the weather, reading tides and currents, out of the way cool anchorages, thoughts on how and where to drop an anchor in a challenging anchorage, route suggestions for the return trip, how to make a yummy ceviche – they covered it all!
But most importantly, when a problem arose, they were more than happy to help guide you in how to troubleshoot it (even if it meant jumping into the engine room or taking down the headliner), isolating the problem, then assisting with the fix, most often using tools, spare parts and other items already on the boat (Sam is not called "Napa Auto Parts of the Sea" for no reason!!).
And in addition to their wealth of knowledge, they are just an incredibly fun group to cruise with! We highly recommend the Slowboat flotillas!!
Dan and Eileen McCormack, Nordic Tug 37 Fortunate
Slowboat Flotilla to Alaska 2018
Waggoner Flotilla to Ketchikan 2015
---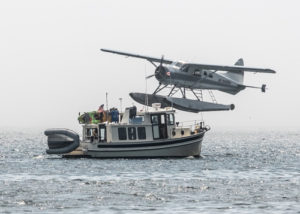 We recently returned from a Slowboat flotilla down the west coast of Vancouver Island. We had a blast and only wish it lasted longer! We cannot say enough good things about our hosts – Sam, Laura and Kevin – and the skills they brought to the adventure.
We have traveled the Inside Passage as far north as Desolation Sound and Port McNeill in previous years but had never motored into the big waters just beyond. We were fairly comfortable with our own skills and capabilities of our older Nordic Tug 32 but wanted both good company and experienced support to take on a trip like this. We got both.
Being somewhat independent, we needed more than a tour guide; we wanted to grow our own knowledge and skills in order to take on remote cruising like this by ourselves in the future. We talked about this with Sam, Laura and Kevin in our pre-cruise meeting and they came through in every way. Our daily planning meetings included not only a schedule and course for our travels but the opportunity to learn about the planning process behind them. When we wanted to know more about interpreting weather data, we were invited to spend a couple hours reviewing weather resources, apps, and best practices. It was exactly what we needed!
Let's not forget the fun stuff: Dinghy excursions. Hikes. Hidden beaches. Drones. Photography. Potluck dinners. Radio banter. Stories (some might be true). Estevan Point. Victoria. Everything.
We signed on with hopes of increasing our competence and confidence. We wanted to see some spectacular remote places, make new friends and have a great time. Our experience with Slowboat exceeded our expectations in every way and we highly recommend them to fellow boaters.
Thanks to you all – Sam, Laura, and Kevin!
Lindsey and Doug Ford, Nordic Tug 32-159 Waterford
Slowboat Flotilla – West Side of Vancouver Island 2018
---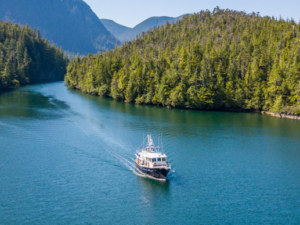 The idea of circumnavigating Vancouver Island was very appealing, but boaters are led to believe it's not for the "faint of heart". However, having cruised with Sam to Alaska two years ago, we were eager to join the Slowboat flotilla this summer knowing that we were joining very competent leaders.
We really feel that joining a flotilla makes the whole experience better than going it alone for several reasons—we could discuss weather, wind, sea conditions and get a consensus on going to the next destination (or not); since we won't be doing this trip on an annual basis like visiting the Gulf Islands, for instance, the knowledge of the leaders helps insure that we visit excellent locations, and that because of the knowledge of experienced leaders we went into fabulous harbors and inlets that we might otherwise not have attempted; we have made new boating friendships that are priceless; each evening ended with a get together for dinner, drinks, and great conversation; and we knew if we ran into any problems, Sam, Laura and Kevin would be there to lend assistance.
On a final note, we were pleased to be on a small flotilla as it allowed us to get into harbors and marinas that might otherwise not have been able to accommodate us.
Thanks Sam, Laura, and Kevin for a wonderful trip!
Jeff and Darlene Gidley, Kadey Krogen 44 Mana Kai
Slowboat Flotilla – West Side of Vancouver Island 2018
---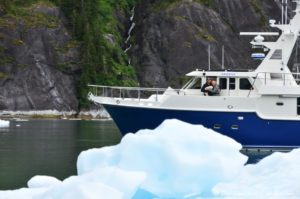 Cruising the coast of BC and SE is the trip of a lifetime. And with the Slowboat Flotilla, it was less stressful and more fun than we imagined.
Sam, Laura and Kevin made a great, knowledgeable team. And they shared their knowledge with us. They knew weather and how to pull down forecasts and condition reports; they knew all the great anchorages and marinas; they knew the best cruising routes; they knew locals along the way; they knew where to shop for food and supplies; they knew the cool hikes and boardwalk villages and hot springs; they knew good restaurants and divey pubs; they knew how to scout for bears and whales and eagles; they knew how to avoid running across commercial fishing nets; they knew how to troubleshoot mechanical problems. Through our interaction with them we feel like we really enhanced our boating skills. It has given us much more confidence on the water.
Sam, Laura and Kevin did an excellent job leading the Flotilla. And we really enjoyed getting to know them personally. They were always helpful and friendly and generous with their time. We hope to do more boating with them in the future. We highly recommend them if you want to join a flotilla to SE!
Park and Carol Cann, Nordhavn 50 Akeeva
Slowboat Flotilla to Alaska 2017
---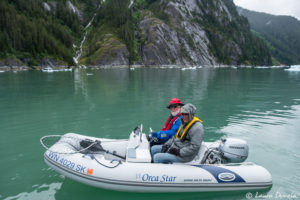 To anyone thinking of going to Alaska for the first time, in their own boat, I would highly recommend you join the next flotilla lead by Sam, Laura, and Kevin at slowboat.com. Even with 30 years of experience boating in the Salish Sea, the idea of heading north by myself seemed daunting. When I suggested to my wife that I could invite friends to share part of the experience on a rotating schedule, and also do it with five other boats, she was all for it.
The three leaders of slowboat have a way of making the trip fun, exciting, and adventurous. Sam has a great approach to demystifying some of the bigger crossings, and focusing our itinerary to make the most of our time heading north while still allowing time for exploring our surroundings. Kevin is the technology expert and skilled crabber. We were fortunate to share his bounty on many occasions. Laura, an amazing chef, and photographer, made sure none of us lost weight on this trip. We were not expecting slowboat to treat us to so much exceptional food and drink!!!
One of my favorite aspects of traveling with this group was the exceptional photography that documented our 30 day trip to Sitka that was viewable by my family and friends as we went north. All they had to do was go to slowboat.com, and it was almost as good as being there.
So, I want to thank my three friends of slowboat, and my fellow cruisers for helping me make a lifelong dream come true. PRICELESS!
Dave Starrett, Nordic Tug 42 Orca Star
Slowboat Flotilla to Alaska 2017
---
Want to talk with previous flotilla participants? Just let us know, and we'll put you in touch.