As we prepared for our summer expedition up the Inside Passage to SE Alaska, we did a number of upgrades to Airship (our 2013 Nordic Tug 34). Now that we've been underway for over two weeks, some early favorites have emerged. Here's what we like and why:
#5: Nightstand USB outlets and iPhone/Watch charging stands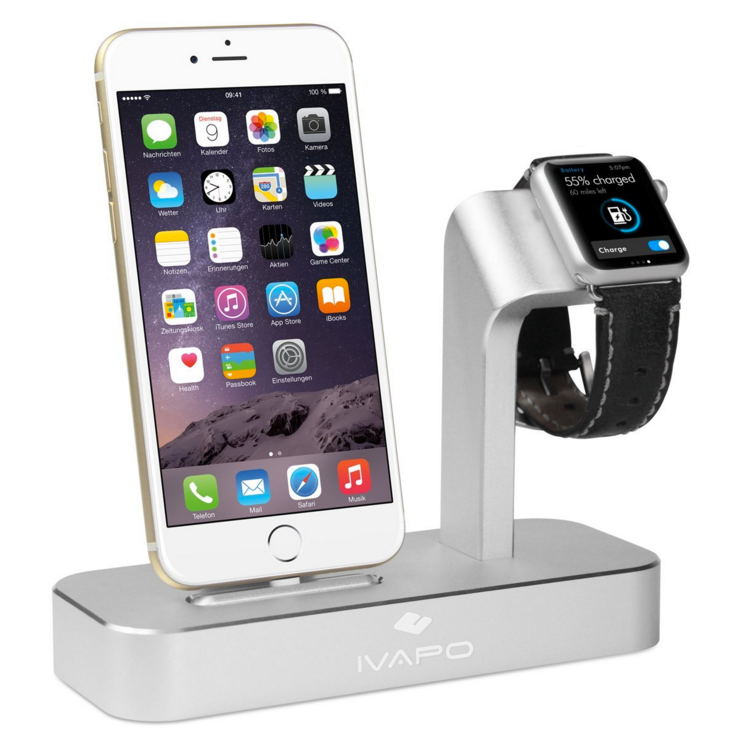 OK, this may sound like a dorky one, and it is only #5, but hear us out. We each use our iPhones and Apple Watches extensively underway. They are our cameras, weather-checkers, GPSs, backup chartplotters, Googlers, clocks, timers, alarms – occasionally we even make a phone call. 
That means each of us has two things that need charging every night. But, on our boat, the nearest 12V outlet was up in the pilot house, and there were not FOUR of them. So, we wired in a BlueSea 12V dual-USB outlet on each side of our bed. Then, we connected those to a pair of these handy aluminum nightstand phone/watch charging stands. BAM! problem solved. When we go to bed, we slip our phones and watches onto the stand, and they are ready to go the next morning.
Before, we had to put ONE thing on the charger in the pilot house. Then if one of us got up in the middle of the night, we swapped in another thing. Usually, all of our stuff was not charged up by morning, so we were juggling devices and charging cables all day.
See? Not so dorky.
#4: Torqueedo electric outboard and spare battery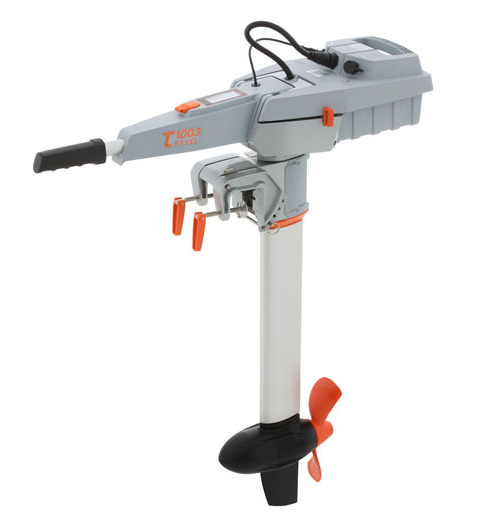 Last season, our dinghy was powered by a Mercury 6hp 4-stroke outboard. Those are supposed to be great little motors, but we kinda grew to hate ours. It took a lot of care and feeding, and was really cranky. The carburetor jets would periodically clog (probably because of ethanol in the fuel). So, we'd try to shut off the fuel and run the carb dry before we put it away each time. That meant that when we started it the next time, we had to pull the rope about fifty times to pull fuel back into the carburetor bowl. 
Several times, we cleaned the jets, and we finally ended up replacing both the carb and the fuel pump (and the fuel filter). It ran great after that, but we were DONE with the little outboard. DONE carrying a little gas can everywhere, DONE with spark plugs and fuel treatment and spare pull ropes and special wrenches and pulling and pulling and pulling and…
Enter the Torqeedo. It is an electric outboard that puts out the equivalent of about 3HP. That will take our dinghy up to about 4 knots. The old outboard would OCCASIONALLY get the dinghy up on plane, which gave a top speed of about 8-10 knots depending on the wind and so forth. But, most of the time it wouldn't get on plane, so we were going no more than 4 knots anyway.
The Torqeedo is quiet, basically maintenance free, and drop-dead easy to operate. You press the "on" button and the little display comes to life. It tells you the percentage of battery power remaining, how fast you are going (it has built-in GPS), how far you can go on the remaining battery power at the current speed, and the number of watts you are using at the current speed. It can go full speed for more than a half hour (so over 2 nautical miles at top speed) and MUCH farther (double-digit miles) if you're willing to slow down to 2 knots or so.
We bought an extra battery with ours, so one battery is always on Airship on the charger, and the other one is on the dinghy. Every time we bring the dinghy up onto the davit, we swap the fully-charged battery for the used one on the dinghy. Then, when we are ready to go out on the dinghy again, we've got a fully charged battery on it, and a fully-charged backup that we can take along if we're doing a long expedition. Re-charging seems to just take an hour or so with the normal amount we use out of the battery (usually less than 1/3).
#3: New Garmin 7616xsv with GMI 20 marine instrument and DownVu/SideVu CHIRP sonar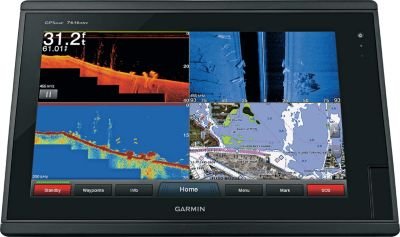 This was by far the most expensive upgrade of the bunch, but it brought a bevy of awesomeness along with it. Our old Garmin 6212 was a great chartplotter (Wanna buy it? It's probably still for sale), but the new system gives us a wider, faster, (16″) touchscreen interface (rather than the push-button system on the 12″ 6212). The new sonar gives an incredible, almost photo-realistic picture of the bottom – awesome for finding obstacles that might snag your anchor. Also great for fishing. The Marine Instrument is connected to a wind sensor which gives us constant wind speed and direction, and a through-the-water speed sensor which, (when combined with the GPS info) gives a pretty accurate display of the current the boat is experiencing.
We also got a Sirius XM weather receiver with the Garmin, and it gives us up-to-date conditions and forecasts anywhere. This is particularly useful as some of the places you might want to hang out while waiting for weather windows for crossings such as Cape Caution and Dixon Entrance are also places with no internet, cell phone, or even VHF weather radio coverage. Having all the weather info in one place on your chartplotter all nicely integrated with the map is wonderful.
Certainly the chartplotter is our most-used tool underway, and we are extremely happy with this new one.
#2: Singlepoint WiFi In Motion MAX Marine router – plus T-mobile unlimited SIM card.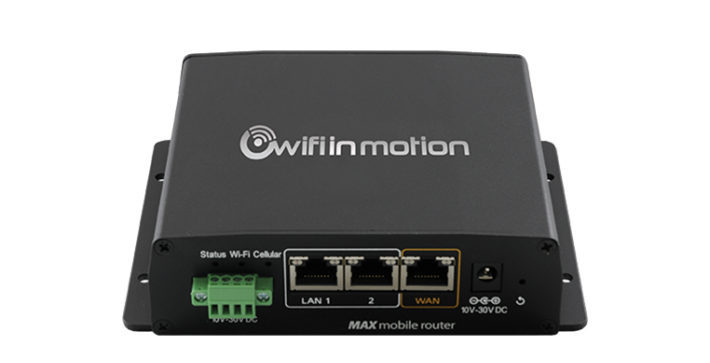 We reviewed the router already in this post, and it continues to perform spectacularly. When it's in WiFI backhaul mode, it can grab marina WiFi from an amazing distance, giving us nice strong signal and speed in the comfort of our boat, while the rest of the boaters are clustered around the laundry shack trying to get signal on their phones, tablets, or laptops. 
We have 3 SIM cards in our router – T-mobile, Verizon, and AT&T. Normally, back in the lower-48 of the US, our (grandfathered unlimited) Verizon card is the champ, but here in Canada, it's all about the T-mobile. We have had decent data service almost the entire time coming up the BC coast – in some places we couldn't even believe. Our T-mobile account has unlimited data and – the biggie – charges NO ROAMING for Canada. Yep, we seem to have unlimited Canada data on our US T-mobile unlimited card. We'll fill you in if anything falls through with this plan, but so far we are extremely happy. 
Since we need the internet to be able to work, and therefore to be able to travel – AND we need the internet to be able to publish this blog, you can see why this is a big deal for us. More info here.
#1: New Power System – Solar and Lithium Batteries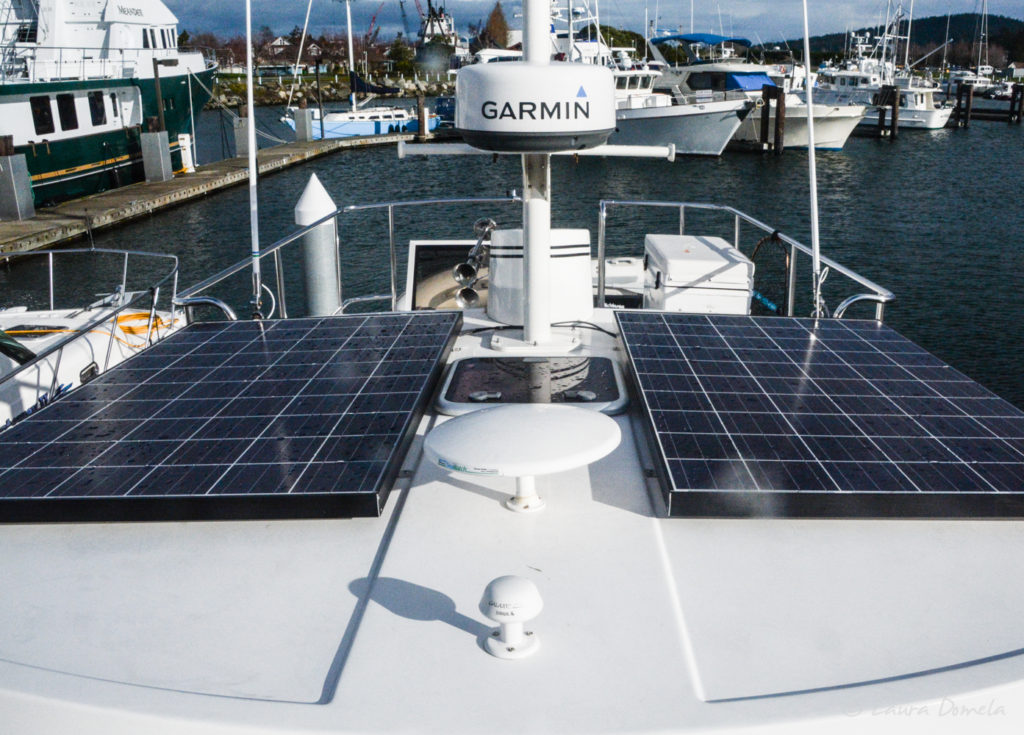 All we can say about this is WOW! We leave the inverter on all the time, so we always have nice, stable AC power. We leave the water heater on all the time, so we always have hot water. 
We have written about both the new solar system from emarinesystems and the lithium batteries from AM Solar already, but here's why it's a big deal.
So far, on the 14 days we've been on this trip, we have not once plugged into shore power or started the generator. 100% of our power has been supplied by the engine alternator while underway and the new solar panels. If we cruise more than 5 hours or so during the day, we arrive at our marina/anchorage/moorage with the batteries at 100%. Typically, by the time we are ready to go the next day, the batteries still have 50% or so remaining (lithium batteries can be discharged below 20% without damage). 
This is a game changer for us. We don't have to be constantly monitoring what's on and what's off and juggling loads to be sure we don't run too much at once. We don't have to be messing with shore power cables every time we dock, and running the generator a couple times each day if we want hot water or if the old batteries started to run low. We don't have to be turning the inverter on when we want to run an AC appliance, and then remembering to turn it back off again to save power when we're done. 
Easy choice for #1.