Sometimes, when on a flotilla, it's fun to take a commercial fishing charter from a port where fishing is good and expert guides are available. You get to see what gear an expert professional fisher-person uses, what techniques they apply to maximize the catch for their clients, and some of the current local hotspots for bagging fish.
Occasionally, everyone has a bad experience with a business. Usually, we all just shrug it off and go on about our day. Very seldom, though, it upsets us more than usual and we might write a critical review.
In rare circumstances, however, that bad experience crosses a line where, rather than hoping the situation will improve (or just end) we find ourselves secretly wishing for it to get even worse – so we have a more interesting story to tell.
This was one of those rare times. Here is the story:
Several people on our fotilla wanted to go out on a fishing charter in order to (ideally) learn some tips and tricks for fishing in this area, so we called [name of charter company removed to give them a shot at salvaging their reputation] to schedule a charter. We spoke to [name also withheld, but we'll call him "Chase"], who was great. We said we wanted to fish for whatever was good to fish for here, and he said we could go out in the ocean for halibut or in closer in inside waters for salmon, and that the best time was in the morning and he had Friday open. So we said great, we'd leave it to the captain what was good to fish for, and we'd meet at 7am.
Our charter captain today was [we'll call him "Joe"], and it was, by far, the worst charter we've ever had.
We arrived at the dock just before 7am, and "Joe" was already really mad. We were carrying a crushable fish bag (we had been told–both in the "what to bring" section of the website and in the text and email we received after booking–to bring a cooler for any caught fish) and "Joe" (without introducing himself) said, pointing to the fish bag "What's THAT for!?"
We said "We were told to bring a cooler."
He said "Well, do you have a vehicle you can take it back to or something?" (We didn't, of course. We had walked from the marina to the charter dock.)
"Joe" then went on to say "I hope everybody has their seasickness patches, it's gonna be horrible out there today. Do you SEE this weather??!
Of course we did see the weather, we were standing in it, and we're boaters, so we watch the weather constantly. We asked if we'd done something wrong, and he said again, "Well, you want to go for halibut? In THIS weather?" We said (again) that we didn't care what we fished for…we just wanted to fish for something and have fun and hopefully learn a thing or two in the process. We said halibut, salmon, whatever he thought was good to fish for. We asked if he'd talked to "Chase" – the guy who had booked our trip.
He got even angrier and said that yes, he'd talked to "Chase", and then "I was told this was a halibut charter and that you guys wanted halibut. If you want to fish for salmon instead, I GUESS we can go for salmon." He started shuffling bait and throwing gear around the boat and complaining loudly…he seemed really upset from the beginning, and seemed to be blaming us for the weather and for the communication issues between him and the office. We pointed out that he seemed super angry and that maybe we shouldn't go out if this wasn't a good day to fish. We said our goal was to have fun, and he definitely did not seem like he was the least bit interested in making any "fun" happen. At all.
He started untying lines and instructed us to get on the boat but frankly, we were all quite leery about going anywhere with him. We asked him again if he was mad at us for some reason, and he said "I'm not mad. You'll KNOW when I'm mad."
Well, then. That's reassuring.
VERY reluctantly, we boarded the boat and cautiously tried to make small talk to get him in a better mood.
He cast off, gave us quick instructions on how to use the VHF for an emergency and where the PFDs were stored, explained that it was only a four hour charter and that the first hour would be getting to the fishing spot, another hour would be used getting back from the fishing spot, and that we'd also have to get off the boat and wait for 20 minutes at the end while he refueled. Sounds fun!
We were DEFINITELY not feeling like clients at this point – more like hostages. He never introduced himself or asked us our names. He just ordered us around, angrily.
"And you'd better all have your fishing licenses. People say they have 'em all the time and then they show me some receipt and not the actual fishing license at all…."
He then warned us to stay out of his way and to keep the middle of the boat clear, because he'd be needing to move up and back a lot. (It turned out he didn't move up and back hardly at all.)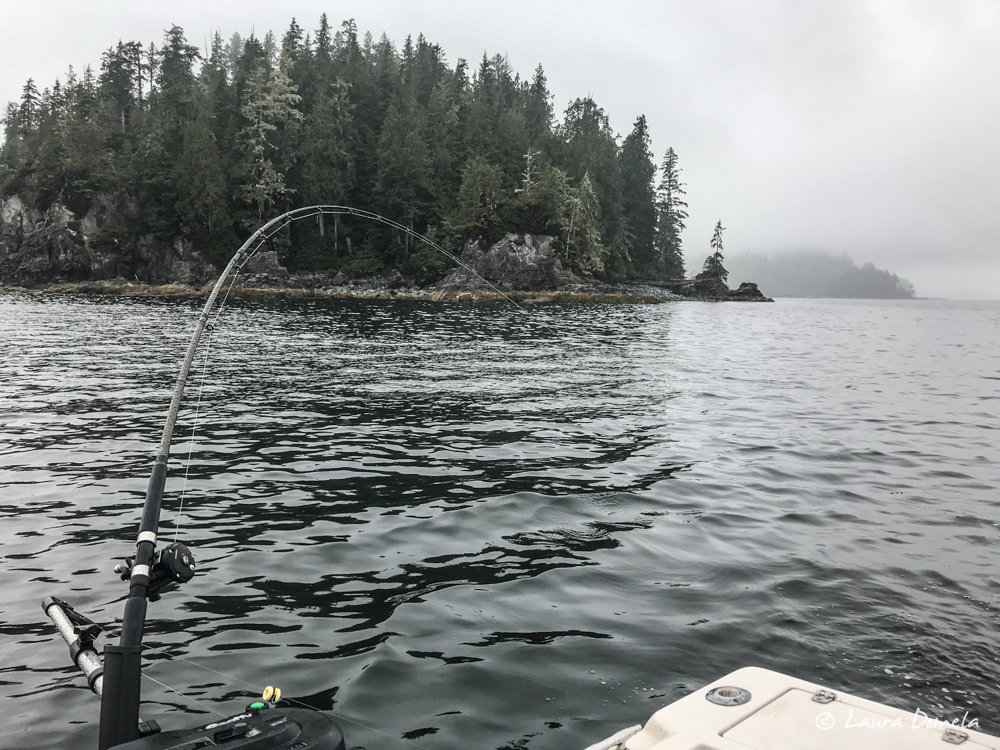 When we arrived at his fishing area he put out two lines on downriggers (for four guests). He then told us to work out who would grab the first fish and how we'd take turns. We'd never seen a four-person charter with only two rods before, but – we're open to new experiences. After about one minute, we had an apparent strike, but no fish, so he reset the line and sat down to drive. We asked if he'd given up on using bait for salmon and he said "Well, I usually bring anchovies, but I thought this was a halibut charter, so this is what you get."
For the entire rest of the charter, he just drove the boat and talked. He trolled the same figure eight pattern about a dozen times without once getting up or checking lines, and without ever trying a different location or depth or equipment.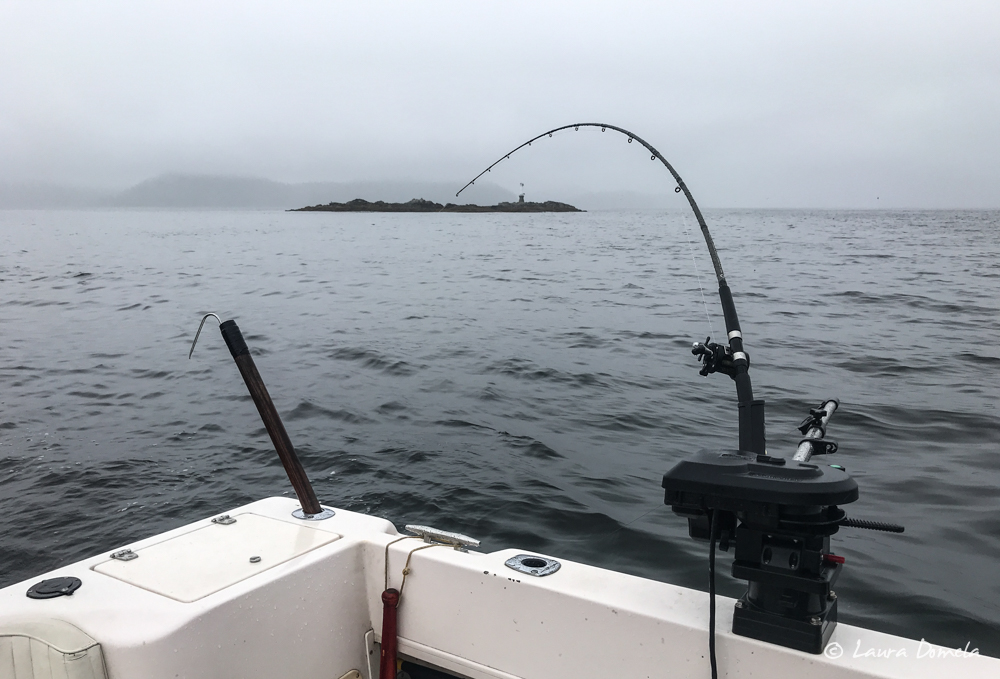 After (almost) a couple of hours of this, he said "Well, sorry folks", and pulled up both lines, It turned out that both lines were fouled with kelp and one had a tiny salmon on it the entire time (which one of us called when it first happened and he assured us it was just the line dragging through the bait) – so we basically fished the whole charter with maybe one working line with a bunch of kelp on it and the other dragging a tiny fish.
Then, we headed back home, with the promised 20 minute "get off the boat in the pouring rain" fuel stop prior to him letting us leave.
Of the four customers on our boat, only one of us had even touched a fishing rod. (To be fair, there were only two.)
We have our own boats and downriggers, of course, and we could have gone out and driven ourselves around for free without having anyone grump at us the whole time. We even could have given everyone their own rod, and occasionally checked the lines to make sure they weren't fouled.
To be clear, we didn't care about the weather, and we didn't care (much) about whether or not we caught fish. But, there was absolutely zero value in what we paid for today. Zero.
For what it's worth, this story reminded us of one of our favorite episodes of "This American Life":
One of the reasons we left out the names of the company and the involved parties is because after the charter, we sent our recap of how the day went to the owner/manager, and the owner/manager profusely apologized, gave us a full refund, and offered us a discount for a future charter (not with the same charter captain, of course). He handled the situation just as one would hope, and instead of having a terrible experience, we had (in retrospect now) an amusing experience with an interesting story to tell! Bright side!! 🙂