We finally did it!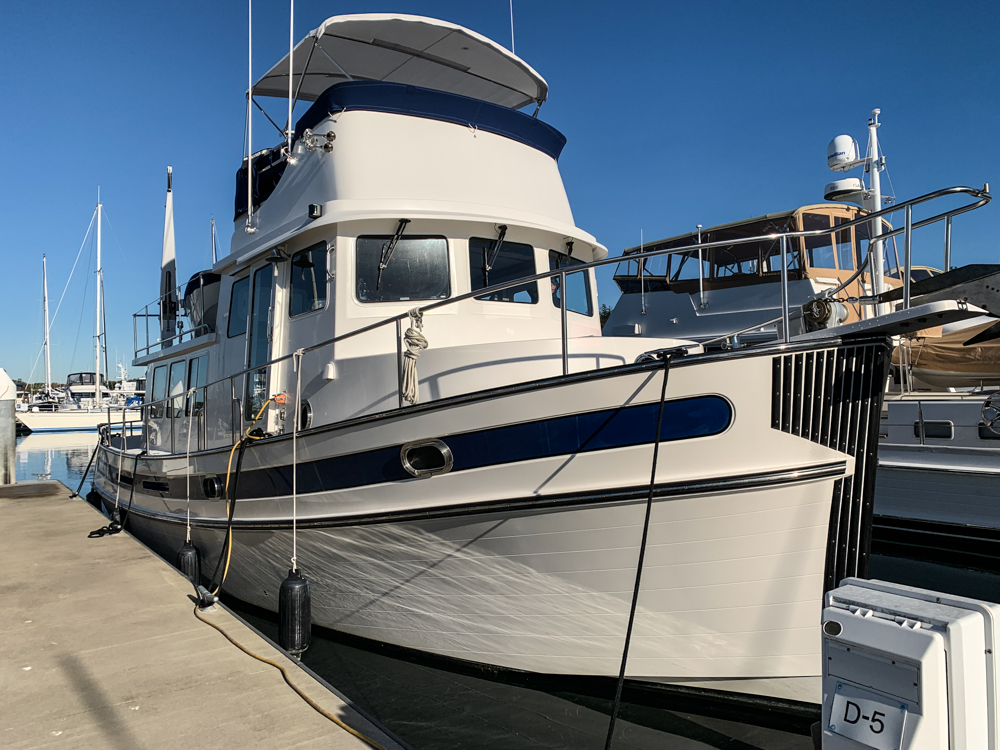 The new Airship is a 2006 Nordic Tug 42 flybridge model. We always said we didn't want a flybridge (because, solar!), but she's got one, and I'm sure we'll eventually be totally on board with the flybridge concept, especially after the weather warms up. She's got a Cummins QSC 8.3L 540HP common rail turbo diesel engine, an Onan 9kw generator, and SO. MUCH. ROOM! Two staterooms, two heads, a large cockpit, and oodles of storage and upper deck space make this 42 foot boat feel palatial compared to our 34 foot boat.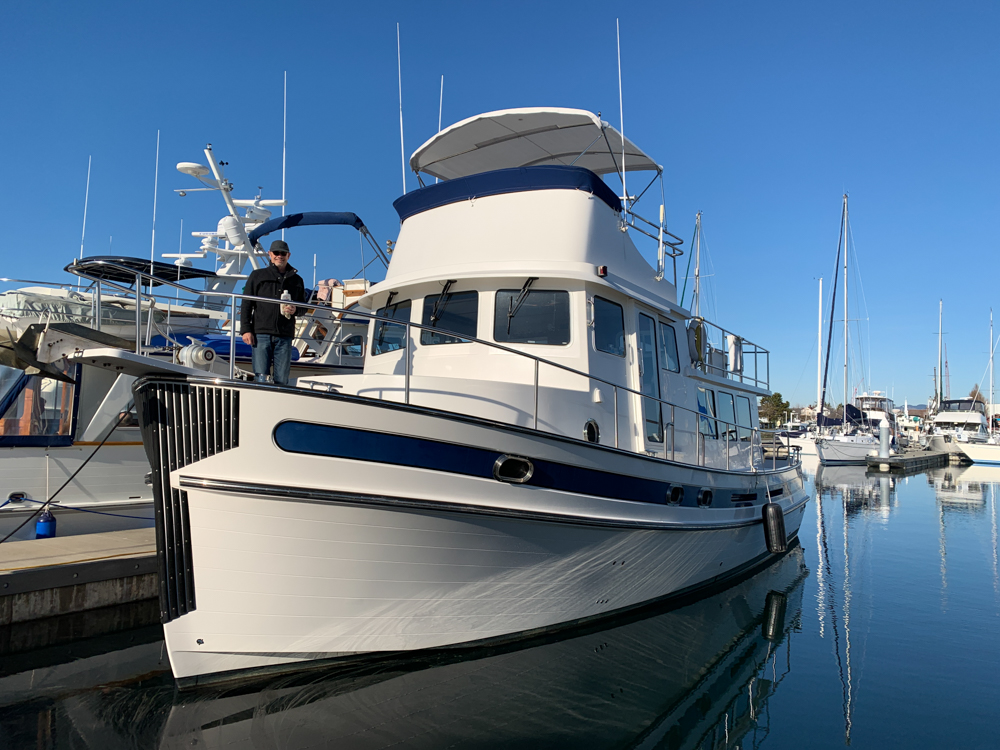 Back when we were on the outside of Vancouver Island, we learned about this boat from a friend and decided to go take a look after the flotilla ended in Victoria in mid-Septmeber. We liked it quite a bit, and subsequently listed our 2013 NT34 for sale with Korey Scott at Seattle Yachts. Korey agreed to help us with the purchase of this (unlisted) Nordic Tug 42, guide us through the import process (the NT42 was a Canadian registered vessel out of Sidney, B.C.), and of course, help us sell our current boat.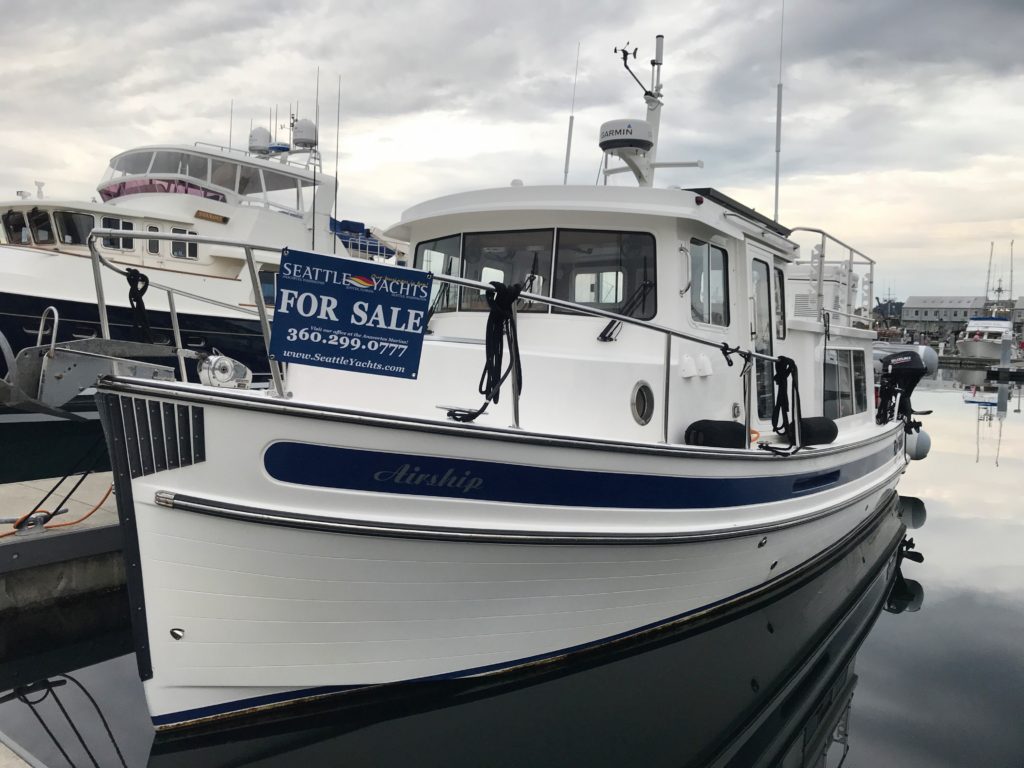 It's a very long story with some ups and some downs, but the short version is that Korey is amazing and expertly guided us through a complicated deal with many moving parts. He found the perfect buyers for our NT34 who were as excited about their first boat as we were. We drove up for a weekend and spent a couple days with them walking them through the boat's systems (including handing over a 10 page Google doc outlining everything we could think of about the boat). We even took them out for a short cruise to show them how to grab a mooring ball, anchor, pump out, etc. (all the fun stuff). They're great, and the boat previously known as Airship will now be called Nomad and will stay in Cap Sante Marina in Anacortes, WA for now, so if you happen to see her, give a friendly hello to her new owners, Dave and Suze.
We closed on the sale of the NT34 and the purchase of the NT42 on the same day (November 16).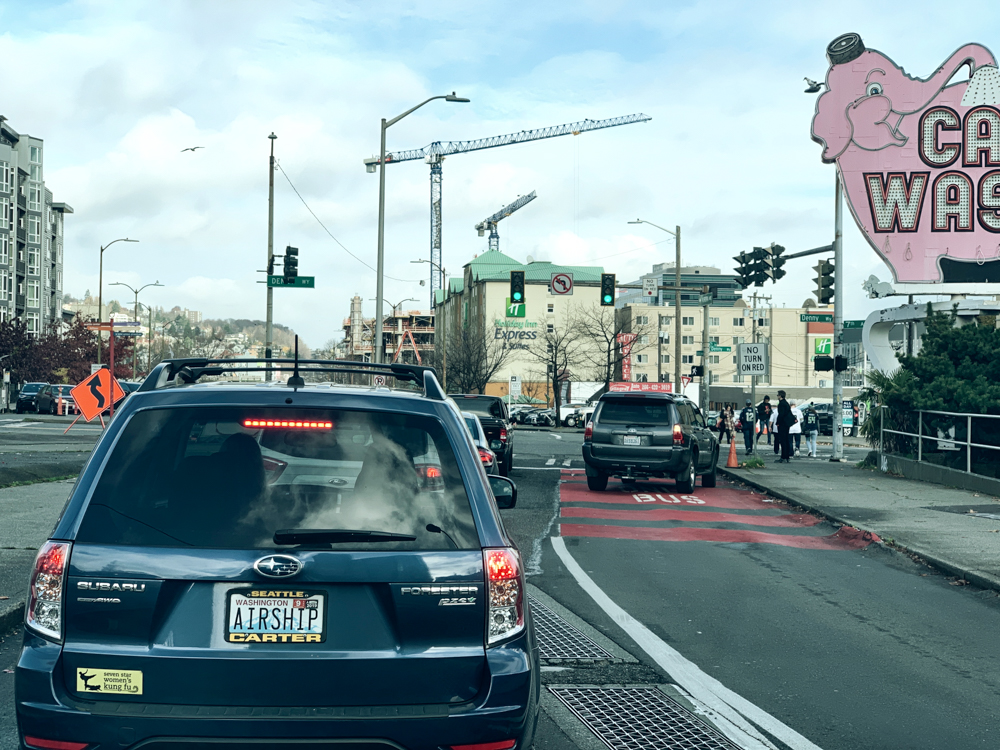 Sam skippered the new Airship from Sidney BC to Anacortes (in keeping with the import rules that the new owners cannot be aboard until the boat clears US Customs) and we took possession of our new NT42 on November 17, two days before we were scheduled to leave for Yelapa, Mexico (a trip that had been planned since last March!)
We used those two days to move aboard and get used to our new boat home. Kevin went through everything in the engine room to see what spares we had and didn't have, and did a good general clean up.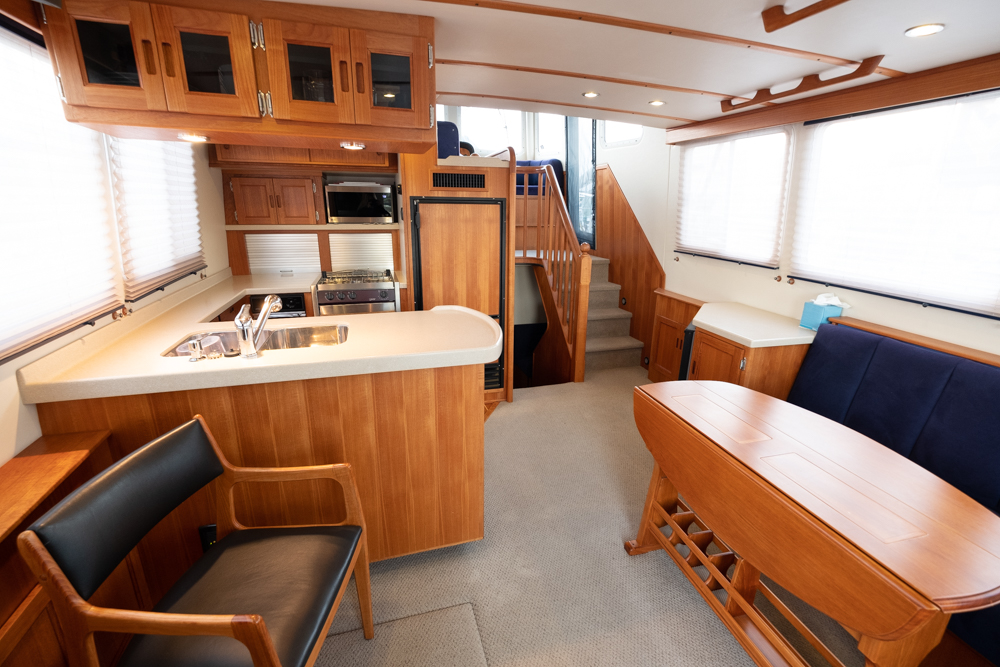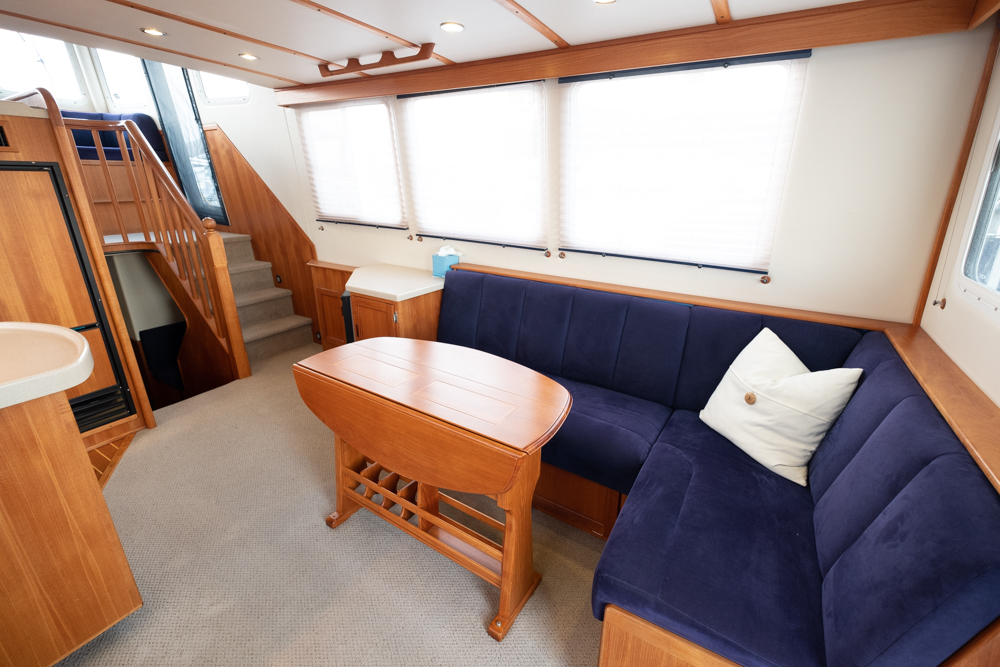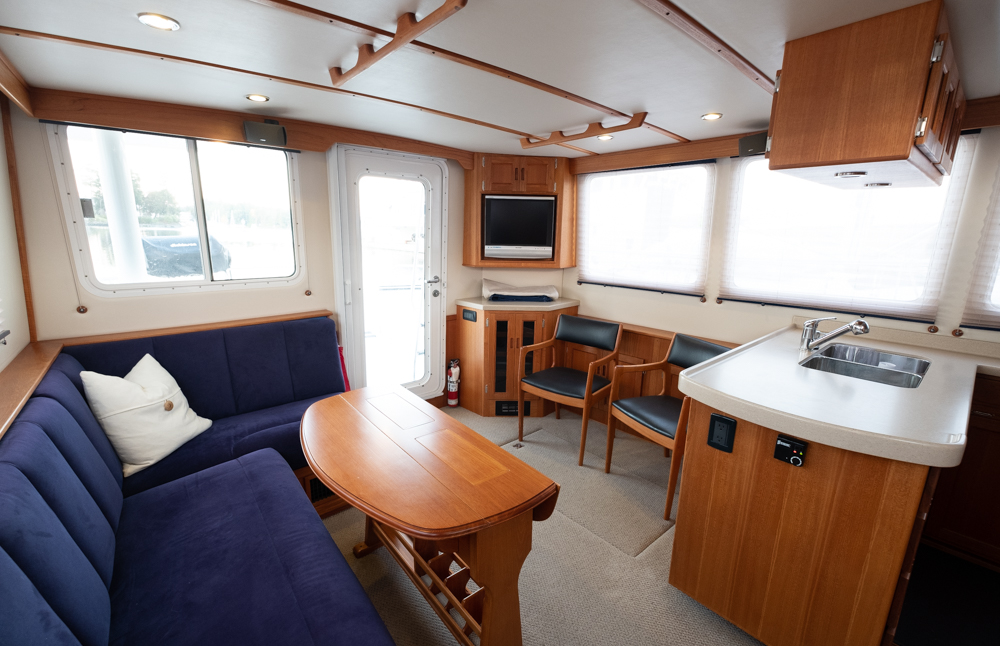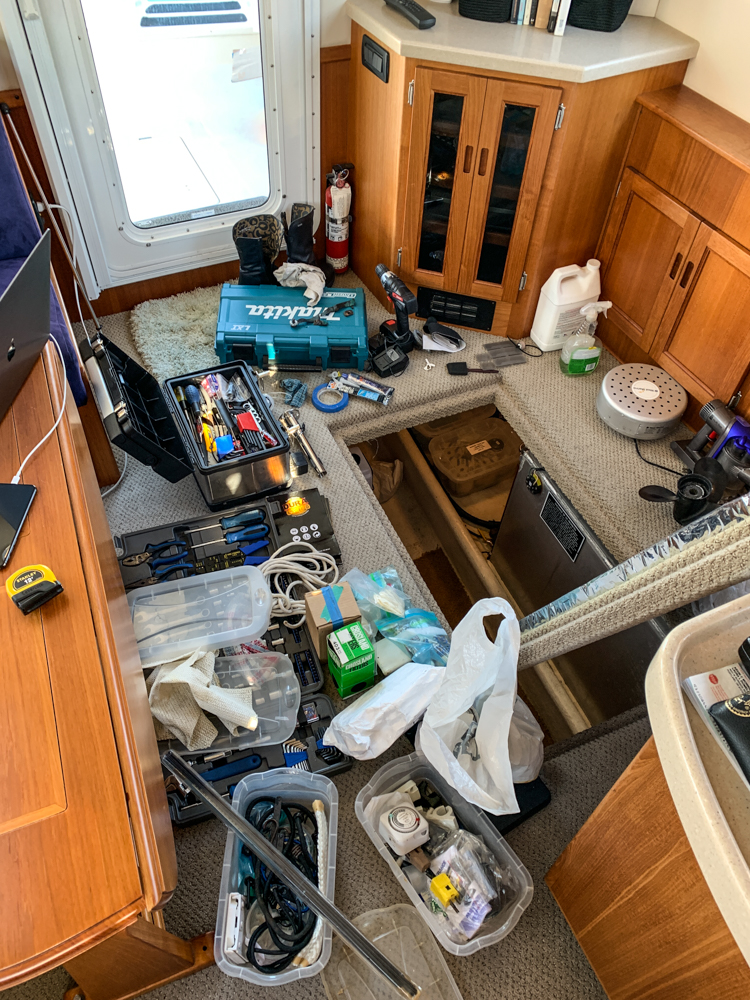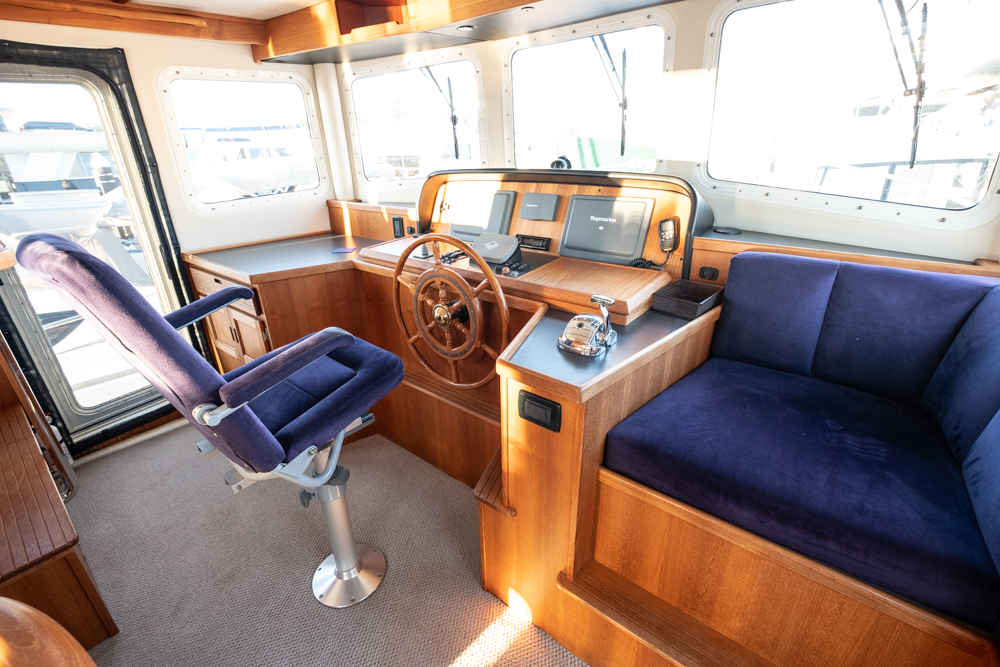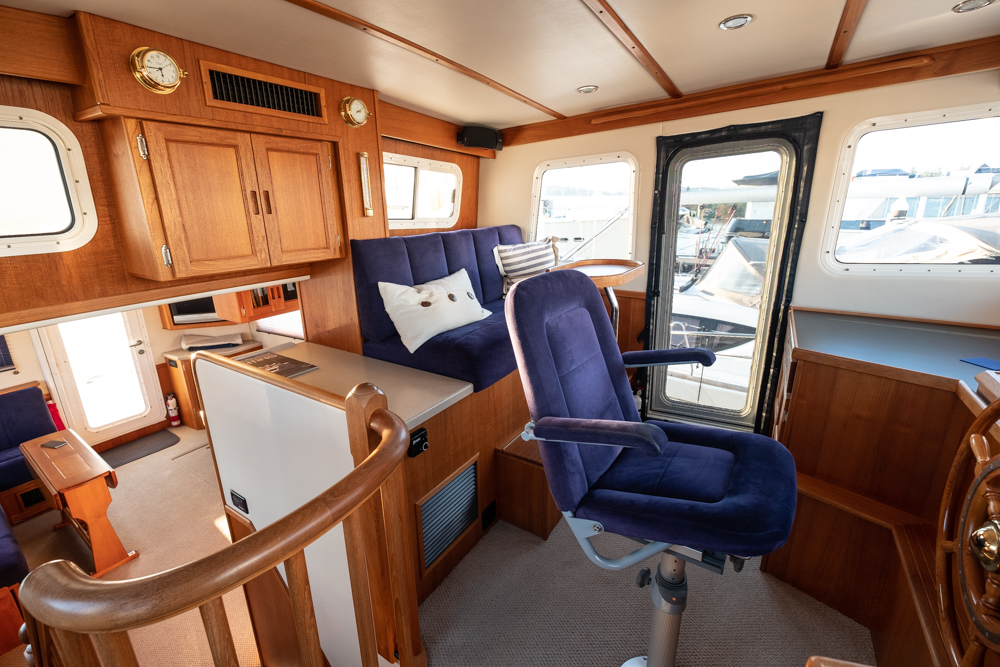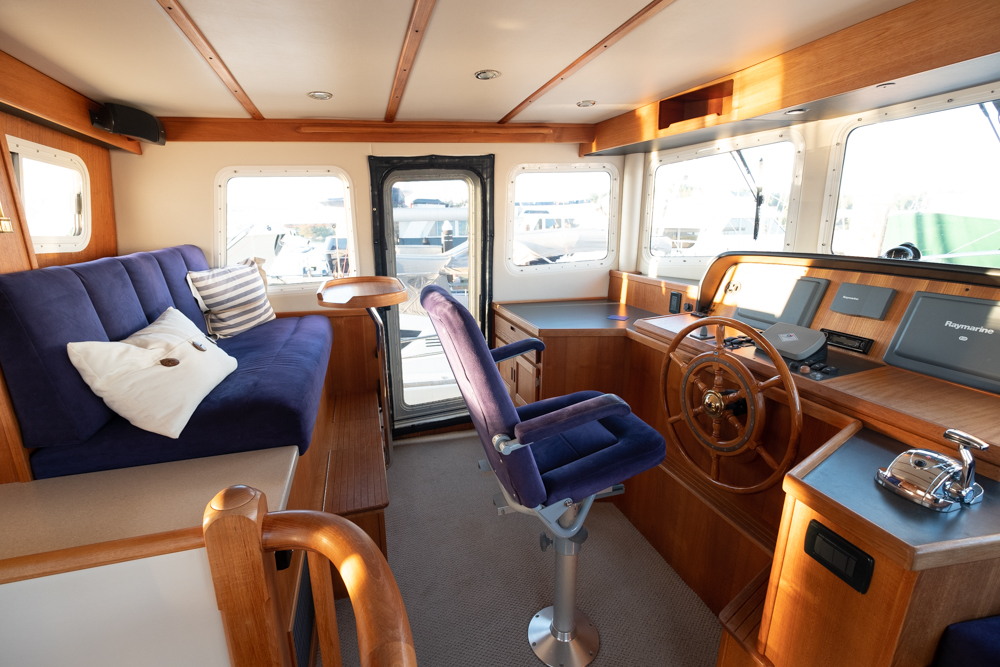 We had planned to get a new helm chair (the one currently aboard is a bit wobbly and…thin) and we spec'd a new Llebroc (just like the ones they currently install in new Nordic Tug 44s). A good helm chair is not cheap, and a new Llebroc would set us back about $4600! And if you think that's expensive, a new Stidd helm chair is about $8,000 (the reason we went with the Llebroc…Stidds are really nice, but the upgrades add up too quickly as it is!)
A few days before the new Airship arrived in Cap Sante, Korey told us about a brand new helm chair that fellow brokers Greg and Kelly at Cap Sante Yachts had for sale. Apparently they had a client who ordered two Stidd helm chairs (at $8K each!) but ended up using only one. We went to look at it, and it was exactly what we would have chosen had we gone with Stidd. Black ultraleather, slimline, low back…it was perfect! We offered $4600 and got ourselves a brand new, still-in-the-plastic Stidd helm chair. Score!!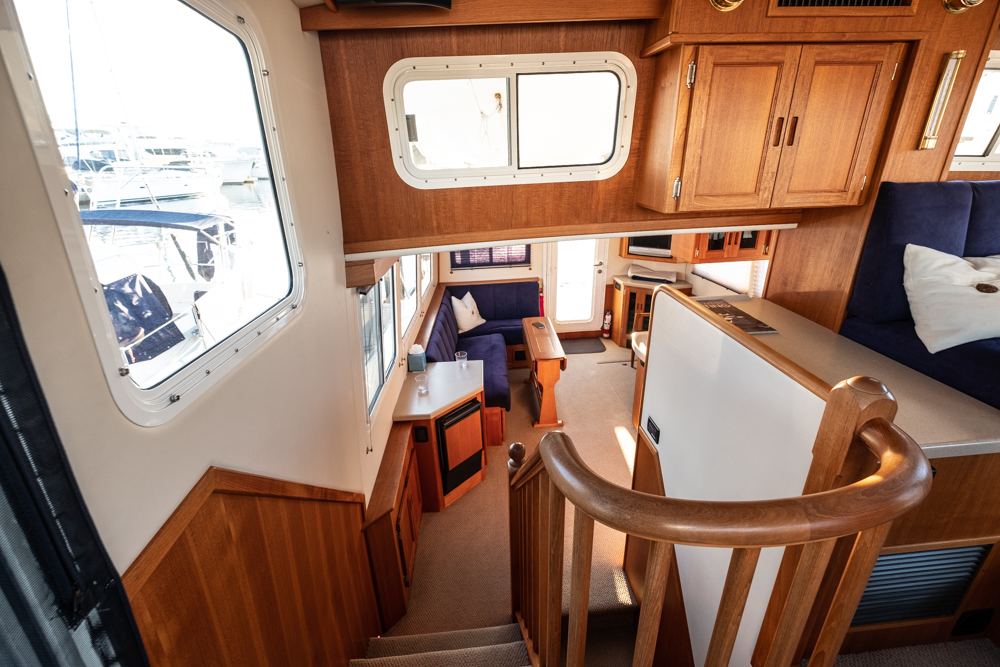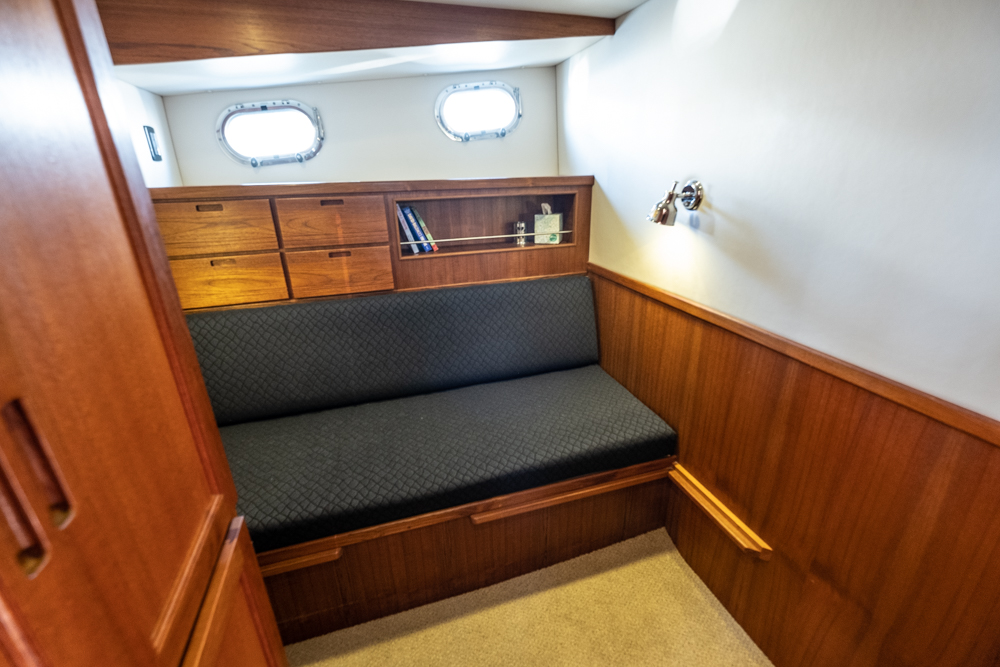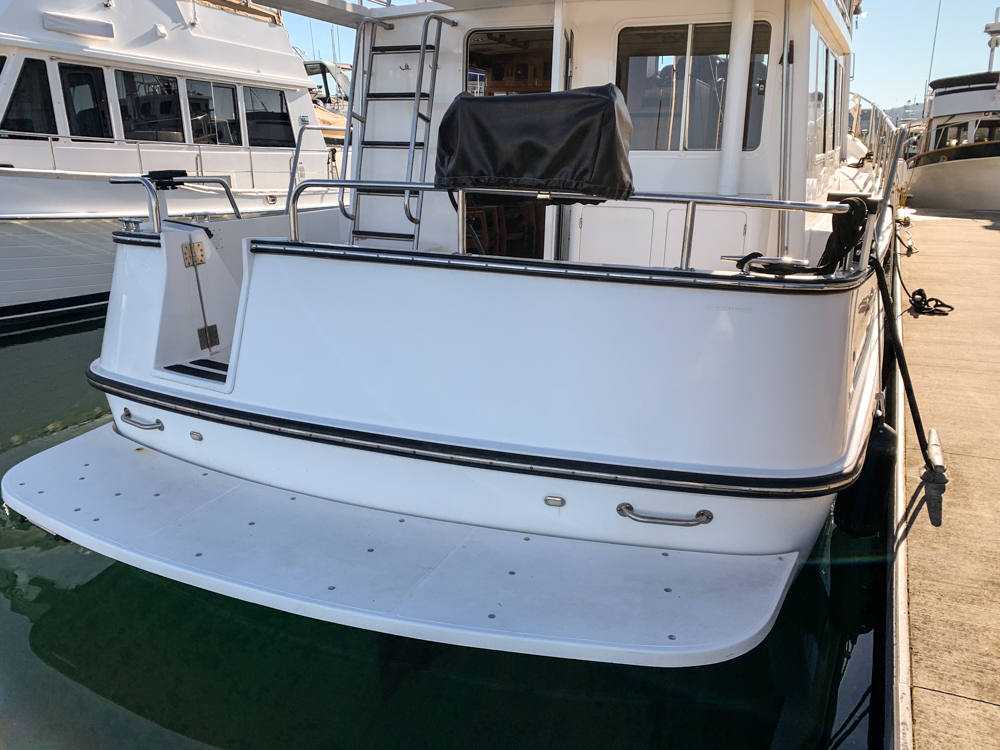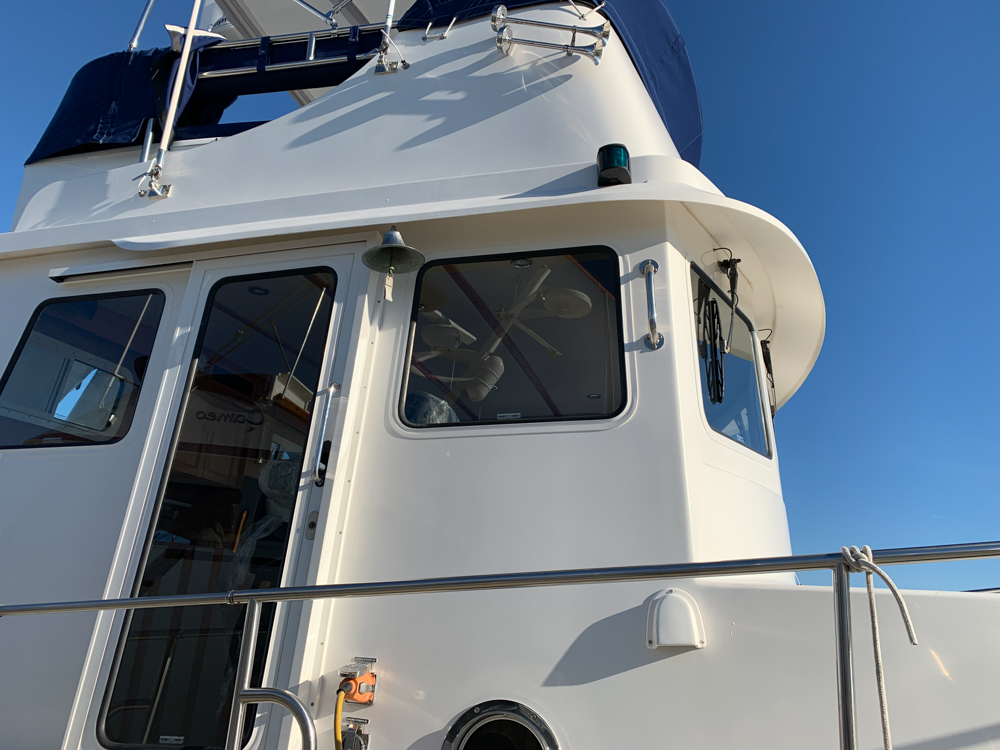 On Sunday we cruised her over to LaConner, where she'll be hauled out and the upgrades will begin — Amtico floors throughout (no more carpet), new upholstery (a creamy white Ultraleather, color called "Ermine"), a new Garmin electronics suite, and a new Stidd helm chair!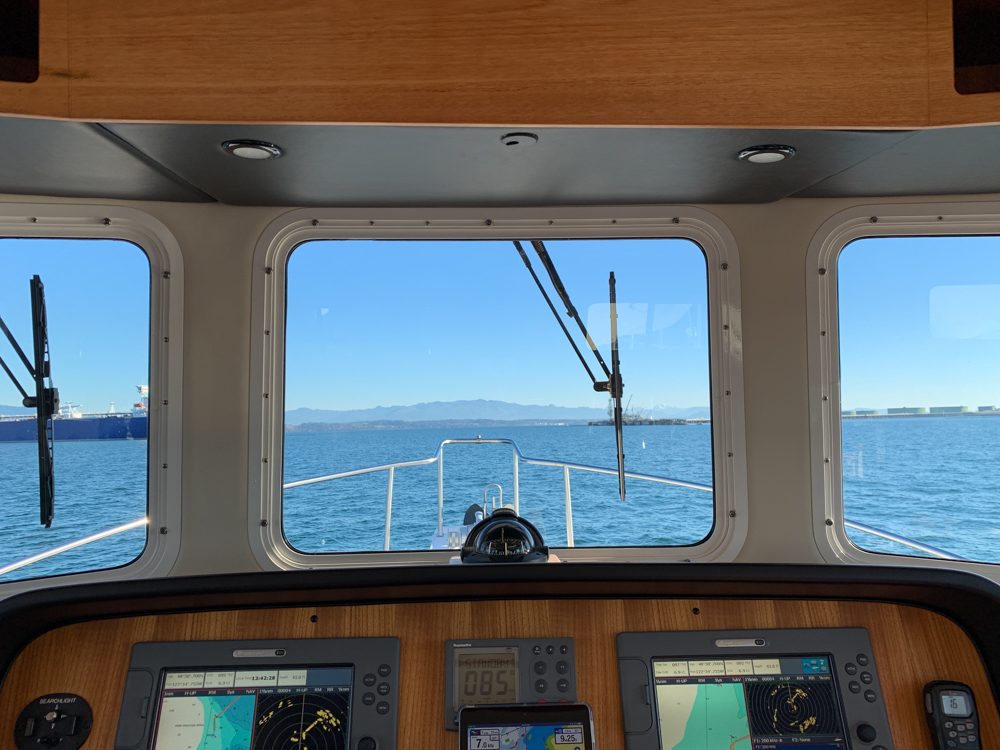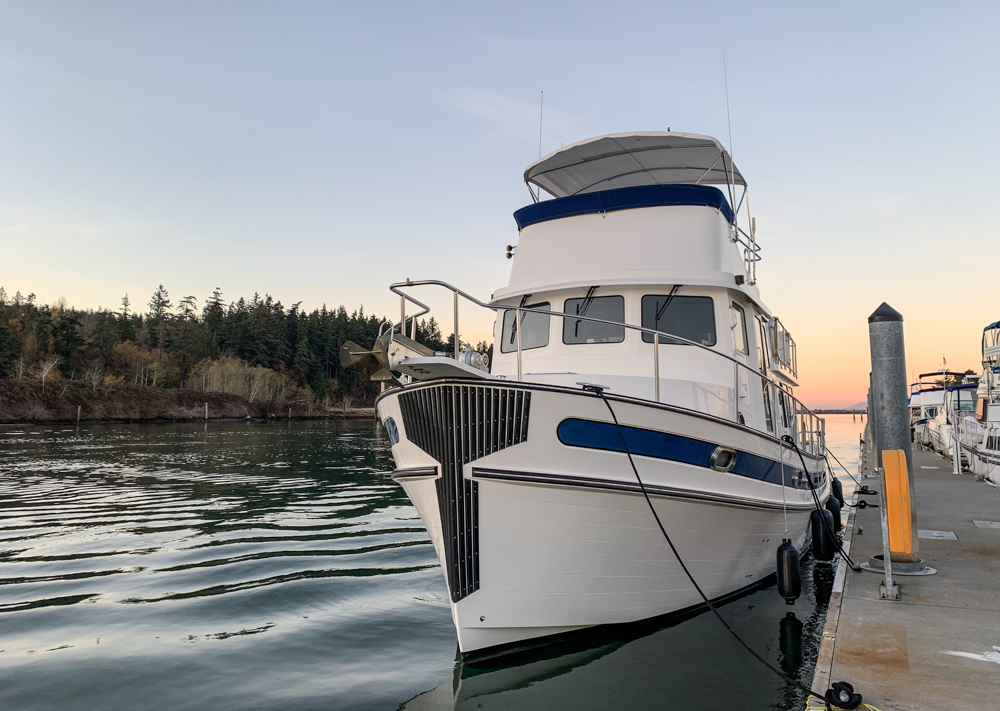 And now, we're in Yelapa (Jalisco, Mexico) for ten days, with our friends Tiffani and Deke. It was really hard to leave after only two days with our new boat, but she's in good hands and we know now that we needed a break after all that boat buying and selling!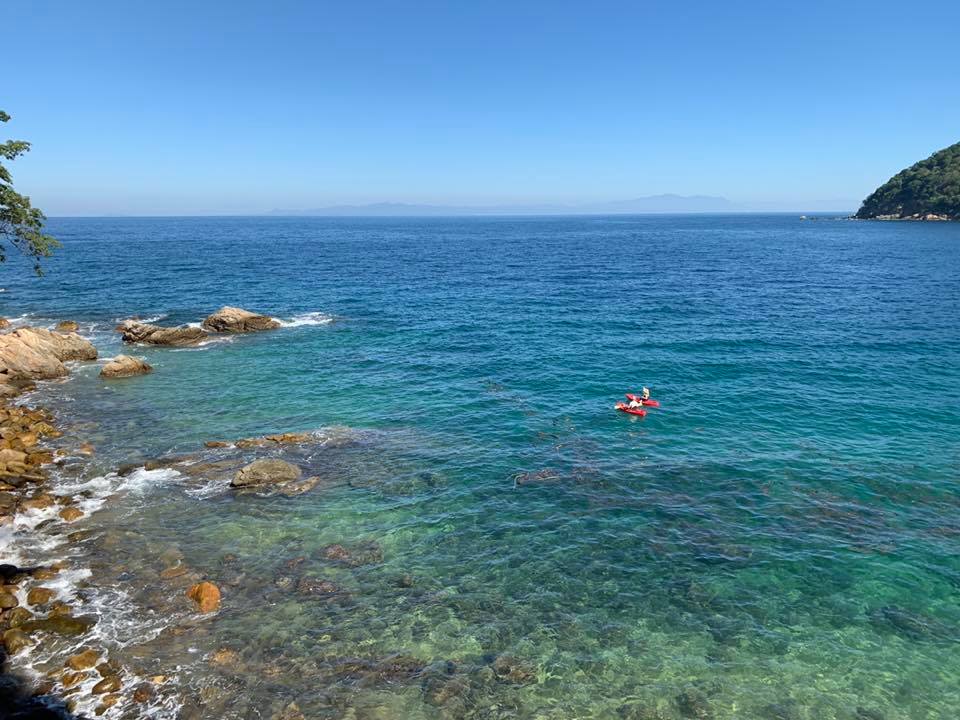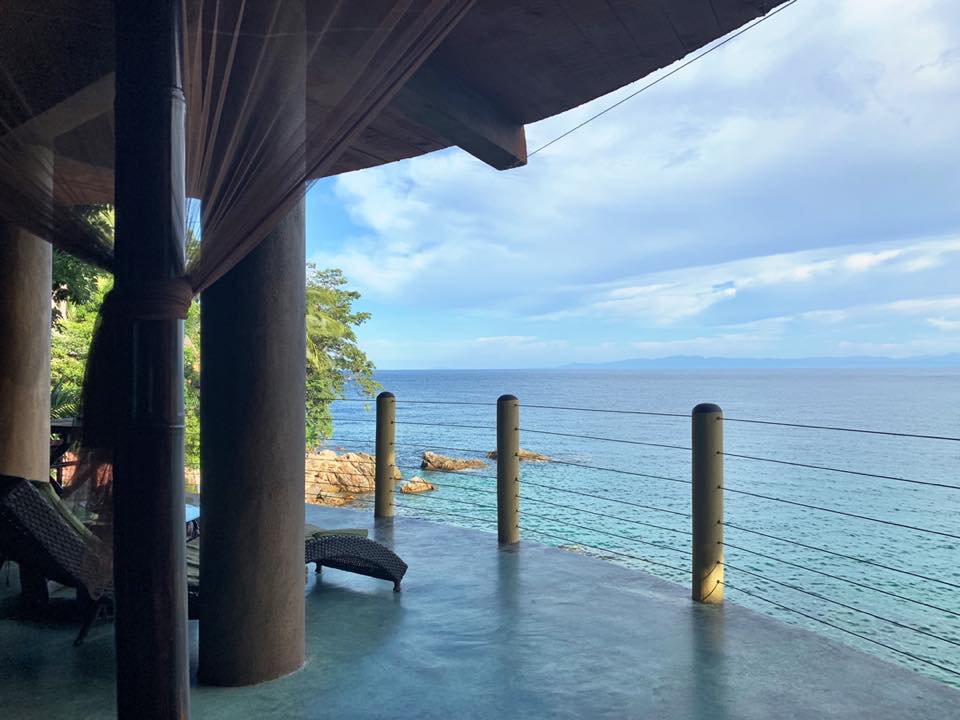 We're kayaking, fishing, swimming through sea caves into island craters, and eating good food and sipping margaritas (and thinking about our new boat!!!)
We had Thanksgiving dinner cooked just for us right here in our casa by some wonderful local chefs: fresh guacamole to start, carne asada, grilled tuna, homemade tortillas, veggies, margaritas, and homemade pie for dessert. We even watched two humpbacks breaching straight out from our casa, right from our dinner table. The weather has been perfect (but we're secretly super excited to get back to the new Airship!)