You may recall back in November we bought a beautiful and very clean 2006 Nordic Tug 42, and we sold our 2013 Nordic Tug 34′ "Airship". We'd had our Nordic Tug 34 for four years, and in those four years we spent over 900 nights aboard and 2,700 hours underway, went to Alaska and back four times, around Vancouver Island three times, and spent countless days exploring Puget Sound, the San Juan Islands, the Gulf Islands, Desolation Sound, the Broughtons, and the BC coast.
With all that cruising under our belts, we had a pretty good idea of what we wanted in our next-generation "Airship". So, as soon as we took delivery of our new boat, we hauled her out and scheduled a bunch of upgrades, updates, and maintenance.
We won't go into details on the maintenance items here — things like zincs, oil changes, aftercooler and heat exchanger service, shaft seals, batteries, etc. — since those are all things we do as a matter of practice to keep a safe, seaworthy, and reliable vessel. Instead we will focus on the major interior updates.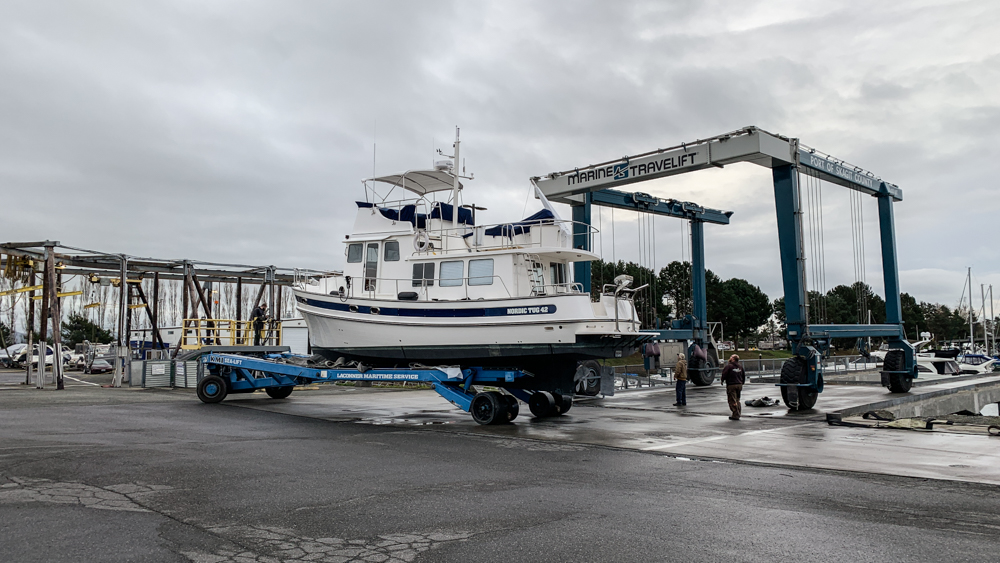 We had a number of specific changes we wanted to make right away to the new (to us) boat to make it feel like ours, and to make it feel like "Airship". First, the carpet had to go. For the way we use our boat, we wanted all hard floors. With so many folks traipsing in and out of Airship in a typical season, we REALLY like the Amtico "teak and holly" vinyl flooring. It looks and feels like real hardwood but is much more durable, doesn't fade, is essentially bomb proof, and doesn't require any maintenance. We have dropped heavy tools, cans, and other pointy objects on it, subjected it to all kinds of heavy traffic (XtraTuf boots with gravel and rocks stuck in the treads) spilled water and other liquids that sat for long periods undetected… and the Amtico always just bounced back and looked brand new.
Converting from carpet to hard flooring, though, is a daunting task. The stairs, for example, were previously plywood wrapped in carpet. They had to be rebuilt from scratch with solid teak, and to much tighter tolerances than you can get away with using carpet. Hatch covers had to be remade, and the hatches reframed. The floor levels had to be adjusted to make seamless, continuous surfaces throughout on which to lay the new flooring. It turns out that the laying down of the flooring is by far the simplest aspect of the job.
We also wanted to do some cabinetry changes – the boat had a corner cabinet in the salon that had a space for an "old style" 4:3 TV. We wanted to replace that TV slot with a usable cabinet, and put a (much larger) flat-screen TV on an electric lift, hidden inside a narrow cabinet on the port side wall of the salon. We also wanted to remove an old trash compactor from the galley, and reclaim the cabinet space it occupied with a drawer and pantry cabinet.
Perhaps most importantly, we wanted to add an additional hatch into the engine room below the salon. The boat was originally built with a single large engine room hatch on the port side, and in order to get to the starboard side of the engine you had to crawl across over the drive shaft and under the exhaust elbow, or around the front of the engine over the engine battery box. Neither way around was easy or convenient. We wanted a new hatch on the forward starboard side to allow us to easily drop into either side of the engine room.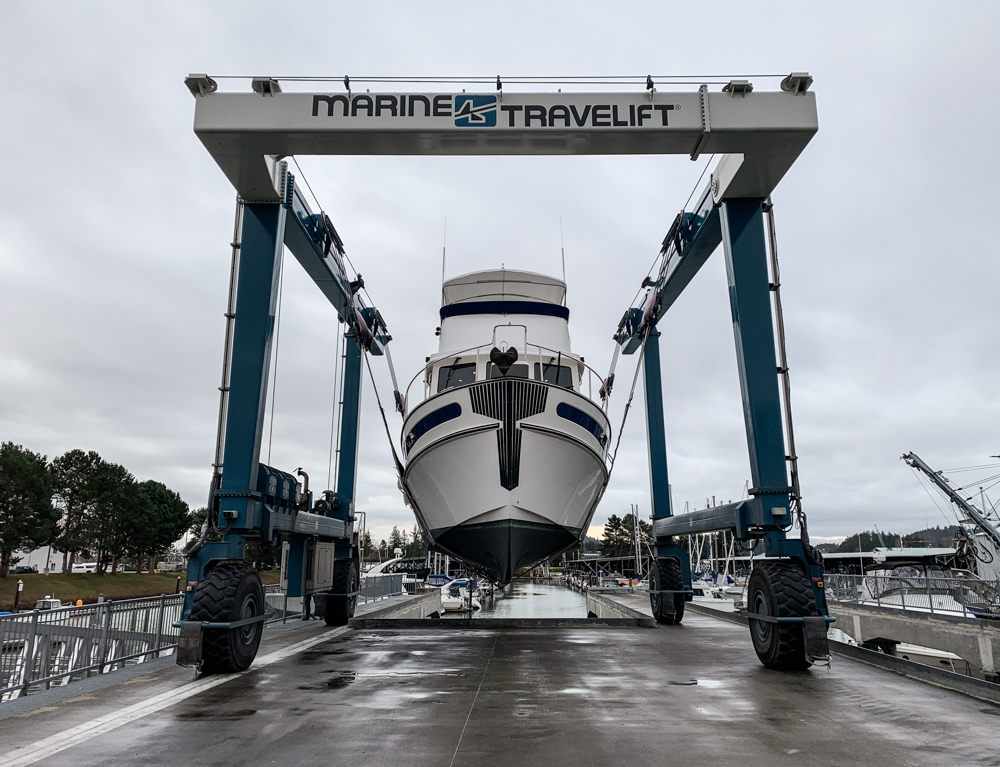 For all of the flooring, cabinetry, and hatch modifications, we went to Frank Liddell in La Conner, Washington. Frank had done flooring work in our previous Airship, as well as the carpet-to-Amtico conversion (and a number of other upgrades) in Sam Landsman's Nordic Tug 37, "Safe Harbour", and we had the highest confidence in his competence, quality, reliability, and cost. Frank did not disappoint, and the massive job he and his sidekick Mike did on the new Airship came out better than our most optimistic expectations and, we believe, better than factory-new quality. The finish carpentry on the new stairs, cabinets, and hatches is gorgeous and to remarkable tolerances, and the careful attention to detail – book-matching on the solid cabinetry – alignment on the flooring spanning multiple rooms and levels, etc, is remarkable. The folks at Tomco helped us out by fabricating a couple of new cabinet doors and a drawer front.
We also wanted all new electronics and systems in the boat. When we bought it, it was equipped with Raymarine E120 chartplotters as well as Raymarine autopilot, radar, sonar, and associated gear. That system was 12 years old, and much progress has been made in electronics technology since then. We had fantastic service from the Garmin gear on our previous "Airship" (and also in aircraft we owned over the years) and decided we wanted a new, all-Garmin helm, radar, sonar, autopilot – the whole works. For the electronics project we went to Tony Wyatt of Marine Systems Northwest in La Conner. Tony had done the electronics replacement for us in our previous "Airship" back in 2016, we had a great experience working with him before, and we were confident in the quality of his work and expertise. The previous installation had served us flawlessly through almost 3,000 hours of cruising in our previous boat.
Tony (and Steve) installed two Garmin 8617 chartplotters and associated networking in the main helm, and a full all-Garmin suite of radar, sonar, autopilot, weather instruments, VHF, AIS, (both with new Morad antennas), as well as a fully-equipped flybridge station. We added a few extras like a Klipsch wireless multi-room sound system, PepLink cellular router/WiFi hub, and WeBoost cell booster with inside and outside antennas. Removing the old Raymarine system and refitting the entire boat with new gear including running an entire NMEA 2000 network backbone through the entire vessel was an enormous task, and Tony and Steve pulled it off perfectly. Tony also set us up with a custom Garmin GRID remote mounted to the new Stidd helm chair that allows the whole dual chartplotter system to be operated easily from the comfort of the seat without getting up to reach the touchscreens. (And we know, that sounds kinda lazy, but if you sat in the chair and tried it yourself, you'd understand how nice the armrest control really is. Believe me, we were skeptical at first too.)
The royal blue microsuede upholstery in the boat was in remarkably good condition for a 12 year old boat, but we wanted a different color palette and a different material (Ultraleather, for its durability and stain-resistance), and for this we went to Kim at Canvas Plus in Arlington, WA for the job. They've done the work for a number of new Nordic Tug factory boats, and the Nordic Tug factory recommended her highly. We were thrilled with the quality, timeliness, and cost of the work, and the photos below speak for themselves. The new upholstery was a huge transformation in the look and feel of the boat interior.
During the two months the boat was hauled out for refit, we did a number of projects ourselves. We replaced all of the navy day/night shades with new white ones, replaced all of the light fixtures in the boat with more modern LED fixtures (with dimmers in the salon and main cabin), added valance lighting in the salon and galley, and added knife blocks, cutting boards, espresso machine, and other lifestyle upgrades, as well as some artwork. We removed the old carpet in the engine room and replaced it with a rubberized modular mat system.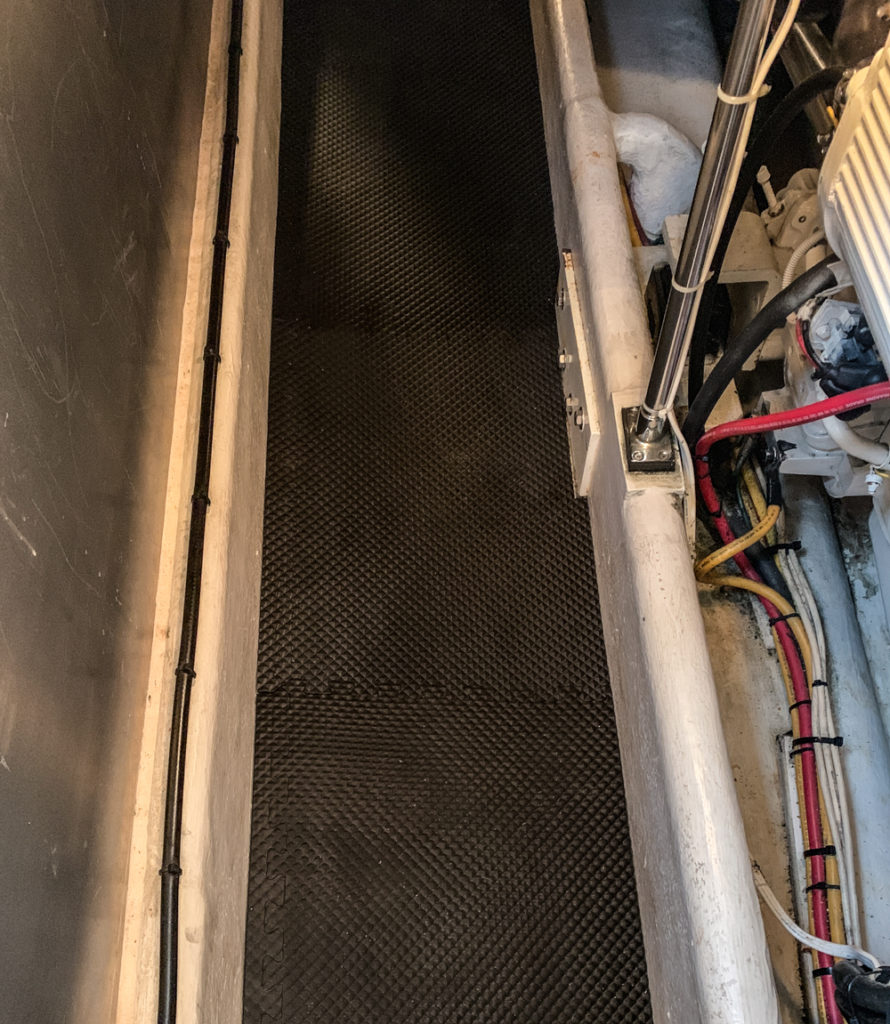 Finally, we had the folks at La Conner Maritime do a number of projects for us including aftercooler service, replacement of drive shaft seal and rudder seal, replacement of main engine seawater strainer, and installation of a new Roskelley/Olsson stern davit system. Josh at Roskelley/Olsson was incredibly helpful in getting us the information we needed for the davit setup, and consulting with La Conner Maritime on the whole process. In our normal use, we are launching and retrieving the dinghy just about every day during a 5-month cruise, and the convenience of a stern-mounted davit is a huge benefit compared with using a crane to put the dinghy on top of the boat each day.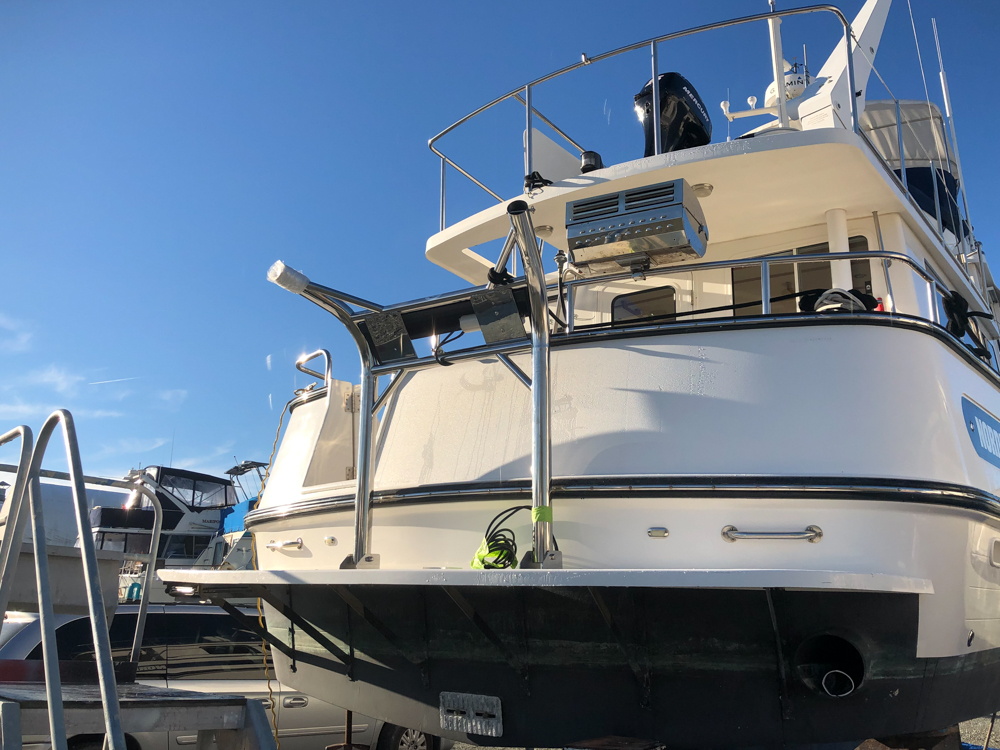 Miguel Gomez washed and waxed Airship for us right when she was first hauled out, then came over to Anacortes after we got back in the water for a final wash. Miguel does great work and his prices are competitive.
Below are a series of before and after (and during) photos showing the upgrades. The new Airship now feels like "our boat" and is ready for many years of new adventures with us! Of course there are more projects we want to do (we call that our "Later List") but for now we are thrilled with the updates to date!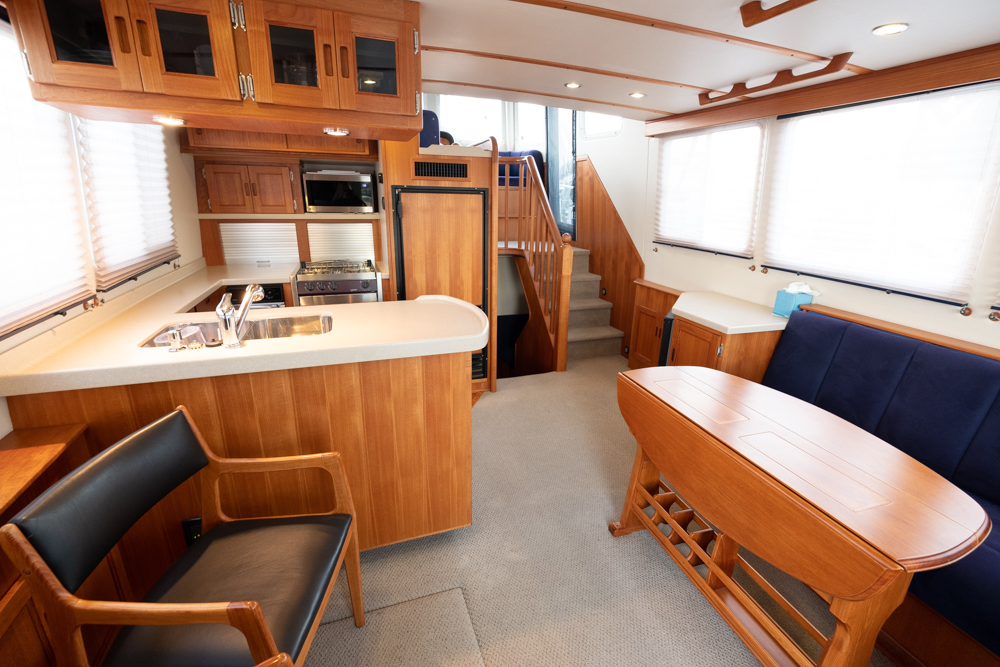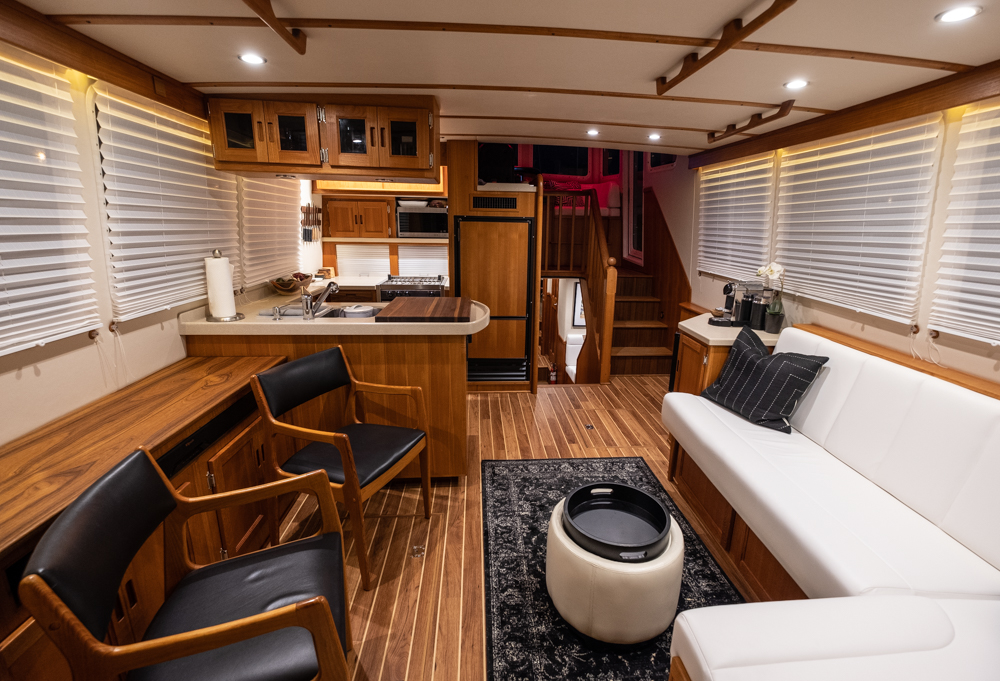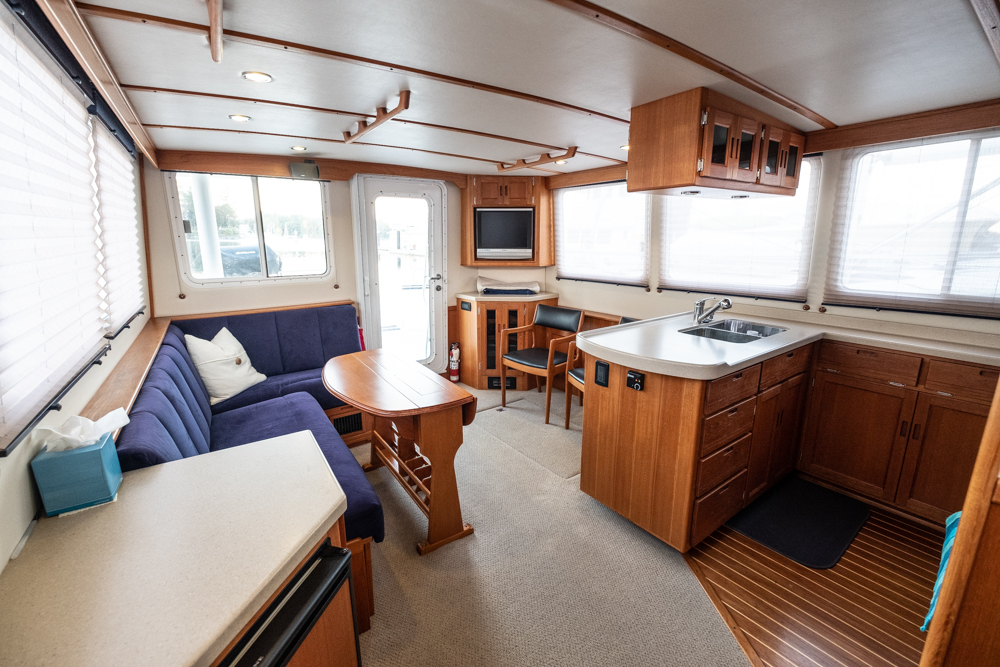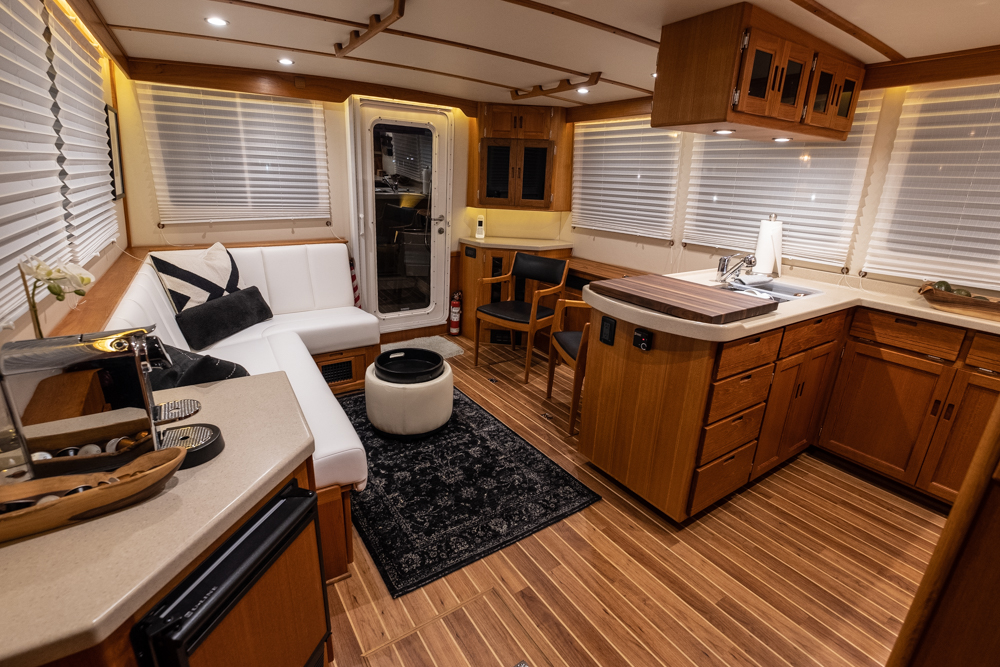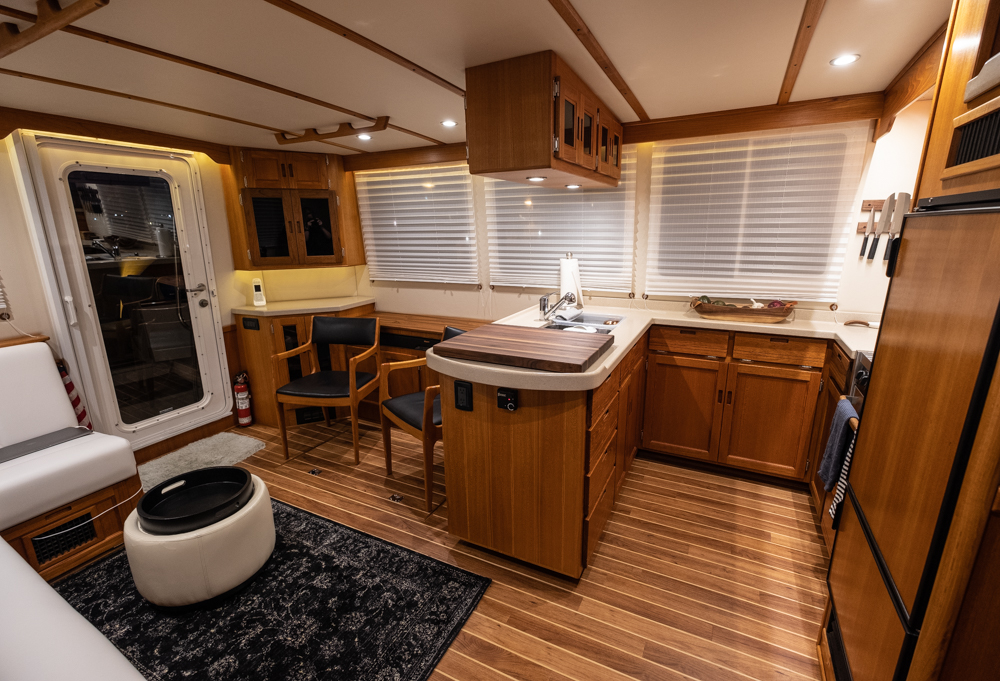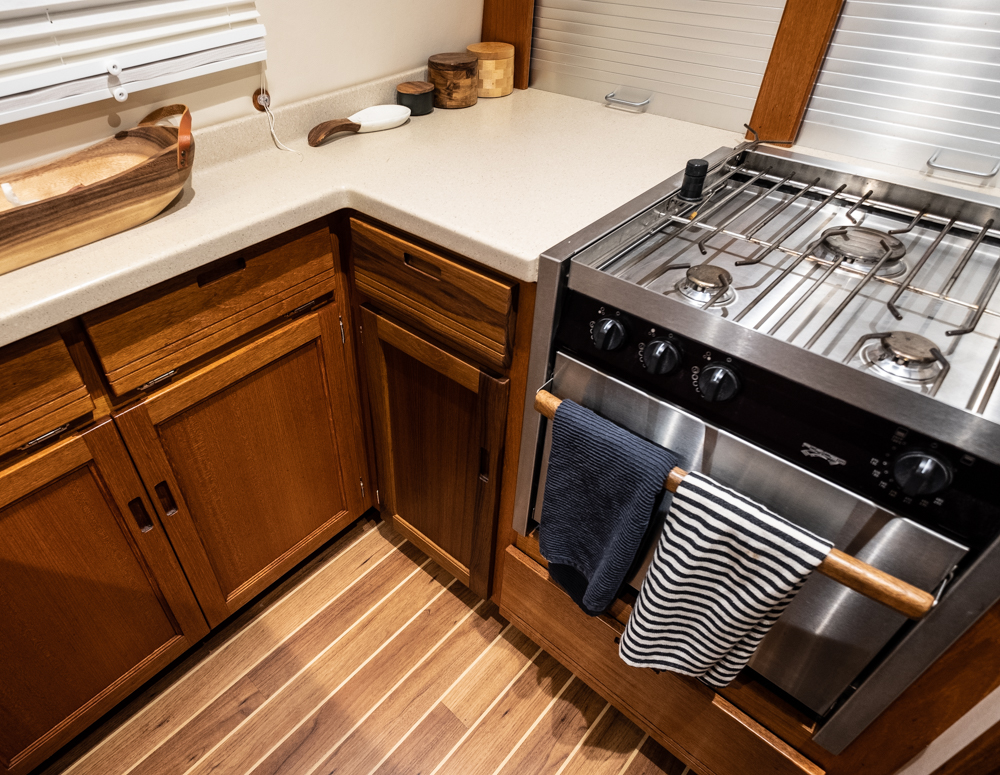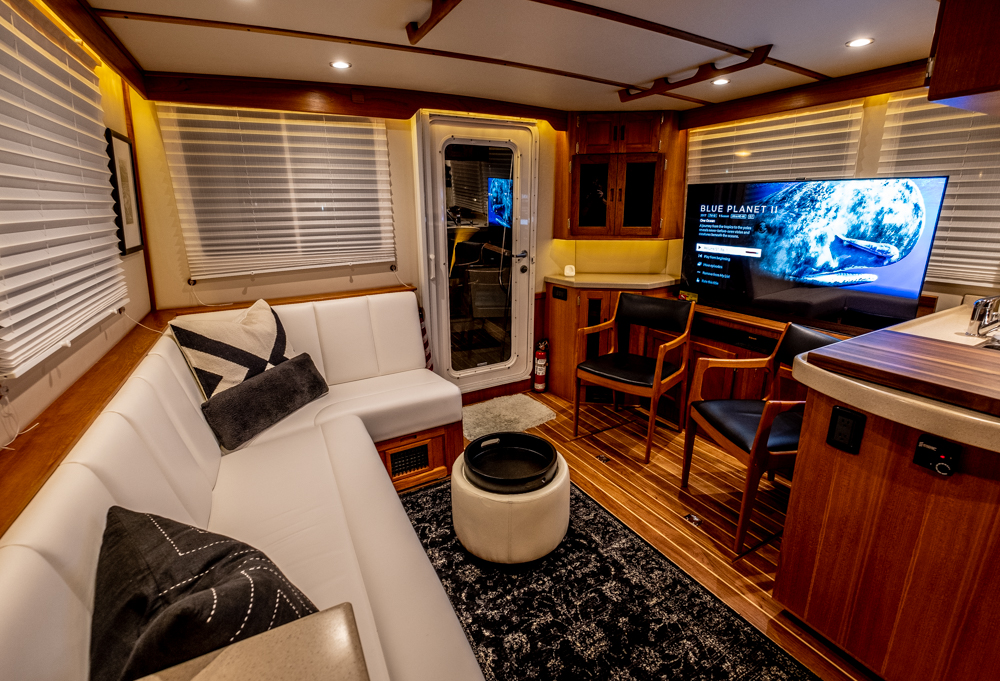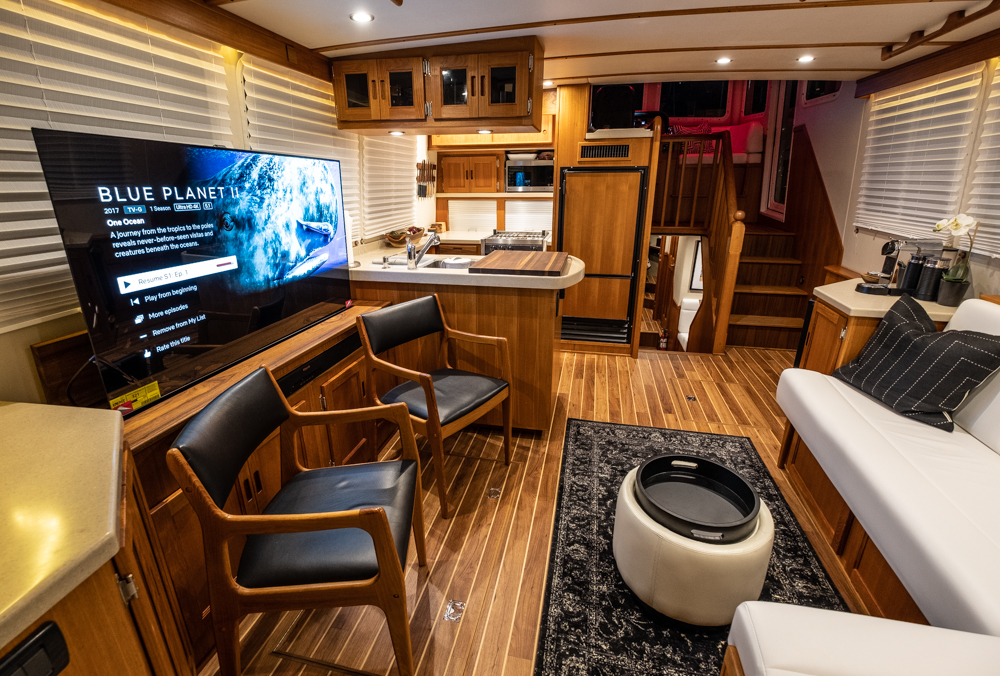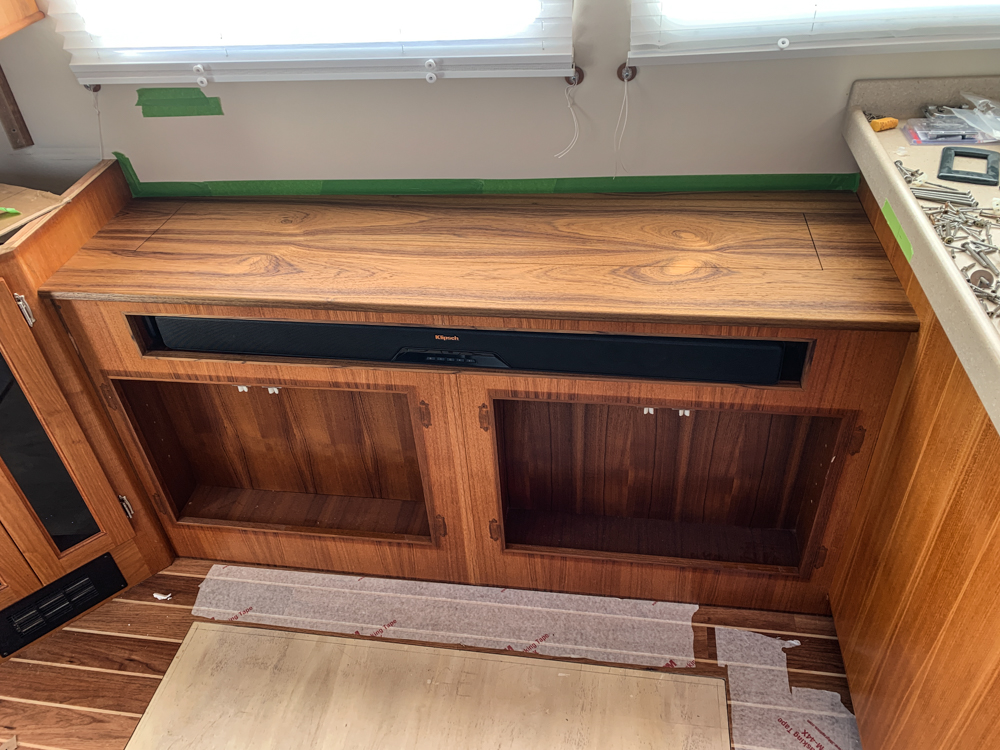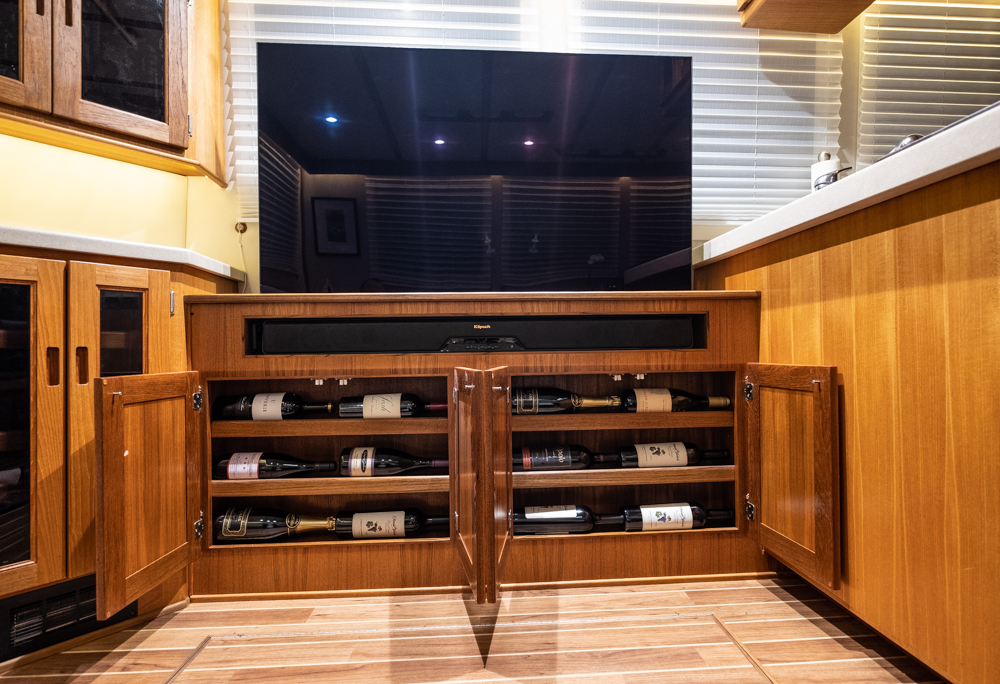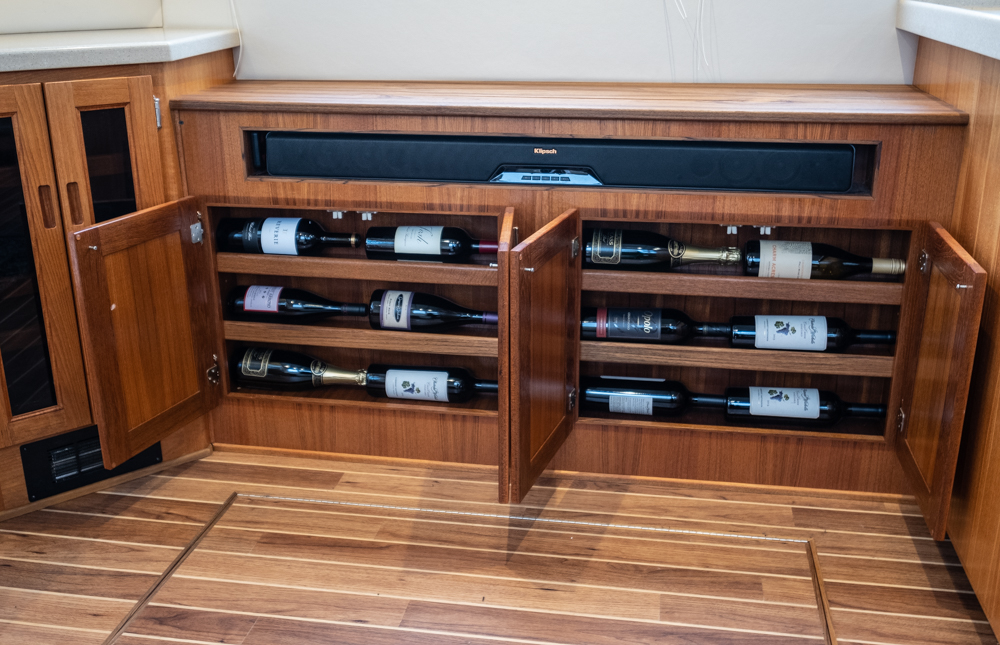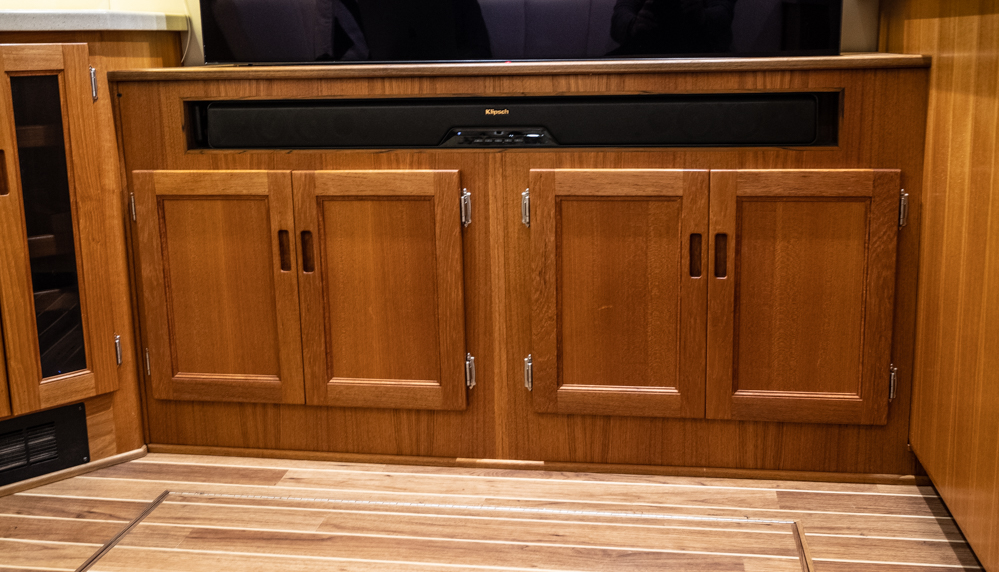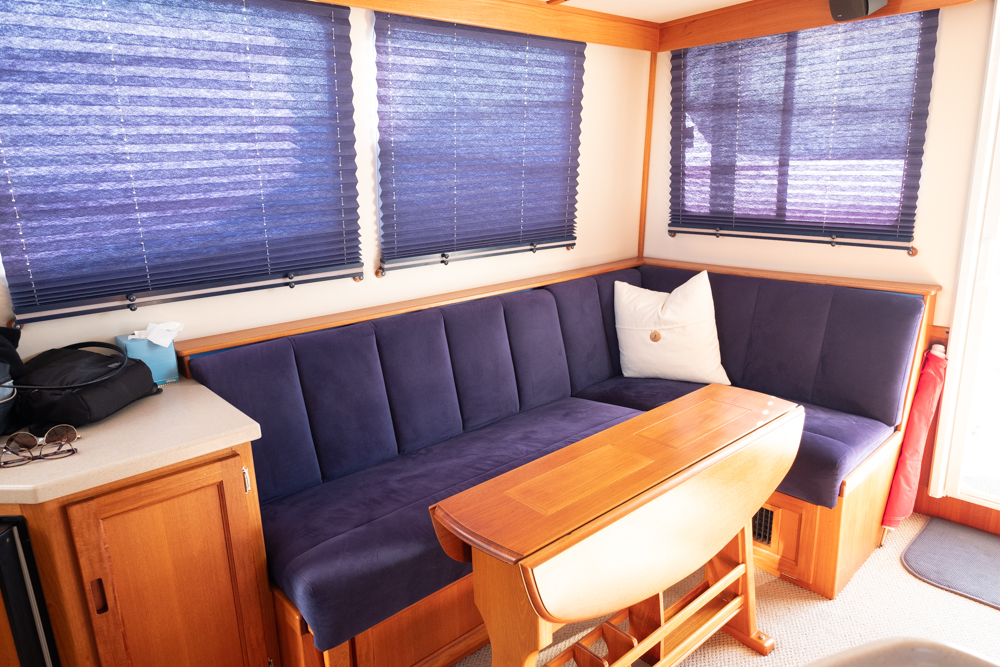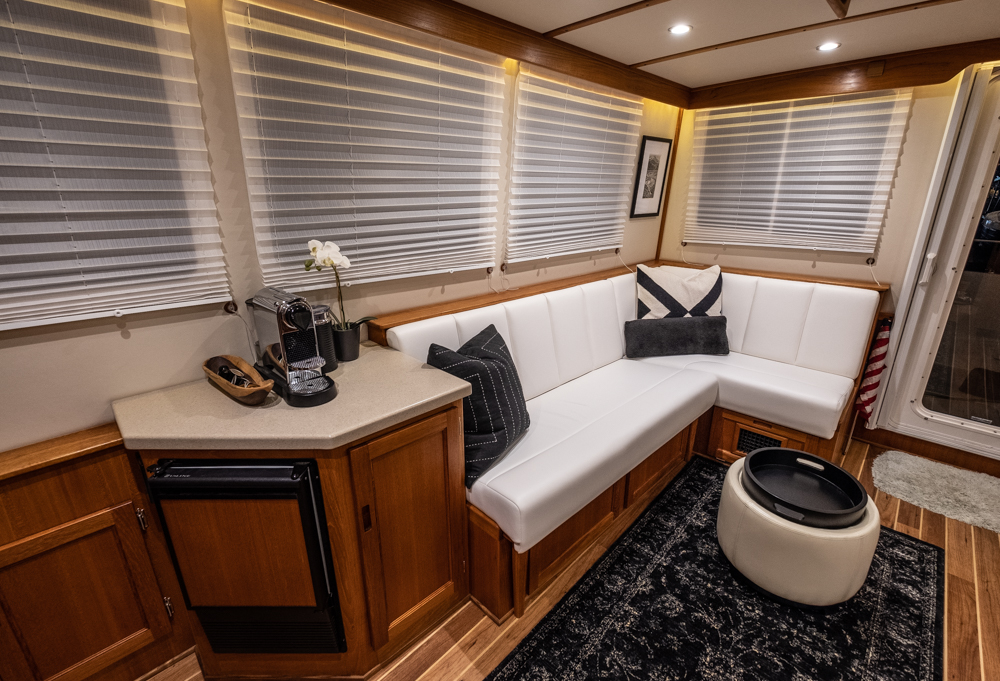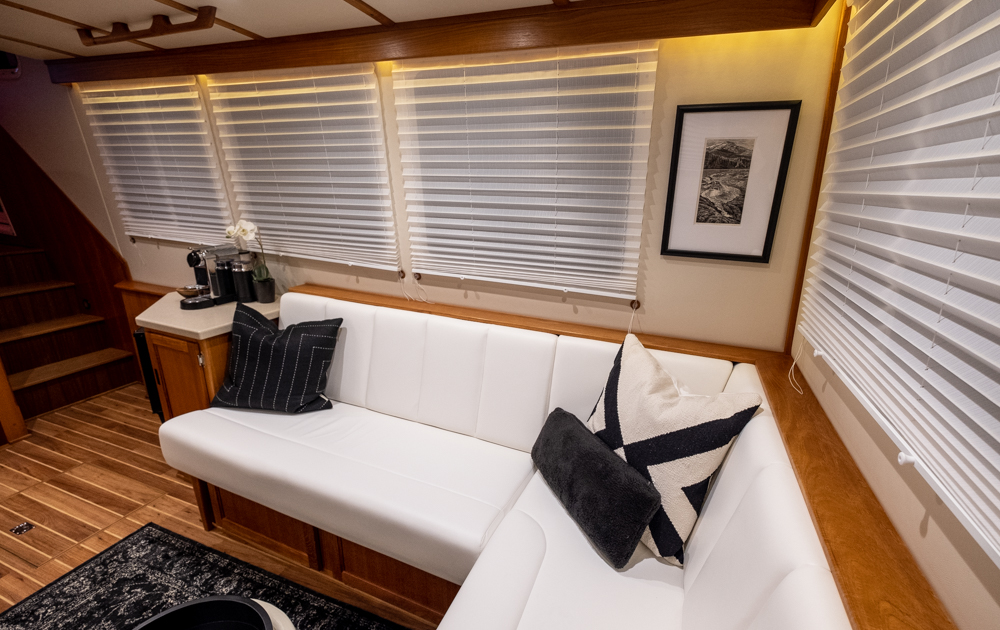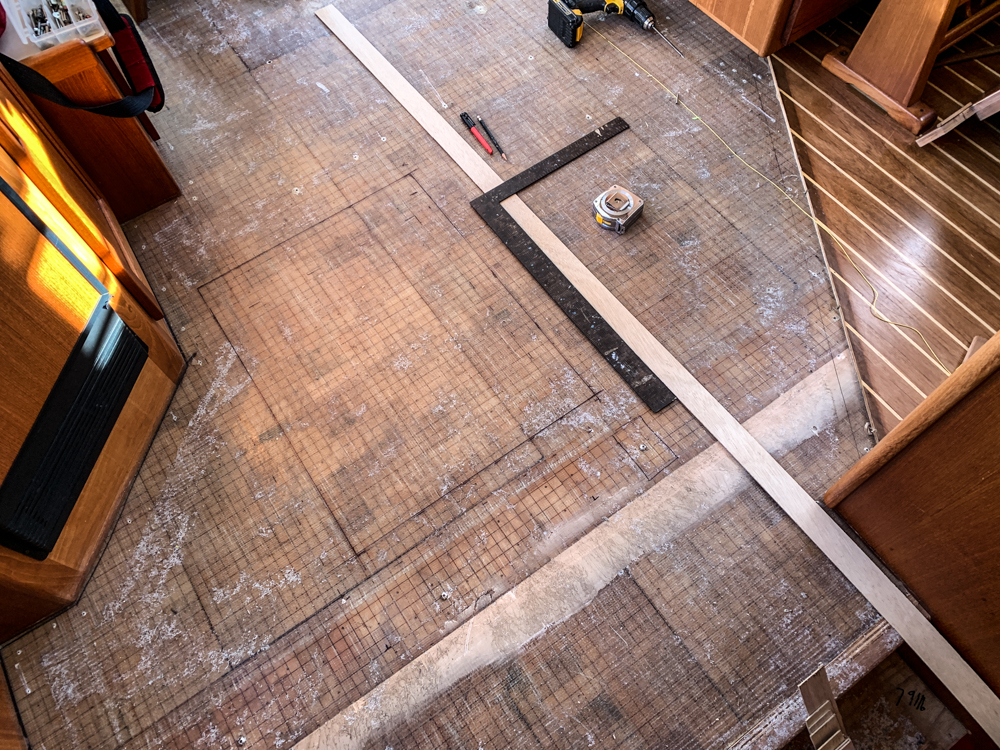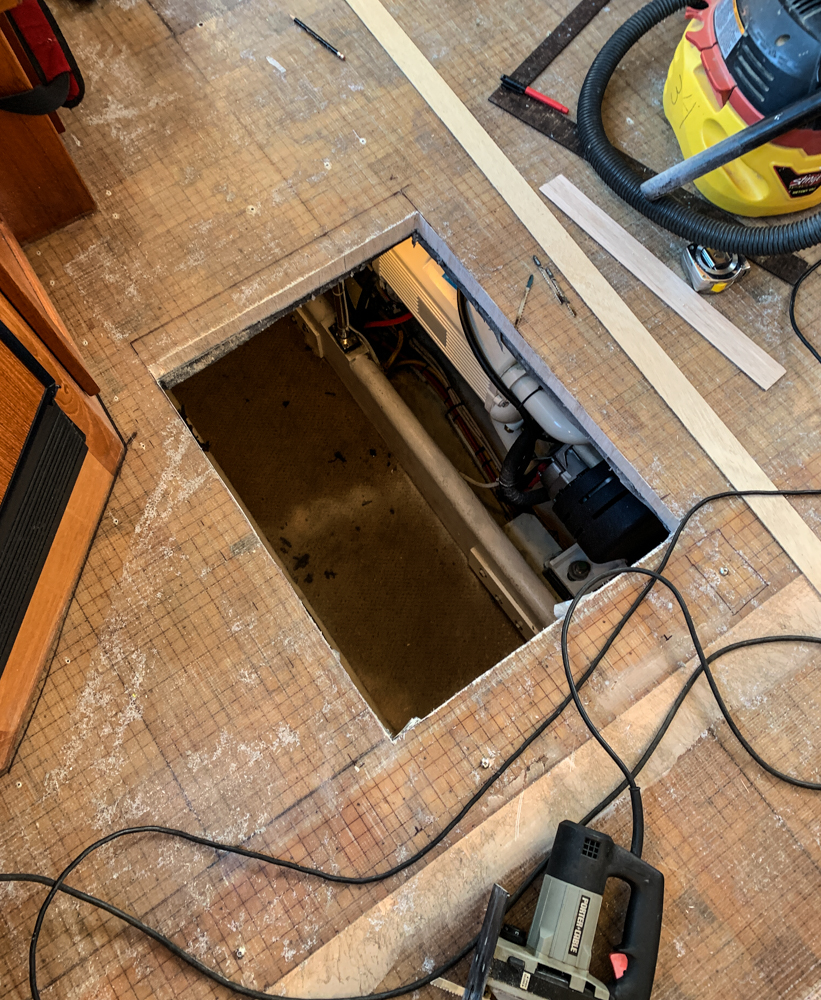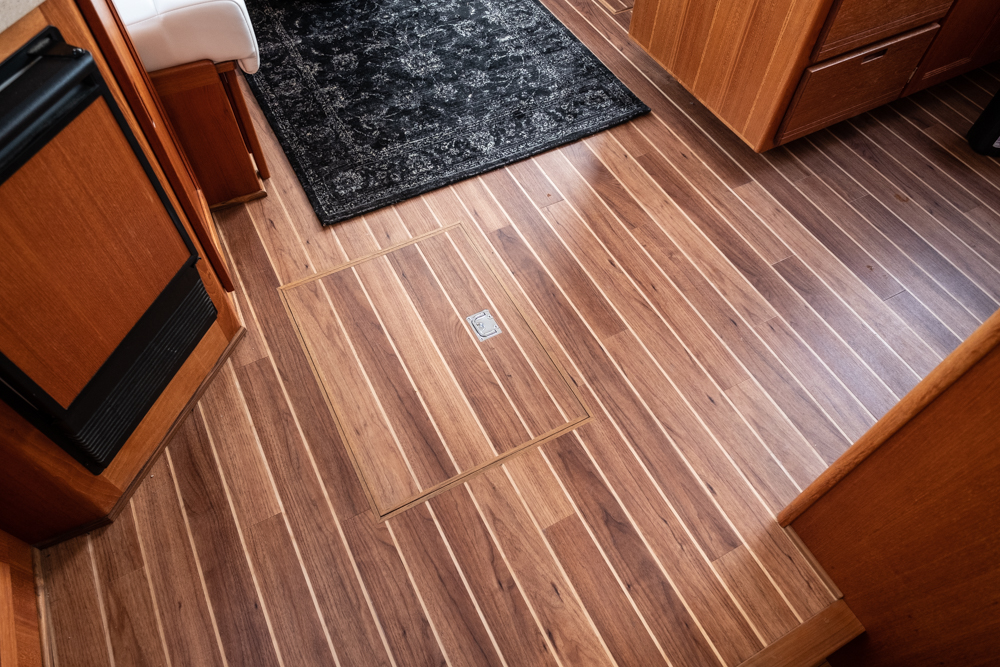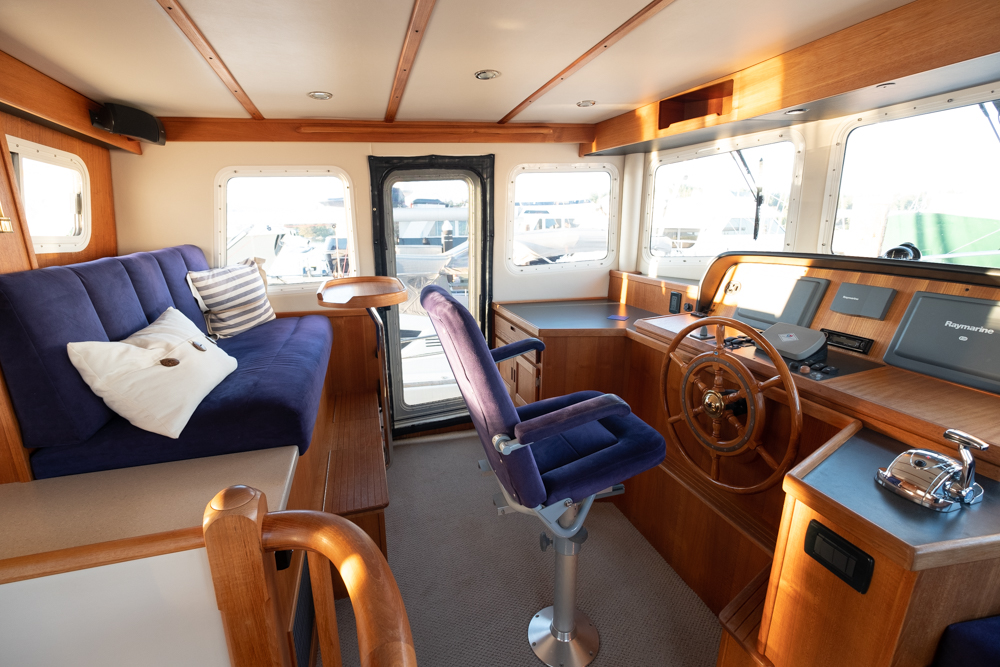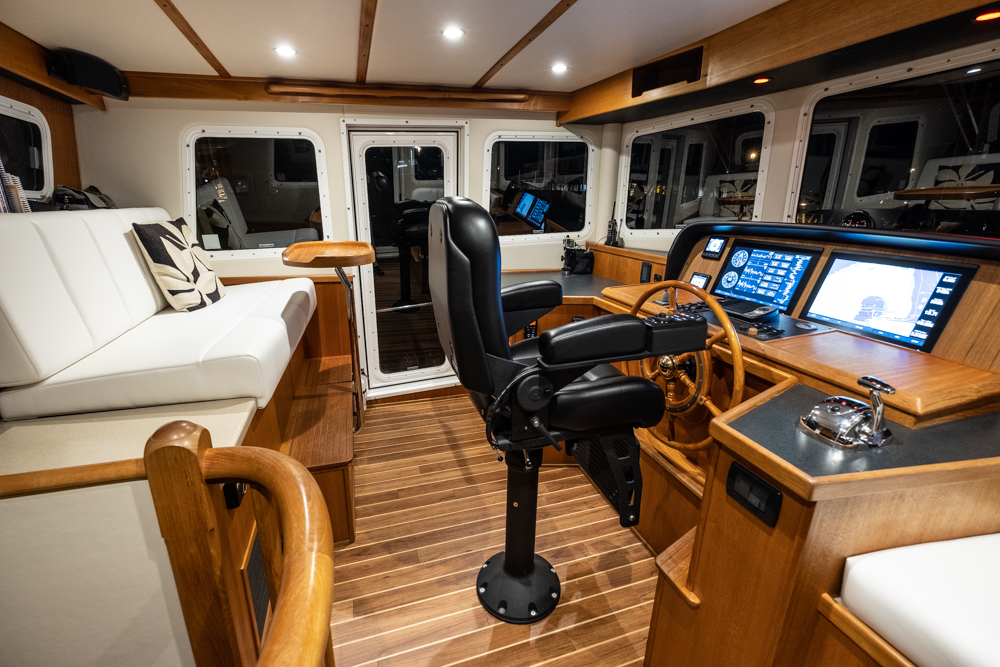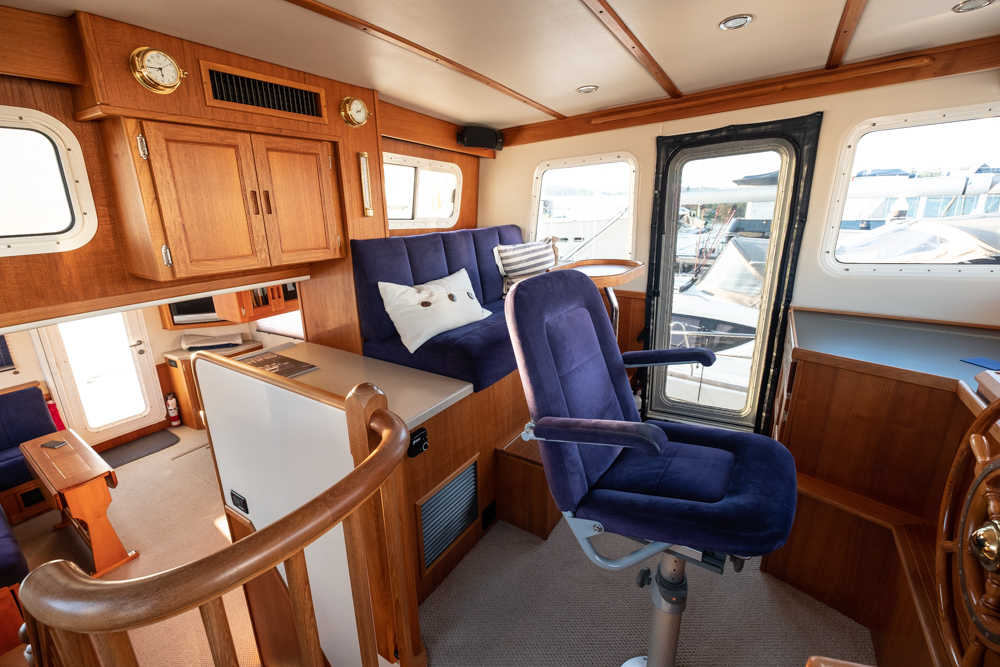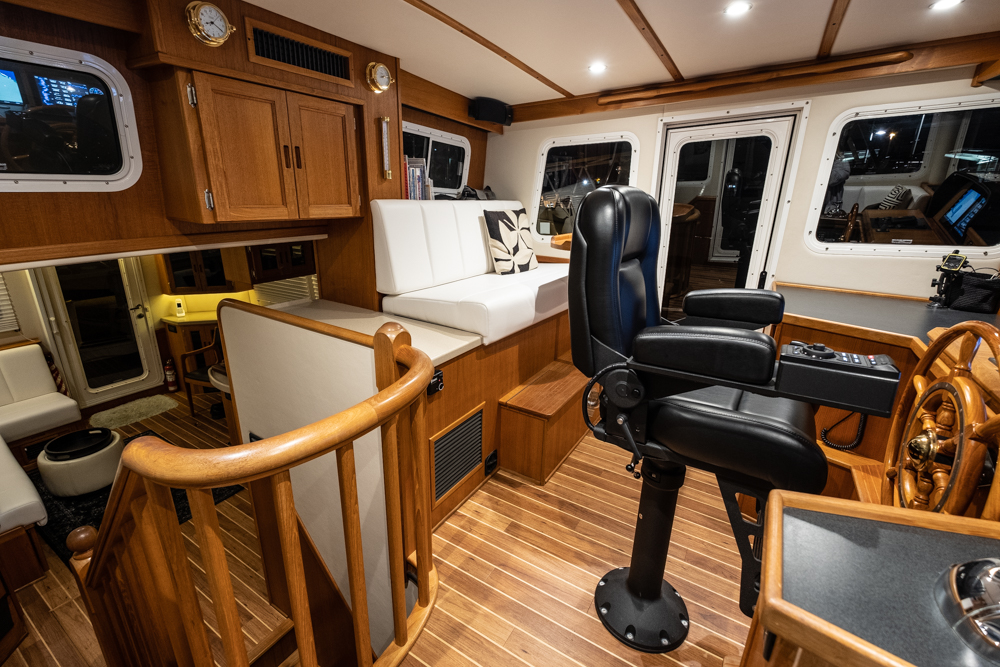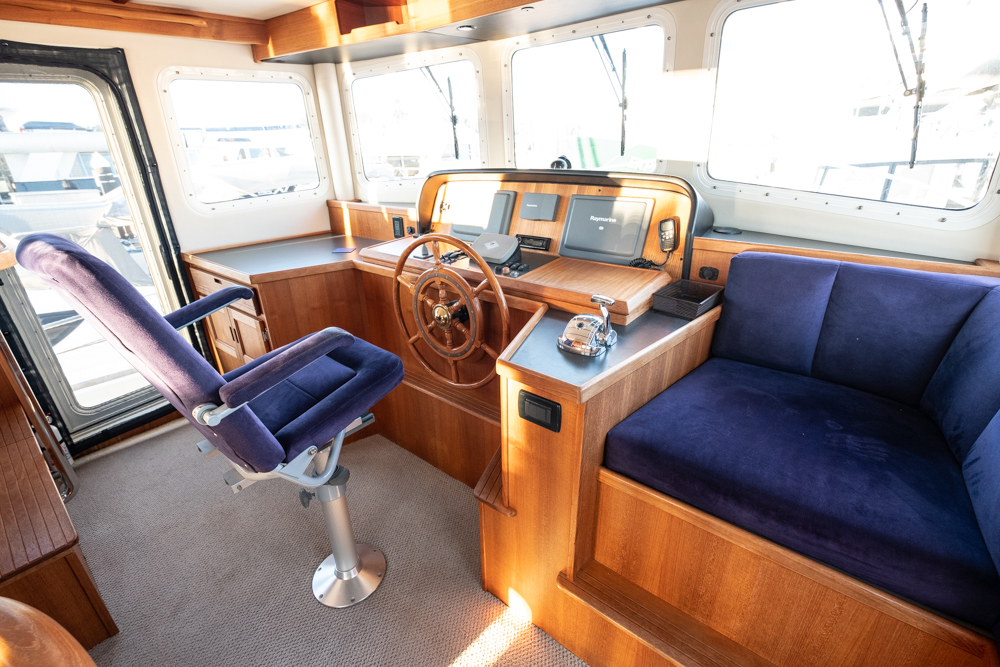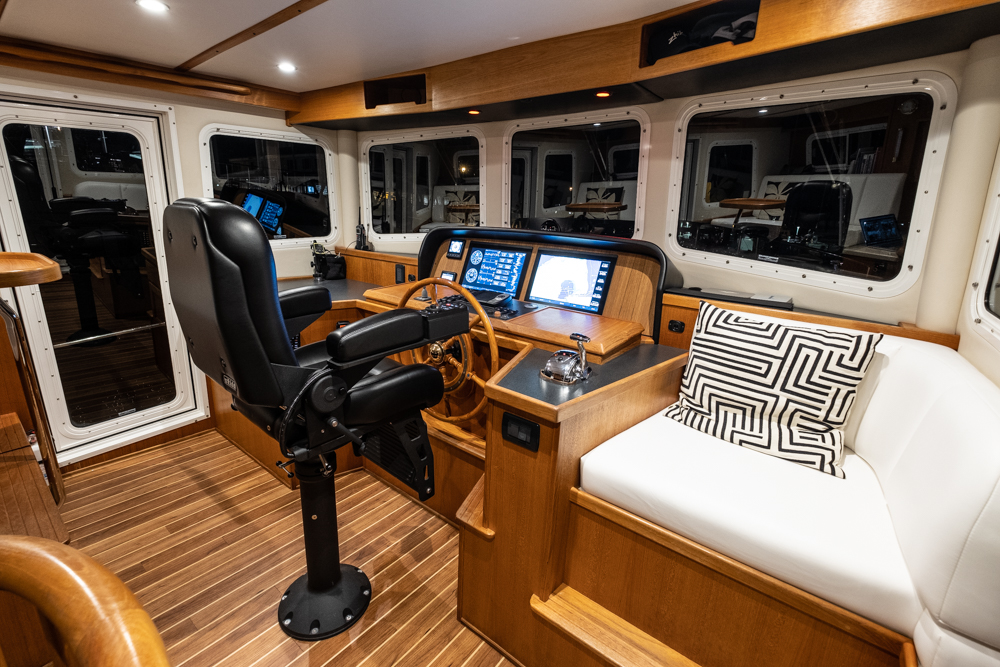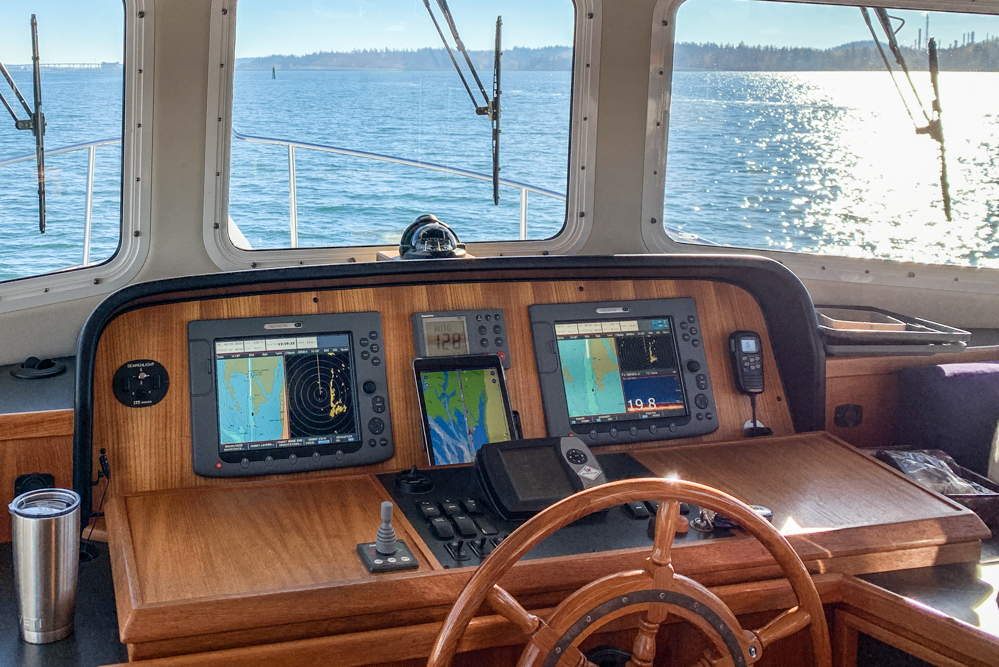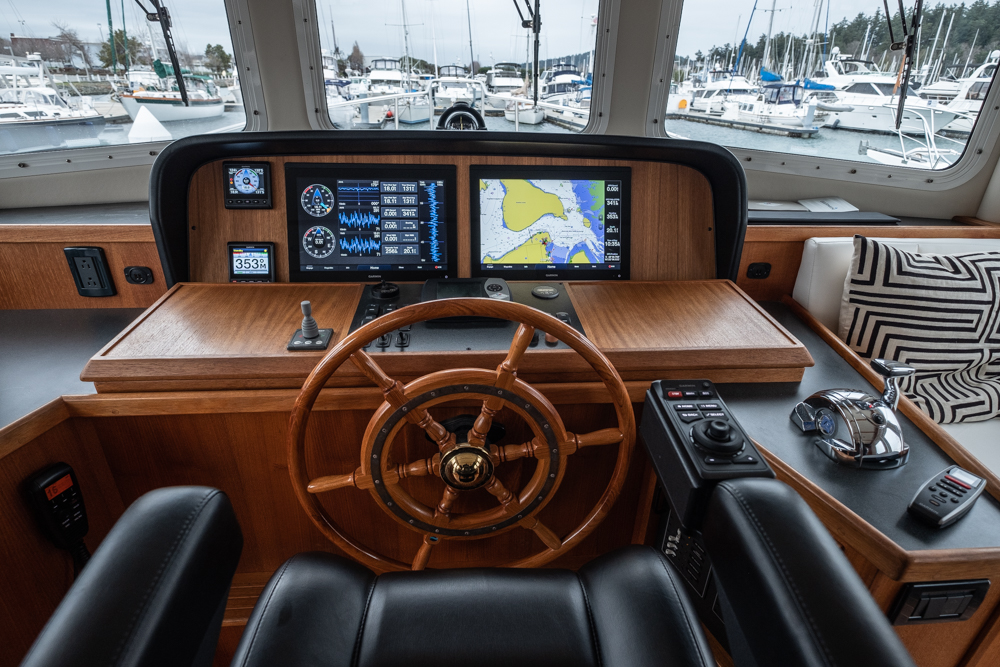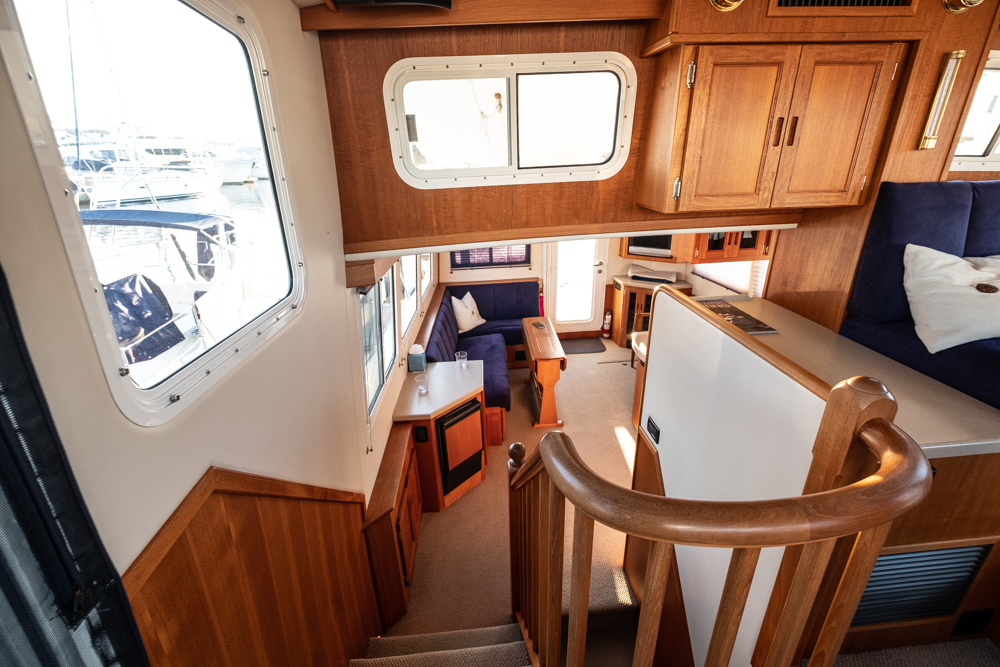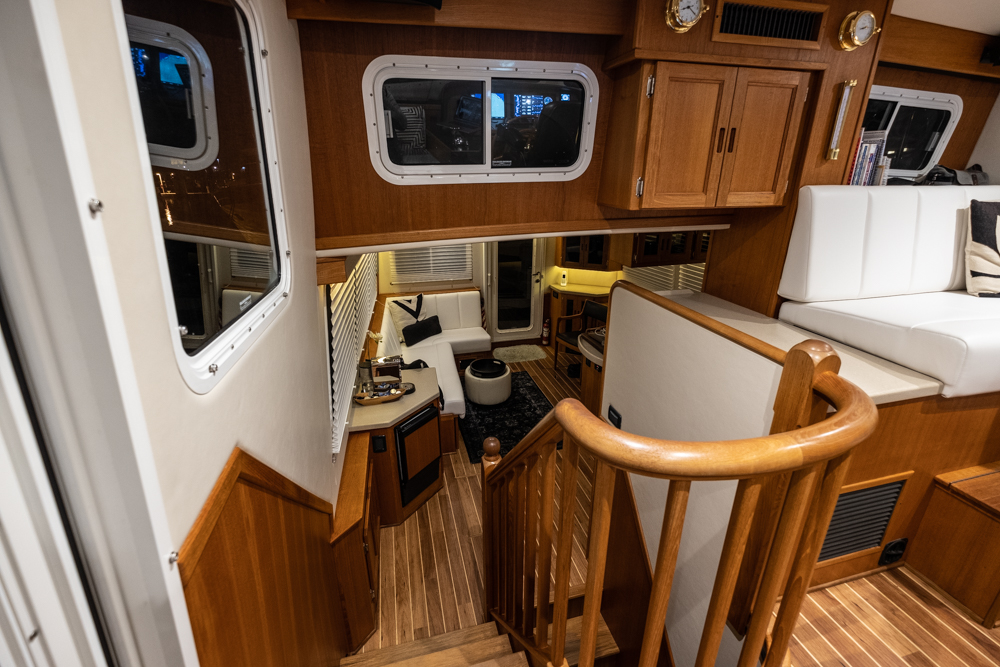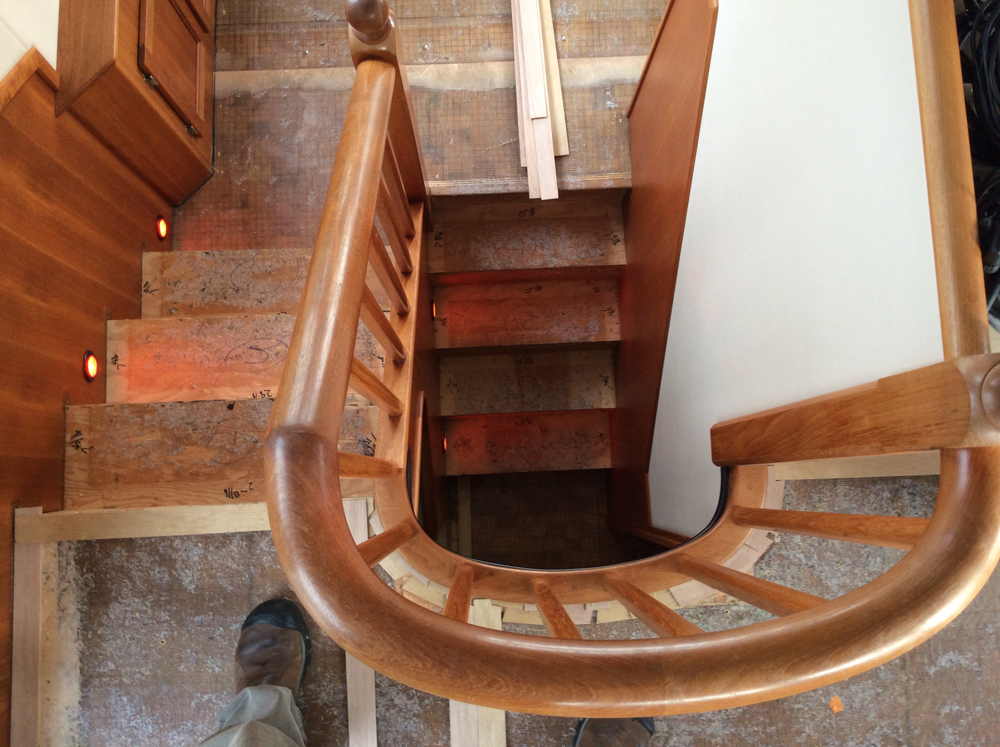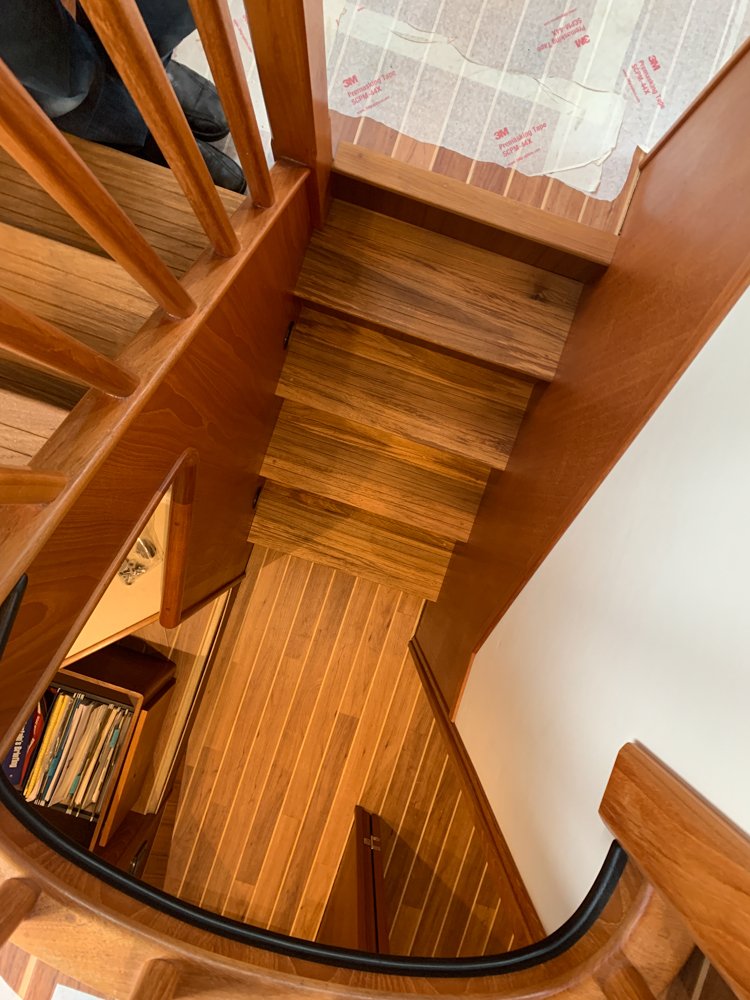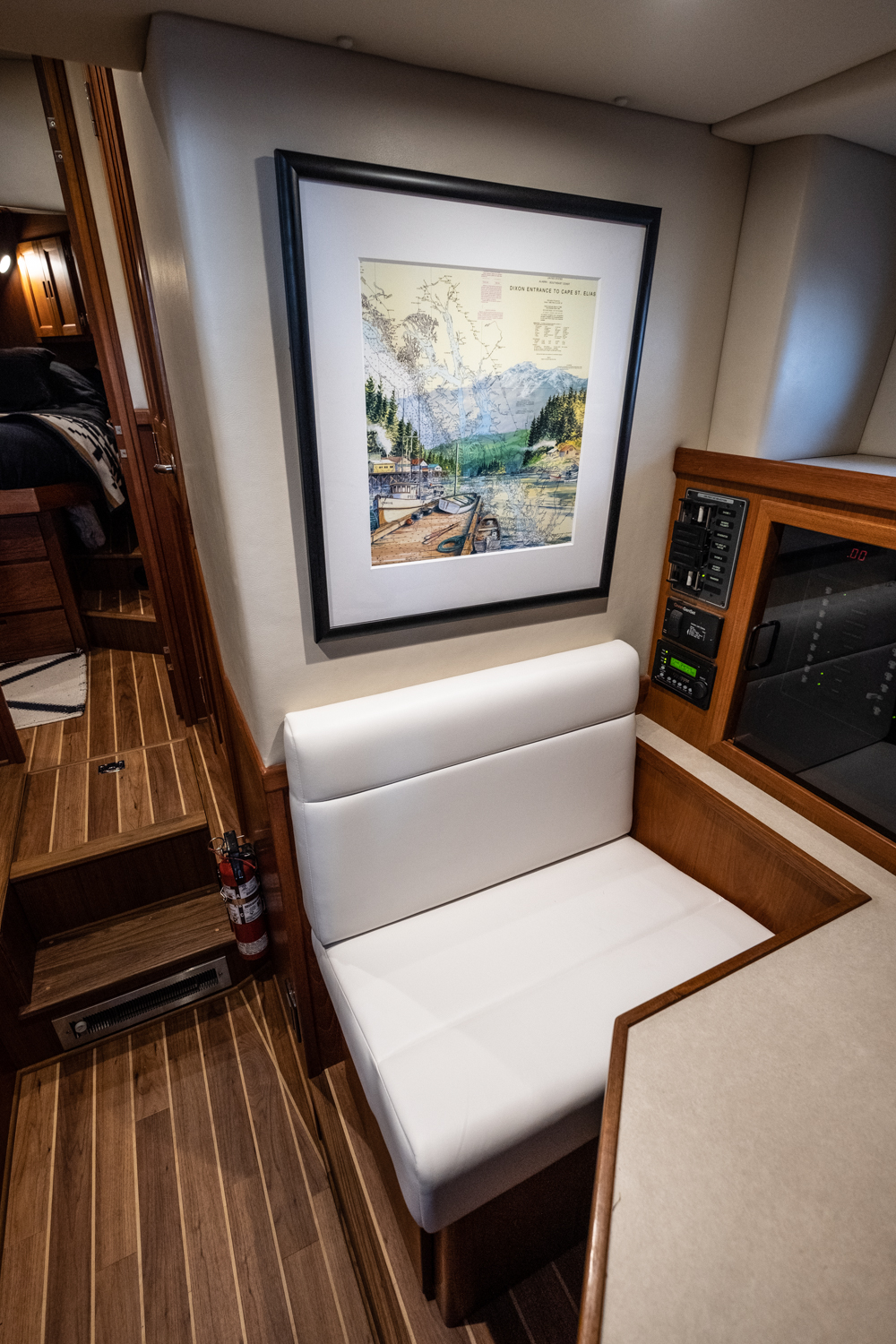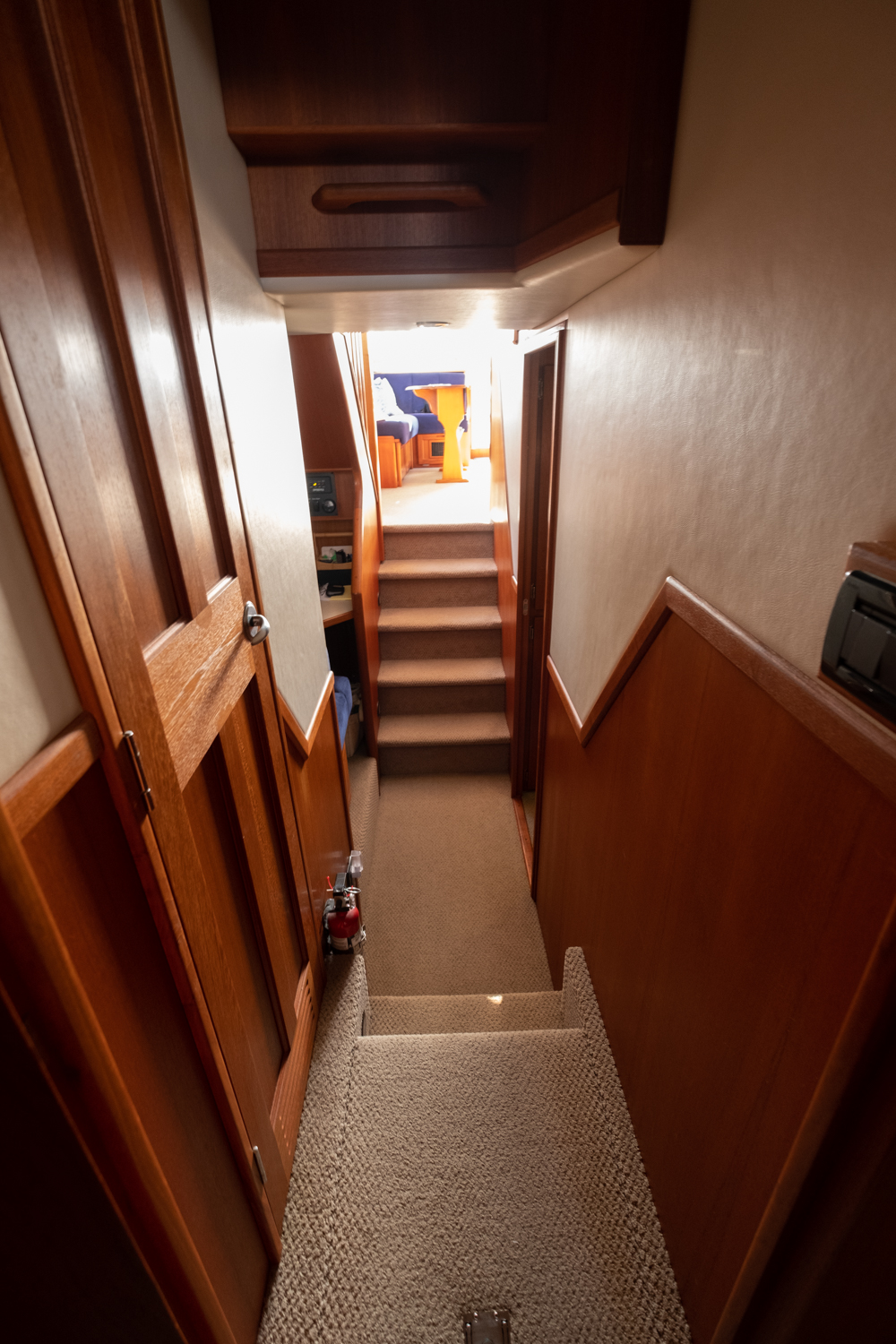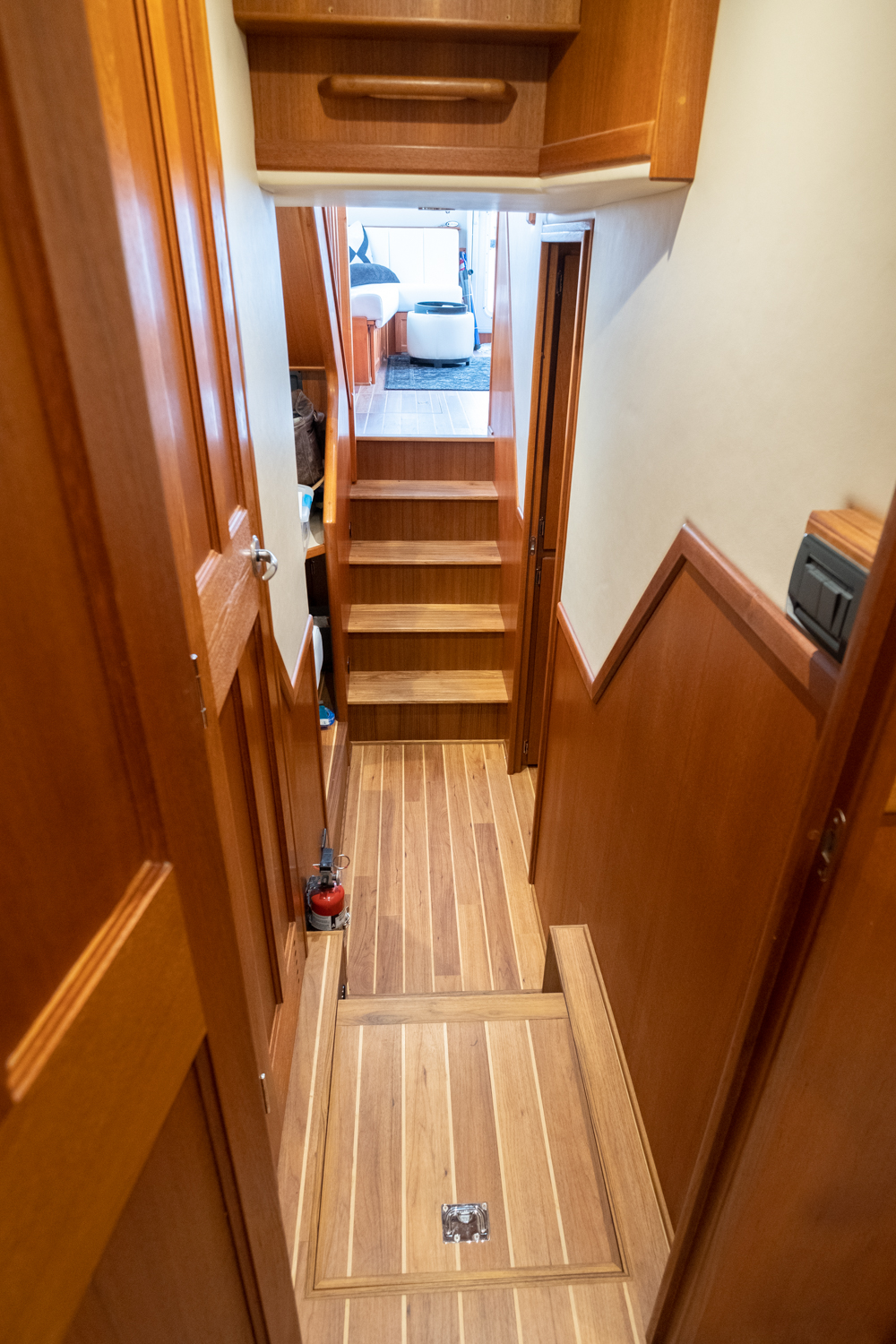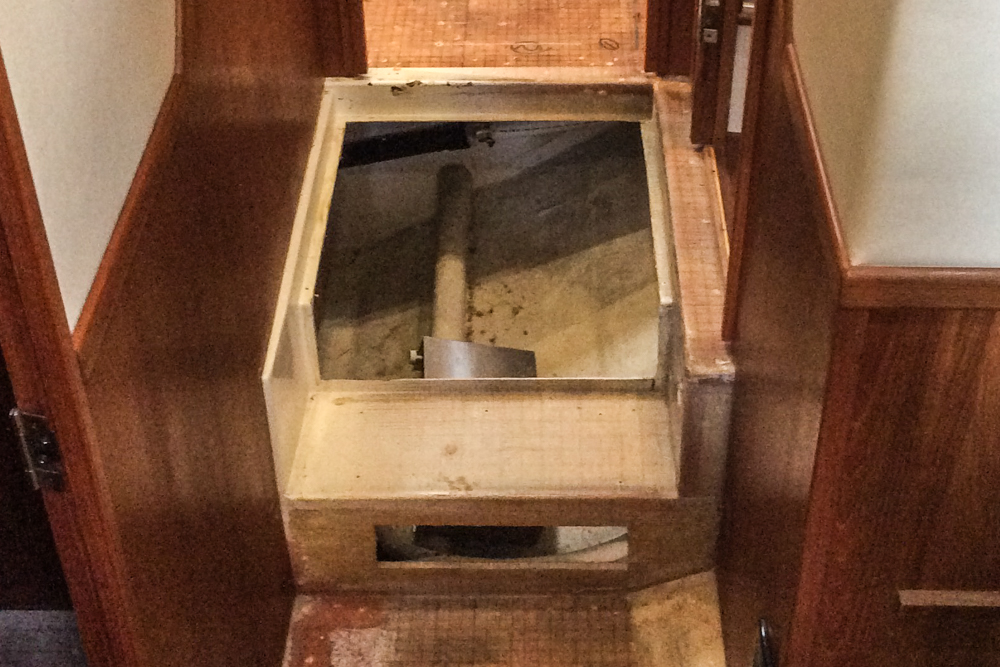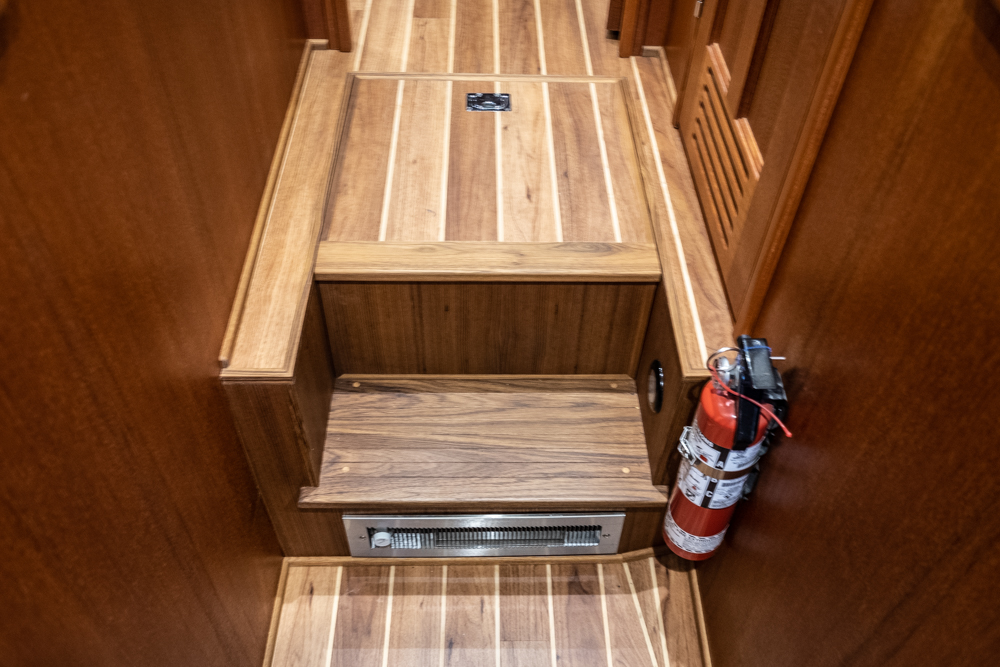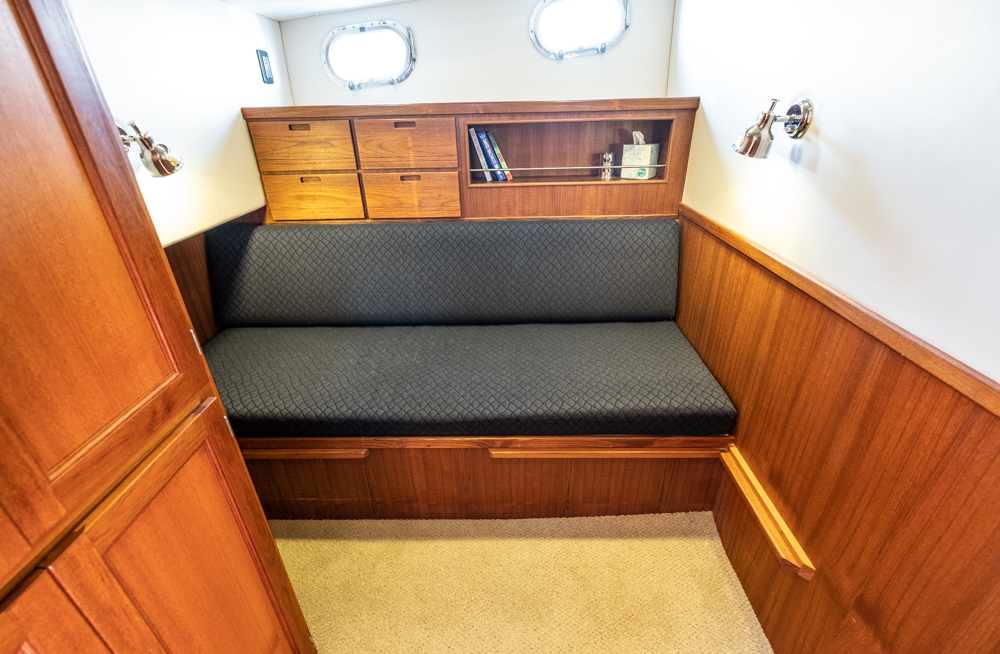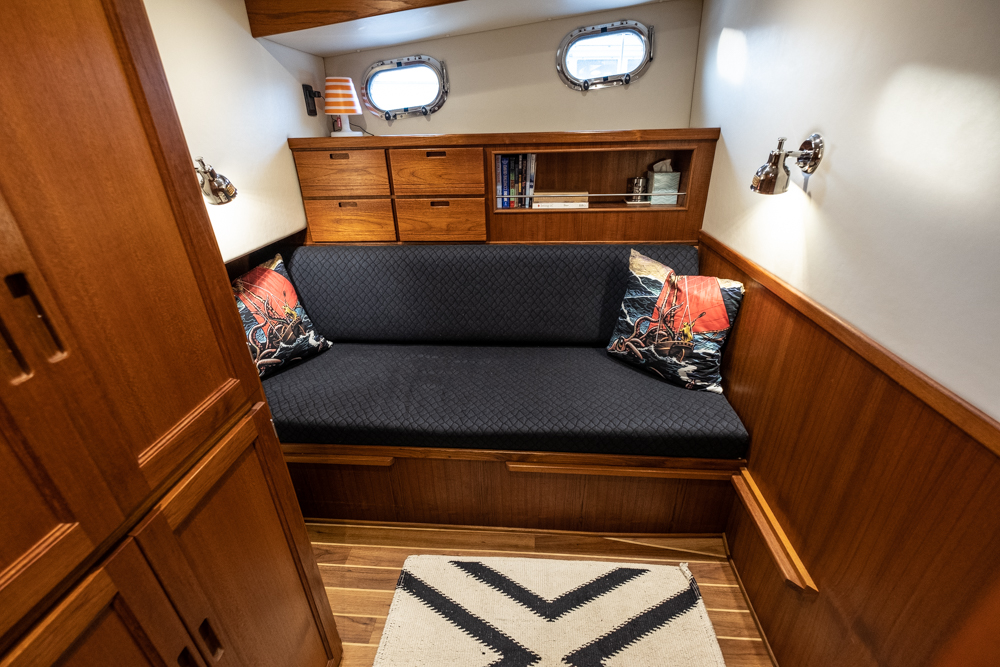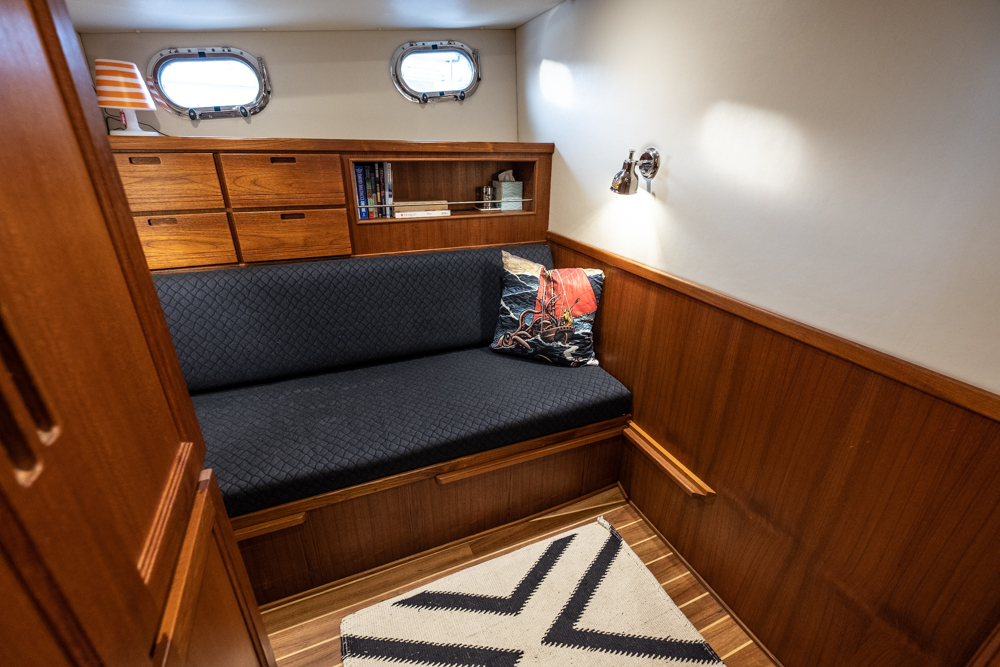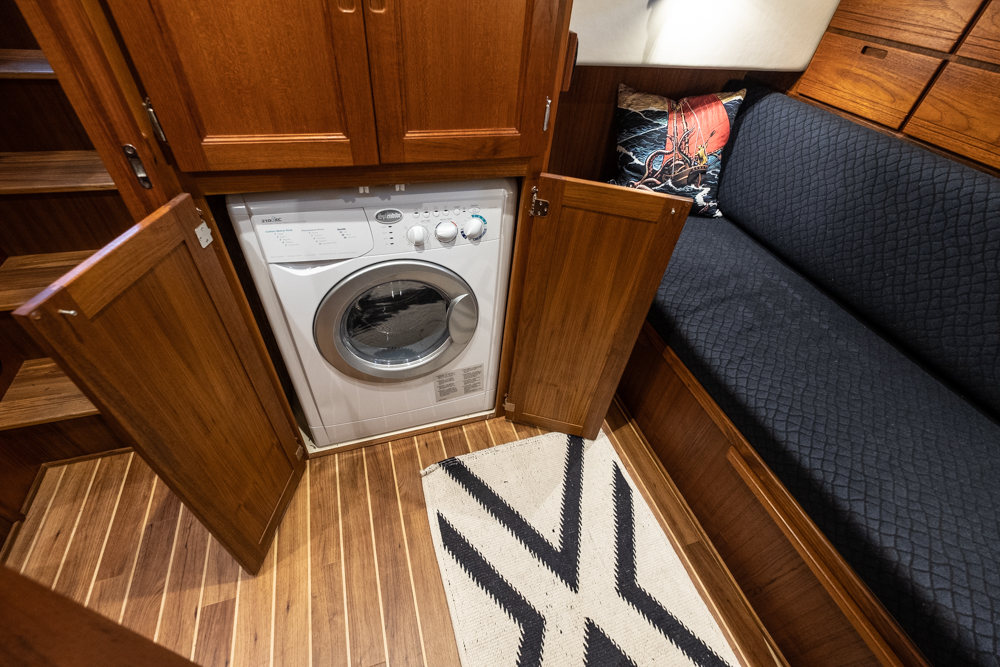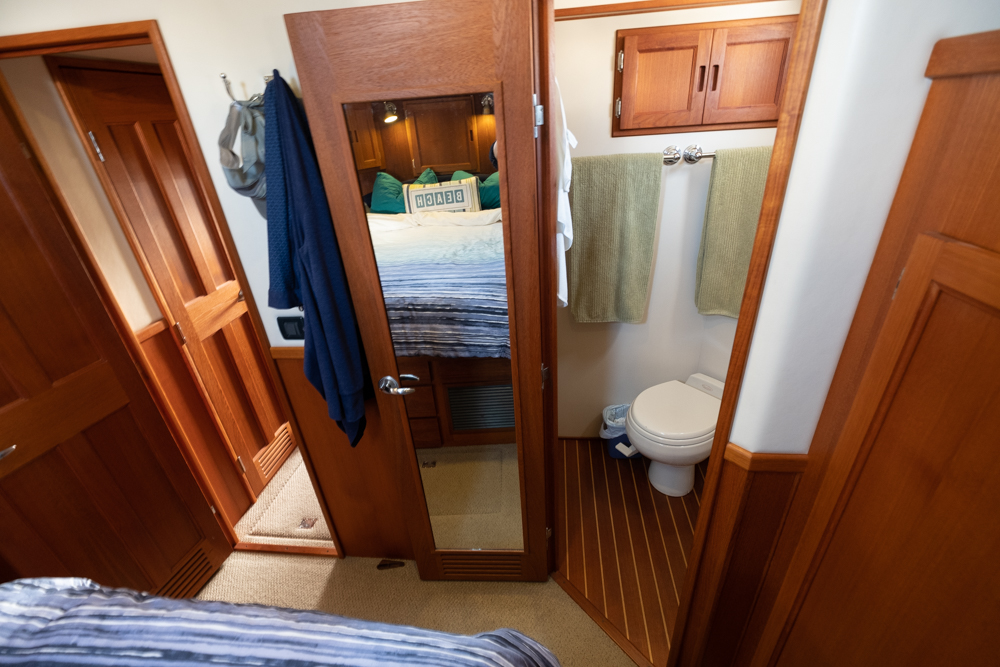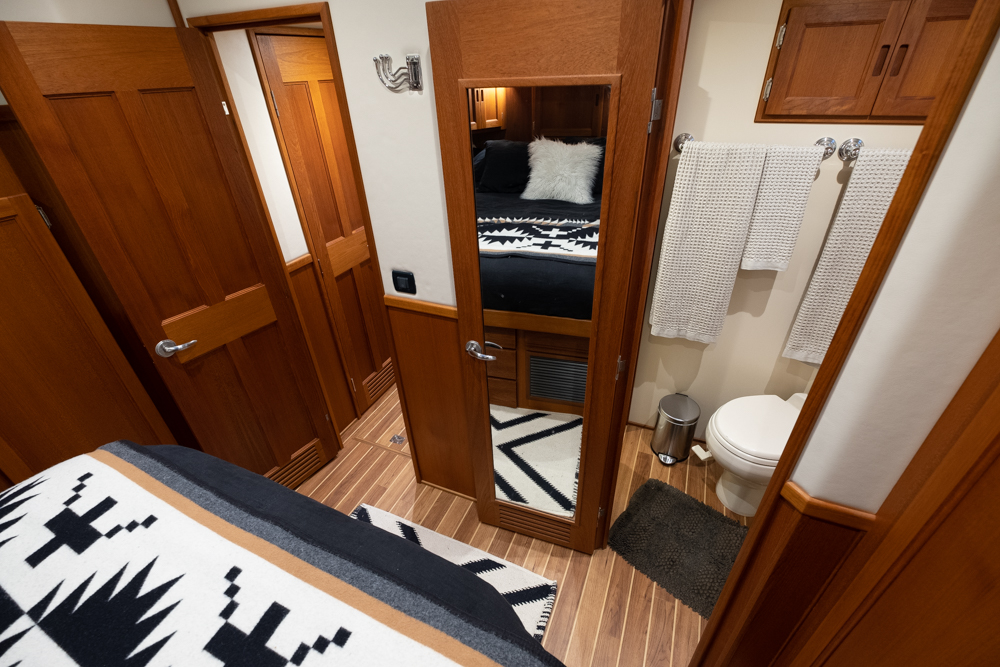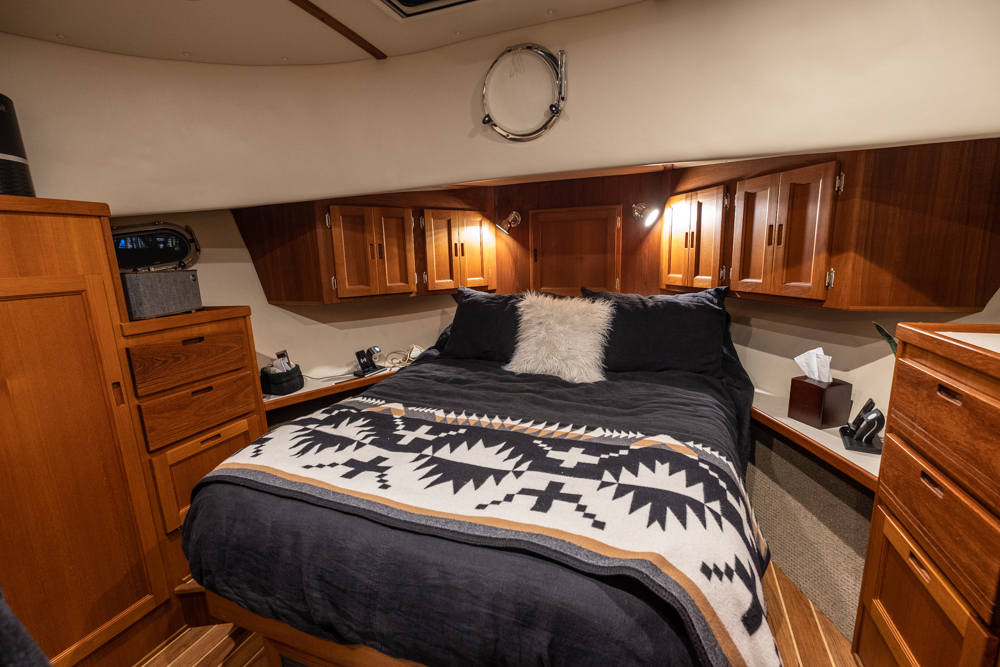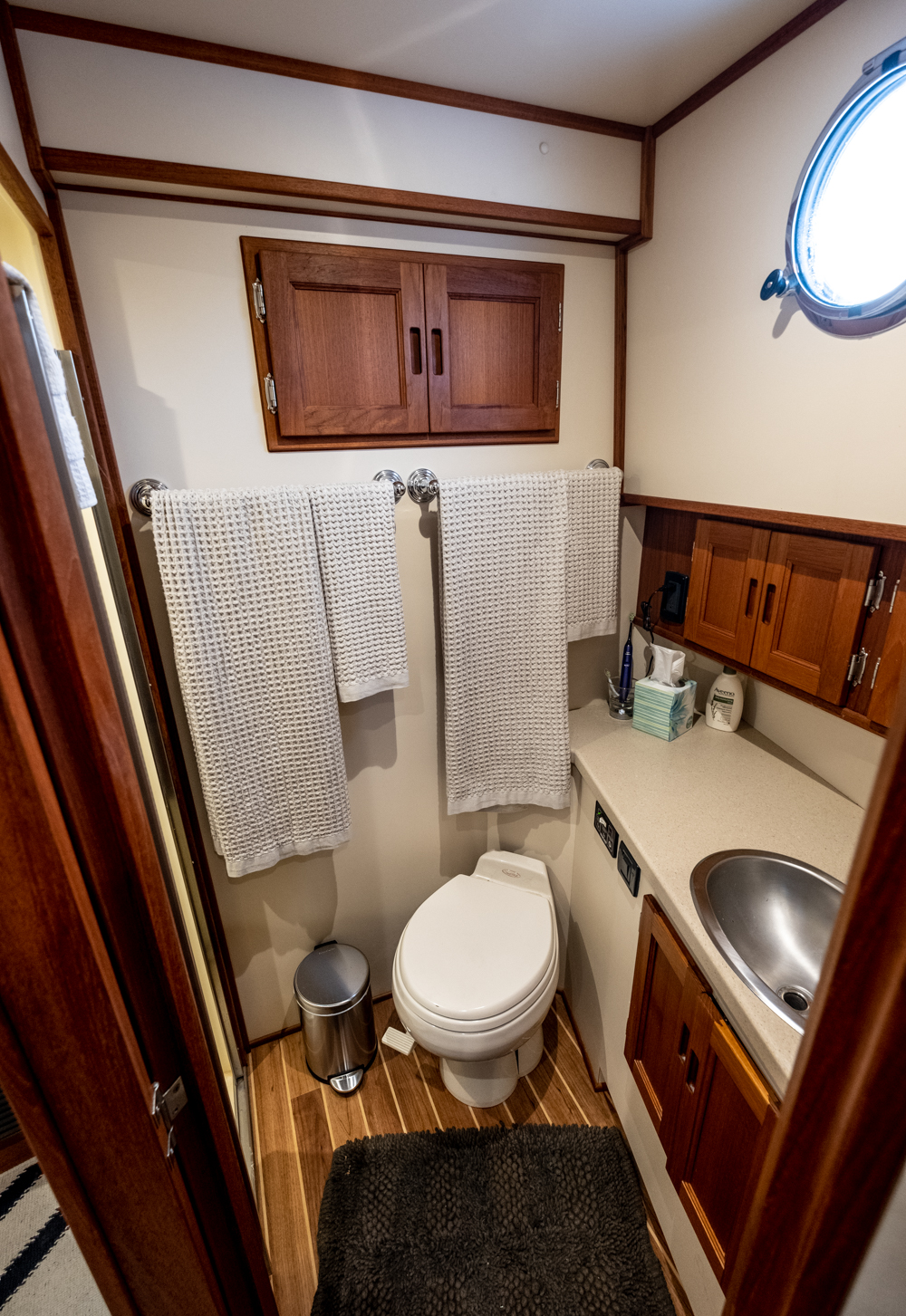 We are beyond happy about how all of the work turned out, and we LOVE the feel of our new environment aboard. We still need to take some good exterior photos, but it's windy and raining right now in Anacortes so we'll do that when we get some better weather. We'll be heading south tomorrow for the Seattle Boat Show.
List of Recommended Craftspeople, Electronics Experts, Upholstery Wizards, Davitmakers, Boat Detailers, and Suppliers:
Flooring, Cabinetry, New Hatches, Great Stories:
Frank Liddell, La Conner, WA, vanfuego@yahoo.com, (360) 466-9289
Electronics:
Tony Wyatt at Marine Systems Northwest, La Conner, WA, marinesystemsnw@gmail.com, (360) 770-0886
Upholstery:
Canvas Plus, Arlington, WA, Kim Reitz, canplus@aol.com, (360) 435-0932
Full Service Boatyard:
La Conner Maritime, La Conner, WA, service@laconnermaritime.com, (360) 466-3629
Boat Davit:
Roskelley/Olsson Mfg., Seattle, WA, Josh Watkins, jwatkins@boatdavit.com, (206) 767-0505
Boat Detailing:
Miguel Gomez, La Conner, WA (360) 982-8833
United Shade Day/Night Blinds:
Blinds Chalet, (888) 633-7840
Amtico Flooring:
Great Floors, Lacey, WA (location in Burlington, WA also), Rick Graf, r.graf@greatfloors.com, (360) 438-3900