We had originally planned to head south at the end of last week (Thursday/Friday after Labor Day) but we had a few more work things we wanted to get done while we were in town with solid internet, and one more package to pick up that was yet to arrive, so after checking the weather to learn that we would probably have another good window for getting south of Dixon Entrance next week, we opted to stay a few more days.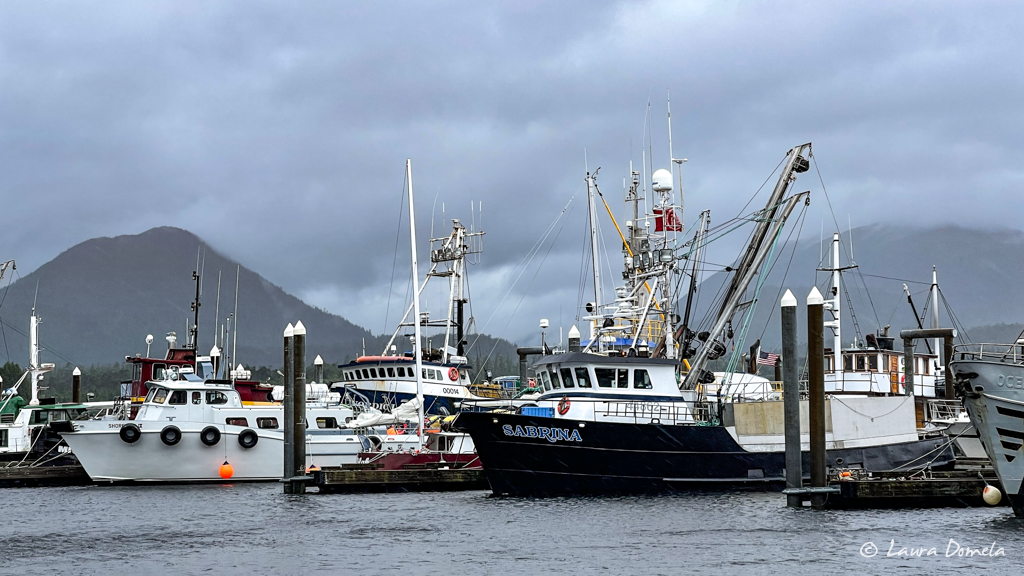 After our epic prawn catch (and after having prawns for dinner four nights in a row) we cleaned out the freezer to make room for freezing the rest. We separated them into 24 or so prawns per bag and added water and then sealed them up. I read about this method for freezing fresh prawns online — some folks saying they've been doing it this way for 20+ years and that the prawns seem almost as good as fresh when thawed. Making room for prawns meant pulling out some of the other bulkier things we hadn't been eating…chicken, pork tenderloin, etc. Grilled chicken with our homemade barbecue sauce is something we hadn't had in ages, and I made a gochujang pork tenderloin in the Instant Pot one night that was great in a rice bowl with veggies, and again as tacos the next day. But now, we're back to seafood: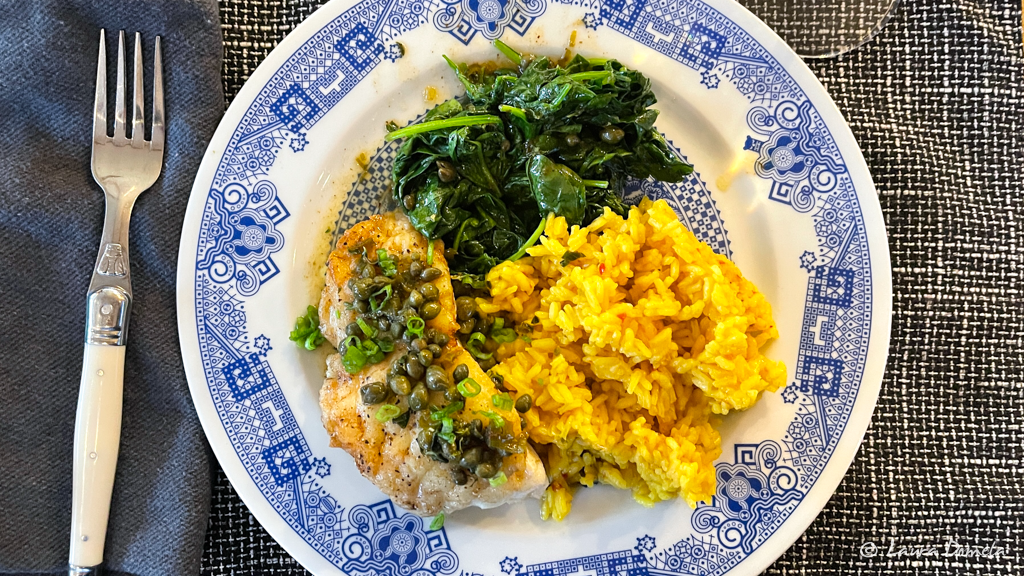 After the wind and rain passed, we again got some gorgeous weather here, which always makes town much more bearable than when it's raining sideways.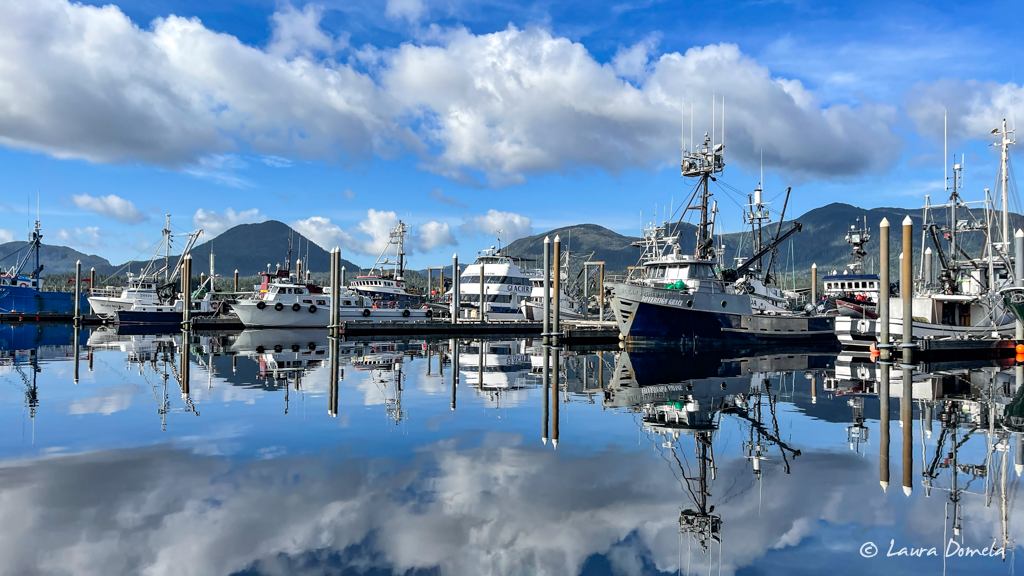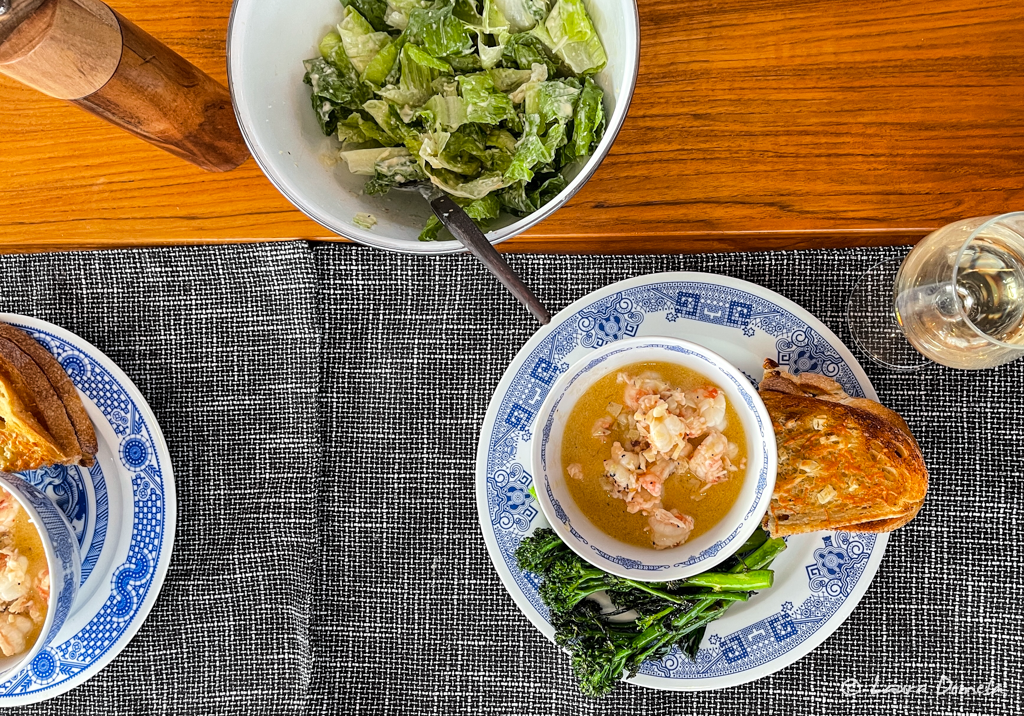 On Friday we decided to rent a Jeep and do some exploring by car. Tongass Highway, the main road, runs 16 miles in one direction and 18 miles in the other, so we did that, and then thought we'd head north up the middle from Ward Cove to check out some lakes. First, we drove South Tongass highway, through Saxman and around up the inside of George Inlet to the end of the road.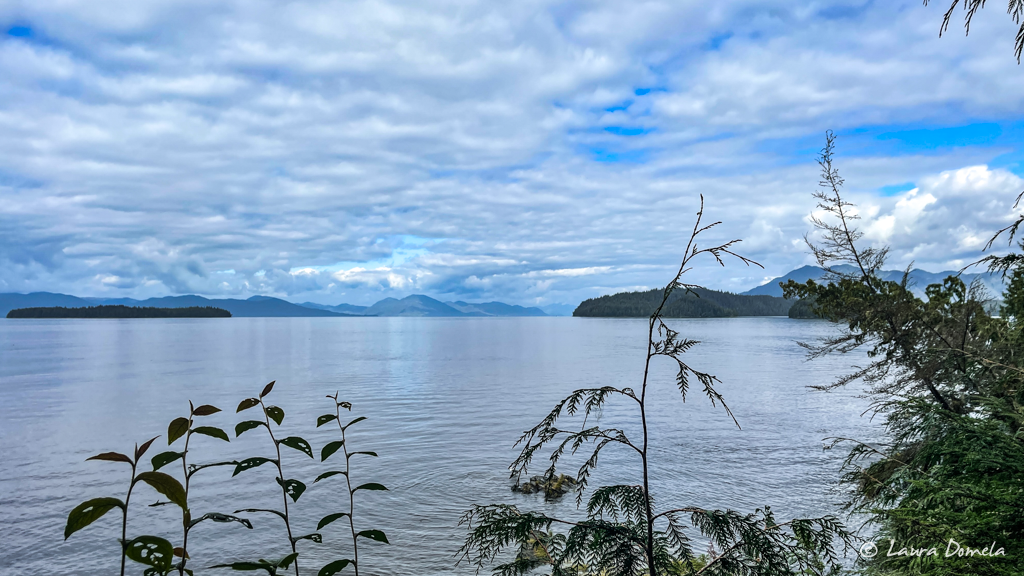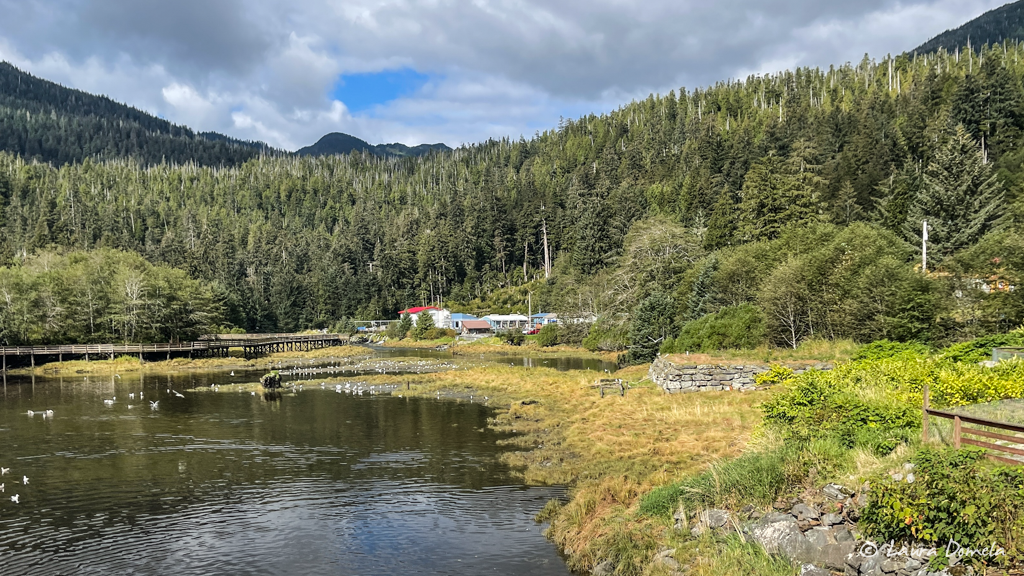 The map shows "Hidden Waterfall" along the way, and yep, it's pretty hidden (but we found it — probably because the first time we passed it there was a small tour bus and a couple people there taking photos). Our our way back by though, we missed it completely and had to turn around.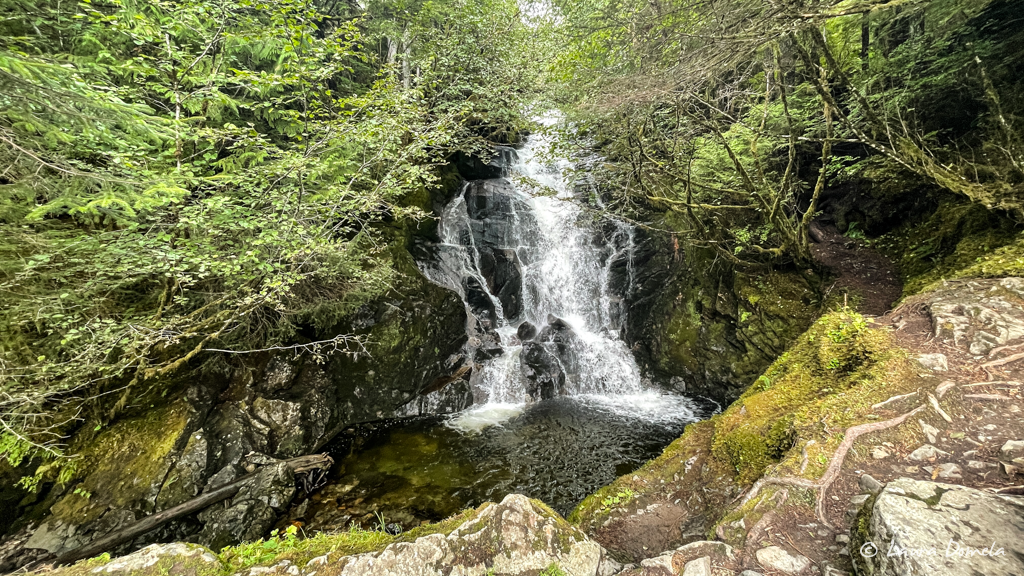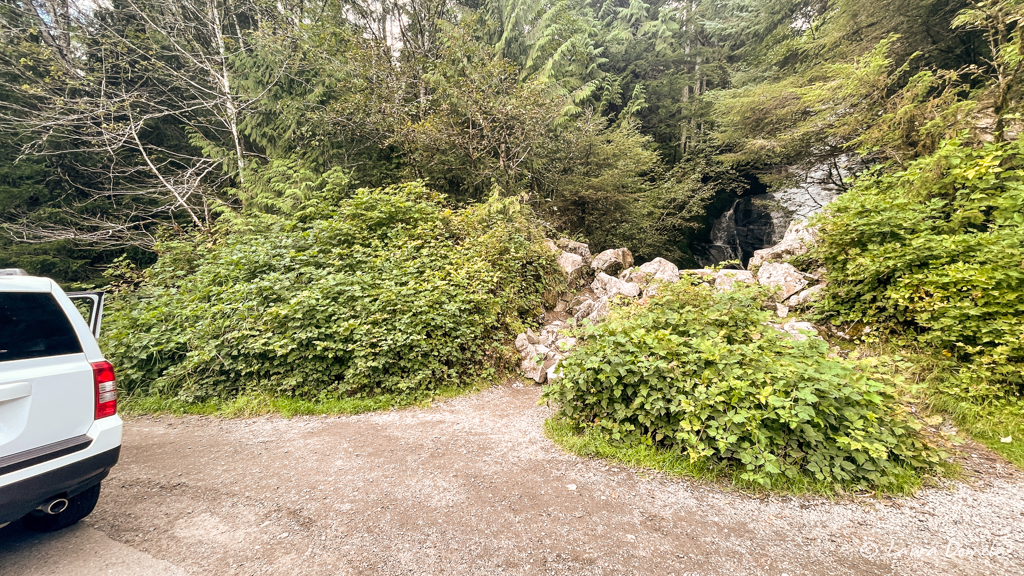 We drove back through town and decided to stop for late breakfast/early lunch at Alava's Fish-n-Chowder for some halibut fish and chips.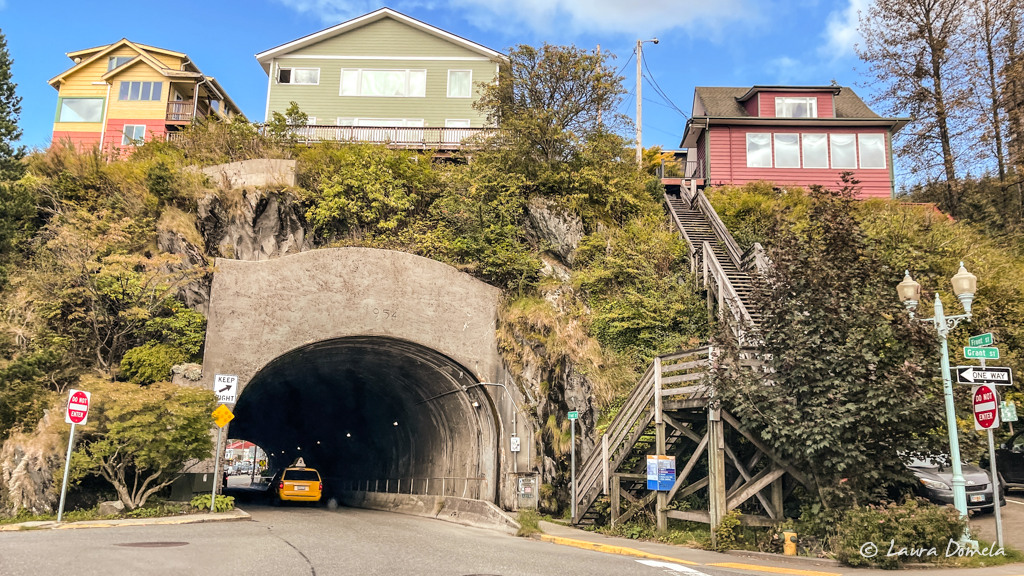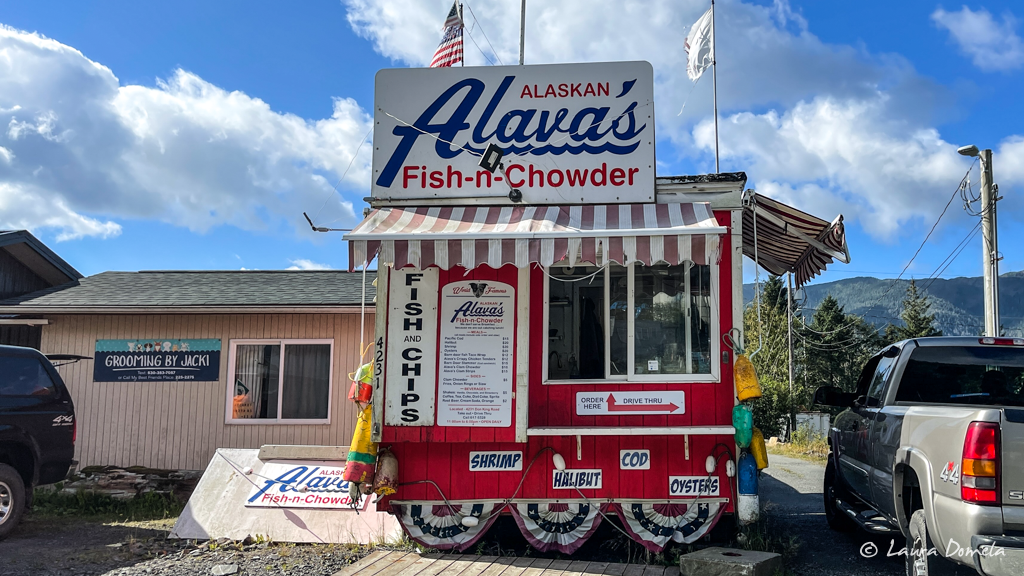 Alava's used to be downtown right near the city floats and Burger Queen, but they moved just out of town a couple years ago…halibut fish and chips still delicious!
After our meal we continued along North Tongass Highway to the other end and all the way around to Settlers Cove State Recreation Site, where we took a nice hike along Lunch Creek.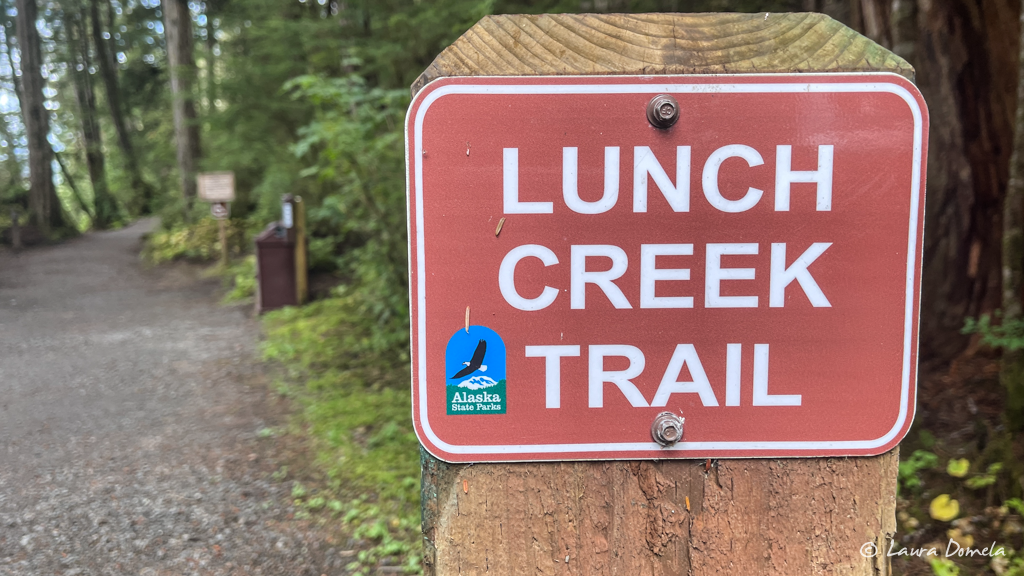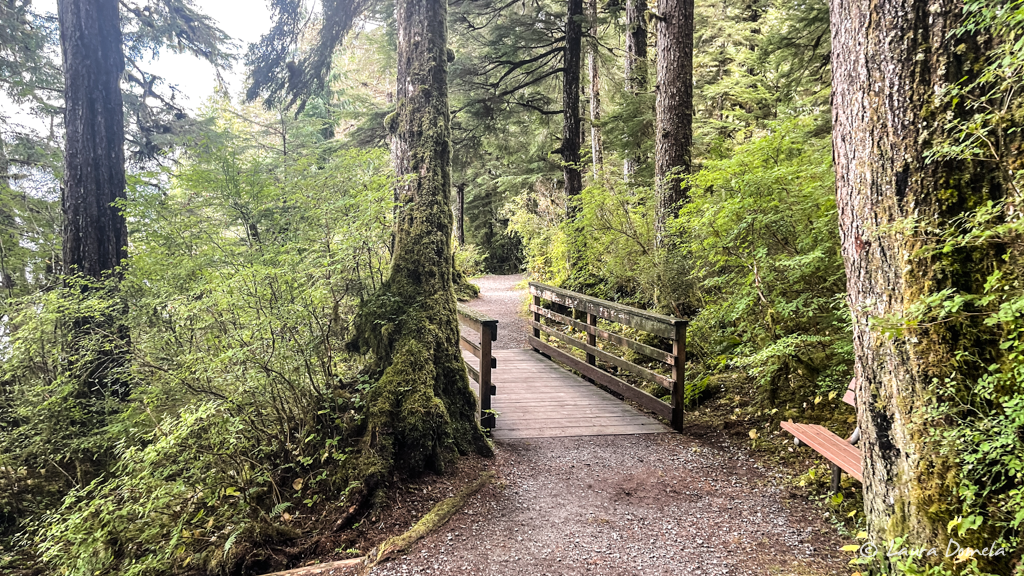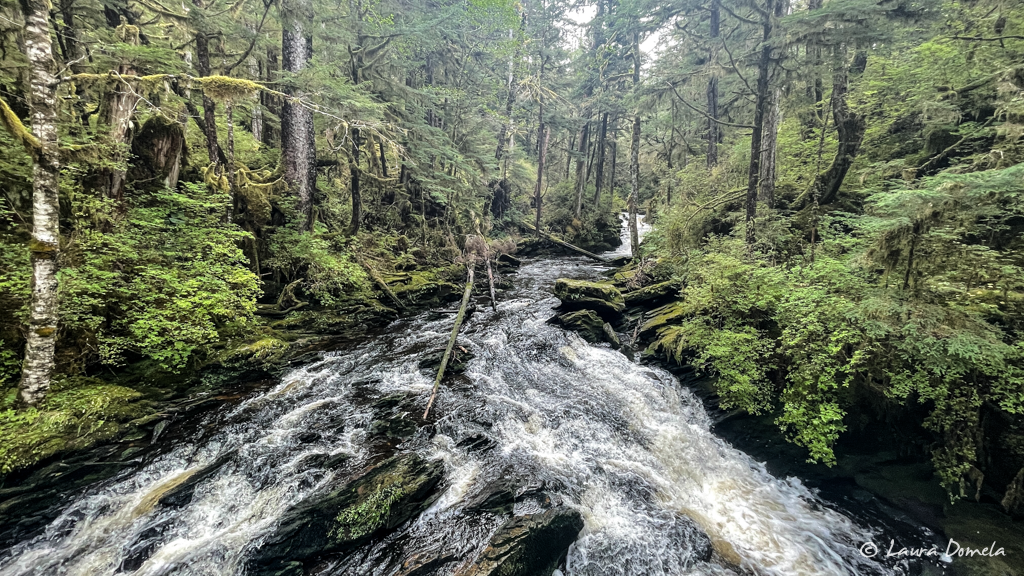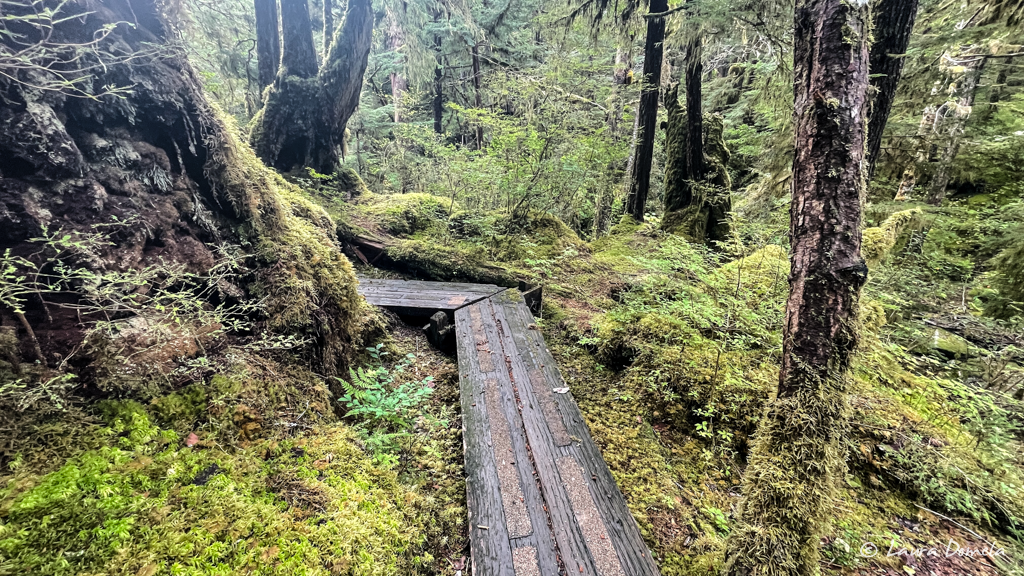 When we returned to the beginning of the trail, there were a few people hanging out near the bridge who told us we'd just missed a sow and cub (black bear). Dang it!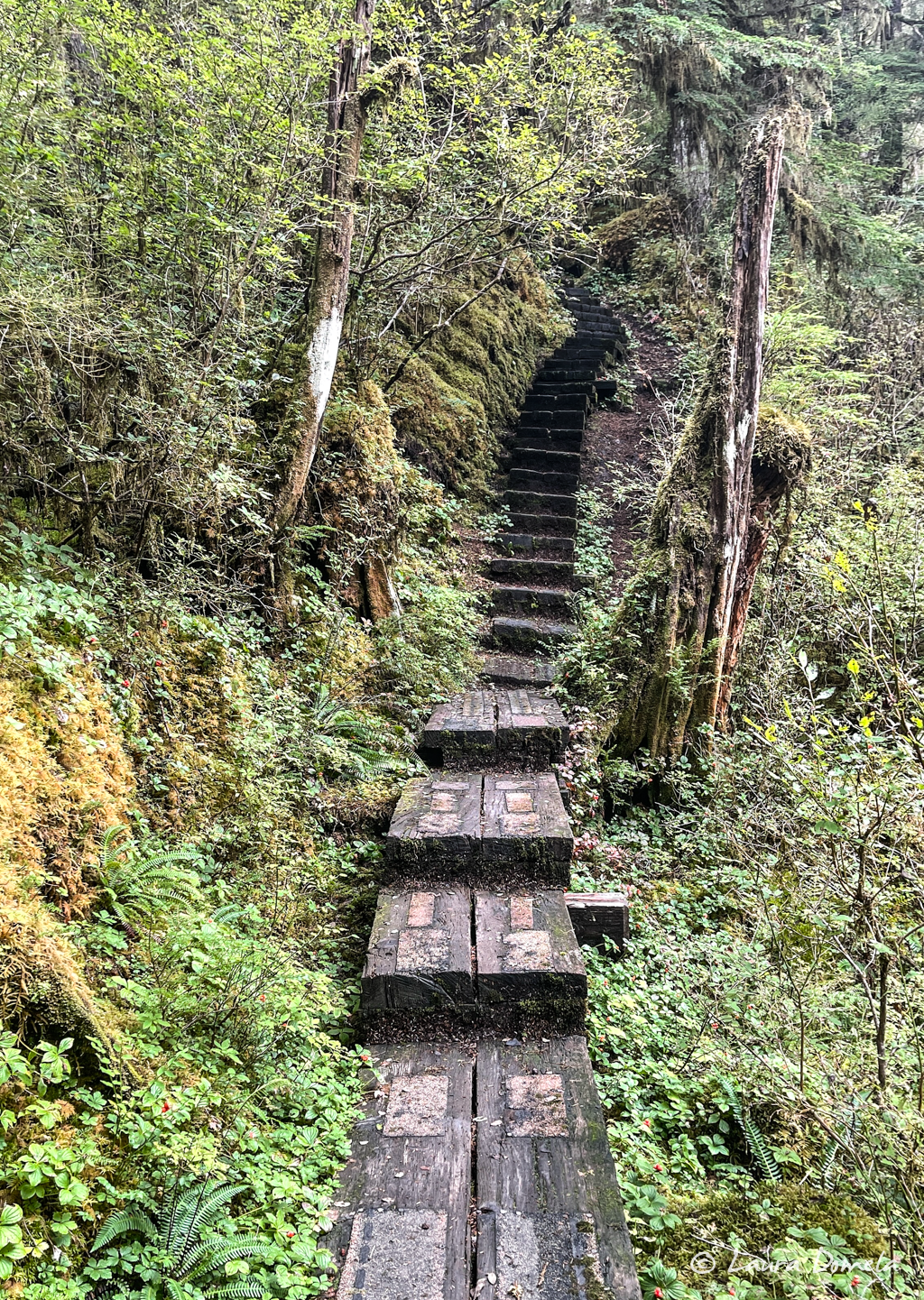 Beach view from just off the trail (not present in this photo: the odor of decaying salmon wafting through periodically with the breeze):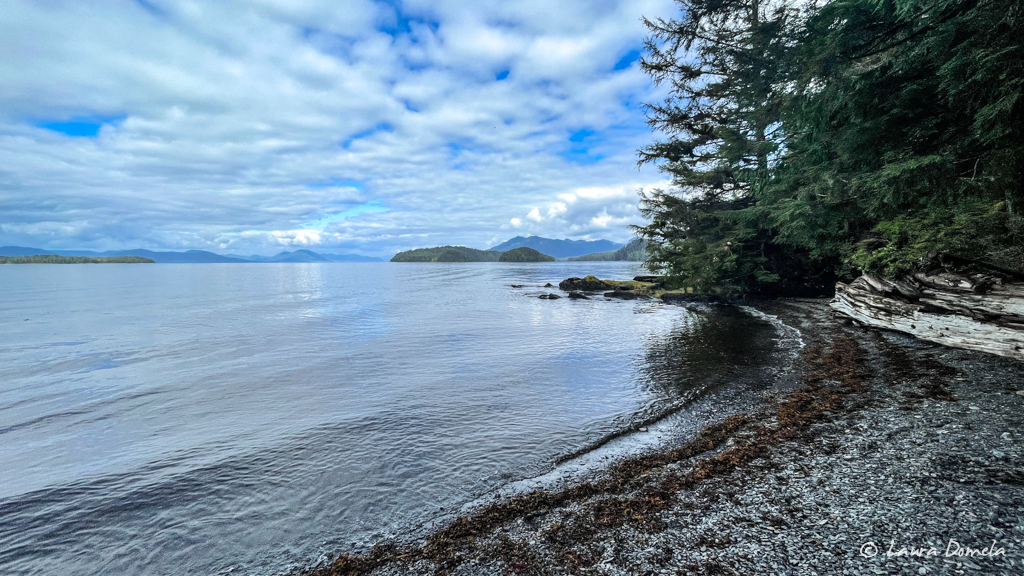 Next, we hopped back in the car and traced back to Ward Cove, then turned north on Revilla Road and headed for some lakes.  The paved road ends at some point and turns to gravel, but all of the roads are perfectly doable in the Jeep. We made a wrong turn somewhere and ended up not where we thought we were, but were easily able to backtrack to our missed turn.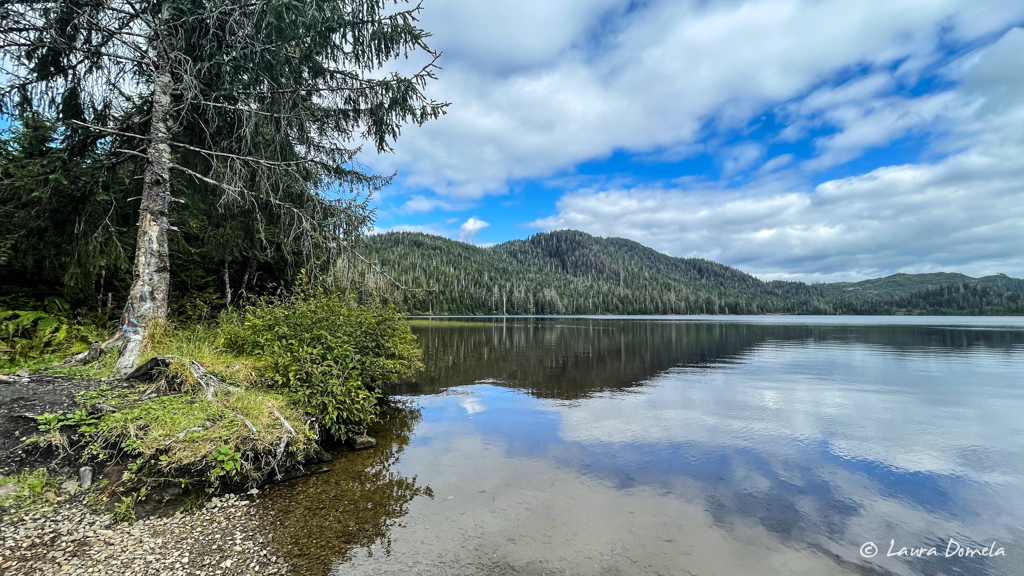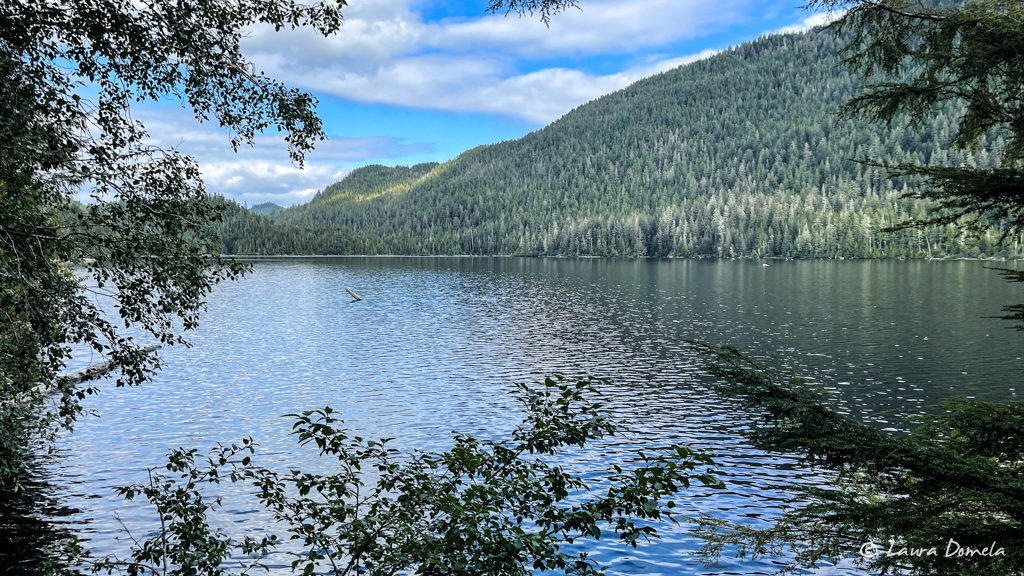 There's plenty of evidence of guns and hunting out here along this road…shot-riddled targets pasted to trees, pockmarked speed limit signs, and in one pullout the remains of a field-dressed deer being snacked on by a couple of ravens. Seems a bit, well, messy, to me that people would just leave the feet and fur and spine and whatever else was there before the ravens came just laying on side of the road, but maybe that's not unusual up here.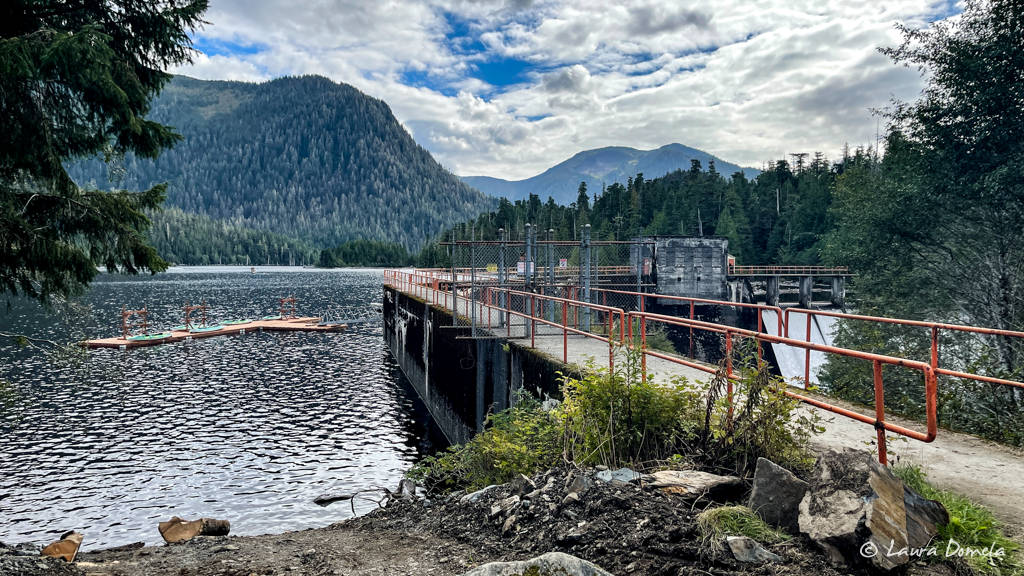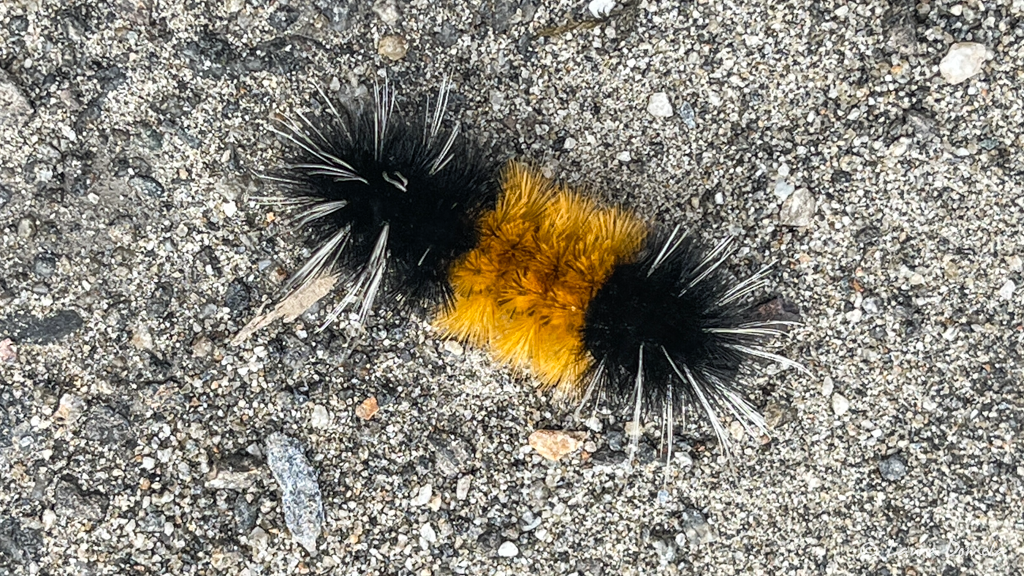 We stopped briefly at Ward Lake on our way back to town…another gorgeous lake that has more amenities and the other two do (several campgrounds, hiking trails, picnic areas, etc.). Fun to get out of town a bit and see some of what else there is to see. (We'd already visited the Totem Bight State Park and Saxman Village, so we did not stop this time, but those spots are definitely worth a visit!)
We've met up with a few new and old friends while in town, which is always fun…comparing notes about places we've been and things we've experienced over the summer. Tomorrow we'll head south…probably with a stop at Duke Island tomorrow night instead of our usual Foggy Bay (in the spirit of trying more new spots) and then we'll get up early Tuesday and cross Dixon into Prince Rupert, weather permitting (the window looks good!)
We love Canada of course, but it's always bittersweet to leave Alaska at the end of the summer. We love it here. Watching the news about forest fires in WA and OR and the smoky skies that result is not creating any sense of urgency to get home, that's for sure. Additionally, repairs from tree damage to our house this past winter and subsequent remodeling efforts are nowhere near ready for us to move back in (kitchen/dining and both upstairs bathrooms are still down to studs and sub-flooring)…so we'll likely be taking our time, which is just fine with us.