Yesterday's destination was Kent Inlet. Kent Inlet is part of the Kitasoo Spirit Bear Conservancy on Princess Royal Island, which sounded pretty great. Potential for a spirit bear sighting, plus the added bonus of tidal rapids to navigate (or at least time for slack, which we did).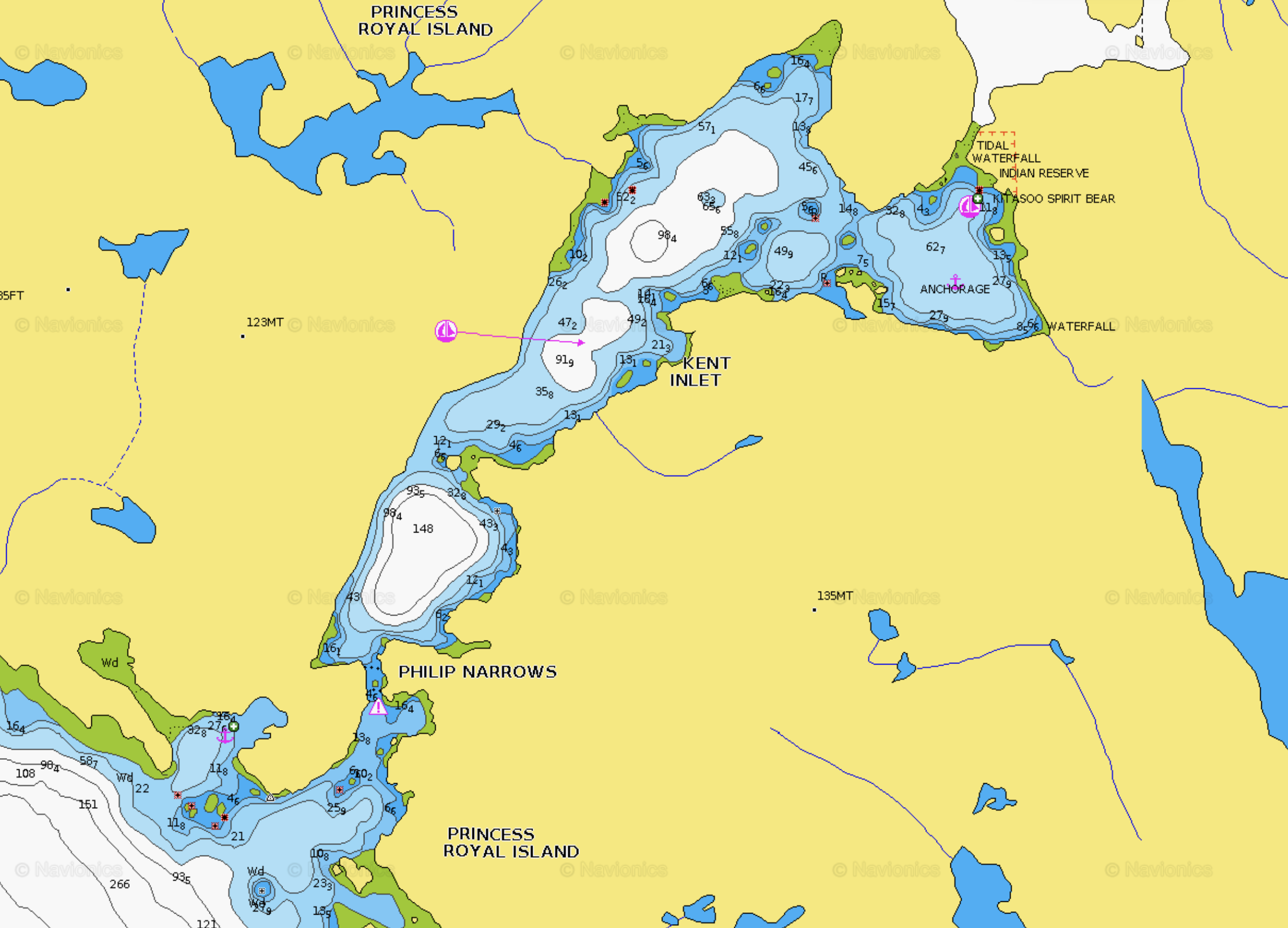 The highest concentration of Kermode bears are found in the Kitasoo Spirit Bear Conservancy. From Wikipedia: "The Kermode bear, sometimes called the spirit bear, is a subspecies of the American black bear and lives in the Central and North Coast regions of British Columbia, Canada. It is the official provincial mammal of British Columbia and symbol of Terrace, British Columbia. While most Kermode bears are black, between 100 and 500 fully white individuals exist. The white variant is known as spirit bear, and is most common on three islands in British Columbia (Gribbell, Princess Royal, and Roderick), where they make up 10–20% of the Kermode population. Spirit bears hold a prominent place in the oral traditions of the indigenous peoples of the area."
We arrived at Philip Narrows about 30 minutes before slack (a 7.5 foot low tide) and went through with no current at all. The narrows is certainly narrow, and we stuck to the north side to avoid a charted shallow area that shows green on the chart (which means it covers and uncovers depending on the tide), but when we went back out with the dinghy an hour and a half later, the shallowest we could find over there was 9 feet. Sticking to the north wall is still a good idea.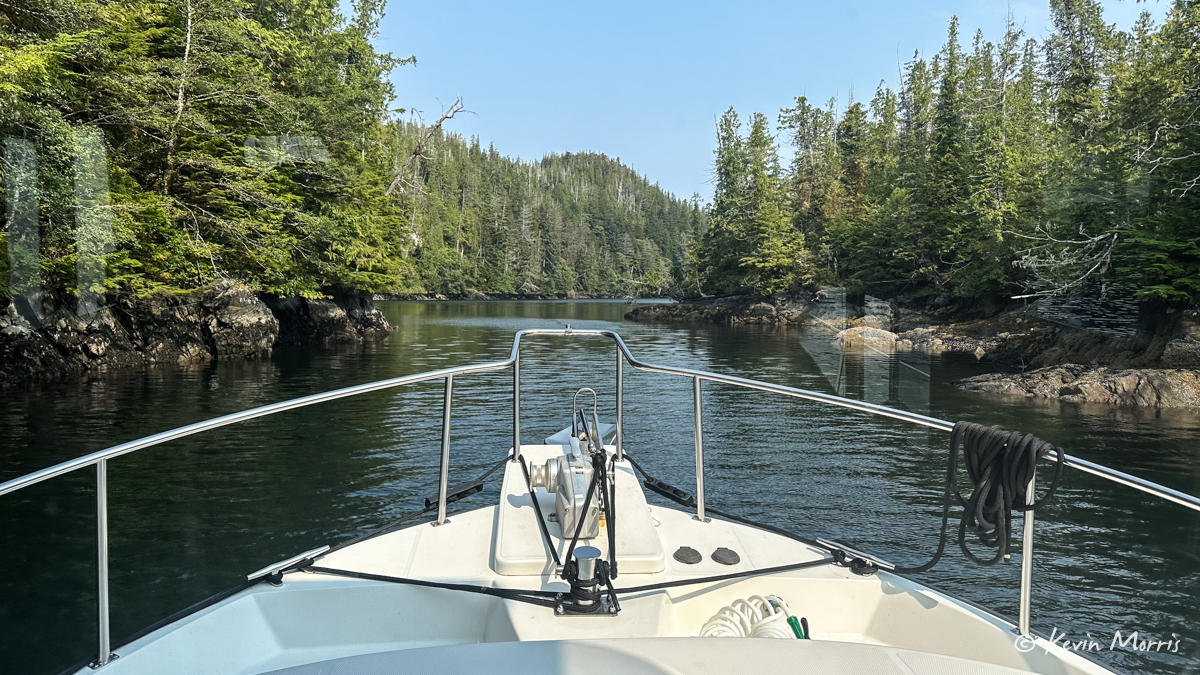 Salmon were jumping everywhere around us, and so frequently! And they were huge! When we arrived, there was one small tour boat anchored over by a small stream at the very back of the bay (on the chart screenshot above, where it says "waterfall"). We dropped our anchor out in the middle of that bay so we could see, but far enough not to disturb them. There were probably 8-10 people on board and all looking toward shore, but in different directions. We got out the binocs and could tell they were looking for bears, but not seeing bears. After about 45 minutes or so they called it a day and headed out. We dinghied over to shore and waited a bit, but the salmon weren't really trying to go upstream yet, so maybe that's why the bears weren't there. We then cruised around to the bigger tidal waterfall that leads into a large lake. As you can see here, the tide was a bit too low to go in.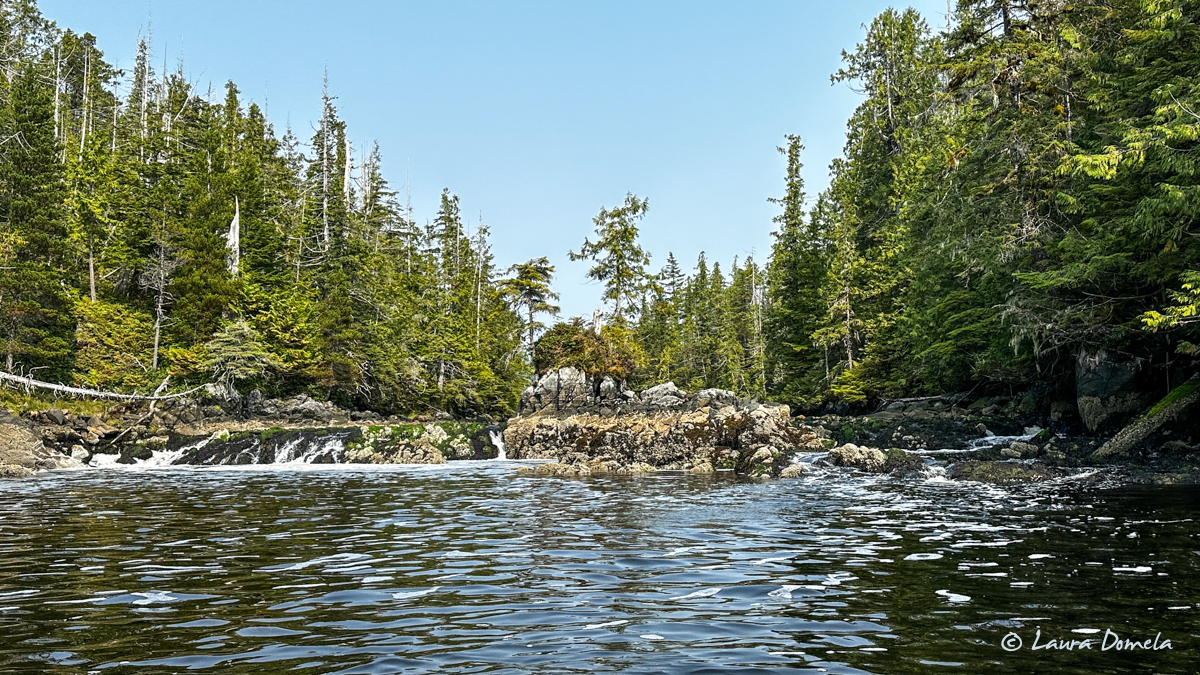 Some aerials of the anchorage and salmon stream: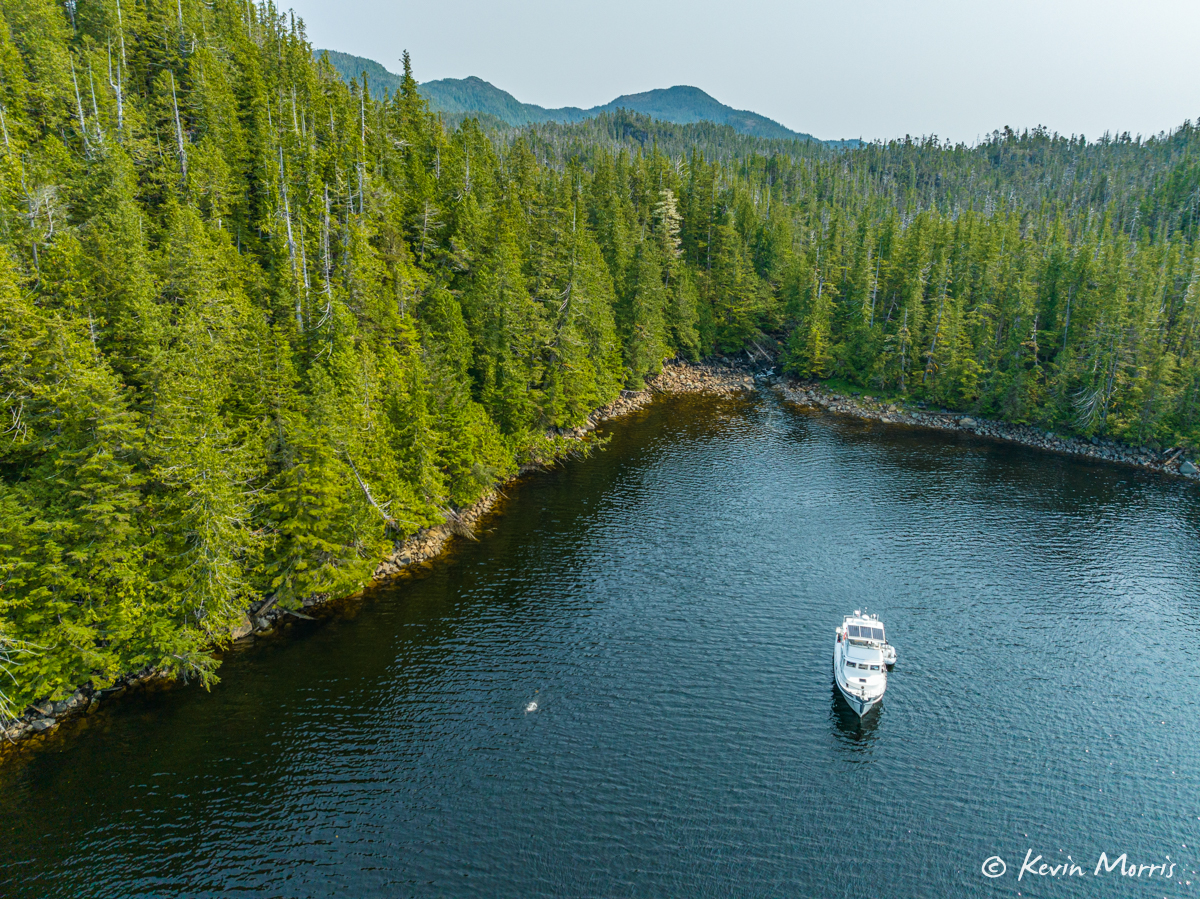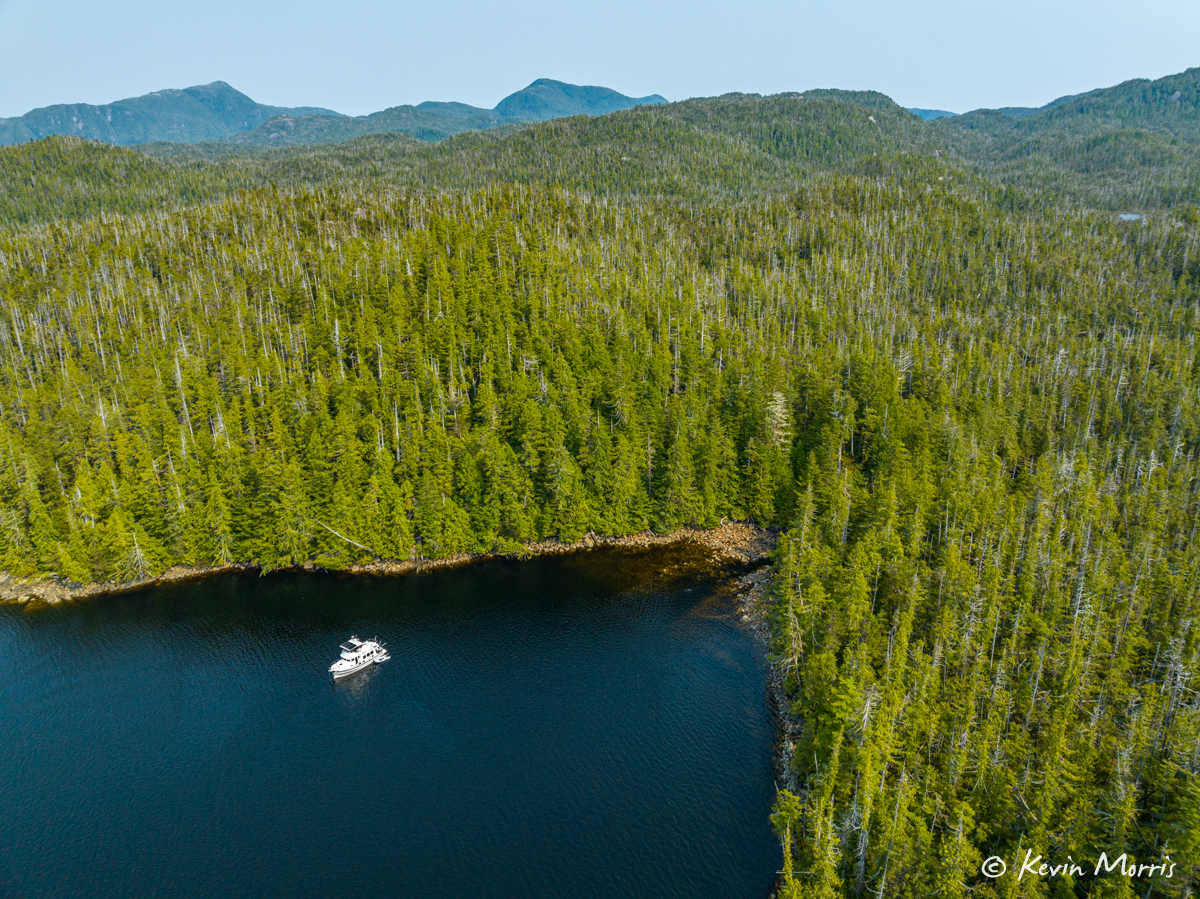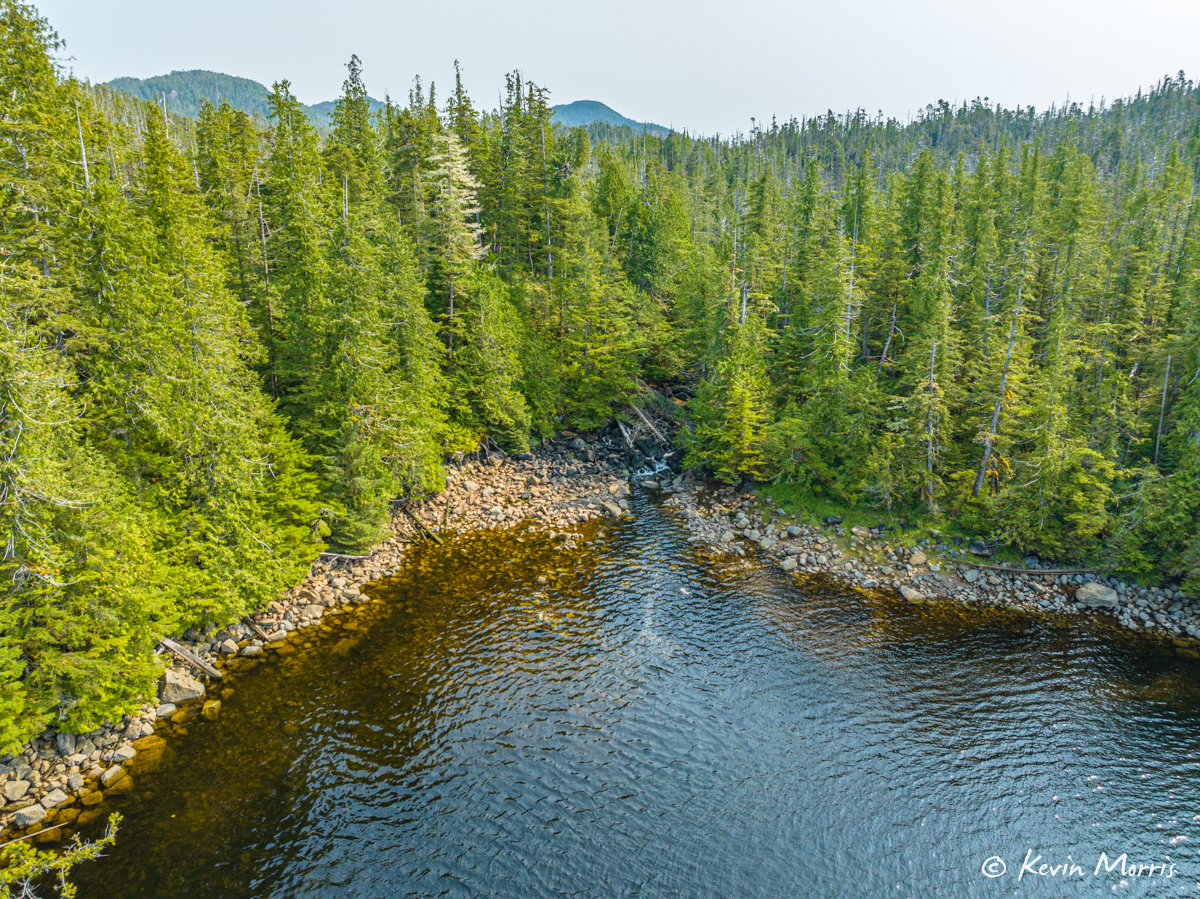 Here you can see the tidal outflow from the lake into Kent Inlet: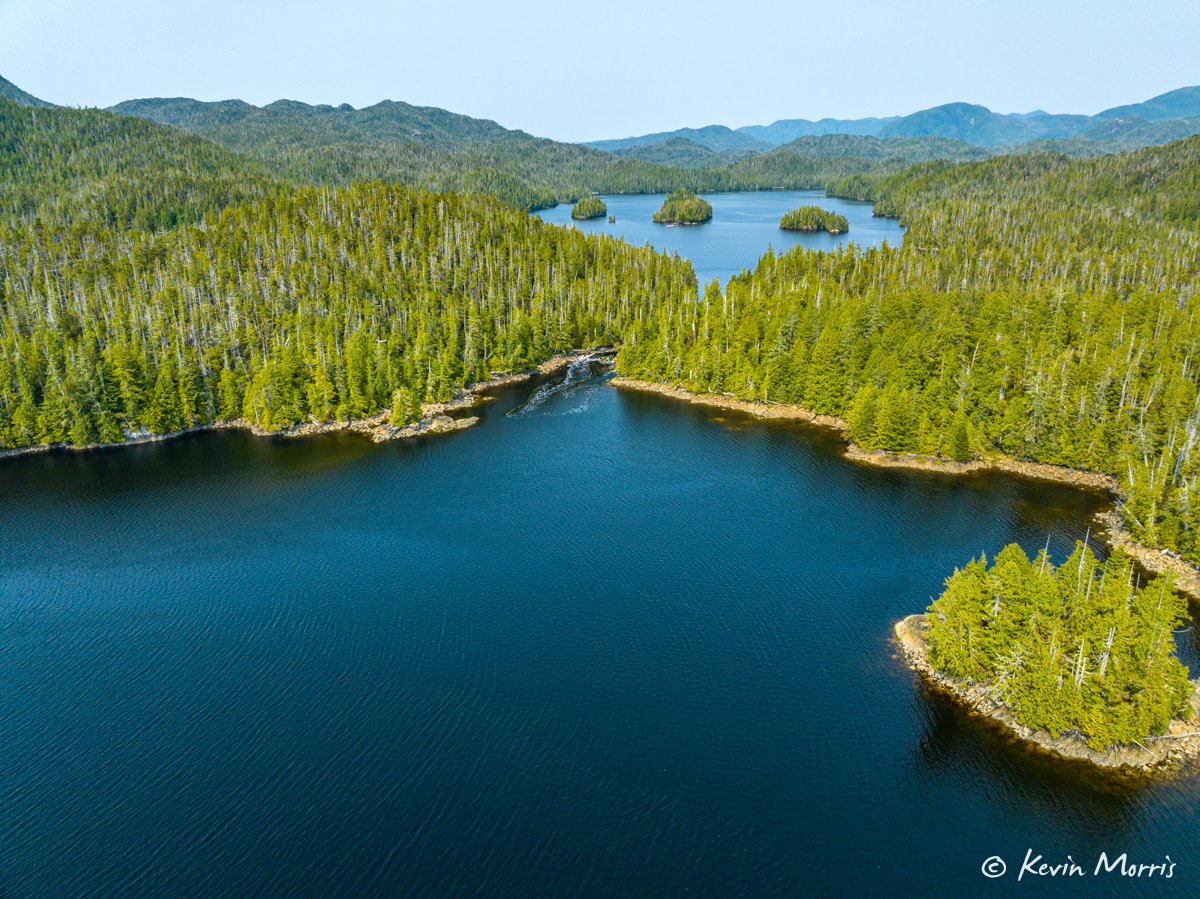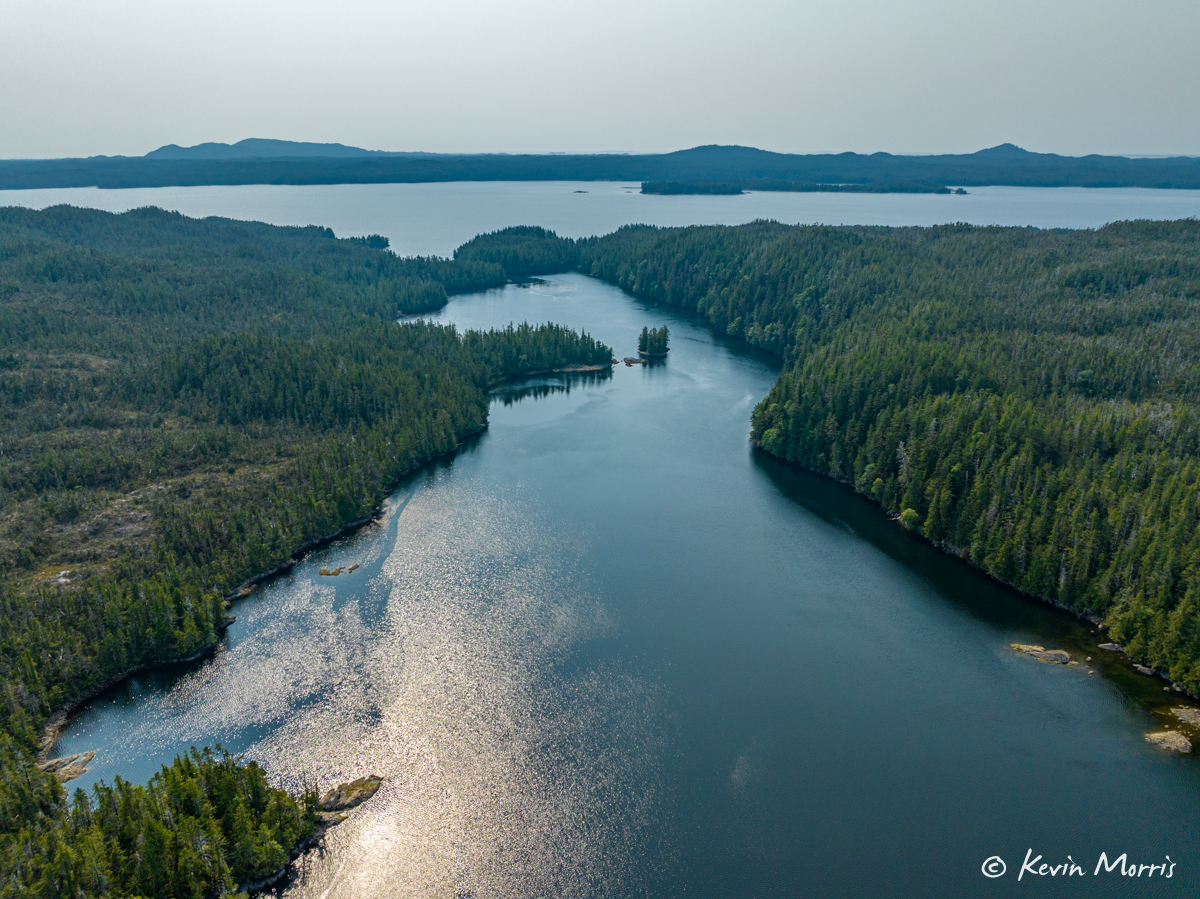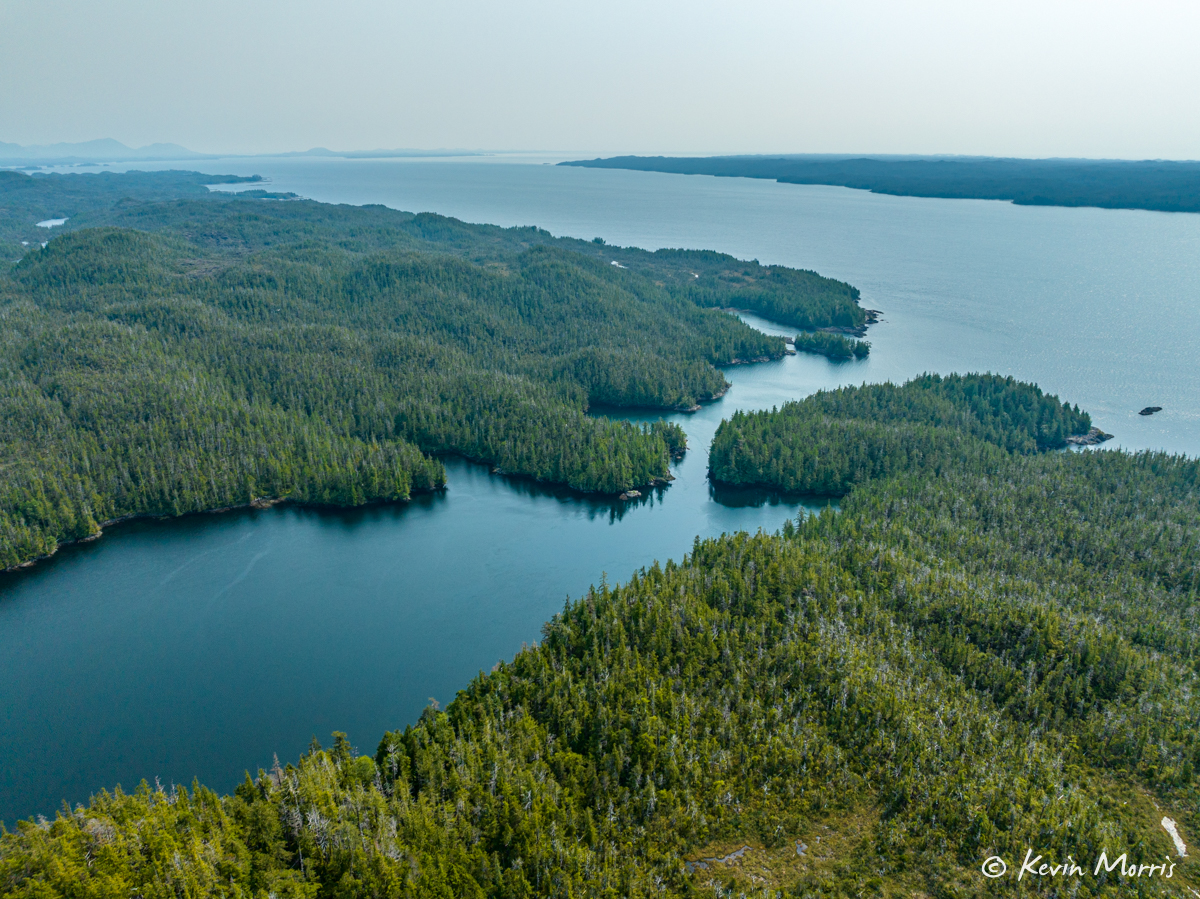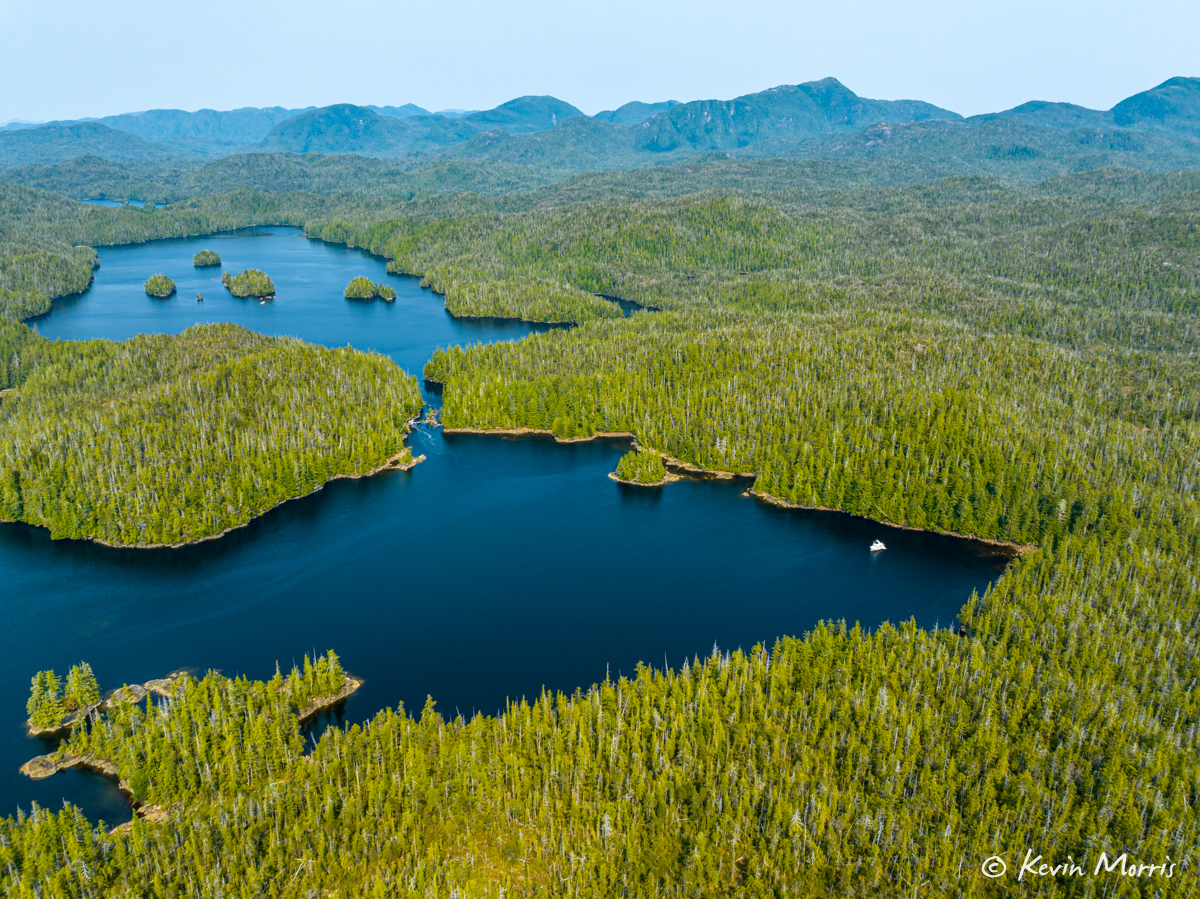 Kevin went out to fish for a little while and came back with a nice coho. Score!
Friends Greg and Marilyn came in on the evening (high) slack on their Selene Moonstruck, and we invited them over for a glass of wine after dinner. We sat on the flybridge of Airship and shared stories from the summer and listened to the whap slap splash of the gazillions of fish jumping around the boat. After a little while, we spied a bear on shore right behind us to the right of the stream, and seconds after that two more little ones following her! Awesome!
Mama spotted the huge dead (partially eaten) salmon that we saw earlier when we were dinghying around. It had floated near shore and was about to become dinner!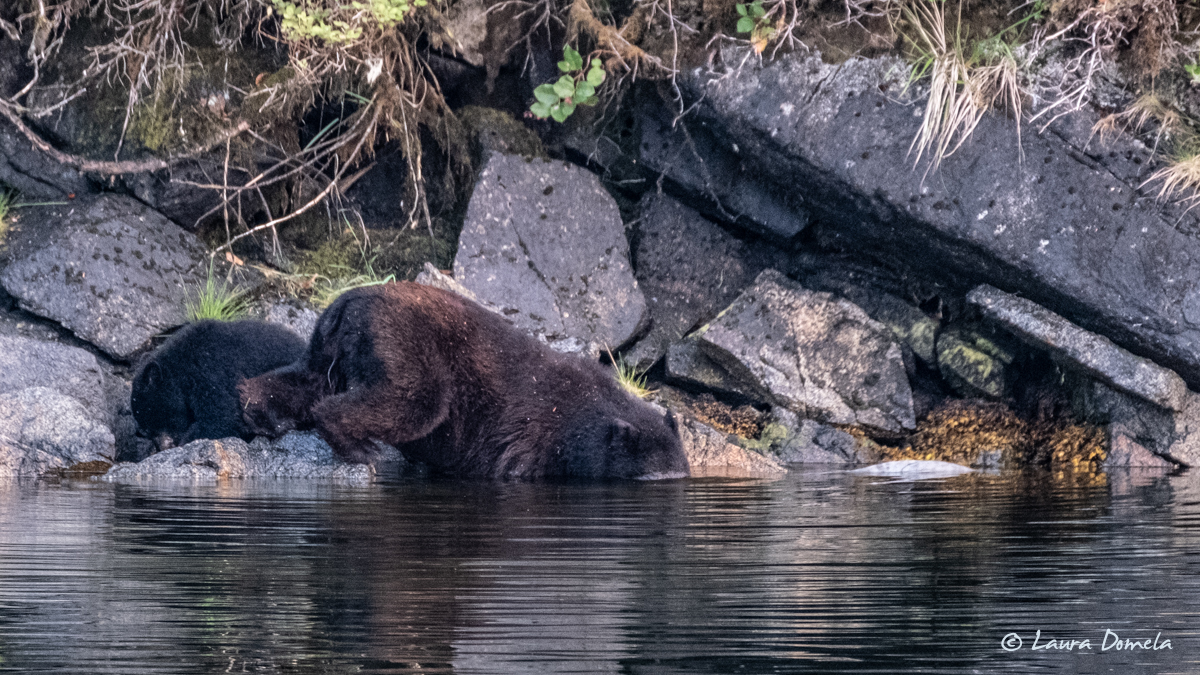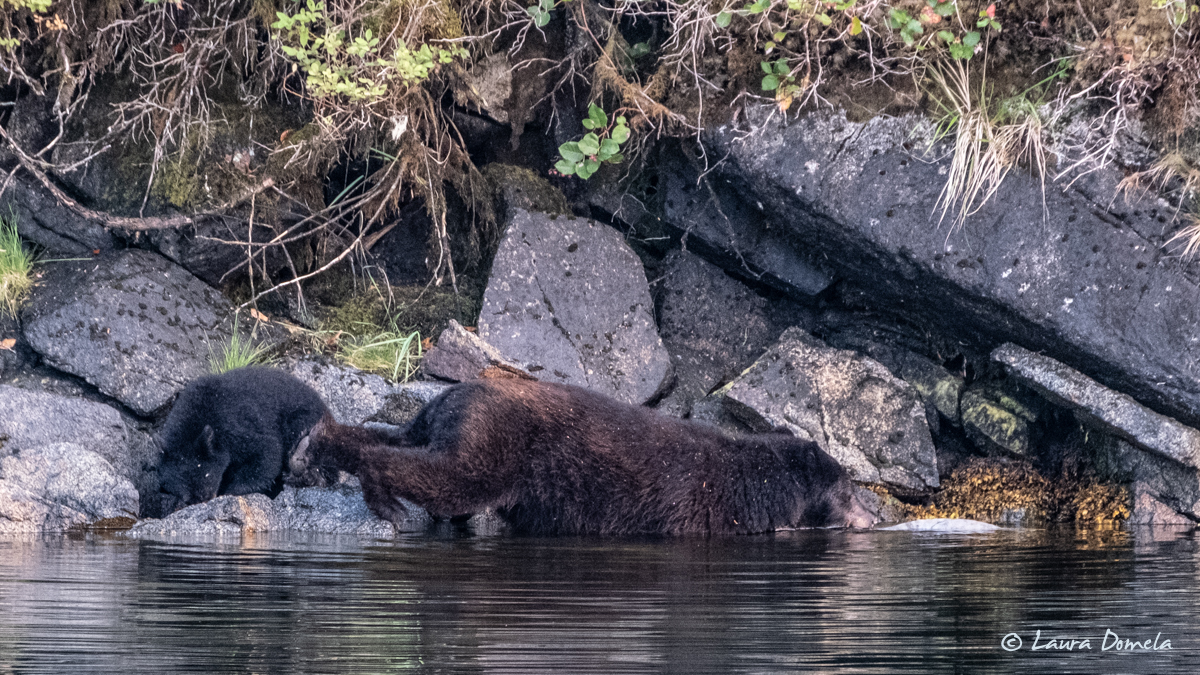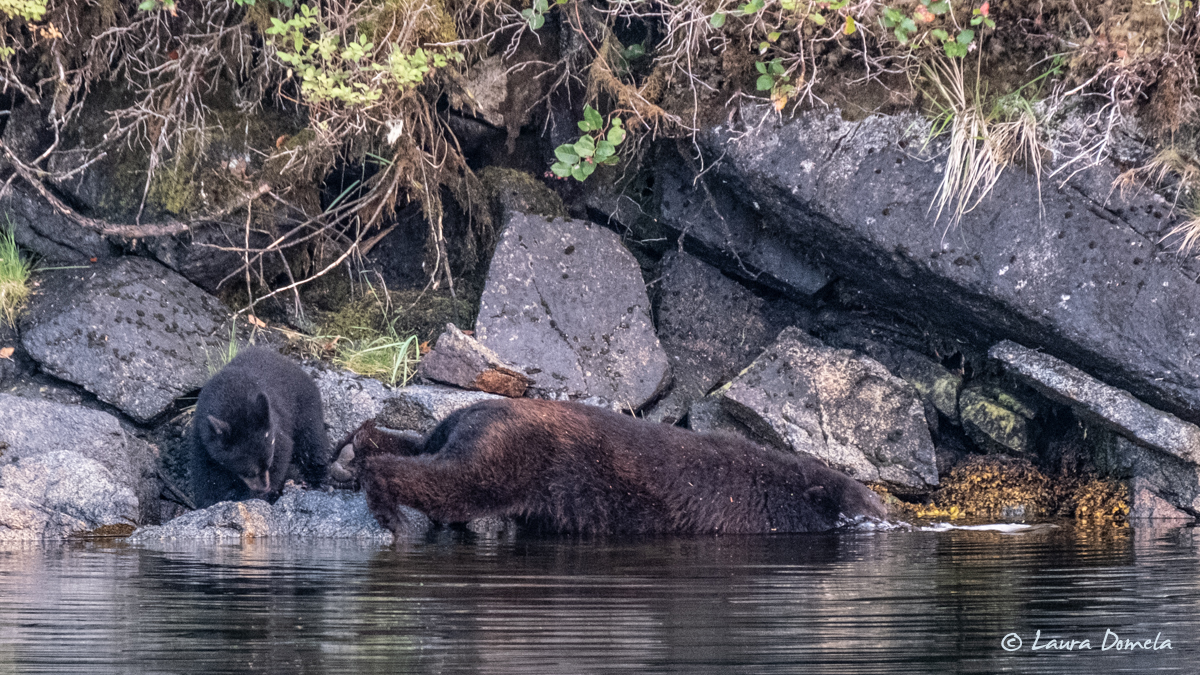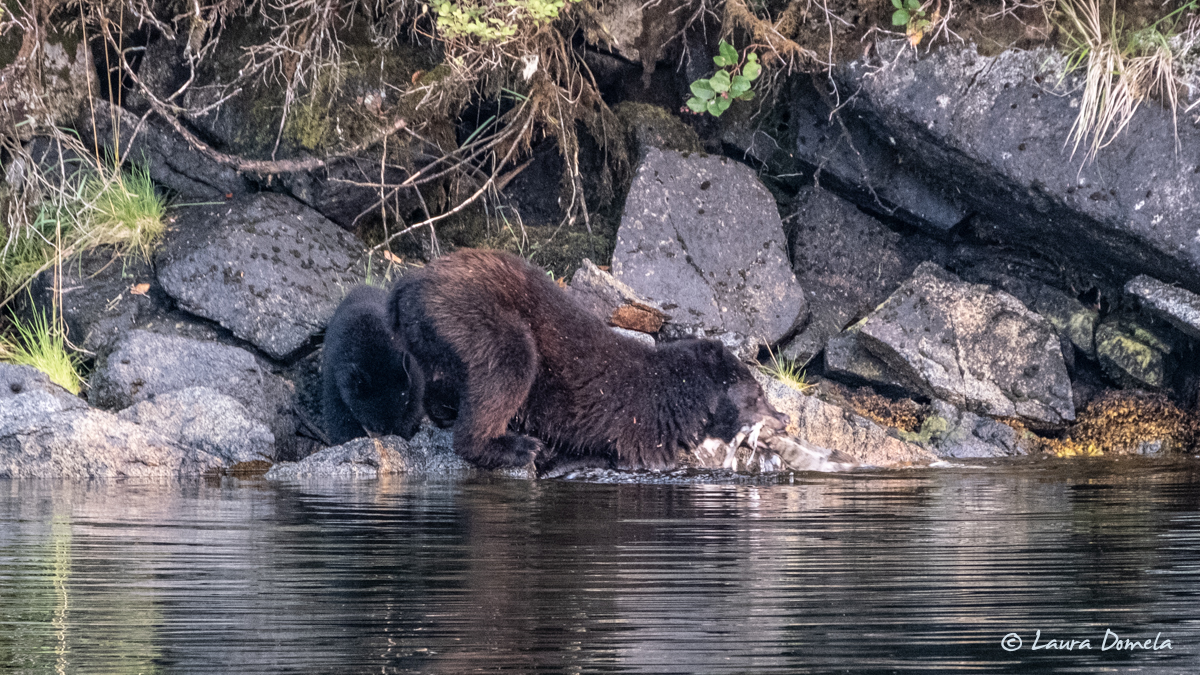 After she snagged the fish, the three of them headed up into the trees to eat and we didn't see them again. You can tell this is a BIG fish even in this not-very-great photo below: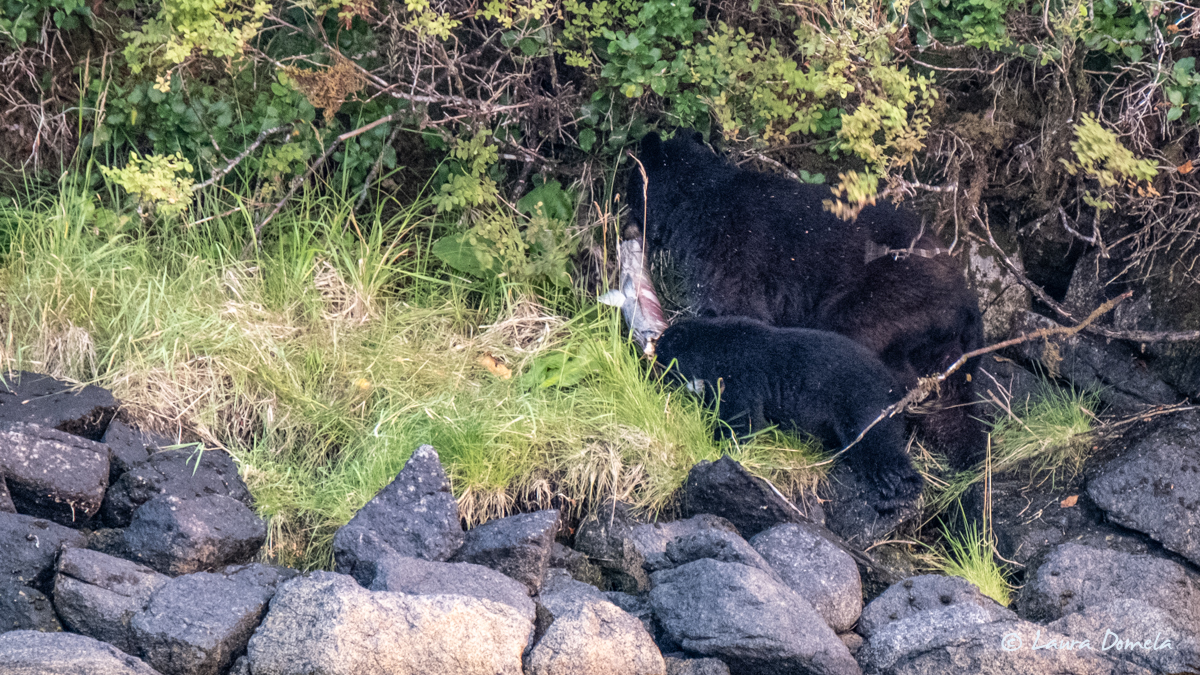 In the morning, the sky hazy with wildfire smoke and the sun a big orange ball of fire, we pulled anchor and headed for Philip Narrows (going through at high slack this time).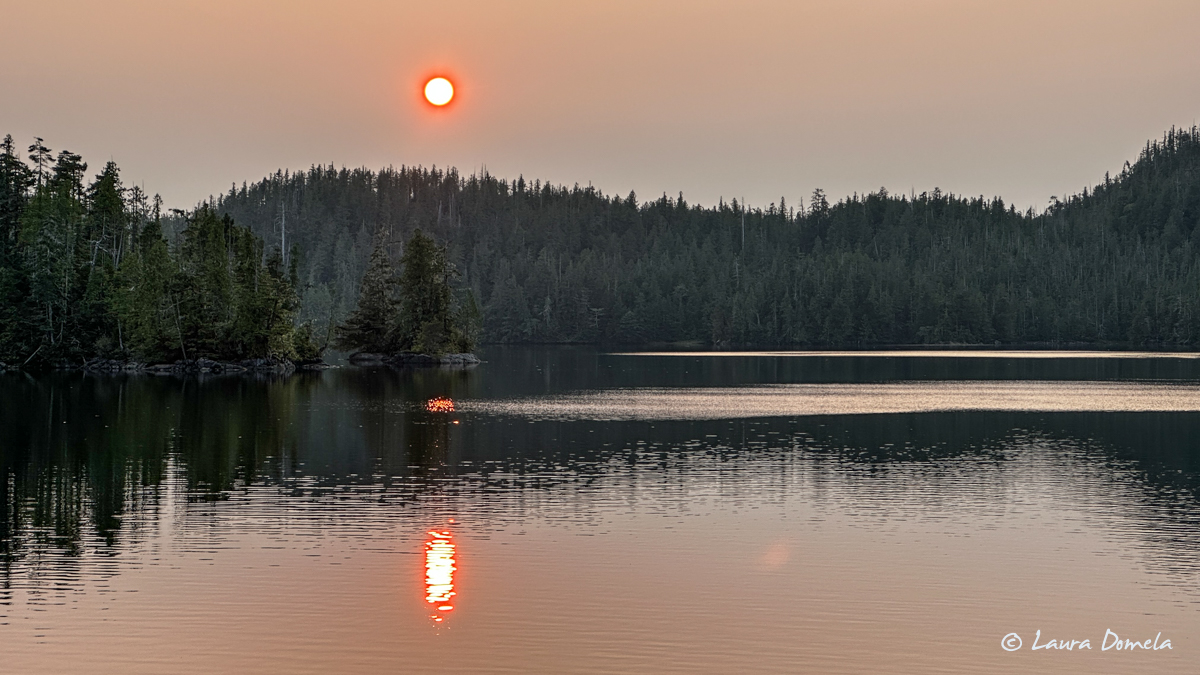 We hadn't really made a solid plan for our next destination yet. Our choices were:
1. Higgins Passage, which divides Swindle Island and Price Island (anchor at the entrance and then take the dinghy through to see what it was like and how deep)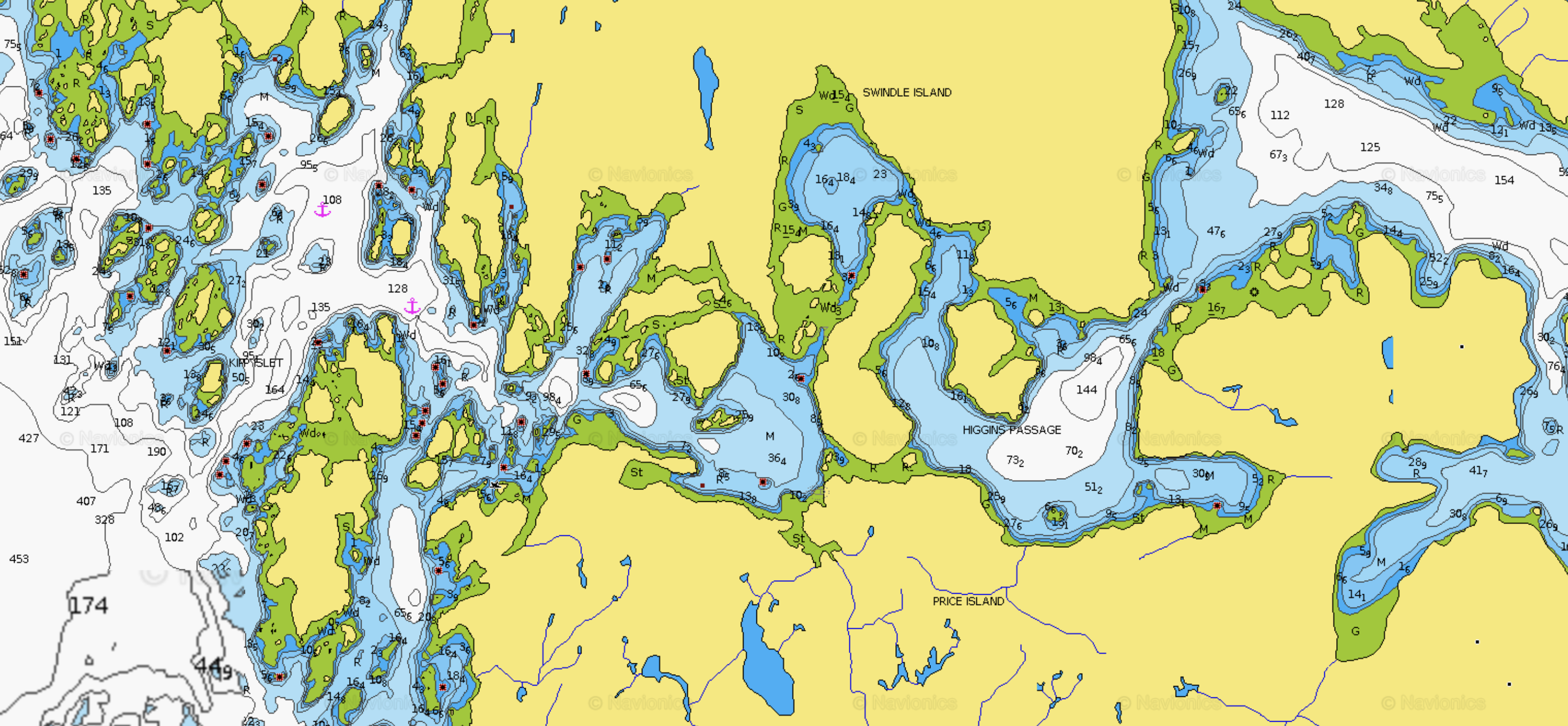 2. Take Meyers Passage up and around to Alexander Inlet, which would still be in the Kitasoo Spirit Bear Conservancy area, just on the other side of the island (another chance to see a spirit bear!):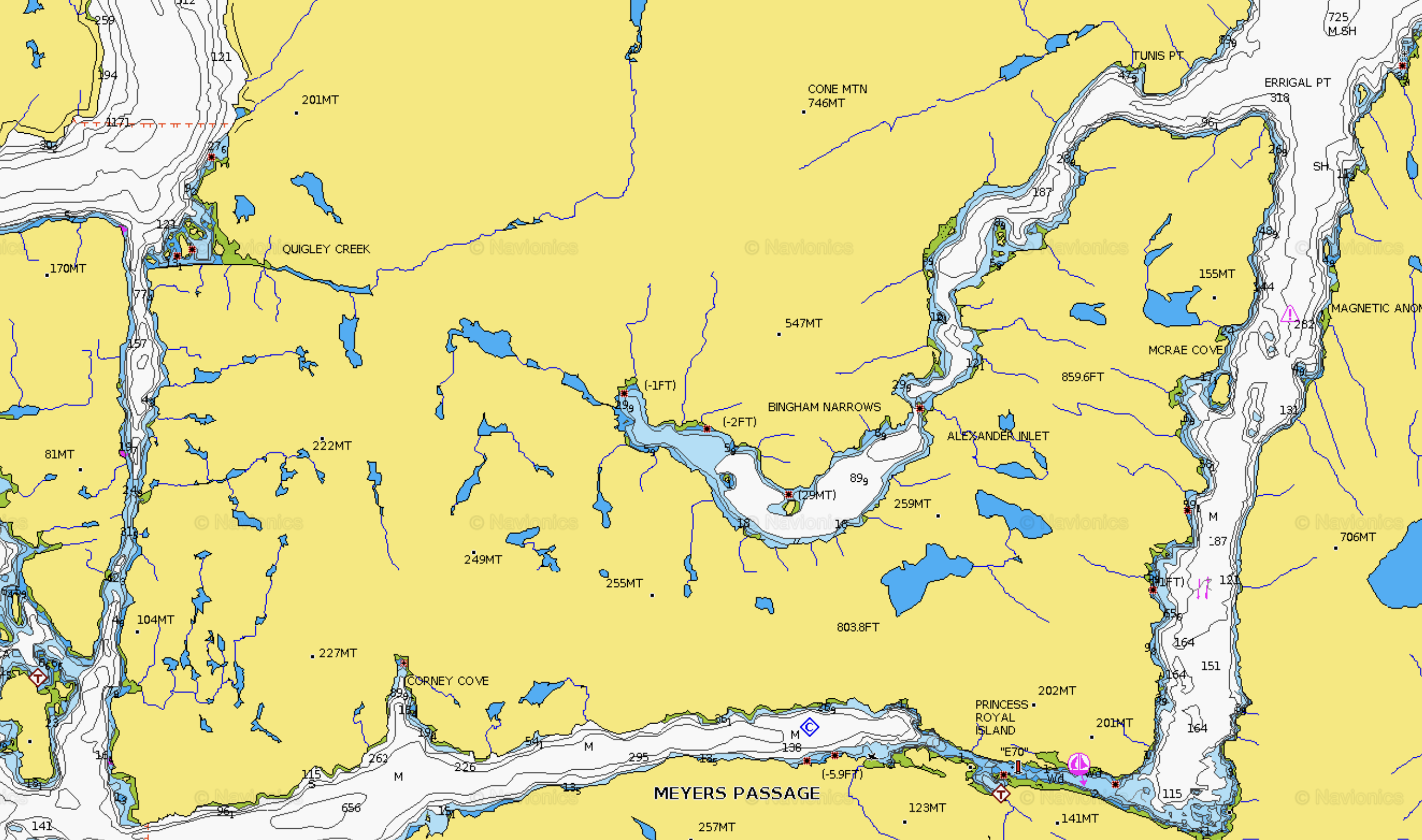 We opted for number two, Alexander Inlet. But when we arrived, it really was on the unspectactular side of things, scenery-wise. And what showed on the chart to be a big lagoon you could dinghy straight into (the darker blue area on the left) right from the anchorage….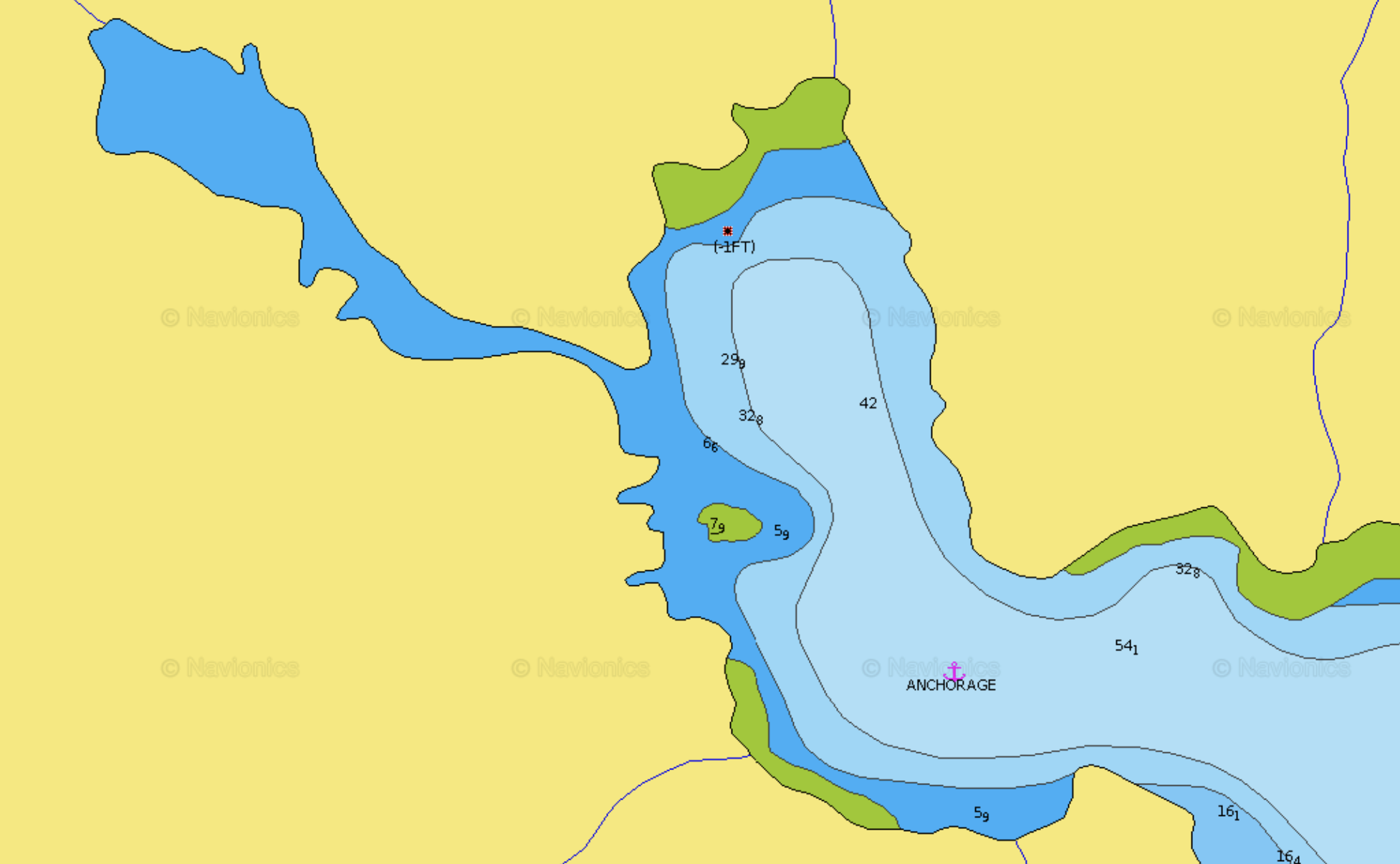 …looked like this: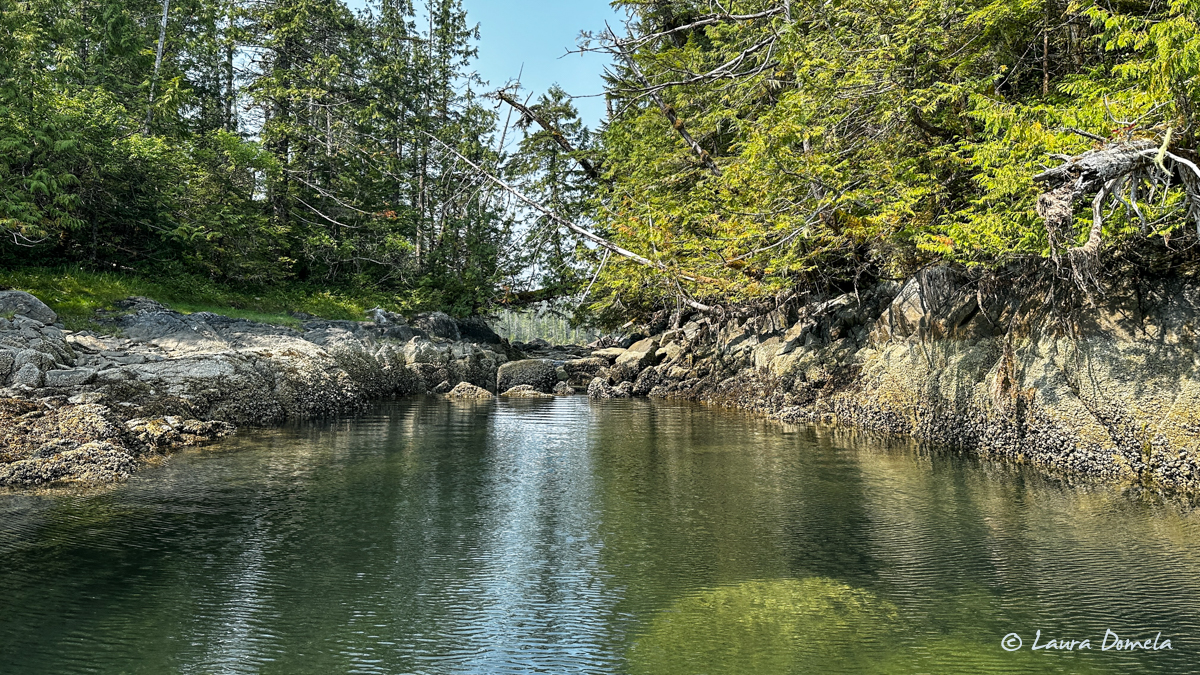 Impassable except maybe at a very high tide. Additionally, it was hazy and smoky, there were zero fish jumping anywhere in here (no fish = no bears), and the scenery just was (sorry) a bit on the boring side. We brought the dinghy back up and decided to make more miles instead.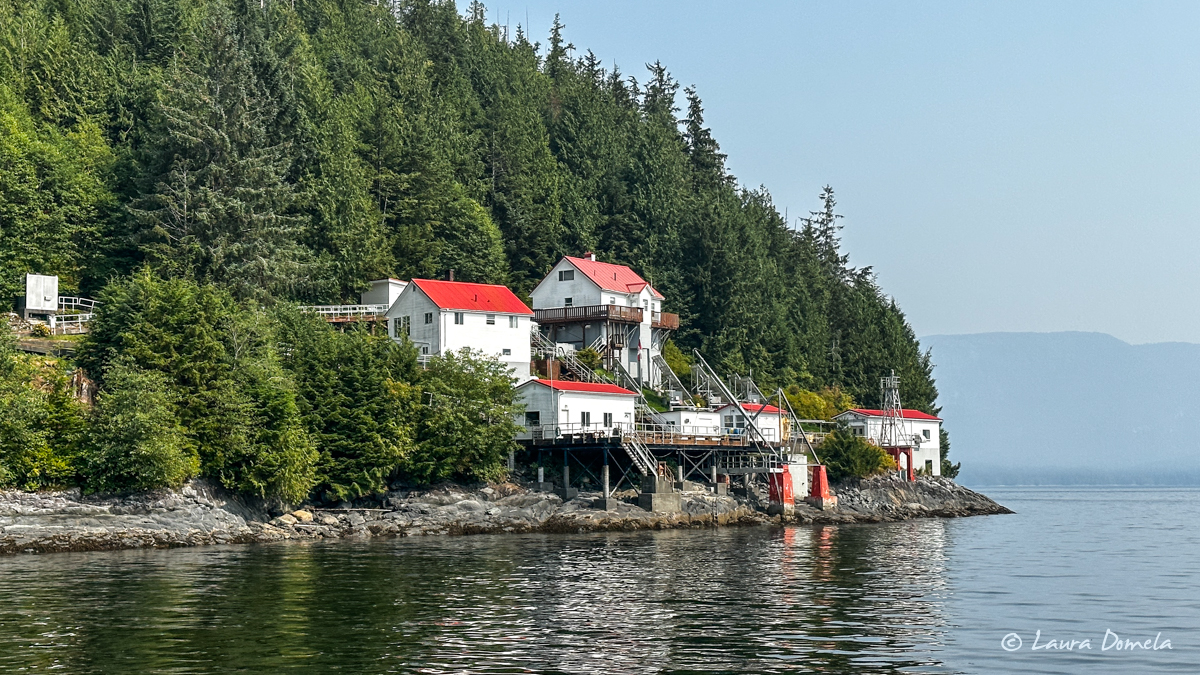 We are now anchored in a little cove off of Finlayson Channel, called Mary Cove, on Roderick Island. It's open to the southwest and not very protected at all, but conditions are calm and not expected to change. We dropped the anchor in 58 feet. It's more interesting and scenic than Alexander Inlet (because of the steep tree-covered hillside and salmon stream at the head of the bay) but difficult to get a decent photo of (look, more trees and water!), so Kevin took the Mavic up for some overhead shots to get a feel for the overall area/topography: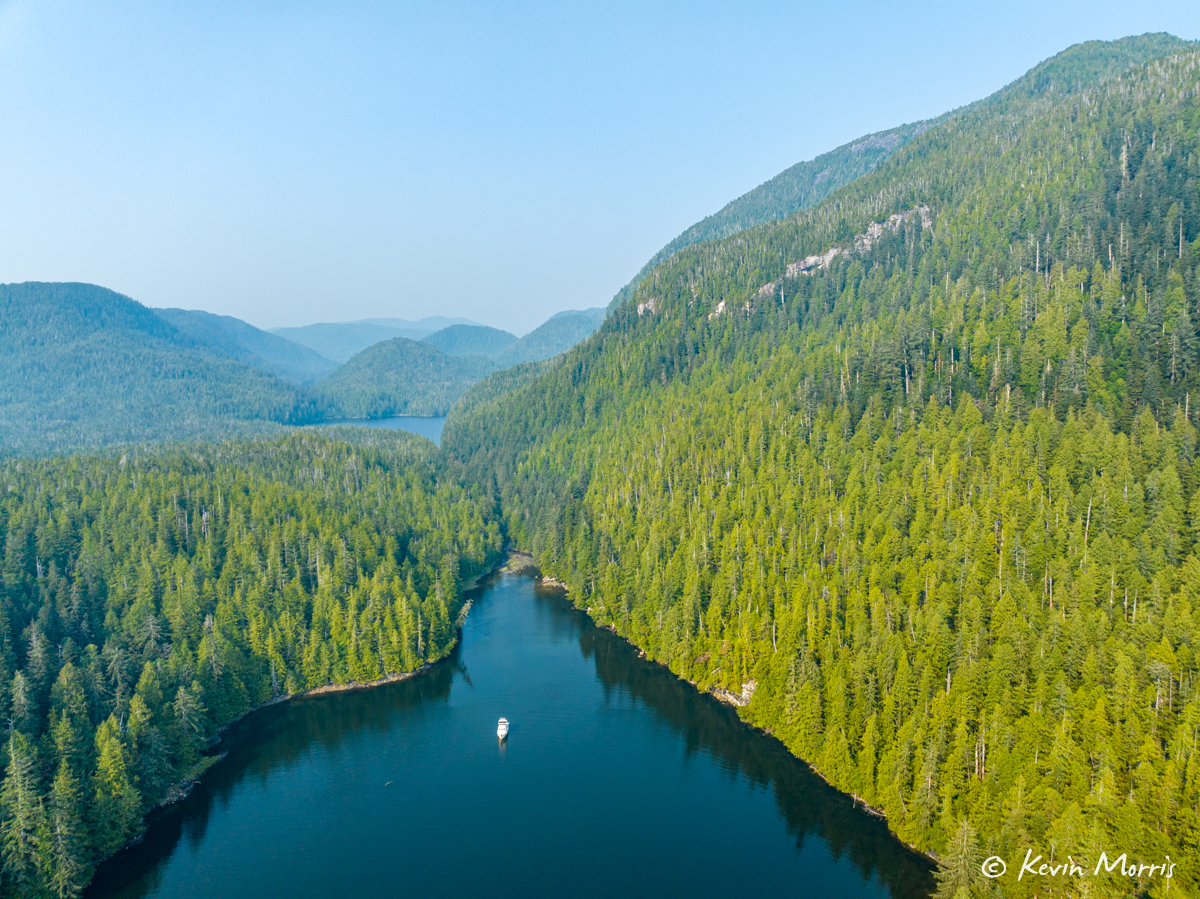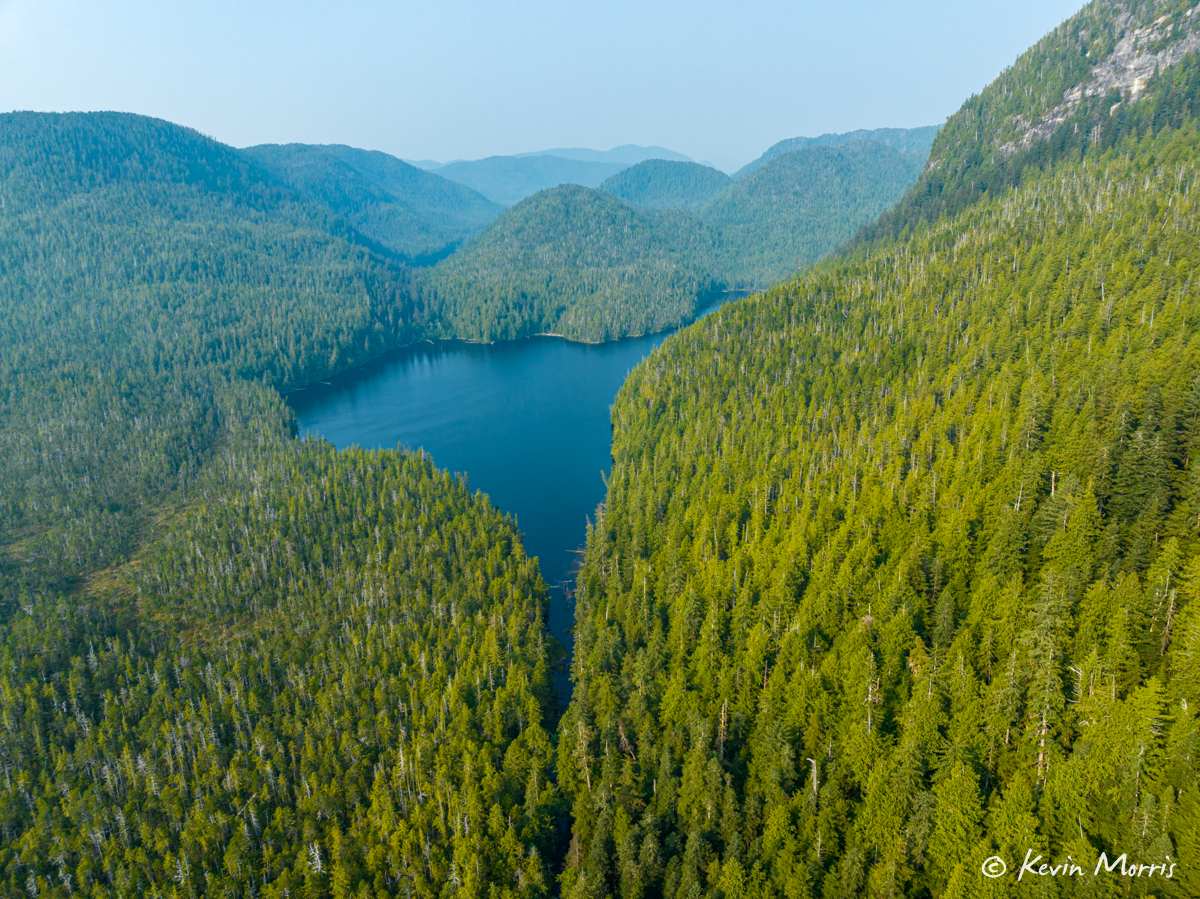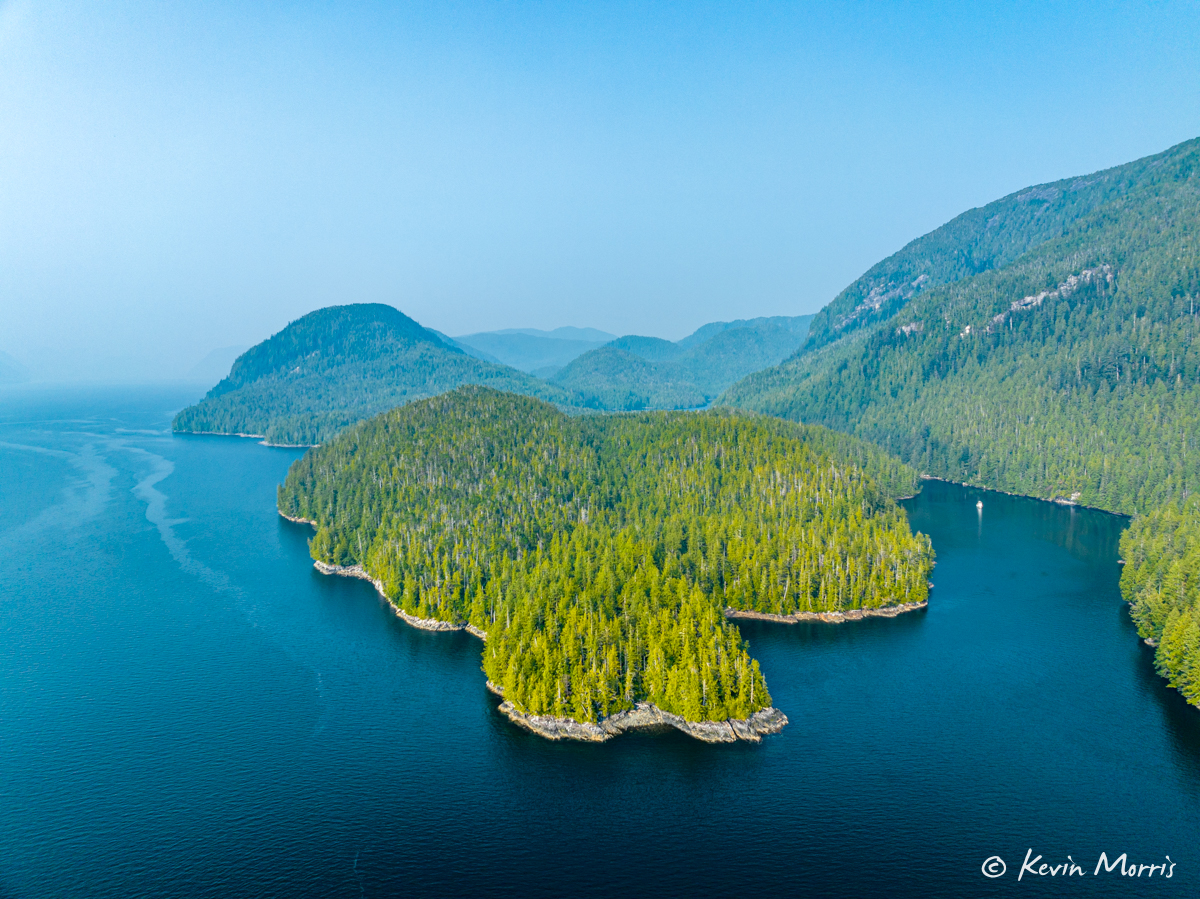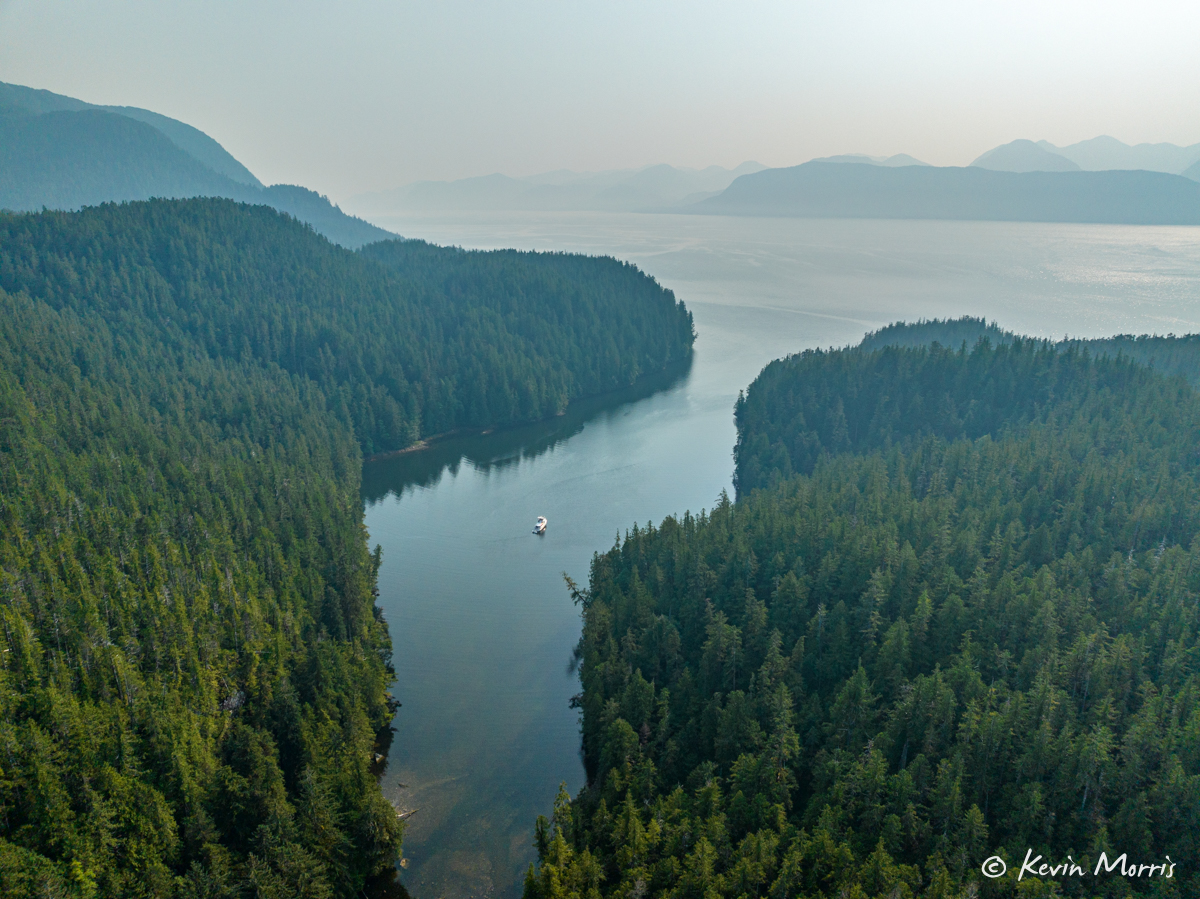 The further south we go, the smokier the skies from all the forest fires. I took these shots as we were crossing Finlayson Channel to Mary Cove today: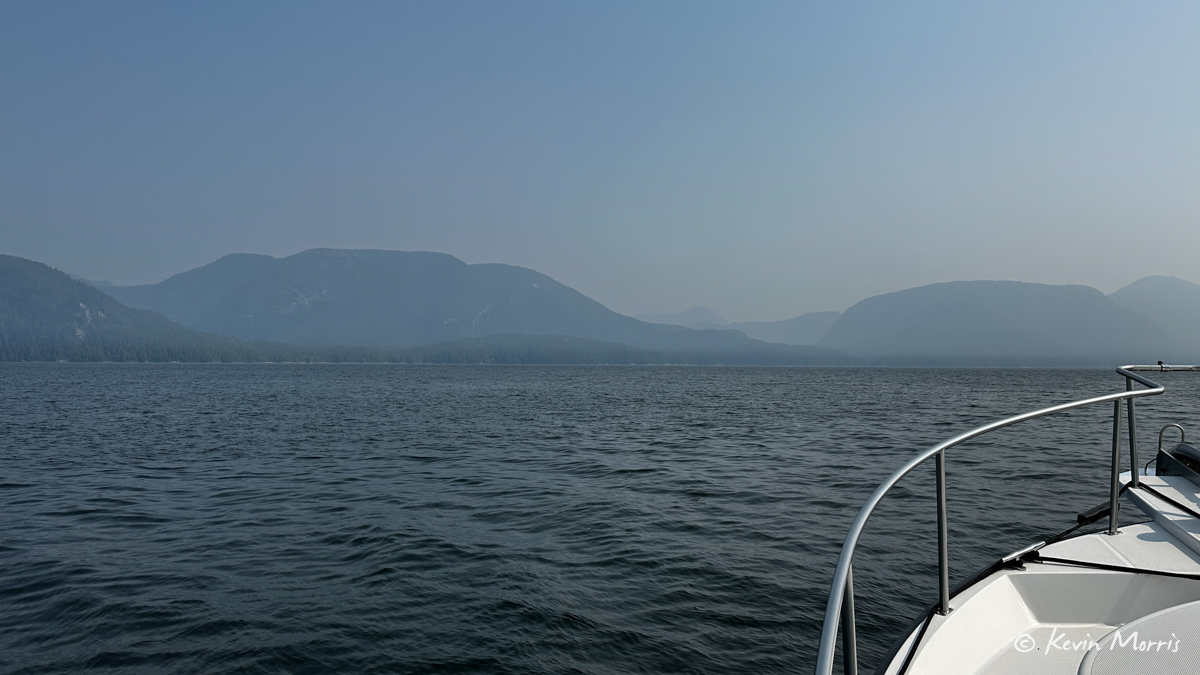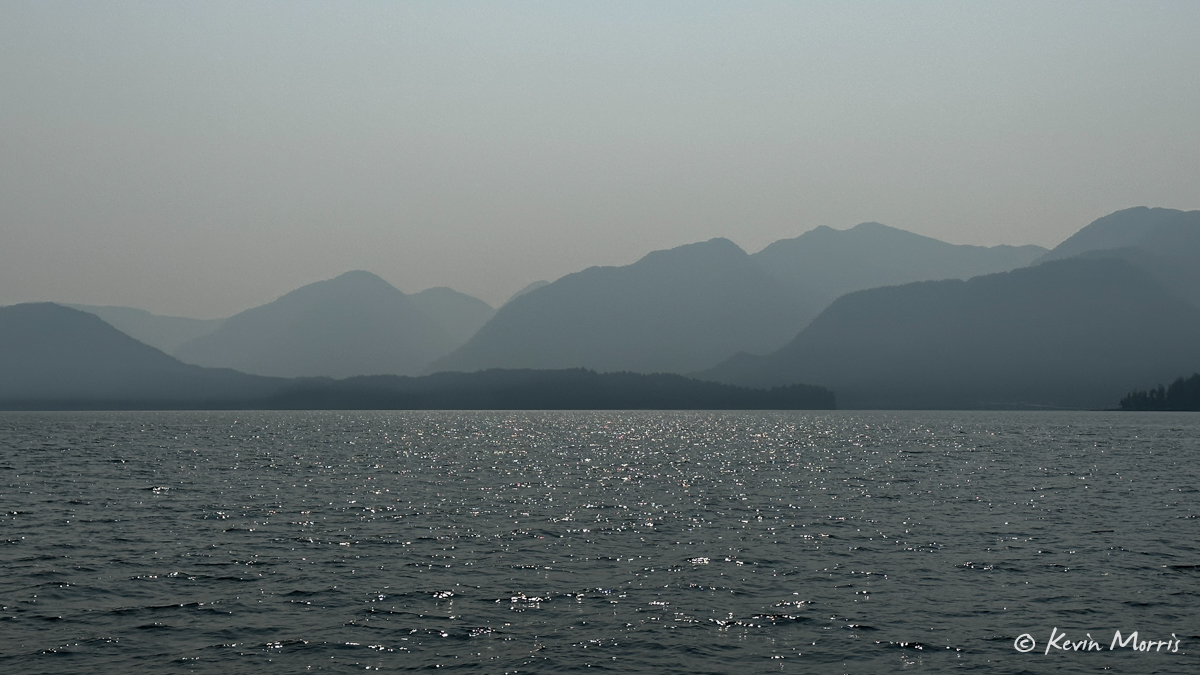 We have masks on board, but I really hope it doesn't get bad enough to have to use them. We are still contemplating coming home on the outside of Vancouver Island…but if it's just going to be smoky the whole way, we might beeline it to the safety of our house and AC and air purifiers. We'll see!
Tomorrow: a stop at Shearwater for some veggies, and maybe a not-cooked-by-me meal at the pub!