Slowboat is about putting the journey above the destination. It is about exploration. It is about enjoying independence and self-reliance instead of canned, pre-packaged experiences. It is about encountering adventure where it lives. It is about having the curiosity, confidence, patience and preparedness to strike out into the unknown. It is about making your life extraordinary – by seeing, hearing, touching, tasting and smelling the world in new and exciting ways.
Join us in exploring the world by water…

The Slowboat Team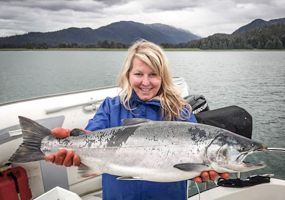 Laura Domela—Laura was born in Anchorage, Alaska, grew up in So. California, and now resides in Portland, Oregon (when not on Airship, her Nordic Tug 42). She's cruised the Inside Passage to Alaska many times, and spends summers mainly in SE Alaska. She has circumnavigated Vancouver Island several times, and spends much of the winter months cruising the San Juan Islands, Gulf Islands, and Puget Sound. Laura is a professional artist/photographer (www.domela.com) and avid traveler. She created her first blog, Riveted, in 2005 while traveling the US and Canada in an Airstream travel trailer, and has been photographing and writing about her travels ever since. She's most excited about inspiring other people to craft the lives they wish for. She can be reached at laura@slowboat.com.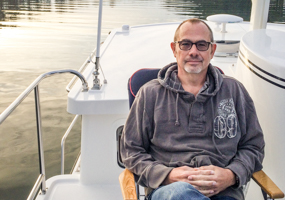 Kevin Morris—Kevin is an engineer, writer, boater, pilot, entrepreneur, and deck-hand. Born and raised in Texas, he has called Portland, Oregon home for the past 30 years, but spends just as much time exploring the world by water, land, and air. These days, the majority of his time is aboard Airship (a Nordic Tug 42) with his wife Laura Domela – all the while managing "Electronic Engineering Journal" – an engineering trade publication he founded with Laura back in 2003. Kevin believes that everyone can and should craft their life around their passions, finding or creating work that matches their interests and lifestyle. Kevin can be reached at kevin@slowboat.com.
__________________________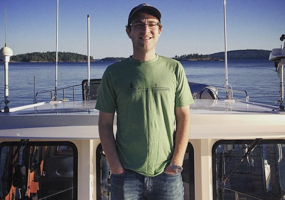 Sam Landsman—Sam is passionate about boats, travel, and helping others experience boating in the Pacific Northwest. Prior to Akeeva, a Nordhavn 50, Sam owned Safe Harbour, a Nordic Tug 37. Sam previously worked as the managing editor of the Waggoner Cruising Guide. He's cruised to southeast Alaska many times (once on a 22-footer!), gone north to Prince William Sound, explored Haida Gwai, and circumnavigated Vancouver Island. When he's not cruising, Sam enjoys sharing his experiences online, in print, and in person. He's presented at boat shows, rendezvous, yacht clubs, and power squadrons. Sam has moved on from Slowboat to other endeavors, but his great contribution remains!