The Pack Creek bear viewing area on Admiralty Island is permit-only between June 1 and September 10, and is located up near the top of Seymour Canal. The island is home to an estimated 1,500 brown bears — more than all the Lower 48 states combined. From Juneau via float plane, it's probably only half an hour, but by (Slow)boat from Juneau, it's about 74 nautical miles and takes two days. A permit will set you back $50 per person, and there are only 12 per day offered for those not on a private tour. We applied before we left Juneau, and managed to secure the last three spots open for Tuesday, July 18th.
Airship and Safe Harbour met and anchored in Windfall Harbor on Monday evening. In the morning, we dinghied up to the clothesline dinghy system on the gravel spit, about 3 miles from our anchorage. This is a cool system! The "clothesline" runs in a rectangle through two spots on shore and two spots offshore. You beach your dinghy near one side of the line, tie up with a clove hitch and a half hitch, specifically, and then rotate the line tug-o-war style, pulling your dinghy out off the beach. This way, the dinghies are not in reach of the bears! When you need to retrieve your boat, just pull the opposite direction with the line and your boat returns to you.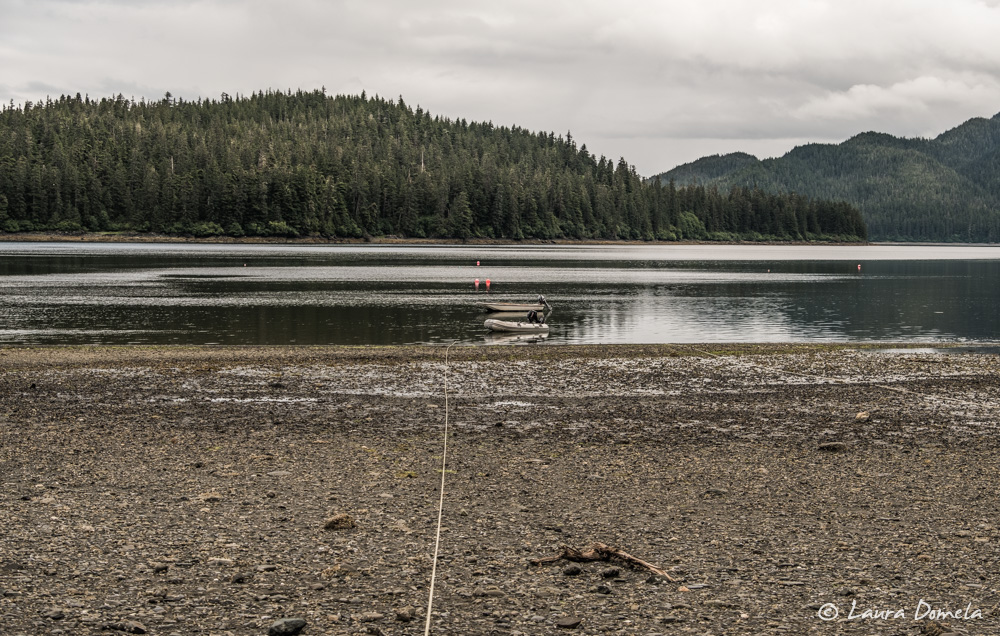 Established in 1935, the Pack Creek area has been managed jointly since 1985 by the Forest Service and the Alaska Department of Fish and Game. We were met by Michelle on the beach, who explained the particulars to us and then gave us directions for walking to the viewing area, where we were to meet Melissa. Michelle instructed us to stay close together and not to dawdle or stop to take photos until we arrived at the designated viewing area.
However, when we were about halfway up the beach, a sow and two cubs emerged from the woods. We stopped to let them go past, and they headed out to the mud flat. (That's Melissa, watching patiently as the brown bears do their thing.)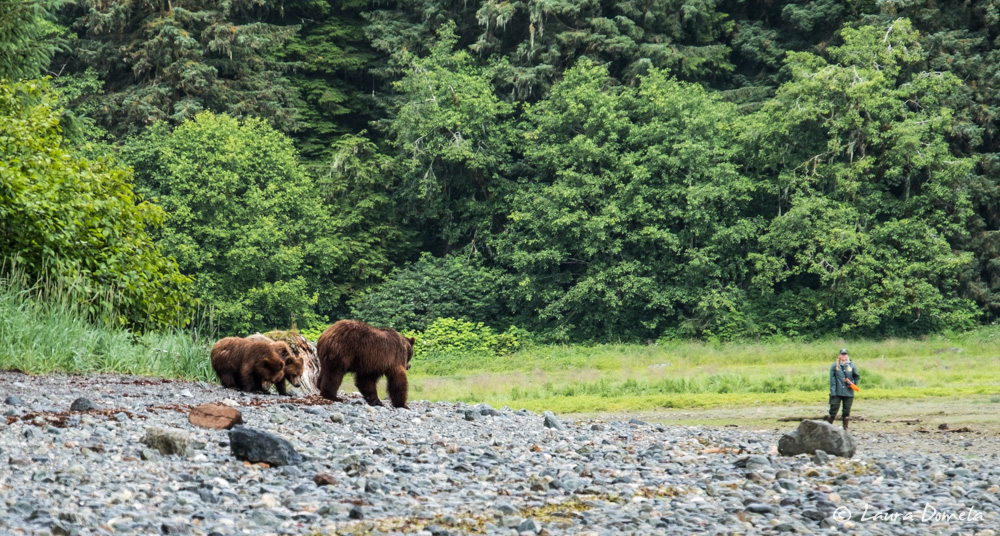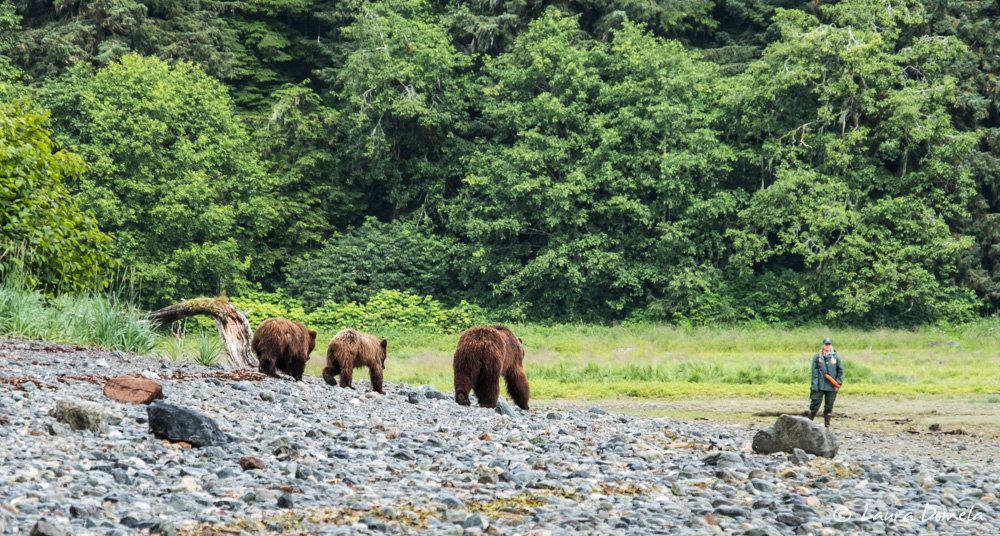 The sow and cubs got to a nice grassy spot on the edge of the water and the sow plopped down right there to nurse her cubs for a bit.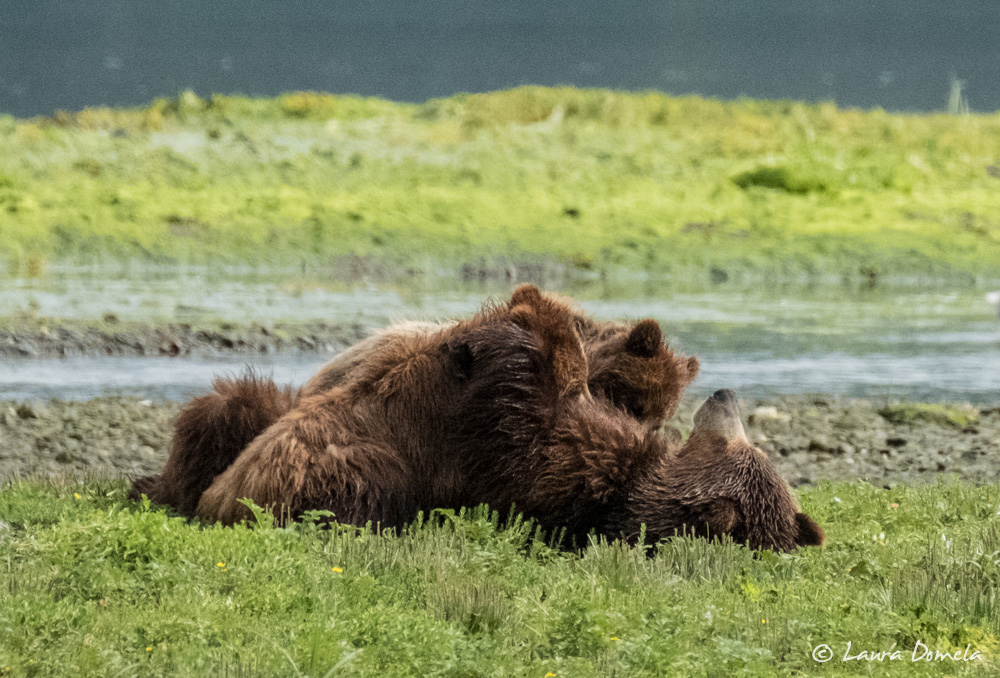 When they (or she) had had enough, she up and relocated to a different spot about 30 feet away.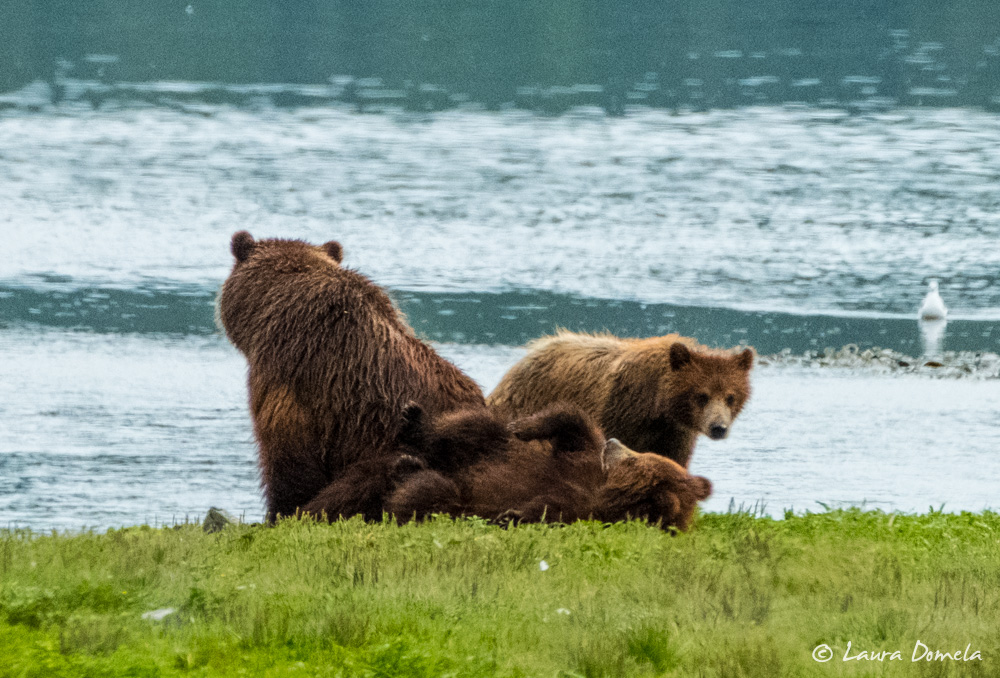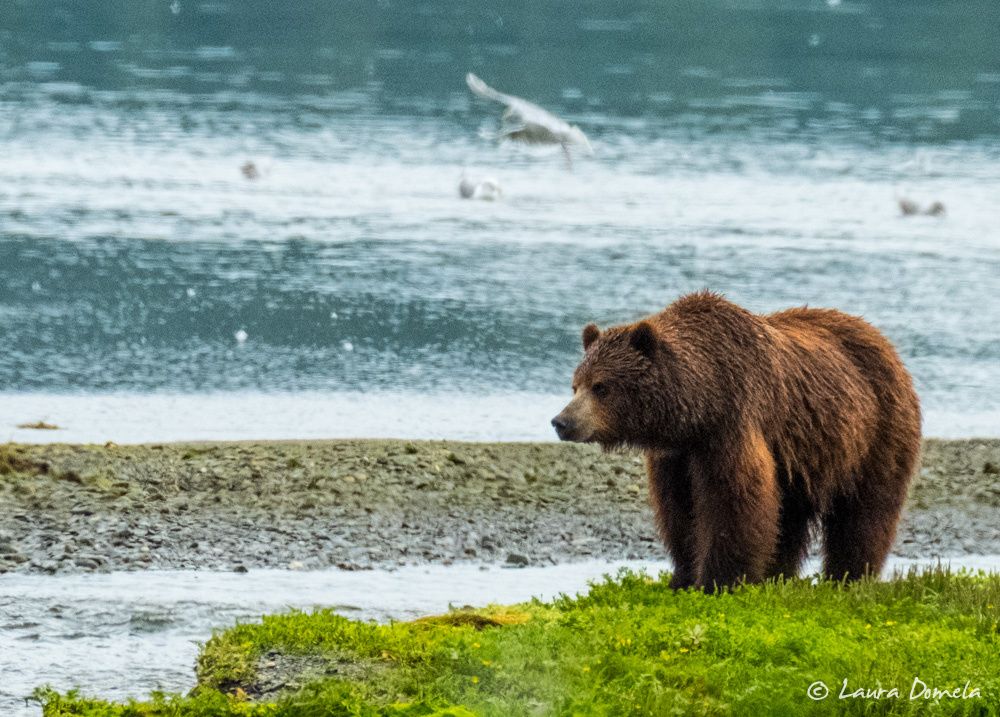 She was soon joined by one of the cubs who cuddled up with its head on her back. It was incredible to watch these animals so closely in their environment. The reason we're able to be in such close proximity is because there have been humans here for so many years, doing the same thing every day that the bears are "habituated" — meaning they are used to people and everyone knows how to coexist peacefully together. It's quite amazing, and no bears or people have been harmed since Pack Creek has been actively managed.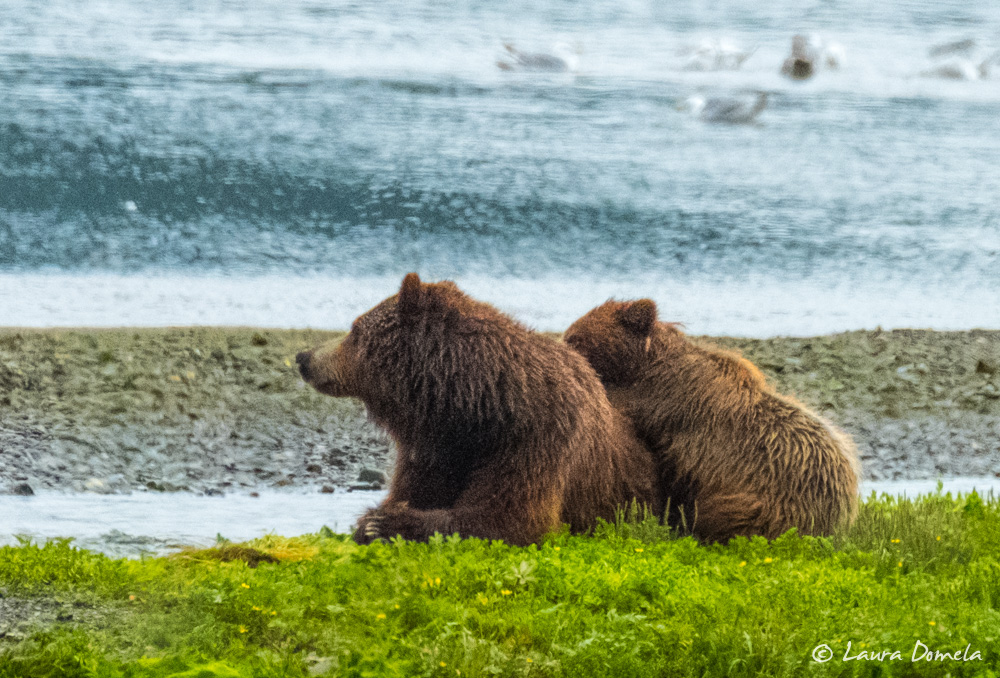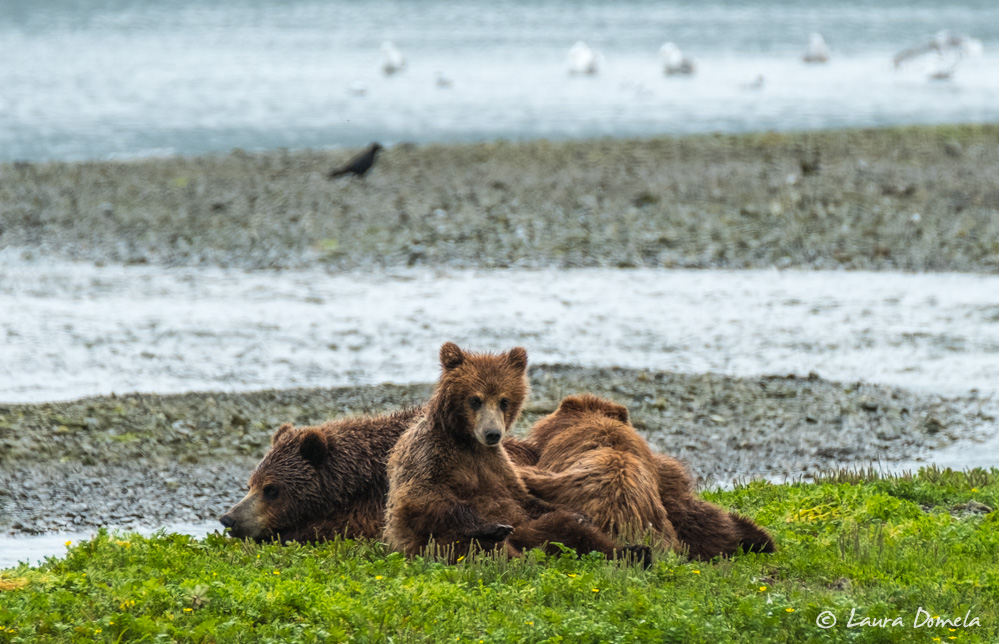 Eventually, our attention moved to the rest of the bears.
There were five sows with cubs out on the mudflat at one point, as well as a few other single bears back in the meadow or across the stream…it was hard to know where to look!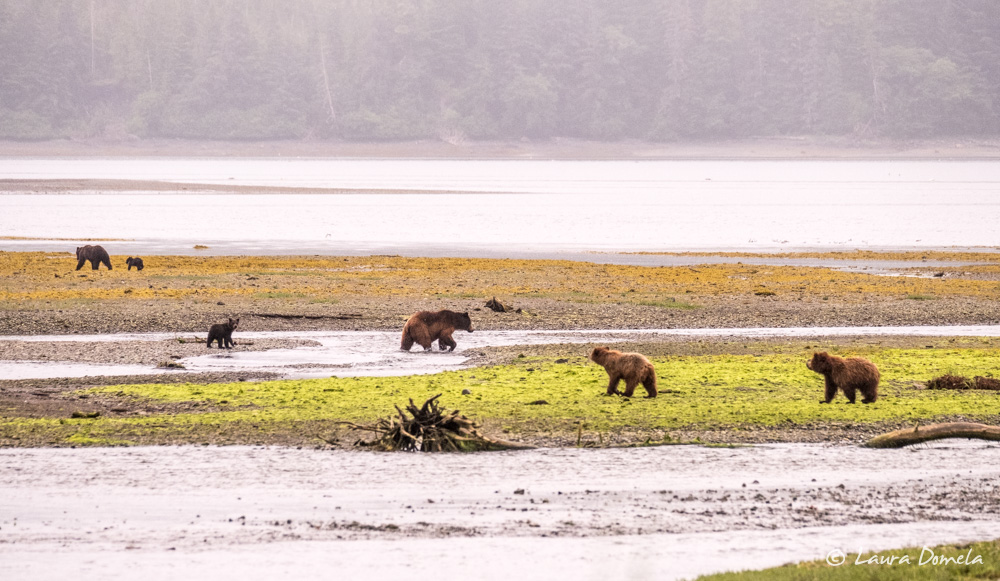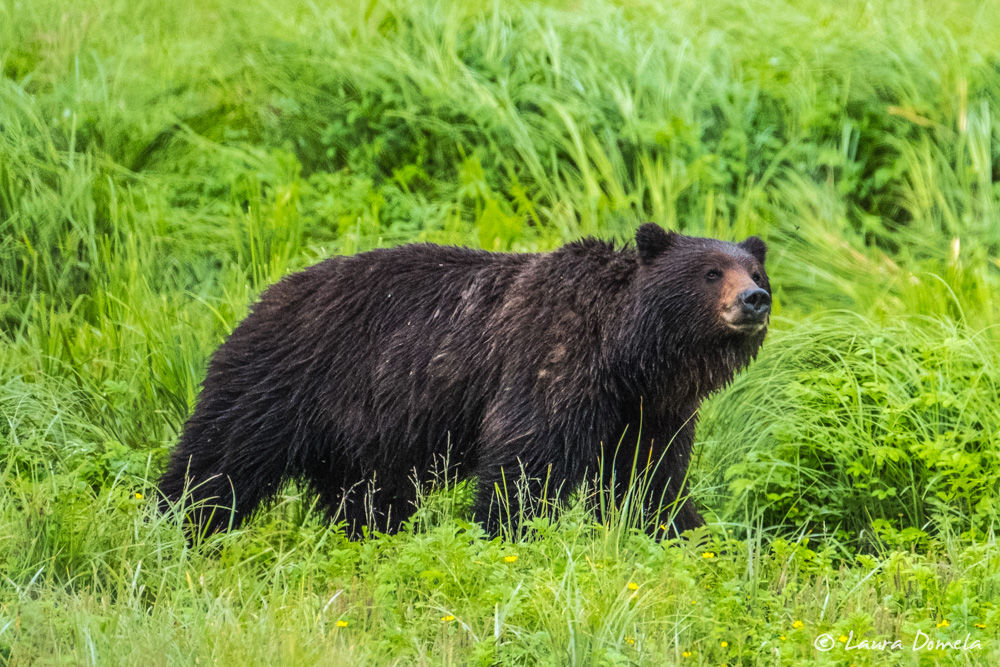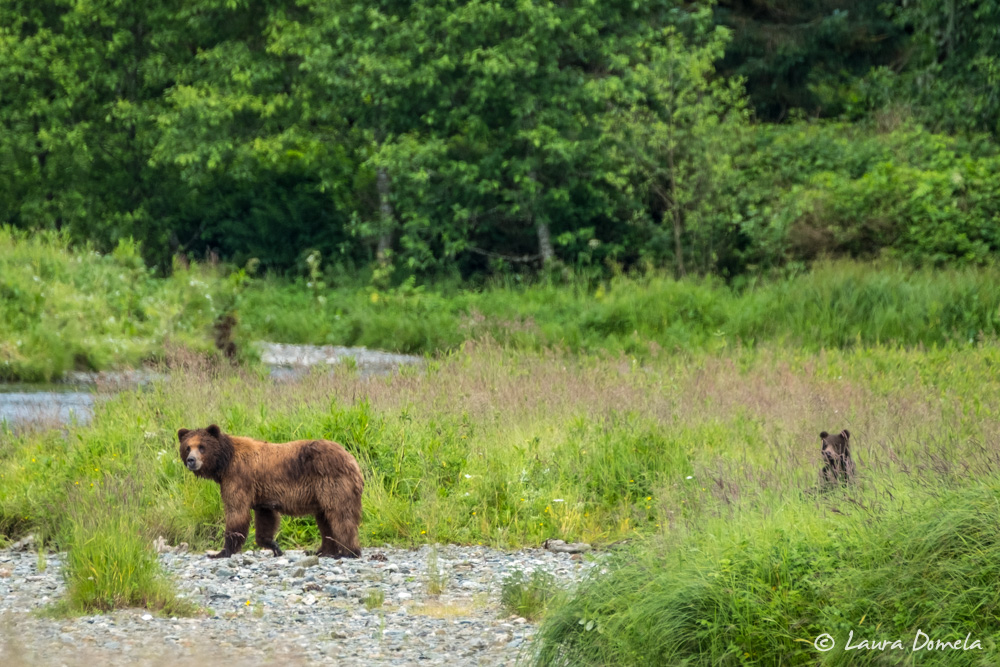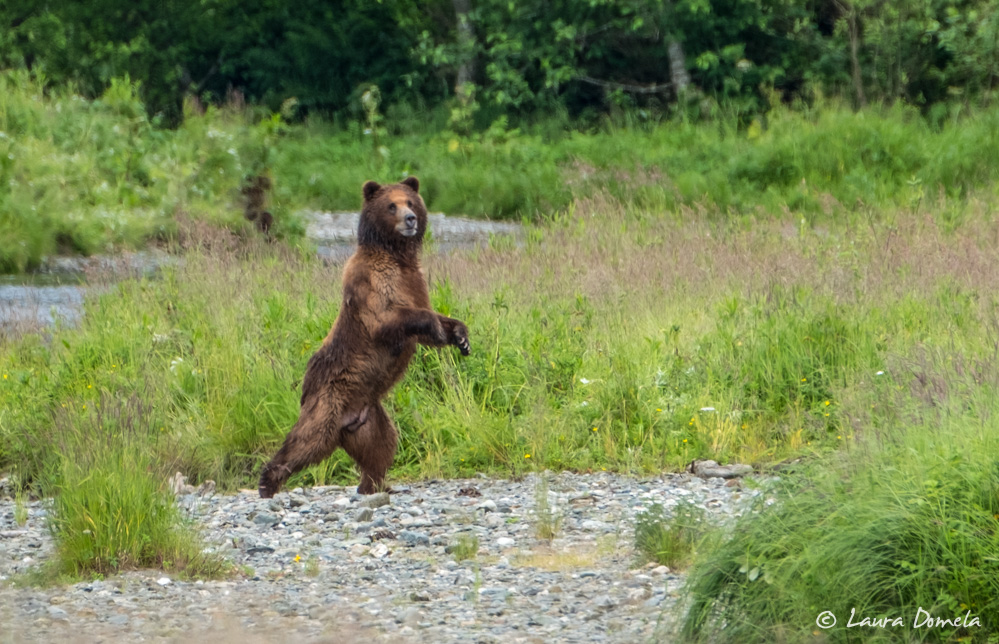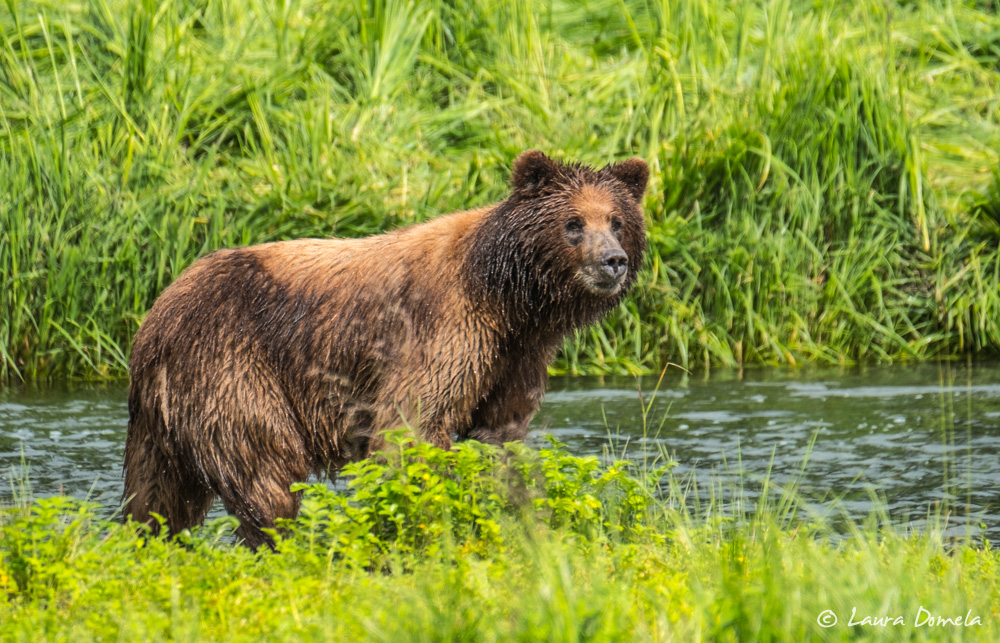 This sow (below) and her little cub came out of the woods across the stream from us. The cub was obviously young and a bit skittish, and stayed VERY close to mama.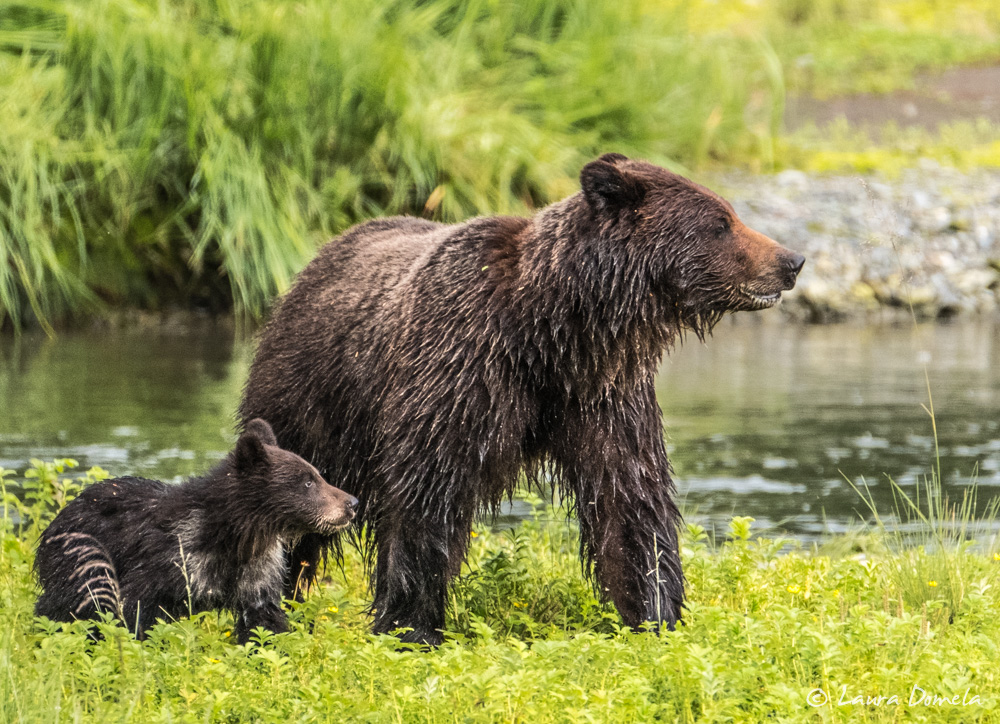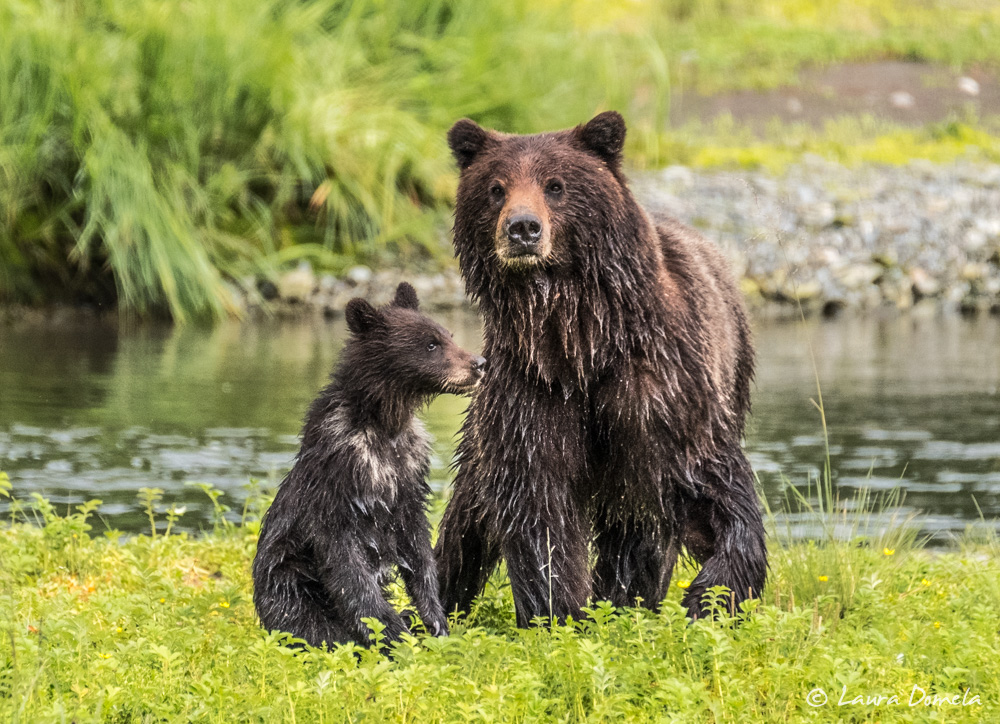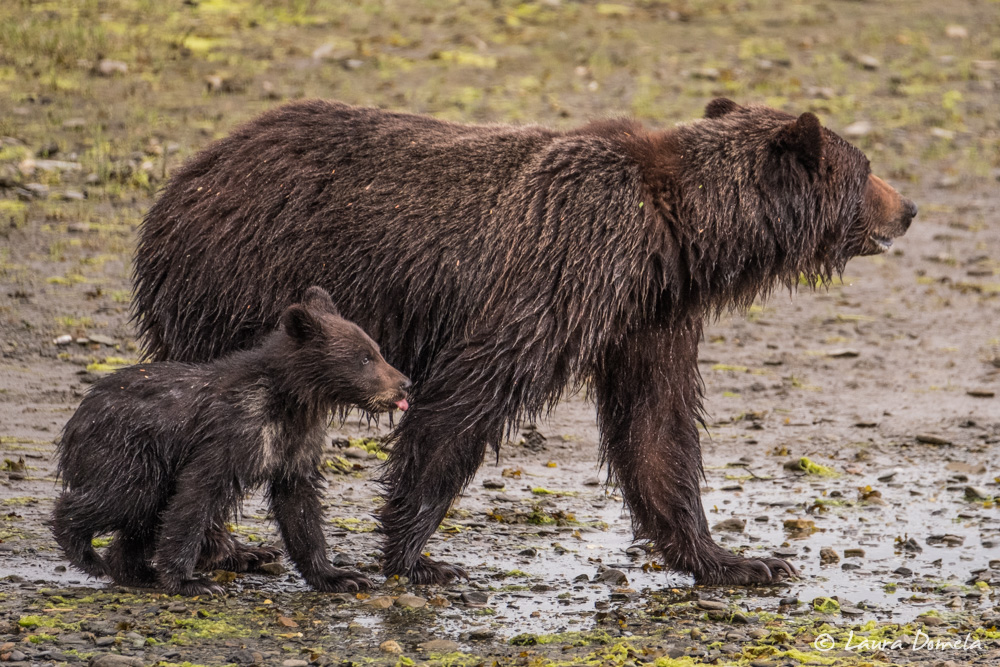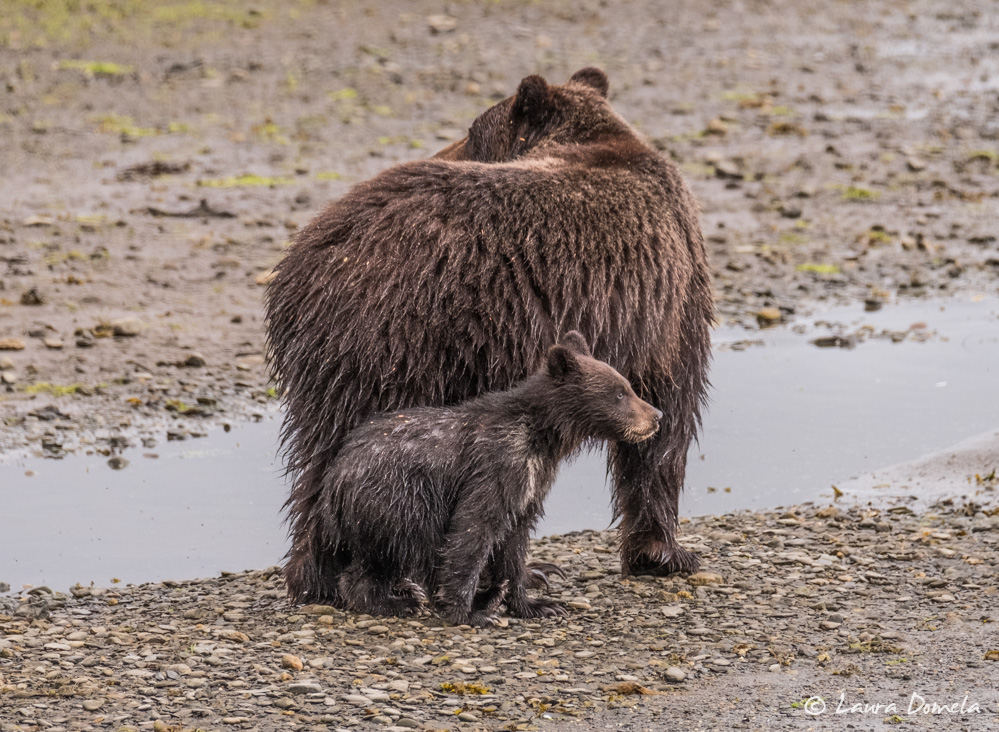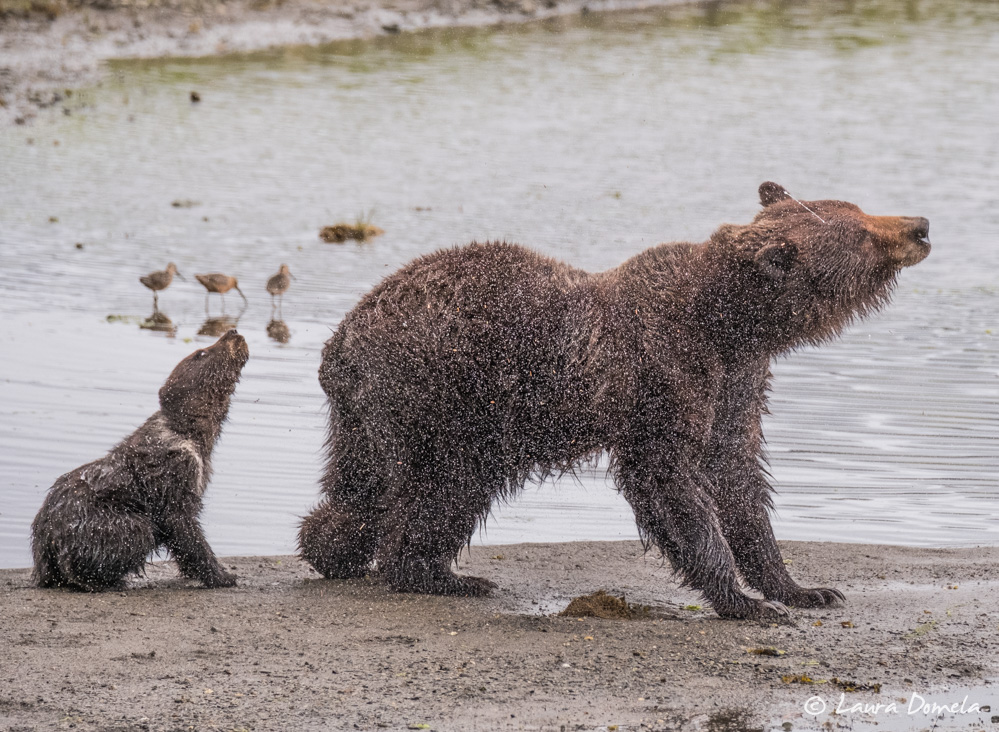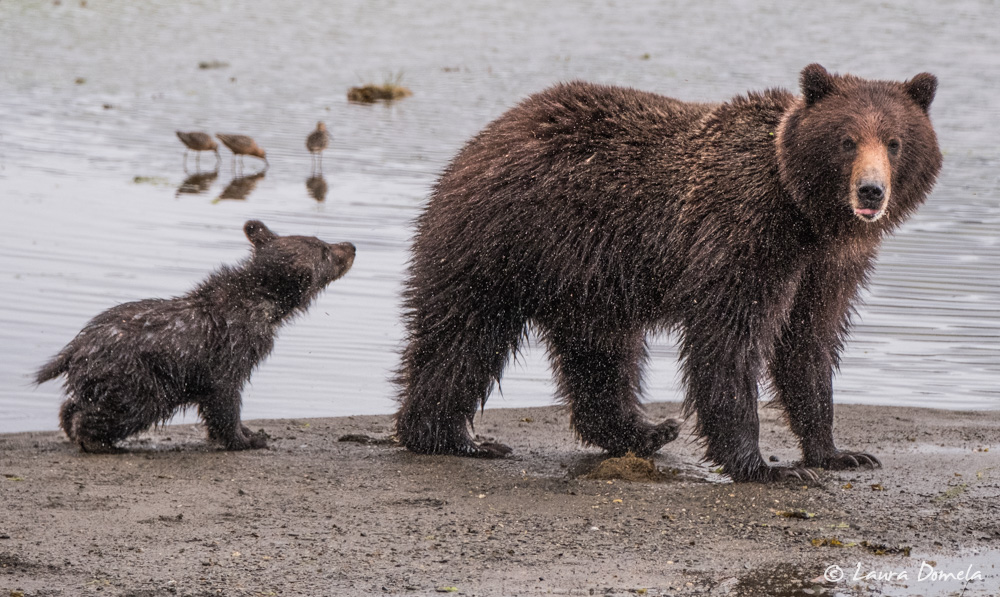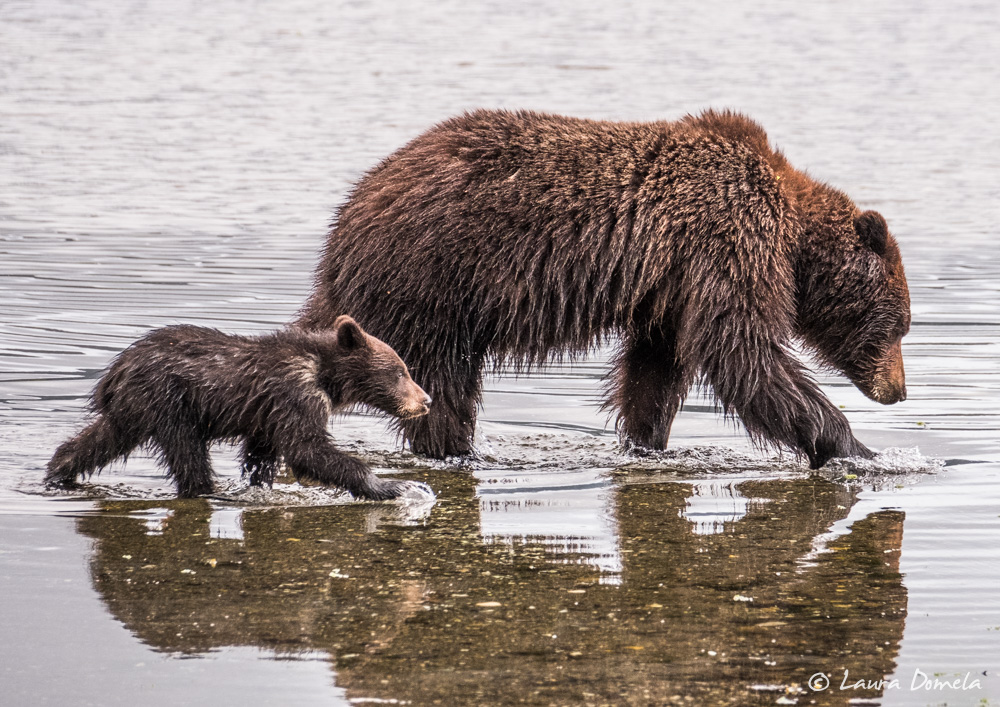 The sow with cubs we'd seen first eventually woke up and decided it was time to fish, which perhaps started the others thinking the same thing. Pretty soon, there was a whole lot of salmon fishing going on, while cubs played and wrestled in the water as they passed the time between meals.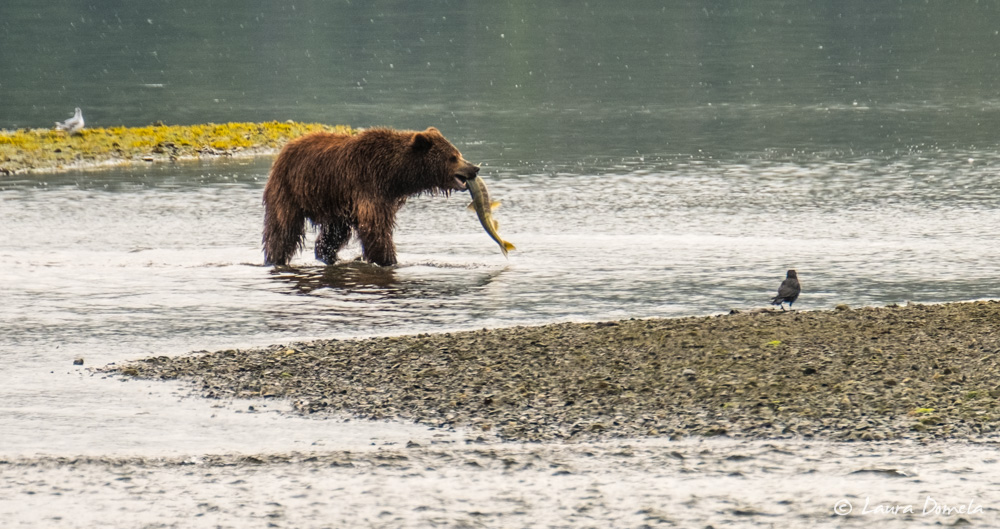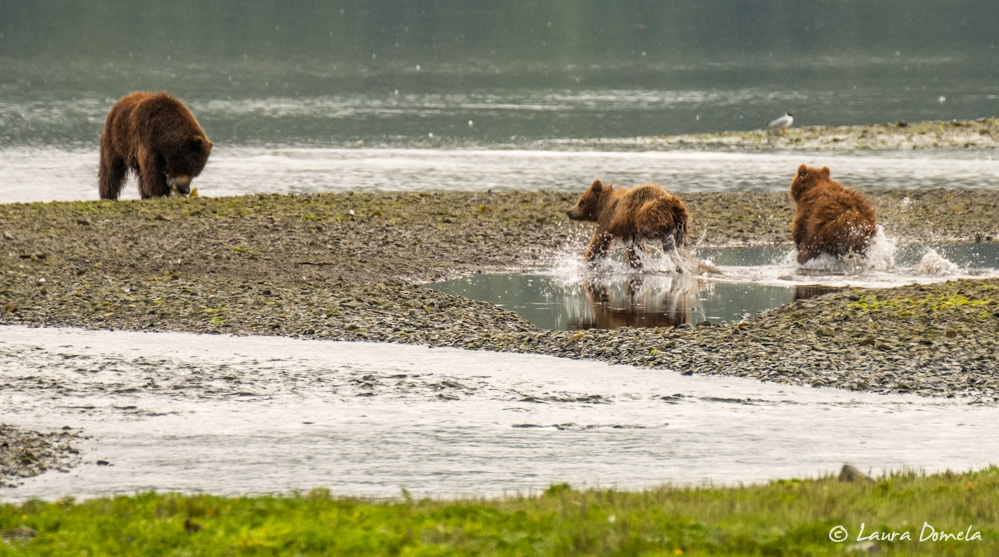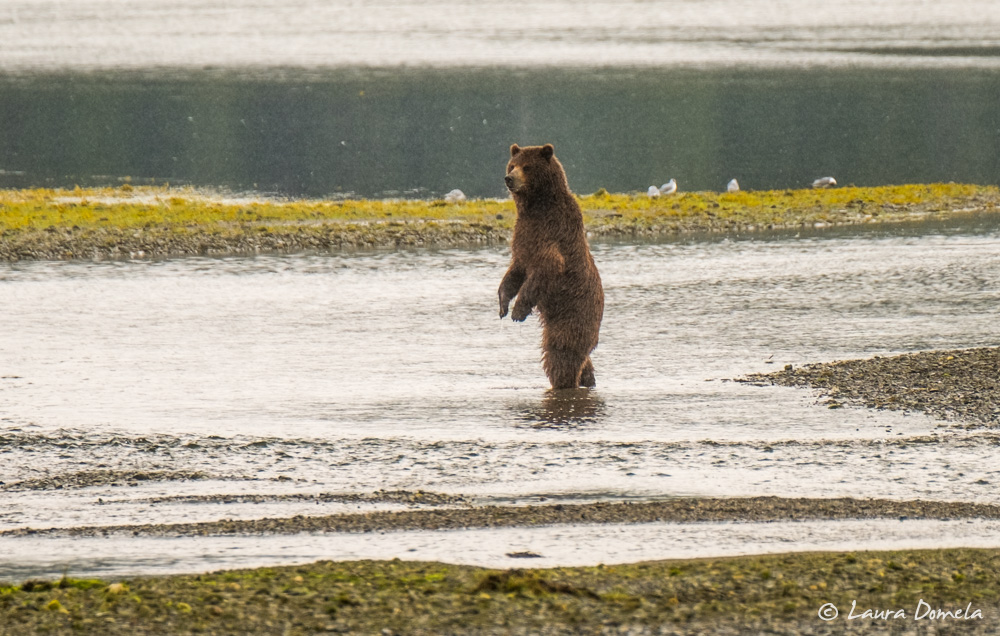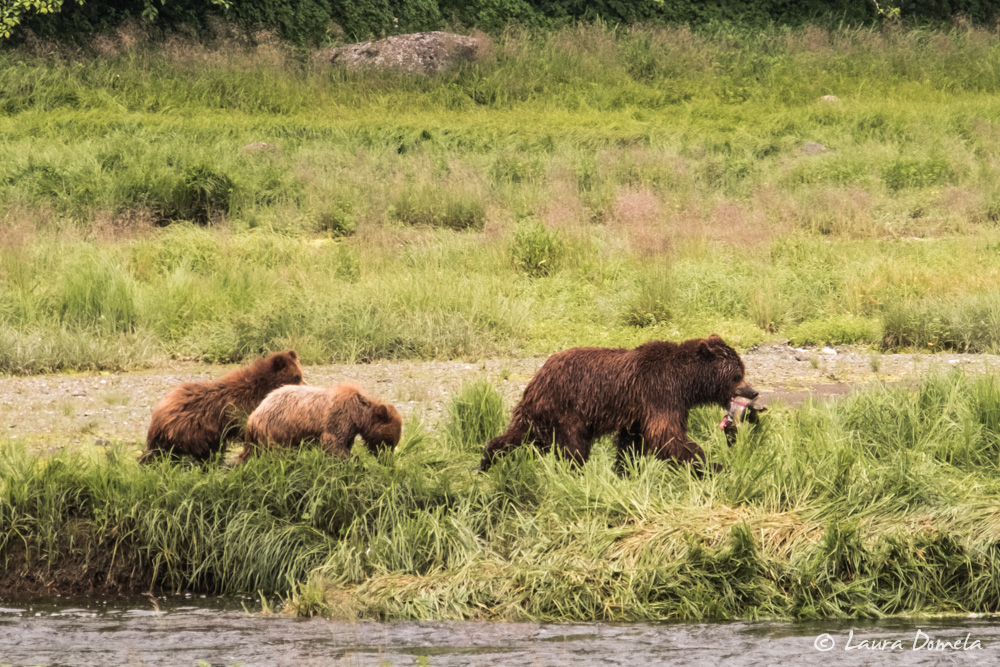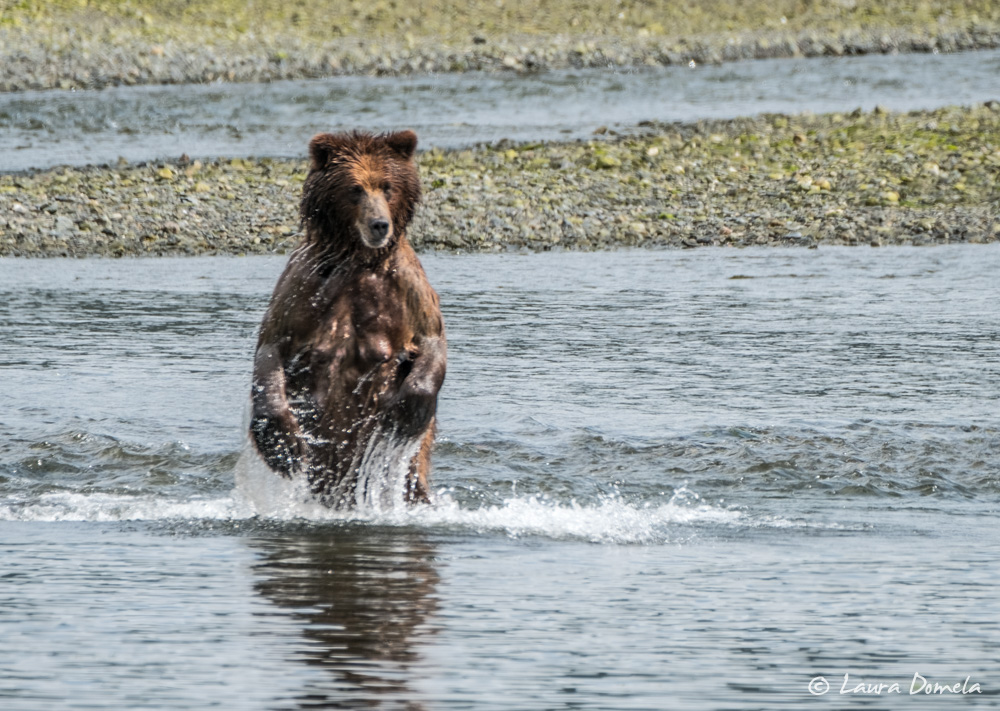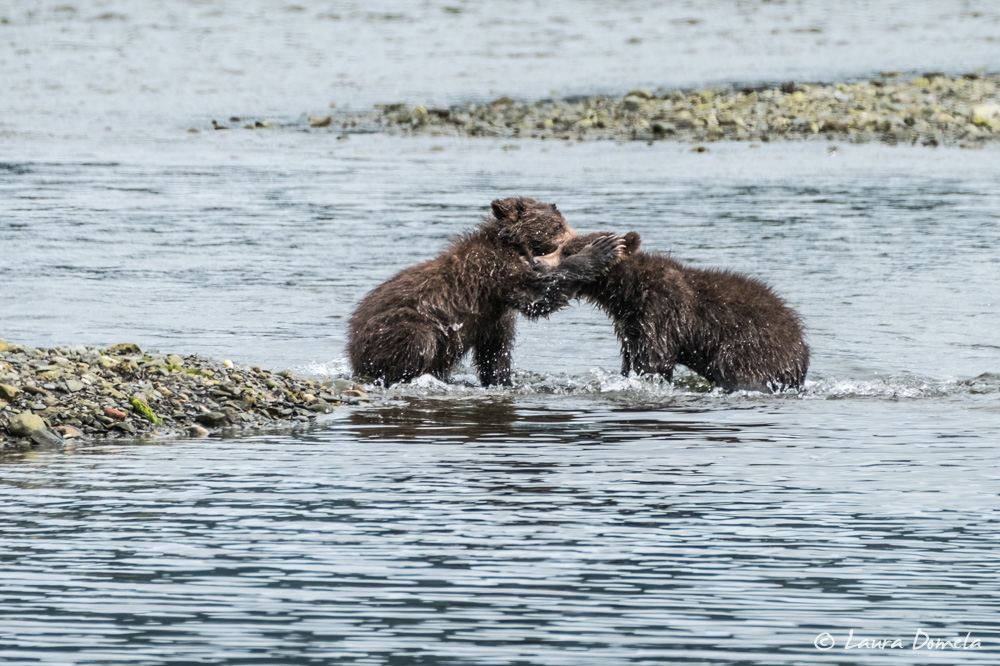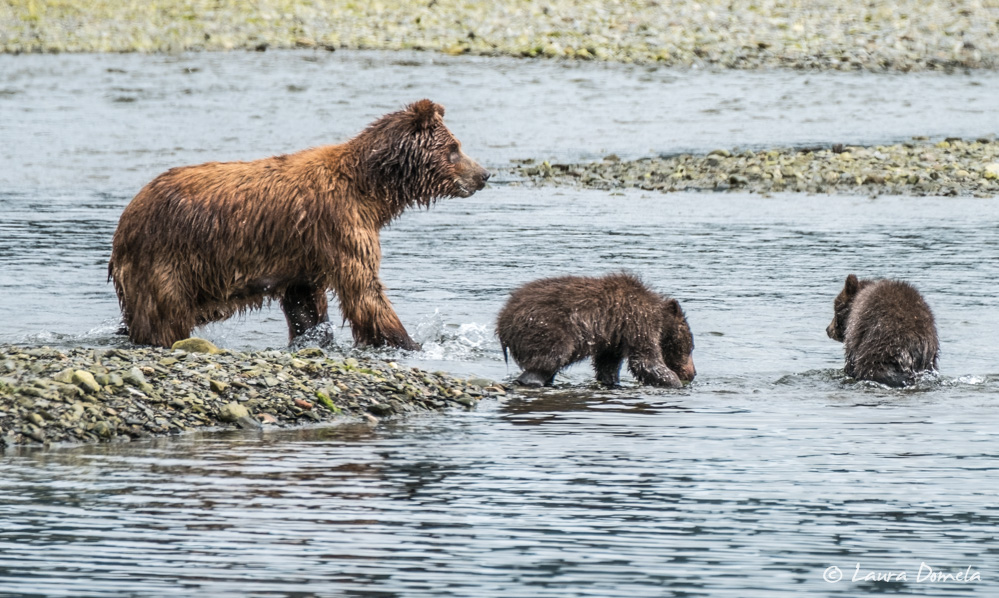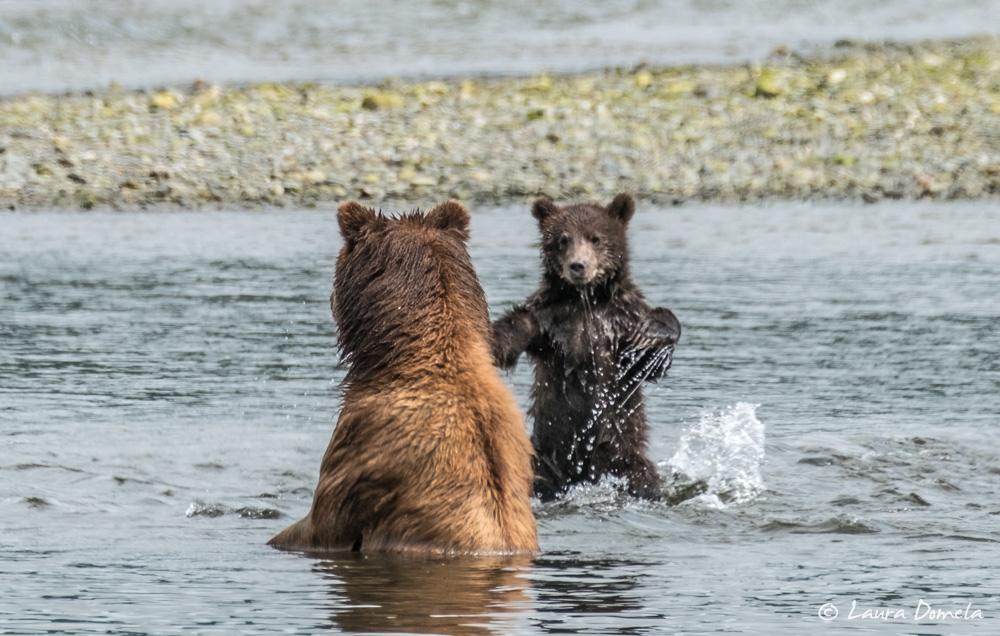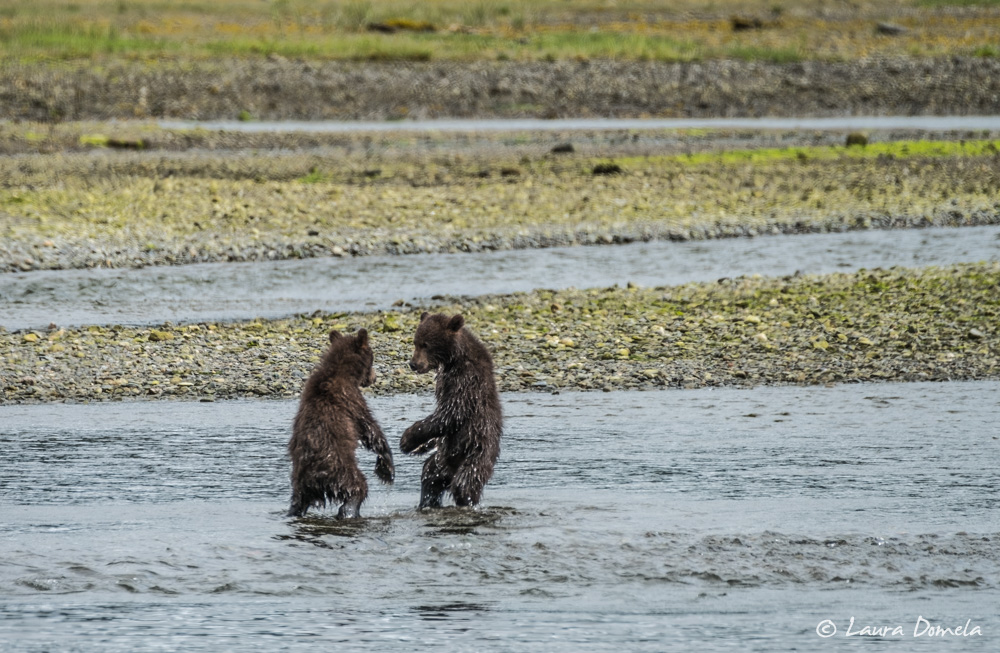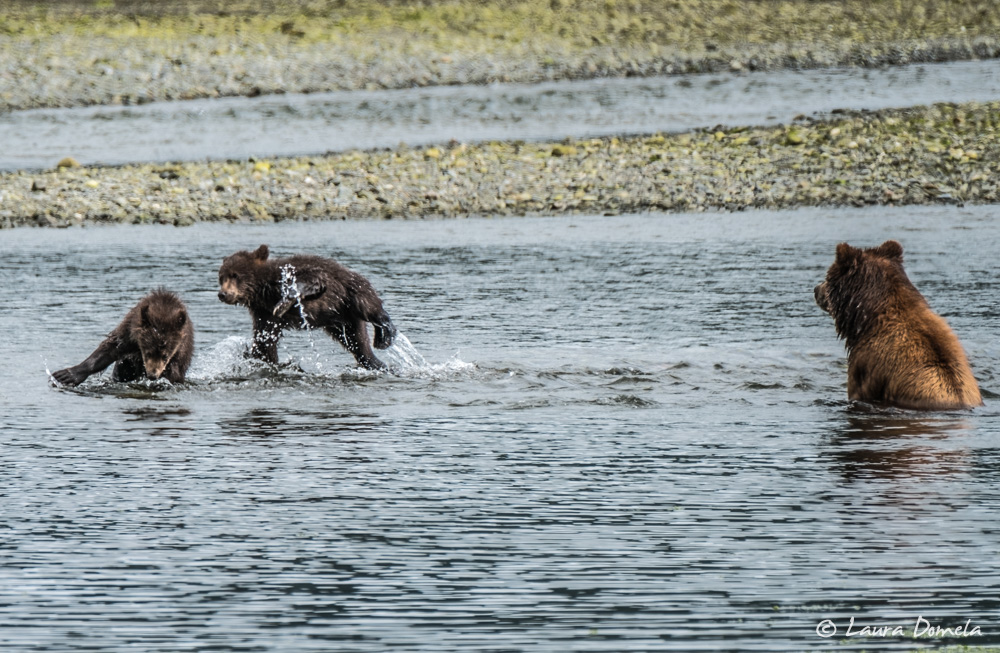 This mama had had enough of the roughhousing for the moment: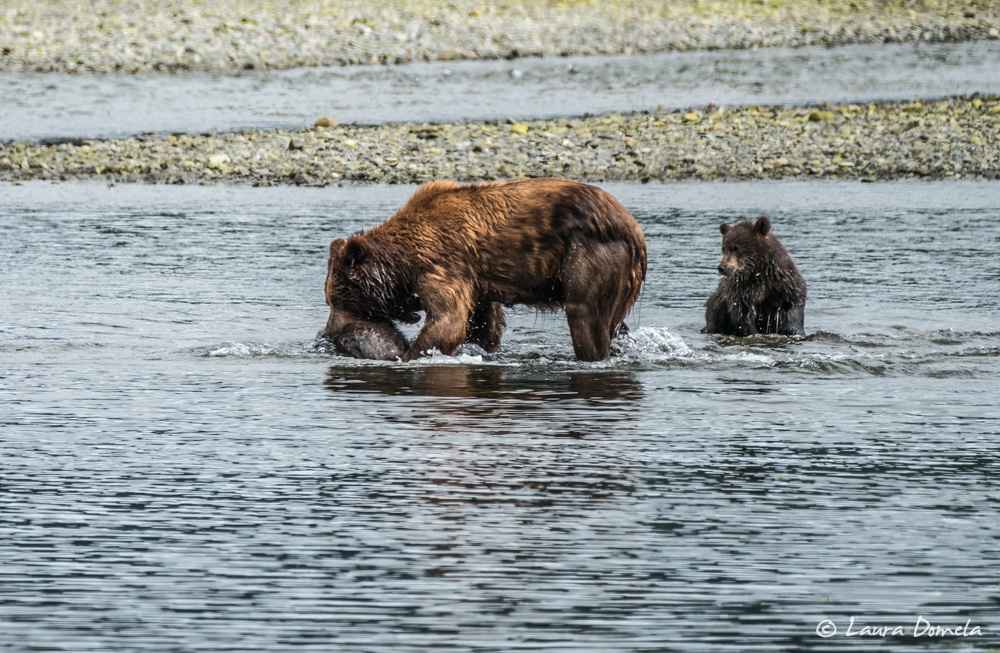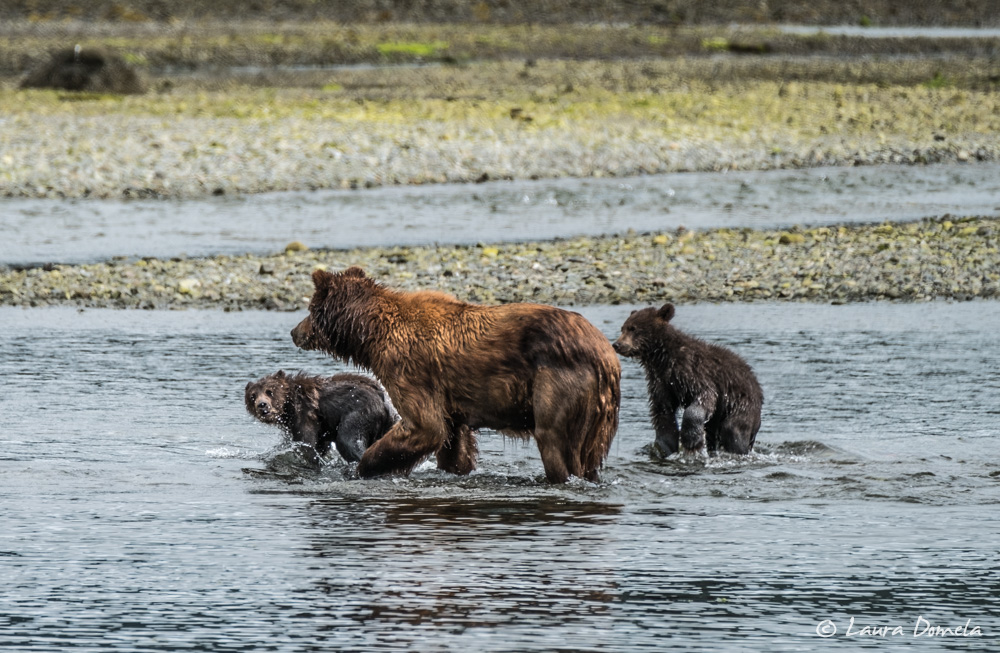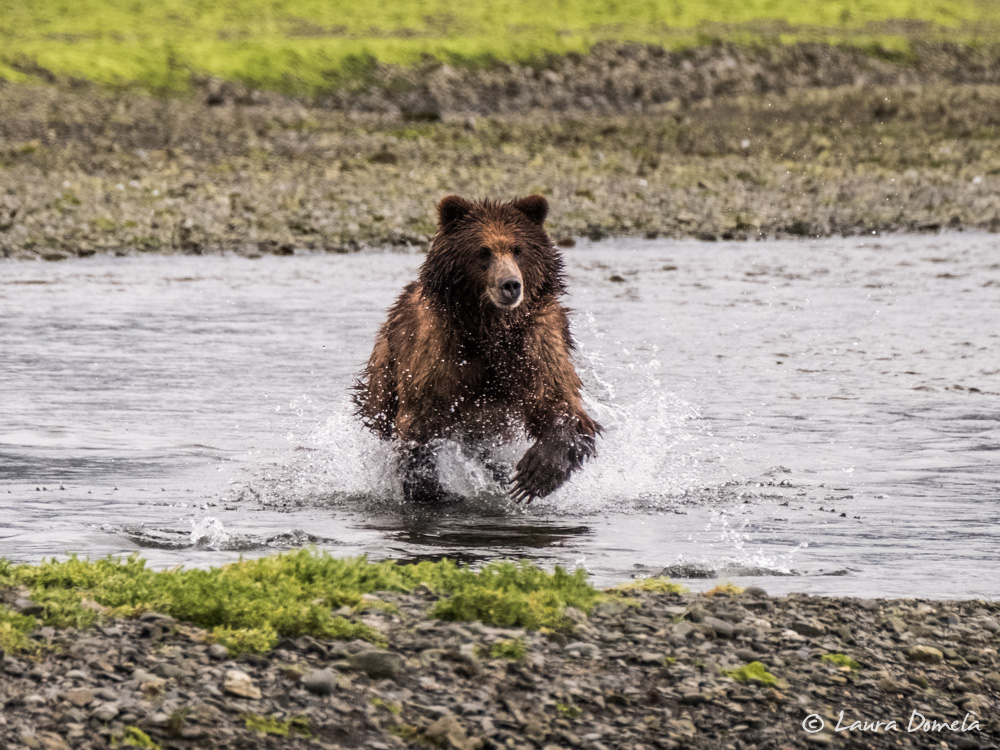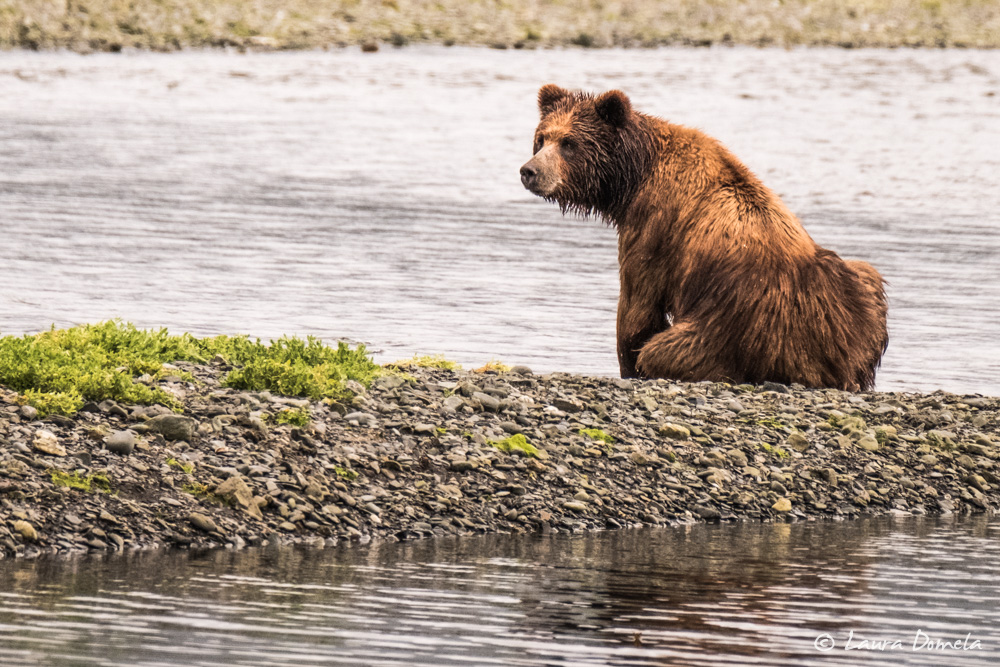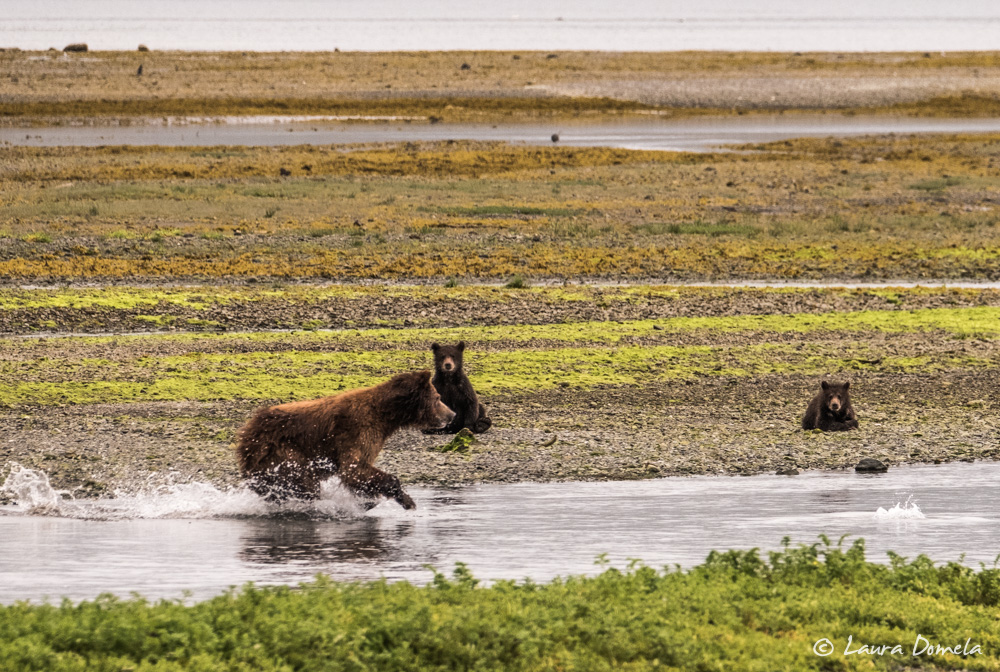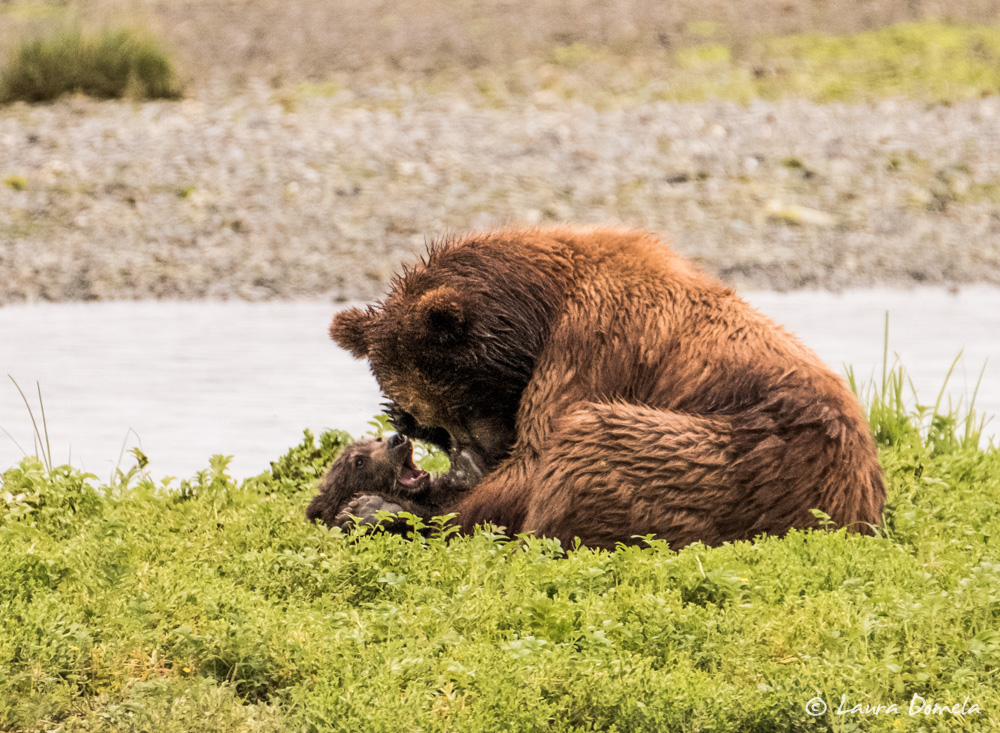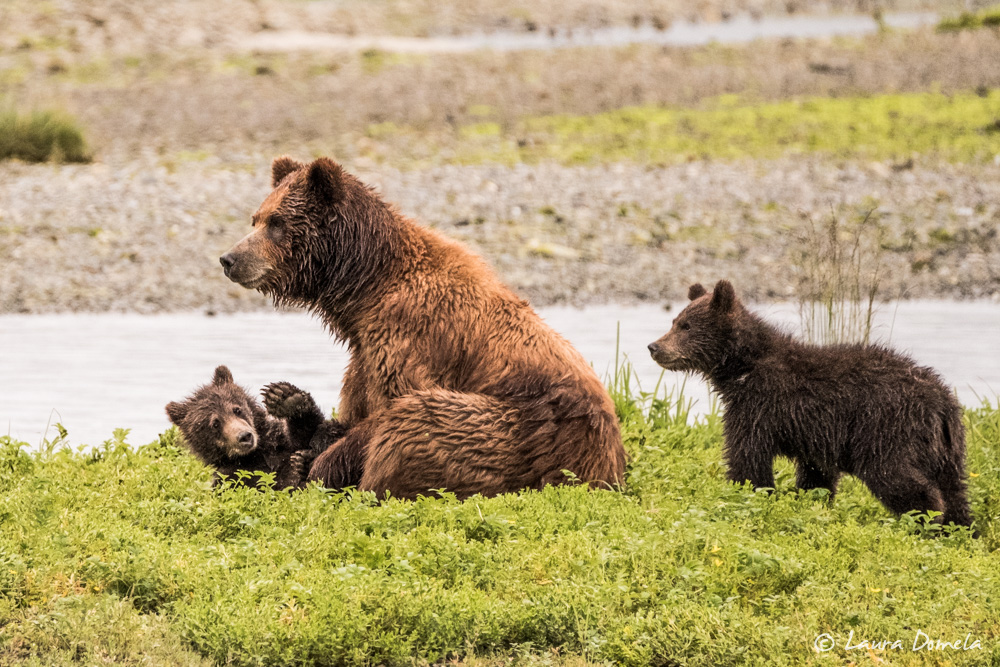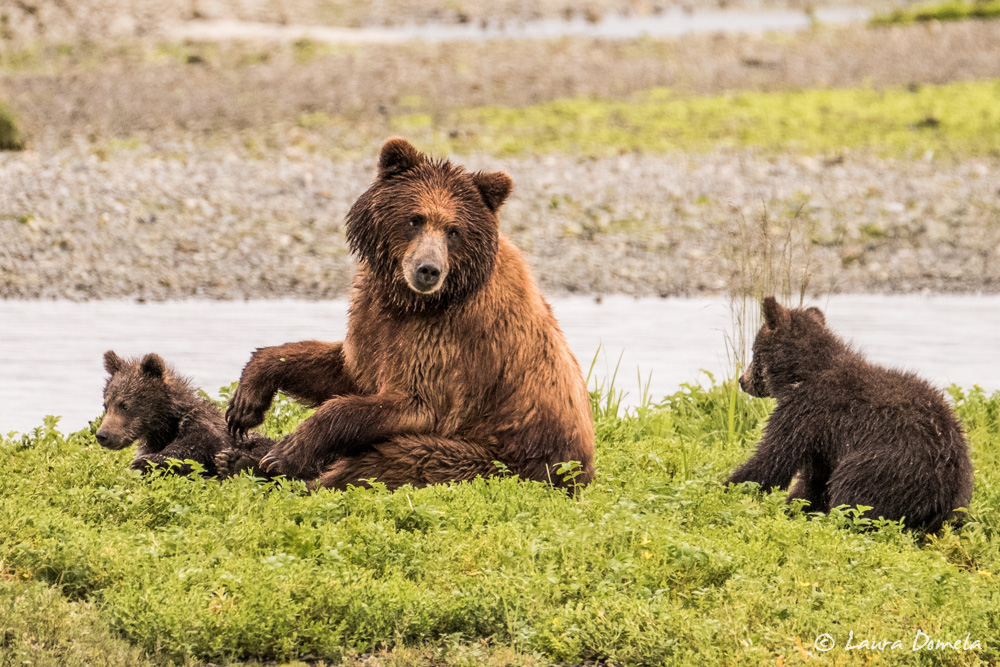 Two of the older cubs, relaxing while mom catches lunch: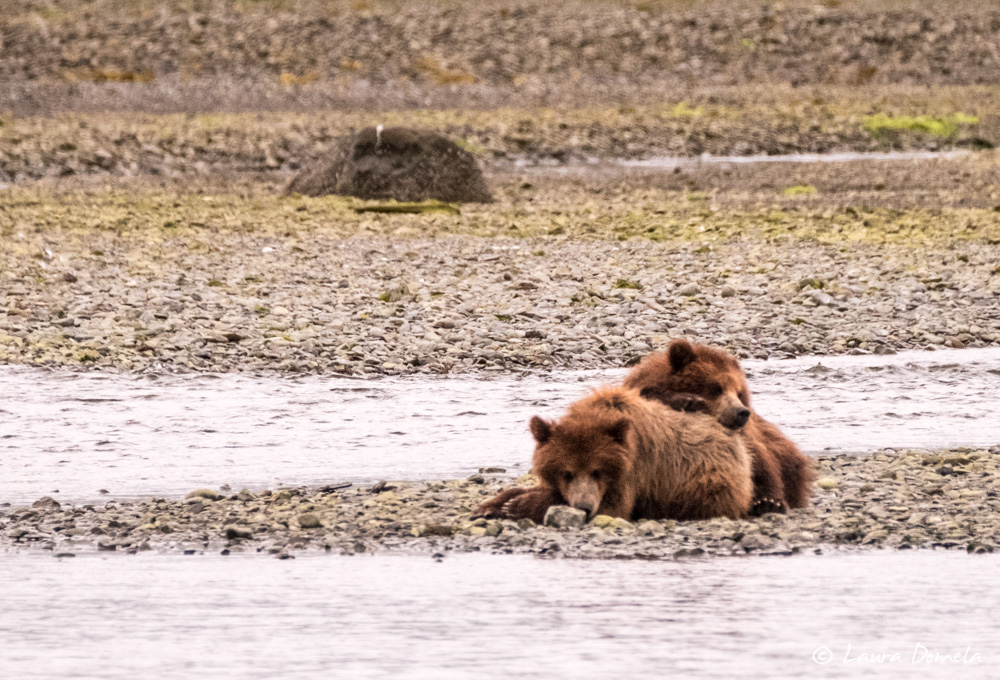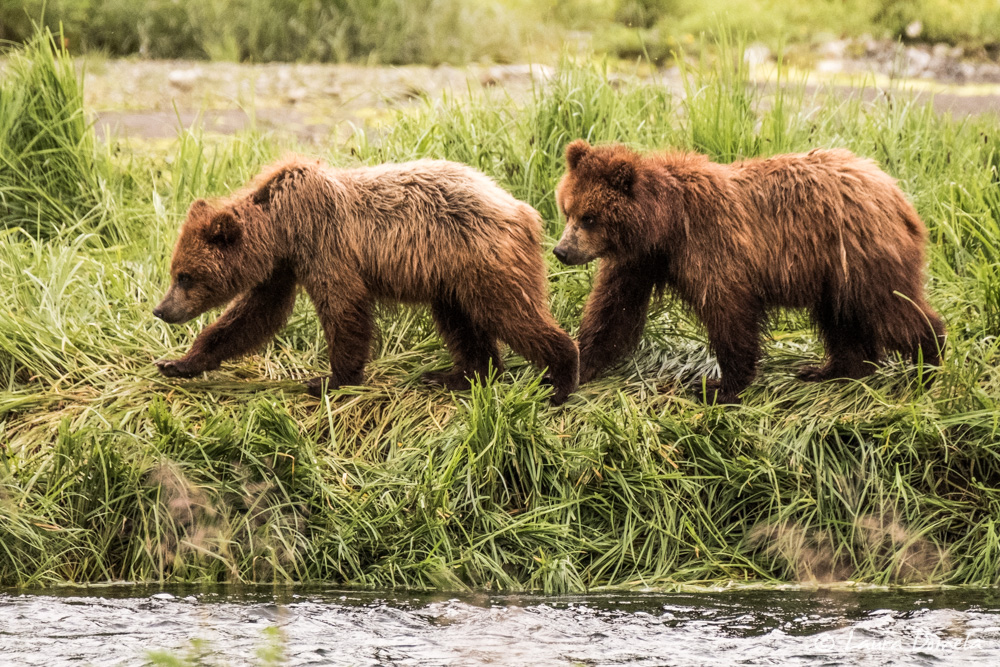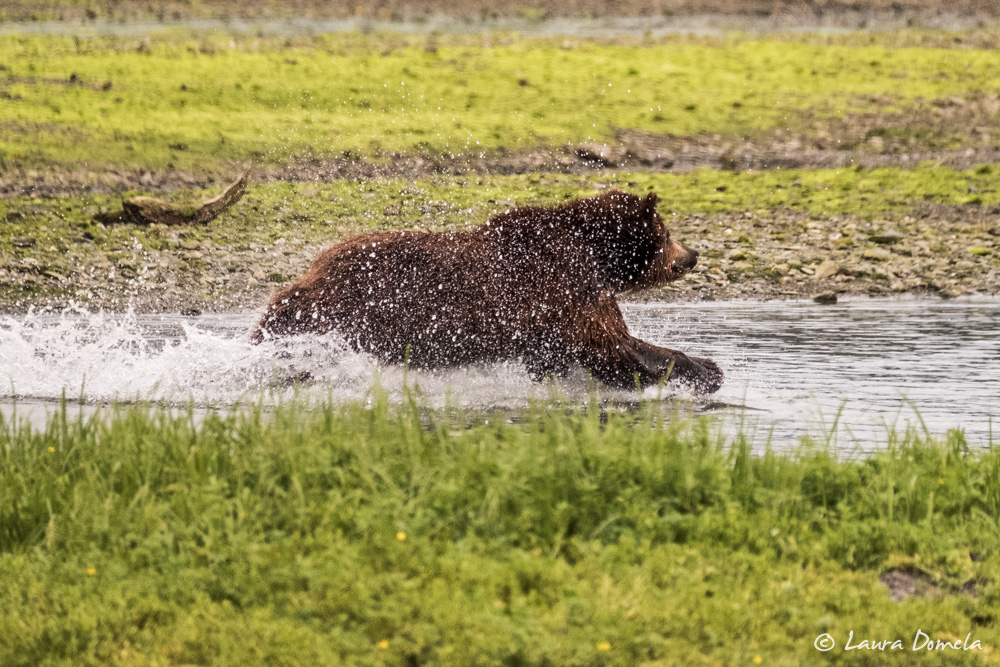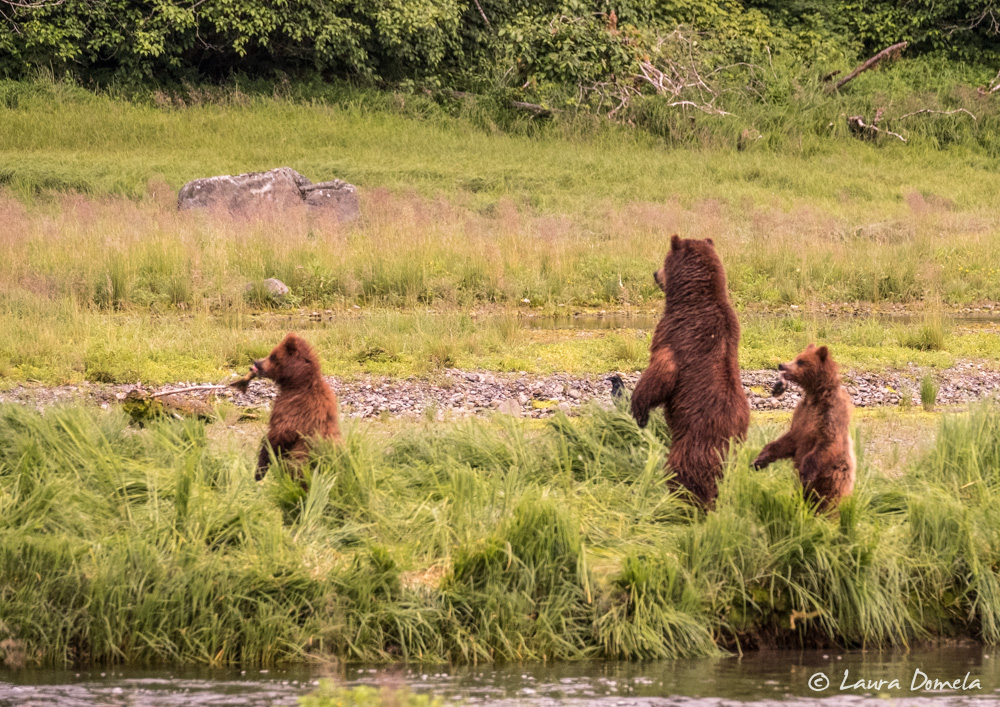 After about three hours watching the bears from this vantage point, we walked along the beach and back to the spit to check in and get instructions for the hike to the viewing tower, about a mile by trail through the woods.
Bear tracks along the beach on our way back: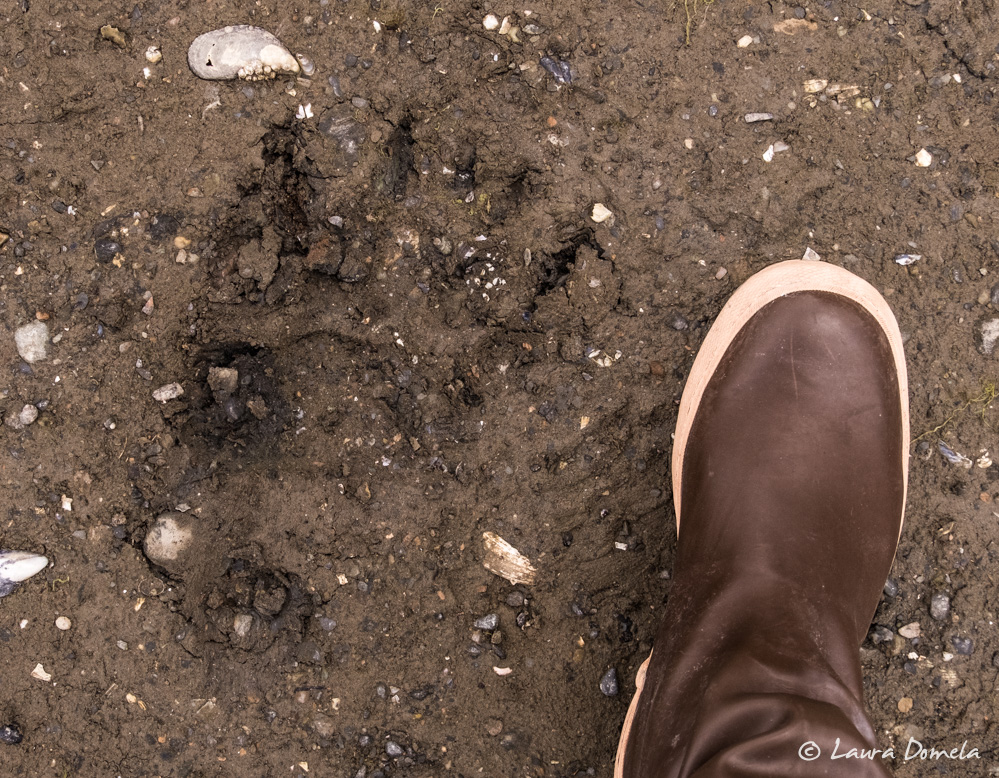 The trail to the tower was nicely maintained, but had PLENTY of bear scat to step over. Bears like trails too!
The viewing tower sits alongside the stream, with a great view both upstream and down. There were no bears in sight at first, but eventually we saw one and then another male, and watched as they fished in the river. Neither one of them was very good at it, and there were no fish caught.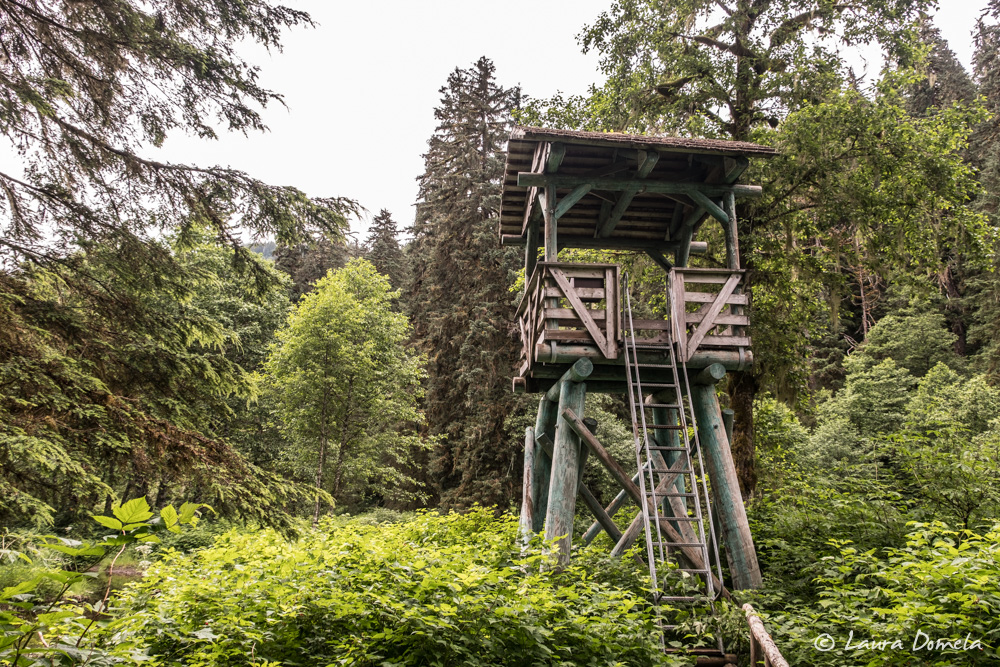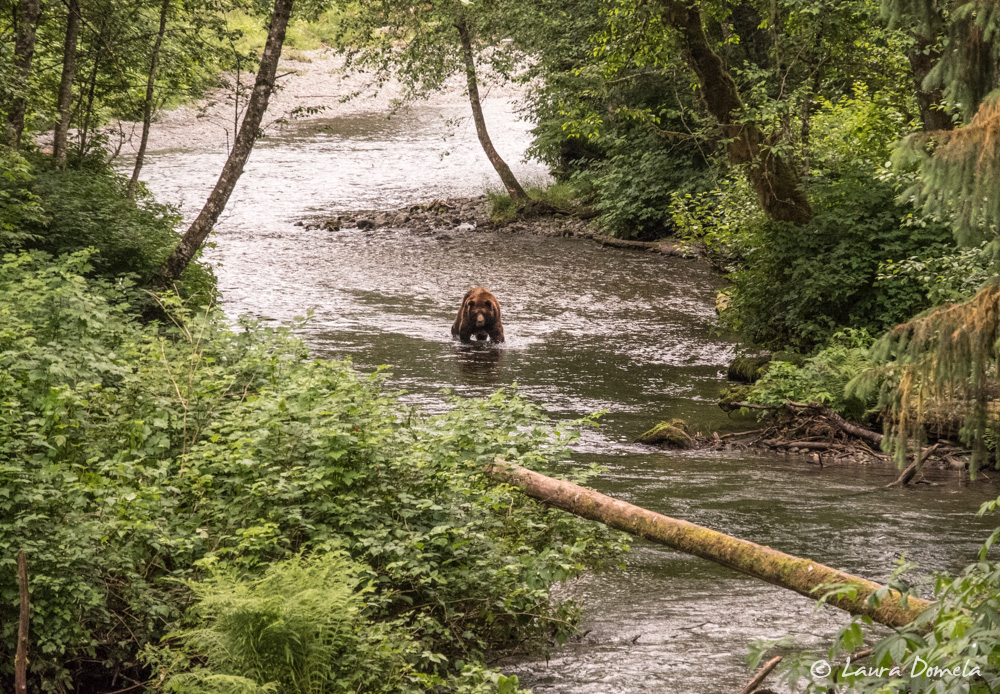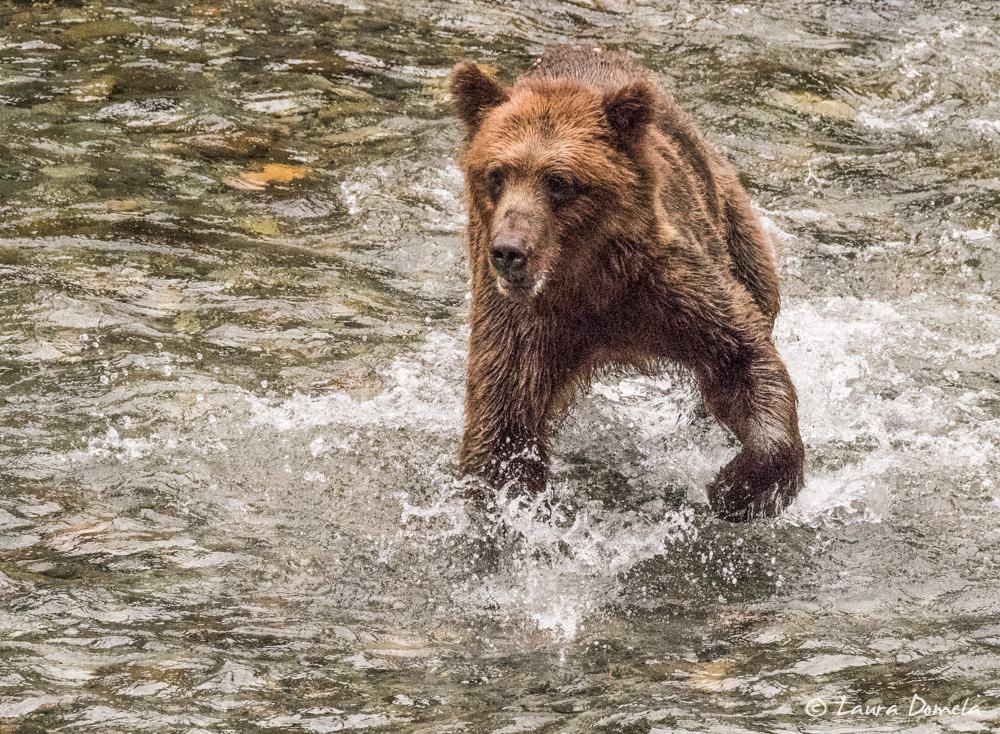 This guy had some wounds on his head and neck that looked as if he'd been in a bit of a scrap with another bear.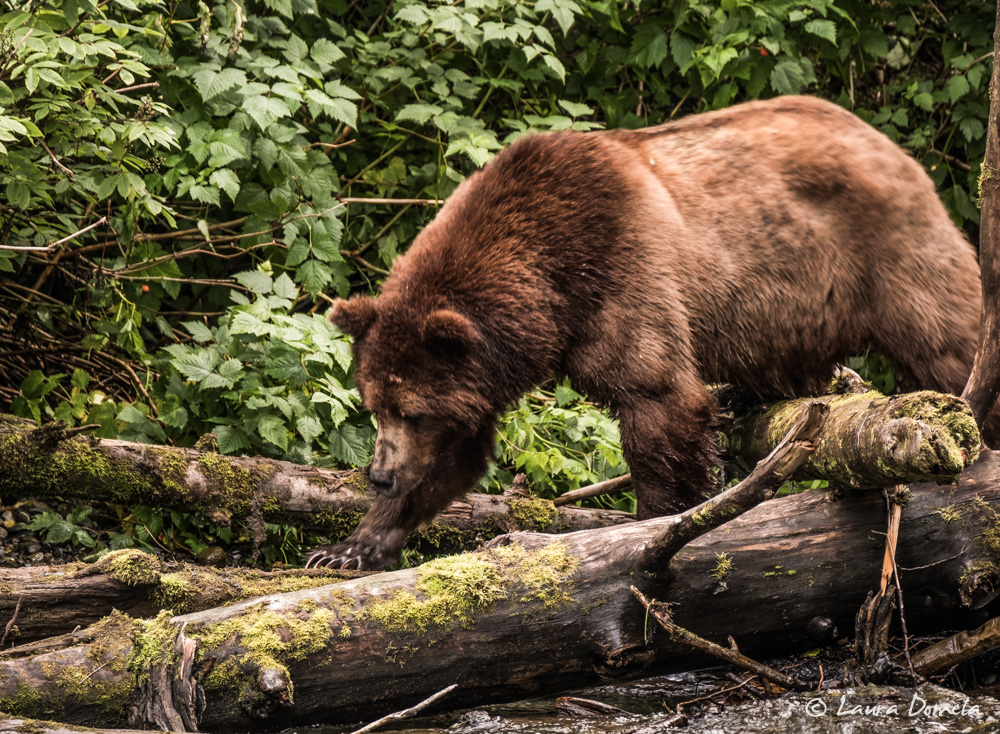 We returned to Airship and Safe Harbour late in the afternoon, and could not stop talking about what a fantastic opportunity Pack Creek offers. In the span of about 5 hours, we'd watched 20 brown bears, including five sows with cubs, just doing their bear thing in their own bear environment.