We left Auke Bay on Tuesday morning with a plan to cruise all the way down to Pavlof Harbor, (about 49nm) but the conditions were annoyingly snotty in Lynn Canal. The forecast was for 15 knot winds from the south with 3 foot waves, but the waves were more like 4 feet and so close together it made for a very slammy, uncomfortable ride. Why do that for two more hours when we could duck back into Funter Bay and anchor there for the night?
Wait, back up a sec. I forgot to post a few cool shots from our last few days before Juneau: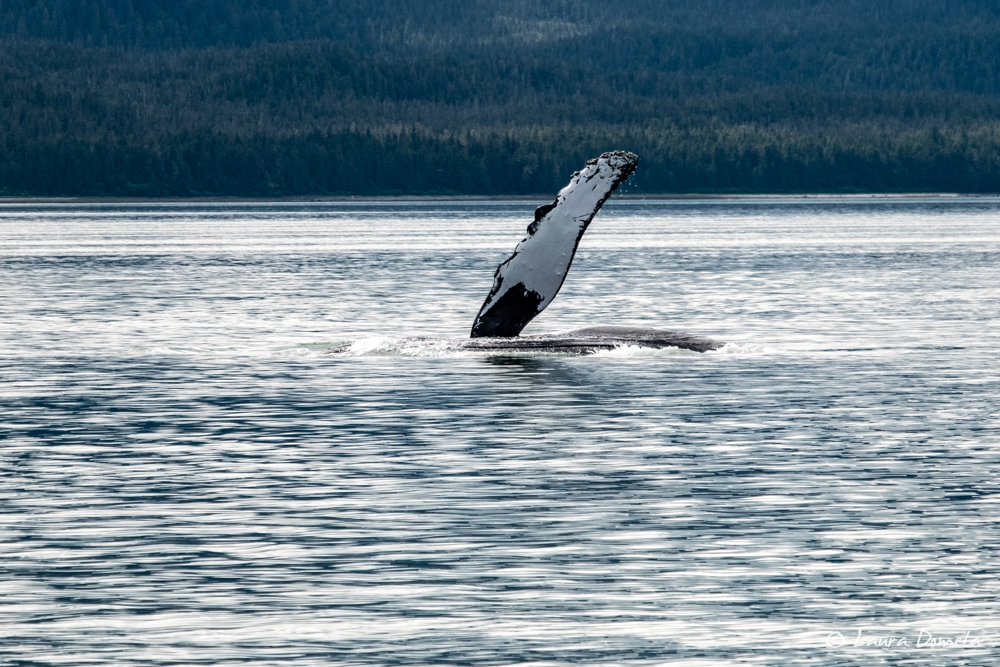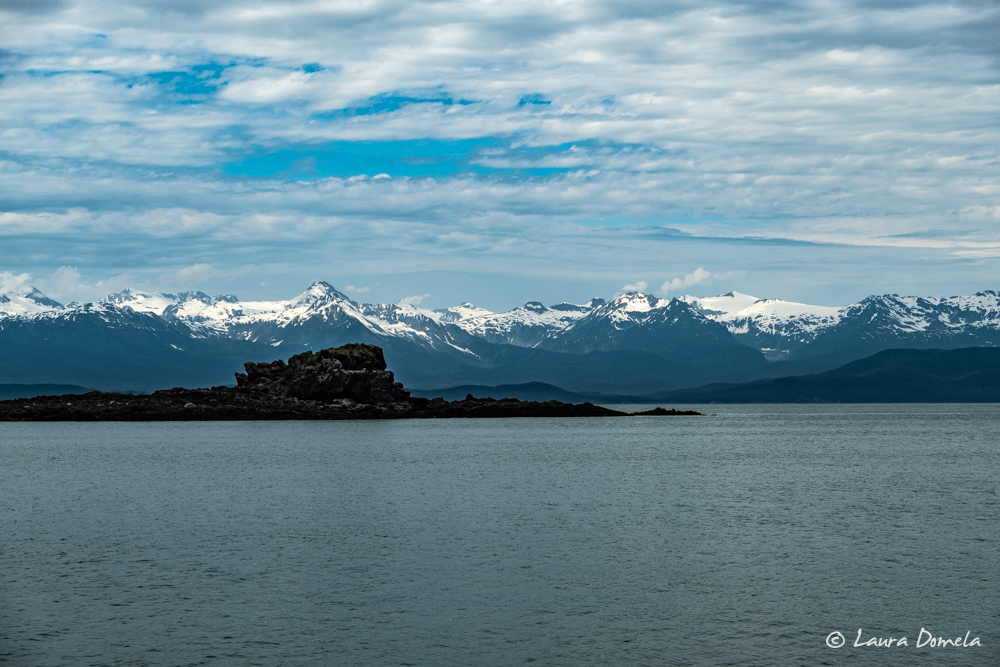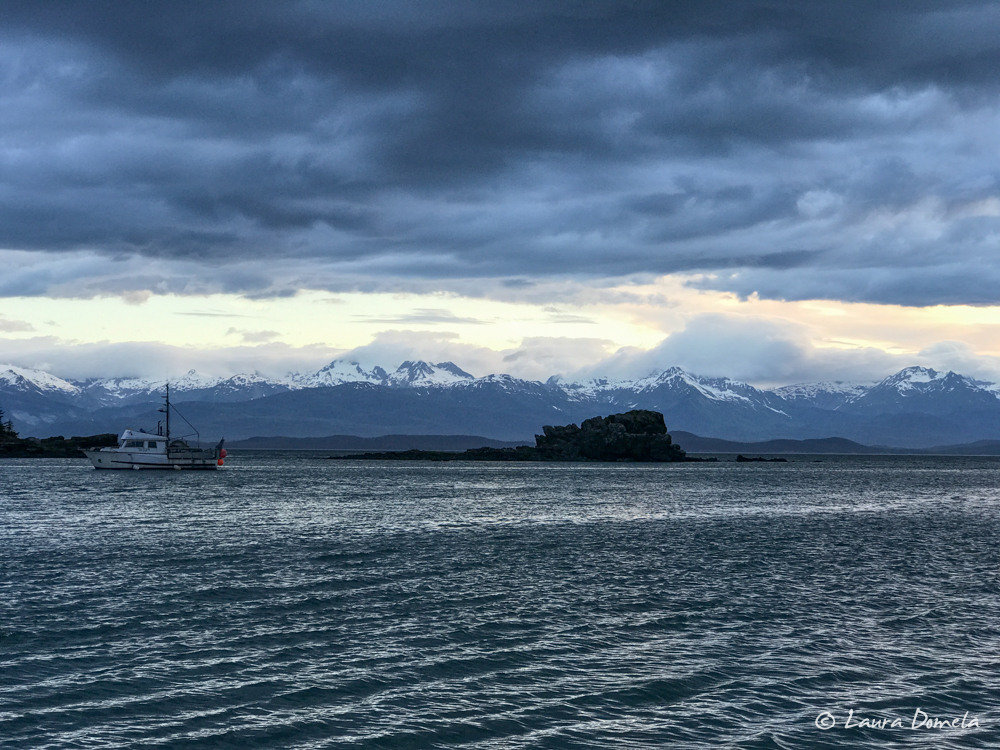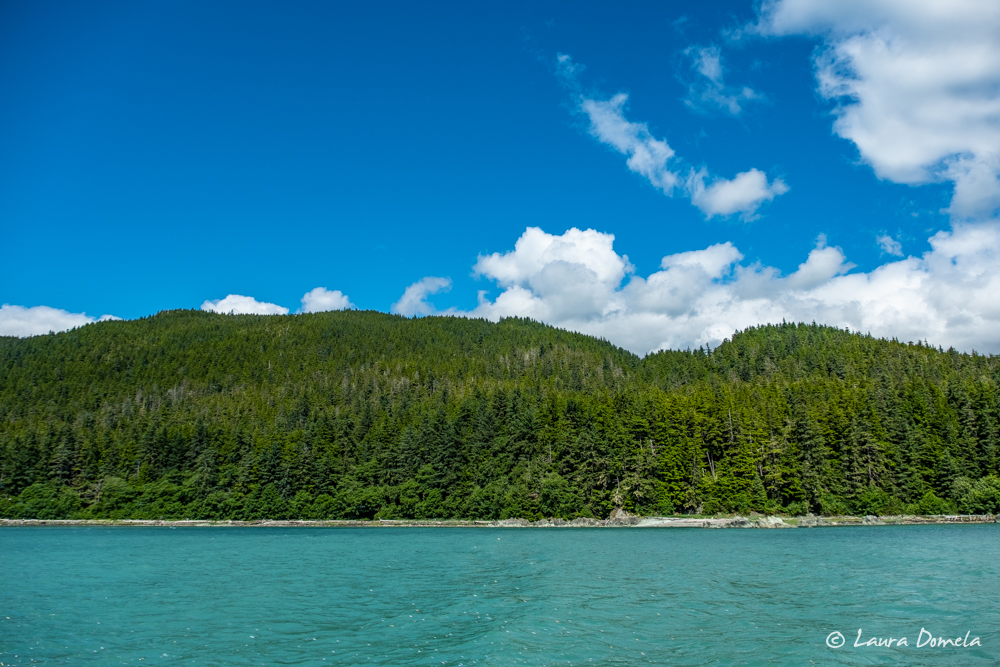 Okay, where were we? Yes, Funter Bay. So we anchored for the night in Funter Bay. When we awoke the next morning, Lynn Canal and Chatham Strait were looking WAY nicer than the previous day.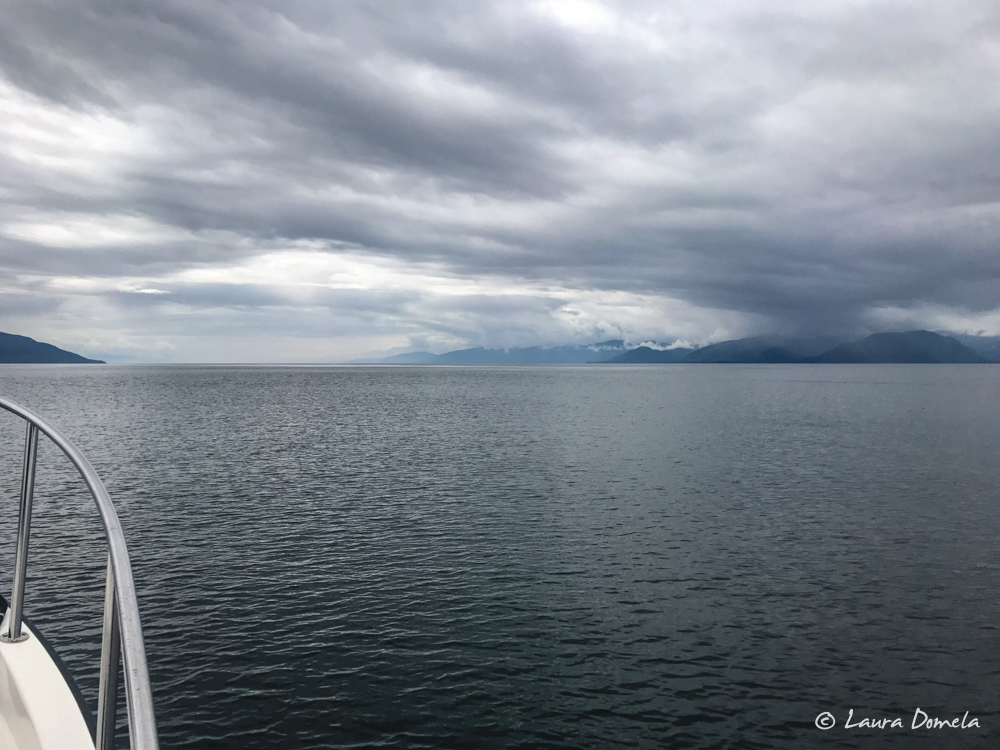 We'd originally thought we'd continue on to Pavlof Harbor, but what are plans if you don't change them several times along the way? Since our cruise yesterday had been cut a bit short, we wanted to go further than the 28nm to Pavlof (plus, we'd already been there), so we decided to go to Angoon! We'd never been to Angoon, heard mixed reviews about it, and ultimately decided we should see it and decide for ourselves.
Side note: A few weeks ago, my mom told me about a show she watched on Animal Planet called "Fear Island: Fortress of the Bears" about the bears of Admiralty Island (specifically, some VERY large brown bears). Now, the "Fear Island" title might turn you off like it did for me…oh it's going to be another one of those programs that tries to scare you with sensational titles like that, but hang on. Admiralty Island is known as "Kootznoowoo" by the Tlingit, which means "bear fort" or "fortress of the bears." The British are the ones who named the island Admiralty Island, but before that, the Russians called it Ostrov Kutsnoi, which means "Fear Island" — probably because Alaskan brown bears on the island outnumber the human inhabitants. Anyway, I found the show online and we managed to watch it at the helm on the iPad while we were en route. The show claims that there is a species of giant brown bear (as big as 13 feet tall!) unique to this island that has both brown bear and polar bear DNA. Pretty interesting!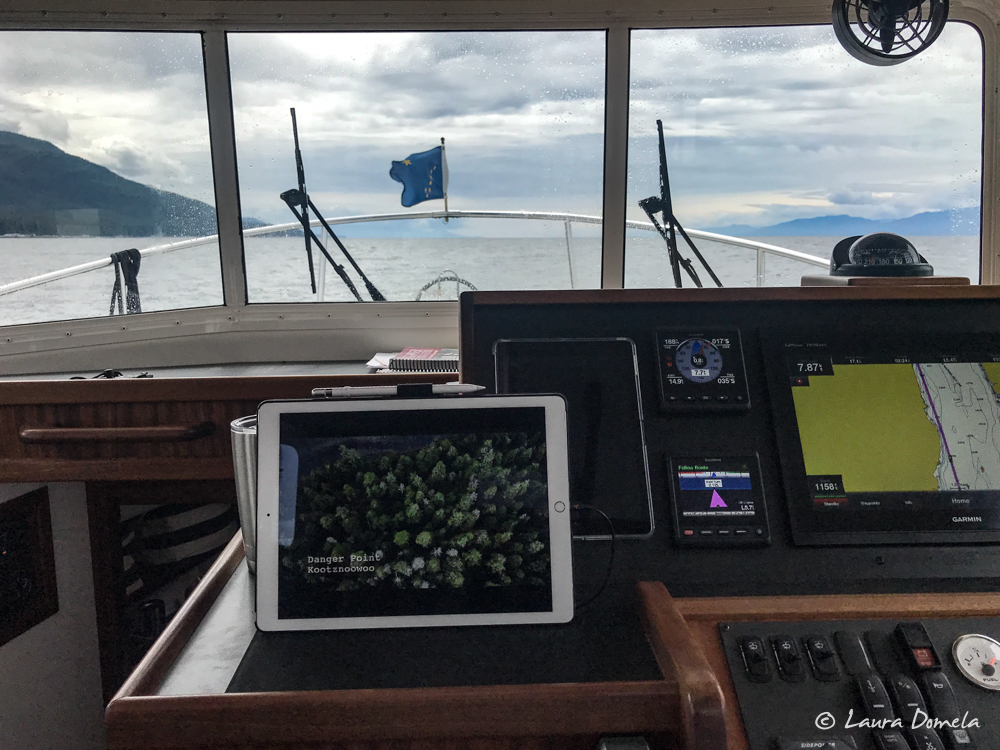 As we were approaching Danger Point, we noticed several humpbacks spouting in the distance and opted to continue on past the inlet in case they were bubble net feeding.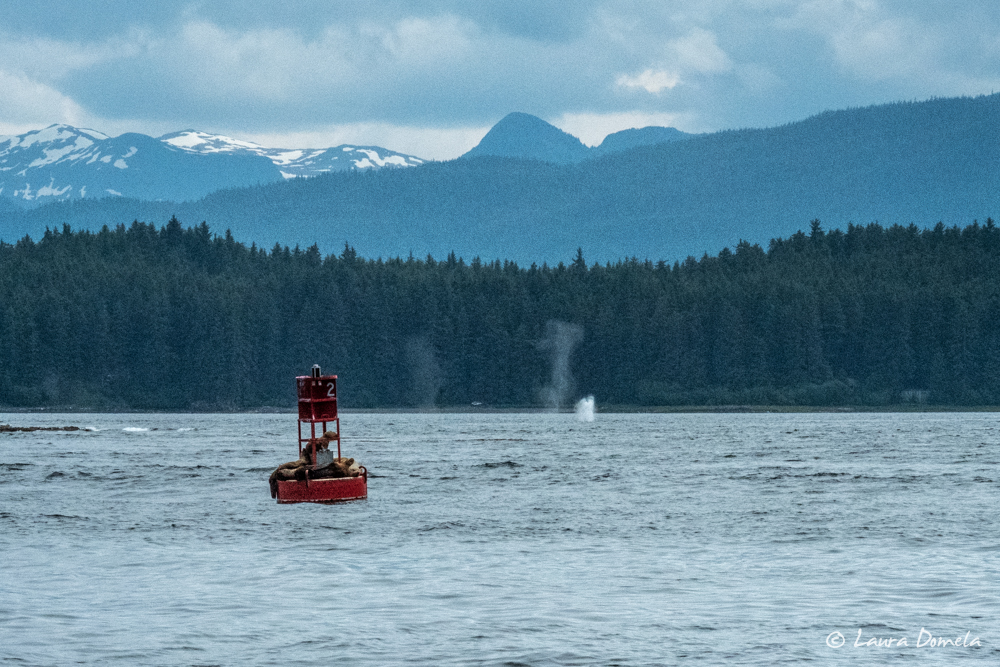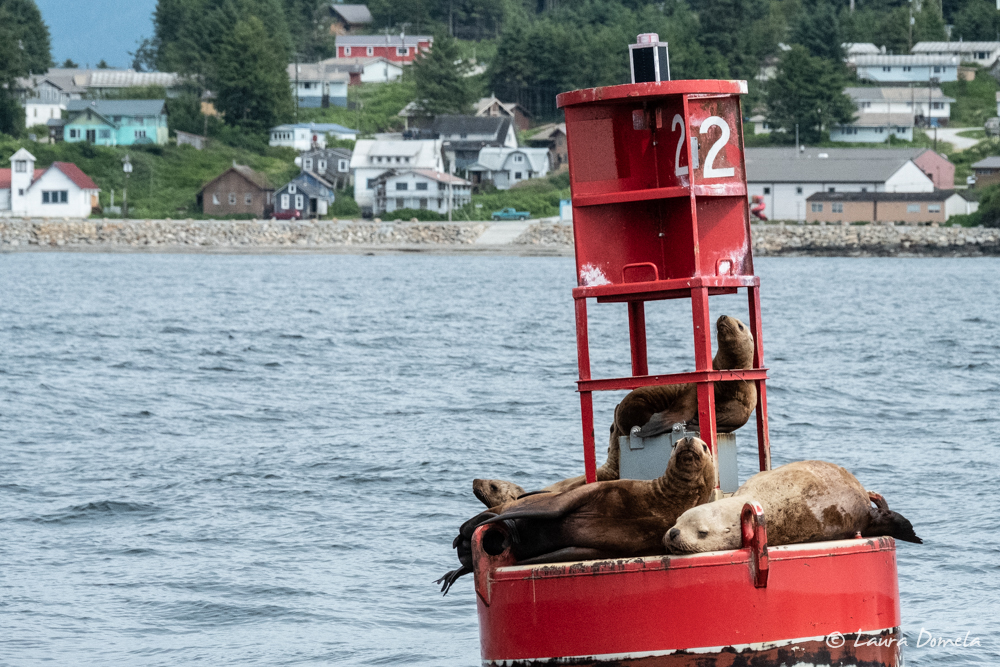 They were not bubble net feeding. They weren't doing much more than spouting, really, which is fine, but we have seen zero bubble net feeding this summer!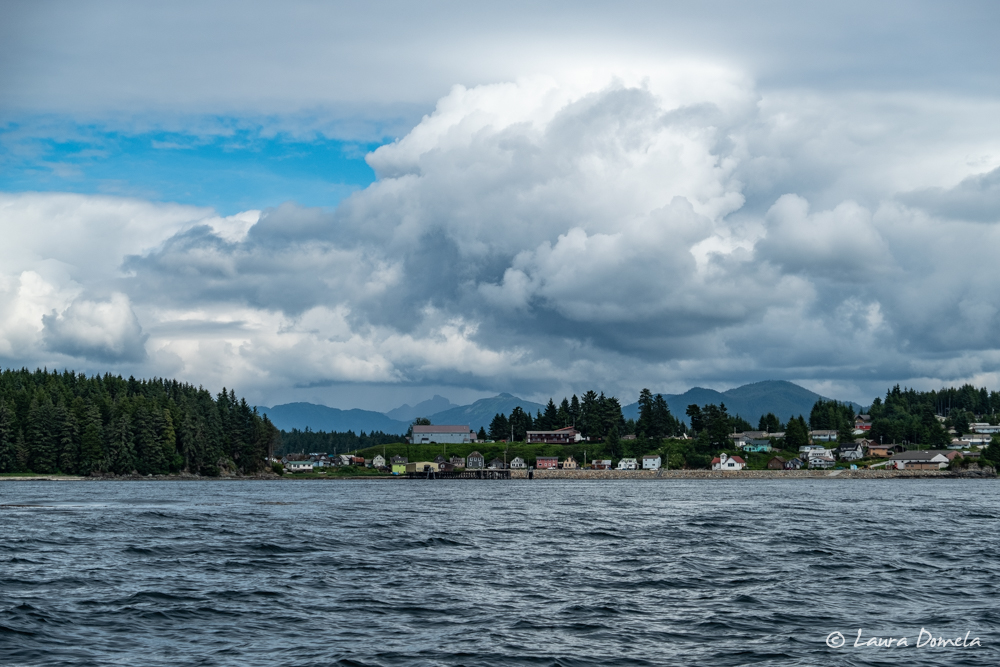 We continued on into the harbor and tied up on the dock. Walking around on the dock shortly after we tied up, we met a guy named Marvin. We got to talking and spent, oh, an hour maybe…chatting about fishing, Angoon, Kentucky Bourbon (he lives in Kentucky and makes his own bourbon when he's not in Alaska), cooking, beekeeping…you name it! Marvin is a fishing guide here at the Favorite Bay Lodge during the fishing season, and on either end of the prime summer months he works as a cook at logging camps. I'd go fishing with Marvin any time!!
We'd originally planned to hop in the dinghy and go explore the enormous inlet here, and maybe even get back to Mitchell Bay since high tide was right about when we got here, but we spent so much time talking to Marvin that we just went out for a quick trip instead, to see what we could see.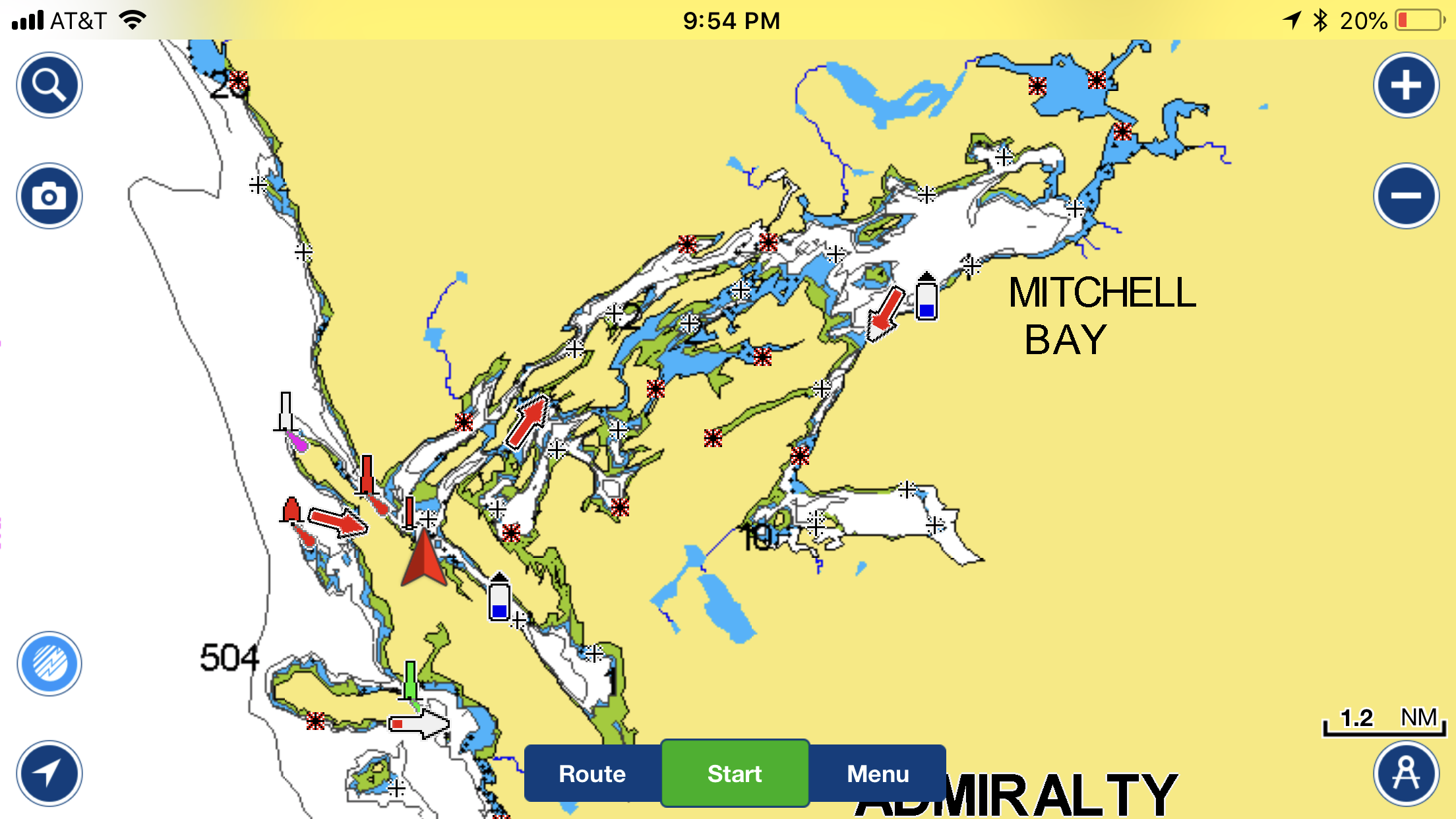 We did learn (from Marvin and from the internet) that we want to go through the narrow part before Mitchell Bay about an hour before high tide so that we have time to explore inside (and so that we don't get caught in the rapids!)
This is right at the beginning of the narrow part, and it was ebbing pretty swiftly: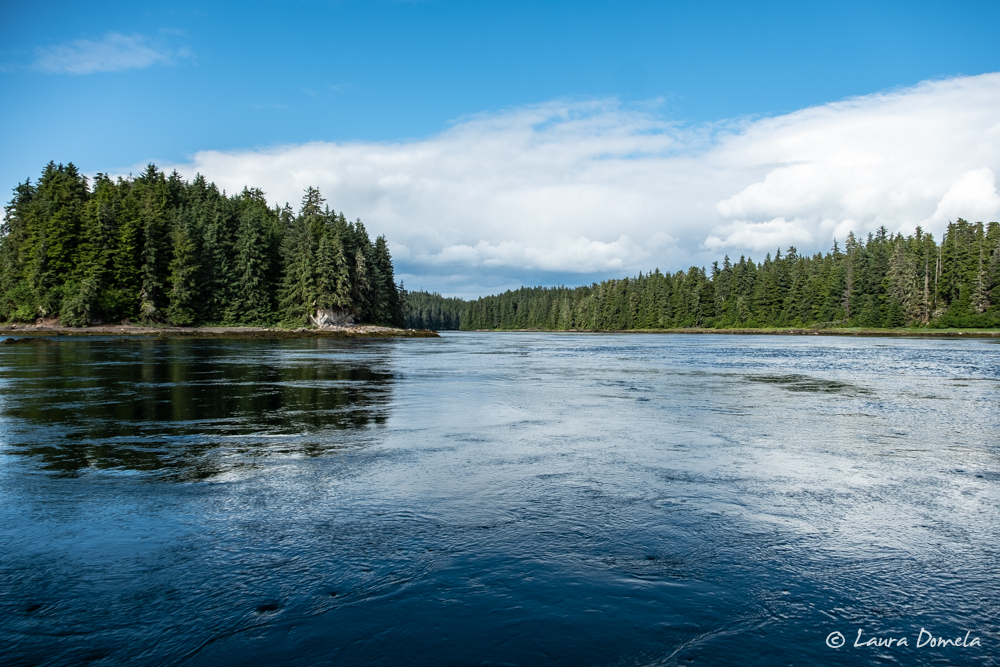 We turned around and explored the rest of the inlet, then headed back into Favorite Bay, where we spotted a brown bear on shore. He noticed us from a great distance away, so I just got a couple of way zoomed in shots before he retreated back into the trees.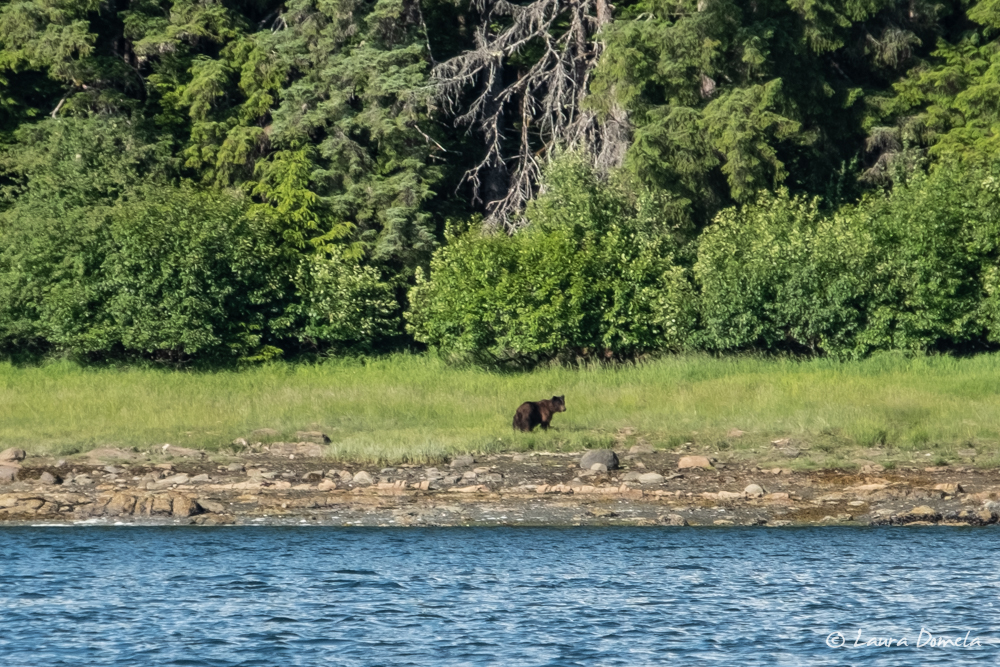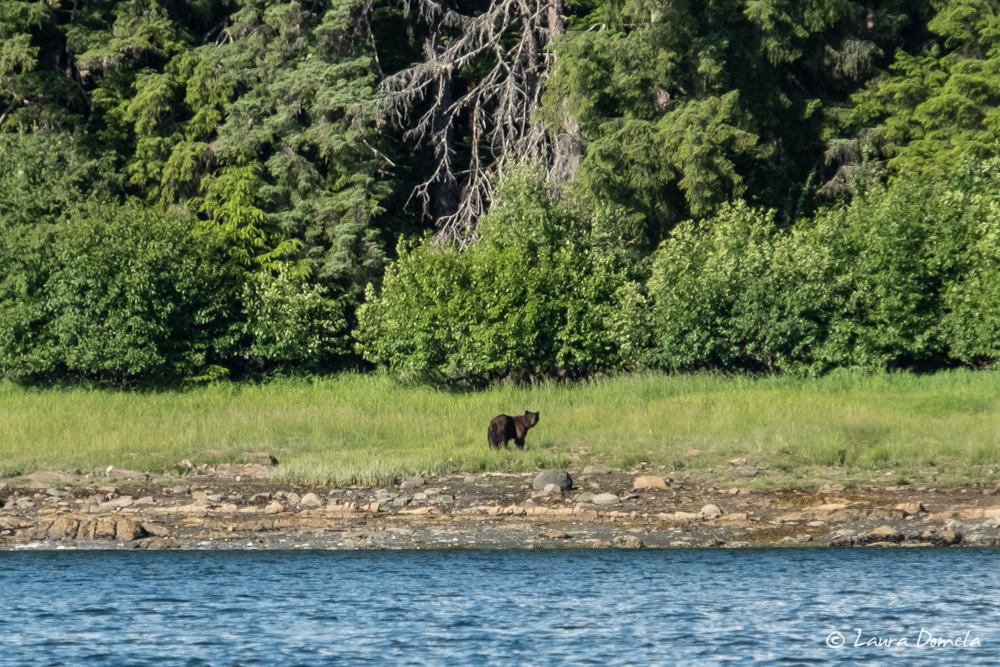 Cool rock formations on shore: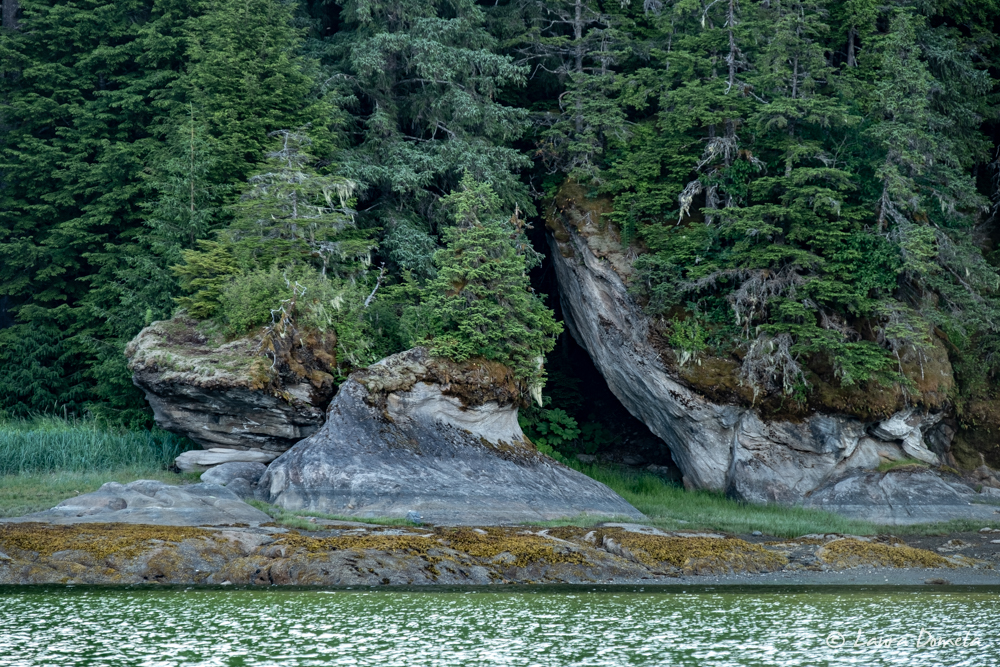 After our dinghy excursion, we made dinner on Airship (halibut with tempura zucchini and mushrooms, again!) and then went for a walk along the road for a bit.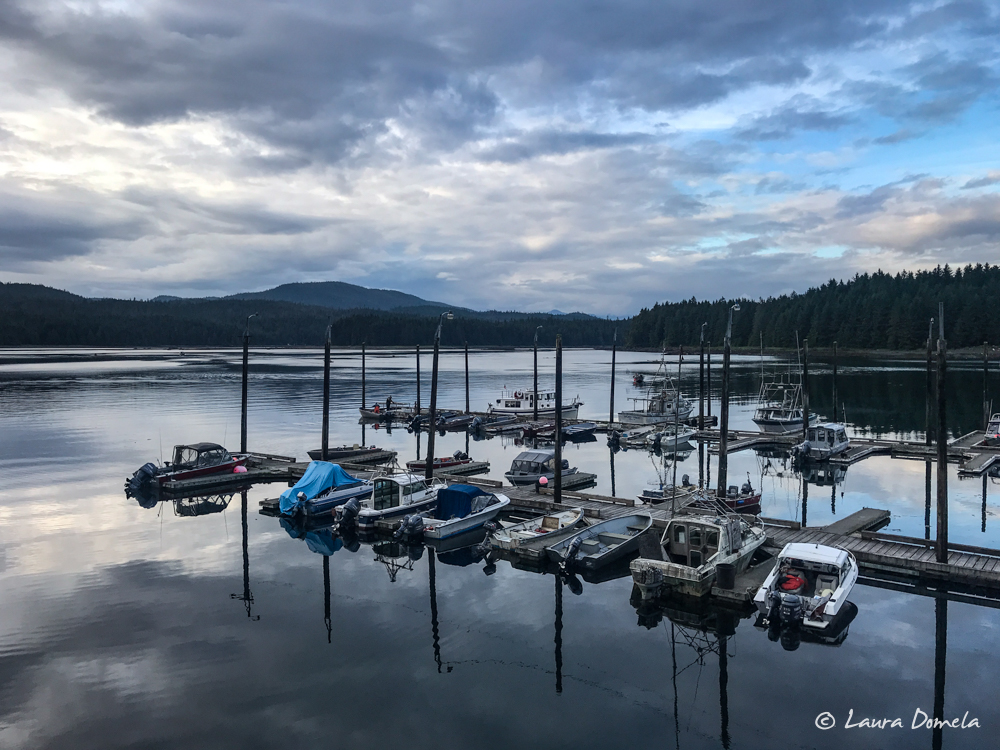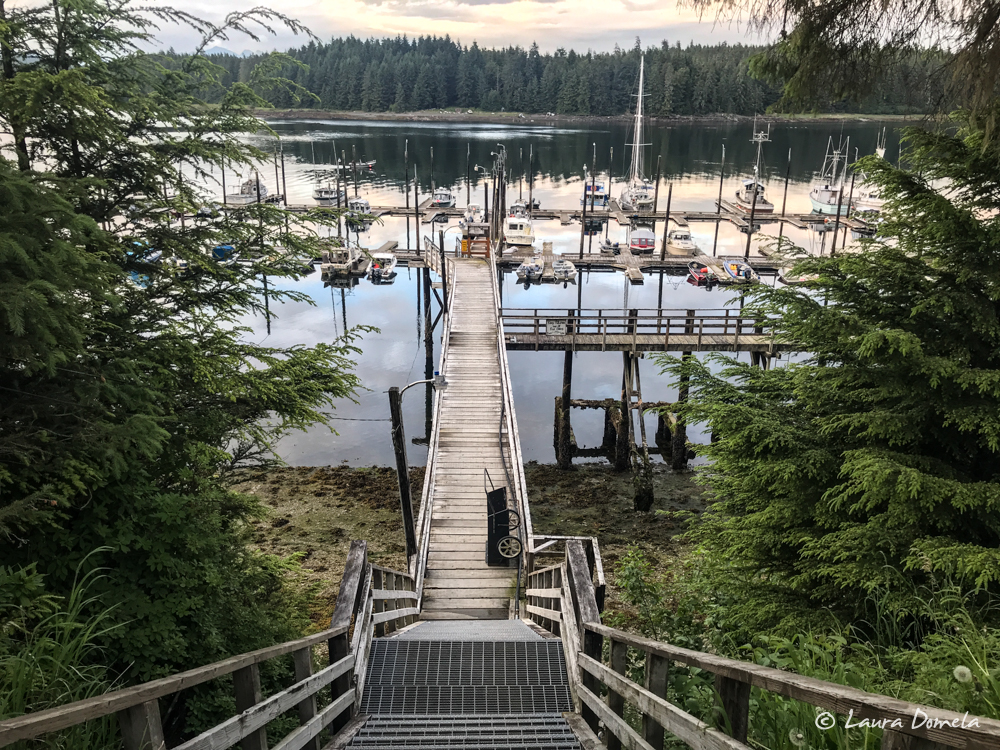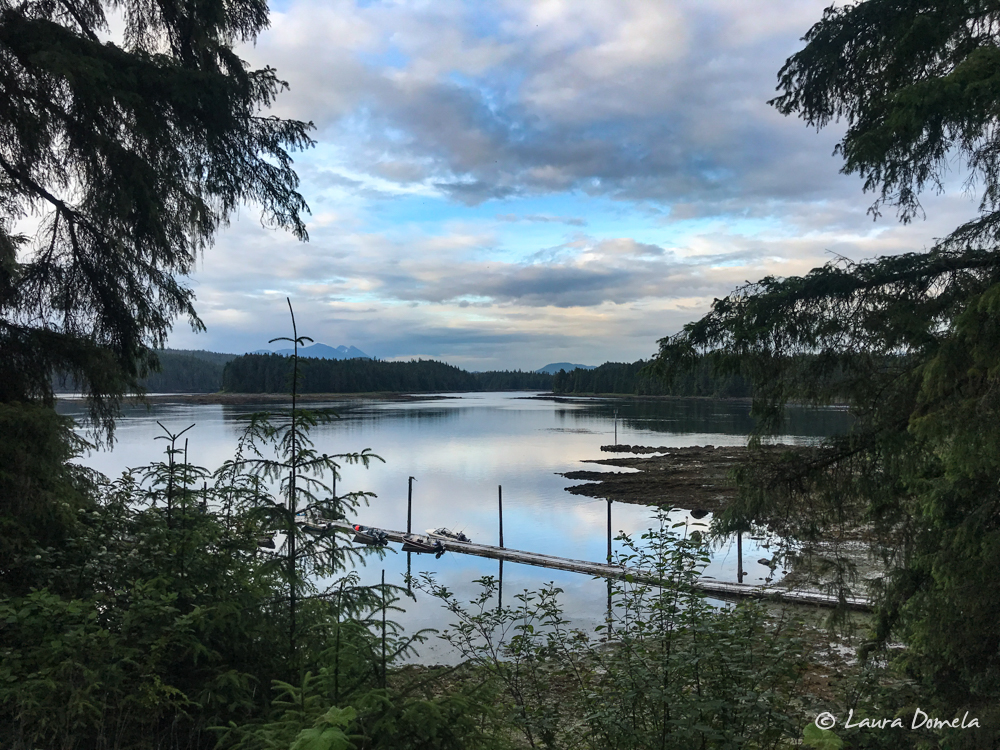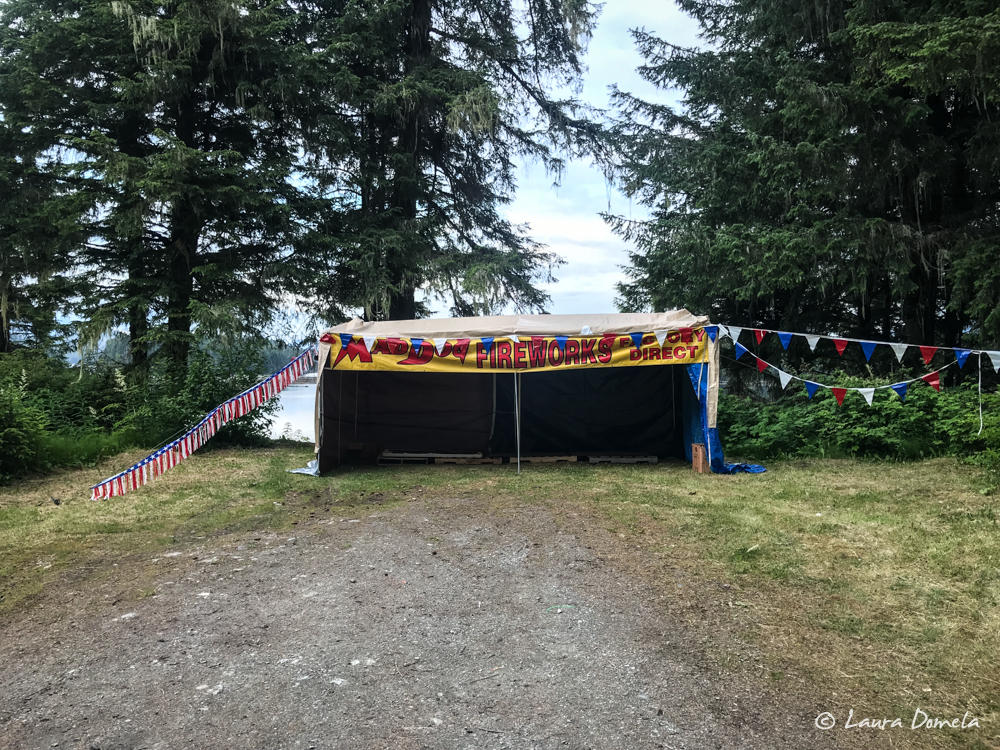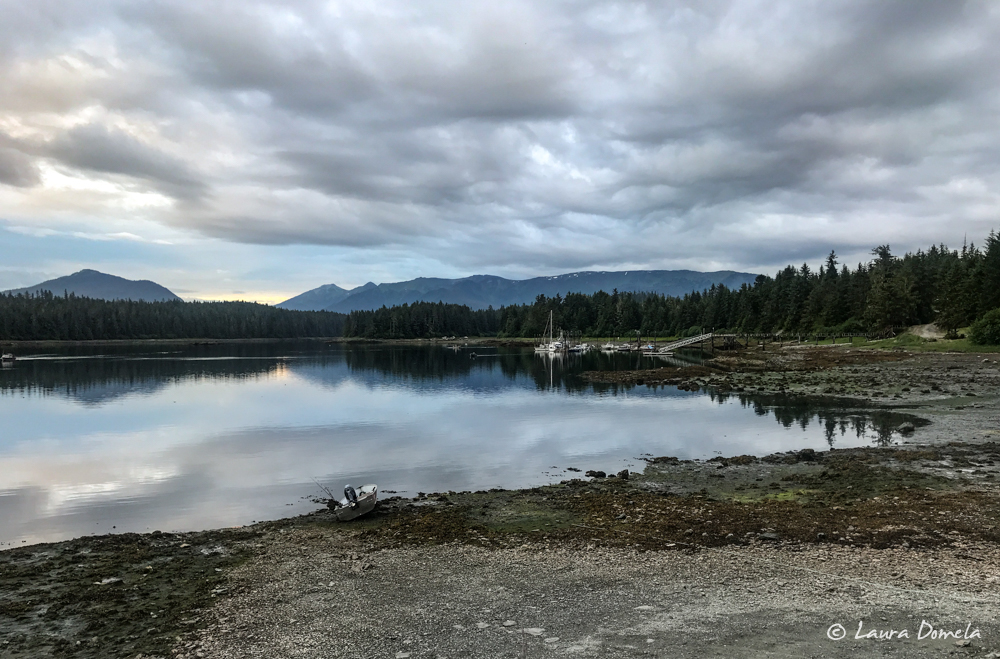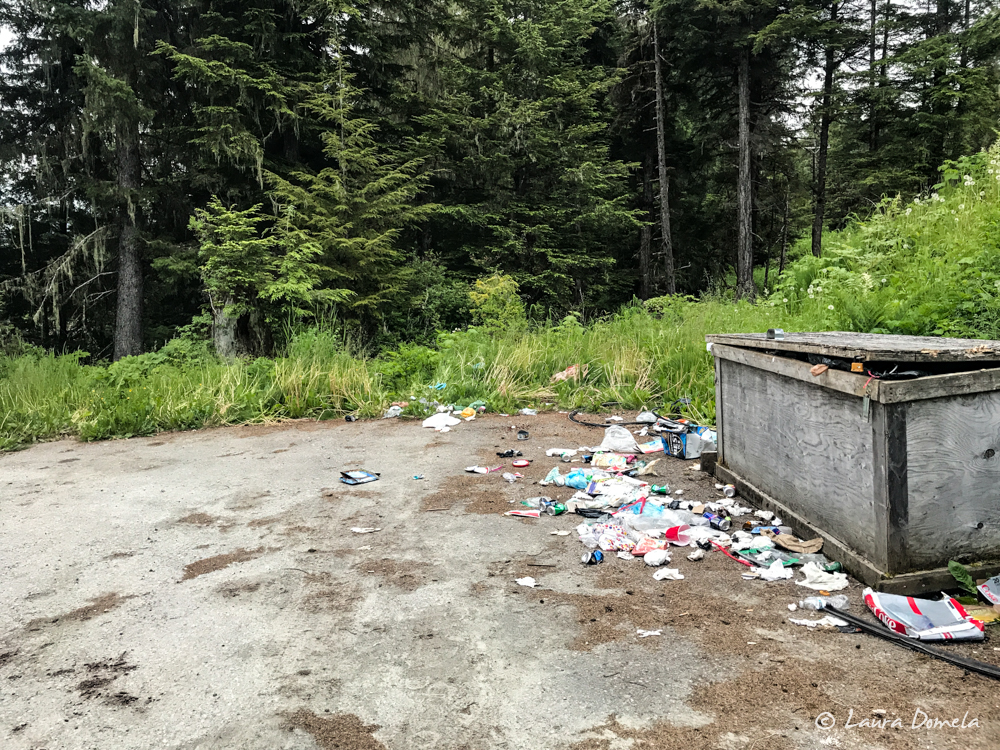 In the morning, we'll probably walk into town (about a mile or so), and then our plan is to dinghy back in toward Mitchell Cove at around 1:00 p.m. High tide is at 3:30pm, so we'll wait to see when we can get in on the early side so we have some time to explore. Then we'll either stay here another night, or if it's early enough, set off for another destination.