When I first came to Alaska, I was unprepared for the scale. Even Southeast—the relatively small portion of the state where I've cruised—is truly vast. Somewhere around 70,000 people inhabit an area that stretches more than 300 miles south to north and a hundred miles west to east. Even a few miles from the population centers, it's easy to find solitude. By solitude, I don't just mean a lack of people, but a total lack of human influence. No structures on shore, no powerlines in sight, few airplanes above. Silence, save for birds calling, wind rustling trees ashore, and the occasional whale sounding in the distance.
The topography is as dramatic as the solitude. Snowcapped peaks are visible almost everywhere (when the weather is decent). Mount Constitution, the highest point in the San Juans and a dramatic landmark, is 2,398 feet high. Here, the hills are higher and the peaks just a few miles inland often rise above 5,000 feet. Mount Constitution wouldn't even be named.
The slow trip by boat up the Inside Passage eases us into this magnificent wilderness. The scenery gradually gets more dramatic and civilization thins out. Guests have a different experience: a couple hours on a 737, which, needless to say, doesn't have the same effect. One of the biggest surprises in my boat ownership experience has been how rewarding it is to share the this lifestyle with others, particularly those who couldn't otherwise experience Alaska by small boat. Their sense of wonder, the excitement they get from first glimpsing an iceberg or seeing a whale, is intoxicating.
Which brought up a dilemma: my brother Ben and his girlfriend Tiffany wanted to visit, but they could only spare a day from work. They'd arrive late in the morning on a Friday and depart Sunday afternoon. Where to go?
Commercial air service was the first requirement, so that narrowed down the list to Ketchikan, Wrangell, Petersburg, Juneau, and Sitka (Gustavus doesn't have daily jet service). Most visitors want to see glaciers, so that narrowed the list to Petersburg and Juneau. Sawyer Glacier, at the head of Tracy Arm, is something like 80nm from Juneau. Too far for a weekend. Petersburg it was!
They arrived on schedule, and after a quick trip to the grocery store, we headed for Le Conte Glacier. We've written about Le Conte several times before, but here's the short story: it's just 22 nautical miles from Petersburg, it's the southernmost tidewater glacier in the northern hemisphere, and despite ominous warnings in the cruising guide, it is easy to visit.
The weather had been warm and sunny for the previous several days, and I worried the ice would be too thick to get close enough to see the face of the glacier. Just floating around among icebergs is an incredible experience, but it's always more impressive to actually see the source of the ice.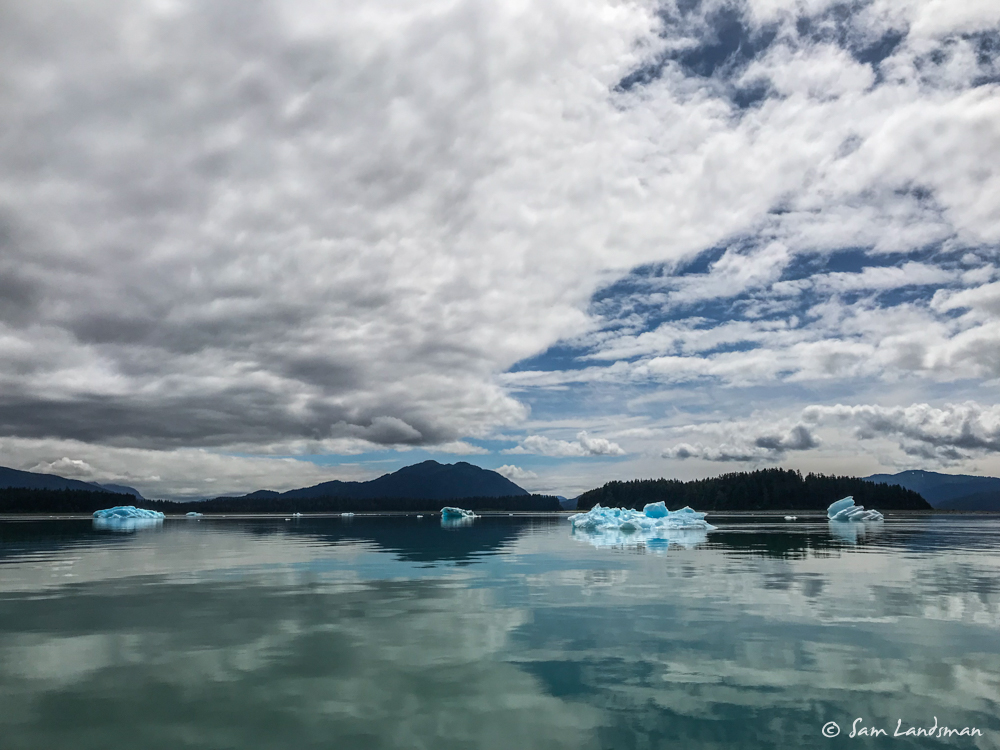 On the way in, we passed a bunch of big icebergs.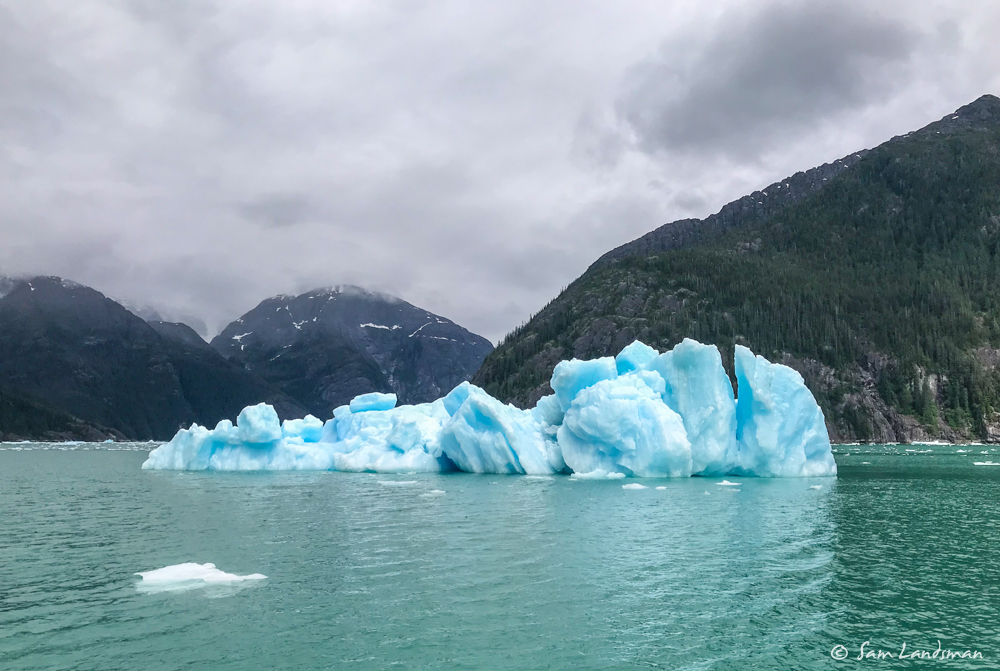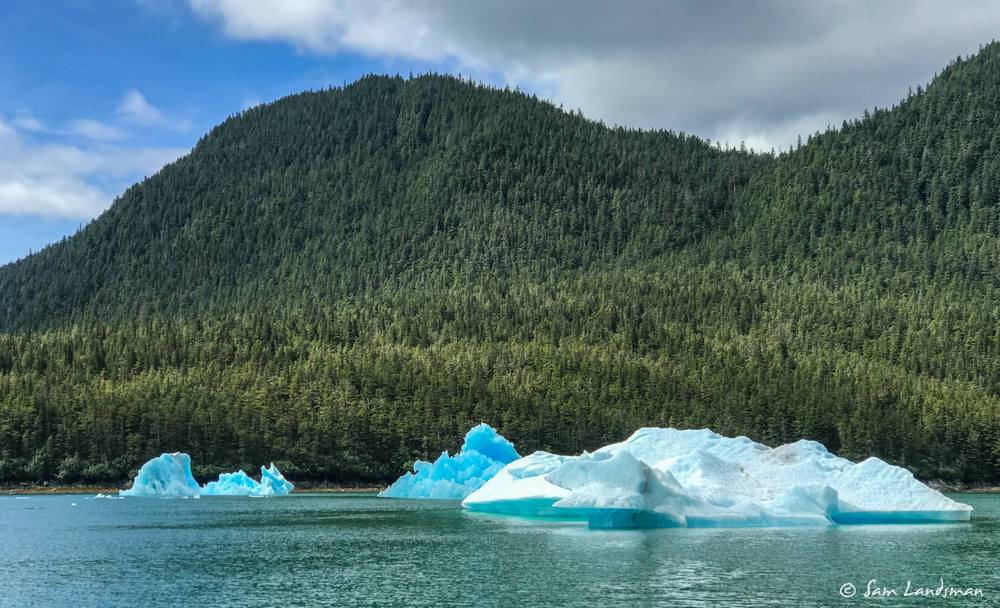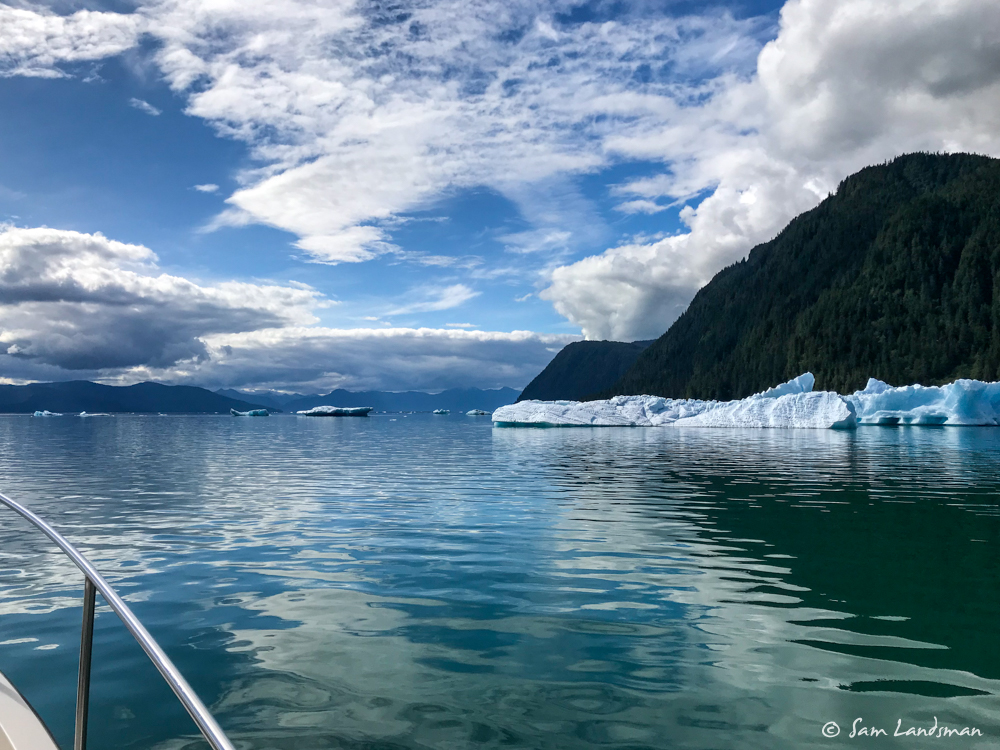 And then a strange sight: really fast moving ice! No, wait…are those Sea-Doos? Yep, that's a group of expedition-equipped Sea-Doos!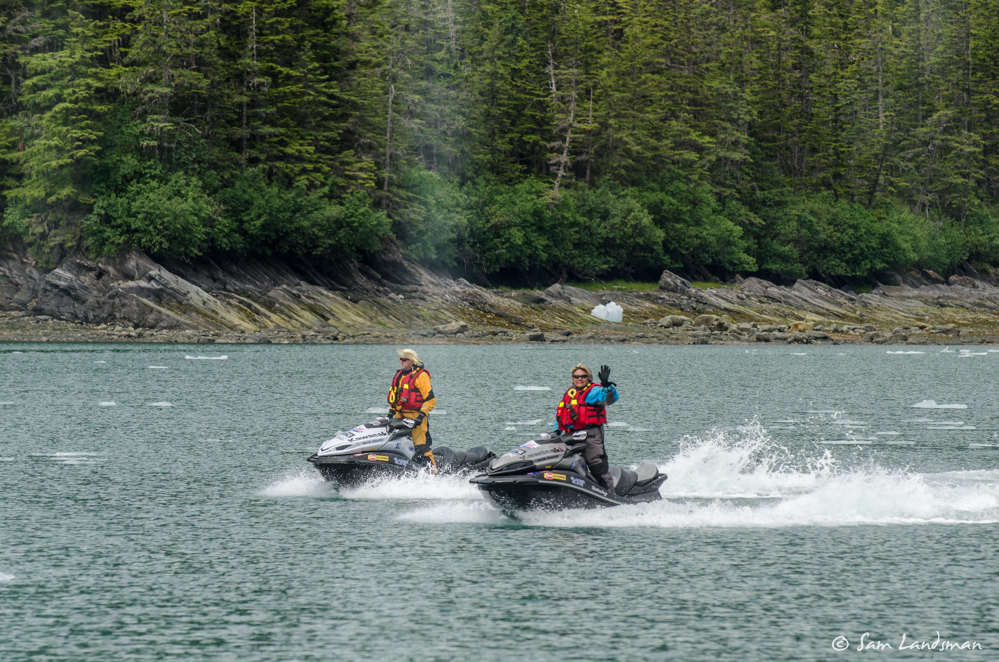 As we neared the glacier, the temperature and ceiling dropped and the wind picked up. We picked our way through some ice and eventually the face of Le Conte Glacier came into view. Magnificent!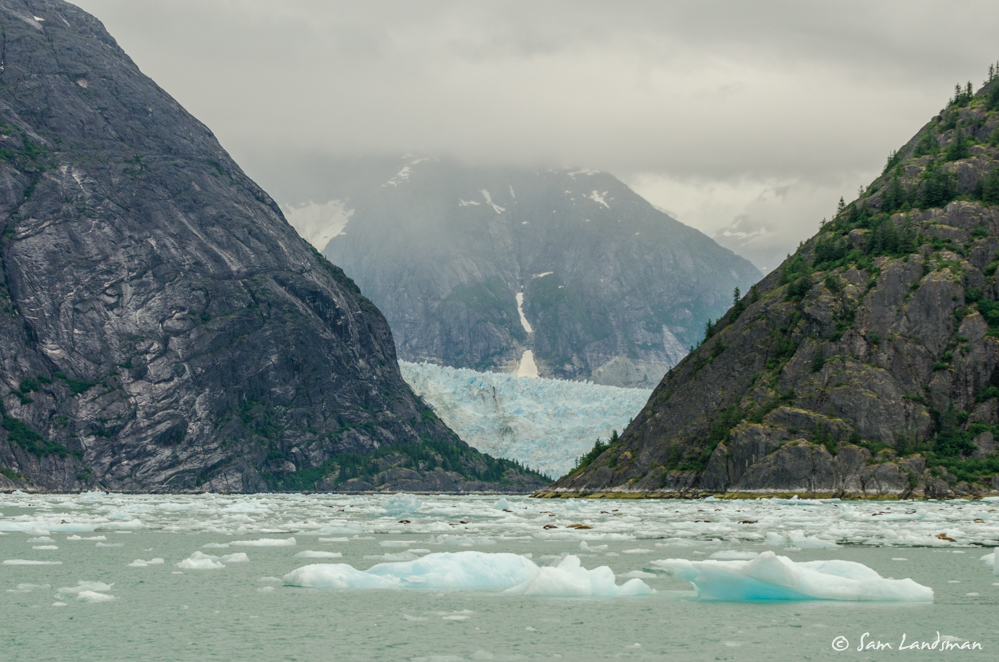 Ben and Tiffany got in the dinghy and headed closer.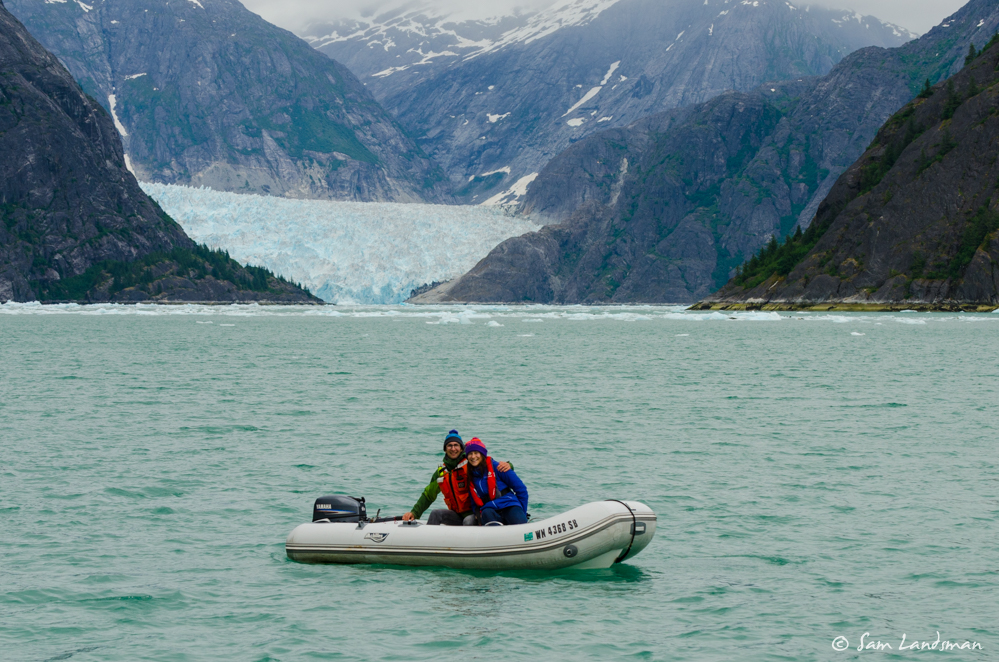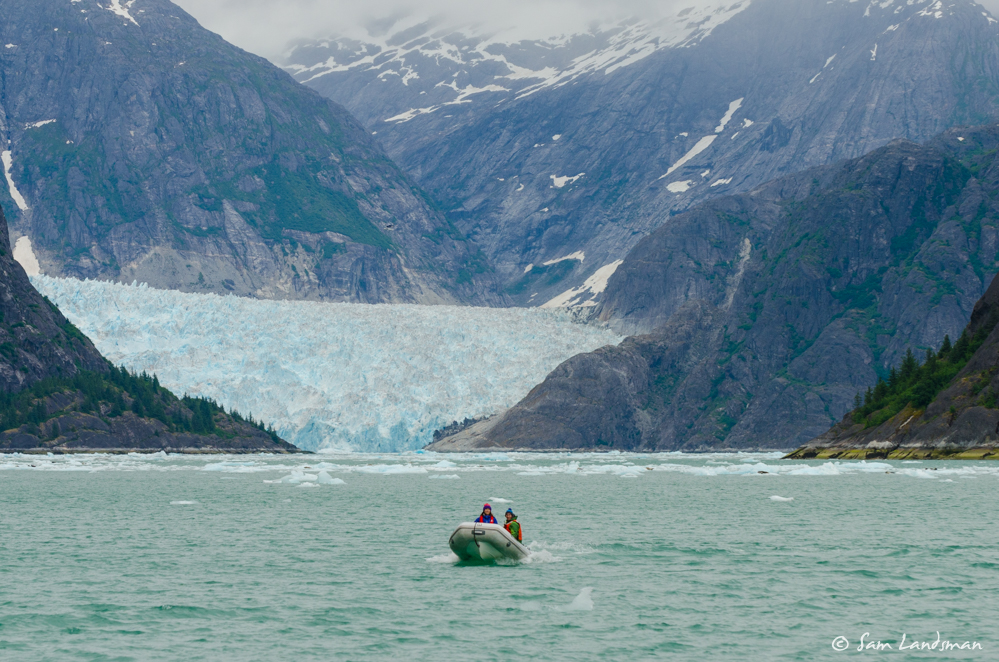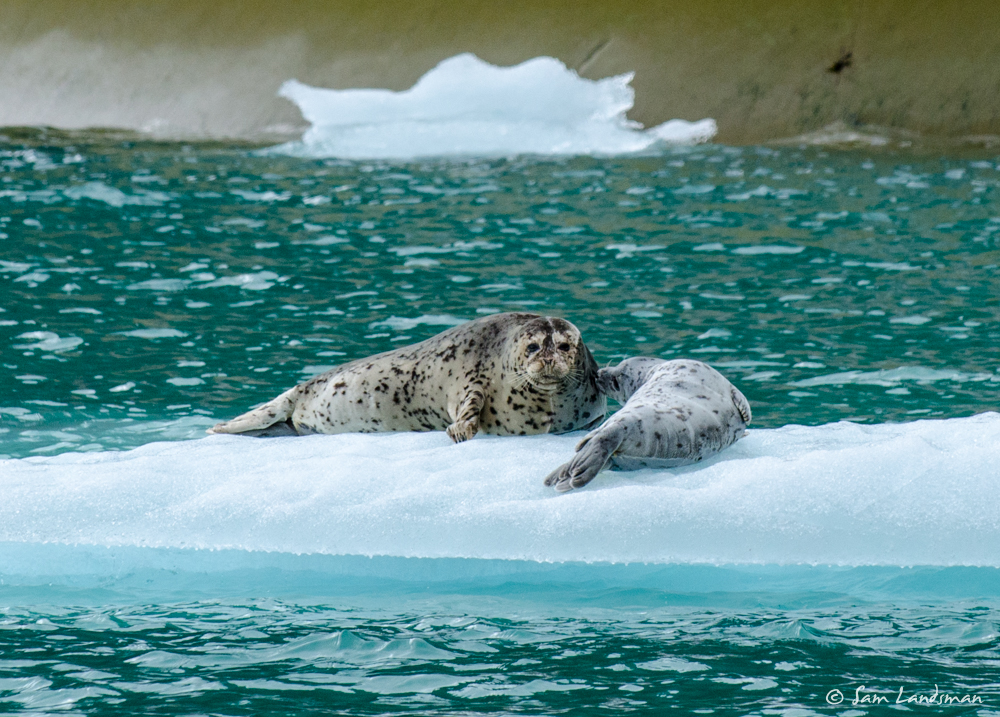 Meanwhile, I flew the drone…right into the burgee staff at the bow. The wind and current were moving the boat pretty quickly, more than one knot. I positioned the bow into the wind and current and thought I had stopped the boat. But when the drone took off, it held position and the boat kept moving. One of the props clipped the burgee staff and the drone pirouetted towards the water. Somehow, it recovered, and sounding like an irate insect, roared skyward with only partial control. For the next 10 minutes, I wrestled with the controller trying to bring the drone back home. Messages like "atti mode" and "maximum motor speed exceeded," with corresponding alarms, kept popping up. Every time I got the drone close, it got blown away, suffering the effects of reduced thrust. Somehow, I eventually managed to snag it out of the air. An inch from one prop blade was missing. Unfortunately, I couldn't find the spare props anywhere aboard, so there might not be any more drone pictures until Ketchikan…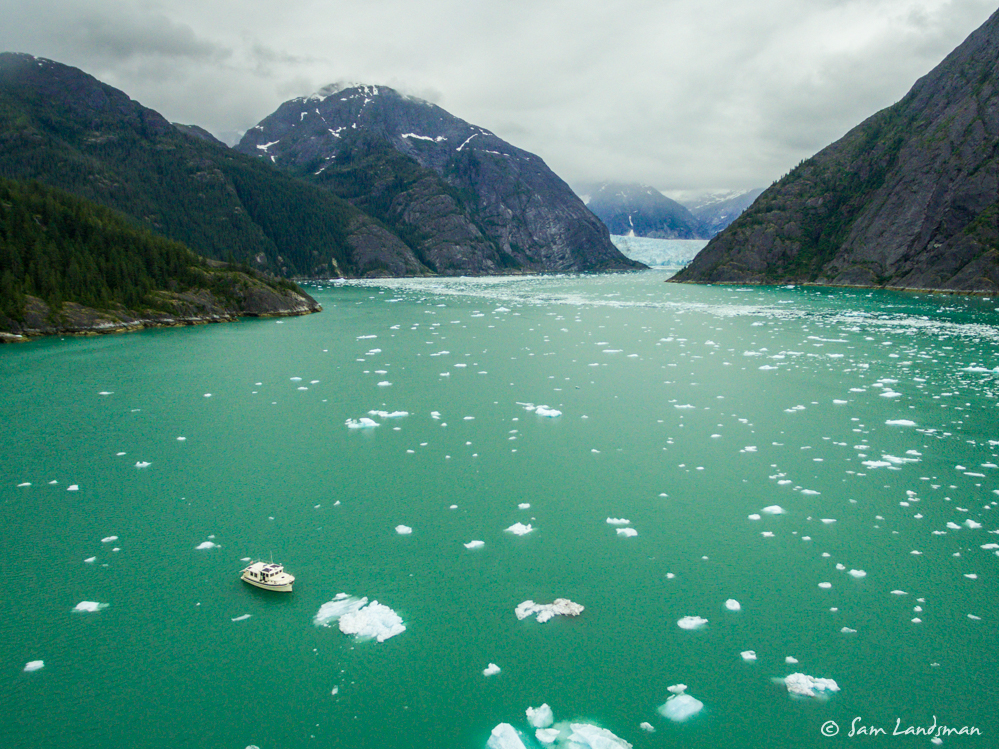 After an hour at Le Conte Glacier, we began heading out. The ice had closed in, and we had to pick through some larger chunks. No problem at about a half-knot.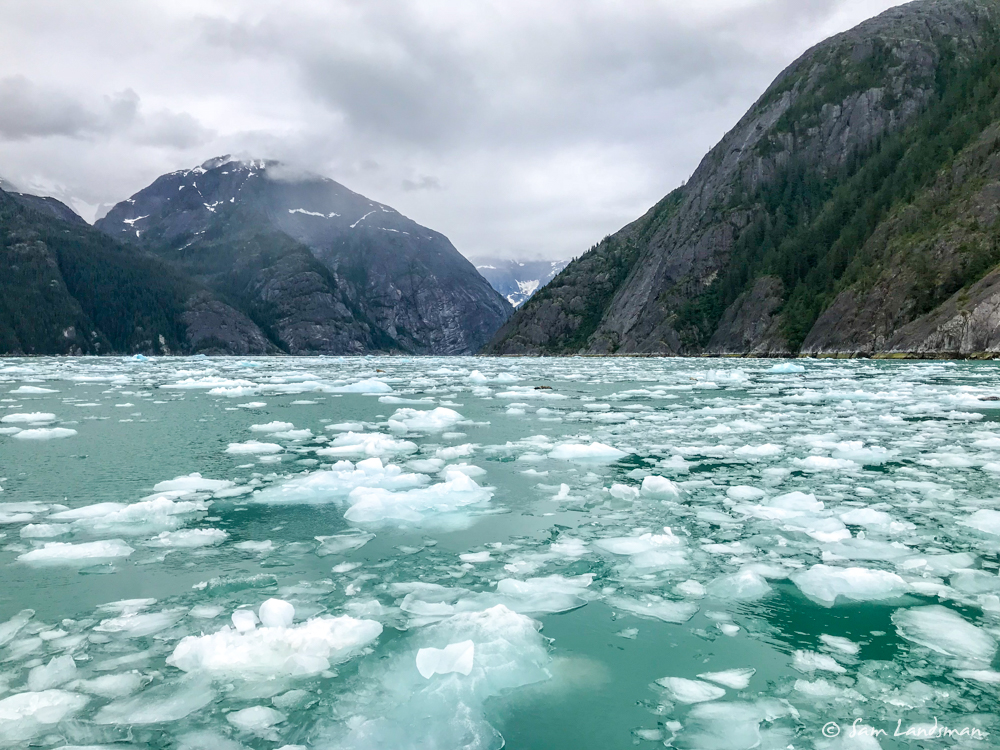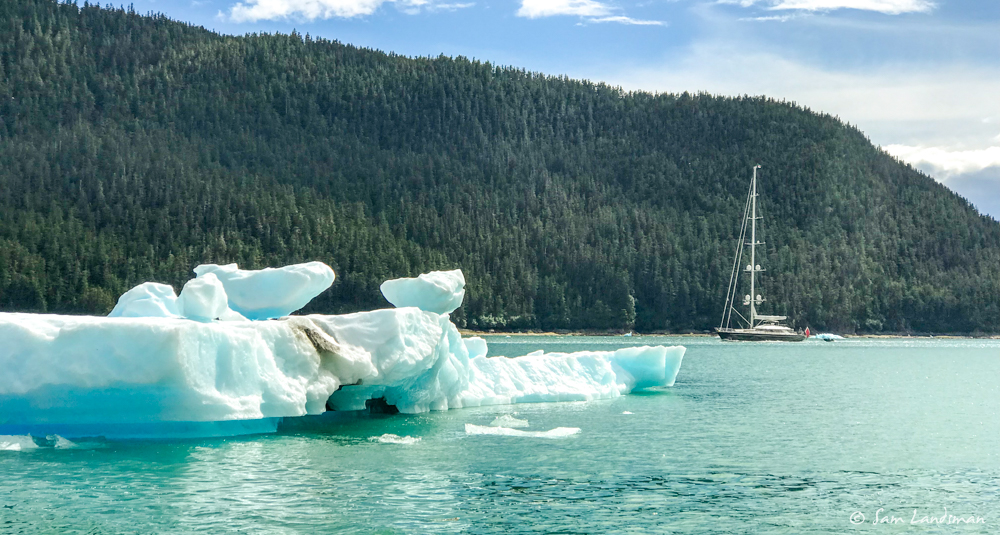 The computer estimated our arrival in Thomas Bay at about 8:00 p.m., late but acceptable. But as we were passing Brown Cove at 6:00 p.m., conditions were perfectly calm. This is an exposed anchorage almost due east of Petersburg that I'd never used before, and it was too tempting. I set the anchor in 70 feet of water with tons of swinging room, launched the dinghy, and we set off exploring.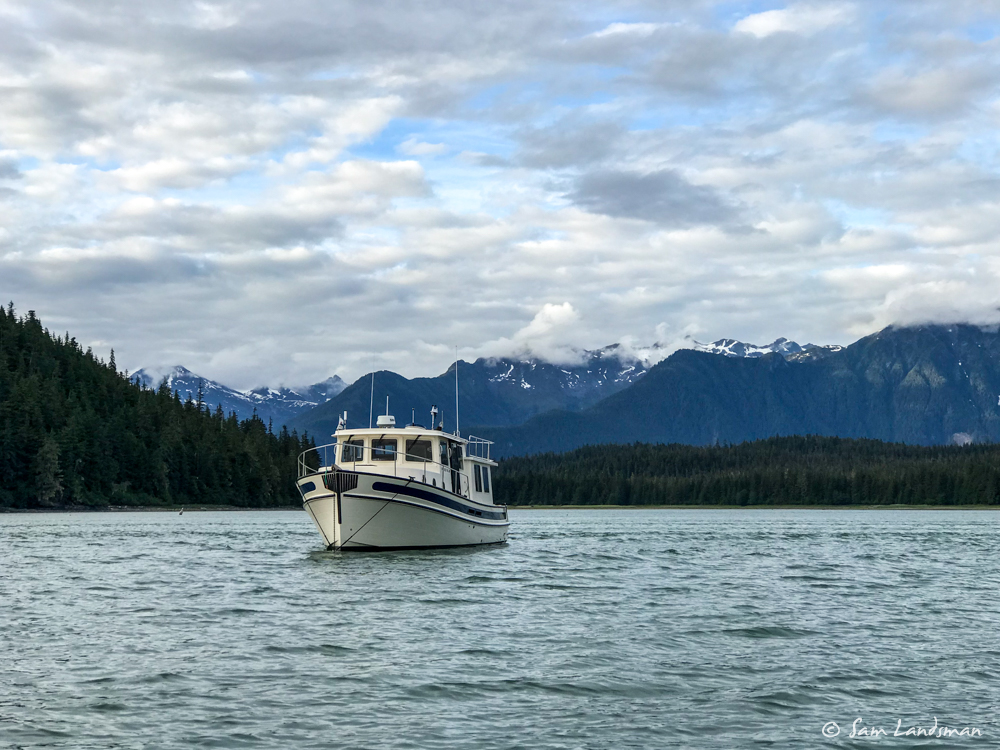 The nearby Muddy River looked like it might be interesting so we went that direction. A substantial homestead ashore surprised us. Unfortunately, there wasn't enough water to get the dinghy past the house.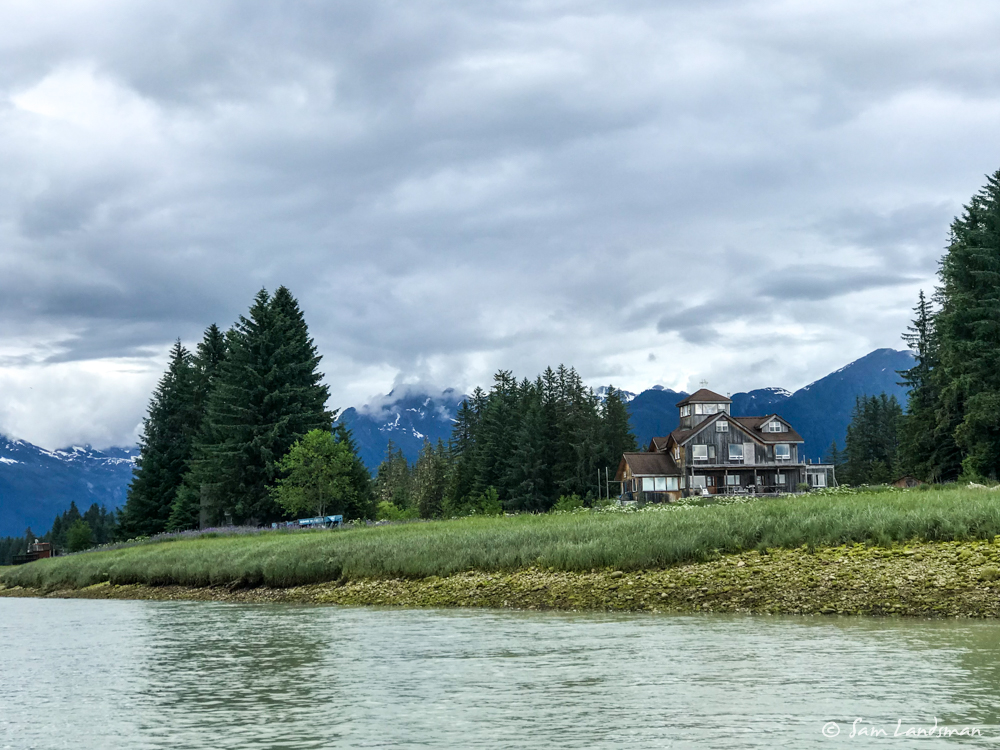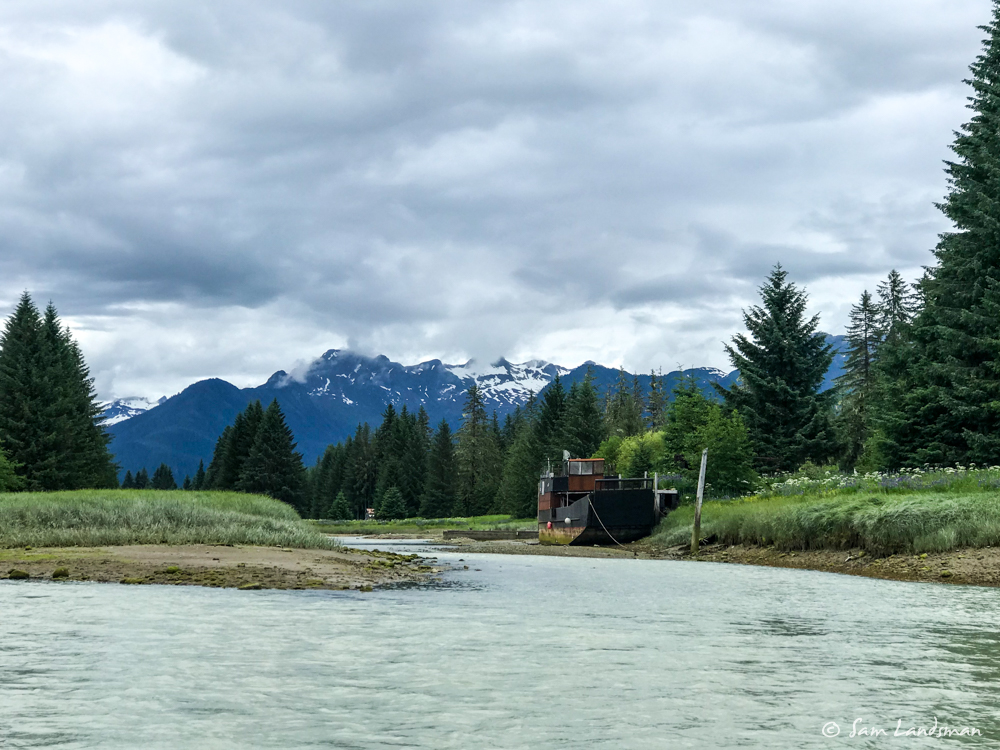 Then we headed ashore at Brown Cove, where we found a dilapidated shack with a collapsing travel trailer. Based on the dates of items inside, it looked like last habitation was sometime in the early 2000s.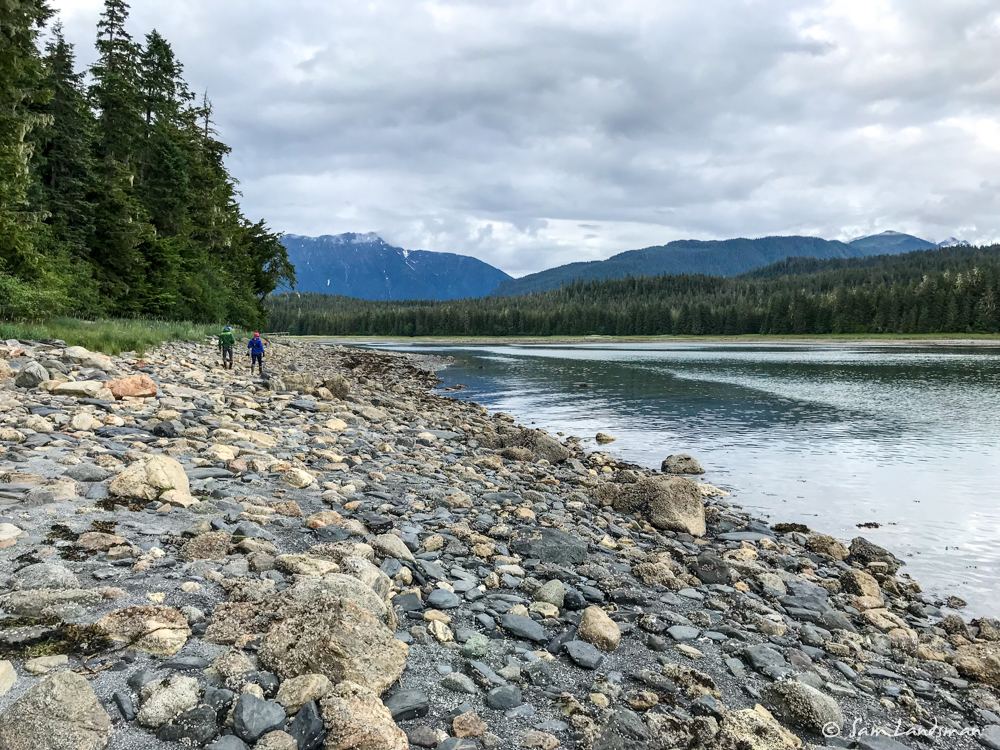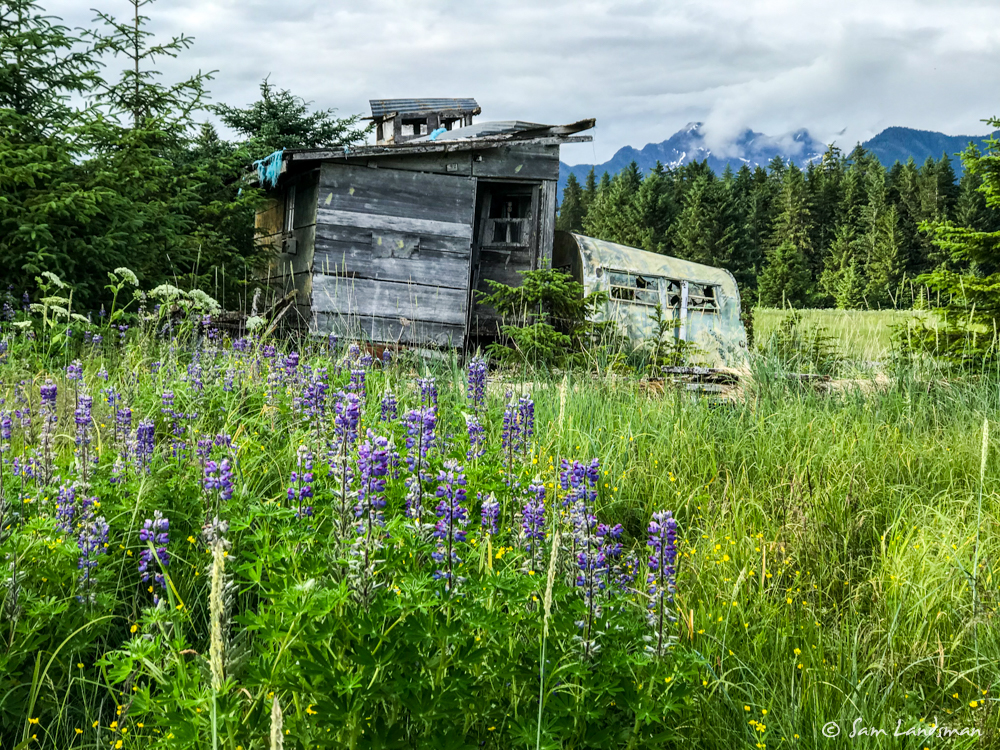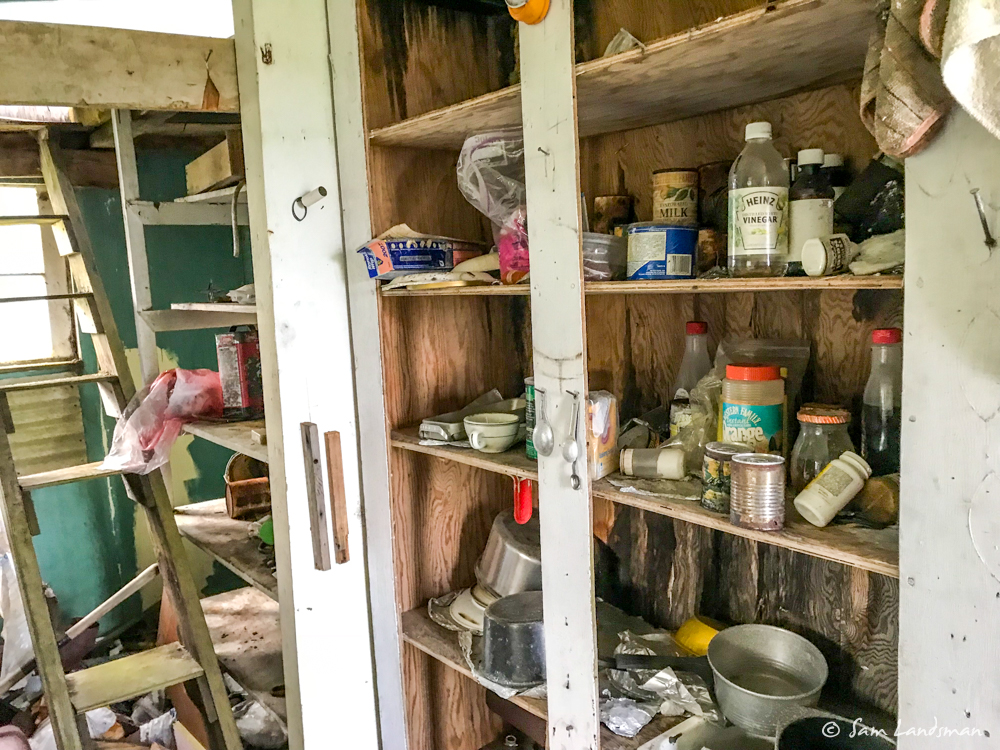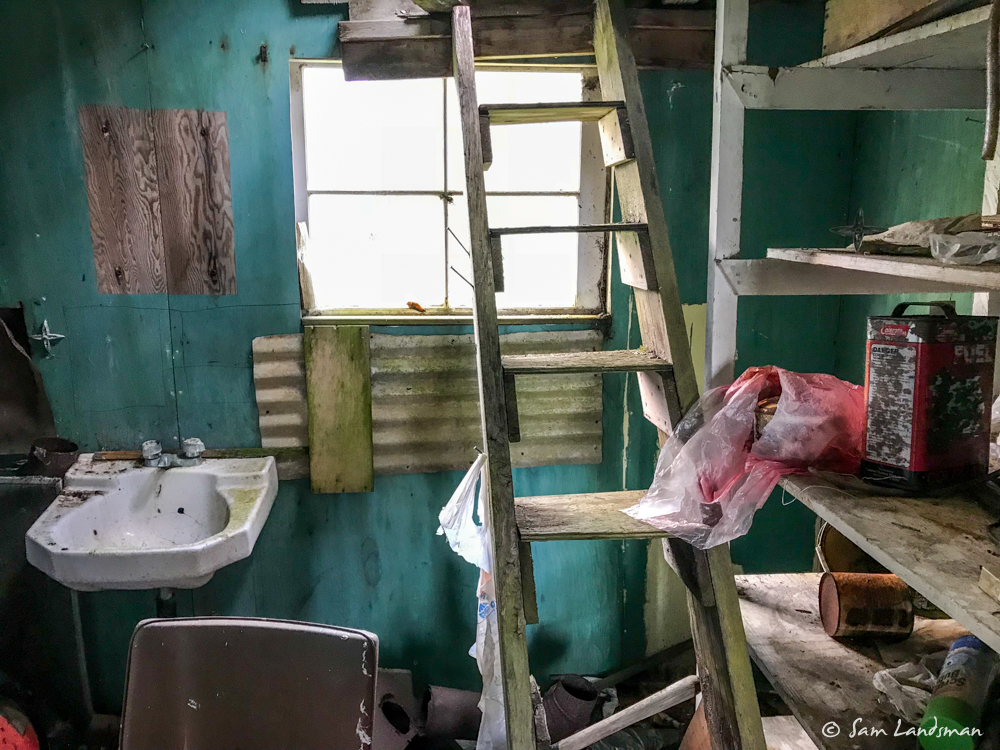 Overall, Brown Cove was a pleasant surprise. Good holding, lots of swinging room, scenic, a few things on shore worth exploring, good cell service. In settled weather, it's a nice alternative to being in Petersburg!
The next morning we headed for Thomas Bay. I wanted to try anchoring in Scenery Cove (the guide book doesn't recommend it) and take Ben and Tiffany on the Cascade Creek hike.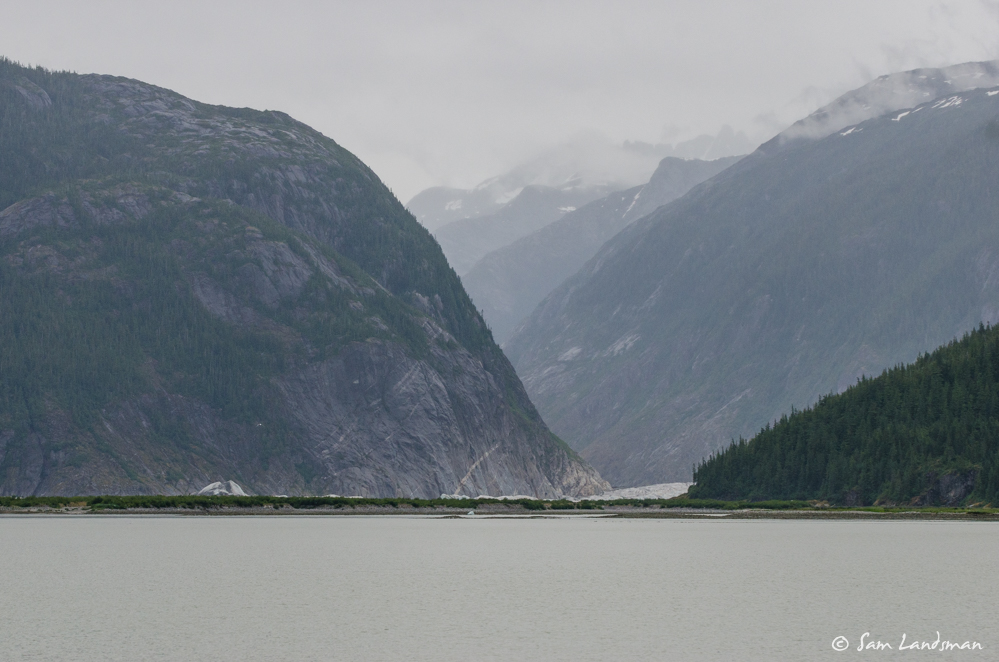 Anchoring in Scenery Cove turned out to be delightful. It's larger than it looks on the chart, with plenty of room for 5-6 boats. It's about 100 feet deep, but the bottom is fairly flat and has good holding. And it's aptly named! Much more scenic than nearby (and much more popular) Ruth Island Cove.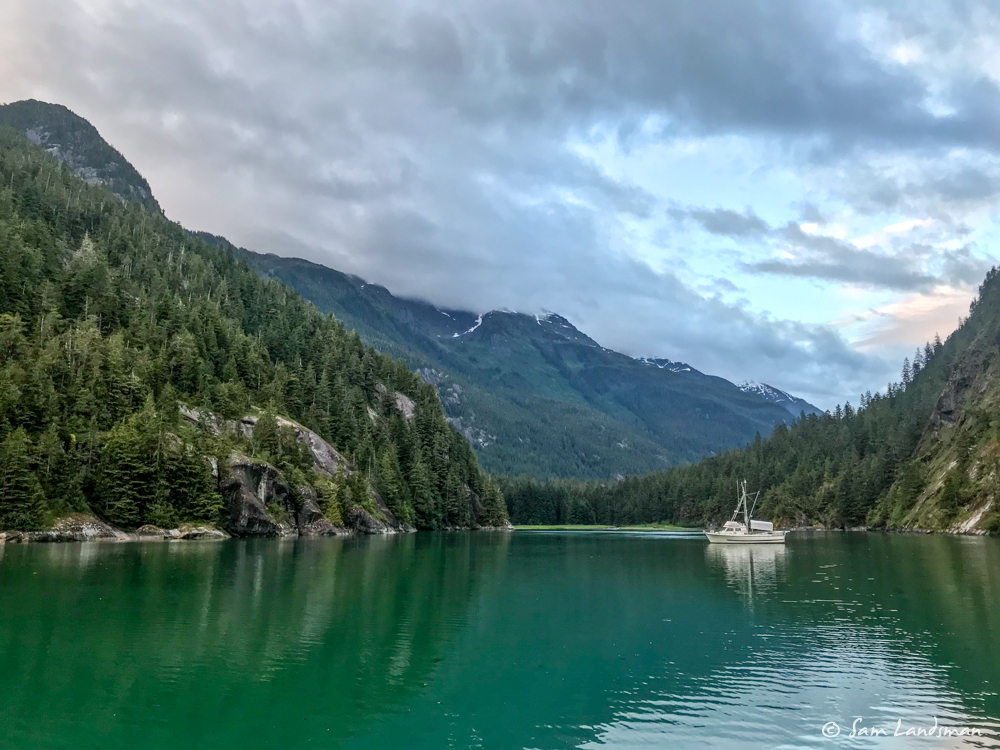 After breakfast, we dinghied six miles to the Cascade Creek trailhead. The first half mile of the trail are in good condition—gravel, nice stone stairs, a good bridge. The trail leads past a waterfall, then across Cascade Creek.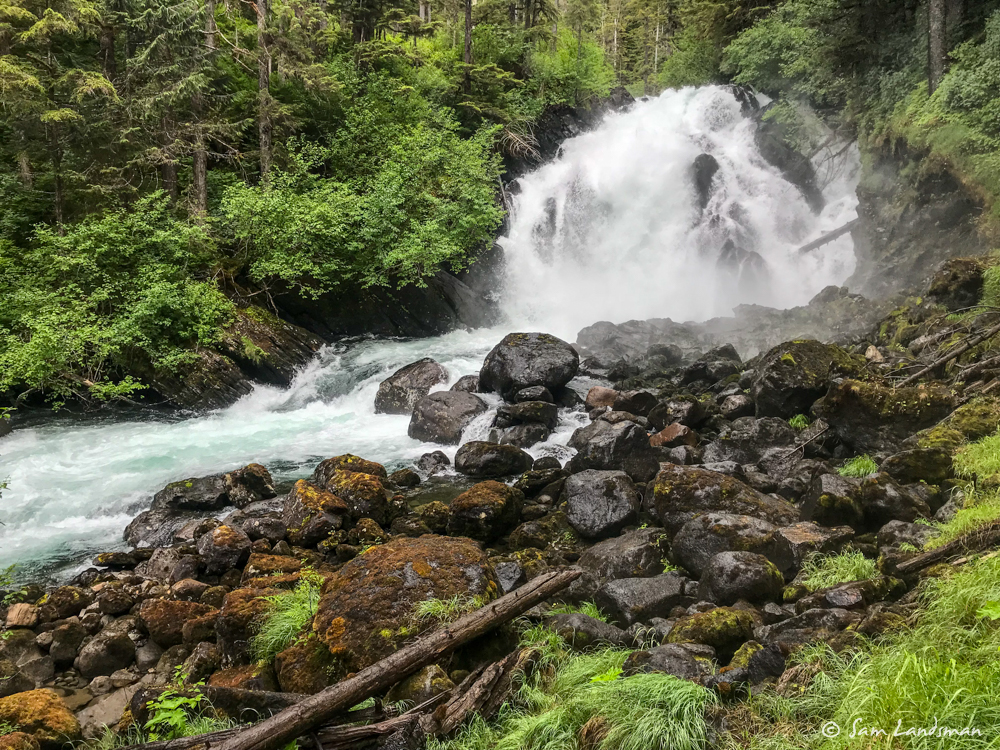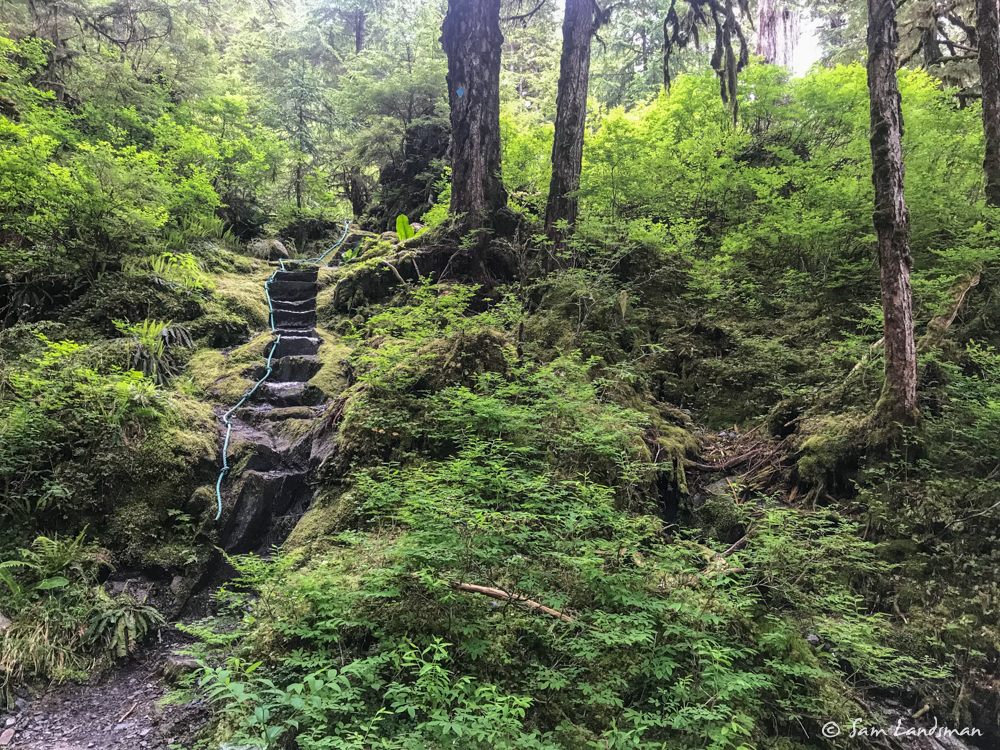 Beyond the first half mile, the trail is pretty rough. Even after a week of dry weather, it was muddy in some places. Rudimentary bridges—really just half logs with netting for grip tacked on—span some of the deeper gullys. Roots crisscross the trail, waiting to trip you. In the boggy places, slippery, rounded boardwalks provoke falling.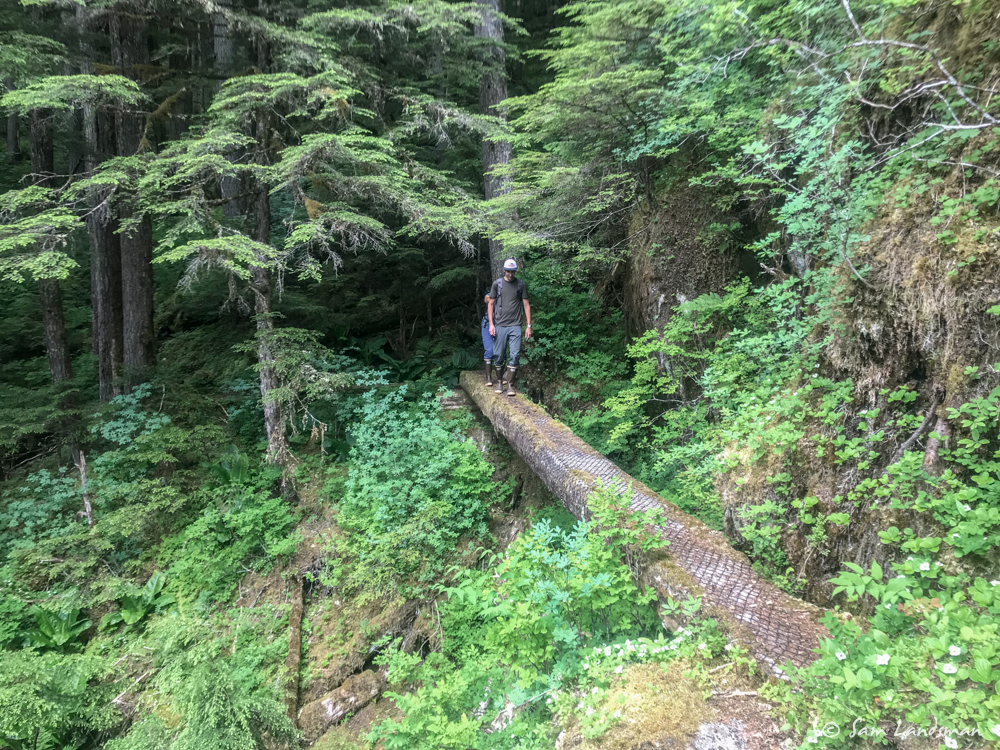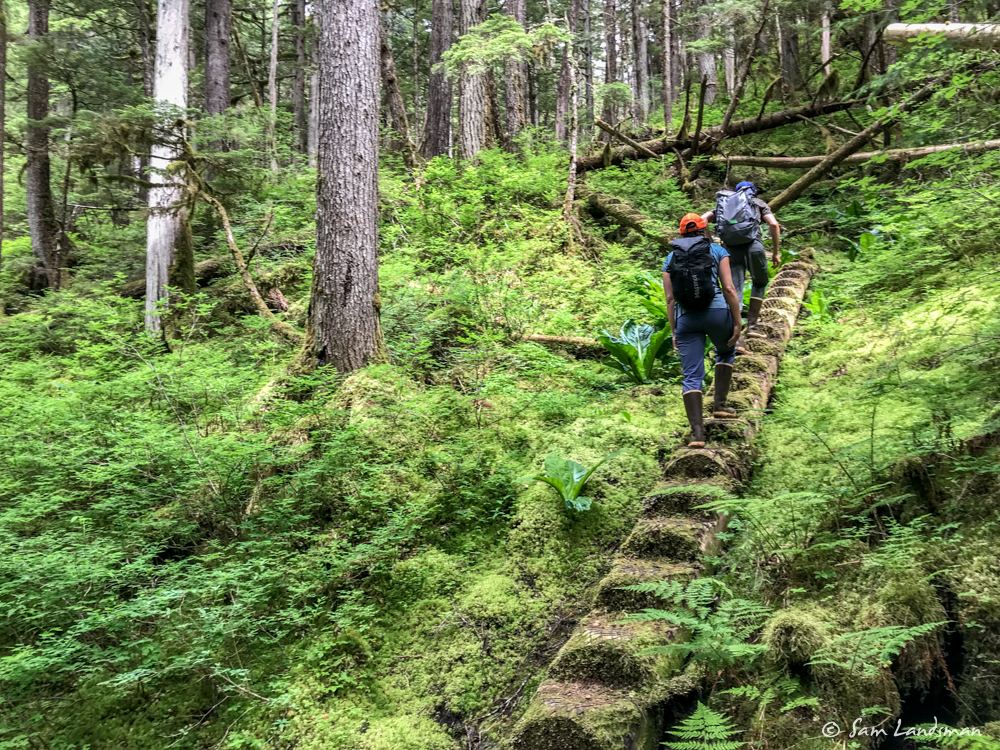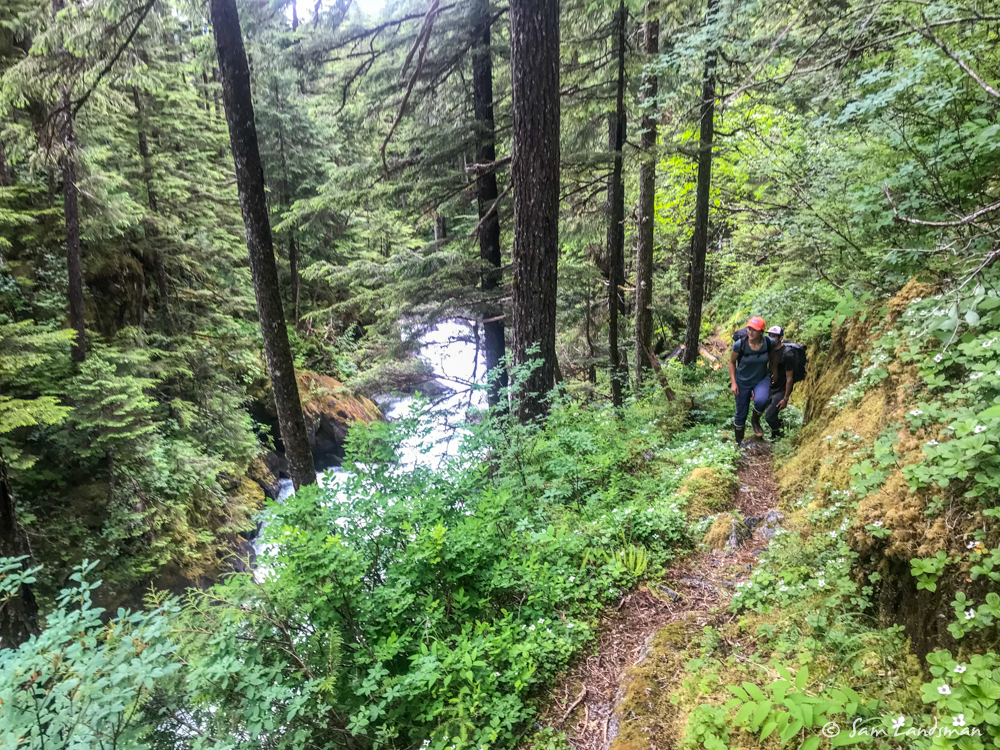 But it's worth it! About two and a half miles in (and ~1600 feet up), you arrive at Falls Lake. The U.S. Forest Service has a few rowboats here, and we rowed across the lake, then continued hiking up to a shelter and then Swan Lake.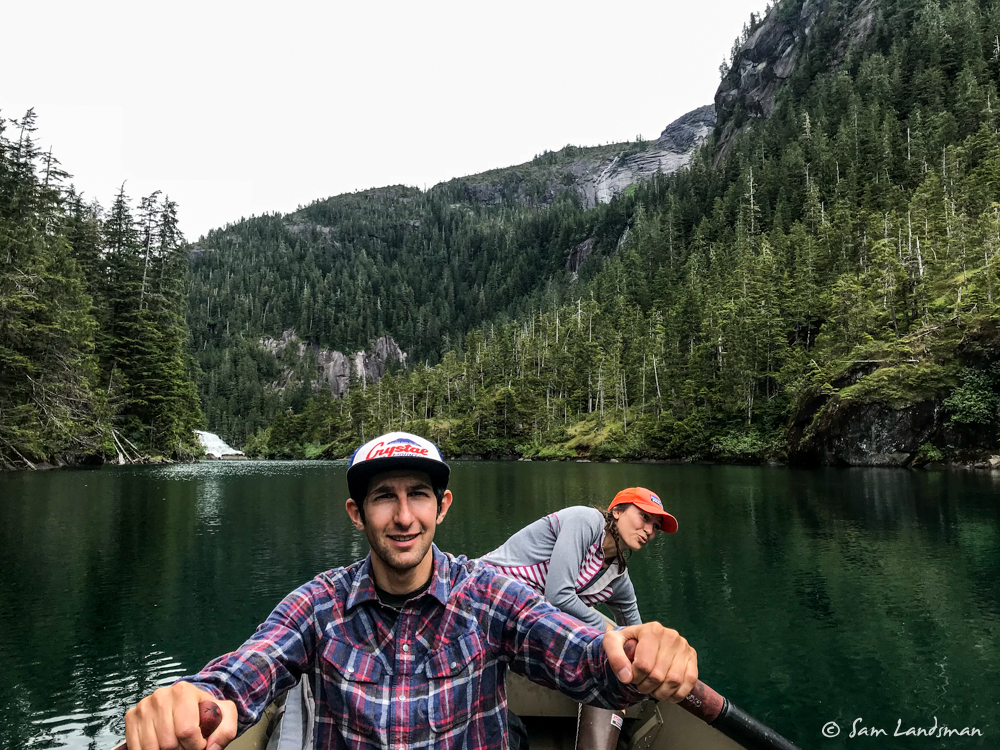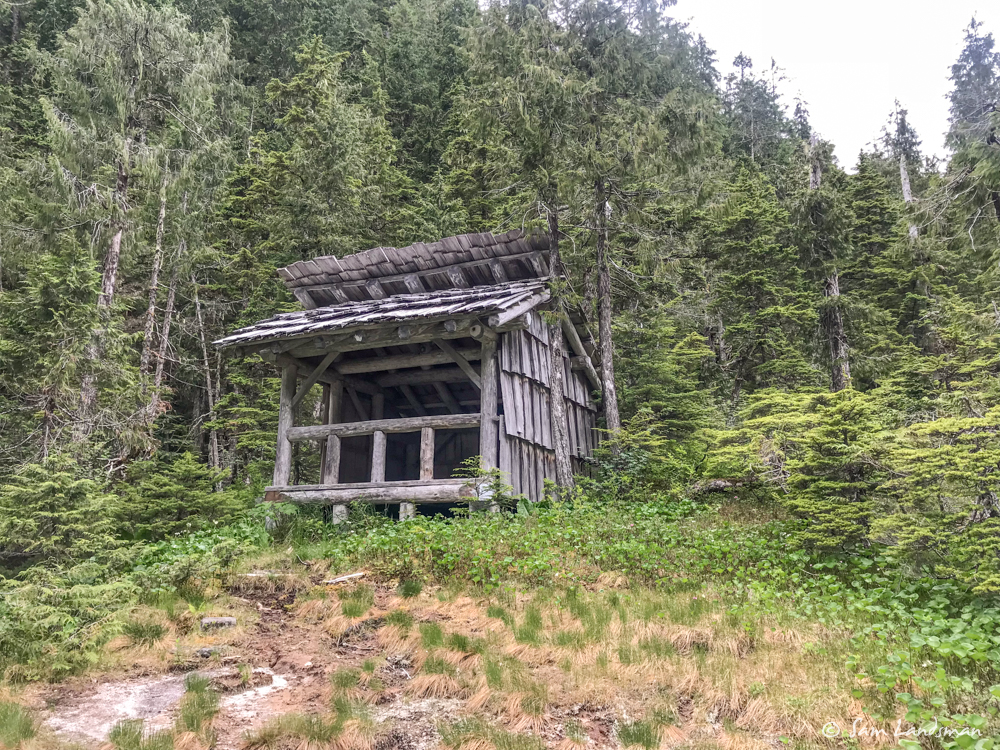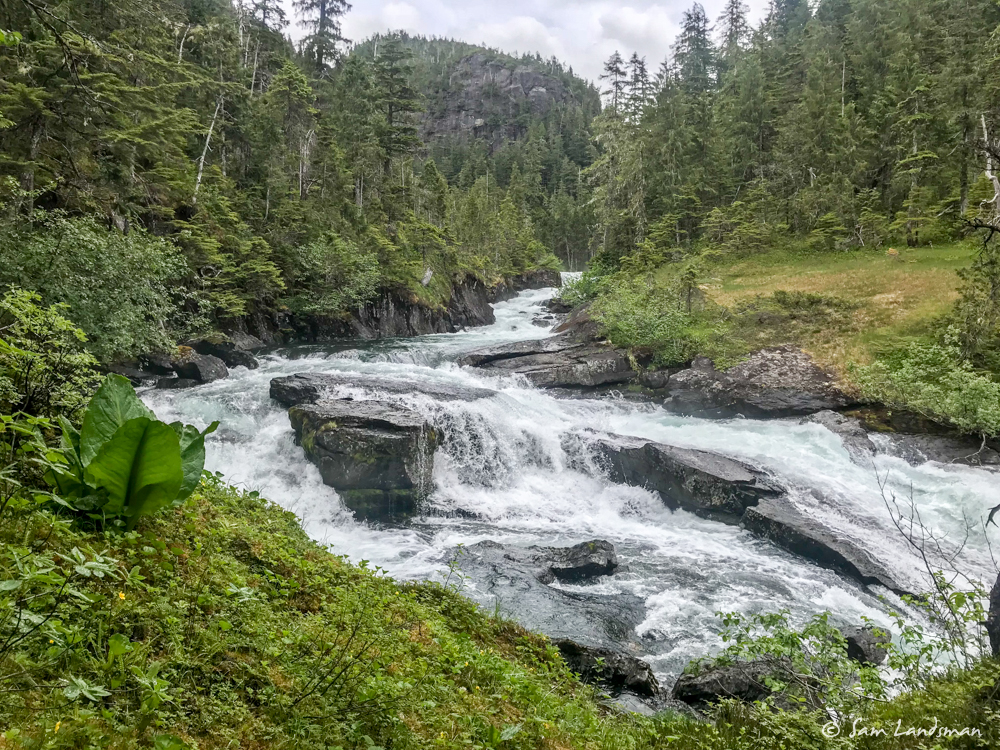 A few more rowboats are stashed at Swan Lake. We paddled around a bit and Tiffany took a swim (intentionally).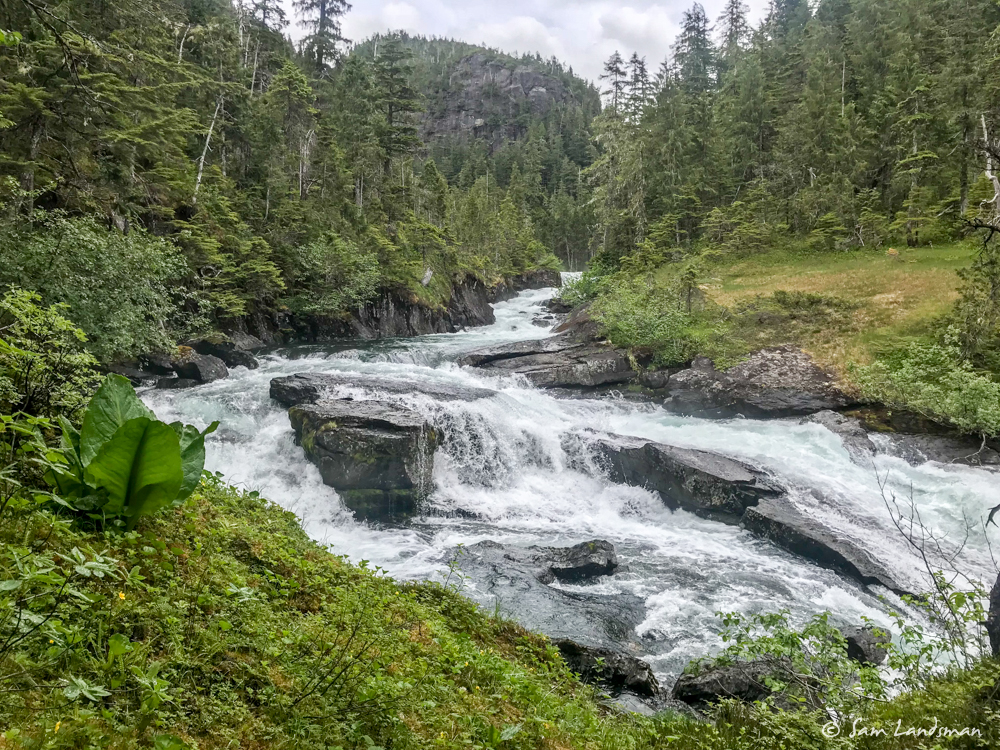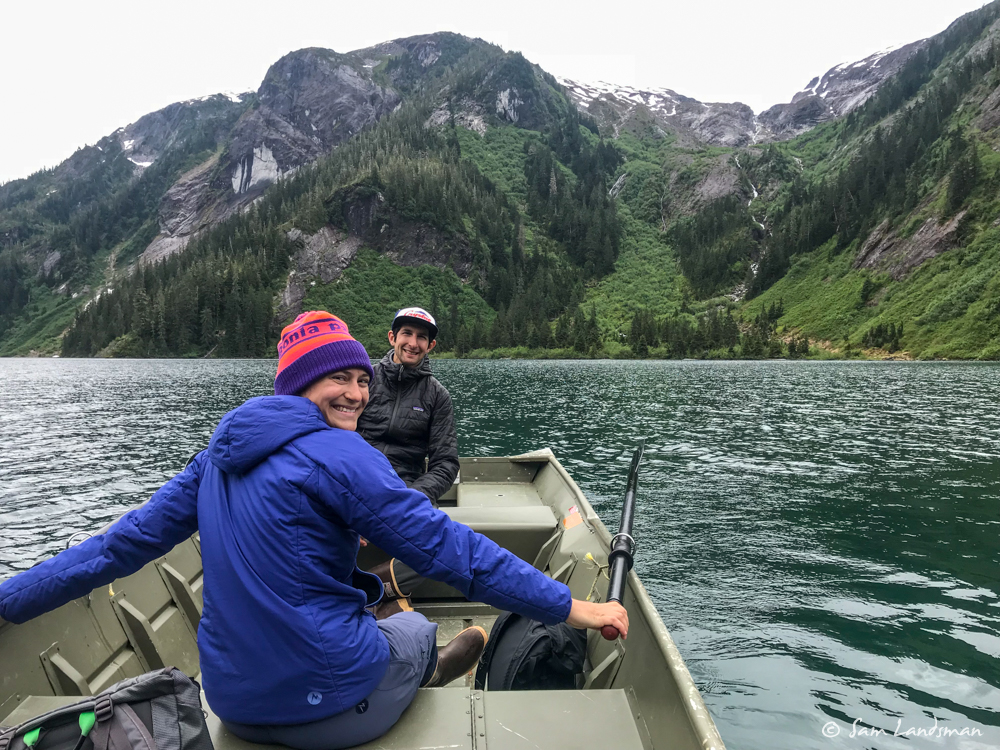 It took us almost as long going down as it did coming up, so we made it back to the beach just in time for low tide (we'd arrived at high tide). After dragging the dinghy down the beach (thankful to not have a heavy dinghy!), we sped back to Safe Harbour for hot showers, hot food, and cold beer.
Sunday dawned rainy and cold, so we headed back to Petersburg a bit earlier than we'd planned.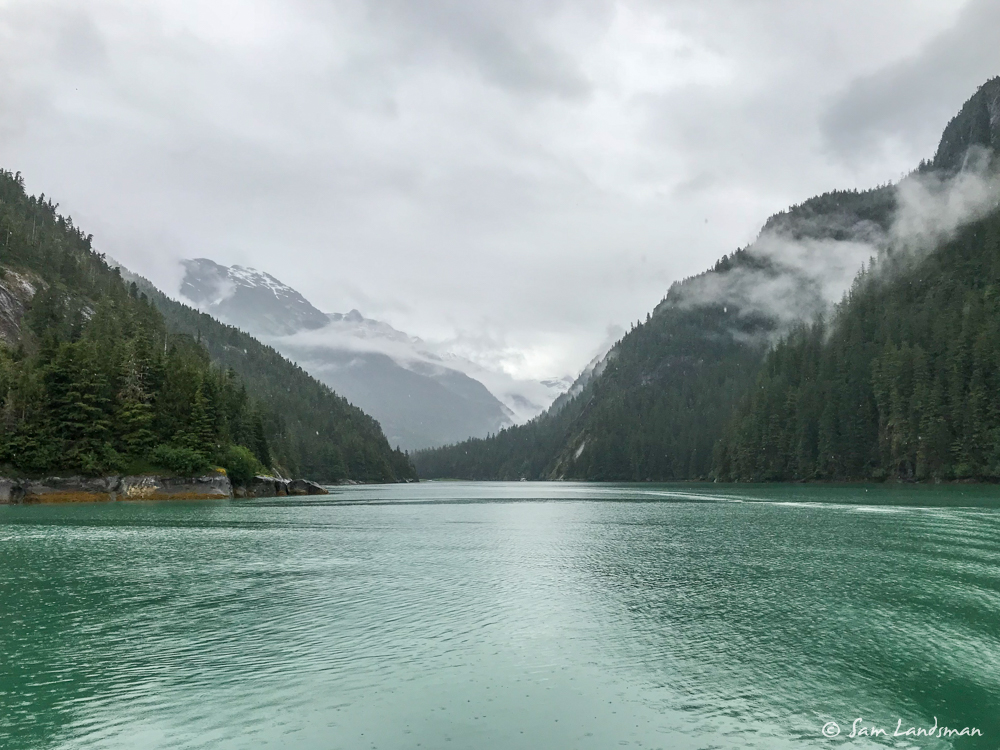 After lunch, Ben and Tiffany caught their plane back to Seattle (a little more than 48 hours after arriving). This was the shortest visit guests have made to Safe Harbour in Alaska, and it worked surprisingly well. Noted for the future (route below)!