Bamfield to Sooke Harbour is a long cruise–about 73nm. The forecast was wind light, becoming west 10-20 knots in the afternoon, with some fog. We left Bamfield at first light…about 5:30 a.m.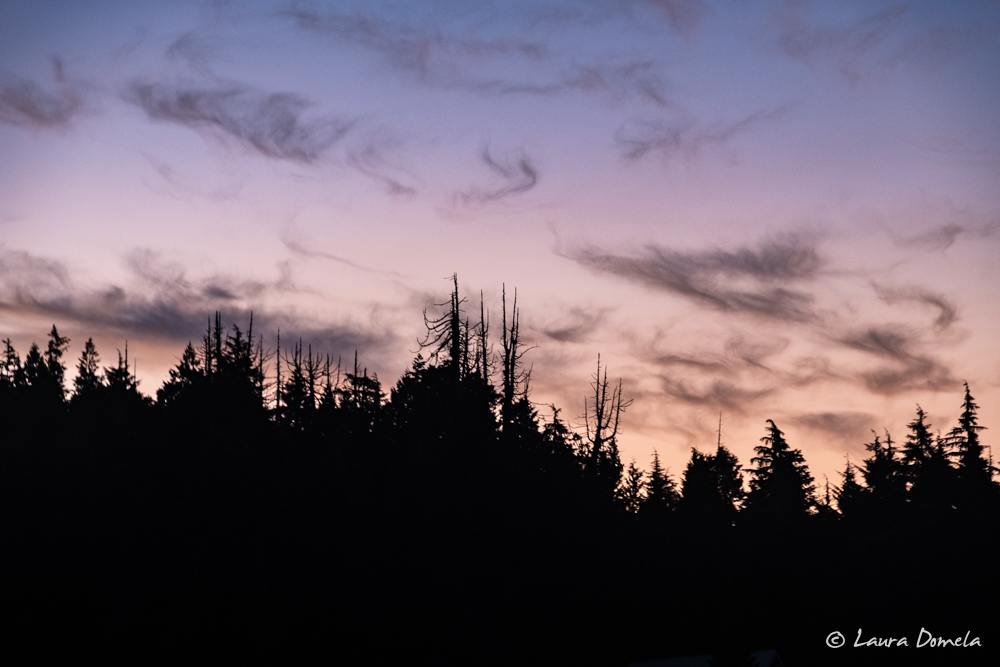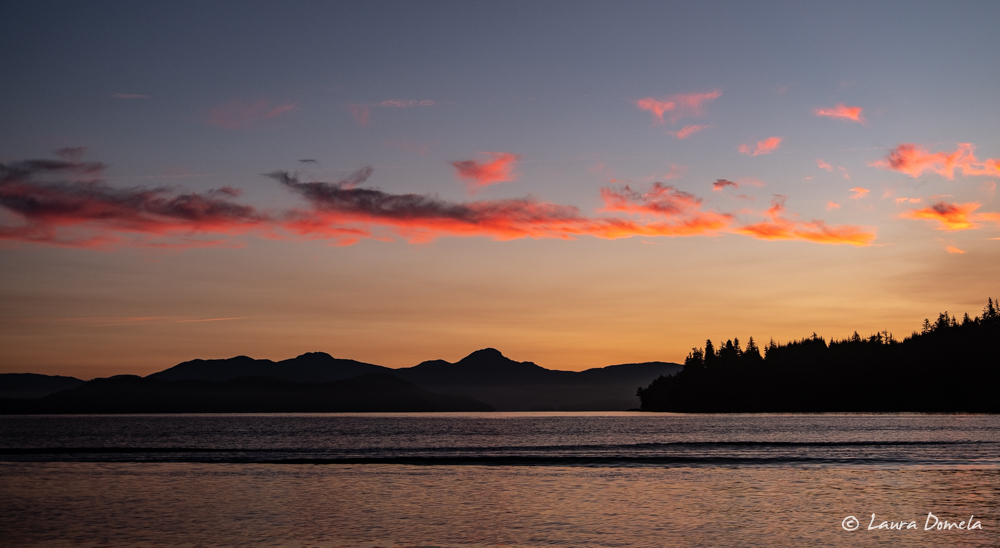 The sky (and thus, the water) turned bright pink as we headed out of Trevor Channel. Amazing!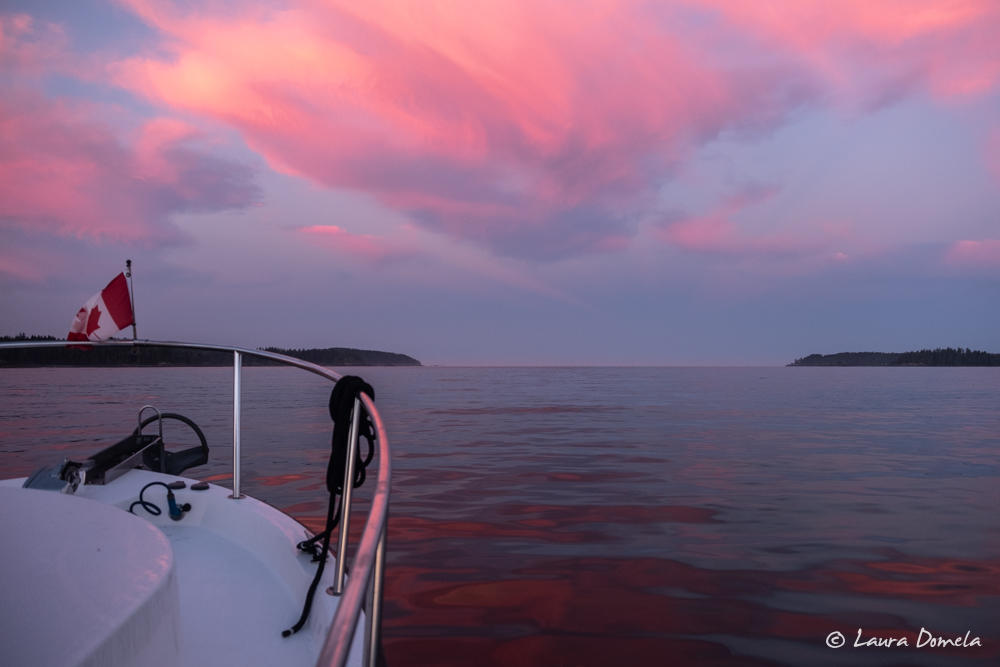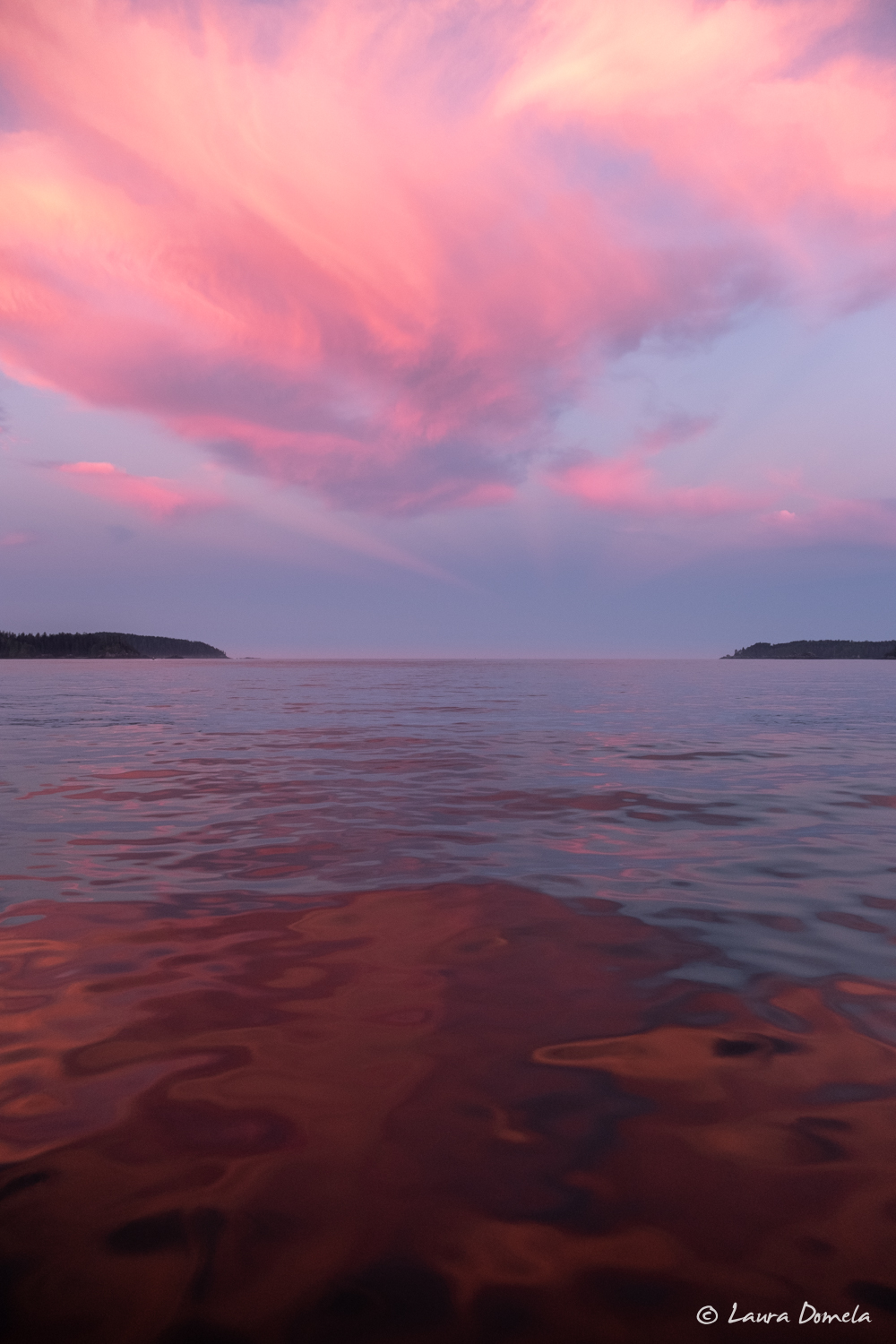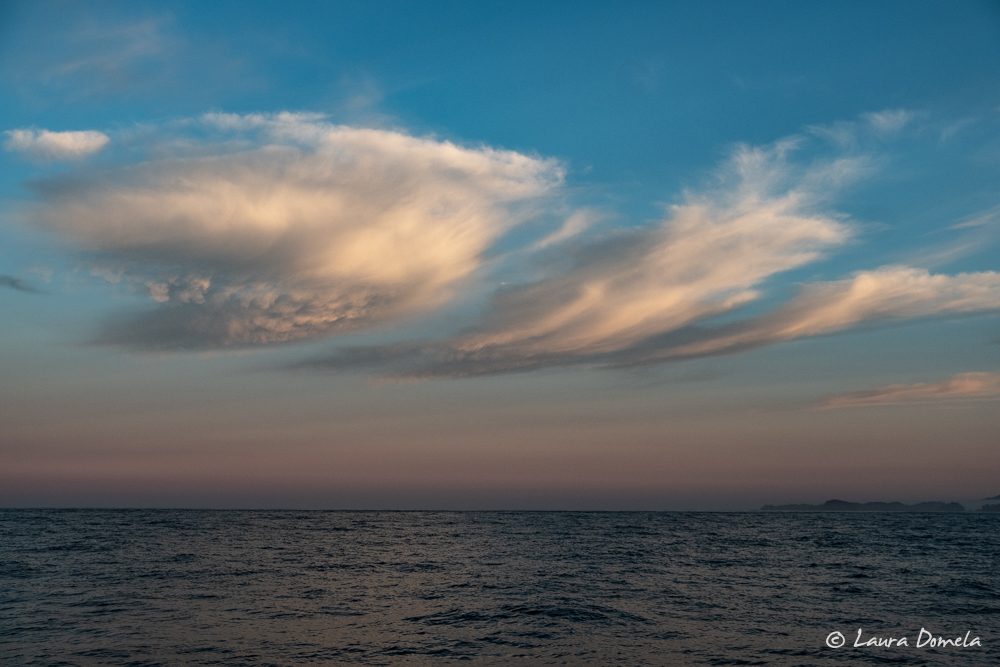 There was a thick fog bank out toward sea, but our cruise was clear and gorgeous!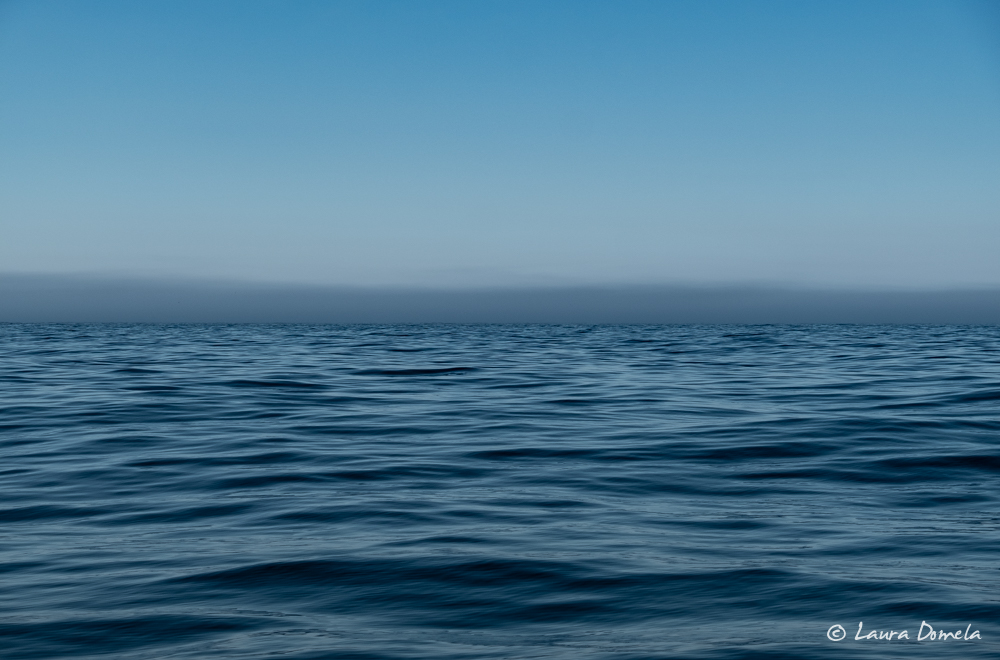 We arrived in Sooke Harbour around 3:30 p.m. and anchored just inside Whiffin Spit. This anchorage is well protected from wind and waves, but most definitely not from the many MANY fishing boats that speed in and out of the harbour, paying little to no attention to wake etiquette around boats at anchor. Safe Harbour, Airship, and Waterford (the Nordic Tugs) all rafted together, and Mana Kai (the Kadey Krogen) anchored a short distance away. (Zube headed on to Port Townsend from Port Renfrew and we said more goodbyes over VHF…they needed to get back to Seattle earlier than expected due to family commitments.)
Some of us went to shore and walked the length of Whiffen Spit, and then we all met for dinner on the raft. Tomorrow is Doug's birthday (Waterford) so we grilled burgers, made salads, grilled corn on the cob, and his wife Lindsey made a homemade berry tart to celebrate. It was a lovely evening (except for the crazy rude wake-makers). We're still trying to decide whether they just don't know what happens to boats that encounter a two foot wake at anchor, or if they can't be bothered to change their speed routine, or if they're unhappy to have tourists in their neighborhood and are trying to show it. In any case, we will work to avoid Sooke Harbour in the future.
Today's total: 74.2 nautical miles, 9 hours 8 minutes underway
Flotilla total: 418 nautical miles, 60 hours 47 minutes underway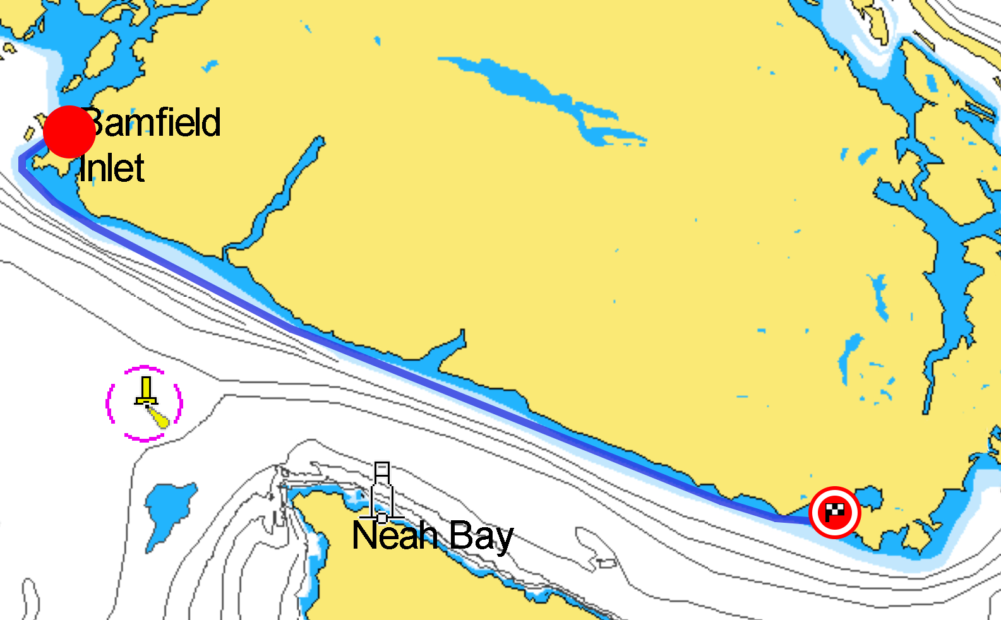 In the morning, we left Sooke at about 9:30 a.m. in thick fog (less than an eighth of a mile visibility) and headed for Victoria. For the first couple hours, we dodged dozens of fishing boats that had sped out of Sooke Harbour earlier that morning and were now fishing. As we approached Race Rocks, the traffic changed to fast-moving tour boats (only a very few of which showed up on AIS). It was a bit of a challenge and required careful attention to radar. Thankfully, as we passed Race Rocks the fog cleared and we had an easy transit into Victoria Harbor and on to our moorage at Causeway Floats, right below the Empress Hotel.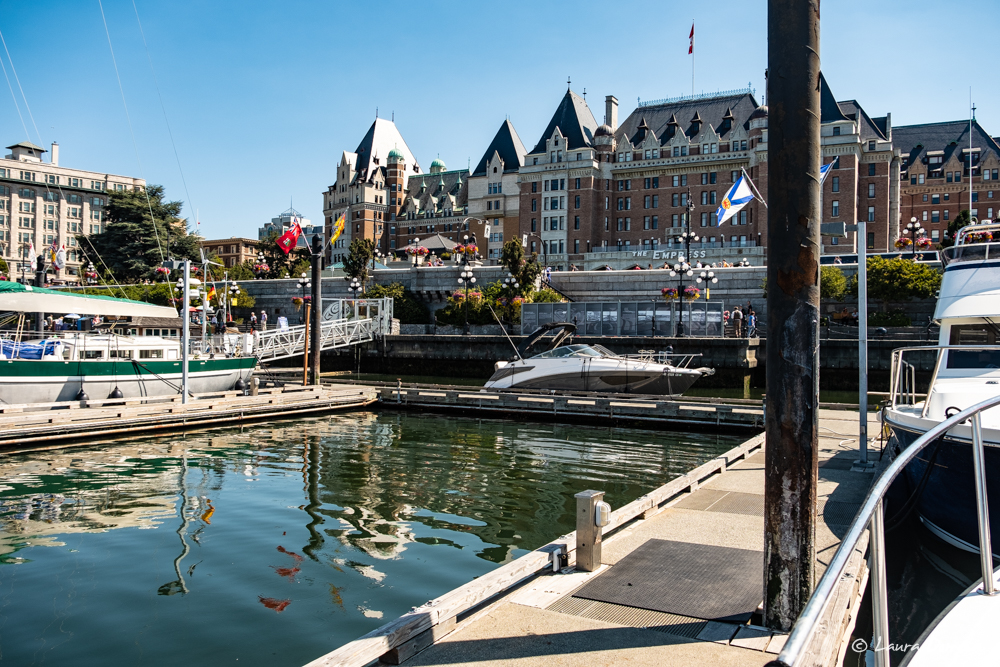 We spent the afternoon exploring Victoria (museums, Fisherman's Wharf, etc.) and then met at the top of the dock to walk to dinner as a group.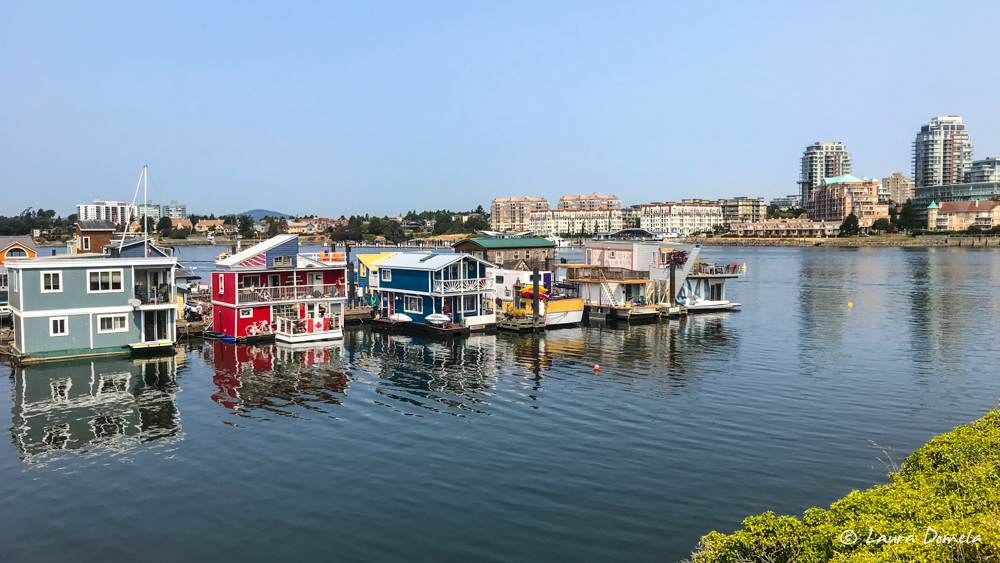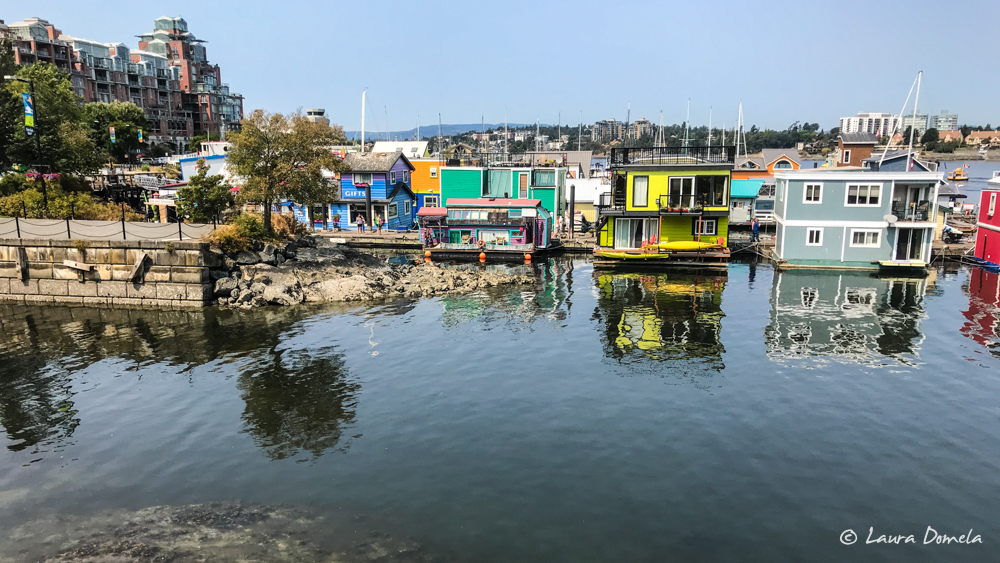 We had a wonderful farewell dinner together in town at Fiamo Italian Kitchen. Both the food and service were great and it was a fun way to end the flotilla!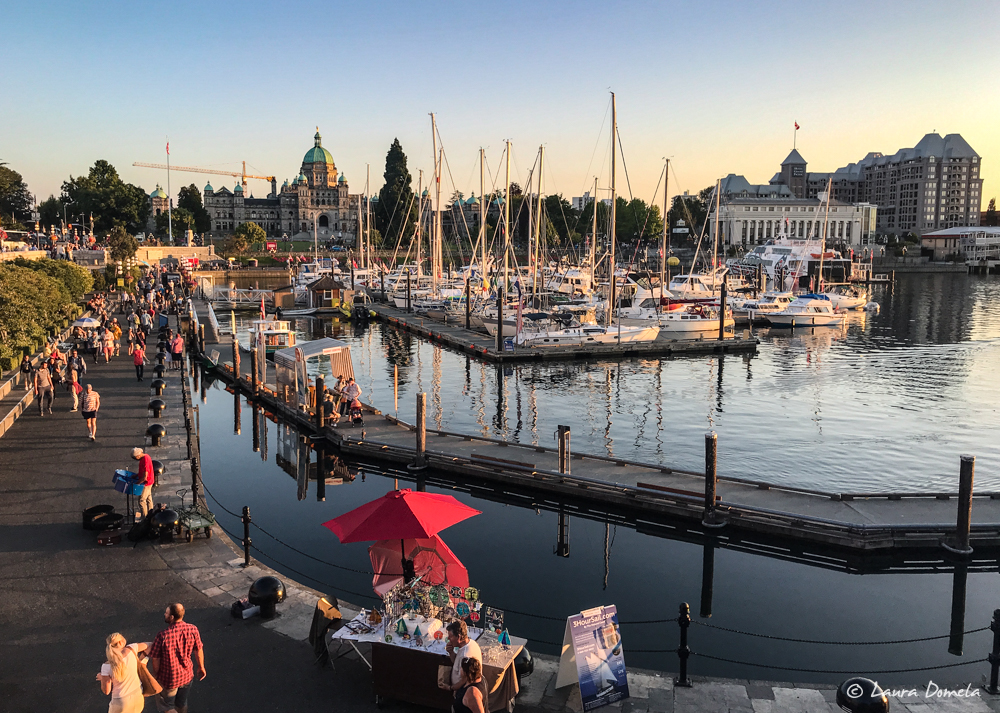 We'll have a week or so of downtime (well, chores, boat cleaning, reprovisioning) before our third and last flotilla of the summer. This next flotilla will be a circumnavigation of Vancouver Island, beginning in Roche Harbour, lasting about four weeks, and ending back here in Victoria. Looking forward to another great group of cruisers!
Today's total: 20.7 nautical miles, 2 hours 42 minutes underway
Flotilla total: 438.7 nautical miles, 63 hours 29 minutes underway