We didn't care much about timing Whirlpool Rapids and Greene Point Rapids yesterday, but we do care about the timing at Dent Rapids, Gillard Pass, and Yuculta Rapids. Thankfully, getting to the rapids at slack isn't that hard. Frederick Arm to Dent Rapids is about 6.5nm (we'll call it an hour) and Dent was predicted to be slack at at 7:01 a.m. So we left at 6:00 a.m., and as predicted, arrived at Dent about 15 minutes early. The current was running a couple of knots against us, but turbulence was minimal.
Traveling south (or more accurately east) the rapids are particularly easy, since they turn in the same order that they're transited. Gillard Pass was predicted to turn at 7:16 a.m., and Yuculta Rapids at 7:41 a.m. The total distance from the beginning of Dent Rapids to the end of Yuculta Rapids is about 5nm. We were easily through them all by 7:30 a.m. The bottom line: arrive at Dent at slack (or very near) and everything else falls into place.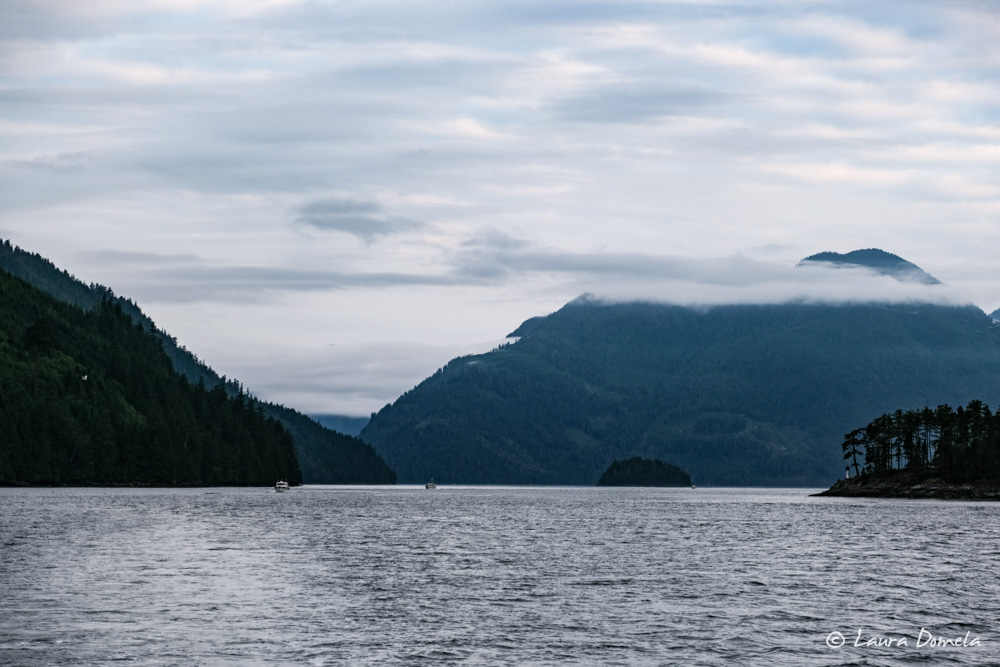 In Yuculta Rapids, we spotted several sea lions vying for a fish: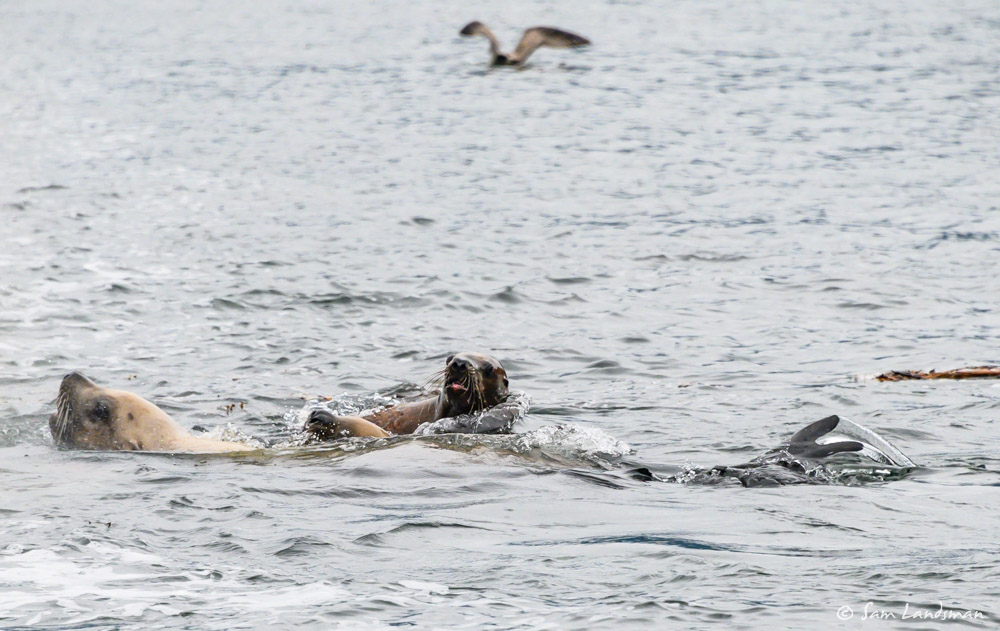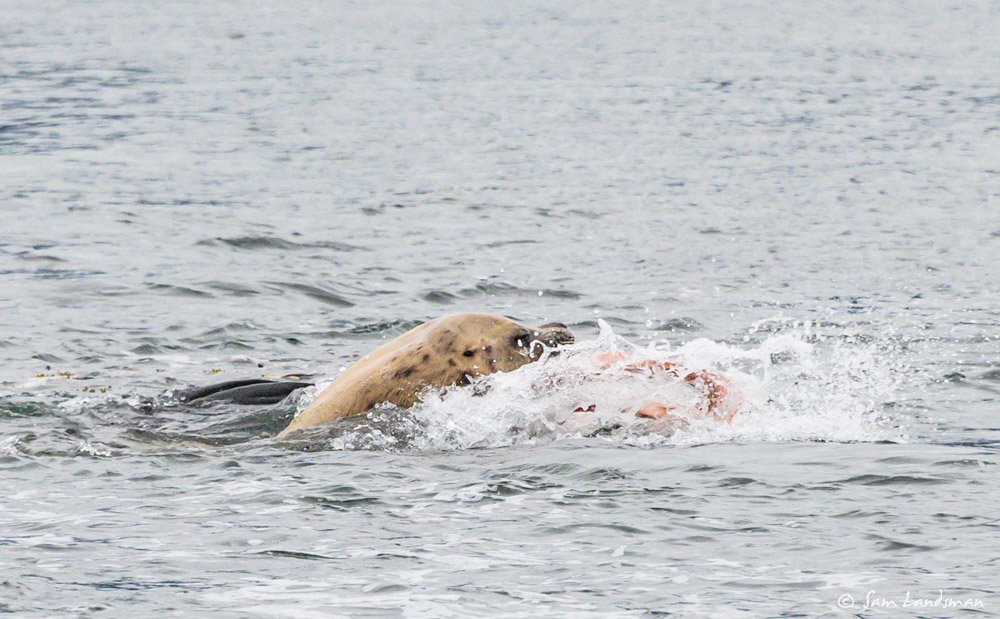 Just south of Yuculta Rapids, we spotted this dinghy, and moments later their slow speed became clear: a humpback!
We anchored for the night in Von Donop Inlet on Cortes Island. The entrance channel is narrow and somewhat shallow, with a rock mid channel, and this seems to deter many cruisers from entering. Talking with other boaters, this is apparently one of the least crowded anchorages in Desolation Sound right now. We arrived thinking there might not be many boats since only one or two showed up on AIS, but found at least 20 already anchored. Thankfully, there's plenty of room, even without stern tying.
We took the drone up to see if we could find the charted rock. Unfortunately it wasn't visible, but the aerials show boats favoring the south/west shore to avoid the rock.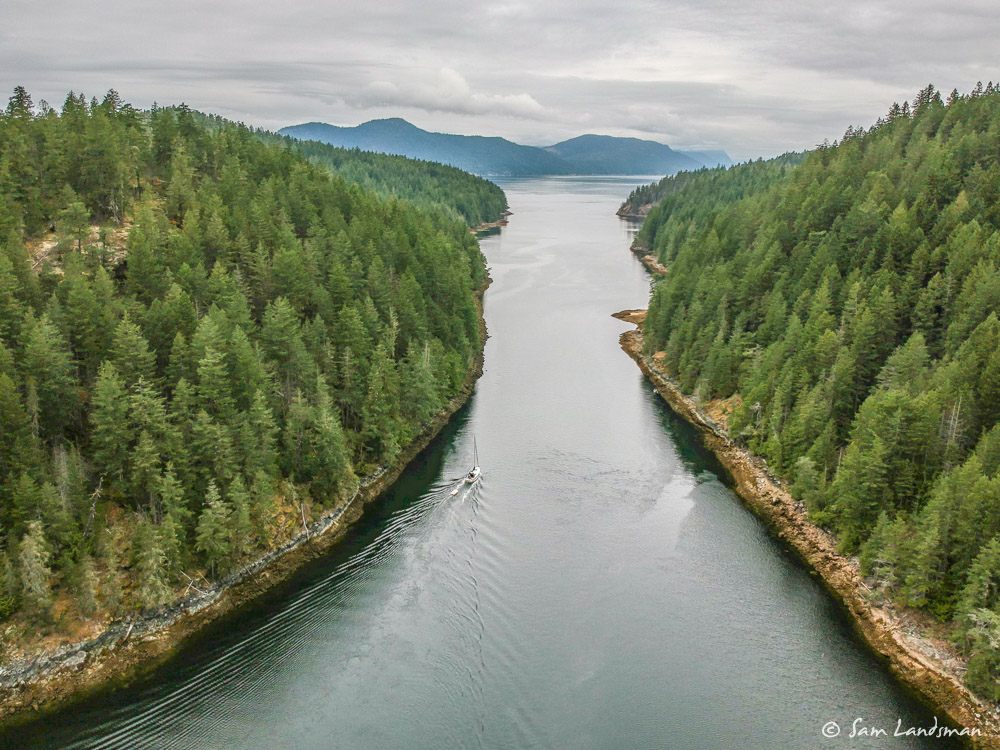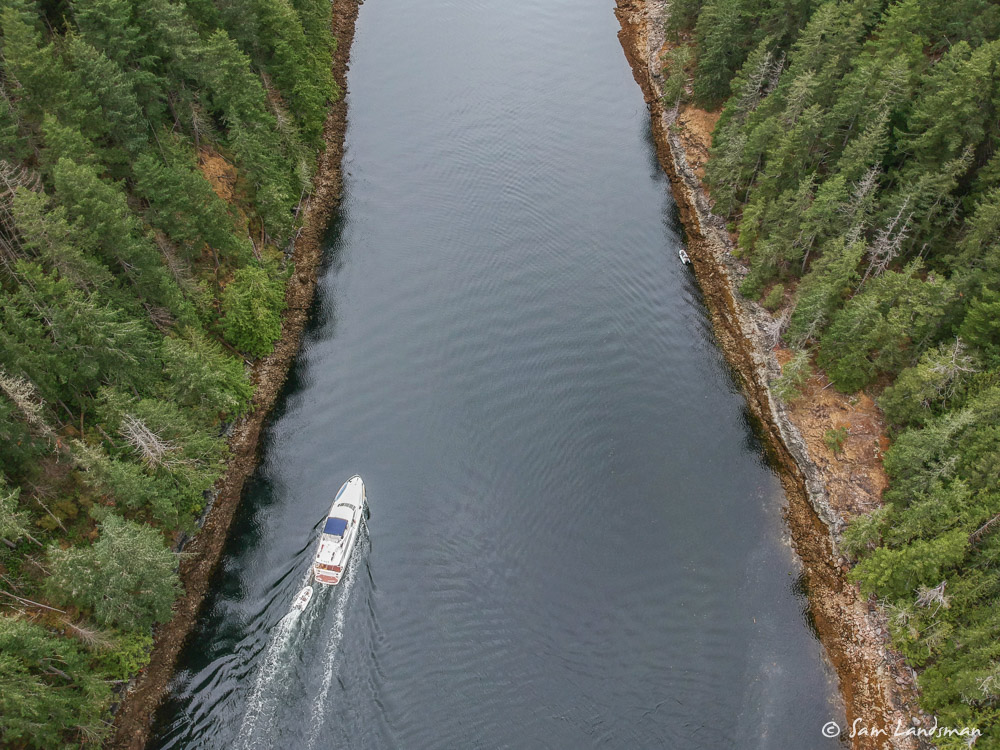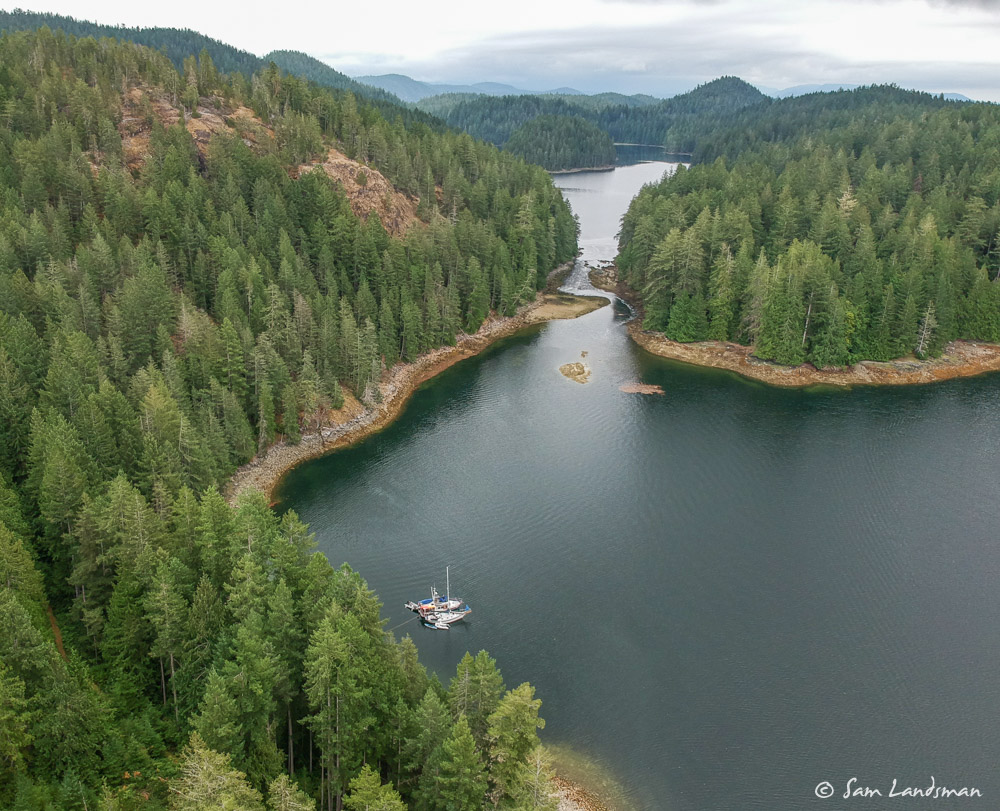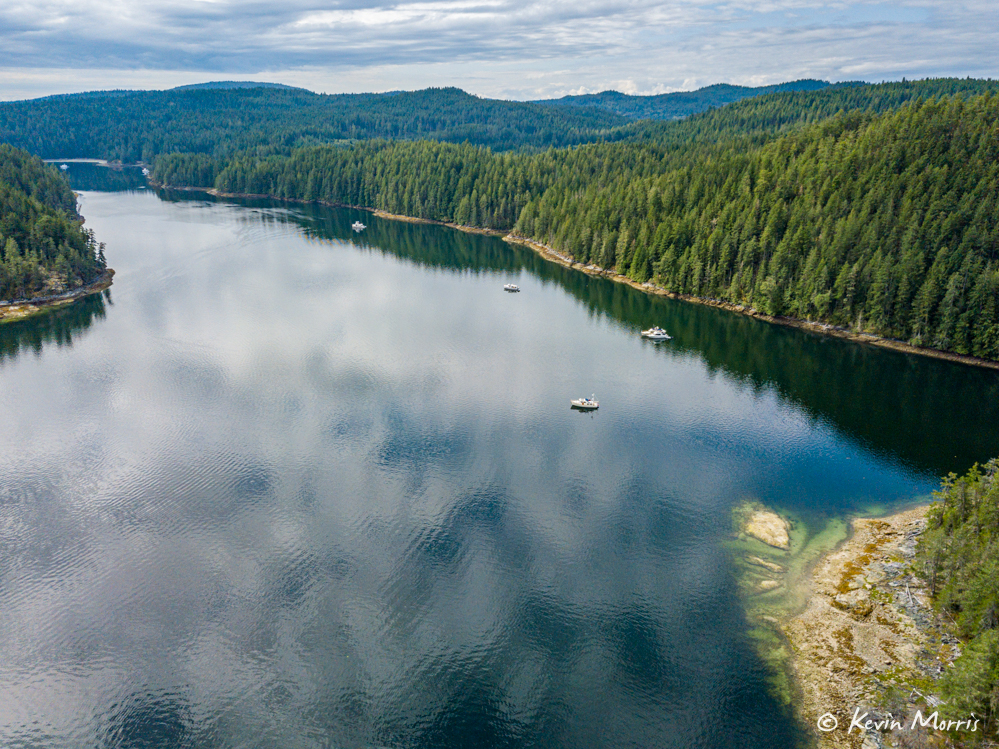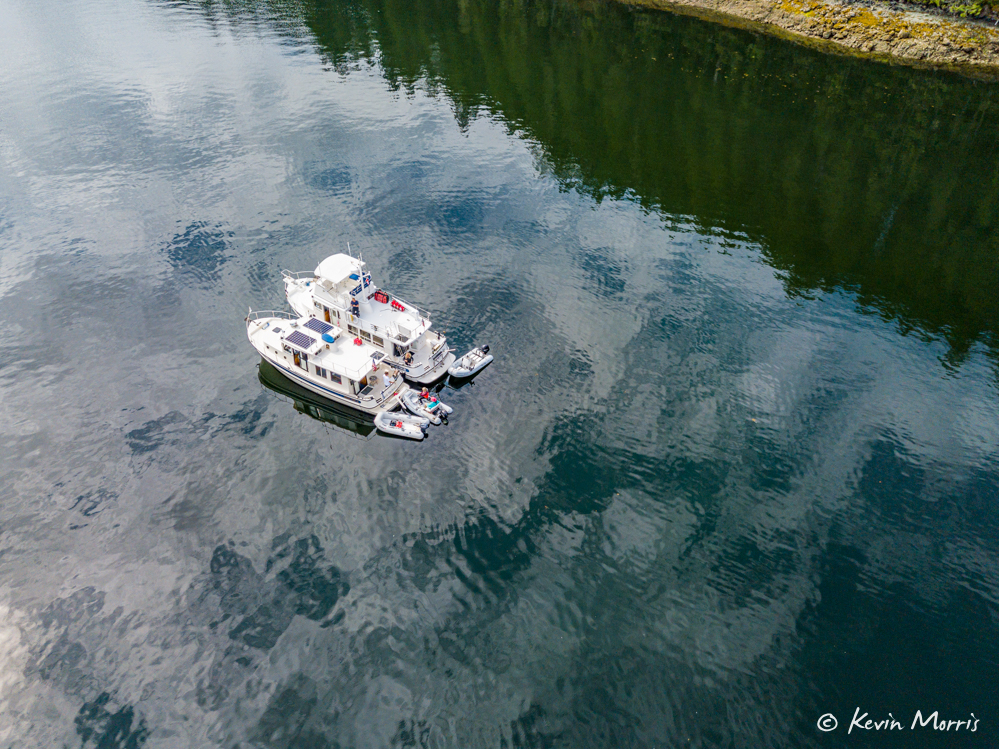 Today is the end of this leg of the flotilla. Now in familiar territory, these boats will return home on their own. We'll head to Campbell River, then up to Port McNeill to meet the next group and travel down the west coast of Vancouver Island!