With the flotilla wrapped up and some good weather ahead, we decided to leave Juneau and head around up Lynn Canal. It's been a few years since we've been up, and being in Skagway for the 4th of July weekend sounded like it would be fun!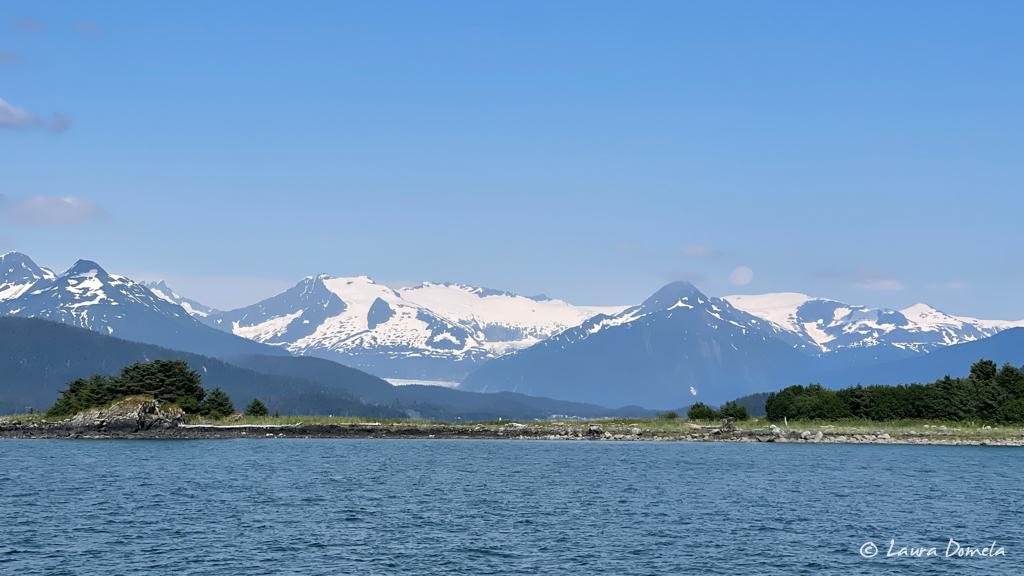 We cruised about 47nm up to Bridget Cove, a great anchorage in settled weather with a beautiful view across Lynn Canal from the northernmost part of the cove while still being fairly protected.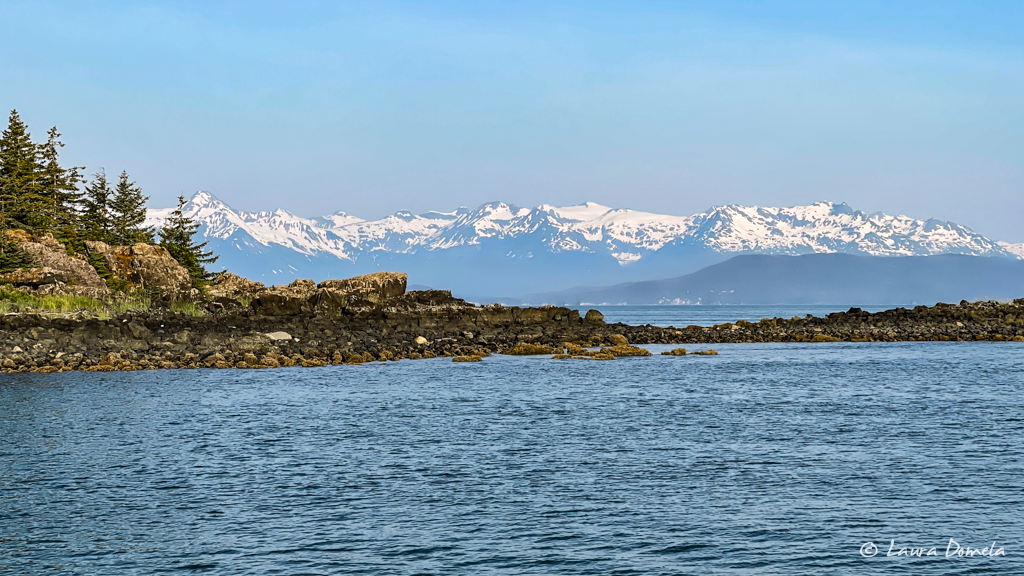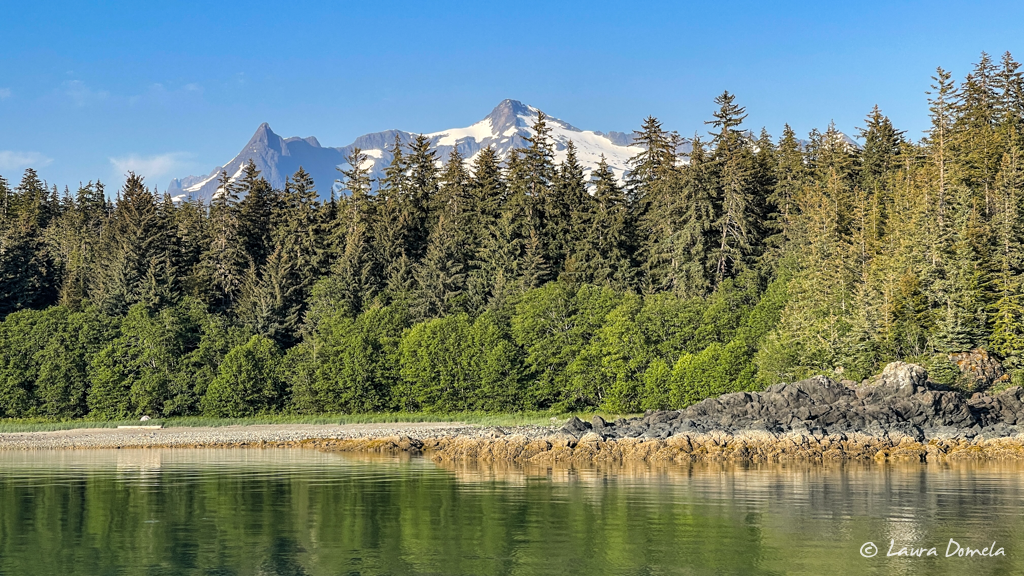 Just after entering, we passed a boat and some floats with a sign on the side that said "Salty Lady Seafood" — this is where the oysters we had at Salt Restaurant in Juneau came from (and they were delicious!!) We thought after we got anchored we might motor over in the dinghy and see if they ever sold directly from the float.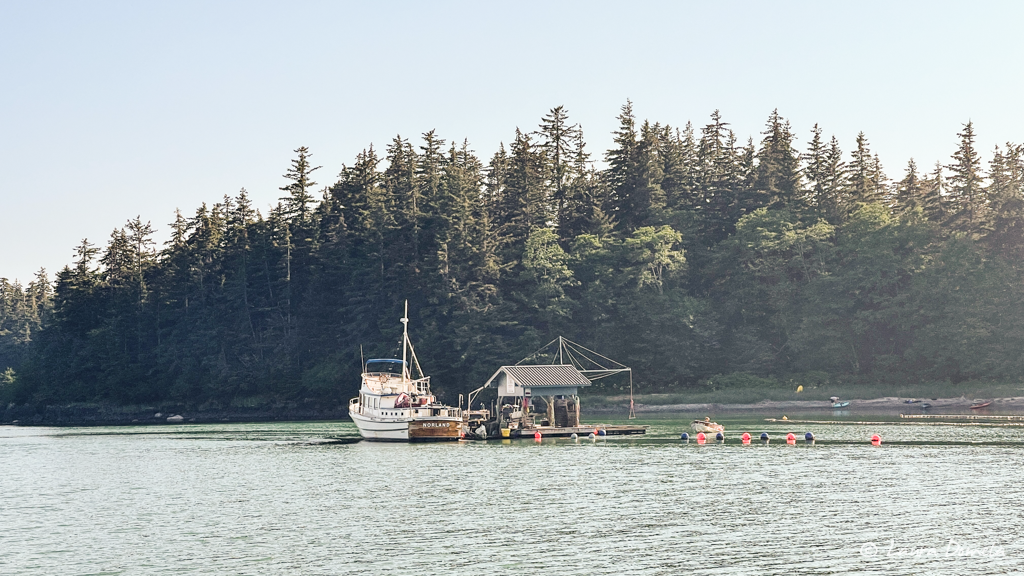 Meta Mesdag, her husband Alec, and their three kids run the oyster farm, and they were happy to sell some oysters to us (at least on this day they were…sounds like they're in high demand at the moment). We bought two dozen and asked a few questions about their operation (they weren't here last time we visited Bridget Cove in 2016). They've been here for four years, and they sell mainly to Juneau, to one restaurant in New Orleans, and to Flying Fish Company in Portland. What a treat!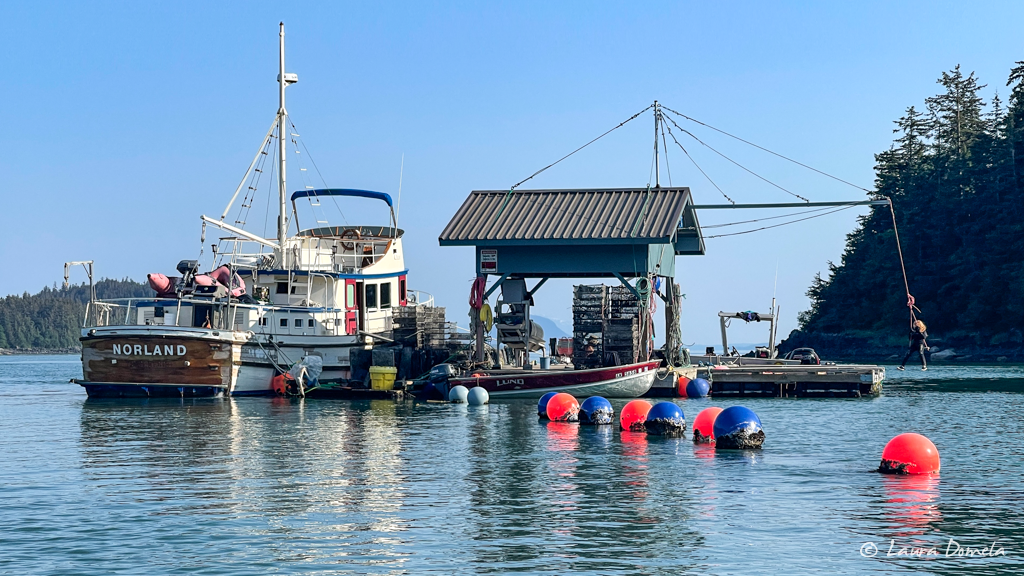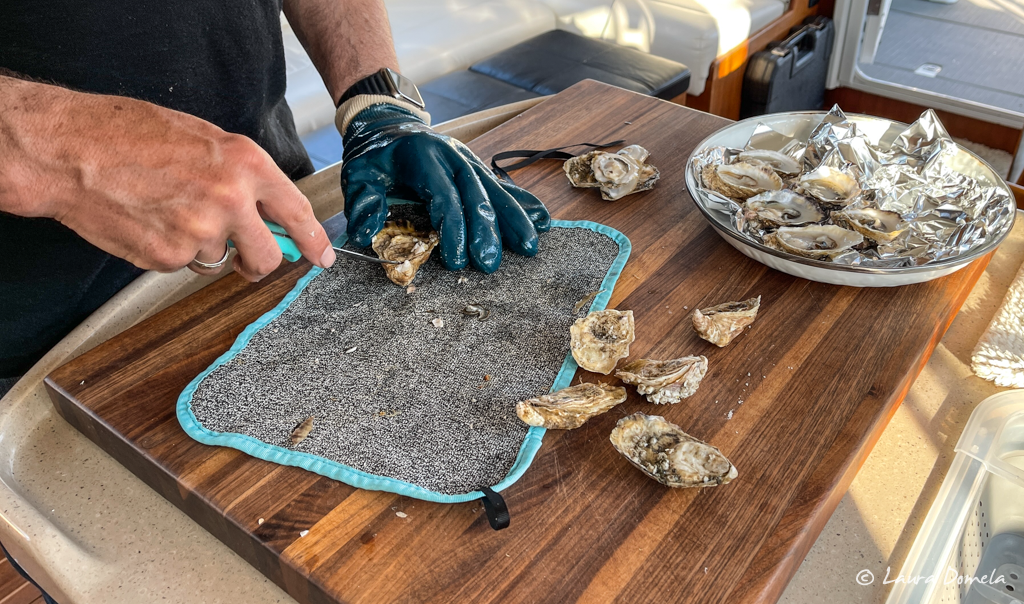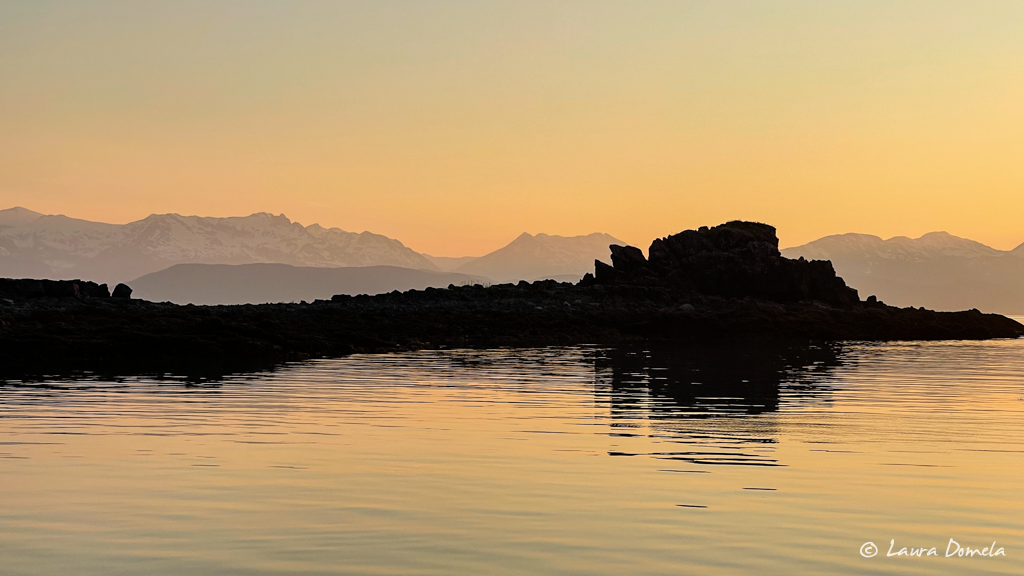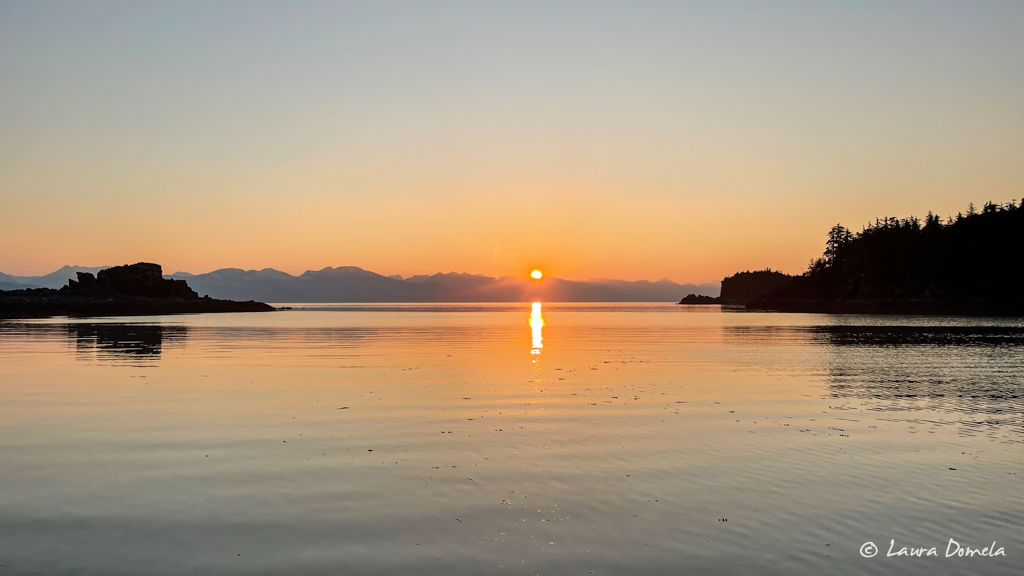 In the morning we pulled our anchor and started off on the 51nm cruise up to Skagway. Conditions were calm and the scenery was wonderful.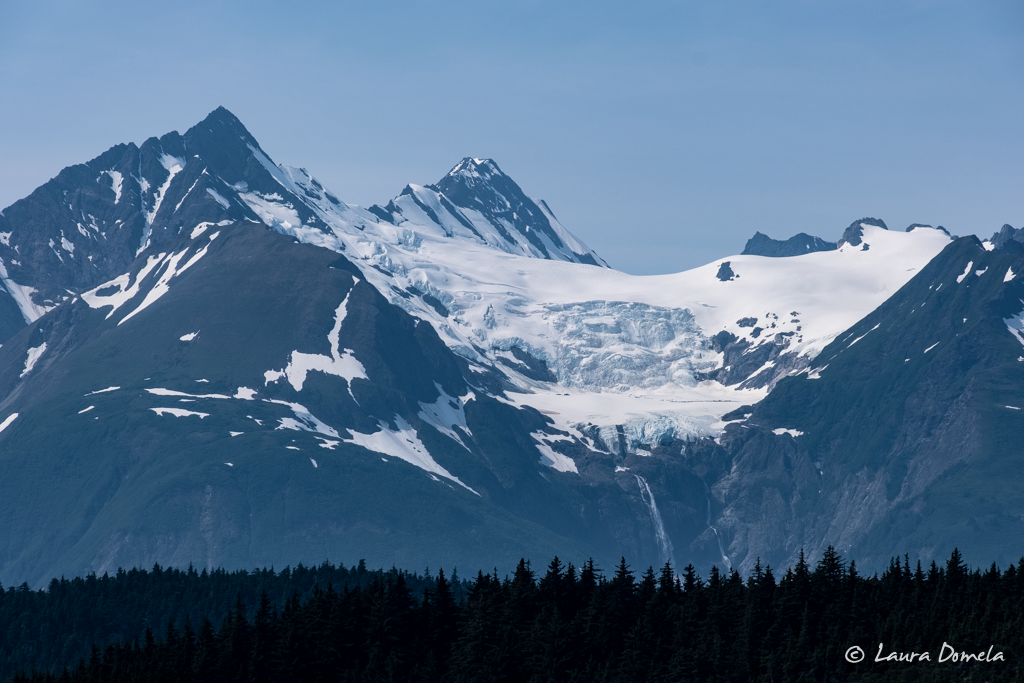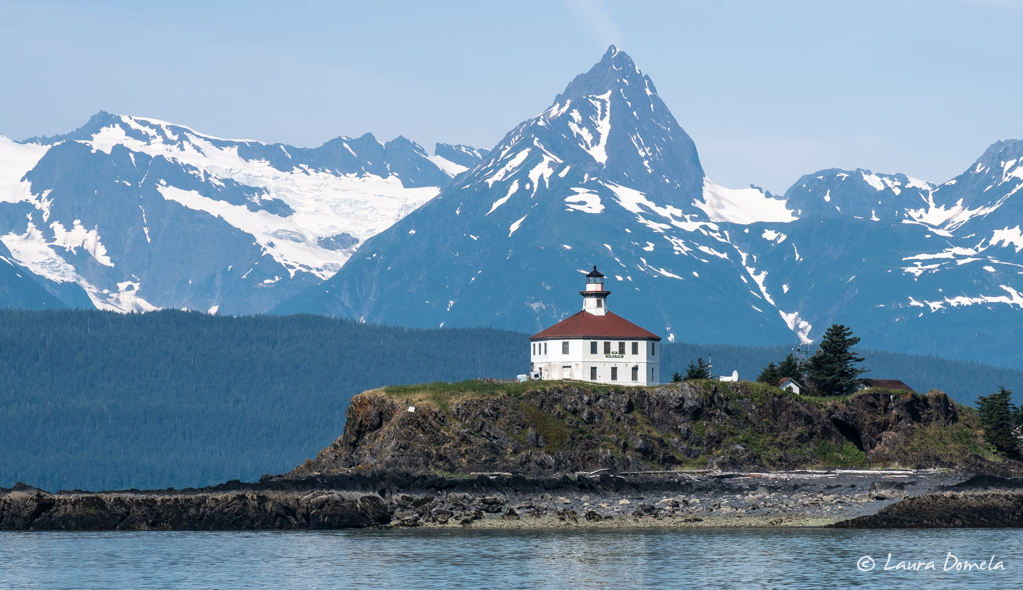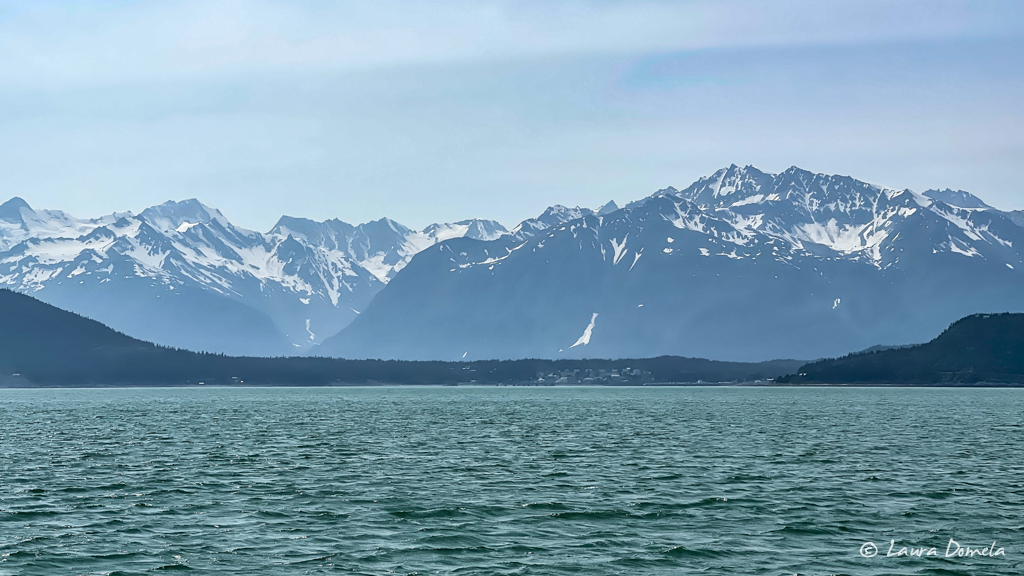 We tried calling Skagway harbor to find out where transient moorage was (since it didn't say anywhere online or in any guide) but there was no answer (Sunday, holiday weekend) so we pulled into the spot on the linear ramp where they'd put us the last time we were here. When we went up and eventually found someone in the office, they said they'd like us to move over to C dock…but the wind had picked up to about 20kts (on-dock) and was really pinning us…so we waited until that died down just a little and moved over to linear moorage on C.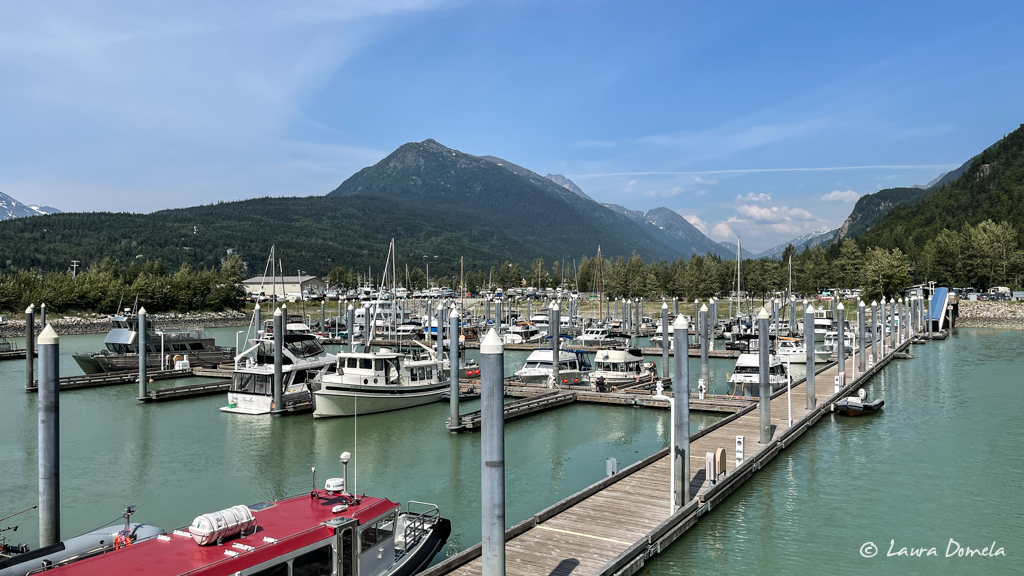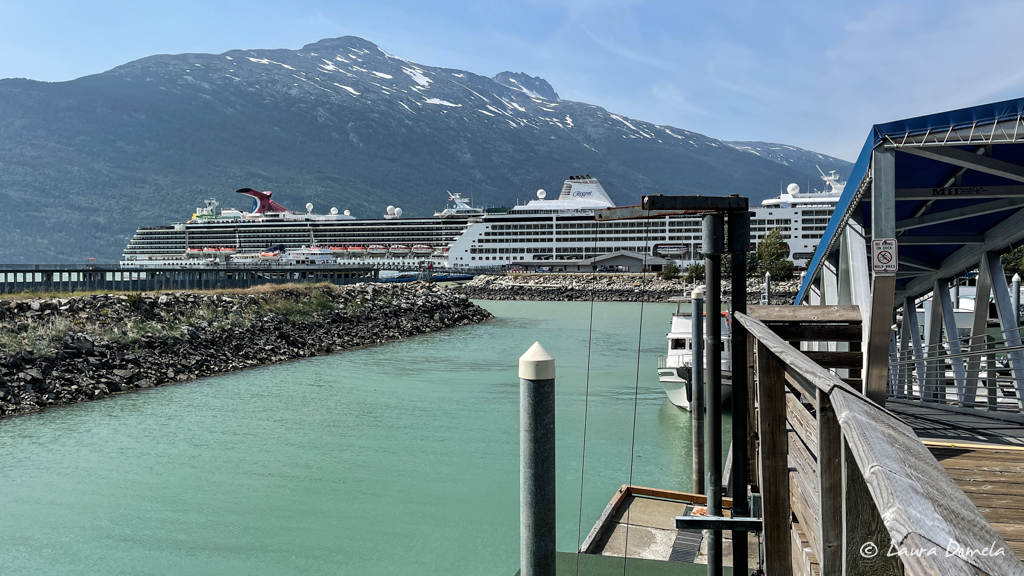 We got settled onto C dock and then went up to take a walk around town. There were three cruise ships in town…one leaving at 4pm and the others at 8 and 10pm.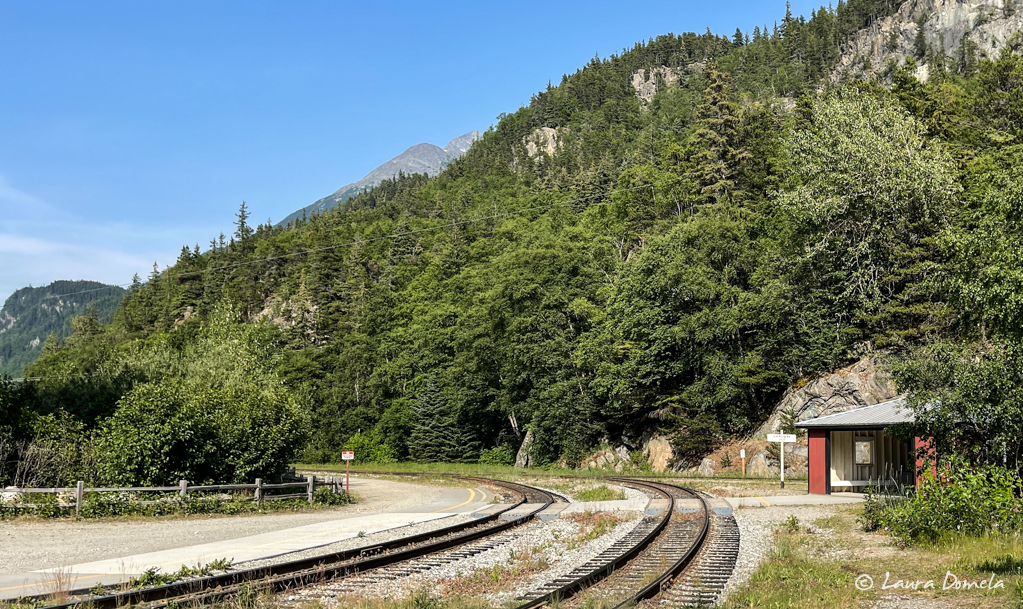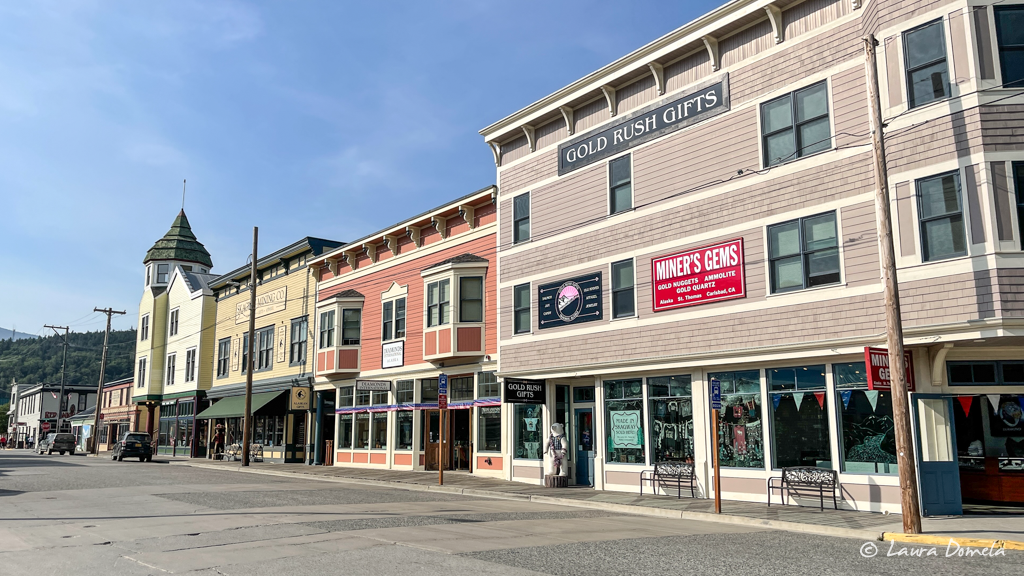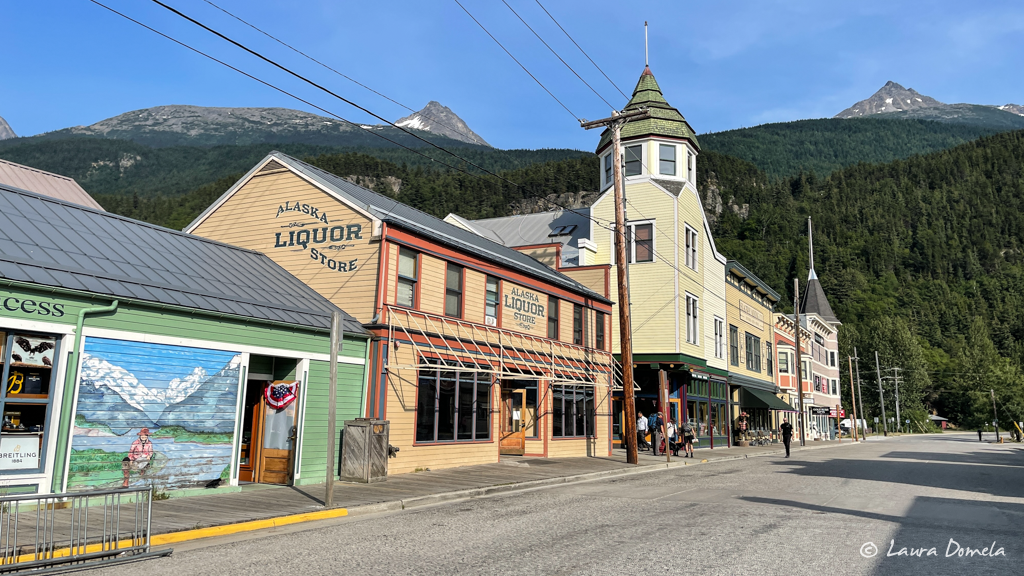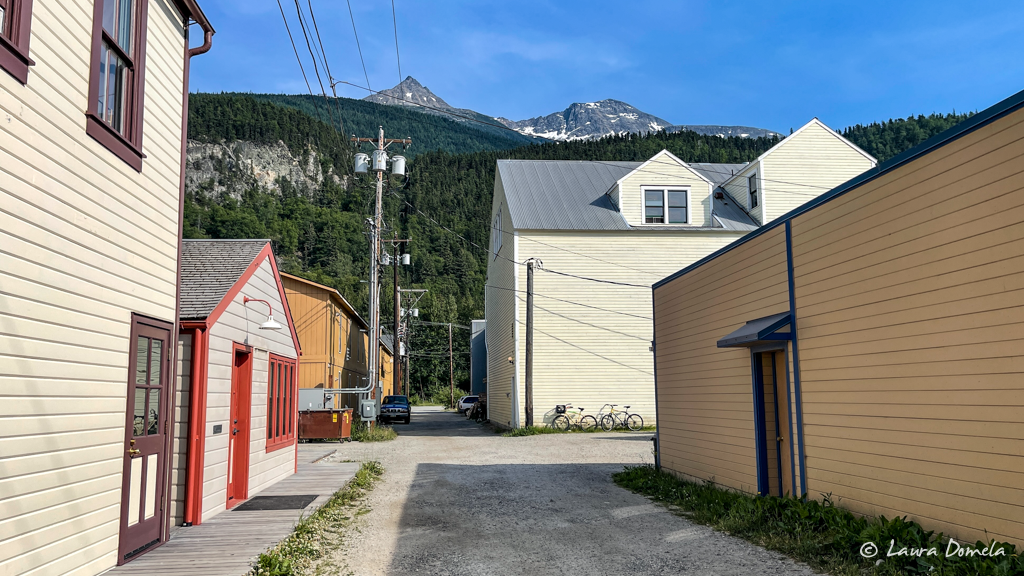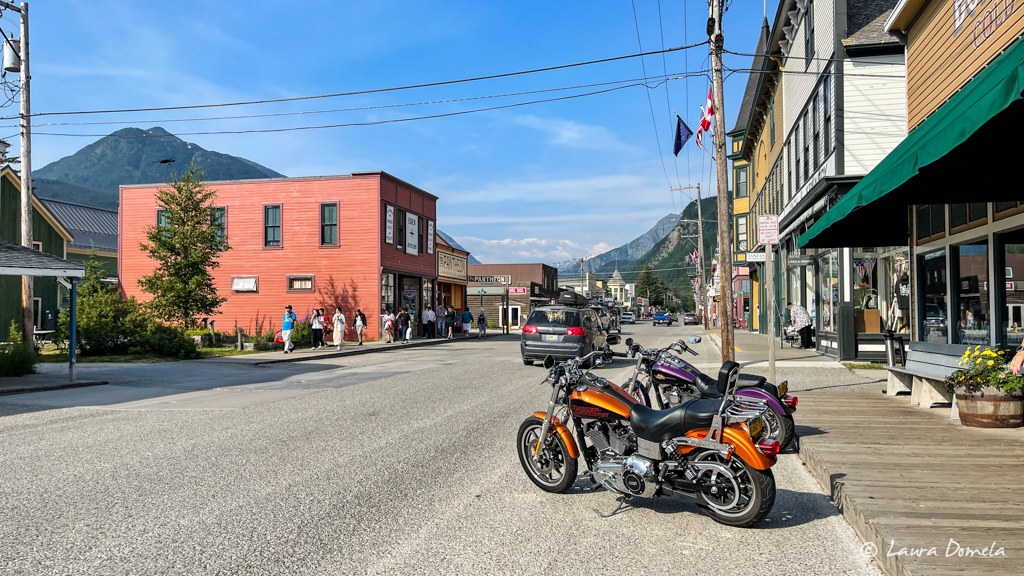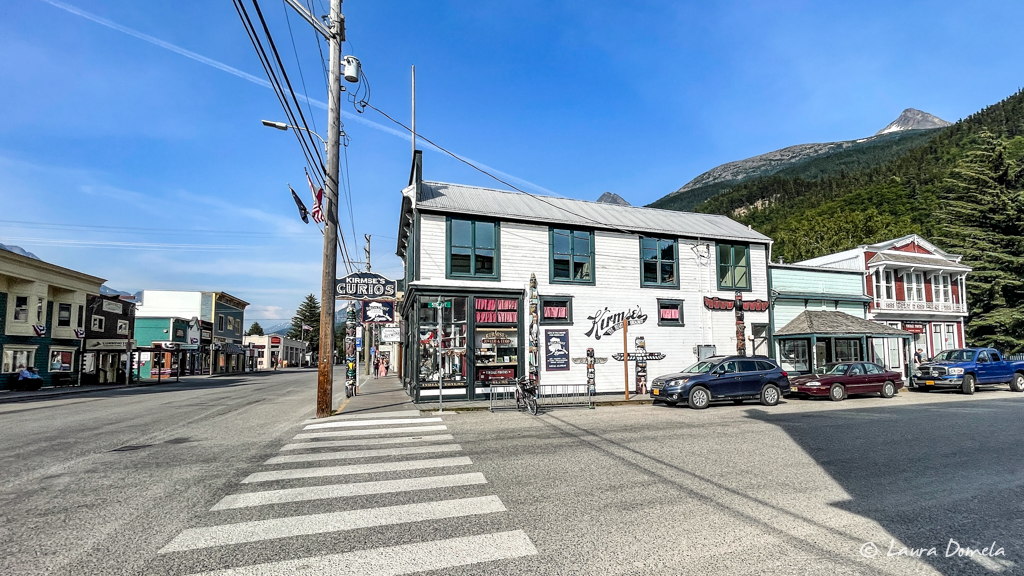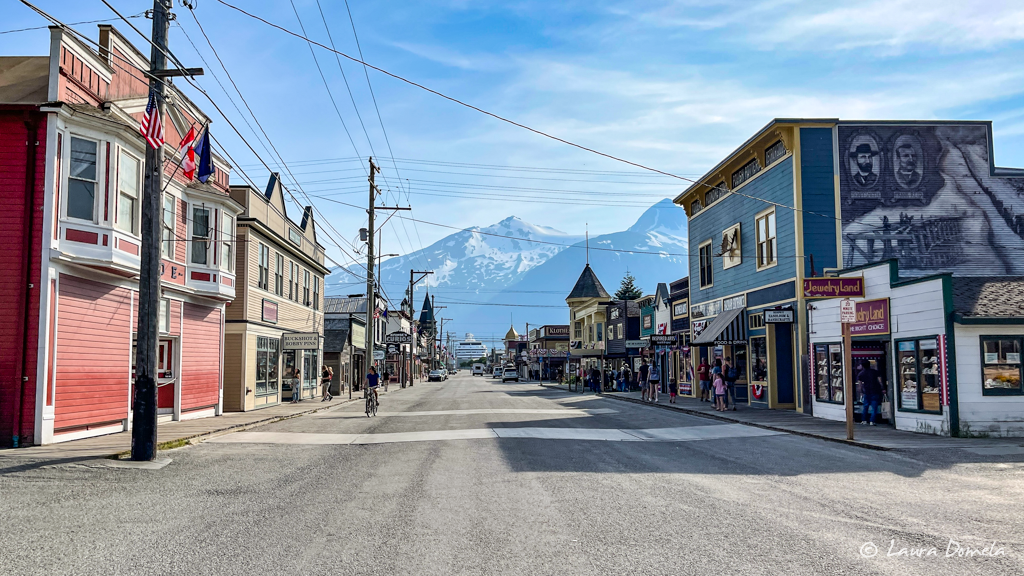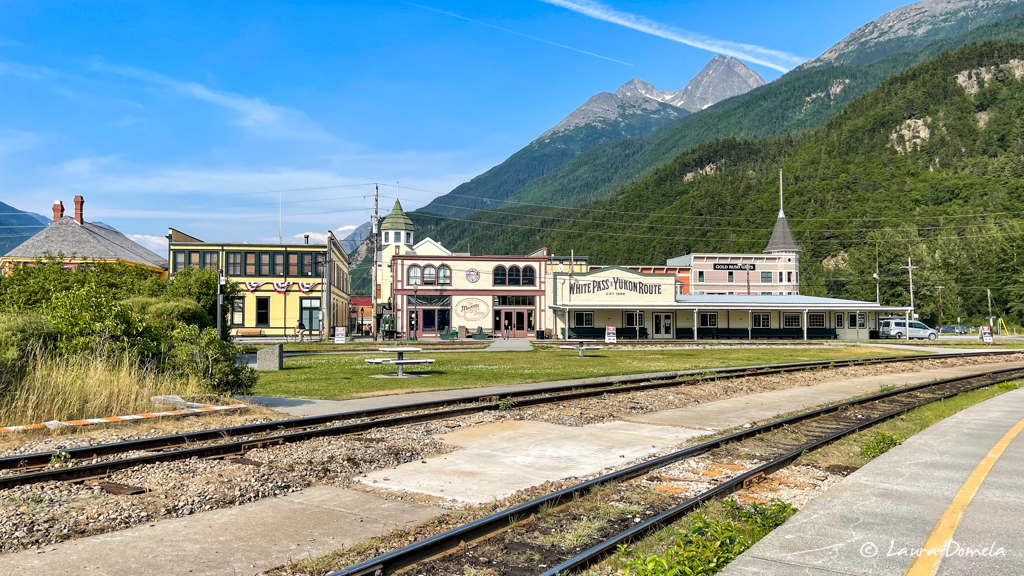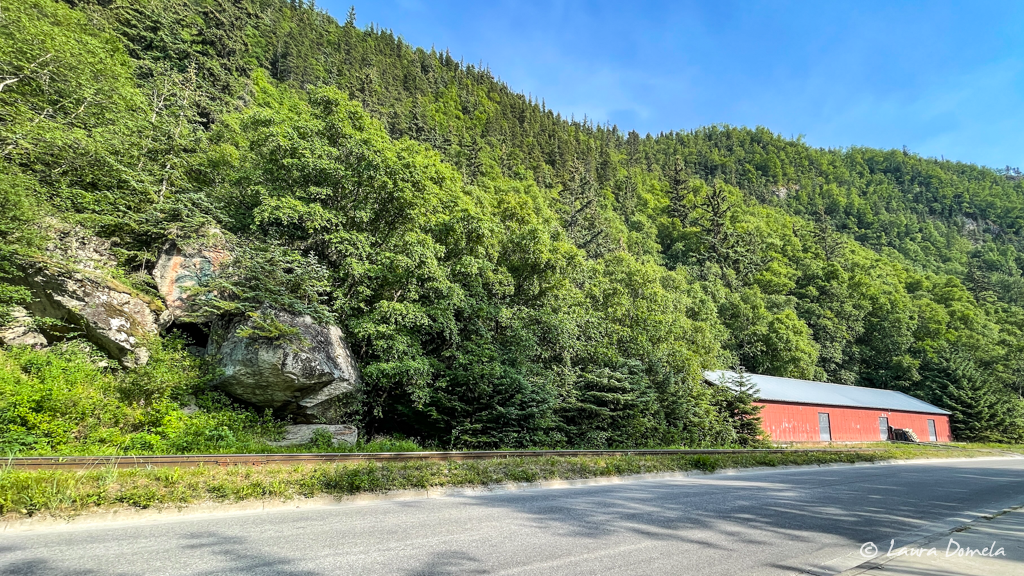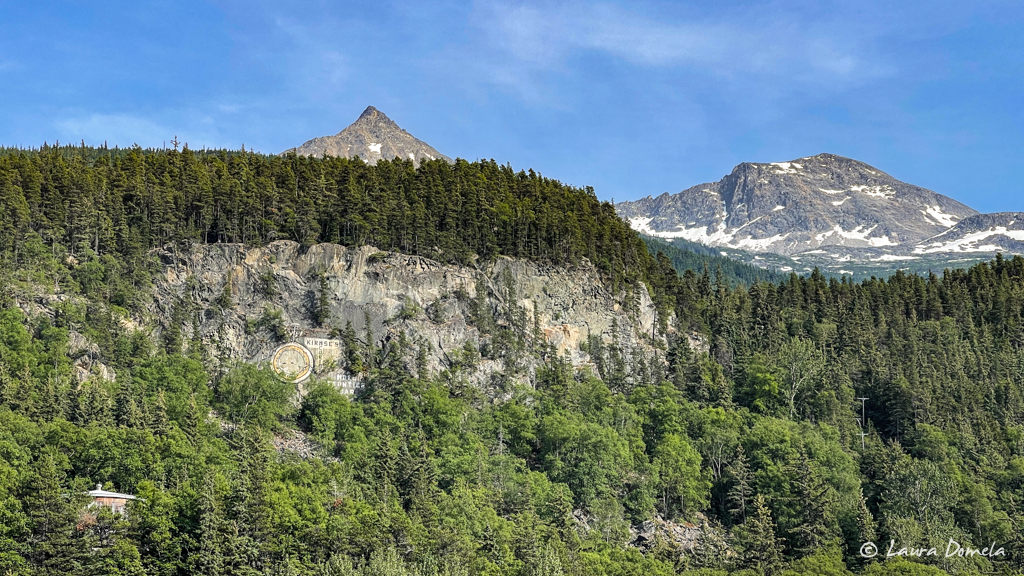 The weather here right now is a lot like it was when we here in 2016 — hot and sunny (like, in the 80s!) Kind of a fluke, it sounds like.
We'd originally thought we'd come to Skagway and catch a little of the July 4th festivities, then maybe take another train ride on the White Pass and Yukon train up to the summit, but after thinking about it a little, being in a closed train car for 4 hours with a bunch of people who just got off a cruise ship didn't sound all that appealing, so we decided "nah" on the train.
In the harbor we met some folks from Whitehorse who follow our blog, and had a nice chat with them on the dock. (Hi Carol and Joel!). They're on a Nordic Tug 42 called Josie that they keep in Skagway. After talking with them (and more boat neighbors also from Whitehorse) we ended up choosing to forego all of the 4th of July stuff and instead rent a car and take a road trip up to Yukon Territory! This is a highly recommended day trip. It's not a cheap car rental, but it was the same price as two tickets on the train (and we got to make our own schedule — with AC and everything). Words can't describe how stunning this scenery is, even with the haze from nearby forest fires.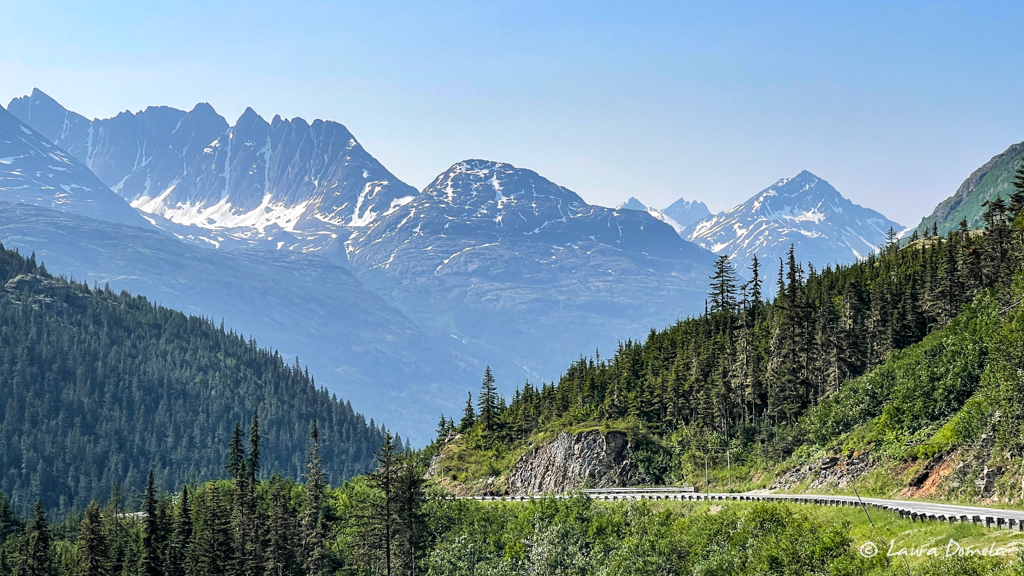 Our rental: a Jeep Grand Cherokee Laredo (a GREAT vehicle for this trip).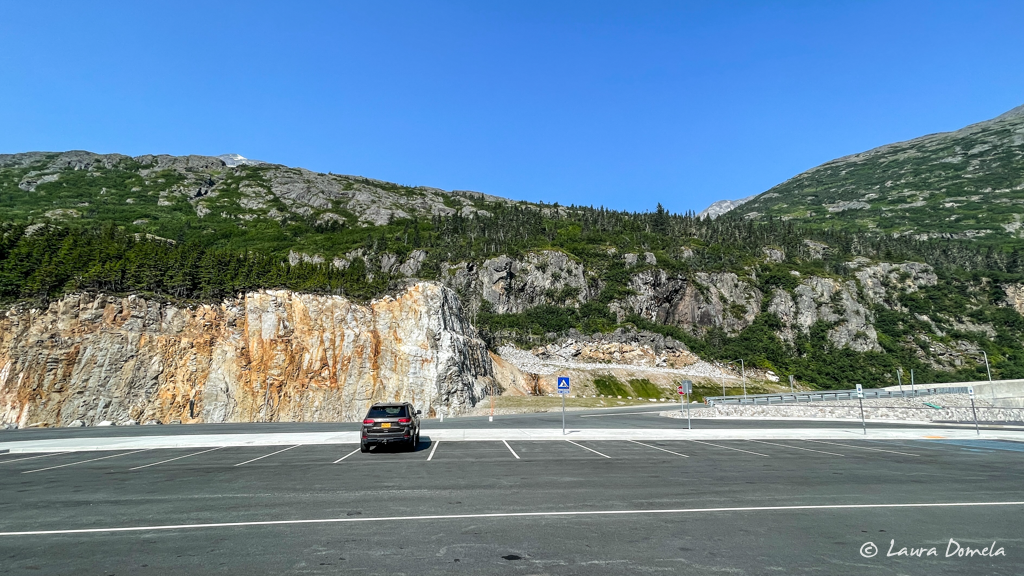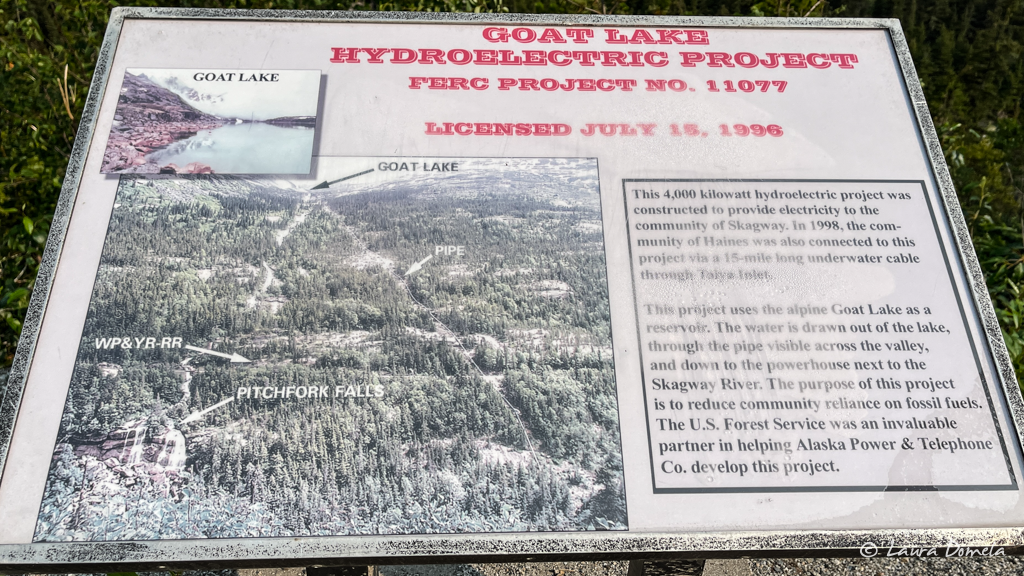 Look closely and you can see the train track crossing the falls: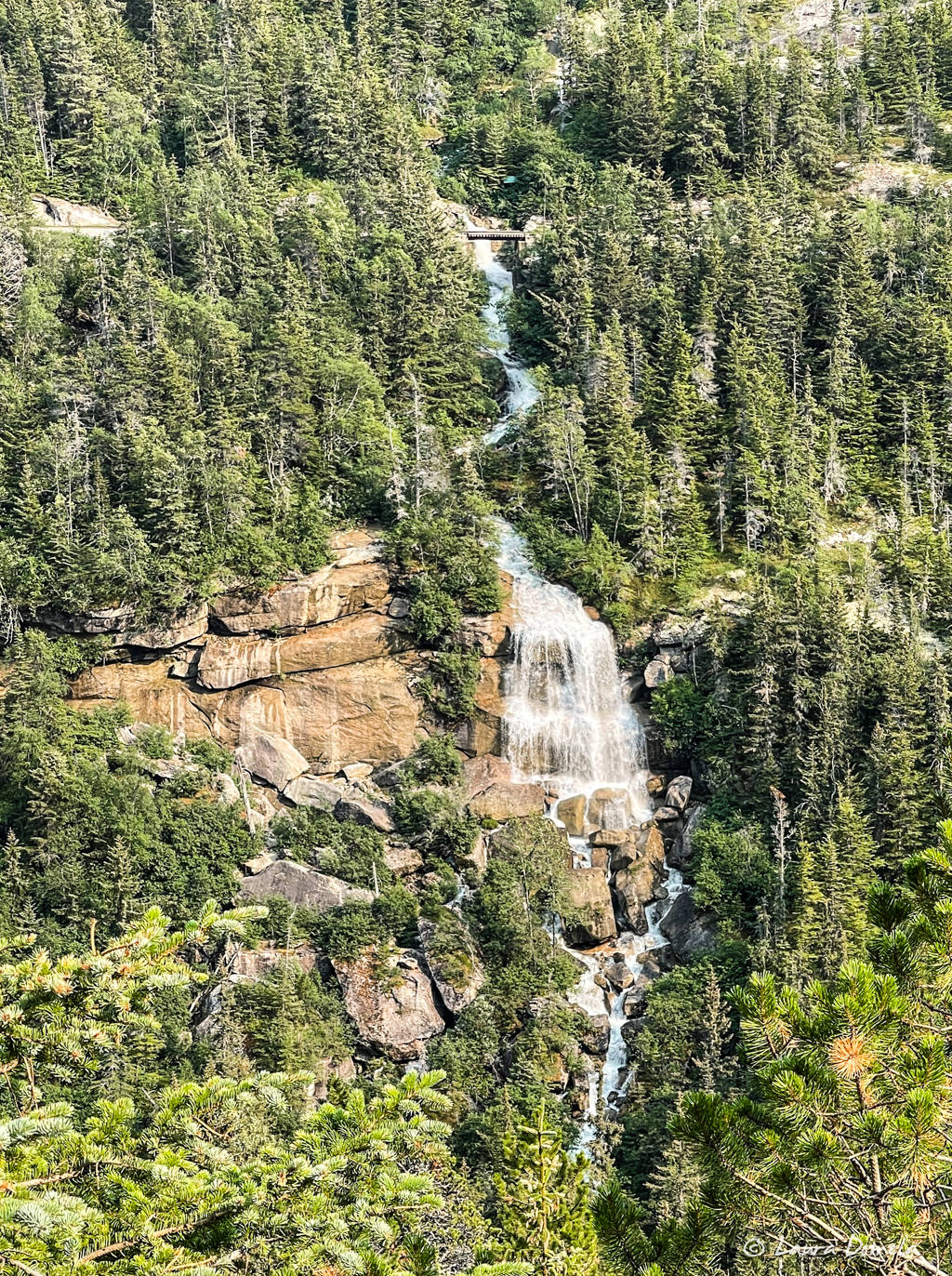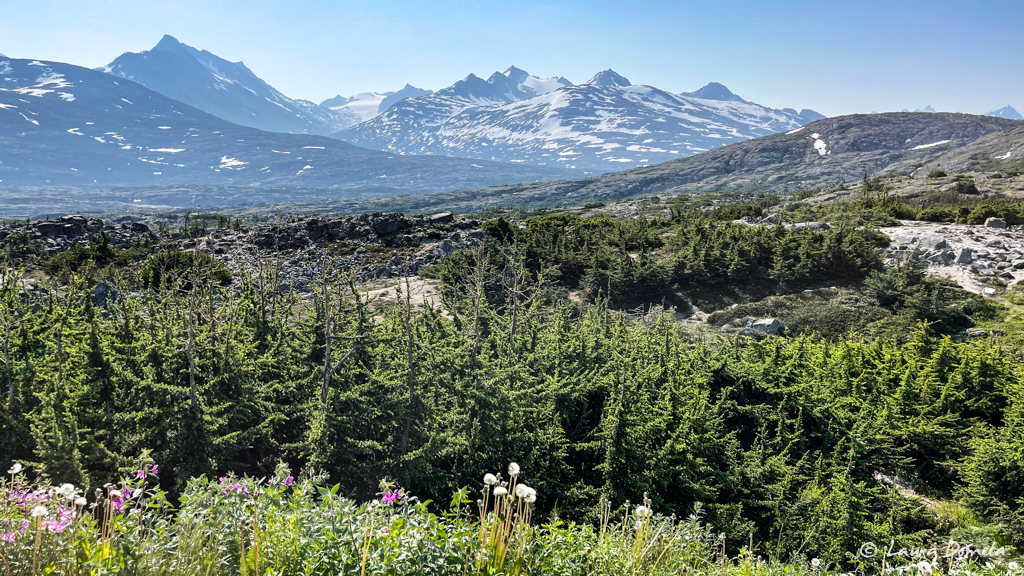 The car rental guy told us to fill out the ArriveCan app for clearing Canadian Customs, which we're used to doing for arrival to Canada by boat, and it already has all our passport/vaccine info in it. Unfortunately as we attempted to connect in the car on the road….there was absolutely no cell service after the minute we left Skagway. (Car rental guy should tell people to do that BEFORE leaving the car rental kiosk.) When we arrived at the customs checkpoint, we assumed they'd be used to this (and maybe have internet). They scolded us (lightly) and had us pull over, go inside, and connect to their internet to complete the check-in. The first agent sounded like he was scolding tongue-in-check, telling us they weren't gonna put up with this much longer, etc. (but was smiling) but the agent inside told us next time they'd refuse us entry, and was not smiling. At all. Sorry Canada. 🙁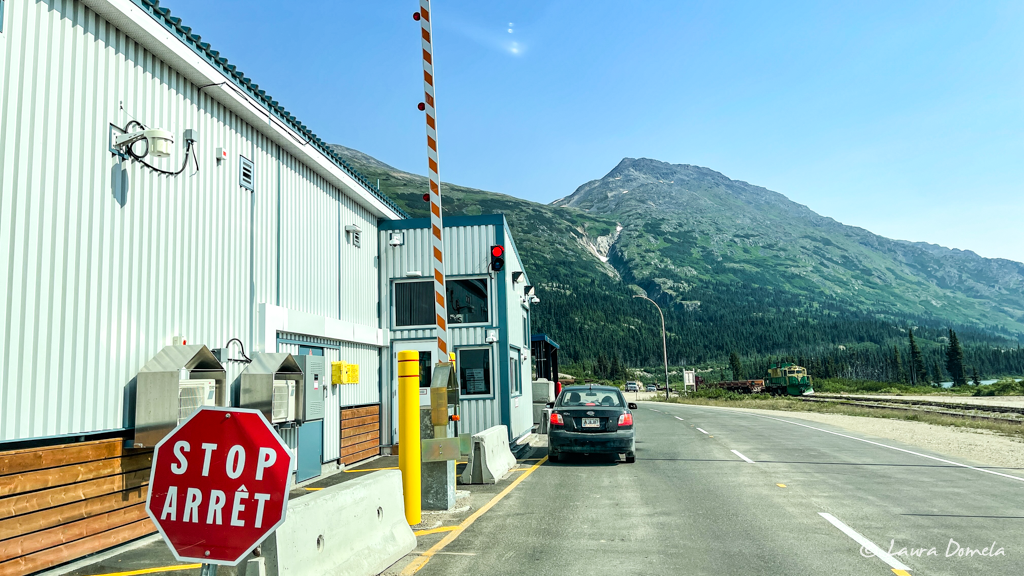 Oh well. We completed our app, got our passports back, and returned to our rental car and headed on our way. Next time we'll know.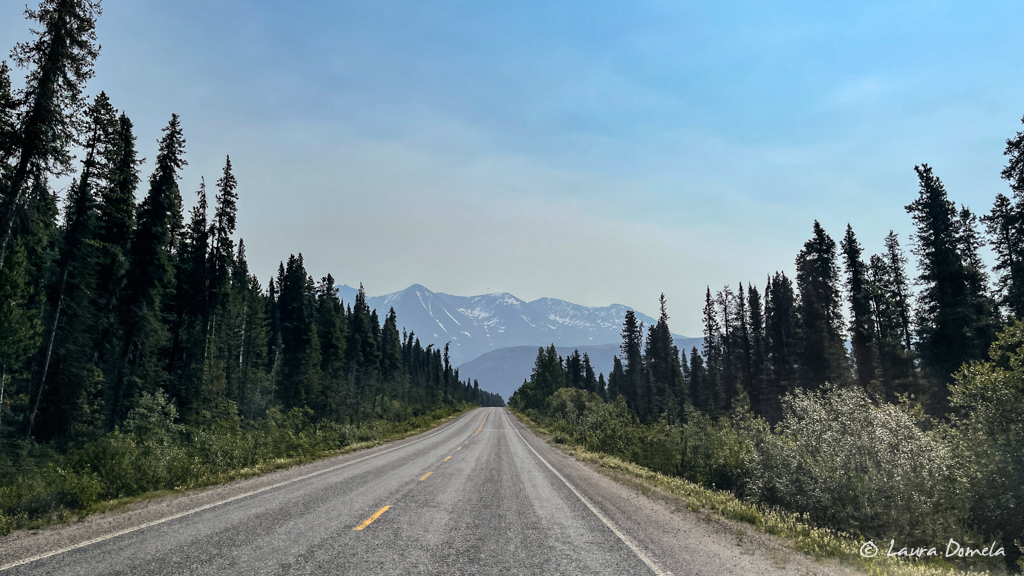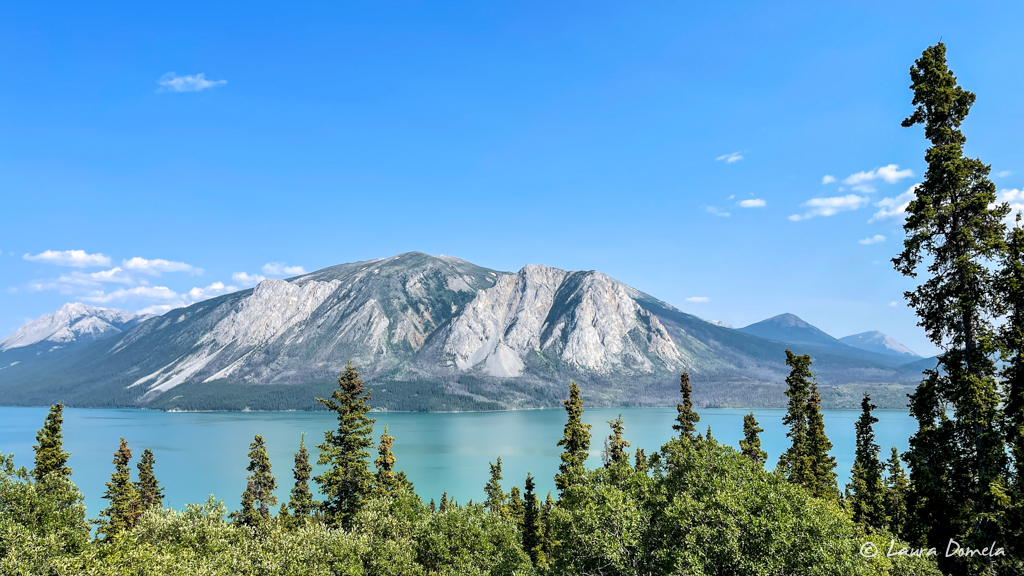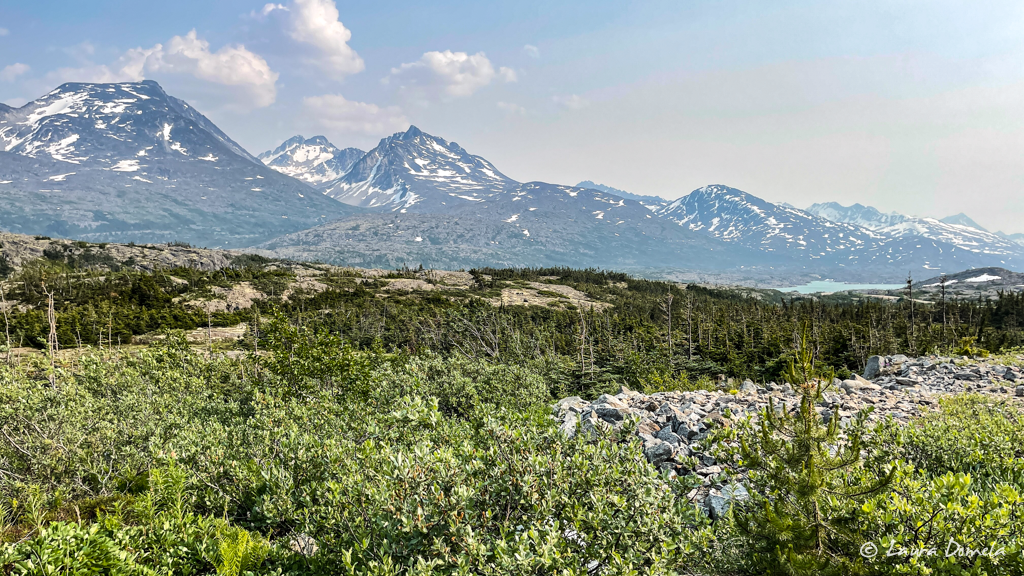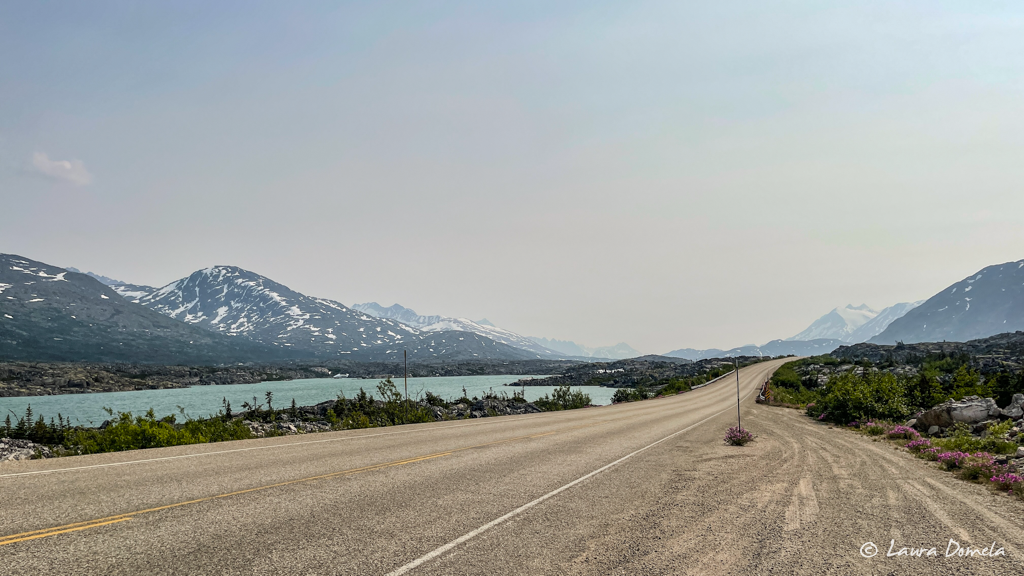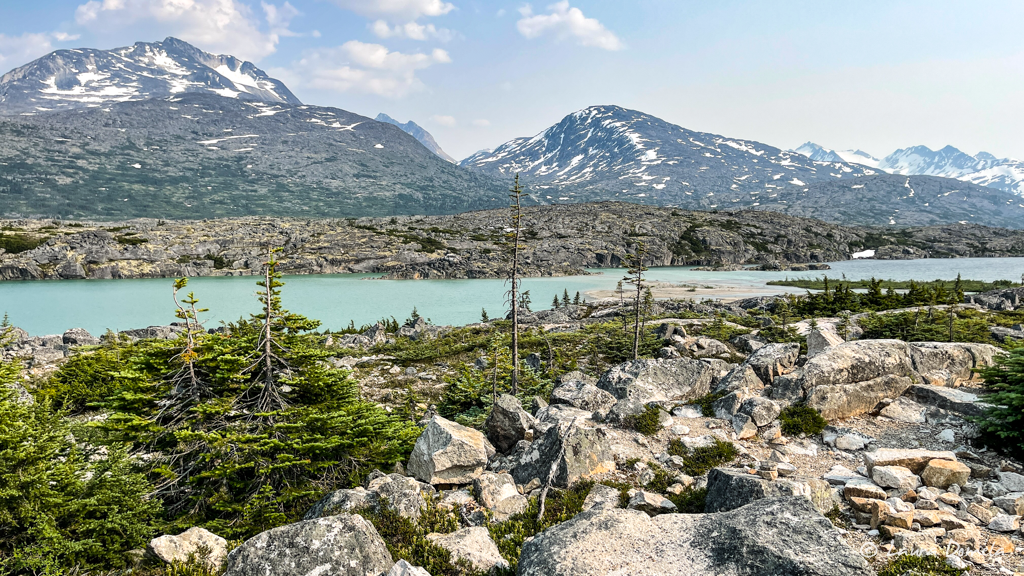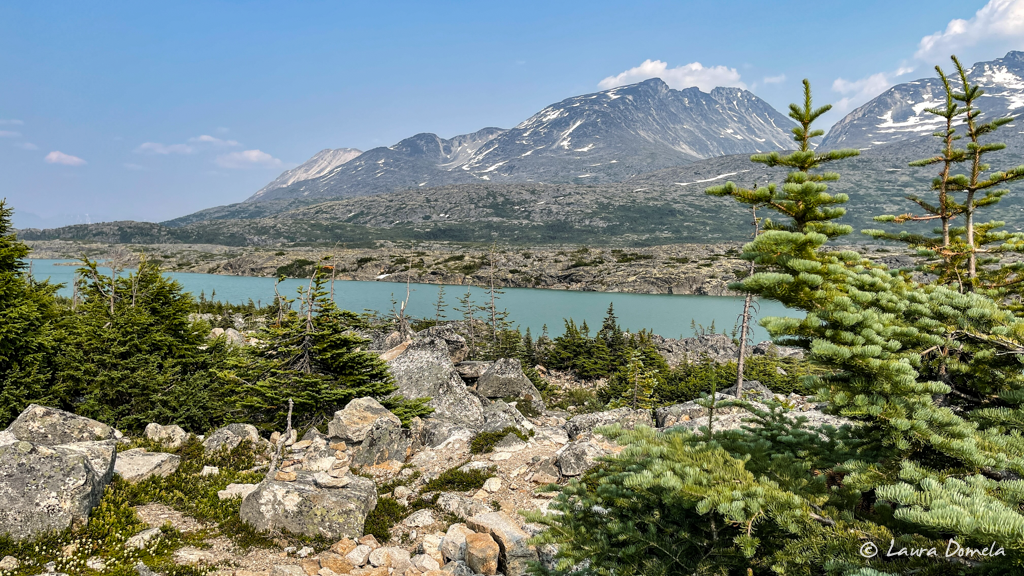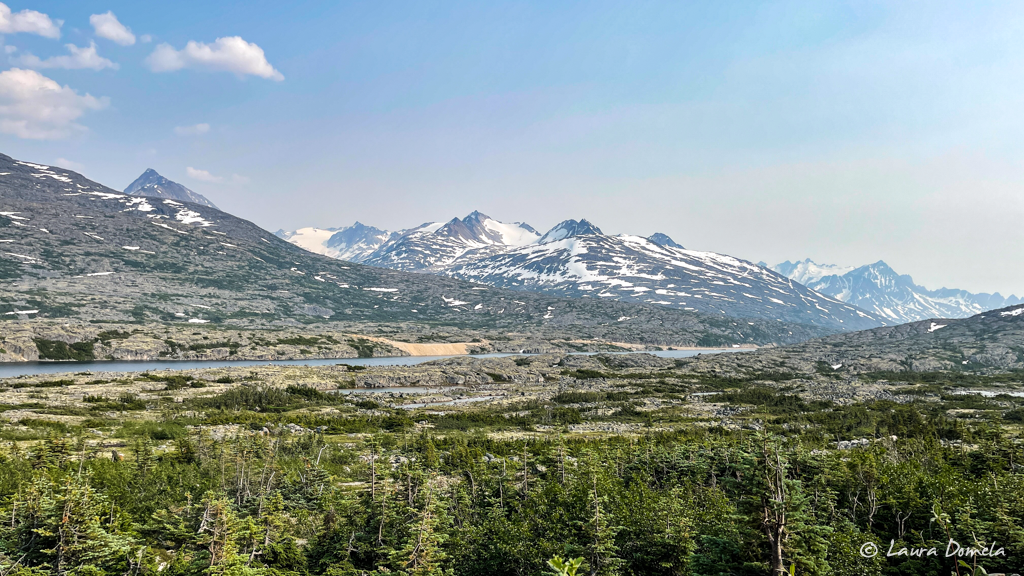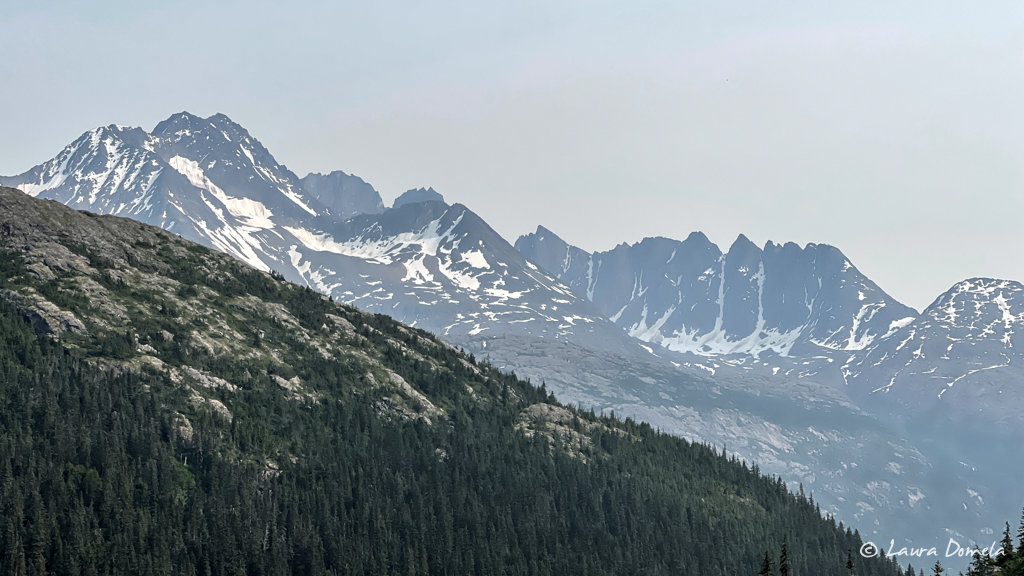 We took a short detour to Carcross (previously called Caribou Crossing, shortened eventually to Carcross) for a few photos.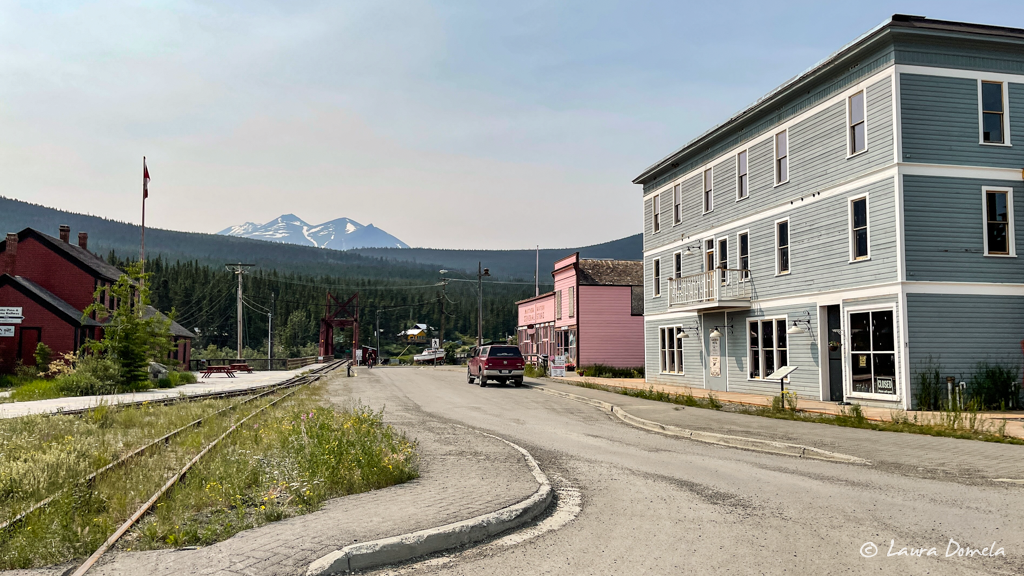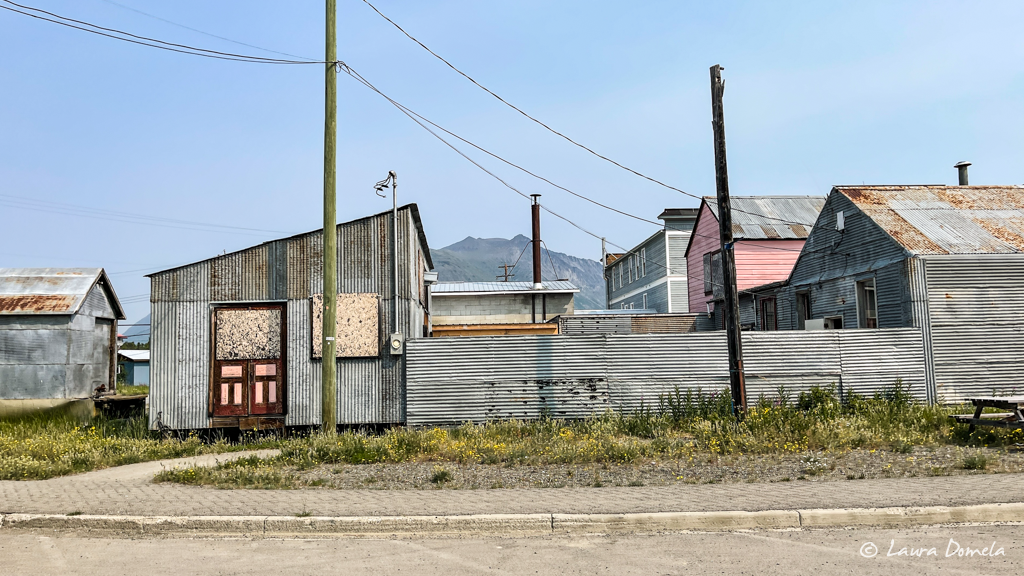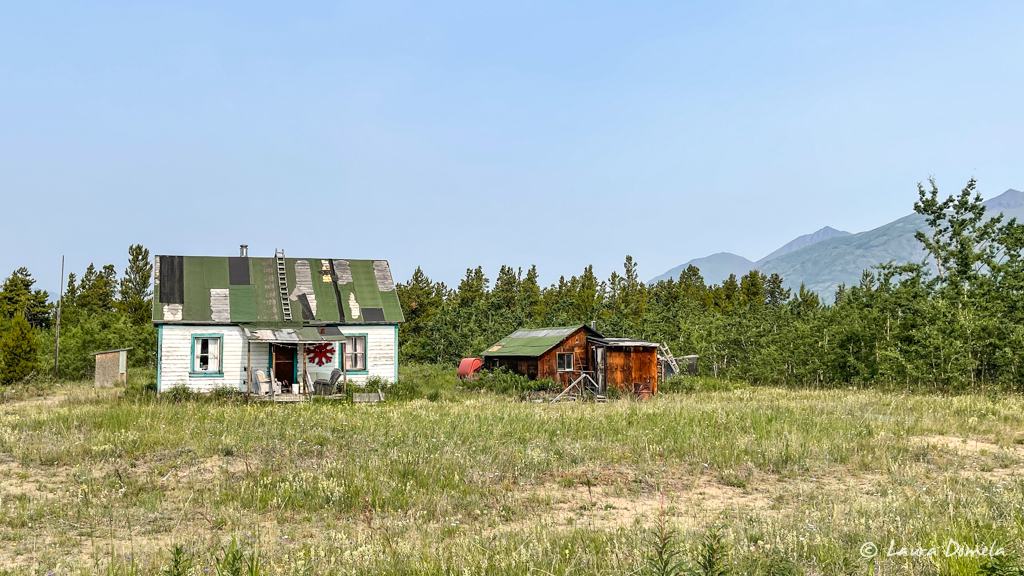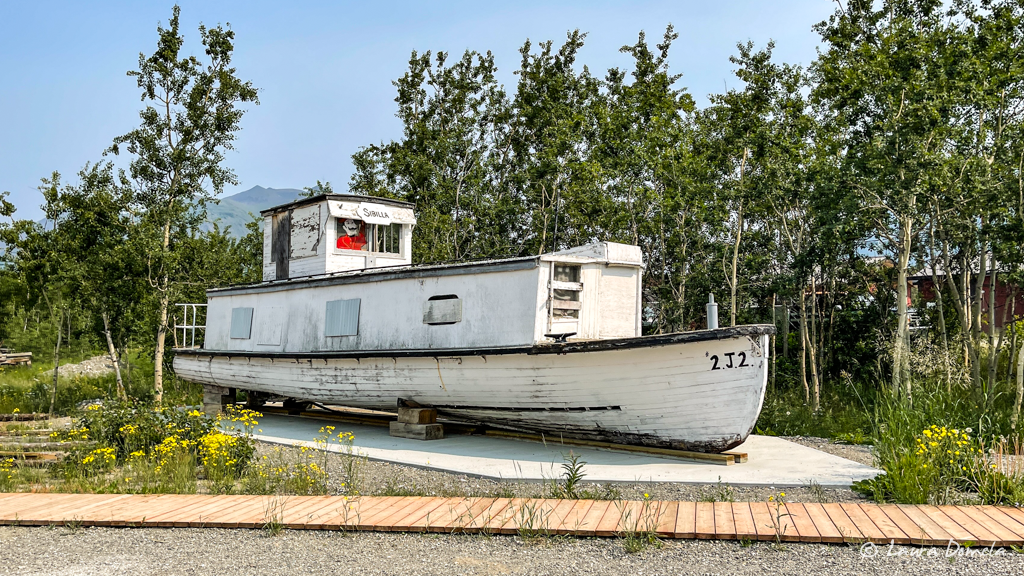 We were very sad that this sourdough bakery wasn't actually open (or in business at all, hard to tell).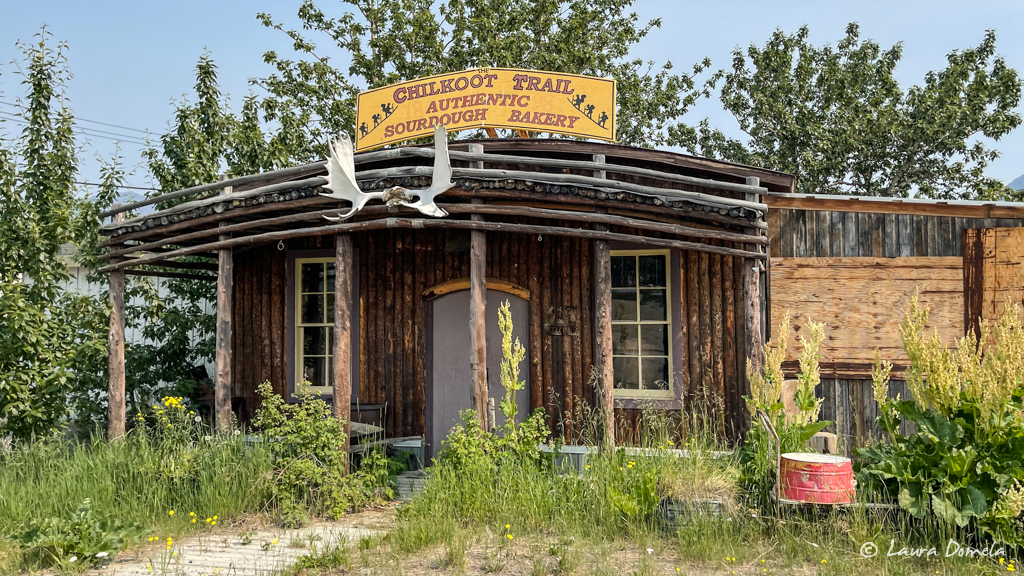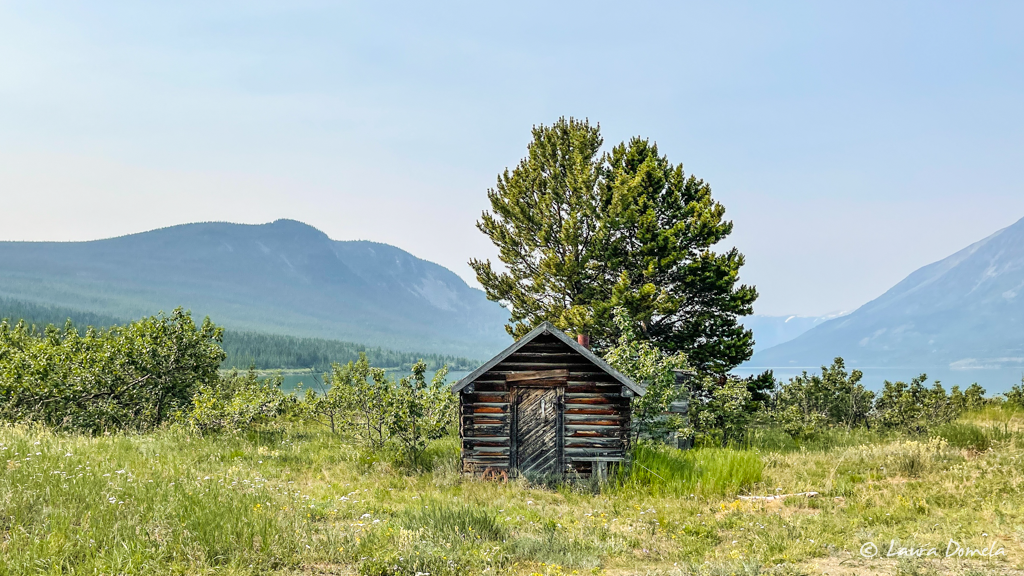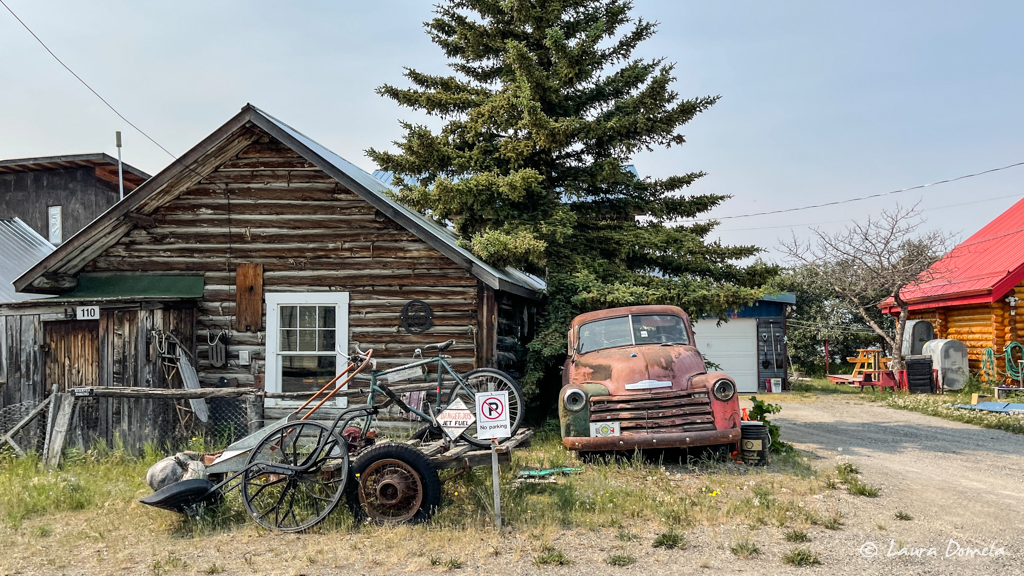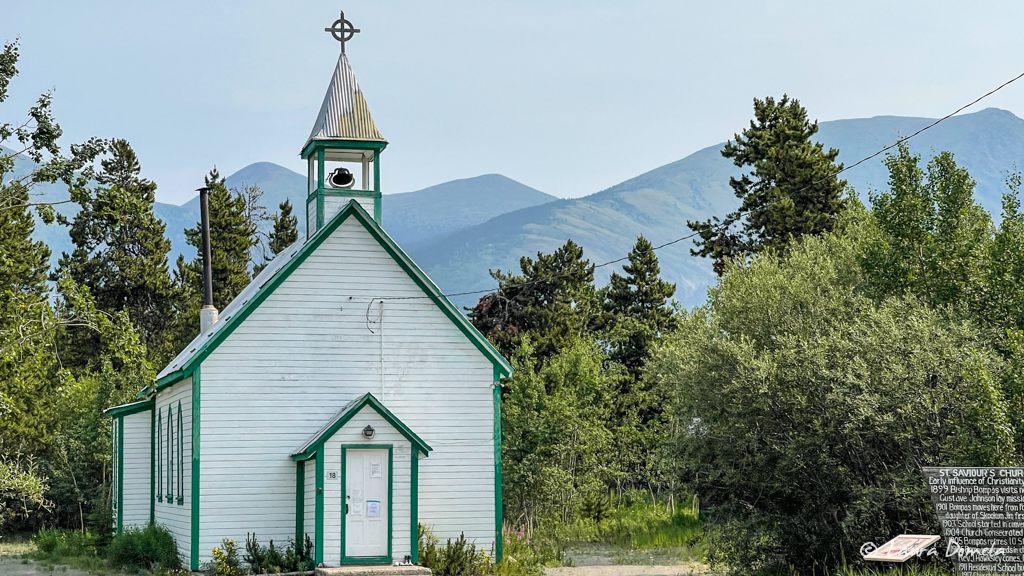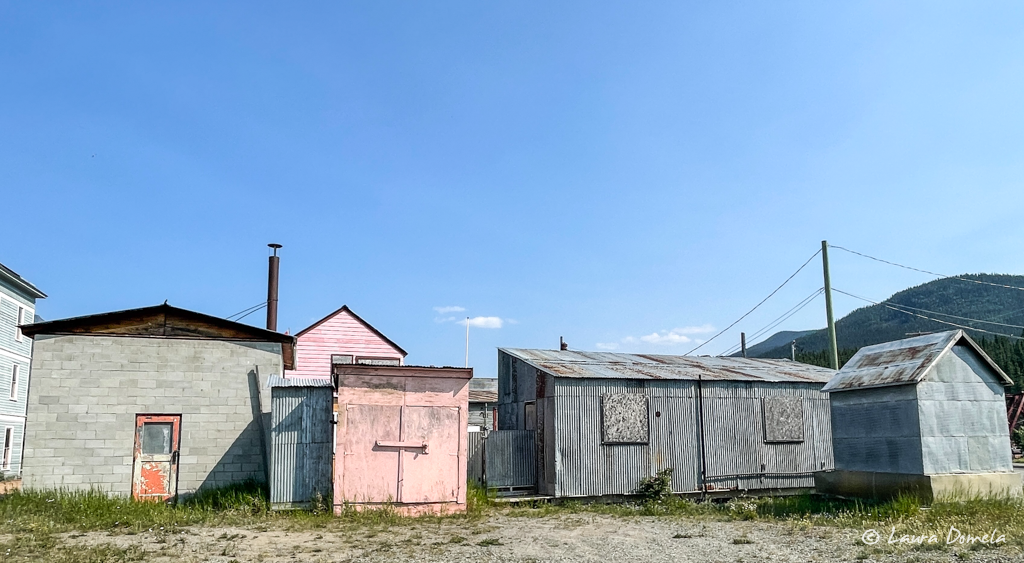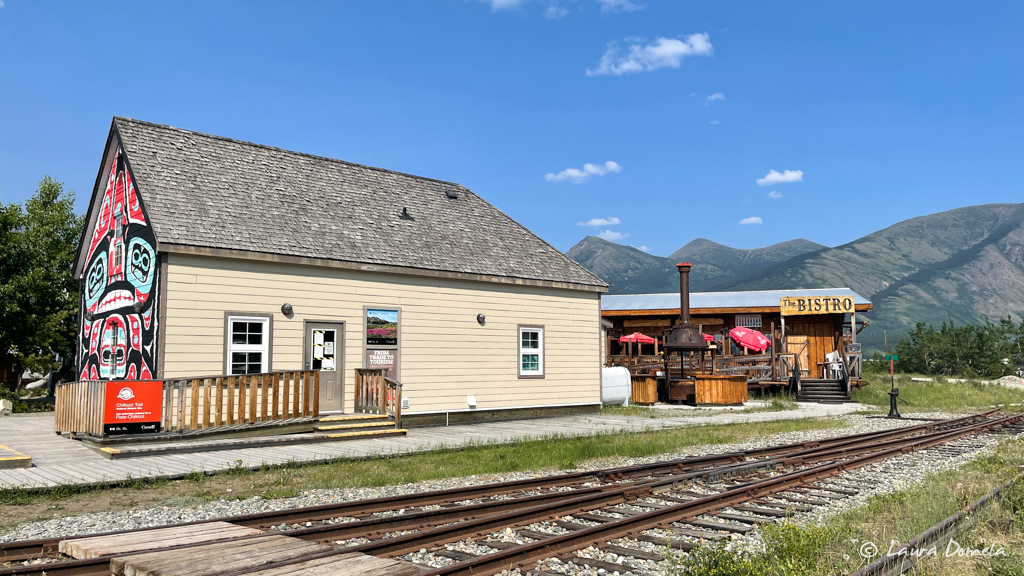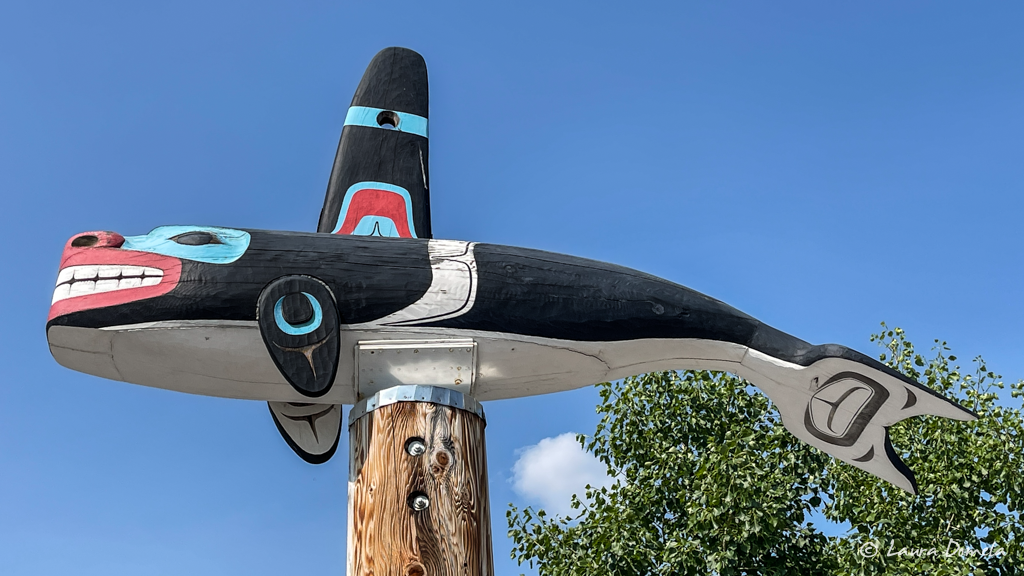 We continued on up to Whitehorse and had lunch at the place our boat neighbors recommended, Klondike Rib and Salmon. We shared some ribs and some halibut and chips, and had a pint of a local beer from Yukon Brewing. Everything was delicious, and the place has a fun and quirky vibe.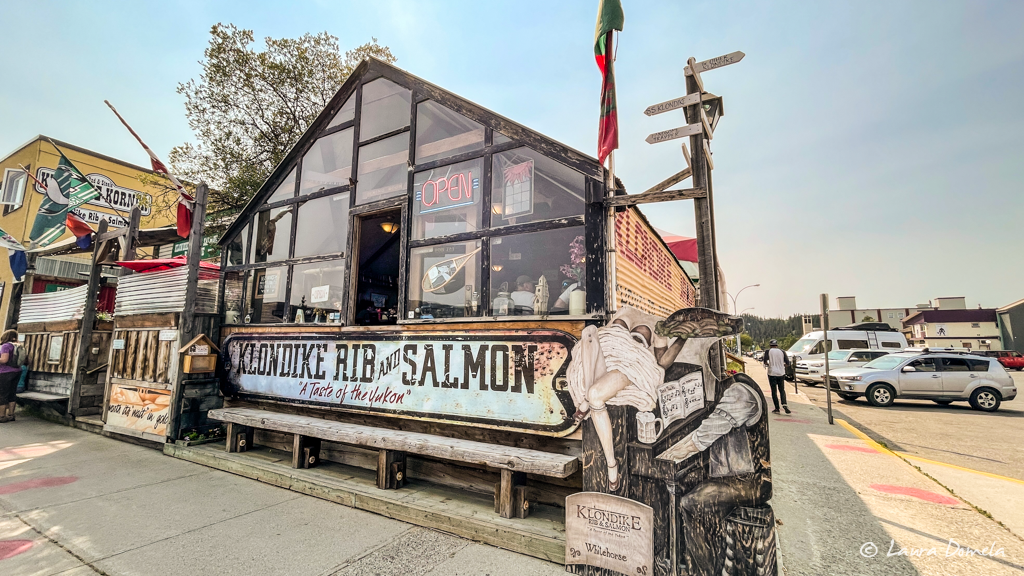 We walked around Whitehorse a little and then drove down to Yukon Brewing to get a few cans of Yukon beer for our cooler back on Airship, then headed back toward Skagway.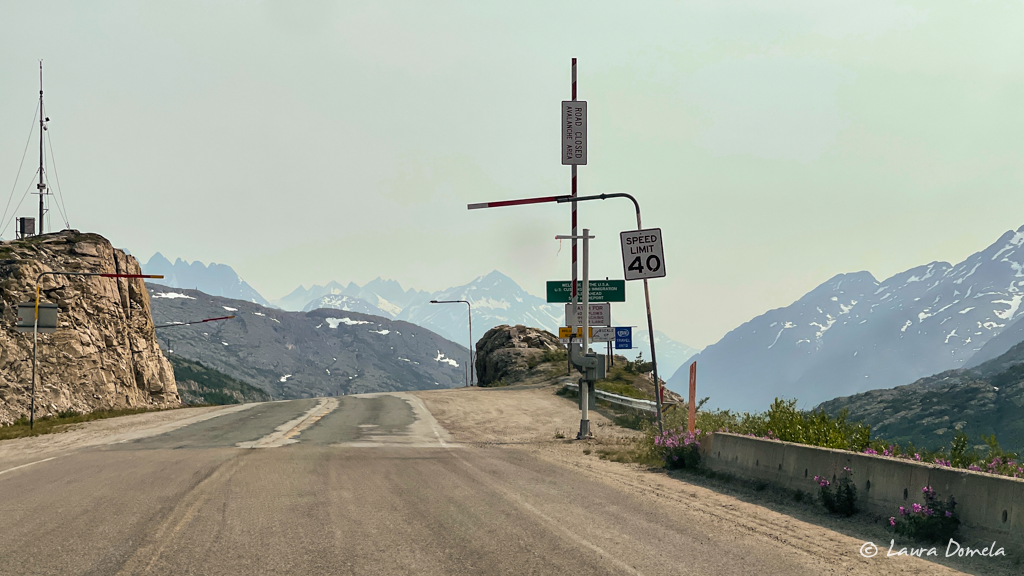 We were almost back to Skagway, but still felt like exploring with the car a bit more, so we took the Dyea Road turnoff and headed for wherever that would take us.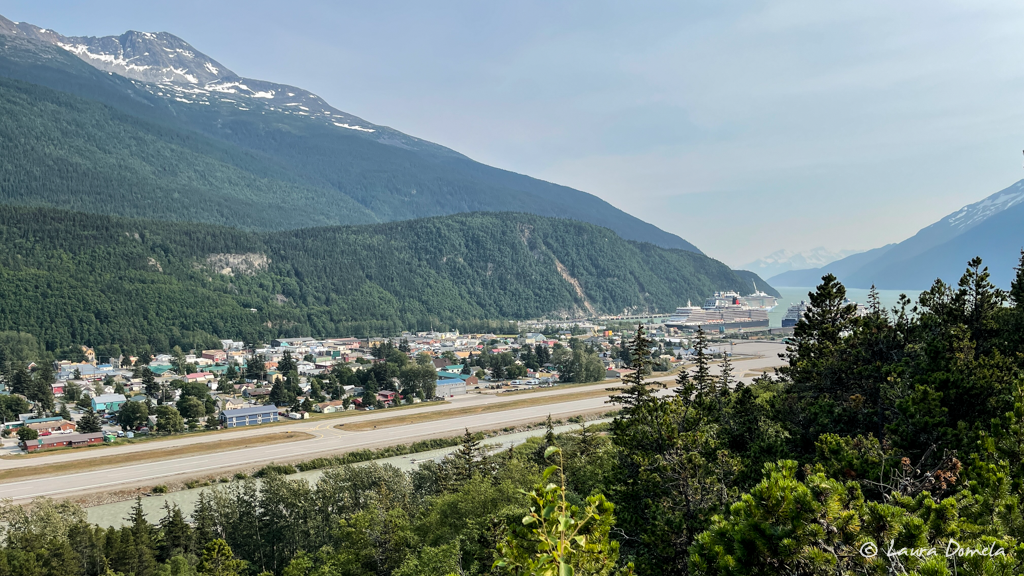 The road eventually turned to gravel and continued around the edge of the water around Dyea Point and along the west side of Dyea Flats. We knew nothing of this area previously, and it was cool to learn some of the history of this place.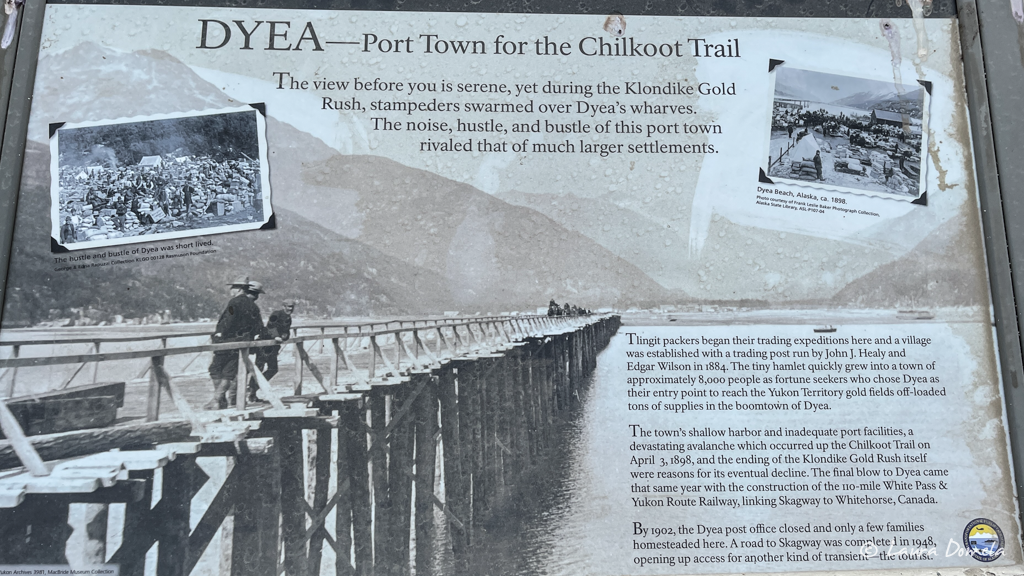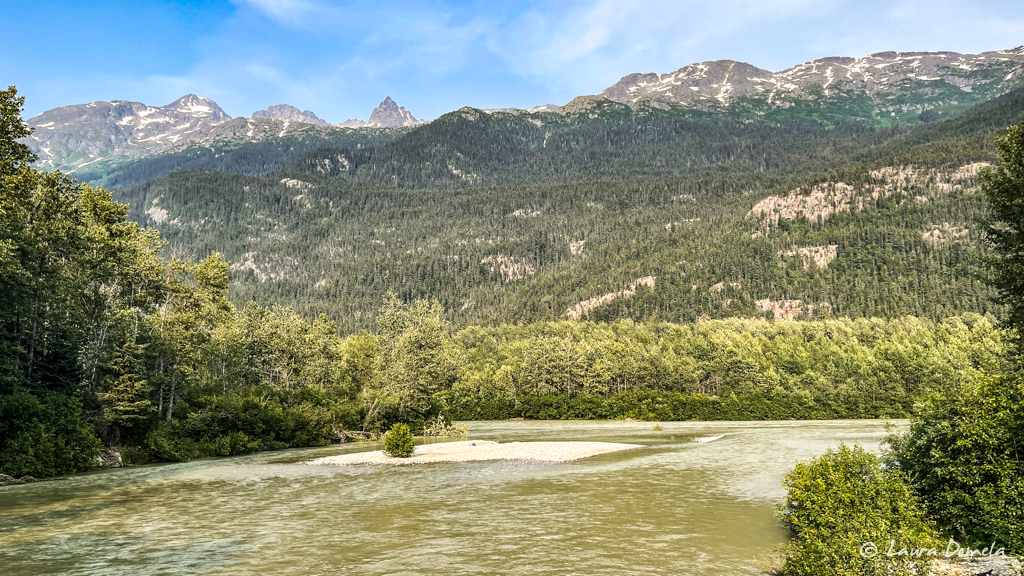 Lots of narrow dirt and gravel roads and one lane bridges along the route.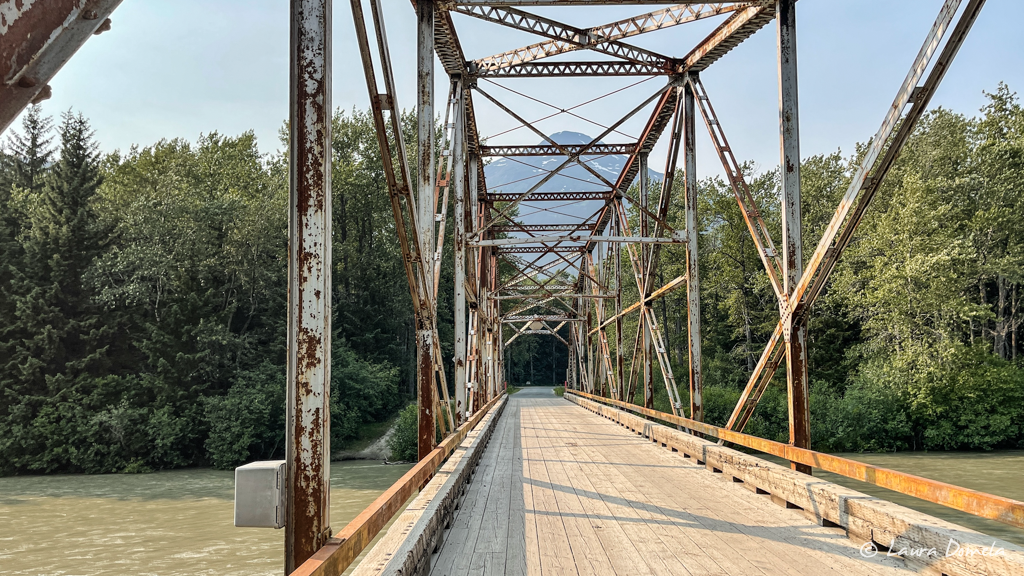 There were a few folks camping out here, and we drove the jeep about as far as we could and came to the end here at what looks like the remains of an old dock.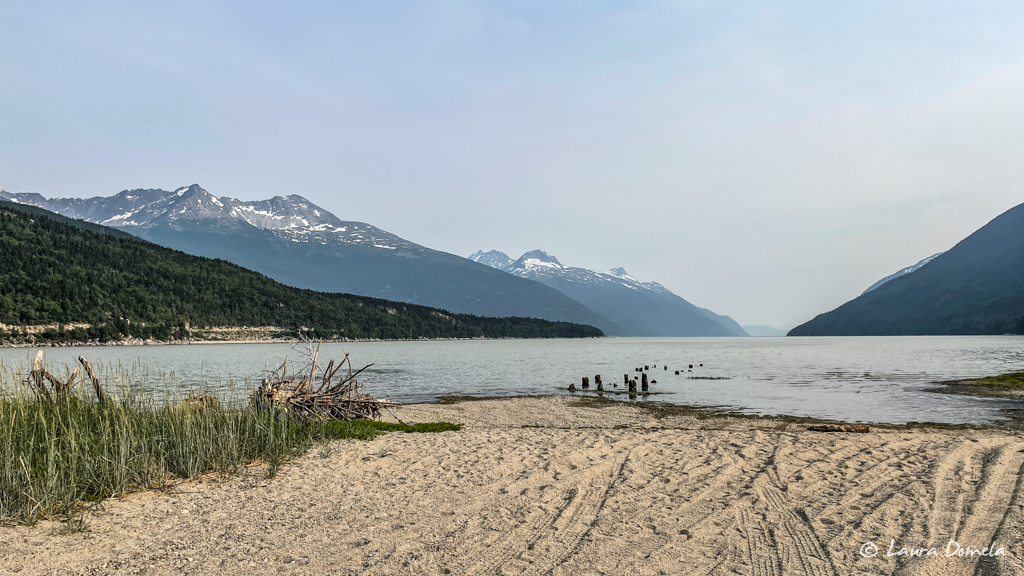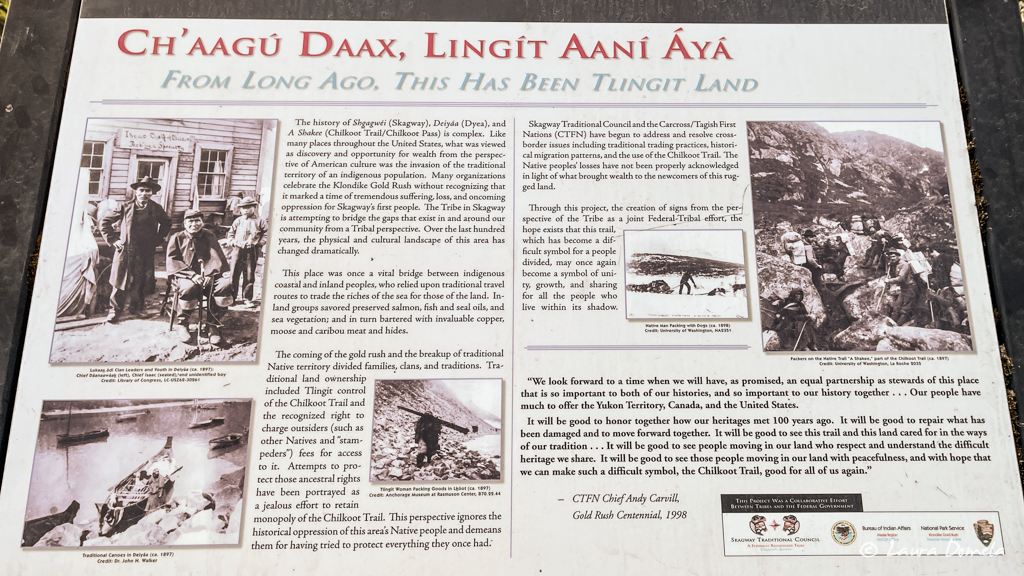 We left the flats and continued on the narrow road (which felt more like a trail) and were treated to some incredible views! (We also stopped to let a pack of about 10 horses pass by, so that's a thing you can do here too!)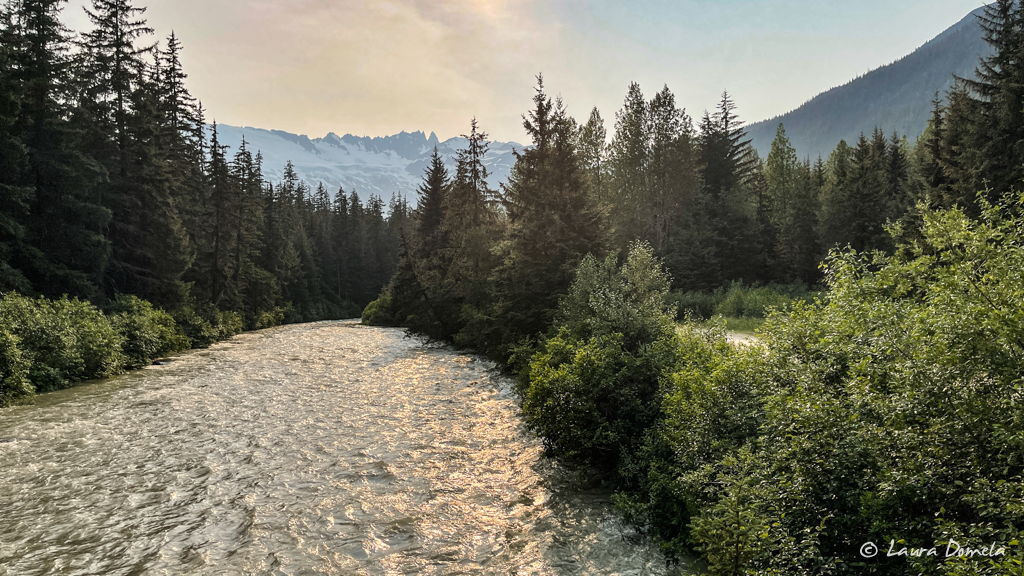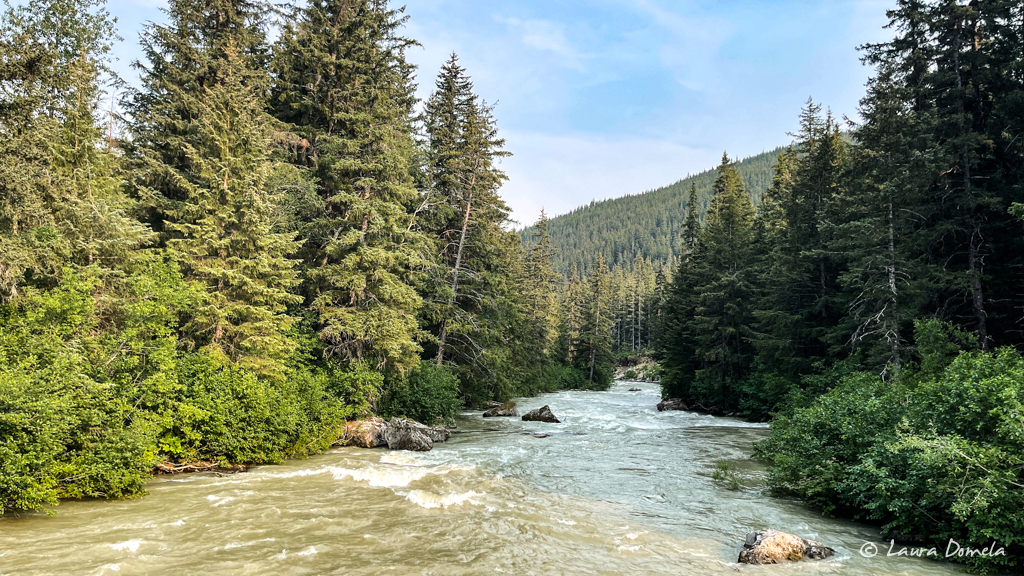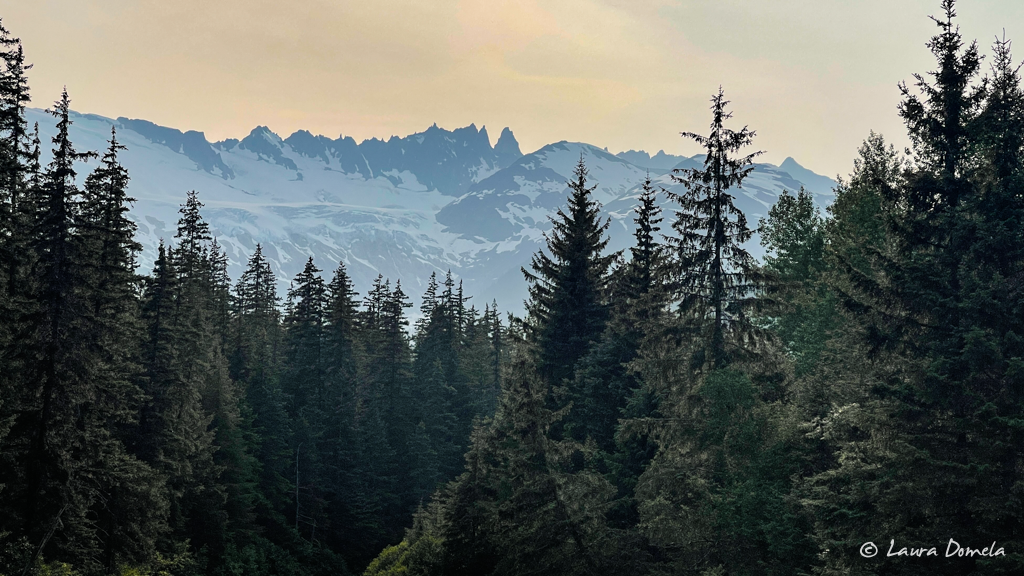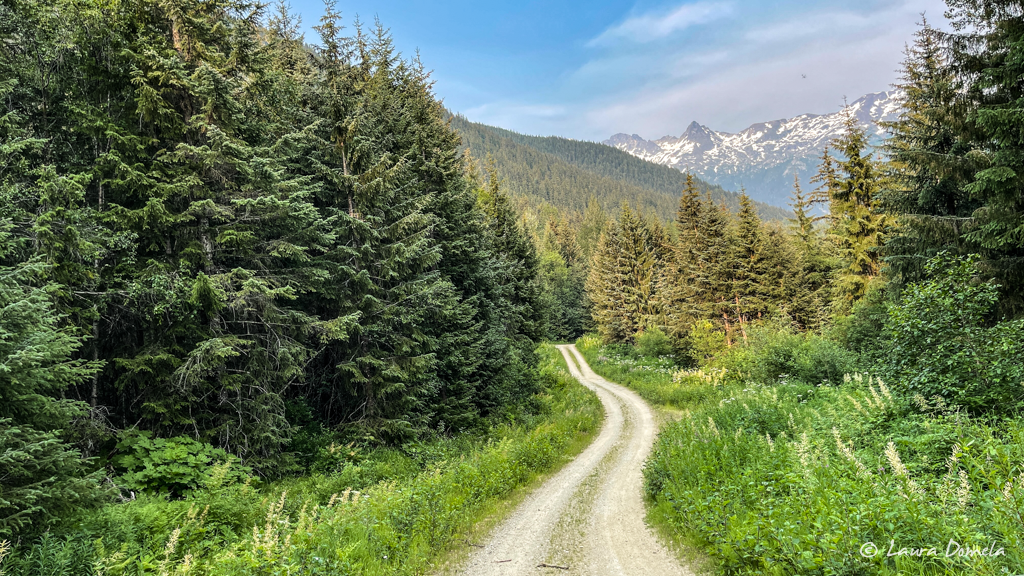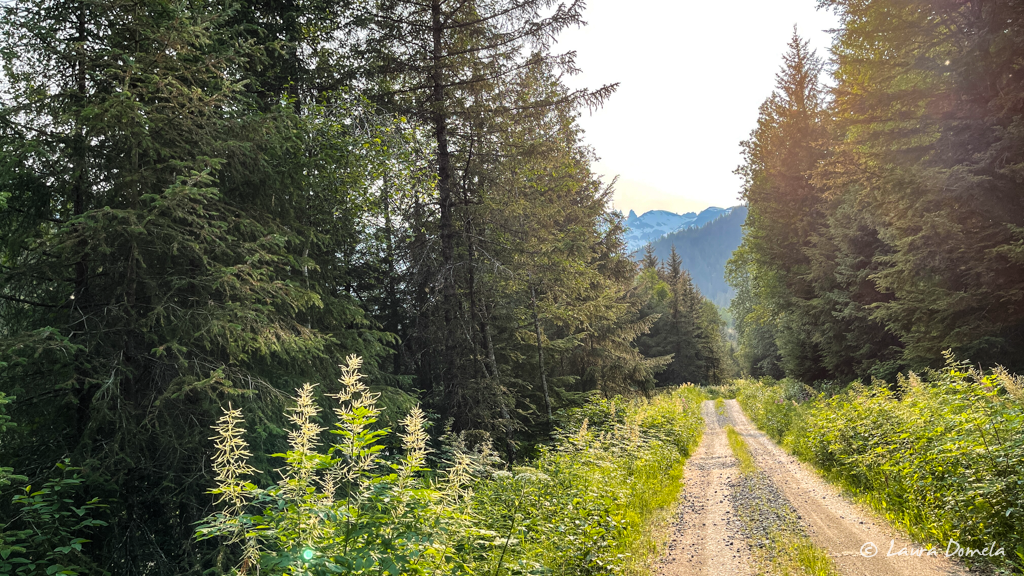 After what felt like many many miles, we came to this bridge crossing the river (we think continuing the trail to Lost Lake).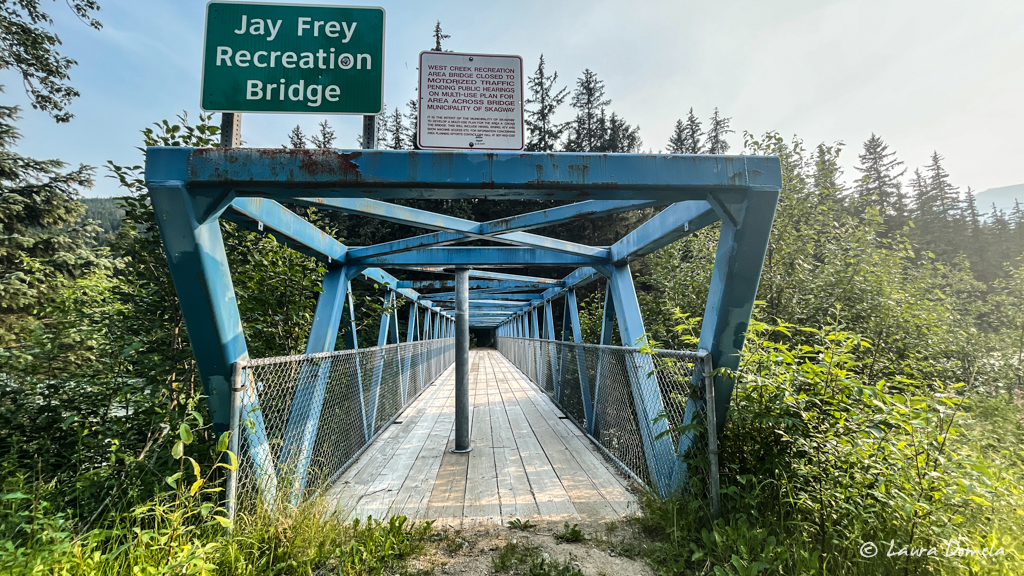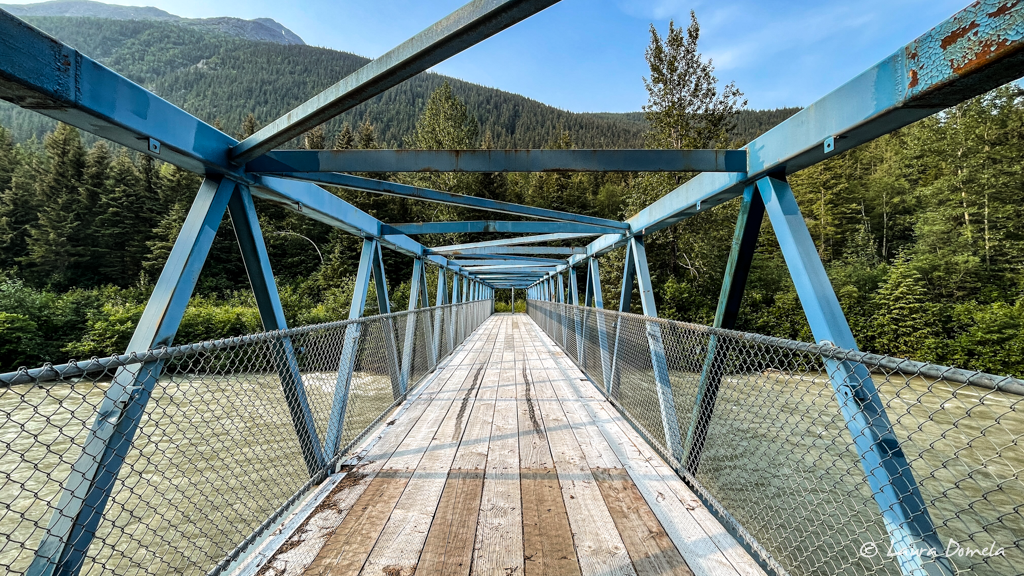 We finally got to a place we felt like we couldn't/shouldn't go…where the road narrowed significantly and turned sharply uphill and into the trees, beyond which we could not see, so we deemed this to be the end of our road and turned around to head back to Skagway.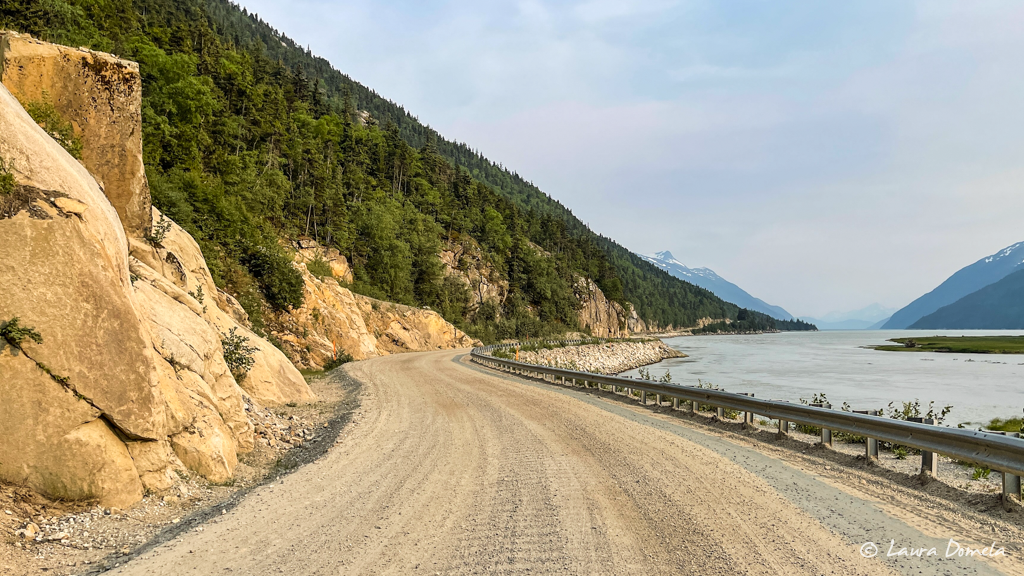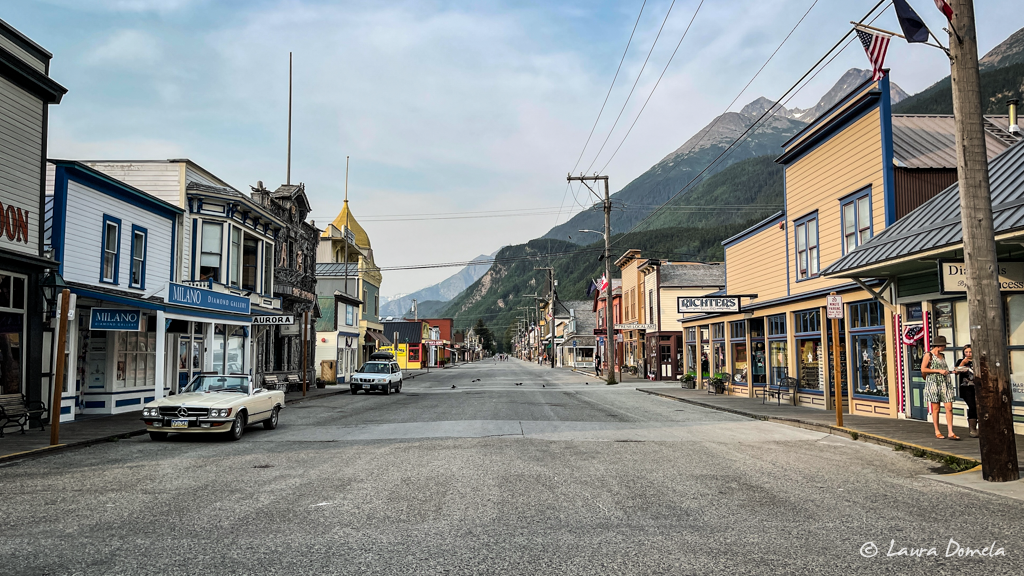 In the morning, we fueled up and returned our rental car and then headed to Haines.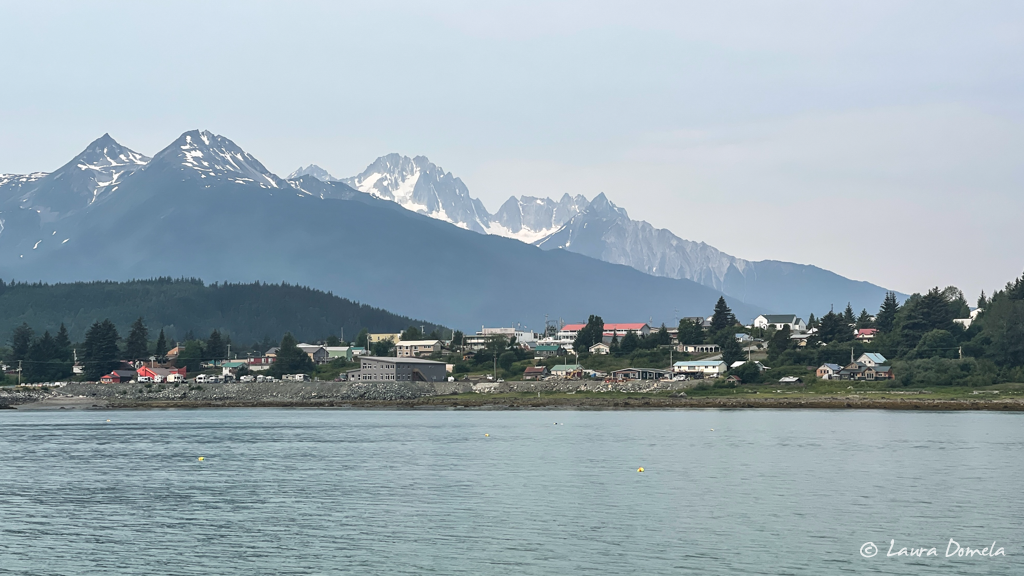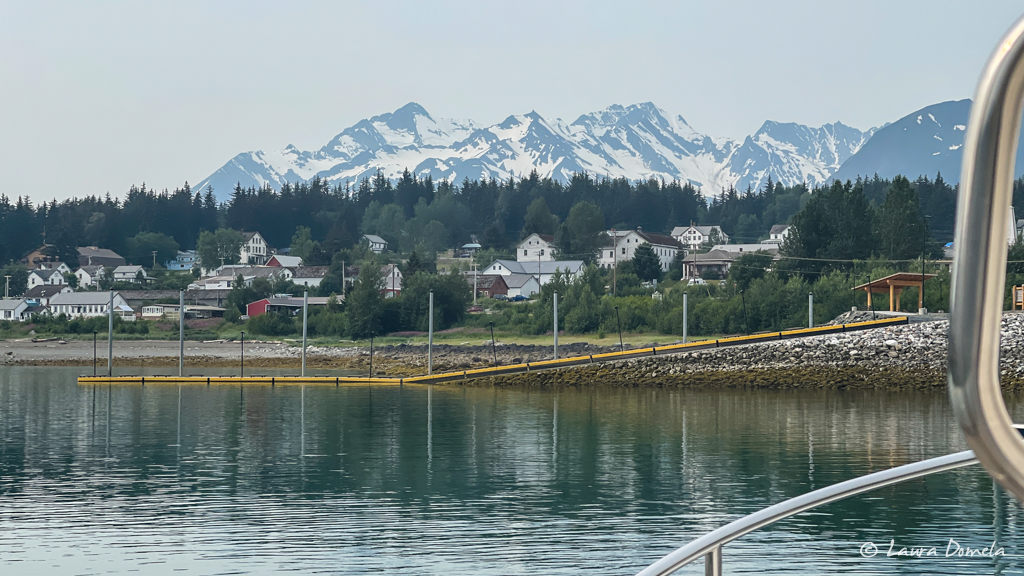 We checked in with the harbormaster and then walked up to town for a late breakfast, some coffee, and a walk around town.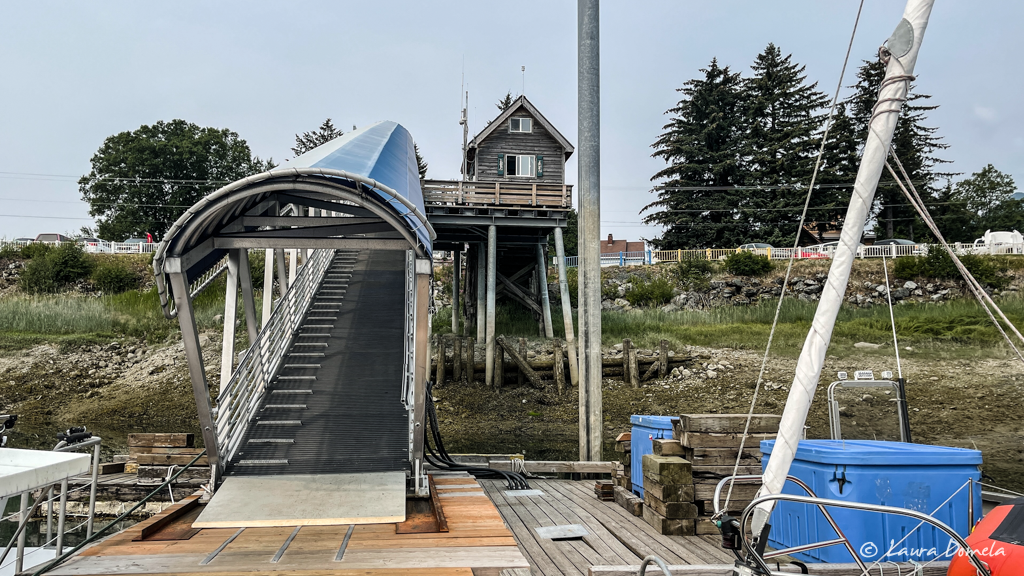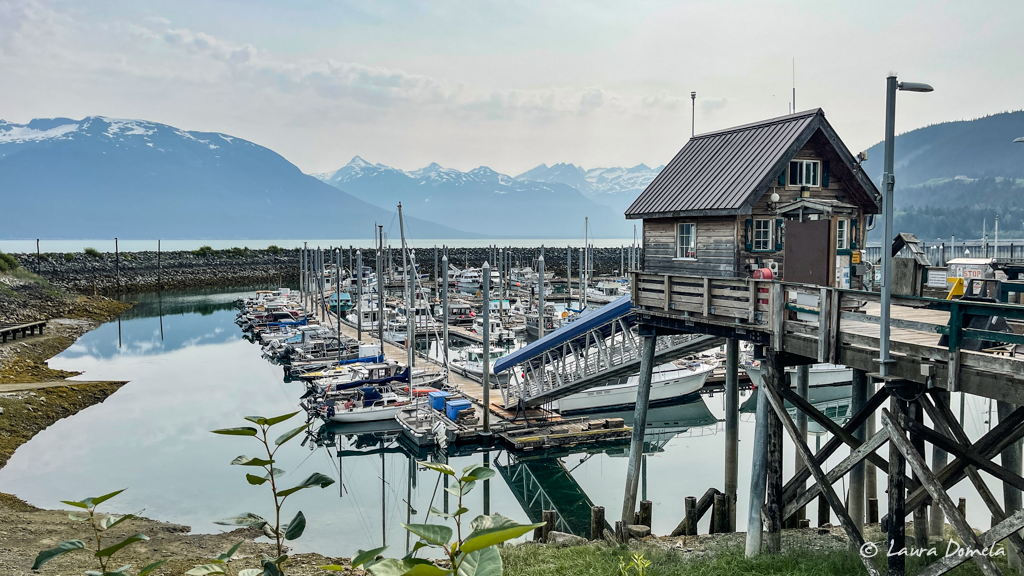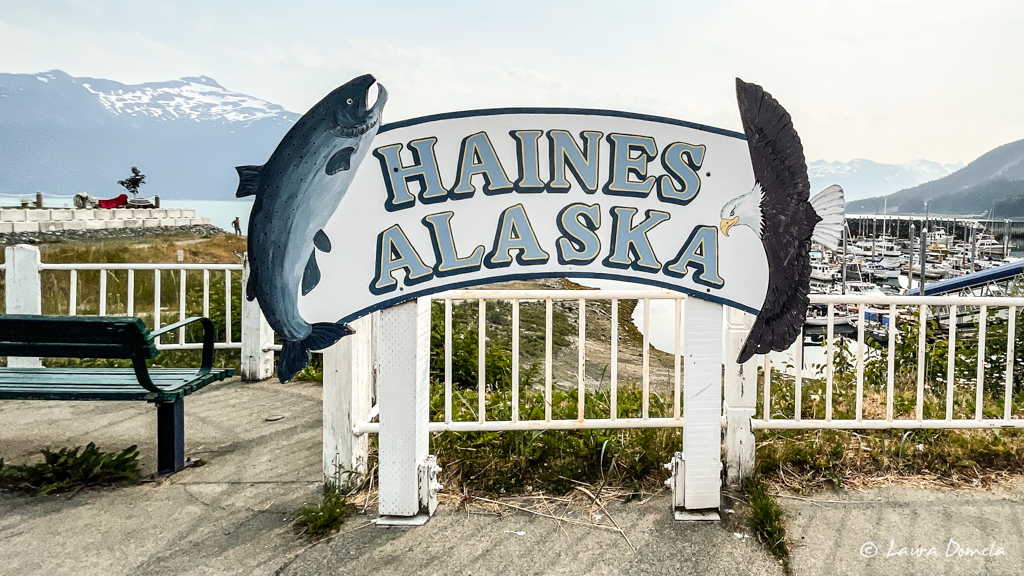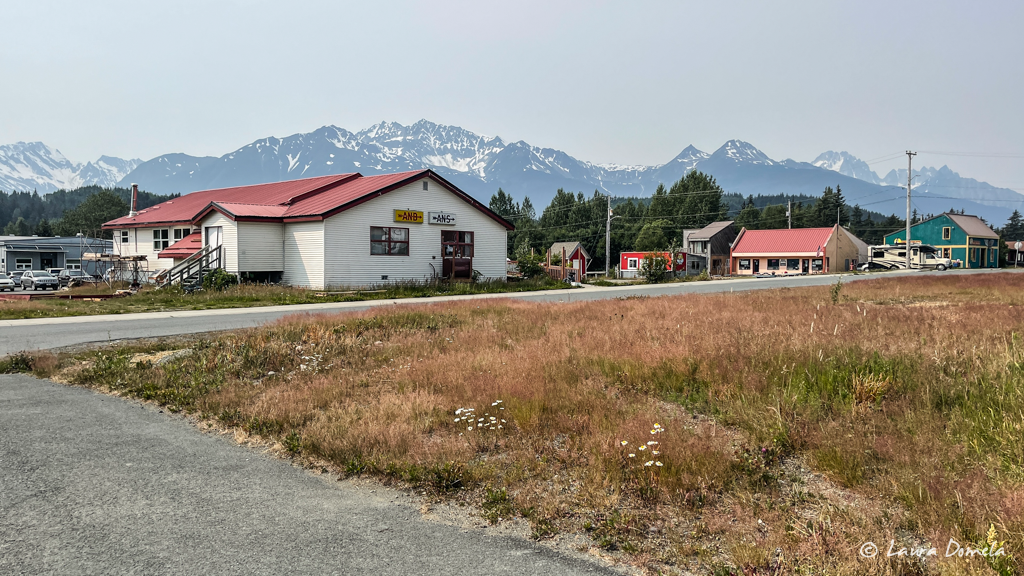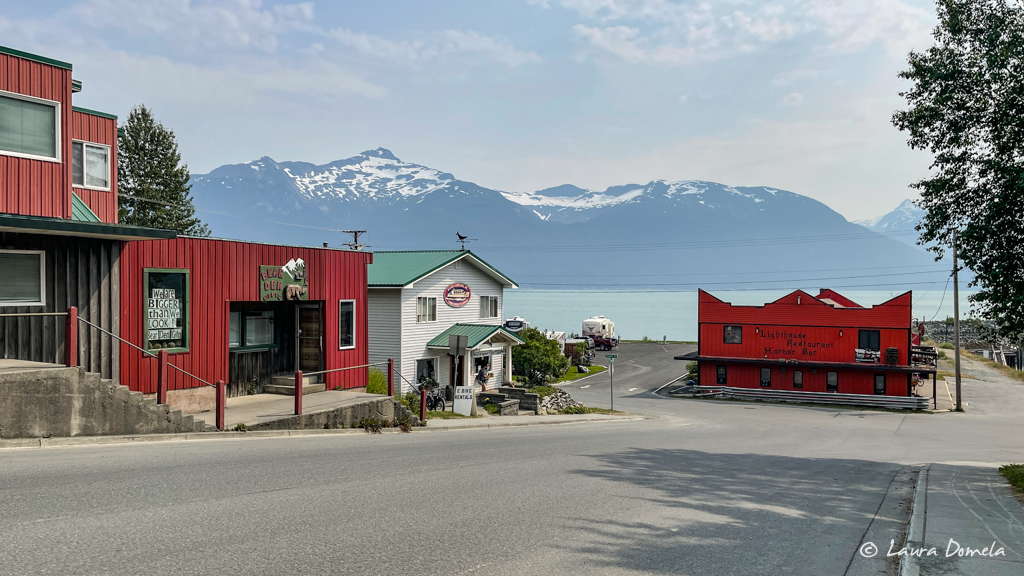 It's so hard to get a photo that shows the extreme slope of the ramps up here at low tide, but this one comes closest so far: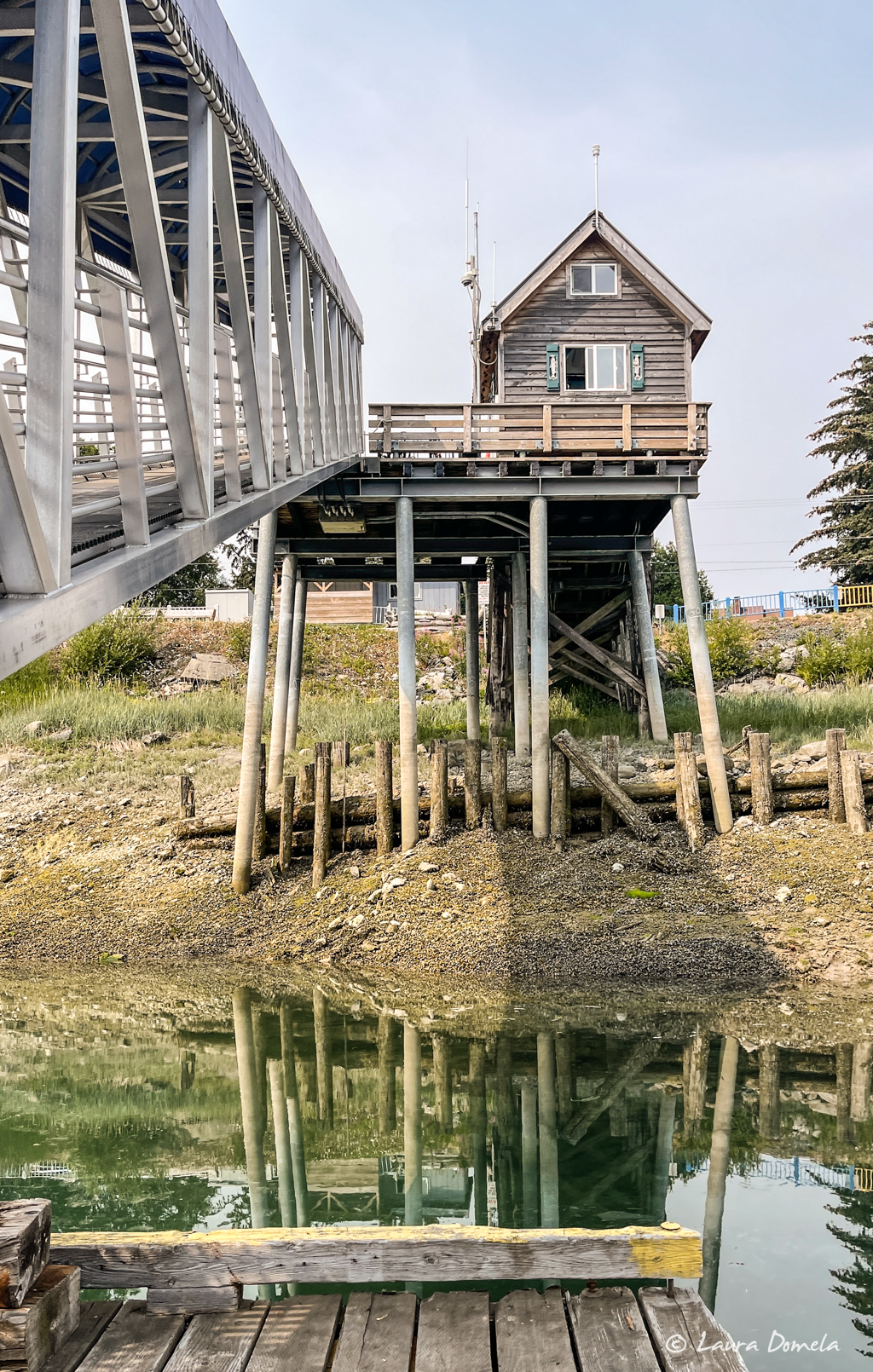 After doing some work on the boat, later in the afternoon we went for another walk around town. We stopped at the Port Chilkoot Distillery up the road and shared a tasting of their Boatwright Bourbon, Wrack Line Rye, and Old School Whiskey, and brought back to the boat a bottle of bourbon, rye, and a small bottle of their Green Siren Absinthe (for sazeracs). Fun!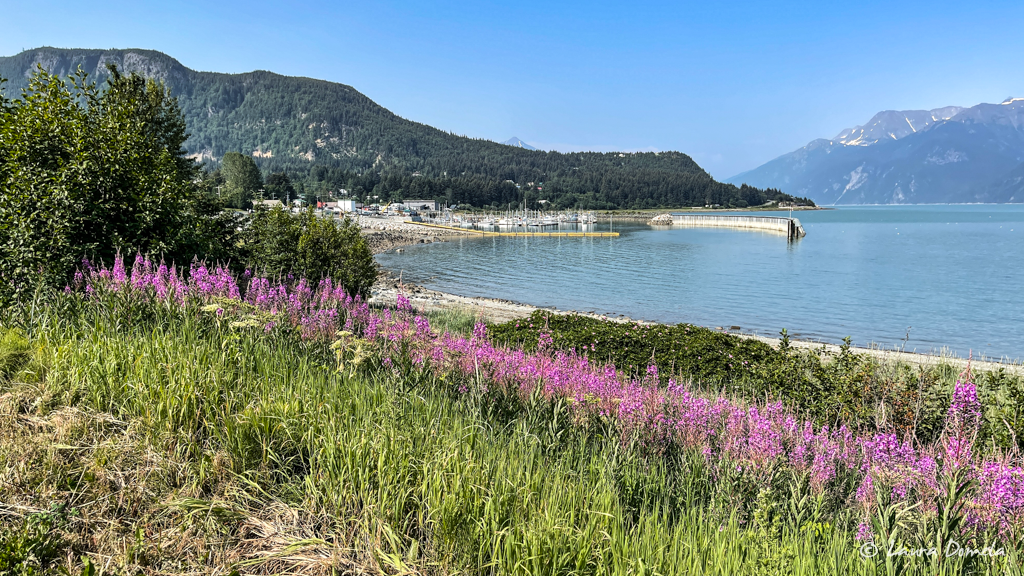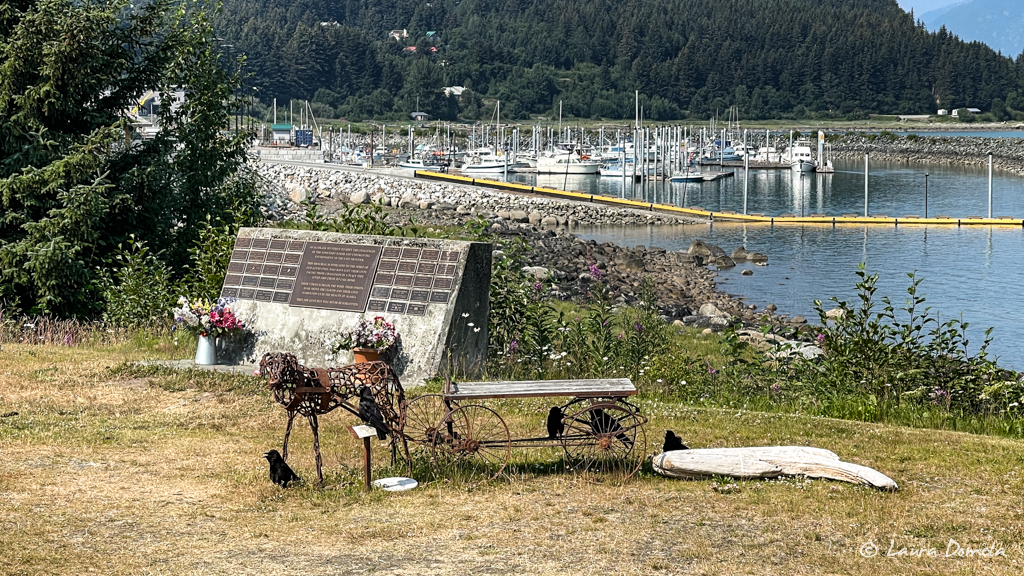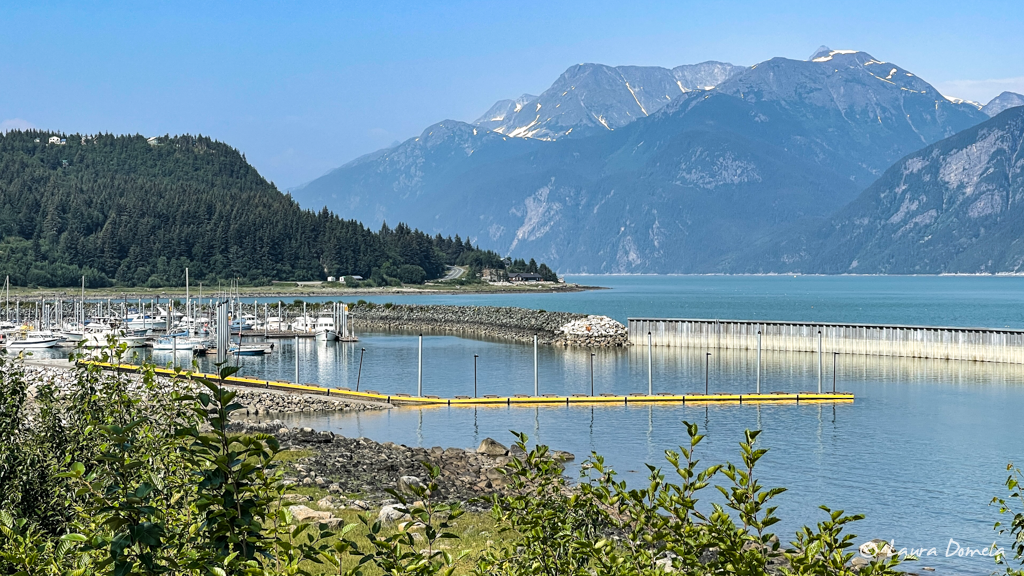 It was a little cloudy and overcast today, which honestly is welcome after the many hot days in a row. Yesterday, we put a couple crab traps out among the many MANY others in front of the breakwater and north of there, and pulled in one very large male Dungeness this morning (already cooked and picked and hoping for more to join so we can make something crabby!)
This afternoon (after a tip from some boat neighbors we met) we walked over and bought a fresh sockeye from a gill netter who had just come in…whole fish, filleted, $30. Beautiful! We vacuum sealed the filets and put three in the freezer and we'll have one for dinner tomorrow night.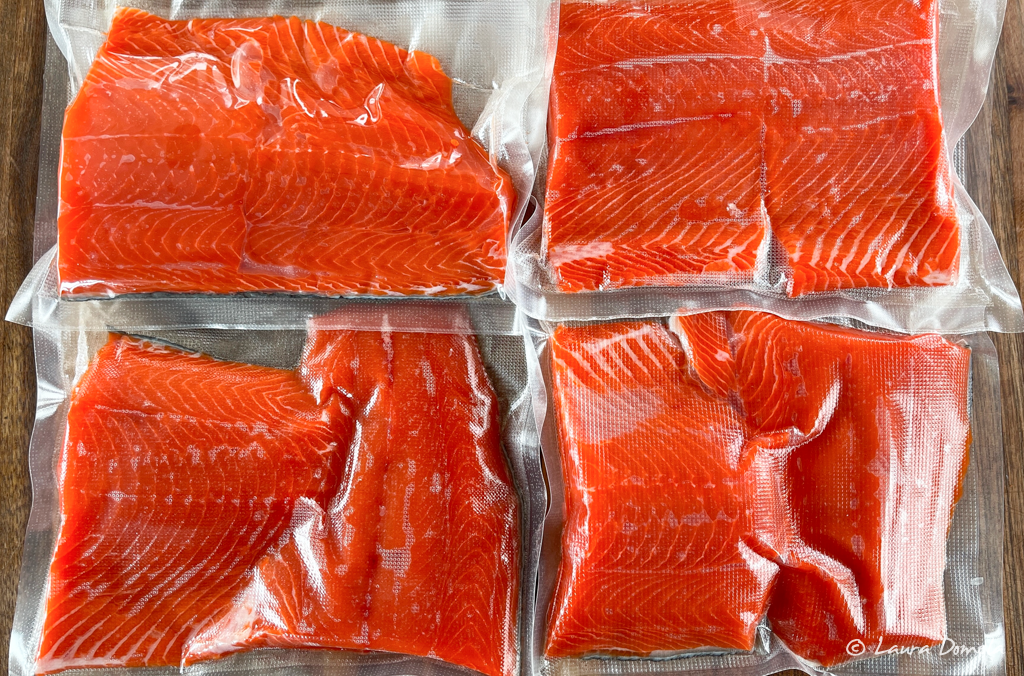 In the early evening we walked up to town to pick up some pizza and salad from Alpenglow, a wood-fired pizza joint just up the hill. Wow! Very impressed with this pizza. We ordered one called Moneypenny (mozzarella, goat cheese, mushrooms, roasted garlic, fresh oregano, truffle oil) which was delicious, but the winner was the Diavola (tomato sauce, mozzarella, chili oil, double pepperoni, honey, oregano). The combination of chili oil and honey and oregano made this otherwise expected pepperoni pizza VERY different and super delicious.
We'll head out in the morning to….not sure yet!