We picked up Kevin's brother Craig in Sitka and after changing our planned route probably five times prior to his arrival due to weather (we were hoping to get out on the outside of Chichagof or Baranof), we set out back through Peril Strait, buddy boating with our friend Ralph on Rubicon. The first day we left Sitka early and made the 47nm cruise to Appleton Cove.
Airship and cruise ship Quantum of the Seas had a quick chat on the radio about passing starboard to starboard as the cruise ship approached Sitka.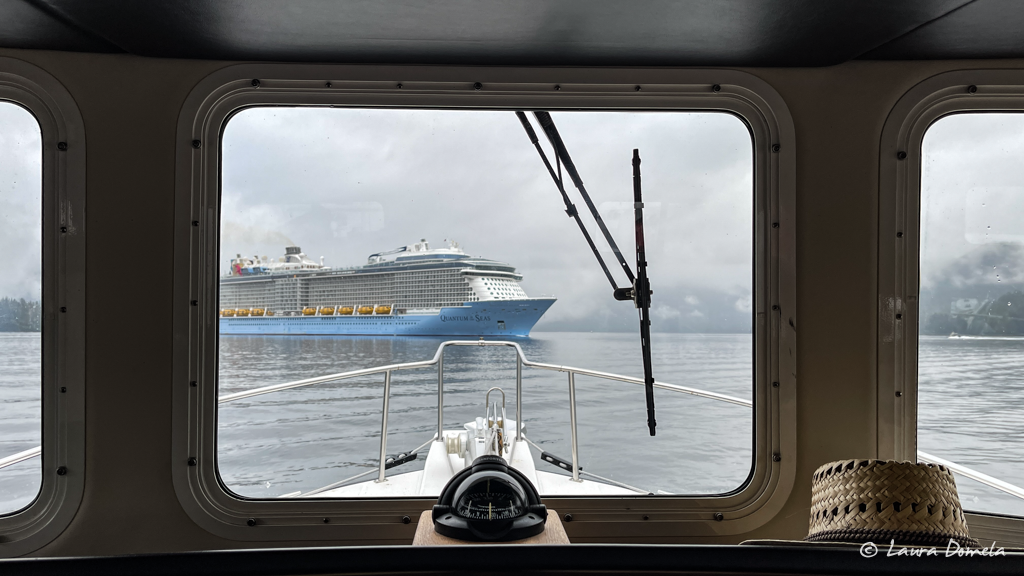 This is the view from Rubicon: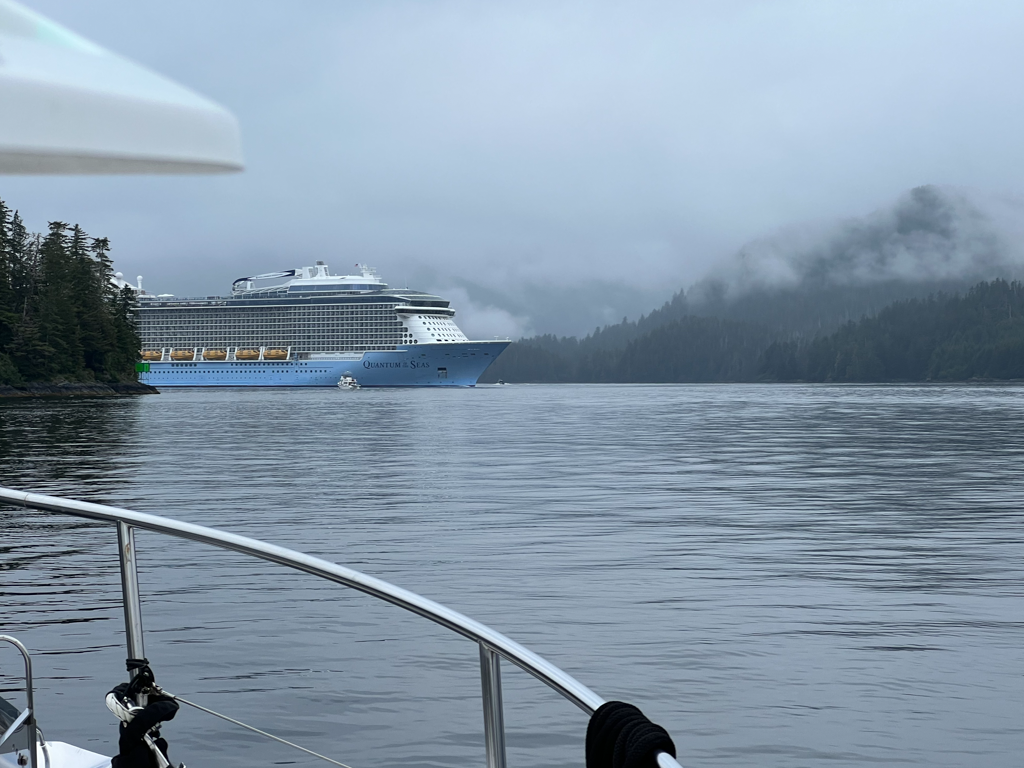 After we got settled at anchor in Appleton, Kevin and Craig went out fishing and came back with a nice coho that we grilled up for dinner.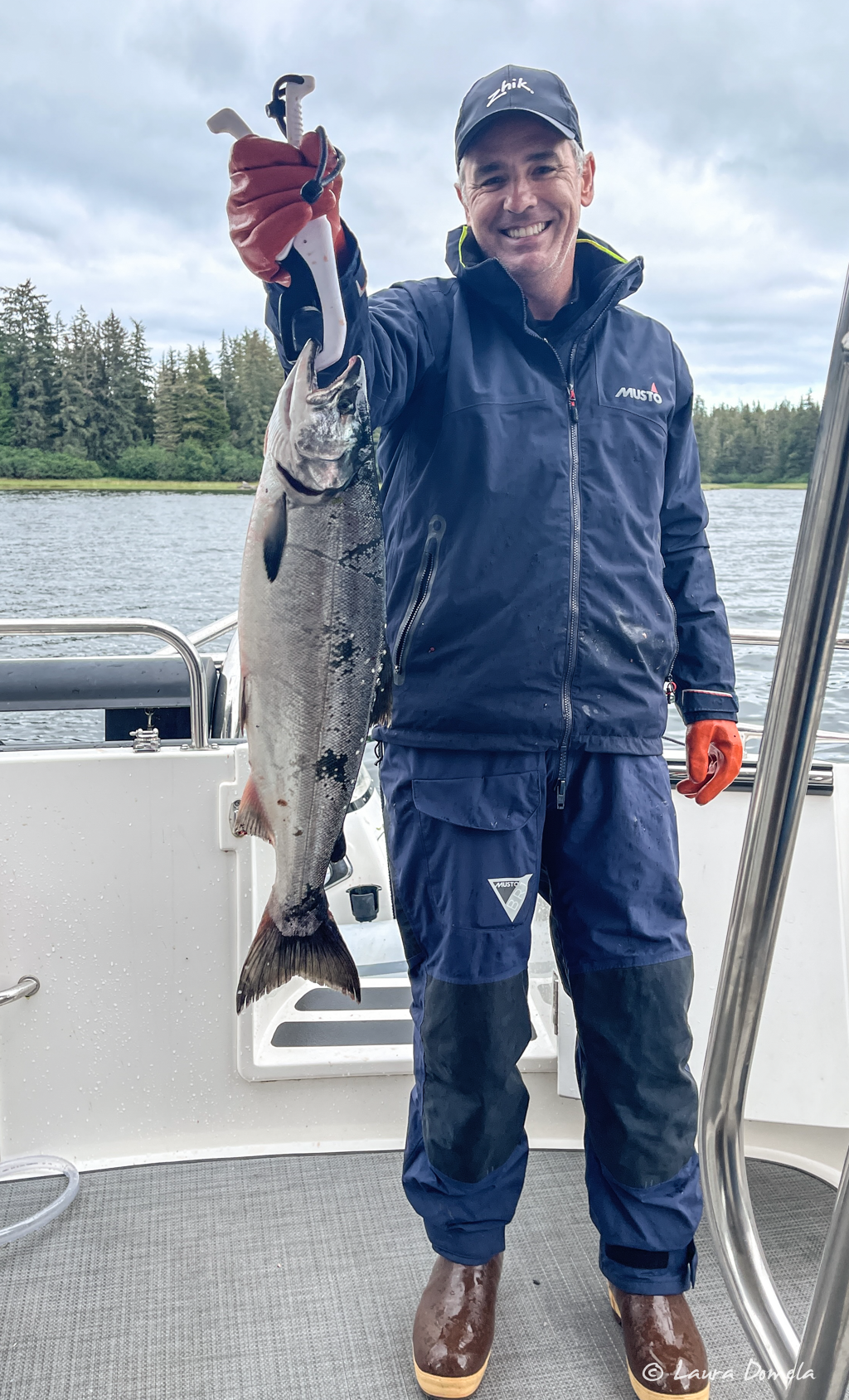 In the morning we left and headed out into Chatham Strait for another stop at Pavlof Harbor (because guaranteed bears).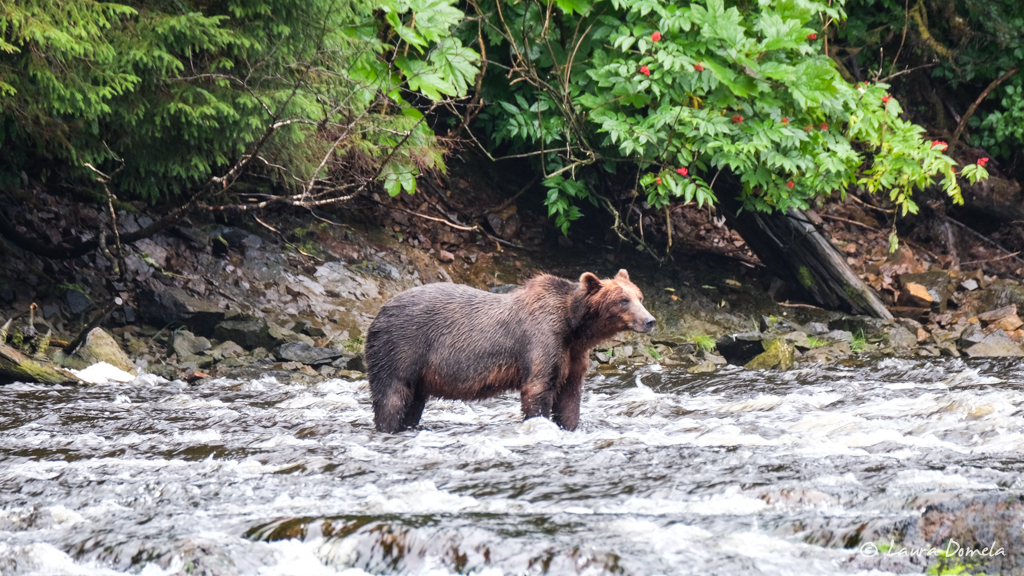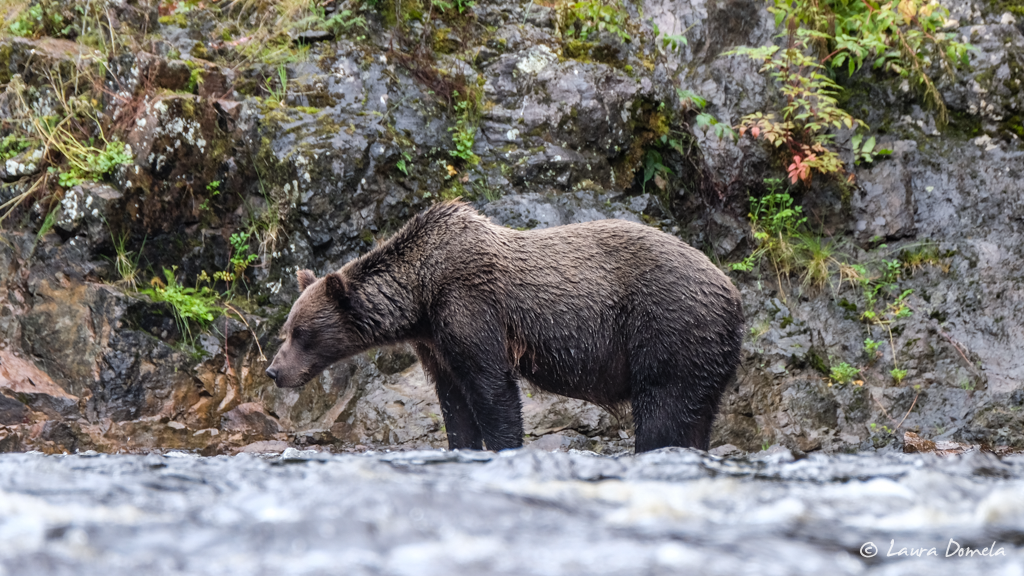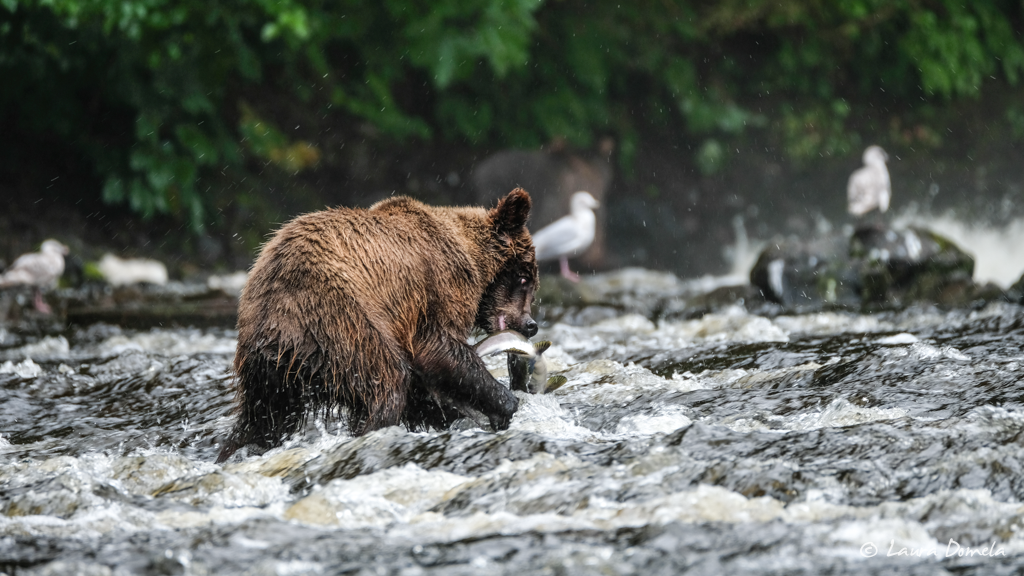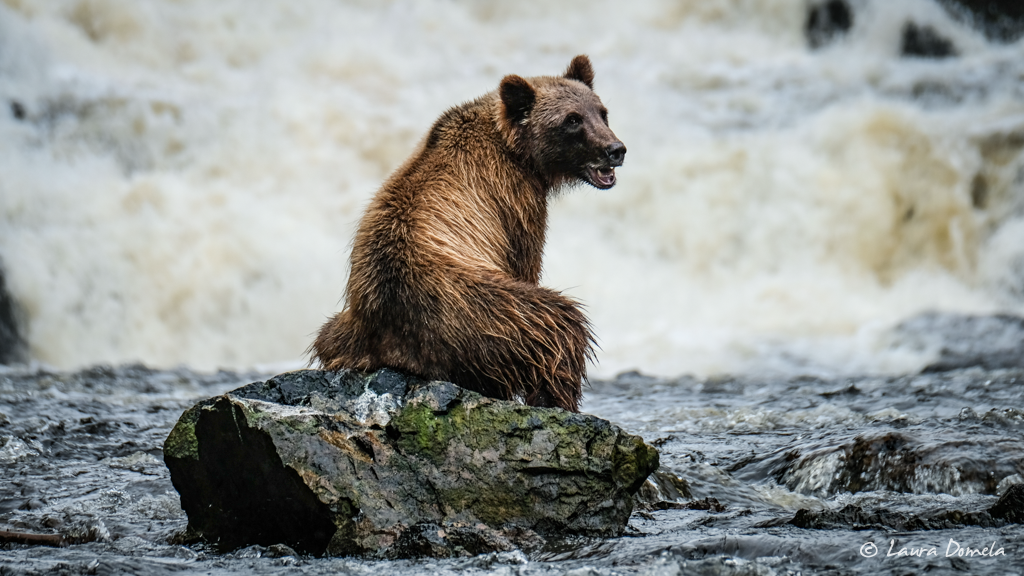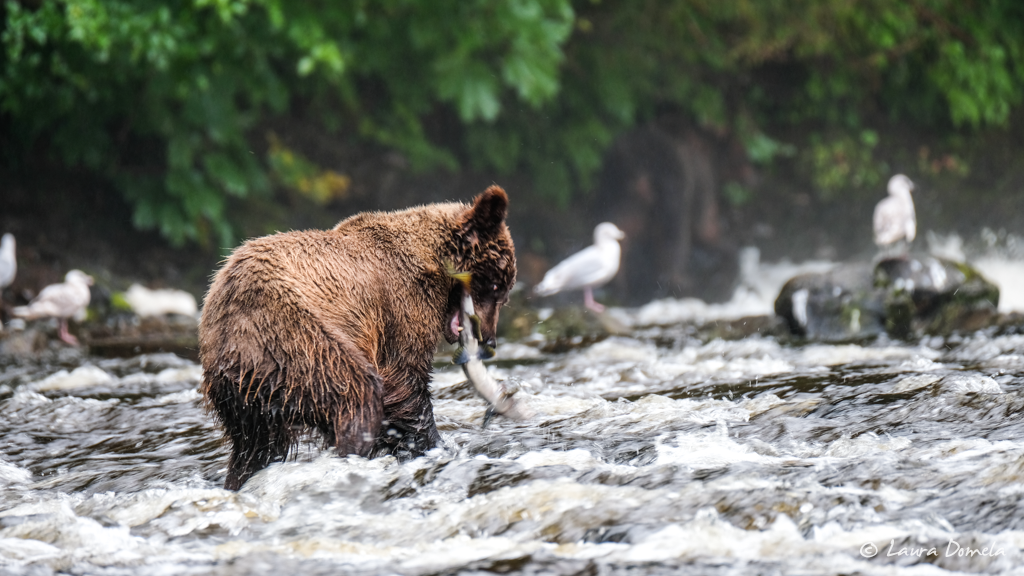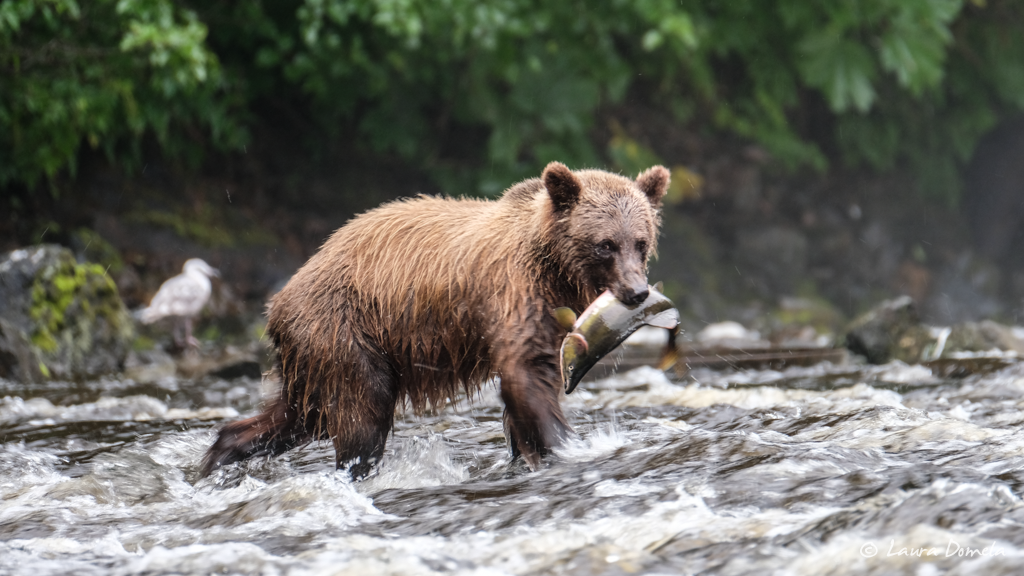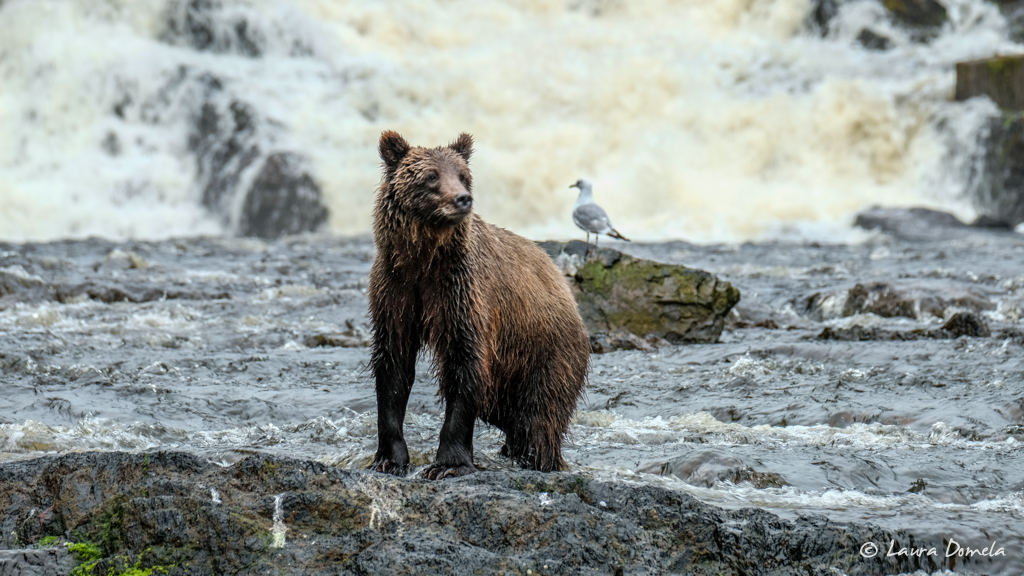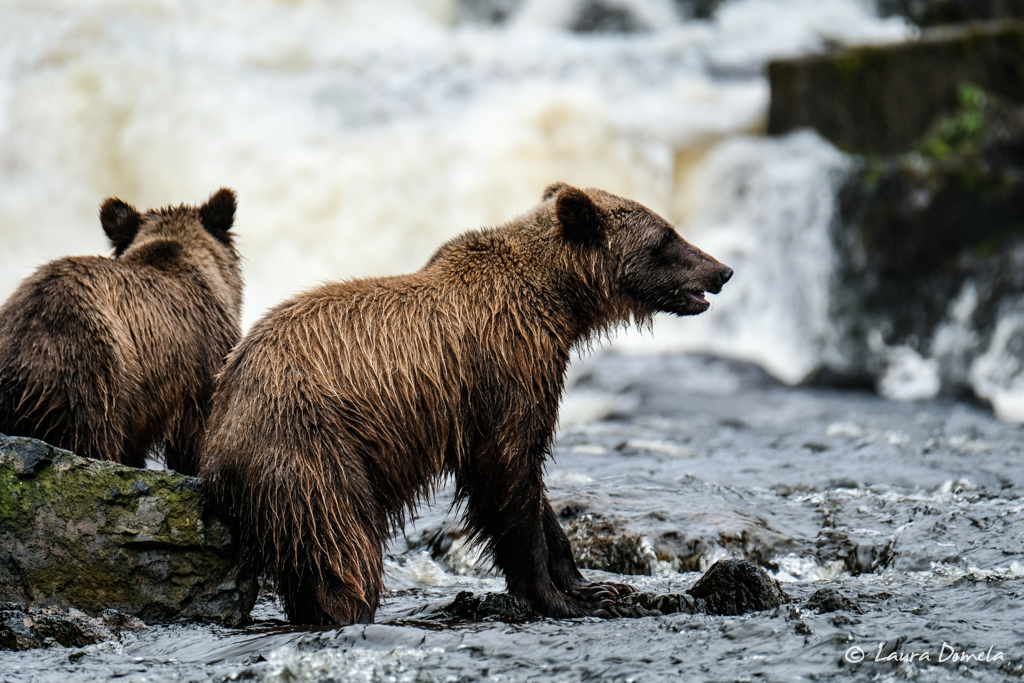 We stayed two nights in Pavlof to wait out some weather, but the bears kept us company the whole time. Kevin and Craig fished a while the second day and brought back two nice halibut (yay! another fresh fish dinner!)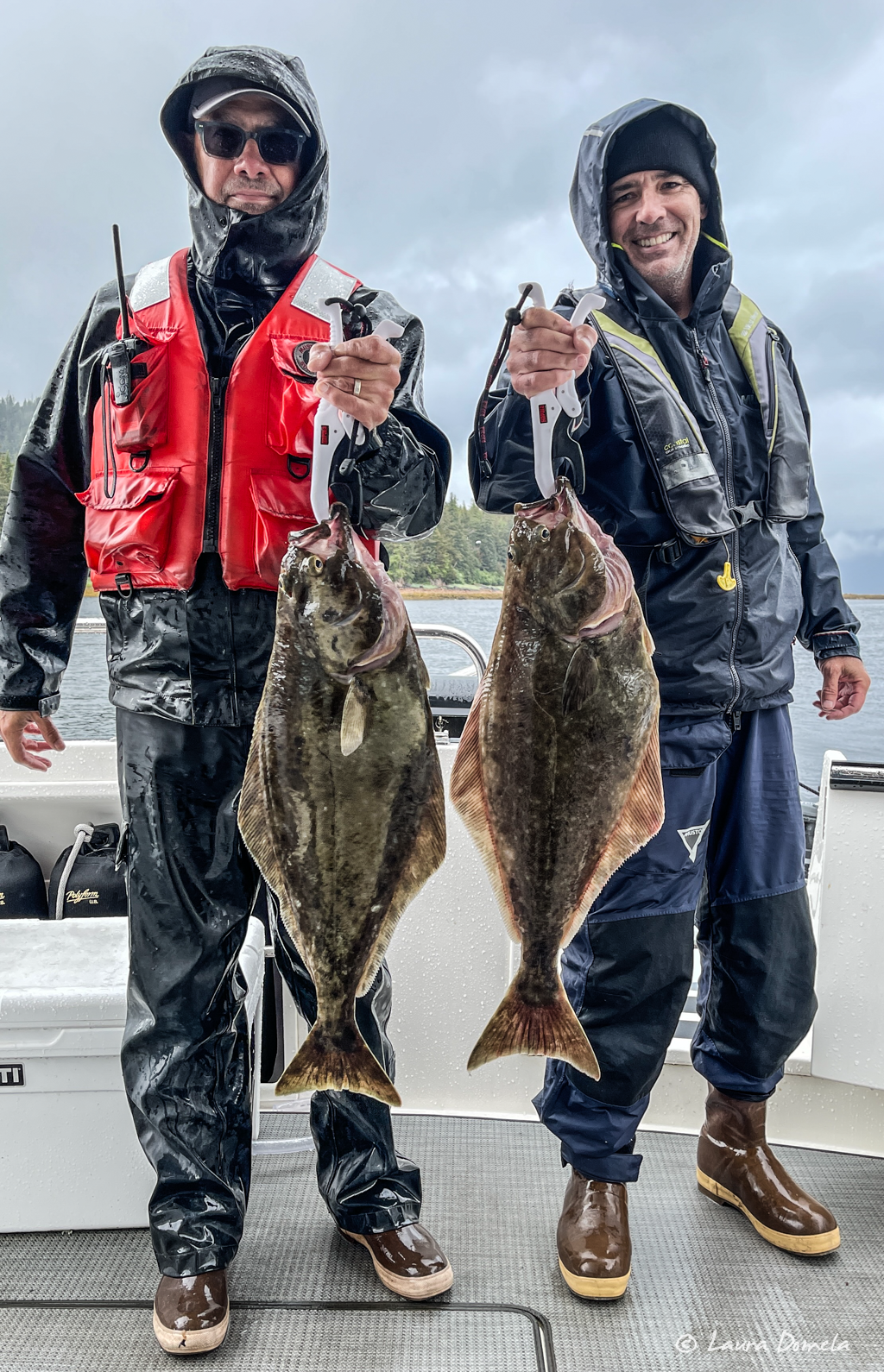 We left Pavlof, waved bye to the bears, and headed for Hoonah!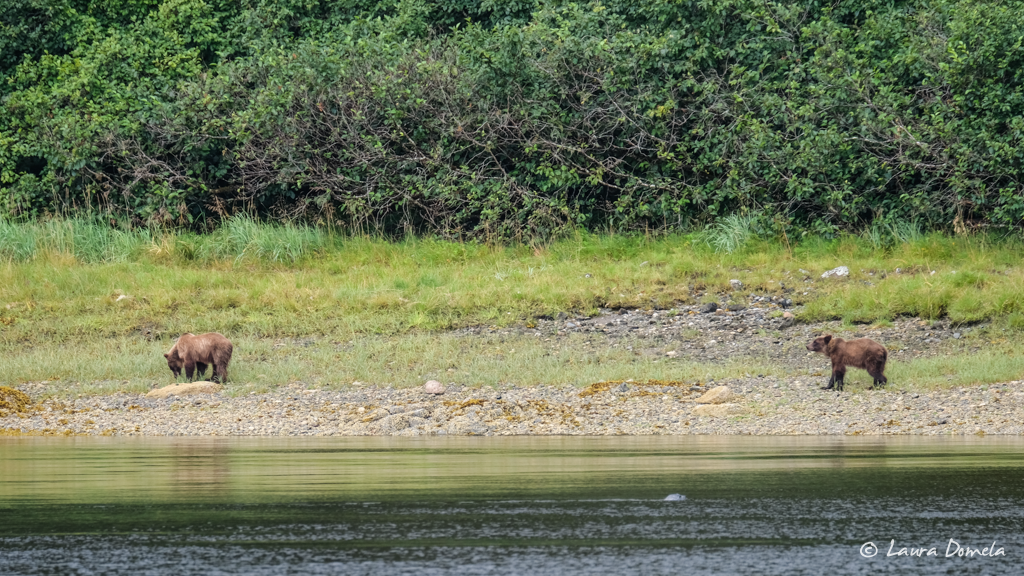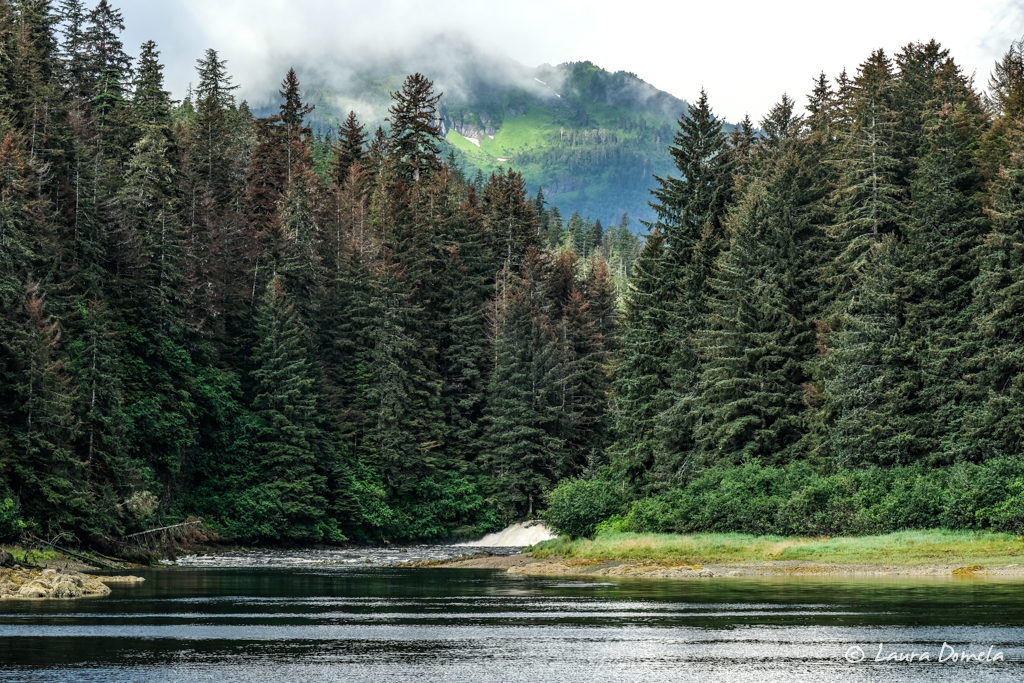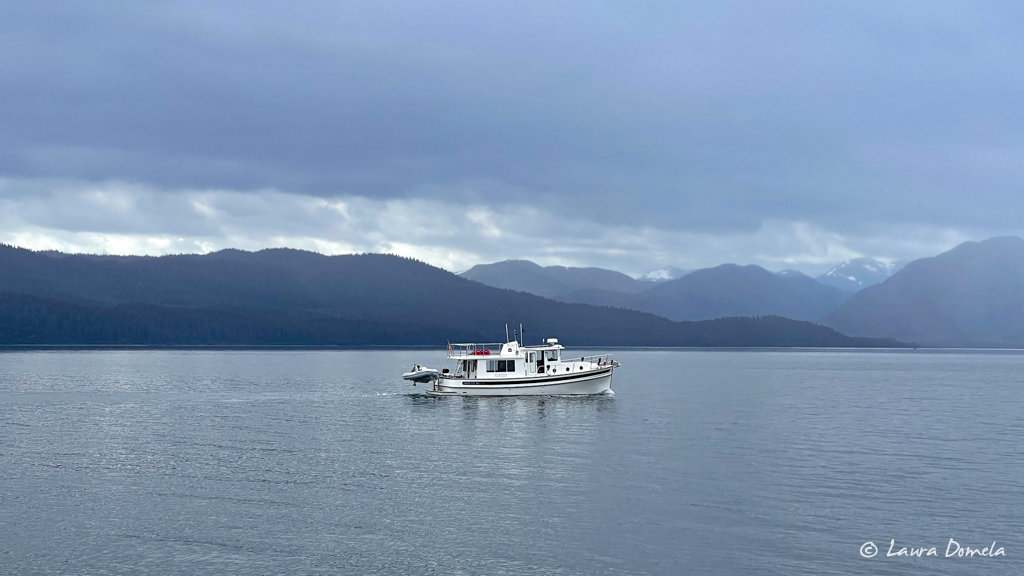 We turned north in Chatham Strait, where it was a bit bumpy but not too bad (15-18kts and about a 3-4ft chop), then around into Icy Strait to Hoonah. We thought we might even ride the gondola up to the top again and take the zip line down, but there were no cruise ships in on this Sunday and so Icy Strait Point and all things associated with Icy Strait Point were completely closed, as were most other things in Hoonah. We took a walk around town, and stopped at the grocery store and hardware store (open!) and got a few things, but that's all we really did.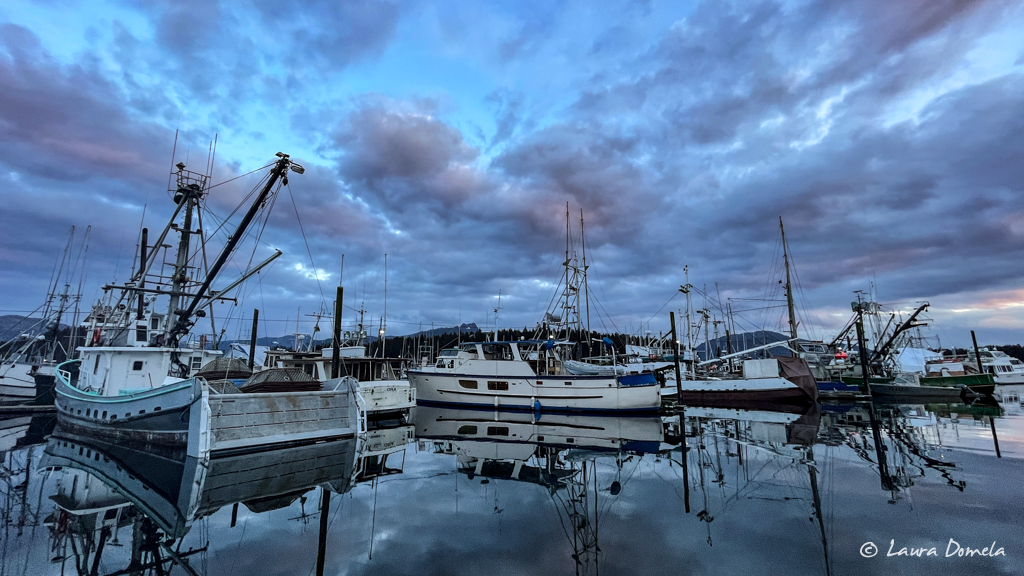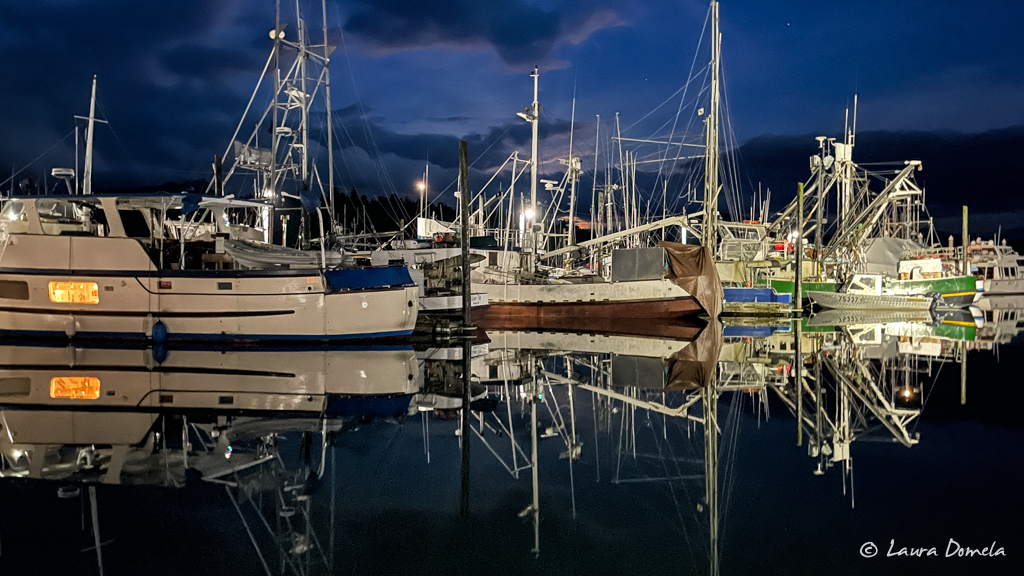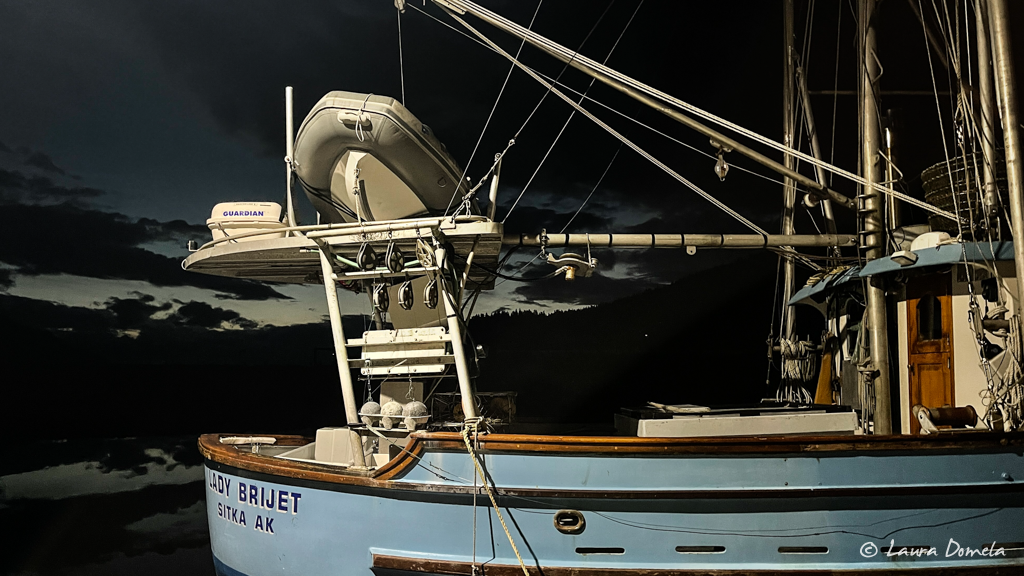 We wandered up to Fisherman's Daughter for breakfast in the morning before we left the dock, then headed west in Icy Strait.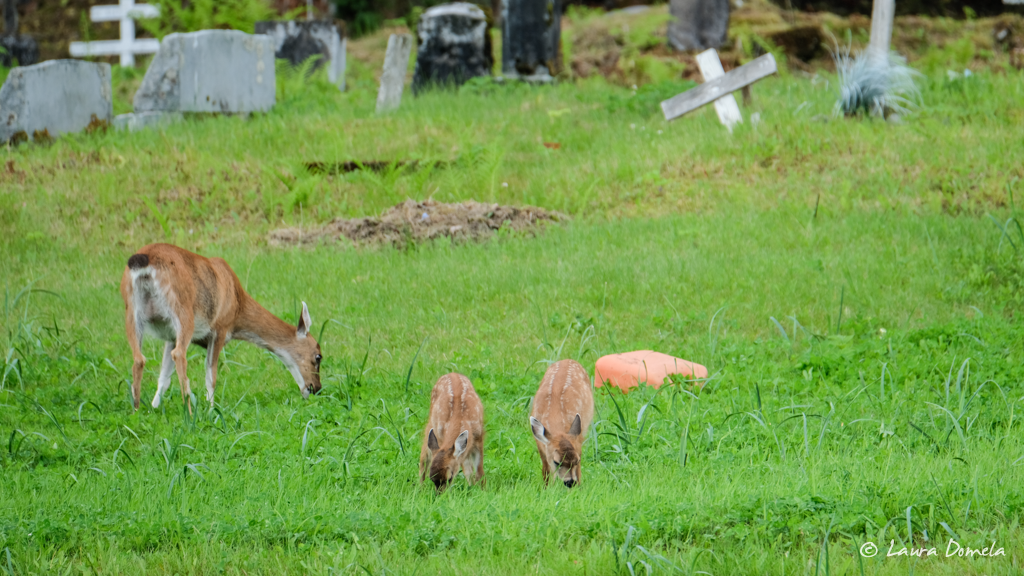 There were several tour boats clustered around Point Adolphus, and as we neared we could see the reason: a large group of humpback whales were bubble net feeding just east of the point. We counted at least 15 whales. Awesome!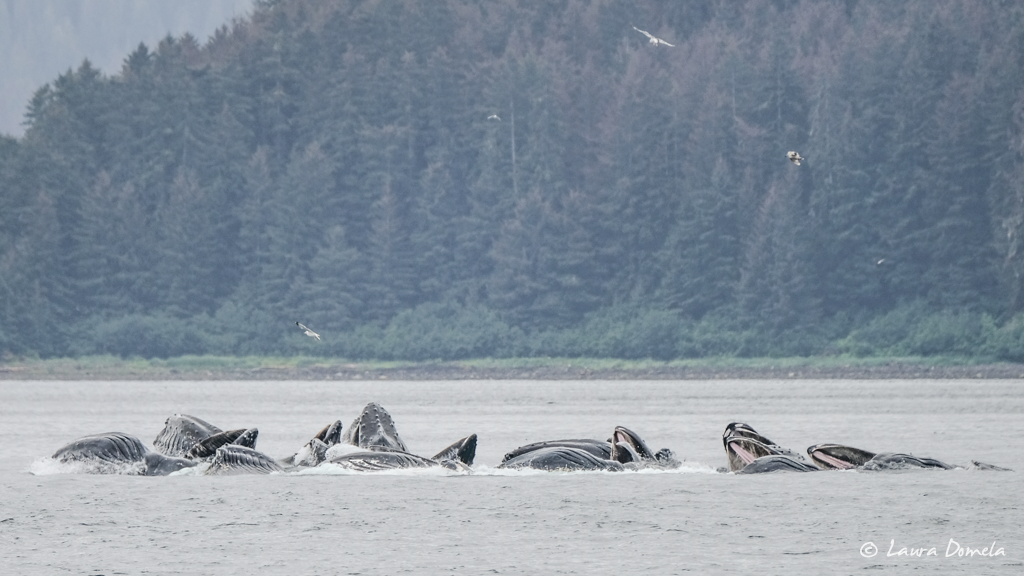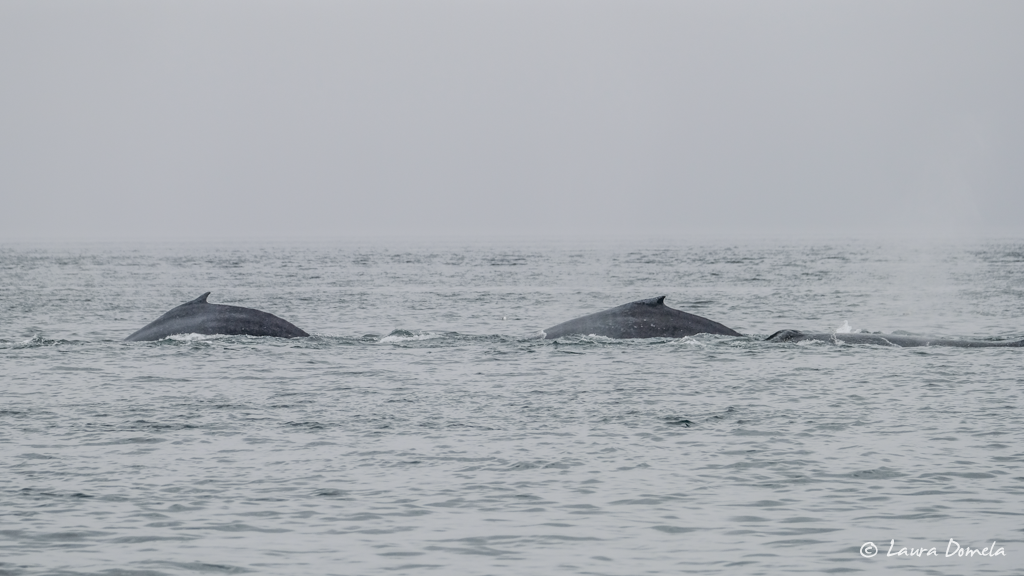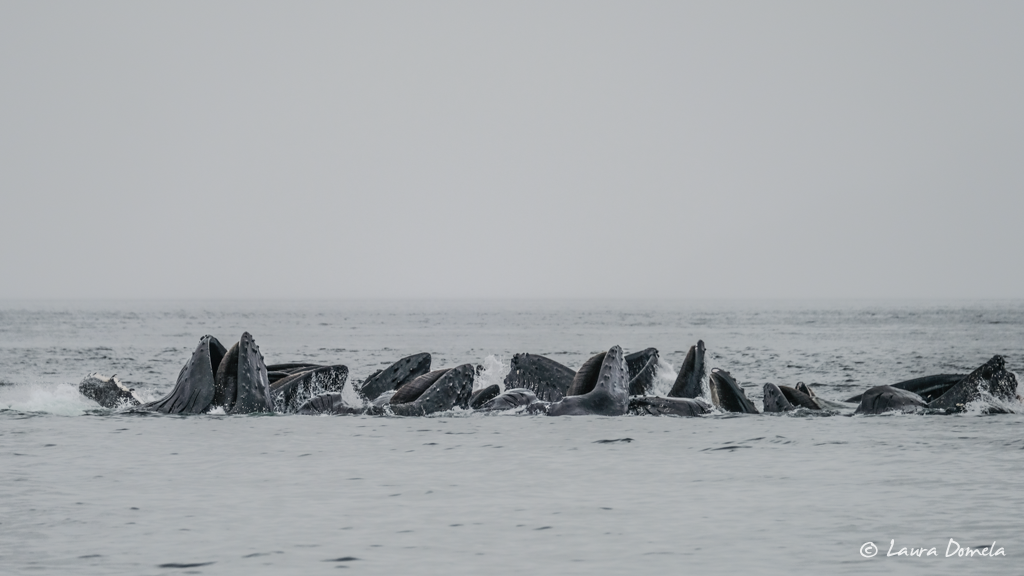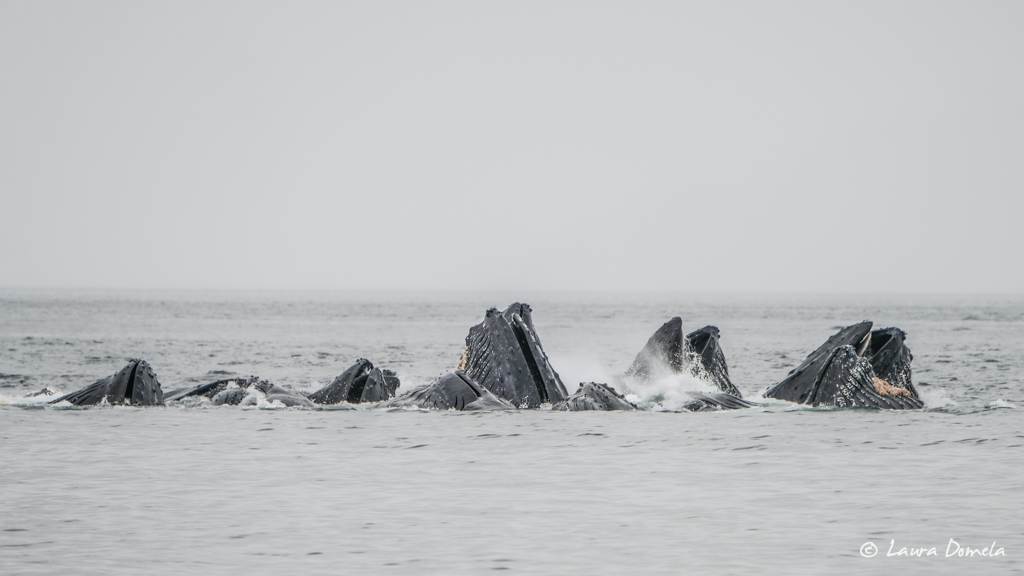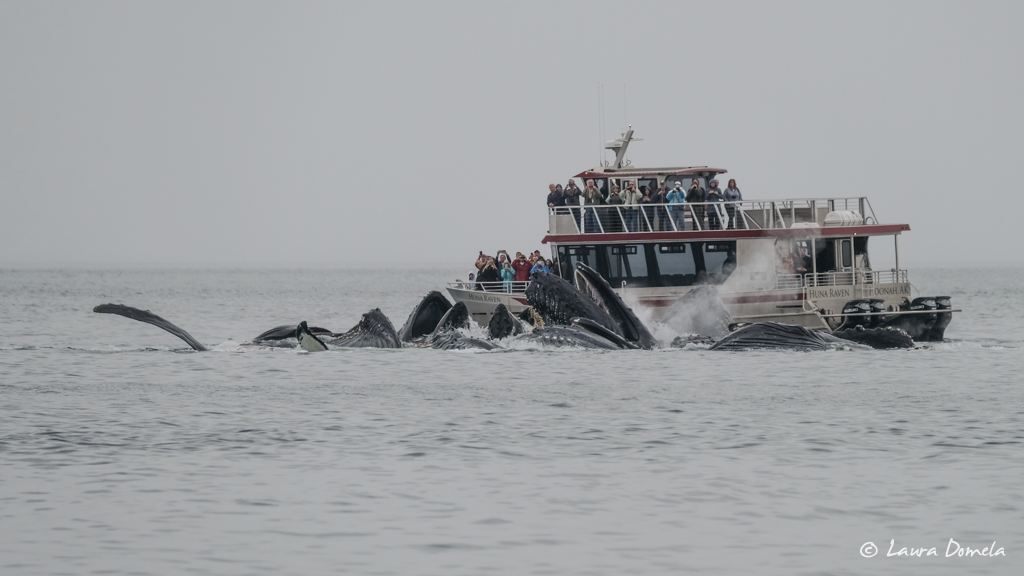 The weather was changing and we were still adapting and adjusting plans on the fly. Our current plan was to go back out into the Inian Islands, with maybe quick stops at (or dinghy rides to) Elfin Cove and Granite Cove. We would then turn back and go to Juneau, where Craig would catch his flight back to Miami.
We stayed two nights in Mosquito Cove in the Inian Islands. Rubicon rafted to Airship (that way only one anchor would have the giant ball of kelp to deal with AND we could easily take Rubicon over to see Elfin Cove and George Island, instead of a dinghy). It worked out great, and Rubicon makes a super deluxe tender for Airship!!
We easily found space for Rubicon on the dock at Elfin Cove and stopped long enough to take a nice morning walk along the boardwalk over to the inner bay and around the outside back to the outer dock. Elfin Cove is always such charming spot to visit.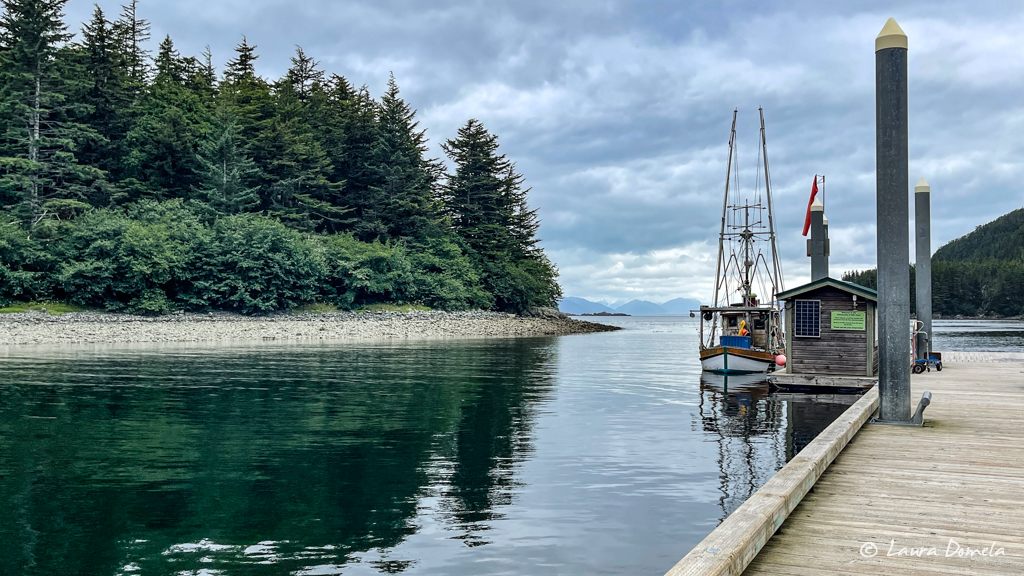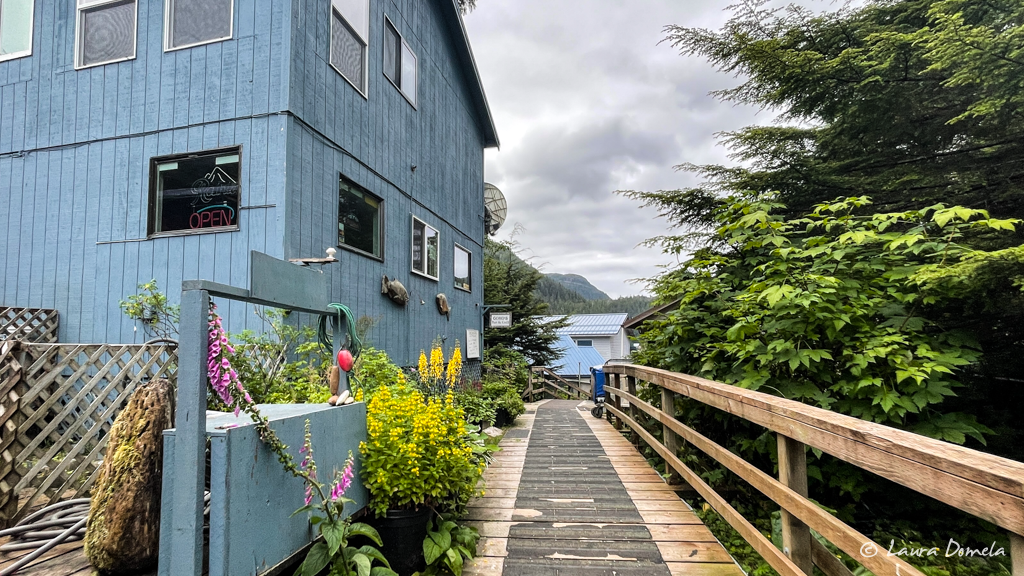 This might be a bit of a thrill ride for a wheelchair, don't you think?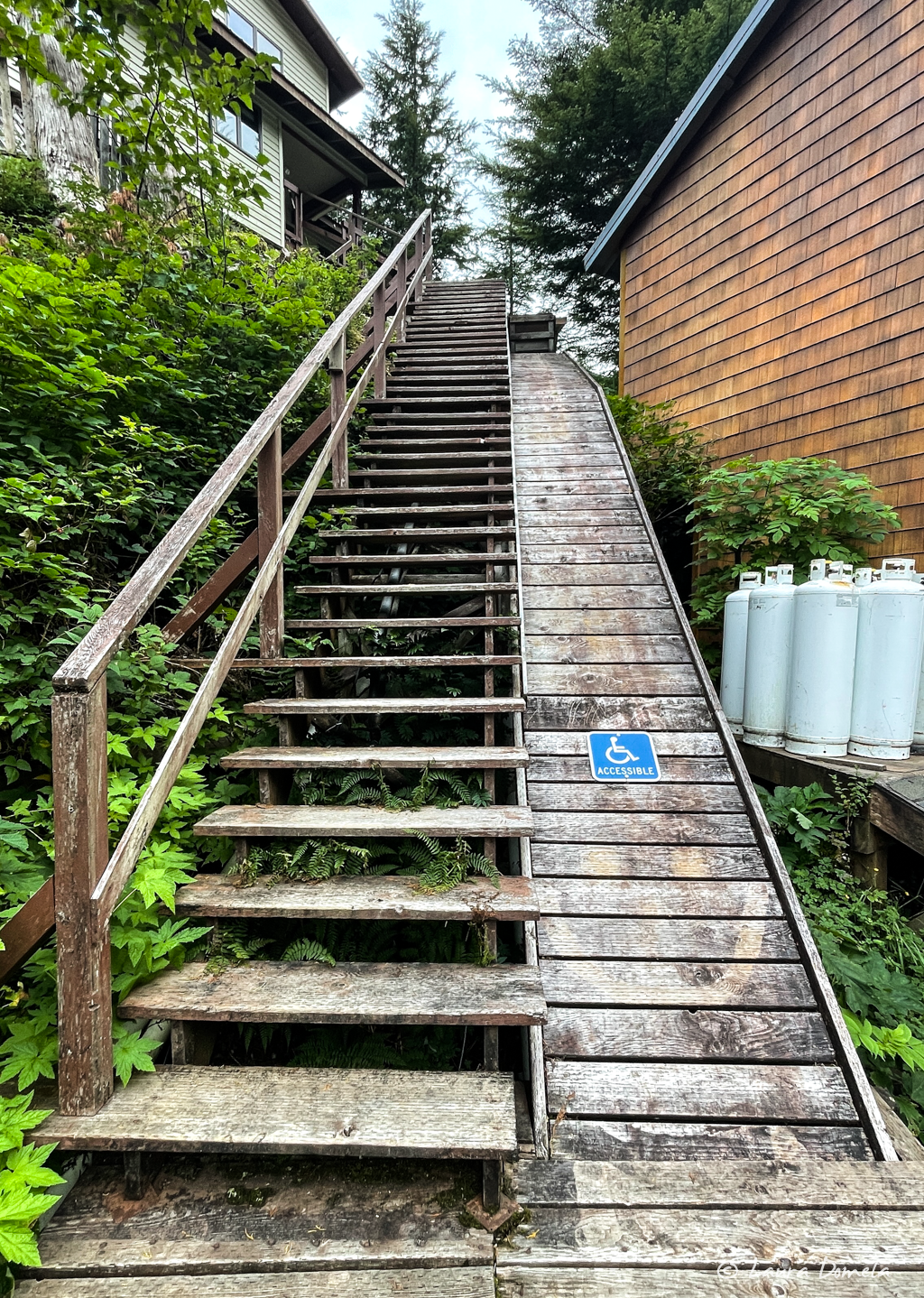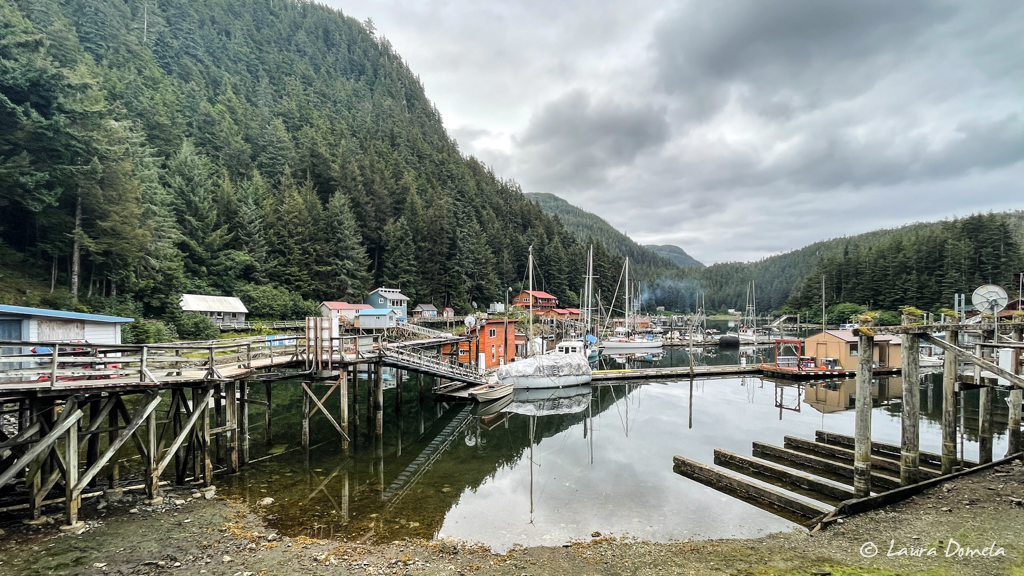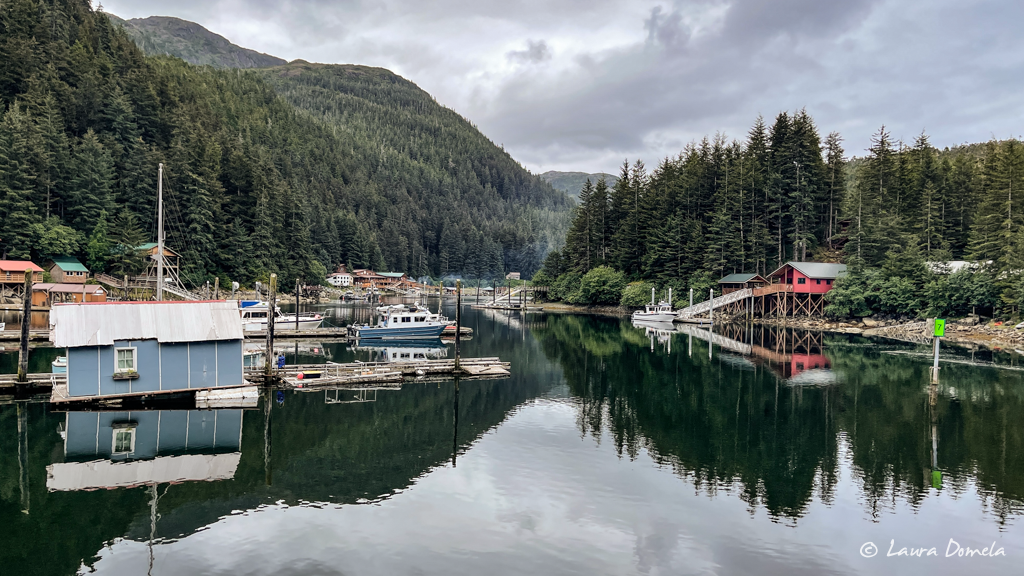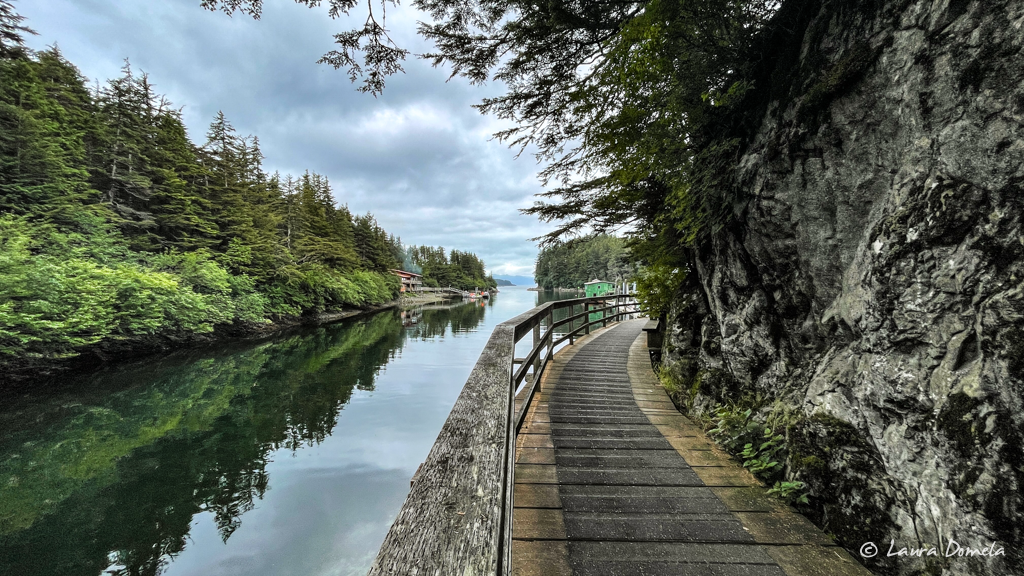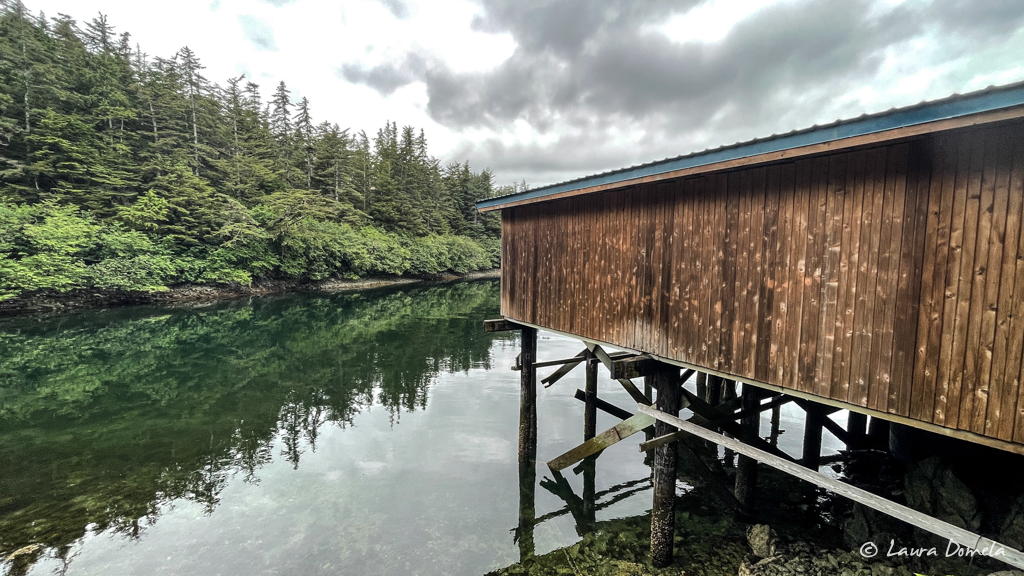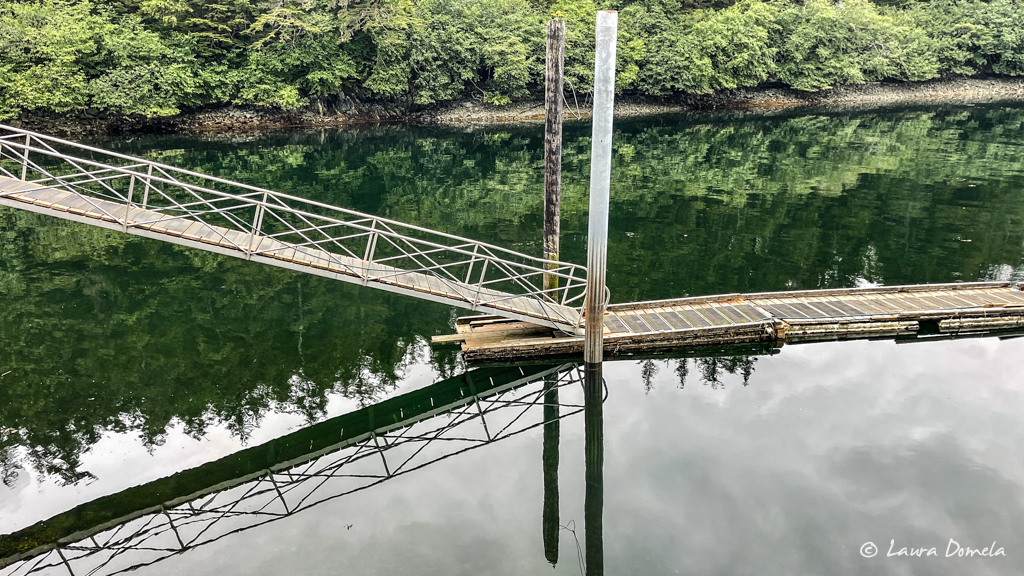 Next, we cruised a couple miles over to Granite Cove on George Island where we wove our way through a cluster of kayakers before we could anchor. They were from of one of the small Nat Geo-style passenger boats nearby, and seemed pretty surprised to see another boat! We anchored Rubicon and took the dinghy to shore.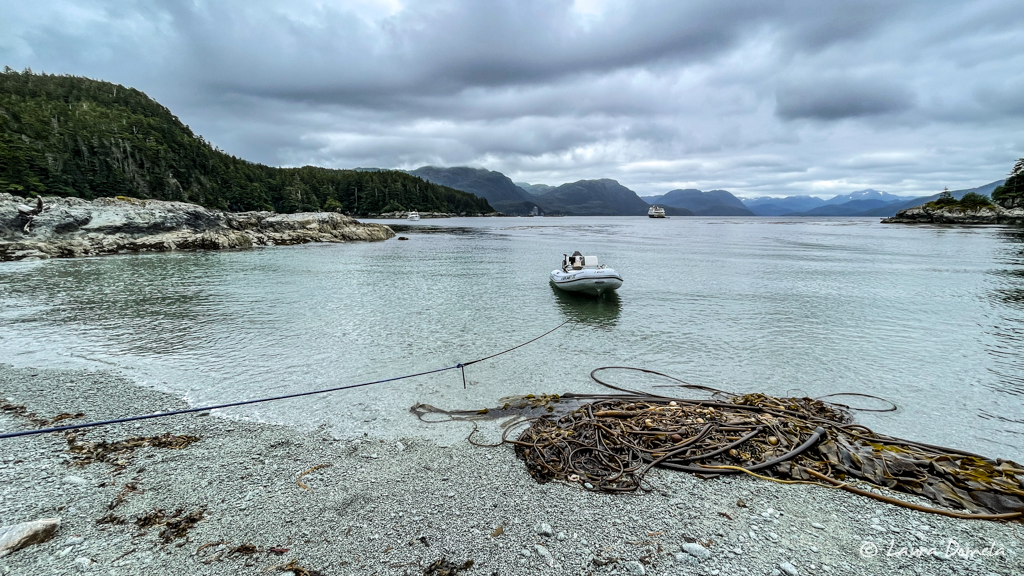 We did the hike up to the old WWII gun (not a cannon), and explored a bunch of side paths out to west side beaches and viewpoints. I didn't take any more photos of the big gun because, well, I already did that in a previous post not long ago.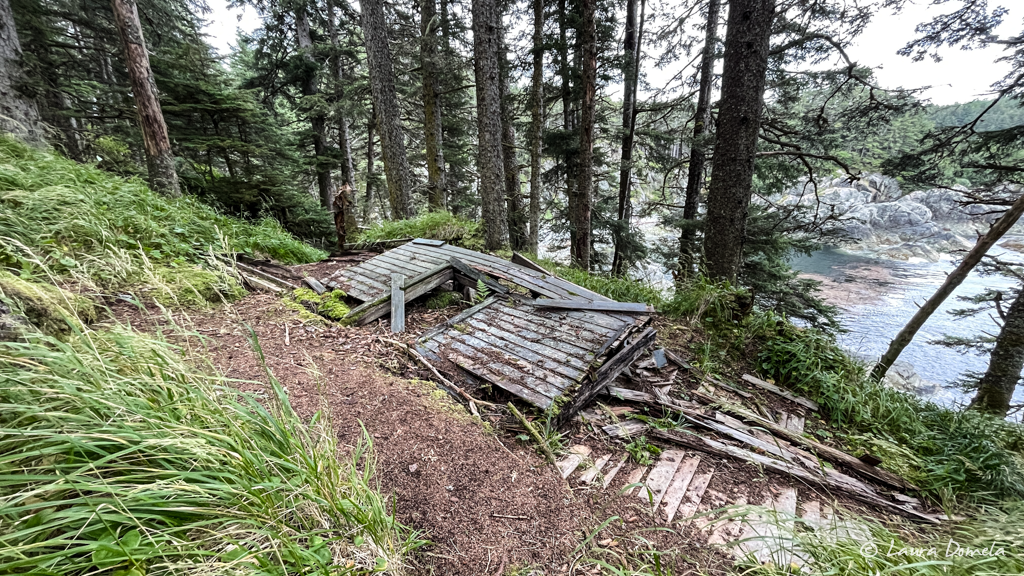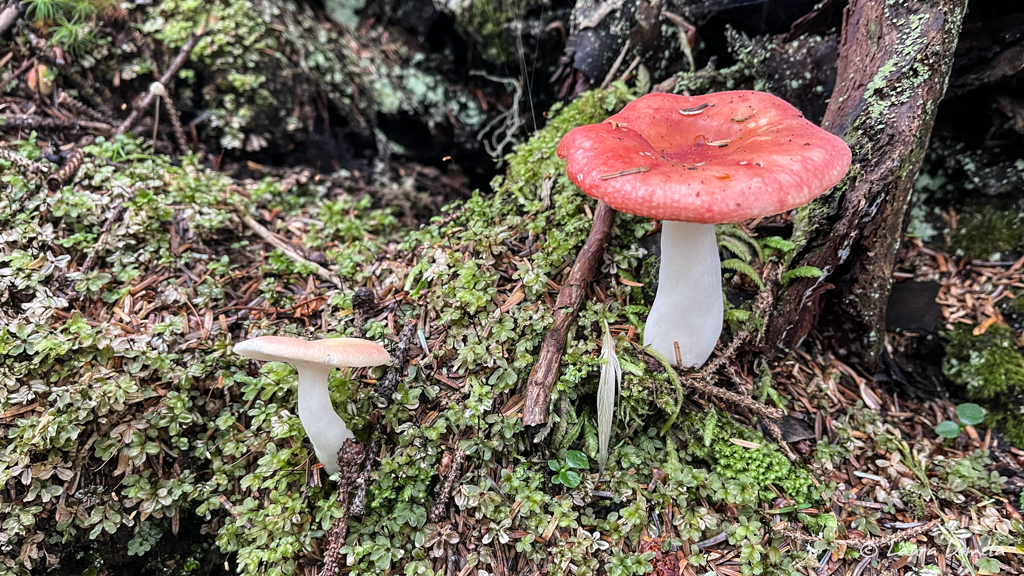 By the time we returned to Mosquito Cove, the forecast had improved so much so that instead of heading back in Icy Strait to Juneau, we decided we would return to Sitka on the outside of Chichagof Island. Craig changed his return flight, and off we went!
The next day we pulled anchor (not quite as much kelp as the last time) and left the Inian Islands. Cross Sound was a little rolly and we were envious of Rubicon's Seakeeper for a while.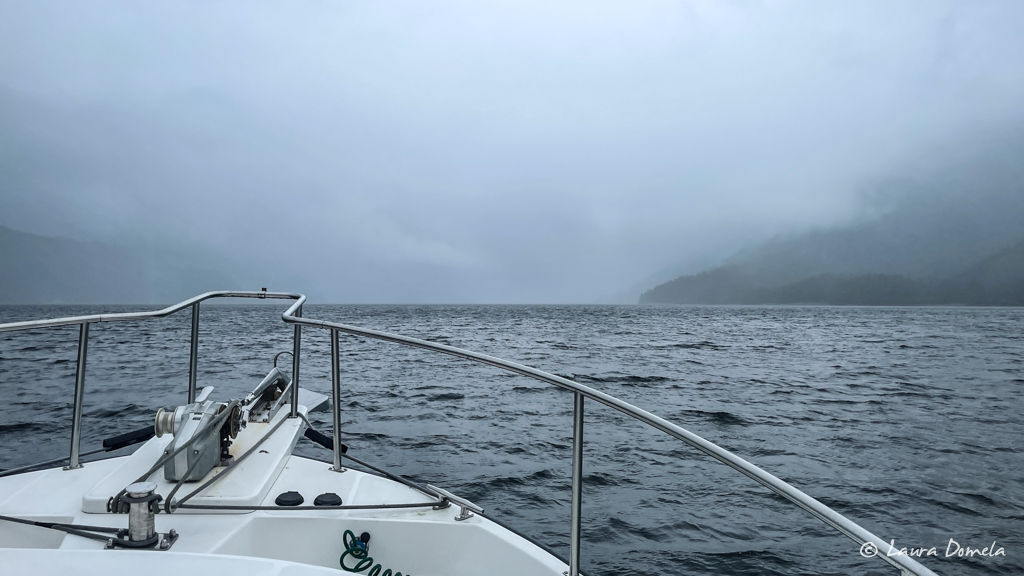 We entered Lisianski Inlet and went into Pelican for a walk around (plenty of space on the transient dock).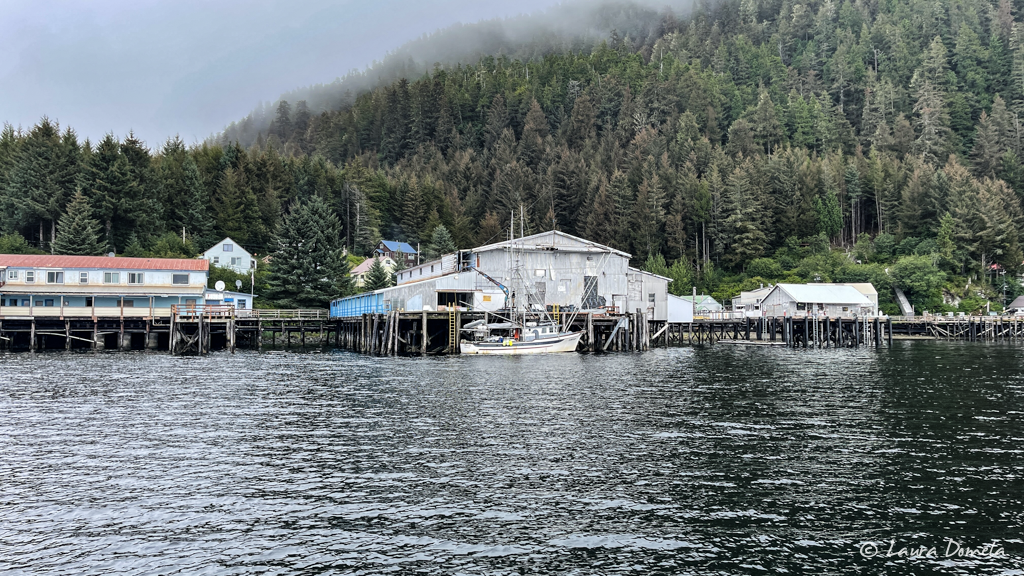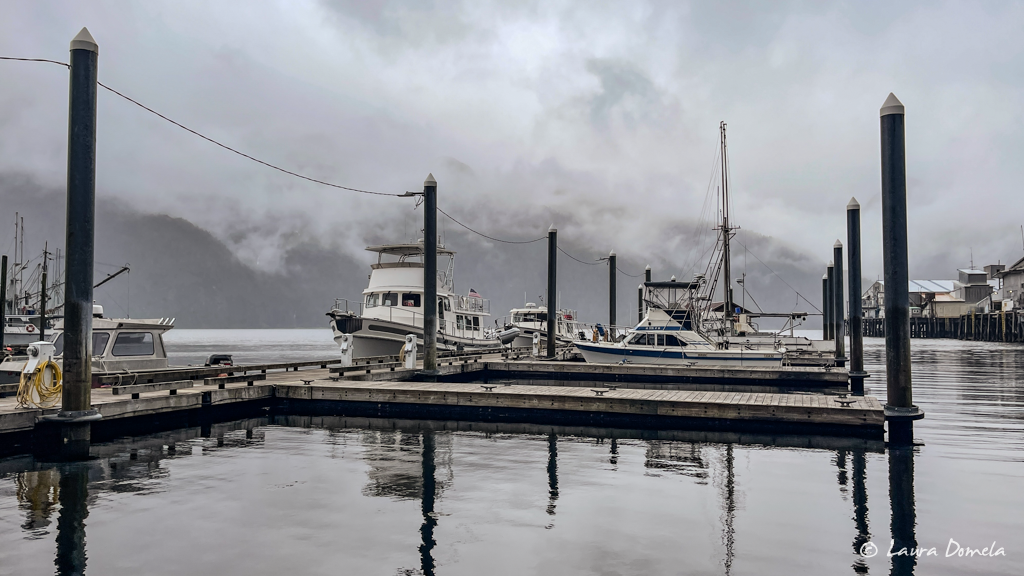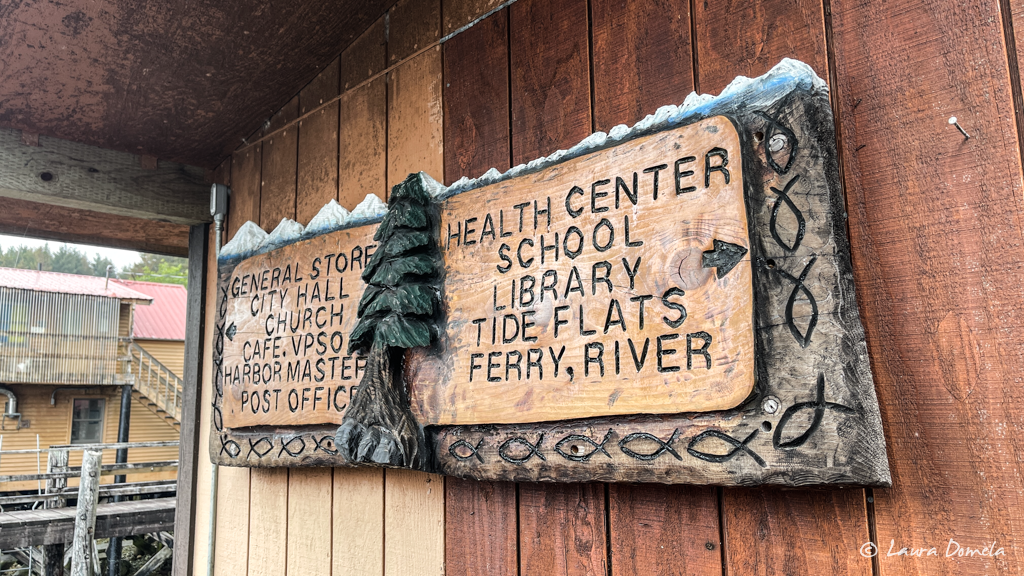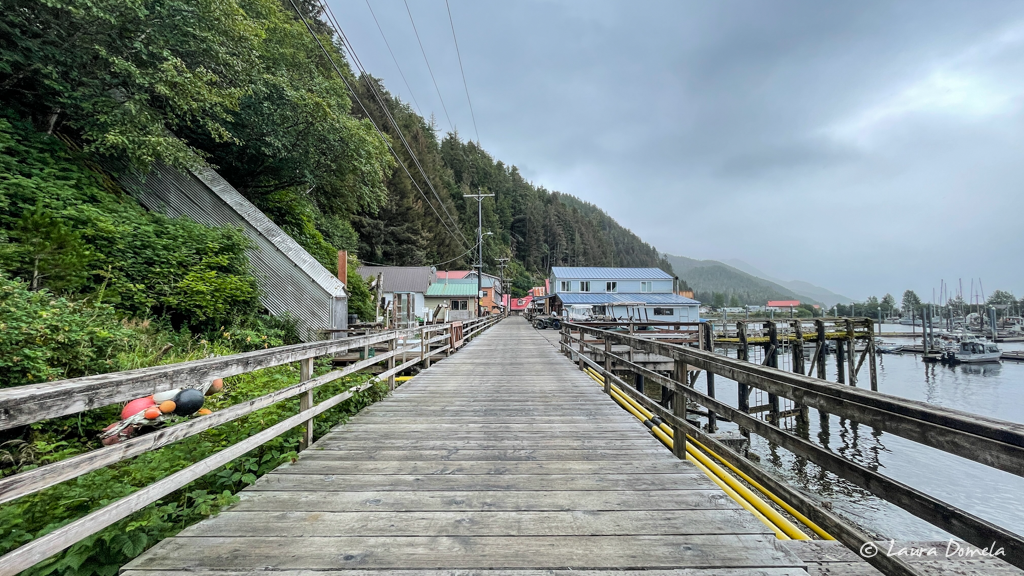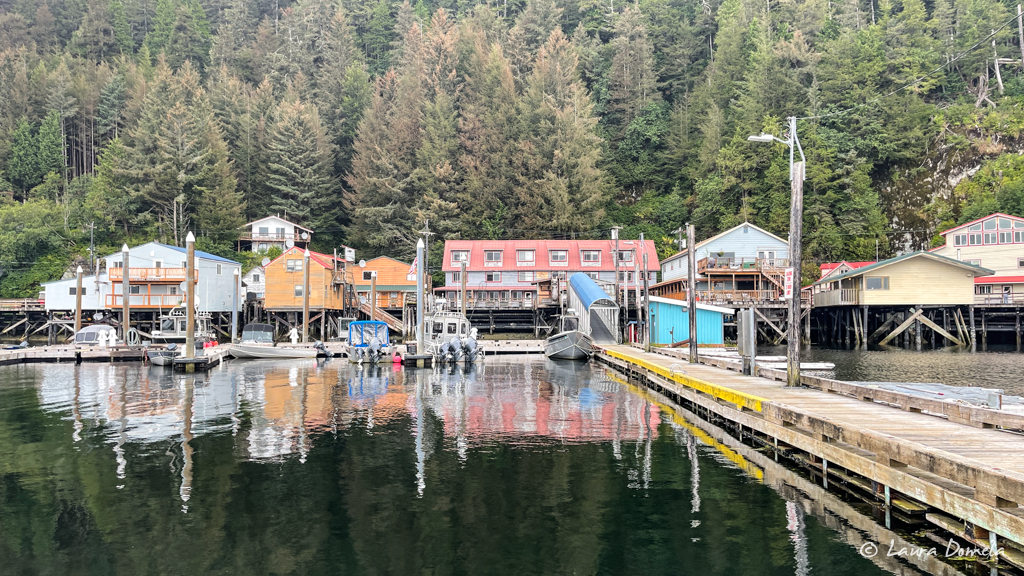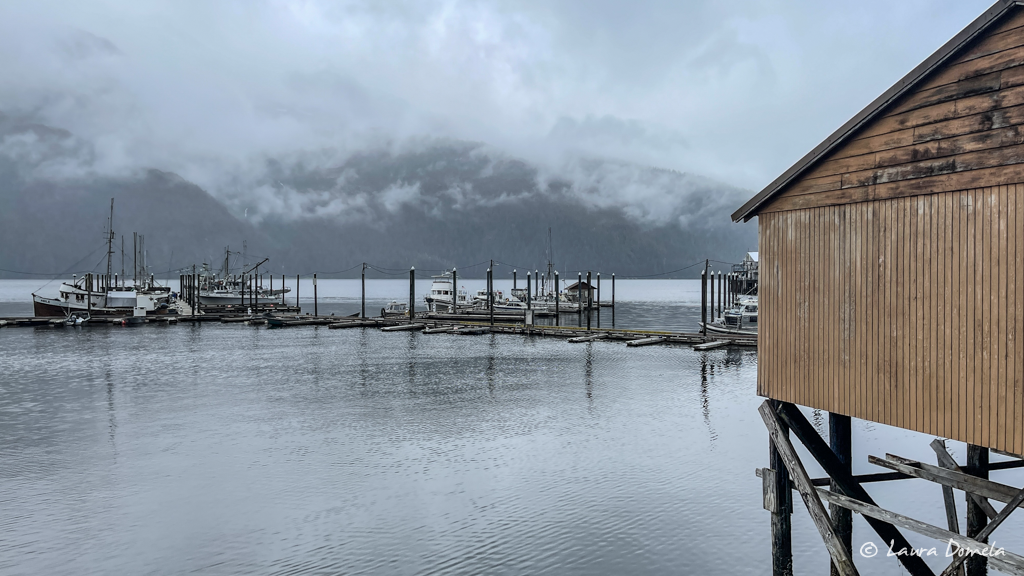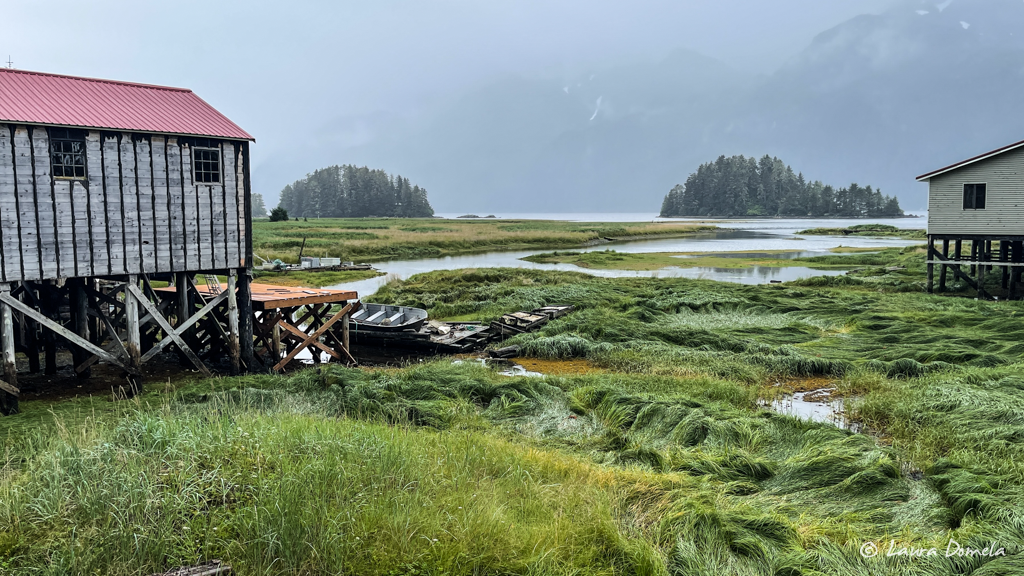 We opted to move on from Pelican and head to Stag Bay for the night. Stag Bay was was much more beautiful than we remembered from our previous visit! It's a deep fjord surrounded by tall mountains and waterfalls, and the anchorage (2.8nm to the head from Lisianski Strait) can be quite tricky. We putted around looking at the bottom on sonar and found a great spot — dropped the anchor in 55 feet and backed up toward the shoal (never getting shallower than 40 feet). Perfect! (Also, as we were doing so, we spotted a brown bear sow and two TINY cubs on shore, but by the time we were set they were gone.)
Still gray and raining, we did some exploring by dinghy (wearing full foulies and Xtratufs, because if we waited for good weather we'd never see anything!!)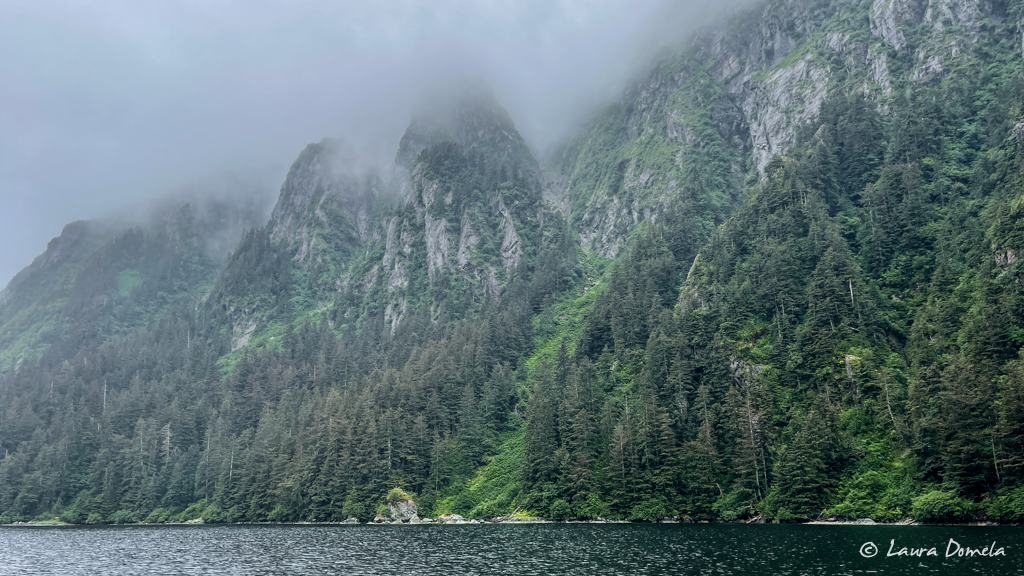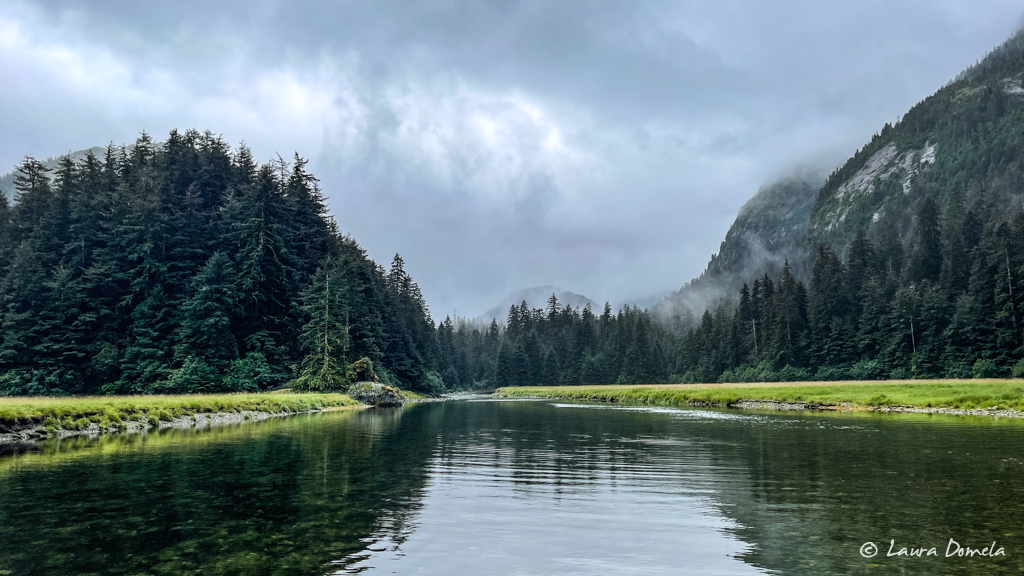 The rafted boats look so tiny in contrast to these towering peaks!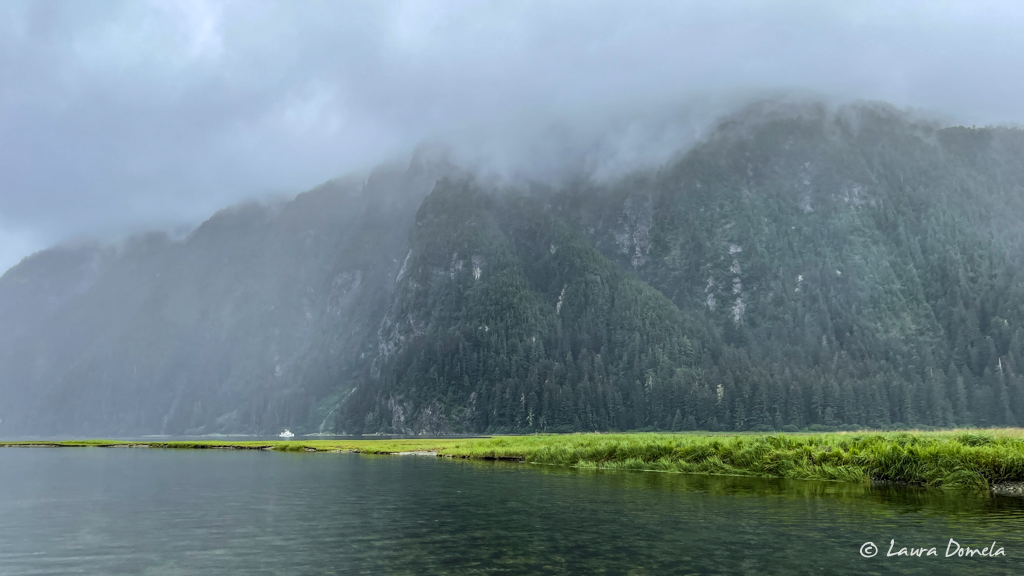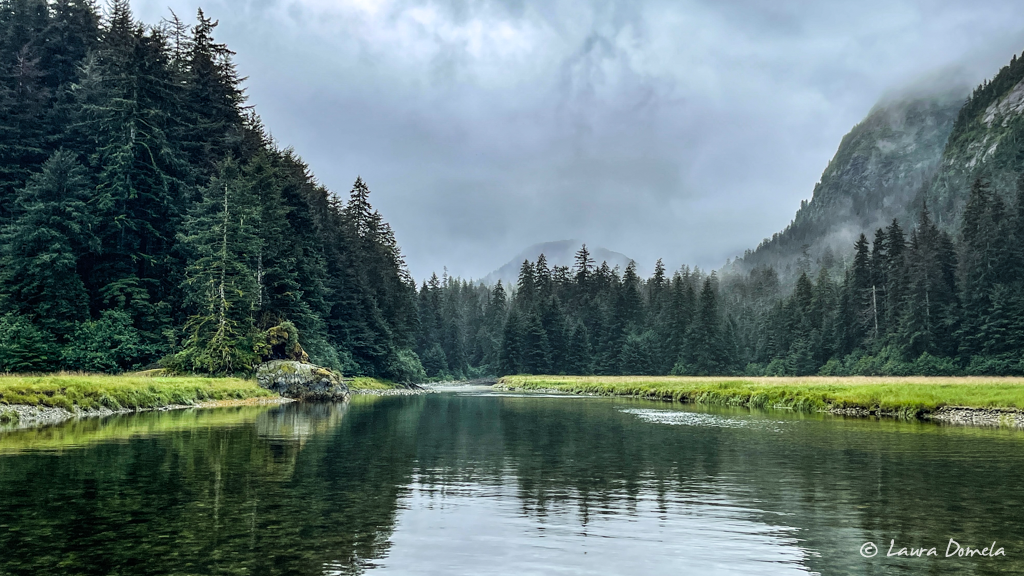 The next morning we headed down the outside of Chichagof Island to Klag Bay, with a quick stop to look around at the island that once was Radioville. The old radio shack is gone and there are just a few ruins visible on shore, and what appears to be a nice fishing lodge (or very large home) has been built around the corner from the radio shack ruins.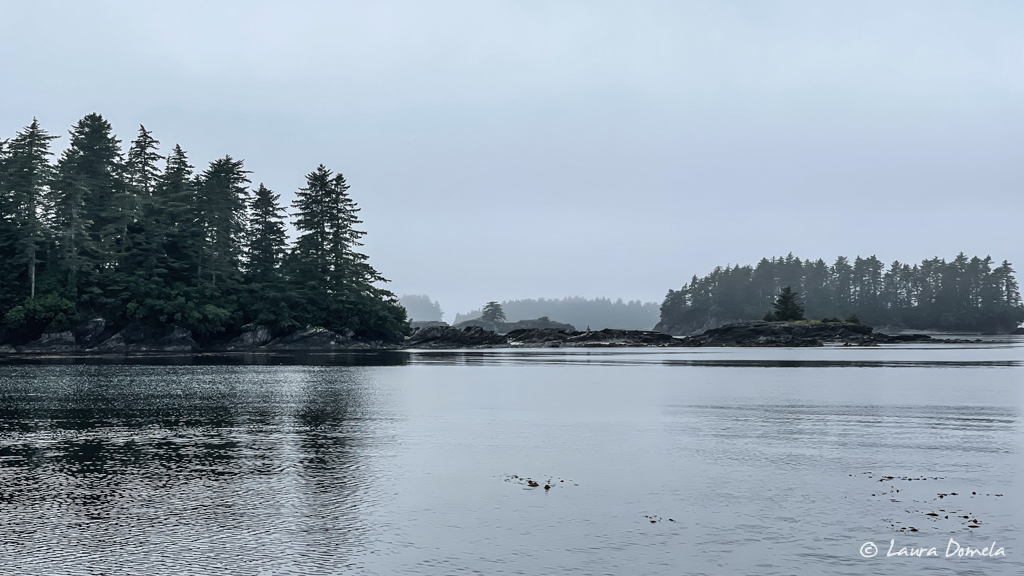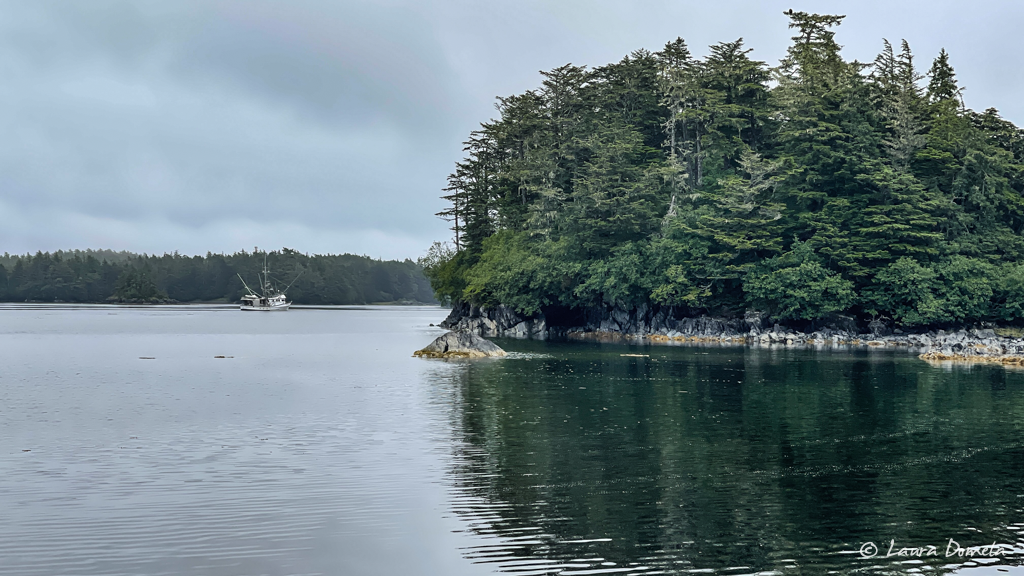 This is all that's left of the radio shack buildings: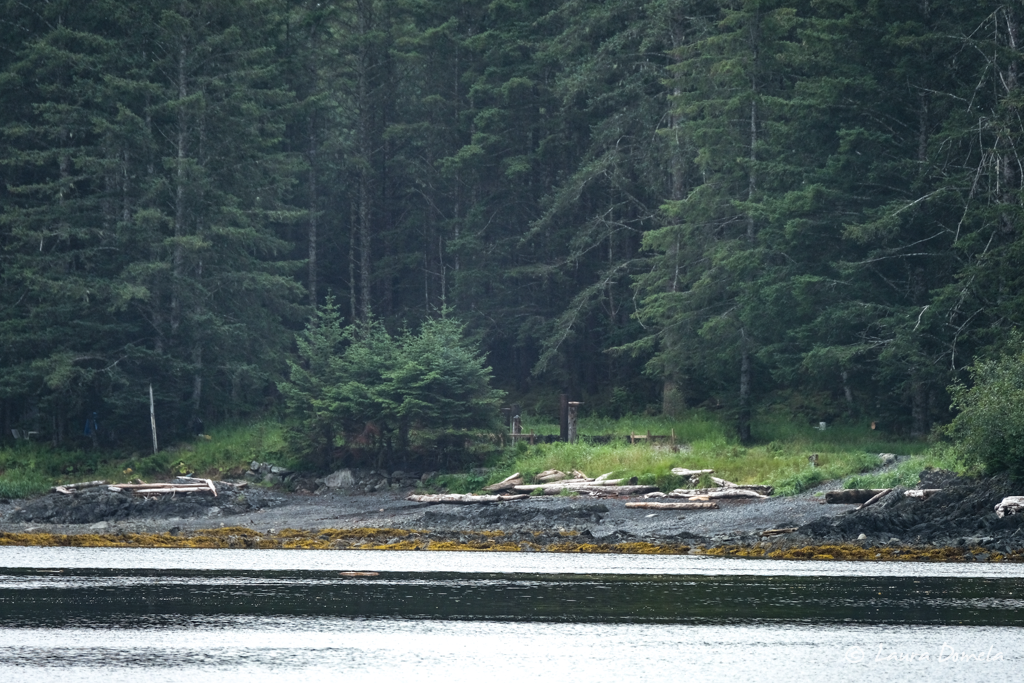 We spent the night in Klag Bay (still gray and raining). We saw two deer on the point between the inner bay and the farther in lagoon, and one brown bear on shore just around the corner from where we anchored that we spotted from the dinghy.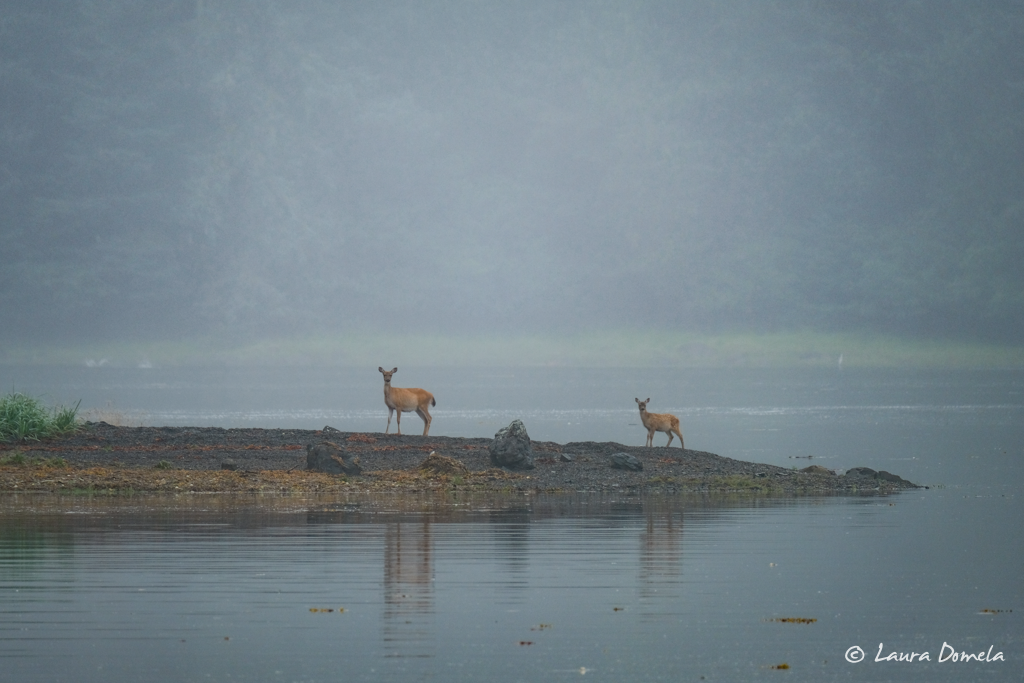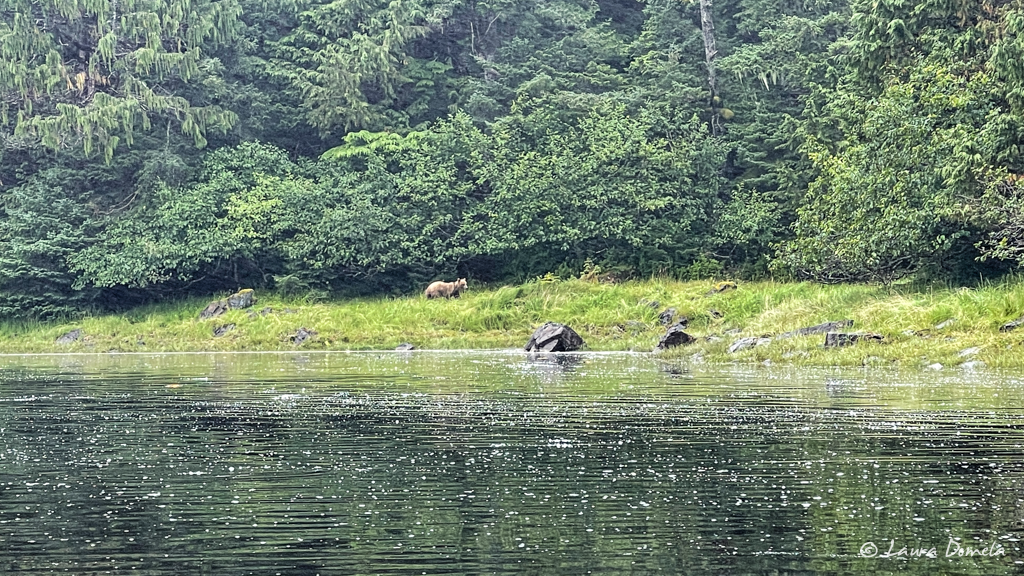 We dinghied into both Anna Lake and Sisters Lake for some exploring, and saw a ton of sea lions along the way.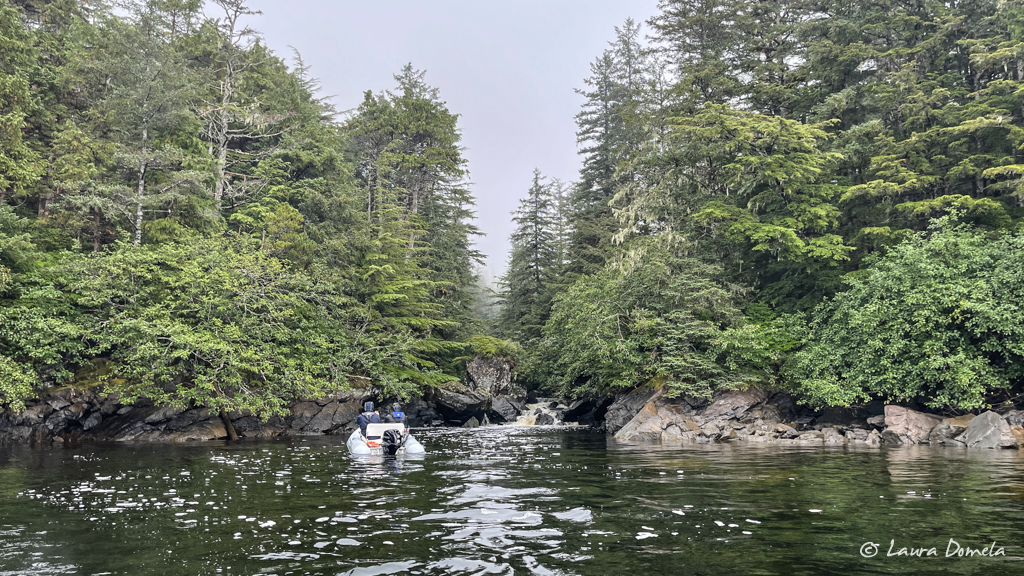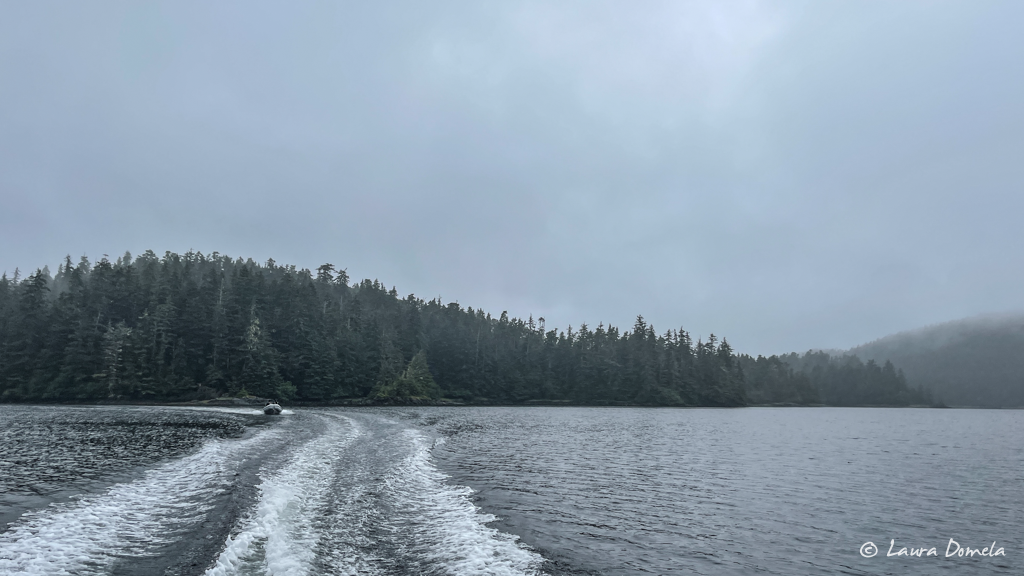 These guys were rowing (with oars!!!) this super cool boat out of Lake Anna, and we all paused to give a hearty wave to each other (this is the only other boat we saw while on the outside). We'd love to know what this boat is and more about it, but we couldn't see its name.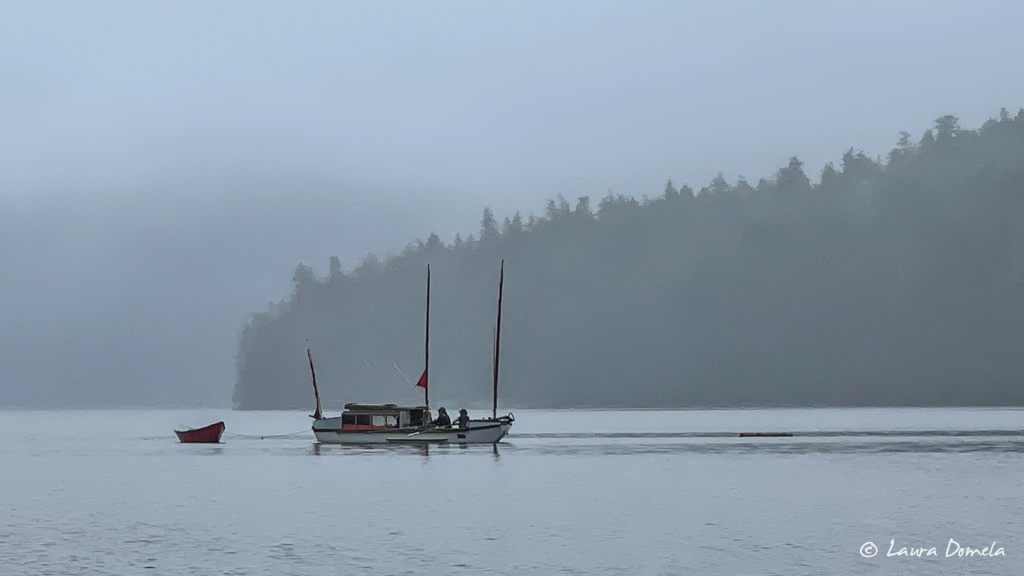 Some ruins of the old Hirst-Chichagof mine on shore in Klag Bay: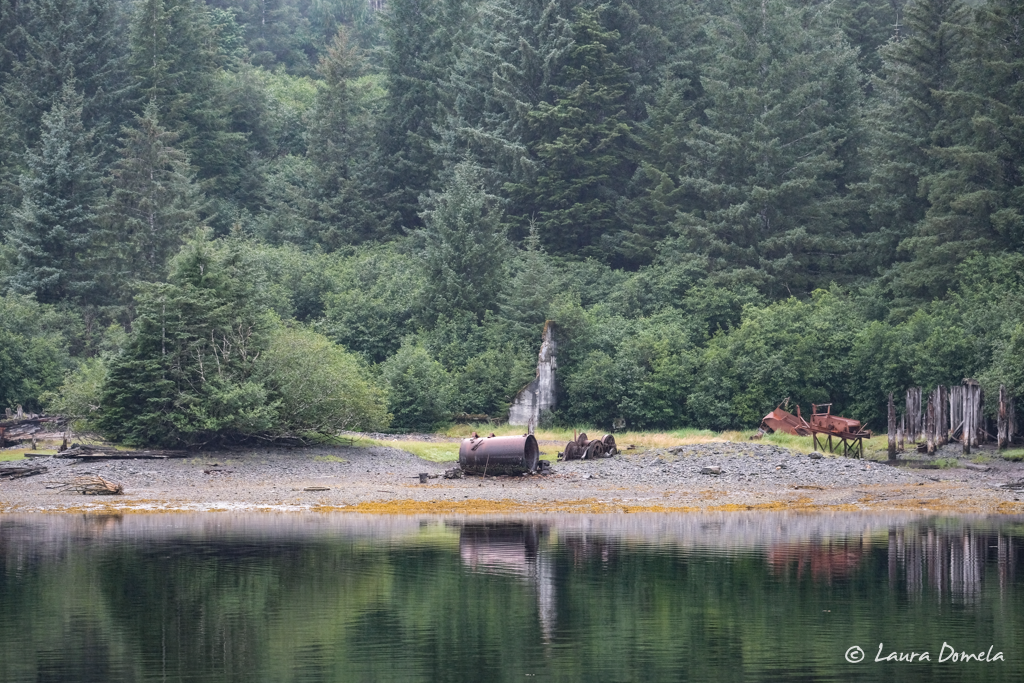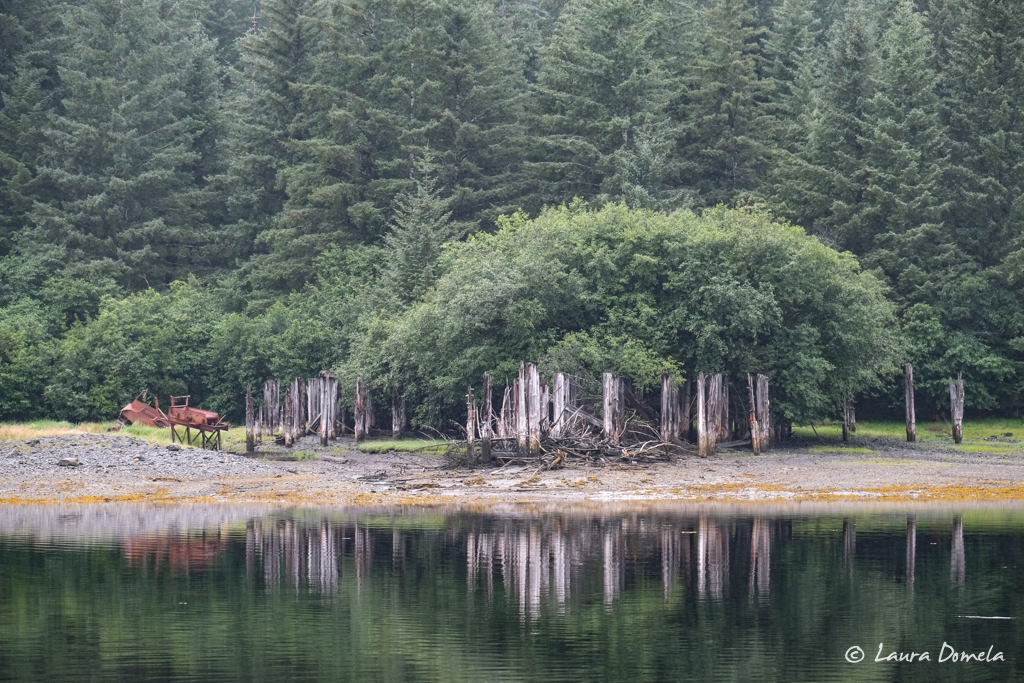 In the morning we awoke to some blue sky and a bit of sun!! And visibility!!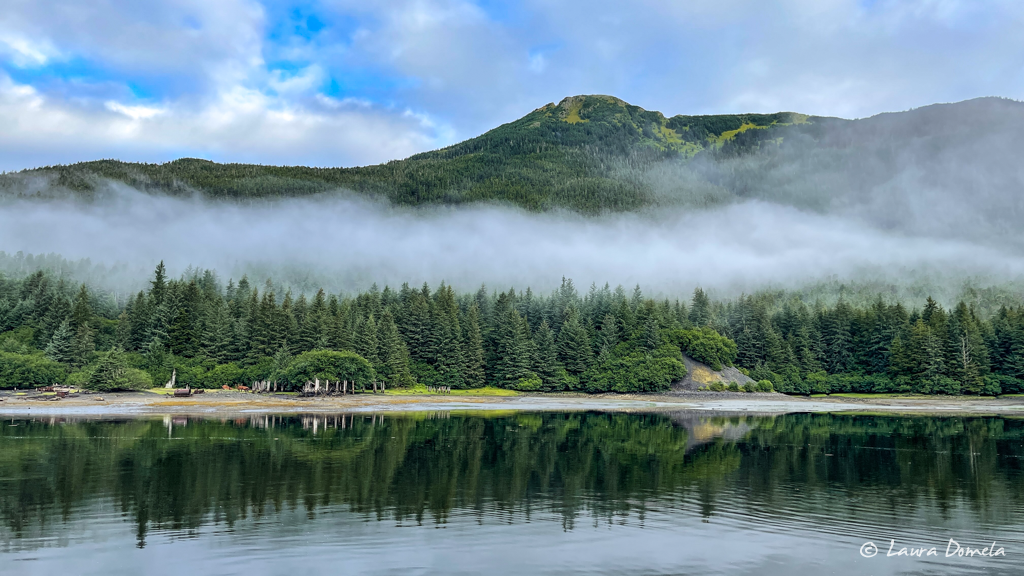 We had a gorgeous cruise the rest of the way down the outside of Chichagof Island, into Salisbury Sound, down Neva Strait, and back to the Magoun Islands anchorage, before heading into Sitka the next morning.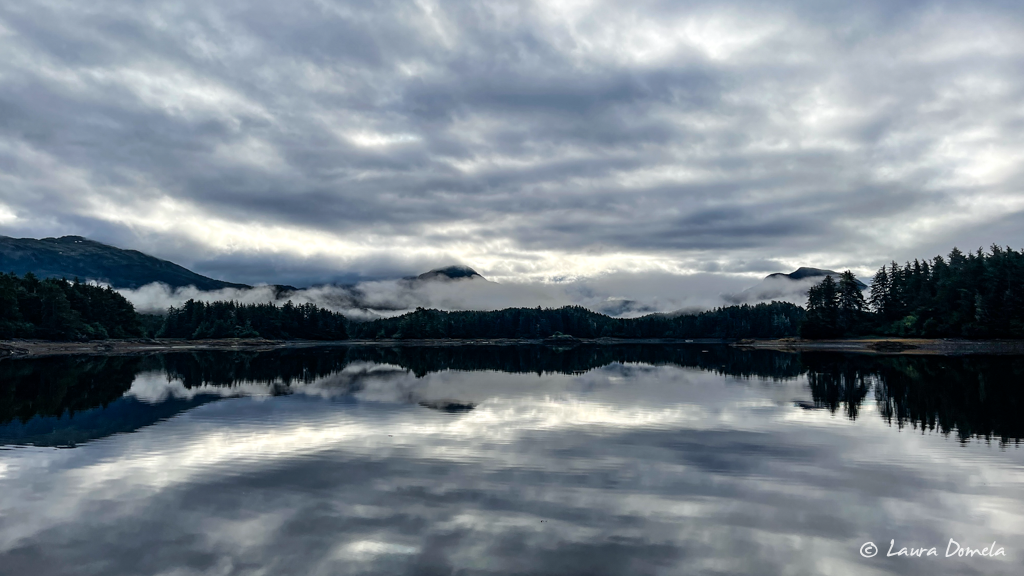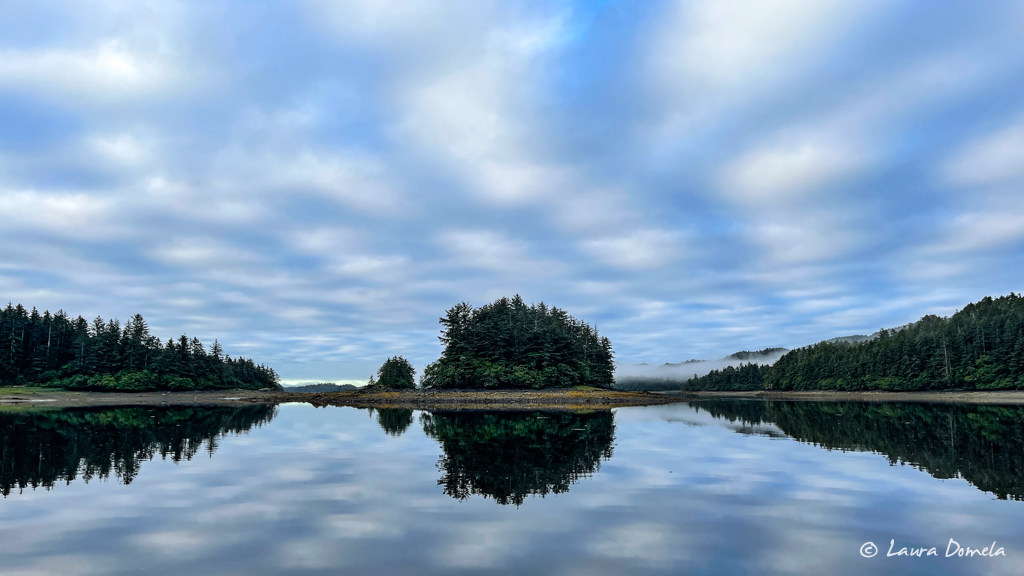 It was so pleasant out that we did the last part of the cruise on Airship from the flybridge!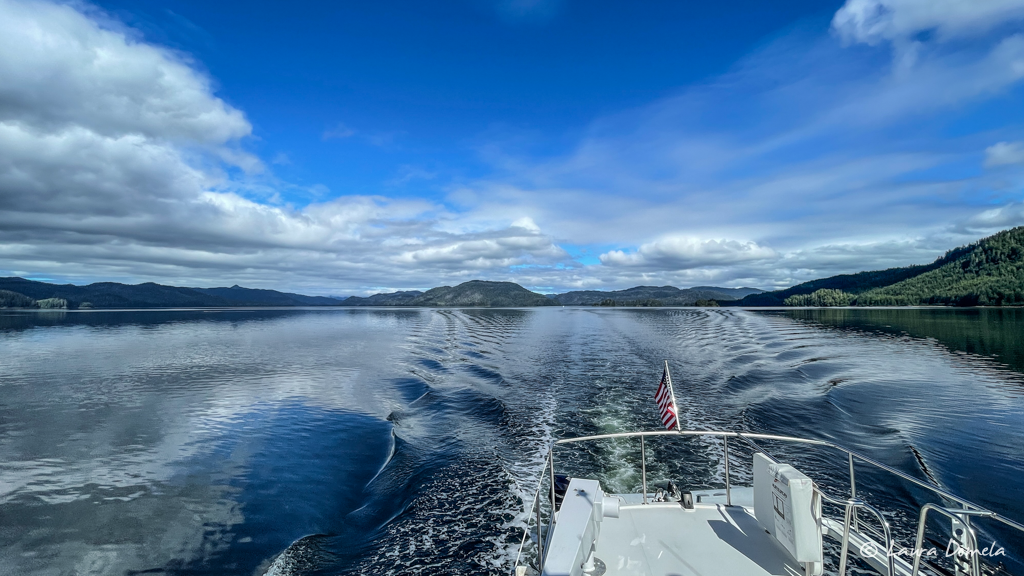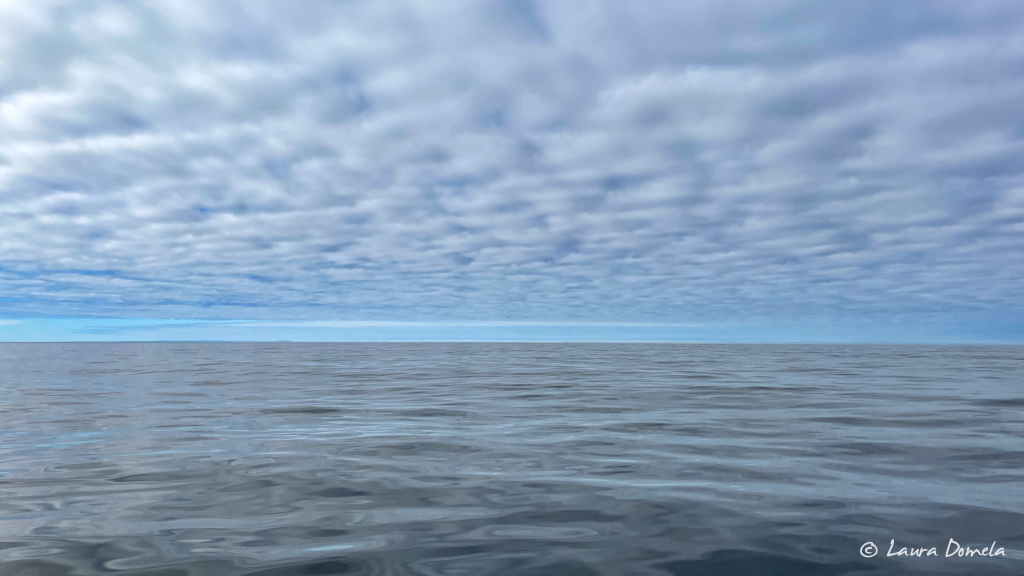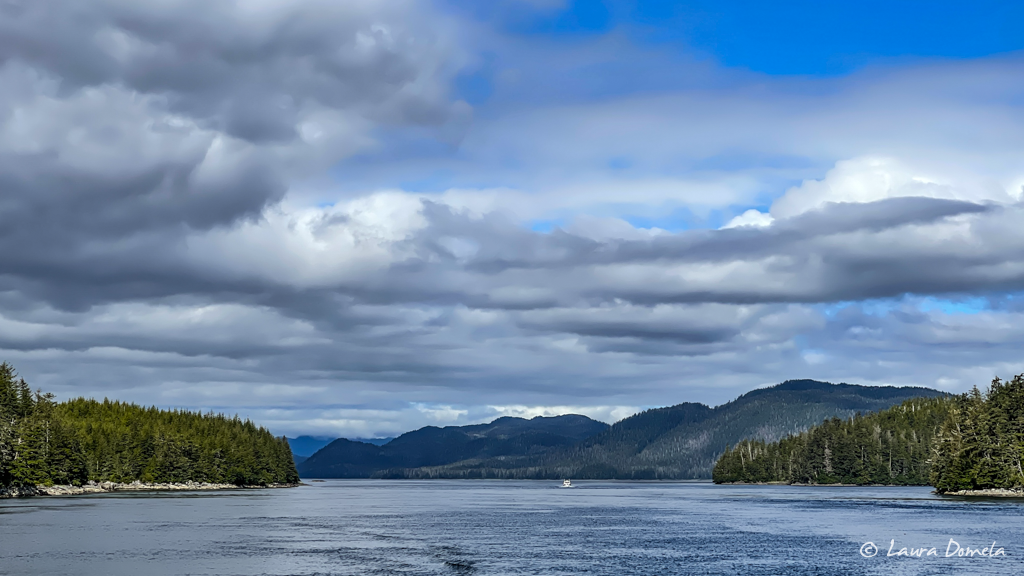 Kevin and Craig went out fishing from our Magoun Islands anchorage and brought back a nice big rockfish! I made ceviche for us with half of it, and we stuck the other half in the fridge (for future ceviche!). Yum!
Here's what our trip looked like on Navionics: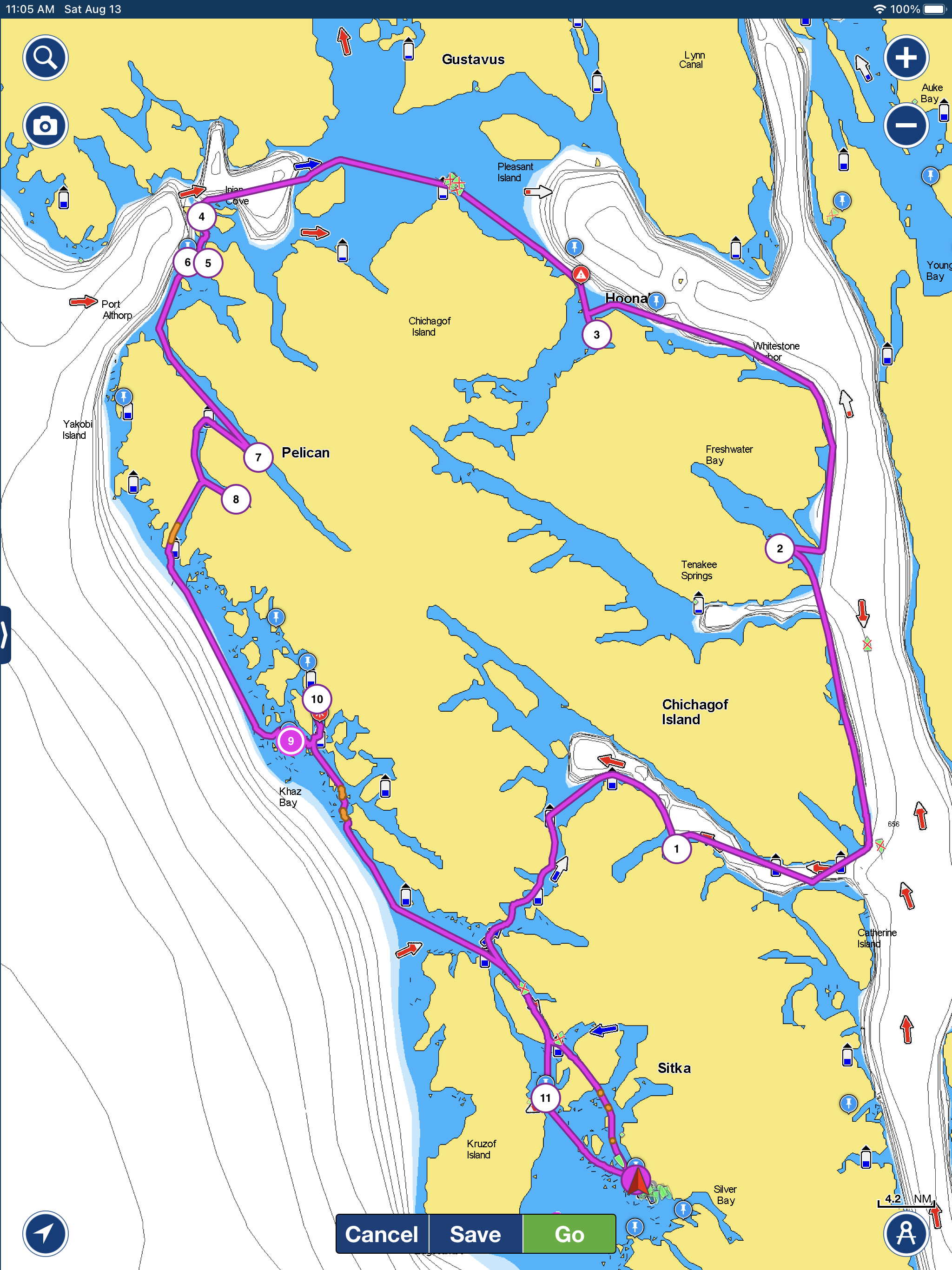 Starting in Sitka
Appleton Cove
Pavlof Harbor
Hoonah
Mosquito Cove/Inian Islands
Elfin Cove
Granite Cove/George Islands
Pelican
Stag Bay
Radioville
Klag Bay
Magoun Islands
And ending back where we started! Such a fun trip!