We were originally aiming for Appleton Cove (just to make some miles, since we've been through Peril Strait a few times this summer) but Peril Strait was nice and settled so we went further and anchored behind Dead Tree Island. This is a very nice anchorage and with more time we would have dropped the dinghy and headed up river, but we got in kinda late and wanted to start dinner so….next time!!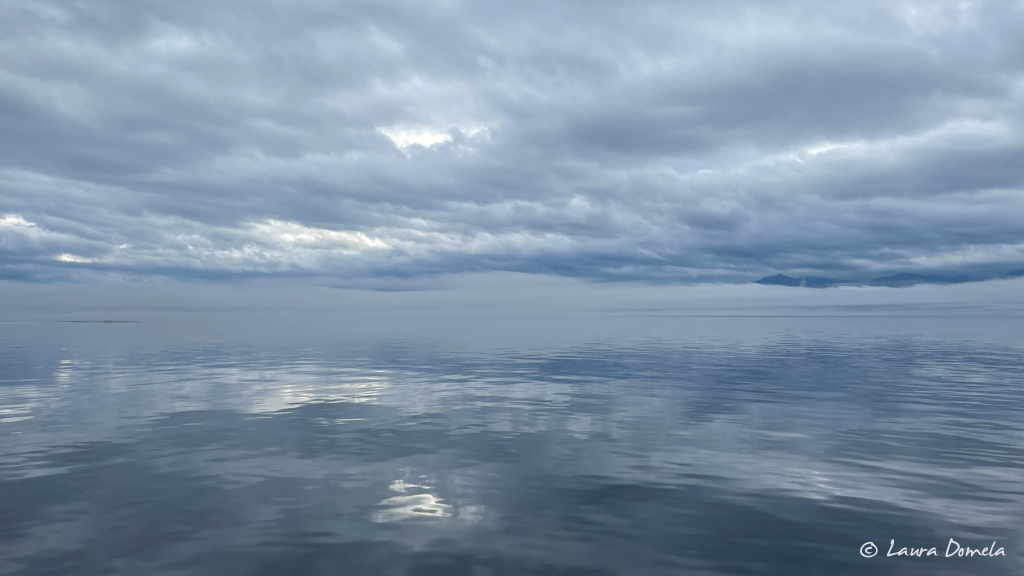 Our next stop was Takatz Bay where we would stay two nights to wait out some weather. Takatz is always one of our favorite stops due to its incredible scenery, plentiful wildlife, and usually quiet seclusion. The weather when we arrived was gray and foggy and rainy, as we expected, but Takatz is still amazing even in crappy weather.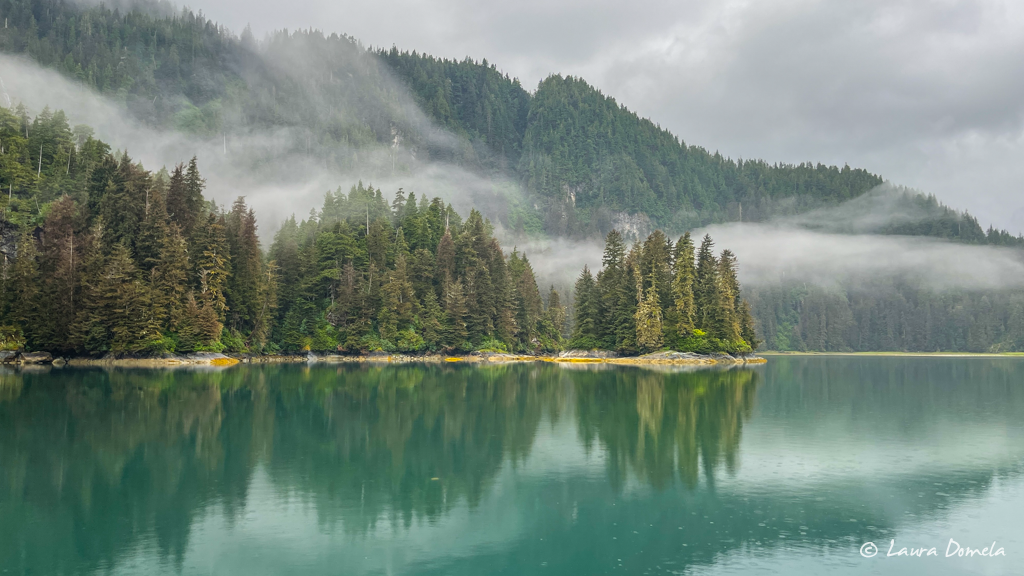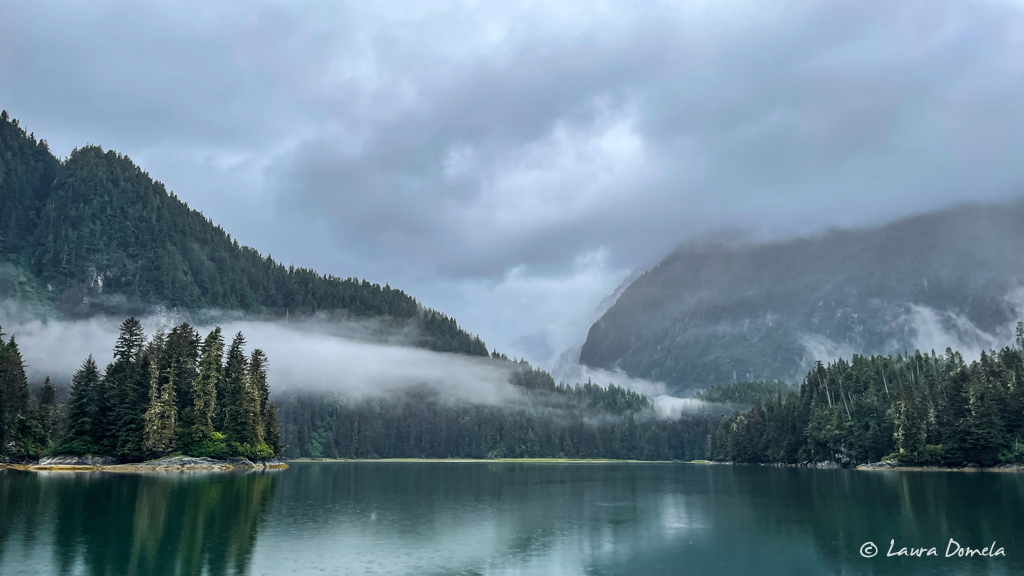 We saw one brown bear on shore foraging around in the morning.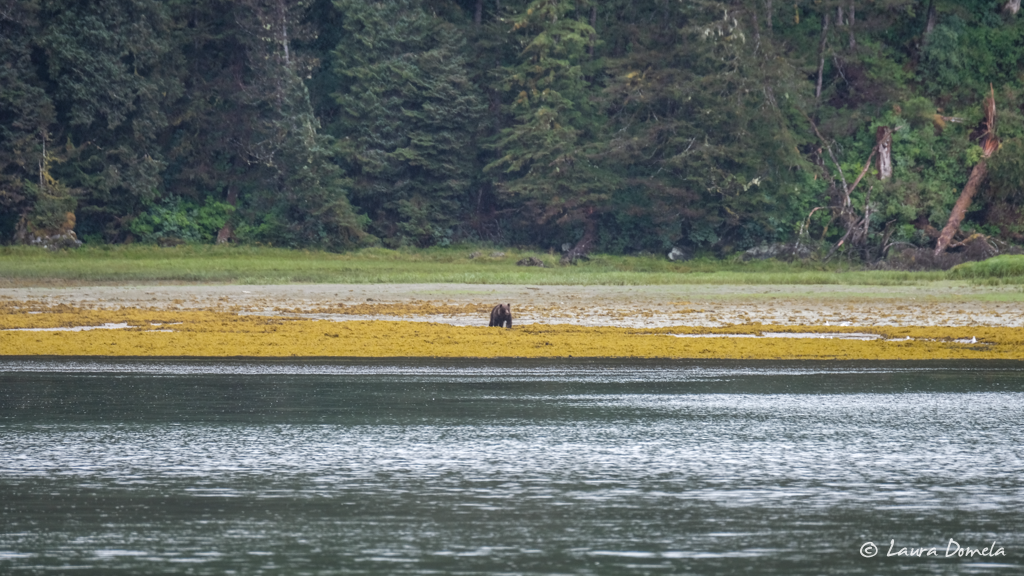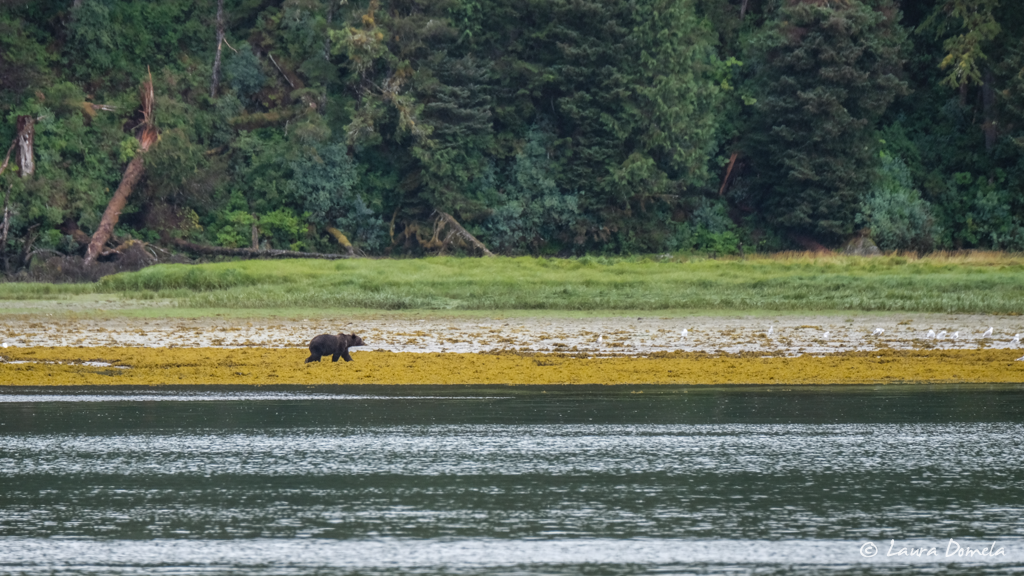 We had the place to ourselves until about 7pm the second night, when we noticed a very large yacht Helios3 headed in. No matter, the place was empty and this anchorage has plenty of room for many boats. This boat, however, this 173 foot charter yacht, for some very odd reason, opted to come in and anchor 200 feet from Airship. A 173 foot yacht. Seriously. I have no clue why they needed to be so close to us. It's not like you can't see all the cool things from 200 MORE feet from the only other boat in there. Inexperience? Ignorance? Arrogance? Hard to figure out the reason for such aggressive crowding in a totally open anchorage. They had several tenders along with them, including their usual 42ft tender Sun Ra, and an extra 50-something foot chartered chase tender called Luff Boat, plus a slightly smaller tender they used to ferry guests to and from shore.
All the Helios3 tenders of course rafted to the big boat, making it probably 60 feet wide x 200 feet long (including all the water toys out back). 200 feet from Airship. Here are a couple photos to give you an idea: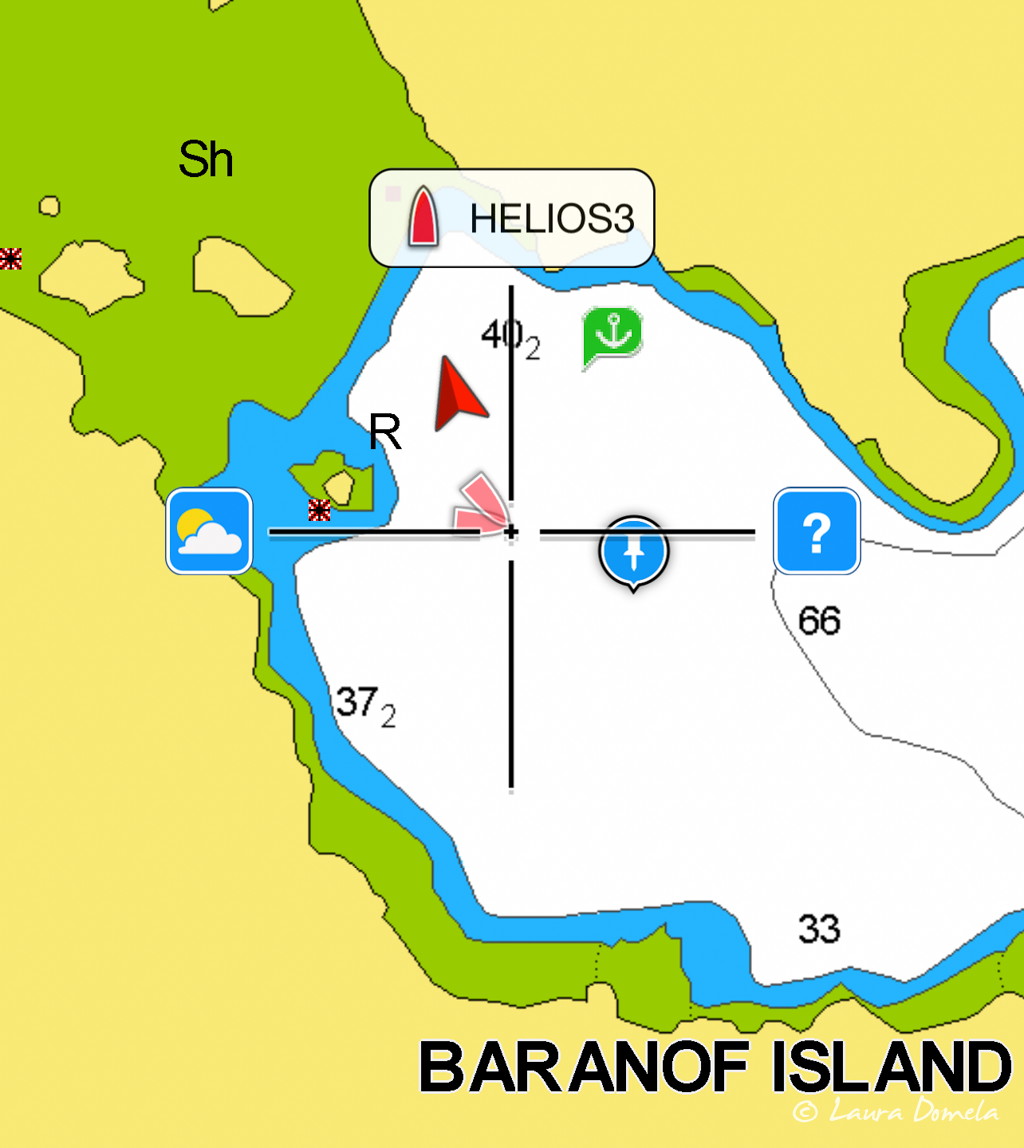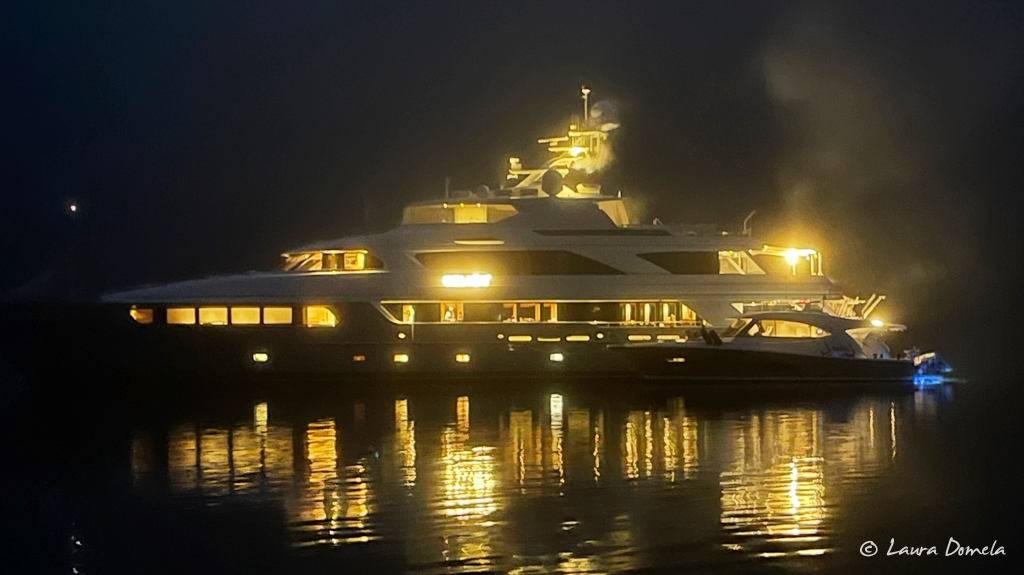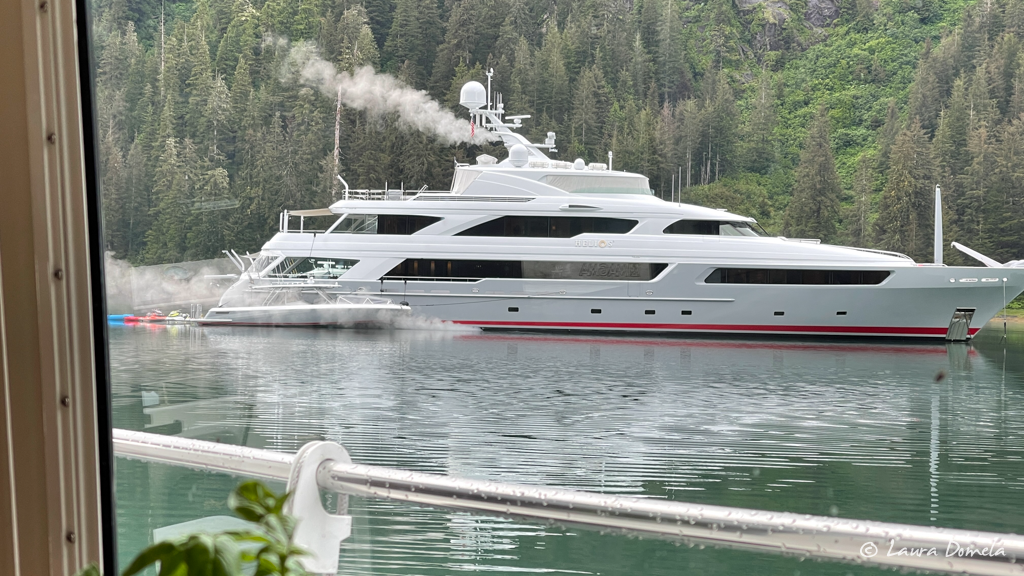 Whatever dudes, we're outta here. We pulled anchor in the morning and headed south to Red Bluff Bay.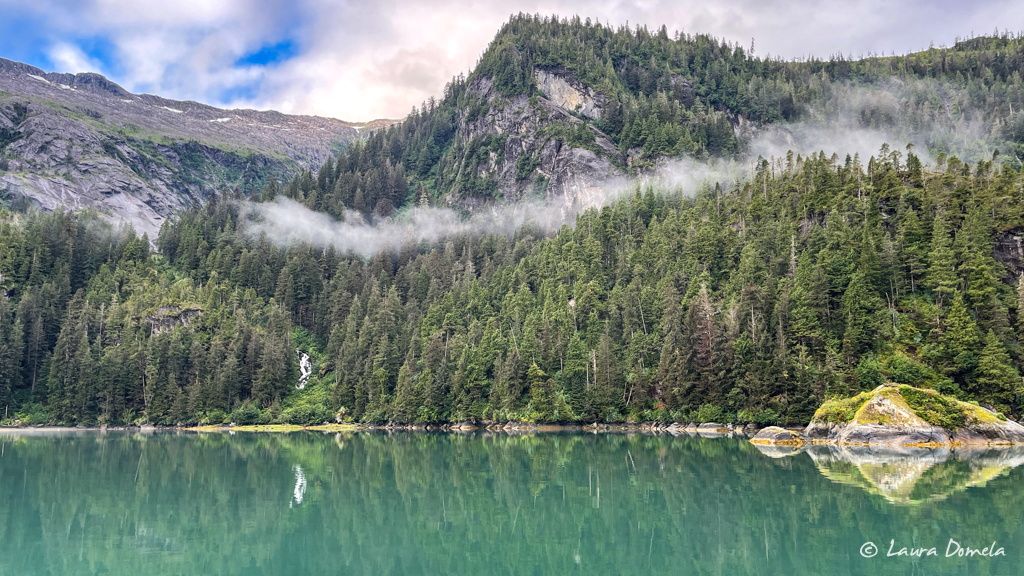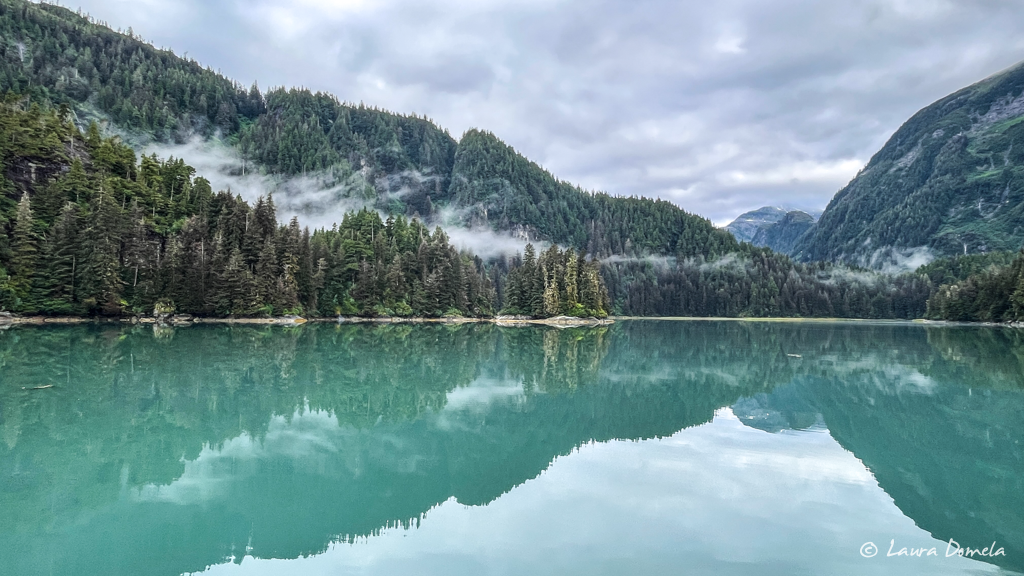 Chatham Strait was foggy but super calm.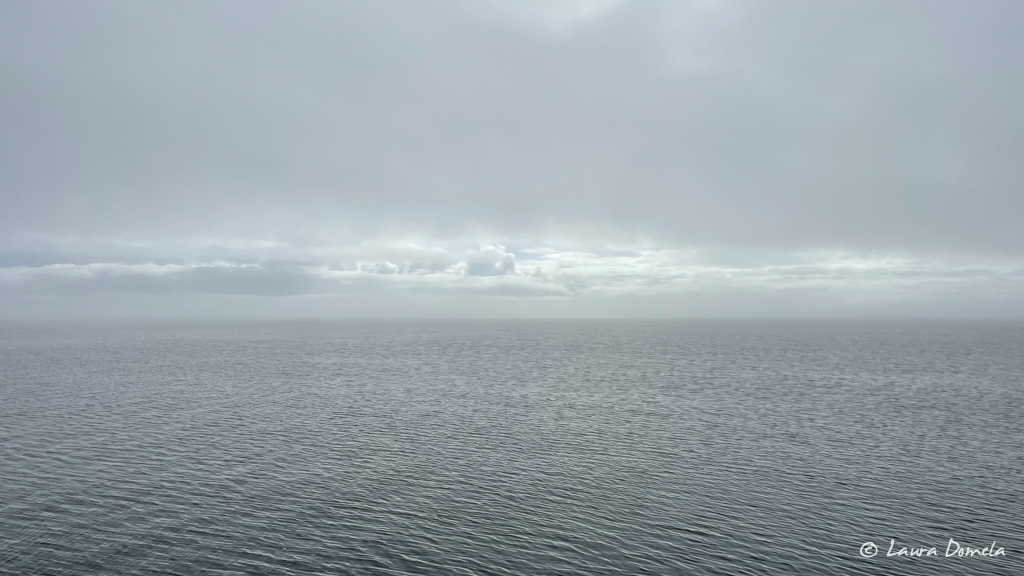 The fog cleared the more south we went and the closer to shore we were.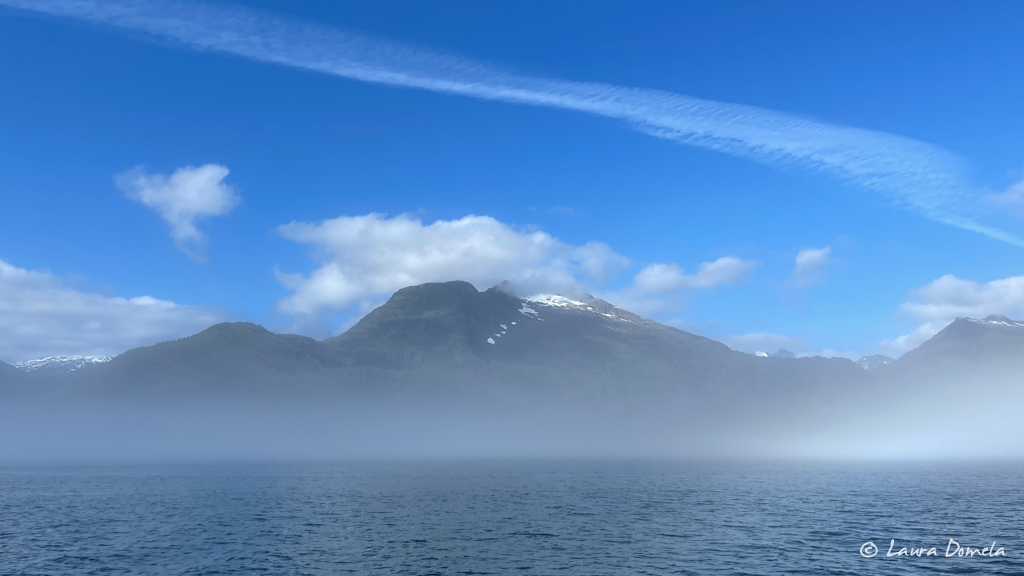 Red Bluff Bay is another spot we really love but is often pretty crowded. We dropped two prawn traps about a mile inside the entrance on our way in and when we arrived at the head of the bay there was just one other boat tucked into the little cove part of the anchorage…a Nordic Tug 37. And it was clear and sunny for a change!! Nice!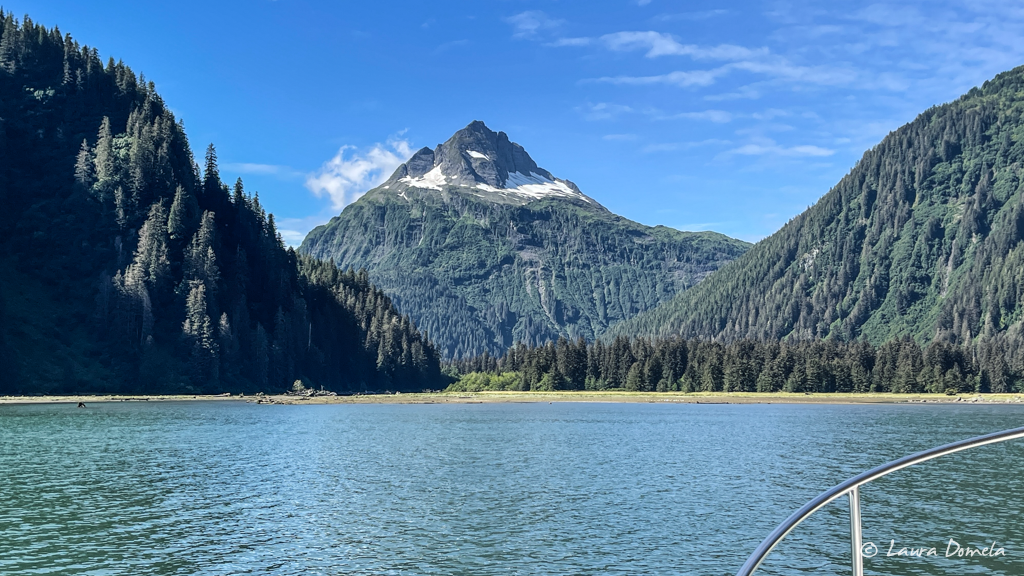 We went way in, gave the other Nordic Tug plenty of room (because that's what you do, duh) and anchored in 65-70 feet.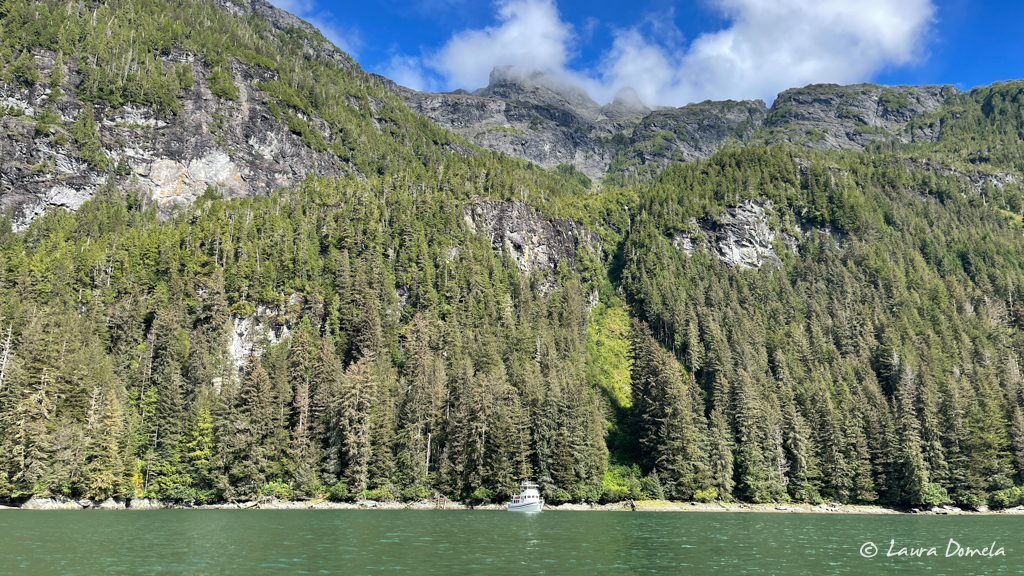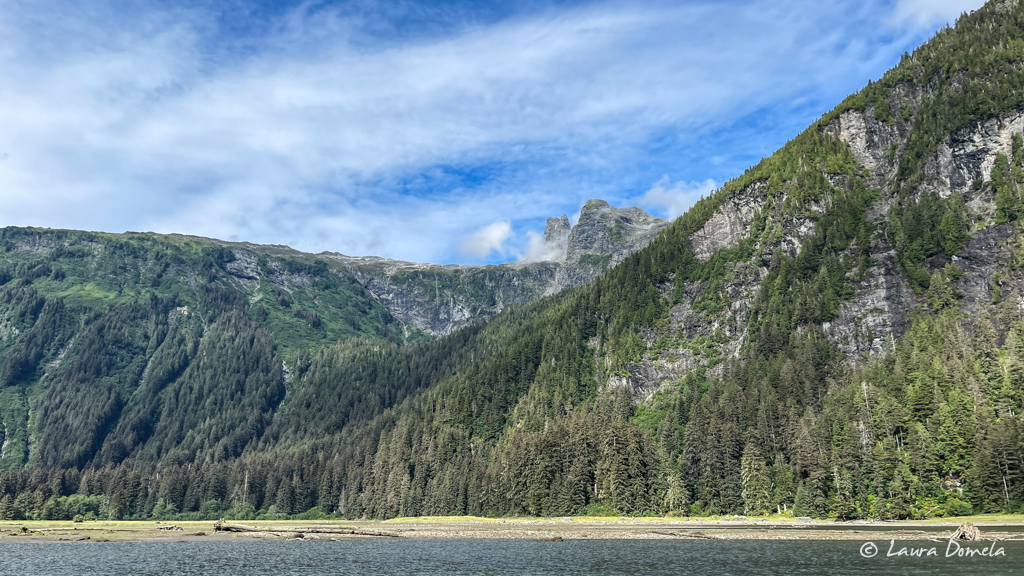 We dinghied around a bit and then the other Nordic Tug pulled its anchor and headed out. We decided to do some fishing out near the entrance (a few good bites but nothing in the boat) and then headed back to Airship. Pretty soon, in came….nooooooo! Helios3 and all its tenders!!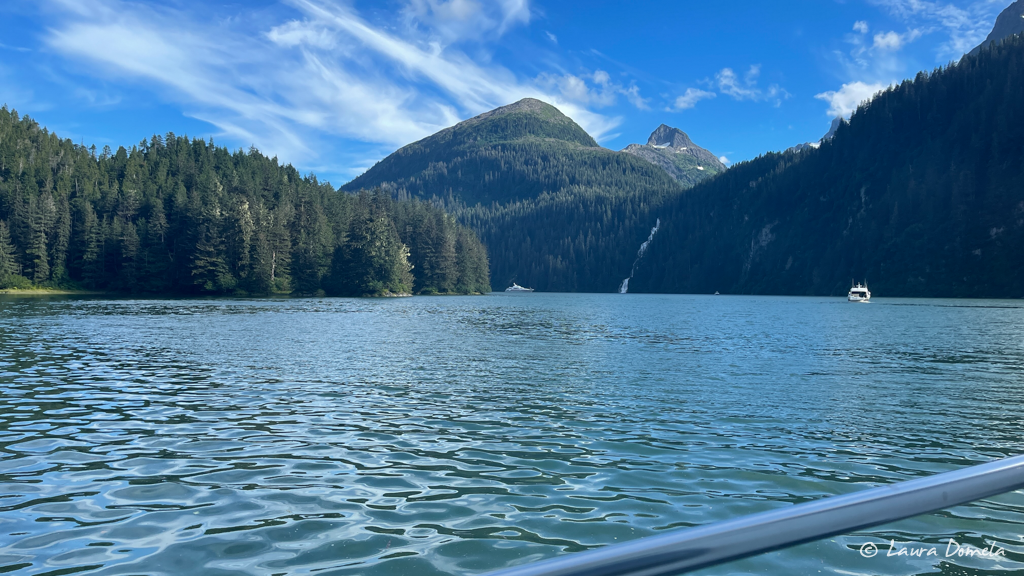 We figured there was no way we'd have a next day repeat of the too-close anchoring in an otherwise empty anchorage, but we were so wrong. They anchored EVEN CLOSER to us this time. I turned the radar back on just to double check but sure enough, they were 155 feet from us, and that was AFTER they dropped the anchor and settled. 155 feet. For a 173 foot boat. We were anchored in 70 feet and had over 200ft of chain out…they were closer to us than our own damn anchor!
Let's revisit this photo of Airship at anchor before they got here. We're WAY back in there. Tiny. Tons of room. Imagine you're a 173ft superyacht captain…you come all the way over here next to us and drop the hook??? WTF?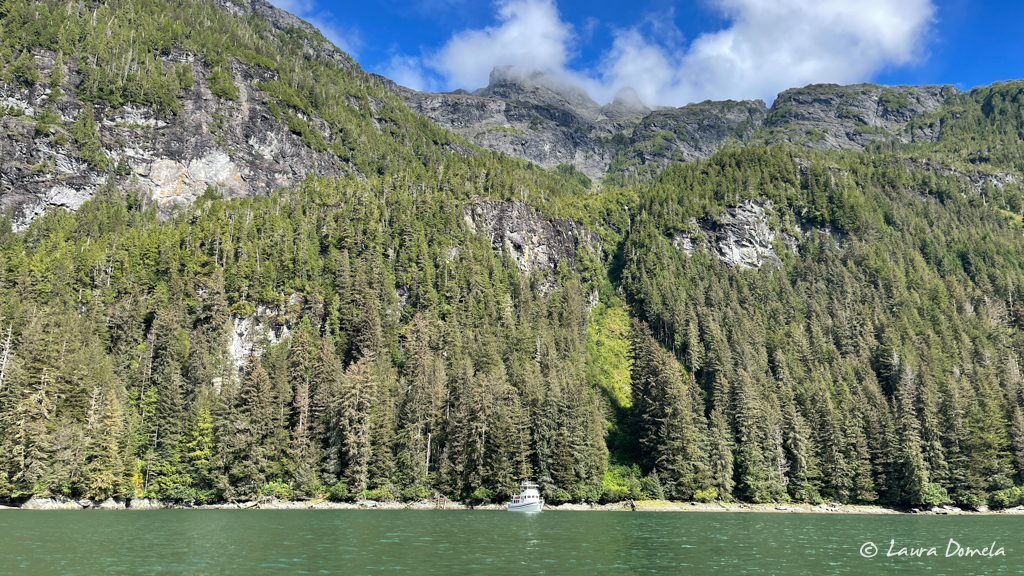 We're not ones to normally complain (publicly at least) about other boat behavior (I can only think of a couple times) but this seemed just too ridiculous not to mention. Two nights in a row we're the only boat in the anchorage when they arrive, there's plenty of room, and they anchor basically on top of us. We can hear their staff talking, we can tell what movie they're watching inside the salon (Walk the Line with Joaquin Phoenix), we can read the logos on their kayaks and paddle boards (which came out every day but no one ever used)….it's difficult to understand what the thinking is. Maybe their captain is super inexperienced? Maybe no one ever told them it's extremely rude behavior to do that in a pristine anchorage with tons of room and that they'll just make enemies? Maybe they're just jerks and it's a power move? No clue. Even for their own guests/owners you'd think they'd want to have a little more space around them to experience that "pristine seldom-visited Alaskan wilderness" feel.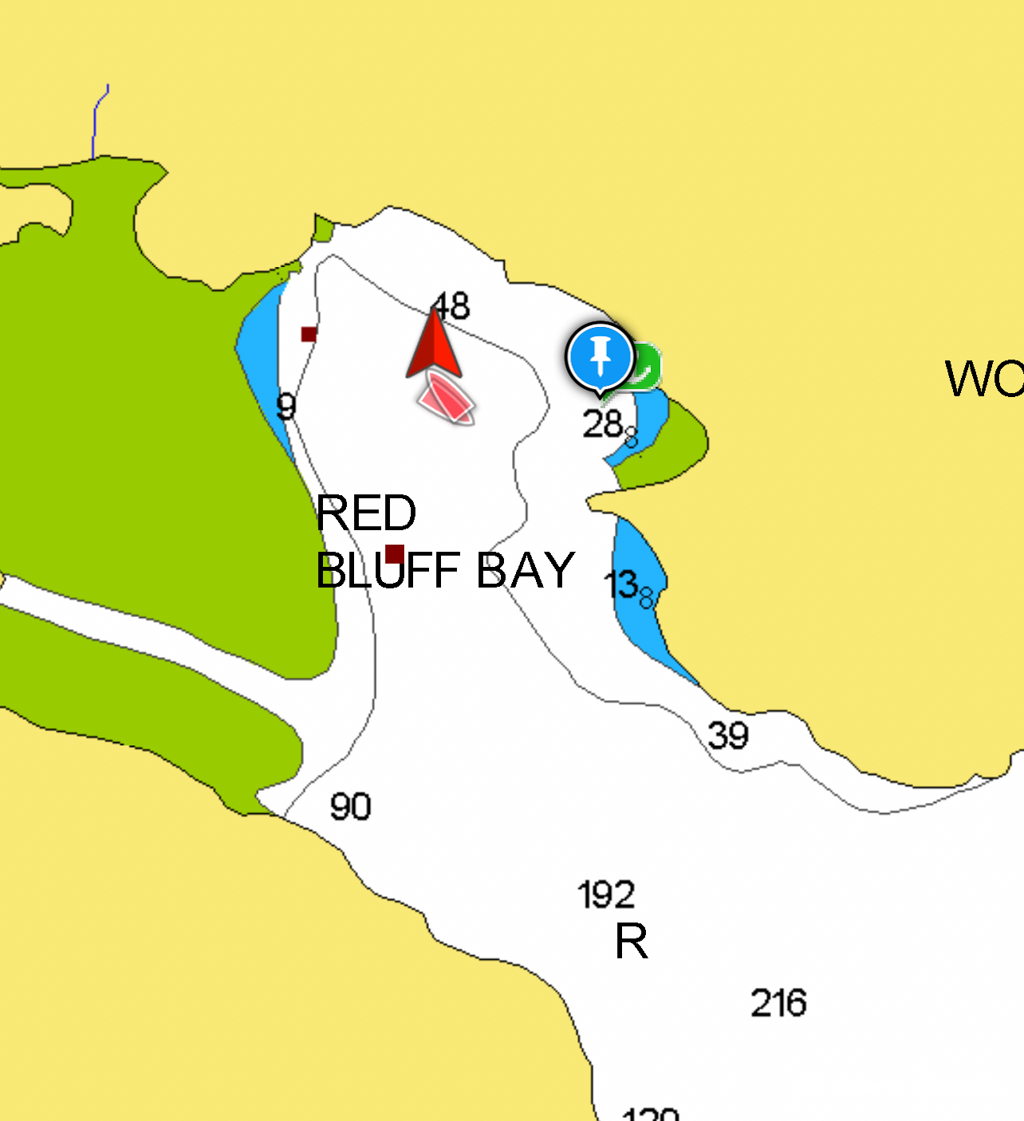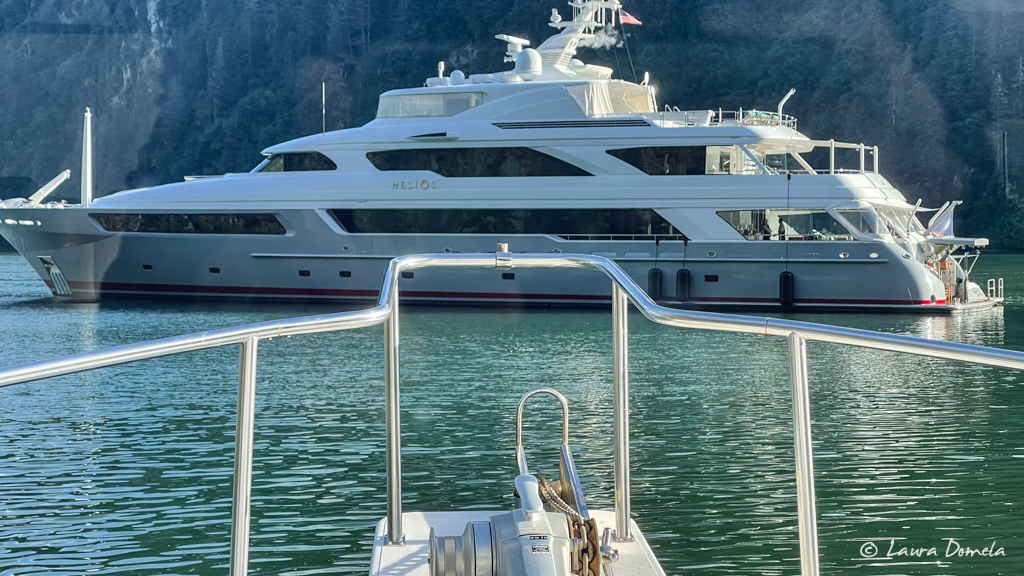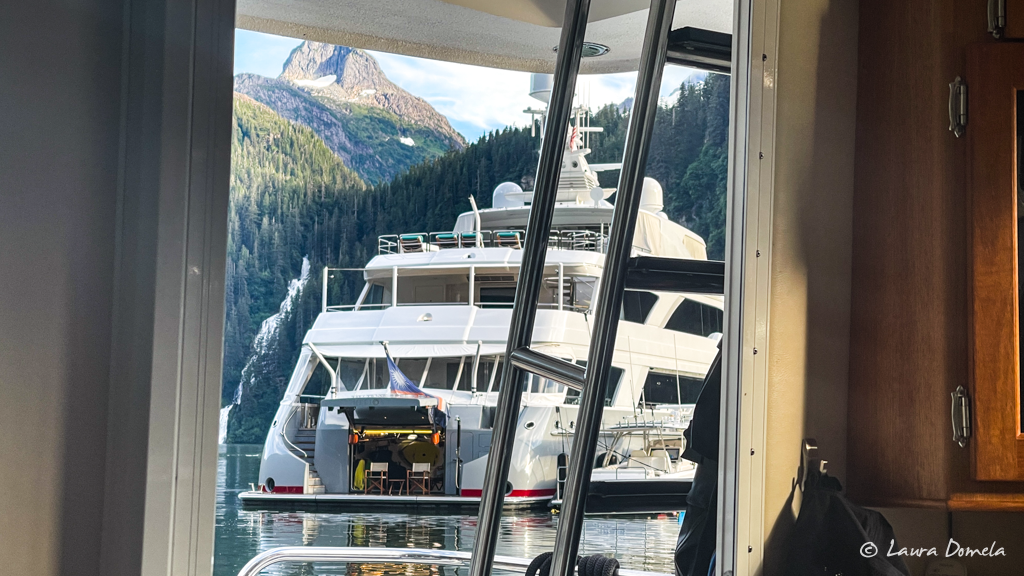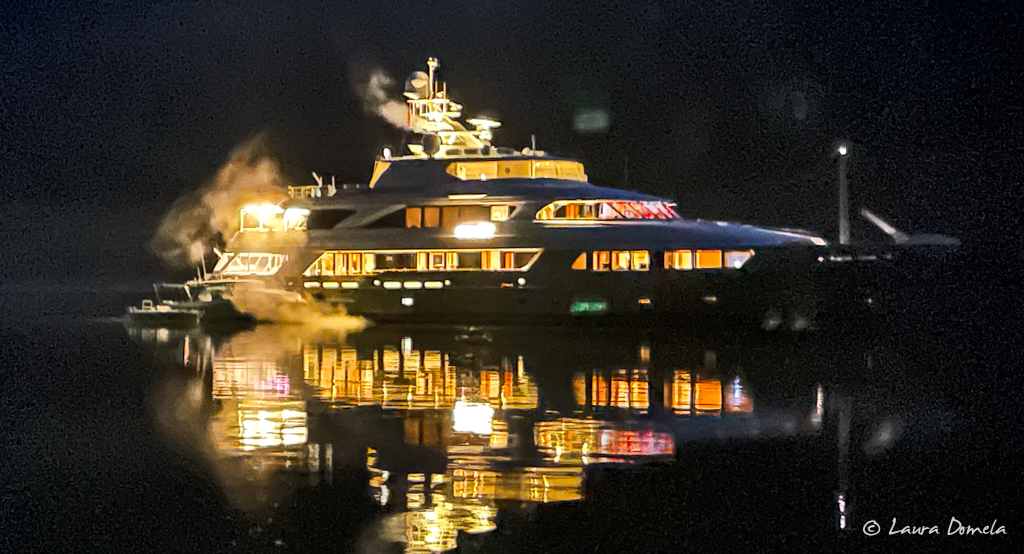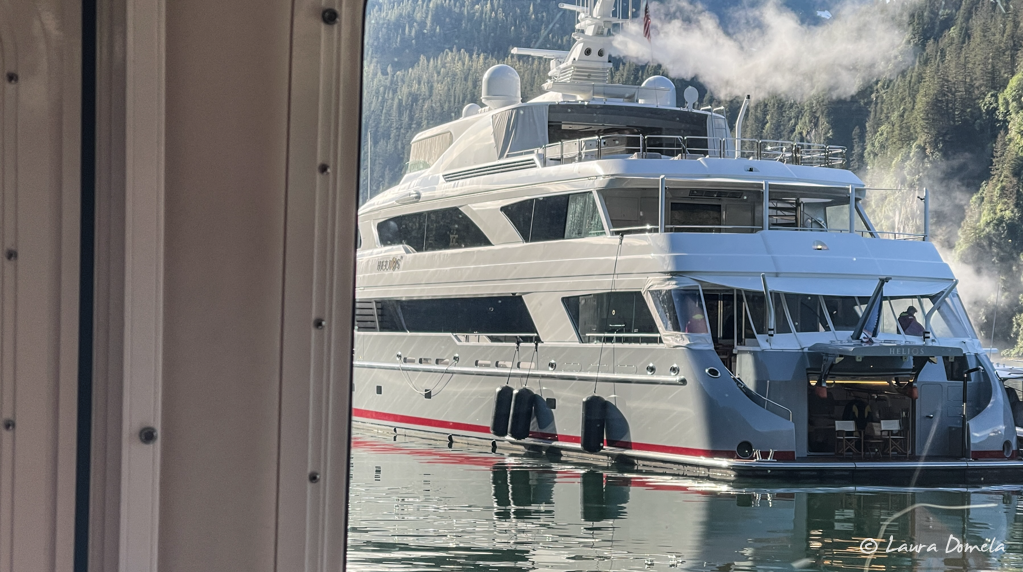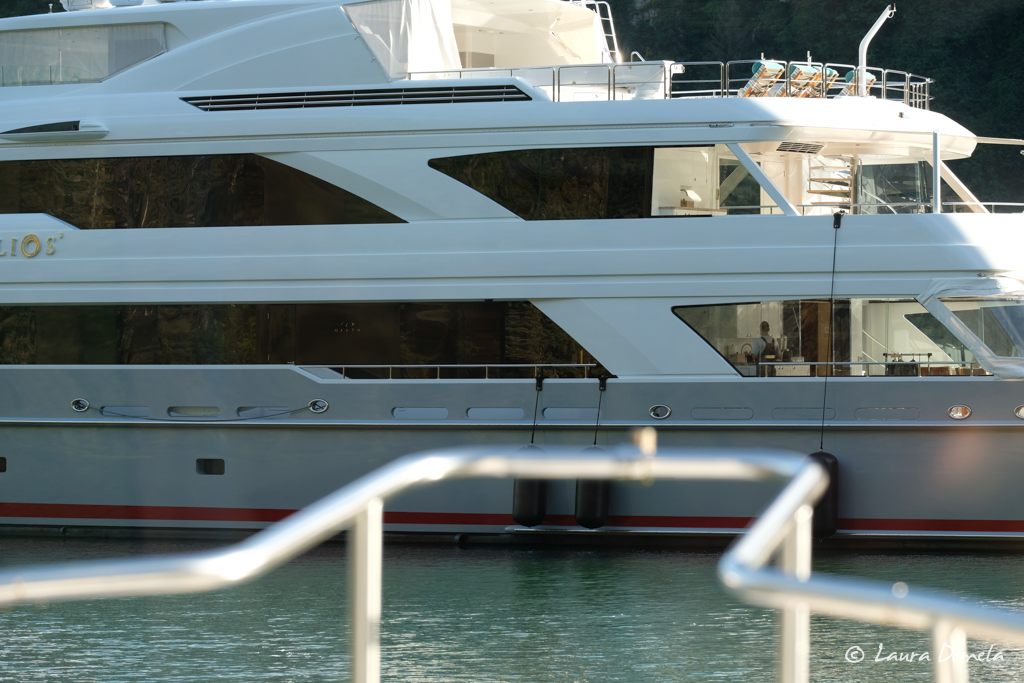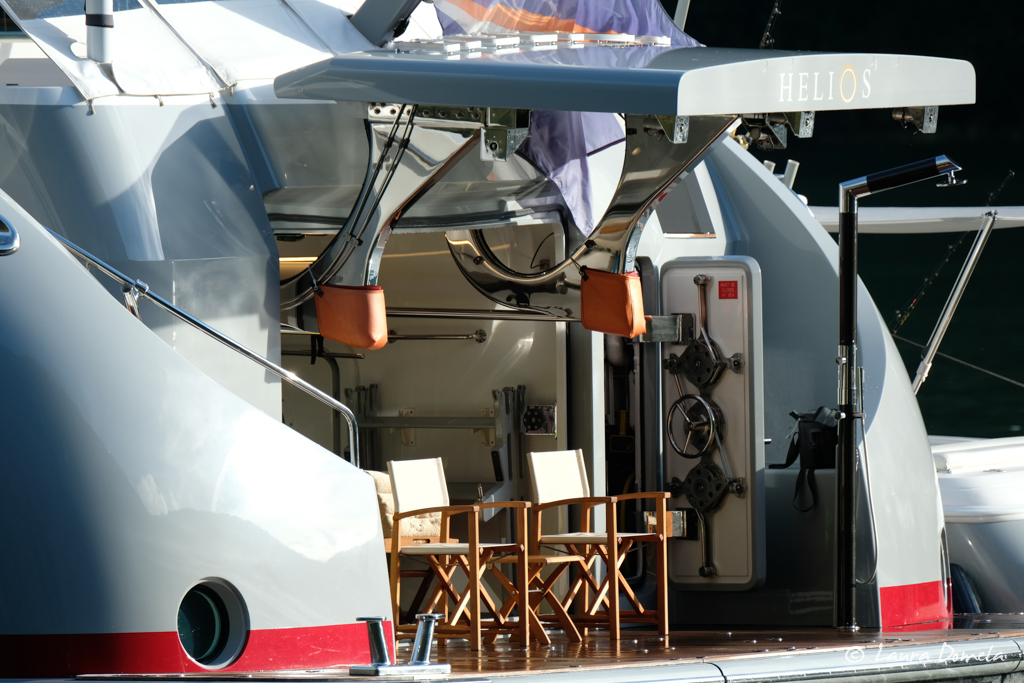 They were ferrying their guests up the river with fishing gear and dropping them off to, I guess, "fish" for zombie salmon. Okay. This is not a great idea for a couple reasons. One: salmon streams attract brown bears. Lots of them. Two: zombie salmon are in the process of dying. They've stopped eating, and they are literally rotting alive. They won't bite your lure or your bait, and really the only way to catch them is to snag them (which is super easy) and drag them into shore. Casting your lure across a hundred spawning salmon will snag you a fish more often than not. Interestingly, they brought a fish in a net back to Helios3. I'm guessing the chef won't be cooking that up for dinner. (Maybe he subs in some store bought Chinook and tells the guests Yay, you caught dinner!) 🙂
Additionally, we never saw any bears on shore, because, tourists fishing for spawning salmon.
We eventually pulled the blinds on our superyacht side, had a very nice dinner, and watched a movie.
In the morning we were sad to leave Red Bluff but relieved to be out of the awful Helios3 shadow. We pulled our anchor and Kevin took the dinghy ahead of Airship out to check the prawn traps.
When we fired up the chart plotter, we noticed that Luff Boat, the chartered chase tender from Helios3, had left the big boat and was now 2.8nm miles away out toward the entrance, stopped, and sitting directly on one of our prawn trap markers. That's odd. When Kevin rounded the corner in the dinghy, Luff Boat was still sitting there, right at our trap, about a half mile away. When Airship got in radar range, I could see that Luff Boat's radar return still showed to be on top of our trap. As Kevin got within about a quarter mile of our trap, Luff Boat took off and headed back to Helios3. When Kevin approached the trap, the leaded line was floating zig-zagged around the float. If a trap has been sitting awhile (in 350 feet) that leaded line has dropped and only the float will be at the surface. When you first set, it takes a little time for the extra leaded line to fully sink. So by all appearances and clues, it looked to us as if Luff Boat was in the process of pulling our prawn trap when we arrived. Now we could be wrong (and we hope we are, because…so lame!) but there's no other good reason we can think of that this other boat would be sitting and drifting in this spot, at our trap, for this amount of time. They weren't fishing, they didn't have traps of their own, there was no bear on the tiny island they were facing, and something had definitely disturbed our trap. Were they hoping to steal a few prawns before they left or before we woke up? Certainly seems that way to us. But we could be wrong. We're just glad we went out to get our loot when we did!
We scored with 64 large spot prawns (the one we measured was 9 inches long!)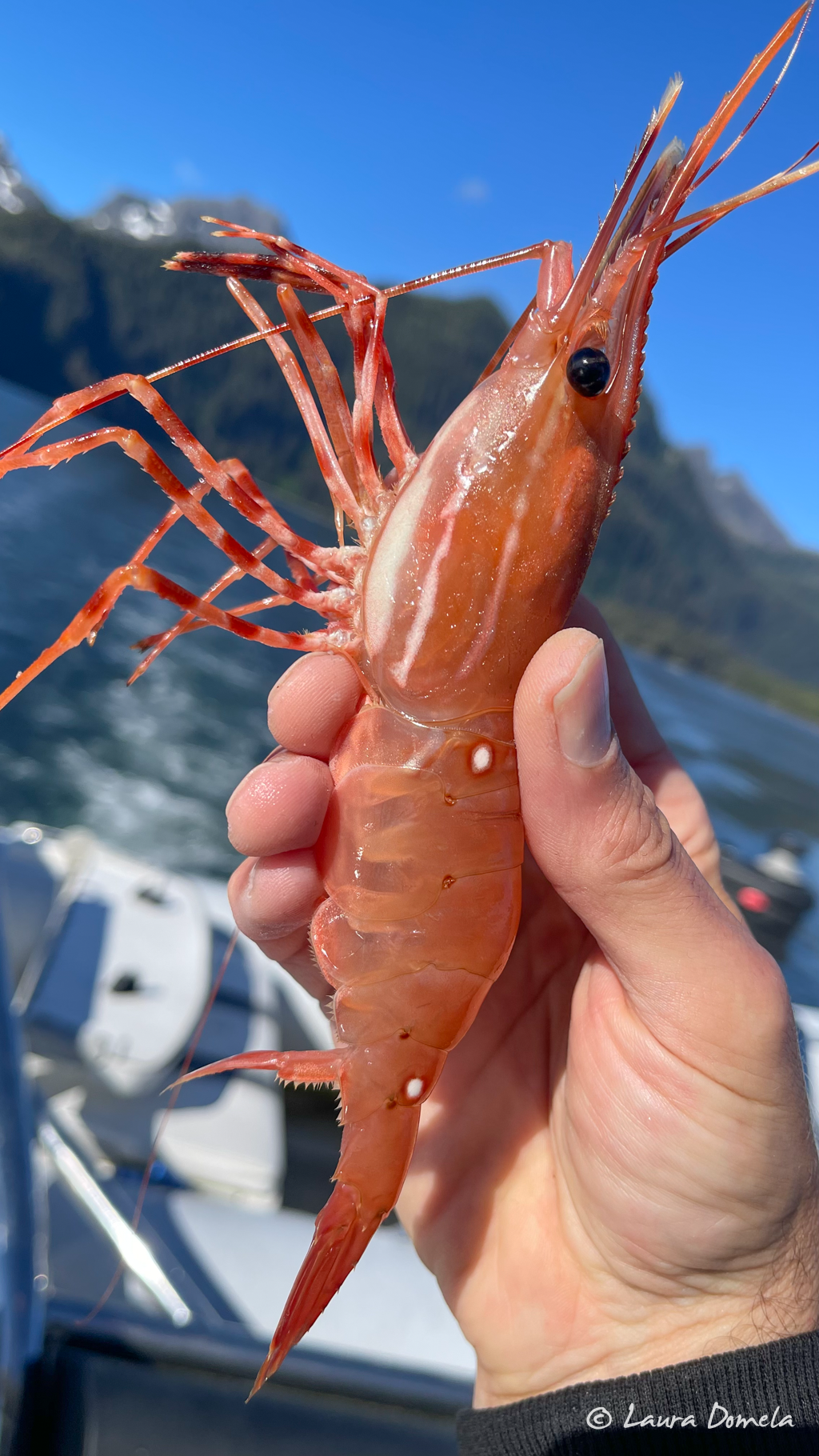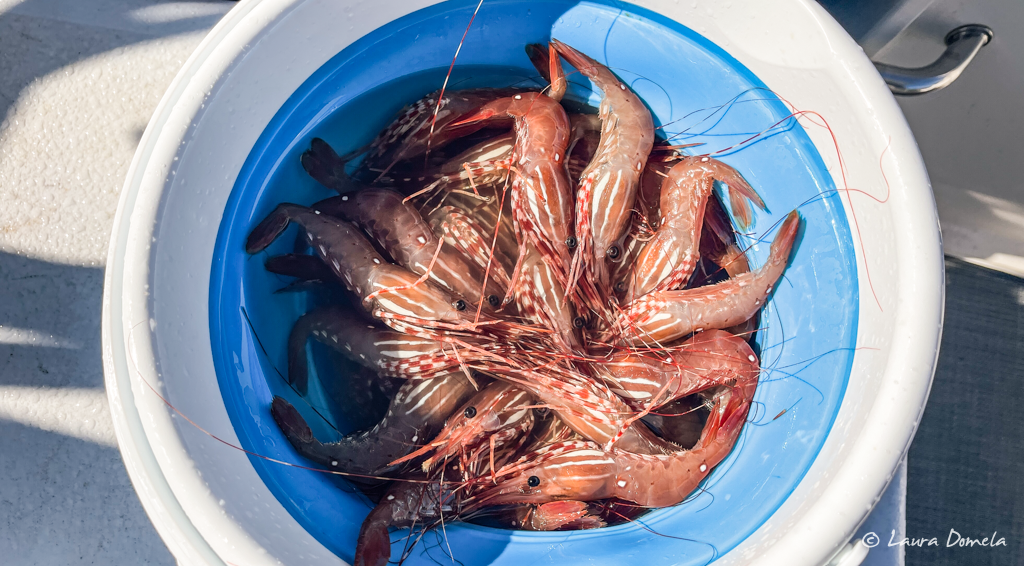 Pro tip: if you're planning to be a prawn thief, maybe turn off your AIS transmitter.
Whatever dudes, we're outta here. (The Helios3 group all left Red Bluff Bay right after we did, but headed south, thankfully, though we figured we'd be able to ditch 'em through Rocky Pass tomorrow if they continued on.) We're headed across Chatham Strait toward Rocky Pass.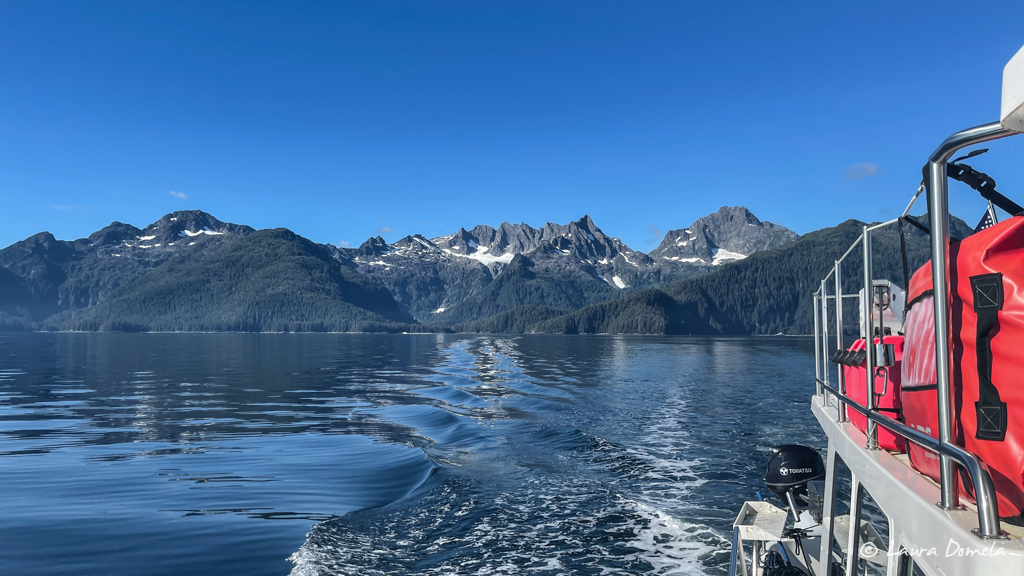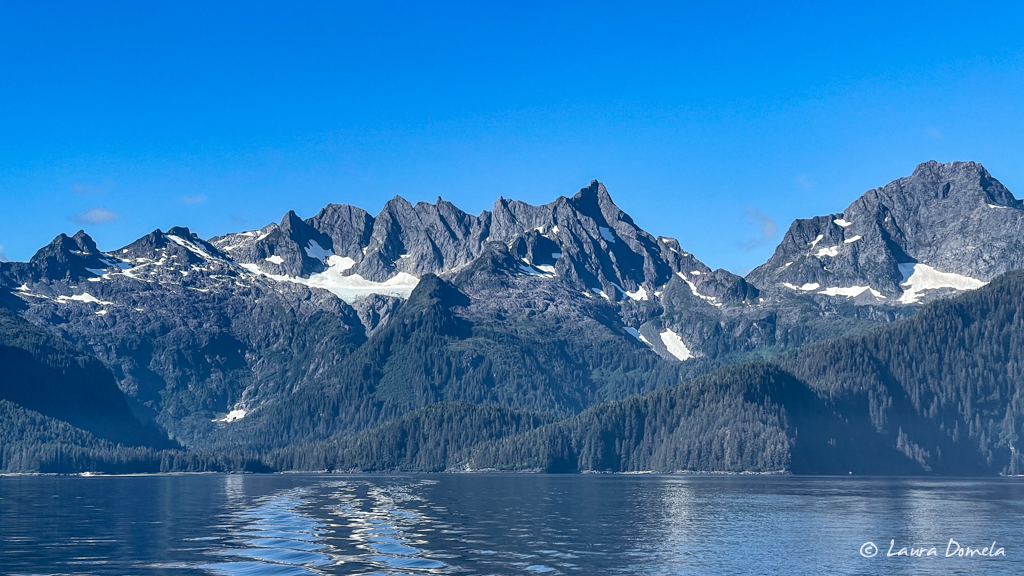 Chatham Strait today is calm and glassy. We will go south through Rocky Pass tomorrow, and probably stop in Point Baker (where we'd also easily be able to lose the Helios3 entourage if need be). 🙂