Last week we spent three nights in Auke Bay, where we took advantage of the land base to rent a car and reprovision, visit with friends, and we even got to take a nice hike out to Nugget Falls at Mendenhall Glacier. We picked up Kevin's brother on Friday night and left Auke Bay early Saturday morning.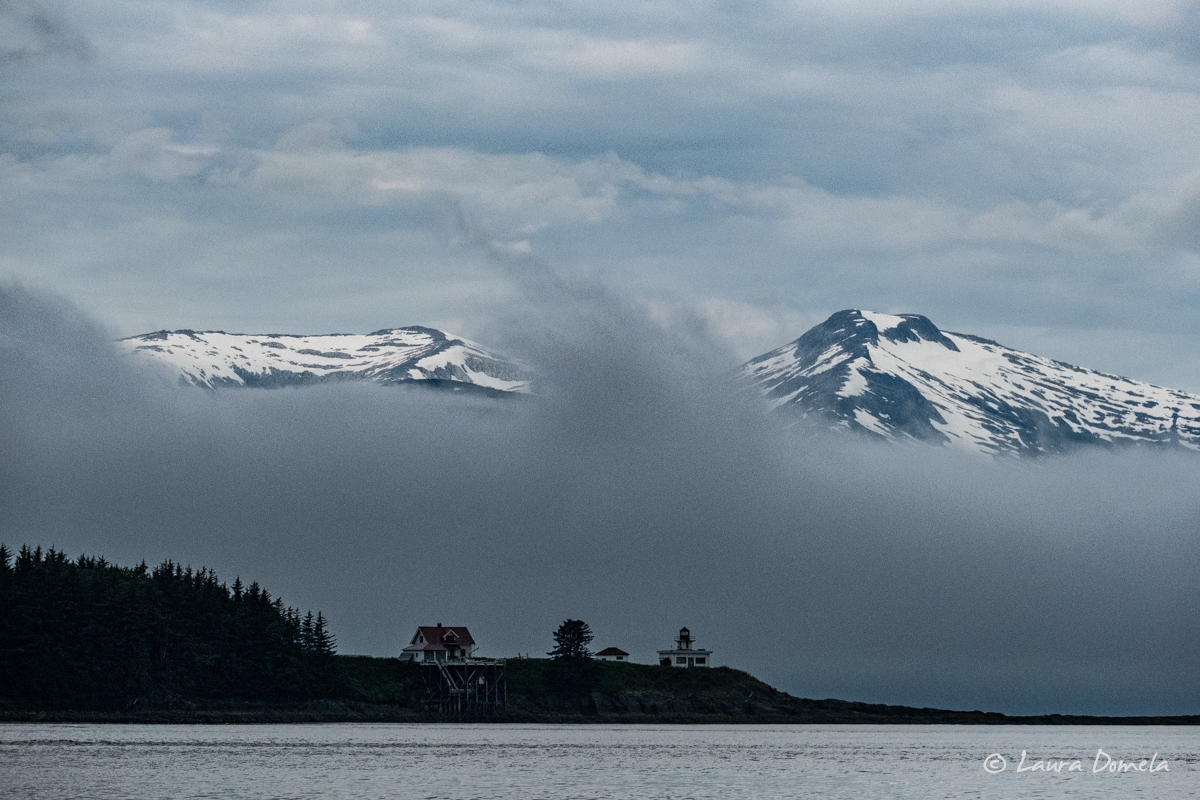 Our plan for the next two weeks is to do a counter-clockwise loop around Admiralty Island with stops at Pavlof Harbor, Takatz Bay, Red Bluff Bay, Gut Bay, Honeydew Cove, Pybus Bay, Tracy Arm, Ford's Terror, Taku Harbor, and then back to Juneau. We opted to do the first leg down to Pavlof Harbor — a 50nm day. The weather was gray and drizzly with fog, but super calm.
We dropped the anchor in Pavlof Harbor, and Kevin and Craig went out for some fishing. The clouds eventually cleared and we even had some blue sky and sun in the afternoon and evening. We spotted one bear on shore and watched it for a bit while fish jumped in the foreground.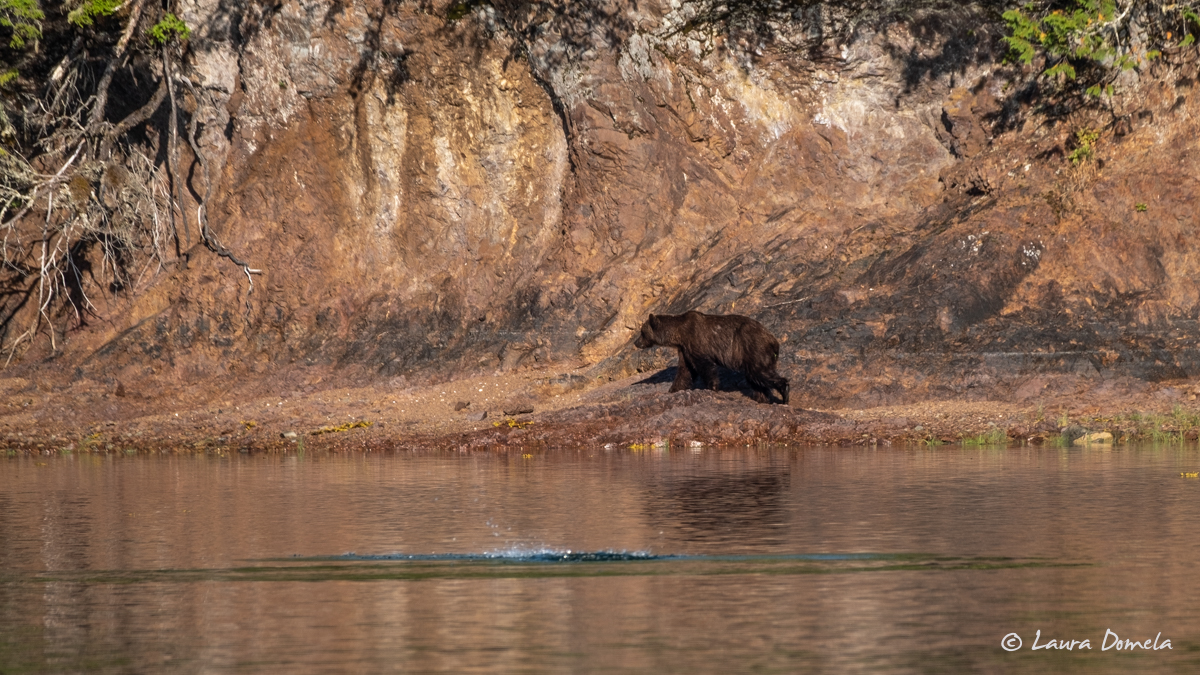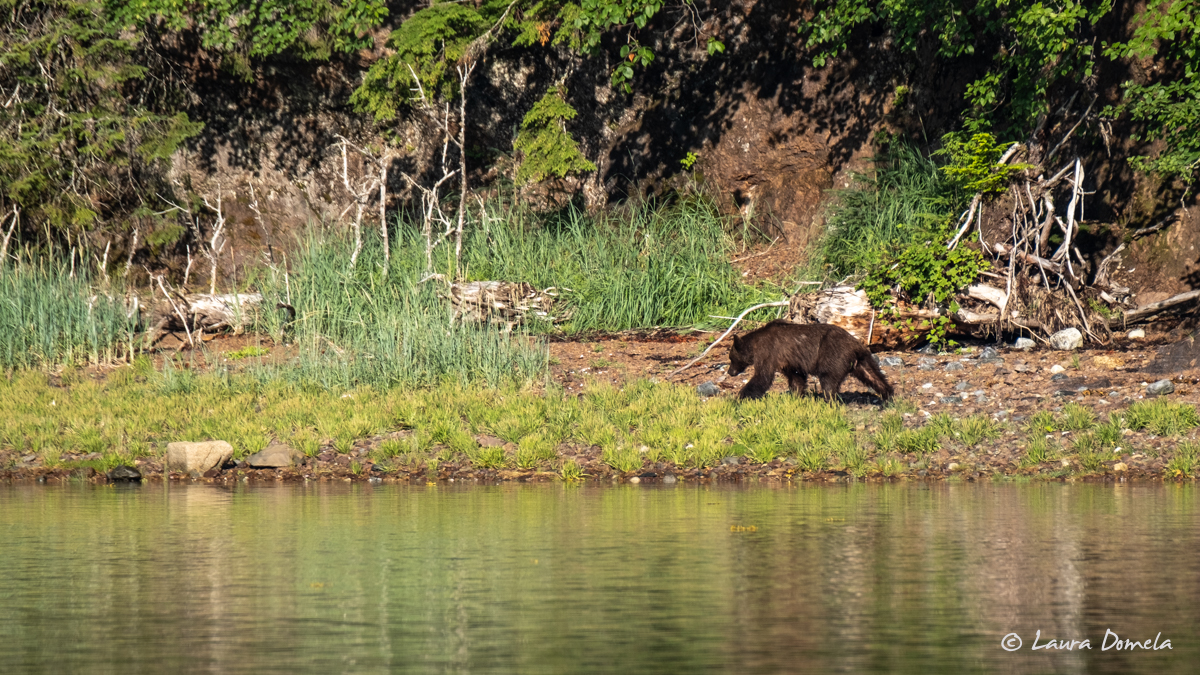 About 10 minutes after spotting the first bear, we saw a smaller bear emerge from the grass to the north. The smaller bear seemed a little worried about the other larger bear walking his direction, and as soon as the larger bear spotted the smaller bear, it chased the smaller one all the way around the point.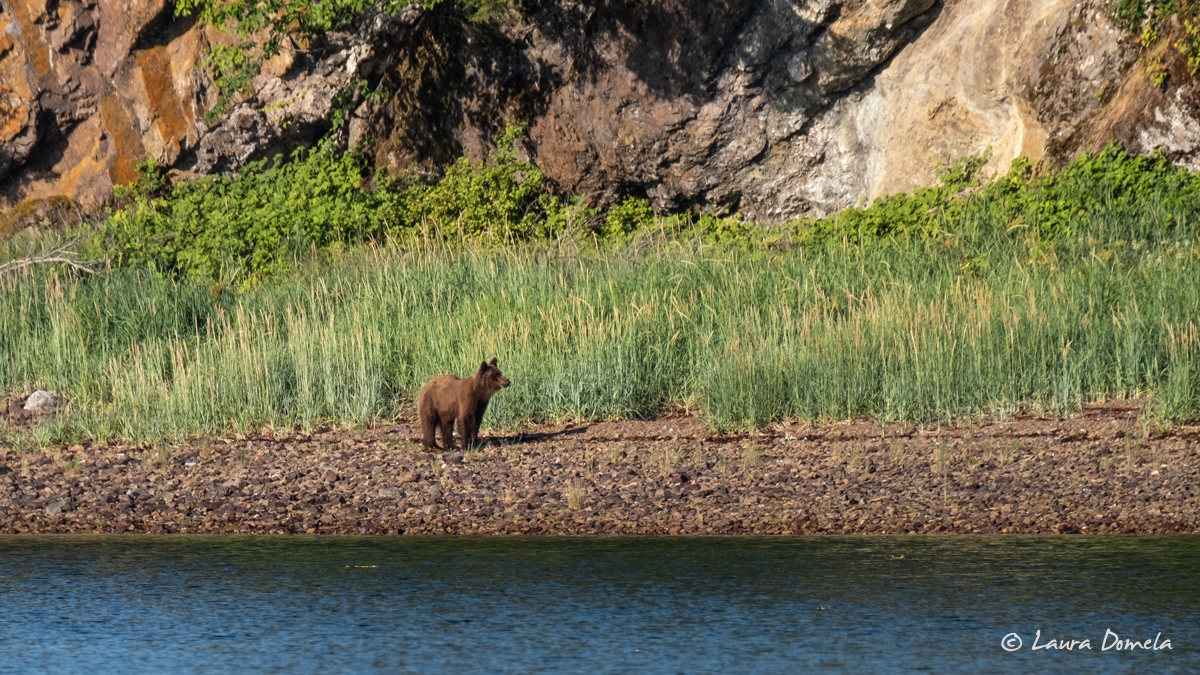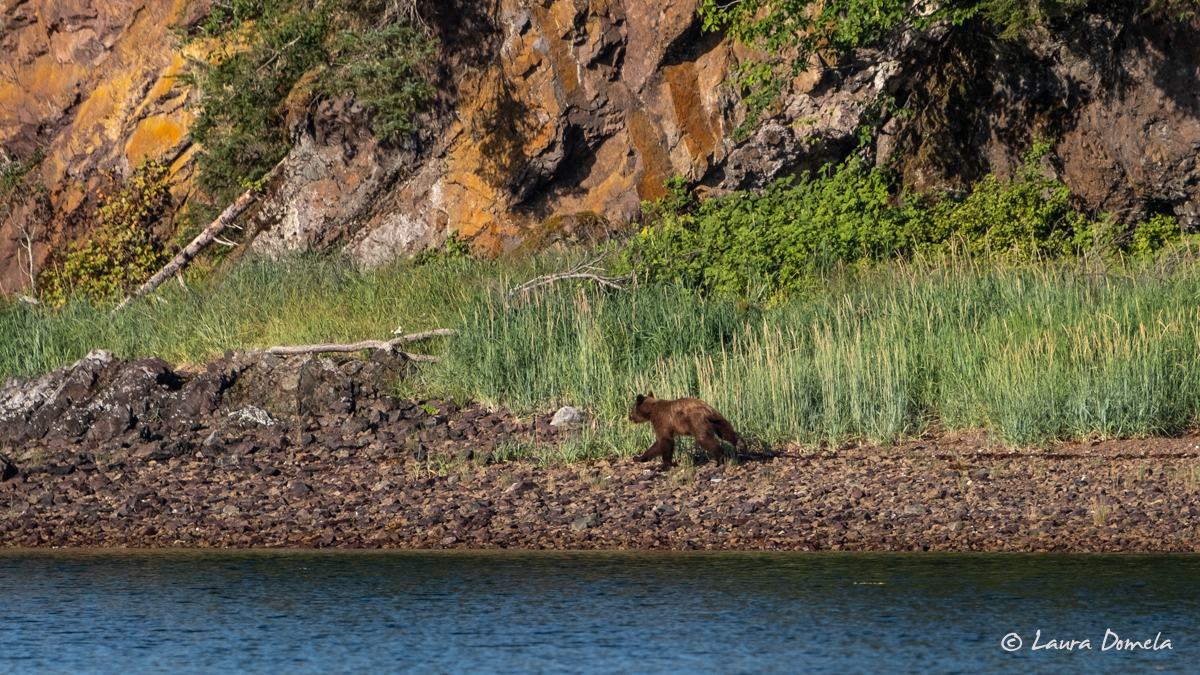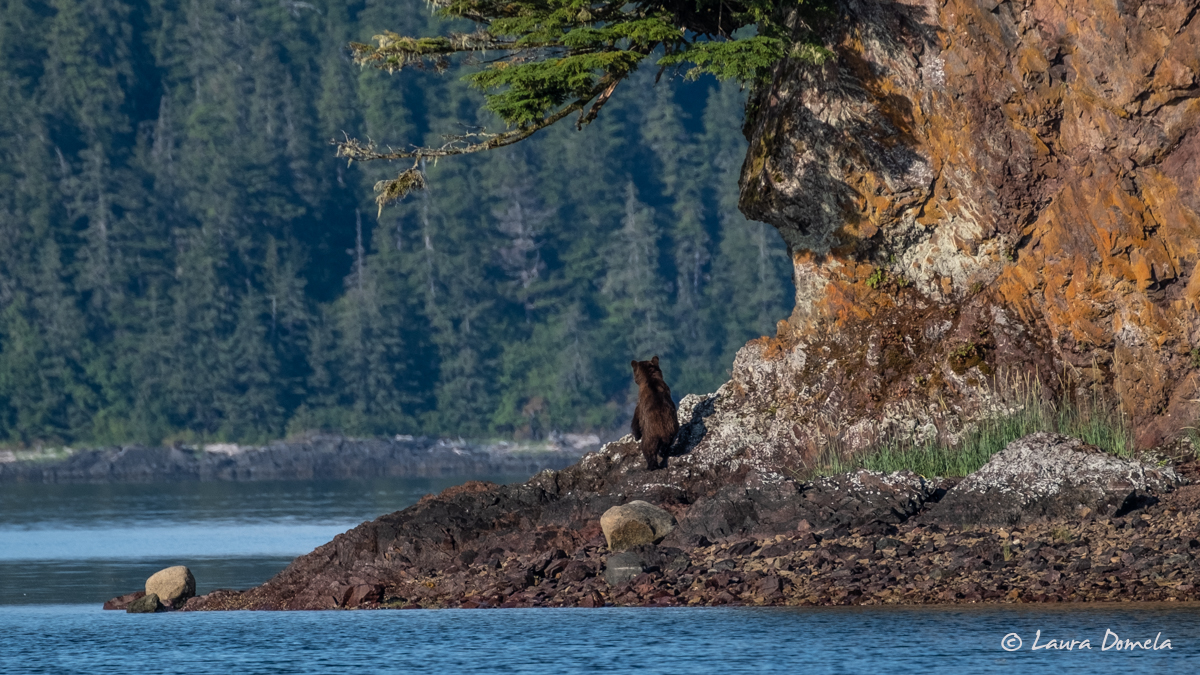 With the smaller bear successfully gone and territorially overruled, the larger bear carried on around the bay.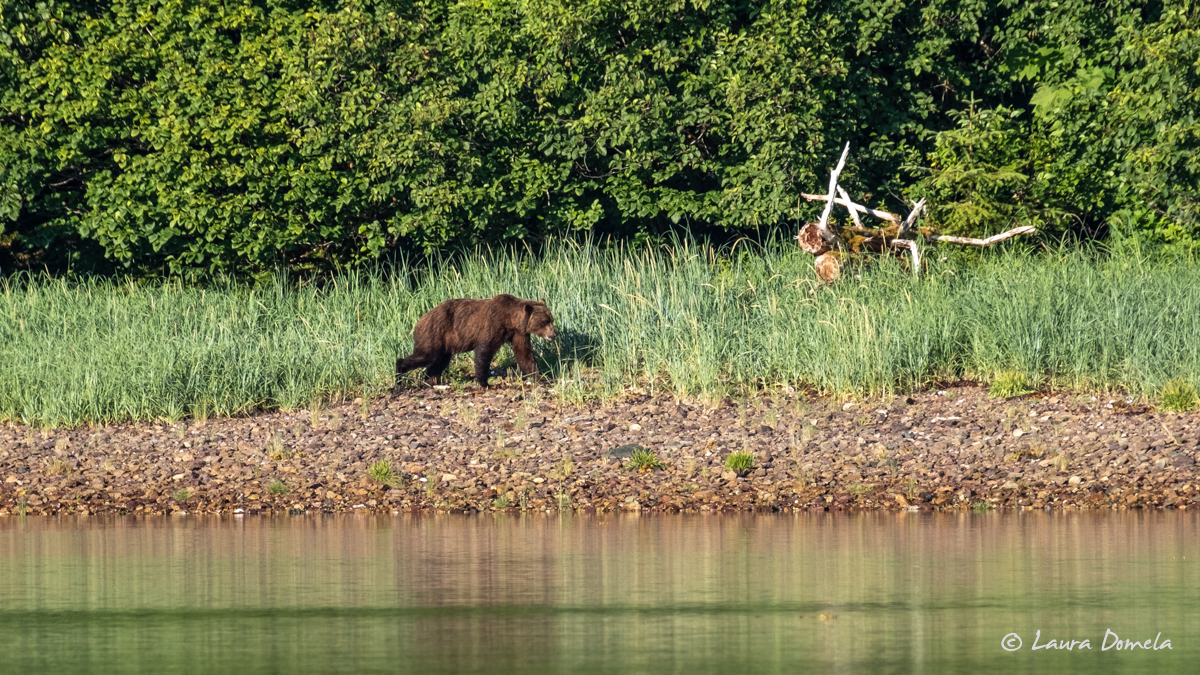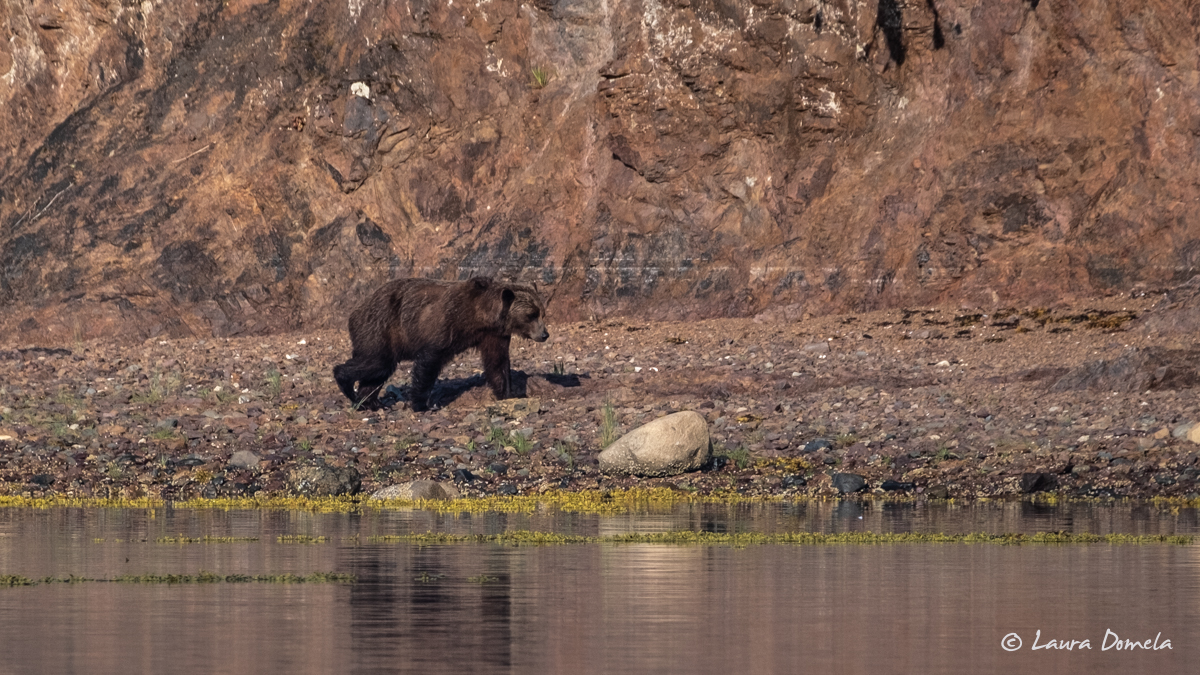 A little while later, another even larger bear wandered out from the trees and munched on sedge grass for quite a while…long enough for us to get in our dinghy to get a closer look.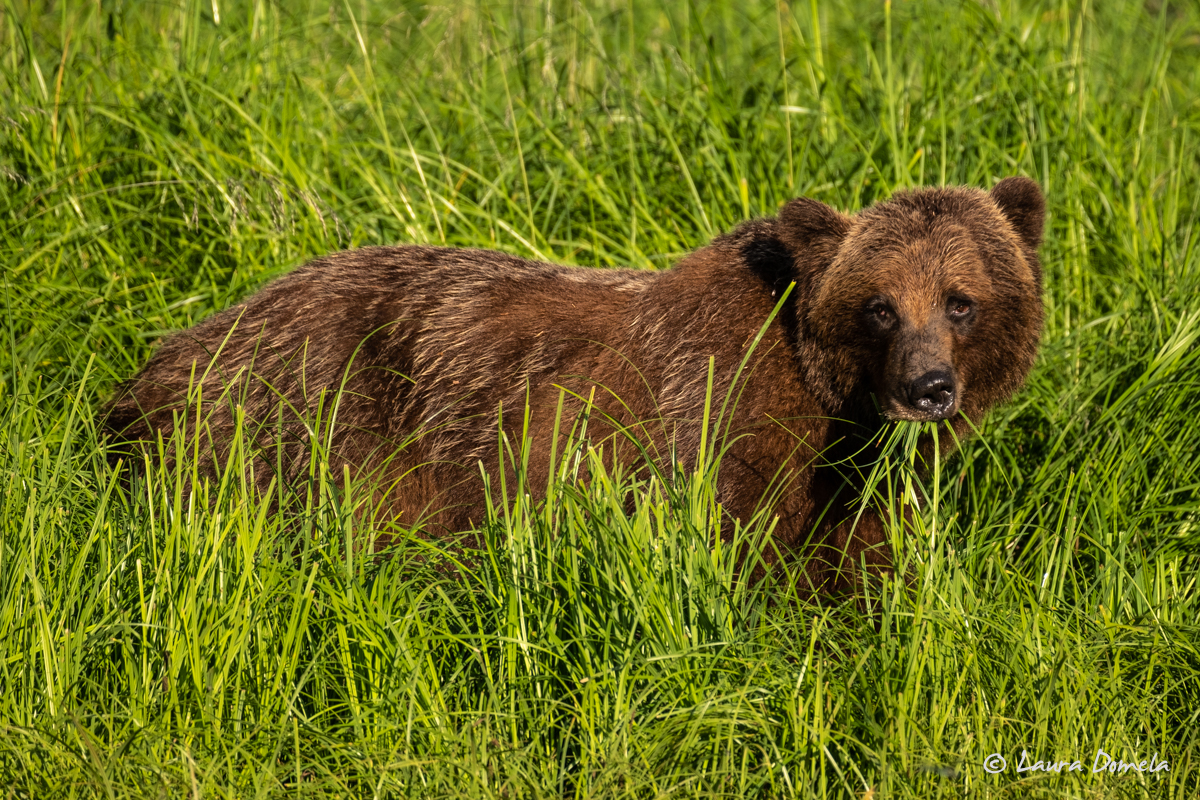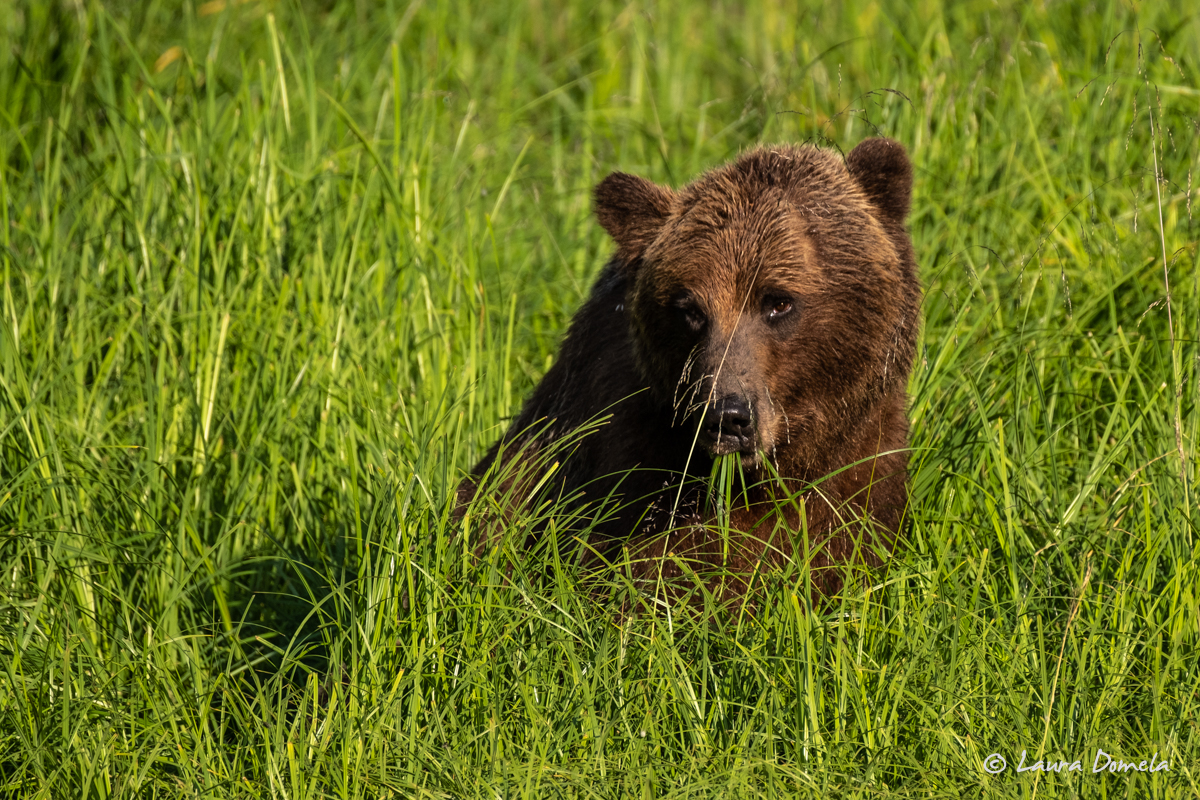 A bit later in the evening, after a dinner of freshly caught salmon, coconut rice, and spinach salad, we jumped in the dinghy and headed up river to see if there were any bears fishing by the waterfall/fish ladder. Fish were jumping everywhere, but no sign of any bears until we turned around and started to head back…this one was making its way along the river's edge, heading for the waterfall. We drifted around at the base of the falls and watched the bear as it hunted around for fish that were close enough it might have a chance to catch, but no such luck.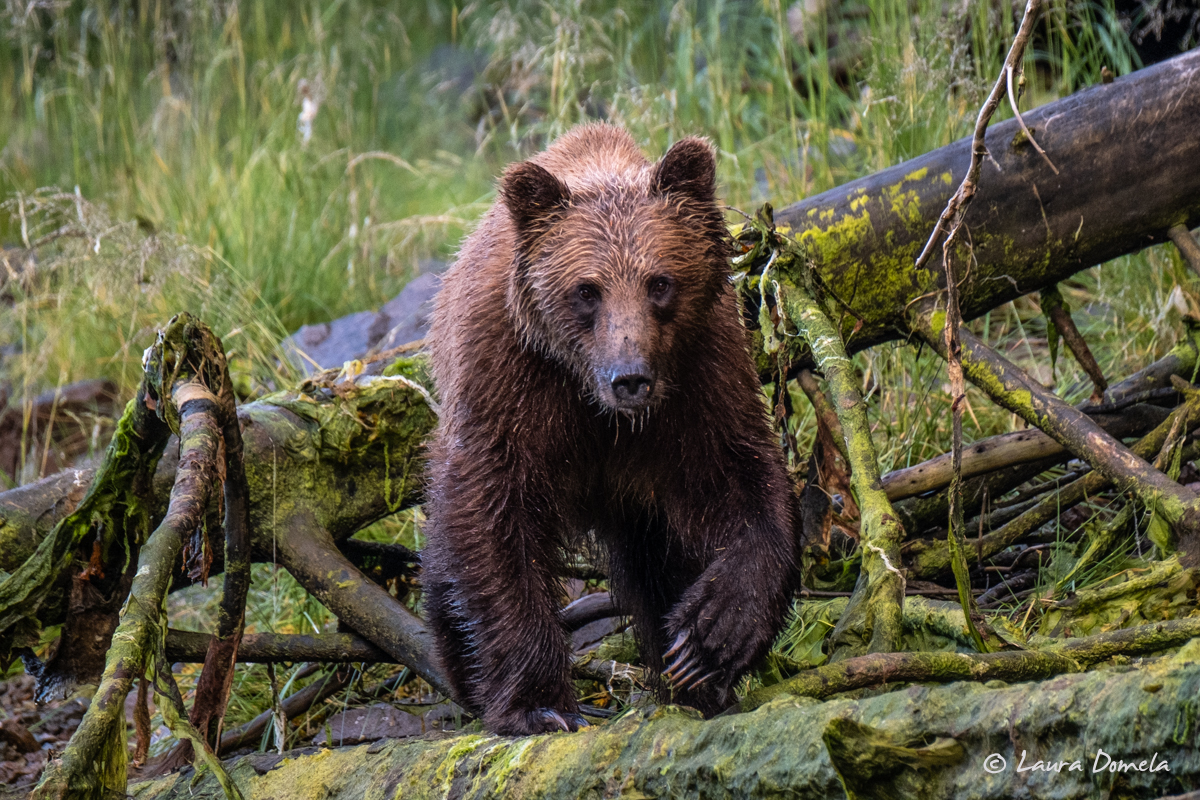 A little hard to see, but check out the raven on the rock above the bear, with a small fish in its mouth: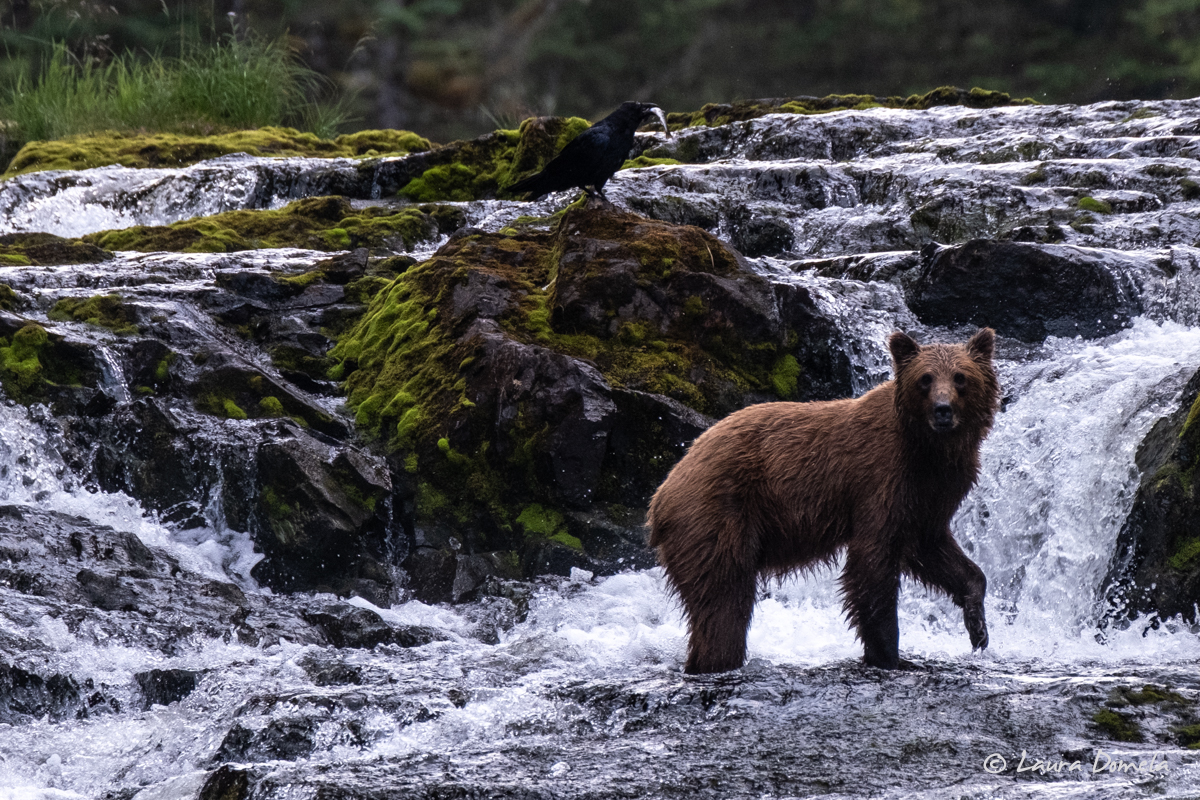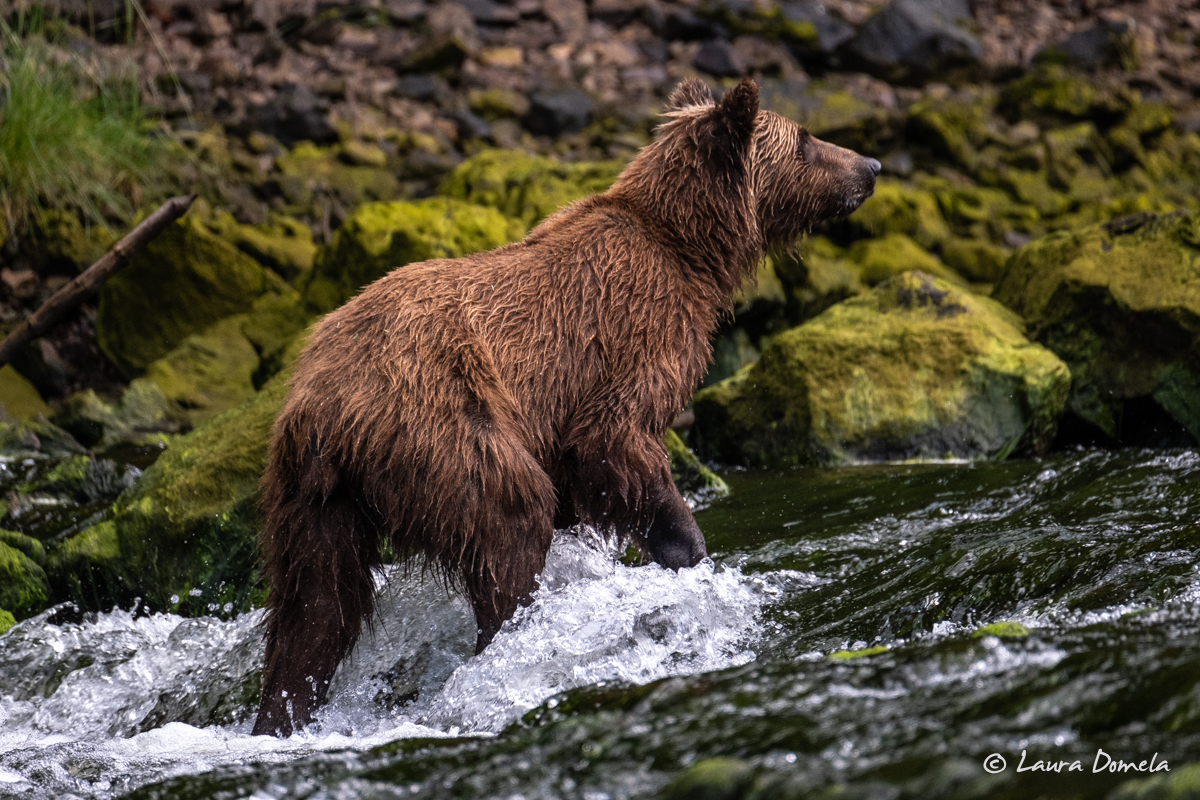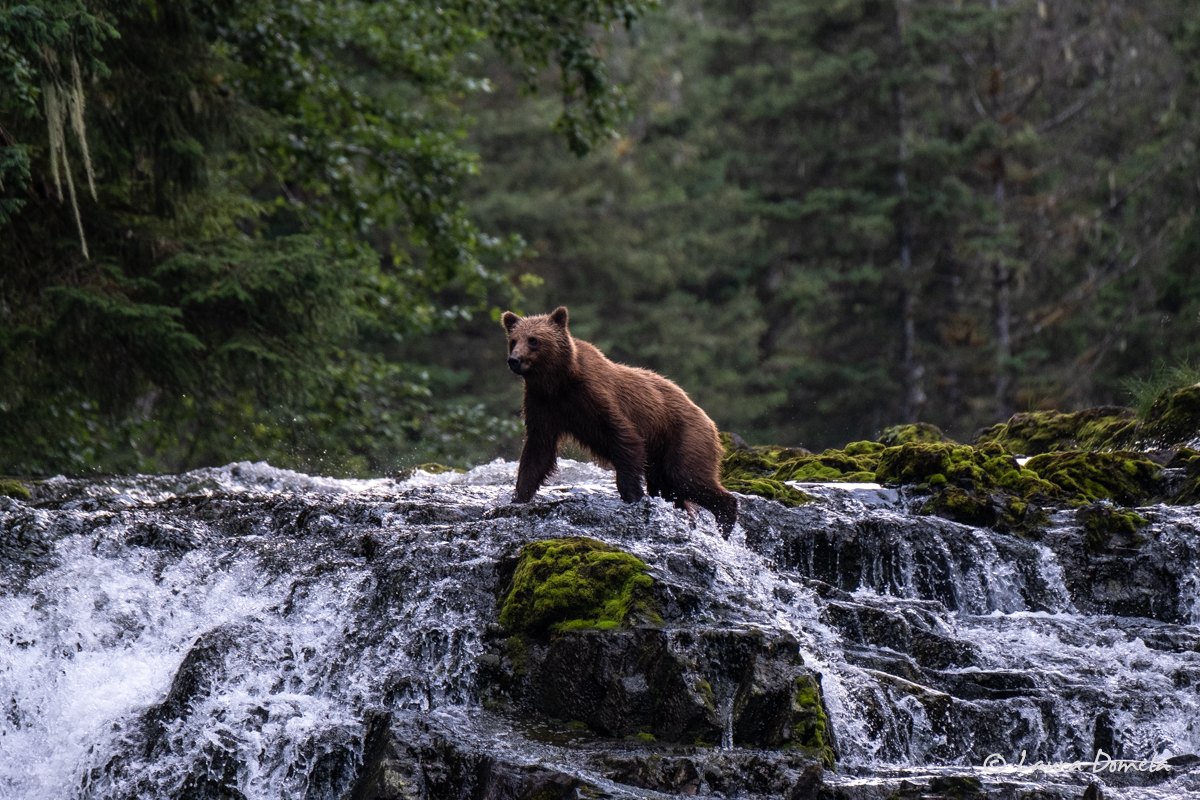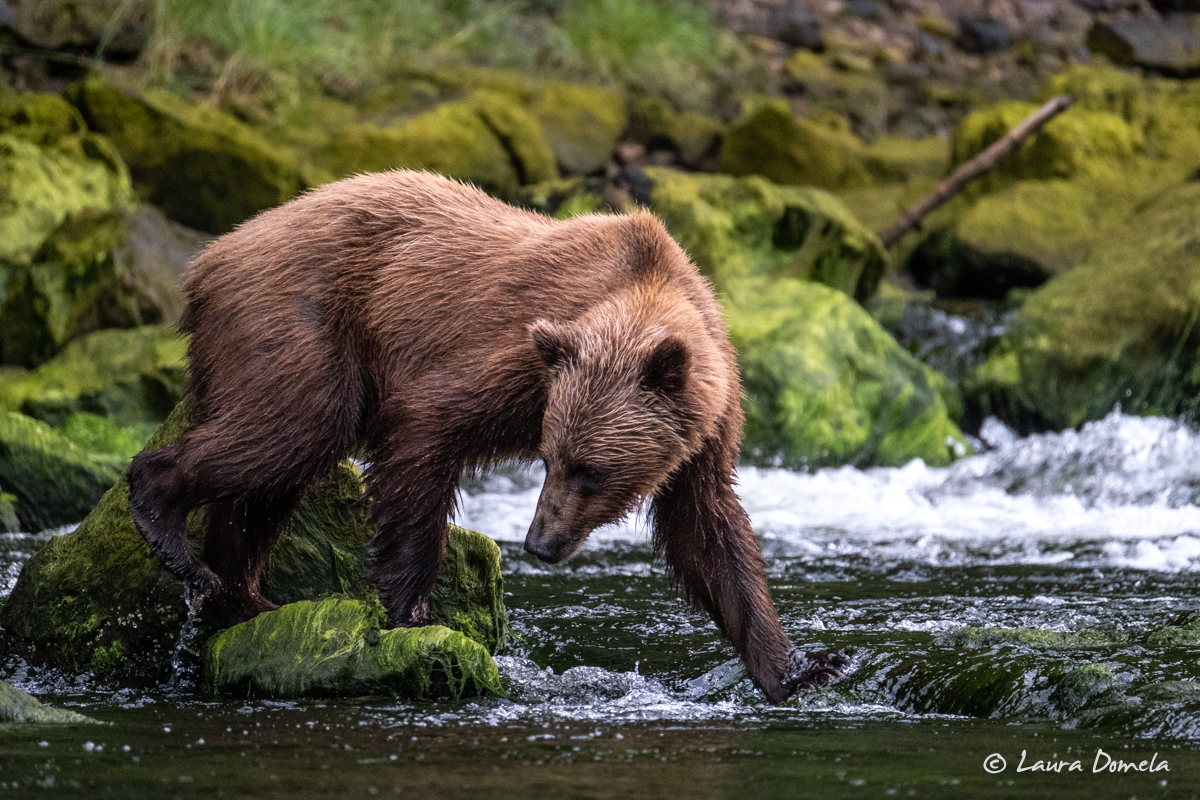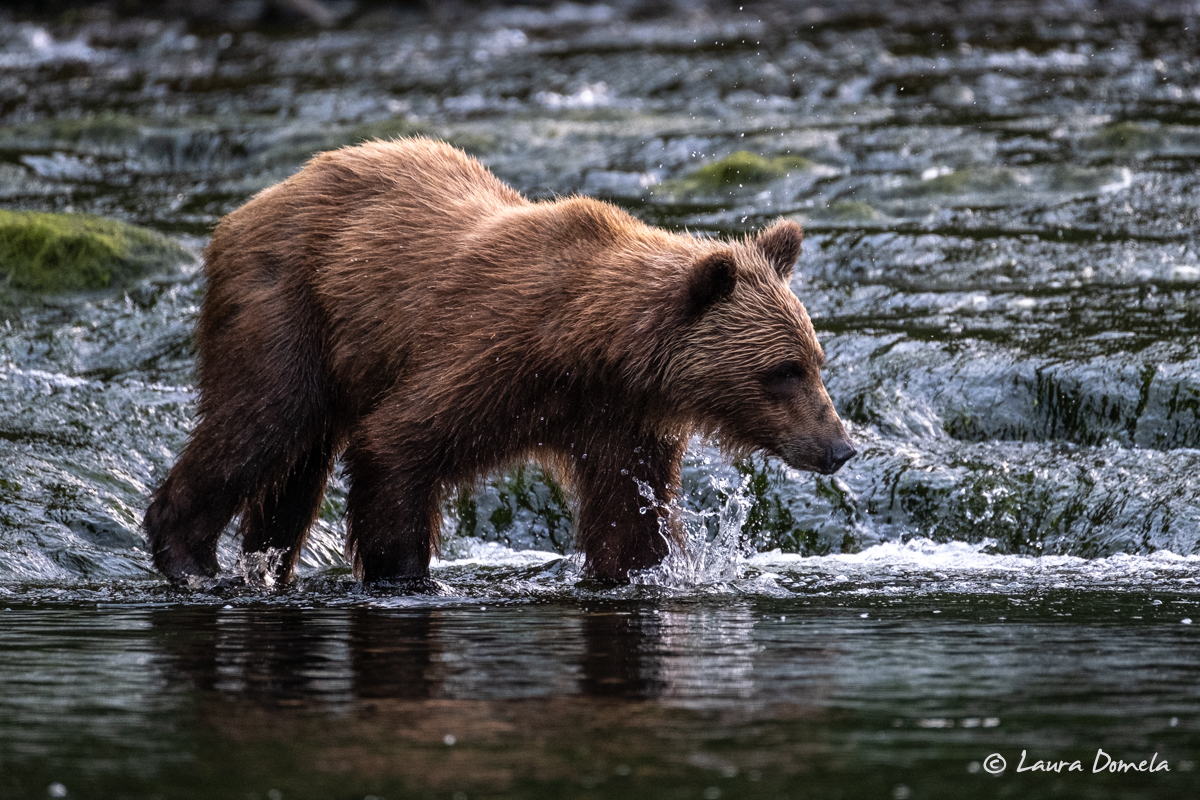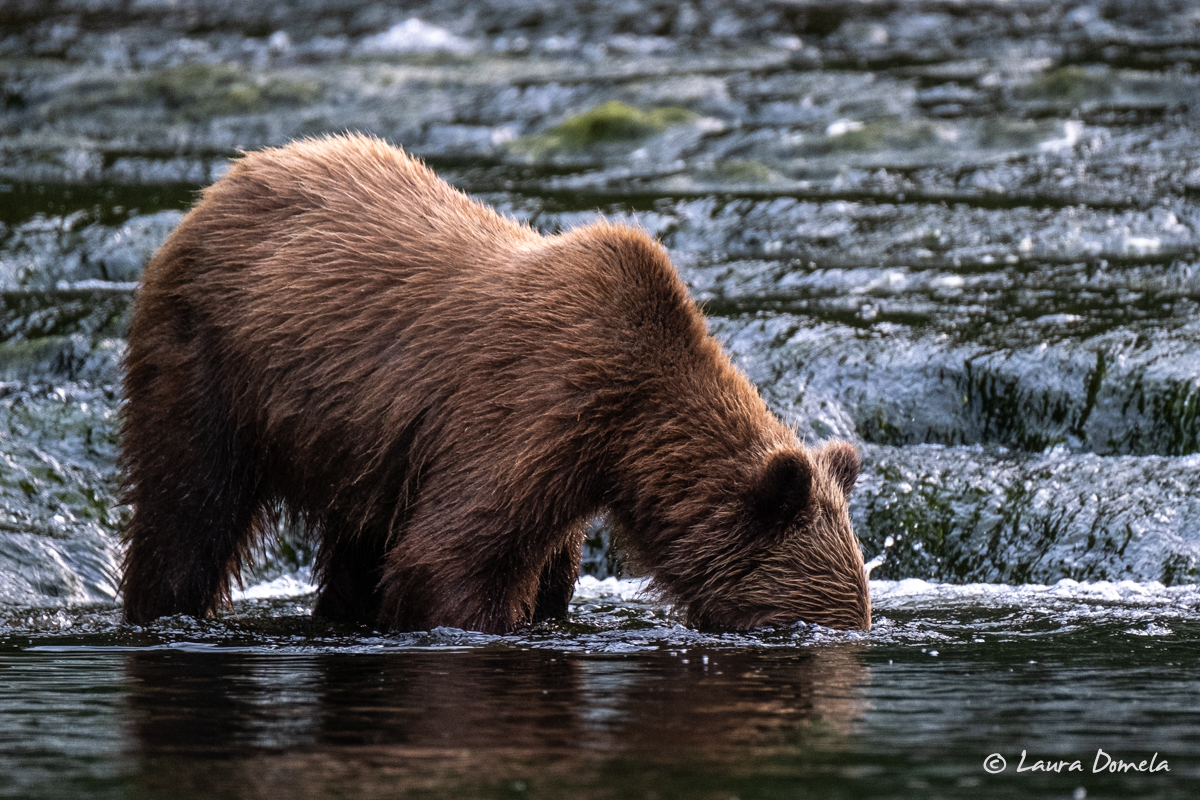 With no luck fishing, the bear went ashore and munched on some leaves before continuing on around the bay to the west.
What a great bear-viewing day in Pavlof Harbor!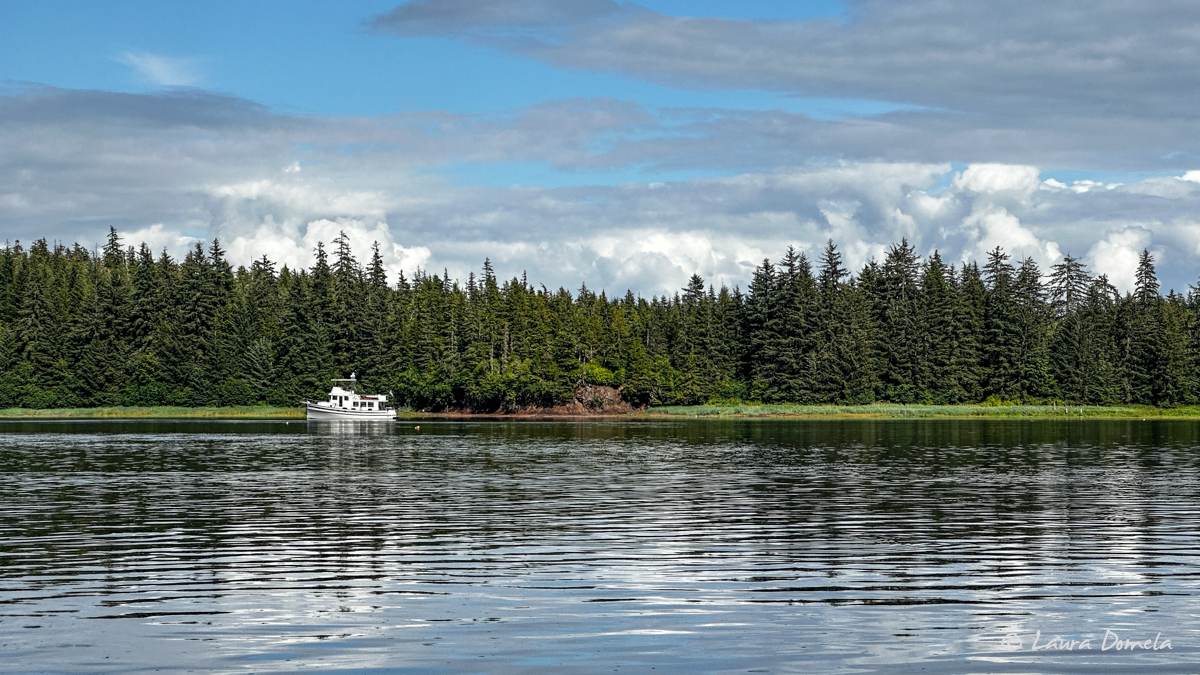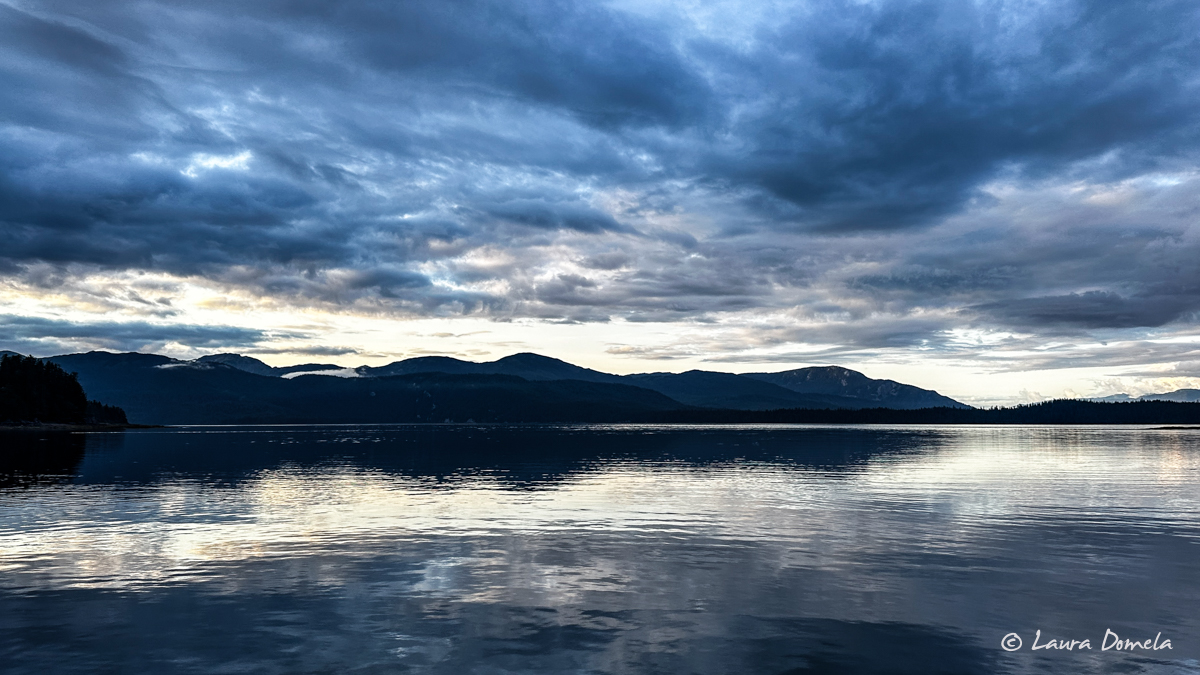 It rained all night last night. The wind picked up a bit as well so we had a little wave slap on the bow and the sounds of the anchor chain dragging across the bottom as we shifted position with the wind and tide, but we all still had a great night's sleep. Our plan for today was to pull anchor around 12:30 or 1pm and go south 12nm to Basket Bay. Our thought was that if Chatham was settled enough, which it was forecast to be, we'd drop the hook and spend the night in Basket Bay, taking the dinghy up river when the tide was right for a visit to Marble Grotto. Ideally, the timing would be great for us around 3:30pm, and with a two hour cruise, there was no rush. We slept in, made a nice breakfast of sourdough french toast and Jerry's double-smoked bacon, and then Kevin and Craig went out to check crab traps. Each trap had inside one flounder and one nice-sized male keeper Dungeness. (Crab risotto for dinner tonight!)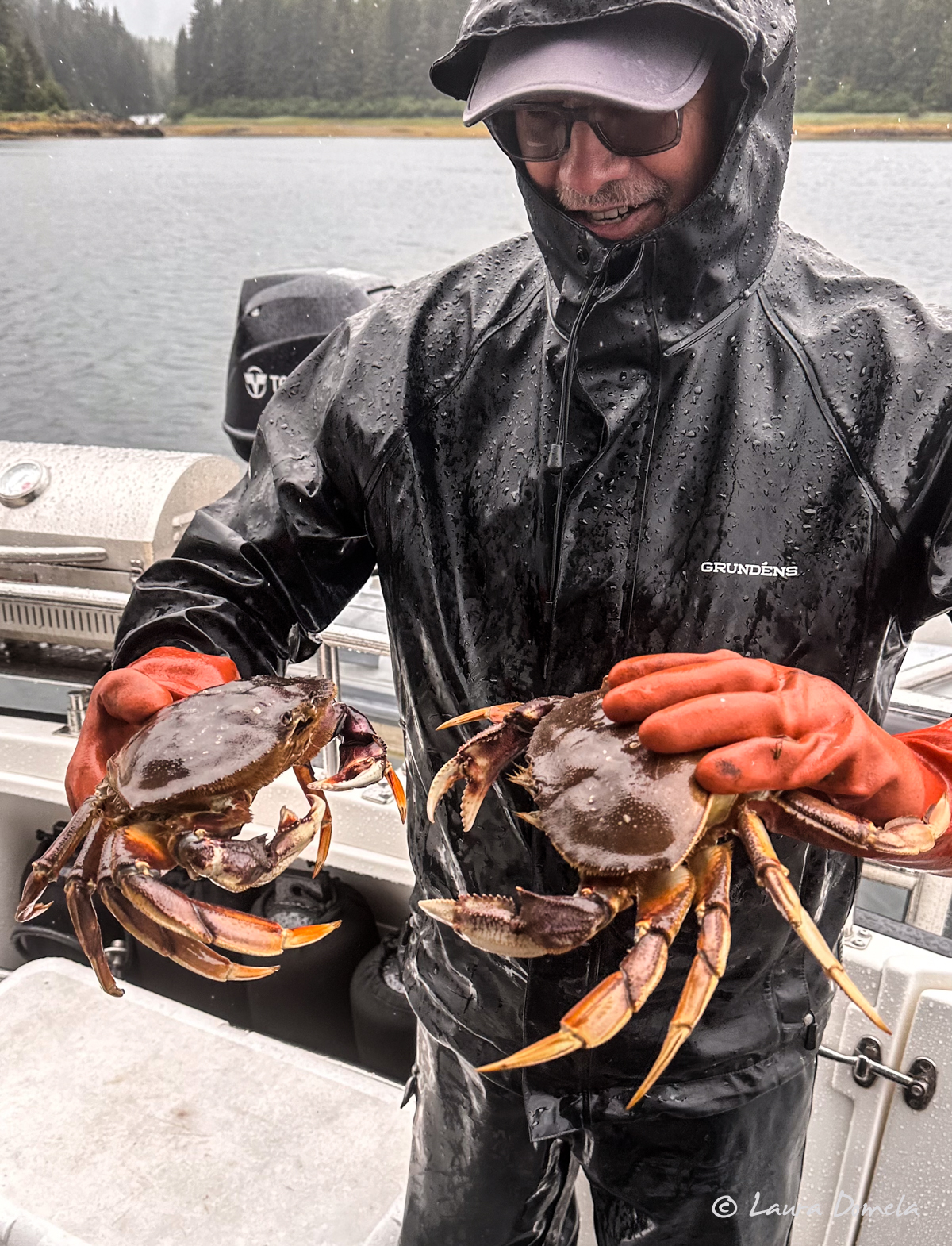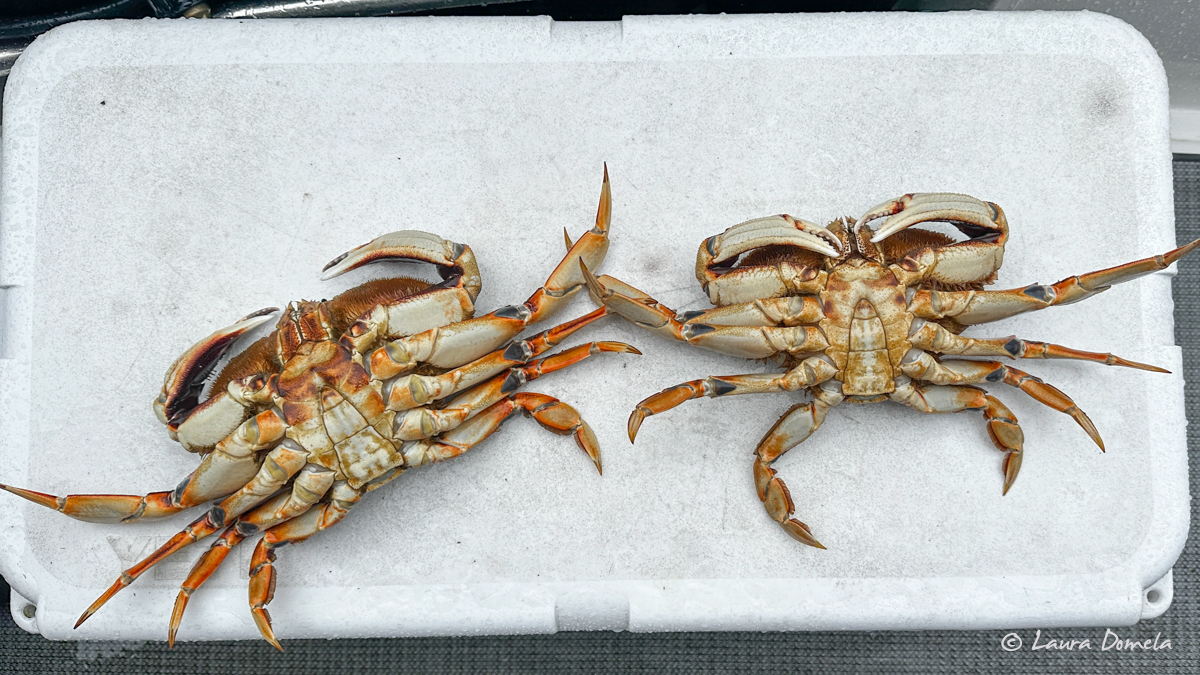 Looking out into Freshwater Bay we could see a few small whitecaps, and it was only 11:30am, two hours earlier than we'd planned to leave, but we decided to pull the anchor and poke out to see how conditions were. Conditions….were actually quite snotty. The wind was blowing 18-22kts from the E/SE, with 3-4 foot wind waves coming straight into Freshwater Bay from Chatham Strait. That meant that as soon as we turned south in Chatham we'd have that on our beam, which did not sound fun at all, so back to Pavlof we went. We'll wait awhile and either try again once things calm down, or stay another night here.