We took our time getting around Wednesday morning in Elfin Cove. Since low tide was early (6am-ish), the flood tide would have been going against us in that narrow, shallow channel so the later we left the better (but probably no big deal either way). We made breakfast, did a little work (the internet was back!) and then walked up to the general store to grab a few things.
This was our walk to and from the general store, alongside the narrow exit channel. The general store is a fairly well-stocked one for such a small village.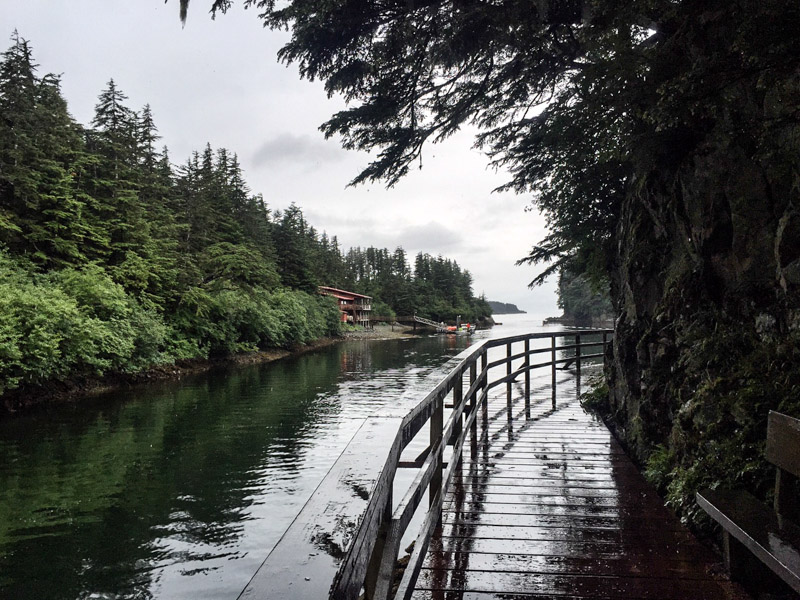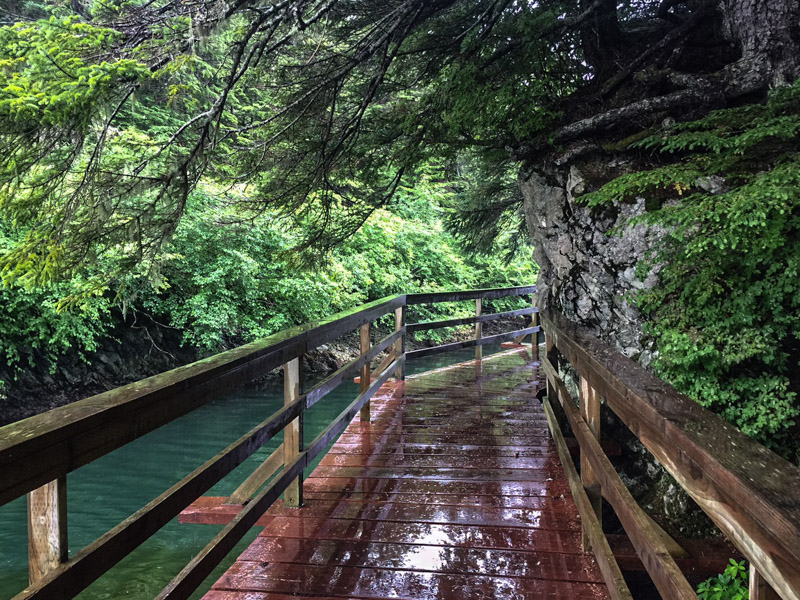 (Airship's at the end of the dock facing right.)
Passing the general store on our way out: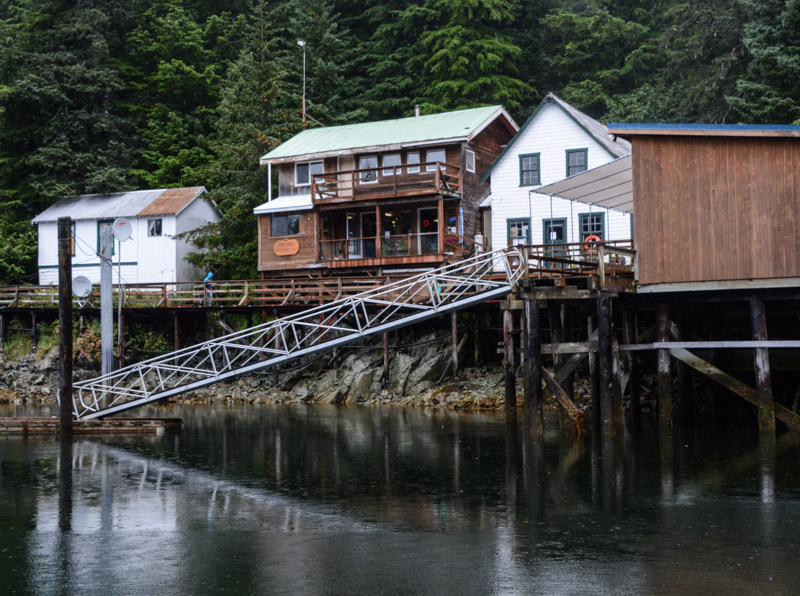 The forecast for Cross Sound was still mellow (3 feet), so out we went.
It was fun to be briefly in the bit of ocean swell from the Gulf of Alaska. Gentle swells, fishing boats, and gorgeous rugged scenery: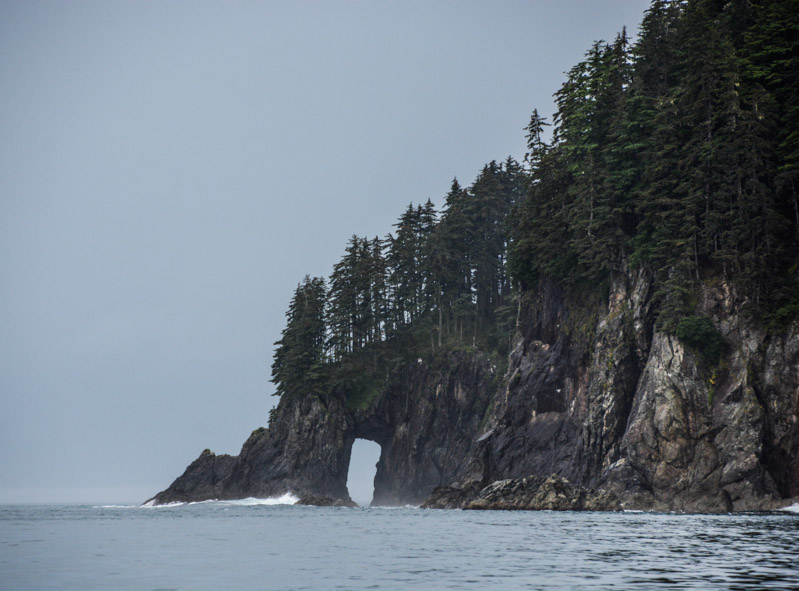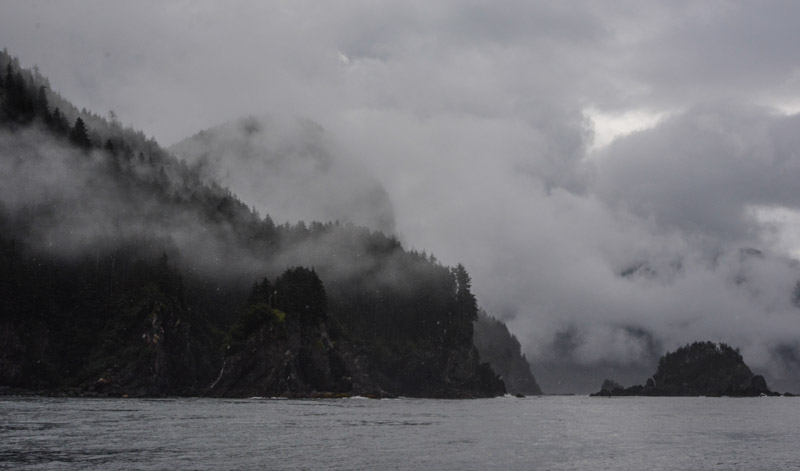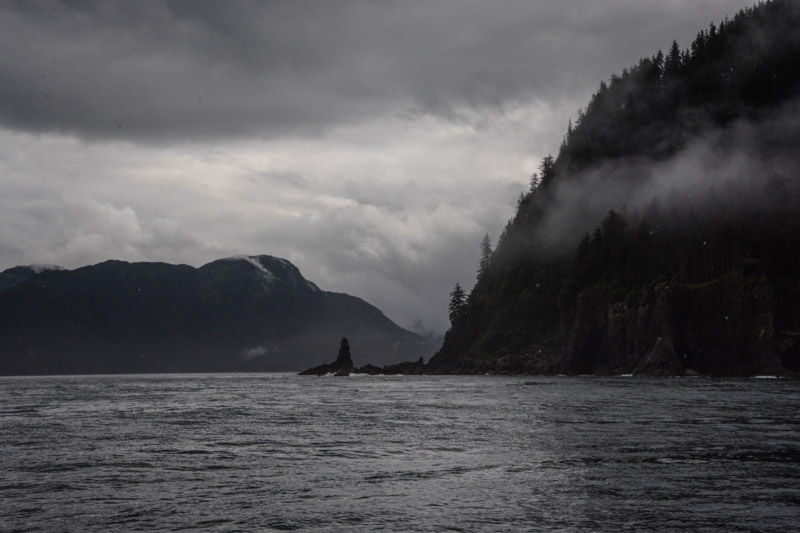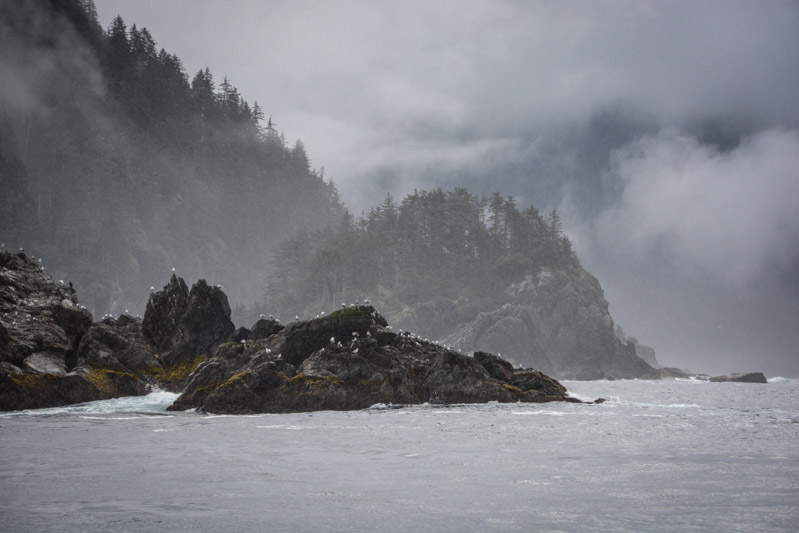 Once we turned into Lisianski Strait, we fished a while but only caught one too-small Chinook and threw it back no worse for wear. We spotted two separate families of sea otters swimming alongside the boat in groups. They checked us out intensely, but never altered course: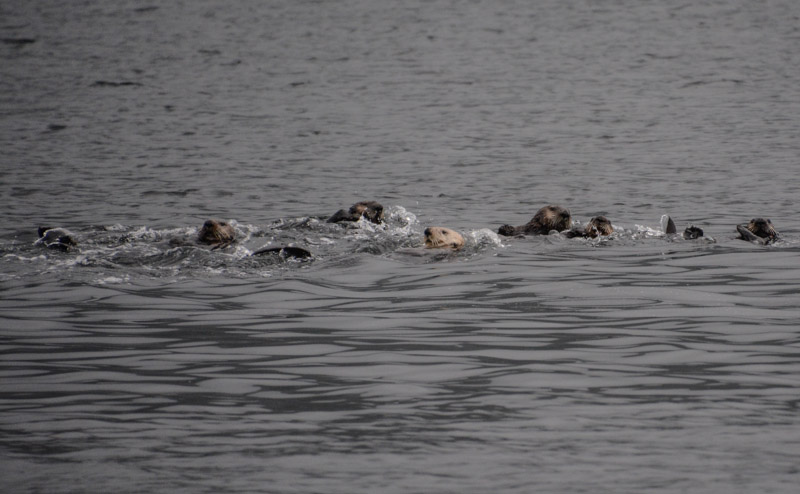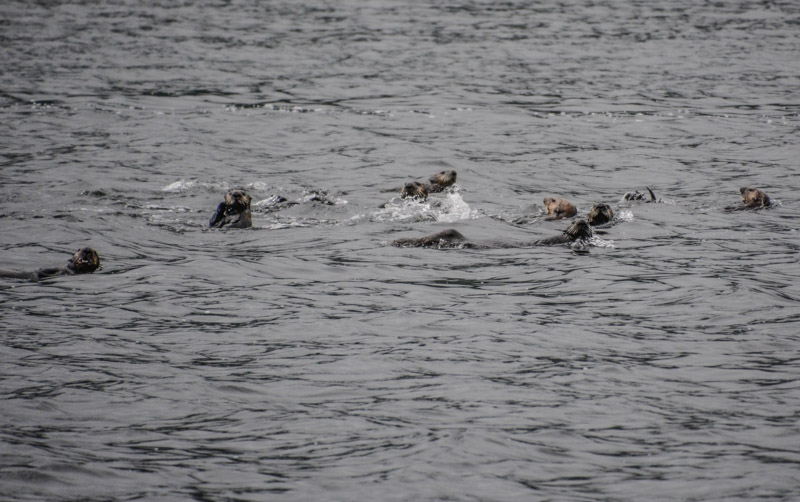 Arriving in Pelican: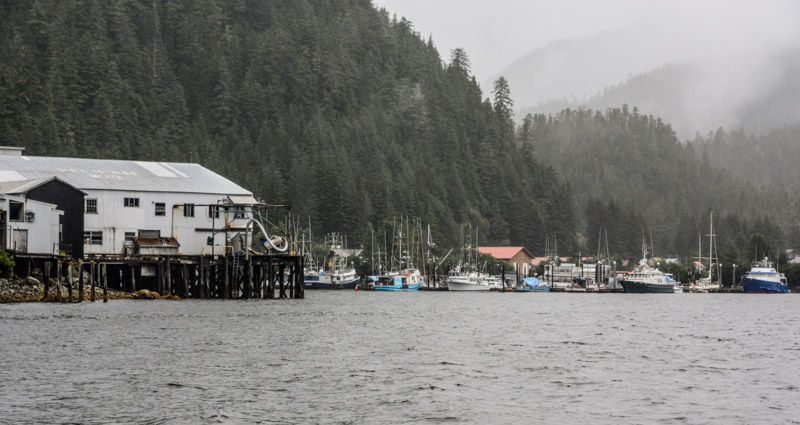 We hailed the harbor on VHF 16 (like it says to do in the guide) but no one answered the first several times, so we figured we'd just go in and see if we could find the transient docks ourselves (noted in one of our guides as Floats D and E). Eventually, we got a call back as we were entering the harbor: "Airship, this is Pelican City Hall on 16."
City Hall? Maybe the harbormaster was out fishing. 🙂
"This is Airship. Go ahead."

"Are you looking for transient moorage?"

"We are."

"Okay. Go into B dock, behind the float plane moorage on the end and pick any spot there on the straight part of the dock."

"Okay great, thank you so much."
We settled in and then headed up to explore Pelican (again, in the rain). You have to just forget about the rain in SE AK. If you worry about it, you'll never get to do anything.
Pelican has 12' wide boardwalks and is about double the population of Elfin Cove, but with the same Alaska charm.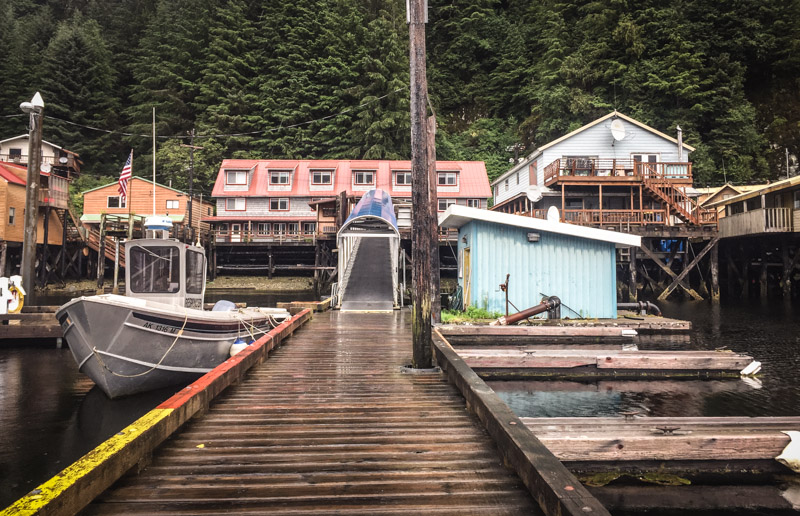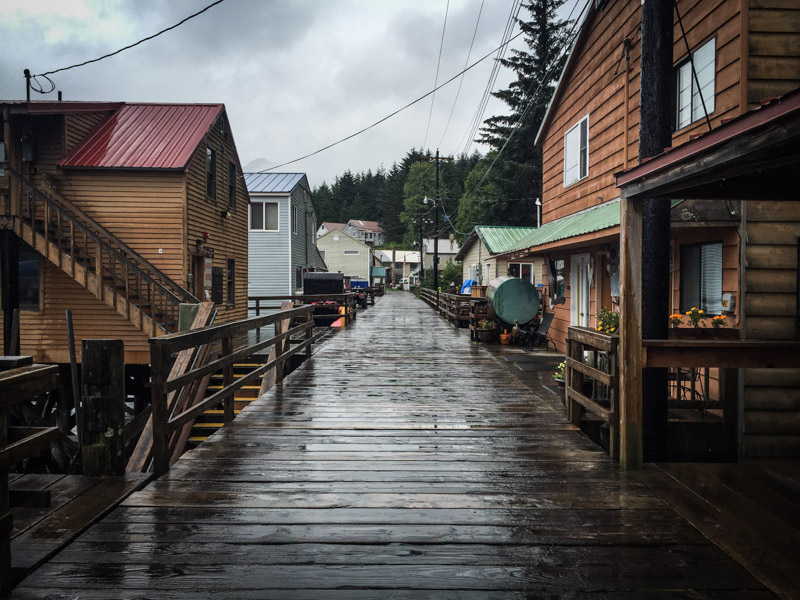 We headed over to City Hall to pay our moorage (two nights, $36 total), and then over to the library to get some internet.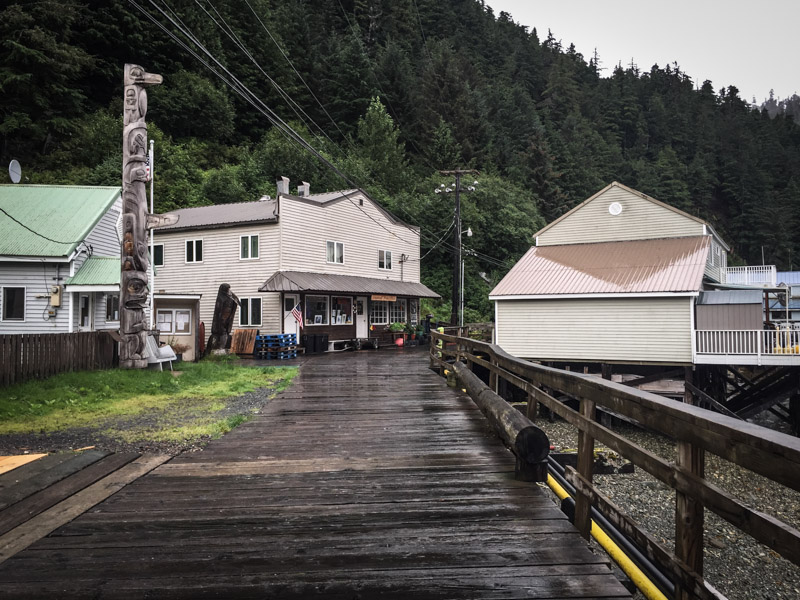 City Hall: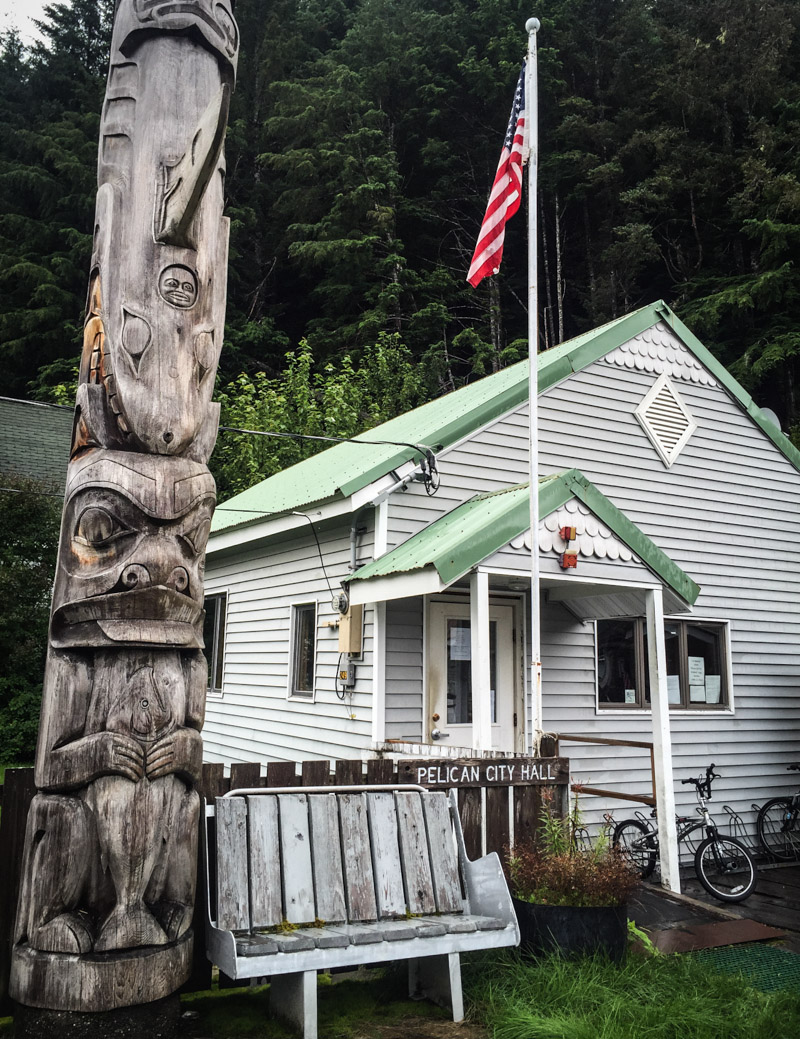 The library has odd hours, but they were open when we went by. We posted one blog post, did a bunch of work, and then headed down to Rose's Bar & Grill for a beer and a little more internet, and because several people told us to check it out (but gave no details). I'm pretty sure we did not have the full Rosie's experience, on account of the Rose's Bar & Grill hoodie I saw one local wearing that on the back read, "Take Your Pants Off, Let's Have a Party." When we were there, it was only about 5 chill locals having a beer and watching the news.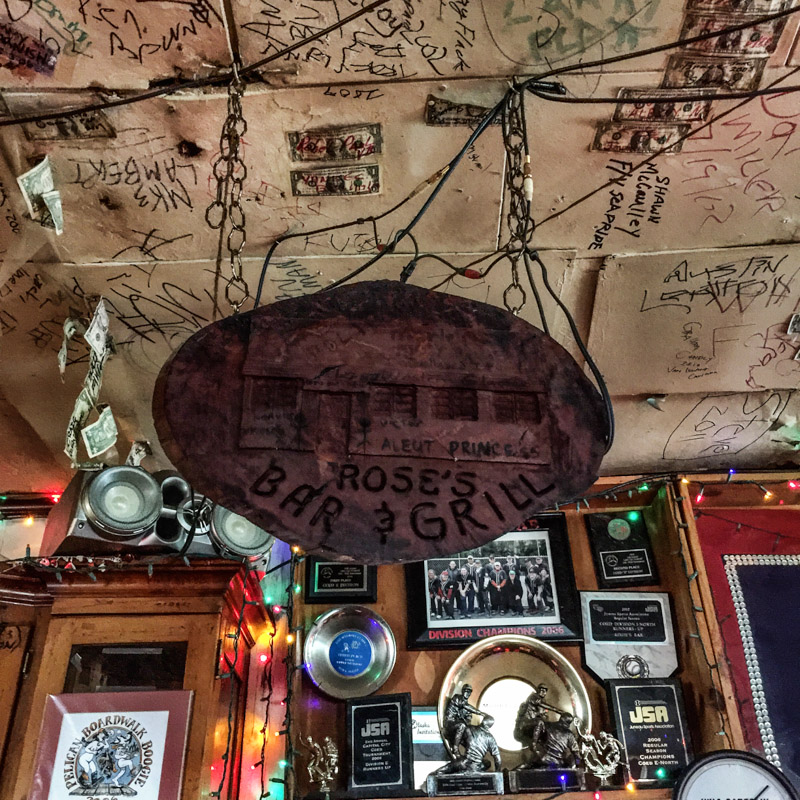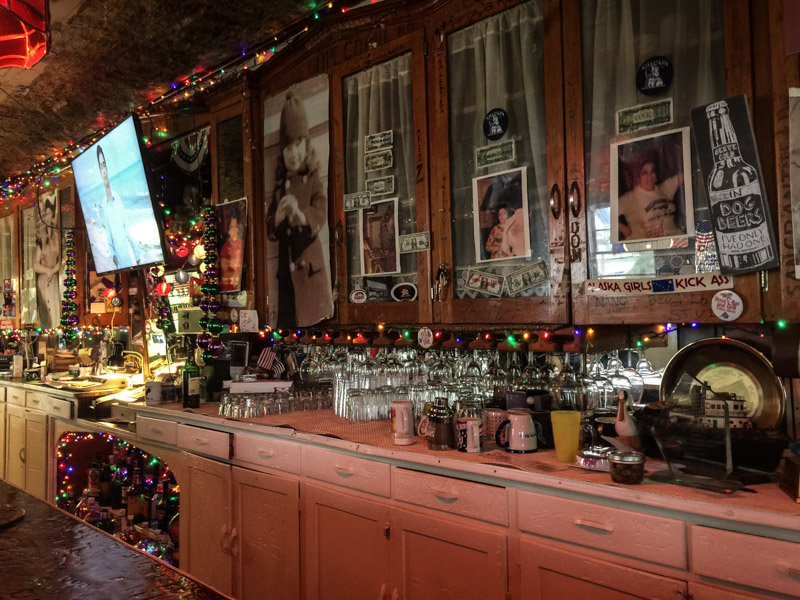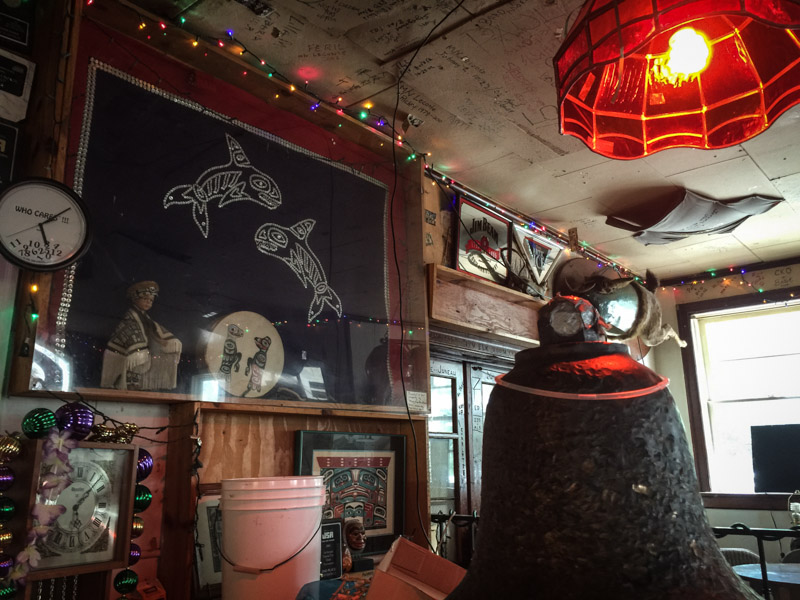 Hey guess what though? Rosie's is (still) for sale, so if you want to own a bar (with a liquor license and an owner's apartment upstairs) in Pelican, Alaska, with tons of fun local history, this could be your baby at $289,000.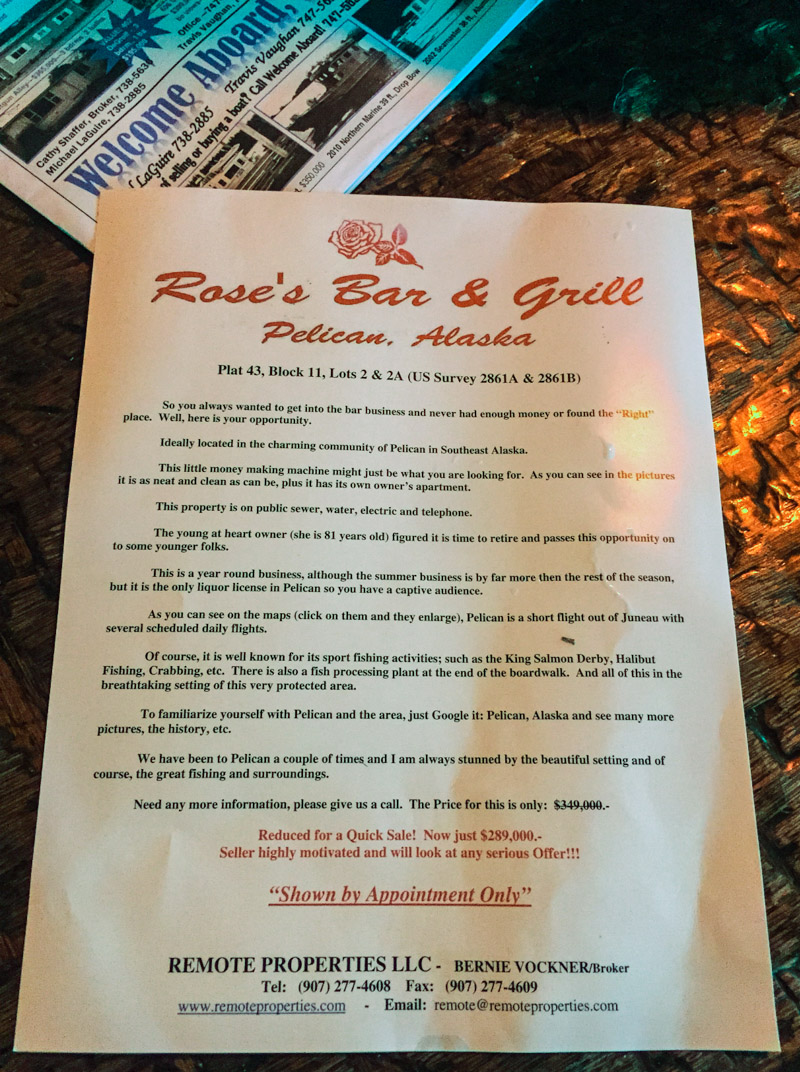 Back at Airship, we cooked up some of the coho we caught the other day with some rosemary garlic fingerling potatoes and a salad, and went to bed fairly early.
Yesterday morning it wasn't raining so we walked the boardwalk of Pelican from end to end, and stopped to watch some salmon swimming upstream.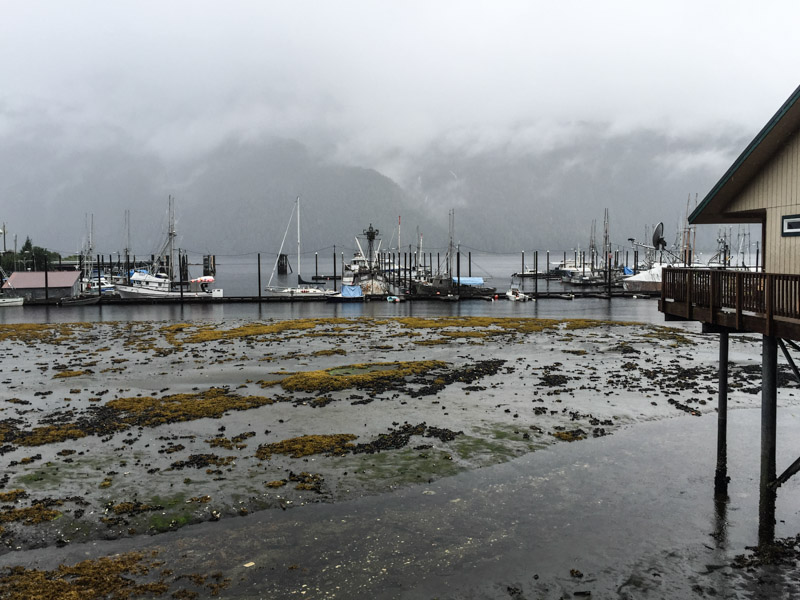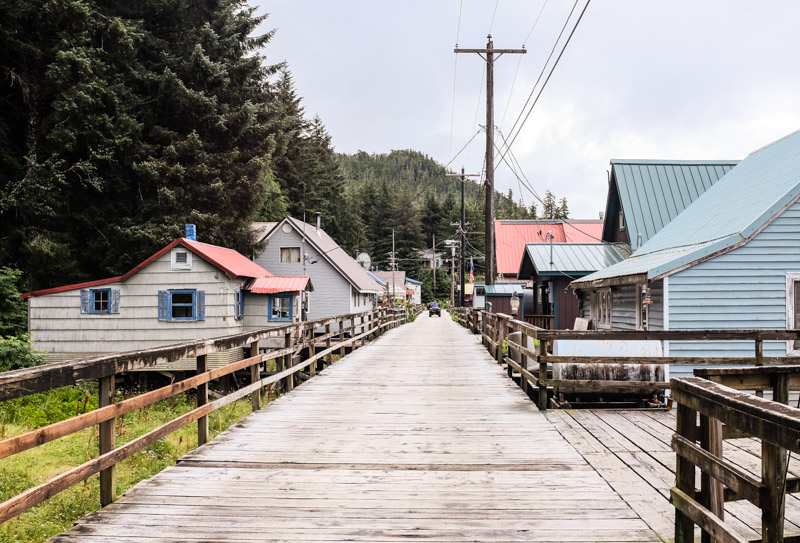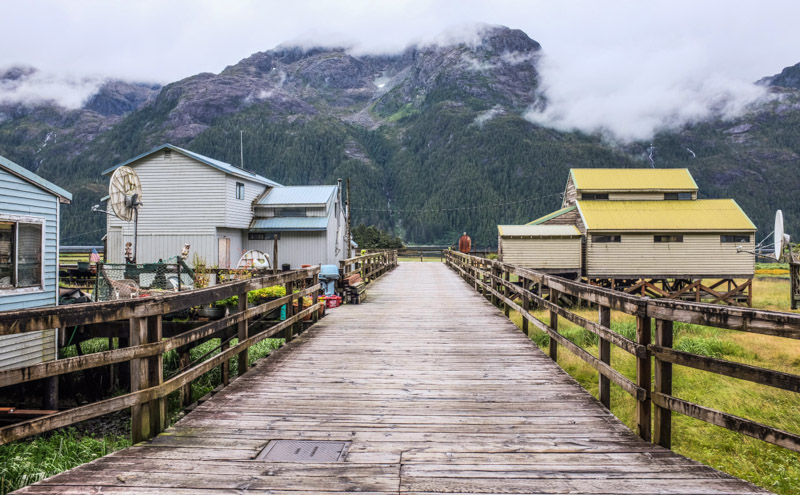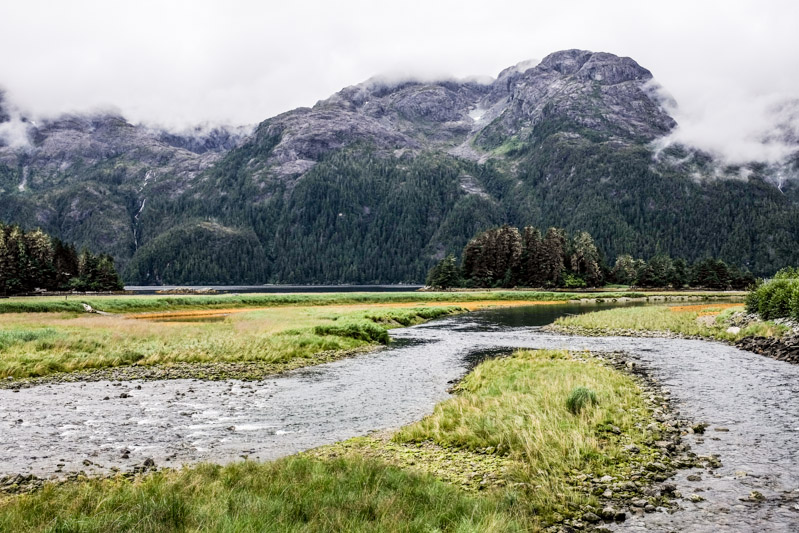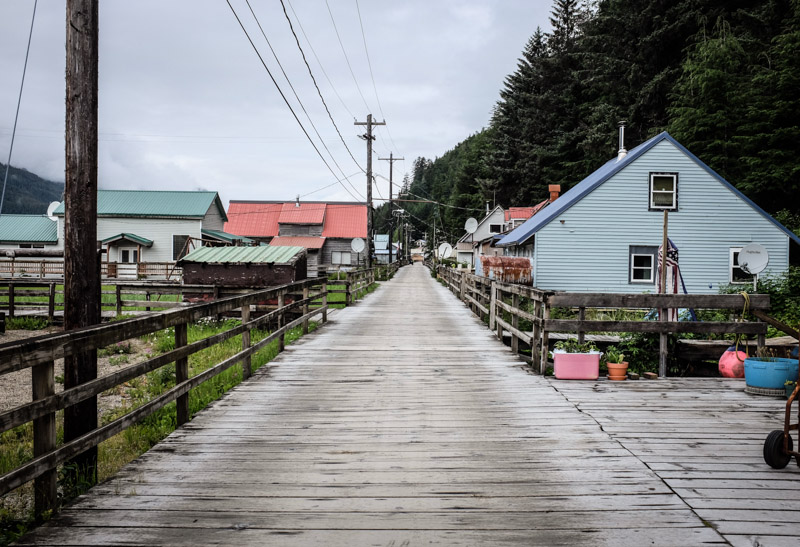 We met a woman from another boat here also on the transient dock (she's from Bainbridge Island). She said they may be heading to Dundas Bay today as well. It's the unrestricted part of Glacier Bay and we thought it looked like a good weekend (no internet) destination on our way back past.
We briefly debated taking the outside route down the coast of Chicagof Island to Sitka, but decided to stay inside. I guess we'll save that for next summer!
We ate lunch yesterday at the Lisianski Inlet Cafe. Their motto is nothing about removing your pants, so we're cool. We shared a king salmon sandwich and a turkey club and both were great. I popped into the adjacent shop and picked up a couple more Eric Bealer prints (I need to stop, probably, but they're so lovely). He lives here in Pelican, so it's nice to support the shop here that carries his work.
After lunch we did a little dinghy expedition around the inlet here. Saw a seal pup, a bunch of jumping salmon, and just generally gorgeous scenery.
Airship at the transient dock: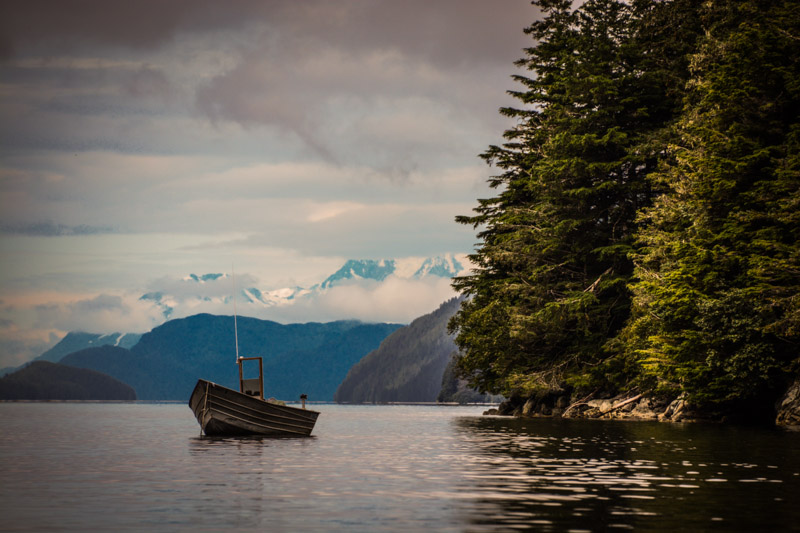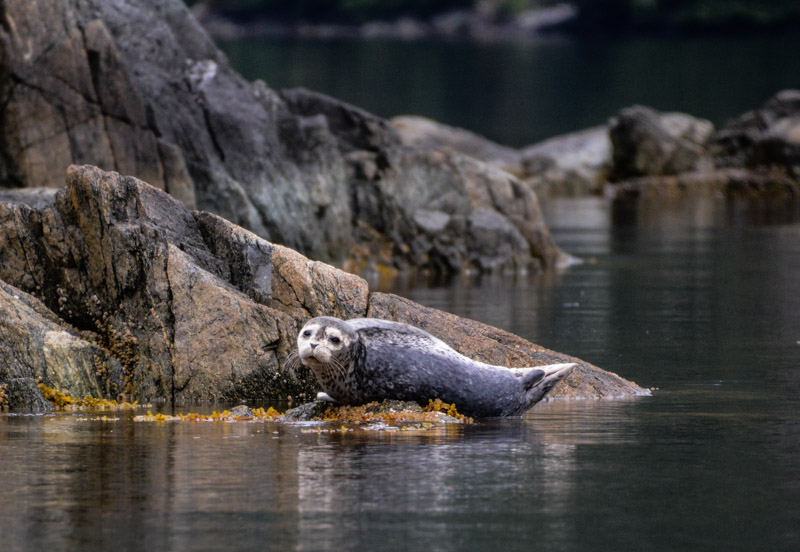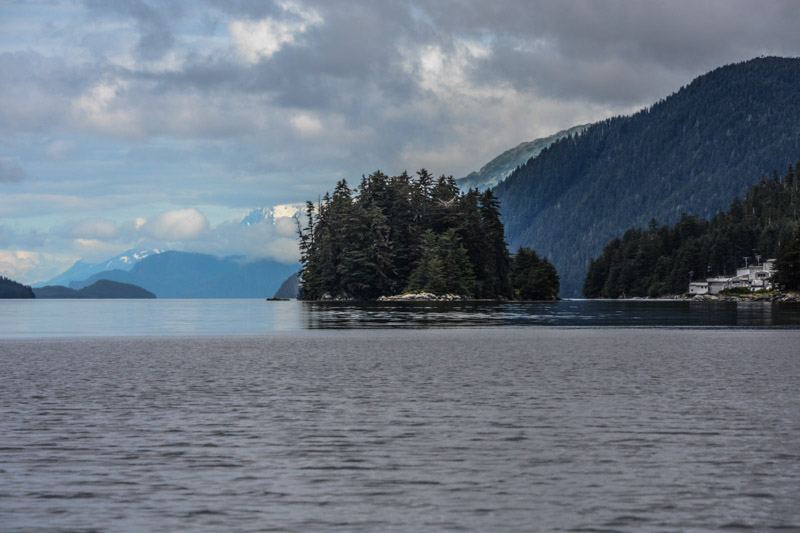 We just exited Lisianski Inlet and are in Cross Sound as I write this post and upload these photos, heading toward Dundas Bay. We traded off manning the helm while we got some work done earlier (having internet here in the middle of the seas feels pretty cool). There's virtually no swell at all, just a light chop. It's not raining, the clouds have mostly disappeared and given way to some sun, and I can even see snow capped mountains and Brady Glacier. Kevin's gonna drop a line or two in and troll for salmon as we cross the sound. Happy Friday everyone!