Heading south from Prince Rupert, we opted to take the "outside of the inside" route. Most boats take the most direct protected route: Grenville Channel (aka The Ditch), which runs between the mainland and Pitt Island. This is a perfectly fine route, well protected, with several scenic anchorages. The "outside of the inside" route, which runs along the west shore of Pitt Island, isn't necessarily better, but it is different and substantially less travelled. Given that we'd used Grenville Channel on the way north, we opted for the alternative on the way south.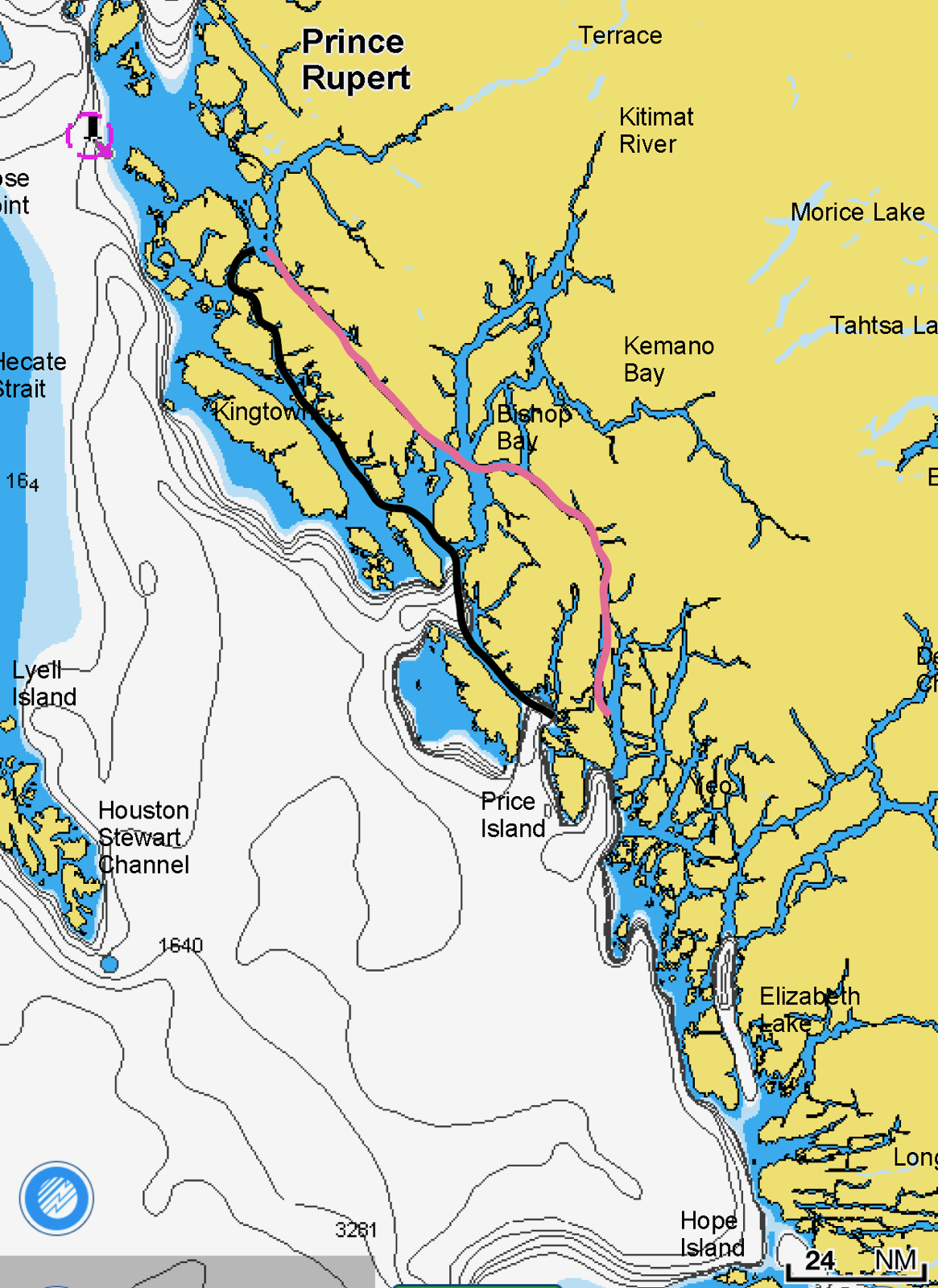 Incidentally, some of the roughest water we've had all summer was in Arthur Passage, just off the settlement of Oona River, at the north end of Grenville Channel. A brisk southerly wind whipped up a nasty, closely spaced 4- to 5-foot chop. As the boats pitched and rolled through the seas, sheets of spray engulfed us. Rain fell sideways. After 18 years, the portholes on Safe Harbour finally leaked.
Our first stop after leaving Prince Rupert was Captain Cove, on the west side of Pitt Island. We took no photos because it was pouring rain throughout our brief visit, but Captain Cove looks like it could be a pretty anchorage in nicer weather. We had fun making our own pizzas for dinner and called it an early night.
Sam was frustrated with the leaking portholes, and despite the rainy weather, we disassembled them to see if the source of the leaks was identifiable. Sure enough, there were large voids around several portholes. These voids had long been protected by a thin exterior bead of sealant, but when that sealant failed, water shot right through. As a temporary repair, we filled the voids with plumber's putty and reassembled the portholes.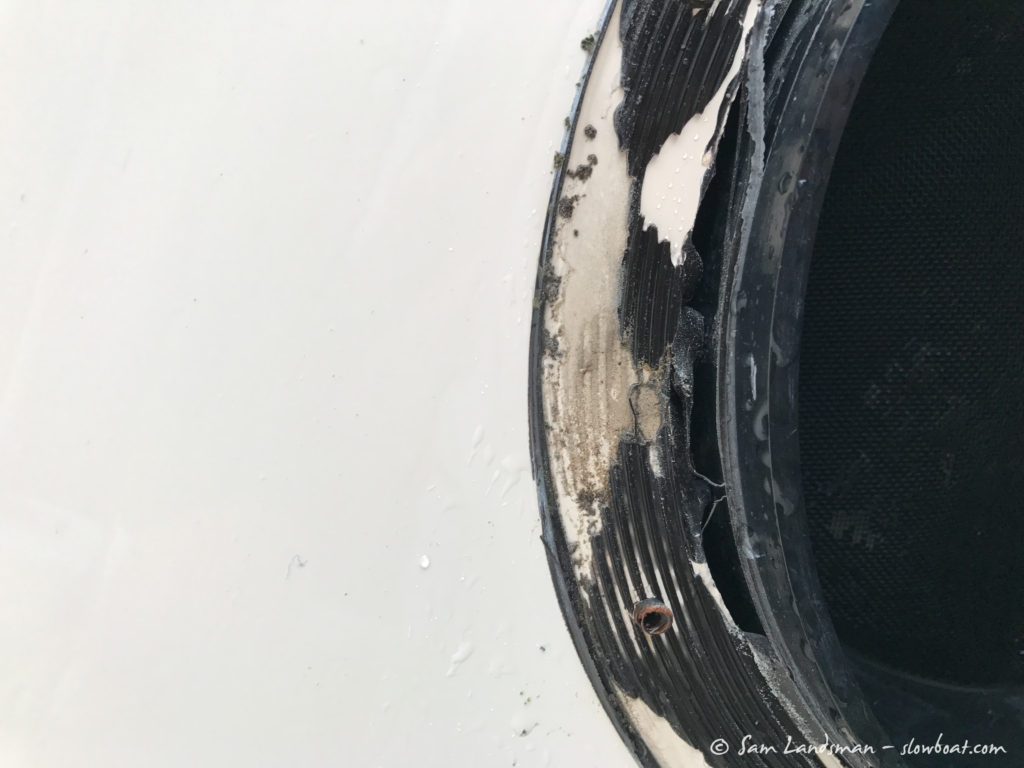 In the morning the weather was not much better, so we got an early start and made miles towards somewhere sunny.
We anchored for the night in Port Stephens, near Stephens Narrows. Port Stephens looked like it would be a great place to explore by dinghy, should the rain ever stop (or at least lessen).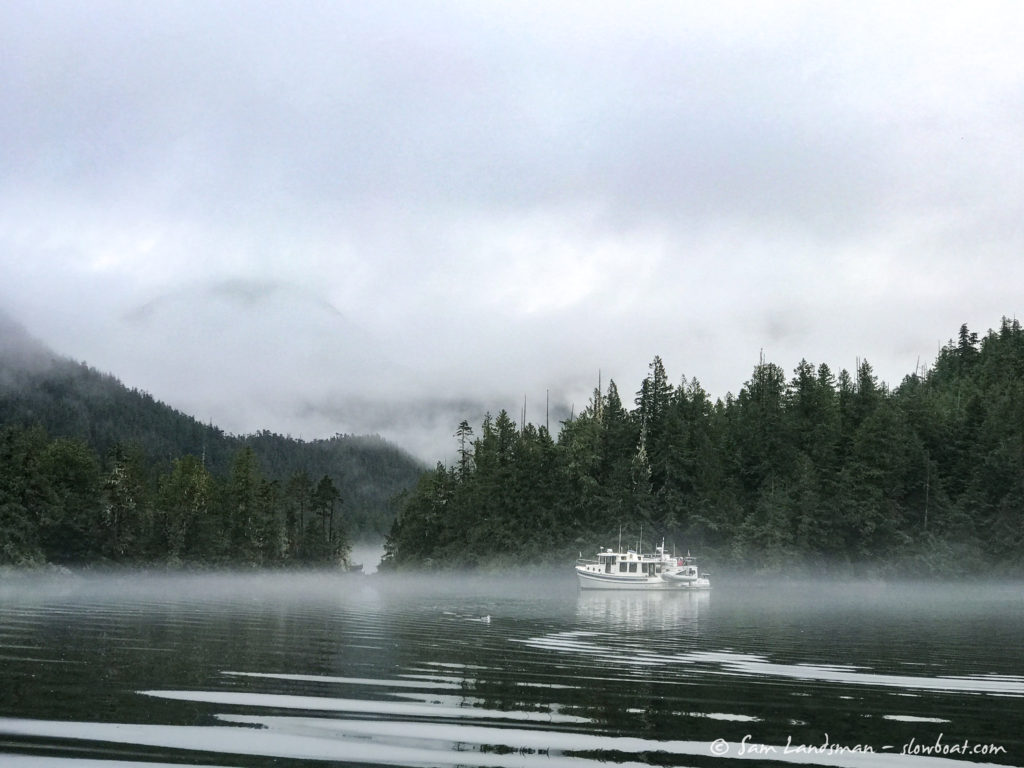 Luckily for us, we got a bit of a break. First, we went to see what the current was doing at the narrows (to see if we could get through), but it was fast and furious, churning up thick foam that looked a little like the head of a beer with cocoa powder sprinkled on top.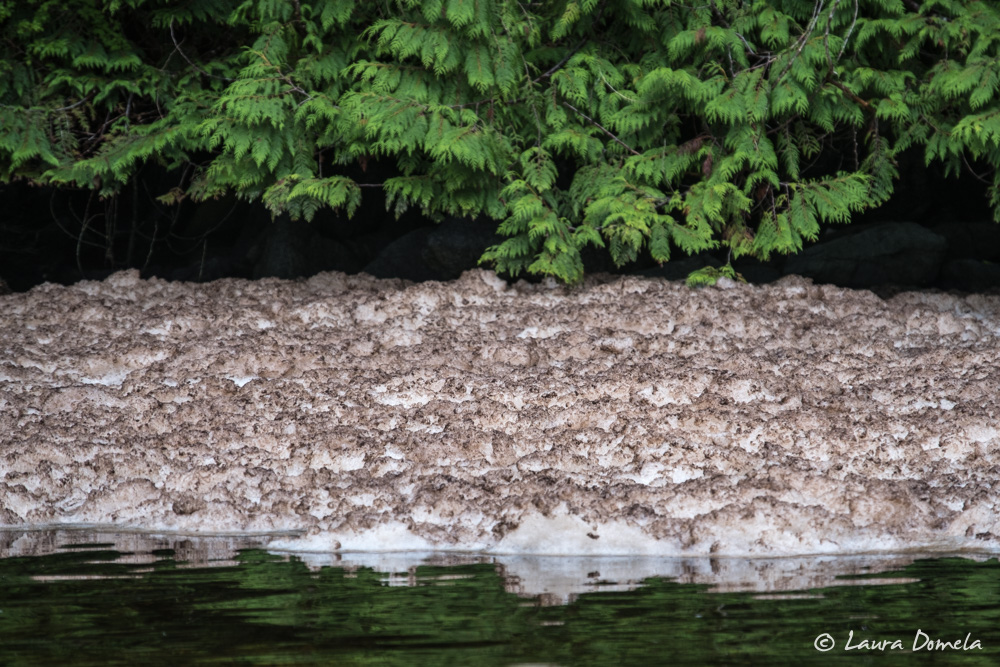 Sam decided to see what it was like to boat through it, which he later regretted, as it left a grimy film on the sides of his dinghy.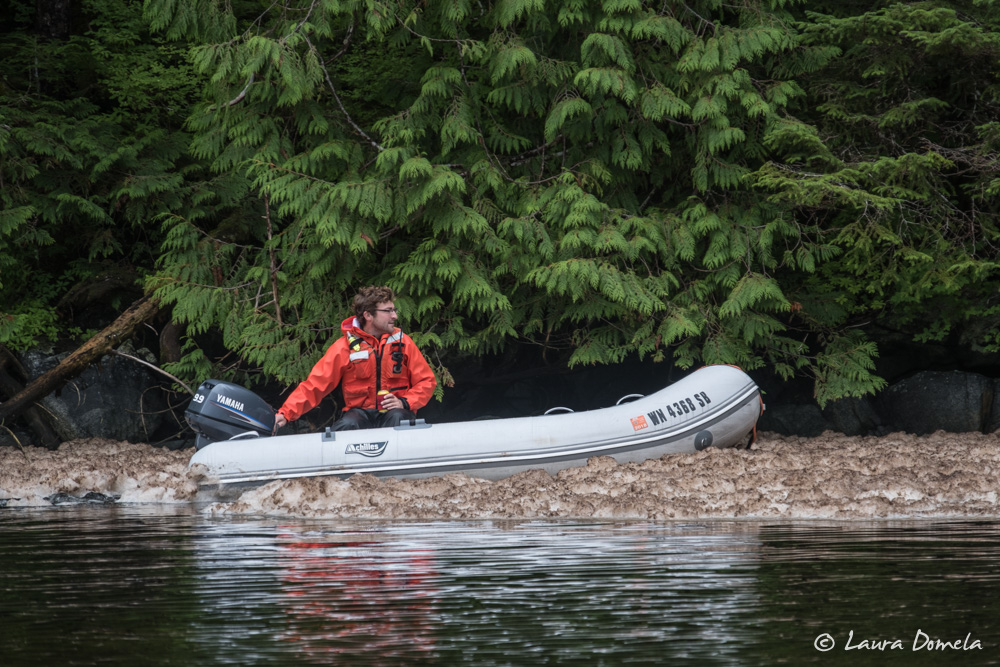 The rapids split around an island in the middle of the narrows, and both sides appeared rocky, with overfalls of 1 to 2 feet. Definitely a high water slack operation! We went to explore elsewhere.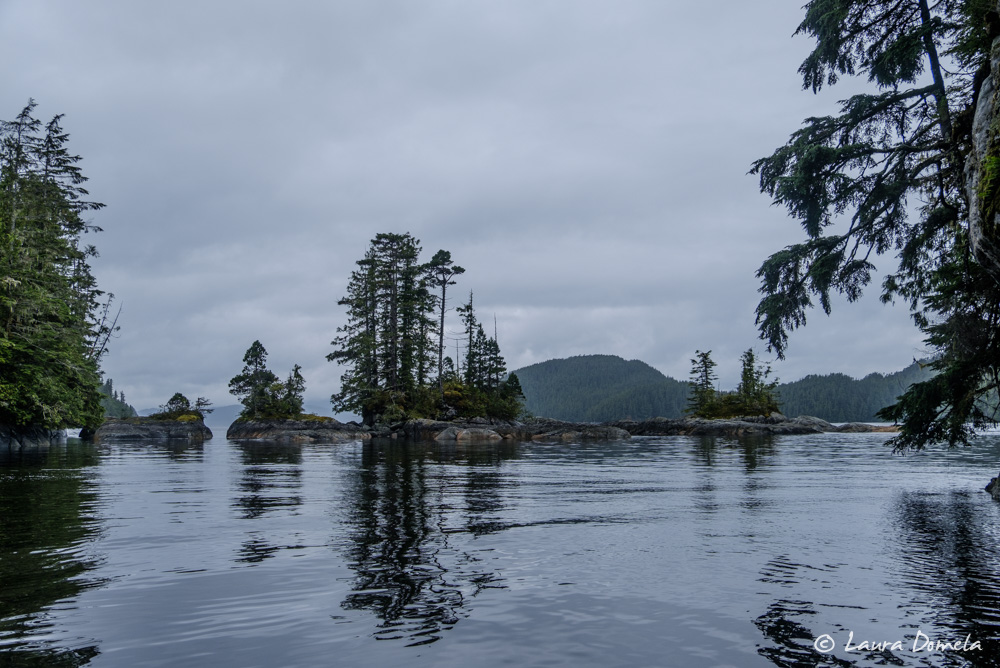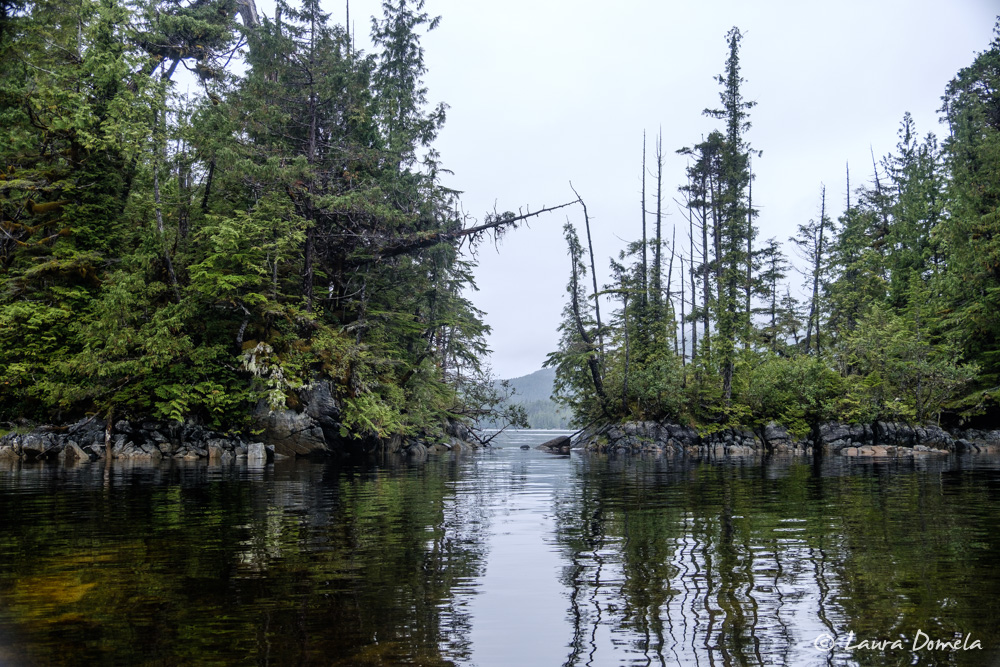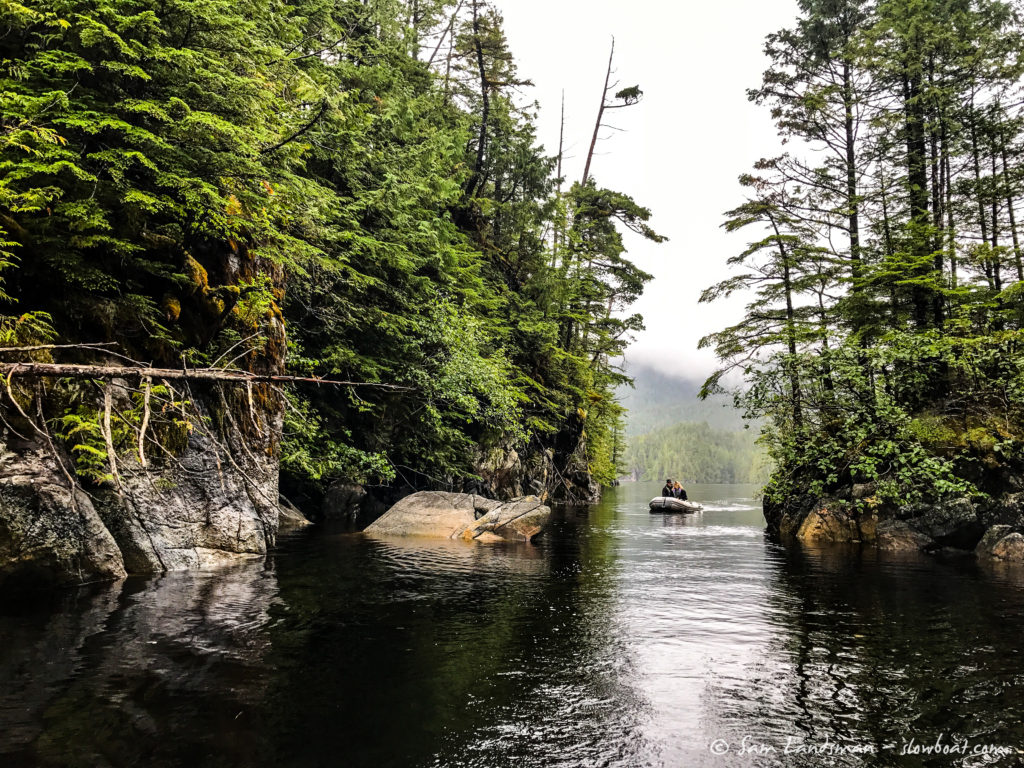 After tracing the shoreline of the rest of the inlet, we wandered back to see if the rapids had mellowed out. They had, so we went through! We assumed we didn't have much time, but if we could get through the second set of rapids, we'd be able to do a quick tour of Leavitt Lagoon. Unfortunately, we were blocked by a big tree that had fallen across the entrance.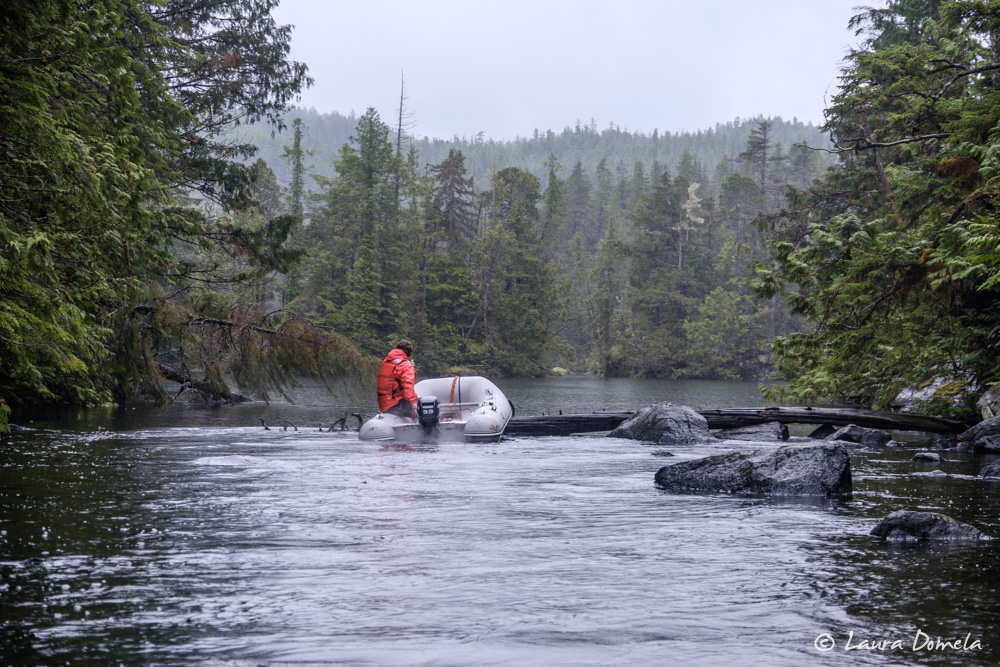 Oh well, maybe next time.
Back on Airship and Safe Harbour, we made dinner (grilled salmon, gnocchi with pesto sauce, and a salad) and watched a movie.
A brief note about the weather: This year has felt exceptionally rainy, cold, and windy, especially the last week. Sam discovered his weather station keeps 25 months of records, with monthly highs and lows, and the results were telling. Since August 1st, we've received more than 19 inches of rain! The tally for July was nearly 8 inches, and June was similar. In 2016, we recorded just 1.46 inches of rain in August, 3.92 inches in July, and 3.77 in June. Average temperatures in 2016 were about 10 degrees warmer across the board, too.