It's difficult to find a high-quality new cruising boat for a reasonable price these days. By and large, the new boats being built are semi-custom – basic configurations with dizzying numbers of custom options that let the customer design exactly the boat of their dreams. Unfortunately, that means enormous amounts of labor to build each boat by hand, almost from scratch – and that means big bucks. Such big bucks, in fact, that most people end up buying 15-year-old used boats and spending small fortunes trying to repair, upgrade, and customize them to meet their needs and desires.
Tomco Marine – the folks who build the American Tug line – are launching an innovative solution to that conundrum. Their new Waypoint 36 is a high-quality, US-made, production-built, expedition-ready cruising vessel with a solid set of components and capabilities – at a price point you'd find in used boats of the same size and build quality. The Waypoint 36 is built on the proven, semi-displacement hull design of the American Tug 365, but with a completely redesigned floor plan optimized for cruising comfort, reliability, and cost.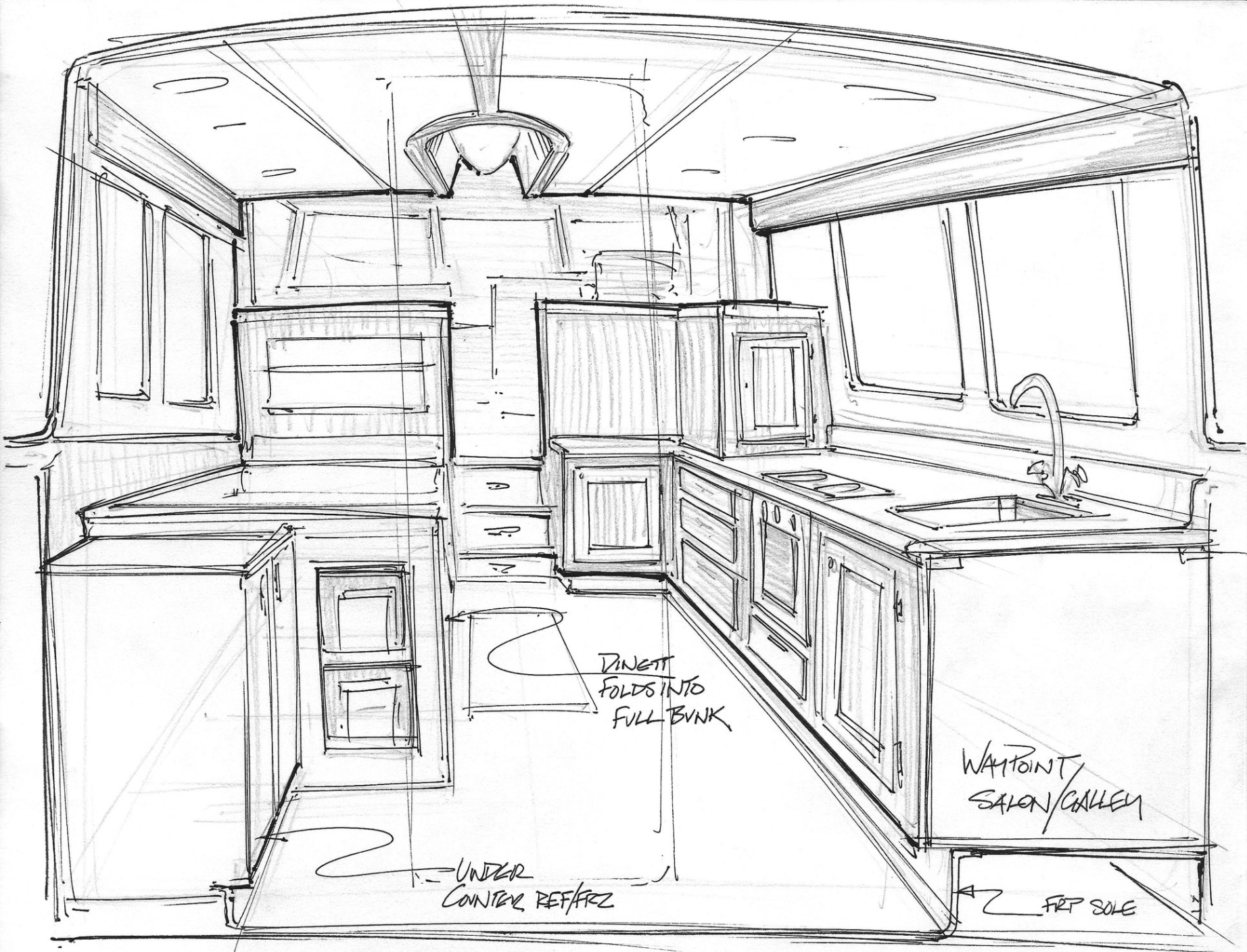 As Spider Man once said (and the US Supreme Court later quoted), "With great power comes great responsibility." Unfortunately, when it comes to buyers of new semi-custom boats, Spider Man would have been disappointed. Many new-boat buyers – when given the "great power" to customize their dream boats – don't exercise the kind of judgment or restraint that would yield the most comfortable or even seaworthy vessel for the next owner. The remote-controlled disco ball that lowers from the ceiling, built-in bookbinding press, electrically-heated sock storage, exotic alligator upholstery, and blue underwater LEDs that made a boat "all that" for the original owner tend to run up the cost while not objectively improving the value of the boat. What Tomco is doing with the Waypoint is dramatically reducing cost by applying decades of boatbuilding experience to standardize on a set of design decisions and features – leading to a solid, well-balanced, comfortable, seaworthy cruising yacht that's a great value – particularly for new boaters, or for those who don't want to tackle the tricky task of fixing up an older vessel.
The Slowboat team recently visited the Tomco factory in LaConner, Washington to walk through the first Waypoint coming down the production line. The hull and top section are mated (temporarily), and the interior was mocked up with a full-scale foam-core and plywood interior, giving a great sense of the space and accommodations that this value-oriented cruising boat will bring. We are looking at the Waypoint in terms of how well it would fit our typical Slowboat use profile – long-range cruising up and down the Inside Passage between Puget Sound and SE Alaska – multiple weeks with some long runs between fuel and provisions, tidal rapids and open ocean crossings, and occasional nasty weather to endure.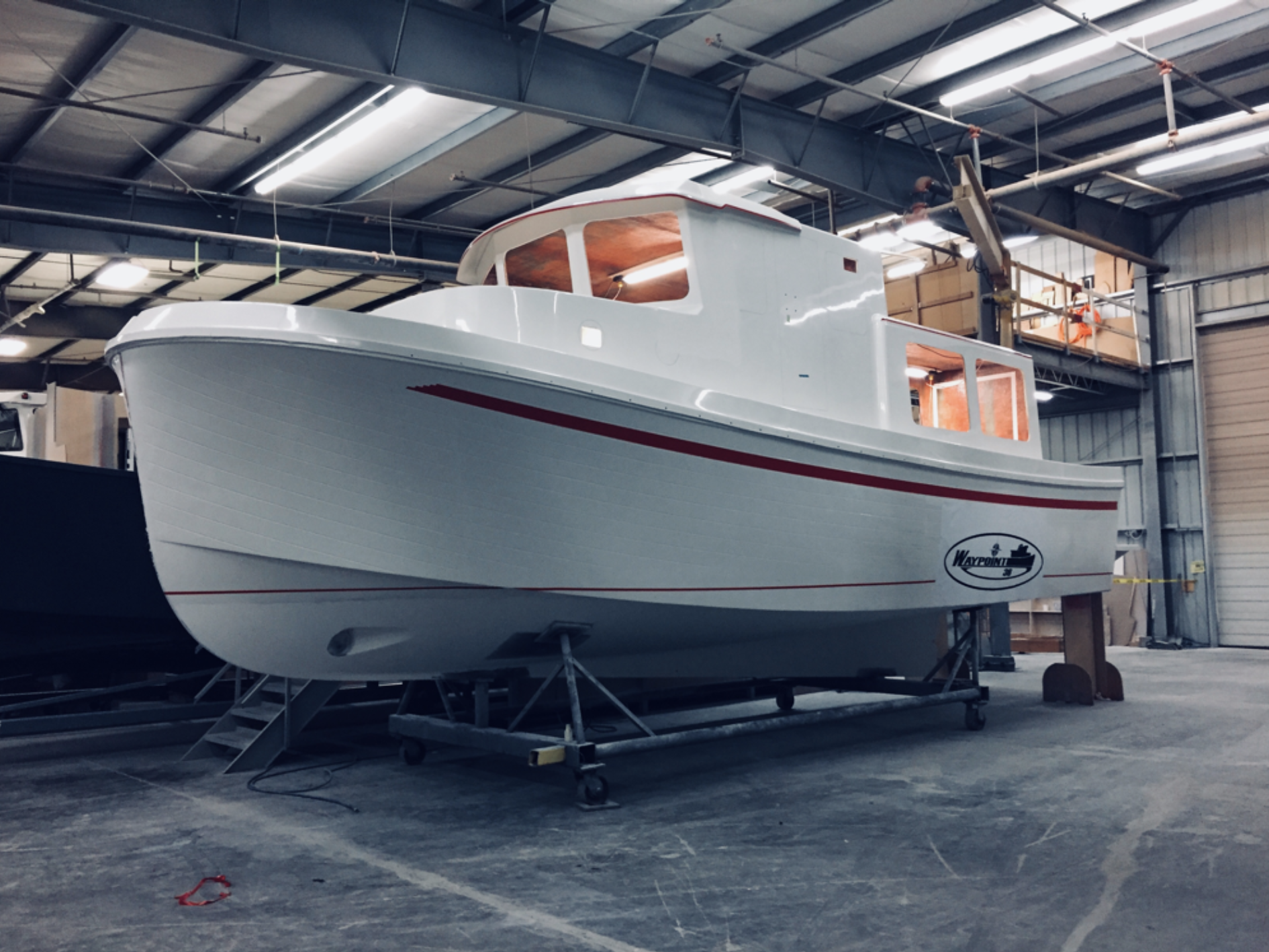 On our initial walkthrough, it's obvious that the Waypoint 36 is configured for comfortable, long-range cruising for two, with adequate facilities for a weekend or more with four adults – as long as they all have good social skills. A forward master stateroom plus a guest cabin provide private accommodations for two couples with reasonable storage for clothing and personal items. A roomy four-seat dinette makes into a third full-size bunk that could sleep two more adults in a pinch. Six folks is a lot of bunk capacity for a 36 foot boat.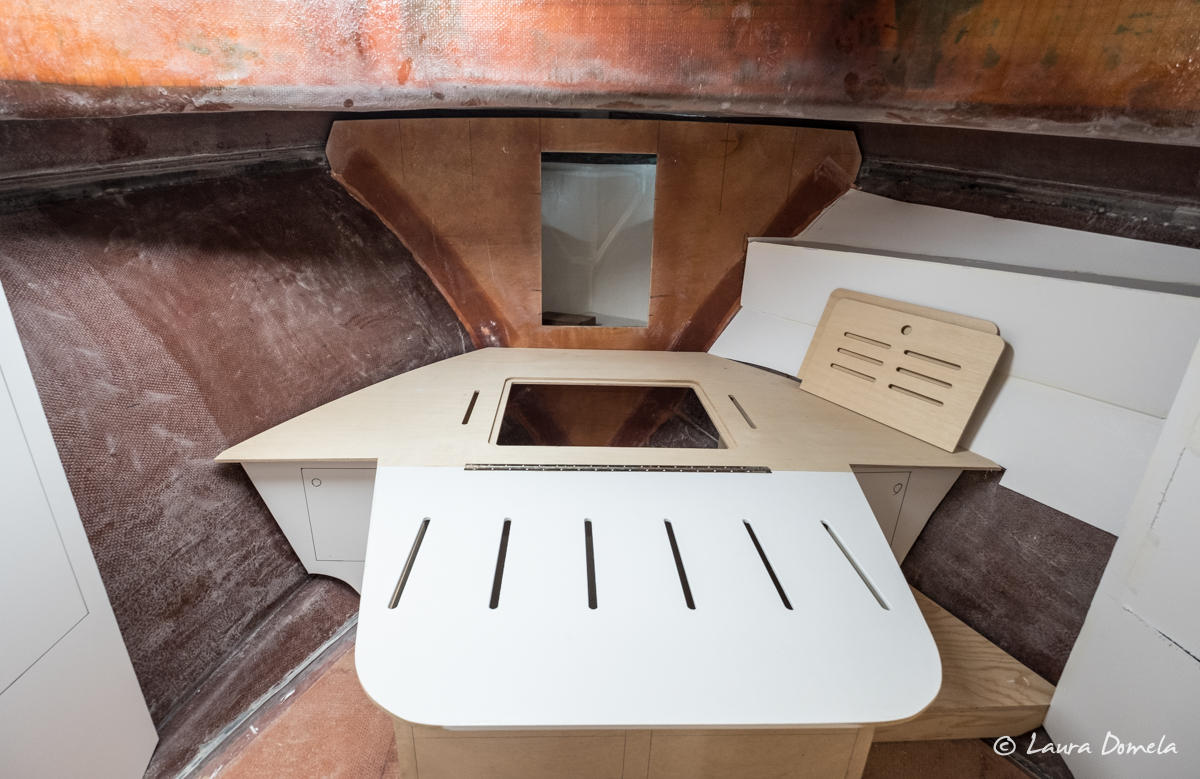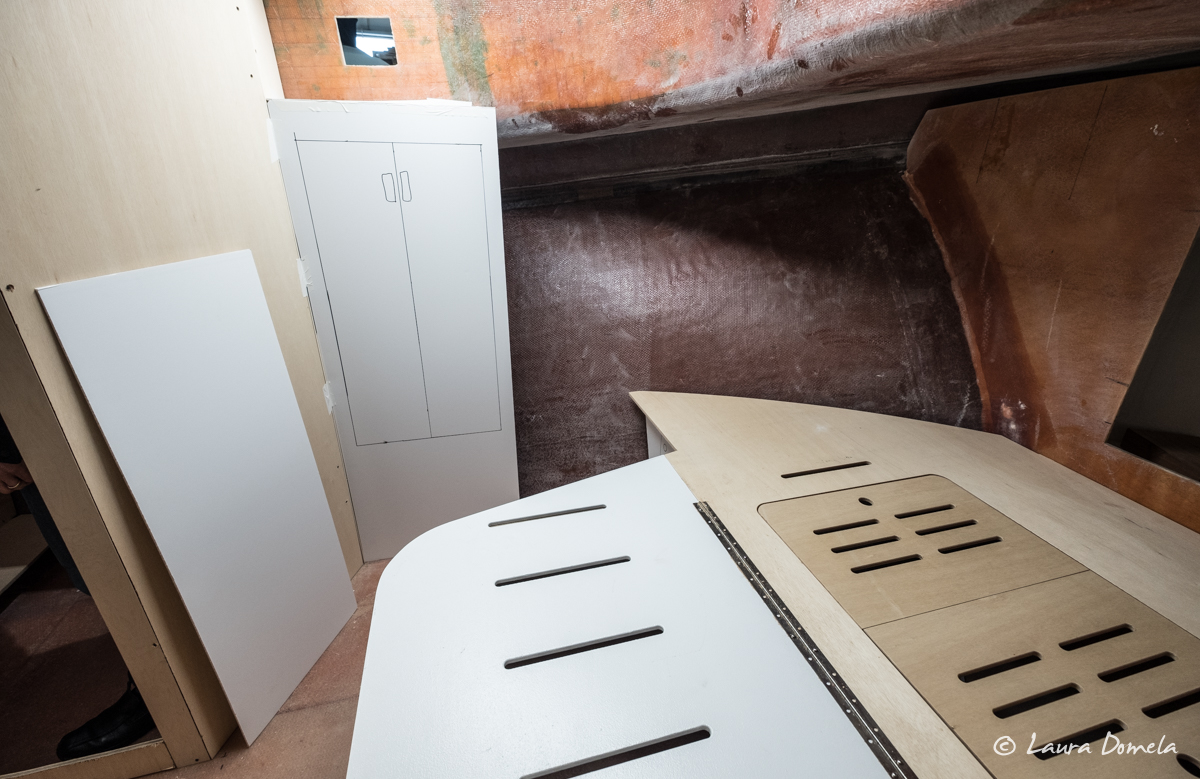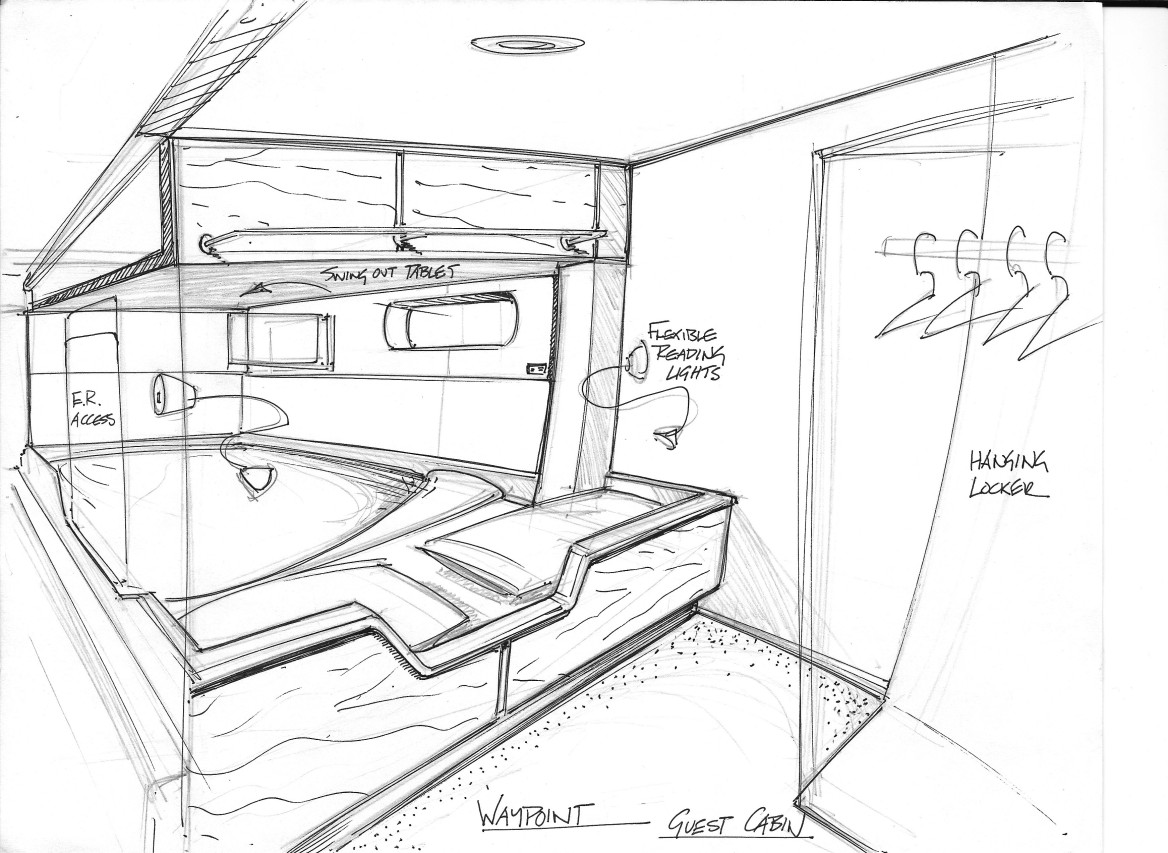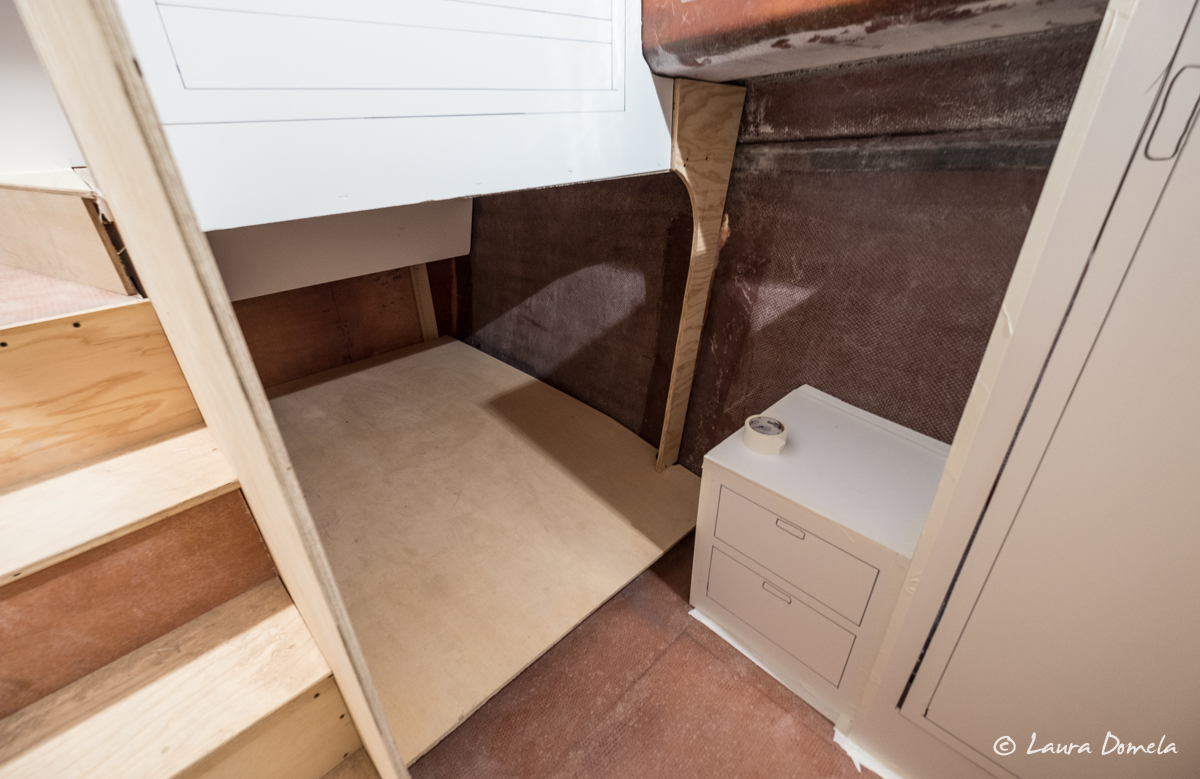 A roomy head with separate shower is located to starboard.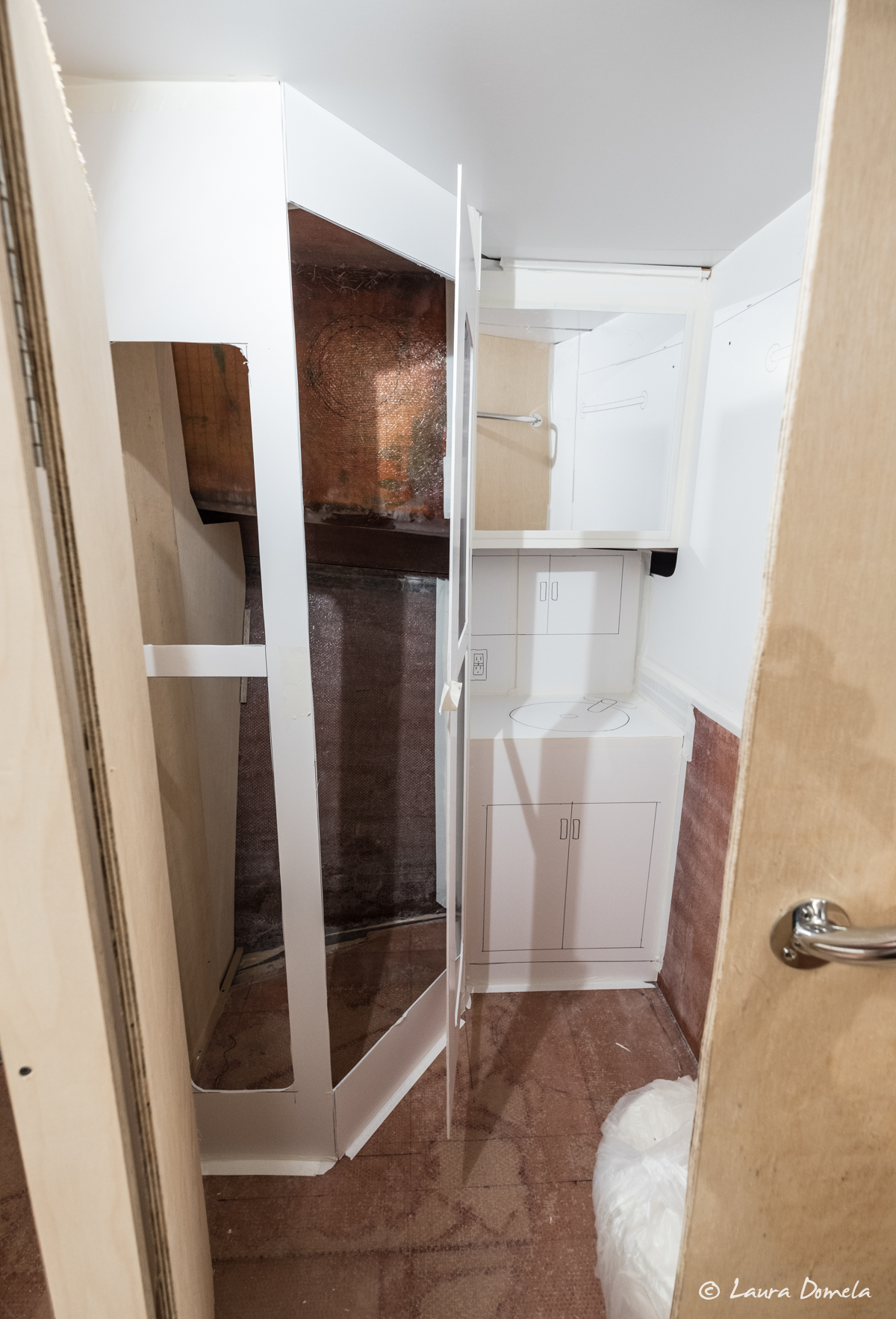 The spacious salon features an L-shaped galley with large single-basin sink, two-burner Force 10 stove/oven, and a remarkably large Isotherm cruise 200 refrigerator freezer with a 5.2 cubic ft refrigerator section and a 1.8 cu ft freezer for a generous 7.0 cu ft total volume. Since our cruising sometimes takes us many days between grocery stops, the large refrigeration capacity here is a welcome feature.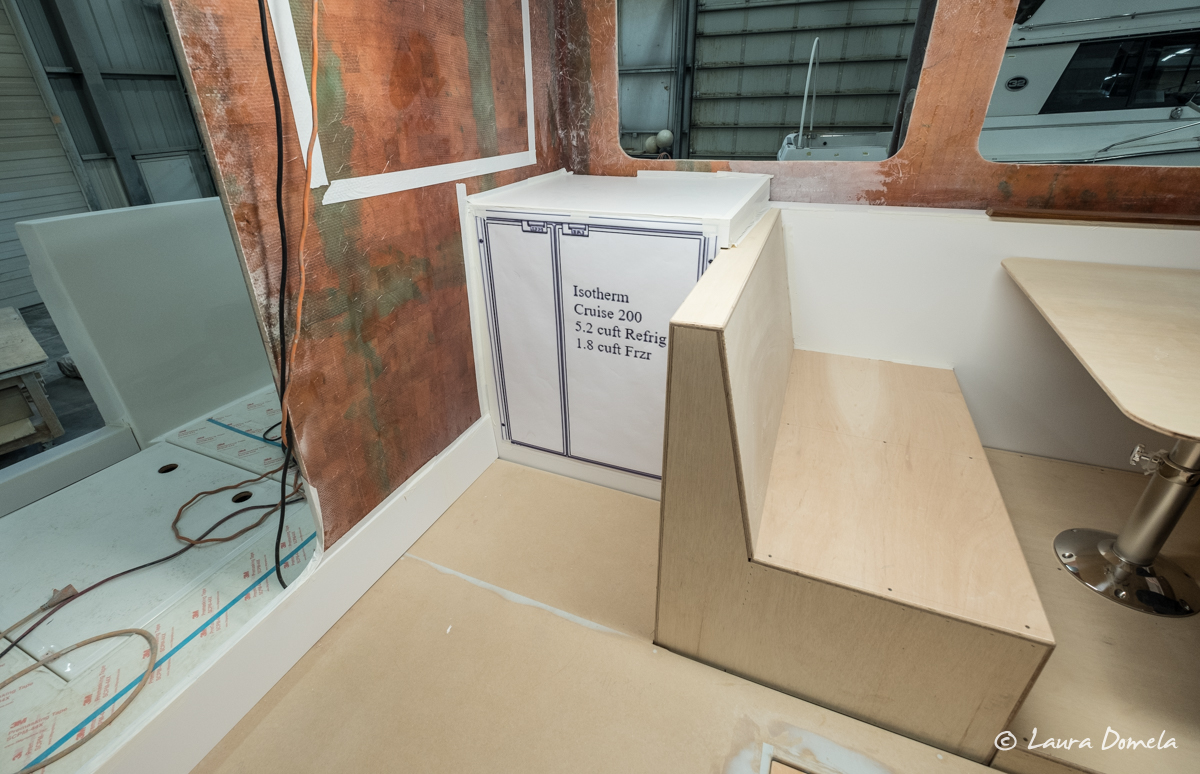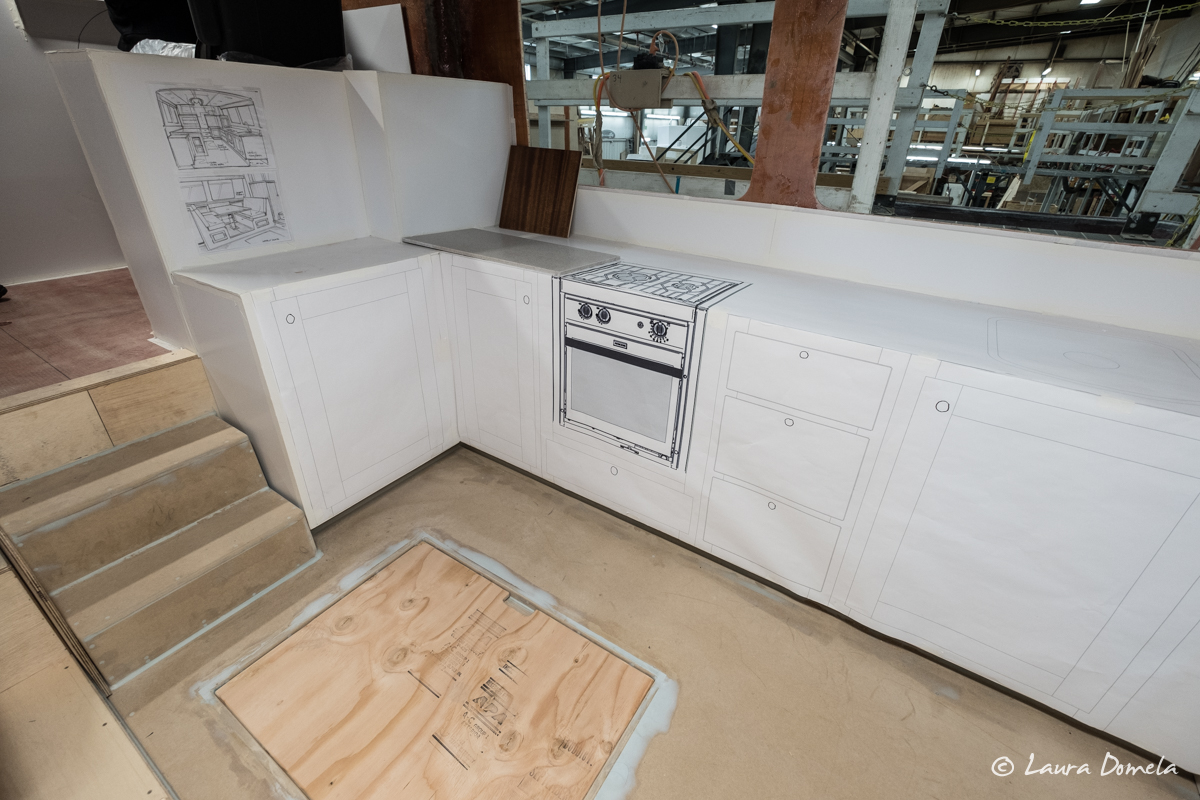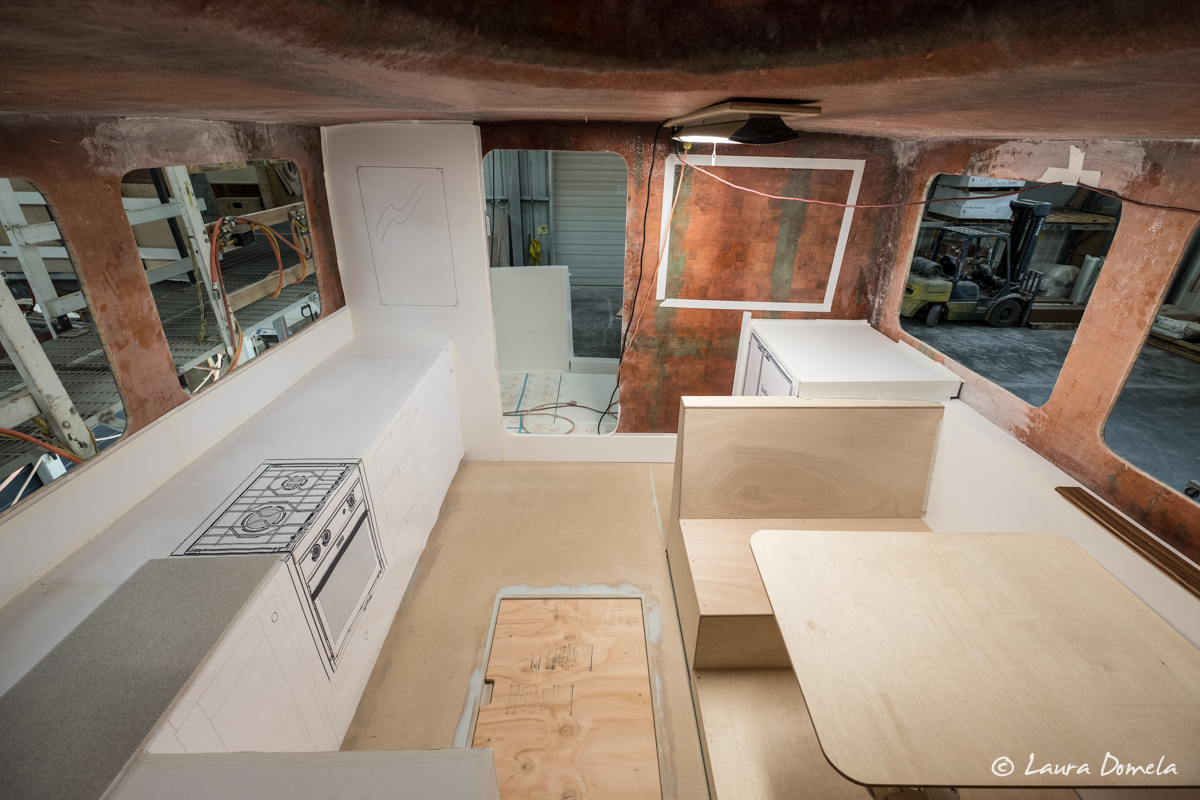 The comfortable four-seat dinette rounds out the well-conceived living space and, as mentioned, can make down into a full-sized double bed to bring the total bunk capacity to 6. You probably won't want more than four adults aboard for longer cruises, however, as the single head and limited seating would get cramped quickly. While the table and seating can easily handle four diners, a fifth would have to be seated at the end in a freestanding chair. Overall, having only the dinette for seating in the salon is a bit of a downside for us (nowhere to really stretch out and lounge), but there are only so many cubic feet on a 36-ft boat. One option for more "lounge" seating might be to make the dinette down into a  giant sofa (or as we might call it, a "megalounge") with some throw pillows for added comfort. Otherwise, the salon feels big and airy with large windows all around to bring in the view – and that's why we're on the water after all.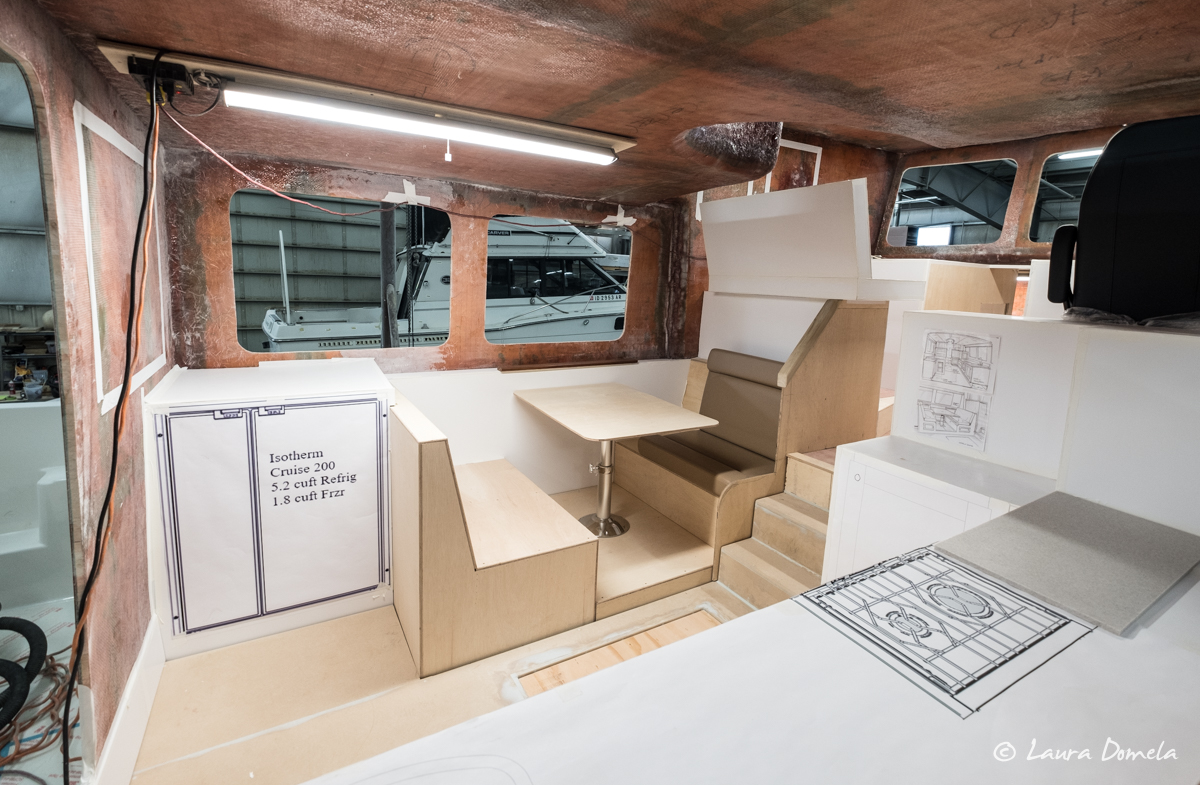 The pilot house sports a modern helm on the starboard side that can handle two Garmin or Raymarine 12-inch touchscreen chart plotters. An adjustable captain's seat offers a secure perch with a great view. While we might have preferred a two-person bench on the helm side (giving pilot house seating for all four of our imaginary four-adult cruising contingent), marketing says more folks want a helm seat. And, in all likelihood, the majority of use in a boat like this will be by a cruising couple. The port side of the pilot house has a wide two-person bench seat, and well-sized windows provide a good 360 degree panoramic view. Both starboard and port side pilot house doors provide quick dock access on either side which is handy for single-handing. The open design of the pilot house and salon give the boat an overall roomy feeling that is surprising for a vessel this size.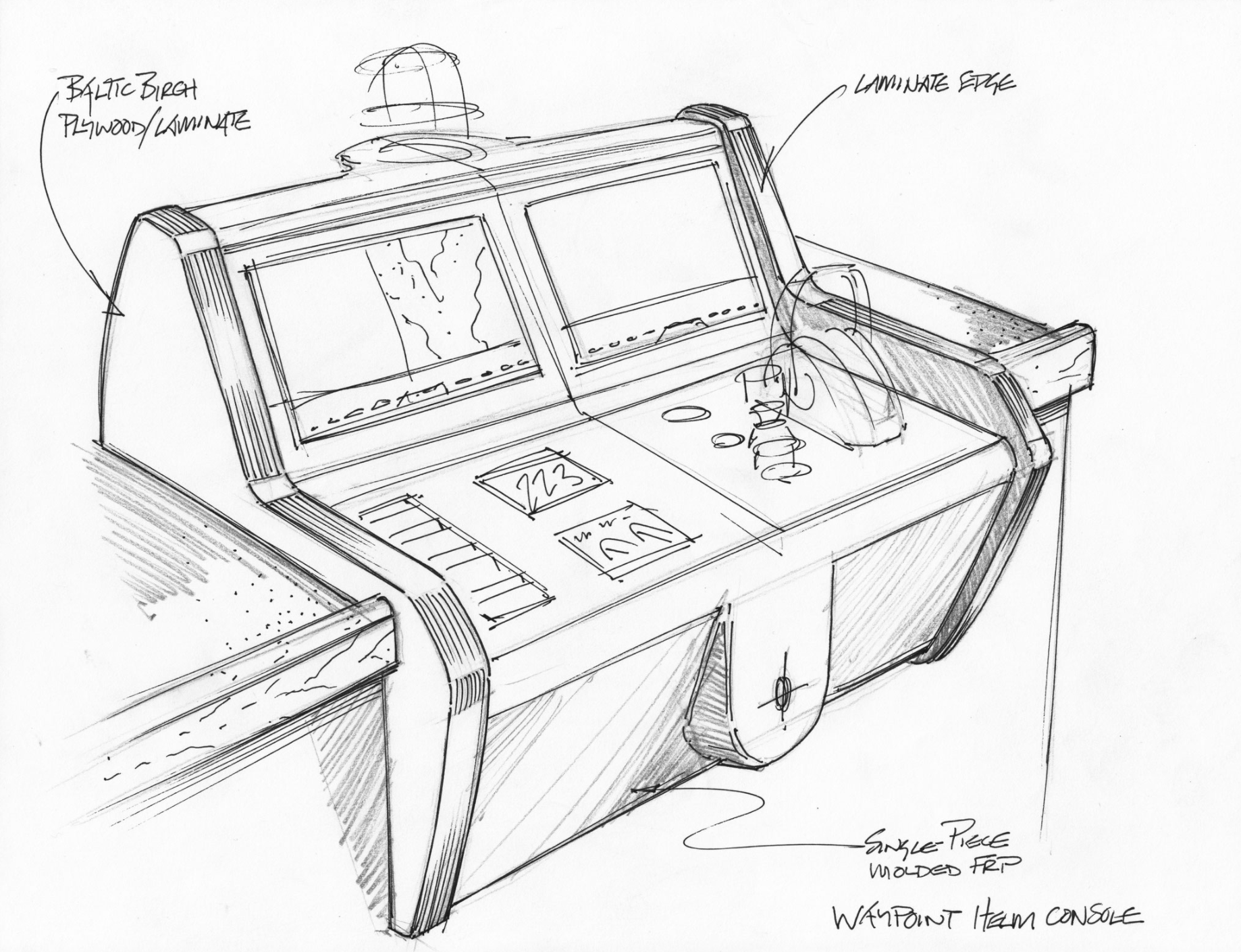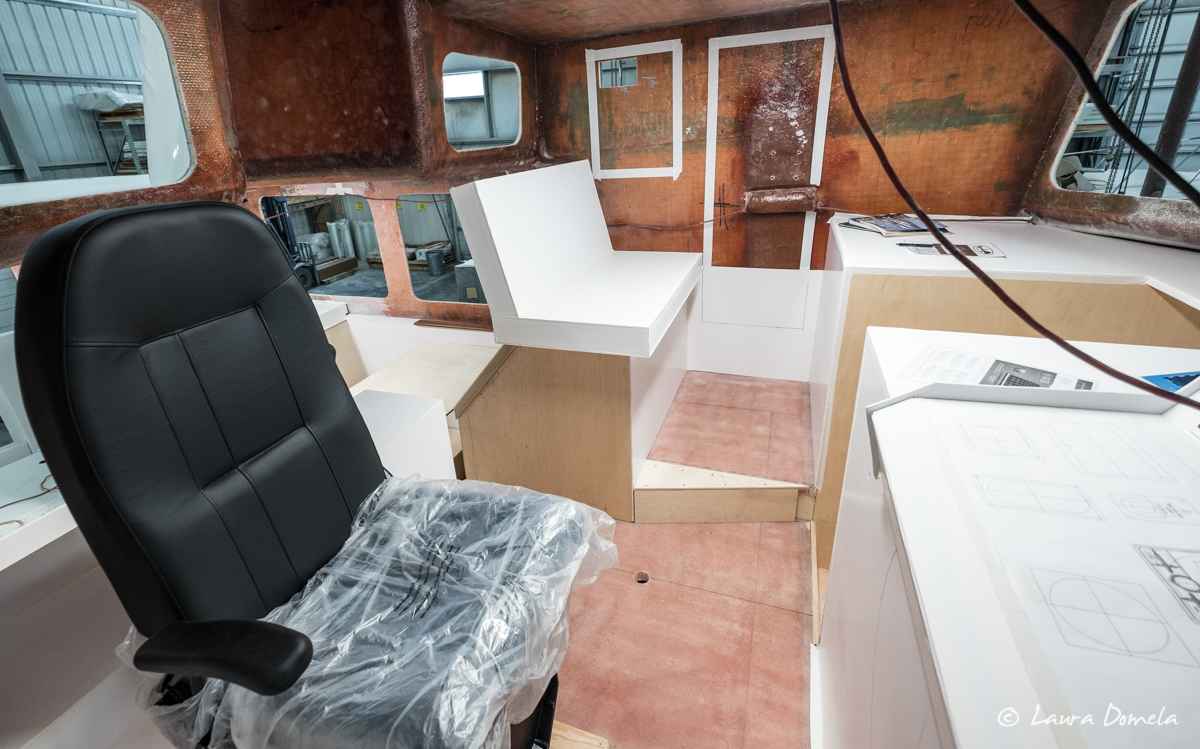 Since we're only looking at a mock-up, this is a good time to compare basic specs with a range of cohorts:
| | | | | | | | | | | |
| --- | --- | --- | --- | --- | --- | --- | --- | --- | --- | --- |
| Boat | LOA | LWL | Beam | Draft | Displace-ment | Fuel | Fresh Water | Power HP | Sleeps (incl. settee) | Base Price |
| Waypoint 36 | 36'6″ | 32'6″ | 13'3″ | 3'5″ | 17,000 | 230 | 120 | 260 | 4 (6) | ~$350K |
| American Tugs 365 | 36'6″ | 32'6″ | 13'3″ | 3'5″ | 18,700 | 400 | 120 | 380 | 2 (4) | ~$466K |
| American Tugs 395 | 41'6″ | 37′ | 13'3″ | 3'5″ | 25,000 | 400 | 120 | 380 | 4 (6) | ~$620K |
| Nordic Tug 34 | 33'10" | 32'8″ | 11'4″ | 3'8″ | 15,700 | 205 | 100 | 260 | 2 (4) | ~$400K |
| Nordic Tug 40 | 43′ | 38'2″ | 13′ | 4'2″ | 22,600 | 320 | 144 | 370 | 4 (6) | ~$630K |
| Ranger Tugs R-31 CB | 35'2″ | 31'2″ | 10′ | 2'4″ | 11,500 | 180 | 80 | 300 | 3 (5) | ~$320K |
| Helmsman 38E Pilothouse | 40'10" | 34'6″ | 13'11" | 4'0″ | 30,000 | 400 | 145 | 250 | 2 (5) | ~$409K |
| Helmsman 31 Sedan (Camano) | 31′ | 28′ | 10'6″ | 3'0″ | 12,000 | 150 | 100 | 270 | 2 (4) | ~$269K |
| North Pacific 39 | 42'5″ | 35'8″ | 12'7″ | 4'0″ | 25,000 | 300 | 200 | 250 | 2 (4) | |
We included a range of new boats here for several reasons. The Waypoint, Nordic Tug, American Tugs, and Ranger Tugs R-31 are all built in the Pacific NW and with base prices within $50K of the Waypoint. The Waypoint, Nordic Tug, and American Tug are a notch above the Ranger Tug in quality of build and materials, but the similar price point makes it worth a comparison.
The Helmsman and North Pacific models we compared are built overseas on contract from US companies. In general, trawlers built overseas on contract are more inconsistent in quality than those made in the US by the manufacturer, with build quality ranging from excellent to poor depending on the level of supervision the company maintains over the overseas boat yard. As a result, they are generally less expensive for comparable size and features. We chose models that were either similar in size to the Waypoint, or comparably priced. The Helmsman (Camano) 31 is significantly smaller than the Waypoint, but the low price might make it a consideration for some customers.
The American Tug 365 uses the same hull and exterior as the Waypoint. Its specs are the same except for tankage, engine, and bunks. If you need only a single cabin, and want a much more custom (and customizable) cruiser in this same form factor (and have the budget to do it) go for the AT365. The Waypoint gains the additional cabin by using the space where the generator and one fuel tank live in the AT365, so you're trading almost half of the fuel capacity and the space for a large (~5KW) generator in order to give your guests some private quarters, so they'd better appreciate it. (You can leave out the part about how you also saved yourself a substantial chunk of cash.)
The Waypoint's waterline is 32'6″ – similar to the NT34, but the wide 13'3″ beam aligns it more with the NT40 and its big brother – the American Tugs 395. Because of the waterline, we expect a hull speed (and therefore long-range cruising speed) to be closer to the NT34's 7.5 knots, where the longer water line of the other boats should make efficient cruising a hair faster. Sea trials will tell the story – later.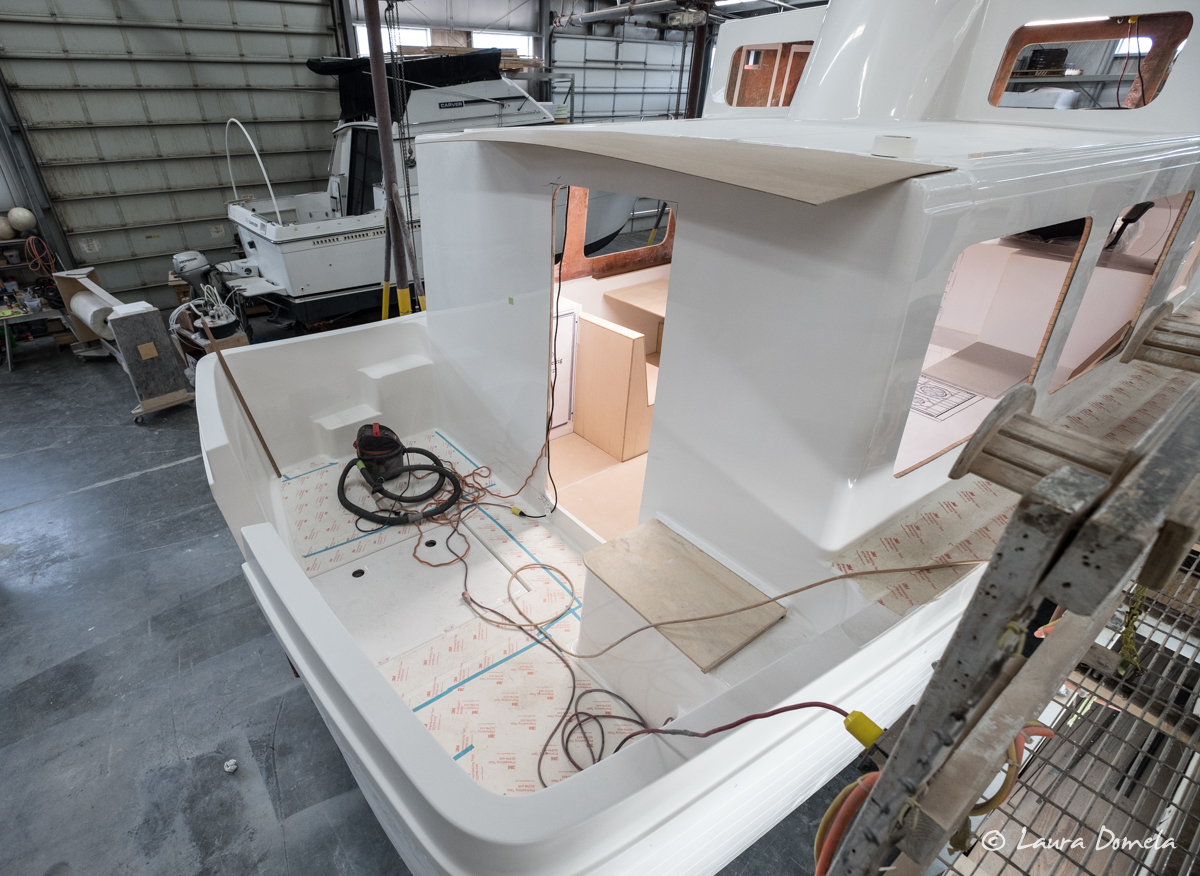 The additional beam is really evident in the interior volume. Inside, you definitely feel like you are in a larger boat than the NT34, and it seems expansive compared with the much narrower R-31, even though the overall length is similar. The additional beam and hard-chine semi-displacement design should make the boat more stable – particularly in beam seas, but we haven't been on a sea trial yet to get a feel for the real-world difference.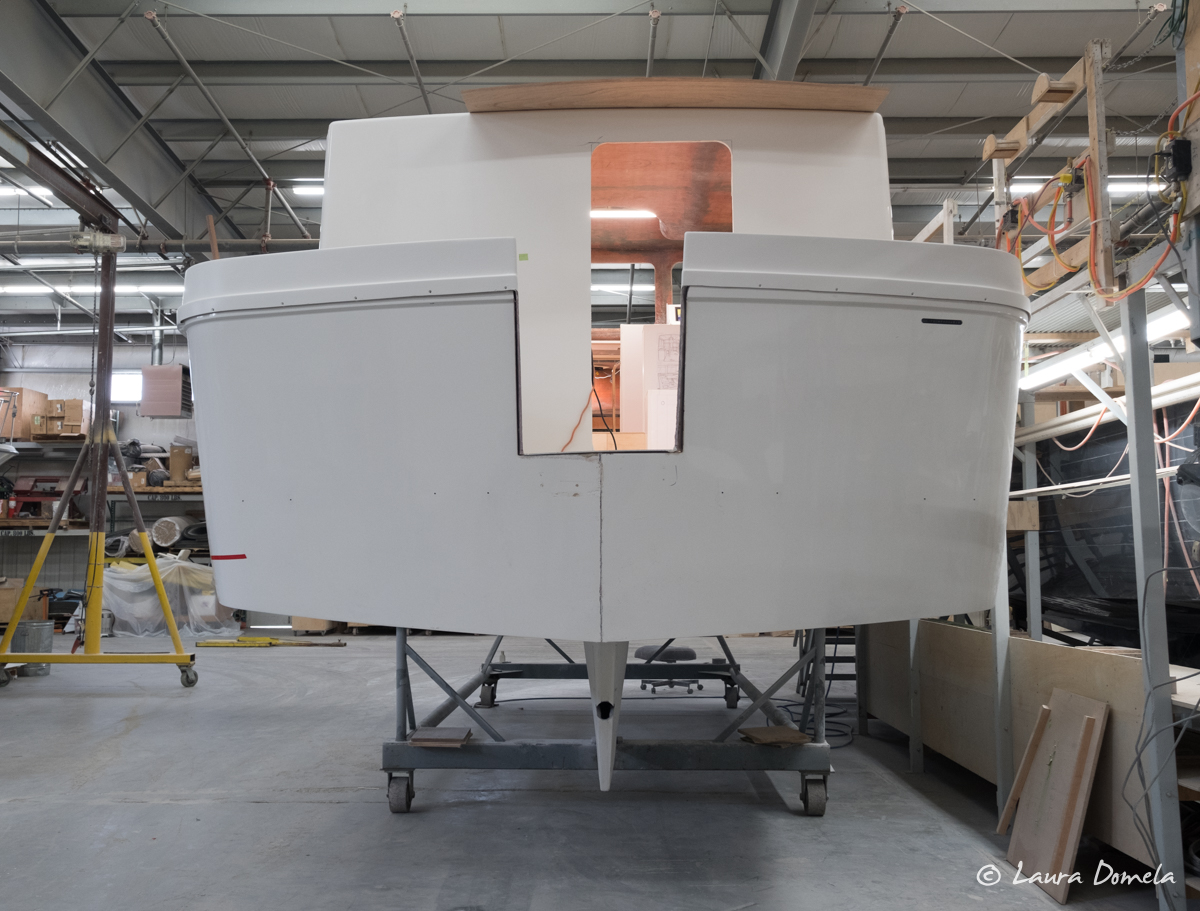 The Waypoint's draft is 3'5". The shallow draft of all of these semi-displacement boats means you'll have an easier time getting in and out of shallow entrances and have a bit more wiggle room in shallow anchorages than you would in a conventional full-displacement trawler. This is not a big deal in our Pacific NW cruising grounds, but could be really important for east coast or great loop cruisers.
Fuel capacity is 230 gallons (compared with 205 for the NT34 and 180 for the R-31). The extra capacity should translate directly into extended cruising range for long hauls between fuel stops. The extra 25 gallons (compared with an NT34 like Airship – one of the boats we cruise to Alaska) should give approximately 10 more hours of cruising, or 70-80 additional nautical miles between fuel stops.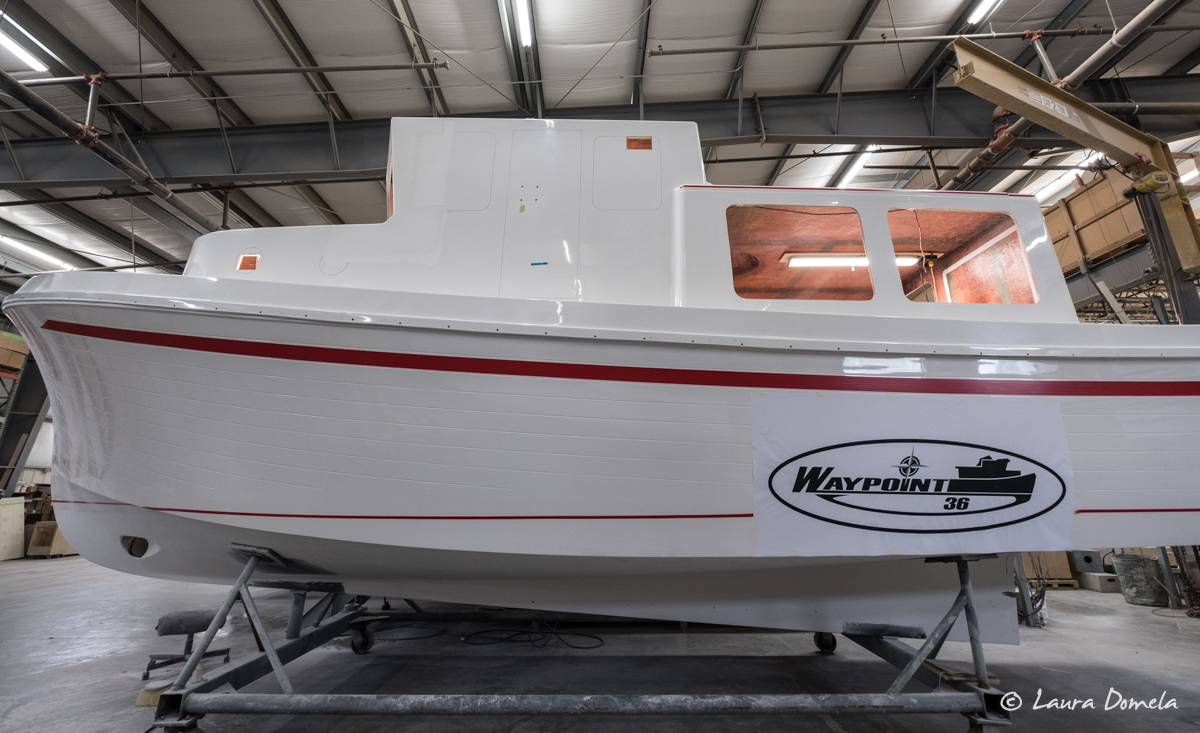 Fresh water capacity is 120 gallons (compared with 100 for the NT34 and 80 for the R-31). Again, this 20%+ advantage in fresh water capacity yields significantly more usable time between marina stops. In extended cruises up the inside passage, there are often long distances between fresh water sources and usually fresh water capacity (and not fuel or food) is the main limiting factor for how long you can stay "off the grid" without going to a marina. When the nearest marina can sometimes be a two-day cruise away, this is a major factor.
Comparing price with the similarly-sized locally-built rivals, the Waypoint 36 is slated for a base price around $350K – slightly higher than the R-31 and a fair bit lower than the NT34. Of course, the base price tells only part of the story since each of these competitive boats has a long options sheet that can quickly run up the tab. In the process of making the Waypoint a value-based production boat (rather than a semi-custom boat like Tomco's American Tugs) the company has pruned the extra cost options sheet down to a very short list, and instead put a capable complement of standard features in the base model. You should be able to take the base boat and go cruising in comfort without any important missing capabilities. And, the platform should be fairly straightforward to upgrade and customize after the fact – if you want to create your own special and unique snowflake.
Because of the space taken up by the second cabin, the Waypoint does not come with a generator (neither does the R-31 or NT34), nor does it appear to have room to add a typical, large ~5KW one such as a Northern Lights or Onan. However, Waypoint does come standard with solar power and with a high-power inverter, so you won't be too bad off for lack of a big generator. There should be room to add a smaller genset later if you need one.
Power is provided by a 260 HP Volvo diesel which should sip fuel at a normal 8-knot long-range cruise and still provide the option of a 12-ish-knot top end to beat the rapids, smooth out a bumpy sea, or get out of the way of that container ship that's bearing down at 20 knots. While we haven't done a sea trial yet, Airship – our NT34 makes about 14 knots max with 260 HP. With similar waterline and wider beam, we'd expect the Waypoint to come in a knot or two slower, but there are a lot of factors that play into that equation.
Like any marine diesel these days, Volvo has its fans and detractors. One thing to keep in mind is that the entire marine diesel scene has been turned on its head by emissions standards, and the common-rail, electronically-controlled engines that have been required in new boats for the past decade bear little resemblance to the workhorse mechanical diesels of decades past. That means that every manufacturer – including Volvo – is starting with a fairly clean slate in terms of reliability. We just don't know whose engines and installations will prove to be most reliable (and best supported) at this point.
Another thing to keep in mind is that many of the real-world failures in marine diesels are related to the way the engines are installed and maintained. Poorly designed exhaust and raw water cooling in a boat can lead to overheating, vulnerability to clogging, water coming into the cylinders, and other catastrophic failure modes that have little to do with the design and quality of the engine itself. At their core, marine diesels are rugged gear and will trudge on for ages given a good supply of clean fuel, cooling water, and lubrication. The difference between Volvo and any other manufacturer will be less important than the way your engine is installed, maintained, and operated.
Wrapping up the comparison with other options, the Waypoint is clearly much more boat than the comparably-priced cohorts we chose above for comparison. It has significantly larger volume, more cabin space, and generally better living quarters than either the Nordic Tug 34 or Ranger R-31. Among boats built in the PNW, it aligns more closely with options like the Nordic Tug 40, or its sibling, the American Tugs 365. However, both of those are significantly more expensive, easily approaching double the price of the Waypoint when fully equipped.
Of the boats in our comparison set, the Waypoint stands out in several ways. First, we expect it to be near top of the heap in terms of build quality, materials, and components. It will also offer considerable value in terms of interior volume and accommodations for the money. The Waypoint will feature a significantly larger house than the NT34, for example, at a much lower price. Compared with the similarly-priced Ranger, the Waypoint is a much larger boat with higher (in our opinion) build quality, and yields to the smaller Ranger only in areas like top speed and trailerability.
Overall, we are excited to watch as Waypoint 36 #1 comes down the manufacturing line. While the mockup and specs give us a pretty good idea how the boat will feel, nothing but being in the real thing can cement that intangible, illogical thing that makes us really want a particular boat. So far, the Waypoint is looking good.