Another voluntary early departure! We left Pruth Bay shortly after 7:00 a.m. The water was glassy when we pulled anchor, and by the time we were out in Hakai Passage we were surfing some gentle swells back in toward Fitz Hugh Sound.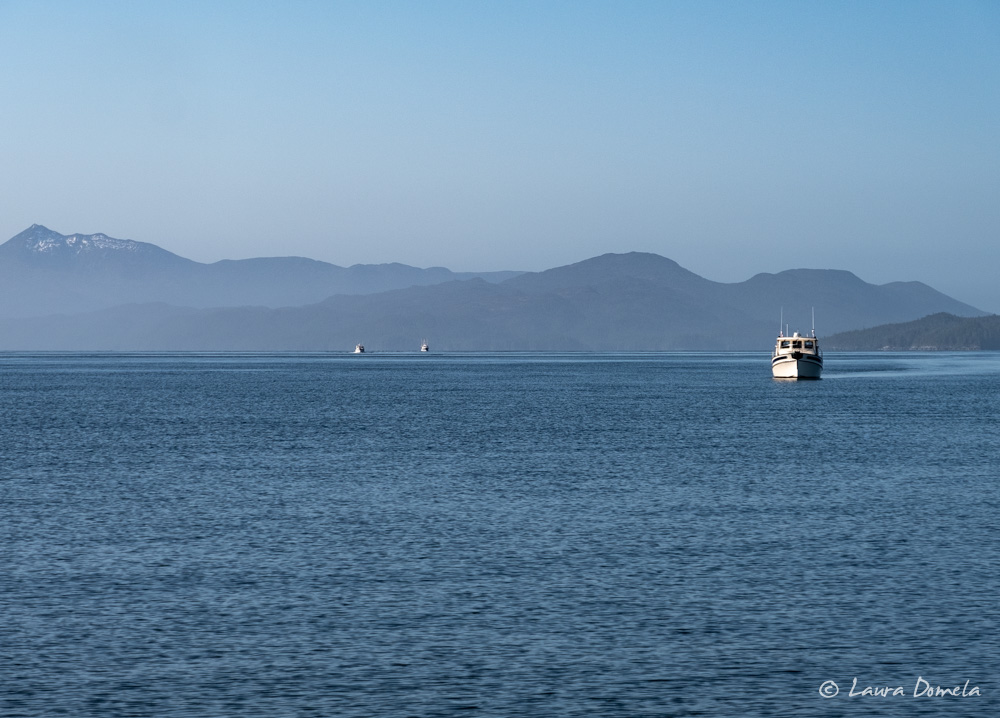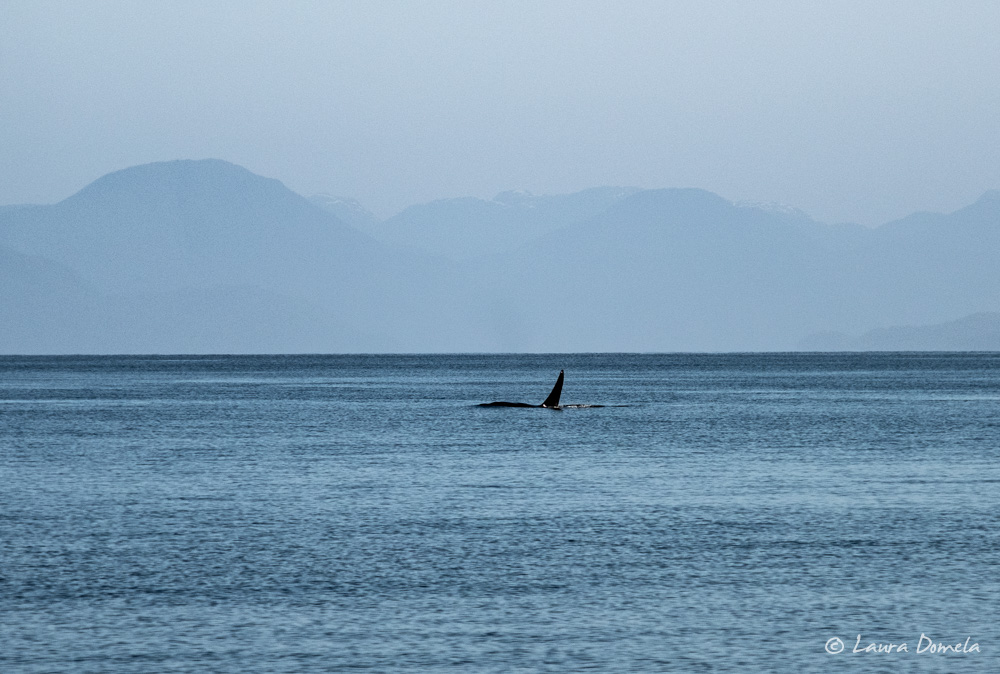 Codville Lagoon is a scenic, spacious anchorage with a nice hike to Sagar Lake. We were even able to get a weak cellular internet connection here! After we finished some work, some email, and some cruise reports, we hopped in a dinghy, picked up Ralph, and headed to shore for a hike up to the lake. Dan was out fishing, Eileen was taking care of some work while she had internet, and Dougal, Jen and Cassidy were out paddle boarding and met us at the lake later. We got to shore and as we were tying up the dinghy we heard a very distinct, very near "big cat sound." We reviewed the procedure for encountering a cougar or mountain lion (don't run, keep calm, don't turn your back, make yourself big, etc.). The hike up to the lake (checking behind us occasionally) went just fine. (We had bear spray and a big stick!)
Kevin brought the drone to get some aerial shots.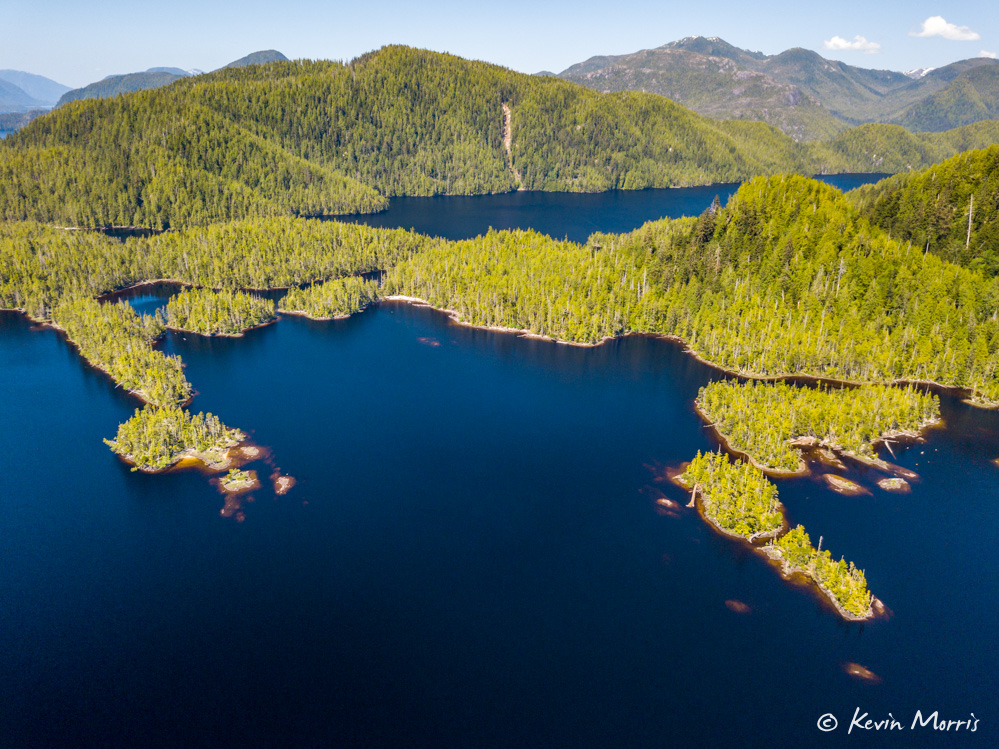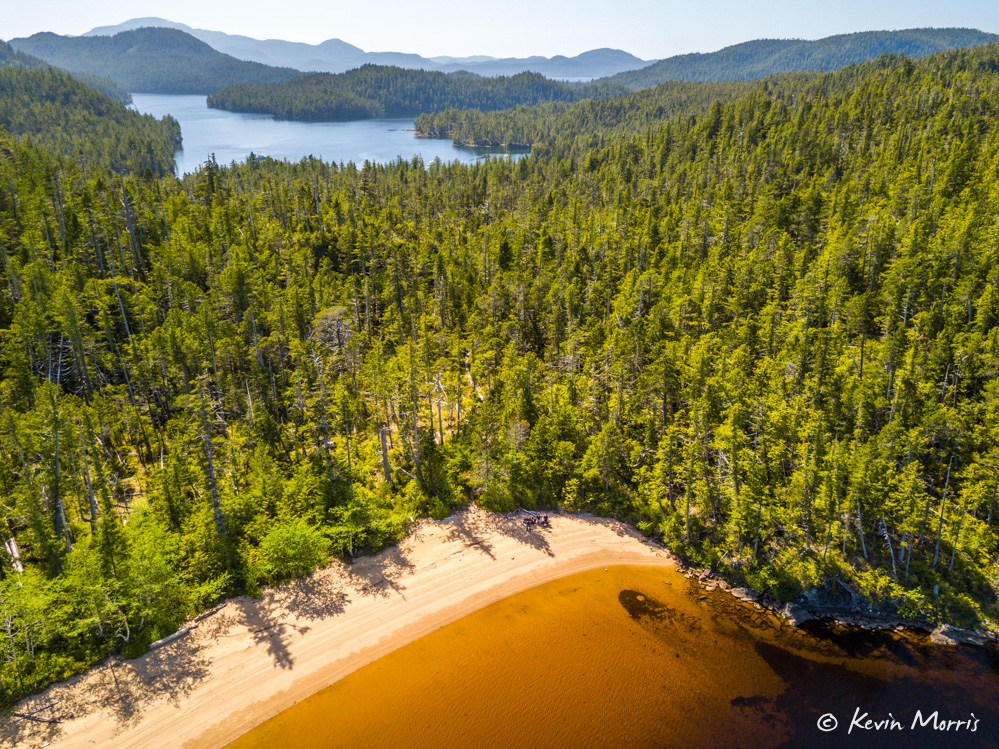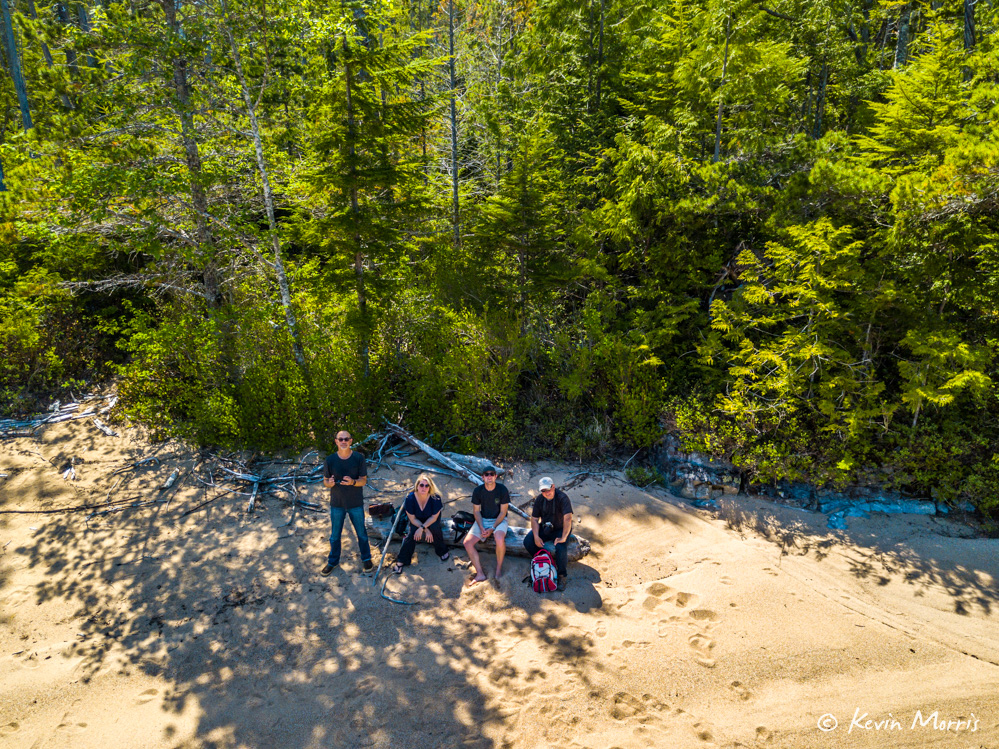 Ralph took this fun photo of Sam demonstrating how he might try to defend himself in case of cougar attack. 🙂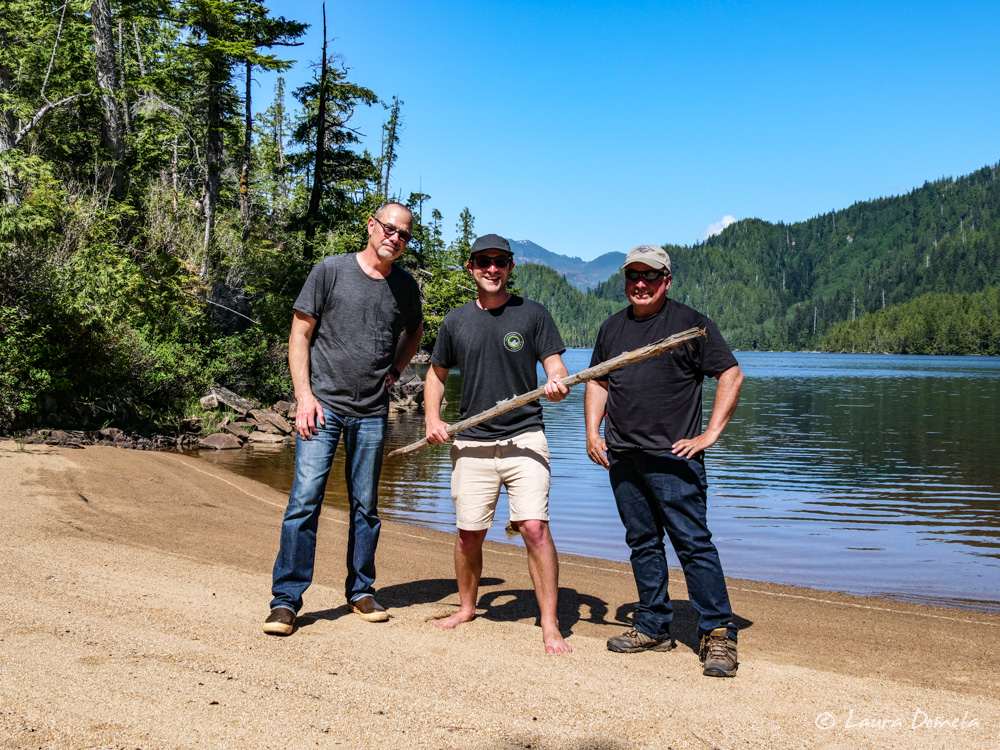 For dinner we gathered on the Airship/Safe Harbour raft. It was warm and sunny so we set up chairs and tables on the upper deck and ate dinner outside!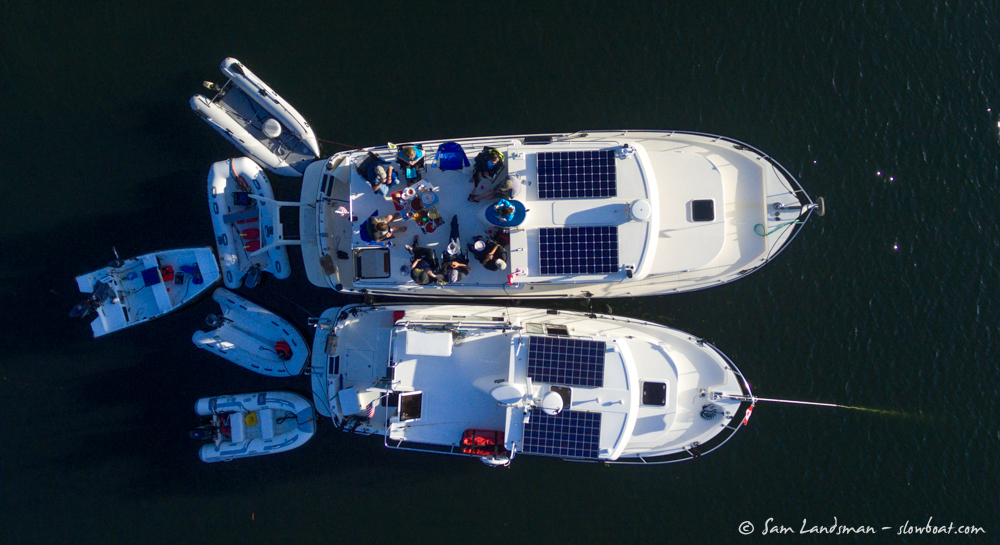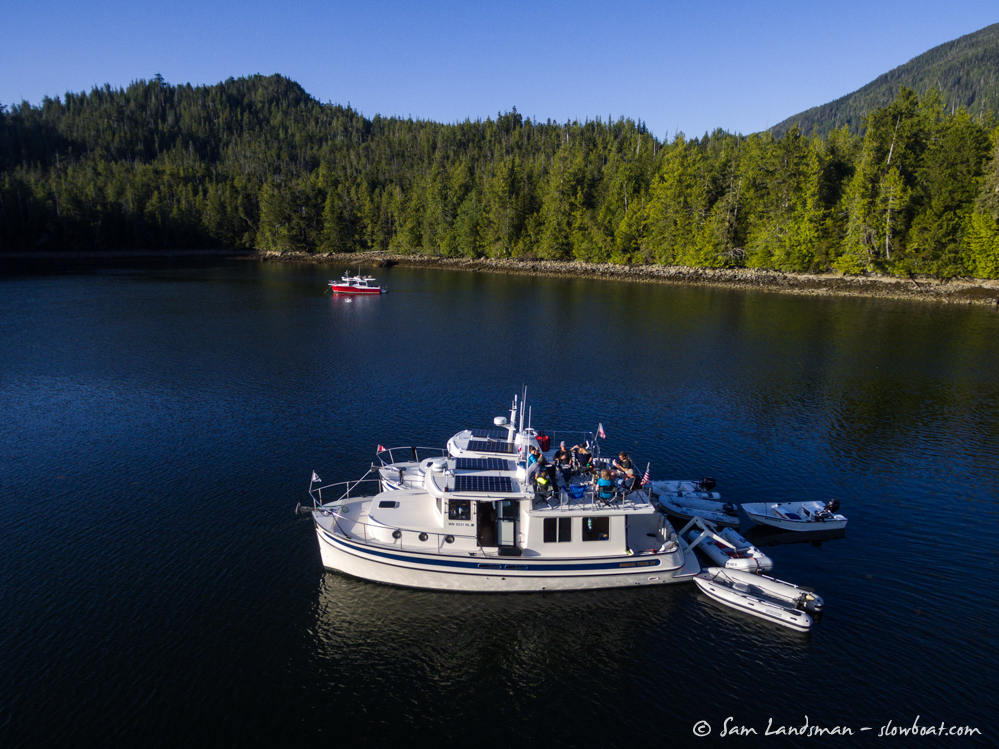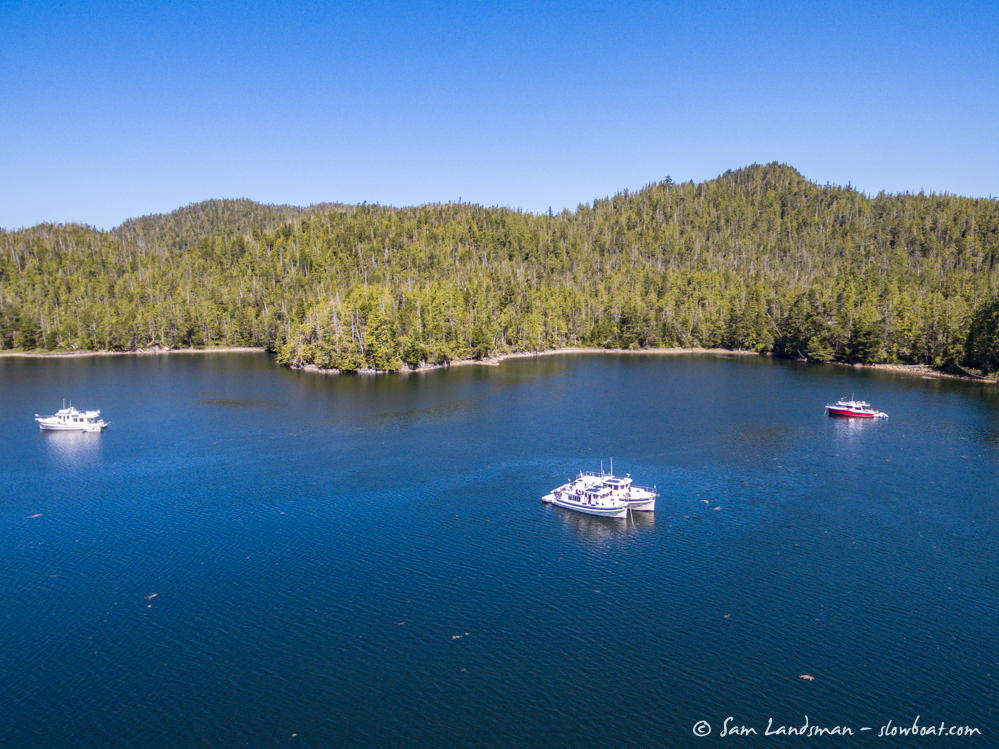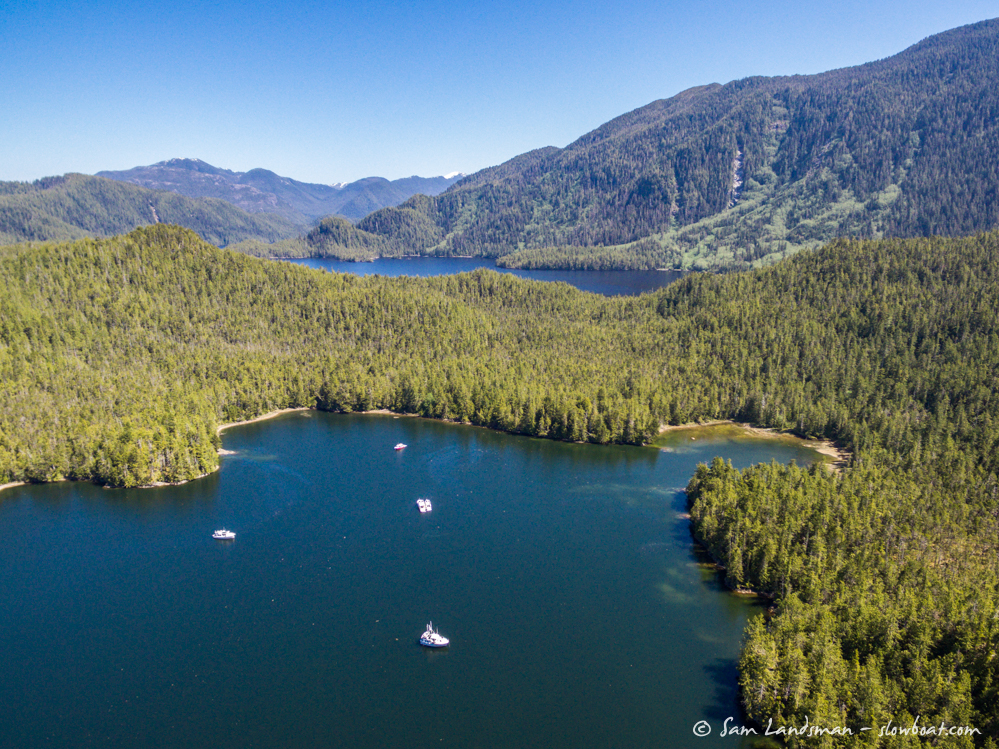 Dan and Eileen made bouillabaisse with Dan's fresh fish and spot prawns, Sam made some deviled eggs (he added a little pickle juice this time!), and Laura made kimchi pancakes with a spicy dipping sauce. Here's the recipe for the bouillabaisse:
Dan & Eileen's Bouillabaisse
Veggie Broth:
1 large onion, chopped
2 turnips, chopped
1 leek, chopped and rinsed well
2 carrots, chopped
2 ribs celery, chopped
3 large tomatoes, chopped
1 small bunch parsley
Salt & pepper
8 cups cold water
Bring the above to a boil, then simmer for about an hour (or more).
Remove from heat and strain out the veggies
Bouillabaisse:
2-3 red or yellow peppers, cored and diced
1 medium onion, chopped
1 jalapeno pepper, seeded and finely diced
Saute the above in 1T butter and 1T olive oil at medium high heat for 8-10 minutes
until slightly softened, then add spices:
1 tsp thyme
1 tsp crushed fennel seed
1/4 tsp black pepper
salt to taste
1 large garlic clove, mashed
1 bay leaf
Saute for a few minutes, then add 1-2 tbsp tomato paste and saute for about a minute, then add 2/3 c white wine. Let cook down for several minutes until liquid is reduced and thickened slightly, then add 1.5-2 cans diced tomatoes. Cook for about 2-3 more minutes then add about 6-8 cups veggie broth depending on your desired thickness. Bring to a simmer, simmer uncovered for about 45 minutes.
Any types of seafood can be added, at the very end, just long enough to fully cook. Add about 1 lb white fish (we used ling cod (1" cubes) but rockfish or halibut are good as well), 15-20 spot prawns (cooked for 1 minute in veggie broth before adding broth to the soup). Crab, mussels, clams work nicely as well.  (If you do not use clams, you can add a jar of clam juice). When you add the seafood, also add 1 tbsp orange zest. White fish will need about 3-4 minutes to cook, clams/mussels should open in 3-4 minutes, and spot prawns should take about 1-2 minutes. Taste, add salt and pepper if desired, add 2-3 tsp butter, and serve immediately.
_____________________________
Today: 28.0nm, 3 hours 43 minutes
Flotilla total: 365.2 nautical miles, 50 hours 19 minutes underway