We awoke to the pitter-patter of raindrops falling on the deck. Outside, clouds hung low on the horizon. Environment Canada warned of 25-35 knot winds out on Hecate Strait, and we worried some of that wind might whip up rough seas even on the inner channels we're traveling on.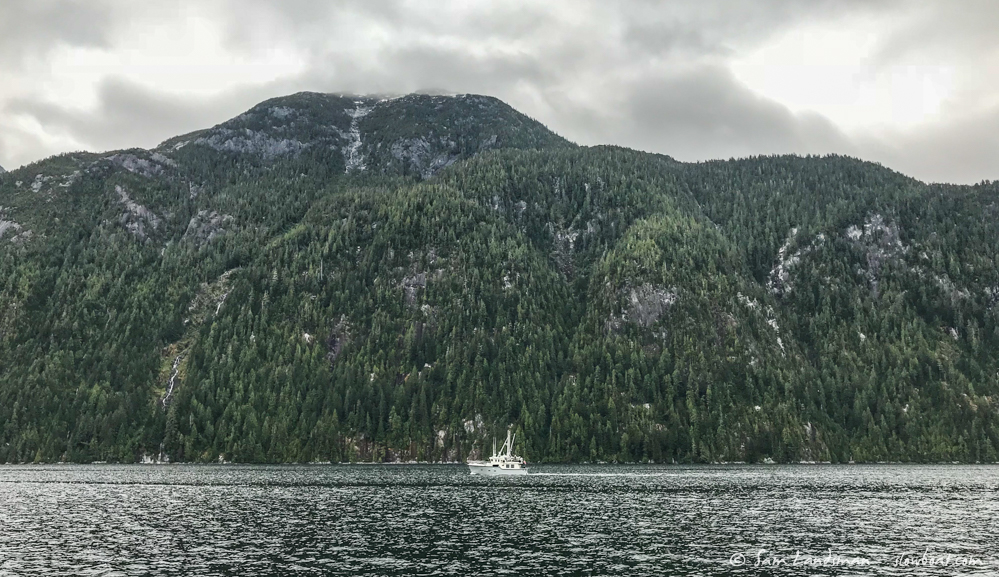 Thankfully, that wasn't the case. We had a bit of a following sea as we headed northwest in Fraser Reach, but as we turned the corner into McKay Reach, the wind died entirely and the water was glassy. Visibility ranged from decent to poor (due to heavy rain). Shades of gray dominated the day. Even in this misty, dreary weather, this coast is beautiful. Waterfalls tumble down the mountains from thousands of feet, their sources occasionally obscured by clouds. Trees cling to impossibly steep slopes. Occasionally we notice a scar where gravity and erosion won, sweeping the forest right off the mountainside and into the water.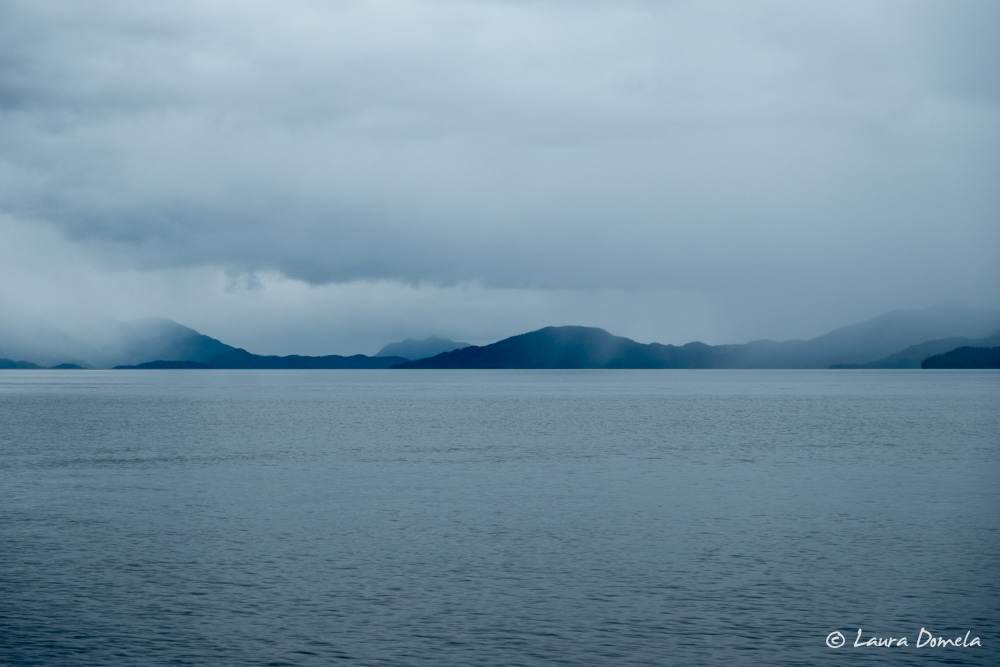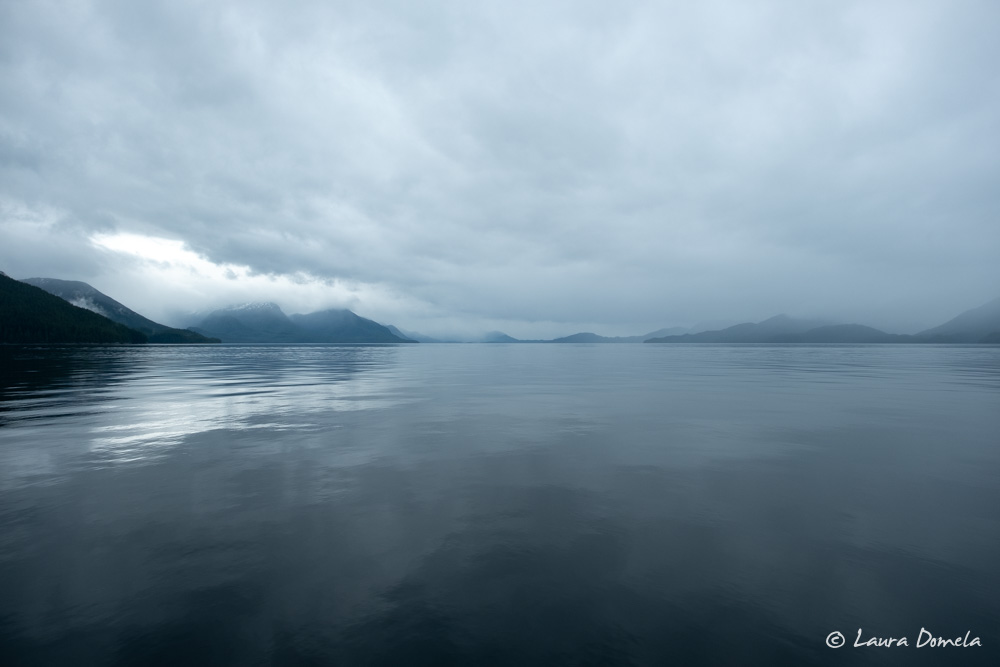 We enjoyed a few wildlife visits, too! Several boats spotted humpback whales, and others had Pacific white sided dolphins surfing in their bow waves.
Lowe Inlet is 20nm into Grenville Channel. Currents run to several knots in the south portion of Grenville. When timed well, the flood current pushes you along at an accelerated pace. Timed poorly, and it's like hitting a wall. We planned to leave Butedale about 9:00 a.m. in order to ride the flood up Grenville, but we were up earlier and a bit impatient, so we left 45 minutes earlier than planned. Still, we didn't have much current against us. A few knots, maybe, for less than an hour.
The weather put a bit of a damper on our Lowe Inlet visit. This is a beautiful anchorage, with a big waterfall at the head of Nettle Basin and towering mountain peaks. We didn't see the mountains, but the waterfall was as pretty as ever! Despite the rain, we had the group over for taco night on the Slowboat raft. Laura made a traditional ground beef taco filling, Sam did some potatoes and peppers for vegetarian tacos, and we sautéed up some of Dan's fresh spot prawns for some prawn tacos. Sides: Mexican rice and cabbage slaw. Sam made deviled eggs for appetizers!
Sam's Deviled Eggs
Ingredients:
6 eggs
1/4 cup mayonnaise
2 teaspoons white vinegar
1 teaspoon pickle juice
1 teaspoon yellow mustard
1/8 teaspoon salt
Freshly ground black pepper
Smoked Spanish paprika, for garnish

Hard boil the eggs, then peel and slice the eggs in half lengthwise. Remove yolks into a bowl, and arrange the whites on a serving plate. Mash the yolks with a fork, then add mayonnaise, vinegar, pickle juice, mustard, salt, and pepper. Spoon the yolk mixture into the egg whites. Sprinkle with smoked paprika and serve.
_________________________
Today's total: 43.3 nautical miles, 5 hours 45 minutes
Flotilla total: 548.0 nautical miles, 75 hours 49 minutes underway