Today's cruise from Cannery Cove up to Tracy Arm Cove was just over 40 miles, so we headed out on the early side (basically, no different from any other day with this group). 🙂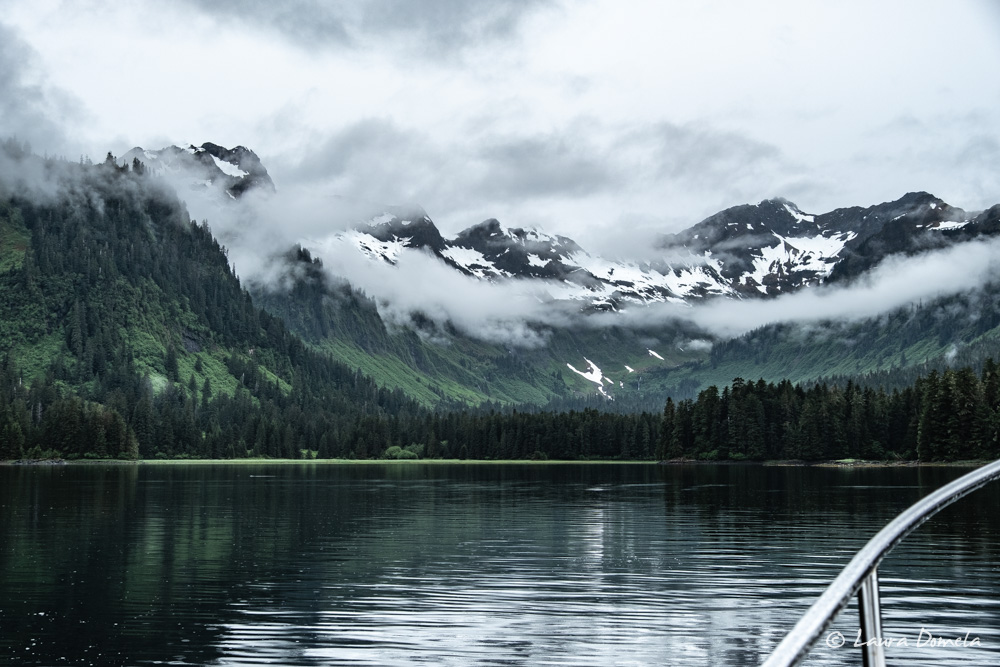 Ralph got a nice humpback show out in Stephens Passage (he left a little earlier than the rest) and shared these two photos with us: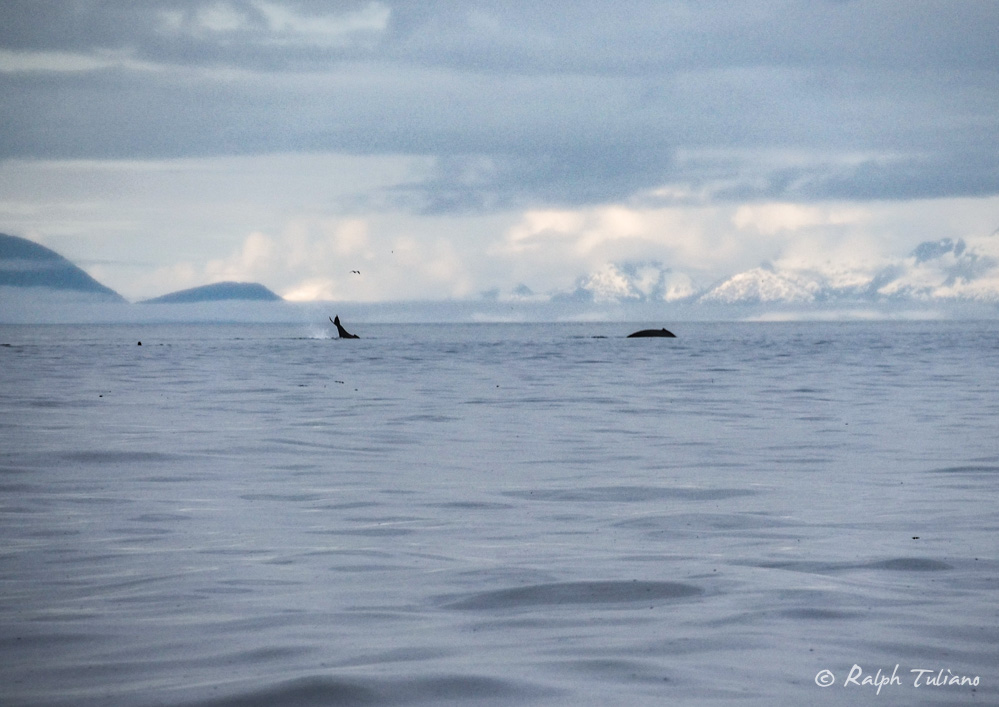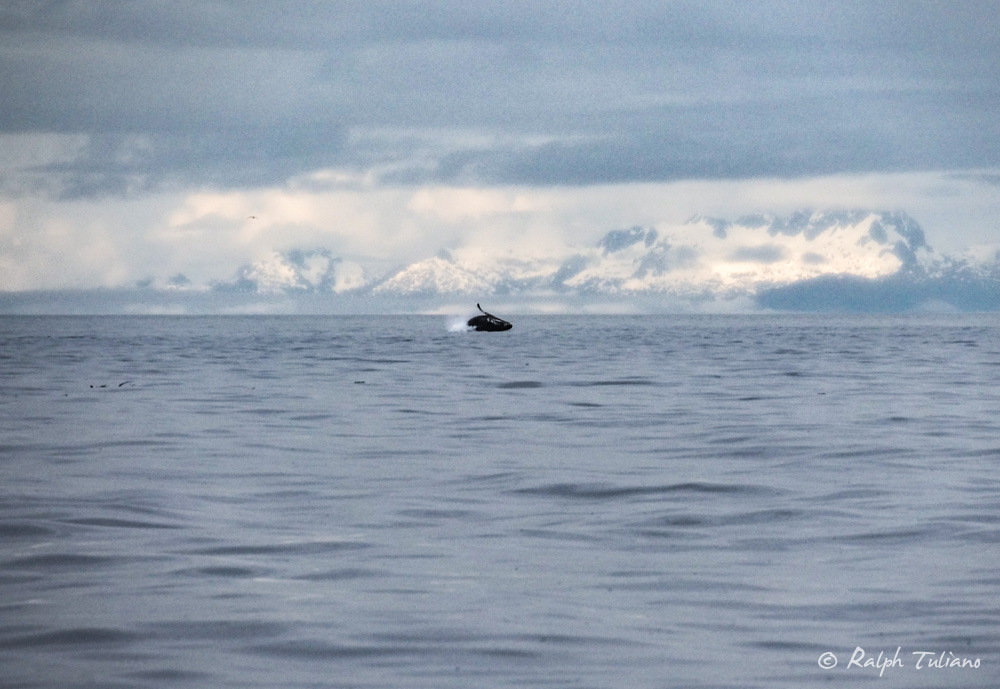 We arrived and anchored in Tracy Arm Cove, and were the only boats there. This is the most secure anchorage in the Tracy Arm/Endicott Arm area, and it's often filled with more than a dozen boats, so having it to ourselves was a treat!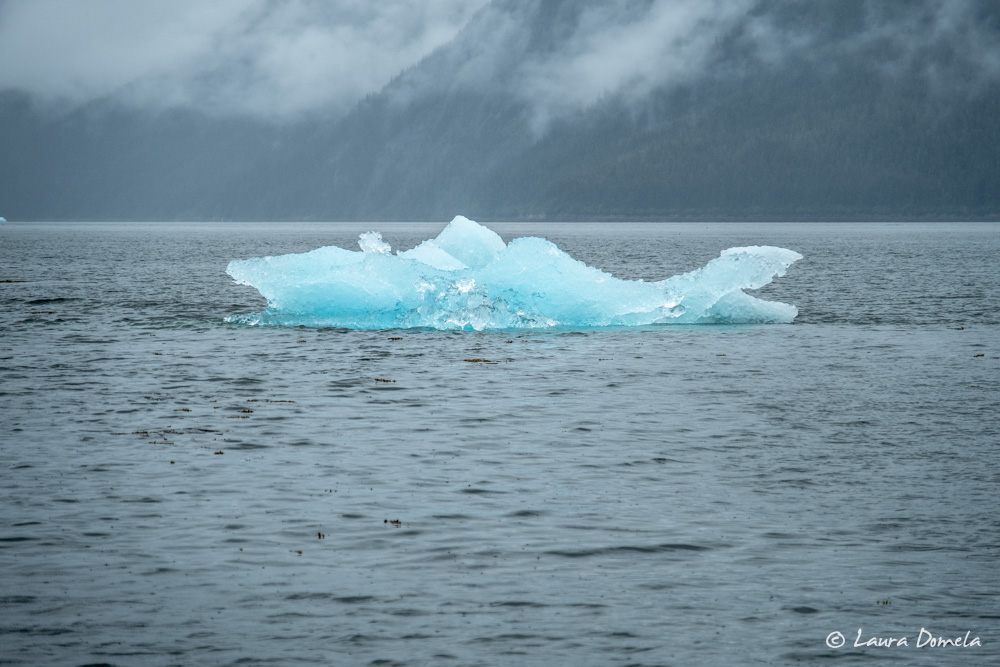 This afternoon we mainly just relaxed and waited out the rain. After a while it cleared a little bit so Jenn went out paddle boarding, and Dan went out for some fishing.
We met for dinner on the Airship/Safe Harbour raft. Laura and Kevin grilled some salmon and made a spinach salad, and Sam cooked up some tortellini with pesto and red sauce options.
Ralph snapped this great shot of Fortunate at anchor in Tracy Arm Cove at about 9:00 p.m.: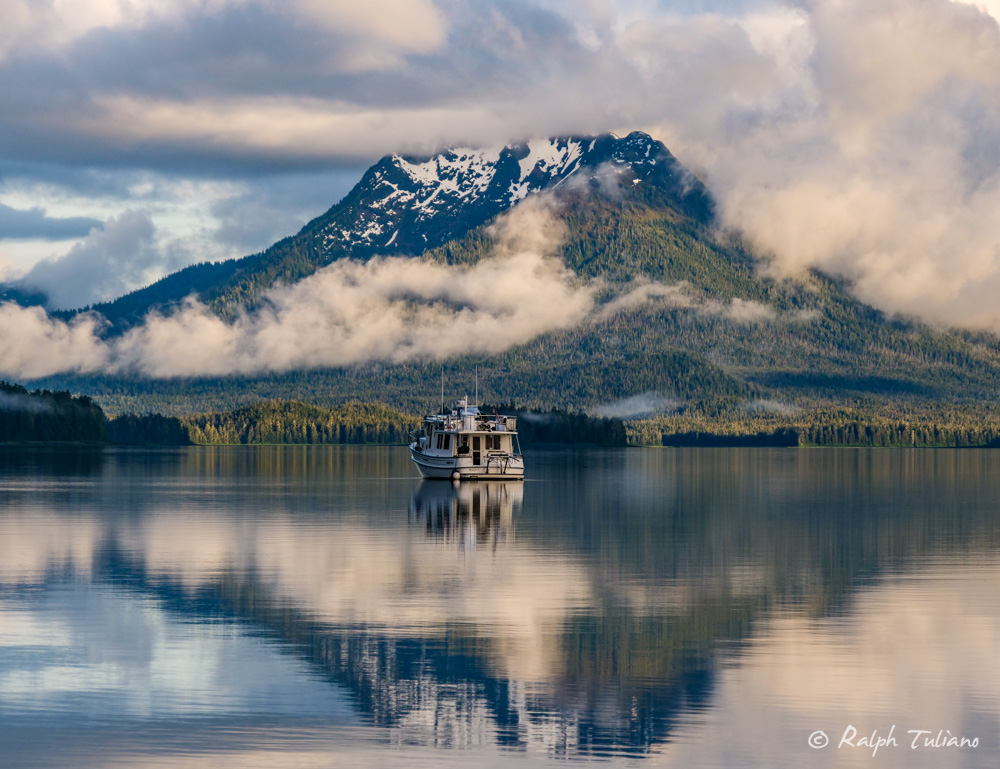 Laura's Dad's Grilled Salmon Recipe
This is a super-easy, very tasty recipe for fresh salmon that I learned from my dad.
Salmon filets
Soy sauce
Fresh (or frozen) ginger
Fresh cilantro
Garlic
Olive Oil
Put salmon filets in a shallow dish and pour some soy sauce over the top. (I do it so the soy sauce gets on the entire surface of the fish. I like to use low sodium soy sauce because it's less salty overall, but the salmon is good with regular as well, just don't overdo the soy sauce or it'll be too salty). Grate frozen peeled ginger gingerly over the top, OR if using fresh ginger, I like to cut inch-long very thin sticks and insert them into the salmon flesh every couple inches or so…but you can also just grate fresh ginger over the top like I did this time. Chop a handful of fresh cilantro and set aside. While the salmon is grilling, sauté some minced garlic in olive oil until it's hot but not browned. When the salmon is done, plate, then top with a spoonful of hot olive oil and garlic, and sprinkle with fresh chopped cilantro.
___________________________________
Today's total: 41.2 nautical miles, 5 hours, 33 minutes
Flotilla total: 938.6 nautical miles, 127 hours 12 minutes underway