**Warning: this post has SO MANY PHOTOS**
The Plan for Today: Leave Tracy Arm Cove by about 11:00 a.m. (so late!!), cruise up Endicott Arm to all the way to Dawes Glacier (or as far as we could get), spend some time playing in the ice, and then backtrack to Ford's Terror so we'd reach the entrance about a half an hour or so before high slack in Juneau. As we've written about before, Ford's Terror can only safely be entered (or exited) at high water slack. High slack at Ford's Terror is based off of high slack at Juneau, and happens anywhere from 15 minutes to an hour after Juneau, depending on the tidal exchange. Today, high slack water in Juneau was at 7:13 p.m. Assuming we could enter Ford's Terror by 7:30 or 8:00 p.m., we planned to arrive at the entrance around 7:00 p.m.
We woke to thick fog outside of the Tracy Arm Cove anchorage, but beautiful blue skies overhead. Kevin and Dan spent the morning doing some halibut fishing (and listening to humpback breaths nearby, unseen in the fog).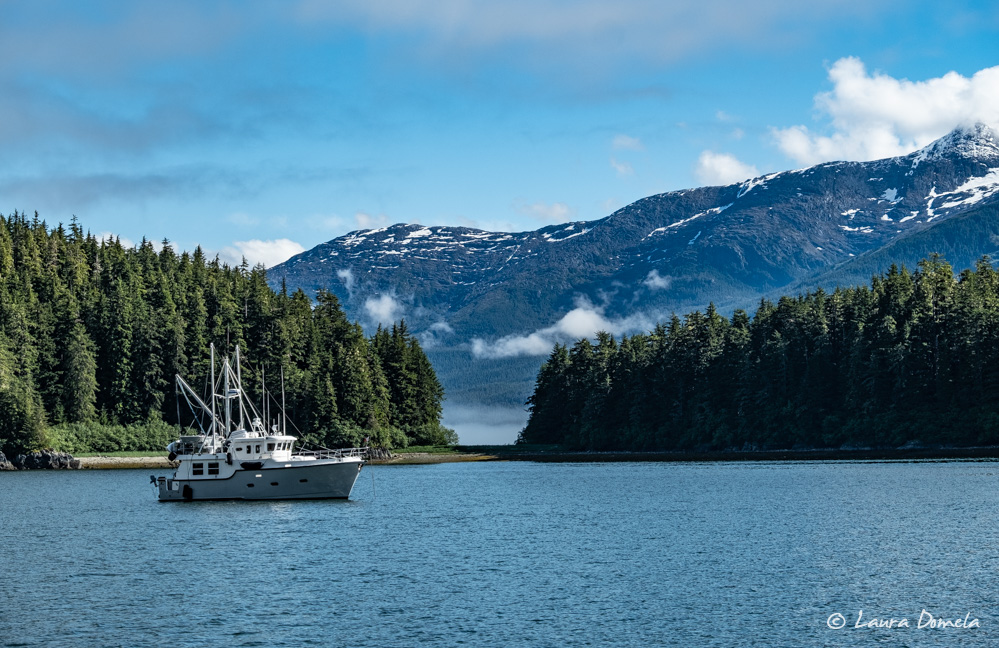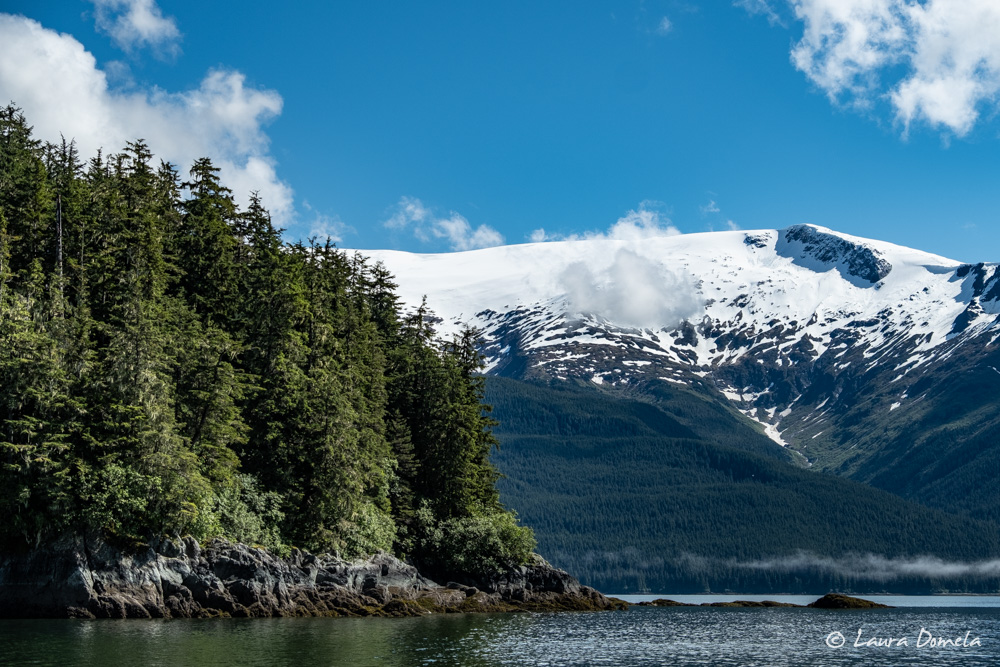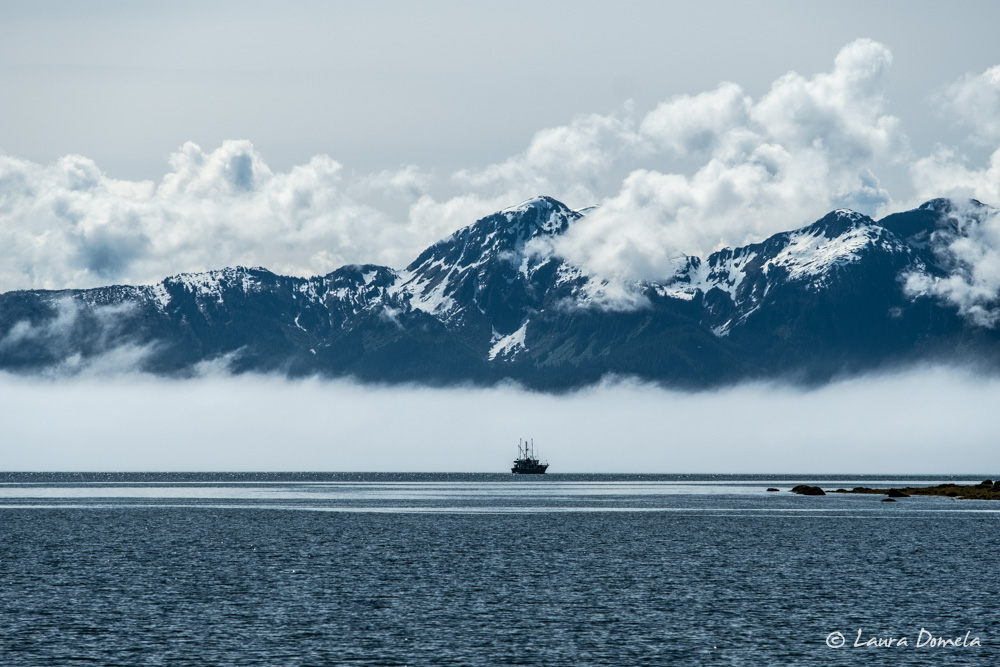 Cassidy (the Nordhavn 40) left a bit earlier than the rest of us, since they're a little slower. Kevin and Dan returned, fish-less, and soon afterwards the rest of the group headed out. By this time the fog had cleared quite a bit!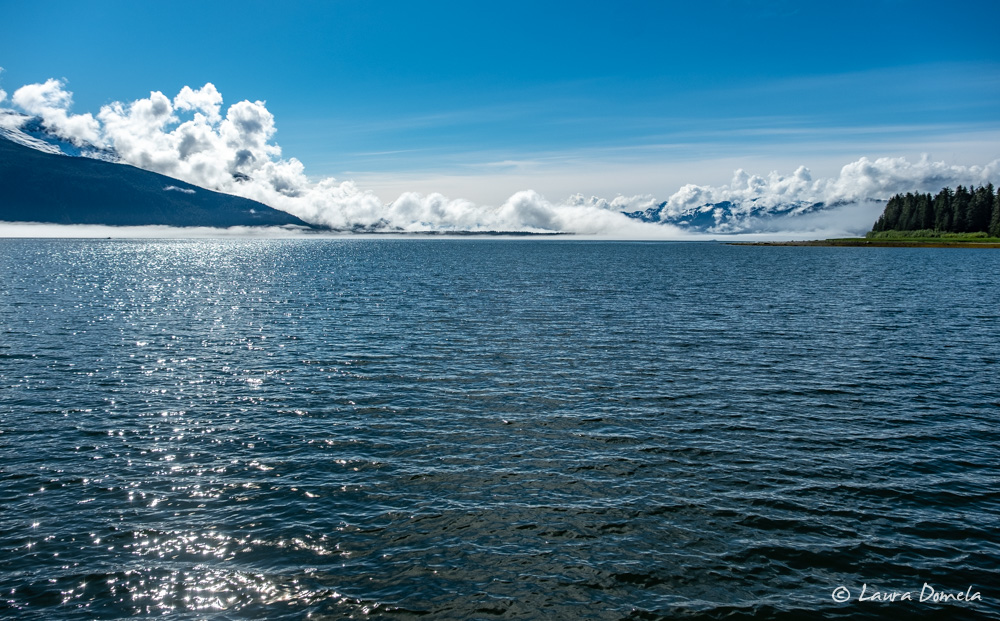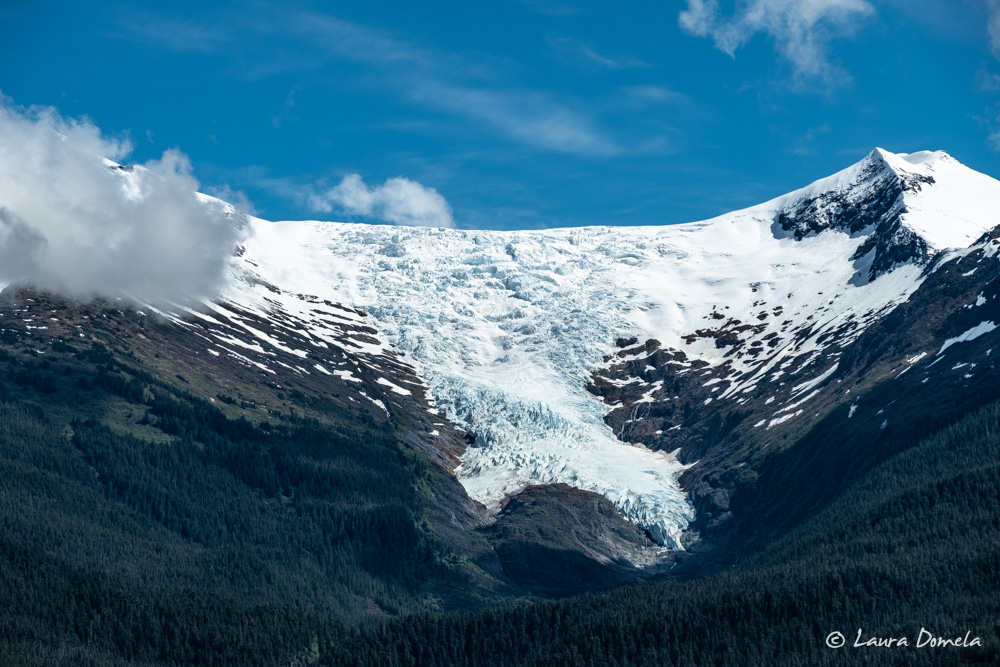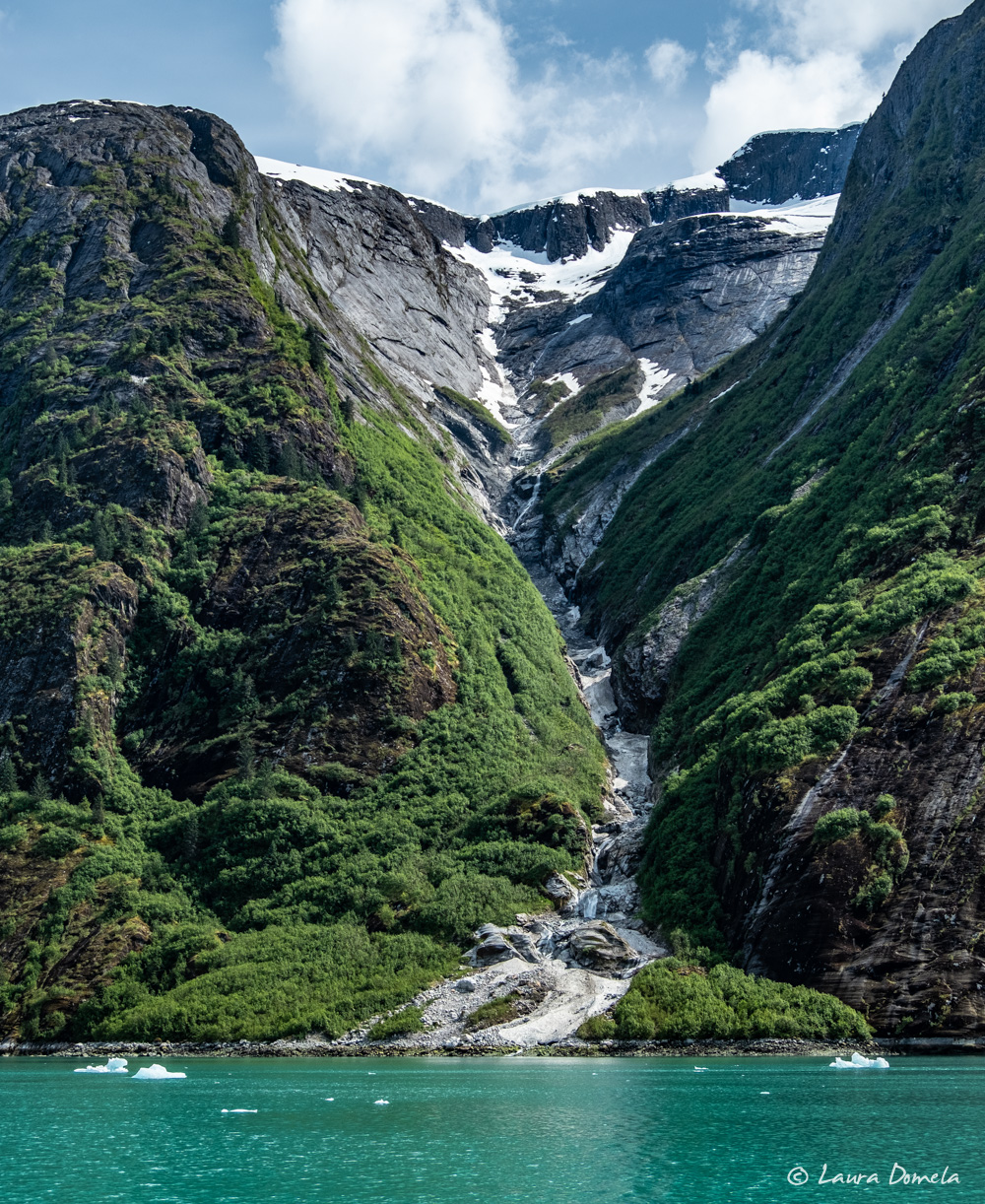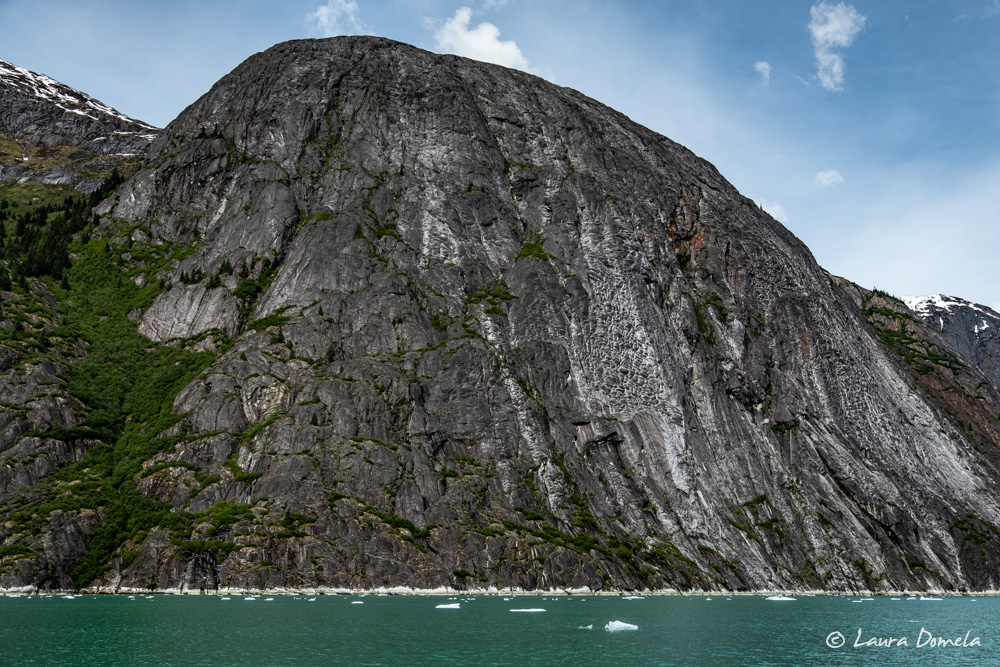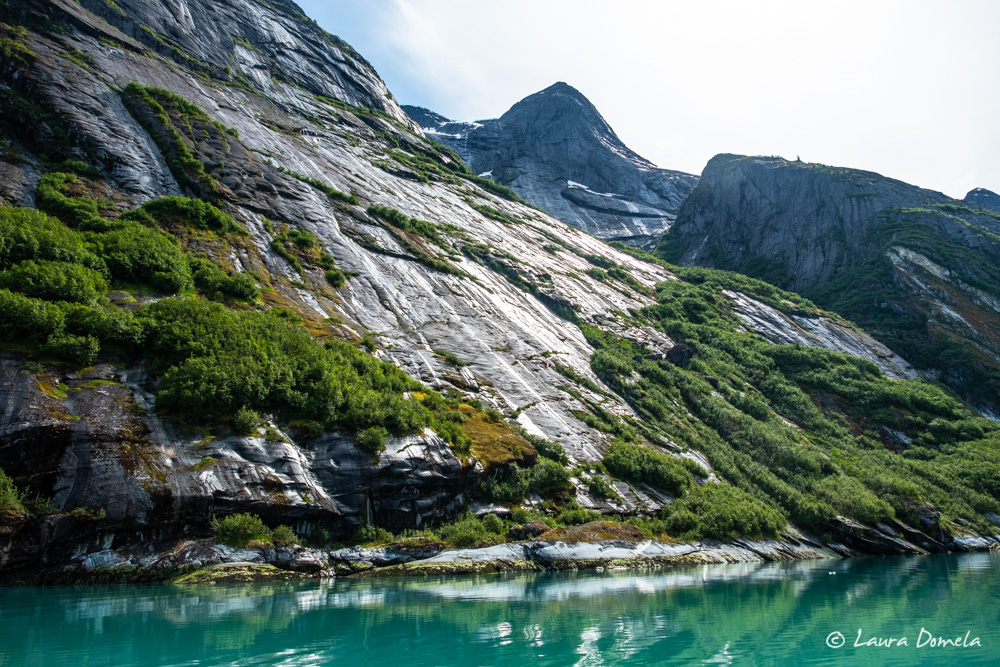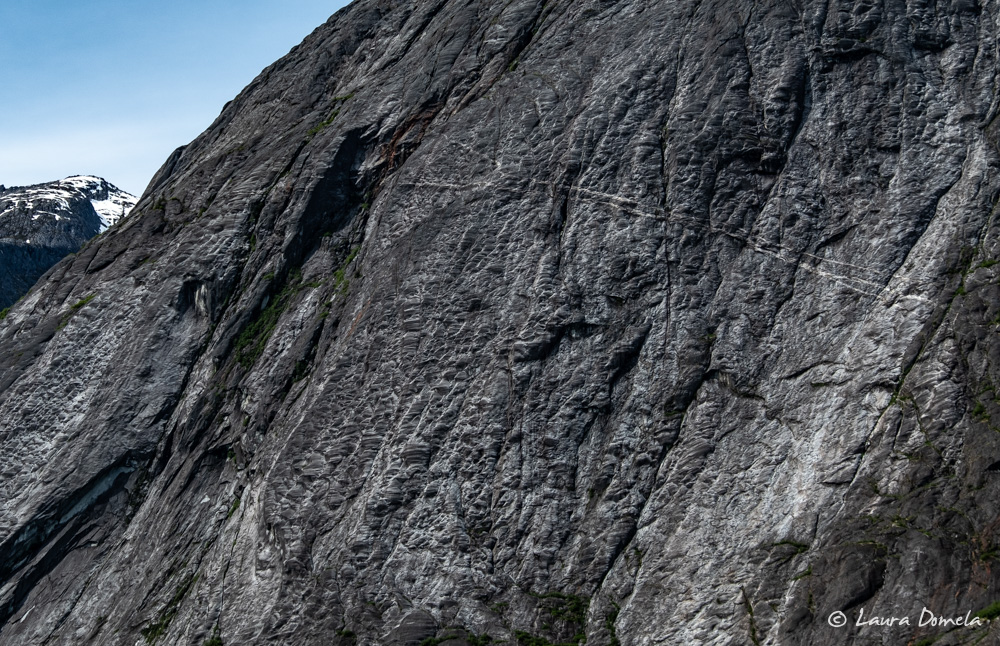 Endicott Arm was mostly clear of ice, and we were at cruising speed almost the entire way.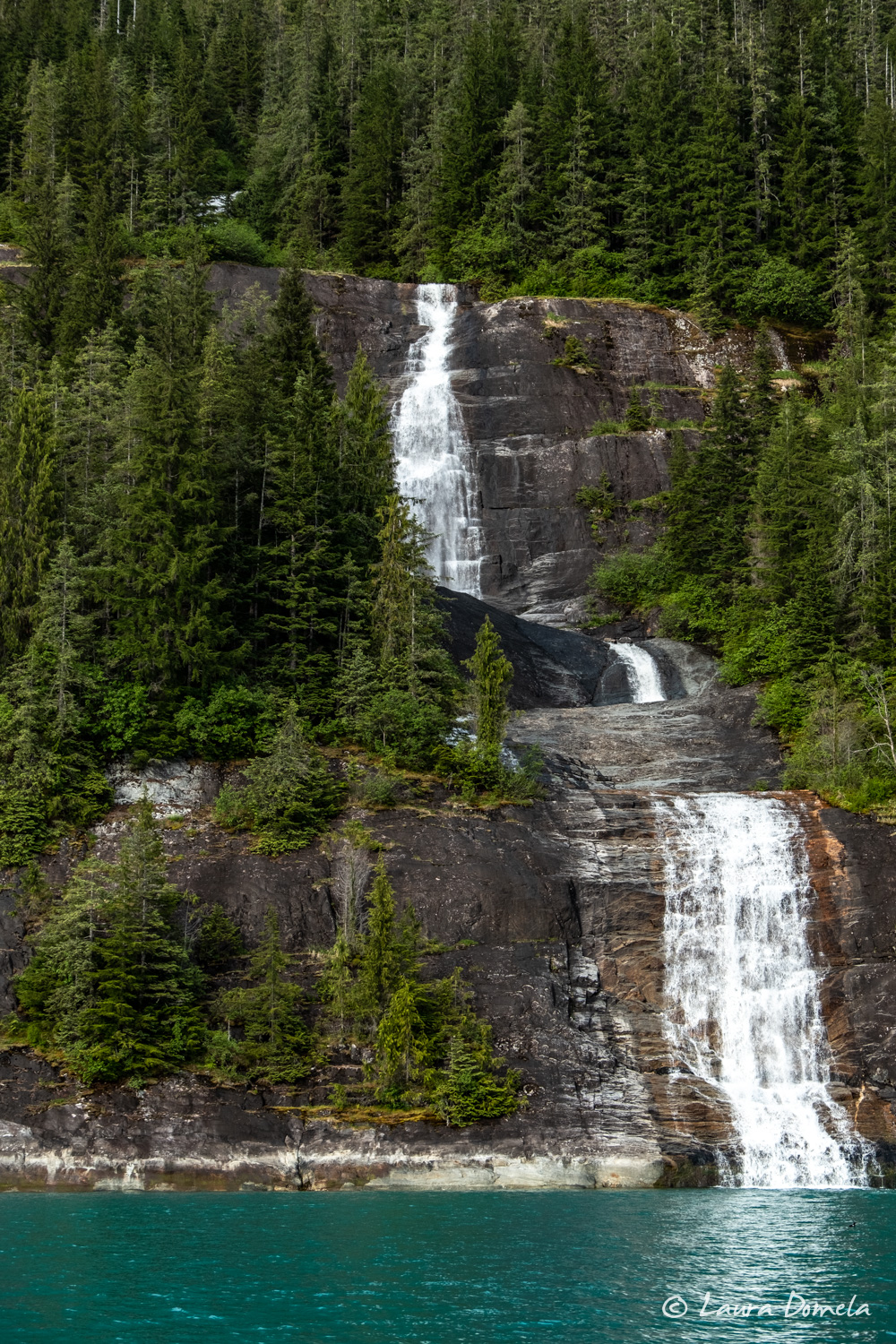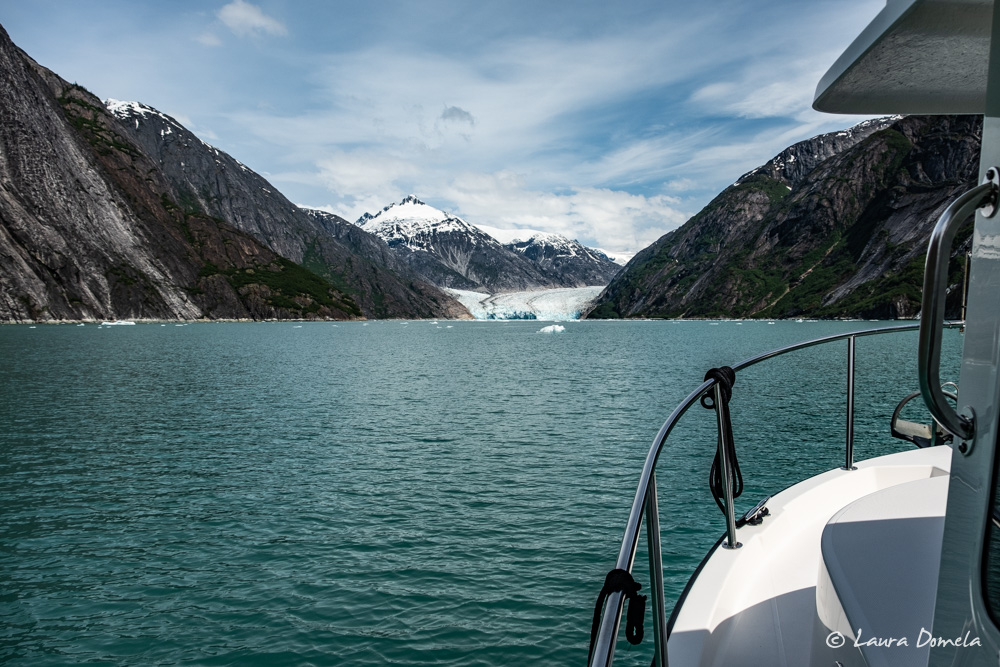 We picked our way through a little bit of ice to get further toward the glacier, but it wasn't so chocked with bergie bits that we had to do much maneuvering to avoid anything while we drifted and enjoyed the incredible scenery.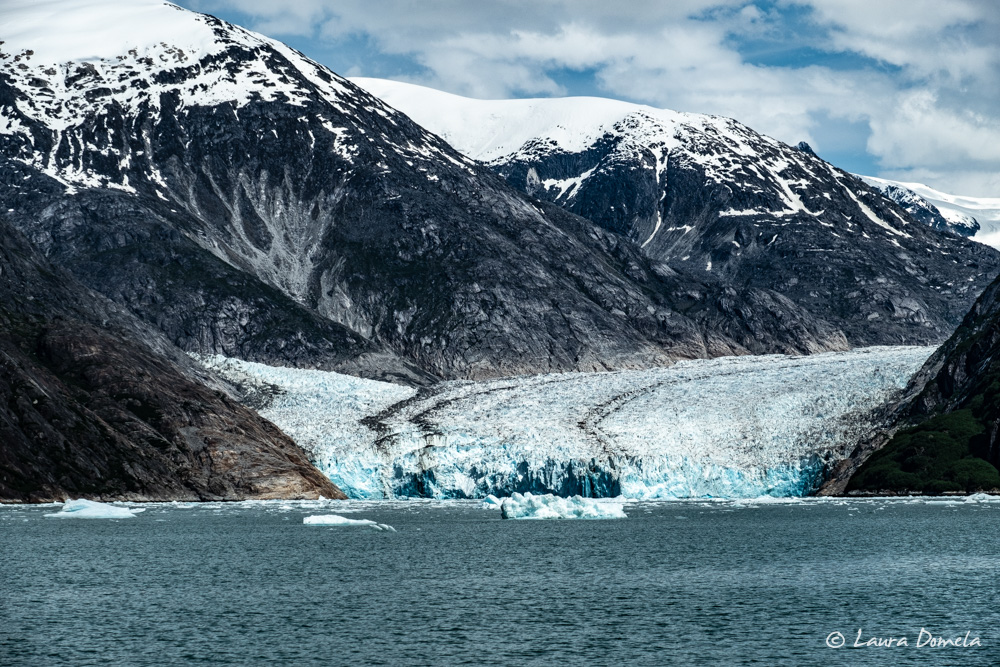 Kevin and Sam both took the drones up for some aerial photos: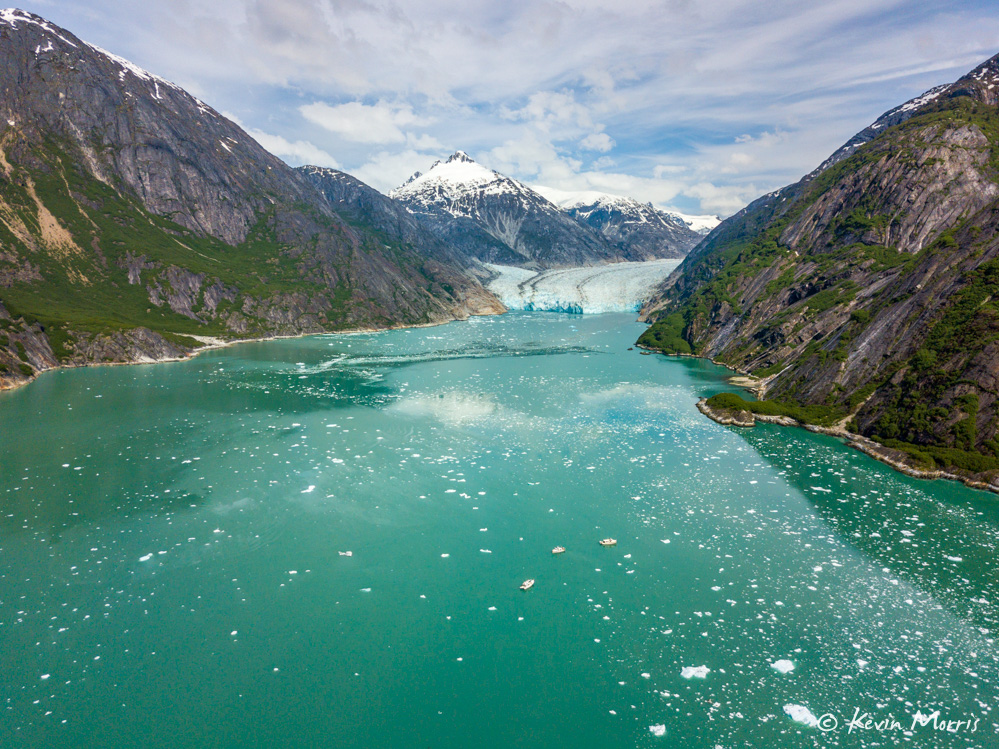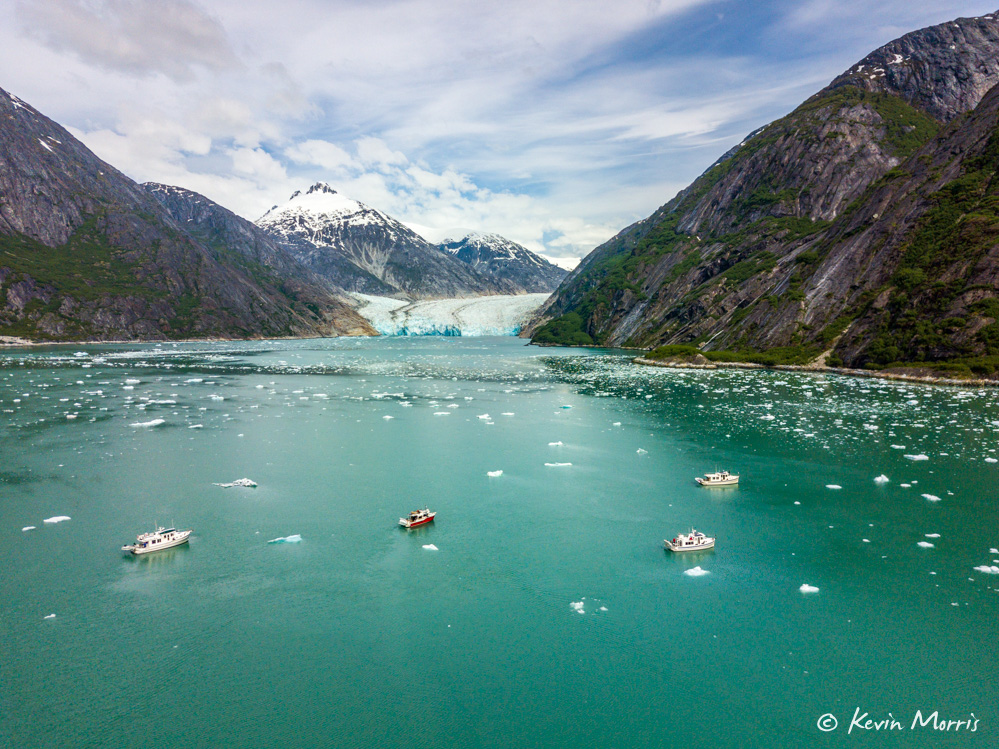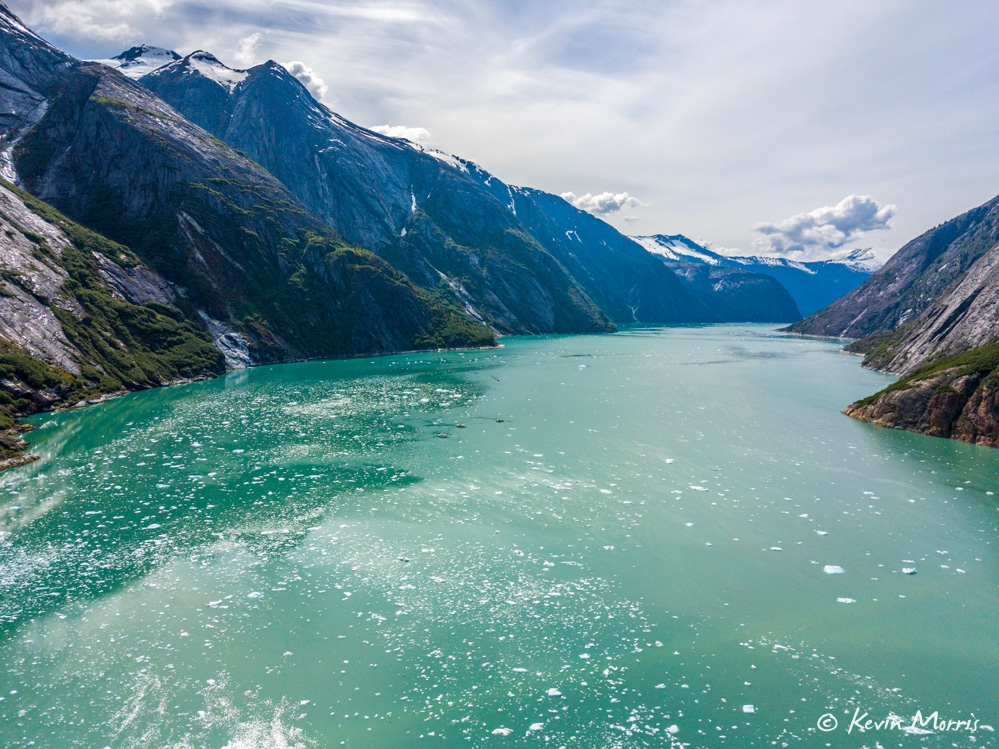 We also took turns taking photos of each others' boats in front of the glacier: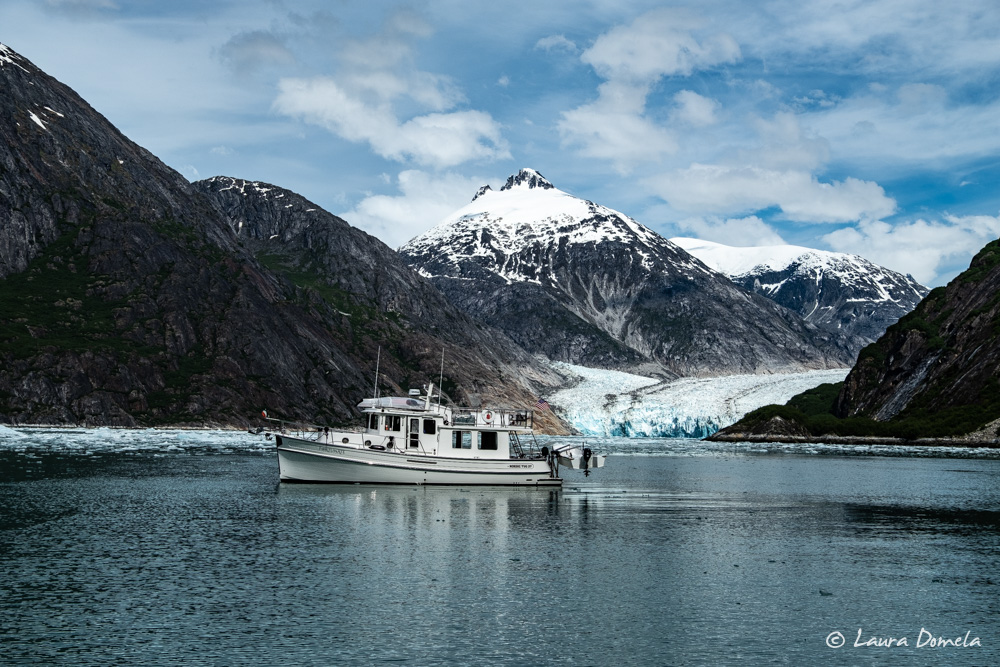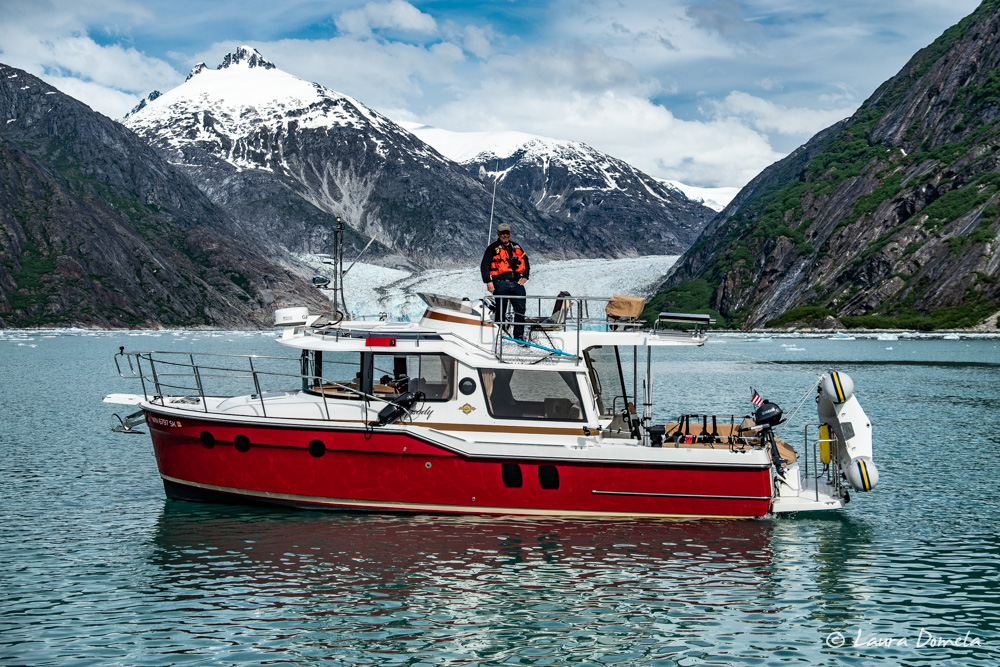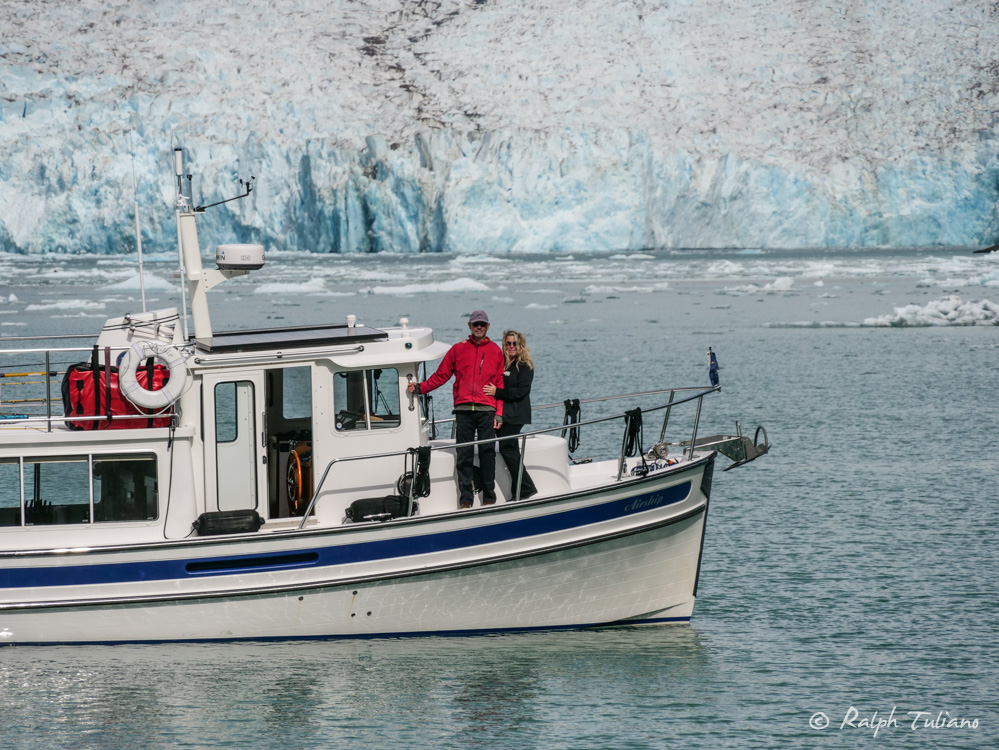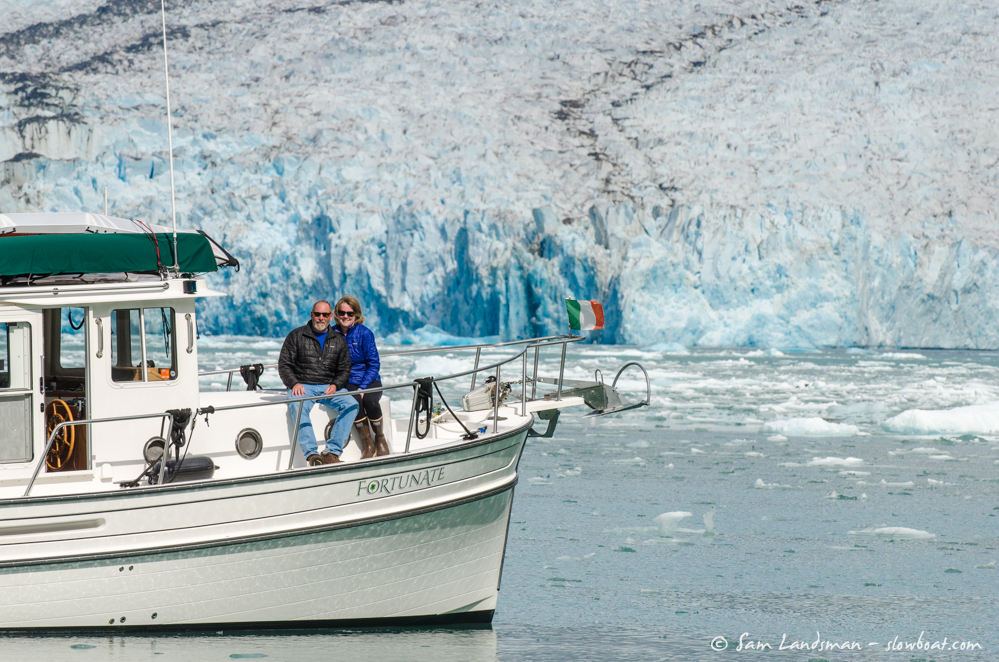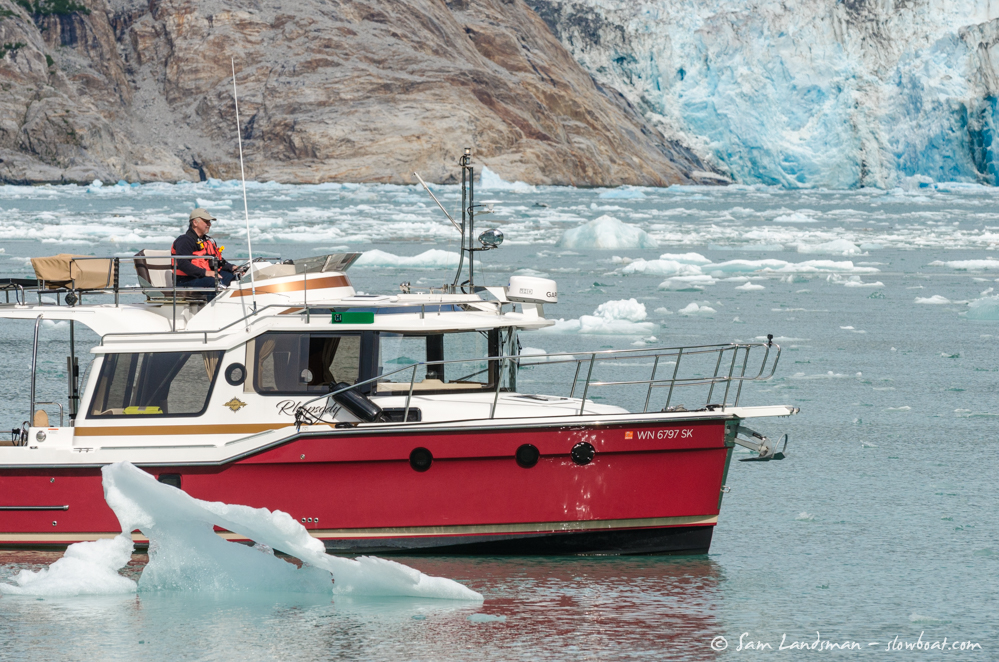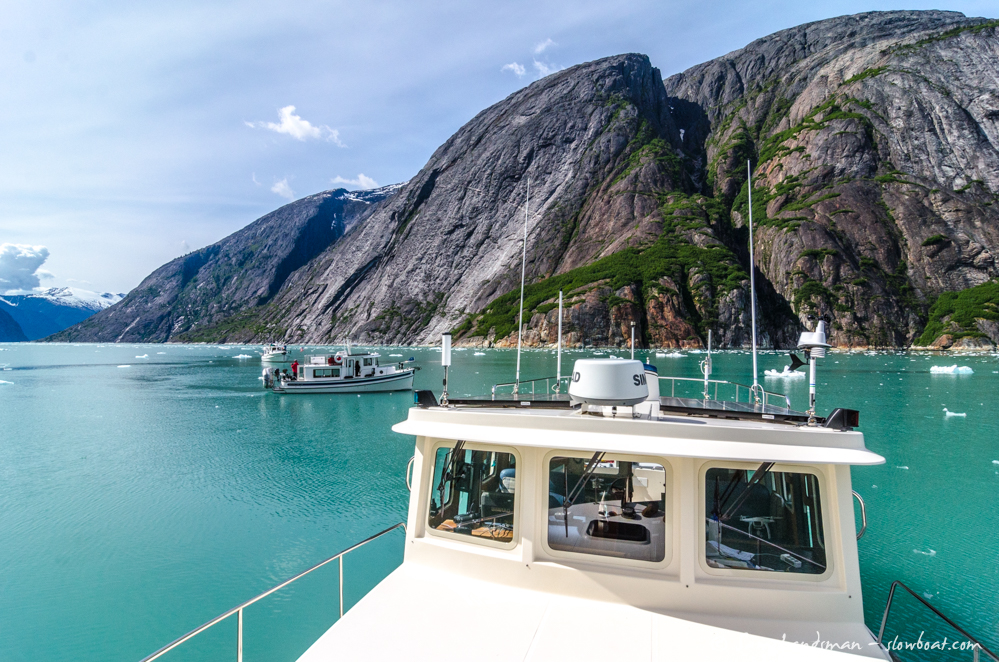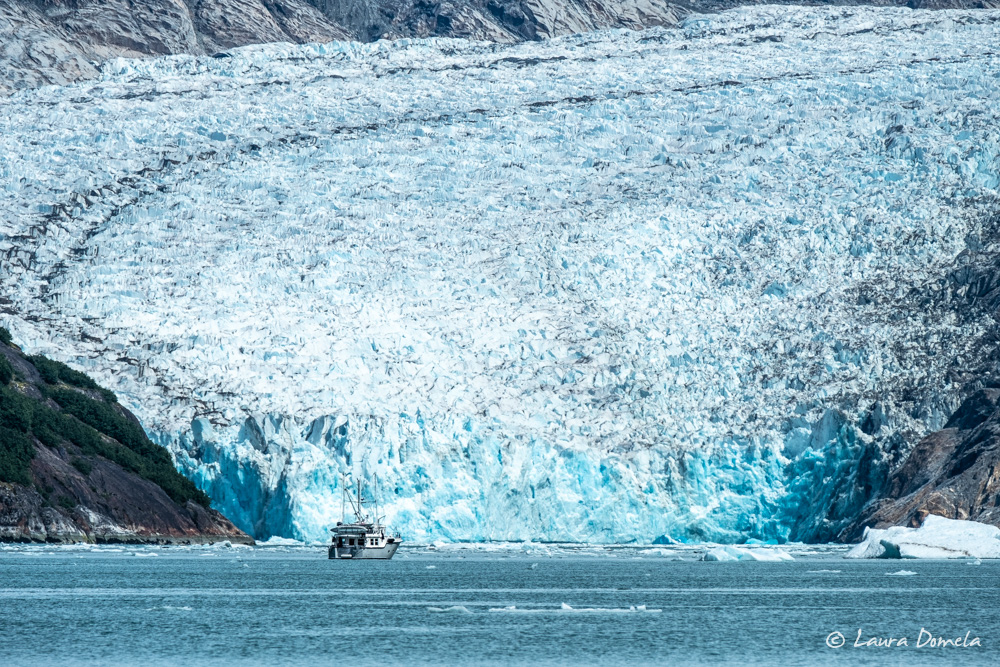 Harbor seals frequently come to glacial fjords to have their pups. Being able to haul out onto icebergs reduces the threat from predators significantly. (More info about the glacial habitat of harbor seals and pups can be found here.)
It is recommended that you keep a good distance from the floating seal-bergs, and take your photos with long lenses: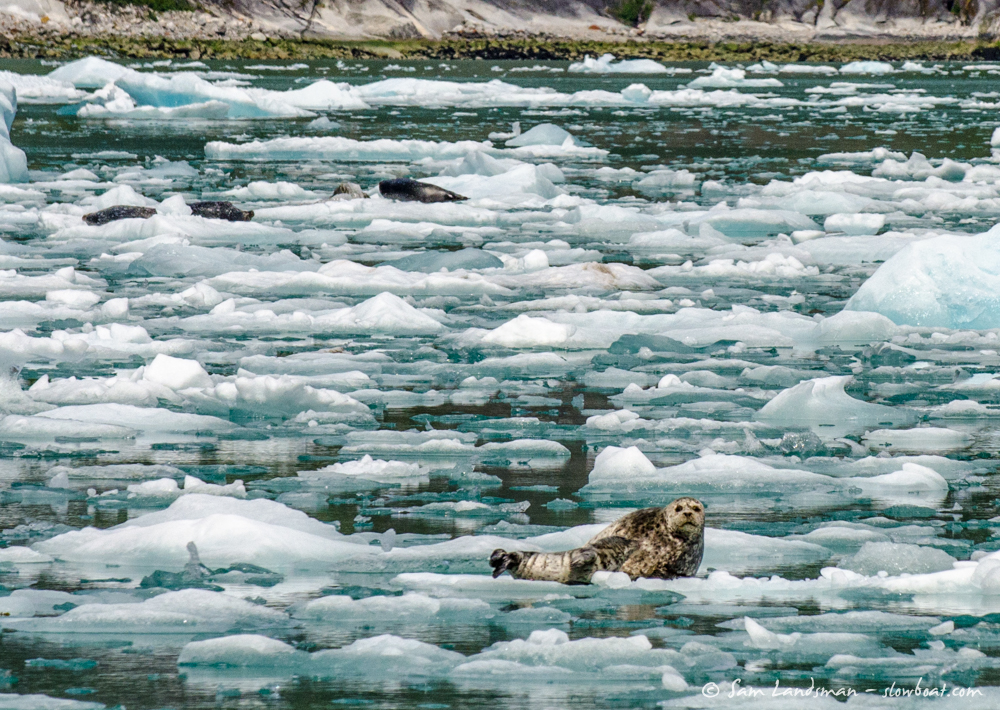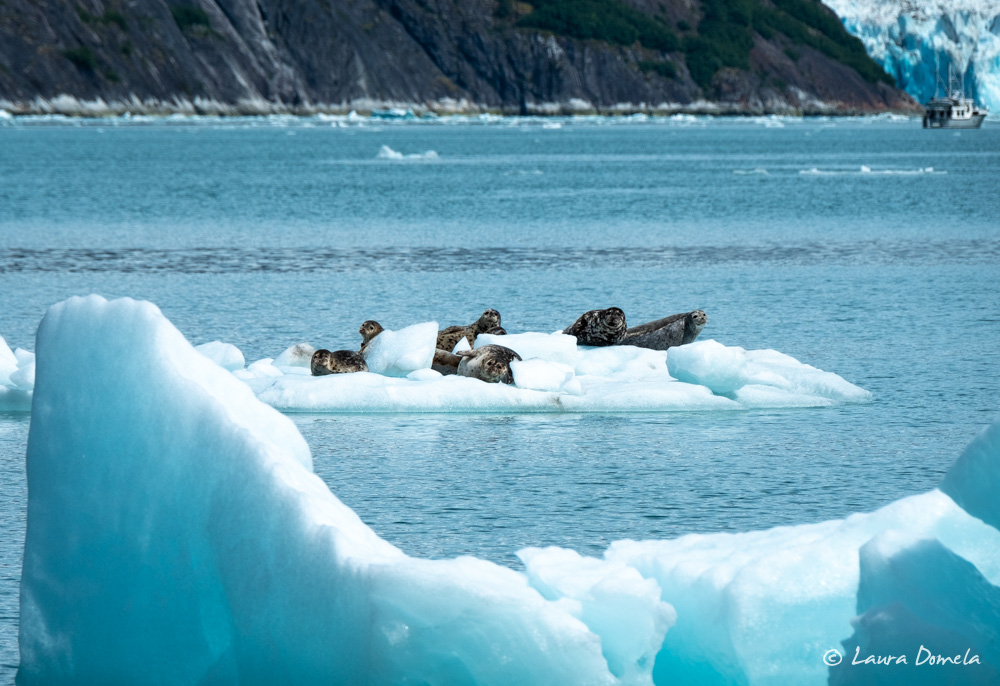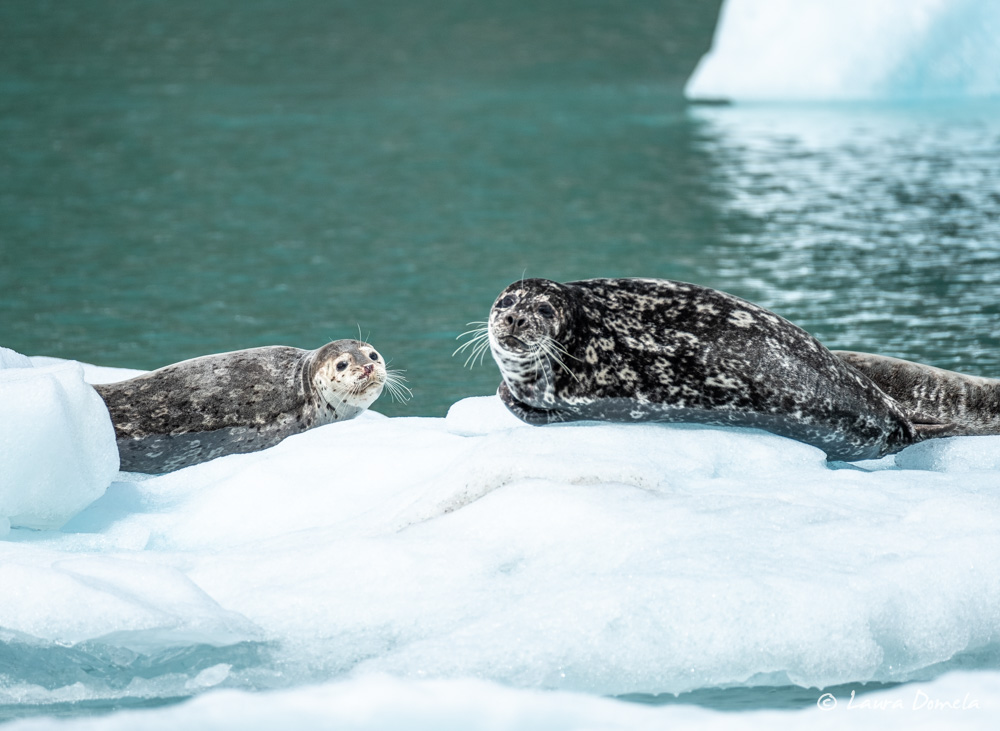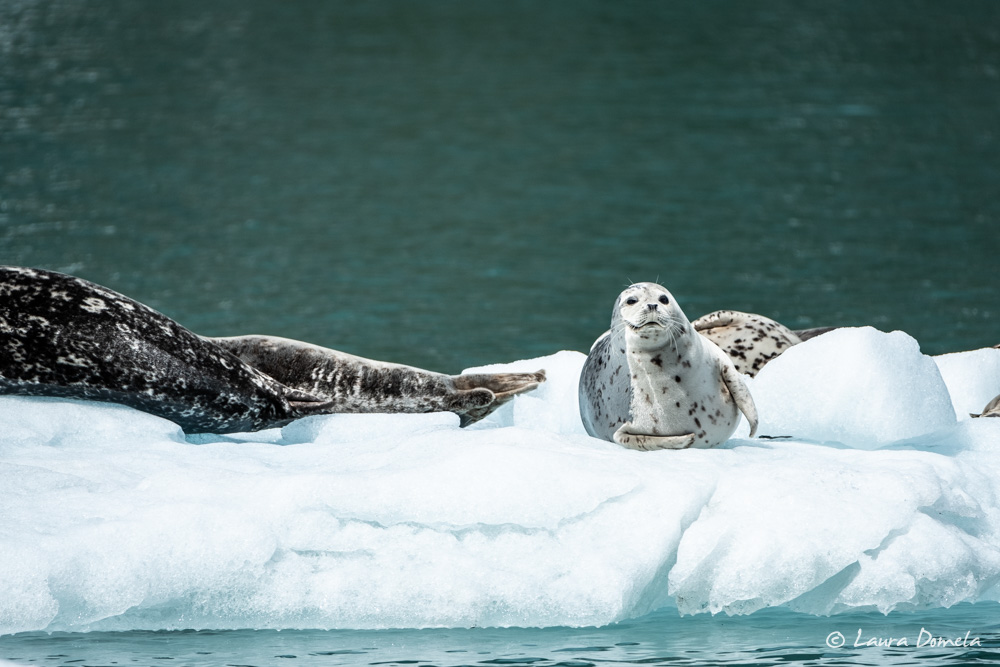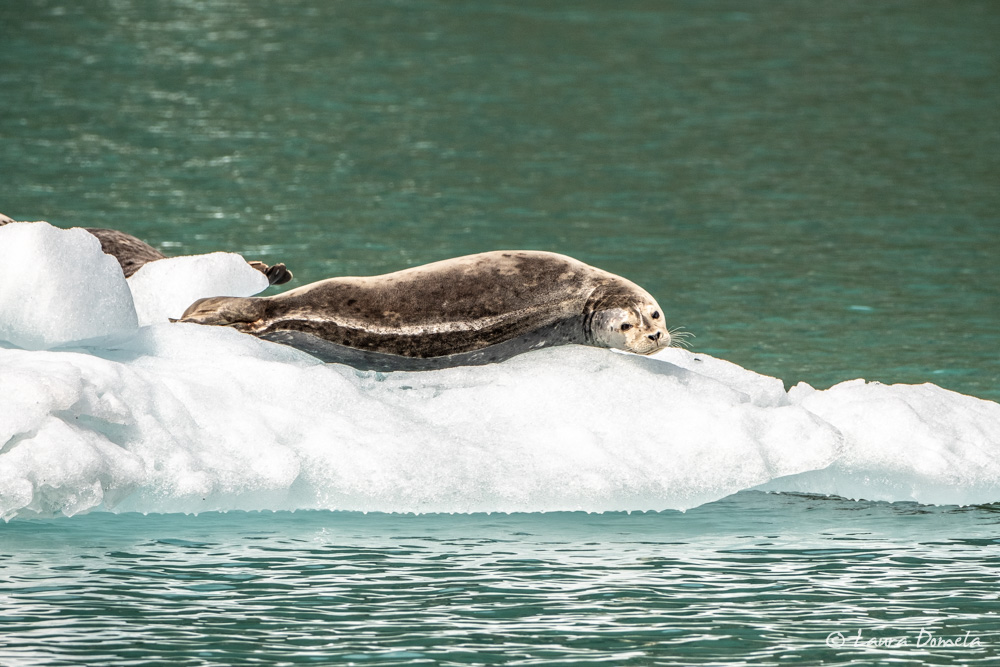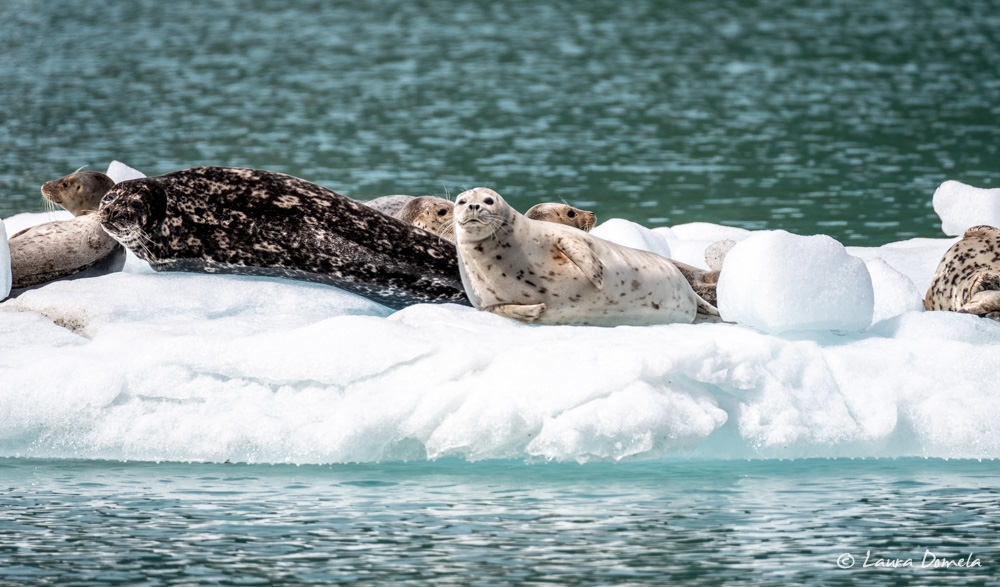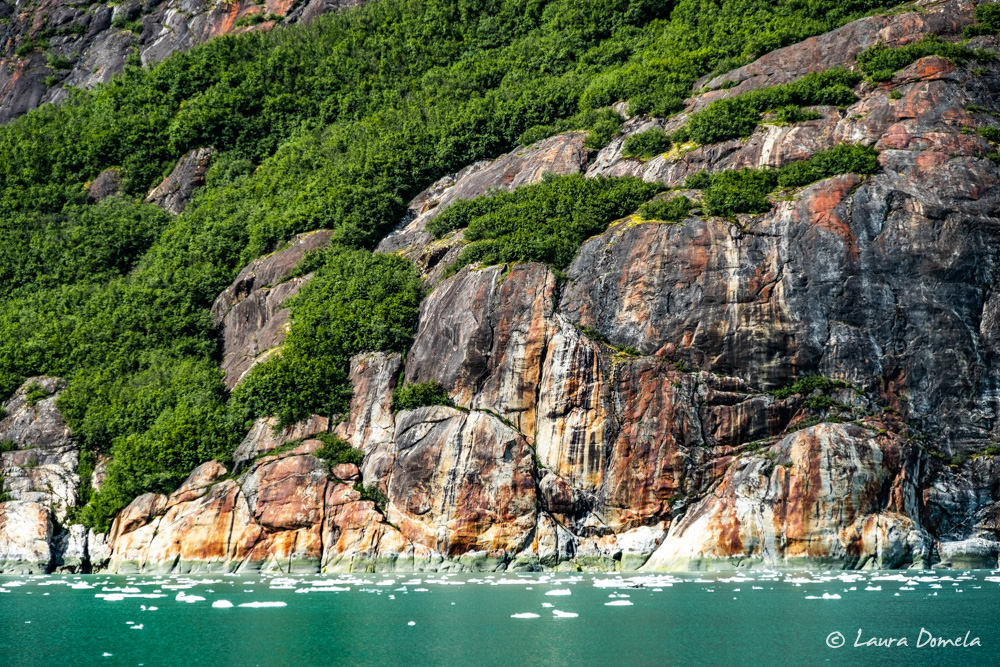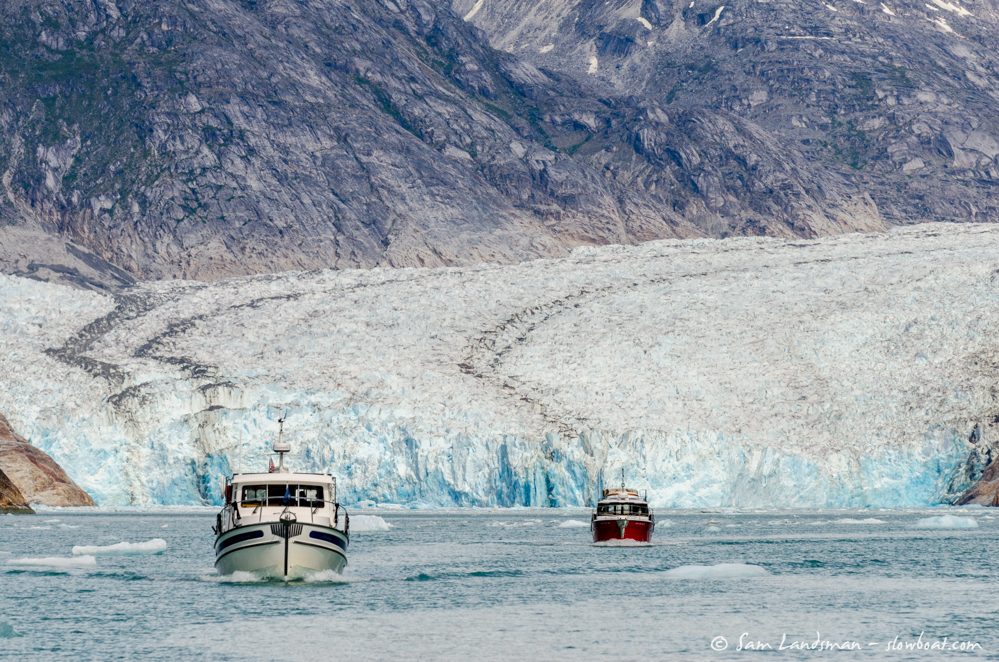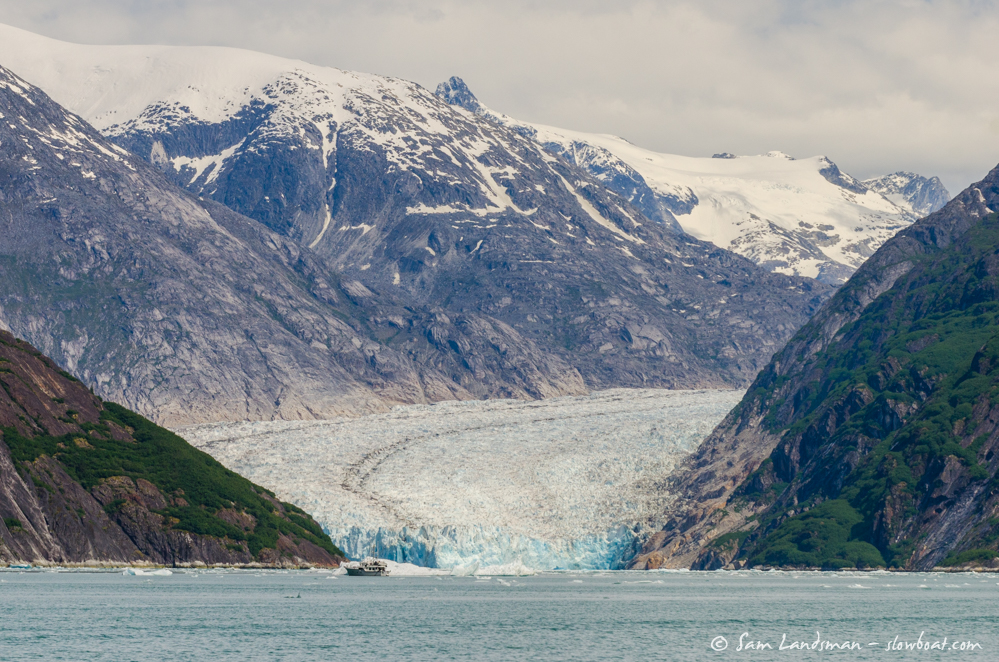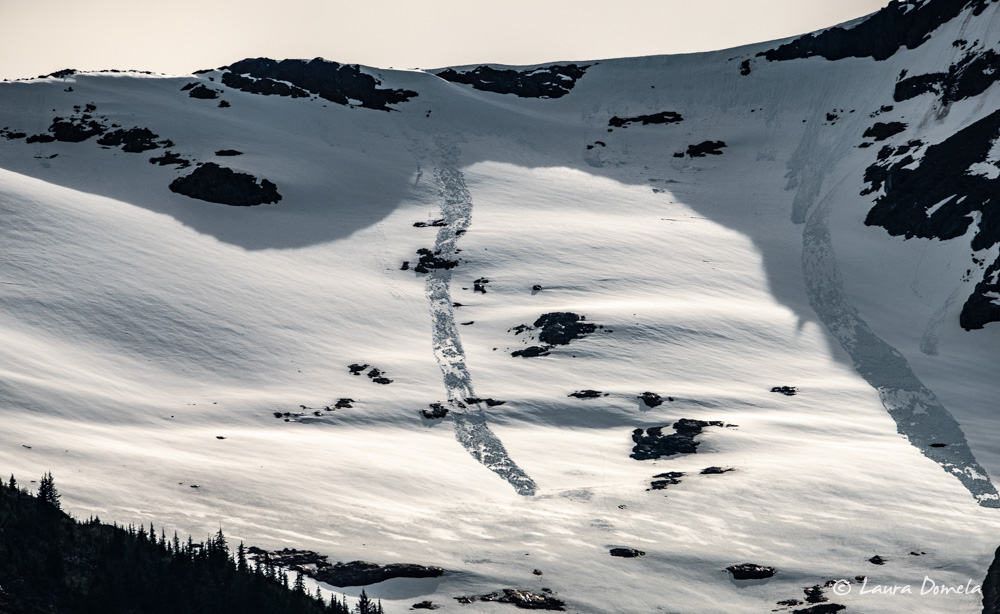 We were the only ones in at the glacier, but on our way back to Ford's Terror we encountered one of the new monster cruise ships cruising Alaska this summer: 168,028-ton Norwegian Bliss. Norwegian Bliss has 20 decks, is 1,082 feet long, and is capable of holding 4,004 passengers at double occupancy (I believe the staff numbers around 2,000). The Norwegian Bliss isn't nearly as big as Royal Caribbean's new vessel, however — Symphony of the Seas is 228,081 tons, and is currently the world's biggest cruise ship.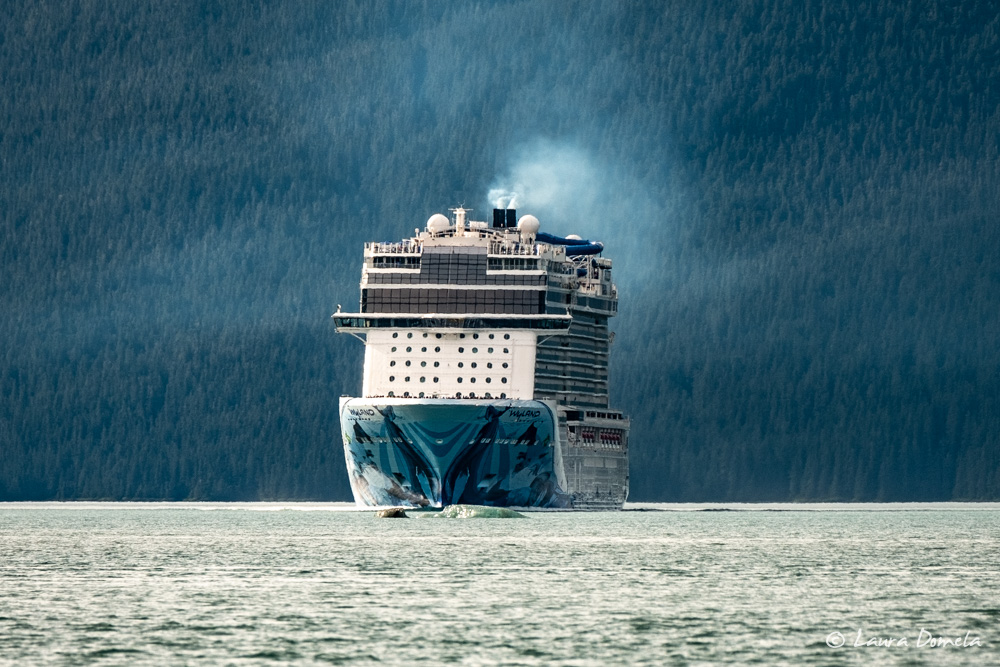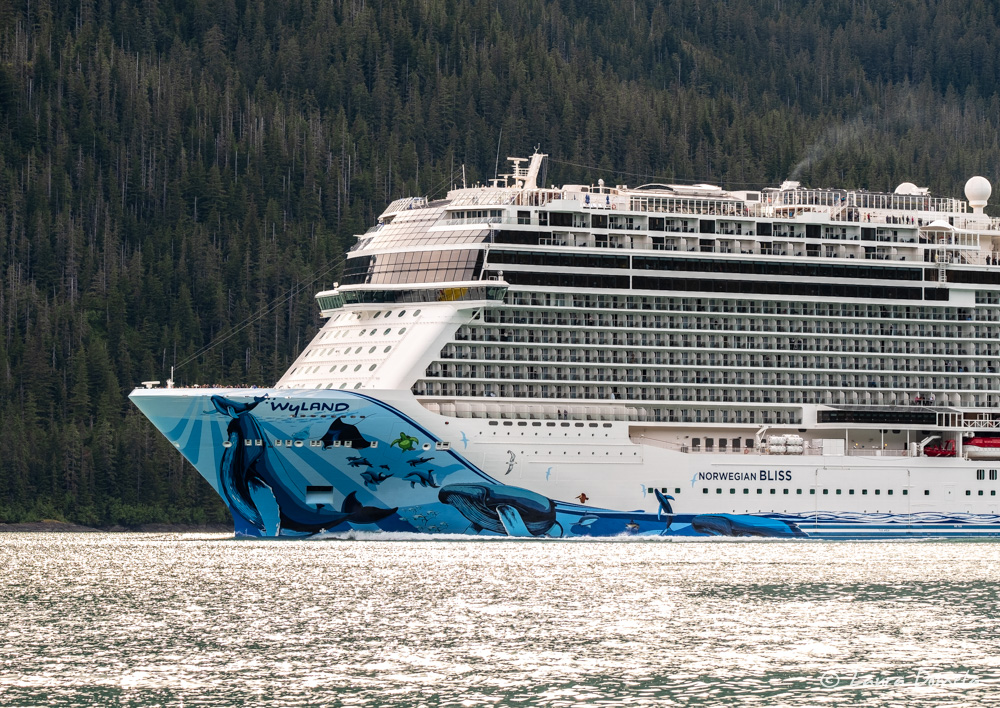 Designed to have all the trappings of a major mega-resort, Bliss features such over-the-top amusements as a two-deck-high racing course where passengers compete against each other in electric go-carts — a first for a vessel based in North America. 

Like Joy and Escape, Bliss also has a sprawling water park with multistory water slides; a restaurant-lined boardwalk; Tony Award-winning production shows, including Jersey Boys; and a giant spa. Dining options include a modern Texas barbecue eatery called Q that will feature live pop country music — a new concept for the line. [Source]
Anyway. Back to Ford's Terror.
We waited a short while at the entrance to Ford's Terror while Kevin took a dinghy in to see how the current was running. He reported it was still flooding but only at about 1.5-2 knots and that there was no drama at all inside. We all transited easily starting at about 7:15 p.m. Today's tidal exchange was quite small—only about 10 feet—which we think explains why we could go through earlier than normal.
Once anchored in the west arm of Ford's Terror (where we were again the only ones), several of us took advantage of no rain to do an evening dinghy excursion.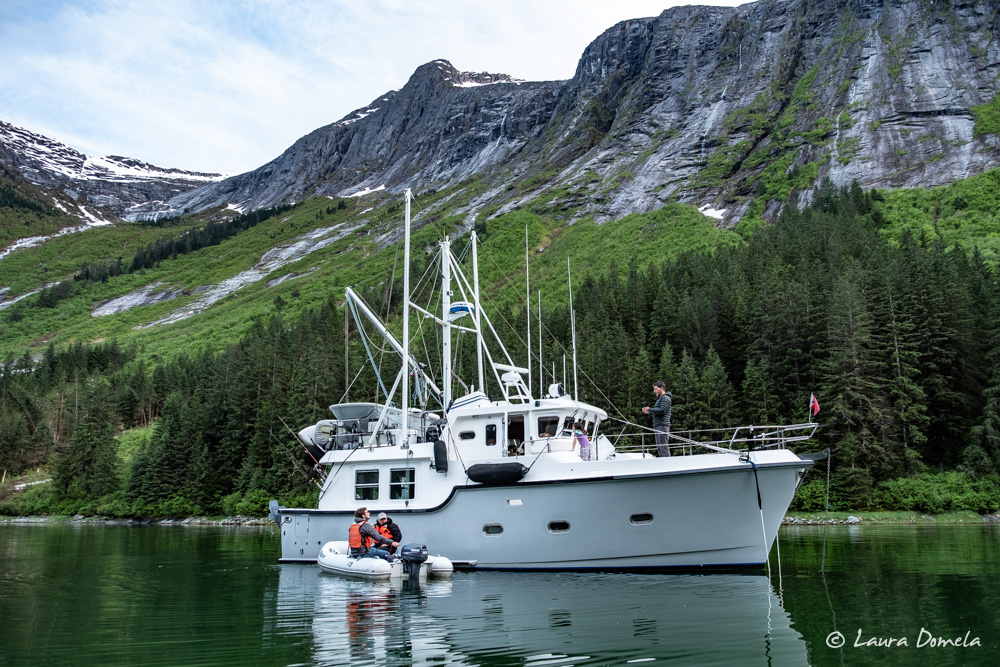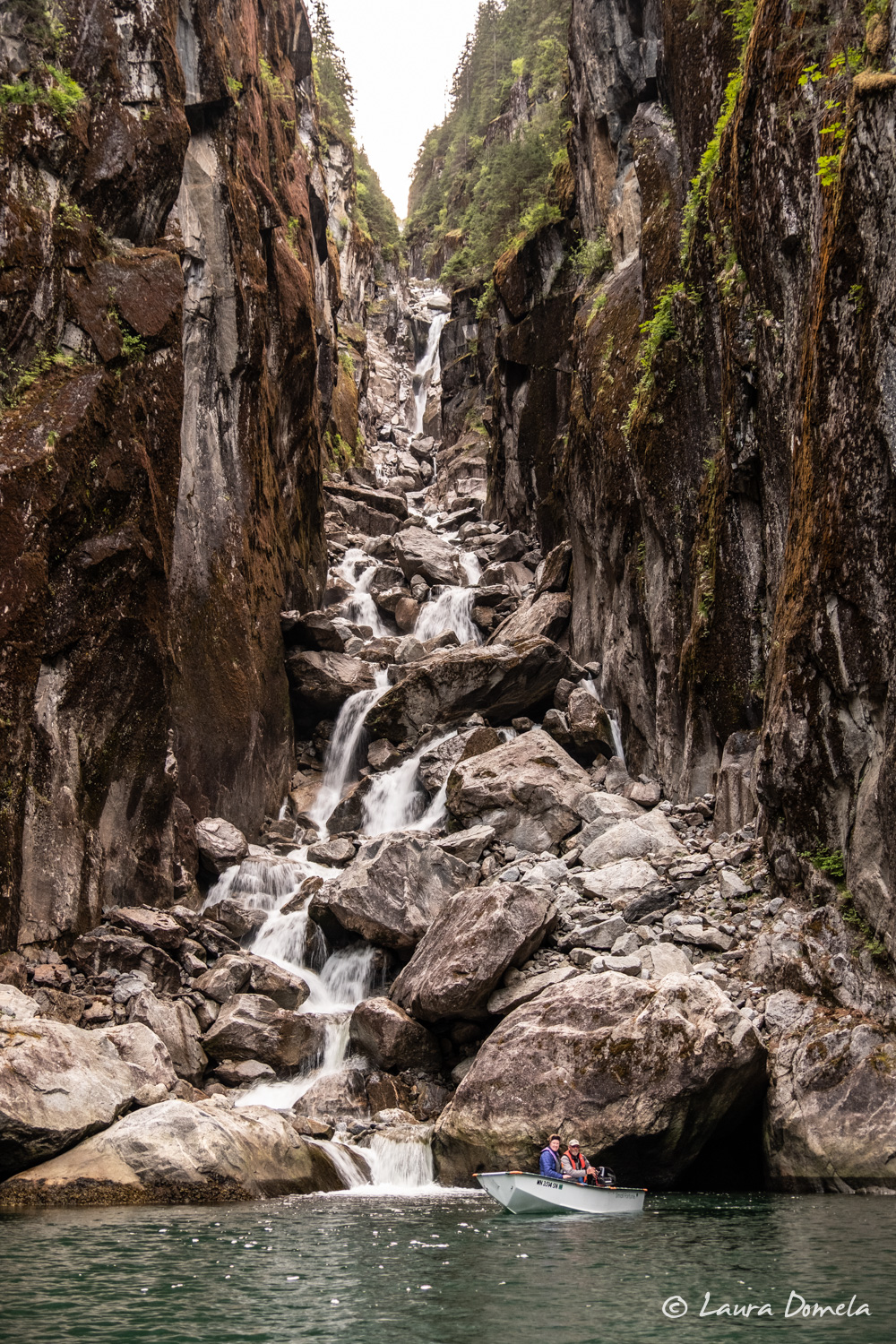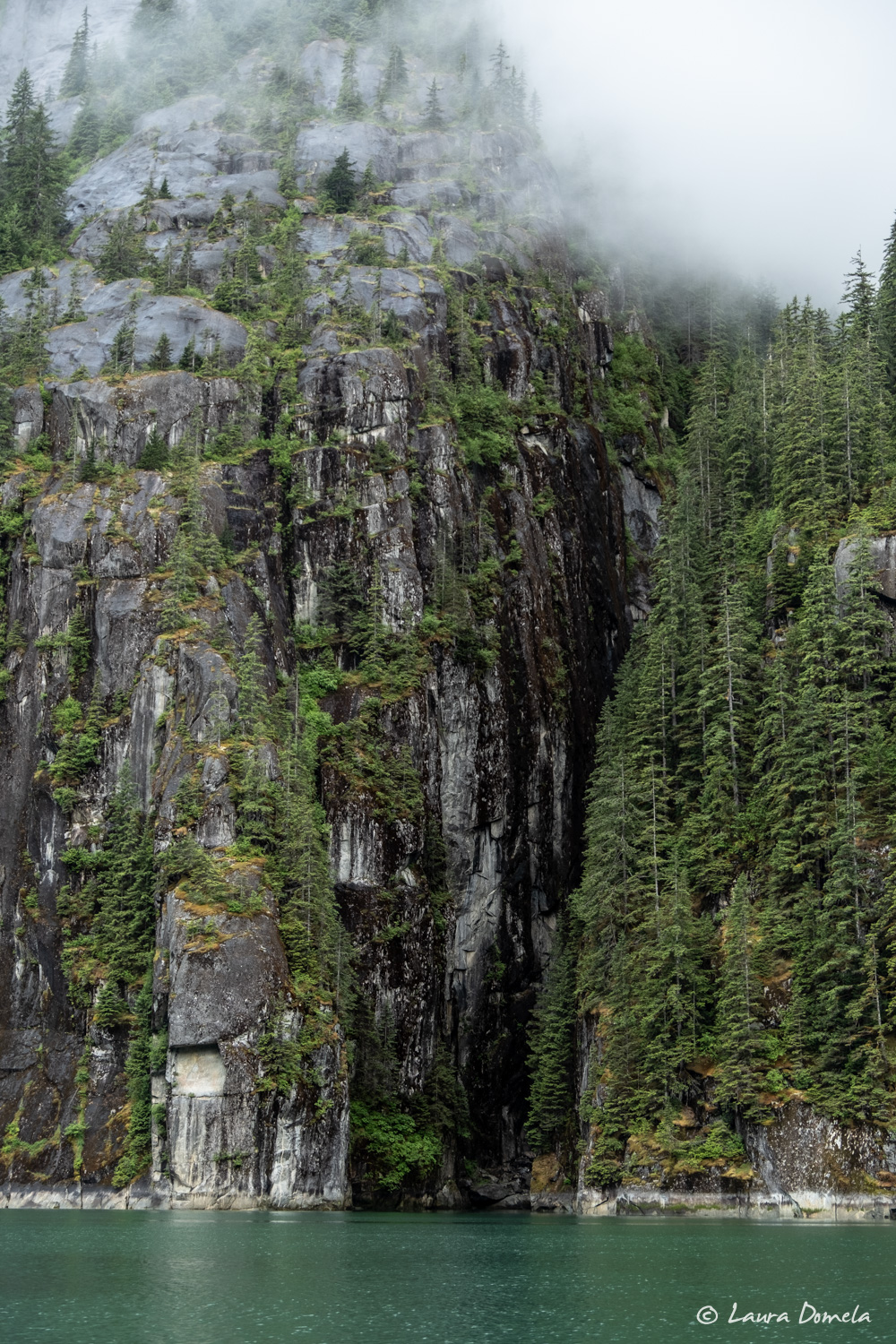 Tomorrow we'll have all day to explore and enjoy Ford's Terror!
Today's total: 52.0 nautical miles, 9 hours, 8 minutes
Flotilla total: 990.6 nautical miles, 136 hours 20 minutes underway