We pulled anchor a little after 7:00 a.m. in order to arrive at the entrance (exit) to Ford's Terror by about 8:00 a.m.
We were a little early but knew from our experience coming in that the tidal swing was low and that meant a longer-than-usual window for transiting the rapids. Airship went through first and only noted about a knot and a half of opposing current, so the rest followed: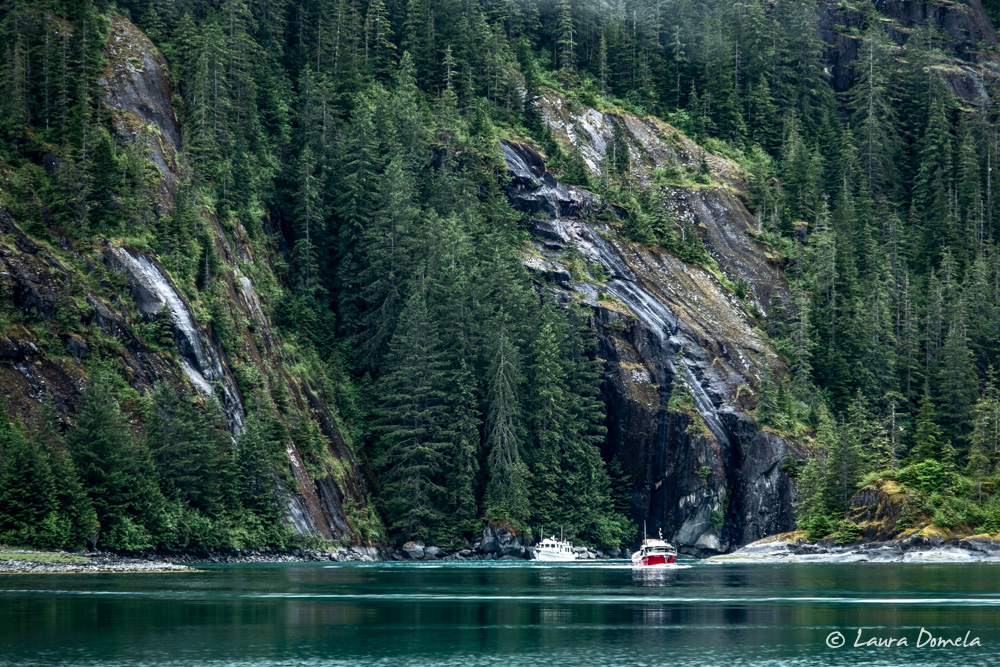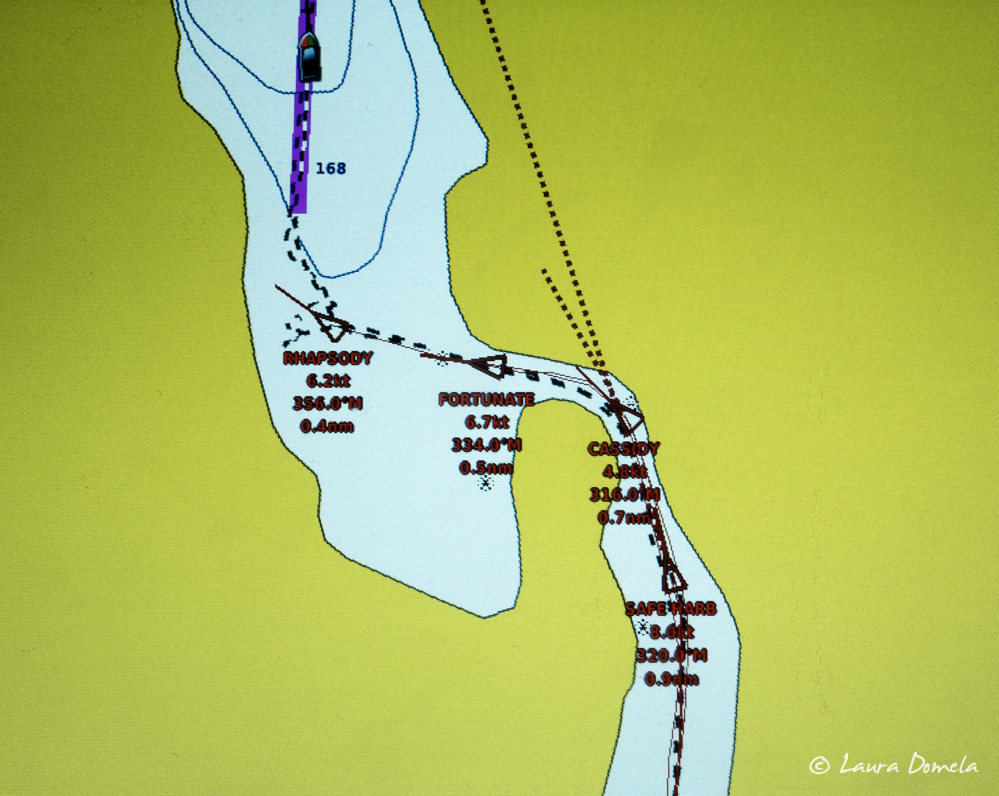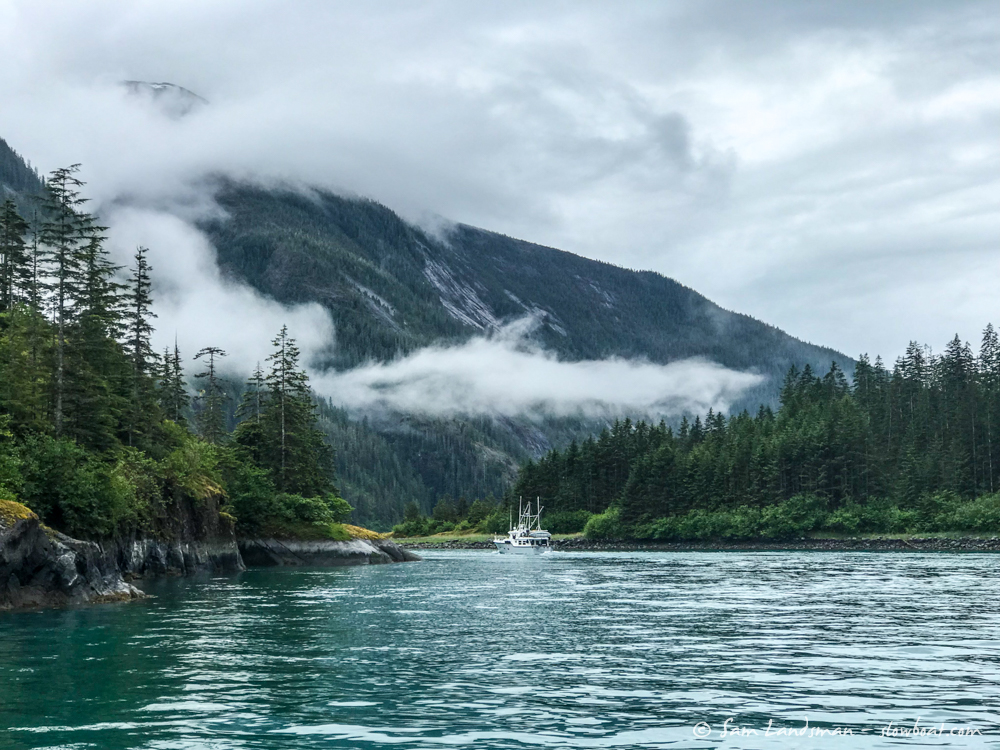 We had a smooth cruise out Endicott Arm, into Stephens Passage, and up to Taku Harbor. When we arrived at the dock at Taku though, there was clearly more going on there than usual.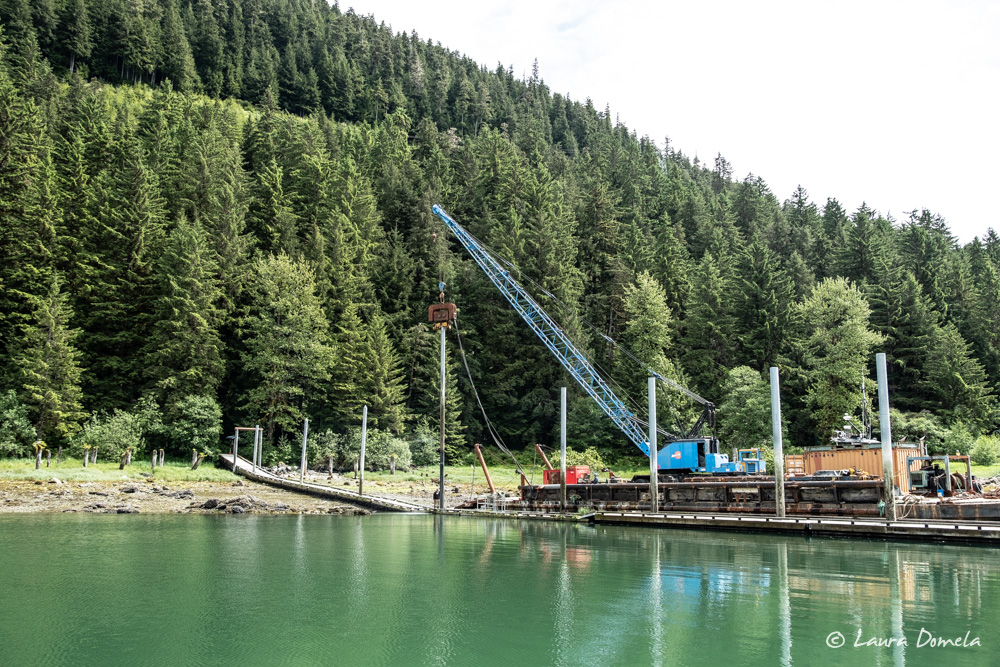 It was not the serene little spot we'd expected, but the noise was really not bad at all. We took drones up for photos, went for a walk in the woods, swung on the big rope swing, fished, and put out a couple crab traps.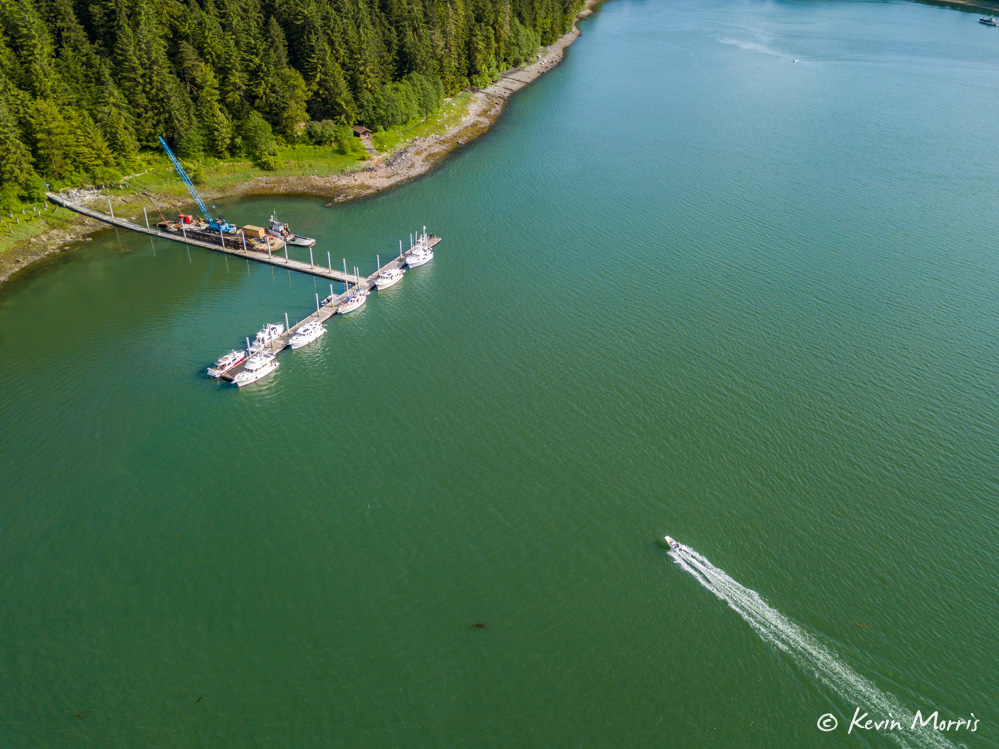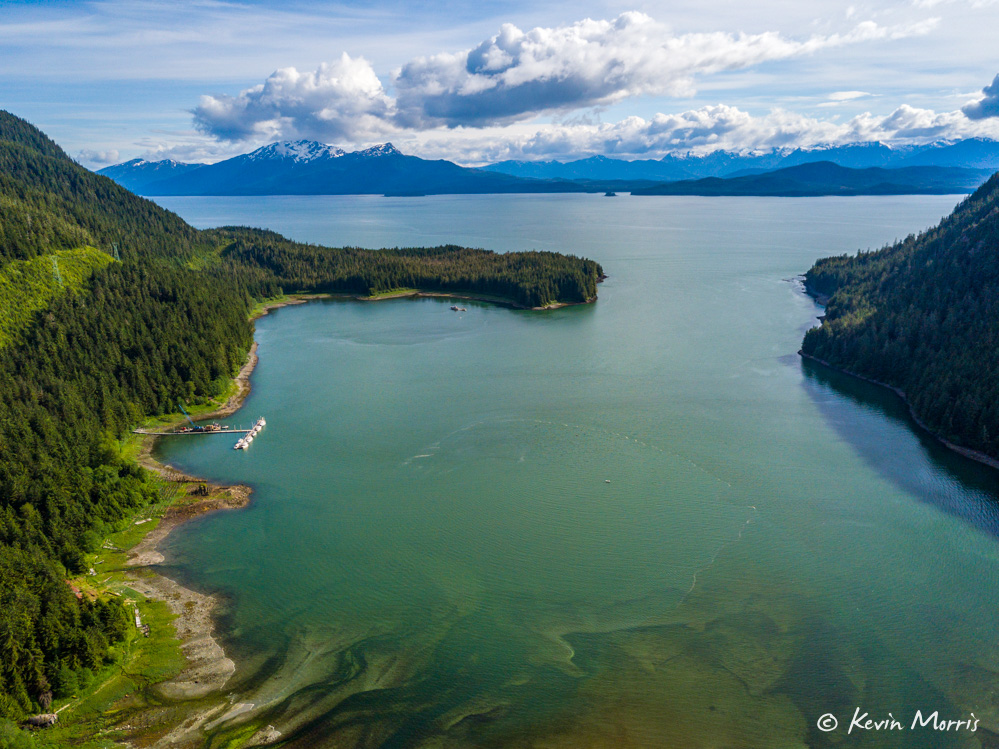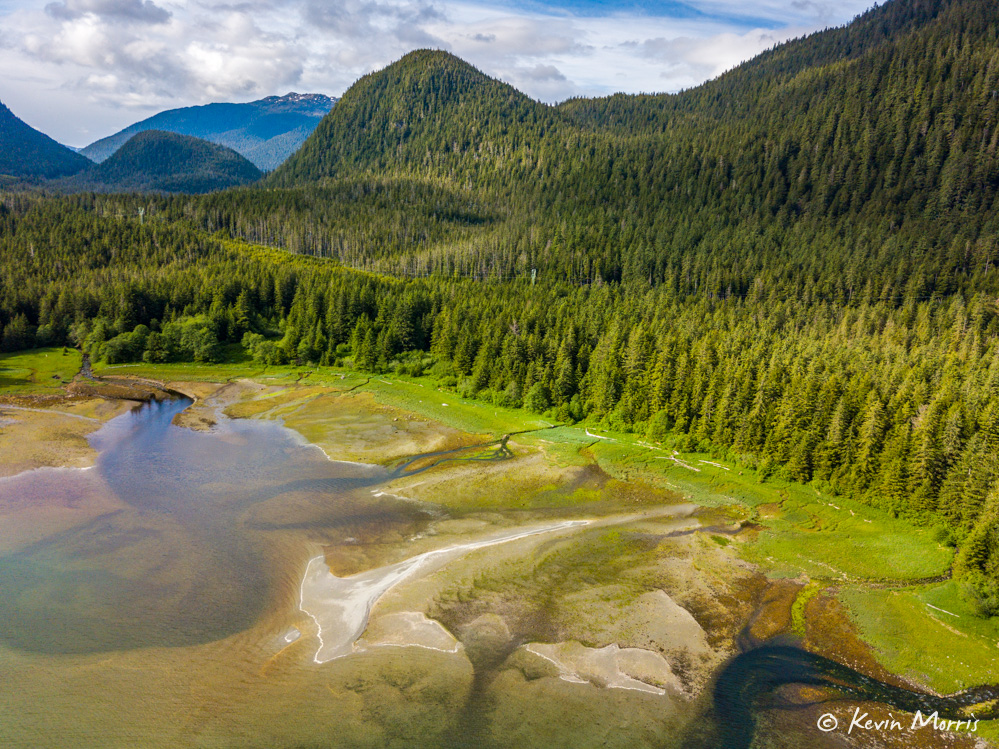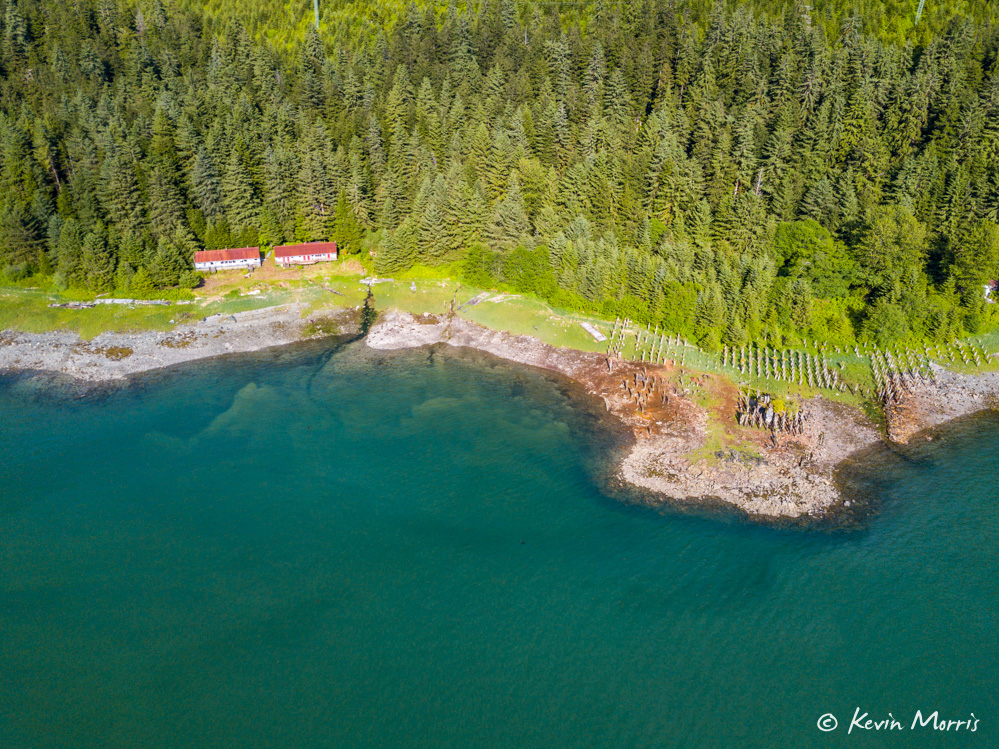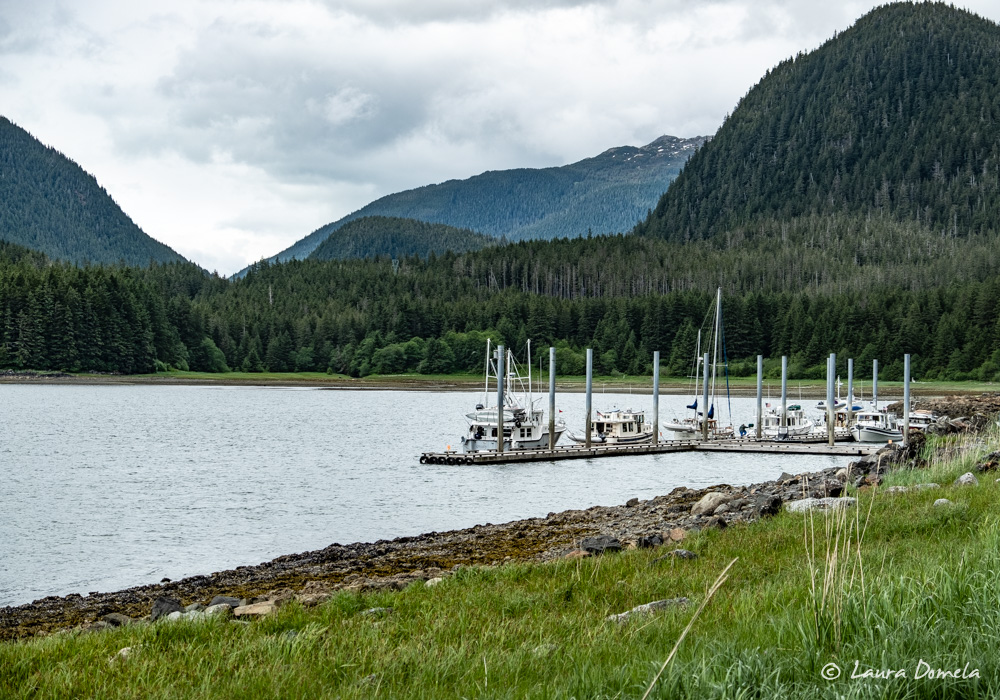 The weather was good enough (and the bugs weren't bad enough) that we decided to have dinner together on the dock.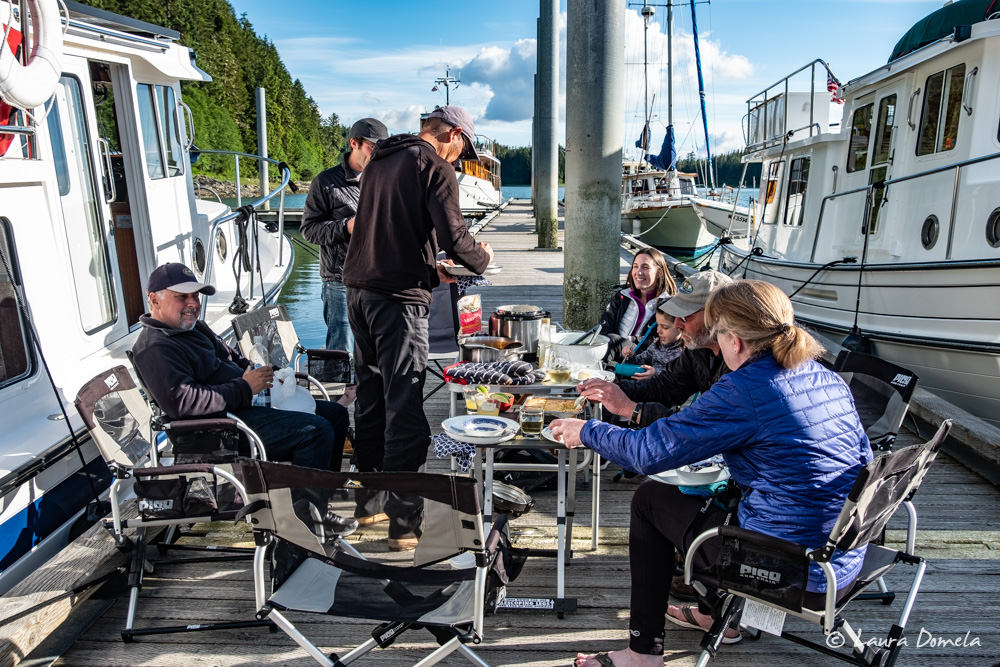 Laura made chili, a spinach and broccoli salad, and macaroons for dessert, Sam made mac and cheese (with rigatoni and Beecher's flagship cheddar!), and Eileen made cornbread. Jennifer brought over some delicious zucchini boats (filled with cheeses and bacon), and pork rind crusted chicken strips.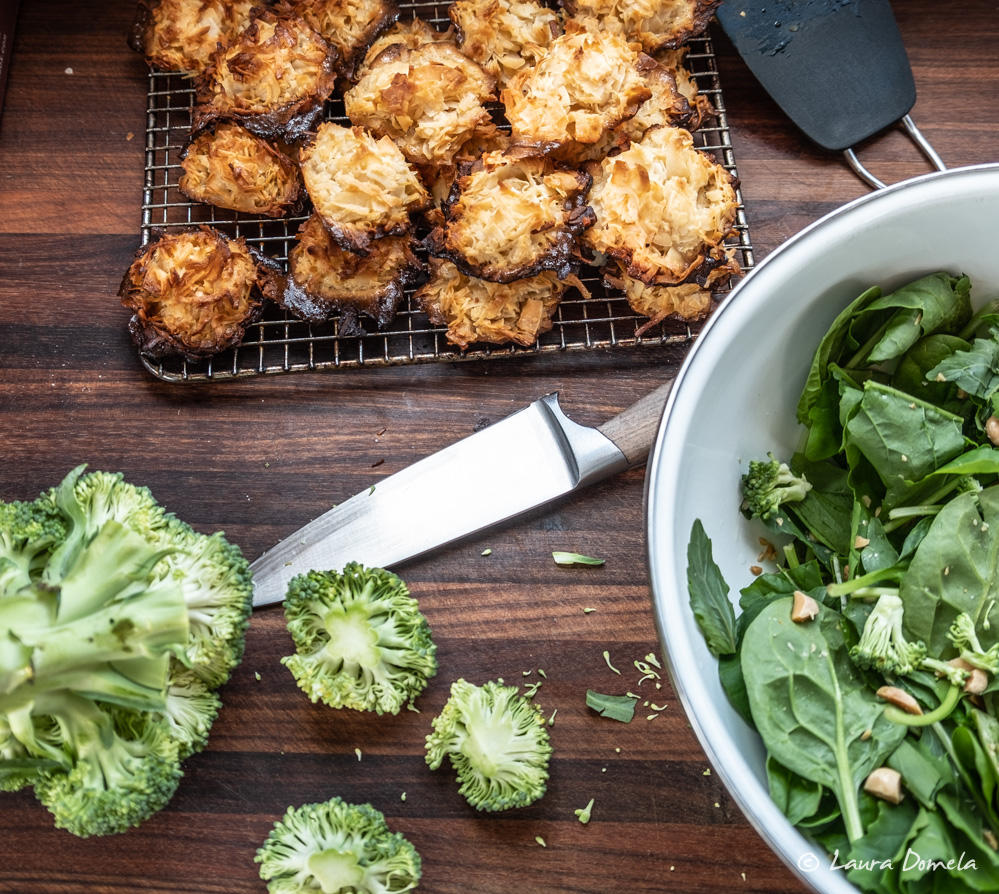 After dinner, Laura spotted a bear on shore, so we got in a couple dinghies and tried to quietly approach. This was a particularly skittish bear, however, and we just barely got a look at him before he scampered off into the trees.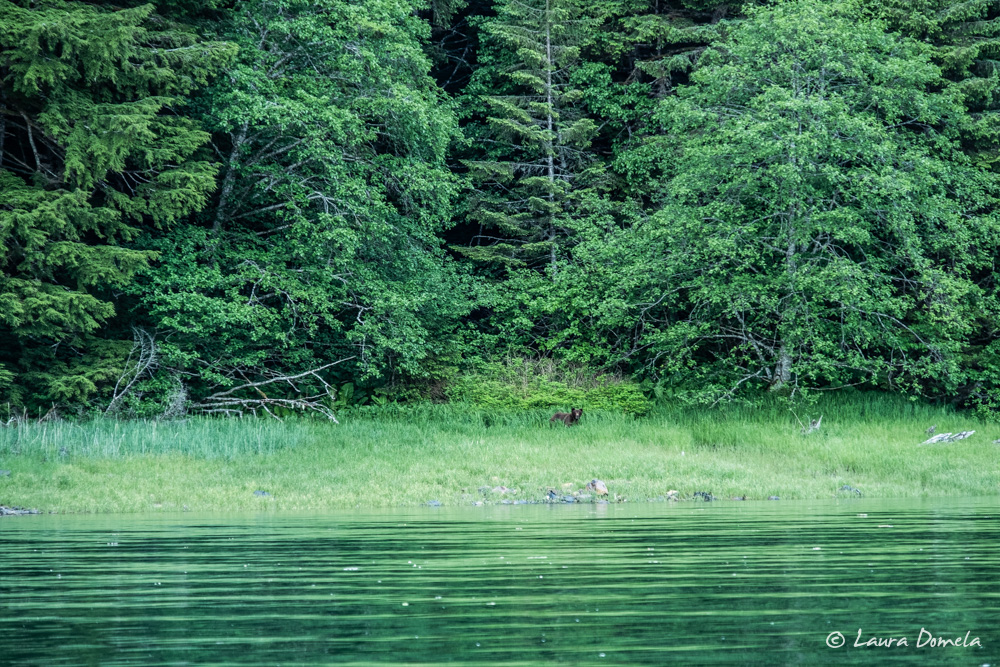 We continued dinghying around the shoreline just in case there were others, but saw no more.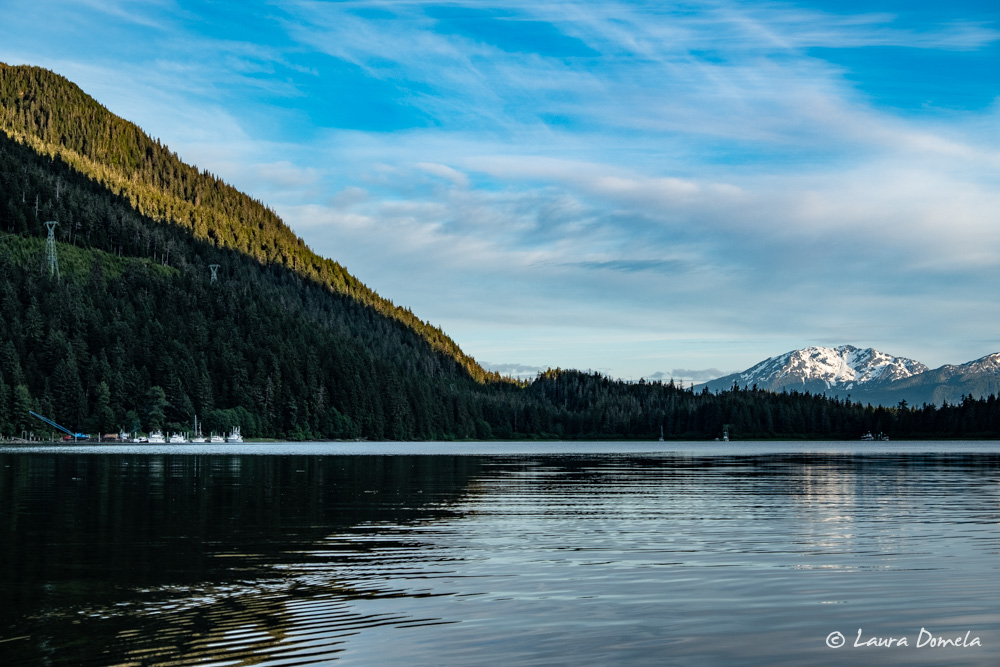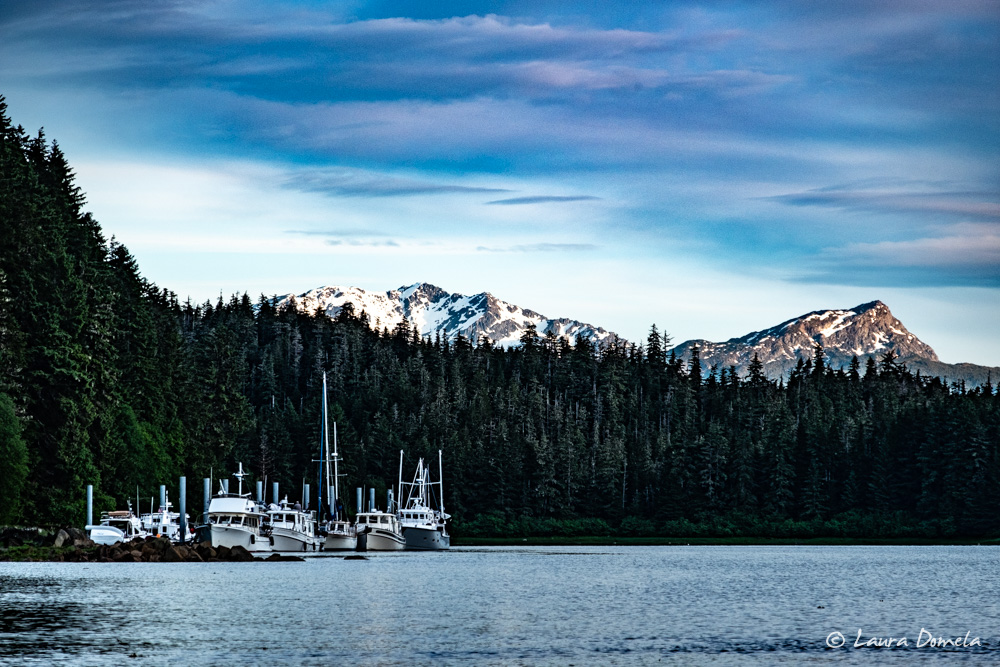 Since Laura's chili and Sam's mac and cheese have been rainy day favorites, here are the recipes for both:
Laura's Texas-style Chili (no beans) – Instant Pot
2 lbs ground beef
2 15 oz cans of diced tomatoes
1 6 oz can of tomato paste
8 cloves garlic, minced
1 large shallot, chopped
1 4oz can diced jalapeños (or 1 fresh jalapeño, with seeds and pith removed, diced)
2 tbsp Worcestershire sauce
1/4 cup chili powder
2 tbsp cumin
1 tbsp dried oregano
2 tsp sea salt
1 tsp black pepper
Start the sauté mode on the Instant Pot. Pour in a tablespoon or so of olive oil, and once the oil and pot are hot add chopped shallot and cook until translucent (about 5 minutes). Add the garlic and cook for another minute or so.
Next, add the ground beef, breaking it apart and cooking until browned (about 10 minutes).
Add the rest of the ingredients, stirring to combine.
Secure the lid and change setting to manual high pressure and cook for 35 minutes. When timer goes off, let the Instant Pot sit and naturally release the pressure. This chili can be made ahead of time and kept warm in the Instant Pot until you're ready to serve.
Optional "if you're feeling fancy" toppings: a sprinkle of cheddar cheese, a slice of avocado, a dollop of sour cream, fresh chopped cilantro, a couple slices of fresh jalapeño…
Sam's Mac and Cheese – Instant Pot
1 lb. rigatoni
4 cups water
1 tsp mustard
1 tsp salt
6 oz evaporated milk (extra if it starts to get dry before serving)
2 cups grated Beecher's Flagship
3/4 cup grated parmesan
2 tbsp butter
Put water, salt, mustard, and pasta in Instant Pot. Pressure cook for four minutes. Quick release pressure (this is messy and best done outside). Stir pasta but do not drain. Add evaporated milk, cheese, and butter. Stir until incorporated (I like to use the sauté mode to add some heat during this stage) and serve.
_____________________________
Today's total: 46.7 nautical miles, 6 hours, 18 minutes
Flotilla total: 1,037.3 nautical miles, 142 hours 38 minutes underway