On most of our flotilla trips, we take the "back way"—Yuculta Rapids, Gillard Pass, Dent Rapids, Greene Point Rapids, and Whirlpool Rapids—north from Desolation Sound to the Broughtons. This time, we're in a hurry, so we're taking the "highway" route. This route is less protected and less scenic, but shorter and only requires transiting one rapid: Seymour Narrows.
Seymour Narrows is just eight miles north of Campbell River. Currents run to 16 knots (only about 9 knots today) and transit must be made near slack. Today's slack was at about 9:20 a.m., so we left Campbell River at 8:00 a.m.and ended up arriving a bit early. We got a nice boost in speed as we rode the end of the ebb north, and turbulence with three knots of current was minimal.
Historically, Seymour Narrows was much more dangerous. More than 100 ships were lost here, thanks to Ripple Rock, a pinnacle that once jutted nearly to the surface.
Ripple Rock is an underwater mountain that had two peaks (9 feet and 21 feet below the surface) in the Seymour Narrows of the Discovery Passage in British Columbia, Canada, a part of the marine trade route from Vancouver and coastal points north. The nearest town is Campbell River. Only 2.7 metres (9 feet) underwater at low tide, it was a marine hazard in what the explorer George Vancouver described as "one of the vilest stretches of water in the world."The hazard was not only hitting the rock but also big, dangerous eddies caused by tidal currents round the rock. Ships using the strait preferred to wait until slack tide.

Its top was removed by a planned explosion on 5 April 1958.This is a National Historic Event in Canada. The Ripple Rock explosion was seen throughout Canada, live on CBC Television. It was one of the first live coast-to-coast television broadcasts of an event in Canada.

It was so named in 1860 by Captain Richards, RN, because its summits were about at sea level and made a prominent standing wave in the fast tidal current of the strait. [Source: Wikipedia]
North of Seymour Narrows, the wind built to a 10-20 knot northwesterly. This turned out to be a great demonstration of the effect of wind against current. While the ebb was still running against the wind, conditions were sloppy: a closely spaced 2-3 foot chop that thoroughly soaked the boats. Half an hour later, the wind remained, but the current changed direction and the seas dropped to gentle one footers.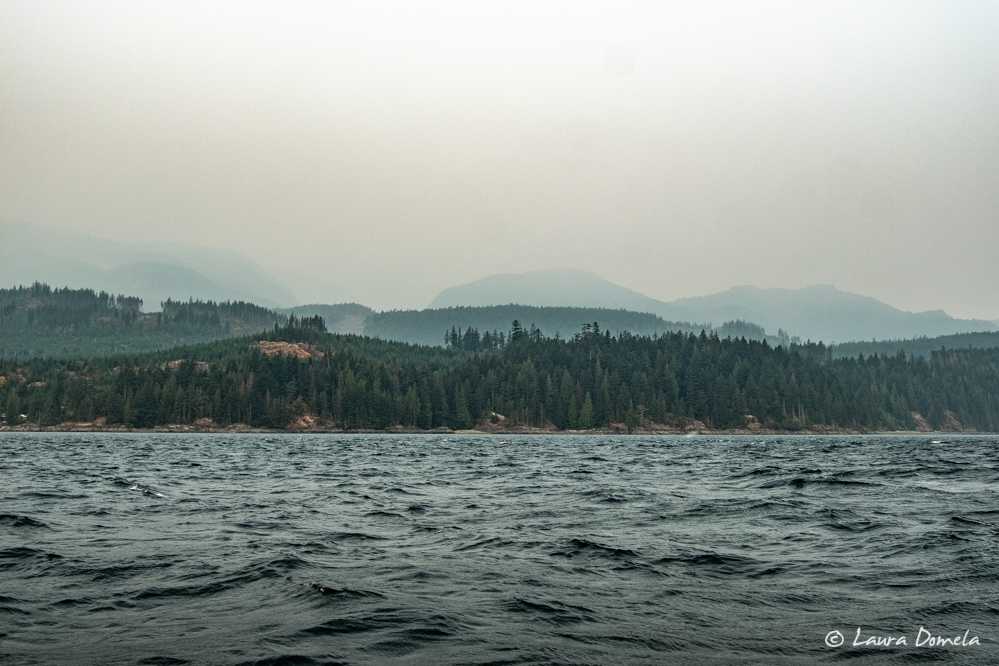 Unfortunately, the forecast called  for increasingly strong northwesterly wind throughout the day, and the current would be right on the nose. Rather than beat into several knots of current and 20 knots of wind all day, we stopped in Cameleon Harbour for the night.
The wind might have slowed us down, but it also blew the smoke away! With less smoke, we got in the dinghies and explored Cameleon Harbour and nearby Thurston Bay. After several days at marinas, it was wonderful to anchor and explore again!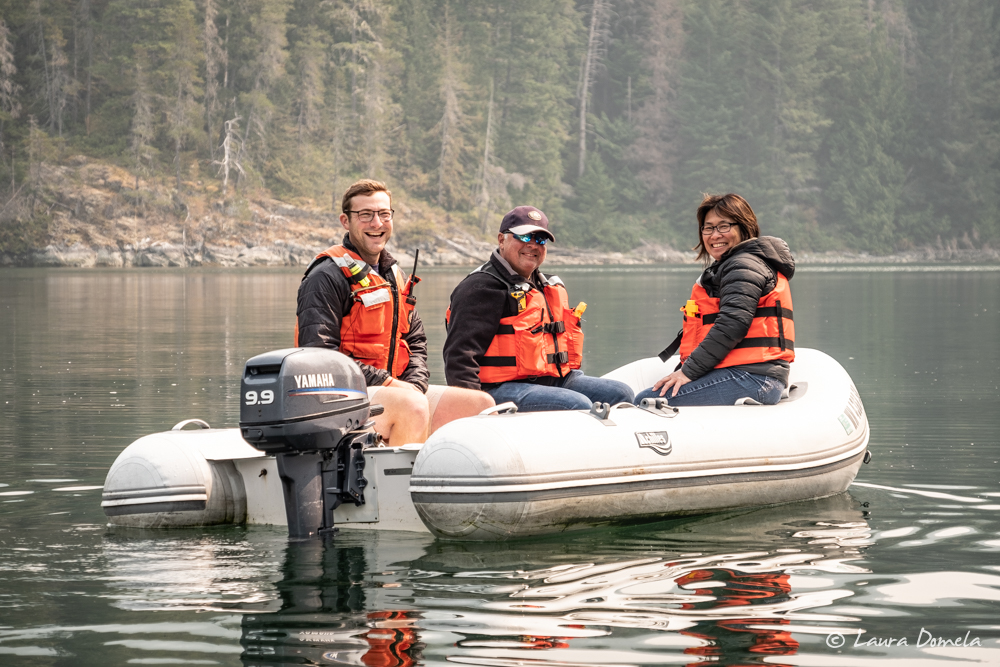 Here's a picture showing the smoke situation after we got back from our dinghy ride. This is WAY less smoke than yesterday!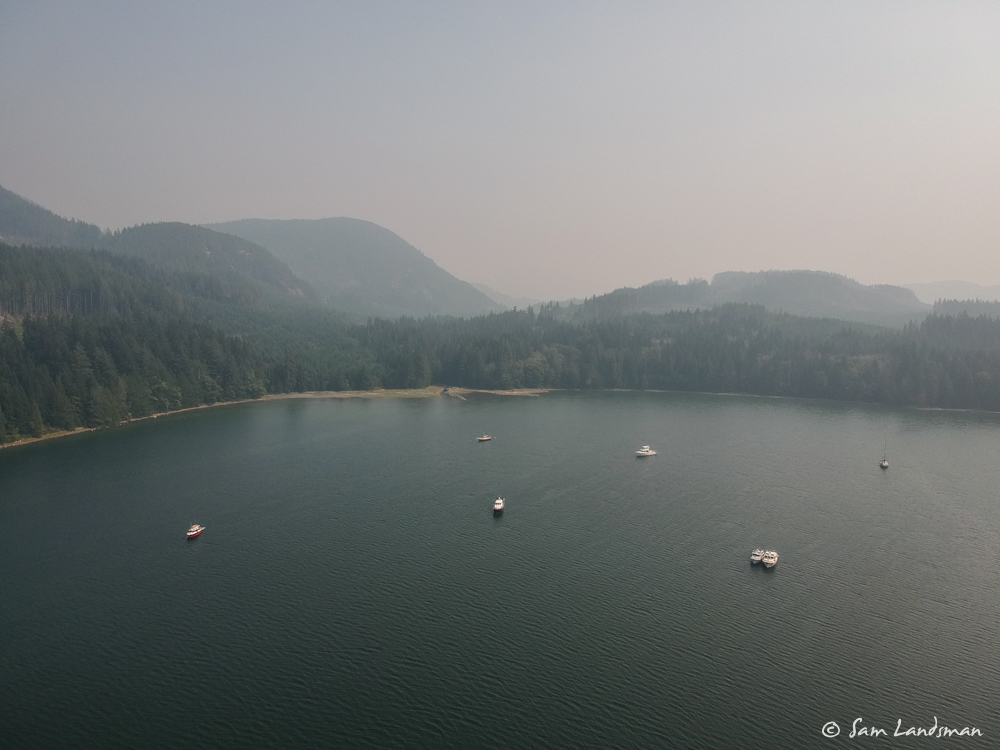 Everyone came over to Safe Harbour/Airship for taco night. This is another fun, compatible group! Here's a later shot of Cameleon Harbour with even less smoke. Just a few hours made a huge difference!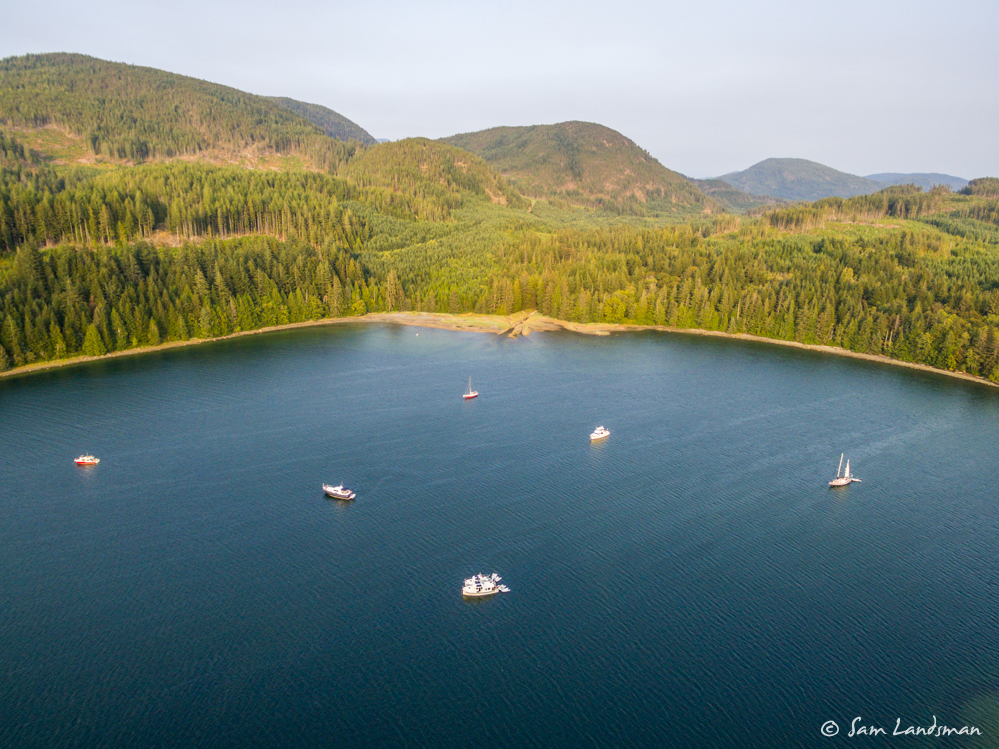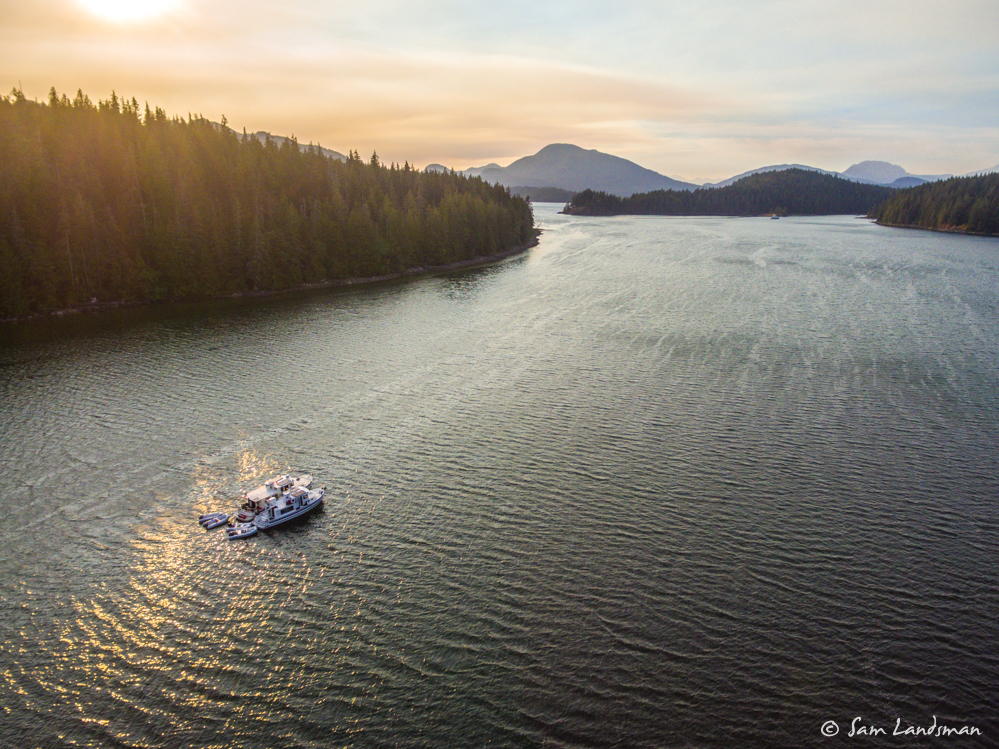 Winds on Johnstone Strait are predicted to be 25-35 knots tomorrow, so we'll likely sleep in and take the inside route (Greene Point Rapids and Whirlpool Rapids) to Forward Harbour and hope for better weather the next day.
Today's Route: 25.3 nautical miles, 3 hours 21 minutes
Flotilla Total: 147.9 nautical miles, 20 hours 35 minutes