After five nights in Sitka, we were ready to move on and the forecast looked good. This leg of the flotilla is new this year, and we have just one boat traveling with us: Jester.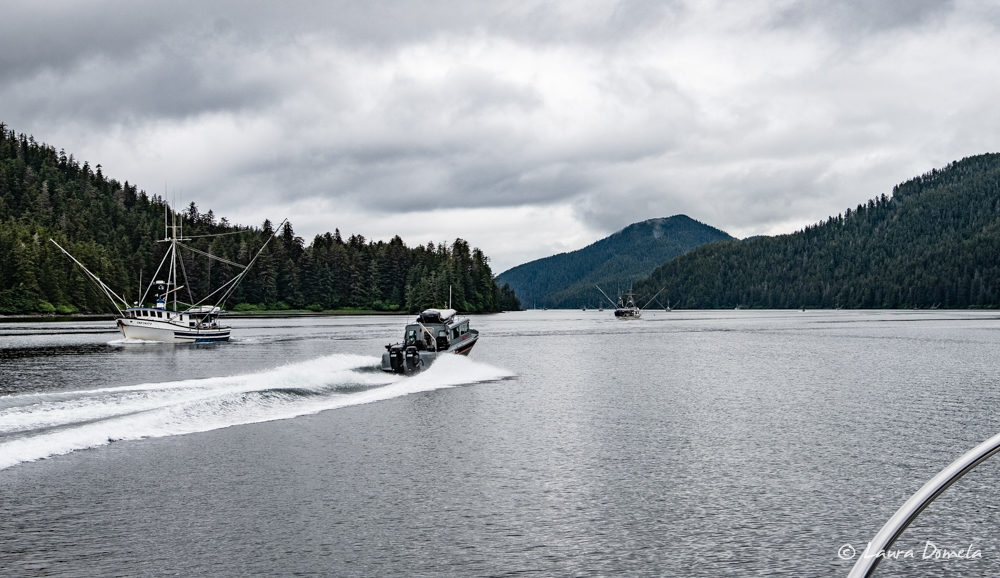 Over the next 10 or 11 days, we'll work our way up to Juneau. Most boats do this via the "inside" route, back through Peril Strait, up Chatham Strait, and around the top of Admiralty Island into Juneau. We're taking a more exposed but also more rewarding route. At Salisbury Sound, we'll turn west (rather than east), spend a few hours in the ocean, then duck into protected channels on the west side of Chichagof Island. After a few days, we'll make another short hop in the ocean to Lisianski Strait and Cross Sound.
When we left Sitka, we expected to go only to the edge of the ocean: Kalinin Bay, the last good anchorage before the 15nm ocean hop up to Smooth Channel. But as we approached Kalinin Bay, the swell was reasonably gentle and there was no wind. The following day looked like it might be a little calmer, but not much. We decided to push past Kalinin Bay to Klag Bay and put the ocean behind us. The computer showed an ETA of about 2:30 p.m. We knew we'd spend a couple of hours rolling around, but then we'd be in protected water with few other cruisers, lots of beautiful scenery, and hopefully plentiful wildlife.
As we headed west in Salisbury Sound the swell built. Ashore, big breakers hit the rocks in dramatic explosions of white water. Sea mist hung in the air. The coastline, jagged and bare, is beautiful but foreboding. The thought of our plastic boats smashing against these rocks is sobering. Careful navigation and reliable systems are paramount.
Leaving Salisbury Sound, we ducked into Fortuna Strait, a smooth-water route in the lee of Klokachef Island that shaves a few miles of rolling off the trip. With Vincent Reef close to port, we watched the swells break beautifully.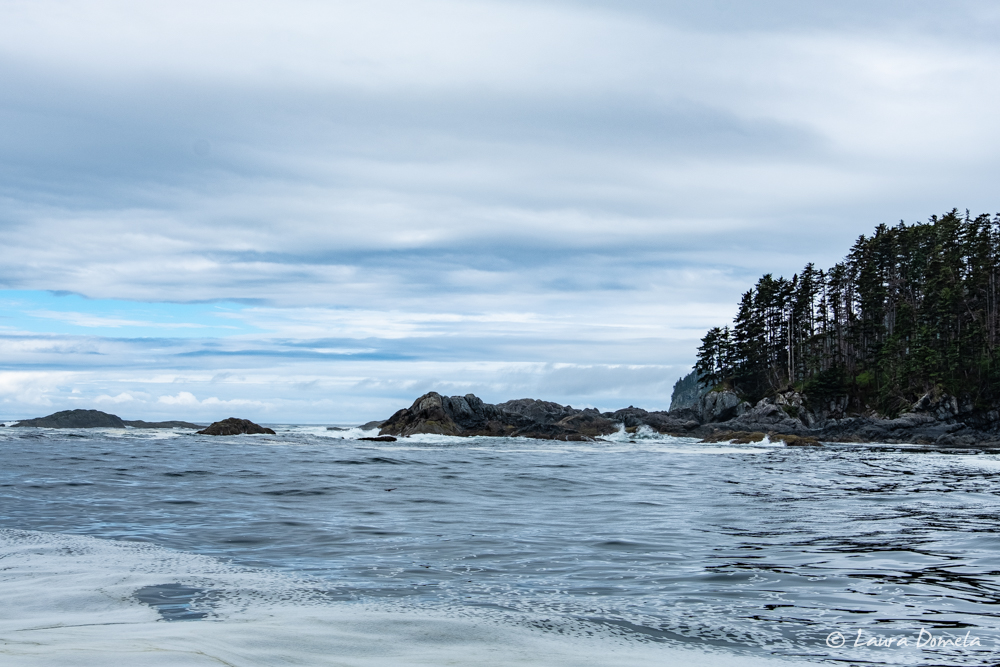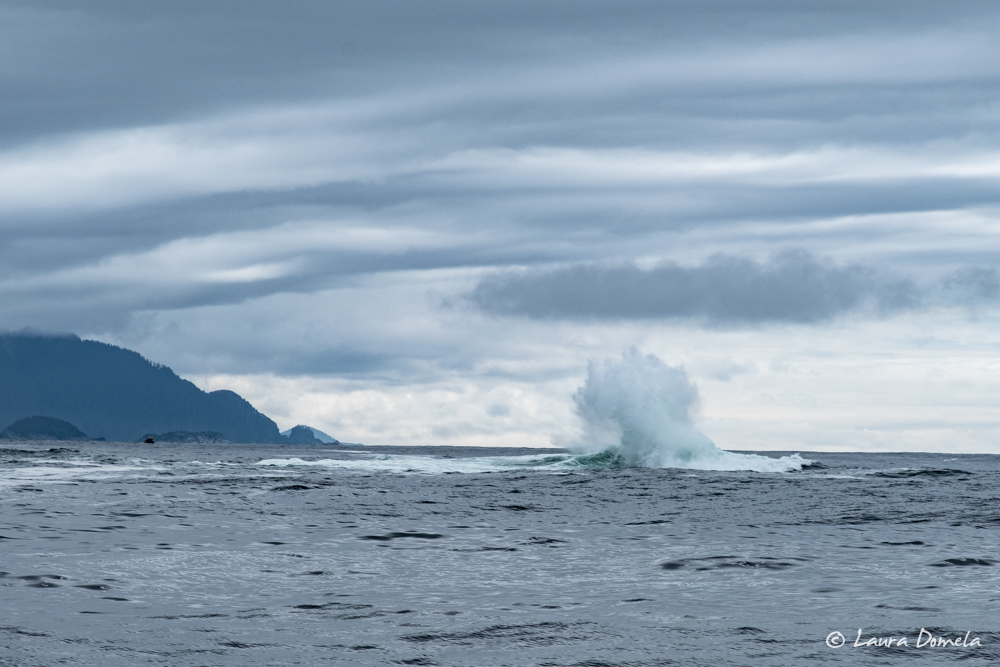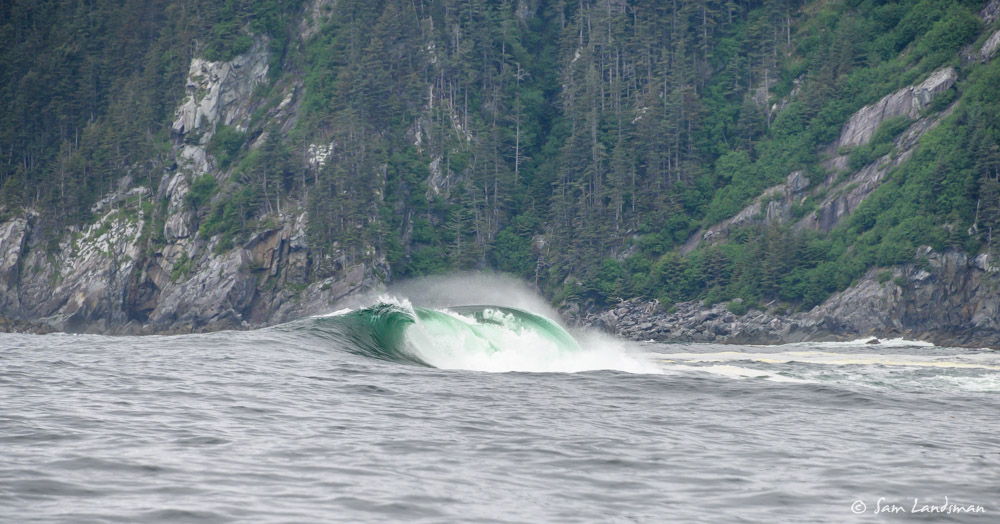 We followed the Khaz Peninsula north, leaving plenty of room between us and the not-at-all-friendly shoreline. The seas seemed worse nearer to shore, where they grew confused, and better further out, away from the current ebbing out of Salisbury Sound and Khaz Bay and the waves reflecting off the rocks. The few hours in the ocean weren't particularly comfortable, but by Gulf of Alaska standards, they were pretty darn good.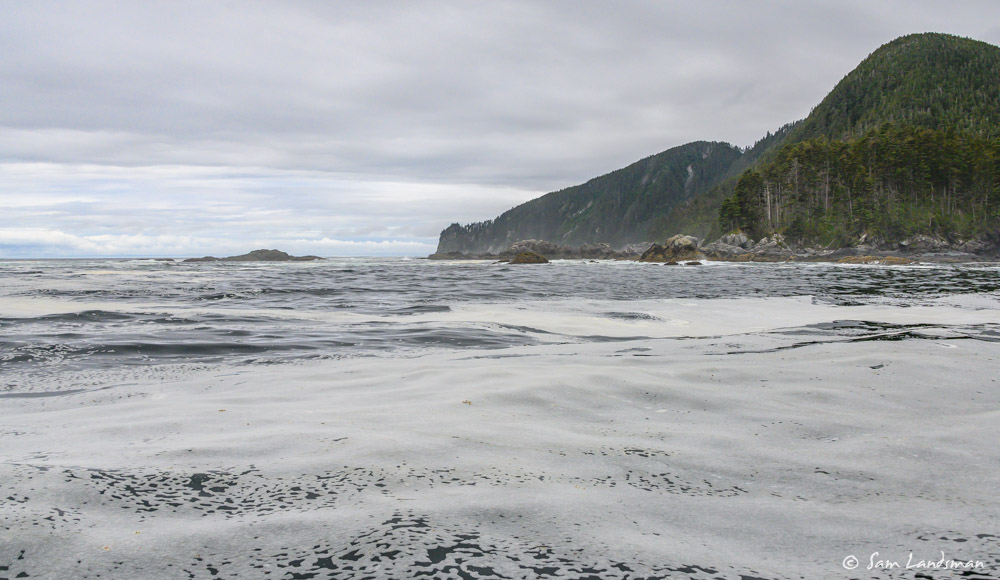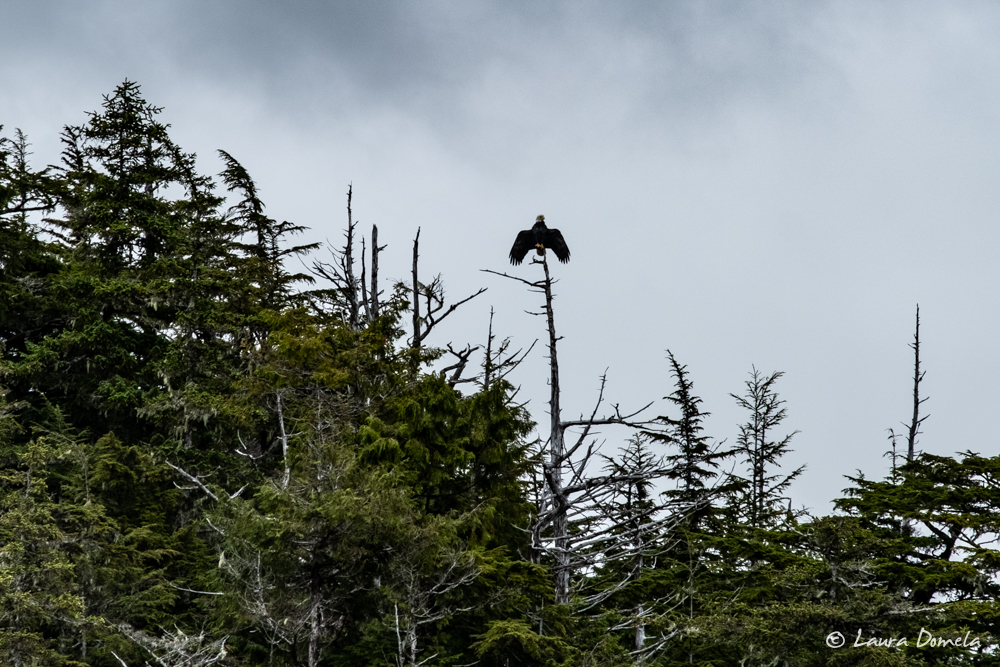 We returned to smooth water via aptly named Smooth Channel, where the swell quickly died off. The Gate had about 4 knots of current running against us, but was easy to navigate. We continued all the way to the head of Klag Bay, where we dropped the anchor, rafted all three boats together, and began exploring.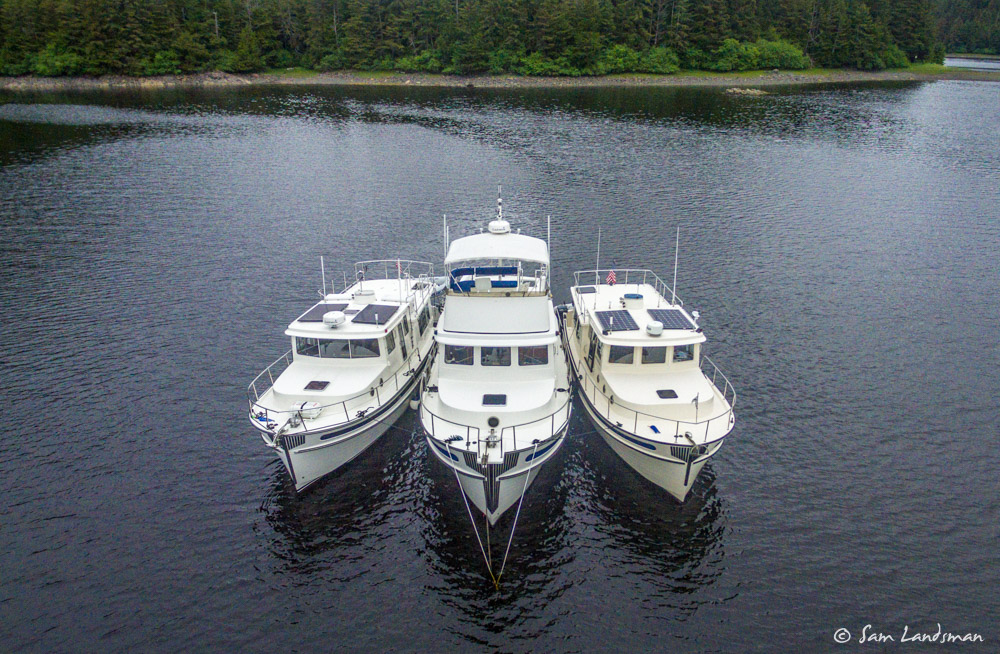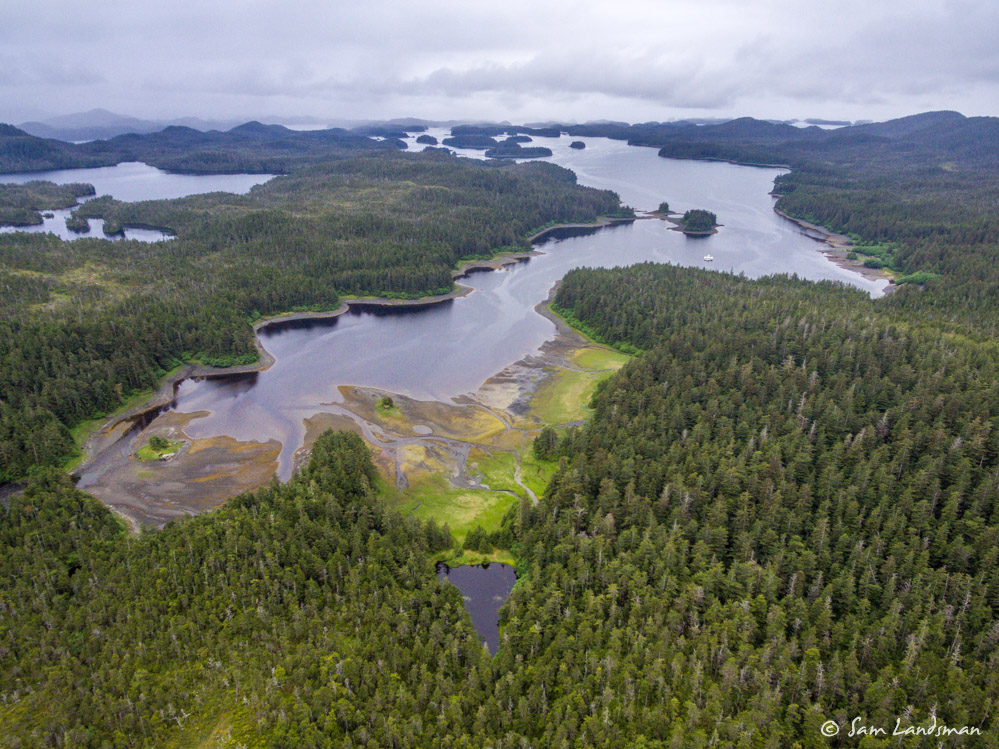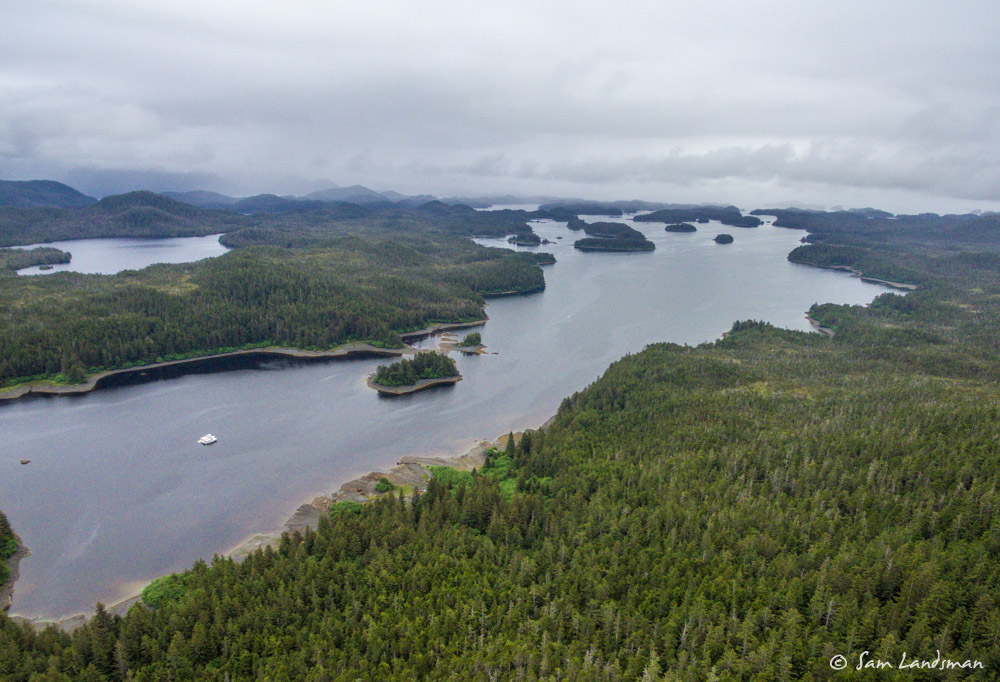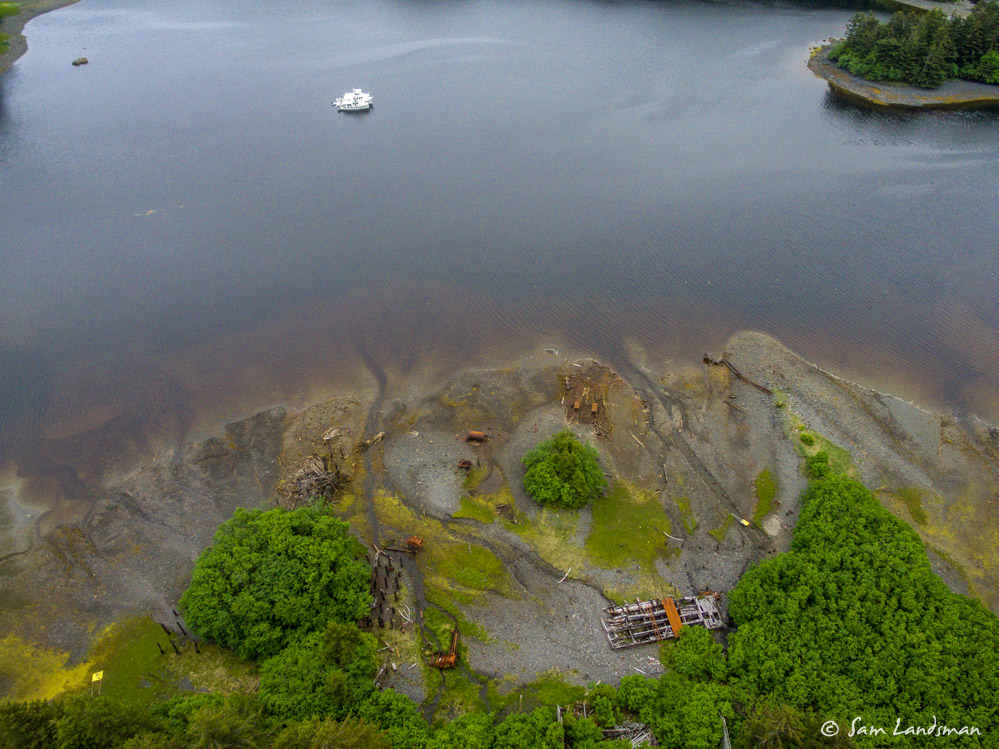 A quick note on Klag Bay: the charts are shifted perhaps 200 feet west of reality. They seem reasonably accurate other than this shift probably caused by a datum problem. We noticed the same symptom on NOAA raster and vector charts, Navionics vector charts, and Garmin vector charts.
Ashore, we looked at the old Chichagof Mine site, home to about 200 people in 1938. During the first half of the 20th century this mine produced more than $13,800,000 in gold and $1,000,000 in silver. Today, there's little remaining, save for some rusty debris and collapsing buildings.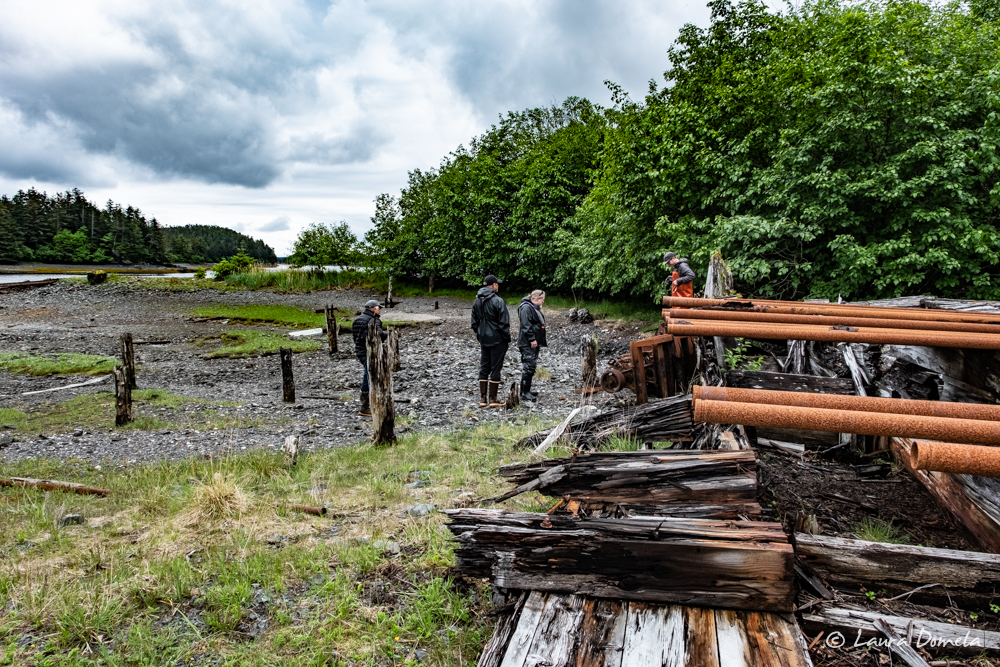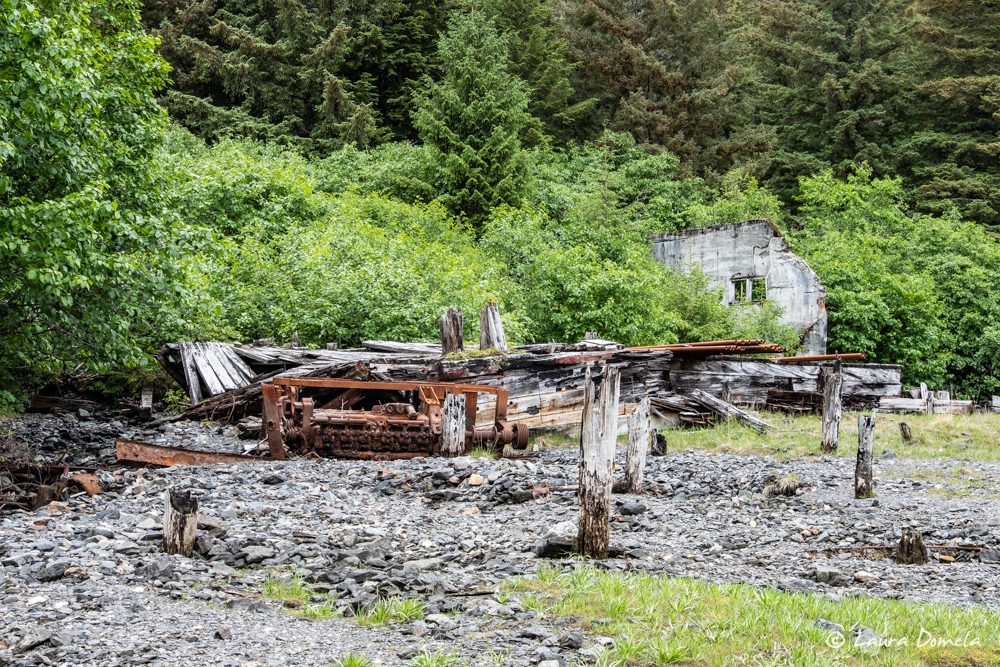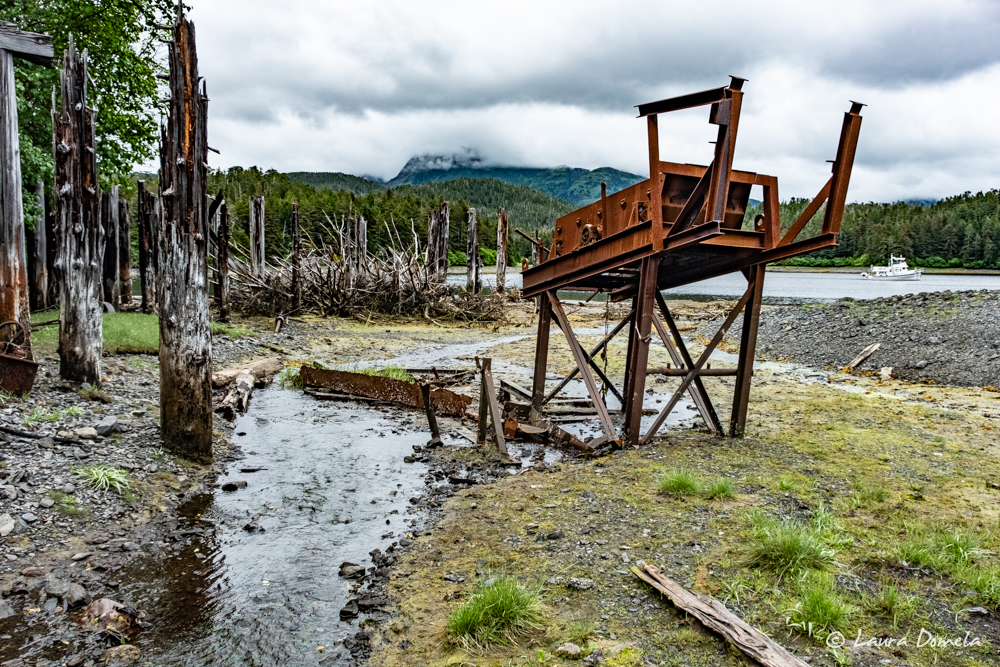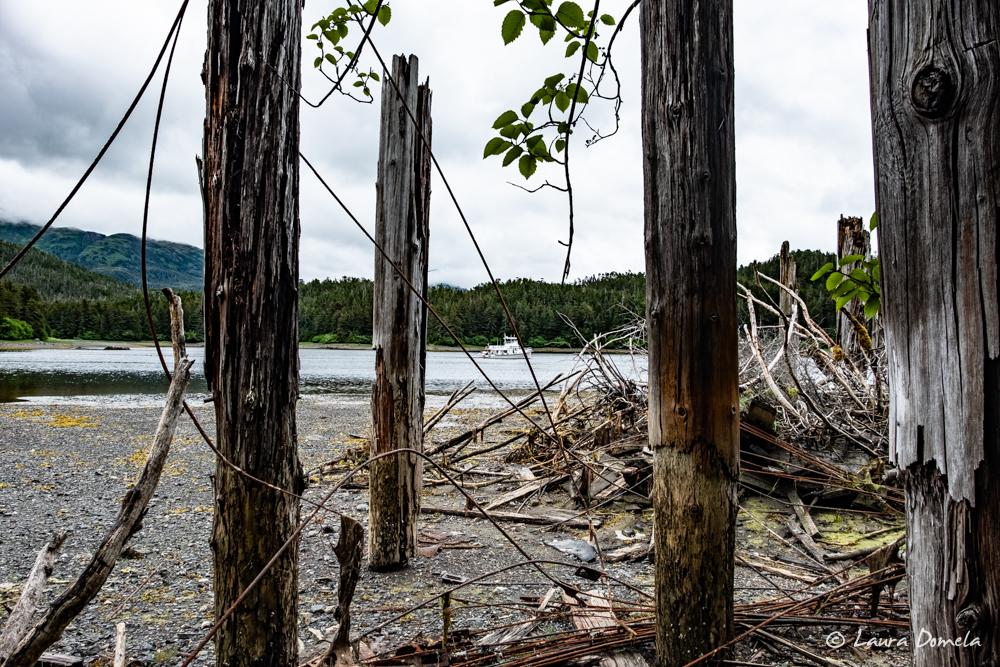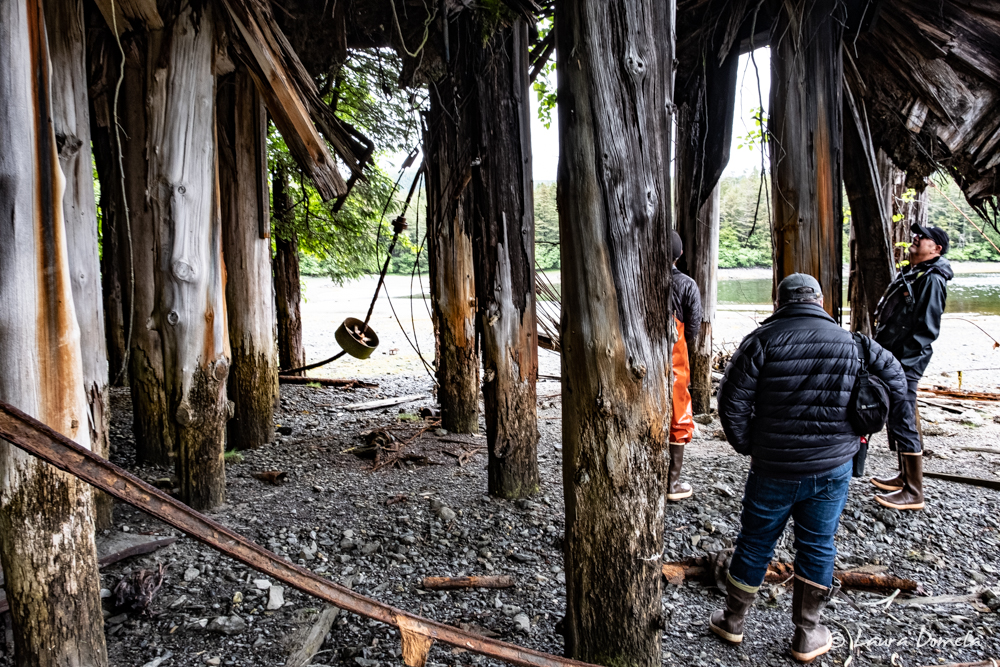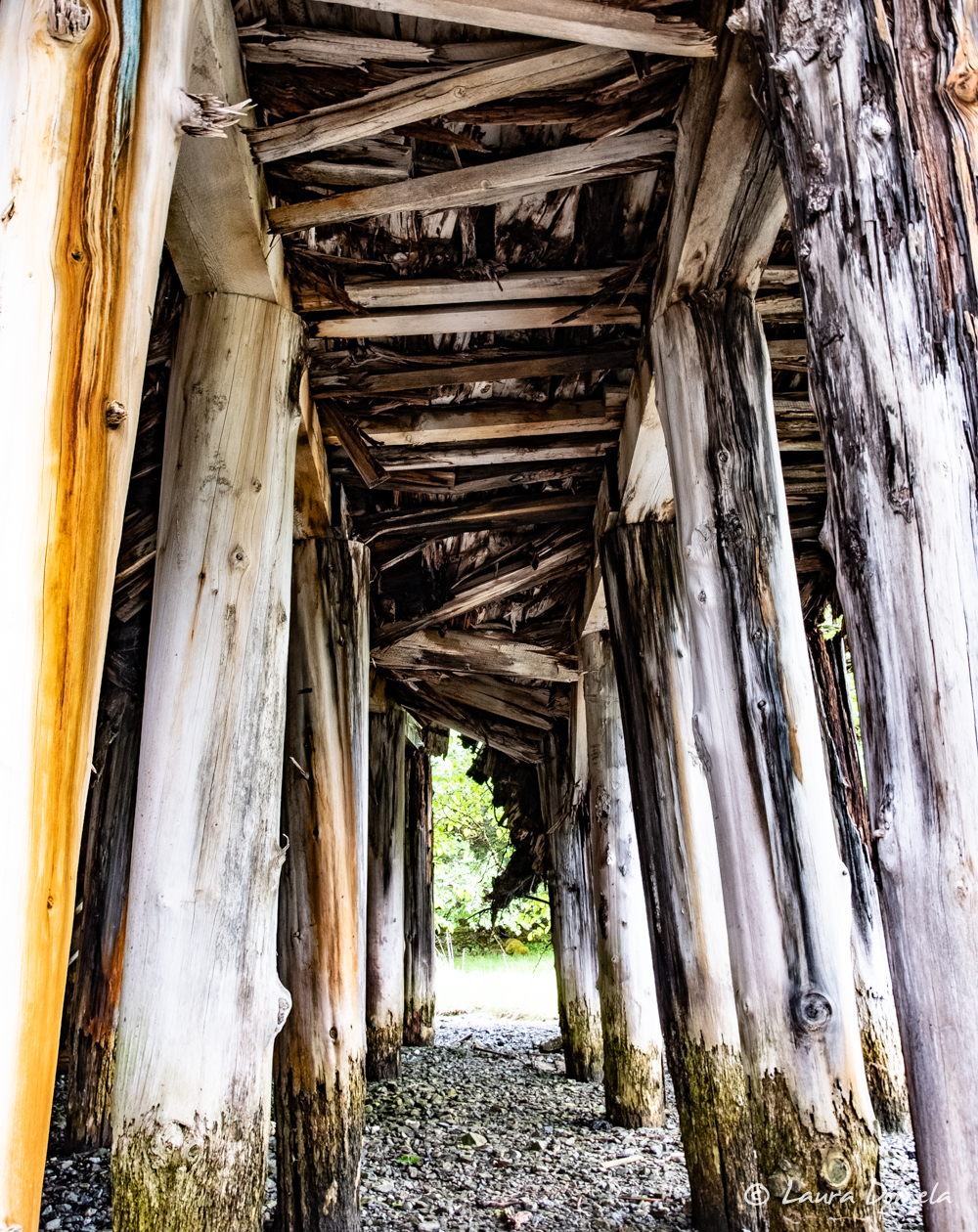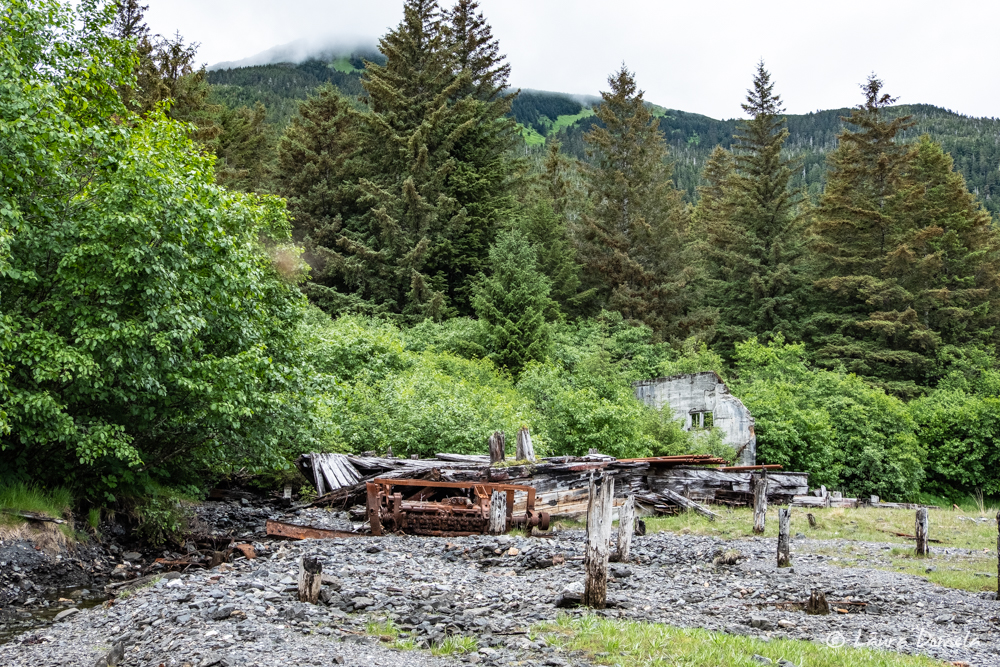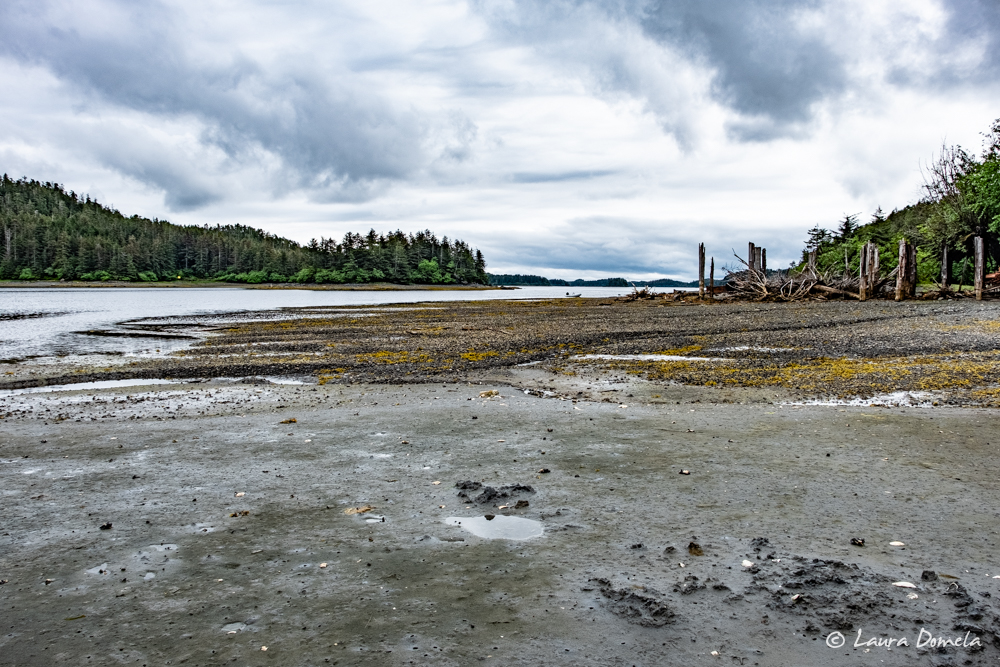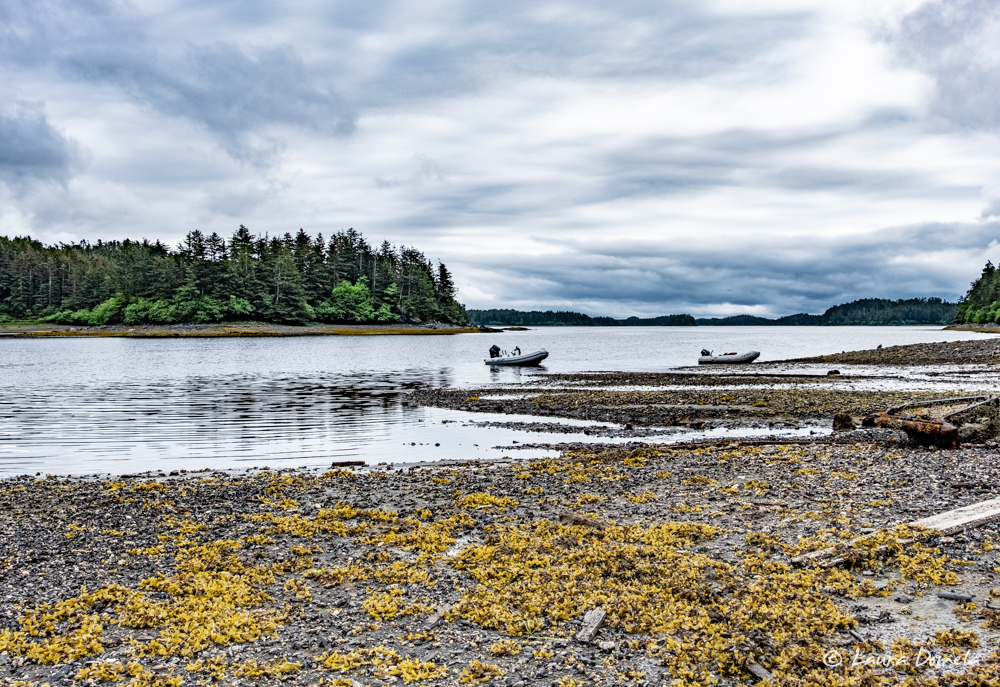 After looking around on shore we dinghied to Lake Anna, then Sister Lake. These are huge inlets, with lots of bears on shore! We counted a dozen throughout the afternoon, although few let us get close enough for good pictures (and we left the big lenses back on the anchored boats).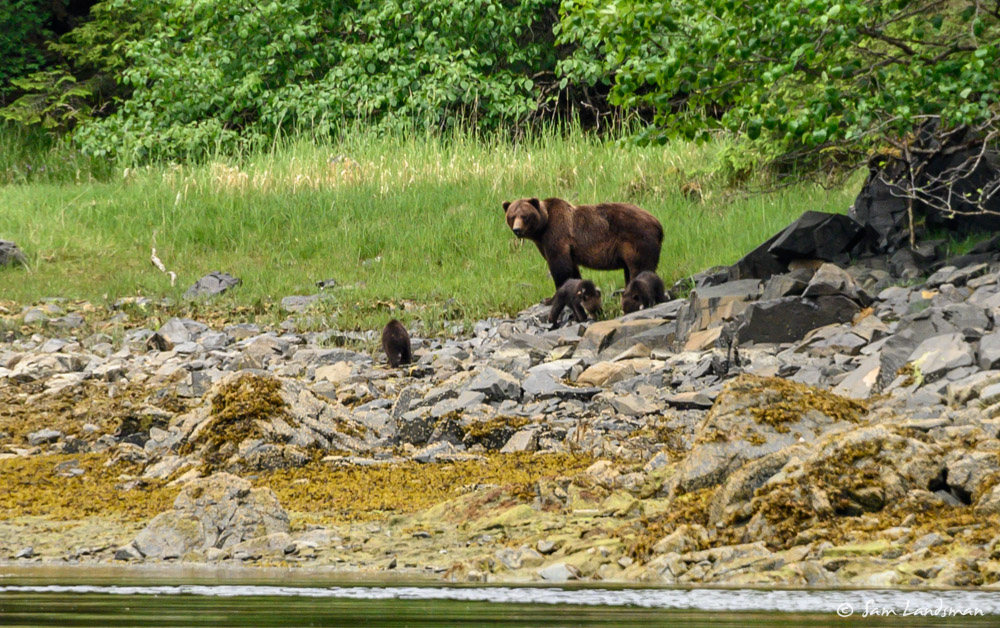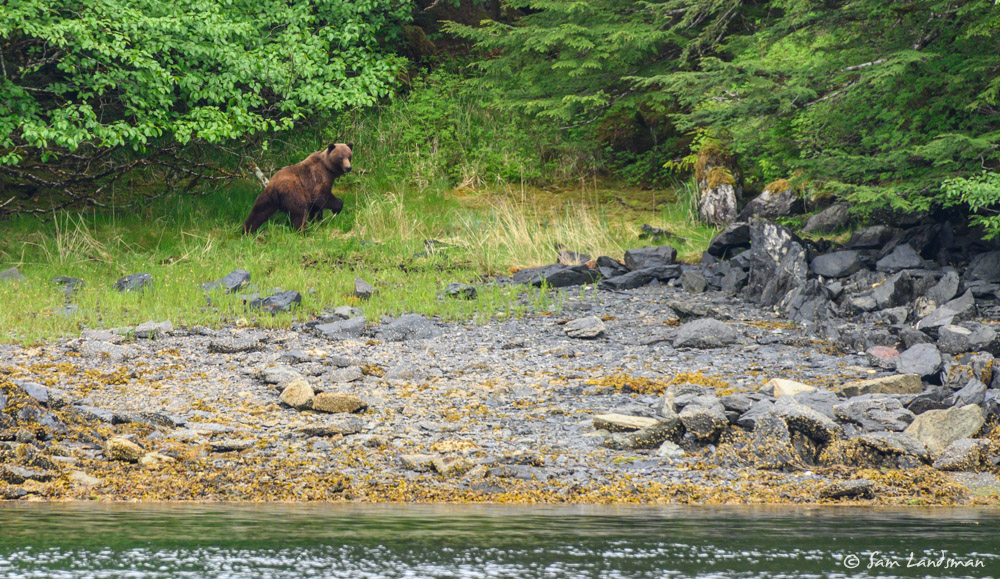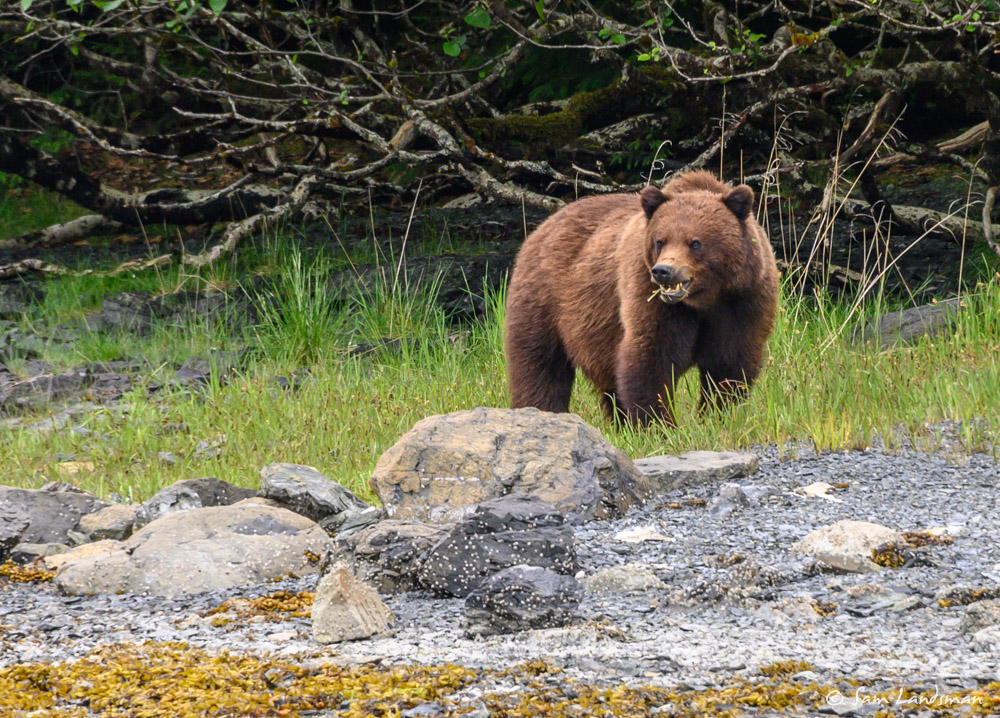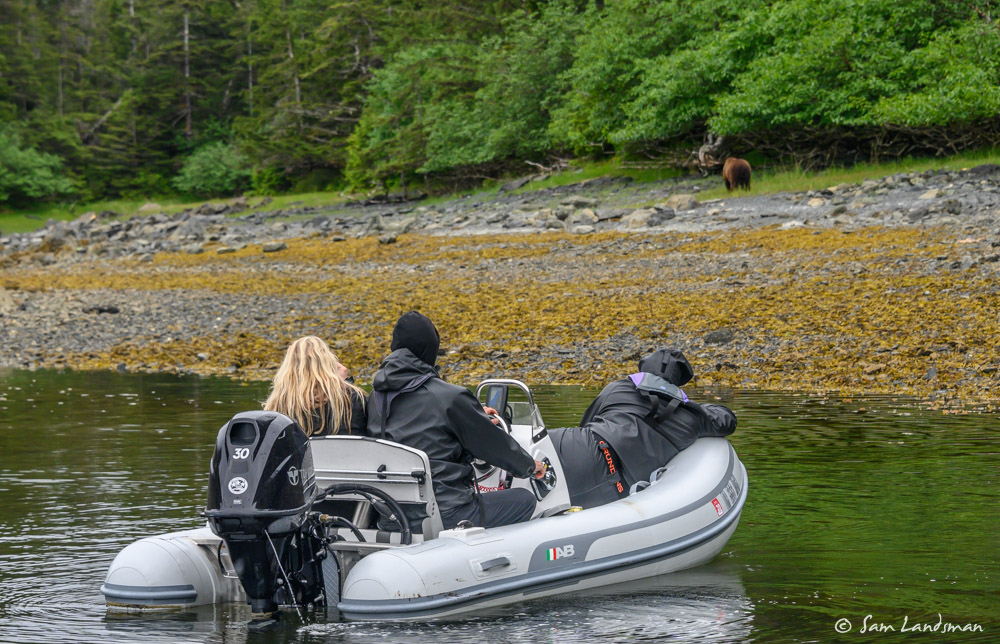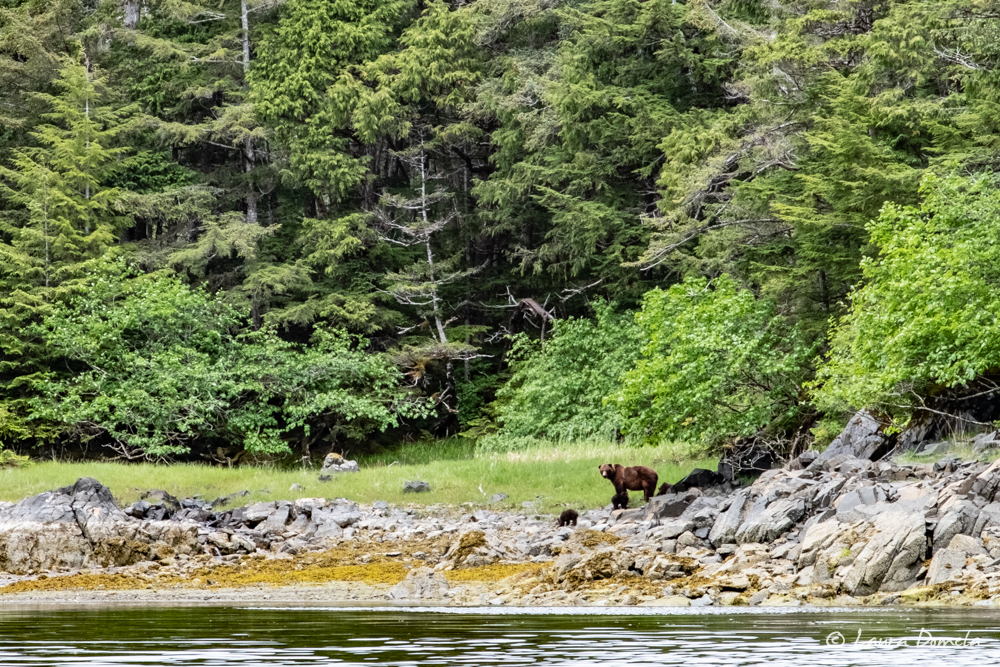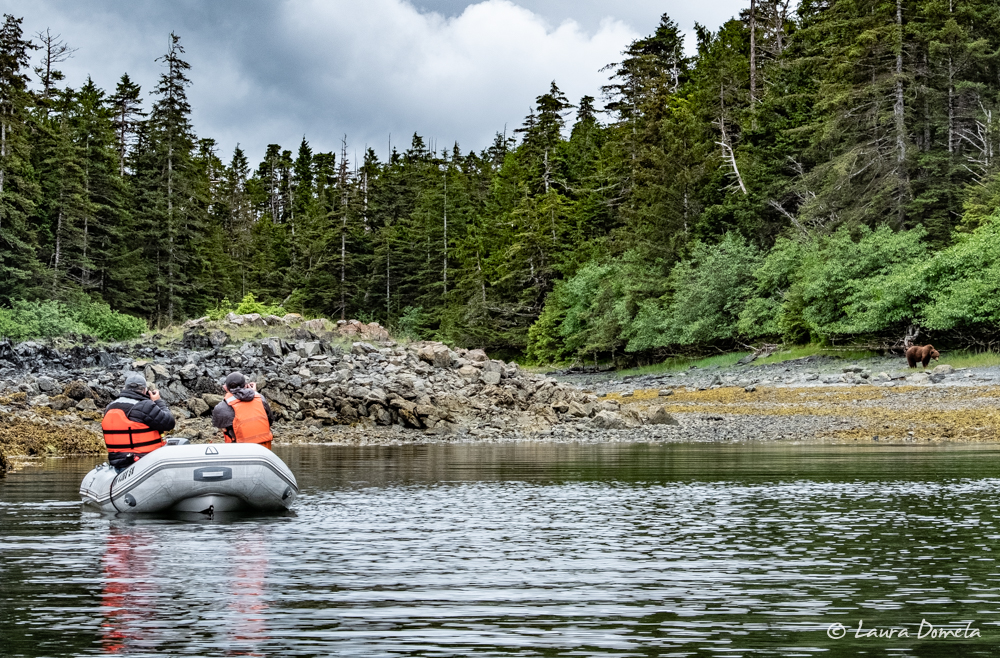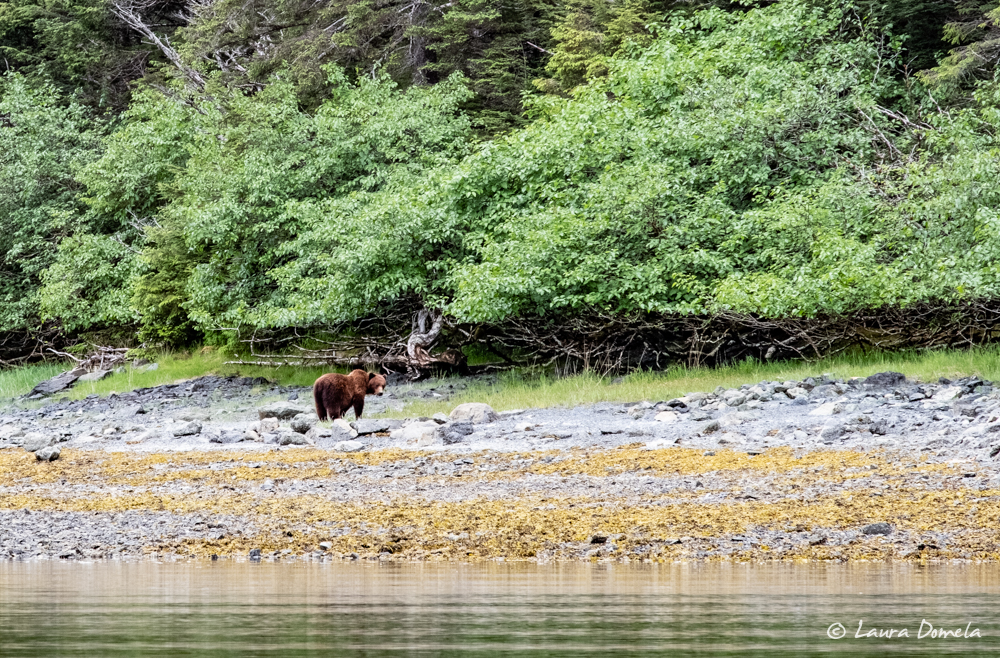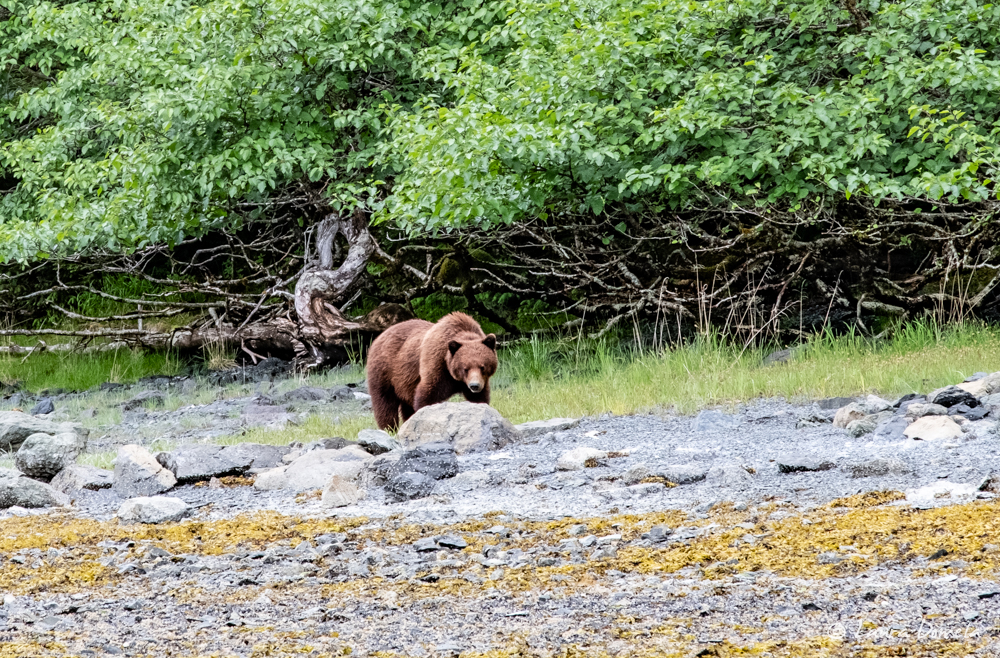 Tomorrow we'll have a shorter, calmer day enjoying the west coast of Chichagof Island.
Today's total: 48.1nm, 6 hours 51 minutes underway
Flotilla total: 48.1nm, 6 hours 51 minutes underway