Airship and Akeeva connected back in Ketchikan earlier this month with the plan to head south together for a ways. Sam and Anna were back from their adventure on Akeeva up to Prince William Sound, and after transiting through British Columbia they'll continue south to Mexico for the winter. Kevin and I plan to slow up a little bit through B.C. to enjoy a few spots we missed on the way north.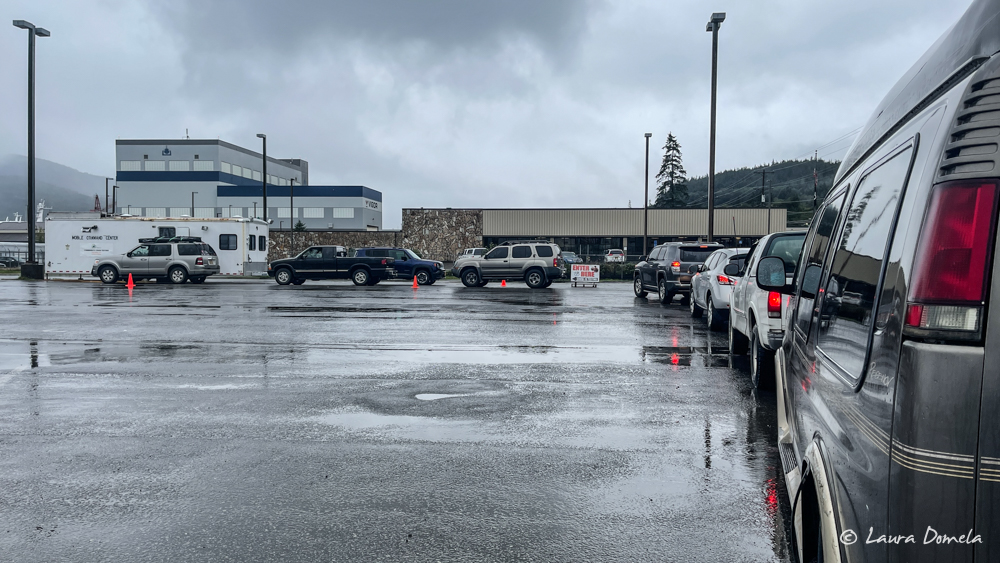 Armed with our negative COVID tests, we left Ketchikan in the afternoon and headed for Foggy Bay, where we ended up being the only two boats anchored in there. This has never happened before! It was beautiful but rainy, and so we have no photos.
We left our anchorage at first light and headed across Dixon Entrance for Prince Rupert. This too must have been a non-event, because…again no photos.
We snaked our way through Venn Passage and arrived in Prince Rupert, cleared customs by phone (after reporting via the ArriveCan app), and tied up at Cow Bay Marina. Airship stayed for two nights, and Akeeva, wanting less marina and more at anchor, headed for Lawson Harbour after a quick trip to the grocery store. While in Prince Rupert, Kevin and I provisioned, walked around town a bit, got takeout from Opa Sushi, and caught up on some work and chores.
The murals around Prince Rupert are always nice to see: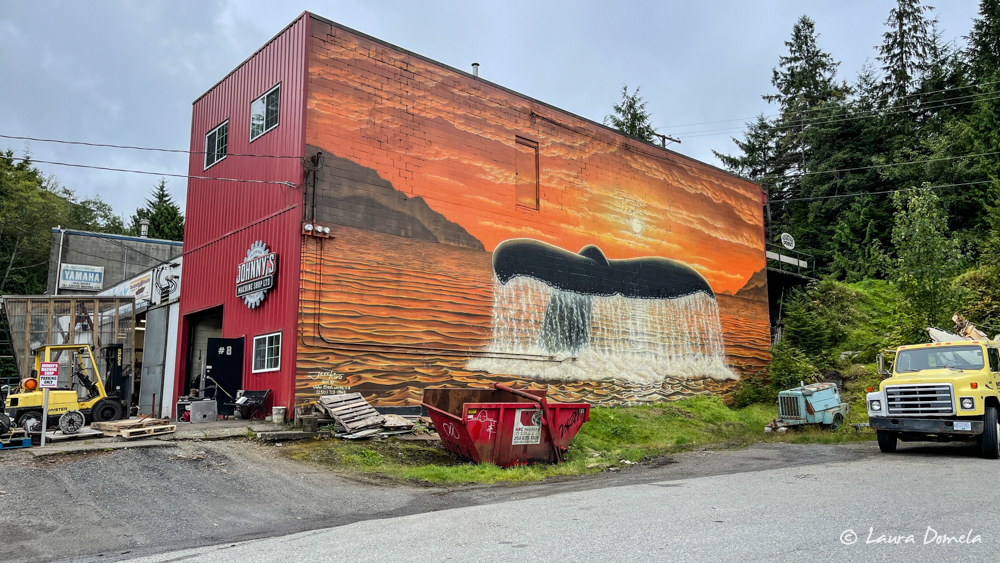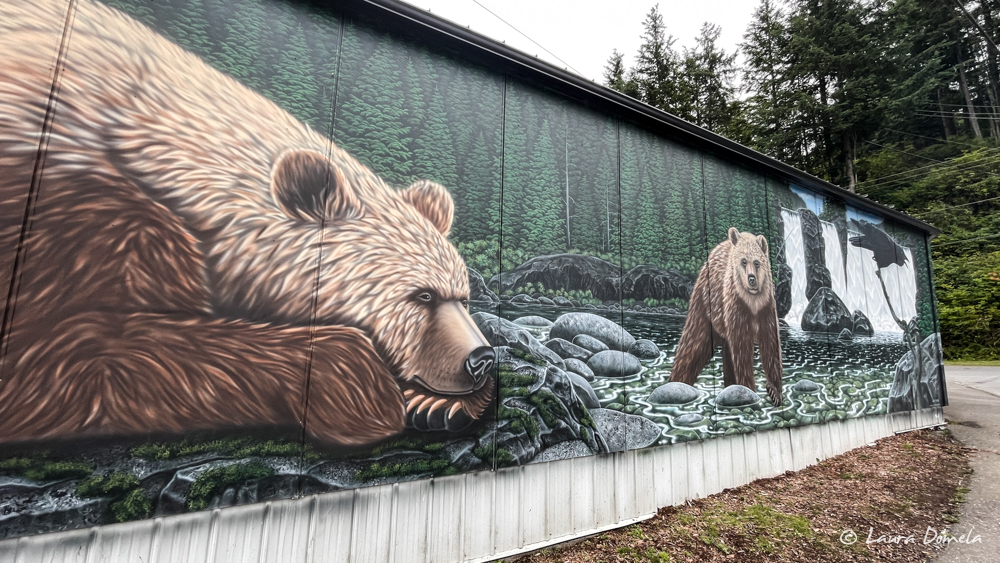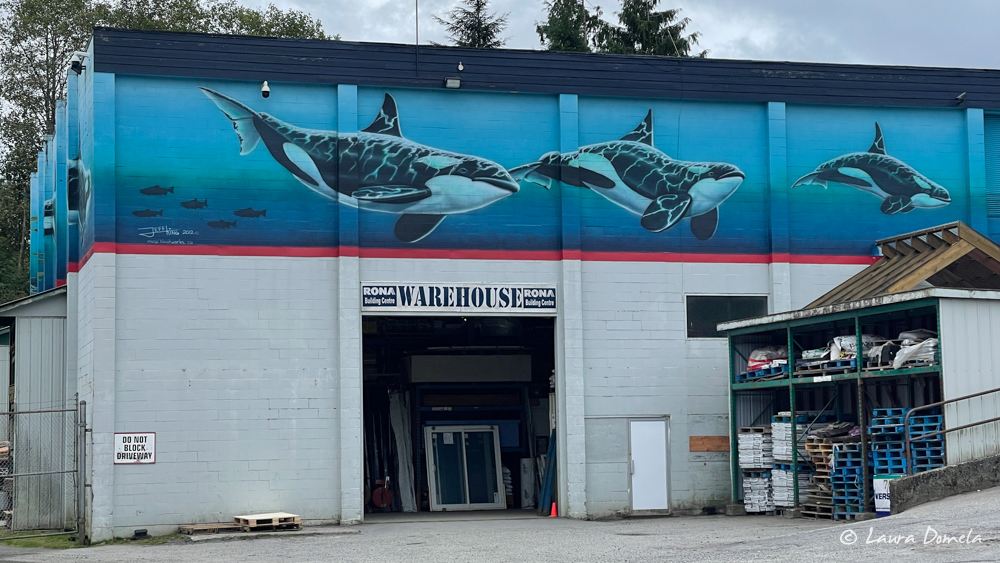 We wondered if the "Rona Building Centre" got a bit more business during times of coronavirus.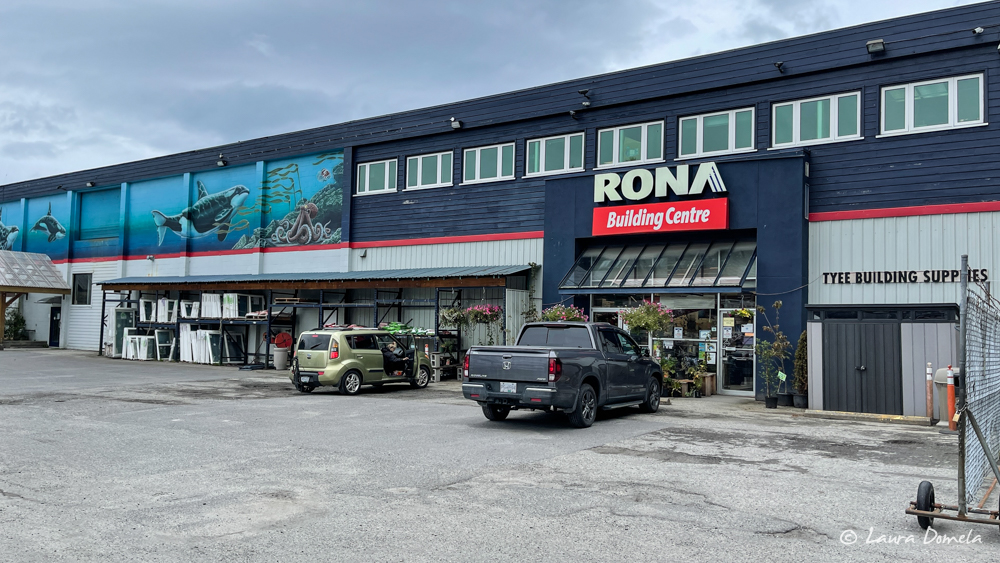 Opa Sushi is on the far side of this building, upstairs. Always delicious!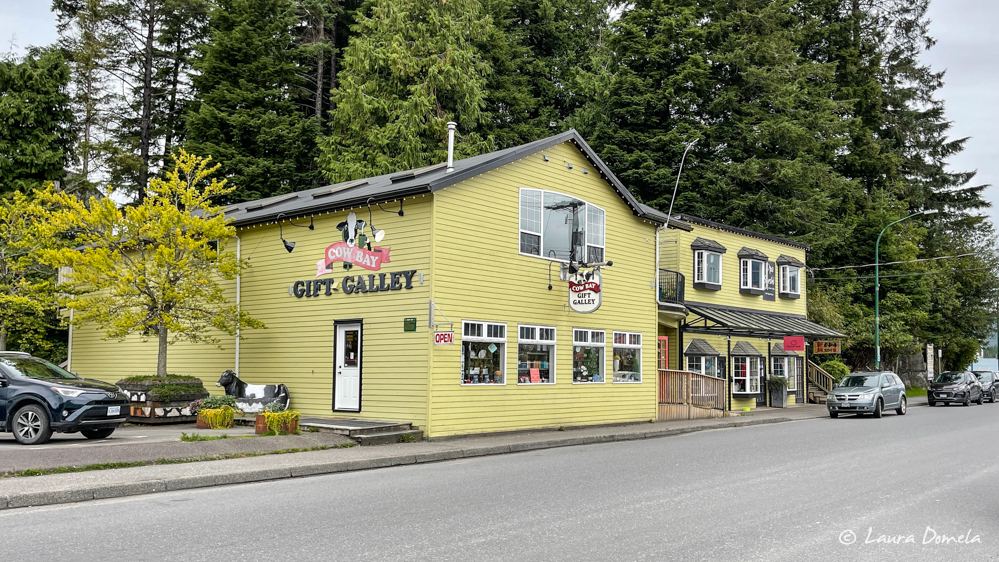 We were a little too far into our meal when I realized we hadn't taken a photo. Better late than never?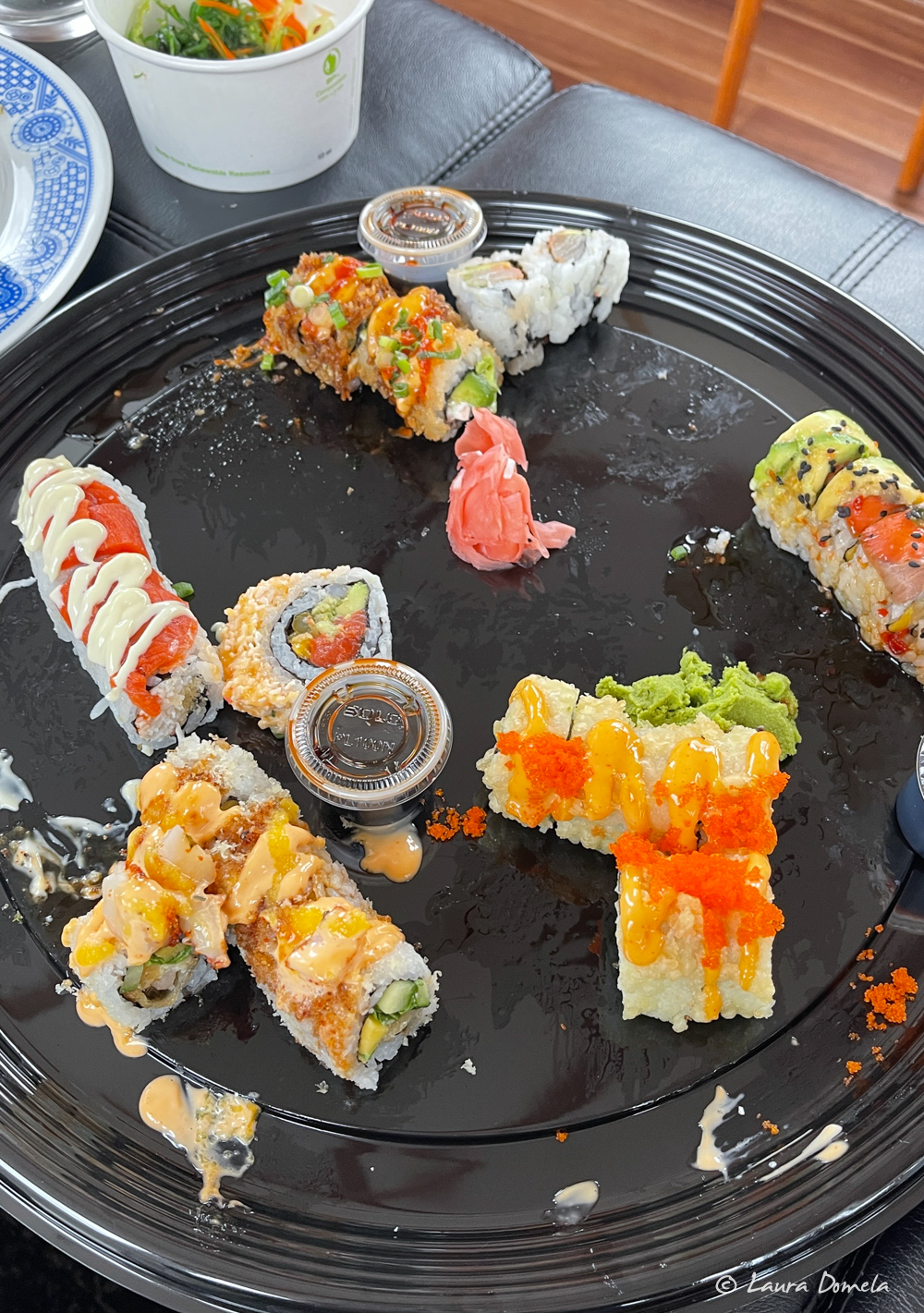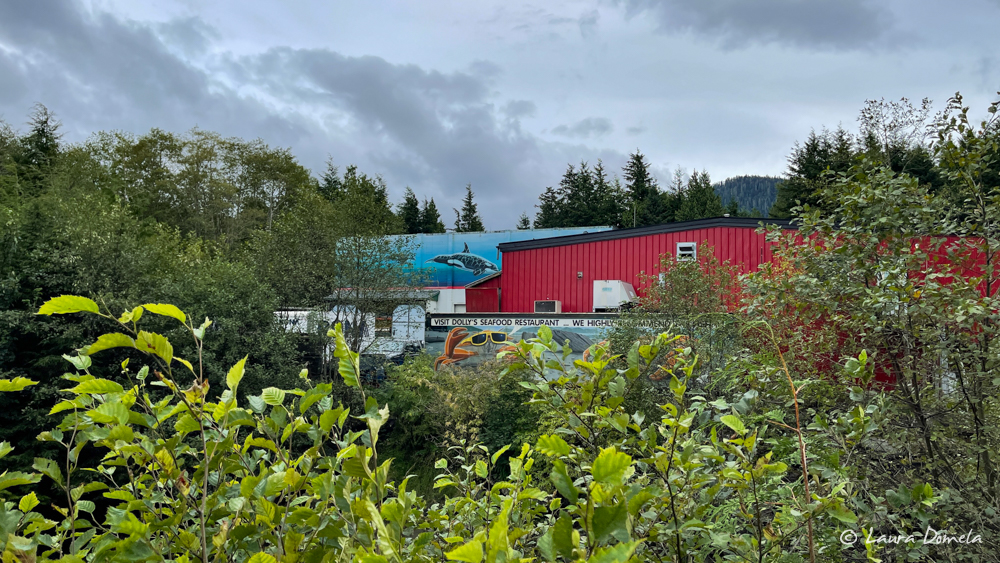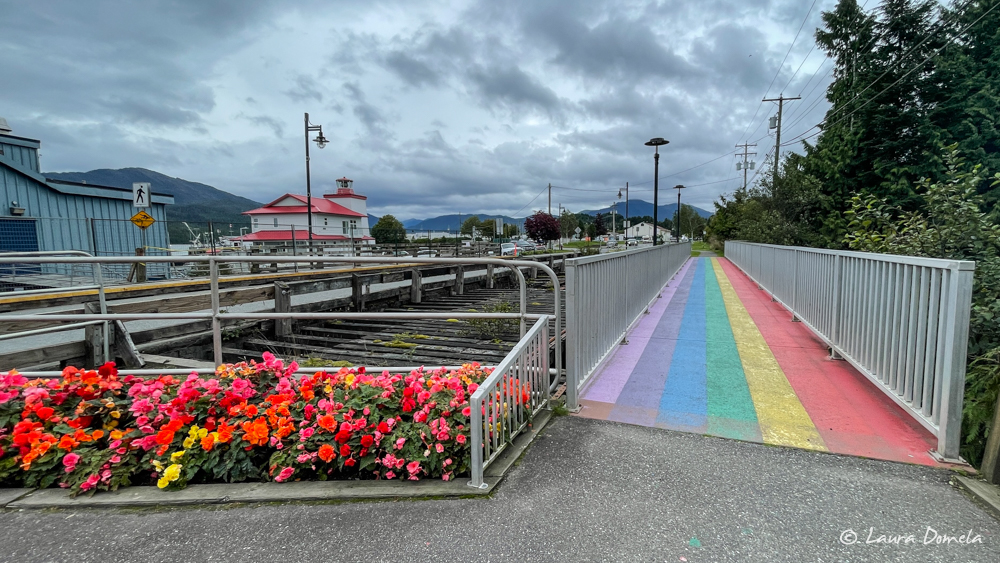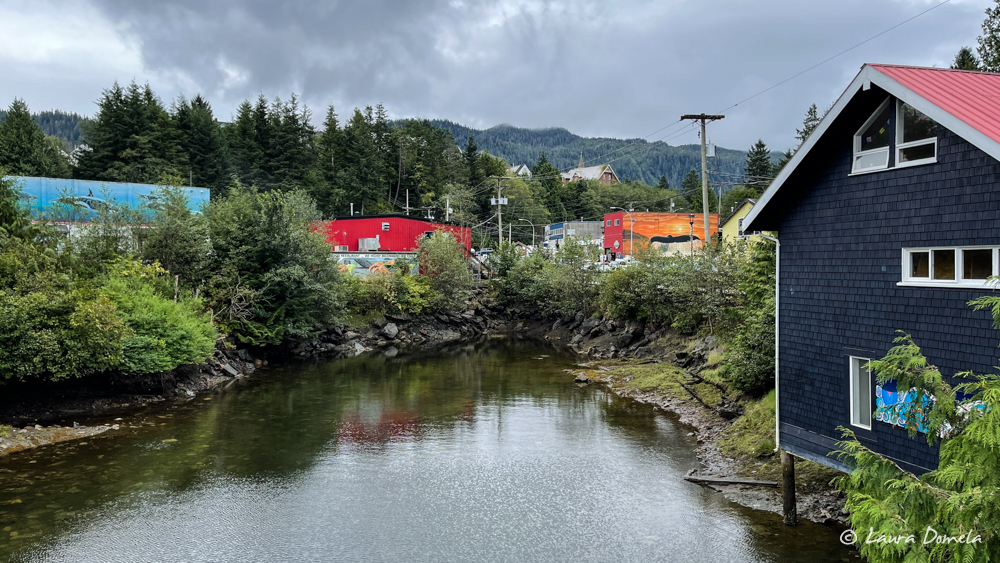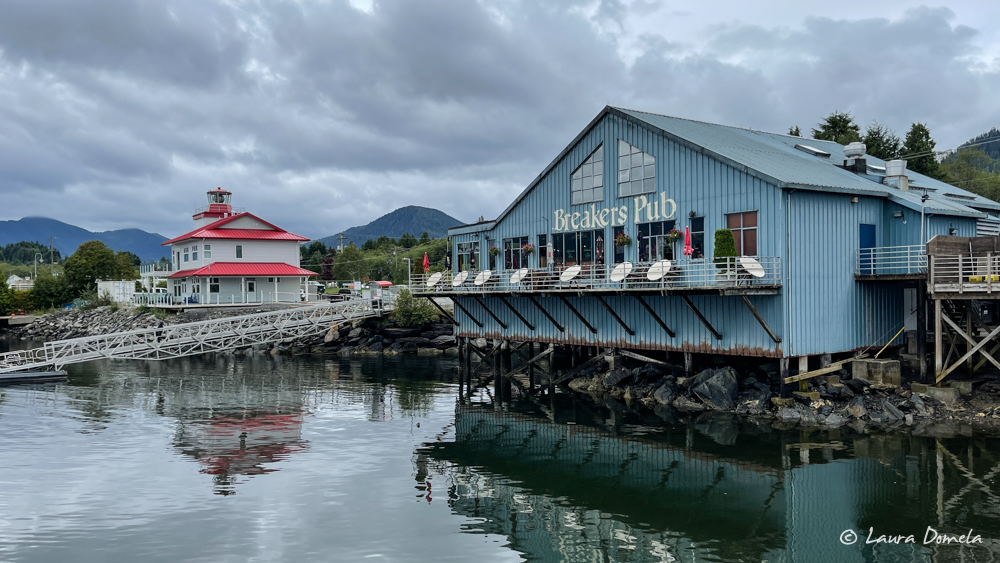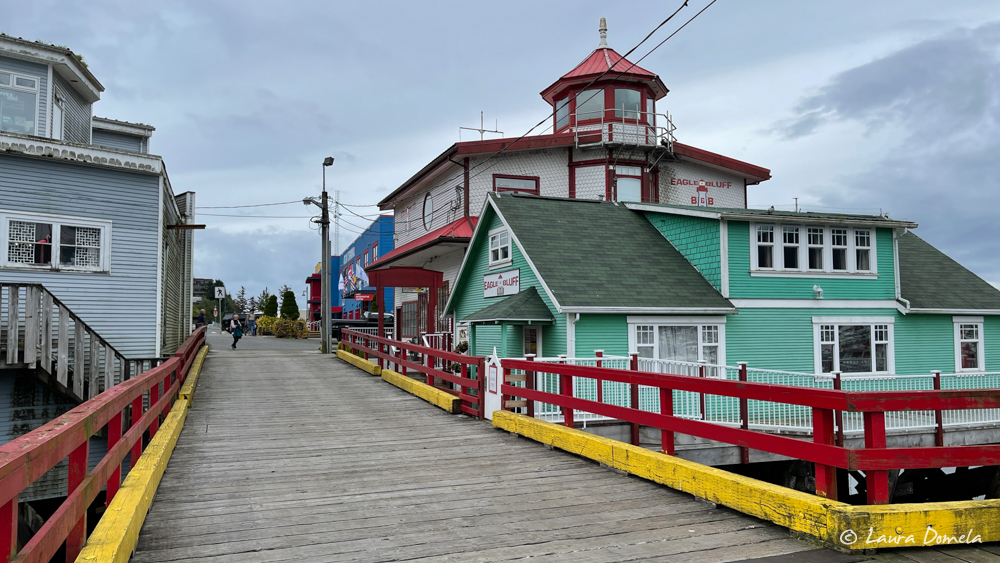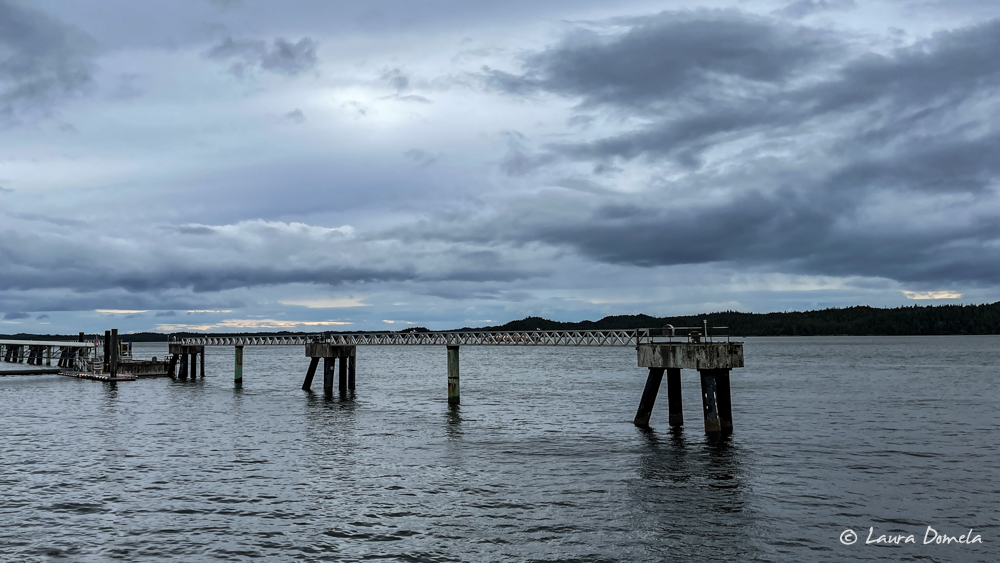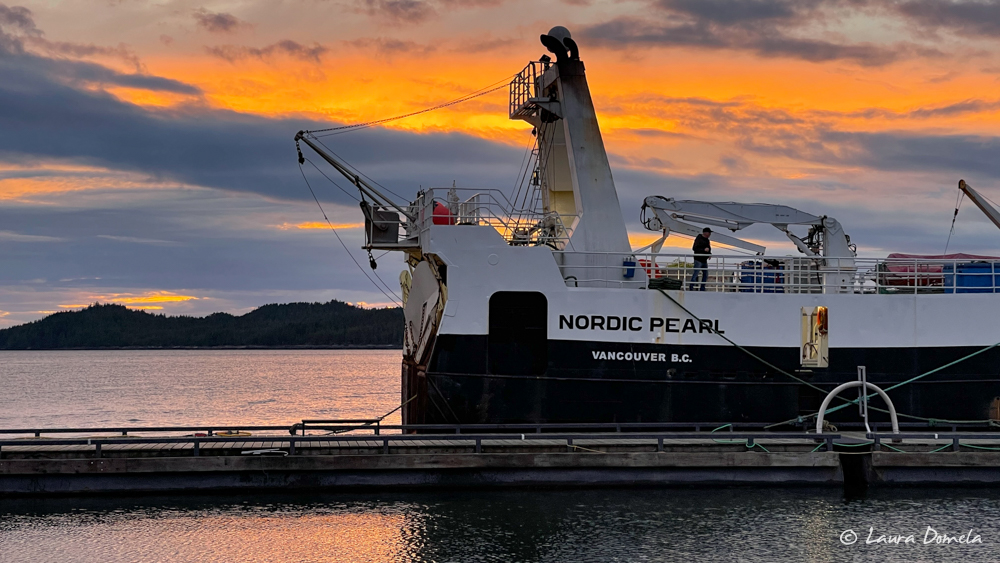 We caught up with Akeeva just outside their anchorage at Lawson Harbour, and both boats headed into Grenville Channel. We anchored for the night in Kumealon Inlet. We hadn't been into Kumealon before — it's a scenic anchorage with some great dinghy exploring!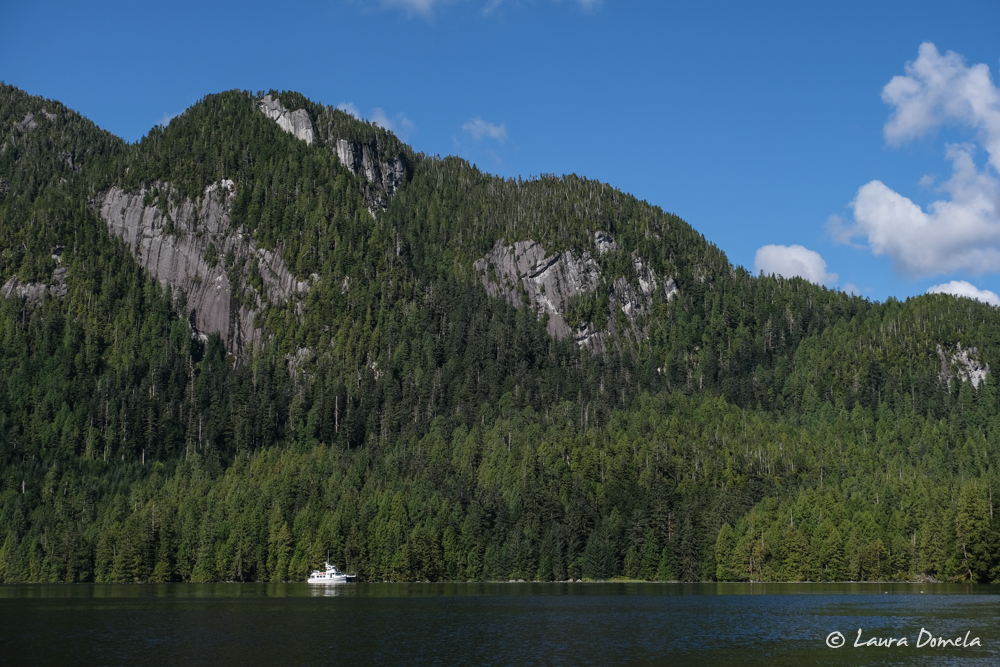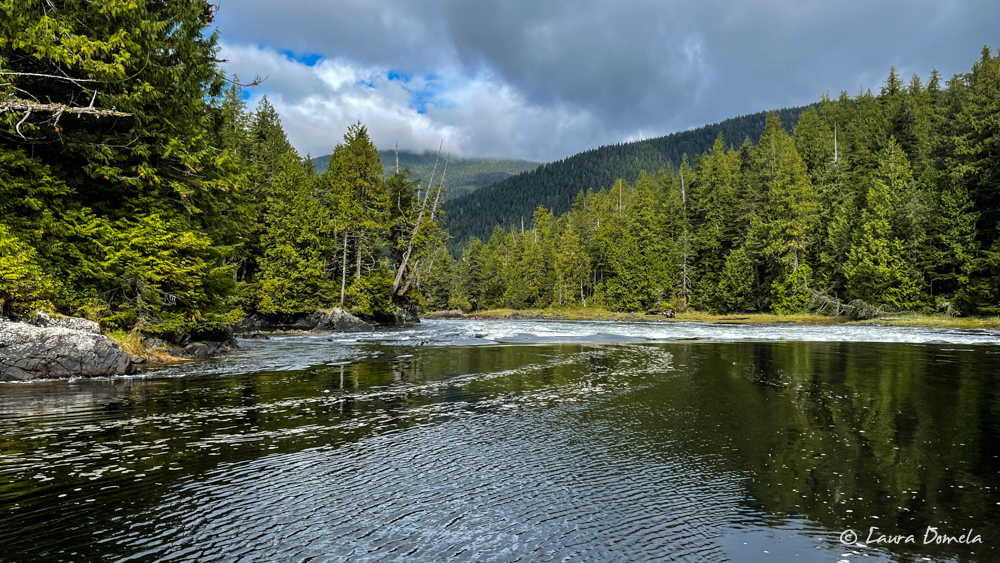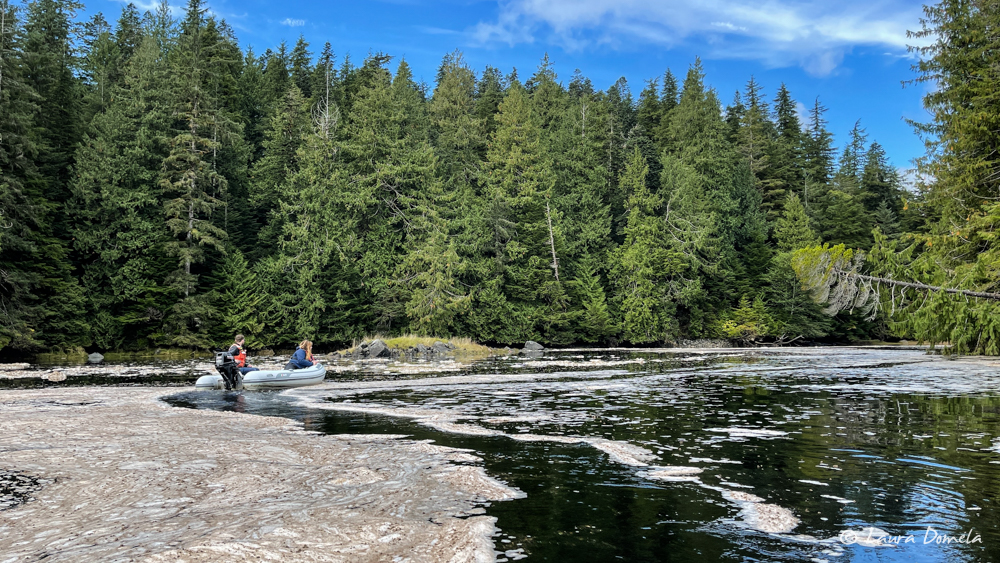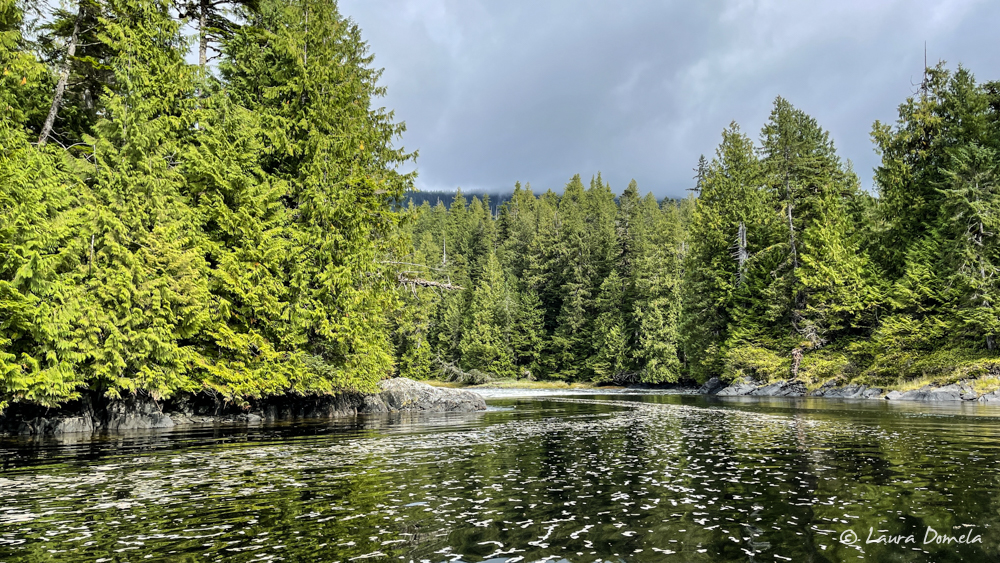 With the rapids not currently passable, we wandered around a bit and then went back to the boats and waited for slack.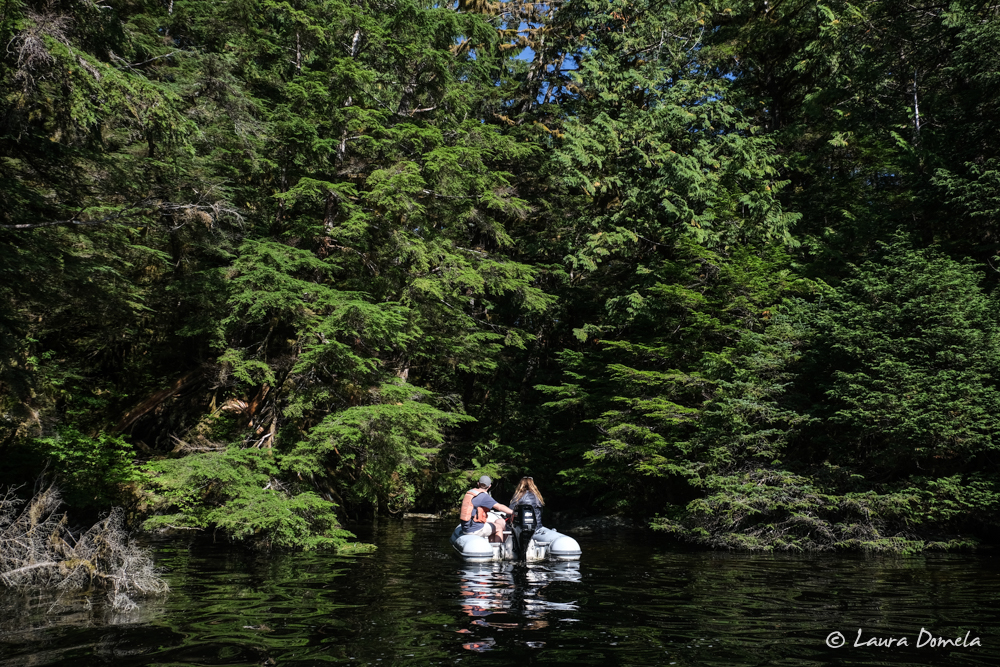 At slack, getting into the lagoon was no problem, and there was a lot to explore in there.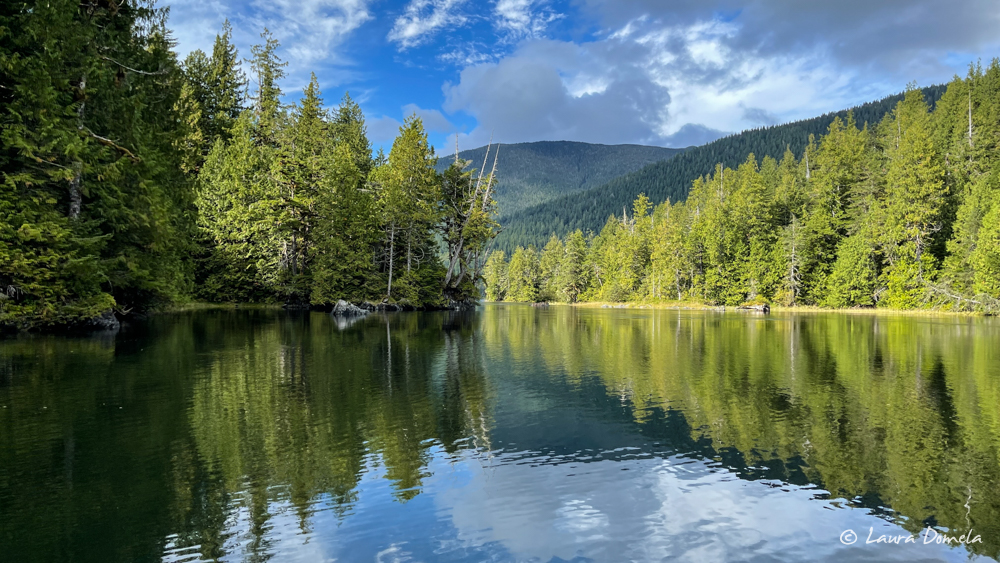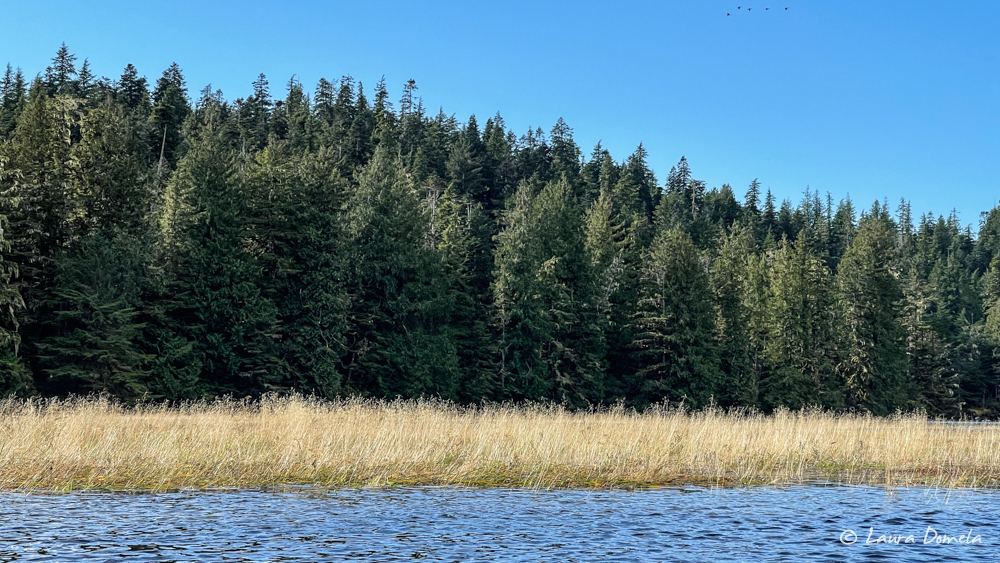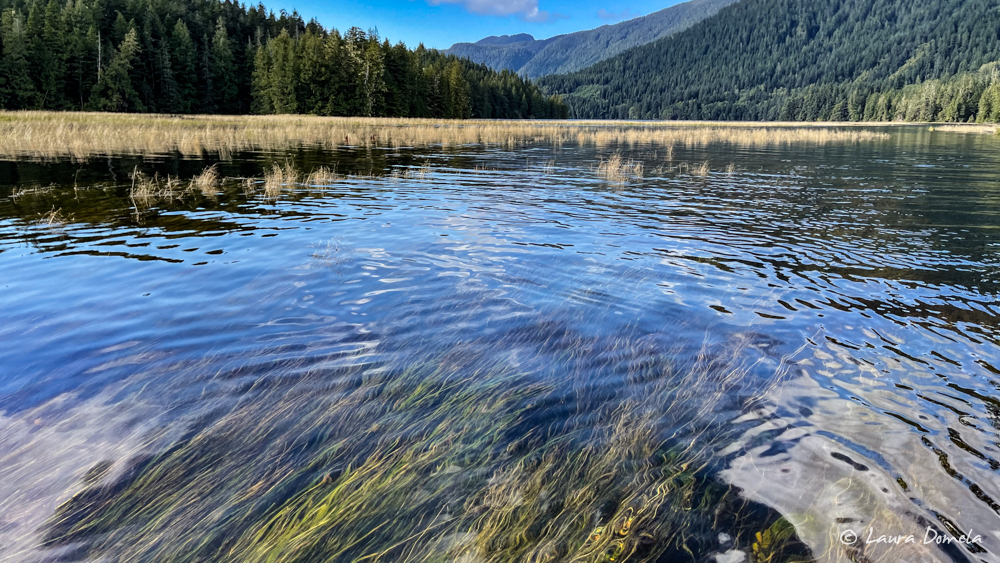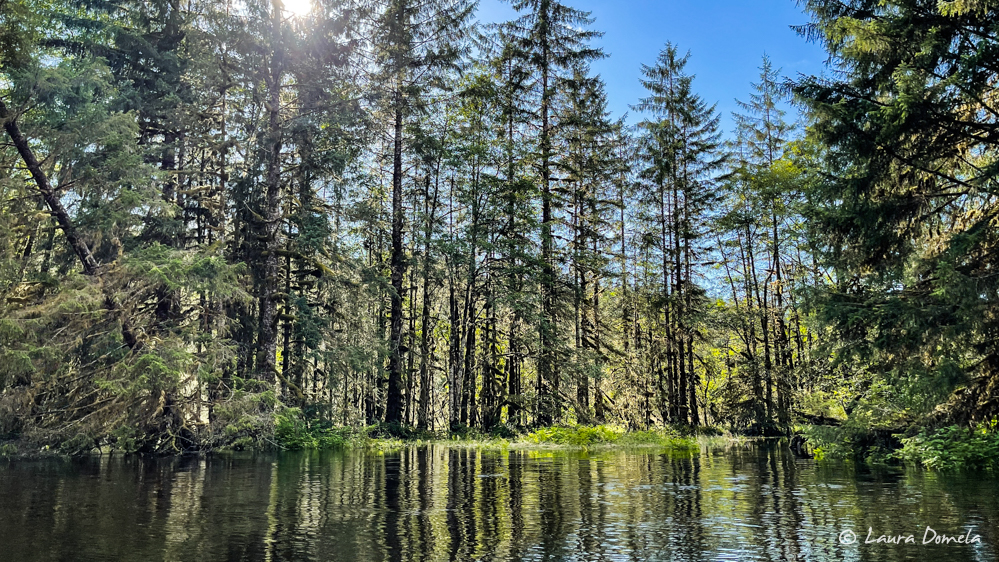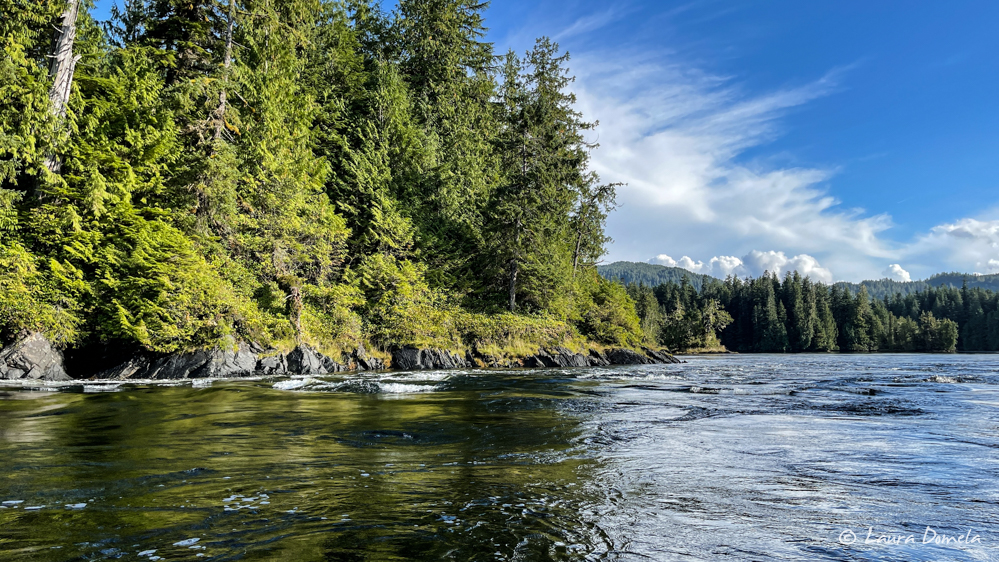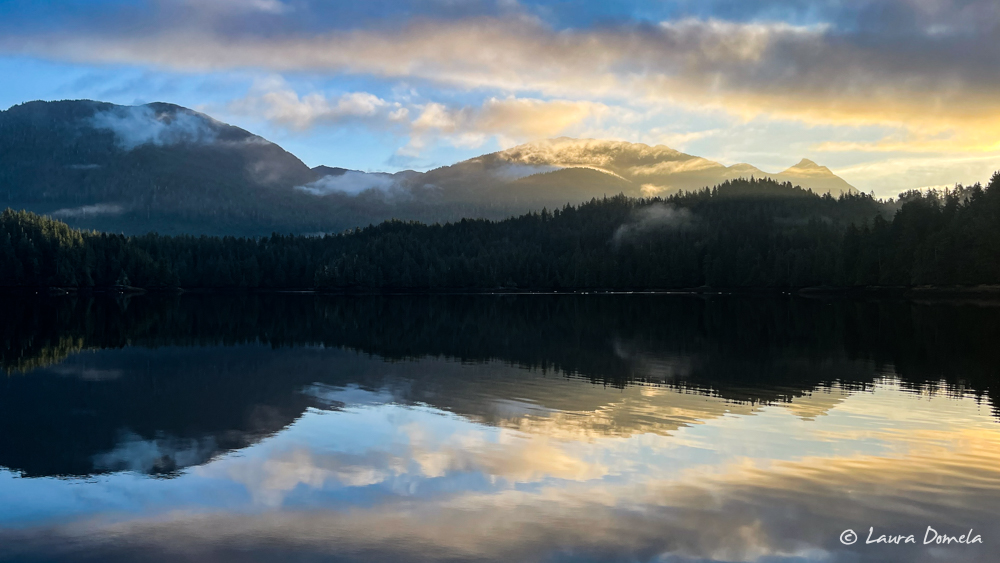 We left Kumealon early the next morning and continued on down Grenville Channel headed for Lowe Inlet.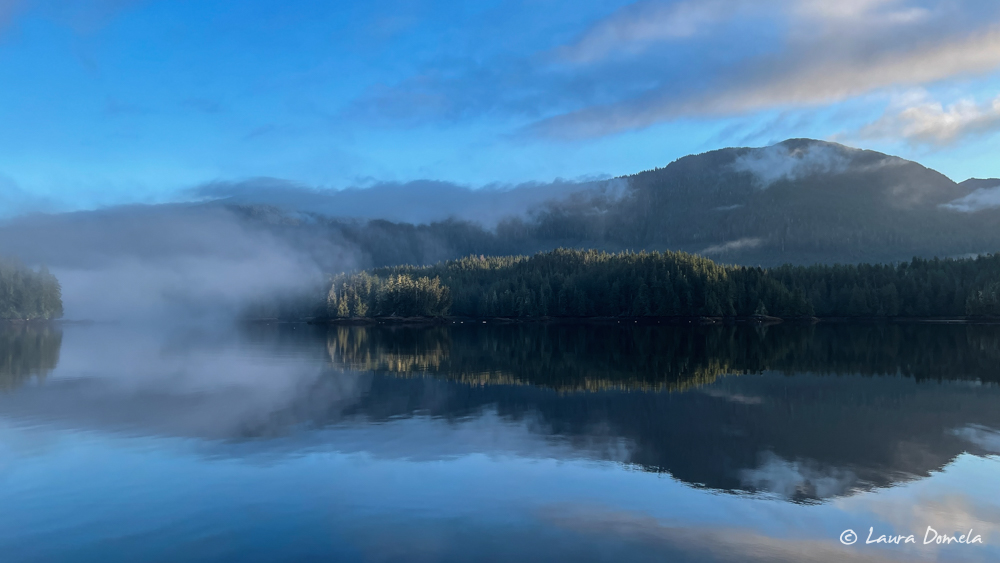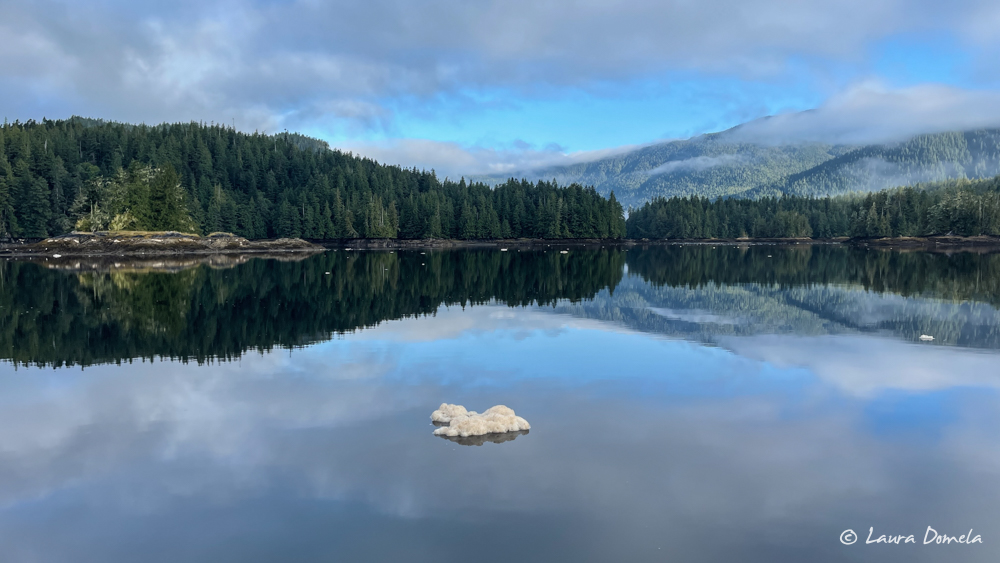 None of us had been to Lowe Inlet in recent years, and it was nice to visit again. We anchored right in front of the waterfall (no other boats were here…yet), and then set out in the dinghies to play.
We tossed around in the waterfall (and the foam generated by the waterfall) for a bit, noticed a black bear on shore that we watched for a while before moving on to explore some of the rest of the inlet.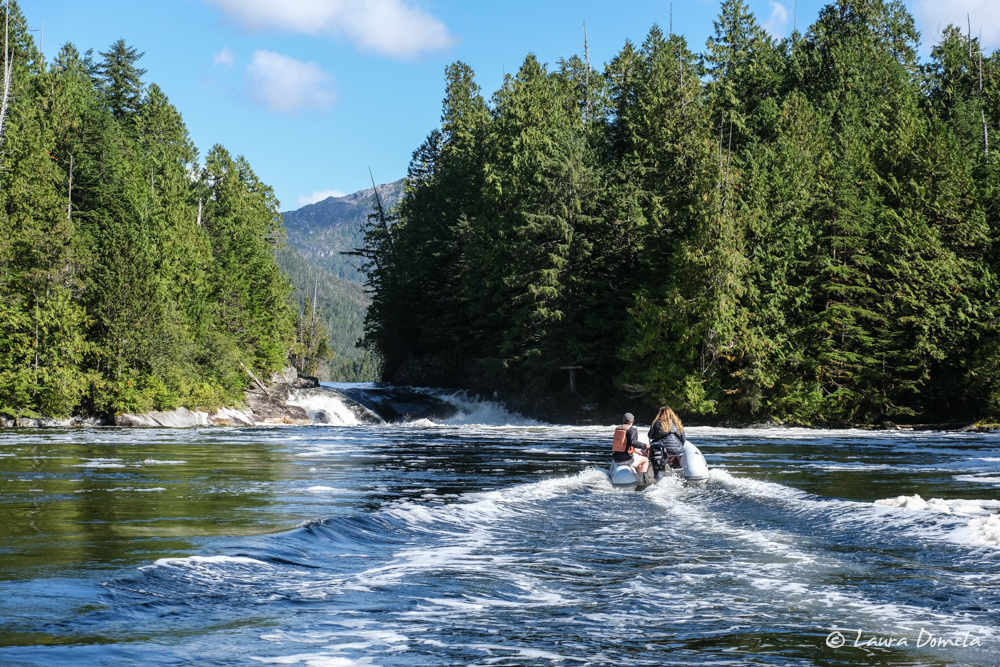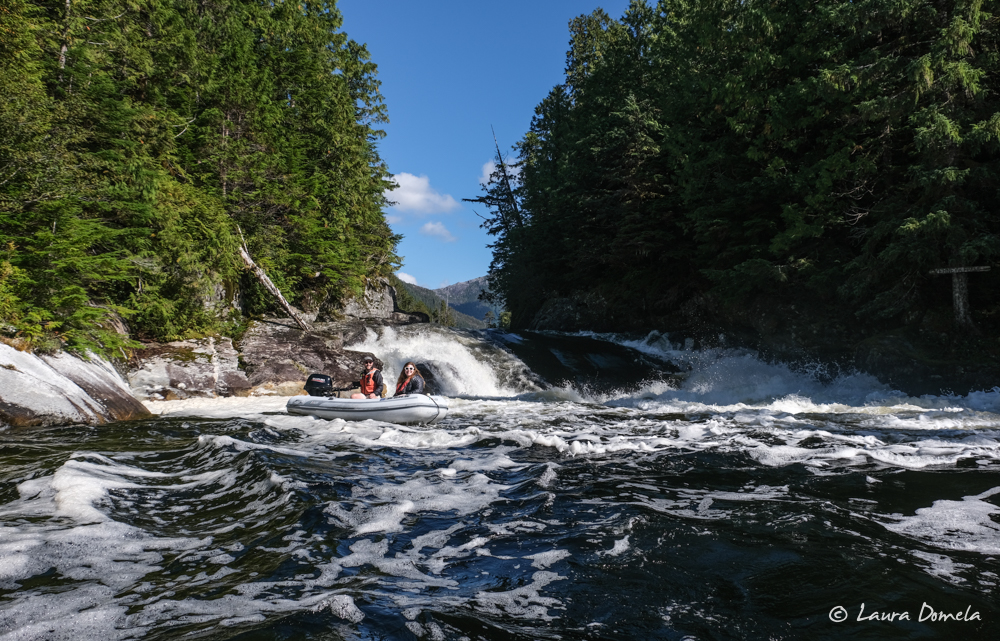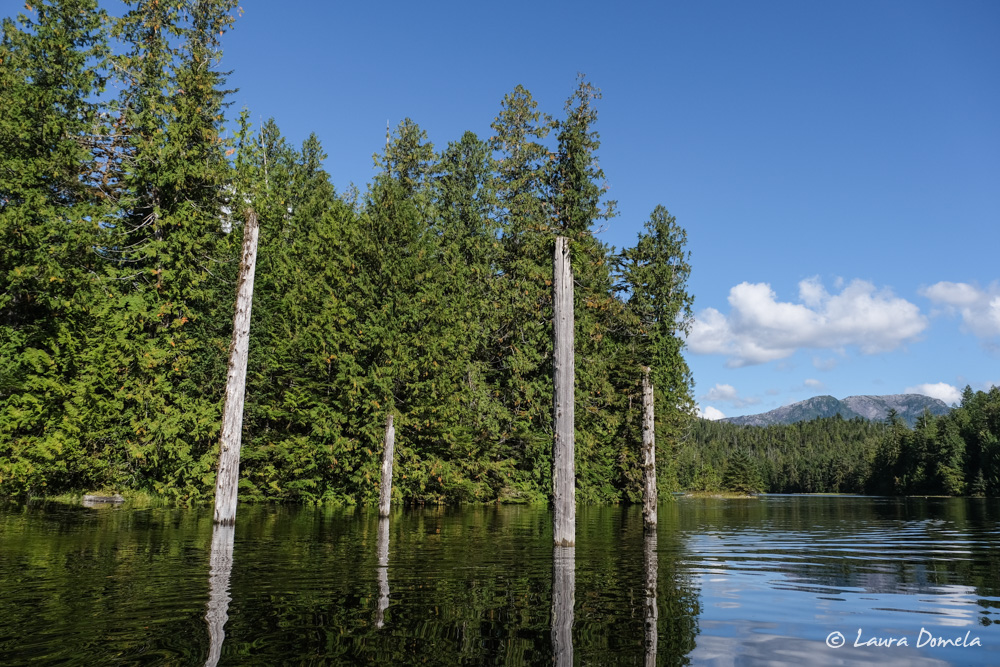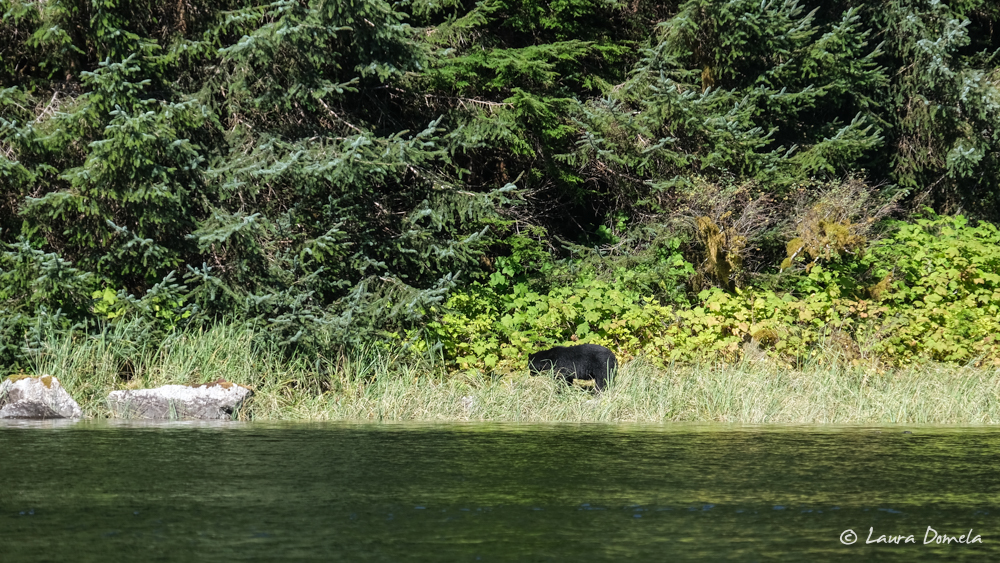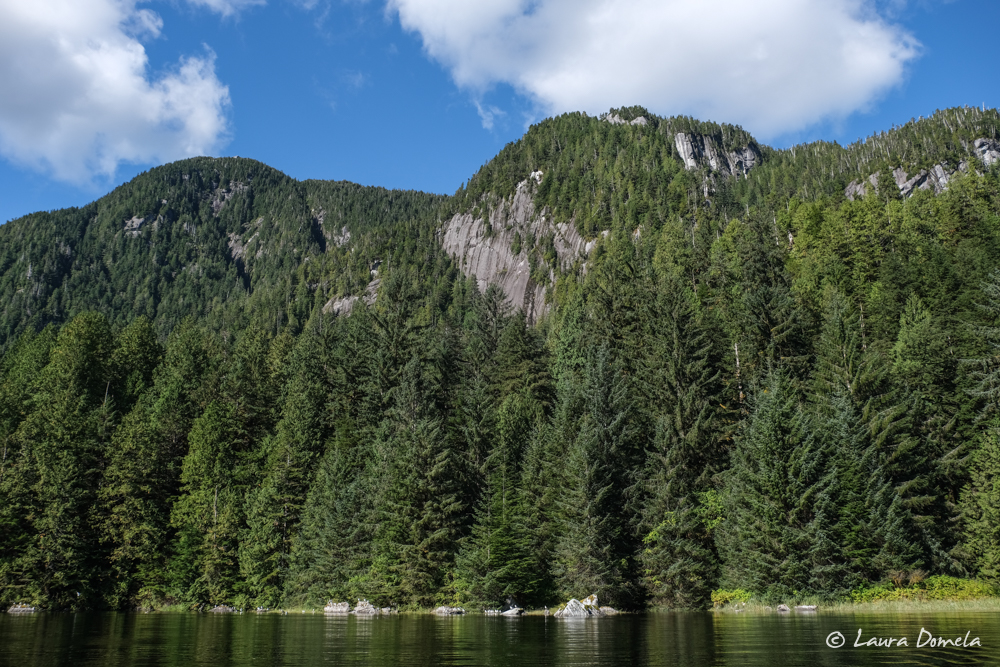 Kevin took some aerials while we were here in Lowe Inlet: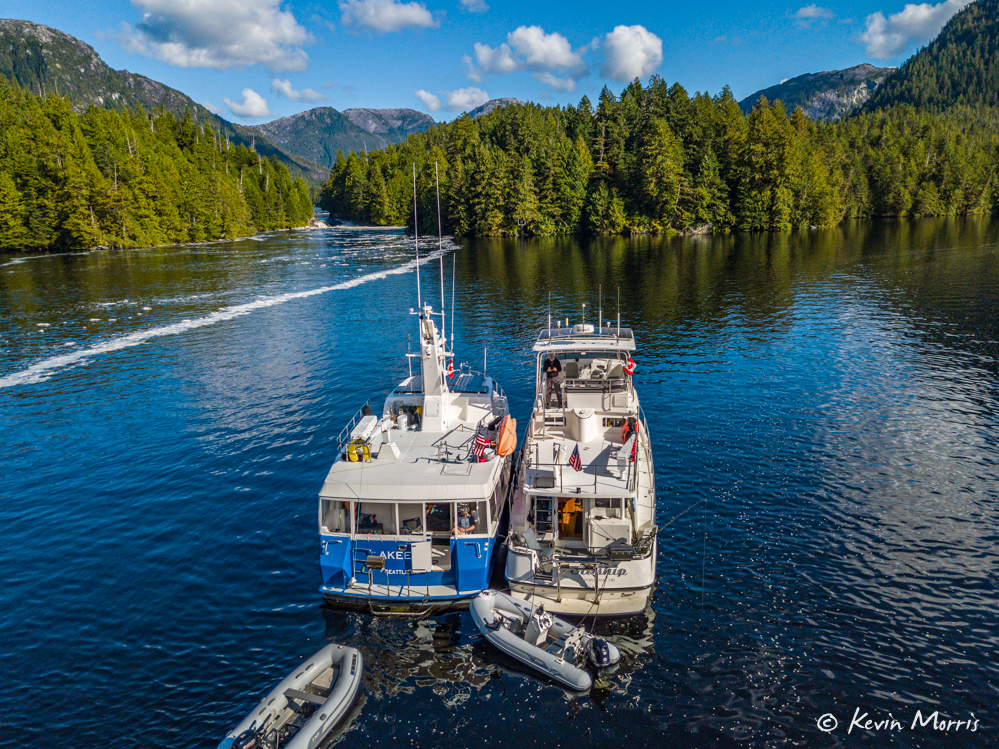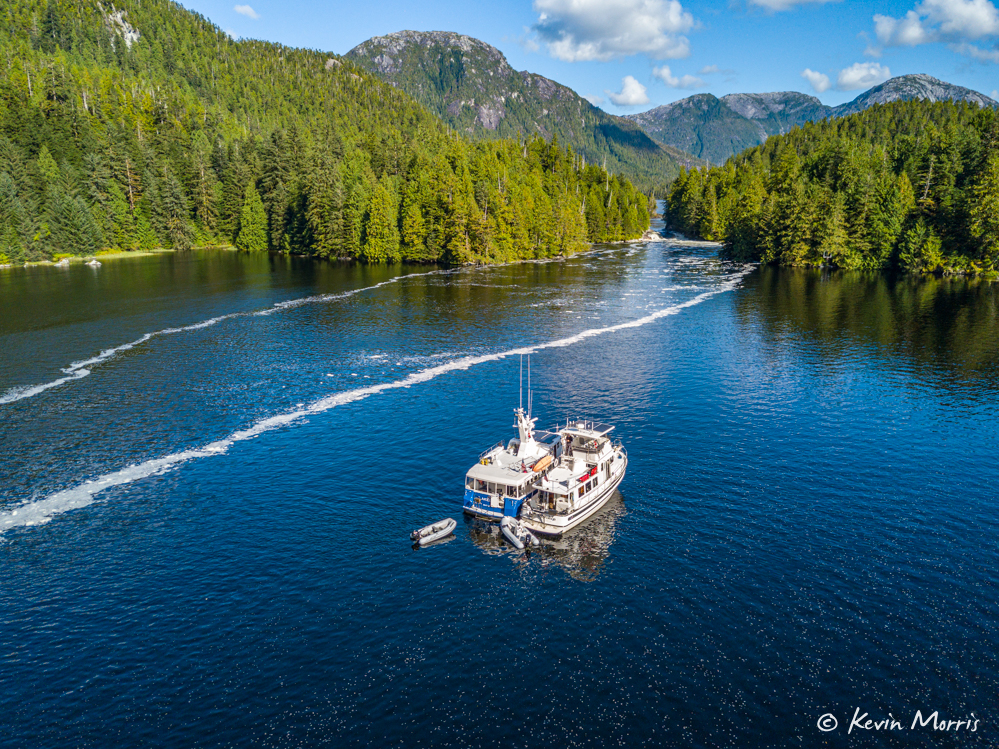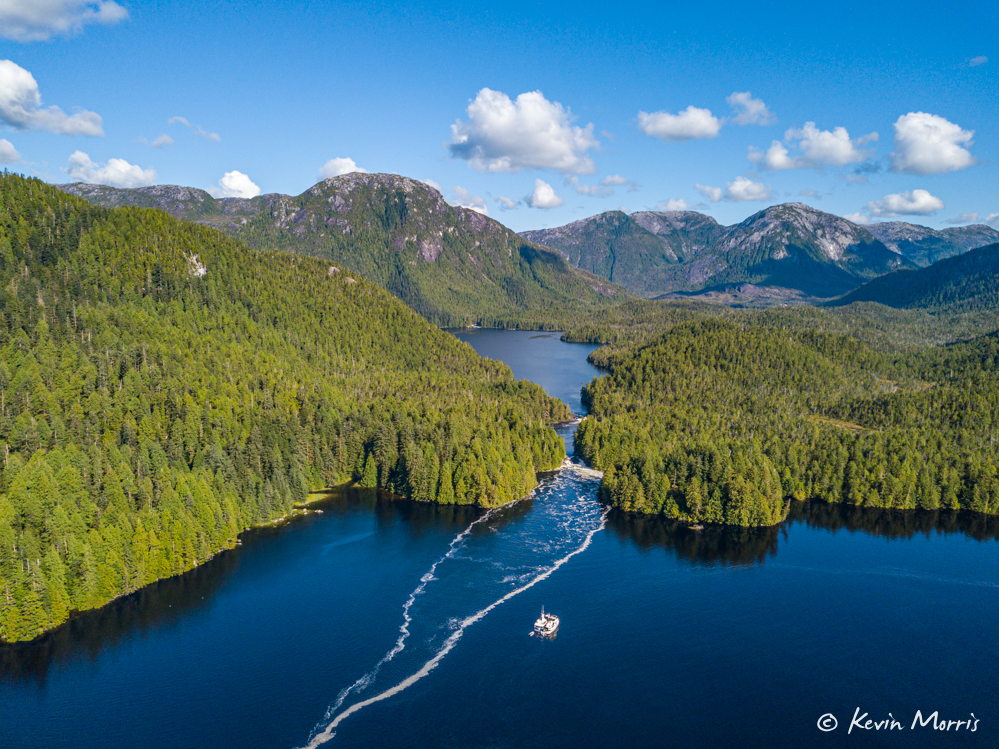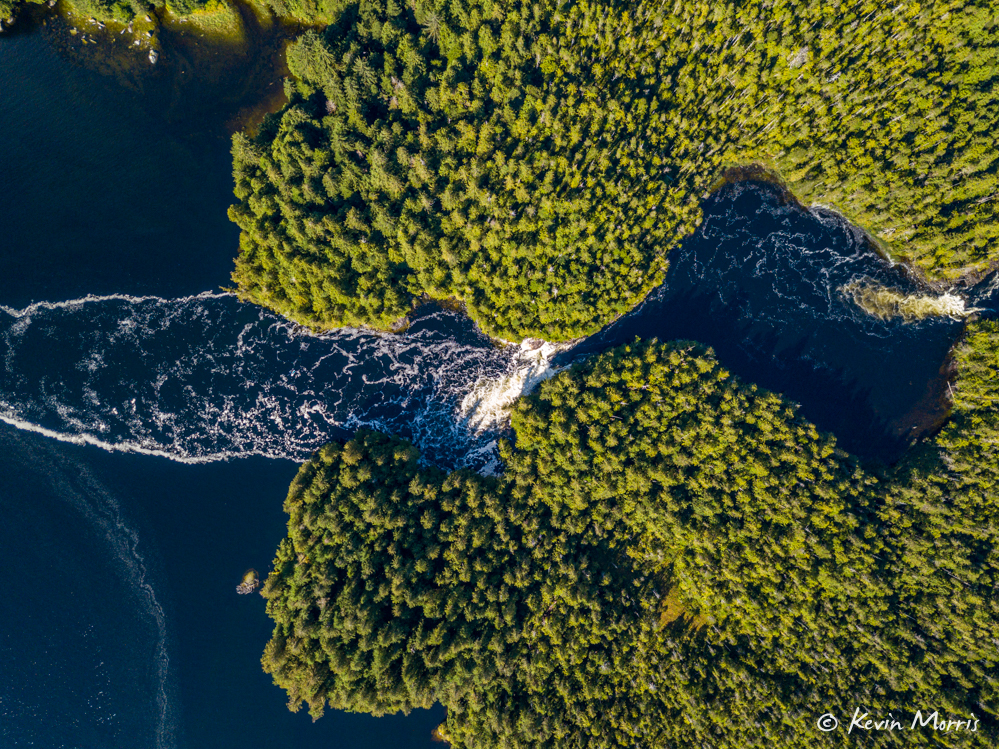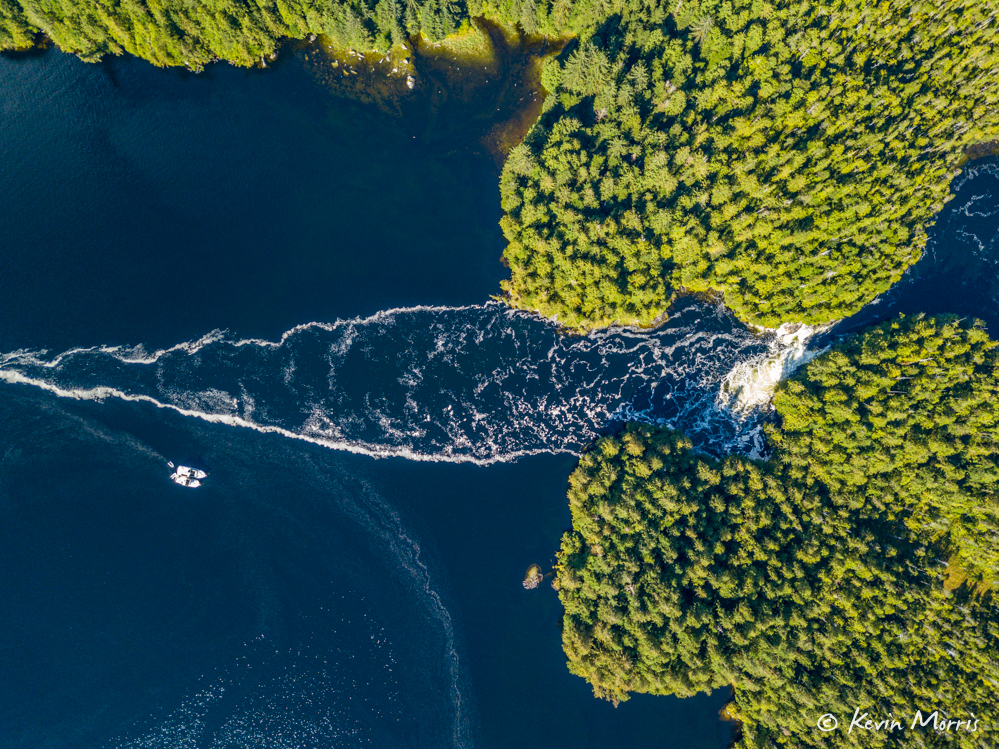 Again, we left in the morning at first light and were up quite early and treated to the candy pink and orange of this incredible sunrise.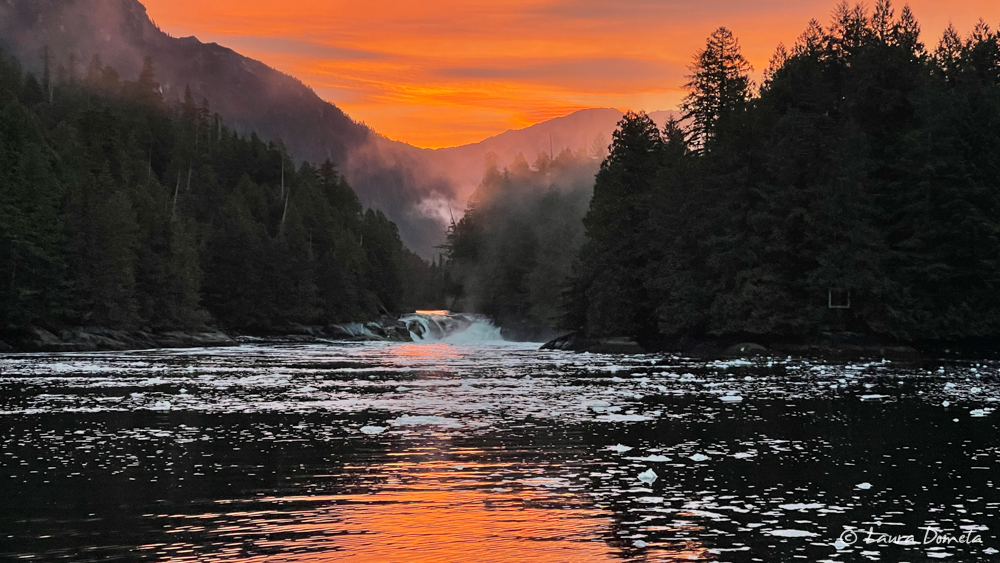 One aspect of anchoring in front of the falls (especially rafted with another boat) is that the space between the two boats collects a LOT of foam.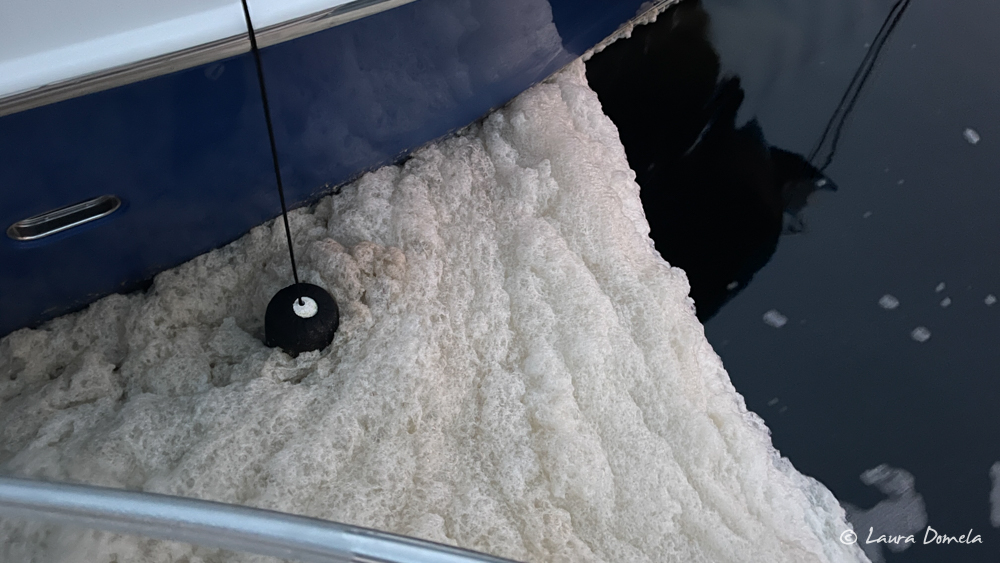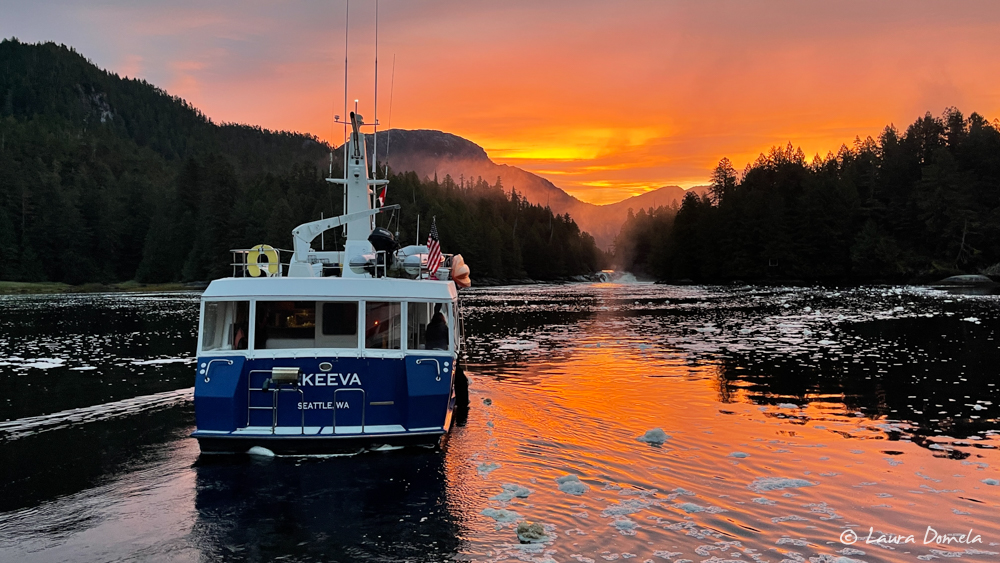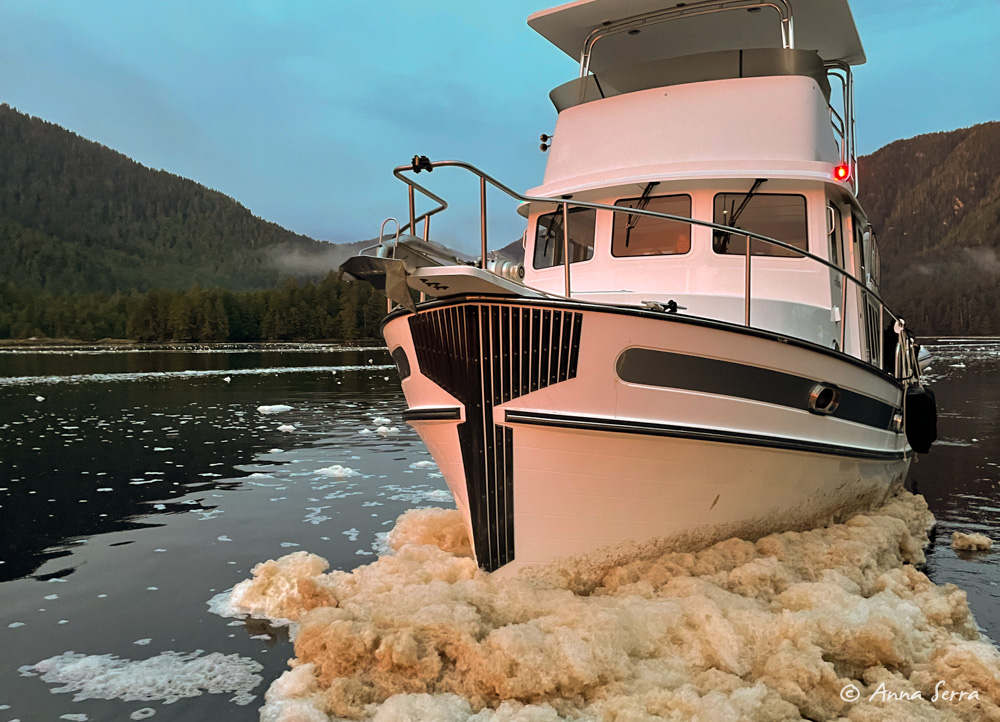 Our next stop was Khutze Inlet, where we were one of five or six boats anchored.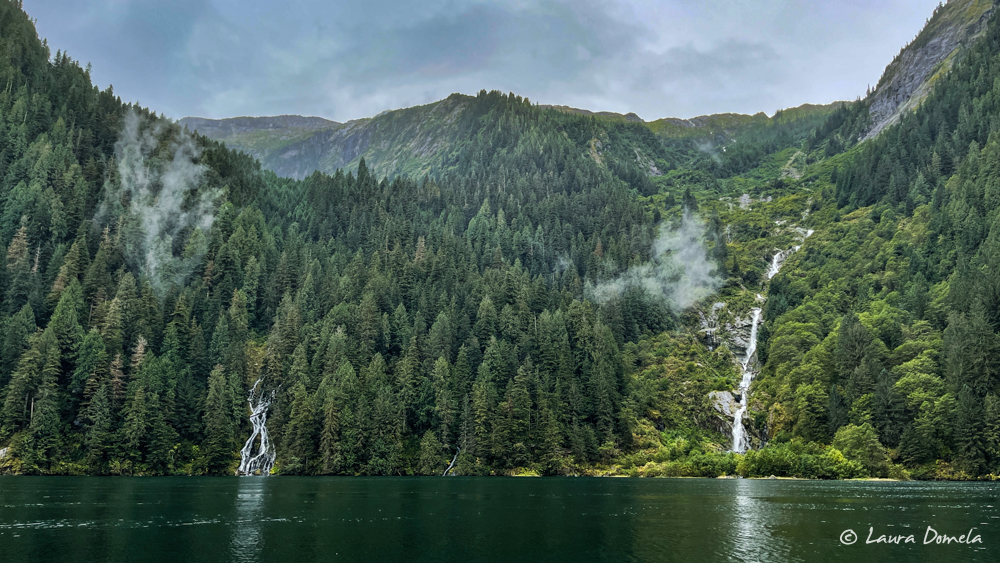 It had been very rainy most of the day, but going up river in the dinghy at Khutze is always a highlight (and there are often bears!) so all four of us donned our Grundens and Xtratufs and headed out (in the rain). We were soon intercepted by a couple of folks in a canoe, who it turns out were with a research project currently in progress at Khutze Inlet. They're studying the possible effects of ecotourism on bear activity here, so the side of the river inlet going up the south side of the mud flat was closed to people, and the other fork was open, but only to charter clients who had previously gotten permission and were signed off on the protocols. We were apparently the only pleasure boat there, and they said we could go in if we took a GPS tracker with us so they could monitor and add us to the number of boats going in. We happily agreed.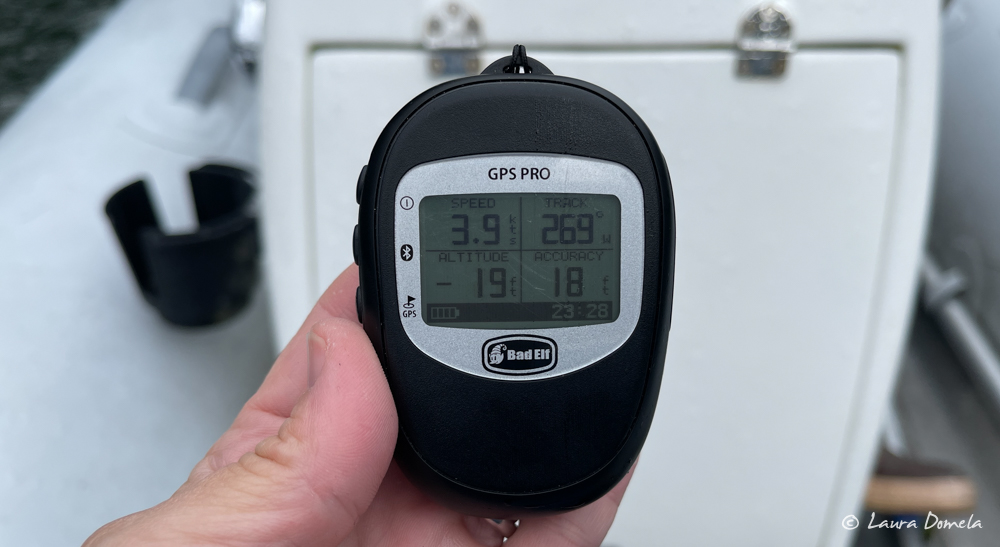 We got pretty far up river, passing a couple of small skiffs and dinghies along the way, and were treated to a good view of a very large brown bear in the river fishing. At one point he swam across to the other side, and then worked to corral some salmon into a shallow spot on the riverside where he could better snatch 'em up.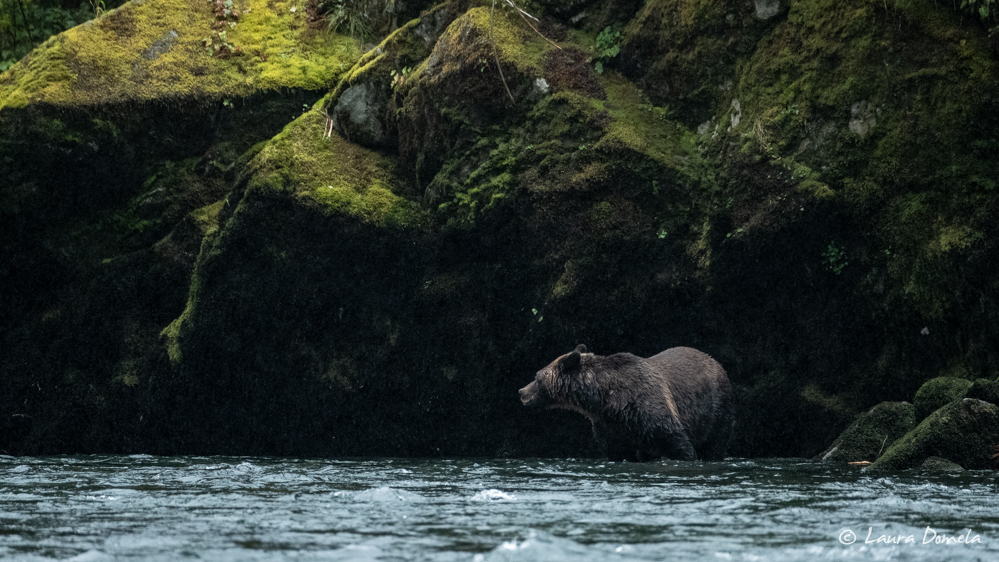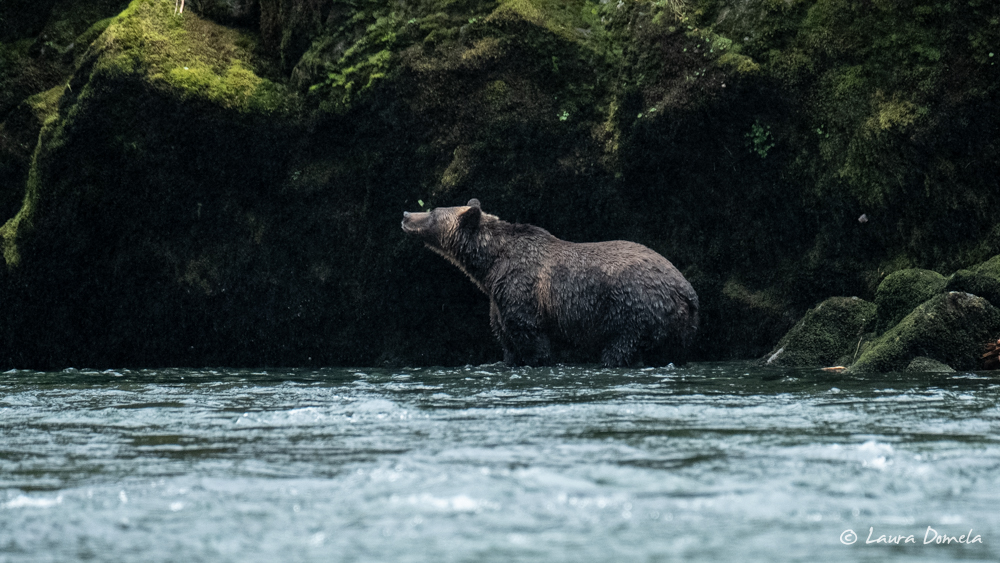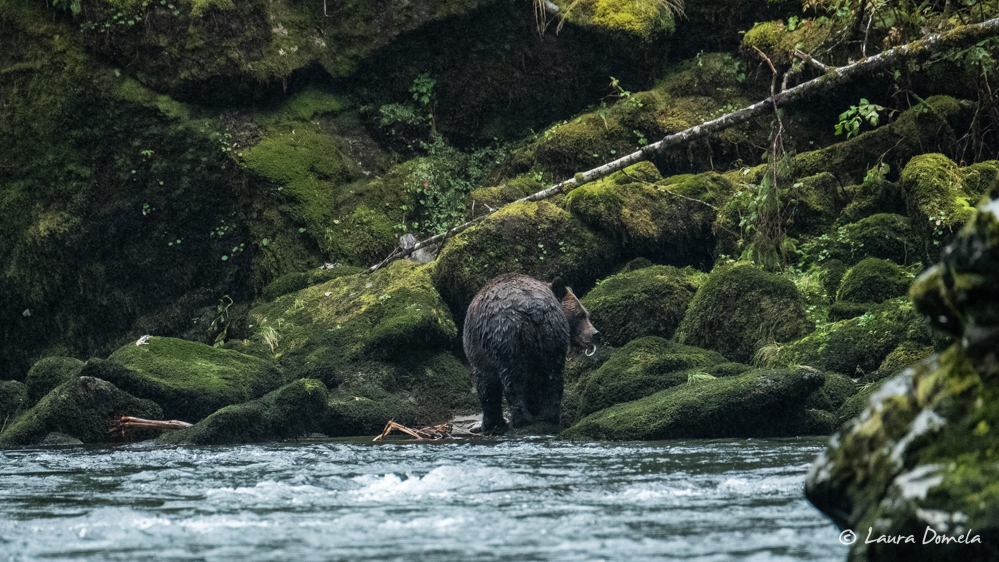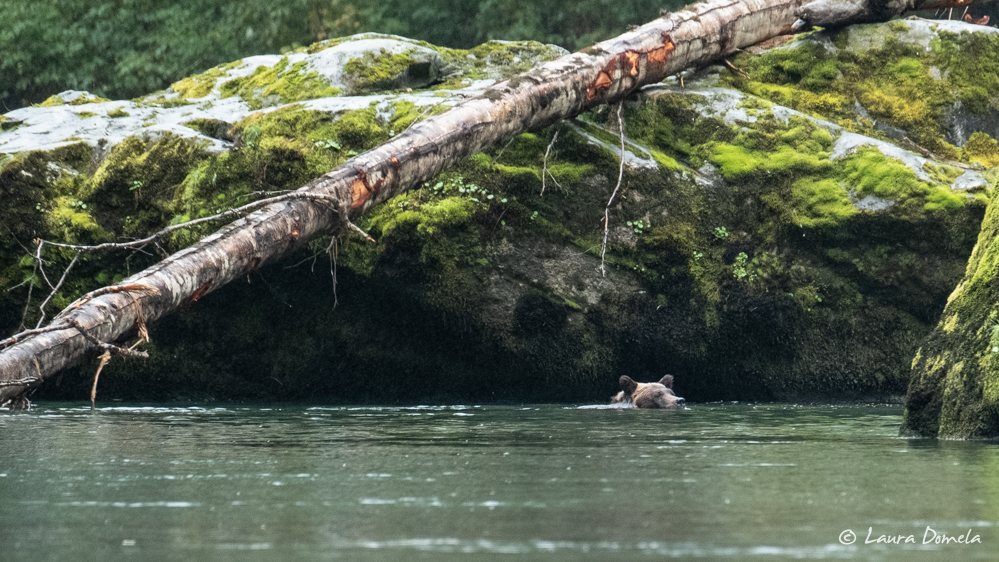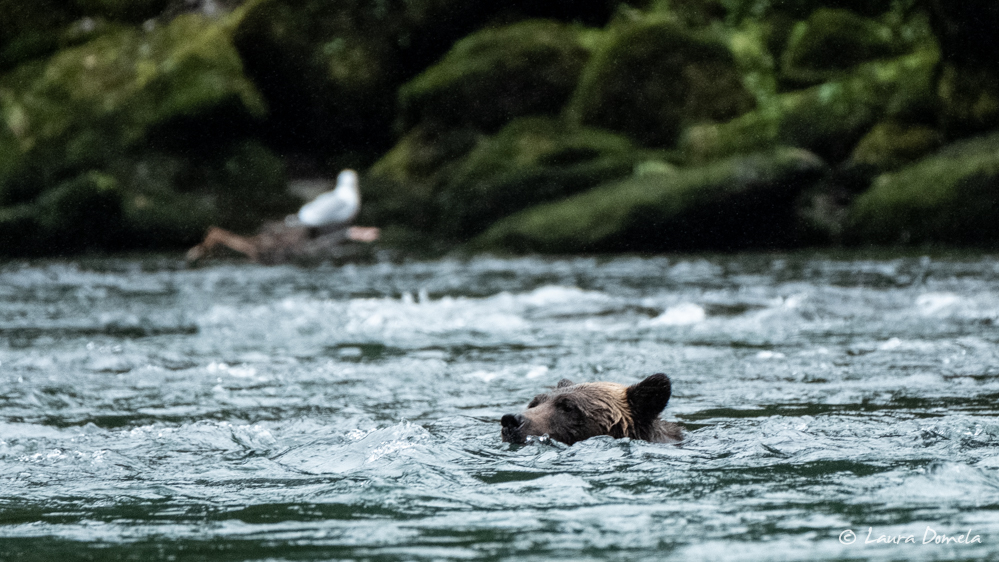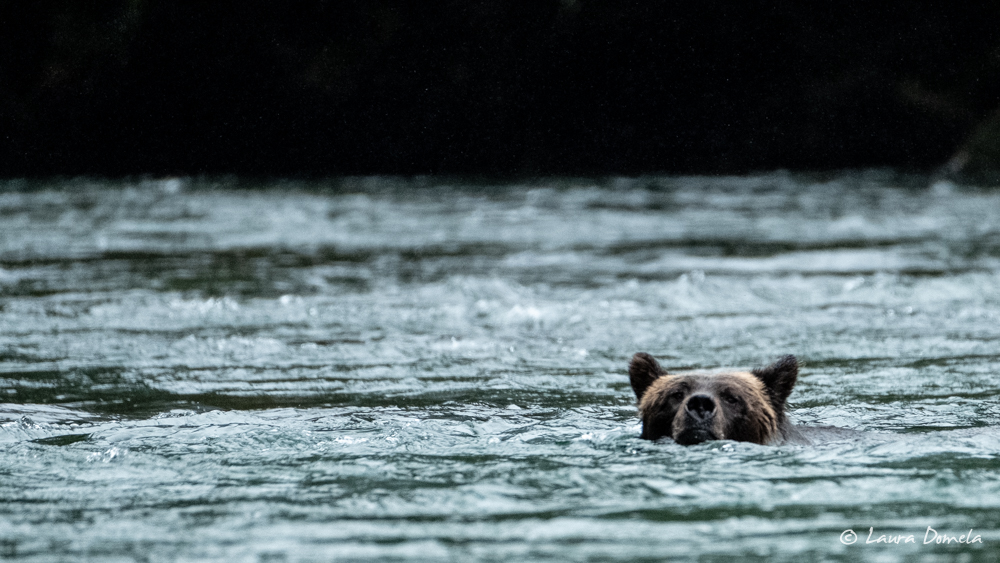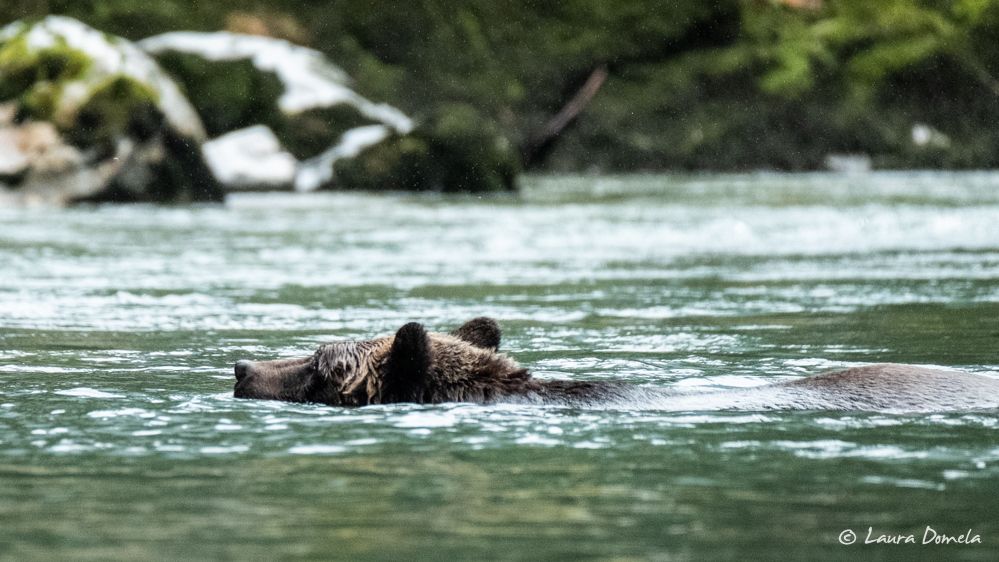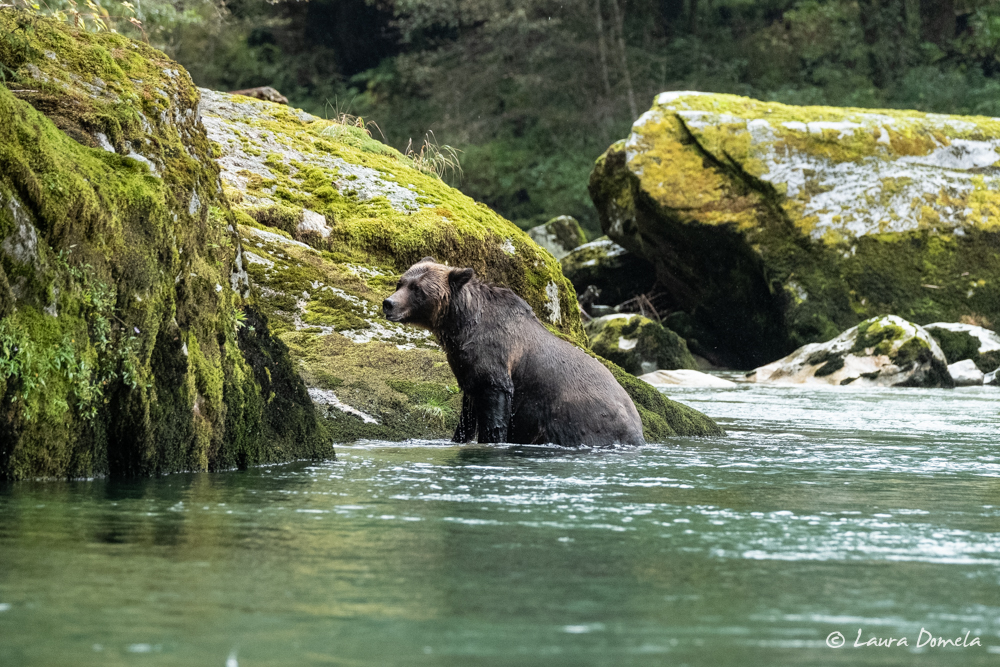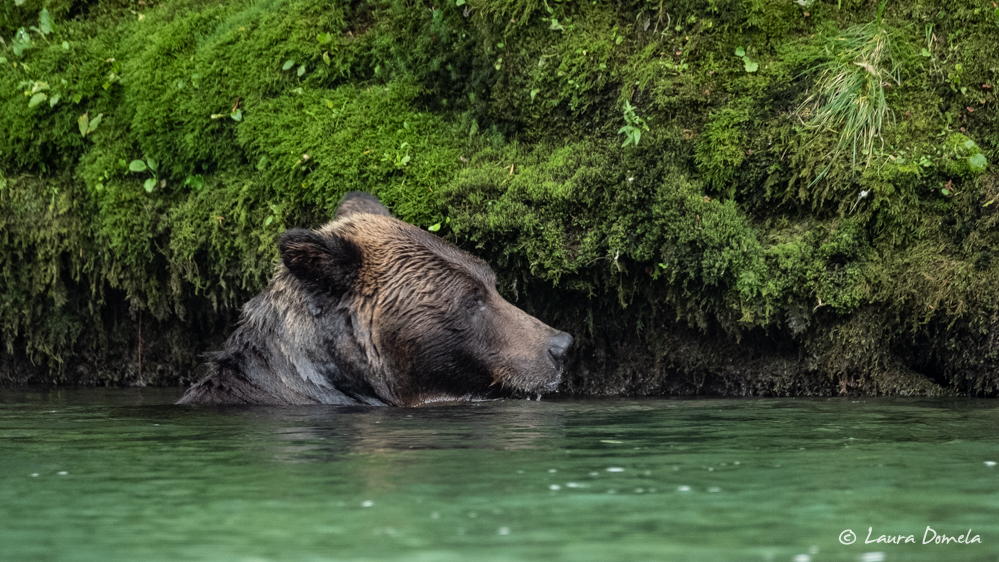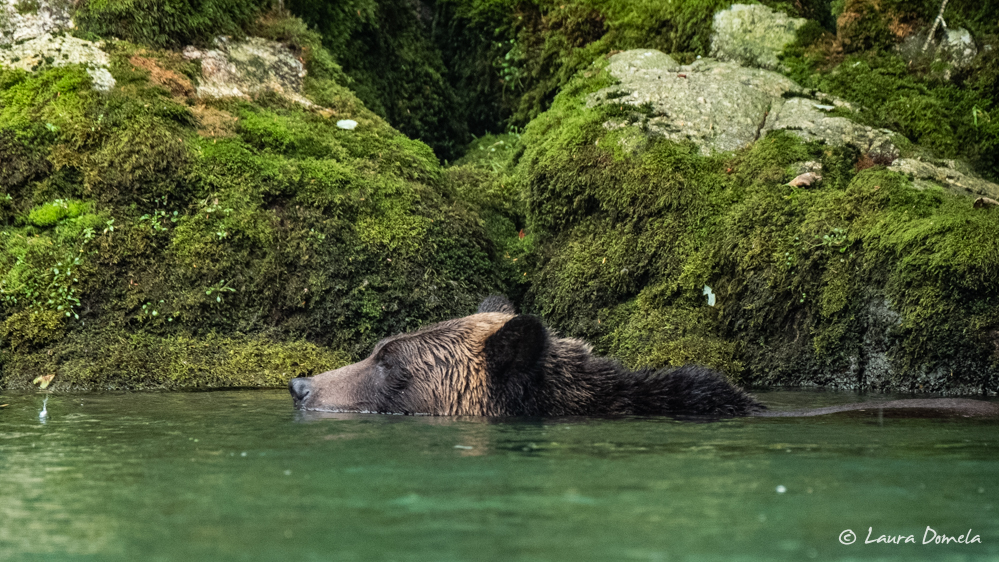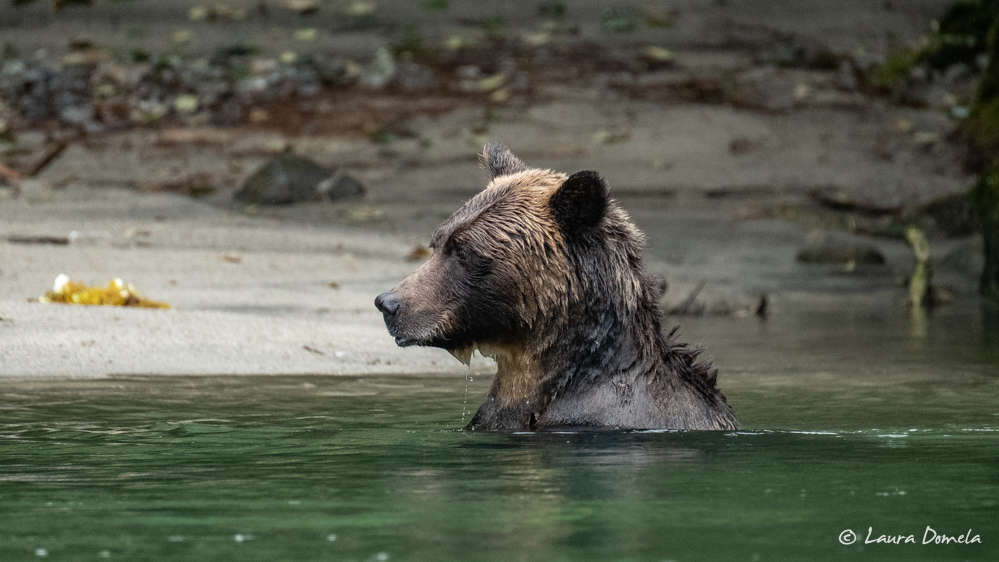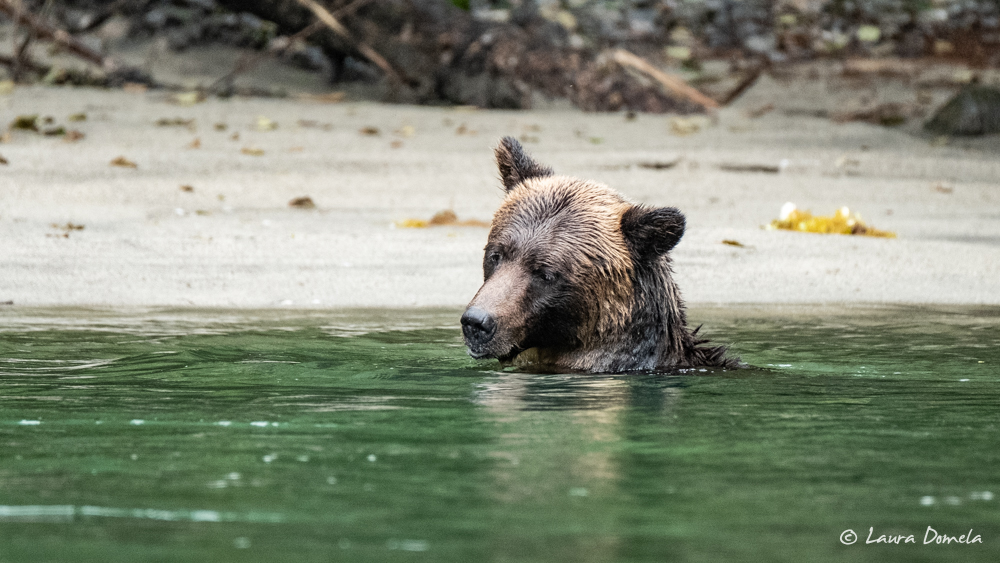 Again with the early morning departure time! We were out of Khutze before sunrise! Again!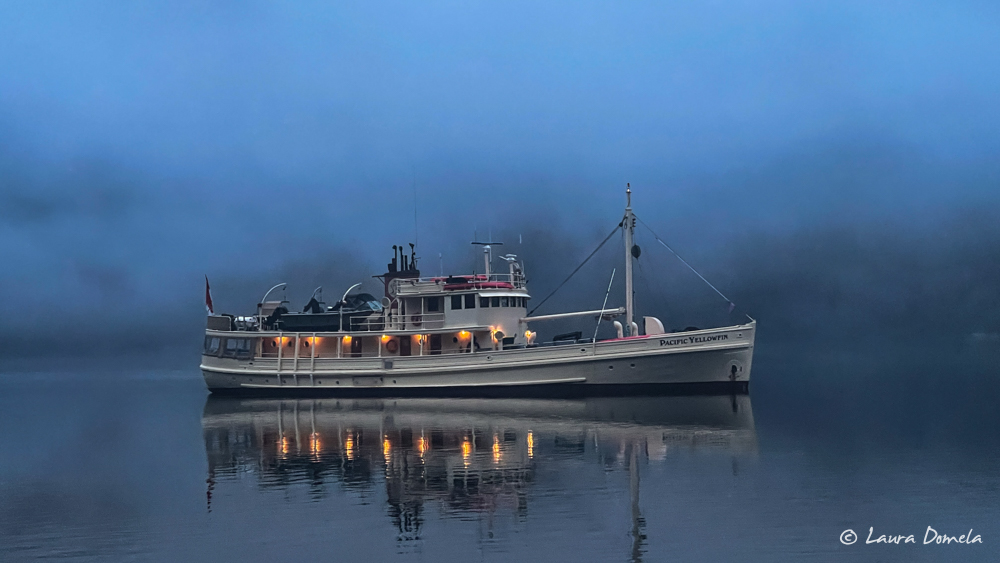 Our plan was to cruise the usual route through Perceval Narrows and Reid Passage, but instead of stopping at Shearwater, we planned to continue across Seaforth Channel and wind our way through Rait Narrows (between Dufferin Island and Horsefall Island, south of Seaforth Channel) and find a spot to anchor in there.
Rait Narrows was skinny, but not too shallow, and we found a good spot to anchor in the first cove to the south of Rait Narrows. We explored by dinghy, and called it a somewhat early night.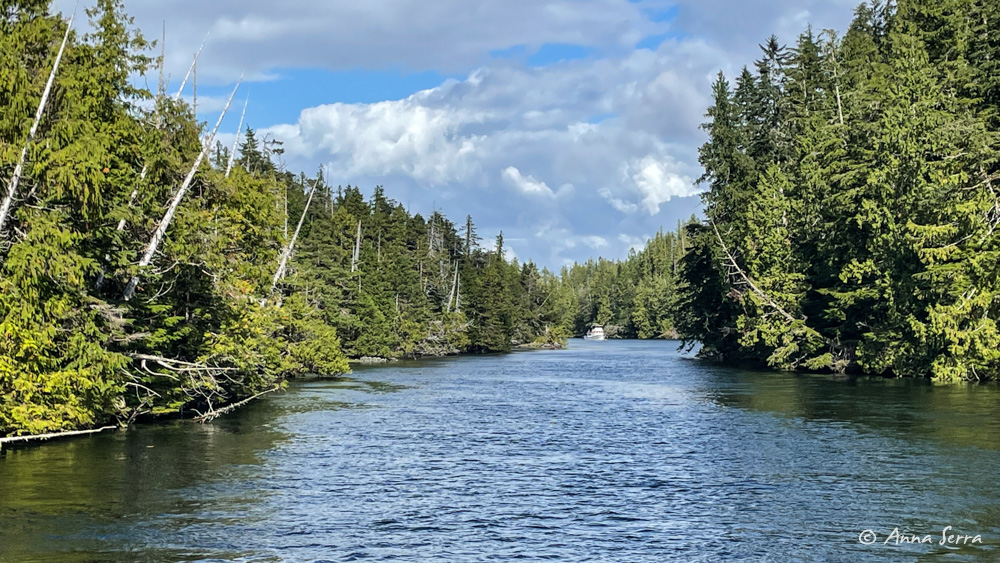 In the morning, we popped up early (again) and continued south, winding our way through many small islands and rocks, in and out of the ocean swells, past the McNaughton Group, Spider Island, Spitfire Island, Hurricane Island (and through a very VERY skinny spot between Spitfire and Hurricane Islands that we would very much not recommend…Sam said he saw zero feet on his depth sounder (which was probably kelp, but still!!). Airship saw 8ft, which is still water under the keel, but added to the narrow width of the channel felt just a bit too
Our planned destination was Pruth Bay, where we hoped to be able to go ashore and hike the trail over to the white sand beaches on the west side of the island. But as we eventually realized, the rain and gray was not letting up, so we opted instead to go on a bit further to Fury Cove.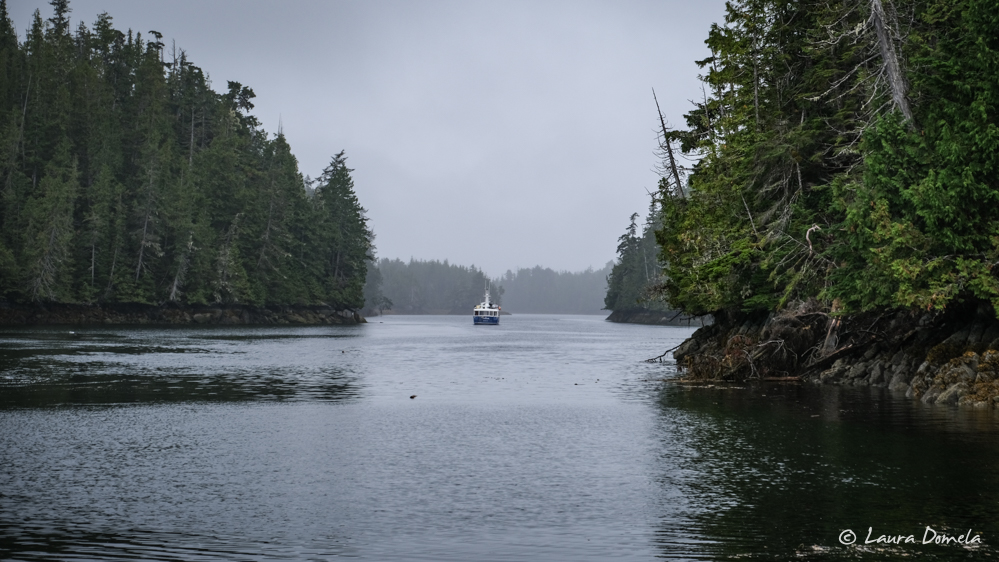 In Fury Cove, again, we were the only boats anchored. Sam and Anna dinghied around a bit during a lull in the rain, and we called it an early night again.
Another pre-dawn morning as we left Fury Cove and cruised toward Cape Caution (and hopefully some sun!).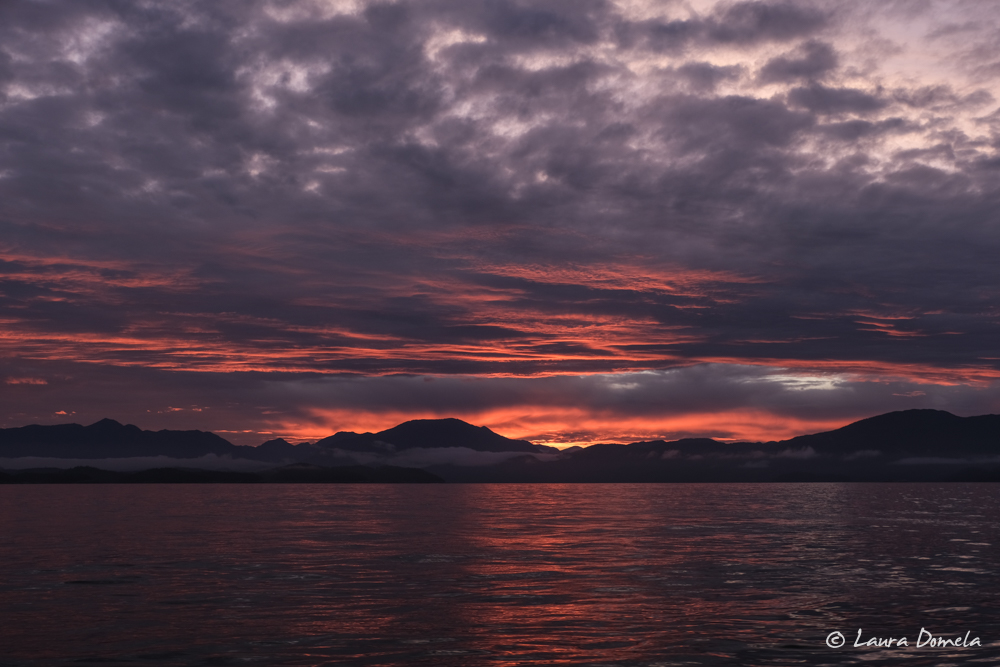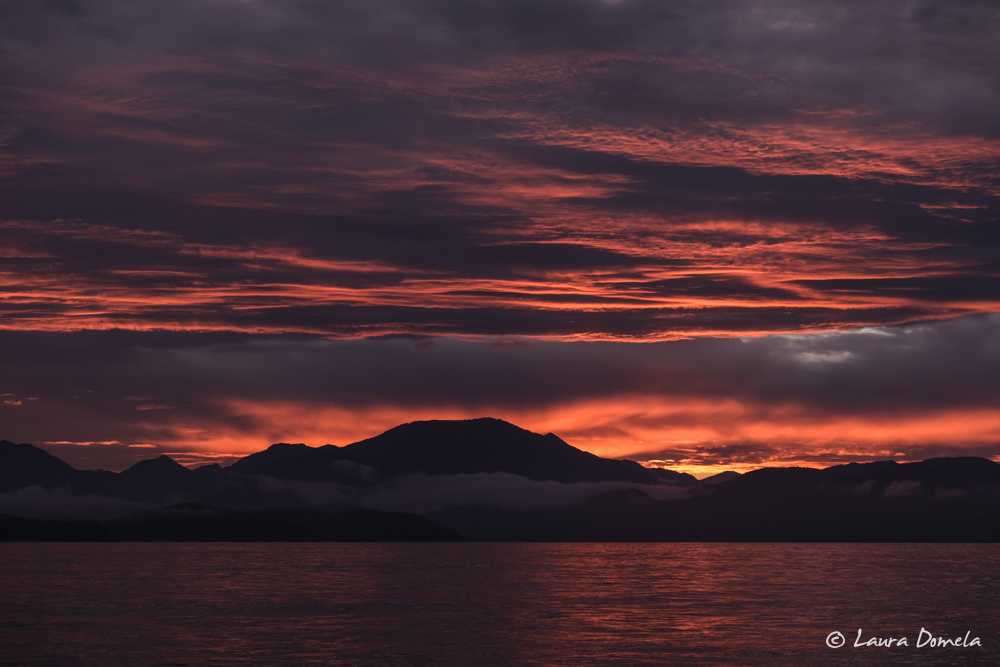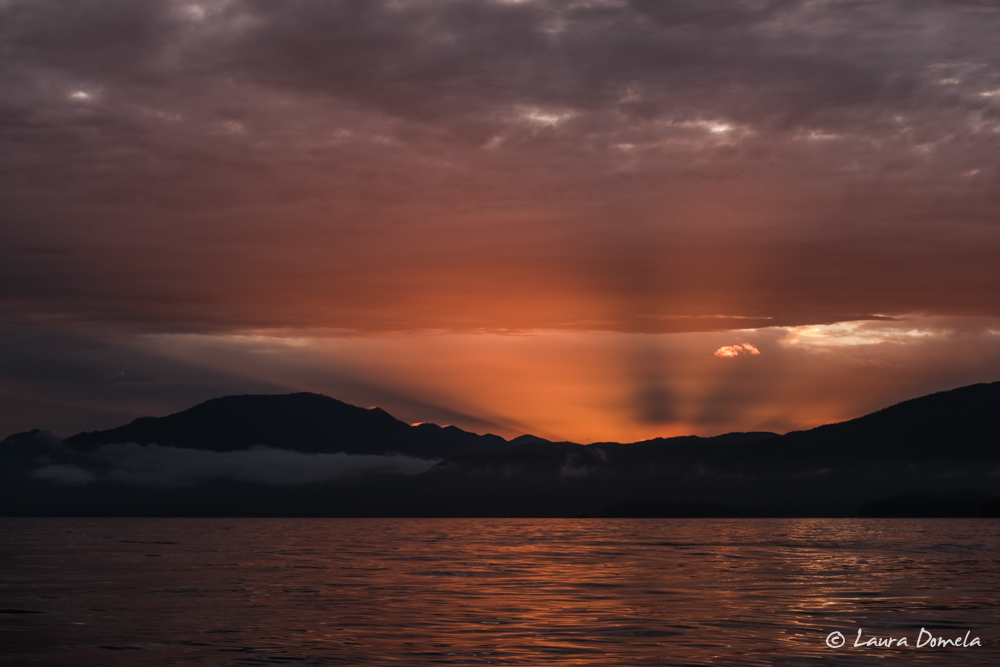 We had a pleasant rounding of Cape Caution and continued on around to Skull Cove, normally one of our favorites spots due to the many options for dinghy exploration and close proximity to Nakwakto Rapids. We anchored/rafted just inside the entrance, hoping the weather would improve for some lengthier exploring, but alas, it was not in the cards.
In the morning, we pulled anchor and continued through Queen Charlotte Strait for Boughey Bay. At the southeast tip of Malcom Island, Airship was surprised by several small groups of orcas nearby. We stopped and watched for a while and then continued to our anchorage.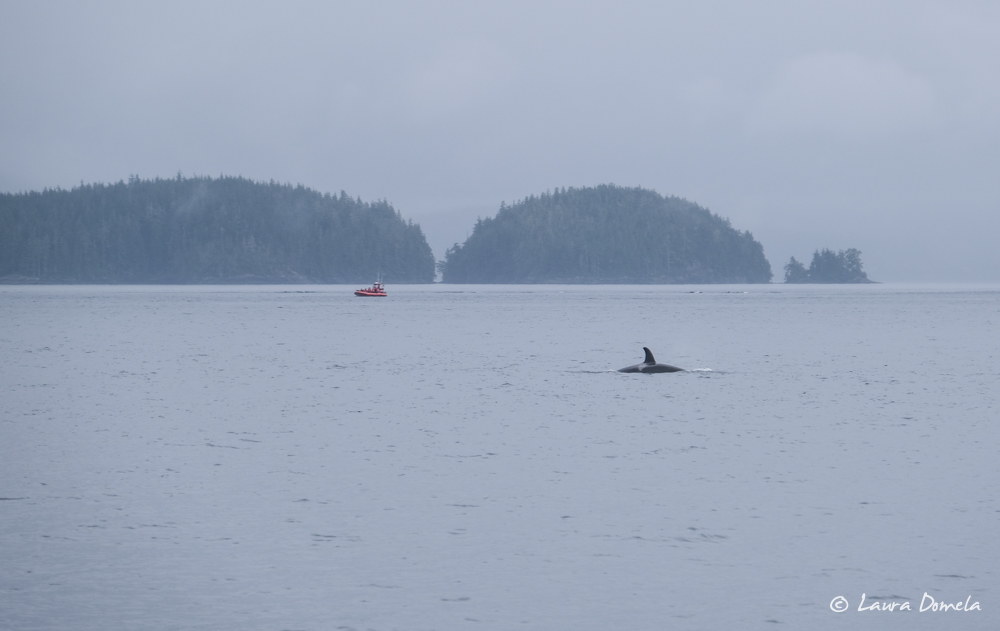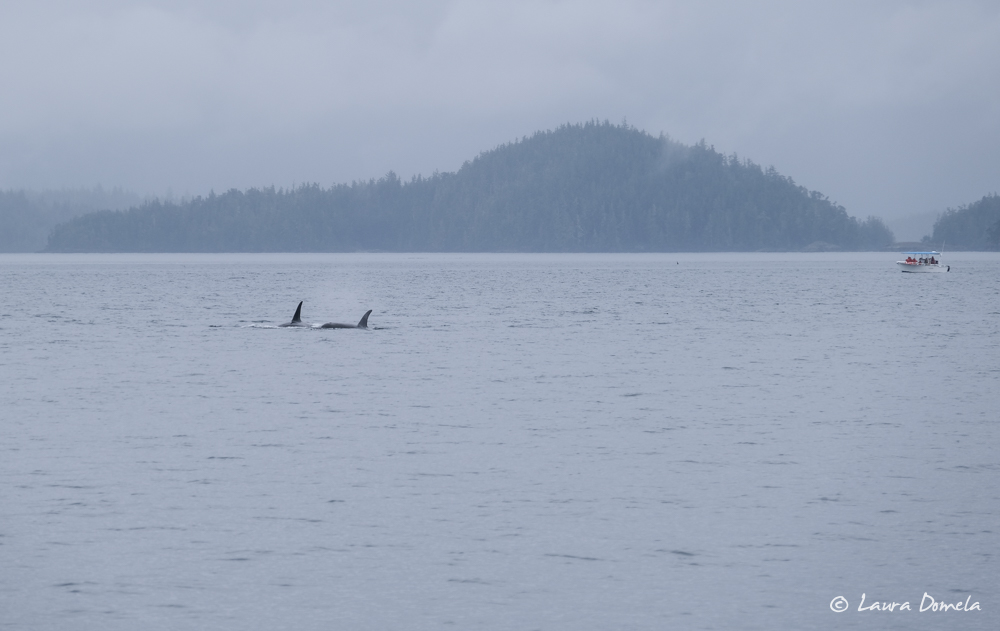 This one headed straight for us, surfaced about 10 feet from Airship, and then swam right past. I was too shocked to get to my camera fast enough, so this is all I got: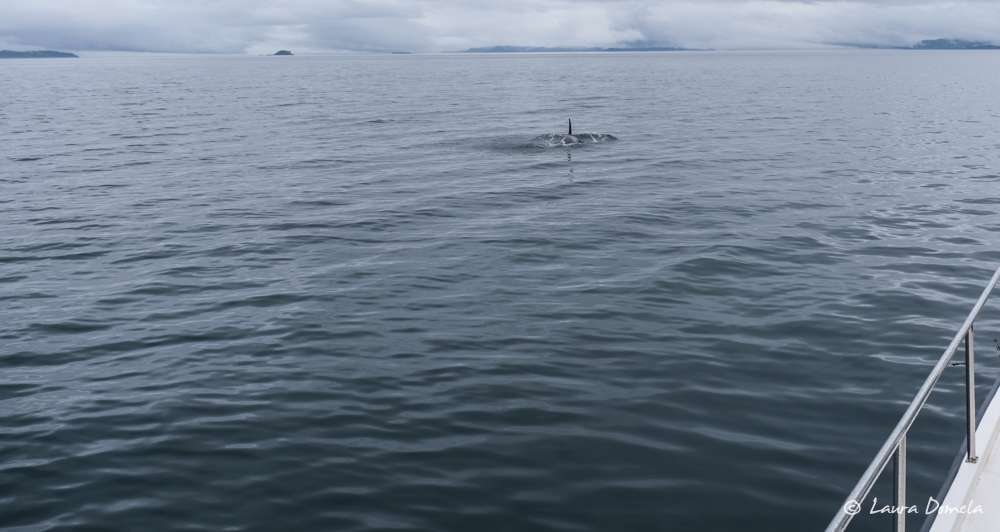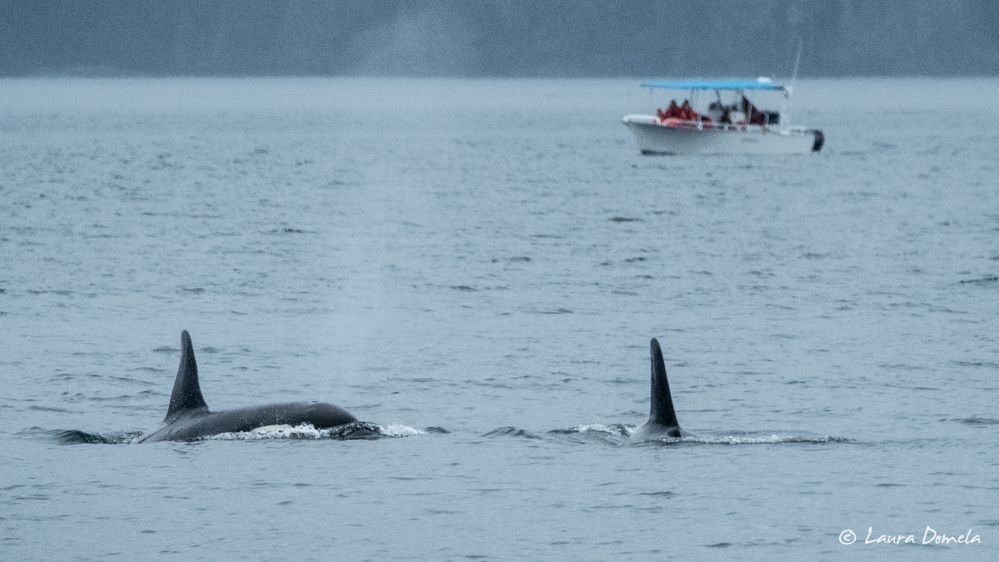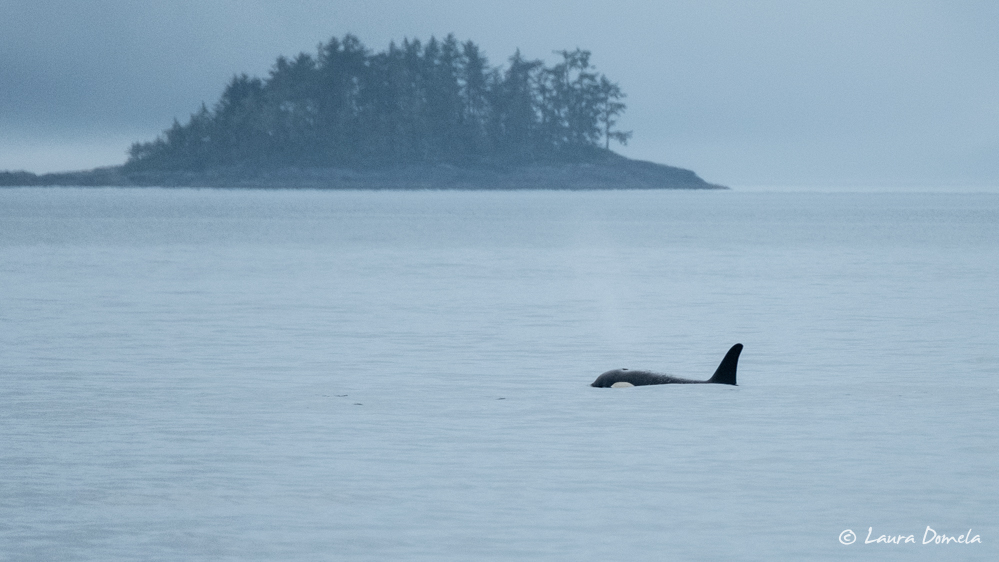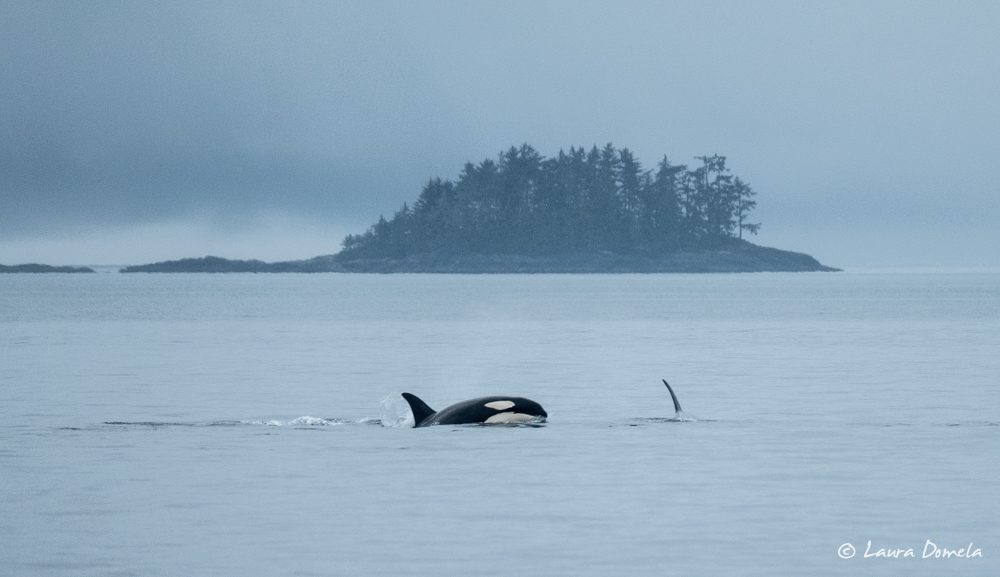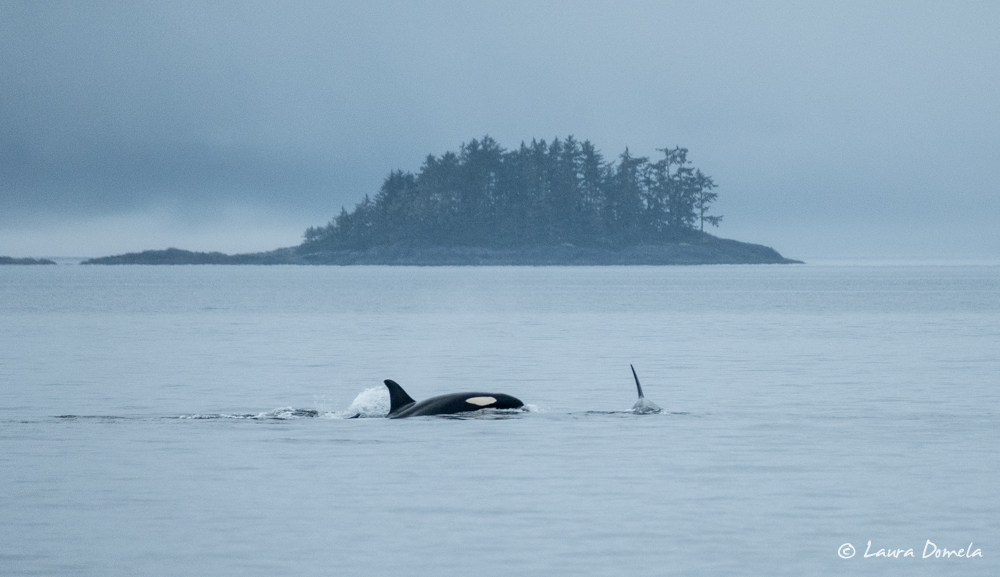 There's nothing all that remarkable about Boughey Bay as an anchorage…it's big and easy and kinda scenic, but hey guess what? It was raining so it didn't matter anyway!
In the morning we left before sunrise…out into Johnstone Strait and headed for Campbell River.
We tied up on the dock at Discovery Harbour Marina and walked up the hill to the gigantic market to provision for the next week or so. We did a few boat chores, some exploring, and then walked to Beach Fire Brewing & Nosh House for a beer and some dinner (no cooking, no dishes!). We do love to cook, but we've gone out to eat very little this summer because of Covid, and now that all the restaurants in BC are requiring proof of vaccination and that people wear masks when not seated at their tables (and most are doing some version of limited capacity), we felt pretty good about dining out (as well as the nice walk!)
This is likely the last time we'll all be together (maybe until Spring 2022!) but we'll continue writing about our separate adventures between now and the next flotilla season!