We left Cow Bay Marina in Prince Rupert in thick fog, which cleared gradually as we made our way south.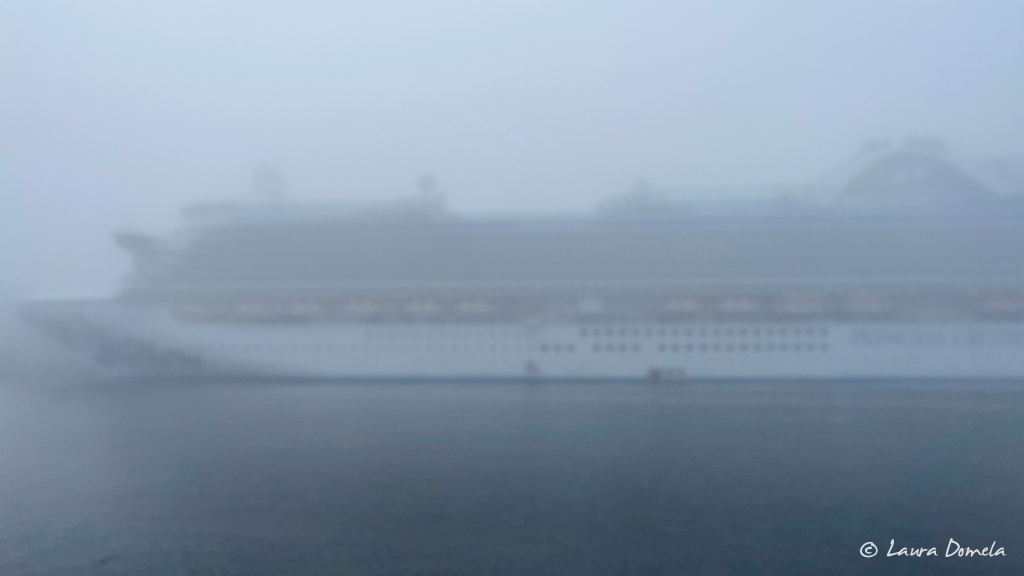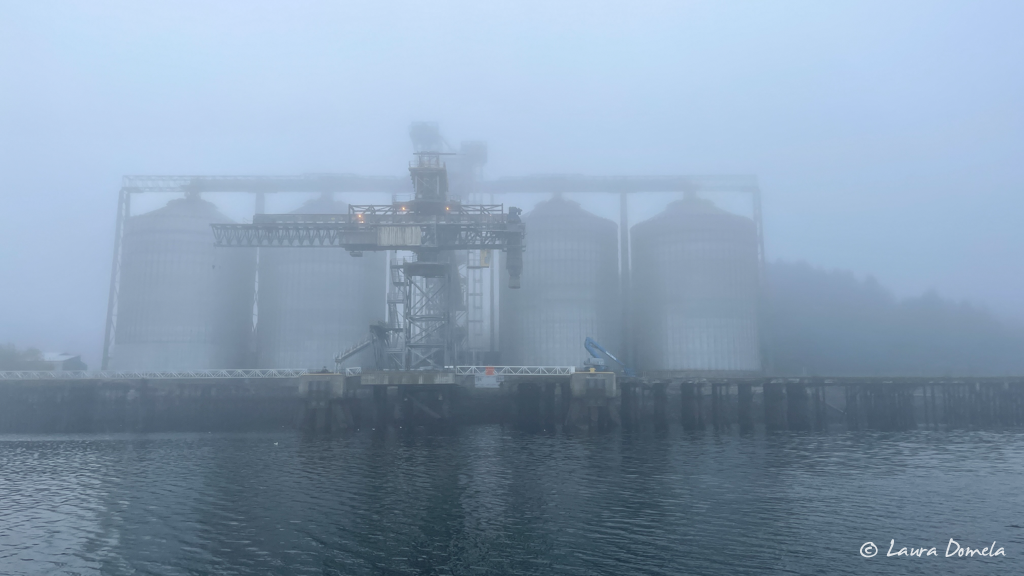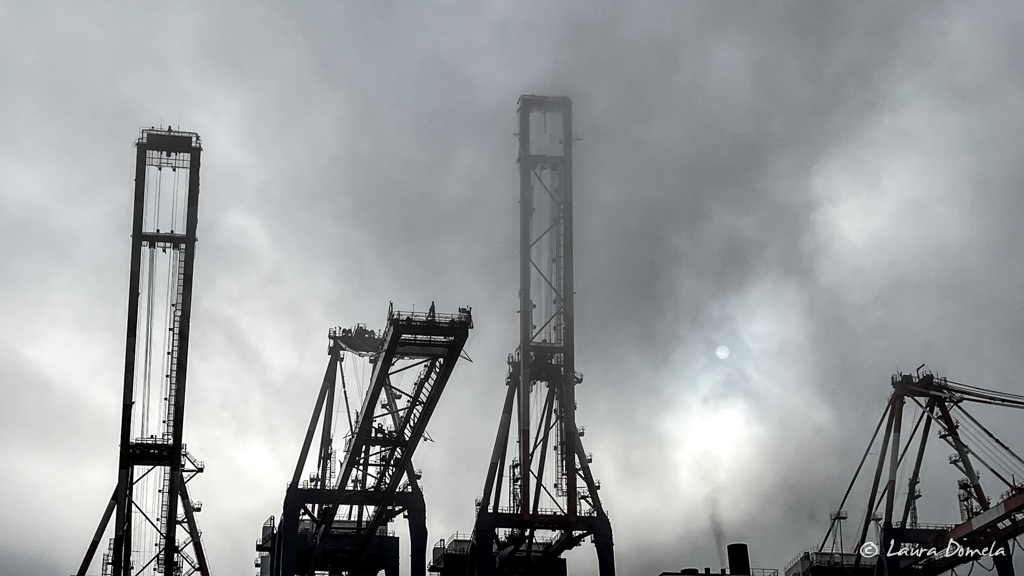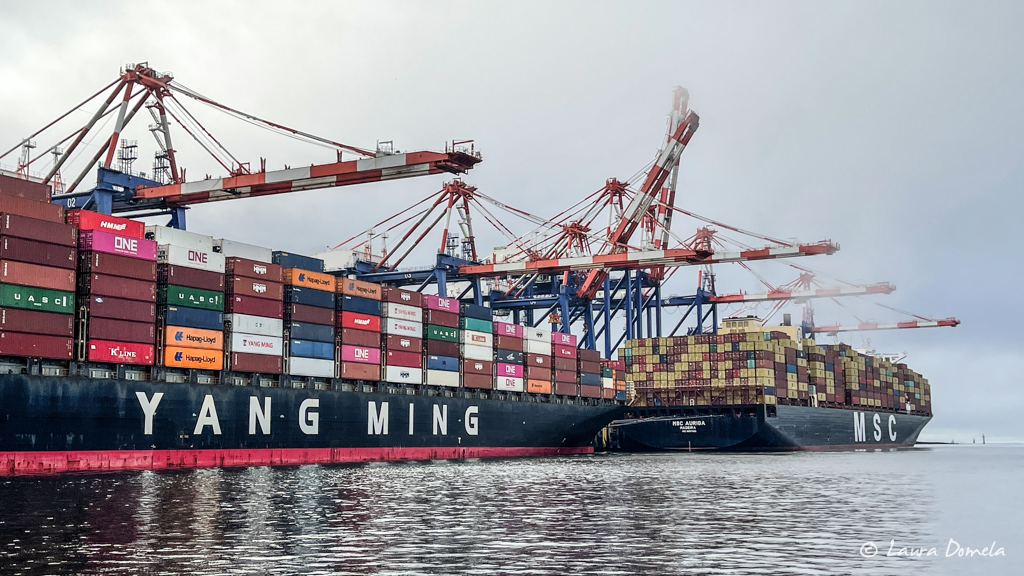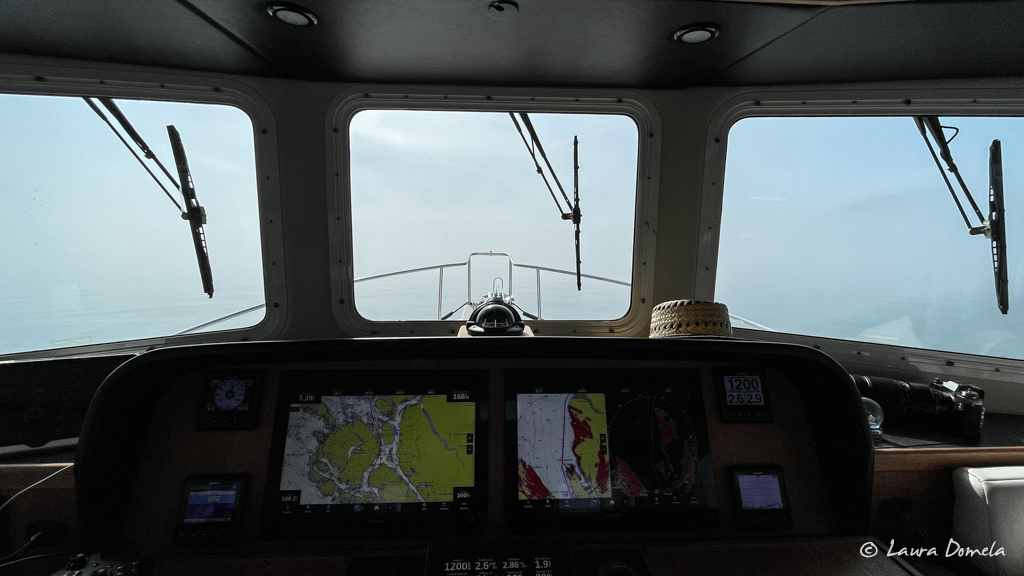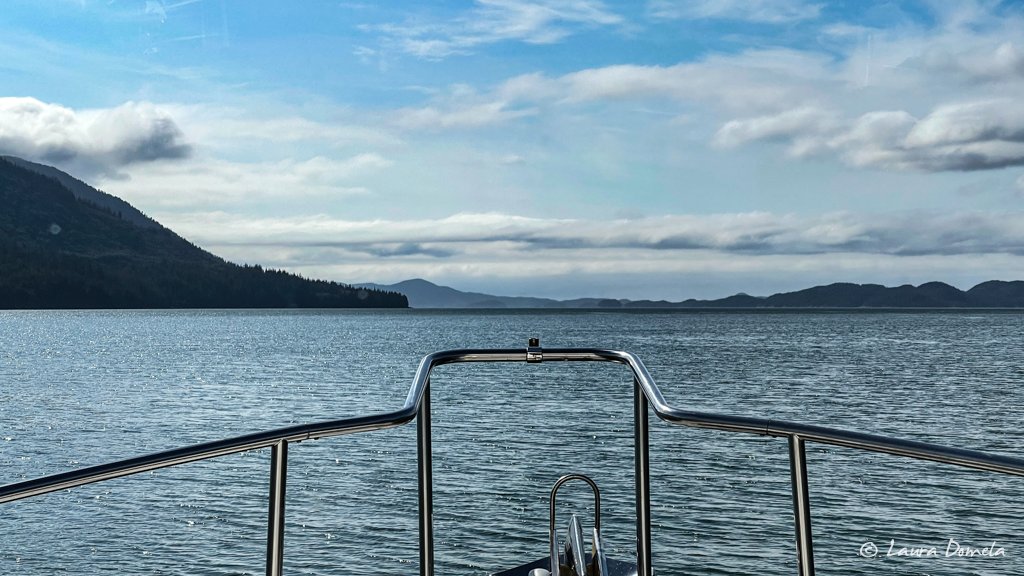 We cruised through Ogden Channel around to the west side of Pitt Island, and stopped at Newcombe Harbour for the night. The weather was quite rainy most of the time, so we didn't do much besides music and dinner and a movie.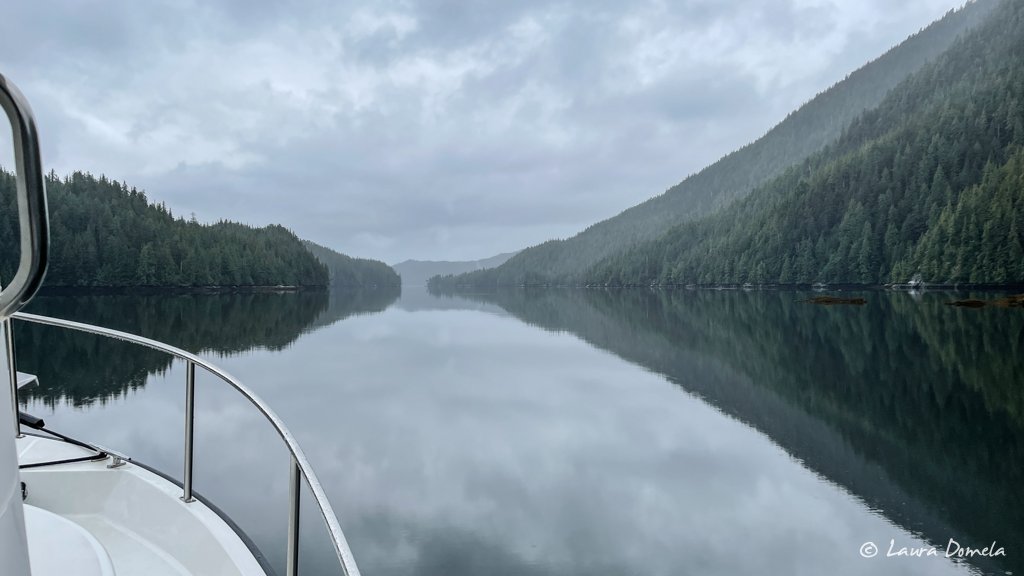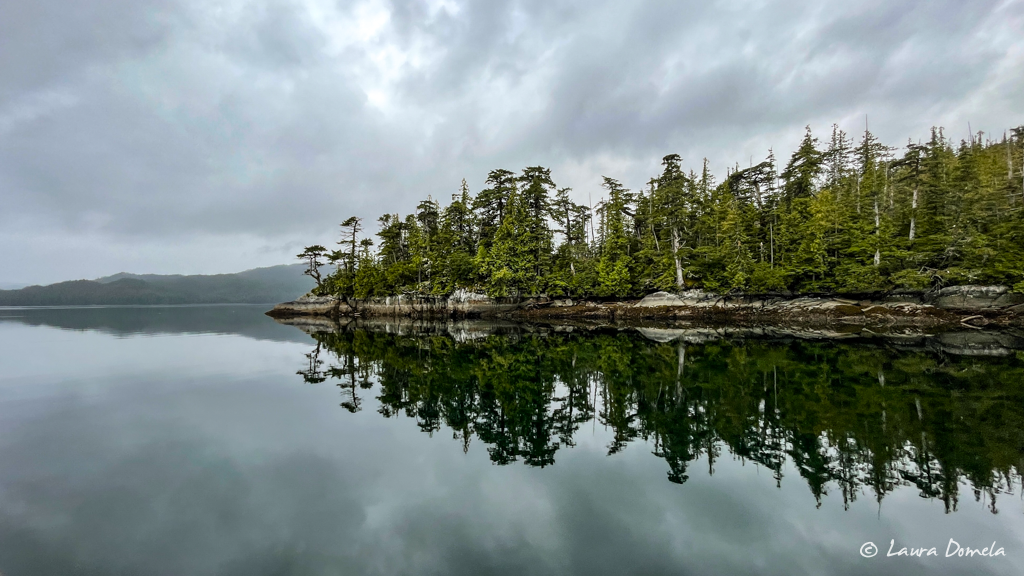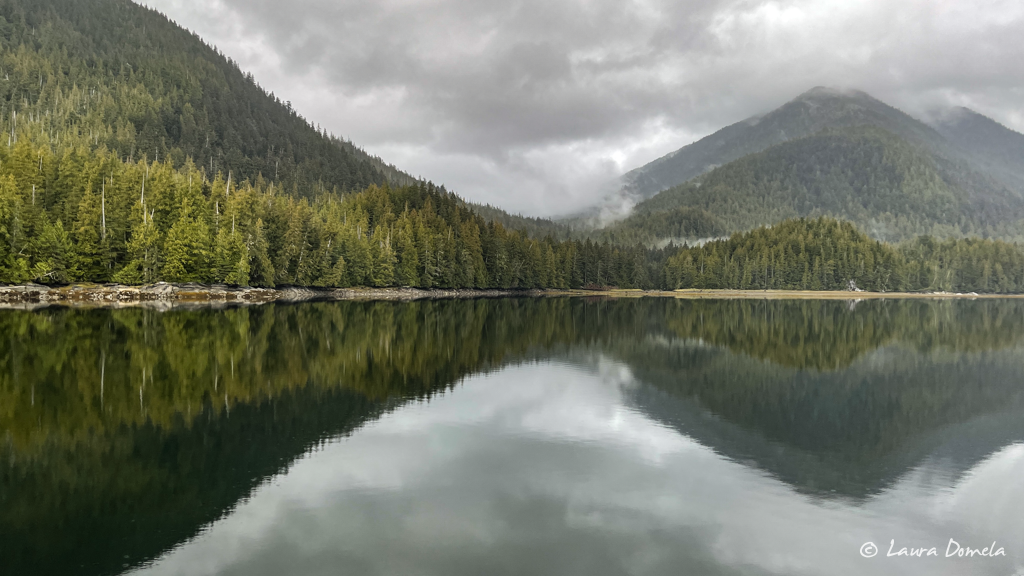 The next day we were originally aiming for Anger Inlet on Anger Island (because how could we resist a name like that?) but at the last minute while poking around the chart a bit, we changed our plan. Anger Inlet sounds like a good place to take the dinghy exploring from, as a base, but since it was so rainy out, that sounded a bit less appealing than it did when we first made our plan. Markle Inlet (on Pitt Island) looked like a solid navigational challenge and a ways off the beaten path (honestly, most places out here are), so it piqued our curiosity. Here's what it looks like on the chart (the red arrow is where Airship anchored…how did we get in there???):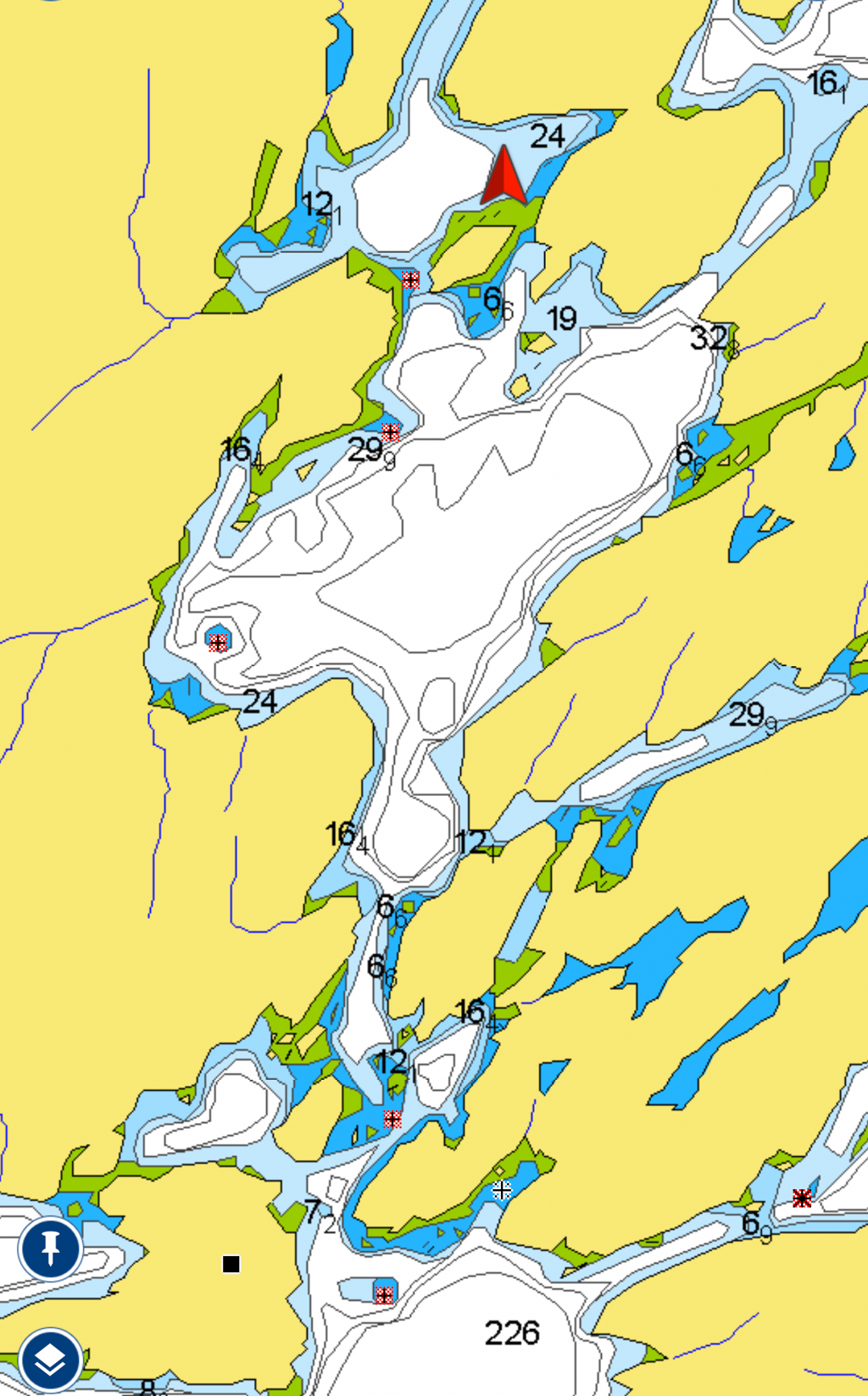 It was for sure a challenge…perhaps one of the most challenging challenges we've had as far as anchorage entries go…very narrow, often shallow, with lots of rocks, a 120 or so degree turn around one of the rocks to get through a very narrow opening, with not much room to maneuver. And poorly charted, of course. Once inside it was peaceful and remote (and gray and rainy). The sense of accomplishment feels significant in places like this…away from the common cruising grounds, no other boats for miles. It's one of our favorite parts of cruising the Inside Passage, finding places like this, relying on ourselves and our equipment, but any contemplation of mishap, health- or boat-wise is intensely sobering when this far from any other anything.
We had dropped prawn traps in a couple promising spots on our way in, and when we checked them before dinner we found a dozen or so (both spot prawns and coon stripe prawns). Not a huge haul, but we still had time. Back down they went!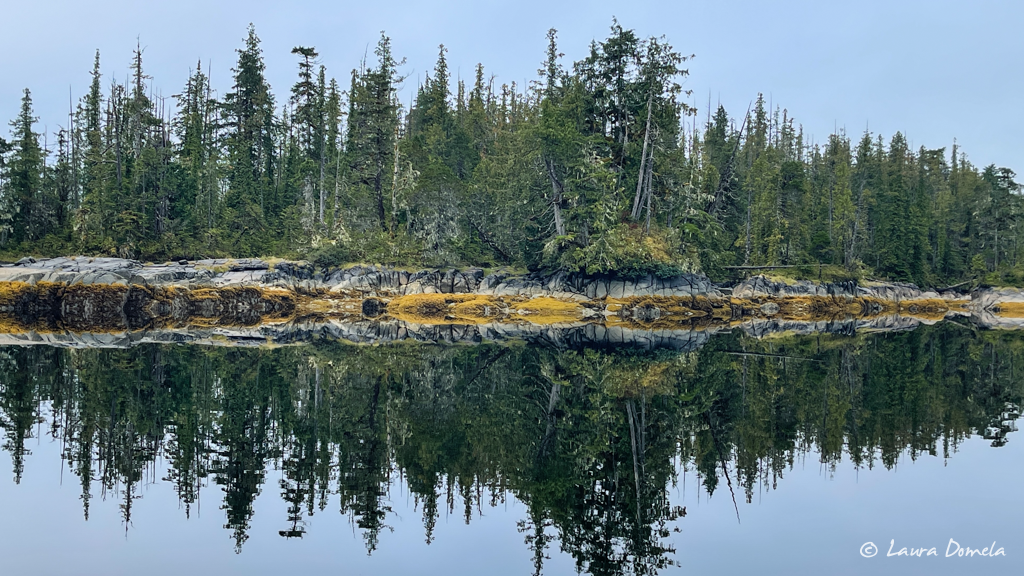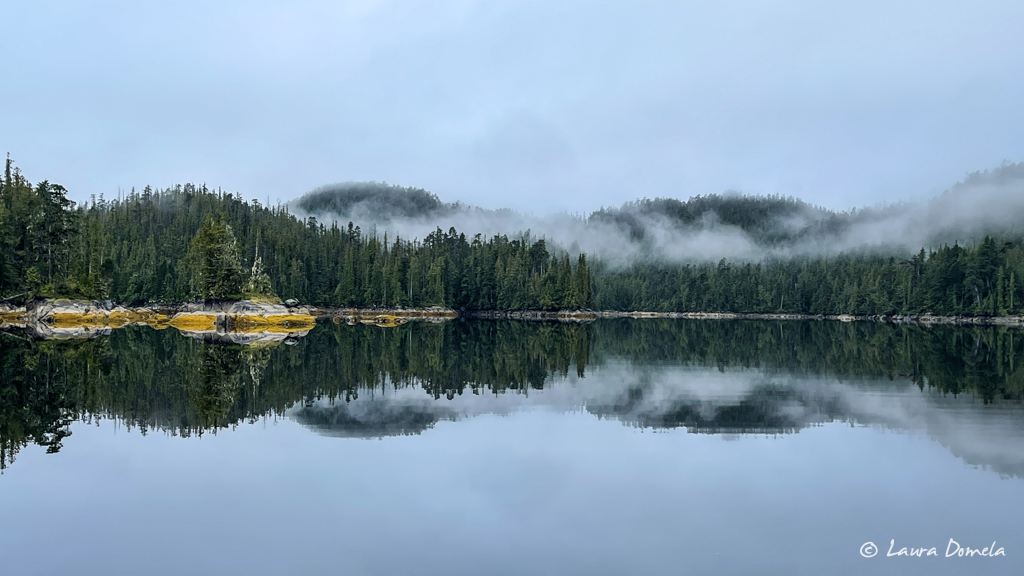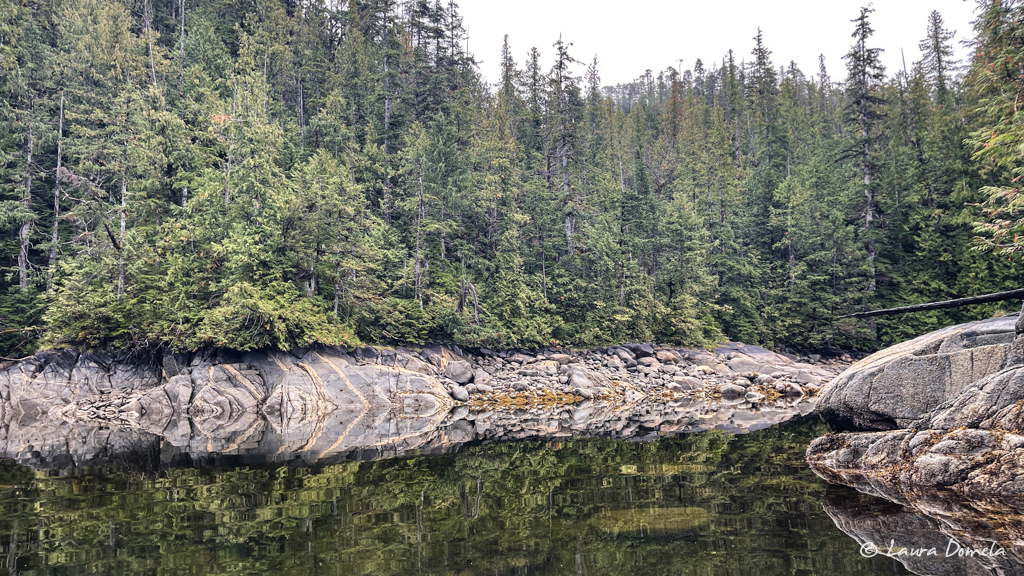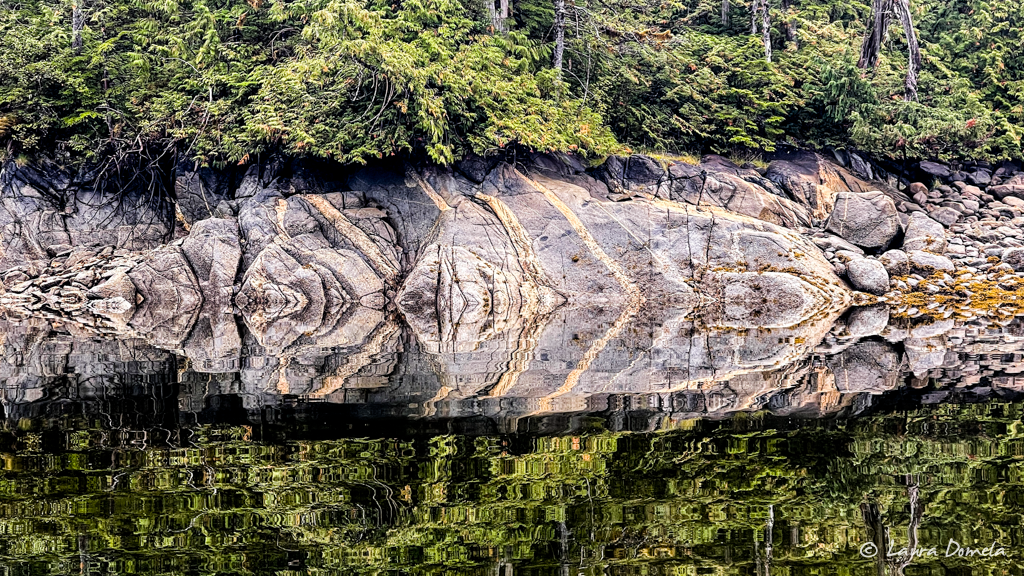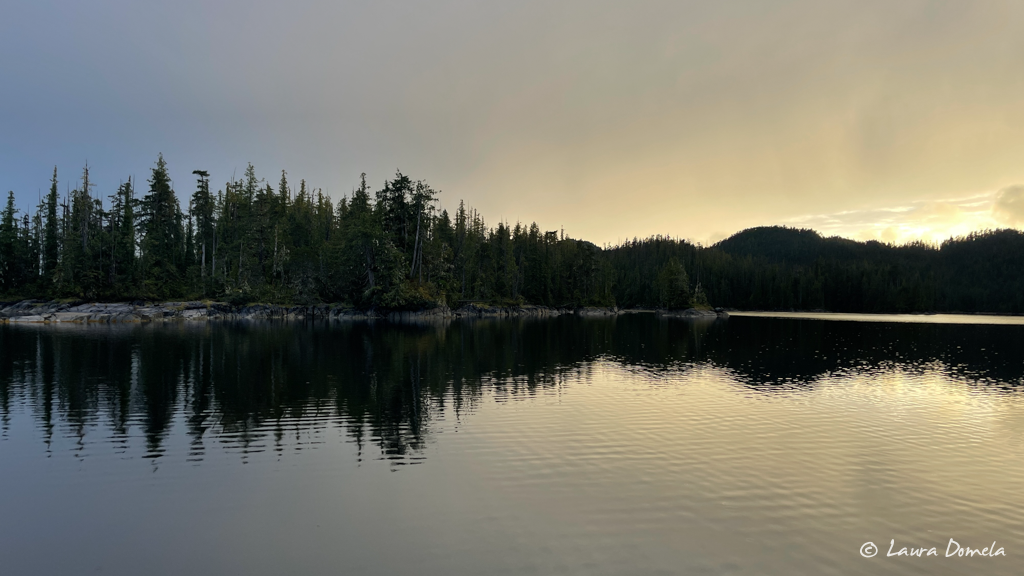 The rain and gray continued all night and into the morning, but the near forecast promised sun, and the morning arrived with a bit of warmth.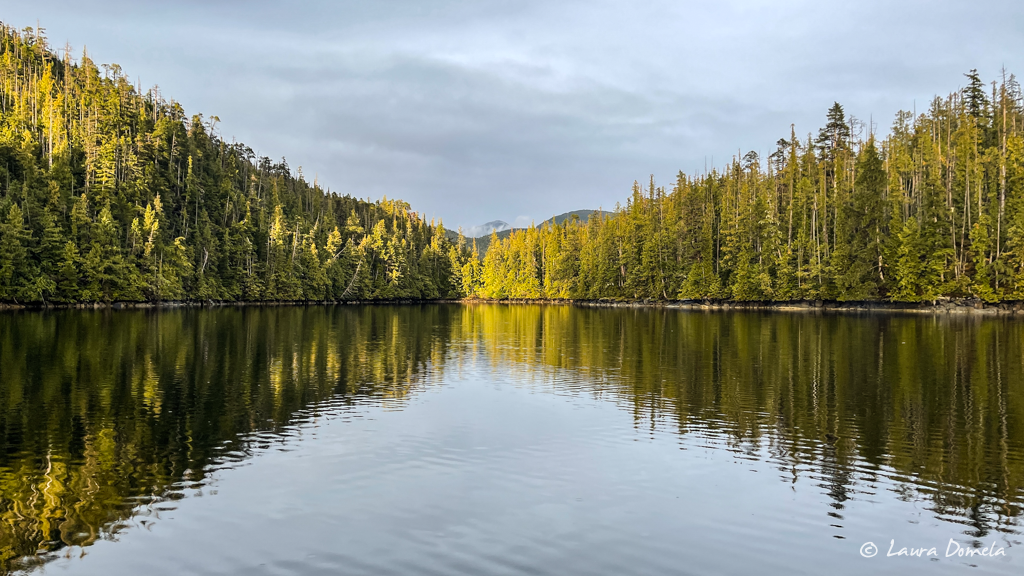 We would spend most of the day here in Markle Inlet, leaving at 4pm or so to make a high tide entrance at our next challenging location (definitely this week's theme), Ire Inlet, about 9nm south of Market Inlet. Before we left, more prawns were collected (just enough for dinner), and Kevin took some aerial photos while it wasn't raining (doesn't look that tricky from up high, does it?):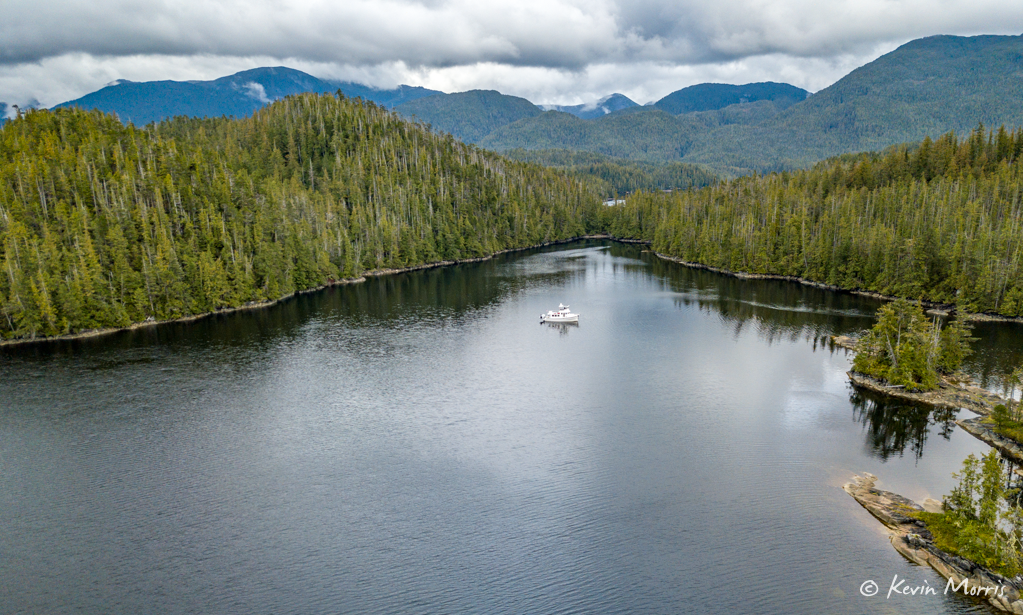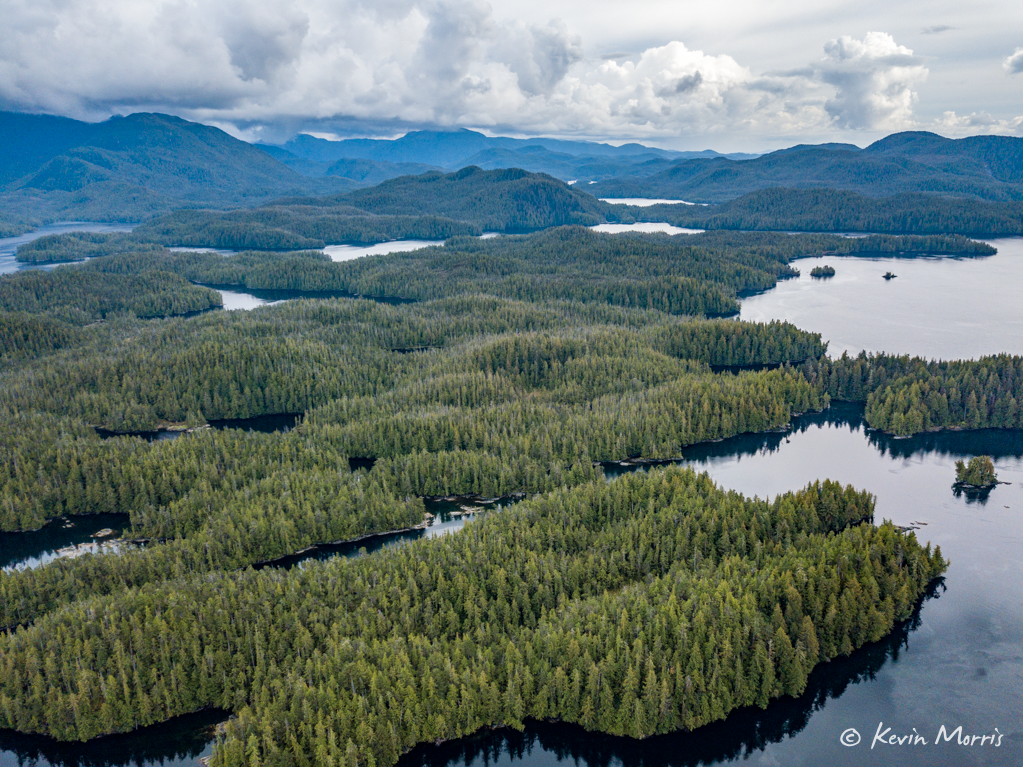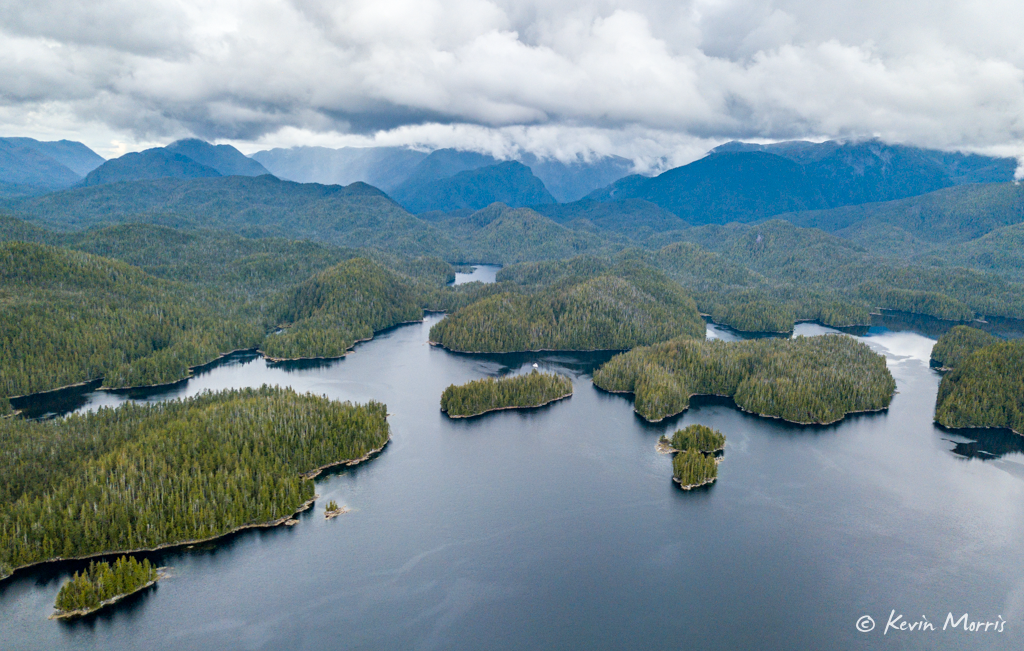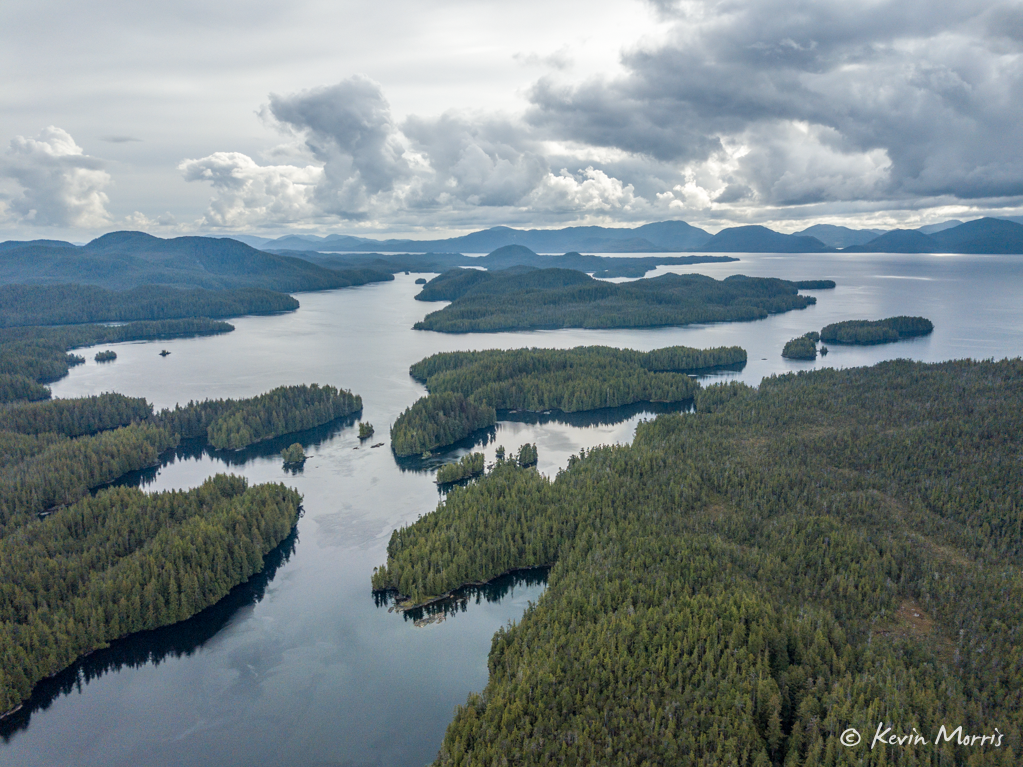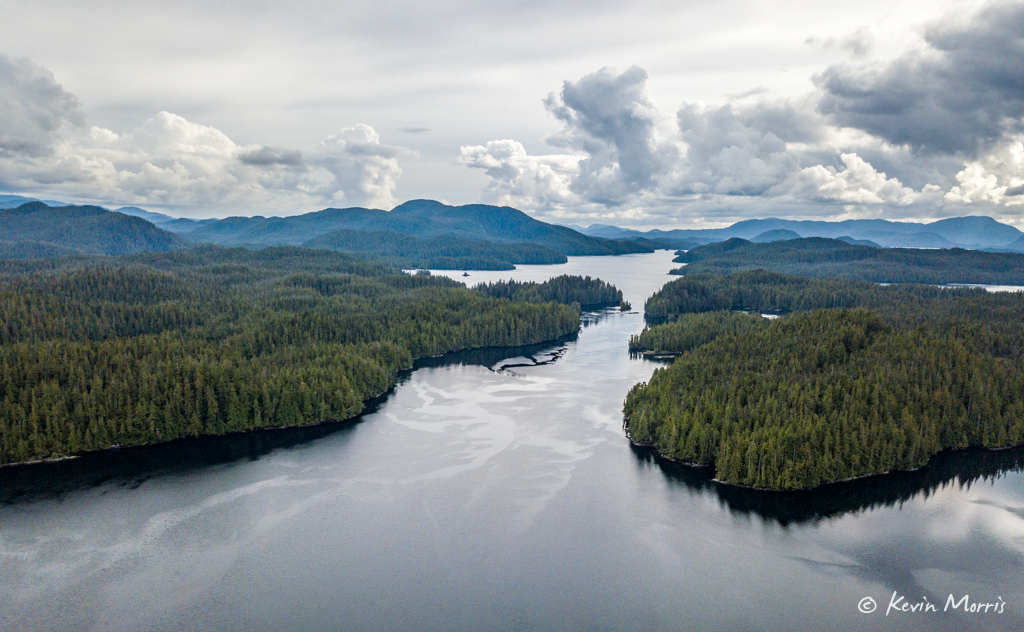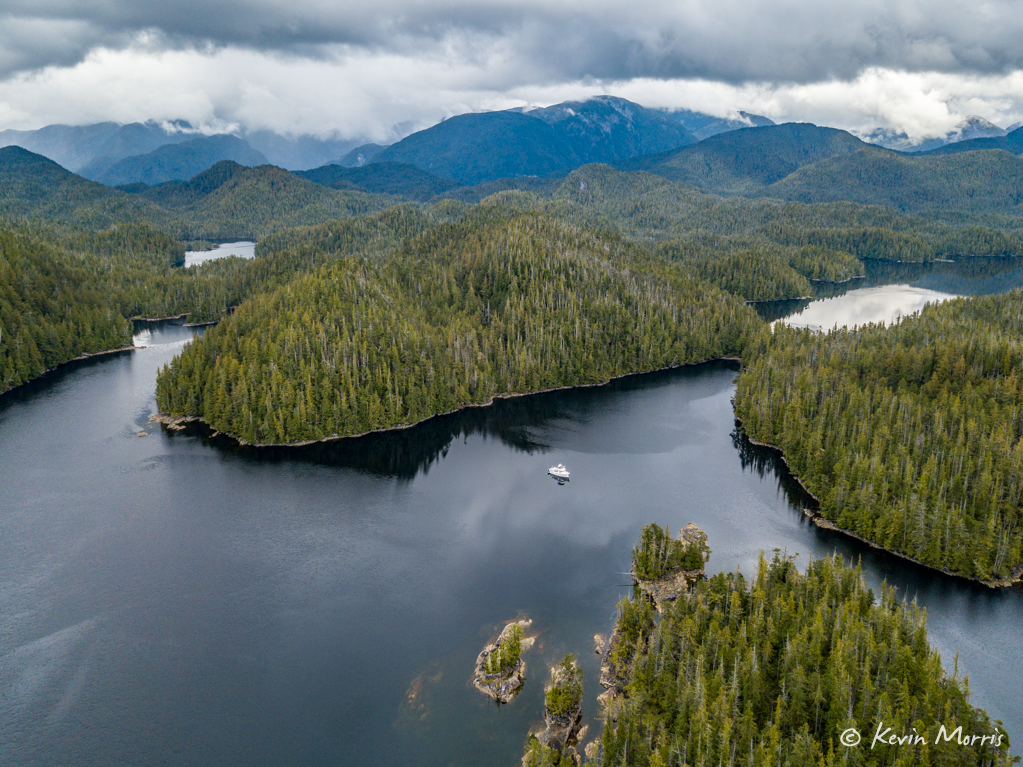 Departing Markle Inlet was not as nail-bitey the second time through. We followed Ala Passage through Ala Narrows and then made a right turn into Ire Inlet (on Anger Island, of course). Here's what Ire Inlet looks like in Navionics: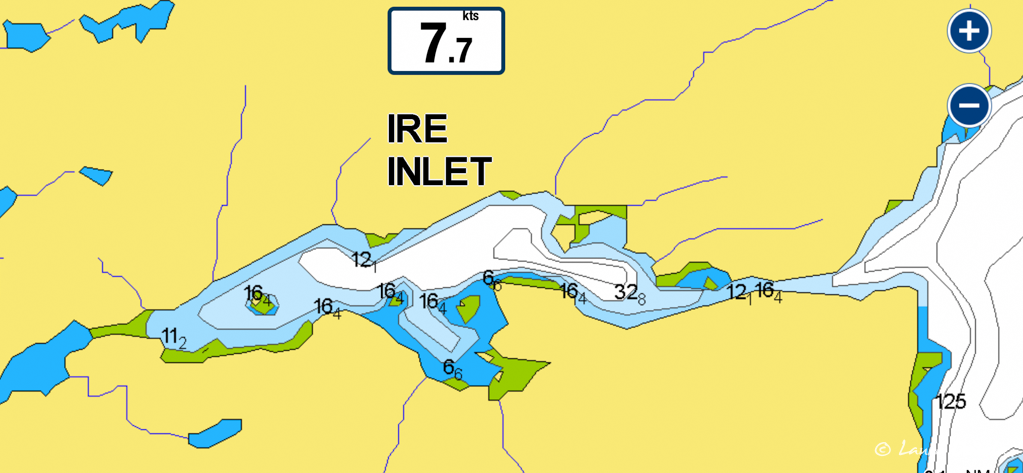 We arrived about an hour before high tide. The reviews we read about this entrance were a bit alarming. Things like "in all my 50 years of boating this is the narrowest entrance ever" and "one time we tried to avoid a fallen tree and we hit the tree and also the rock we were trying to avoid" (in so many words), so we were extremely cautious when entering, but the entrance was straightforward, and no big deal. Narrow, yes. With a rock in the middle. Yep. But no trees, plenty of depth, and virtually no current.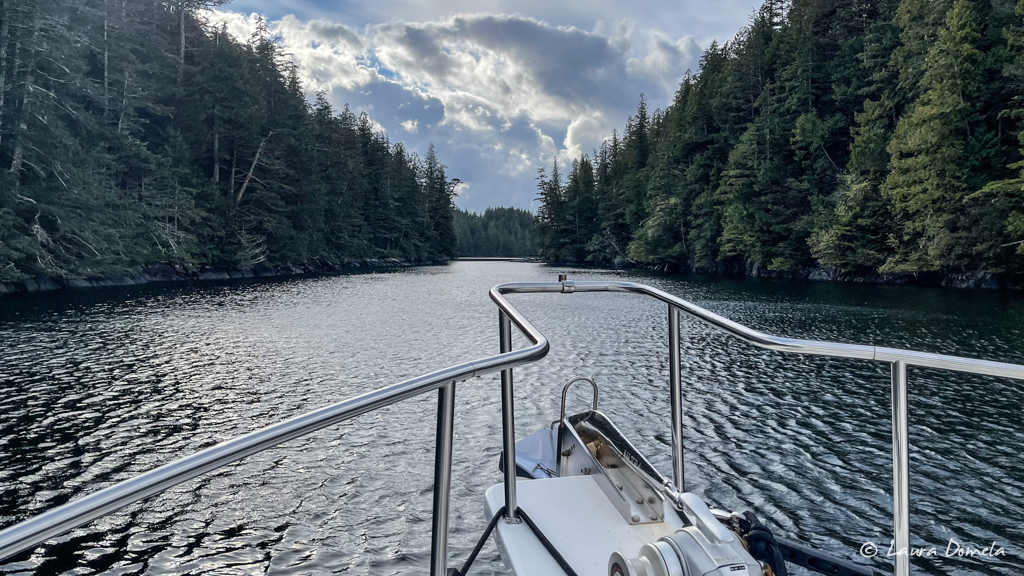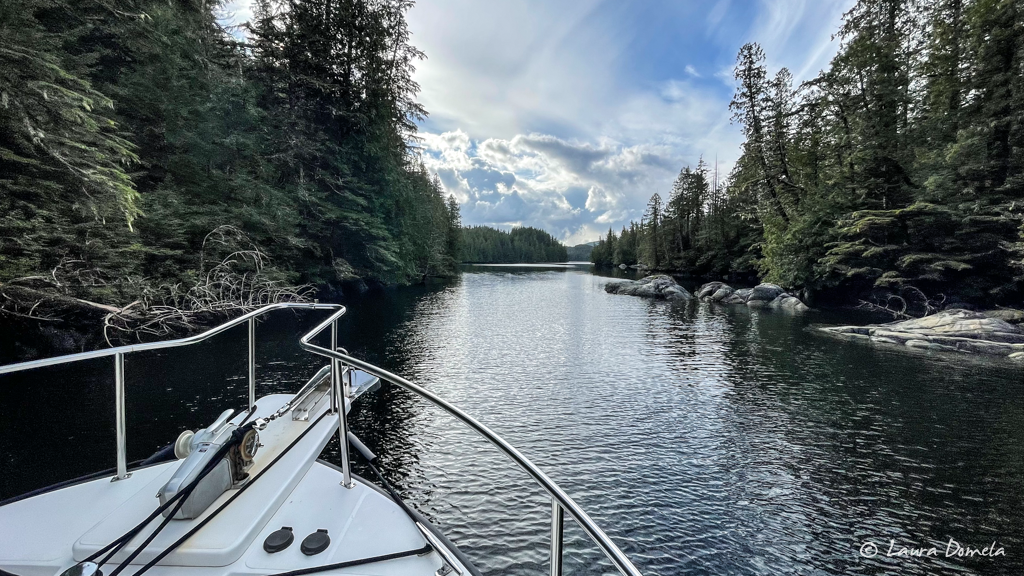 We made it in just fine and dropped the hook in 40ft of water.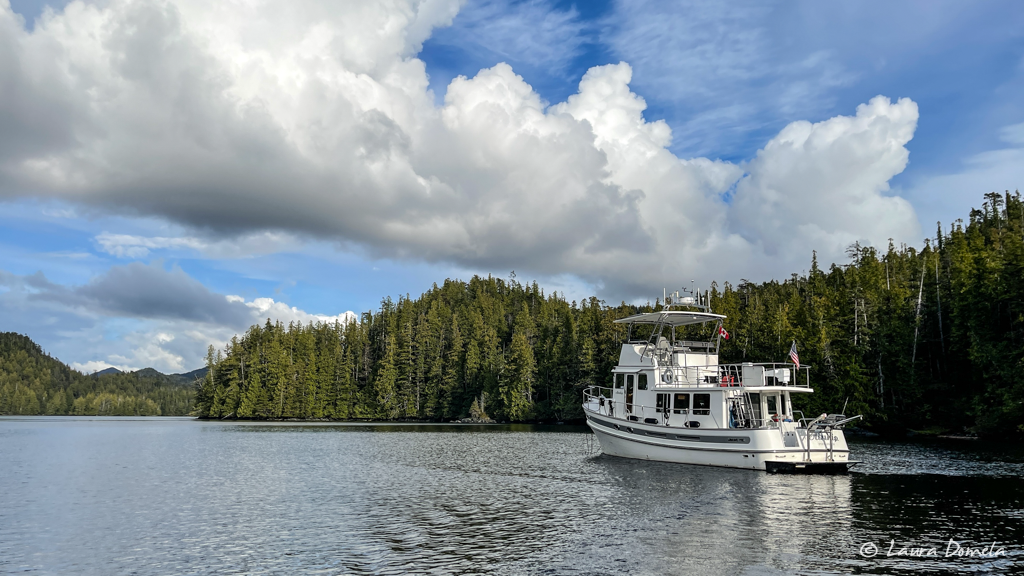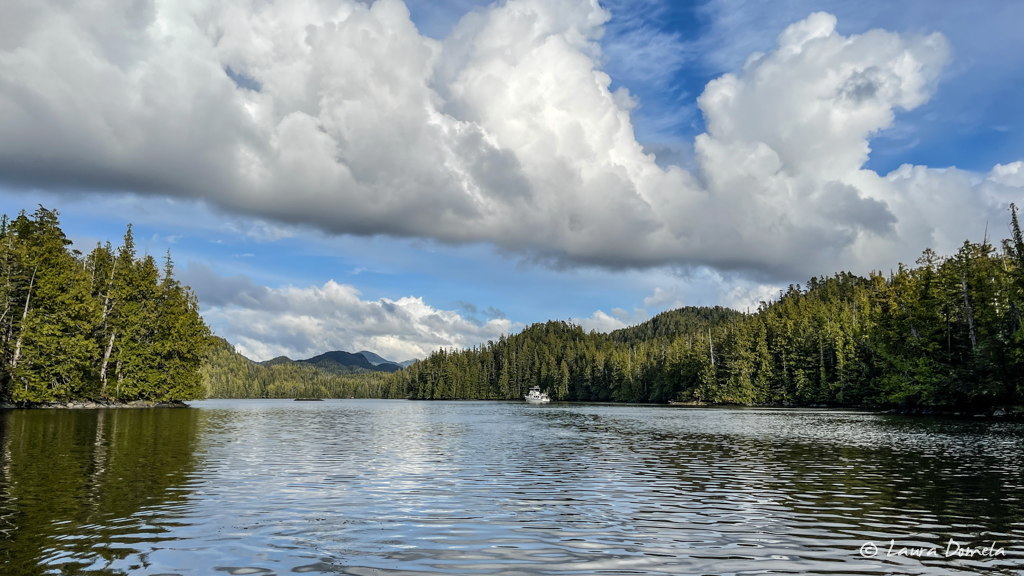 There appeared to be a small entrance into a lagoon further in, so we hopped in the dinghy to see if we could go through, but the current was still flooding considerably and where there weren't visible overfalls, there were visible boulders. Looked like a no. 
Back on Airship, Kevin took the drone up for a few photos.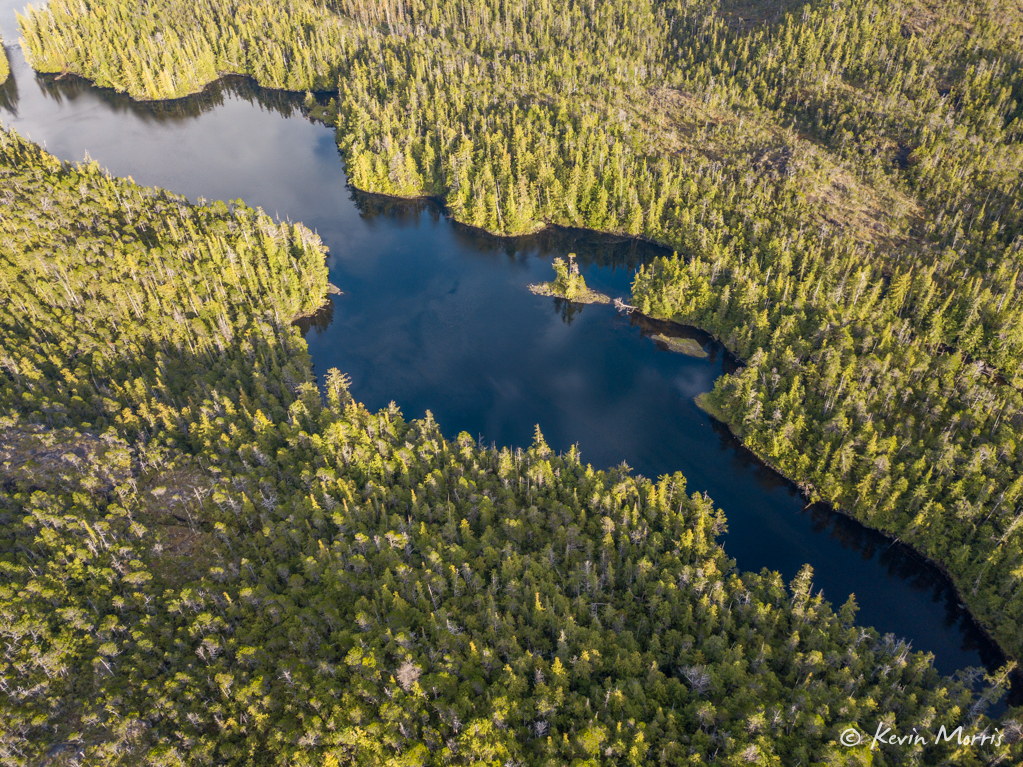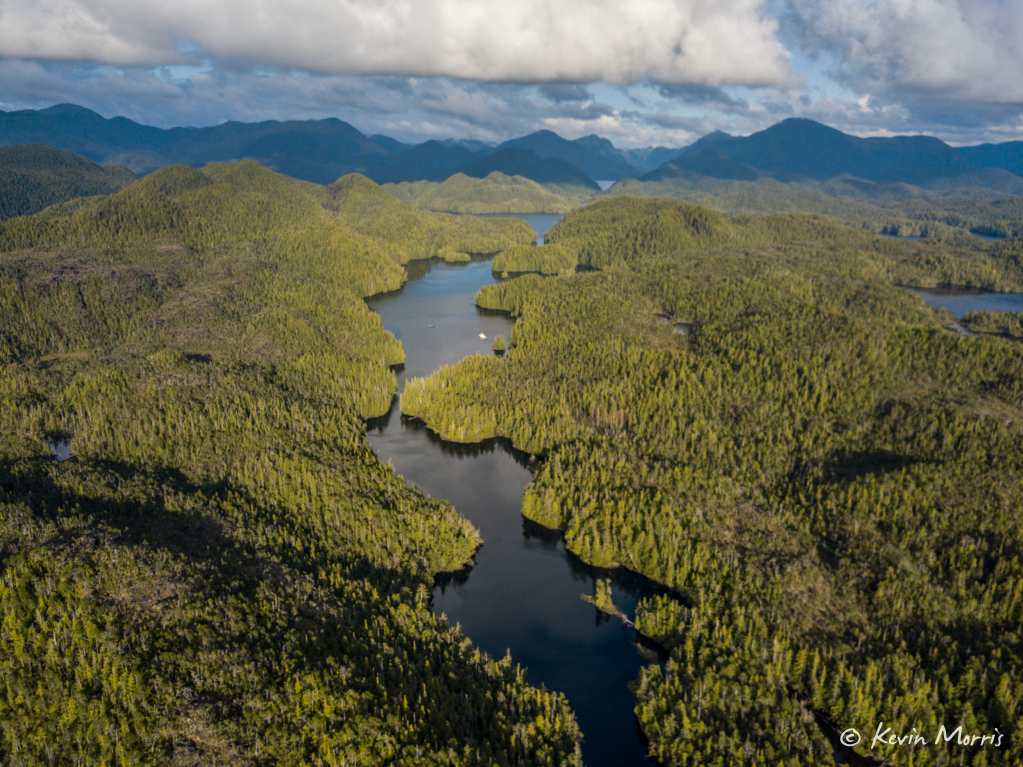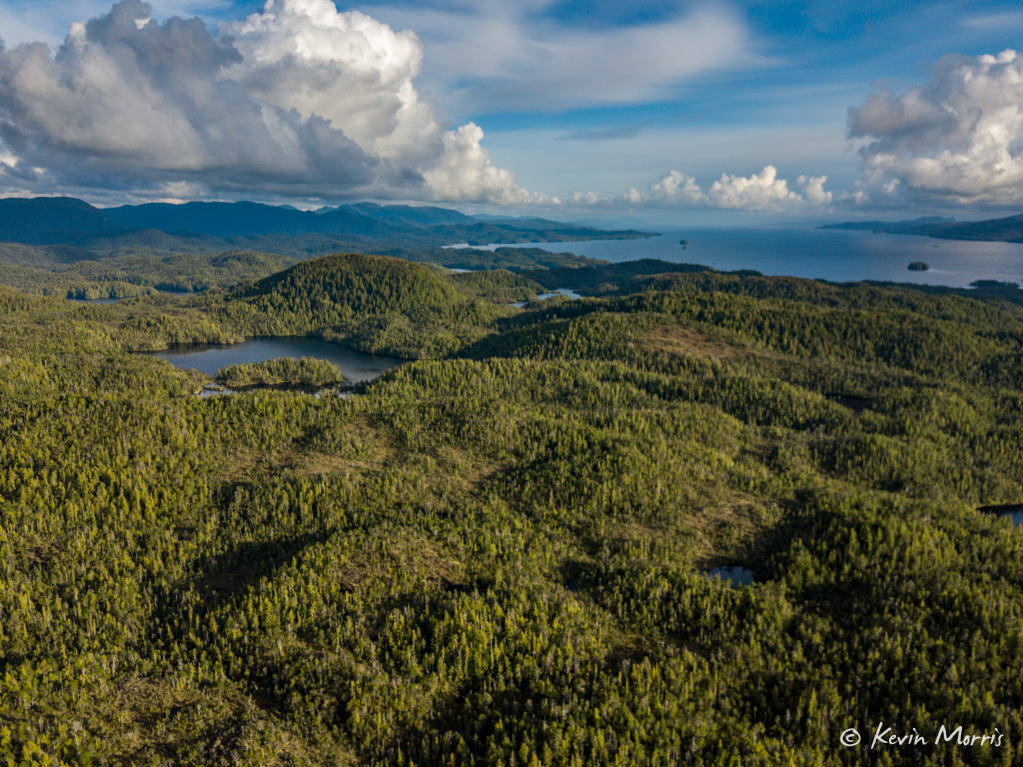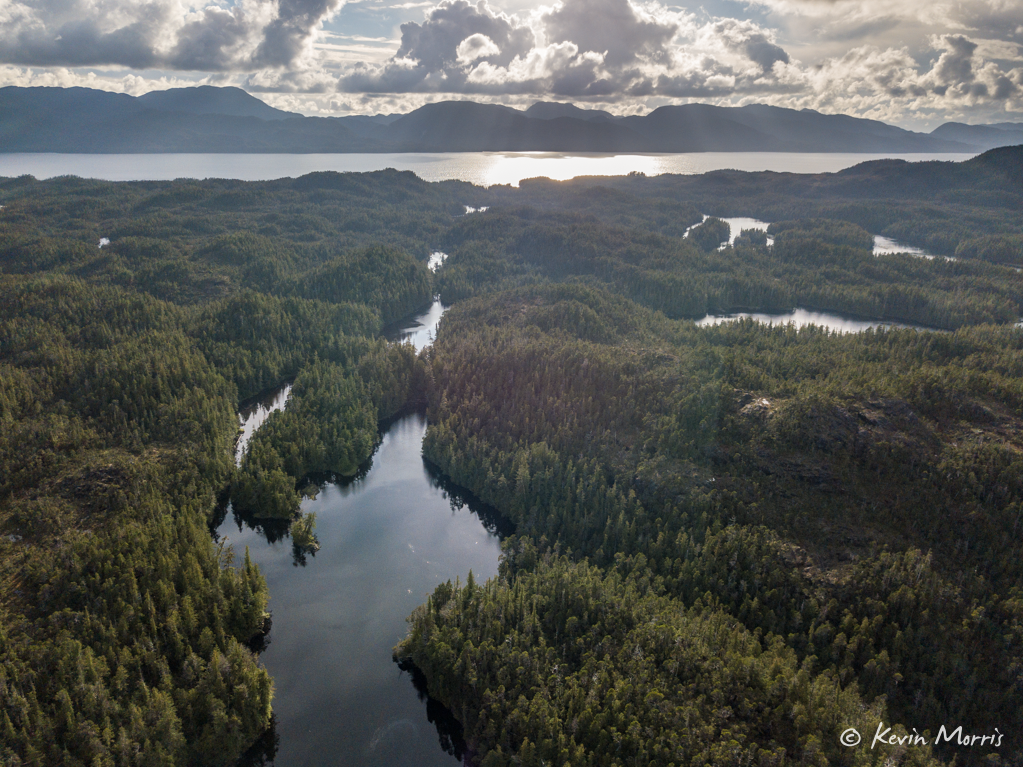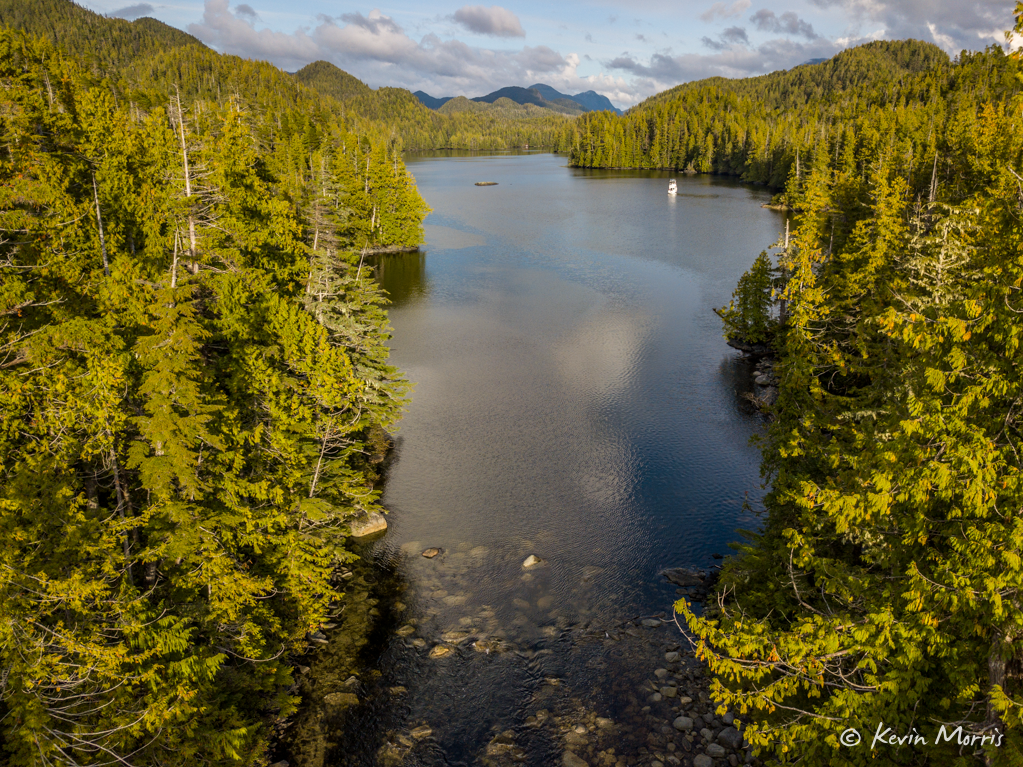 We watched a lovely sunset and woke the next morning to lots of fog (the secondary theme of this week).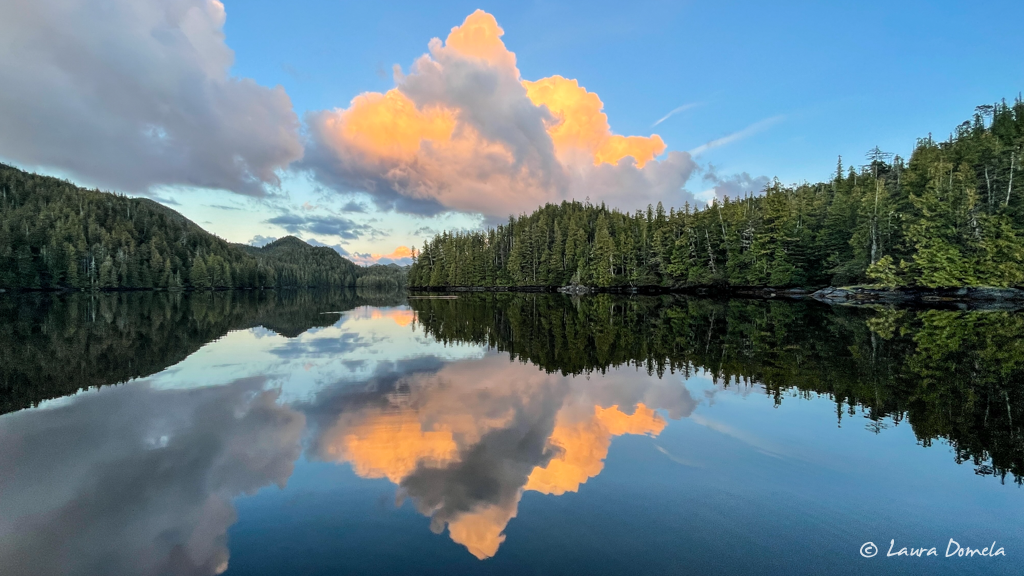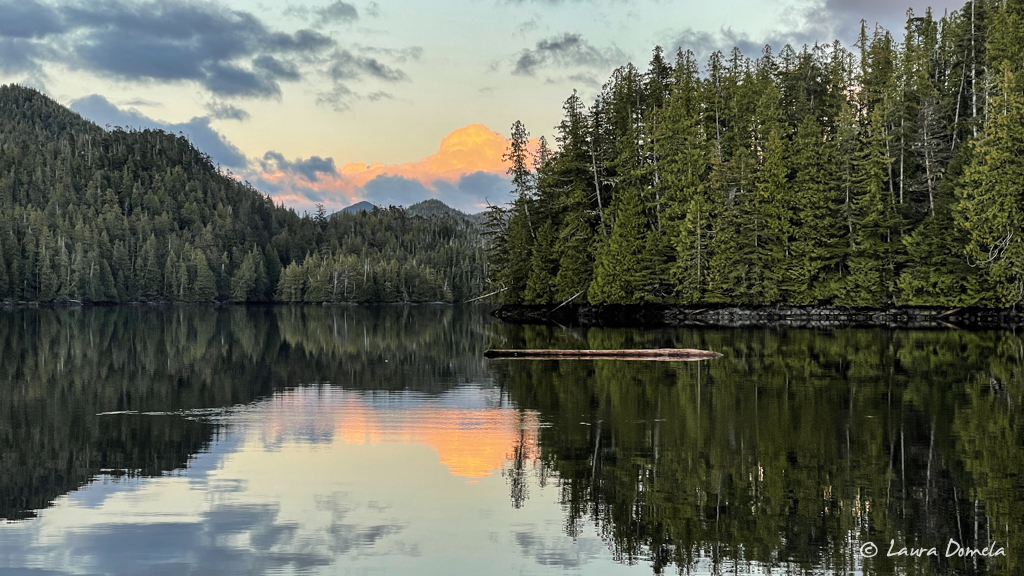 But where there's fog, there's little wind, which is usually a decent tradeoff. However, going through narrow entrances and exits like this, with rocks and other obstacles, in fog, is not our idea of…well, ideal. It sure was pretty though, and we transited just fine.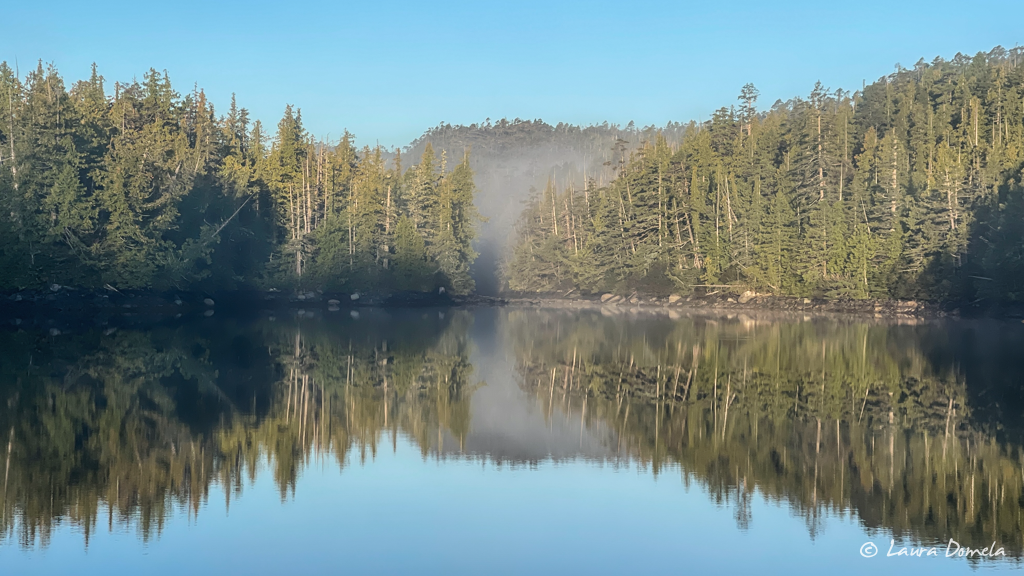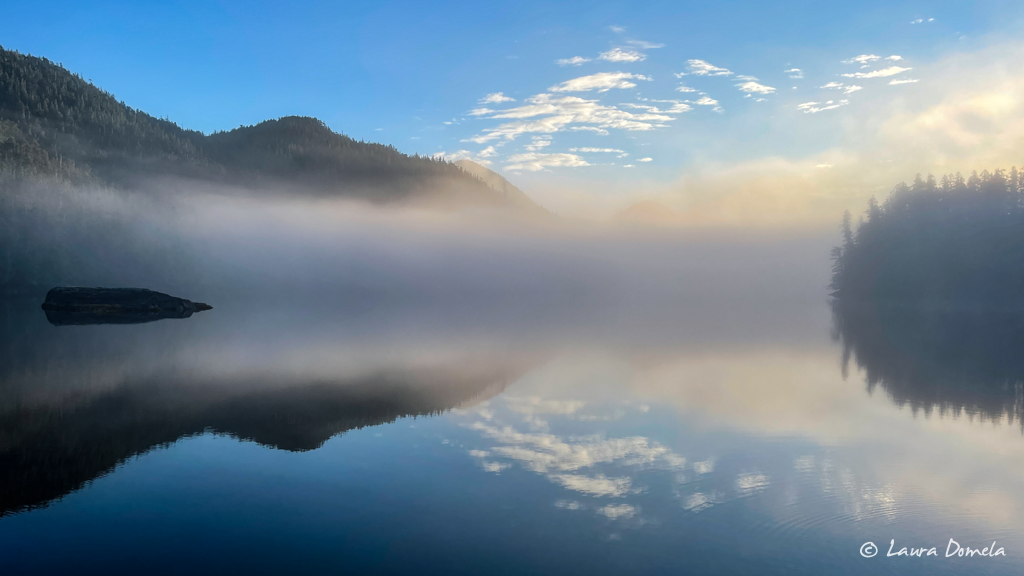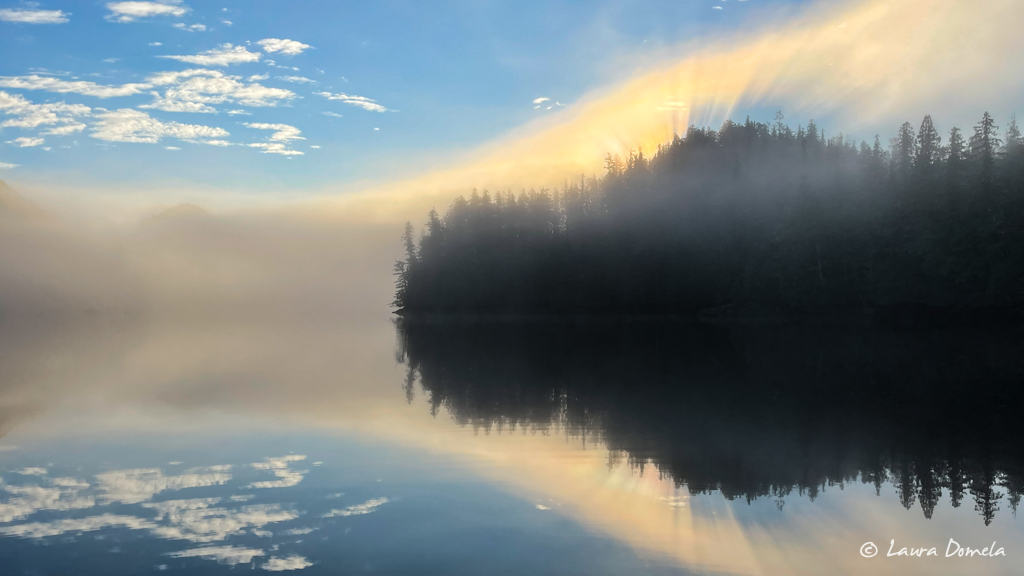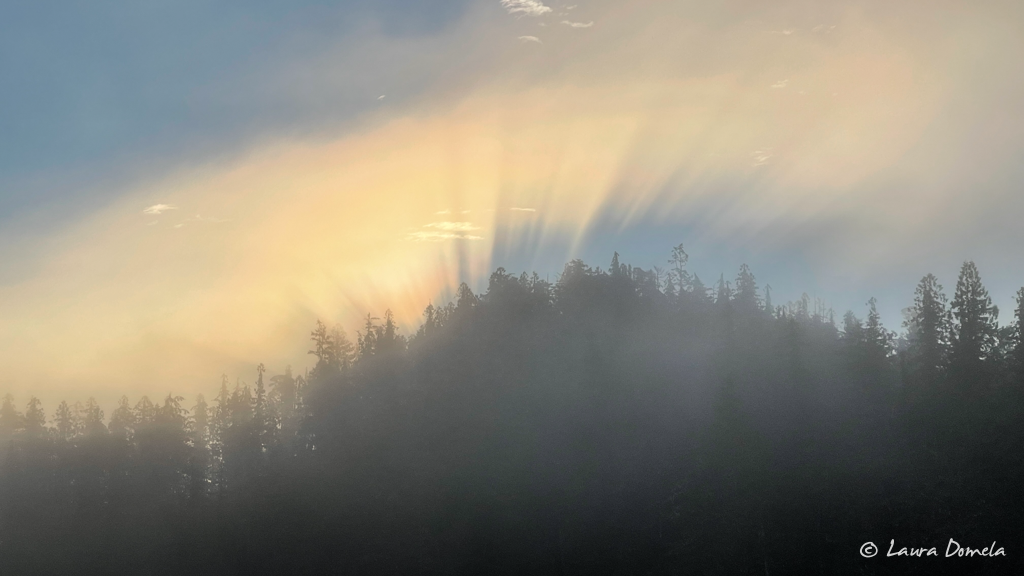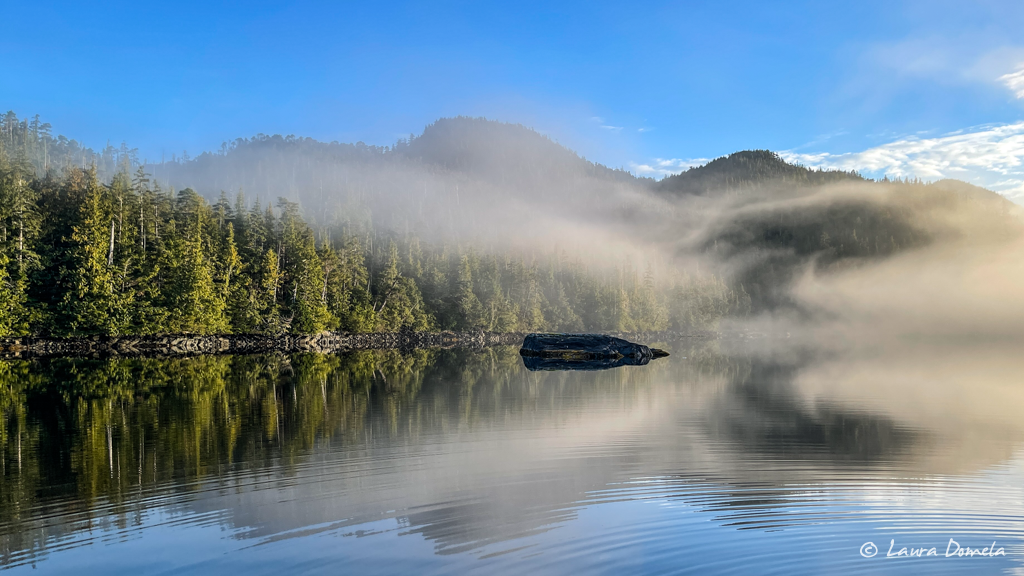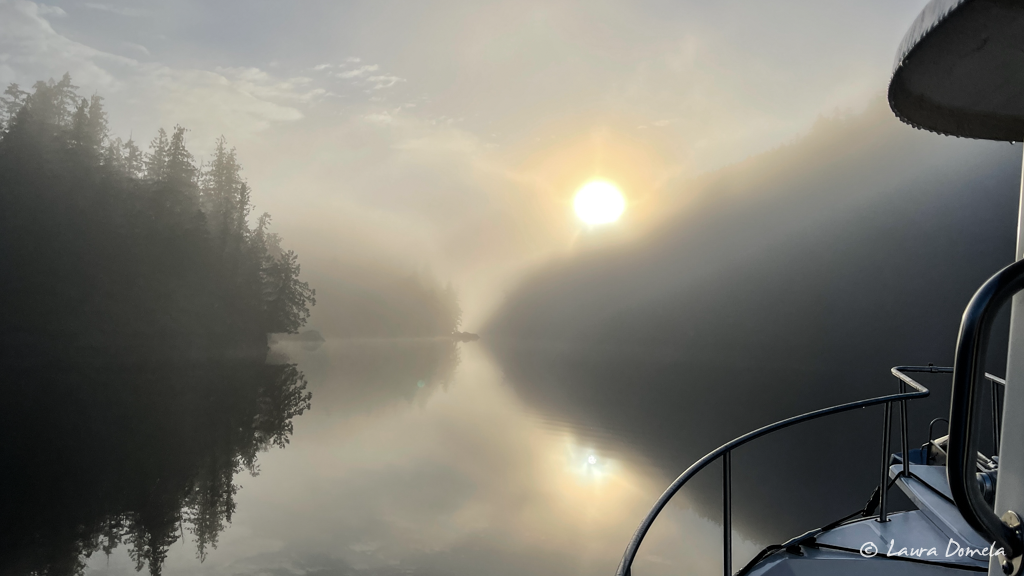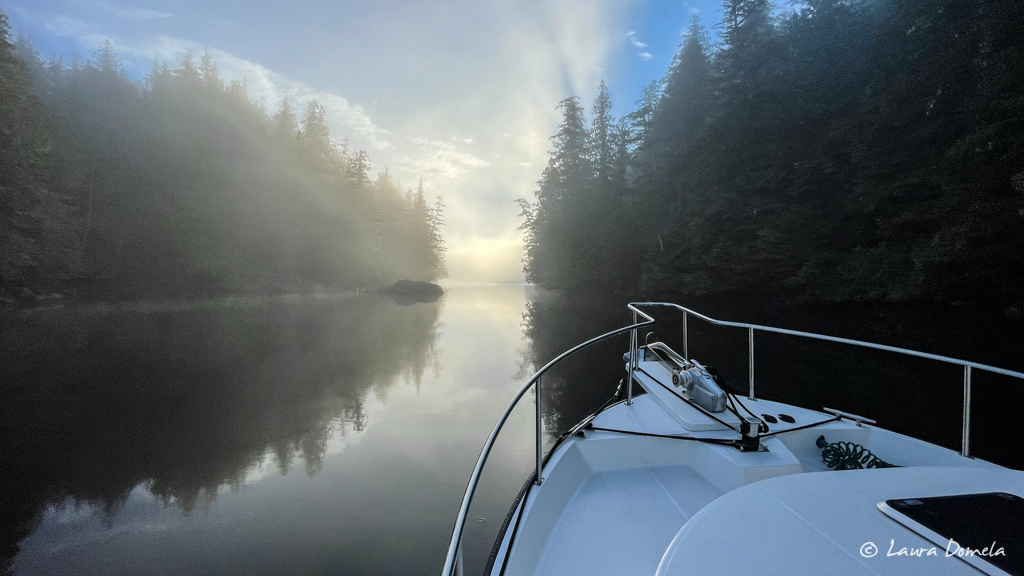 As we headed south in Principe Channel, the skies were clear and blue and the sun shone bright…often right in our eyes while trying to drive the boat, but we'll take it! Sun, calm water, and whale spouts in the distance! 
As we neared the southern tip of Pitt Island, we found that the whales we'd seen in the distance were right in our path, and they were bubble net feeding. We stopped and drifted and watched them for a few hours (from the flybridge even!), and took a zillion photos. Also going nuts with all the good eatin' were a dozen or more Dall's porpoises, a few harbor porpoises, some sea lions, and a ton of birds. This was one of the rare times when the birds were active and helpful in announcing where the whales would come up, but if the birds got lazy (or full!), the calm waters made it so you could easily see for yourself the giant ring of bubbles that preceded the enormous mouths breaking the surface. There were several adults, and one mama and calf, and a few breaches thrown in for fun (none of which we captured, because, surprise!)
As always, too many photos, but here's a good handful: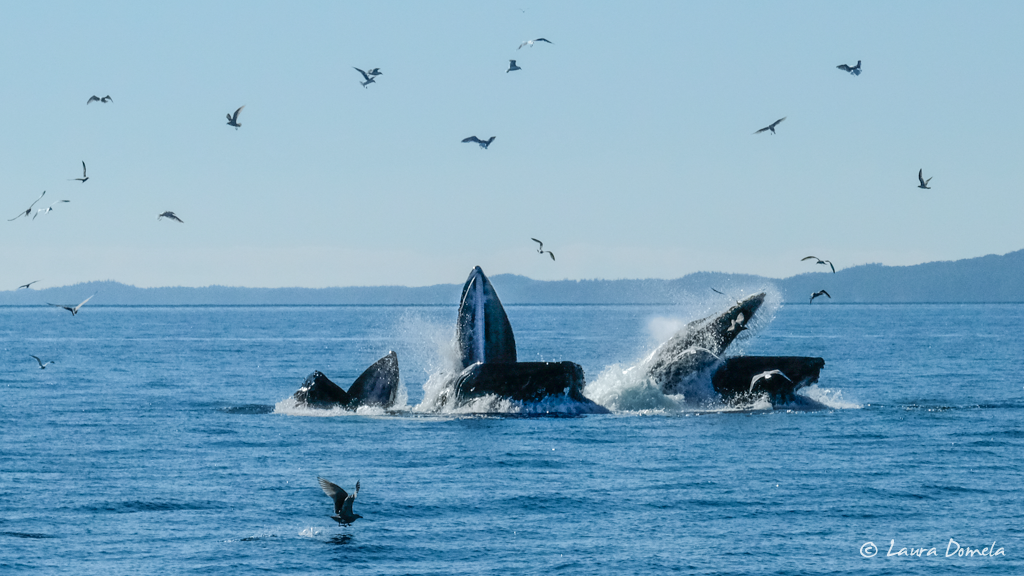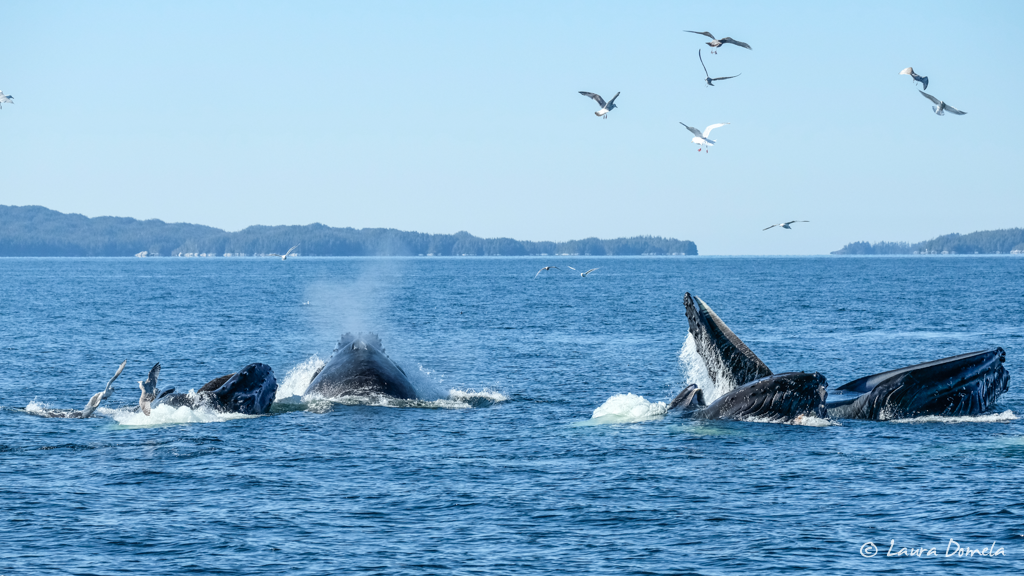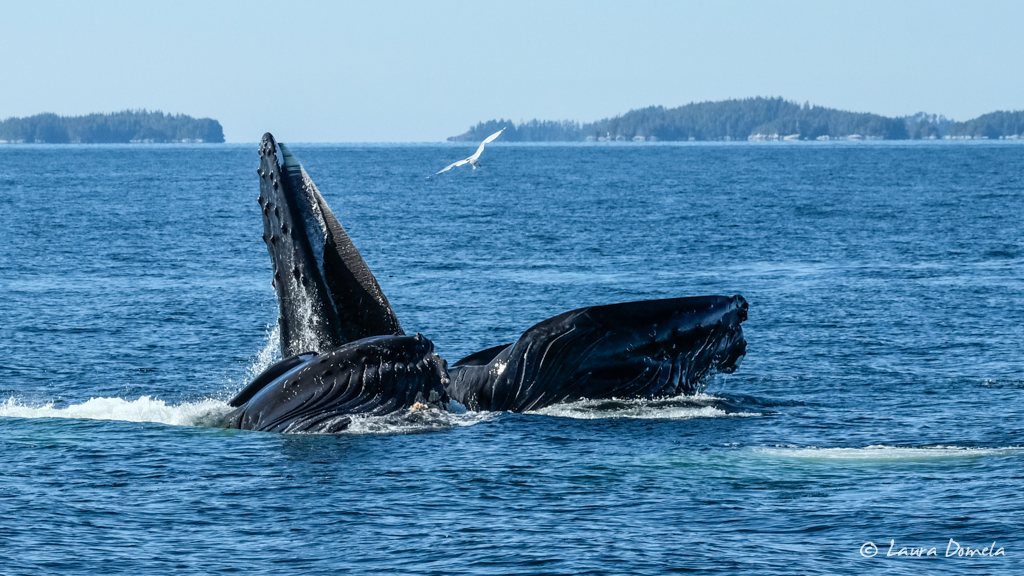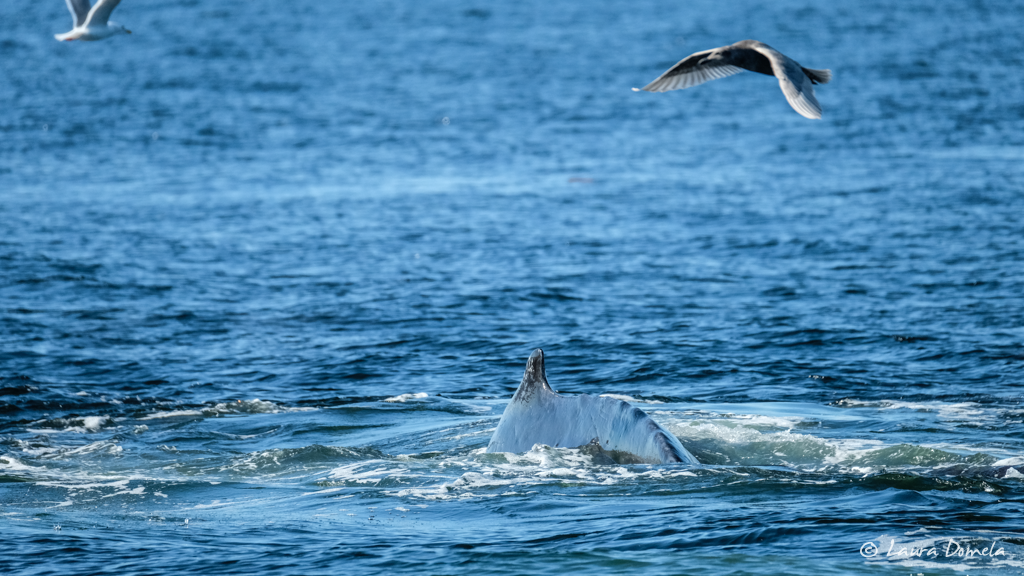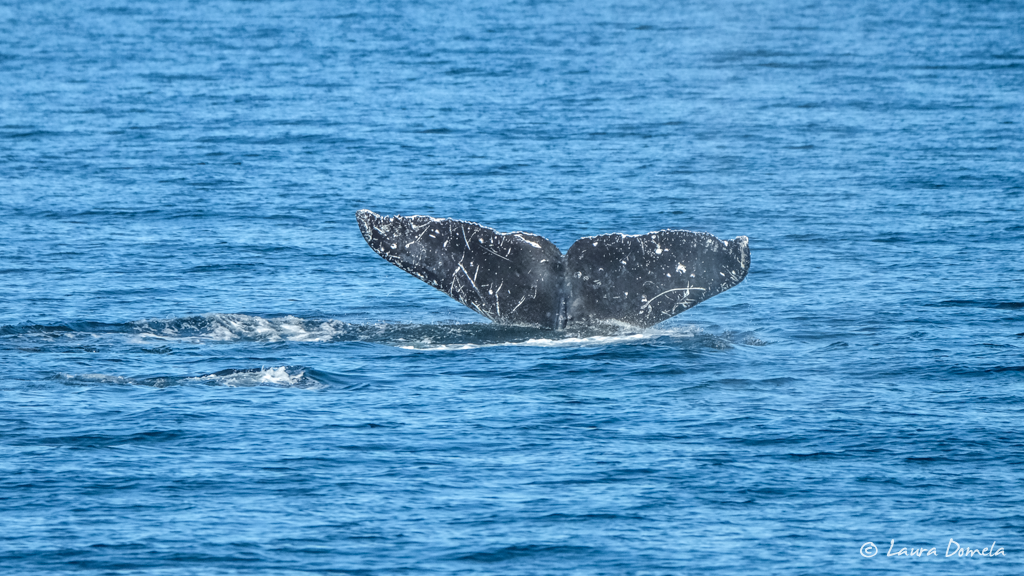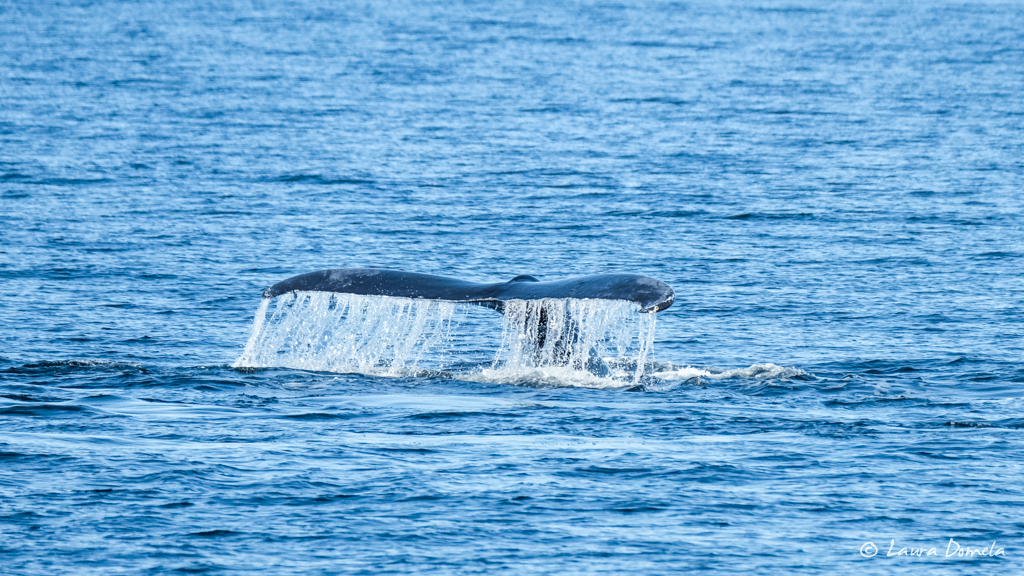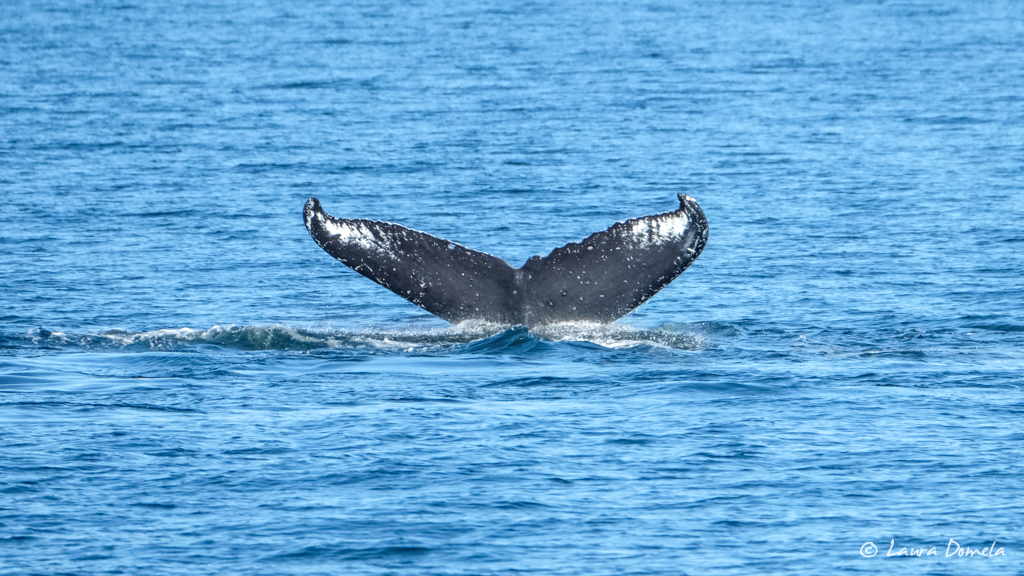 Oops, moved my camera setting to black and white for one round. Heh.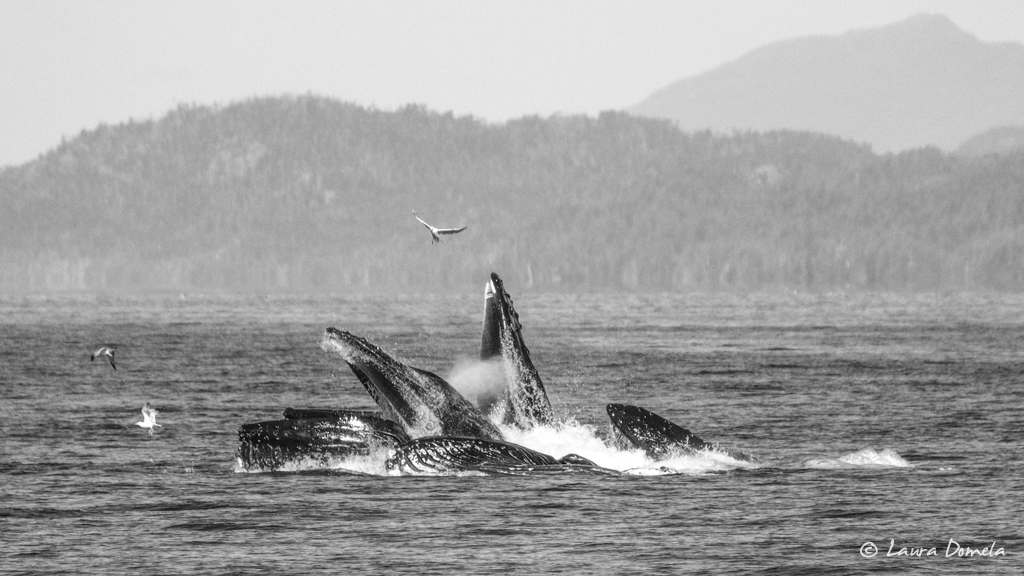 Zippy porpoise that I finally was able to get a quick shot of: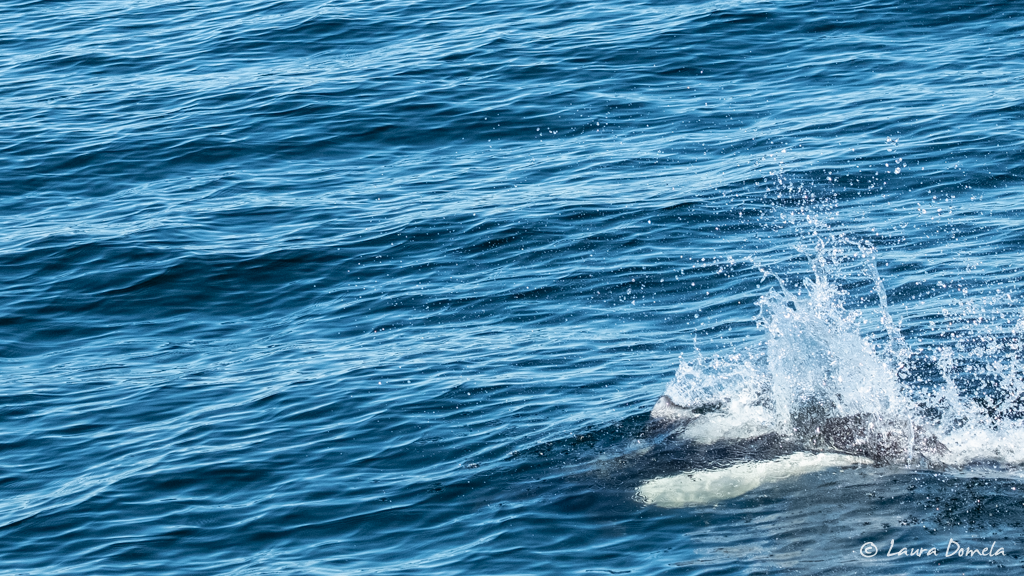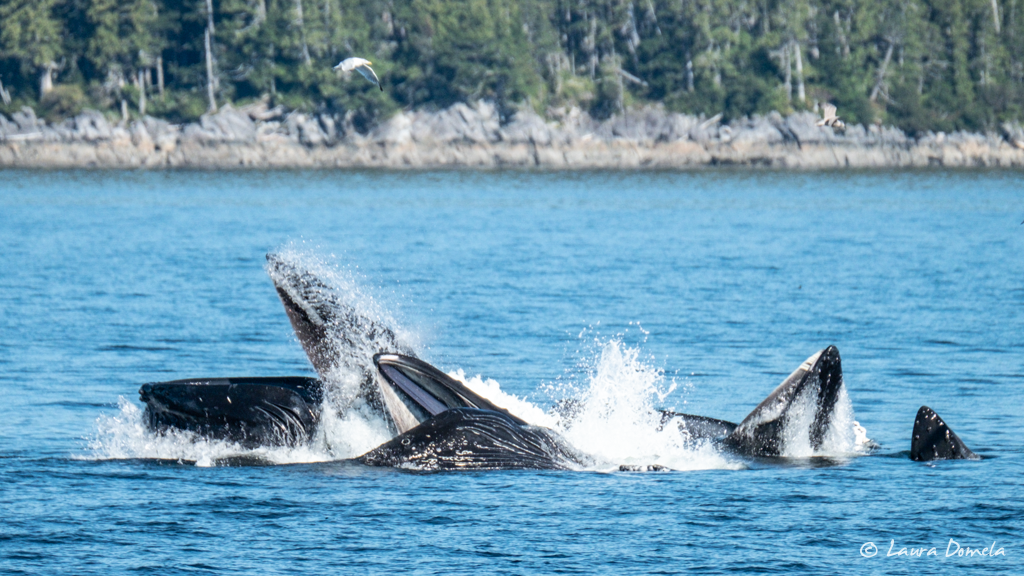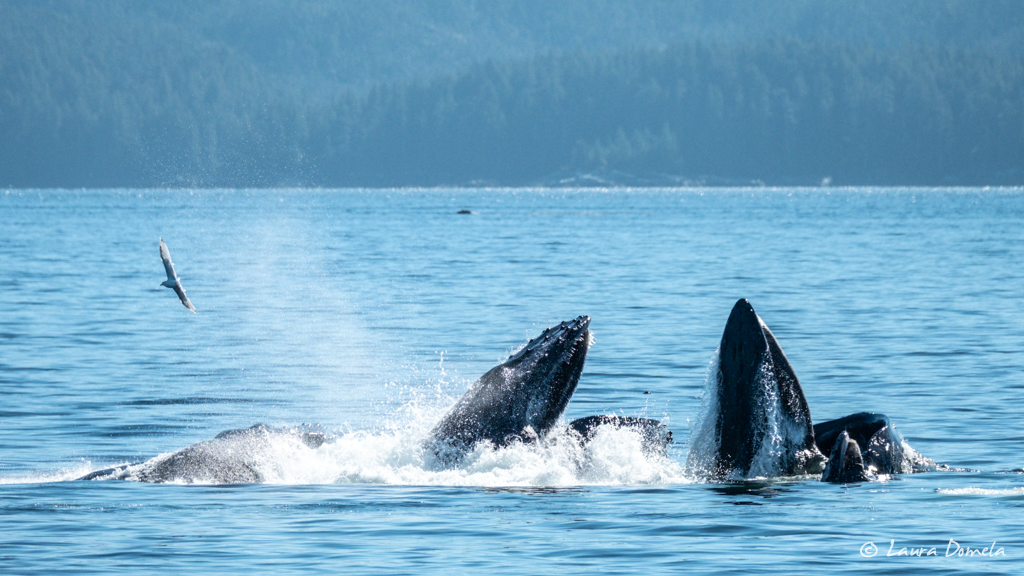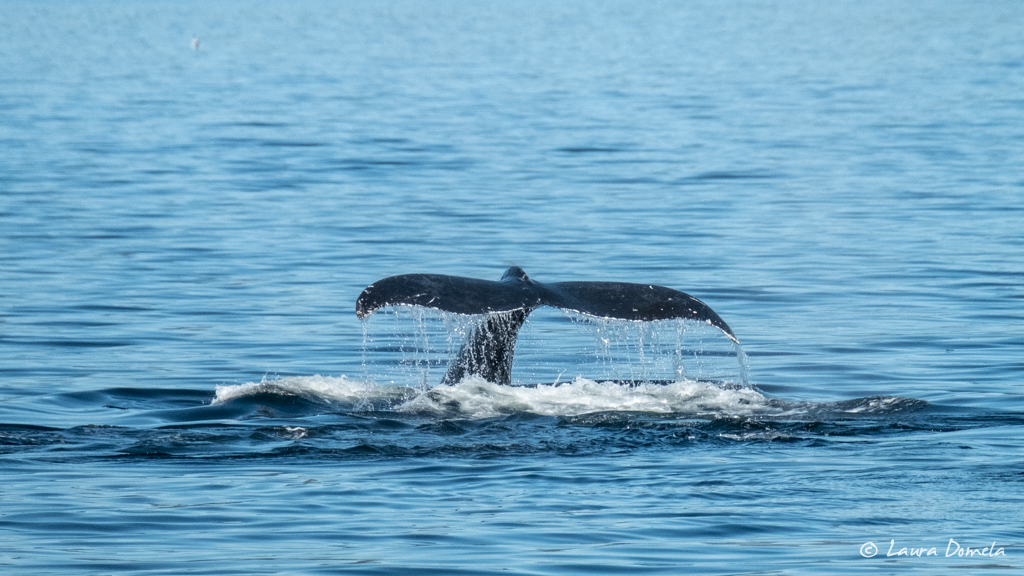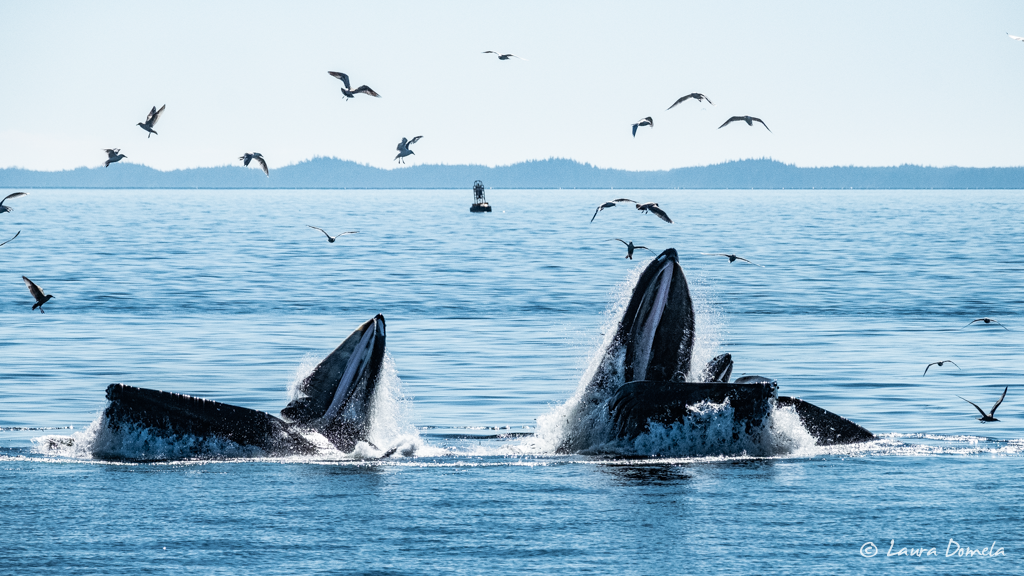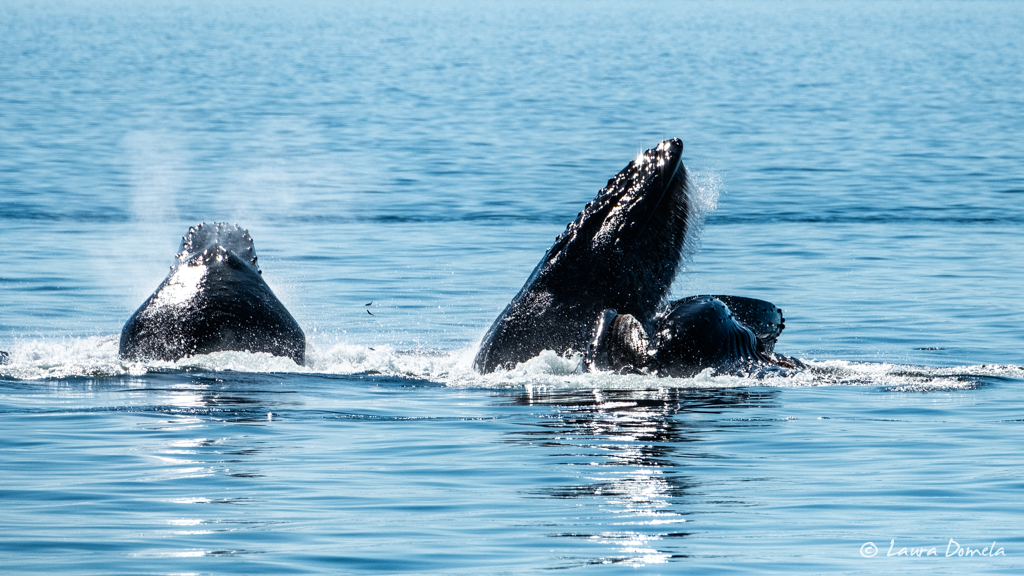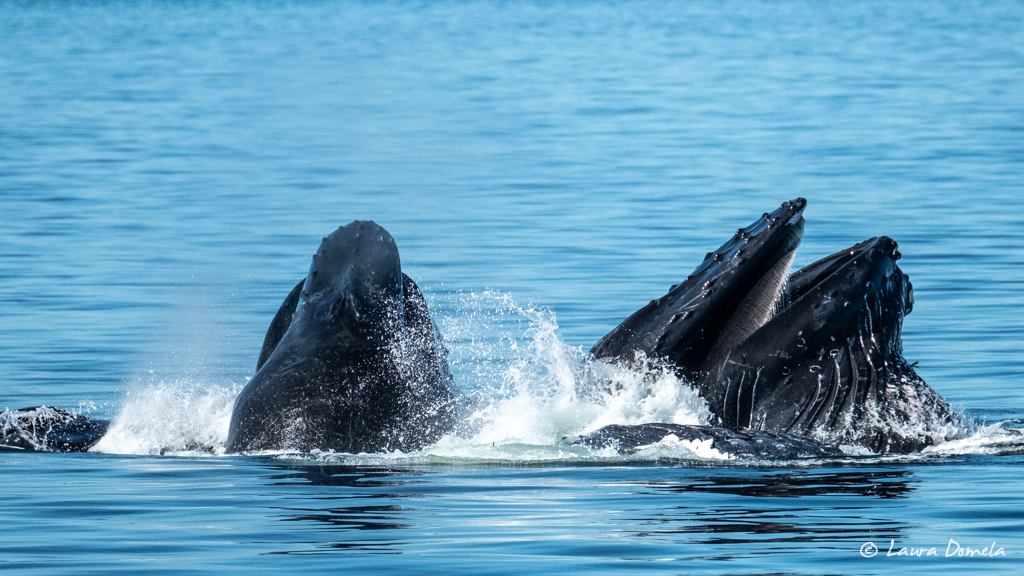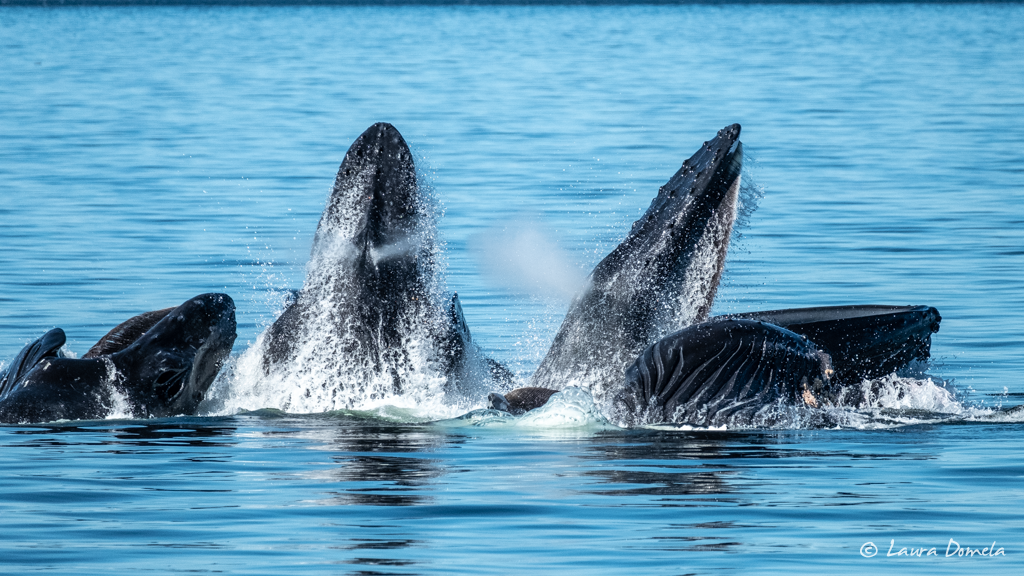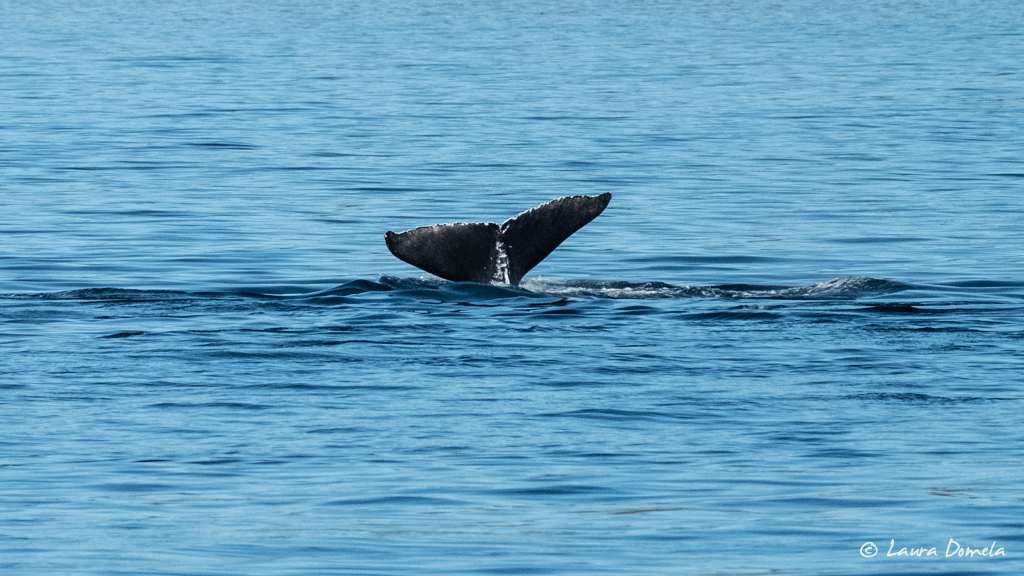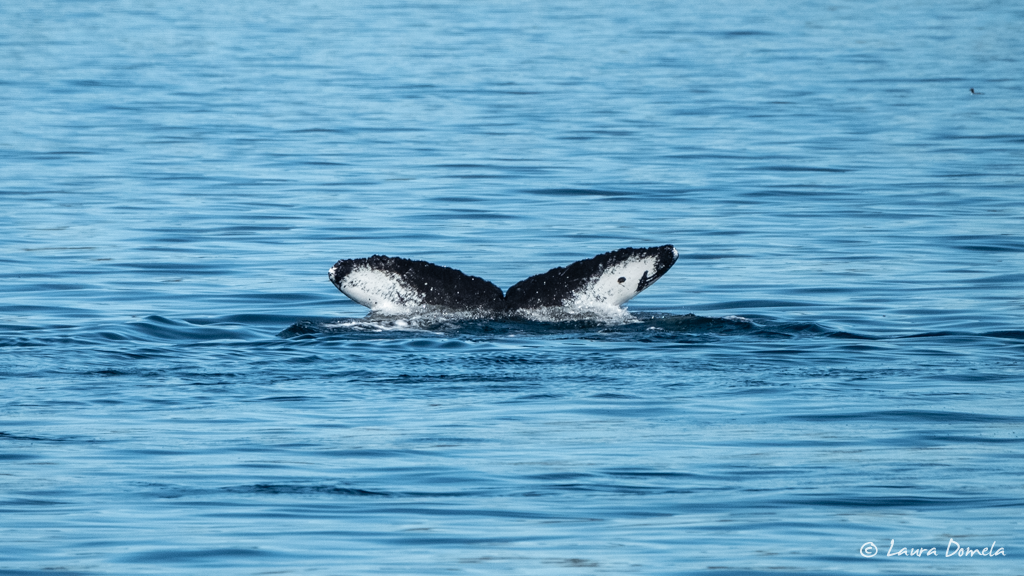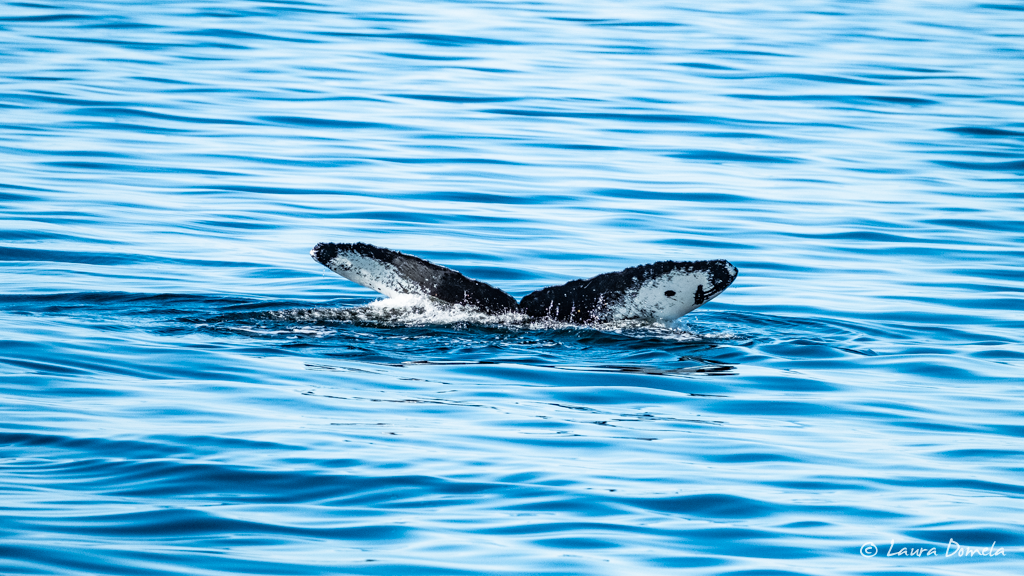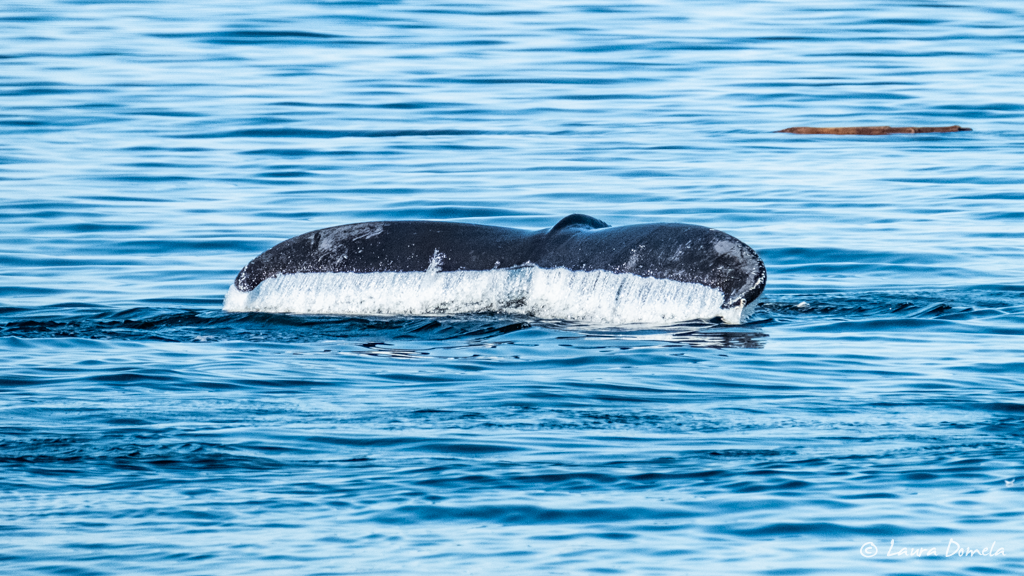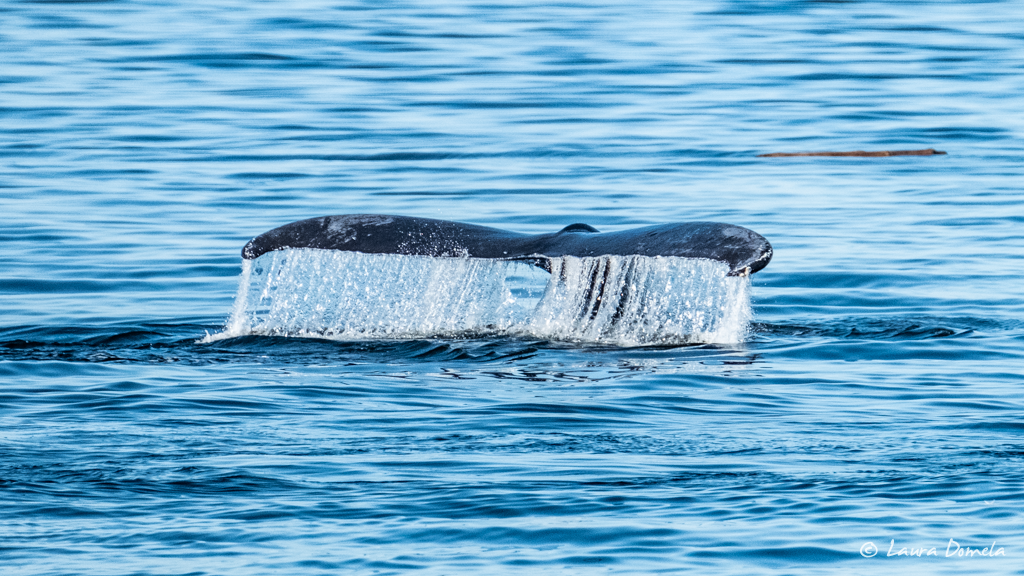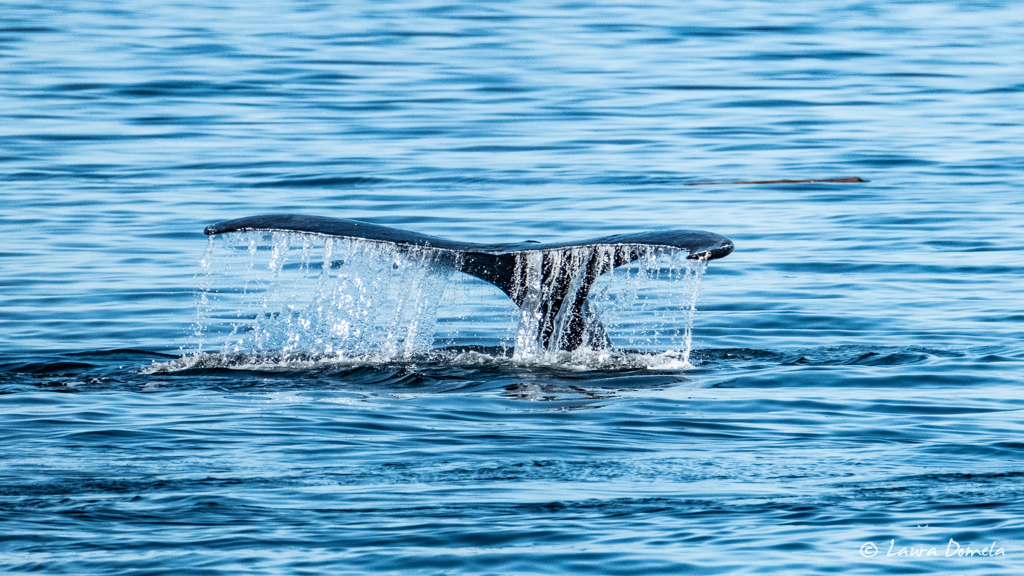 These next shots are of the mama and calf as they dove. Look at that cute little fluke!!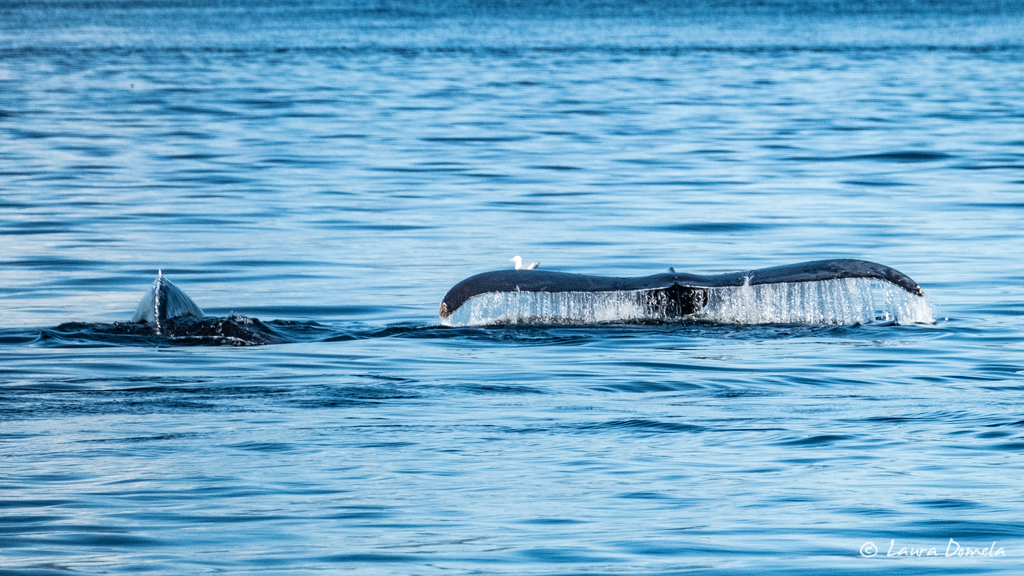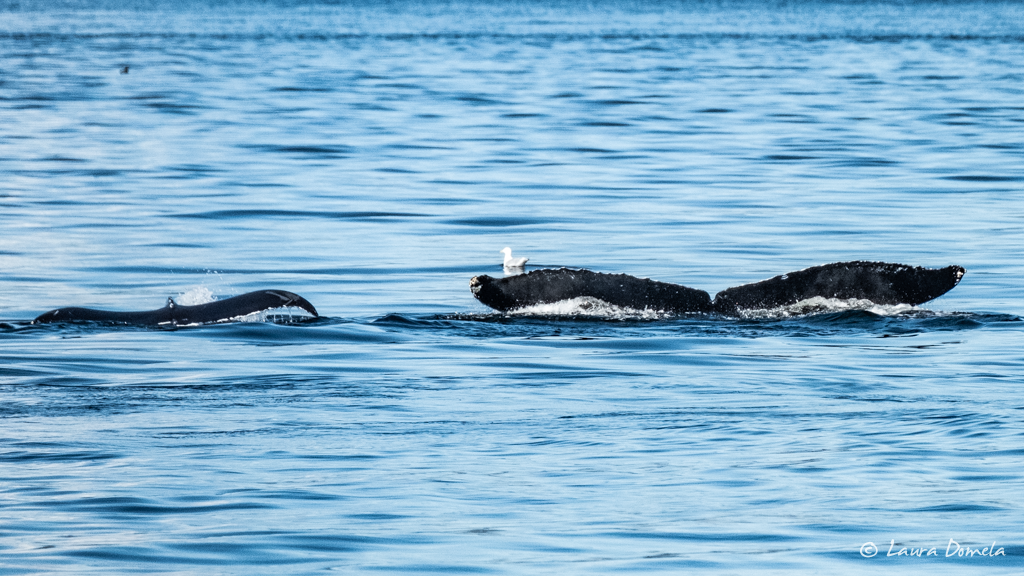 After about three hours hanging out with the whales, we continued around the southern tip of Pitt Island, up into Tuwartz Inlet (through, guess what, more narrows!) and anchored for the night in the furthest cove to the northwest, where there's really only room for one boat, and the bottom is quite rocky. Here's what it looks like in Navionics (blue pin is where we anchored):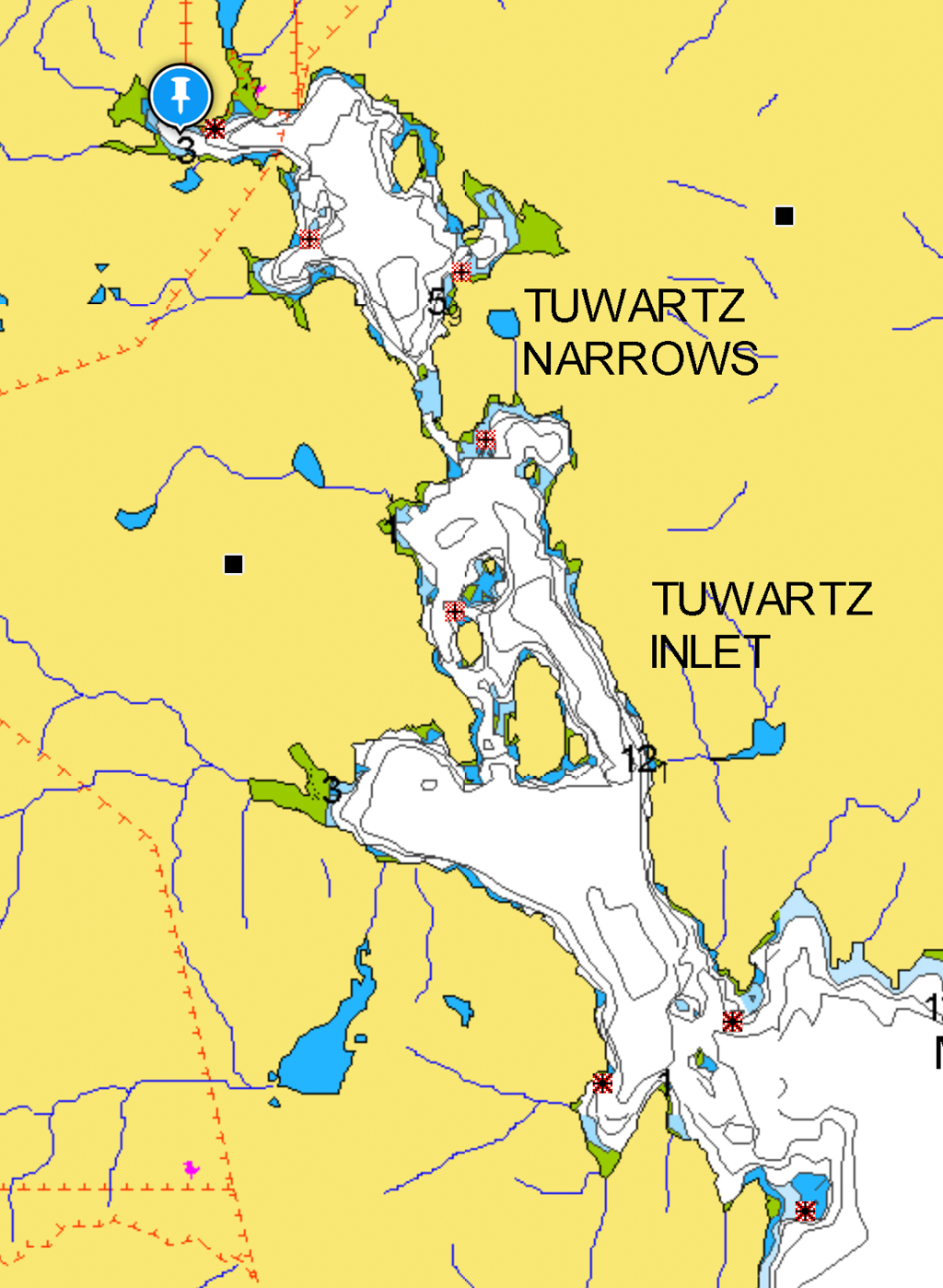 But it's gorgeous in there, and definitely worth a visit. The scenery here is a little more dramatic than the last two anchorages, with rocky treed mountains surrounding the inner bay. Some aerials of Tuwartz Inlet and its surroundings: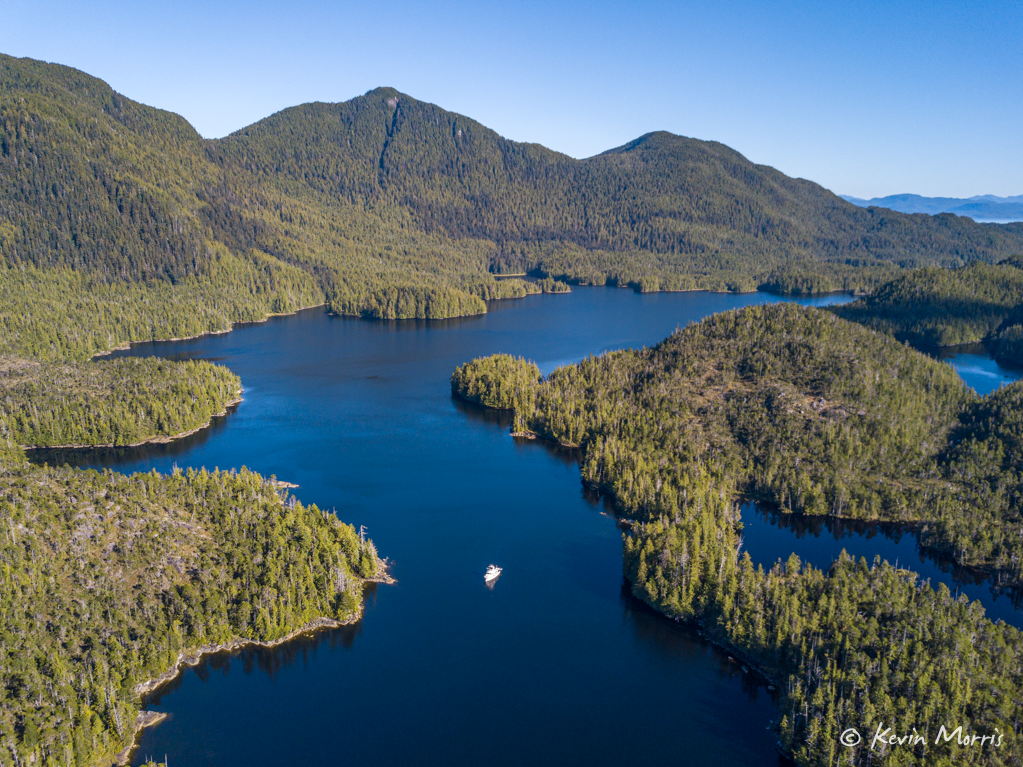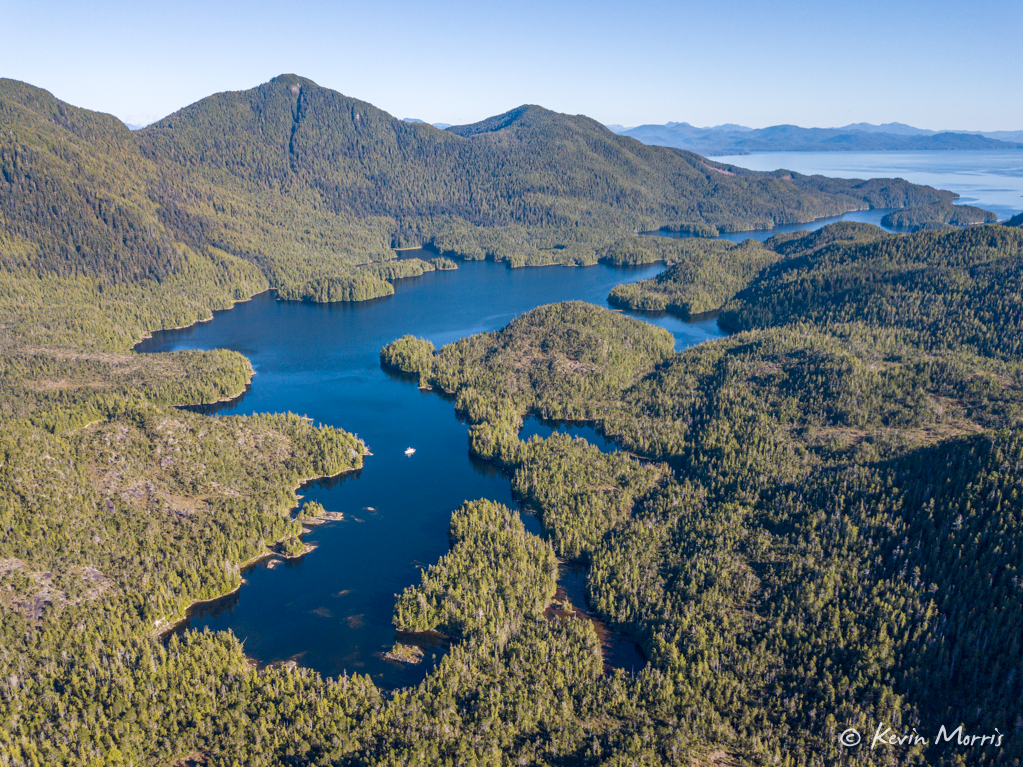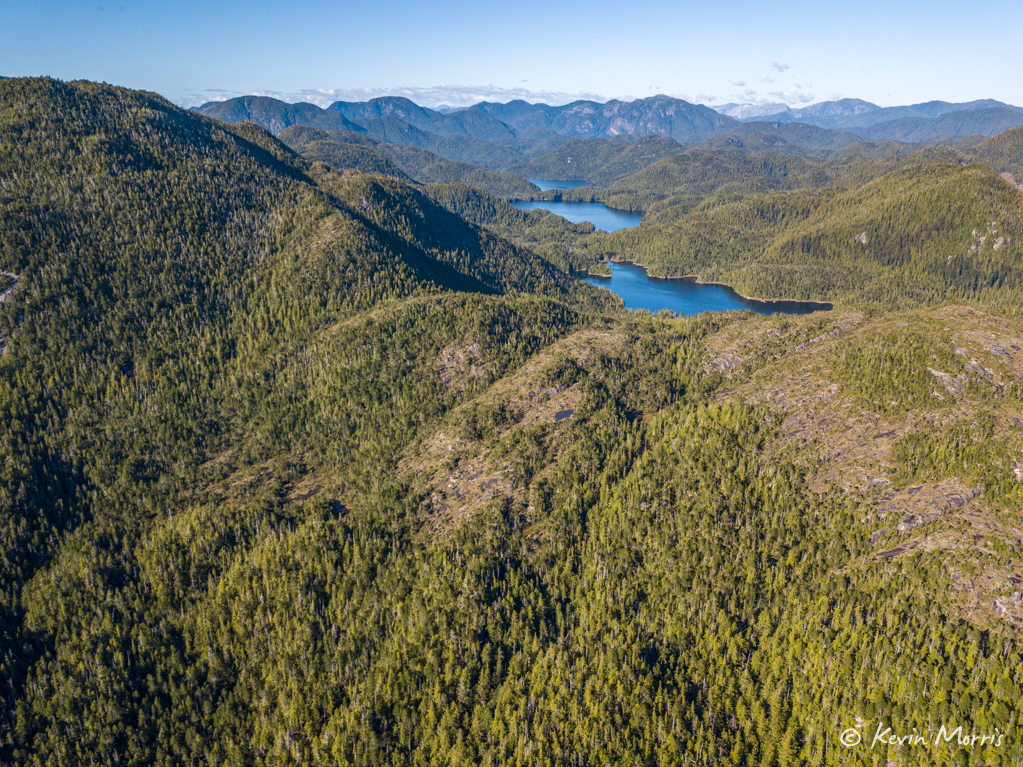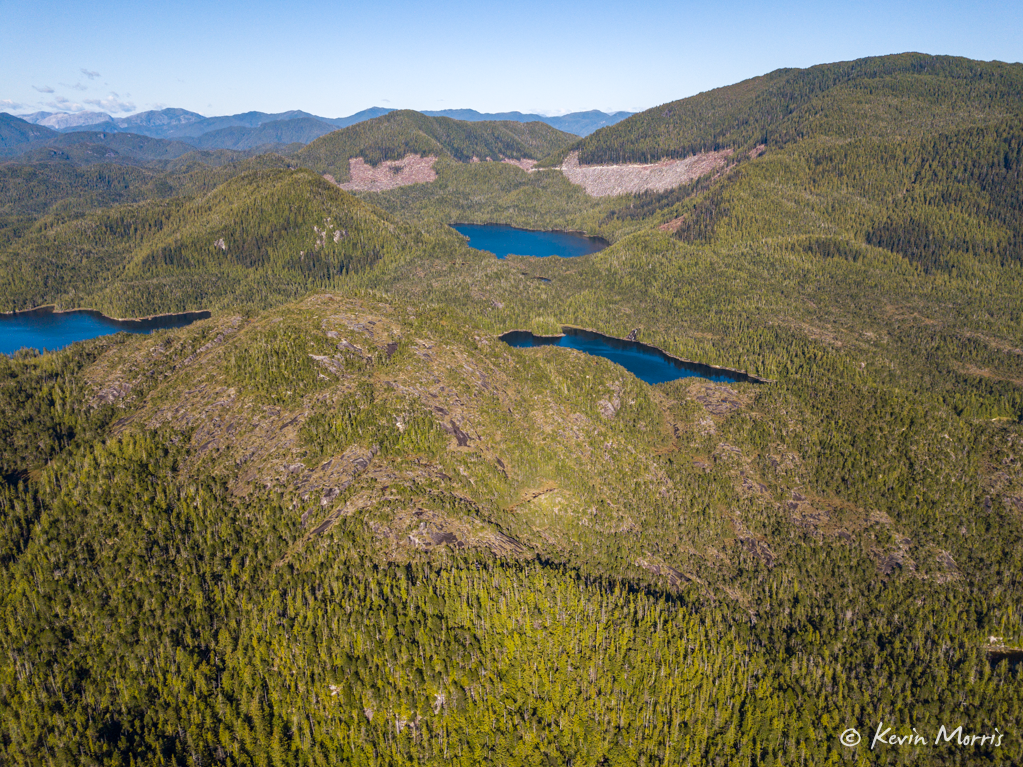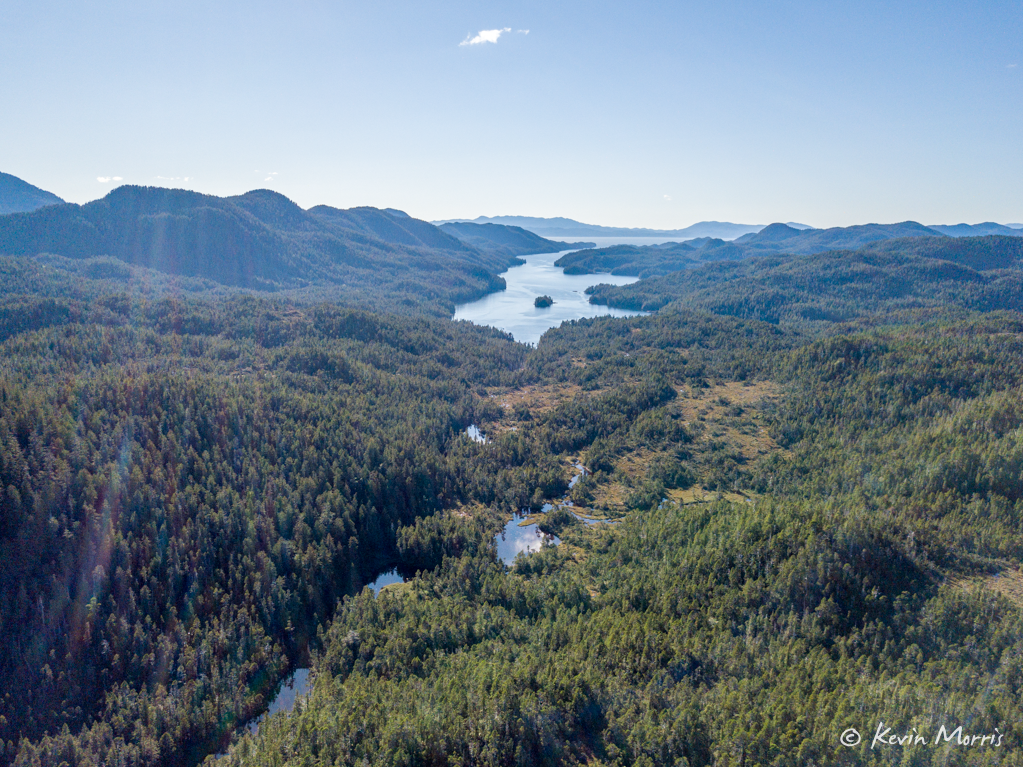 In the morning, we woke to, what else, more heavy fog. Always exciting adding fog to the drama of a super narrow passage.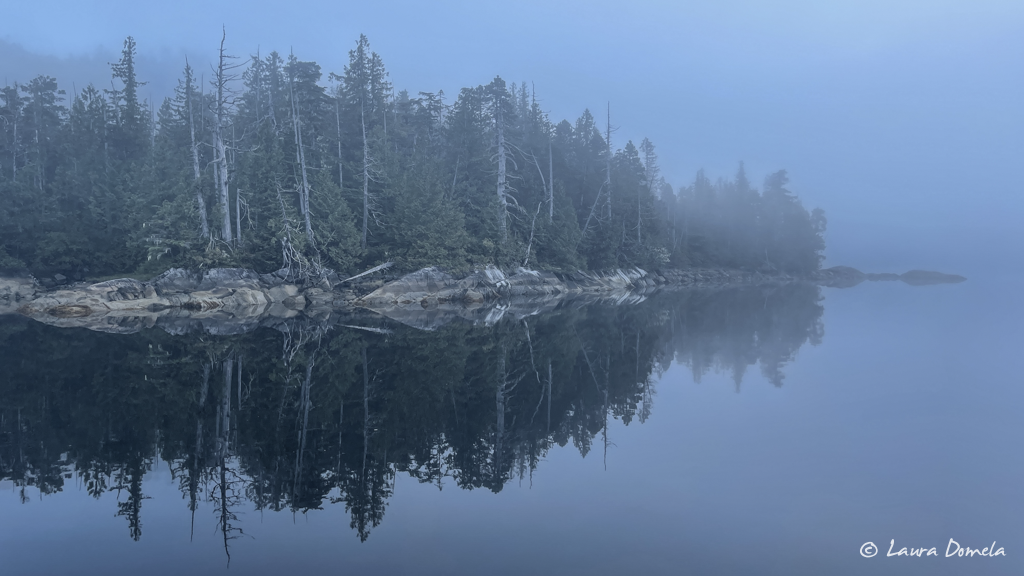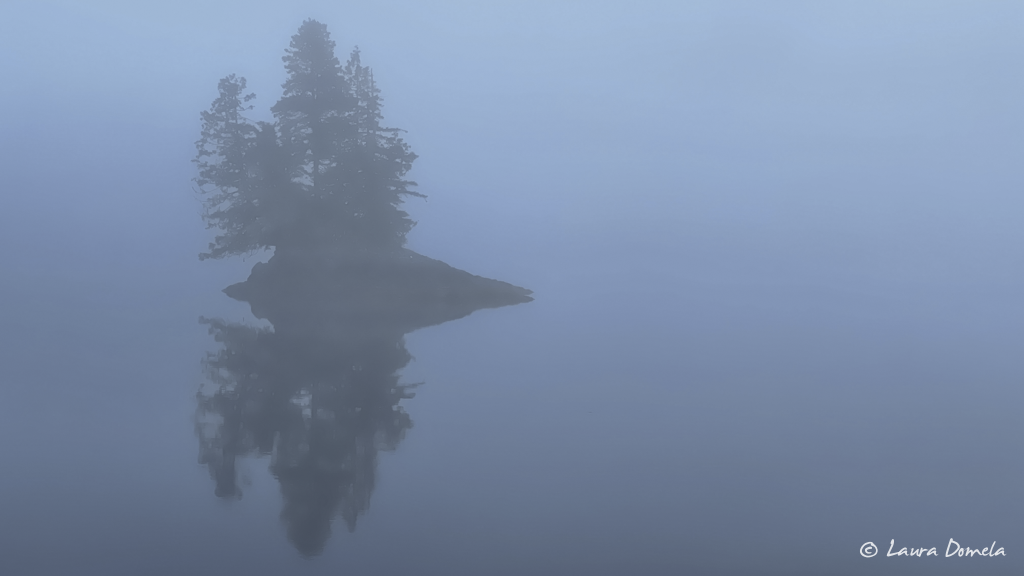 We exited at a very slow speed with radar running and had no issues, and as we entered the larger part of Tuwartz Inlet the fog cleared and the rest of the cruise was gorgeous. Calm water, whale spouts in every direction, and clear skies. 
Our next stop was originally going to be Khutze Inlet, but we decided to press further south to Green Inlet, where we stopped and anchored just inside and behind a couple small islets and rocks. It was deep (we dropped in 90+ feet and backed to shore in 30ft) but it was settled and quiet, and we had our own little waterfall to keep us company. 
This is the view from Airship looking out into Green Inlet: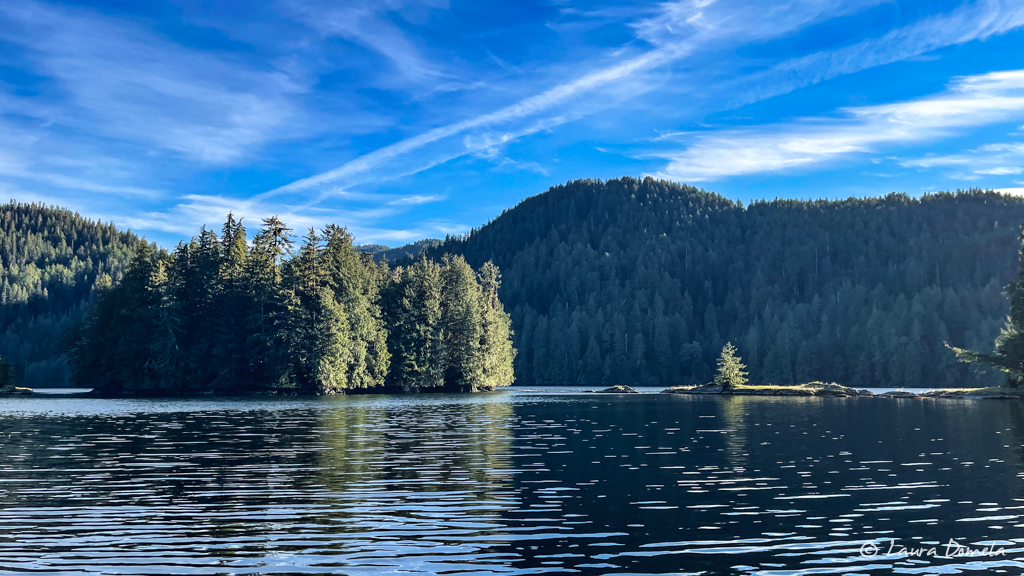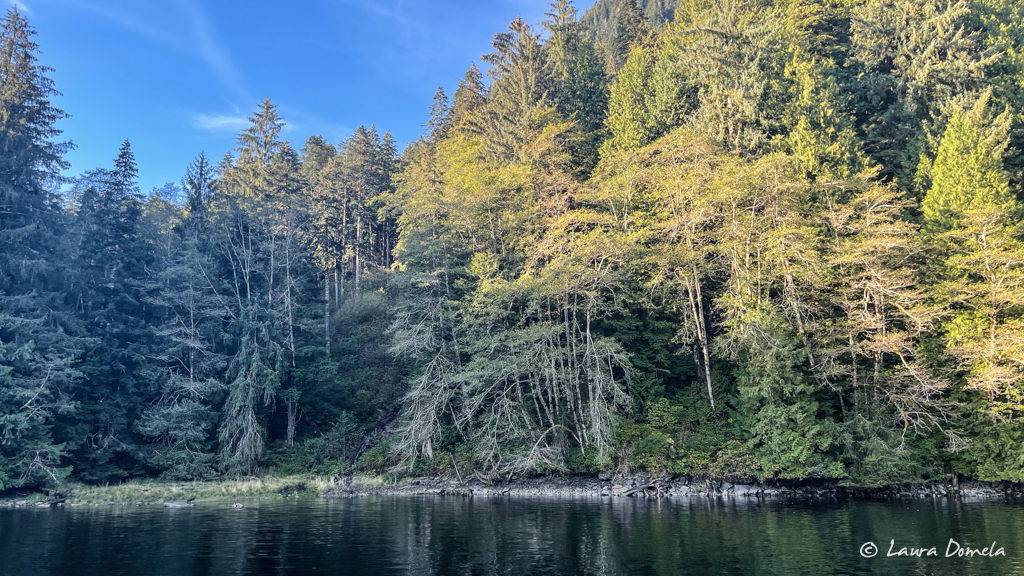 We set the alarm for 6am the next morning for our 60+nm cruise to Shearwater (about 8 hours), but it is definitely not summer anymore, and it was still pitch dark. We snoozed for another thirty minutes and then got out of bed, made some coffee, and pulled the anchor just before 7am. This anchorage is surrounded on most sides by tall wooded mountains, which made it feel darker than it actually was. We could have left when we'd planned…but oh well, a little more time under the cozy covers is always nice! 
We had a beautiful, sunny cruise today, which included going through Jackson Passage and Jackson Narrows and down through Perceval Narrows and Reid Passage to Shearwater, instead of the outside route into Milbanke Sound. Jackson Passage is so pretty, and we thought we should continue the theme of squeezing through tight spots with rocks.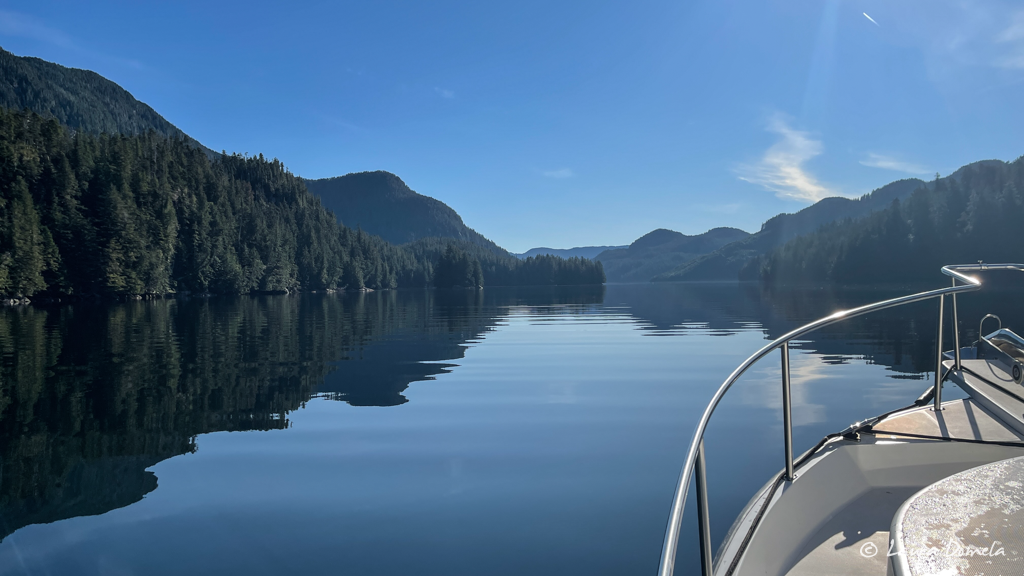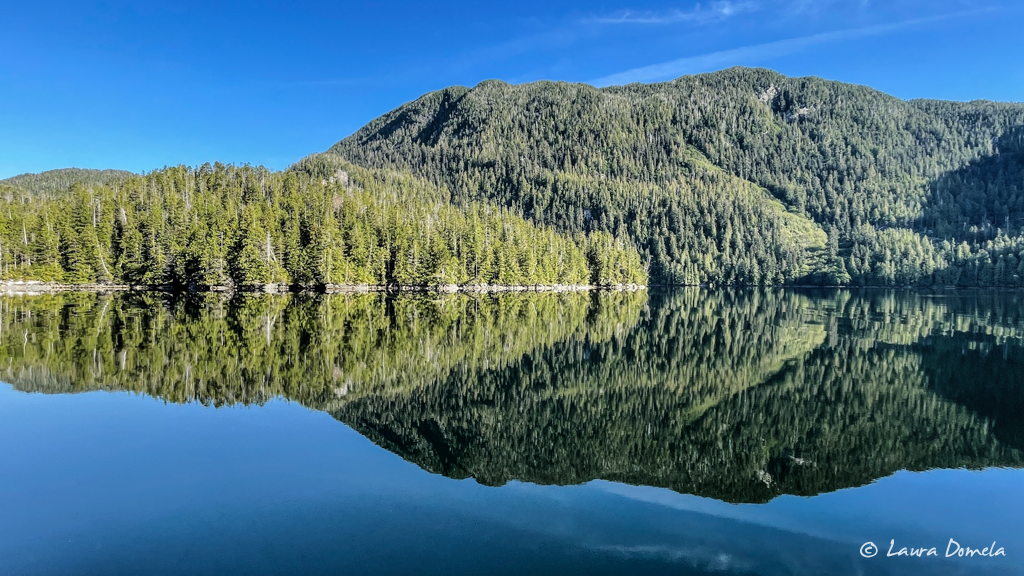 The slight ripple on the surface of the water creates a pixelated version of the scenery above it. Perfect!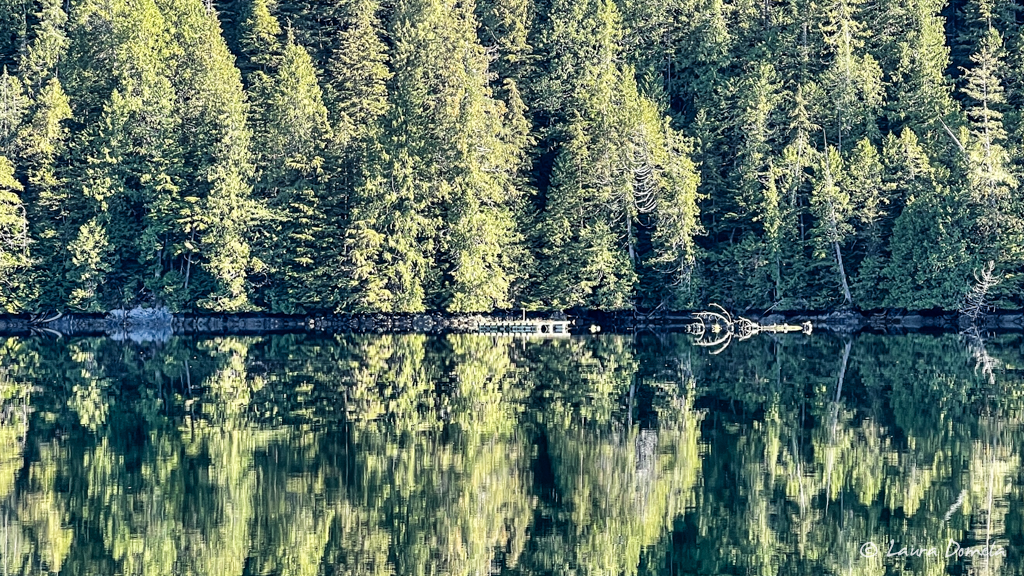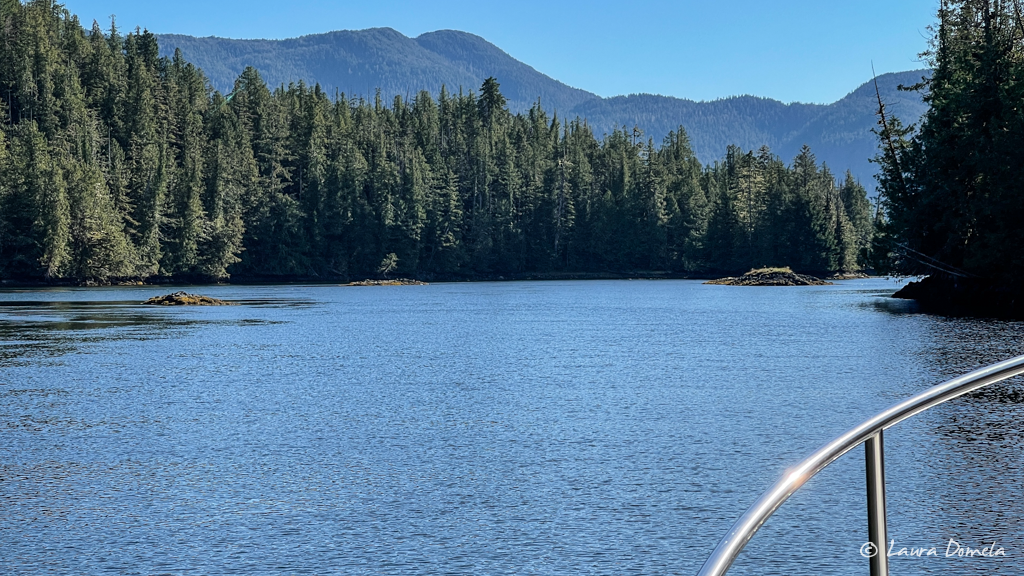 It was so beautiful out that we spent maybe a third of the day up on the flybridge!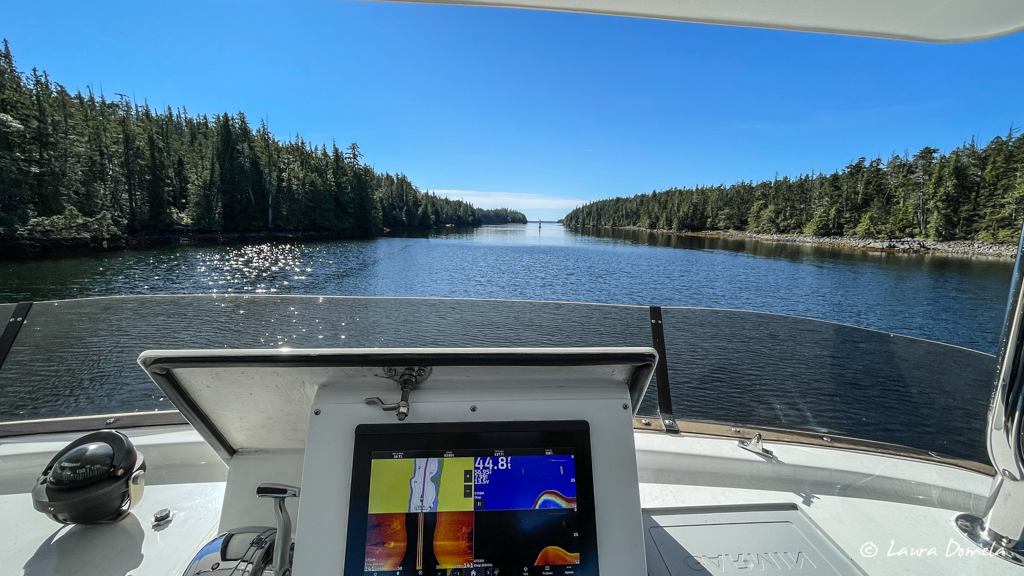 We arrived at Shearwater just after 3pm and are now the only boat on the dock (besides the ferries that go back and forth to Bella Bella).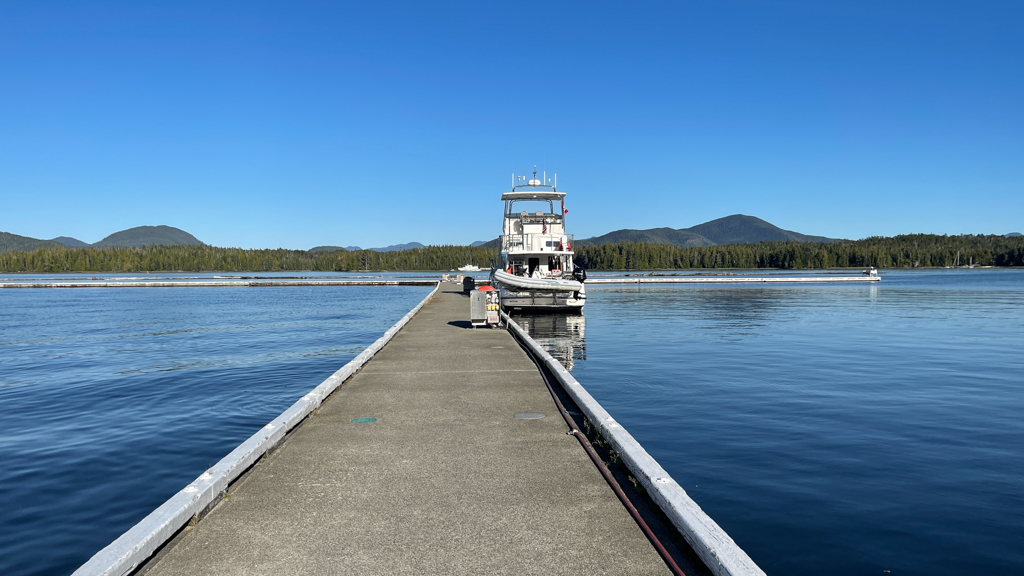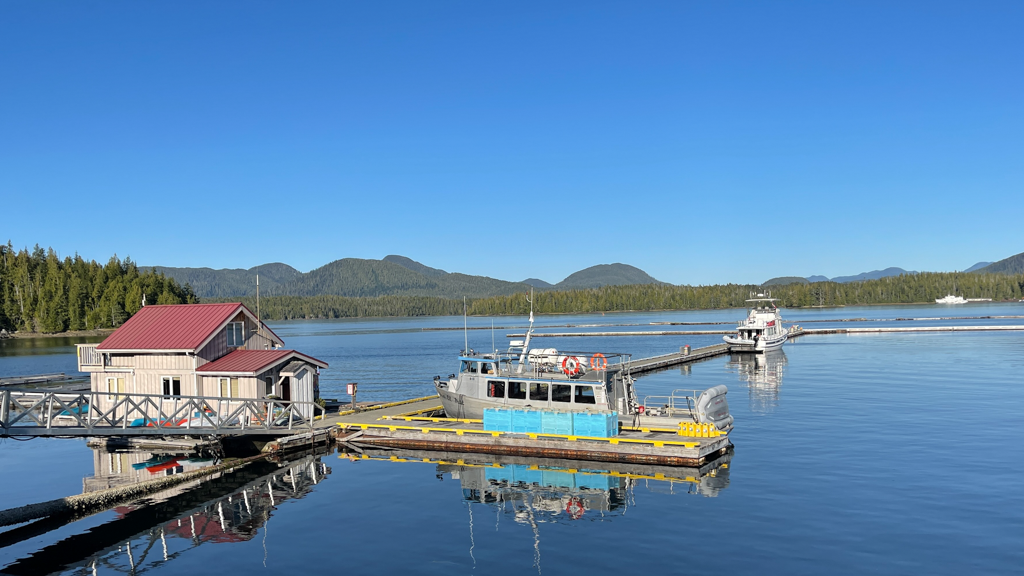 We had an early dinner up at the restaurant, Fishermen's Bar & Grill, for a not-cooked-by-us meal (it's been a while!!)…shared a reuben sandwich, a side caesar salad, and some salmon fish and chips that were amazing (and a couple pints). A nice quiet evening here.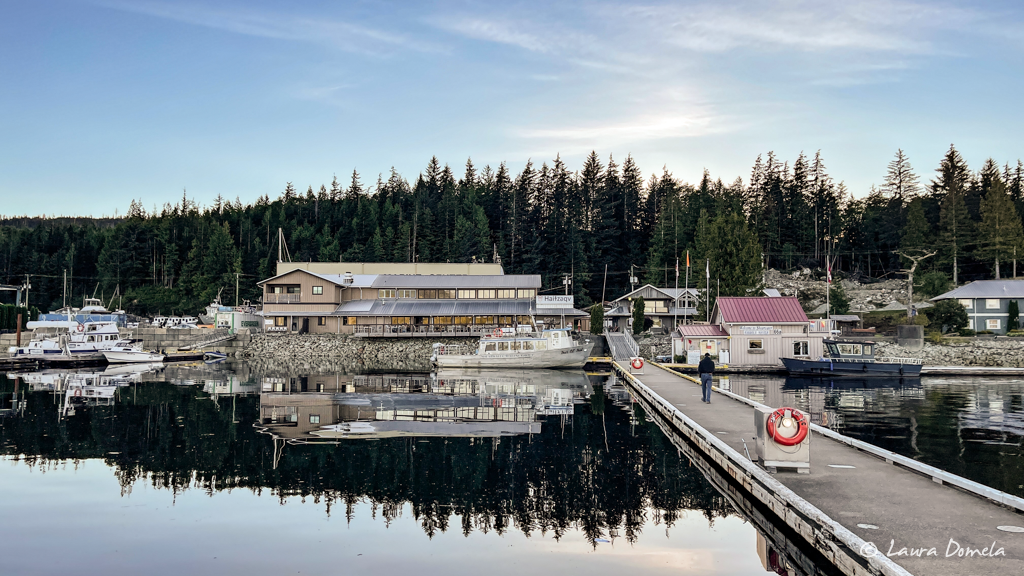 We'll head out in the morning, likely all the way to Big Frypan Bay (Fury Cove still shows anchoring closed for COVID on their website, which is a bummer because it's convenient and beautiful and we miss it!).
The weather window for Cape Caution is still looking good for Wednesday!