The forecast today was for strong southerly winds (30-40 knots), and we weren't totally sure how they would affect our trip up Grenville Channel. We departed Lowe Inlet a little after 10:00 a.m. in calm conditions and took advantage of the end of the flood to give us an extra few knots of speed.
As we continued north the wind built, but we never lost the current. By the time we exited Grenville Channel and entered Ogden Channel, the wind was blowing 20-25 knots with 2-4 foot breaking chop behind us. It wasn't particularly uncomfortable, but the autopilots worked hard!
The weather (and forecast) has been as challenging as any we've previously experienced. Environment Canada has been predicting southeasterly gales for most of the last week, and most of the next week.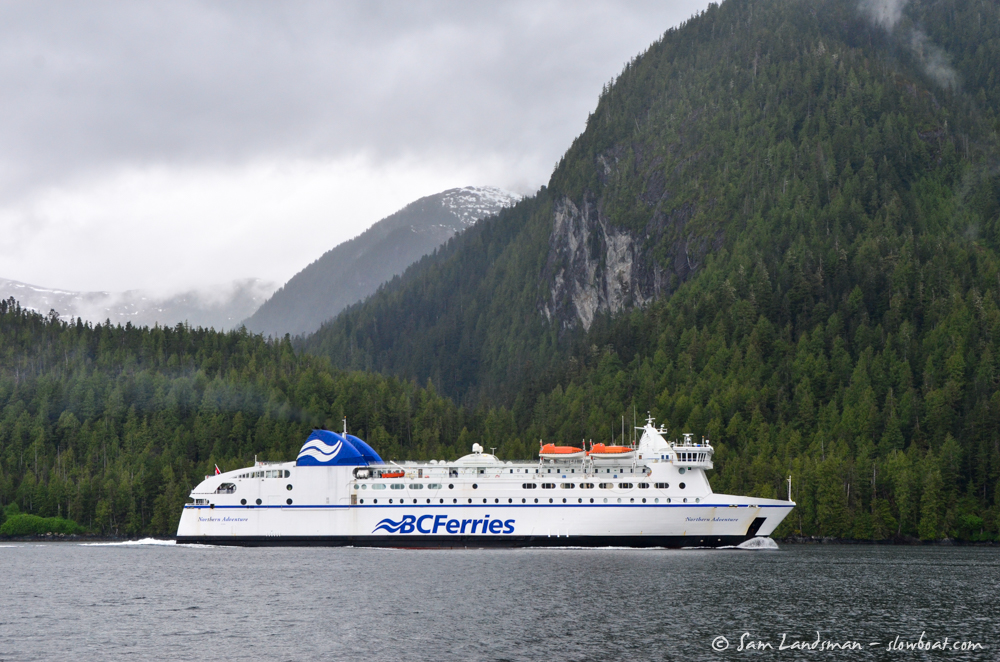 We pulled into Kelp Passage Cove for the night, anchored with a good deal of scope since it was still gusting to 15 knots, and gathered for happy hour aboard Safe Harbour to discuss plans for our Dixon Entrance crossing this week.
Short term we're heading for Prince Rupert. Tomorrow looks bumpy-but-manageable to head across Chatham Sound. Environment Canada is calling for certain doom in Dixon Entrance (just kidding, SE 20-30 knots) on Tuesday, but NOAA and Windy.com and Windfinder don't really agree. We're hoping the Canadians are wrong and we'll have a window to make the hop to Alaska. Stay tuned!
Today: 42.0 nautical miles, 5 hours 6 minutes
Flotilla total: 578.6 nautical miles, 79 hours 35 minutes
Today's route from Lowe Inlet to Kelp Passage Cove: