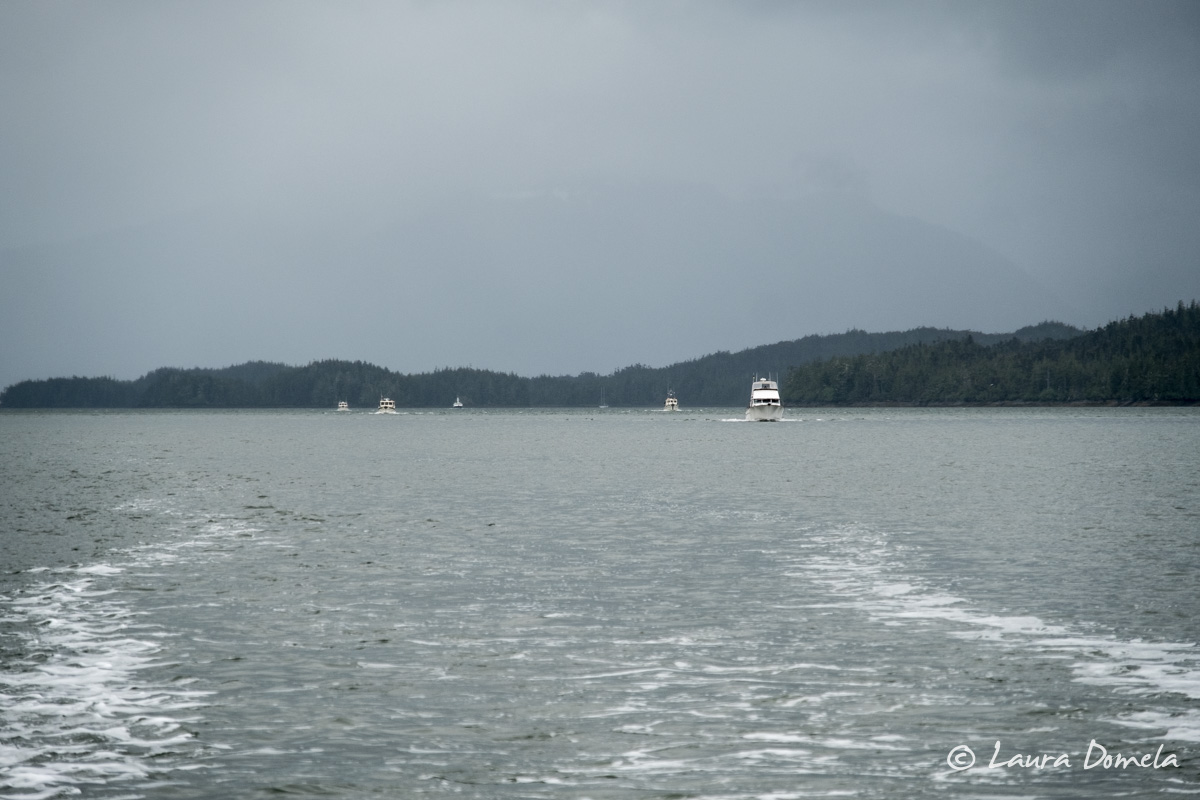 After a breezy night at anchor and with Environment Canada still predicting 20-30 knot southeasterly winds, we were expecting a bumpy ride over to Prince Rupert. But as departure neared the wind died. Somehow we lucked into a calm trip across Chatham Sound and into Cow Bay Marina.
Several of us caught a glimpse of the humpback hanging out in Bloxam Passage on our way out (awww, no photos), and also…a glimpse of the sun!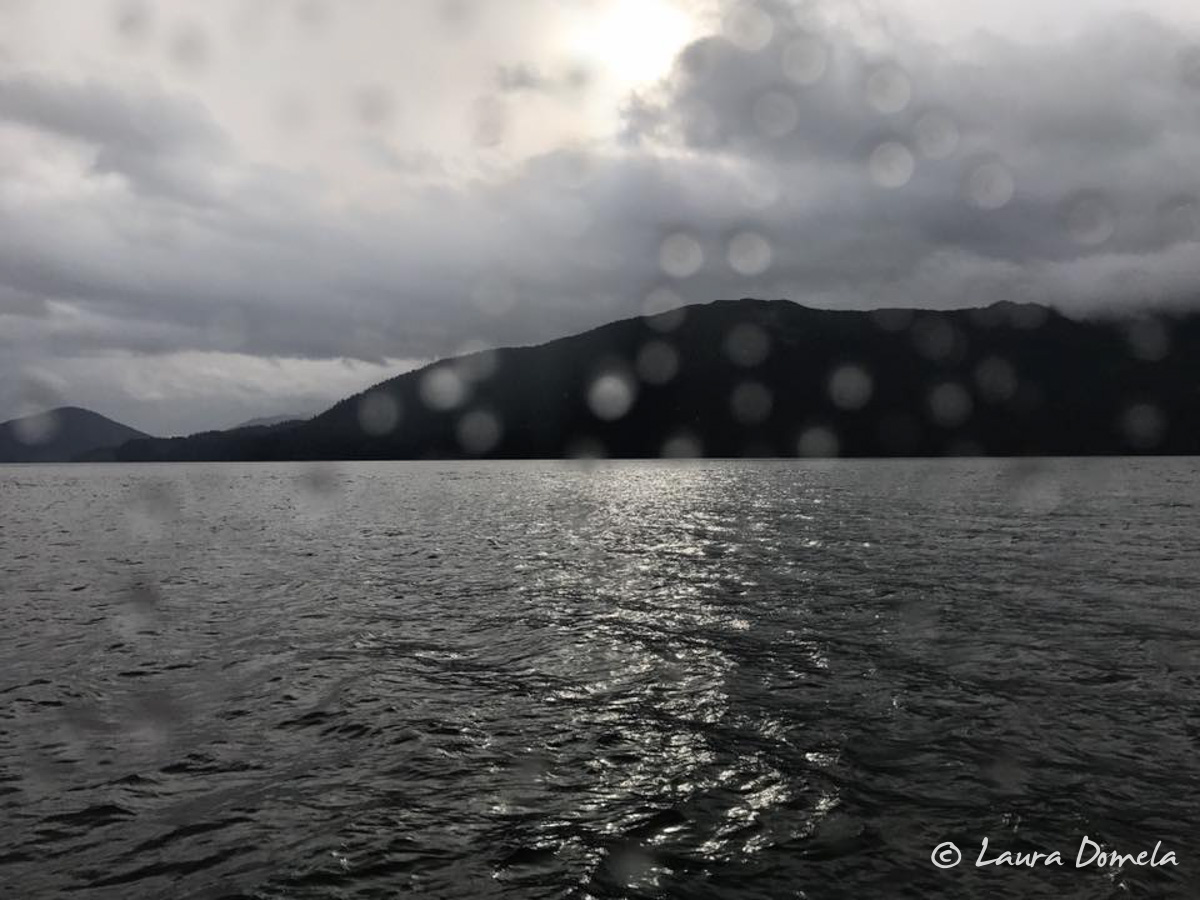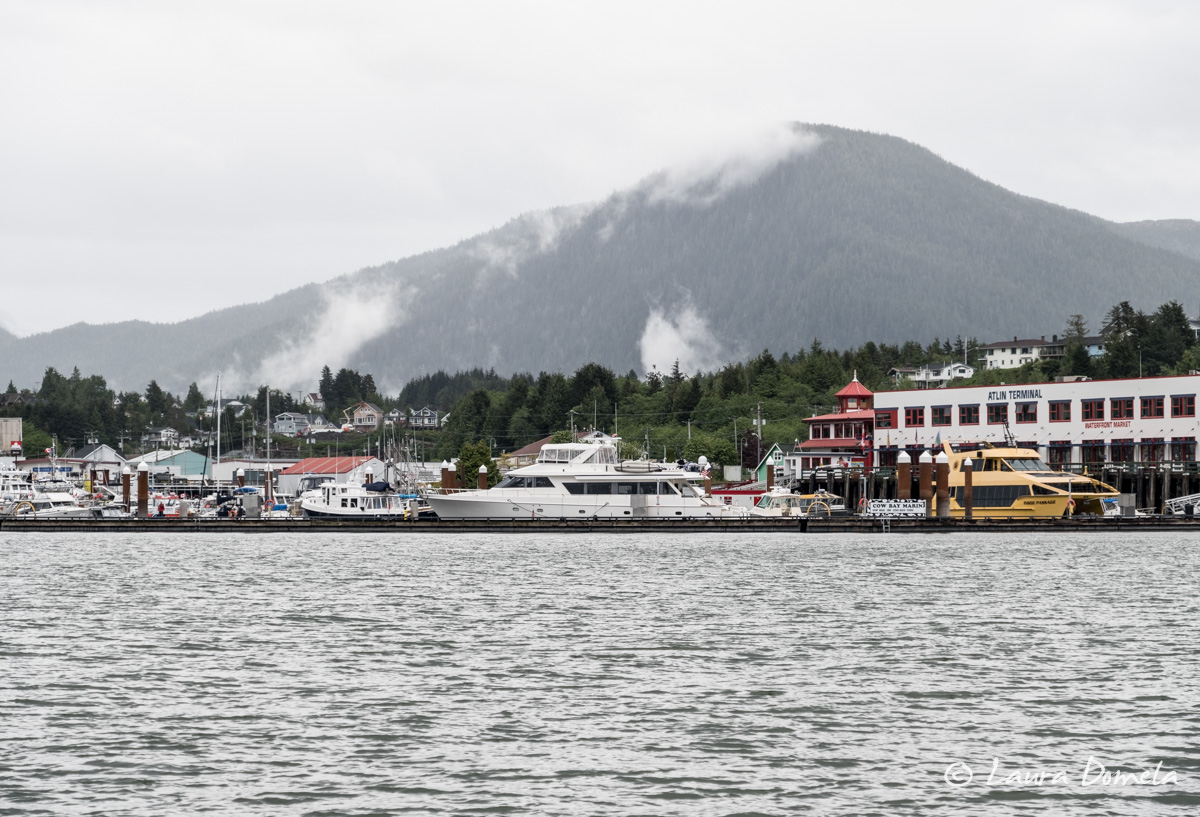 Cow Bay Marina deserves special thanks. They've been patient and accommodating as we've shifted plans. Thank you!
The weather for Dixon Entrance tomorrow is looking much improved. Here's what we wrote for flotilla participants:
The weather at Dixon Entrance is complicated. The most basic weather resource is the Environment Canada Dixon Entrance East forecast. It's calling for southeast 15-25 knot winds. Also useful is the NOAA Clarence Strait forecast, which is calling for southeast 25 knot winds. On the NOAA website you can click on a specific location for a "point forecast." Along our route, NOAA is suggesting much lighter winds: southeast 10 knots.

In addition to these forecasts, there are several weather reporting sites that are important. The Green Island Lightstation provides wind speed, direction, and observations about sea state. With conditions behind us, I don't want to see anything worse than 3 foot moderate, and preferably less! Lucy Islands Lightstation, Grey Islet, and Holland Rock all provide hourly wind speed and direction reports. These are super useful for developing a picture of what's happening in Chatham Sound.

Additionally, using the WindFinder app, you can look at hour-by-hour "superforecasts" for Lucy Islands, Grey Islet, and Holland Rock. These forecasts provide much more granularity than the Environment Canada or NOAA forecasts and are important for identifying trends. Wind speeds along our route tomorrow look to be reasonably calm and it doesn't appear that they'll change significantly throughout the day.

The Windy.com website and app are useful, too. They graphically illustrate hour-by-hour wind speeds and directions on a map at whatever scale the user selects. On our route tomorrow, the near shore areas look calm, with light and variable winds, but the middle of Clarence Strait looks windy. This is consistent with what NOAA is predicting.

Finally, the Central Dixon Entrance weather buoy can be useful, particularly in westerly weather since it gives you an idea of the ocean swells that will be coming in. However, it is 80 nautical miles west of our planned route, and in southerly weather it doesn't provide much useful data.
We'll see in the morning…
Last night we all had dinner up at the Cow Bay Cafe. The food was delicious and the service was top notch!
Today: 19.9 nautical miles, 2 hours 46 minutes
Flotilla total: 598.5 nautical miles, 82 hours 21 minutes