We fell asleep feeling optimistic about the weather. Environment Canada forecast winds from the southeast at 15-25 knots – windier than we'd prefer, but the best forecast in a week. The day before they'd said 20-30, and it was calm. And conditions would be right behind us, the most comfortable angle.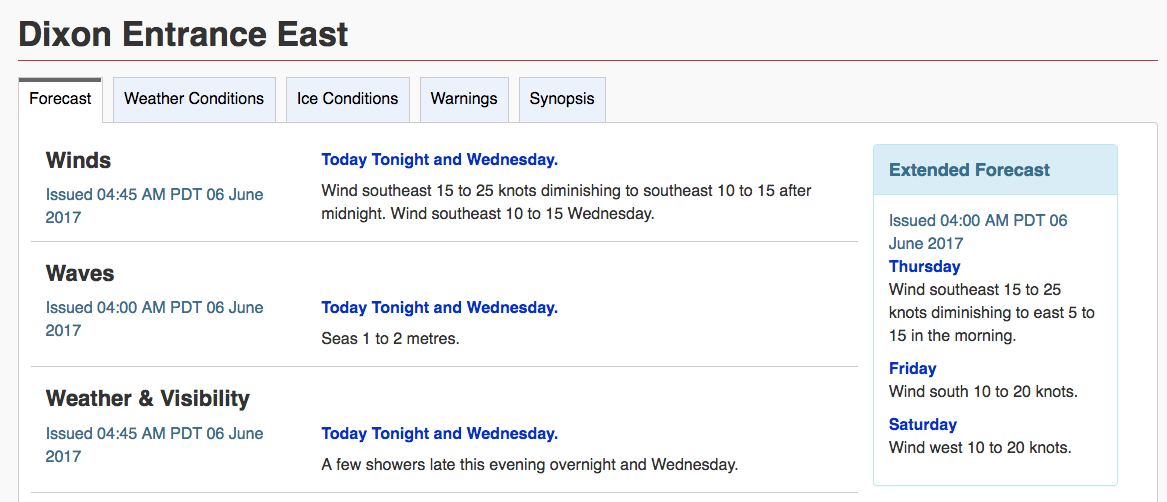 Windy.com looked better. Light and variable winds. Windfinder, too.
And the observations all looked good. The breeze was dying, conditions were calming. We told people to be ready for a 6:30 a.m. departure, but to check with us first.
Early the next morning, the updates were encouraging. Green Island reported 2-foot chop and 10 knots of wind at 4:30 a.m.

Grey Islet reported 16 knots at 5:00 a.m. A little lumpy, but okay. Why weren't we already going, we thought?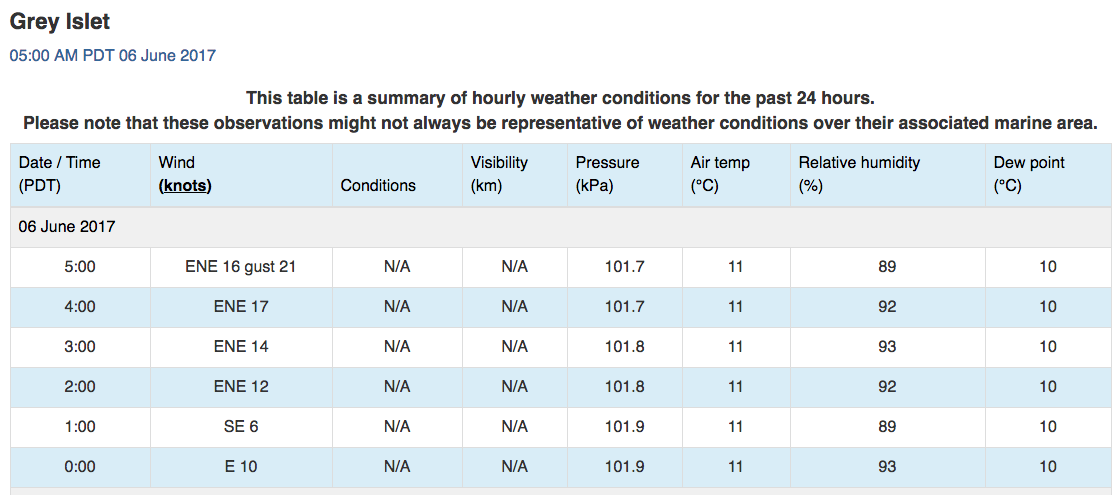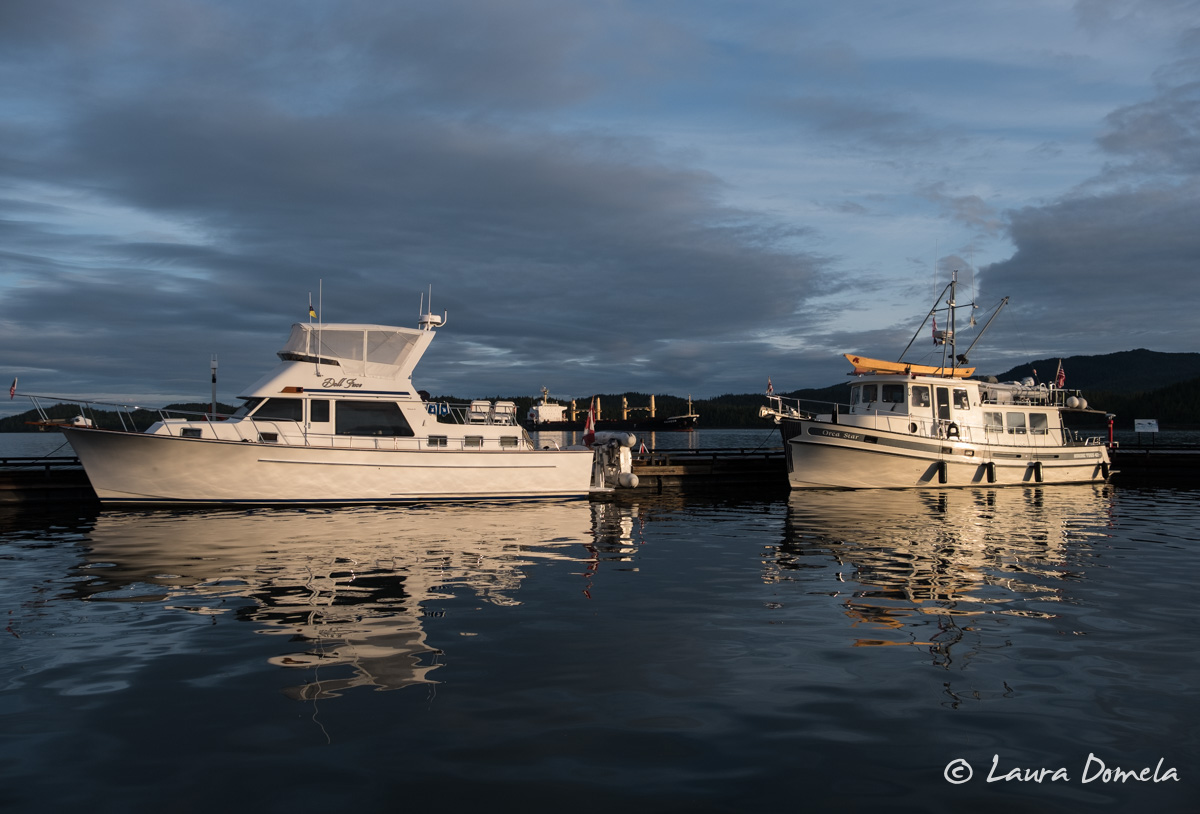 But the 6:00 a.m weather info was worse: 23 knots at Grey Islet, blowing from the east. Further south, conditions remained calm at Lucy Island and Holland Rock. We made the decision to wait until the 7:00 a.m. weather reports before departing. A half-dozen other boats left, presumably confident in the forecast and the 4:30 a.m. lightstation report.
We were not so sure, so we waited.
The 7:00 a.m. report was worse still. Good everywhere but Grey Islet, where it was gusting to 30. The 7:30 lighthouse report confirmed that conditions were indeed miserable. Five foot moderate, winds easterly at 25 knots, gusting higher. Current flooding, running against the wind.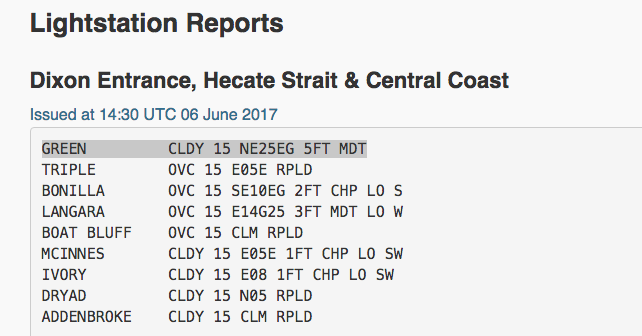 The culprit? Portland Inlet outflow winds. This is a rarely predicted phenomenon that makes crossing Dixon Entrance miserable. As gale-force winds exit Portland Inlet, they project a "cone of misery" about 15 miles wide out onto Chatham Sound and Dixon Entrance. Beam seas, closely spaced, colliding with ocean swells. It's ugly.
Environment Canada was wholly useless in predicting this, so we looked elsewhere. Windy.com was way off on velocity, but it showed (using the NAM forecast model) a calming trend starting in the early afternoon. We continually updated our flotilla people on the prospects, telling them to be ready to depart with a few minutes notice.
As the morning progressed, conditions worsened. Twenty-five knot winds became thirty knot winds. The 10:30 a.m. lighthouse report sounded miserable. We told people we'd probably be in Rupert another night. Ninety percent sure, we said.
Foggy Bay is 50 nautical miles from Prince Rupert. That's seven hours at our typical 8-knot cruise. Darkness is near 11:00 p.m. Mentally we set the internal departure deadline at 3:00 p.m. This would give us some flexibility if something didn't work out as planned.
Each hour, the news was bad. We told the marina we thought we'd stay another night (side note: Cow Bay Marina was super accommodating, major thanks!).
And then, just on schedule, the wind died. Twenty-five knots at Grey Island dropped to eleven knots, then five knots. Five-foot moderate fell to rippled.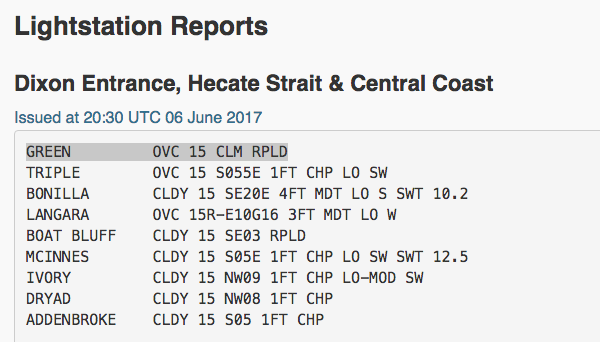 With ten minutes notice, we fired the engines and slipped our lines at about 2:30 p.m. We had backup plans: Brundige Inlet and Nakat Harbour. But our goal was Foggy Bay. Alaska beckoned.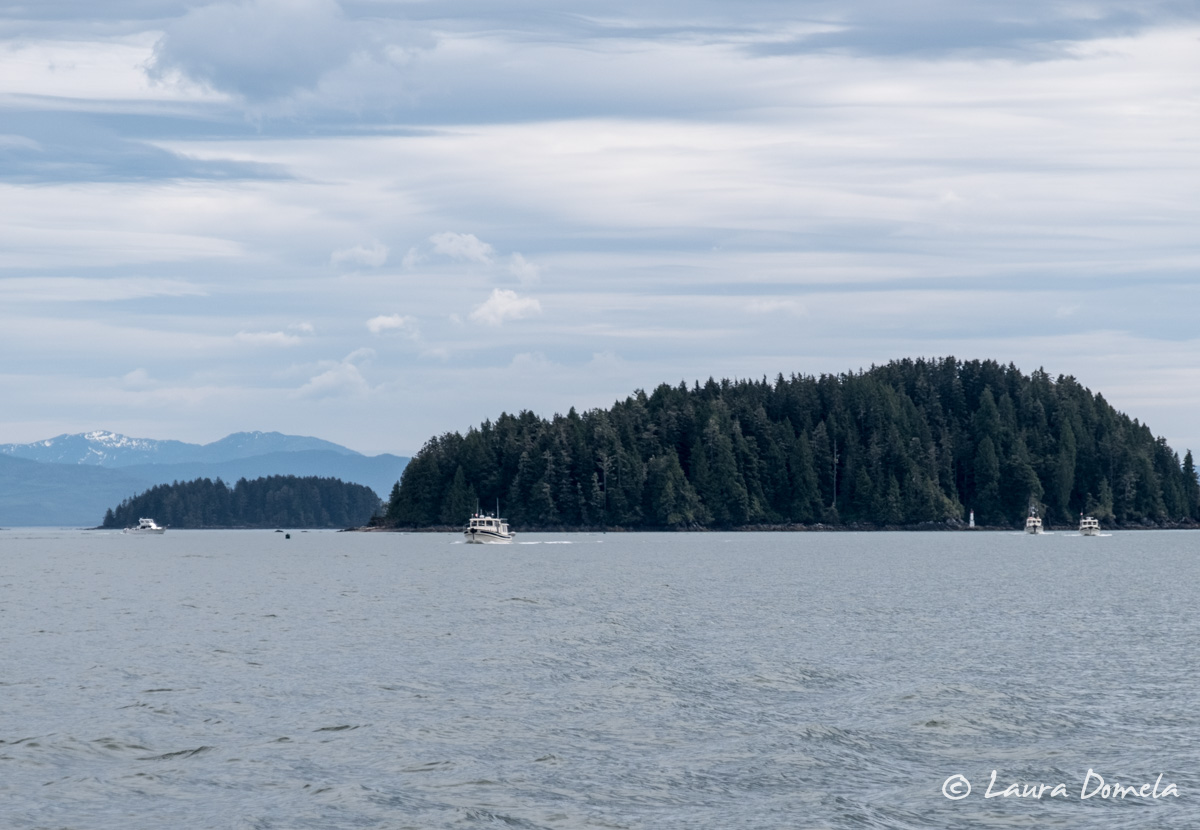 As we moved north in Chatham Sound conditions still sounded ugly. A friend in a larger boat ahead of us reported 20-25 knot winds and nasty sea conditions. They were bailing out. Then we spoke to someone on a 100+ foot motoryacht coming the other direction, who reported 27- knot southwesterlies. No fun. It looked like we'd bail and end up in Brundige.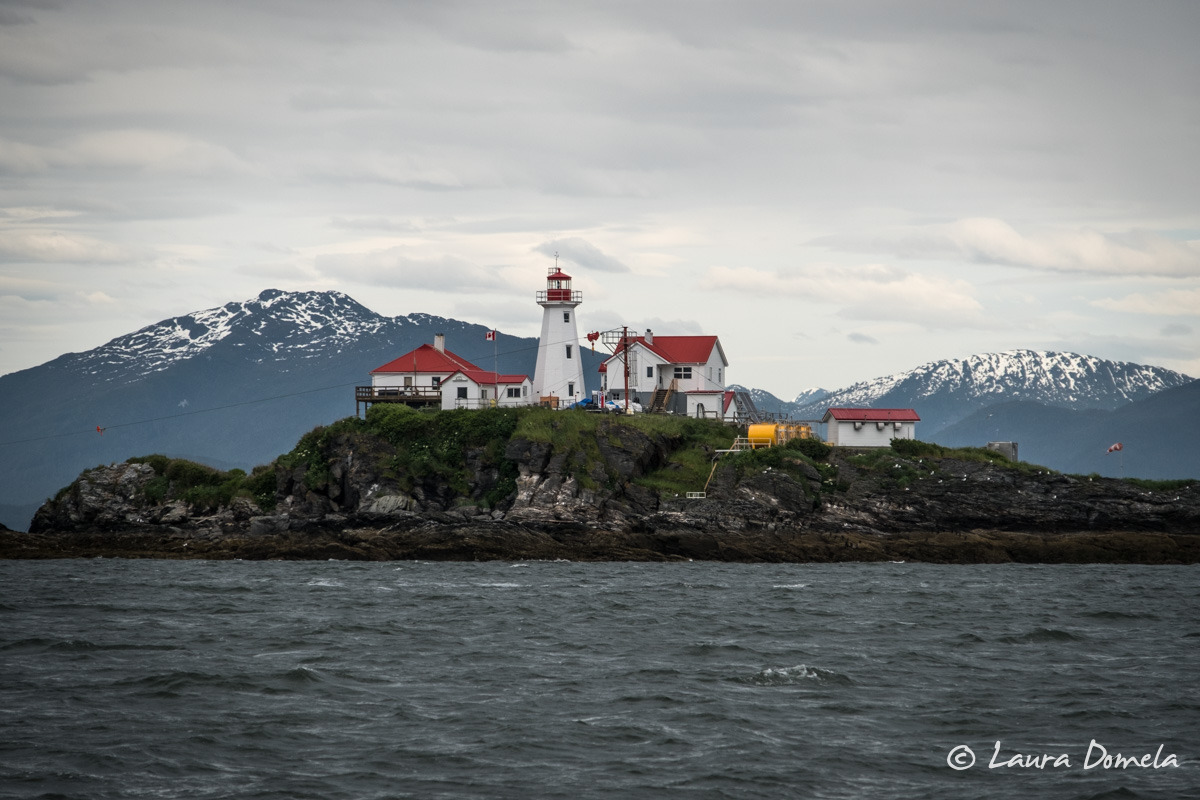 But as we rounded the corner into Dixon Entrance, our eyes didn't agree. We didn't see any white caps. Waves weren't crashing on rocks.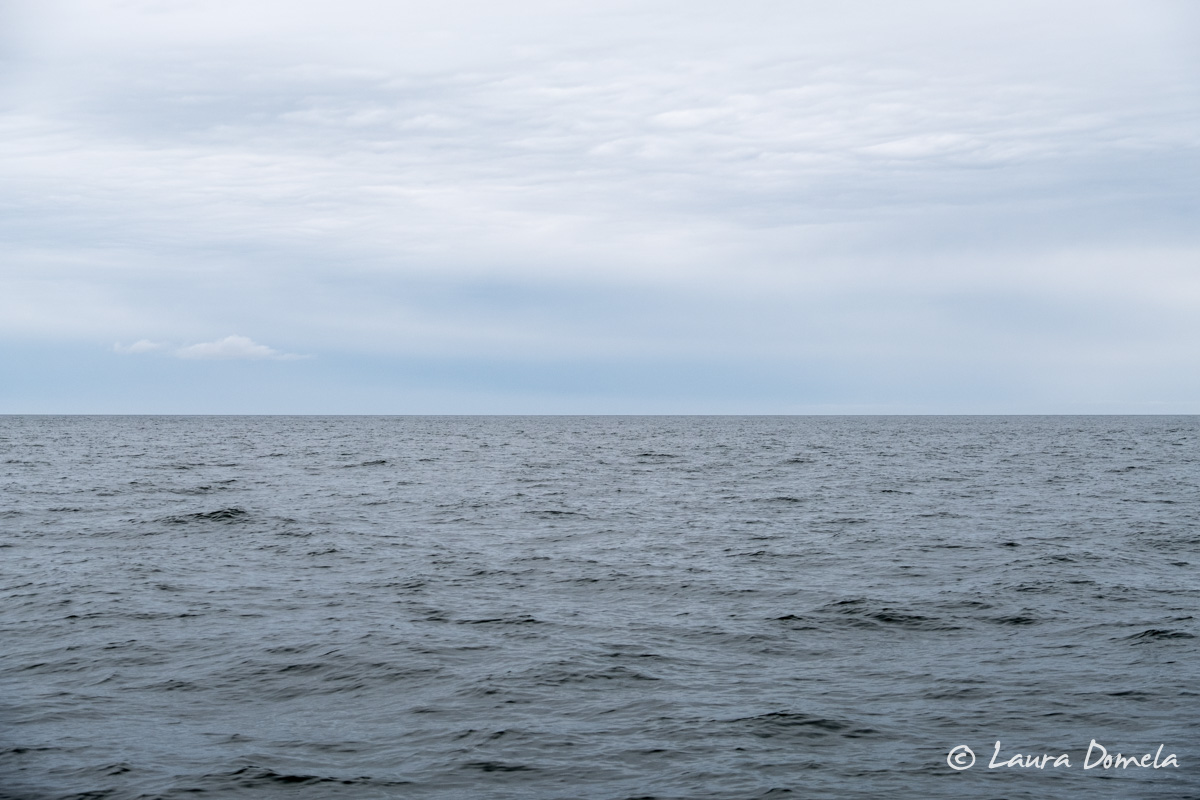 We left Brundige Inlet behind. The ebb pushed us out of Chatham Sound, then we caught the flood into Alaska. Somehow, there was no wind in Dixon Entrance, just a confused and occasionally lumpy swell.
We're in Alaska!

Posted by Slowboat on Tuesday, June 6, 2017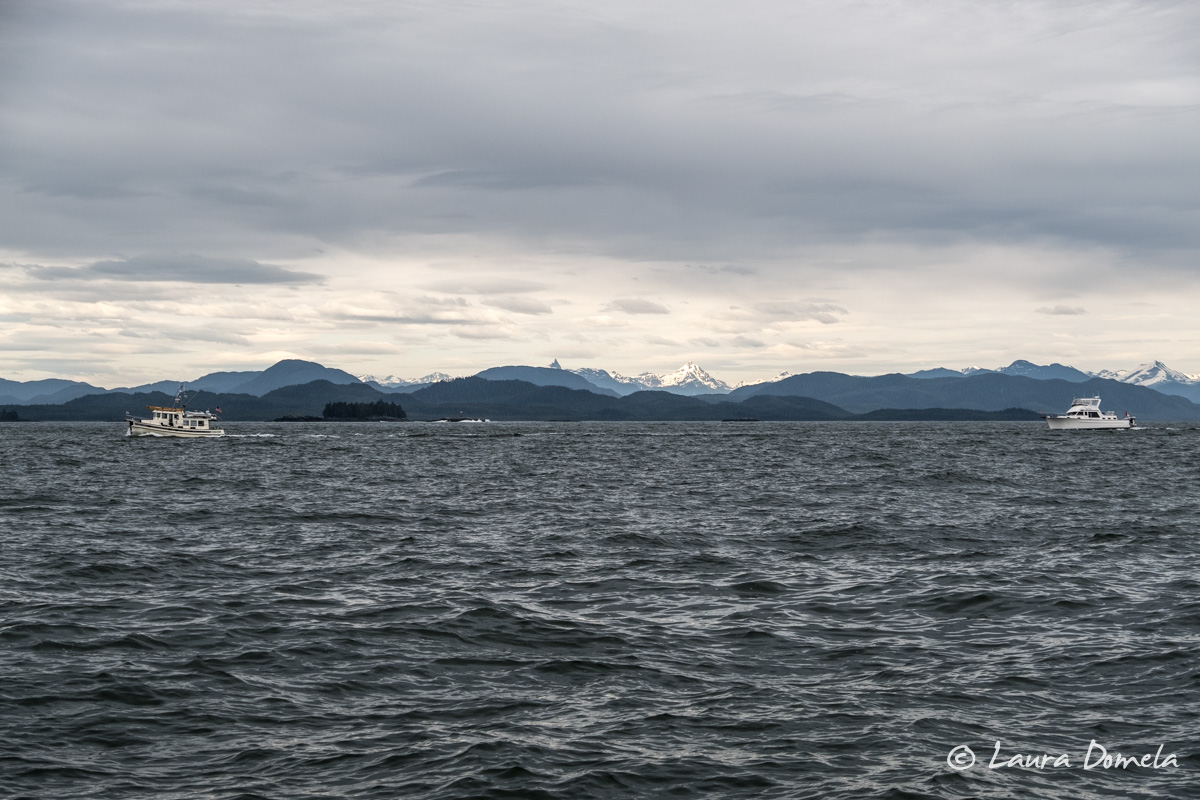 By 8:00 p.m. we were all anchored in Foggy Bay, excited to be in Alaska. We invited everyone over to Safe Harbour/Airship (and tonight we added Ceci Kay to the raft) for dinner and to celebrate our achievement. We made lemon risotto with parmesan and zucchini, smoked salmon, a spinach salad, and penne with vodka sauce. Another great day, and now…we're in Alaska! (For more information on crossing Dixon Entrance, see our video: Gates of the Inside Passage: Dixon Entrance)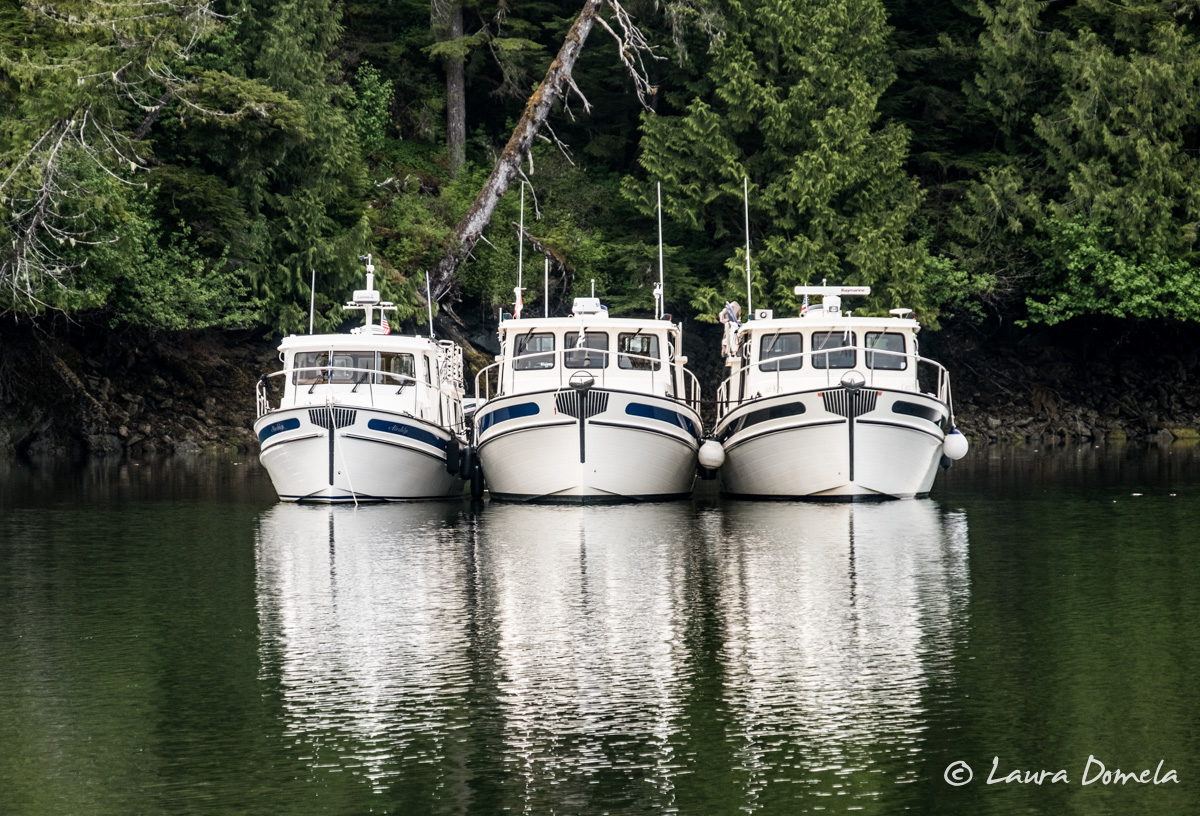 Today: 52.0 nautical miles, 6 hours 23 minutes
Flotilla total: 650.5 nautical miles, 88 hours 44 minutes