Rounding Cape Caution is often the least comfortable section of the trip between Washington and Southeast Alaska. It's one of just two places where we must leave the protection of the Inside Passage and venture into the open ocean.
At first glance, the weather forecast was ideal: wind light, building to northwesterly 10-15 knots in the afternoon. Windy and Windfinder both showed winds in the 0-10 knot range through the morning, increasing to the 15 knot range in the afternoon. Our route from Blunden Harbour to Fury Cove is just 48nm (many people do an 80+ nauticual mile run from Port McNeill to Fury, but we think that's a little long…), so it's about a six hour trip. An early departure would have us in before the wind filled in.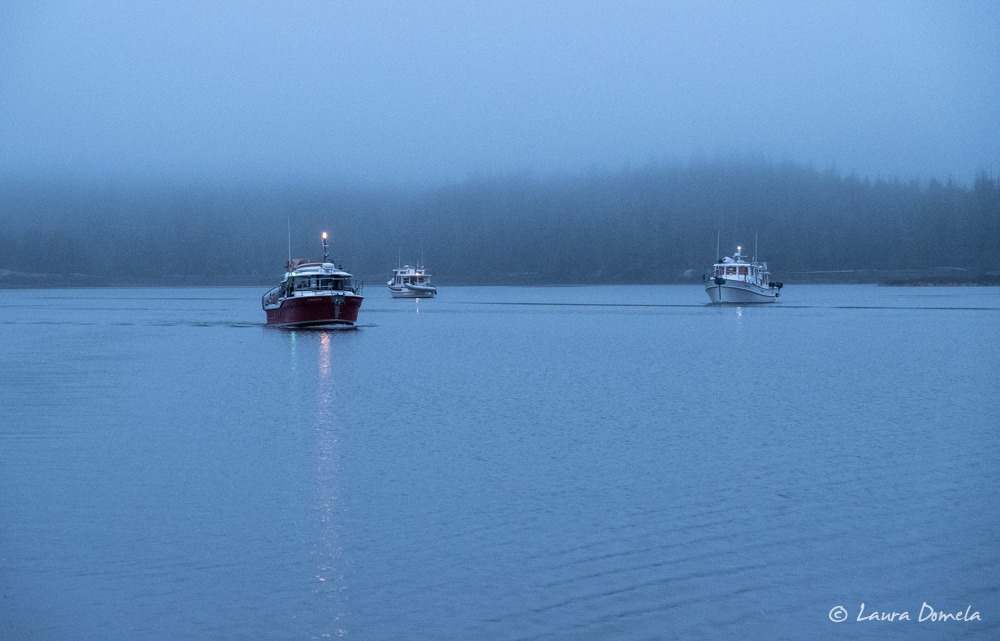 A few factors complicated things. A relatively big swell was running—7 feet at about 12 seconds—and in order to avoid the afternoon winds we'd need to depart during the ebb. This would give us a nice boost in speed, but the current flowing against the swells would result in a more confused sea state and would reduce the period between the swells. We planned to be up by 5:00 a.m. and ready to depart by 5:30 if conditions were acceptable.
When we awoke, West Sea Otter (well offshore of our route) was reporting winds in the high teens and a 7.2 foot swell at 12 seconds. Along our route, Egg Island reported seas rippled (yay!) and Pine Island reported 1 foot chop. Both showed single digit wind velocities and fog.
Conditions were lumpy and foggy, but not windy. The swells seemed particularly confused and irregular, making the motion aboard a bit uncomfortable at times. Dan and Eileen reported some small ice cubes at the beginning, but big ice cubes by the end! The worst of it was over in just a few hours, though, and Fury Cove is a pretty good reward.
Just outside of Fury Cove it was foggy when we arrived, but the fog burned off quickly once inside and we had a gorgeous view out into Fitz Hugh Sound.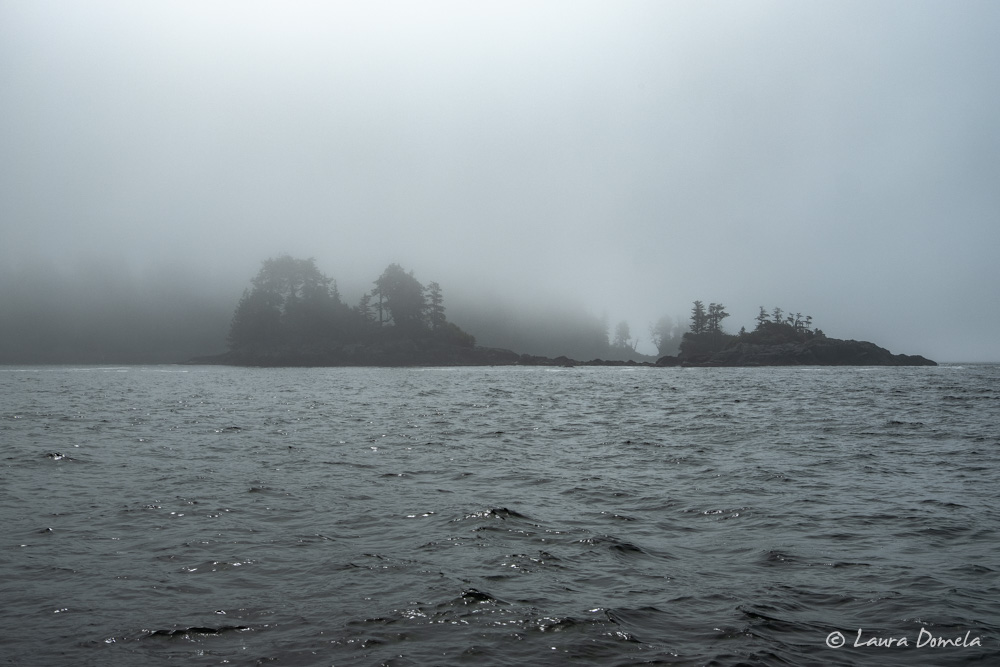 That's Ralph over on the beach, in his beach chair, enjoying the view and watching the rest of the (slower) boats come in.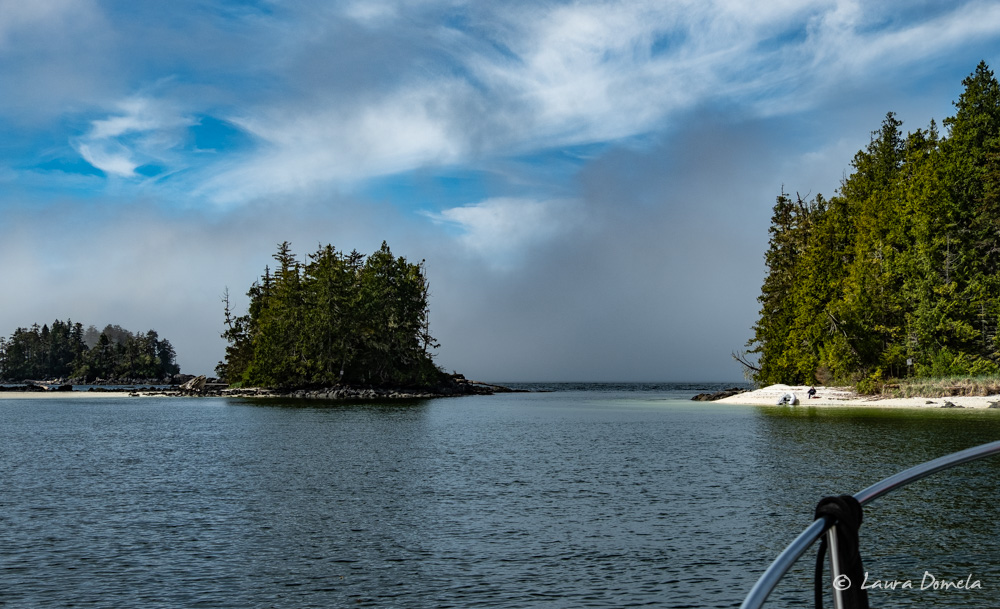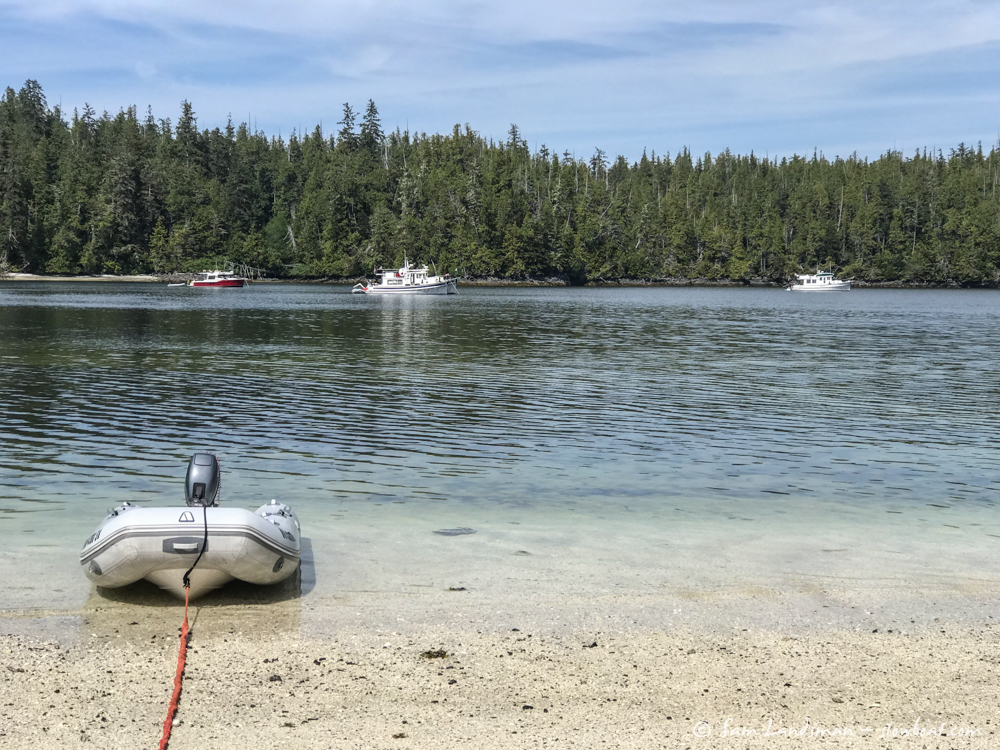 On shore there's a cabin…we're not sure who built it or what the story is, but it looks like whoever has been using it recently is not following the "keep things clean" etiquette as they should: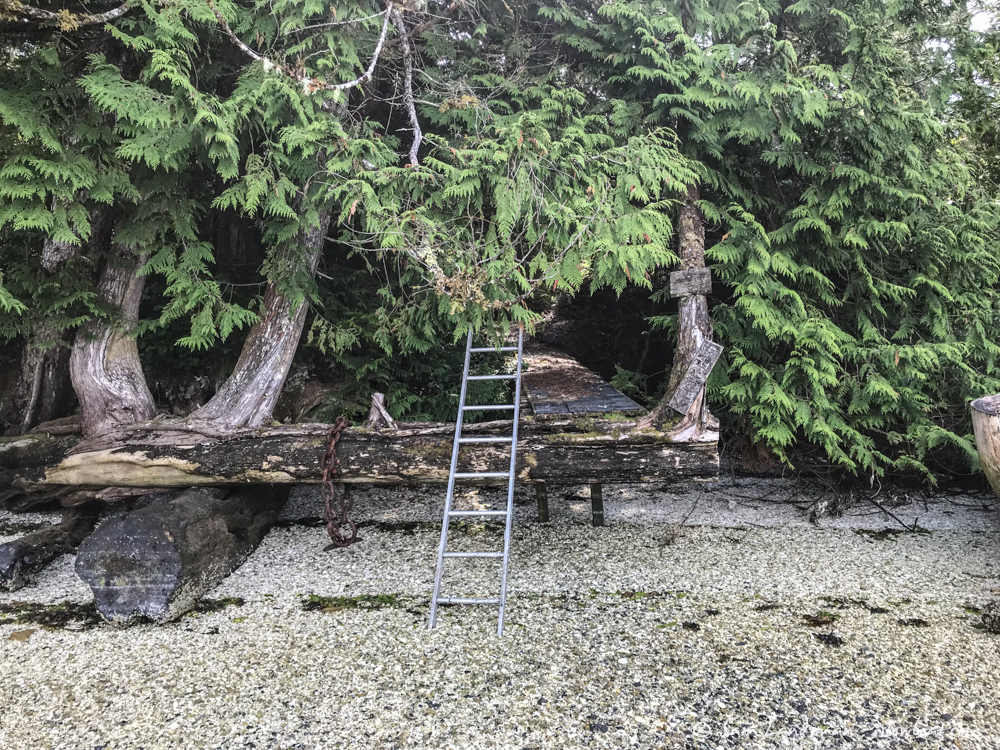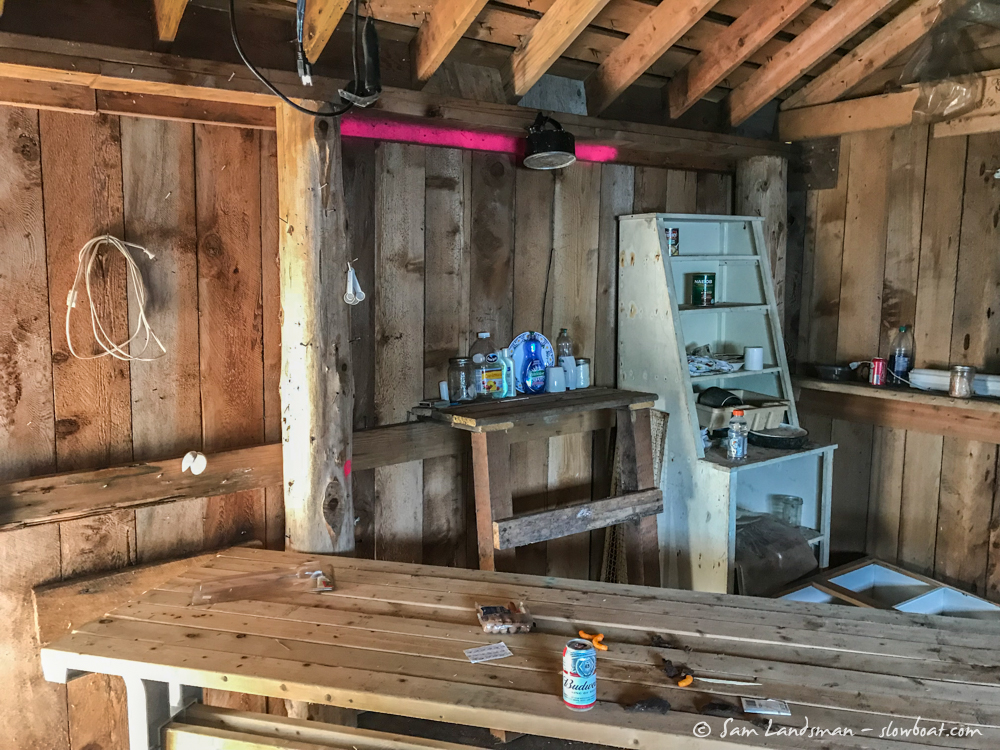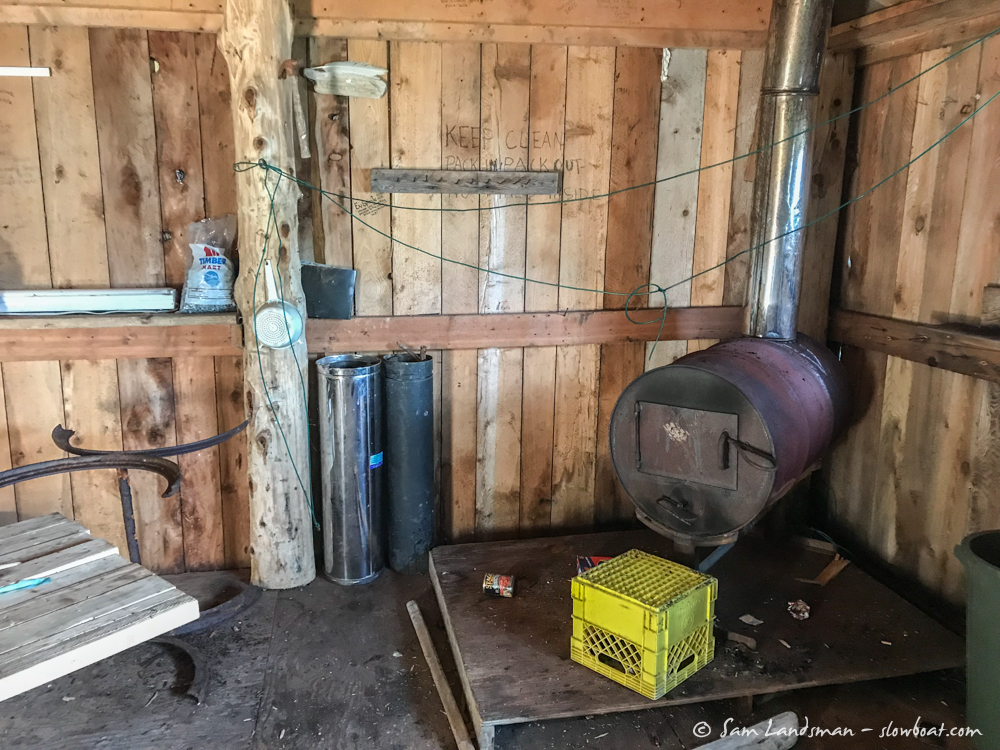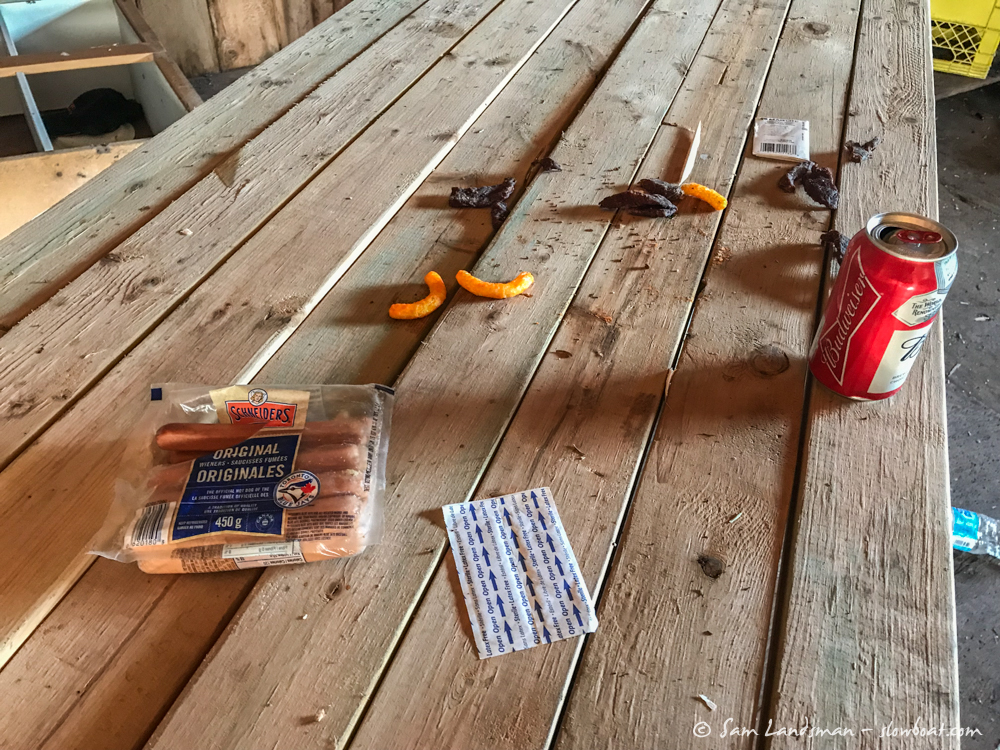 Sam and Kevin both took drones up for aerial shots: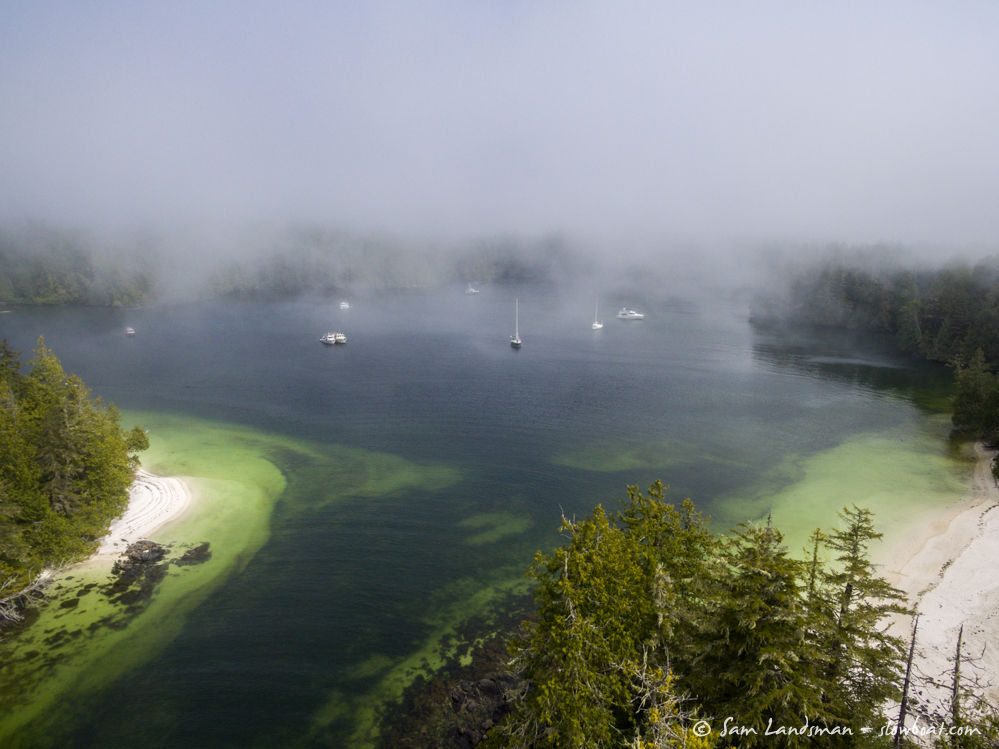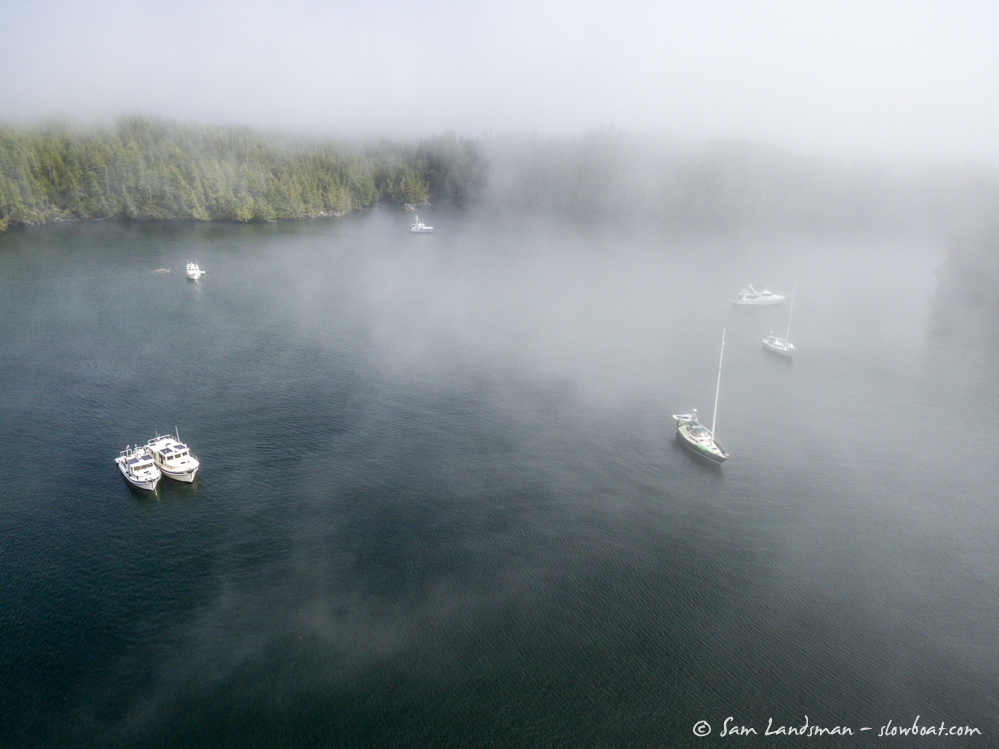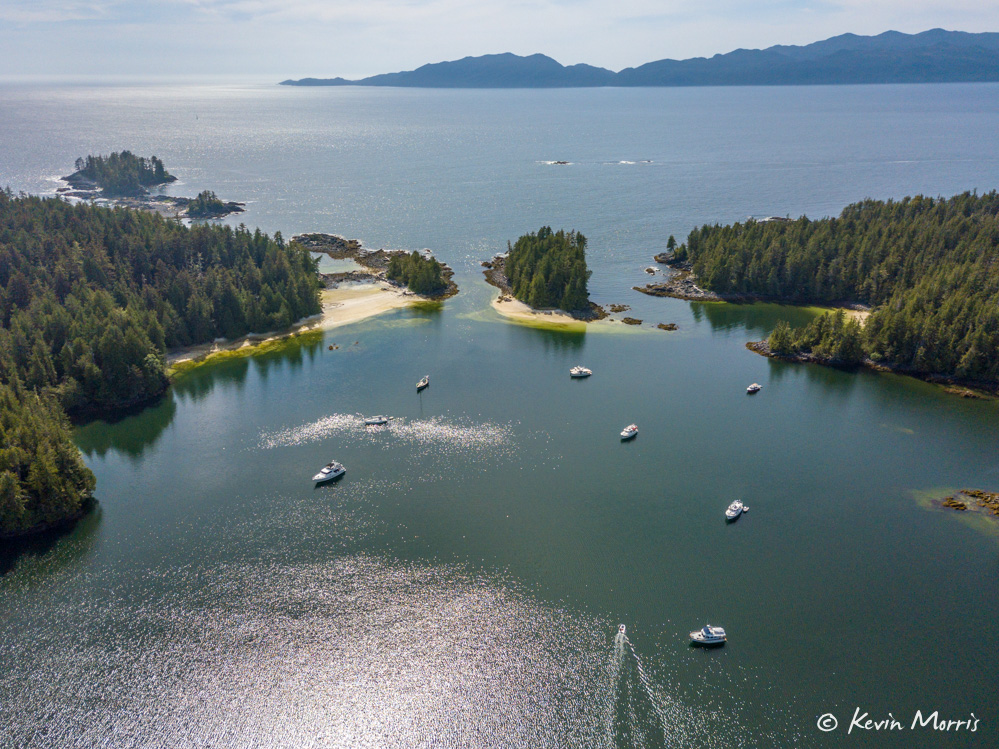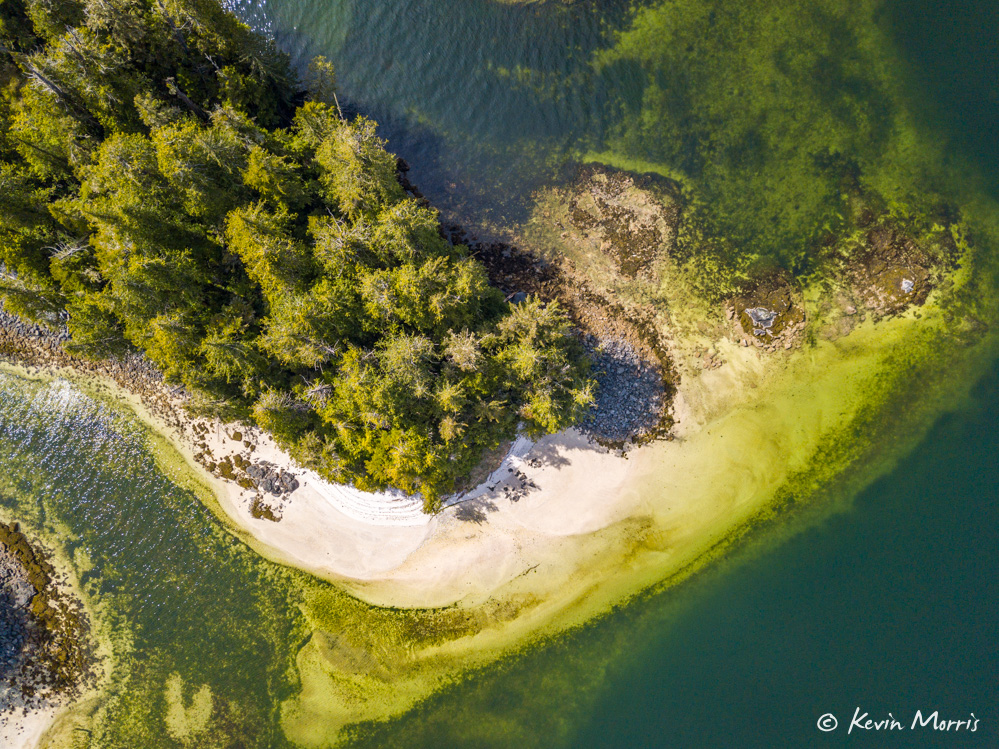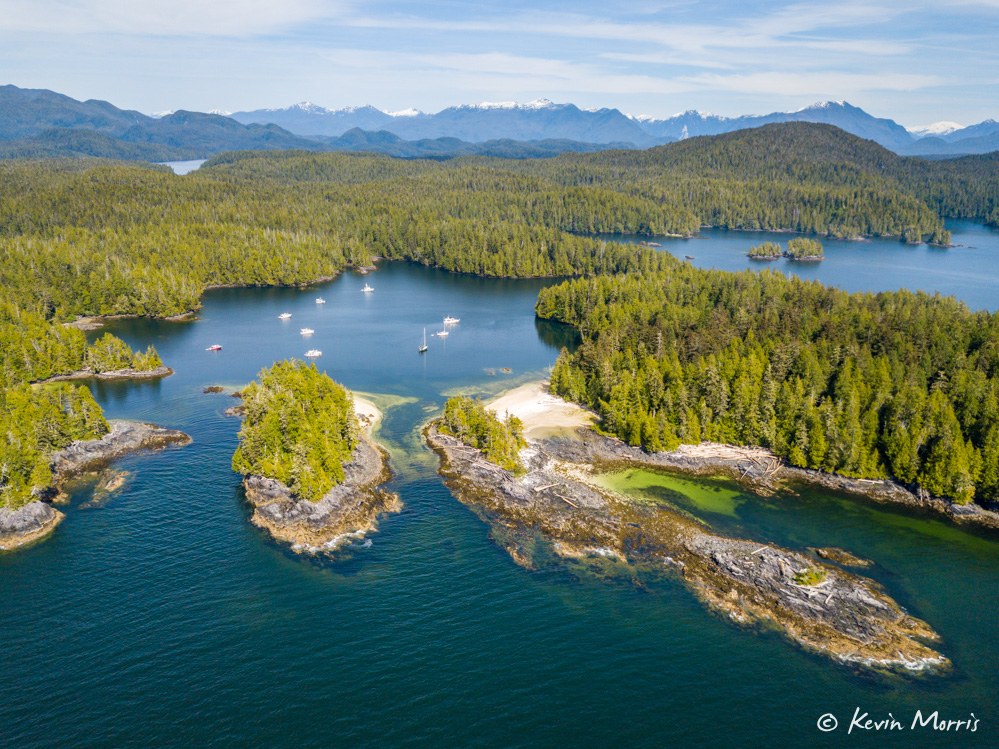 Fury Cove is one of our favorite anchorages. Not only is it scenic and beautiful with its white shell beach, it's the first anchorage where people really feel the accomplishment of having gone north of Cape Caution. So far we've come 316 nautical miles and we're only about 30 percent of the way to Juneau. We've been moving a little fast, but now that we're past Cape Caution it's time to slow down a bit.
Dinner on Cassidy last night (hosted by Dougal, Jennifer, and Cassidy) was great fun. Dougal grilled up some cheeseburgers, Sam made homemade macaroni and cheese, and Dan supplied some fresh spot prawns that Laura used to make ceviche.
Spot Prawn Ceviche
Fresh spot prawns
Lime juice
Soy Sauce
Serrano pepper
Jalapeño pepper
Tomato
Cucumber
Shallot or red onion
Sea Salt
Boil the prawns for one minute or so to pre cook them. Dice shrimp, put them in a medium bowl, and squeeze fresh lime juice to cover (plus a little bit more). Add a tablespoon or so of soy sauce. Let hang out in the lime juice and soy for 30 min to an hour.
In a separate bowl, add some finely diced Serrano pepper and jalapeño pepper (as much as you like), diced tomato, diced cucumber, diced shallot or red onion, sea salt to taste, and a little hot sauce if you like it spicy.
Add all ingredients together and serve with tortilla chips.
_________________________
Today: 50nm, 6 hours 16 minutes
Flotilla total: 316 nautical miles, 43 hours 45 minutes underway