Excitement ran high today in the flotilla – we are set to move to one of our favorite anchorages anywhere – Ford's Terror.
We have written about Ford's Terror many times before. It's an enormous hidden fjord, guarded by a narrow and treacherous entrance. We can enter only at high tide slack current, which seems to happen within an hour after high tide in Juneau. Any other time, there are strong currents, whirlpools, boils, eddies, standing waves, and even overfalls. But, for a few minutes every twelve hours – cruising boats can safely pass.
The inlet outside Ford's Terror leads to a beautiful cove with a dramatic waterfall. We call this space the "Ford's Terror waiting room." We typically arrive here a little before the posted time for Juneau high tide and begin watching the entrance for signs that the current is subsiding.
Often, we will launch the dinghy while we wait and cruise through the entrance – playing in the current and watching how it would set an unsuspecting boat against a rock wall if one entered too early.
This time, we arrived well ahead of time and enjoyed poking our heads in with the dinghy. A couple of boats from inside were making their way toward the entrance to leave during the same opportunity. We decided to let the leaving boats go first.
Once they had made a safe exit, we continued inside with our group. We arrived to find the west-arm anchorage open, with only two other boats. We were also greeted by a large brown bear, who was eating grass and watching the stream near the head of the anchorage.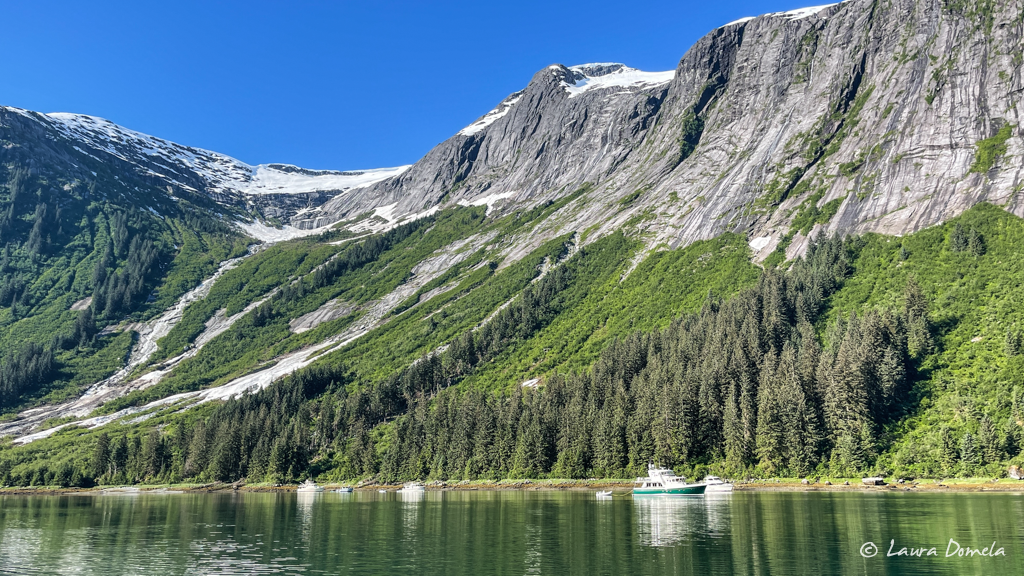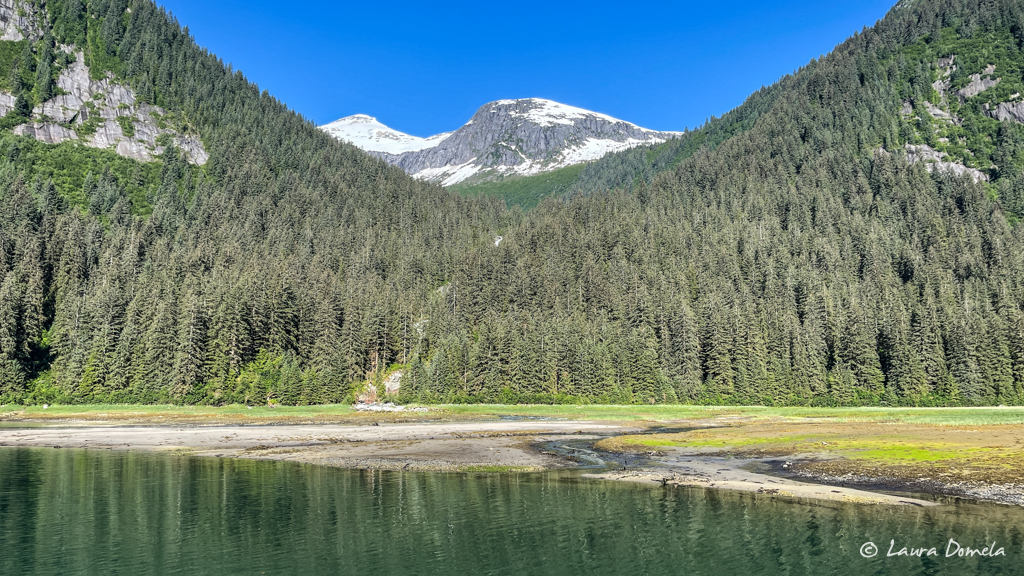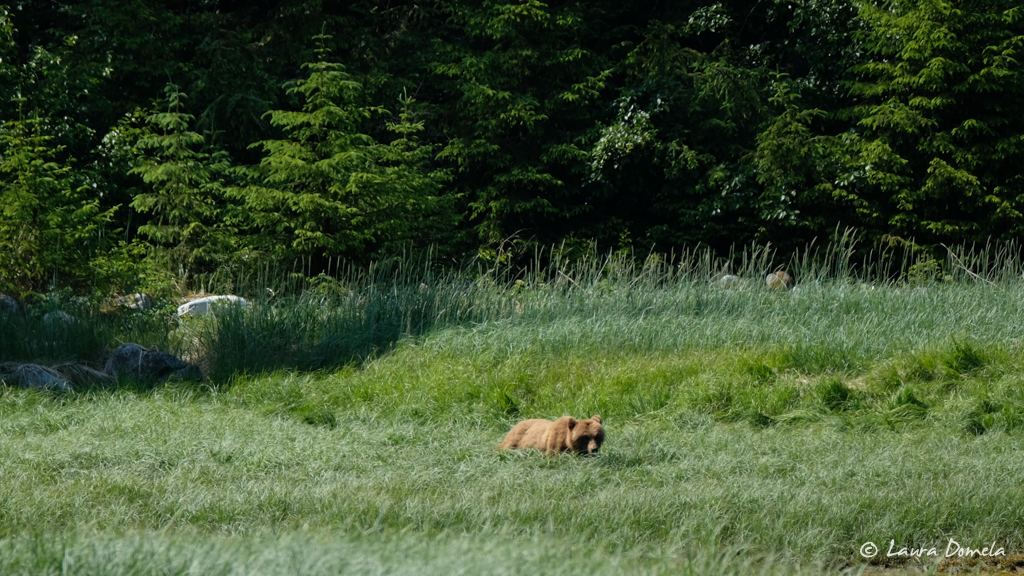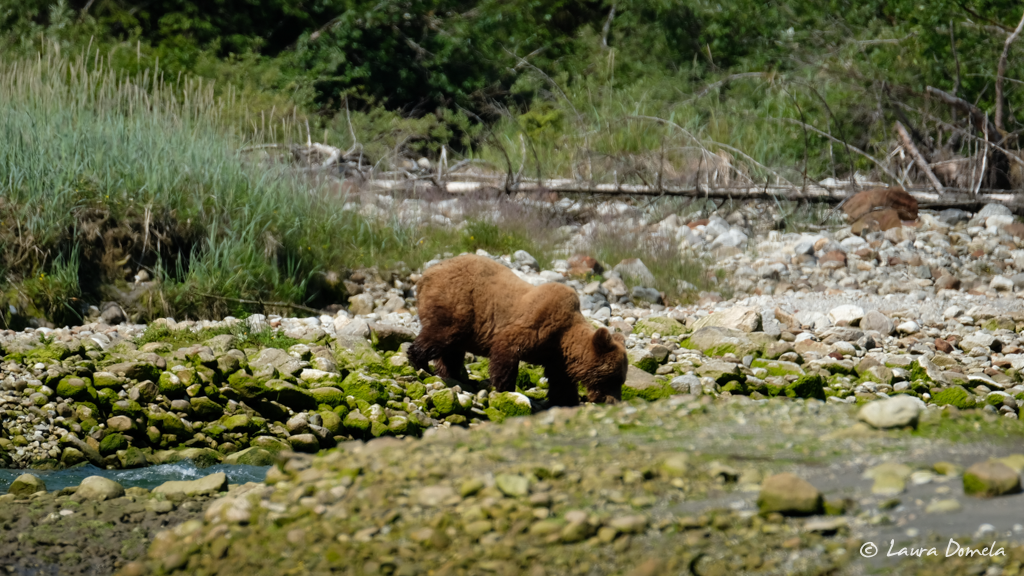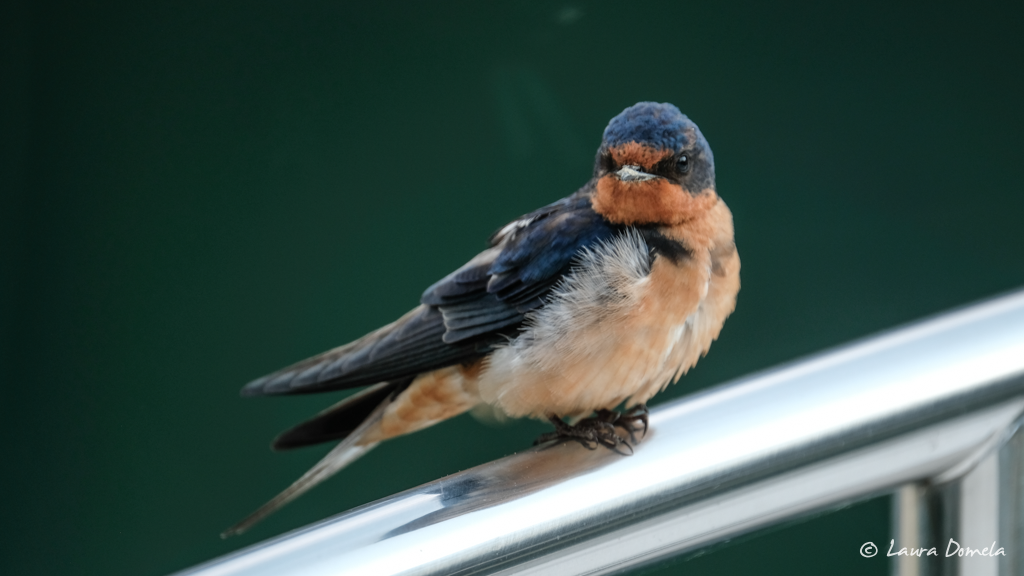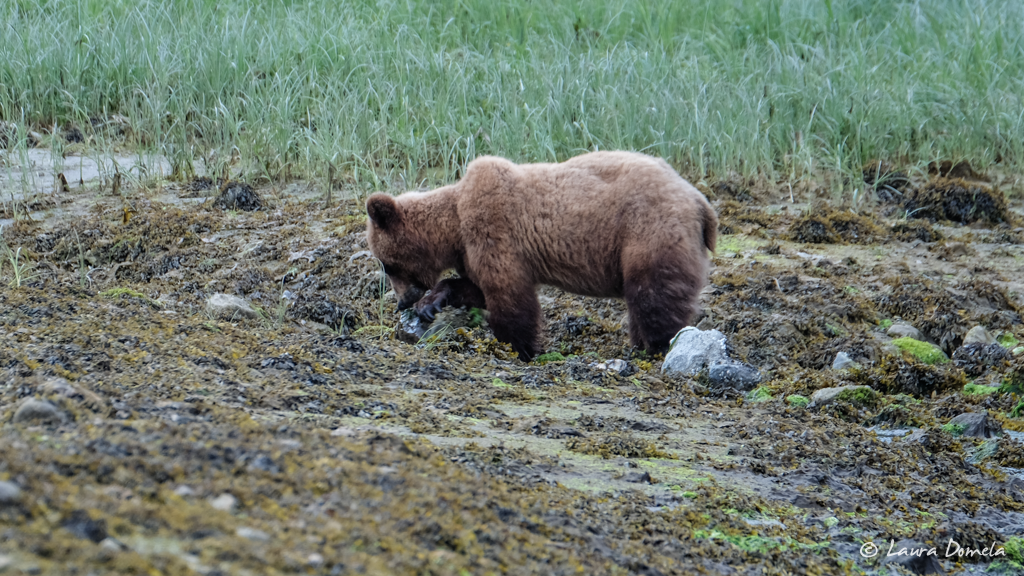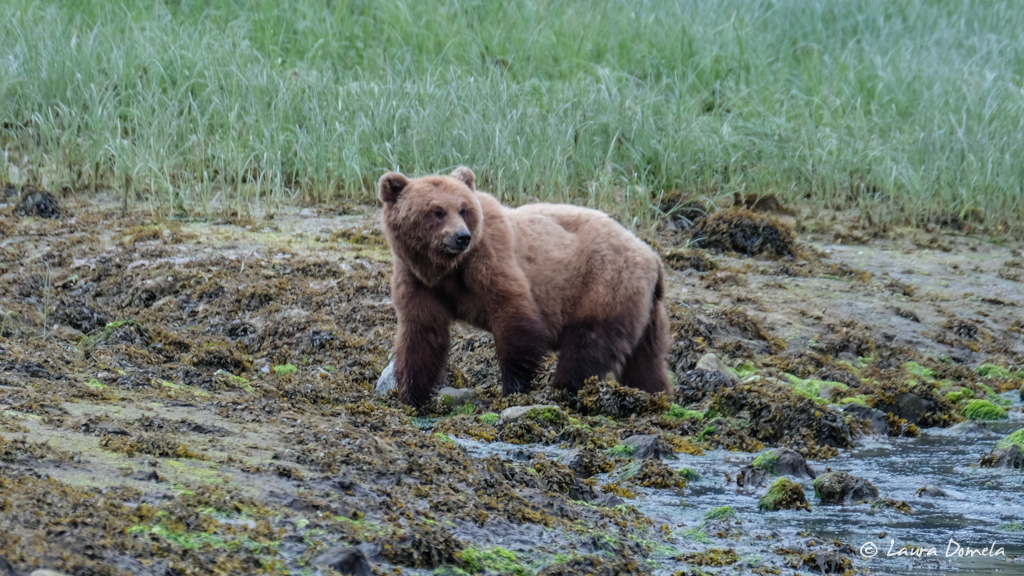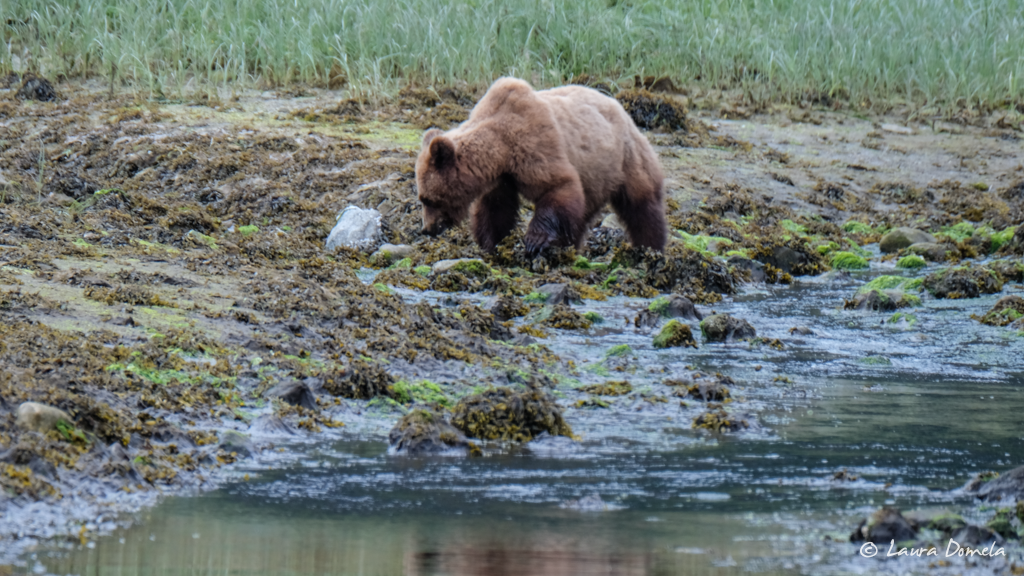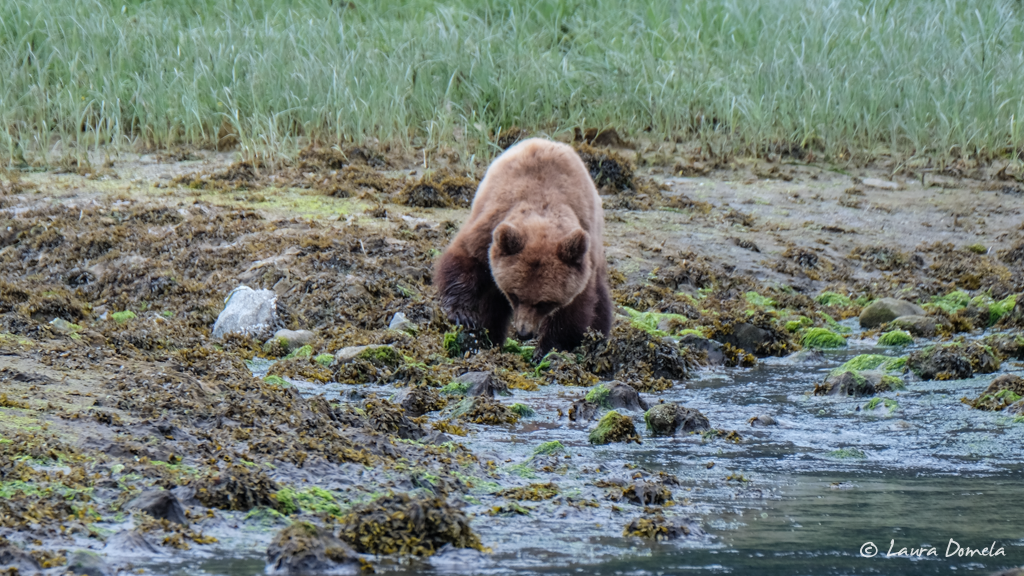 We put out a couple prawn traps, since in the past we've had great luck here, and the luck continues — we're getting a good number of prawns with every pull of the trap!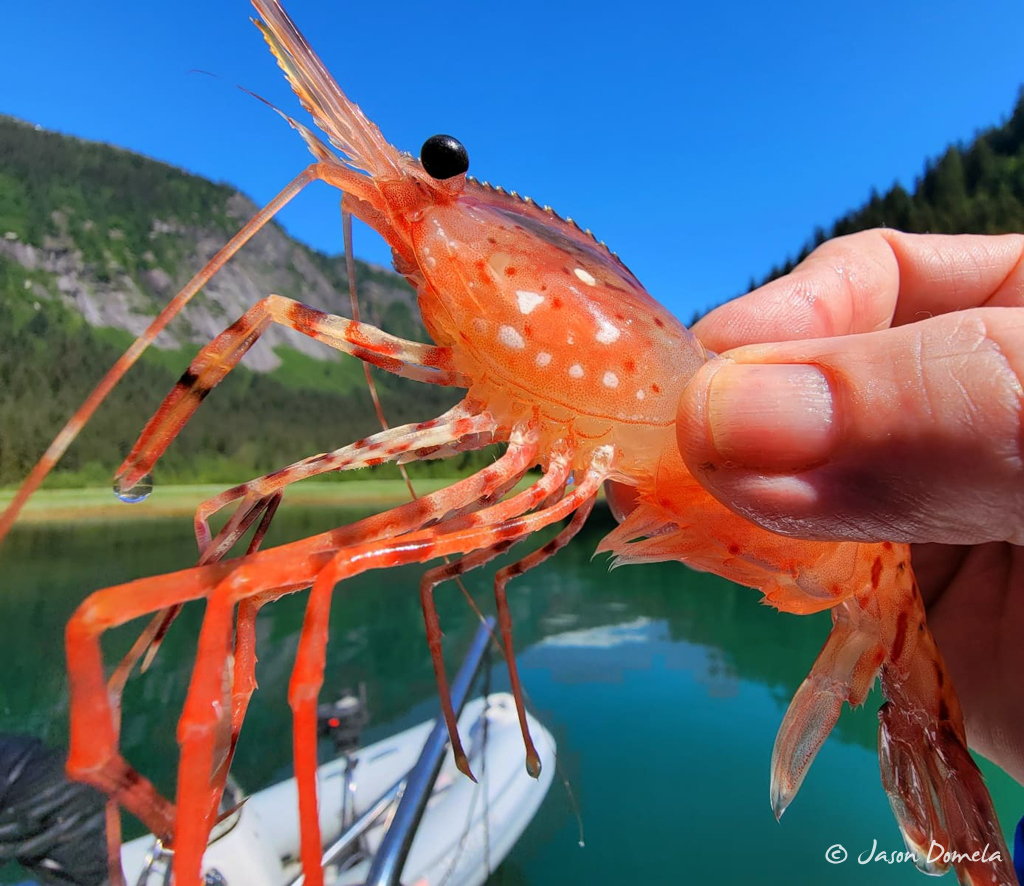 We hosted grill night on Airship. We were all set to sit up top, but the tradeoff for this gorgeous weather is that there are extremely annoying horseflies around, and their bites HURT. Inside it was!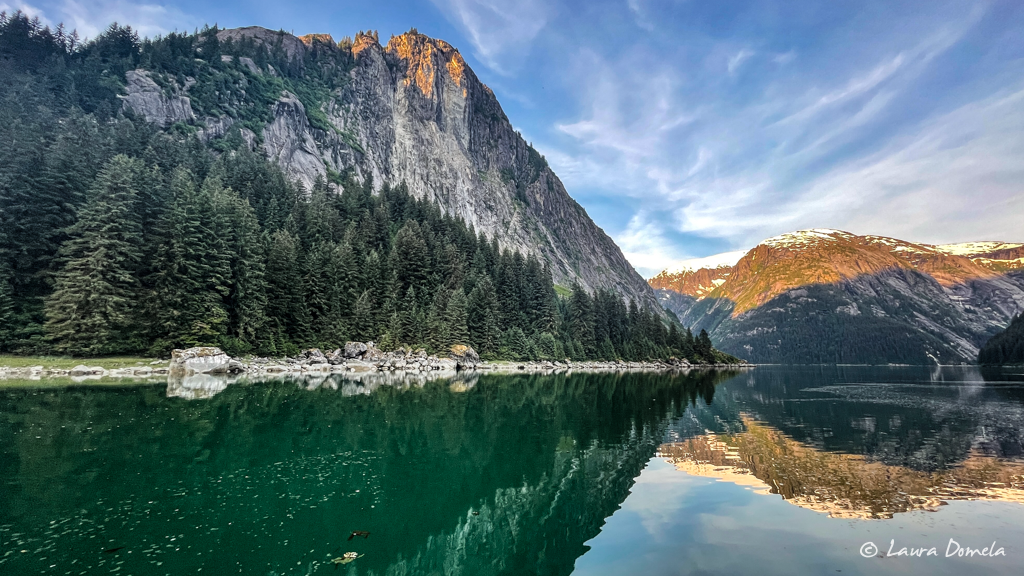 In the morning we woke to clear blue skies and bright sunlight, so we went up onto the flybridge of Airship with our coffee to soak in the view before the bugs came out in force.
i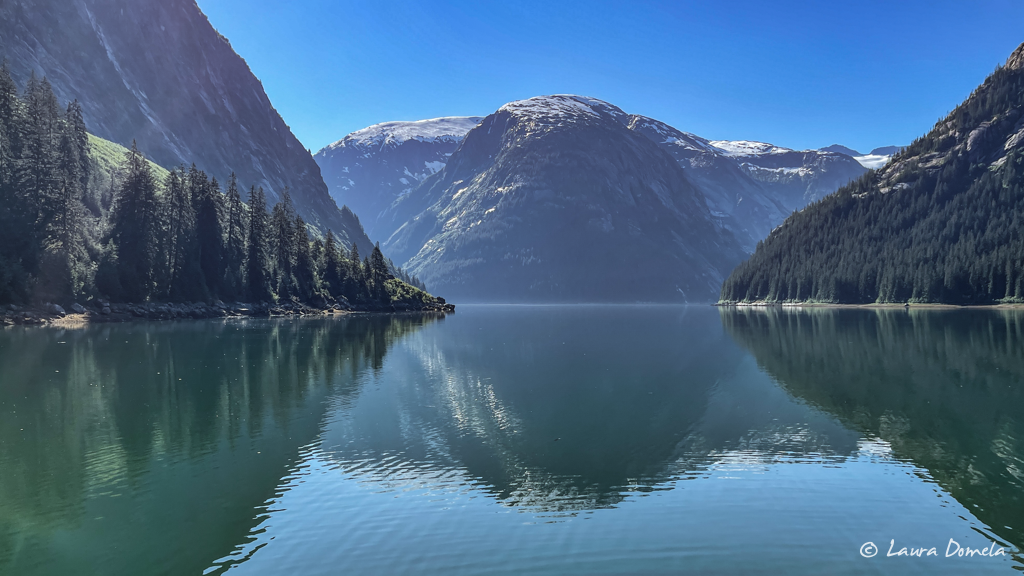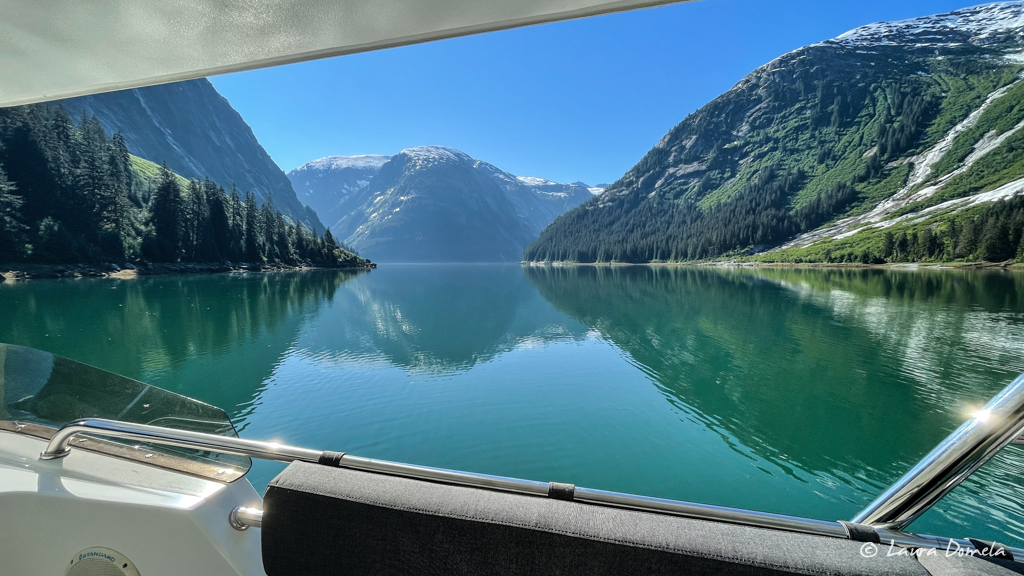 The bear was back on shore foraging and periodically checking the stream to see if the fish were home yet.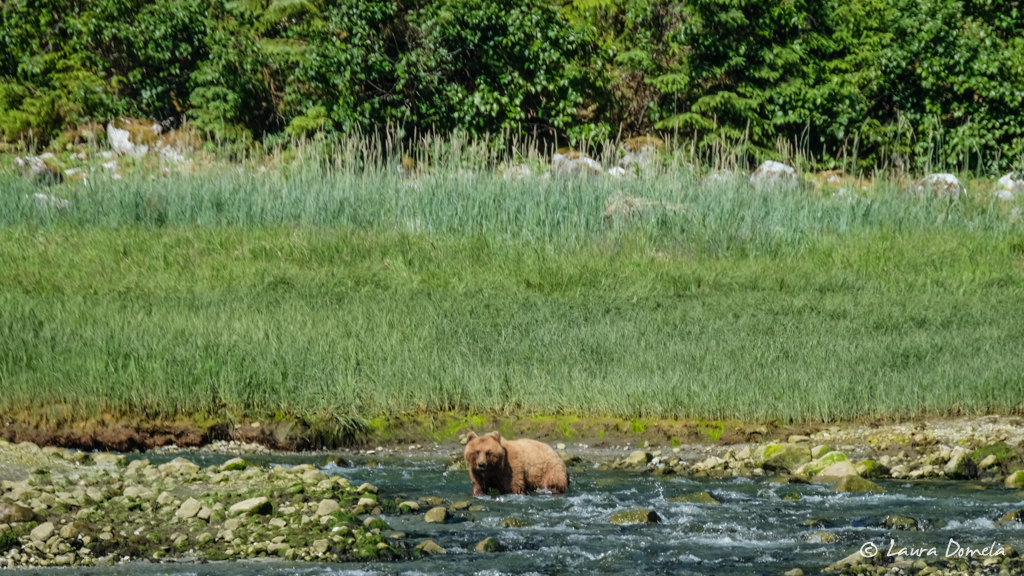 Checking the prawn traps every four hours or so continues to be quite lucrative!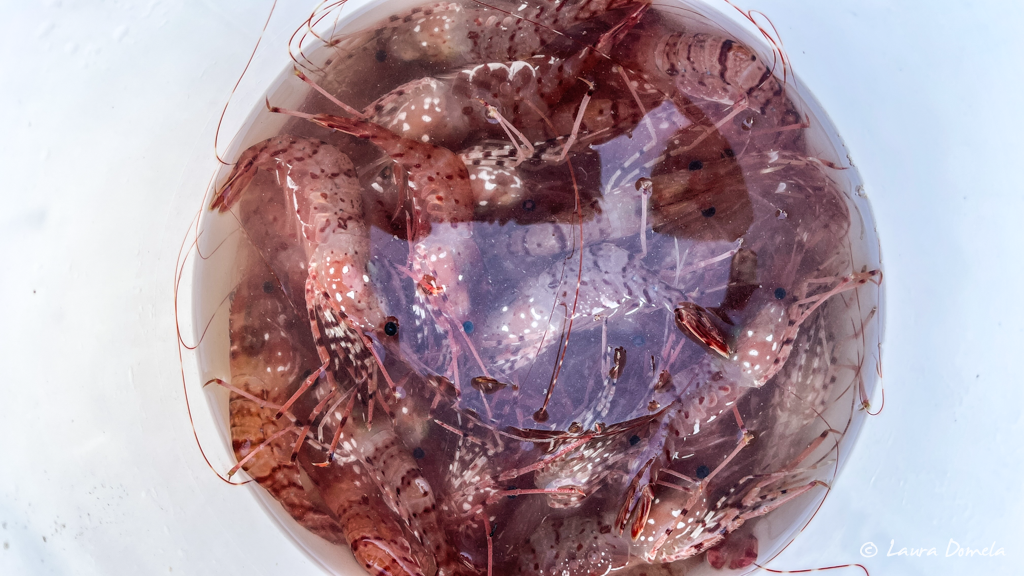 After breakfast and prawn trap checking, we all headed out to explore the inlet. The two other boats in here with us headed out for the mid-day slack. No other boats came in, so we had the place to ourselves until tomorrow!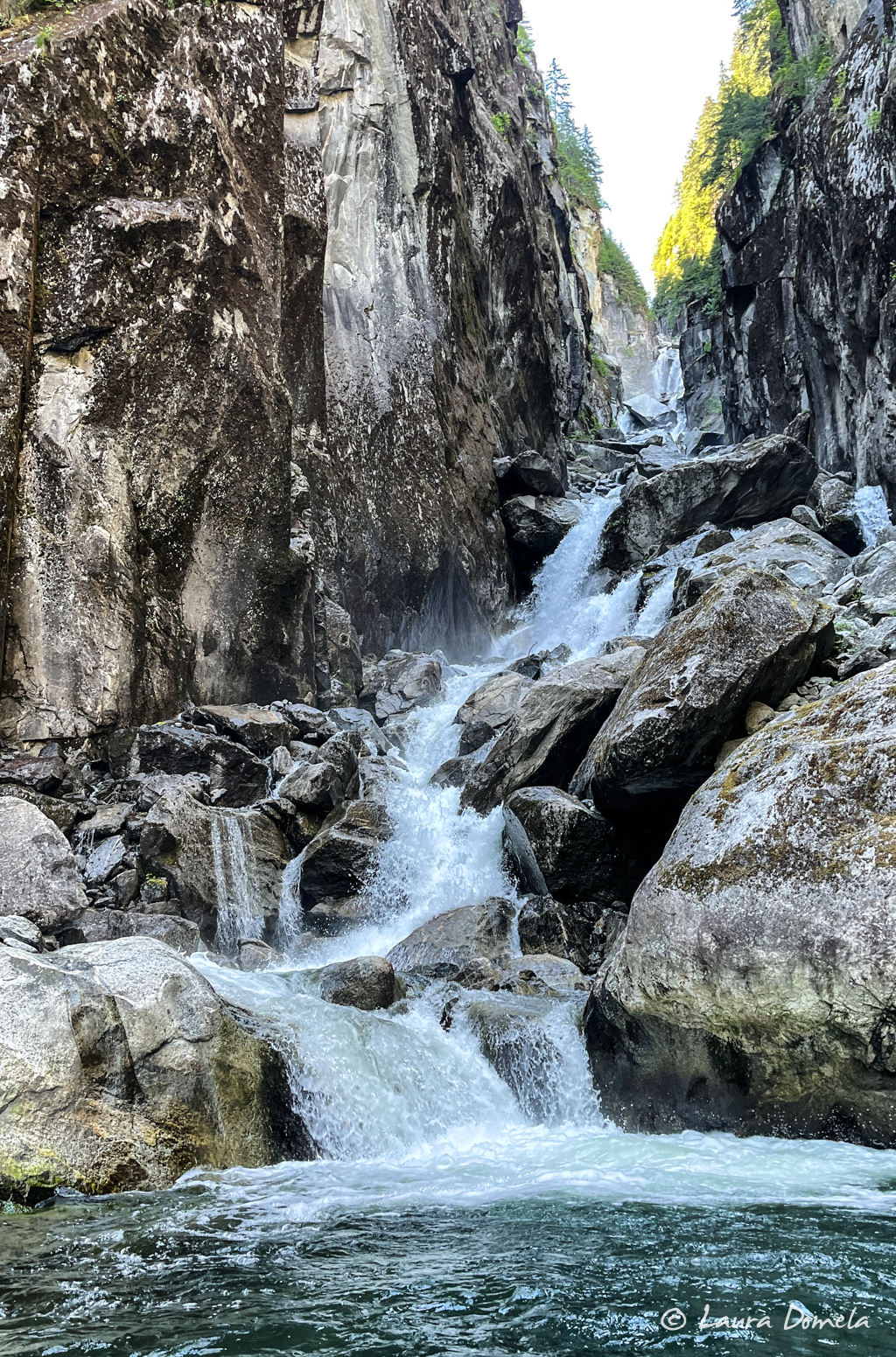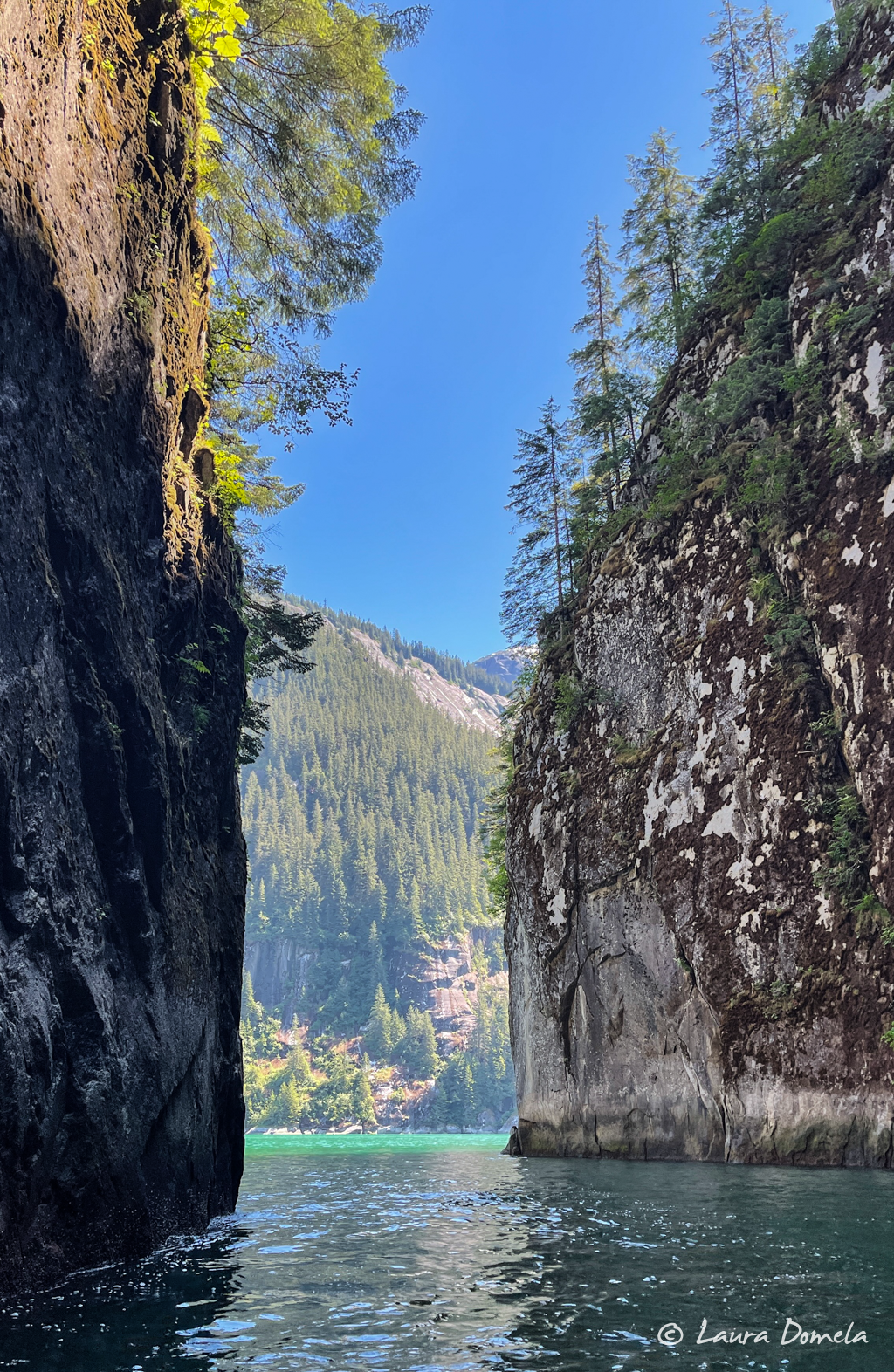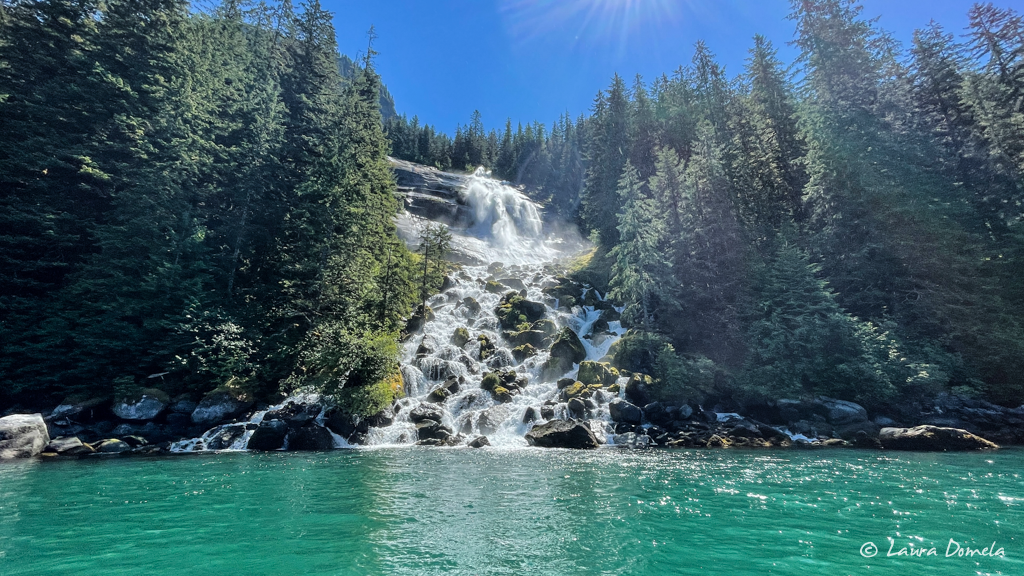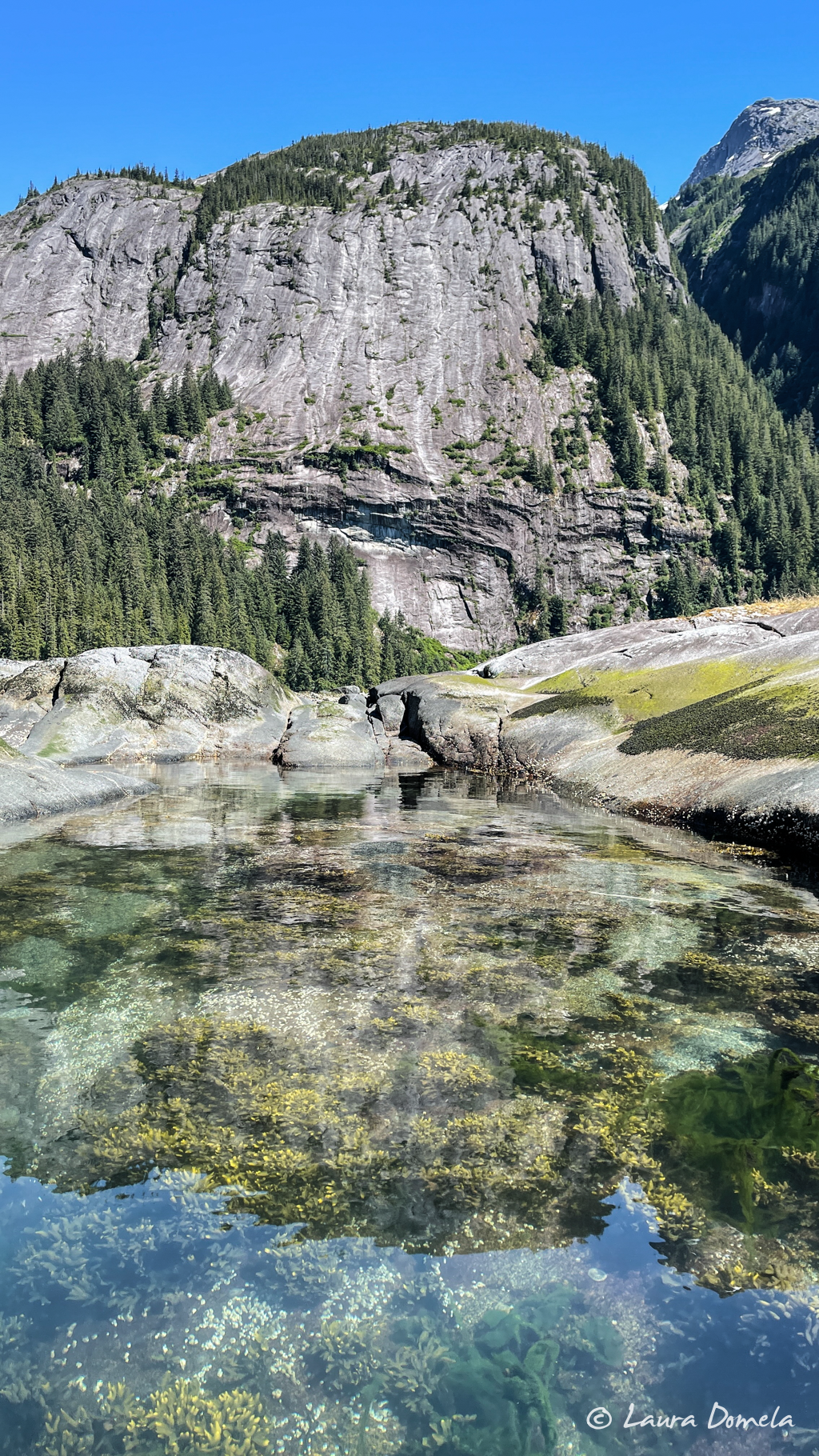 It was nearing high tide again so we went over to the east arm to see how far we could get.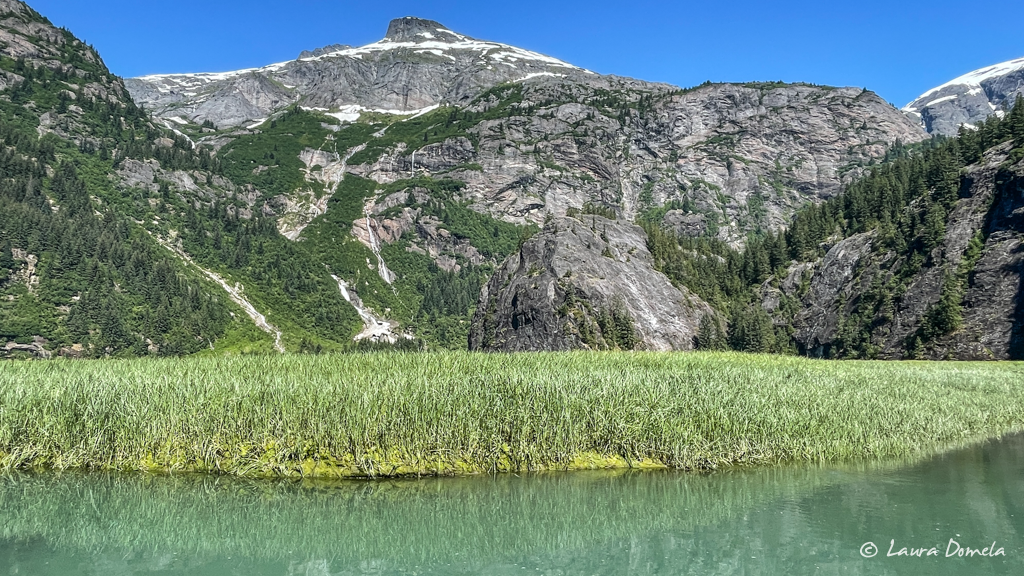 We meandered through the grassy marsh islands and found a way back to a shallow waterfall, flanked by a giant rock overhang with tons of barn swallows chirping and circling us before returning to their spots on the rock face!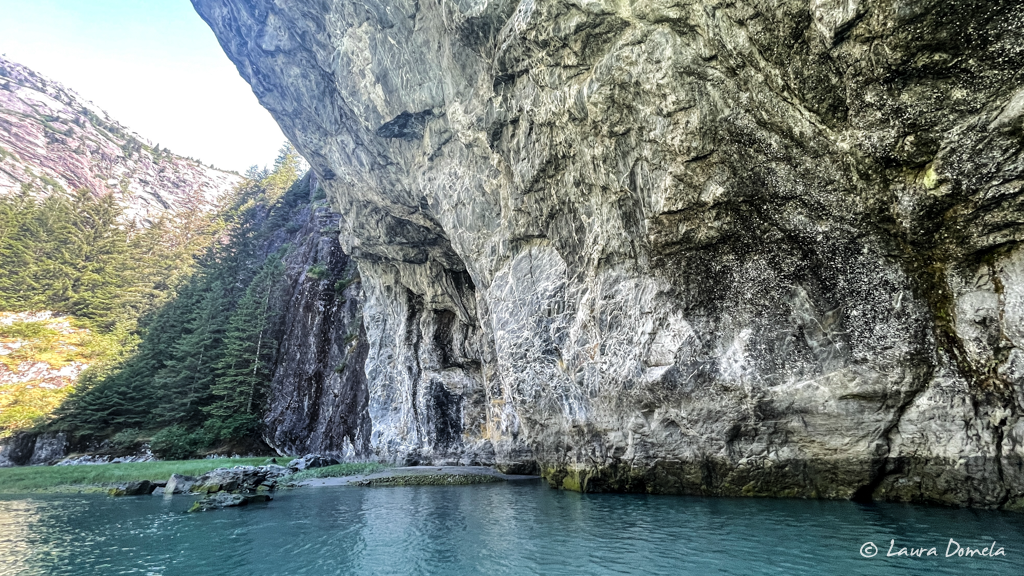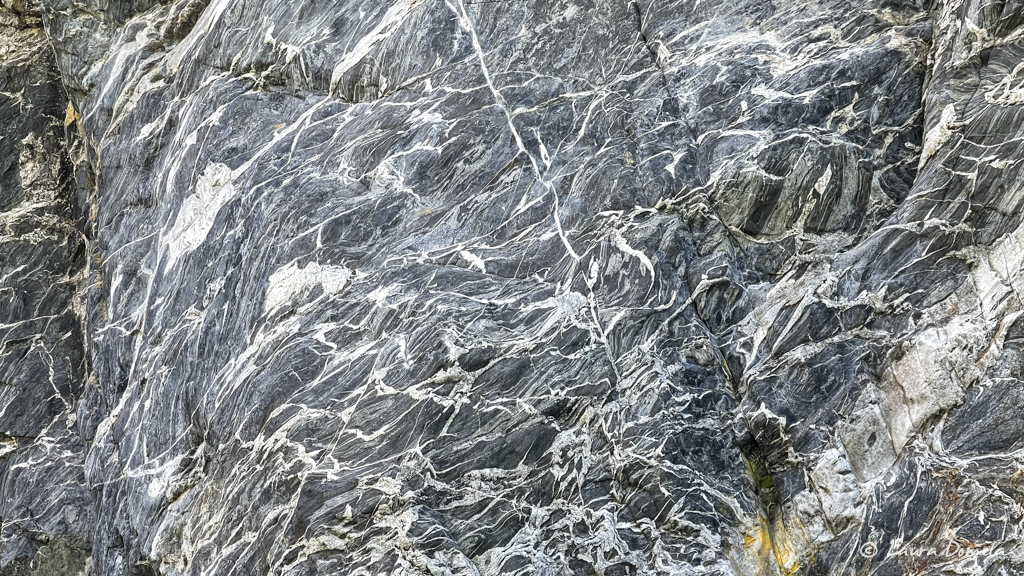 We made it this far upstream before turning around. It was still five feet deep!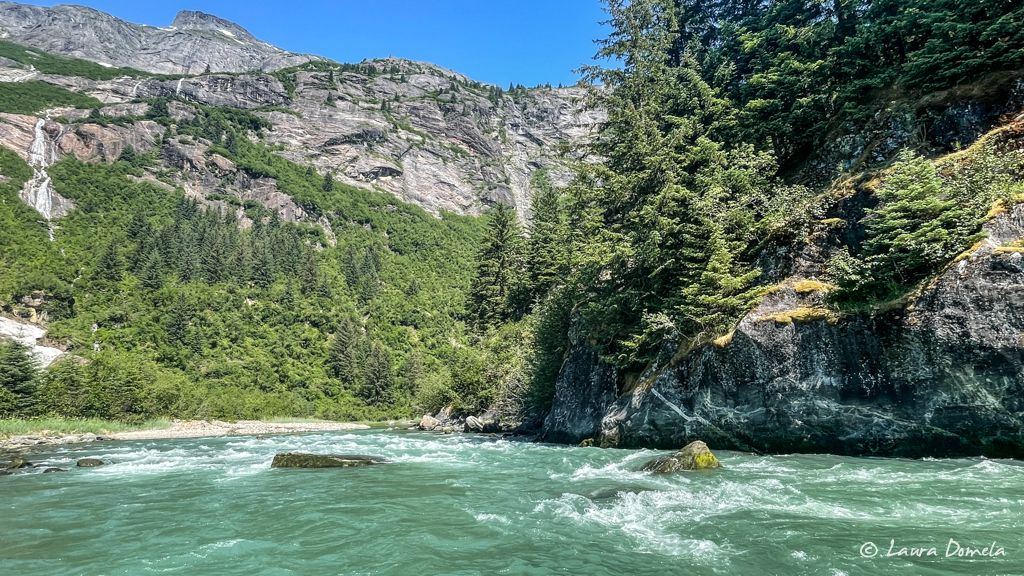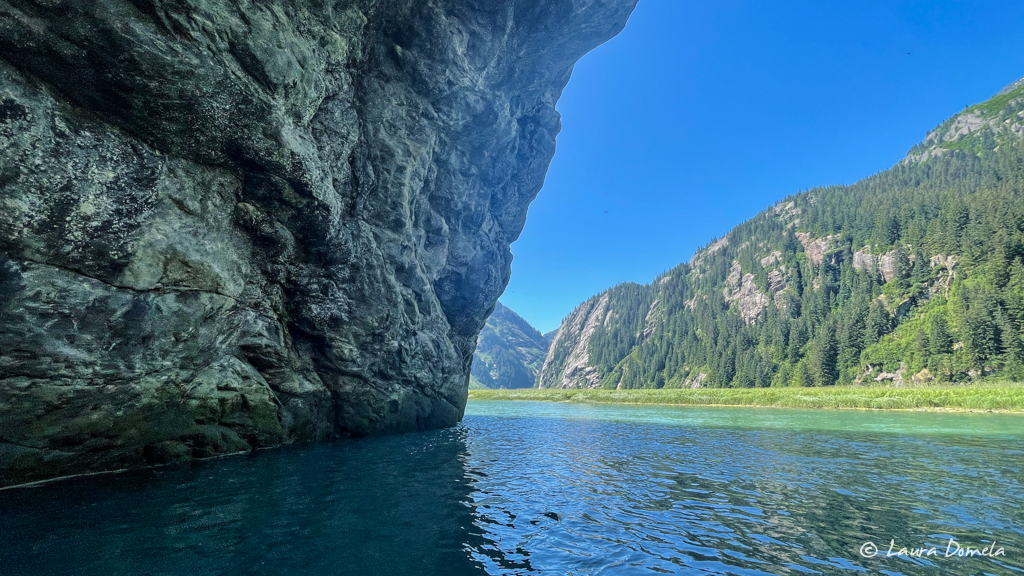 We had a plan to meet at five for happy hour, and since the weather was so nice we decided to make it a floating happy hour! We tied our dinghies together and visited while drifting from our anchorage slowly with the ebbing tide. This group really outdid themselves on the happy hour snacks — fresh spot prawn cocktail, hot potstickers with dipping sauce, and some delicious garlicky cheesy escargot. We passed trays of food from dinghy to dinghy and managed not to spill anything! Another incredible day in this spectacular place.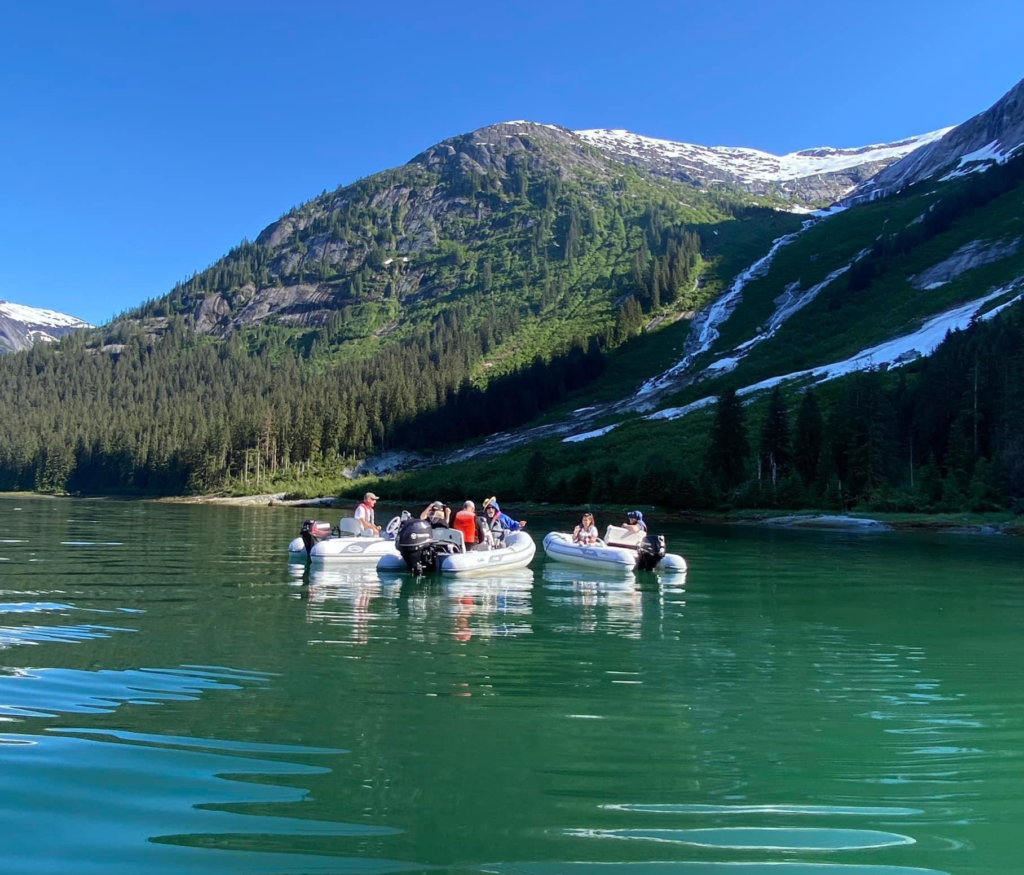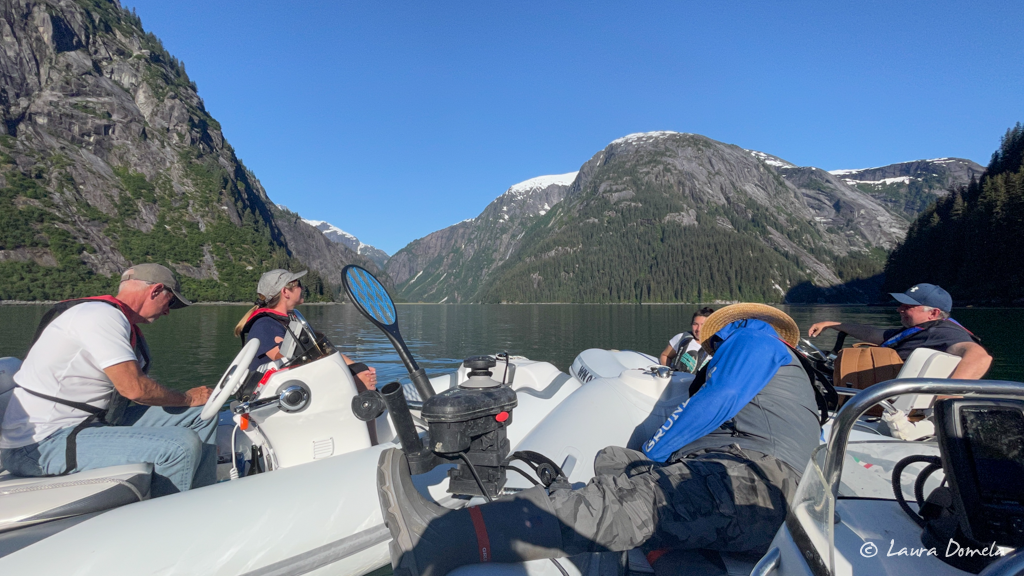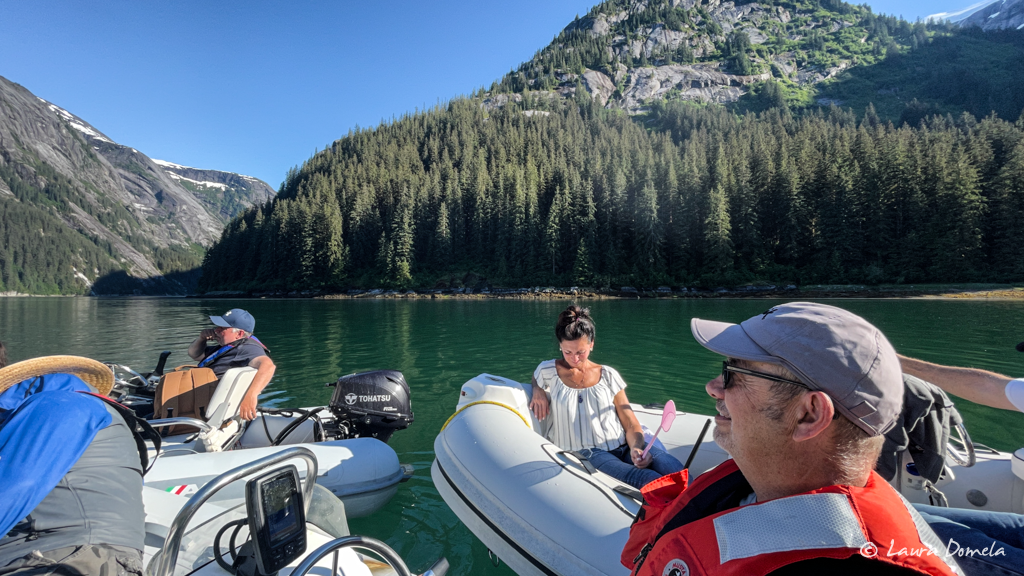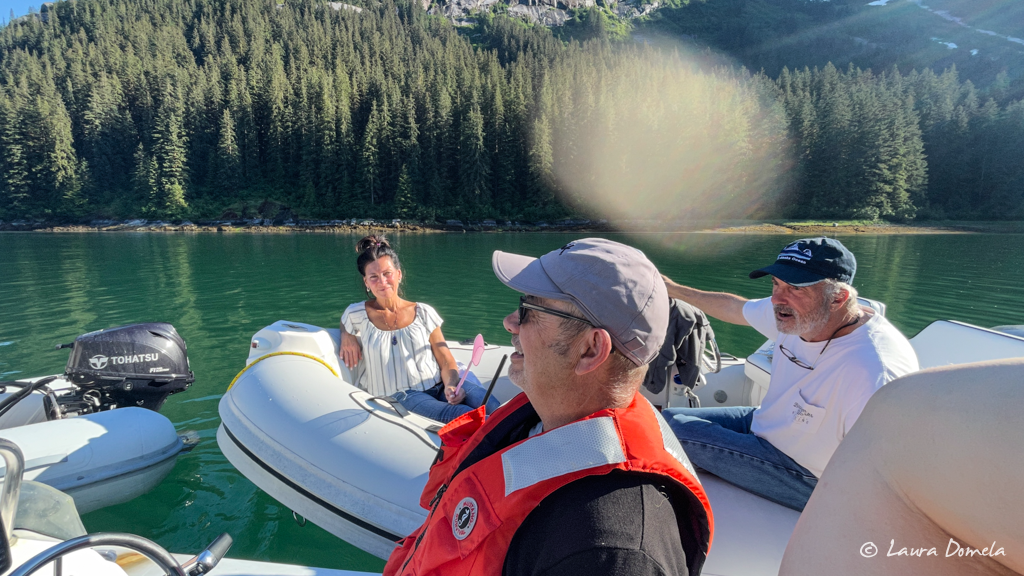 Tomorrow we'll head north to Taku Harbor!